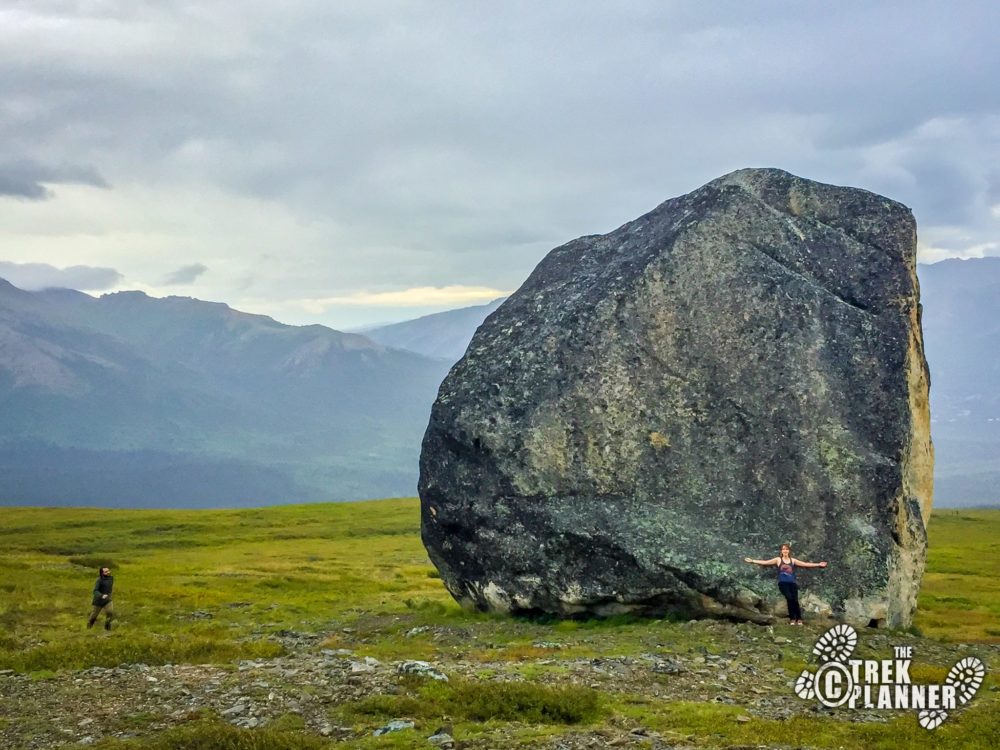 Are you looking for some great hiking recommendations in the Denali area?  Here is a list of some of the best hikes in Denali!
1. Mt. Healy
This is by far my favorite hike in the Denali area!  The roundtrip hike from trailhead to summit is just under seven miles so plan on spending 4+ hours doing it.  The fastest route to the top is from Bison Gulch but I've done it from Antler Creek and also the Visitor Center in the National Park.  I recommend doing it from Bison Gulch since it is the most direct route.
You will be hiking steep trails but the higher you go you will have incredible views of surrounding mountains and even Denali to the south west.  I often see Dall sheep hanging around near the summit.
Why I like it: I love the variety in this hike and the solitude.  You begin the hike in a forest, go through the alpine tundra and then hike on mountain ridges until you summit Mt. Healy.
Mt. Healy from Denali National Park Visitor Center
Another view of Healy
The monolith
Fireweed
2. Triple Lakes Trail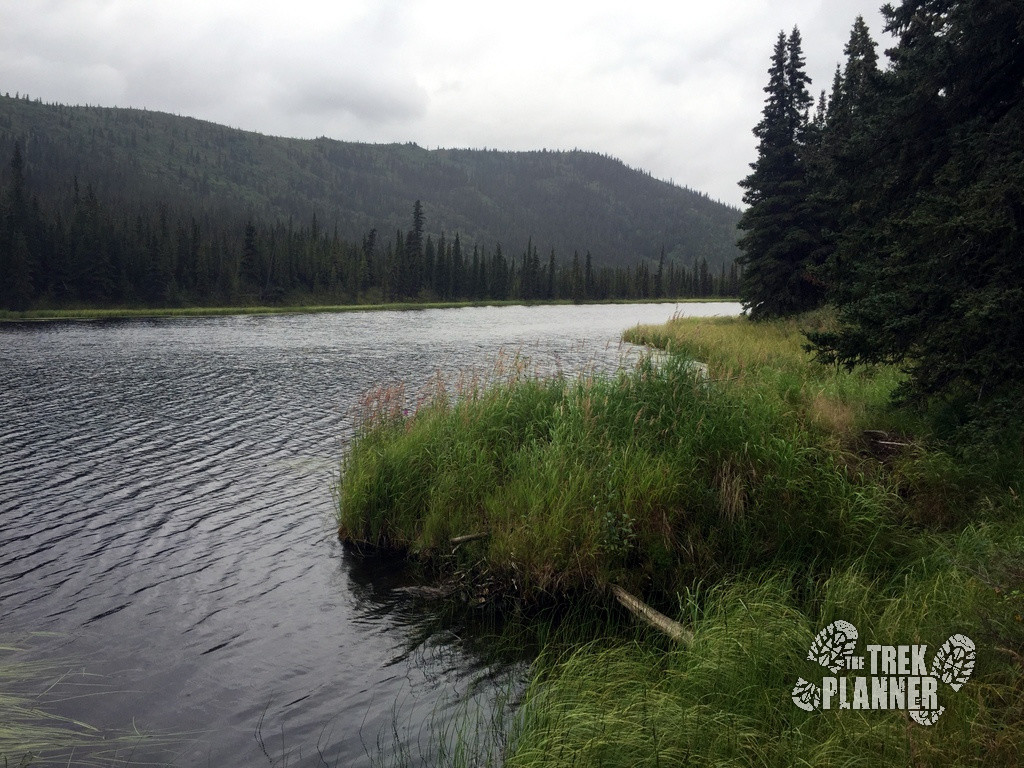 The Triple Lakes trail is a 9.2 mile trail (one-way) that either begins or ends at the Visitor Center in Denali National Park.  Since this isn't a roundtrip trail, unless you are fine hiking more than 18 miles in a day, I recommend you set up a shuttle system.  The trail is easy to see and follow the entire way and eventually passes by three hidden lakes.  You will find many different types of mushrooms, berries (when in season) and will have opportunities to see wildlife.
Why I like it: While this isn't a favorite of mine in Denali, I enjoyed this hike nonetheless due to the lush green mountains you pass and the beautiful three lakes.  If you are looking for a challenging long distance day hike then you have found it here at Triple Lakes.



3. Dragonfly Creek
Dragonfly Creek is an off-the-beaten-path hike.  It is also one of the shortest; you could easily hike to the waterfall and back to your car in less than 10 minutes.  The trail is somewhat steep in places but you will quickly see this is an incredible place that not too many people know about.  If you want to extend your adventure here, continue hiking down to the Nenana River.
Why I like it: This hike is so short and I love seeing the waterfall and Nenana River.  I hike this one often in the summer.



4. Sugar Loaf Mountain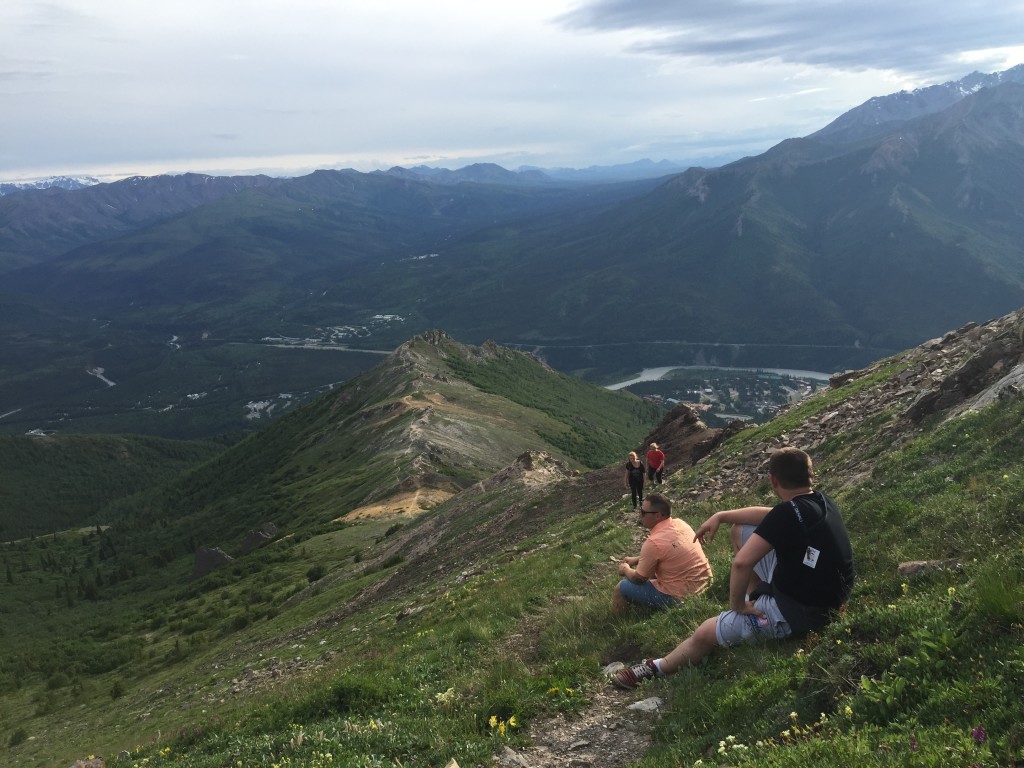 Sugar Loaf Mountain is an incredible hike that climbs in elevation quickly.   The whole hike is about 4.2 miles roundtrip but it is the steep parts that will slow you down.  I love this hike due to the quick rewards of grassy meadows and views of Denali to the west.  I have seen Dall sheep, moose and even bear on this hike.
Why I like it: Sugar Loaf is on the other side of the canyon from Mt. Healy but is completely different.  Sugar Loaf is not too popular because there isn't a maintained trail like the other hikes but you will not be disappointed in the amazing scenery it offers.



5. Mt. Healy Overlook Trail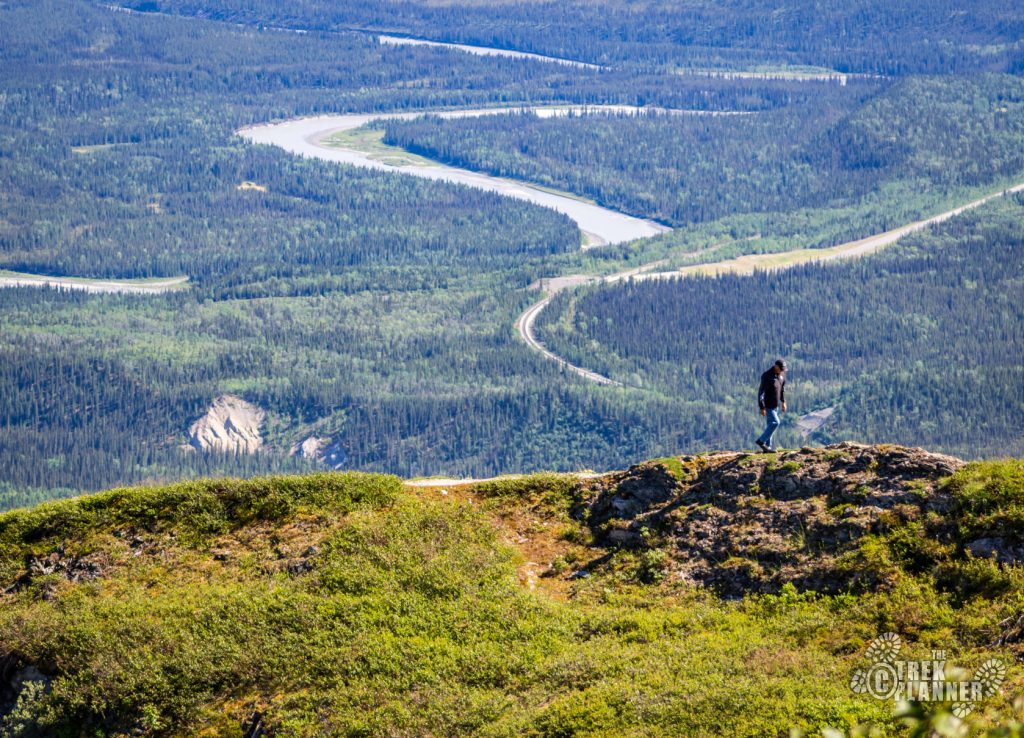 If you are looking for something a little bit strenuous but not a long hike then the Mt. Healy Overlook Trail is what you are looking for.  The hike is a little more than five miles roundtrip and is easily accessed by parking at the Denali National Park Visitor Center.  You will encounter many other hikers as it is one of the most popular trails in the area.
Hike this in July and August to find ripe blueberries, raspberries, crowberries and cloudberries.
Why I like it: This hike was my exercise trail during the summer of 2016.  I didn't have access to a gym so I used this hike as my cardio trail.  Once at the overlook, you will see why this is a popular trail.  You get incredible views of the Denali area.
Mt. Healy Overlook Trail guide



6. Savage River Trail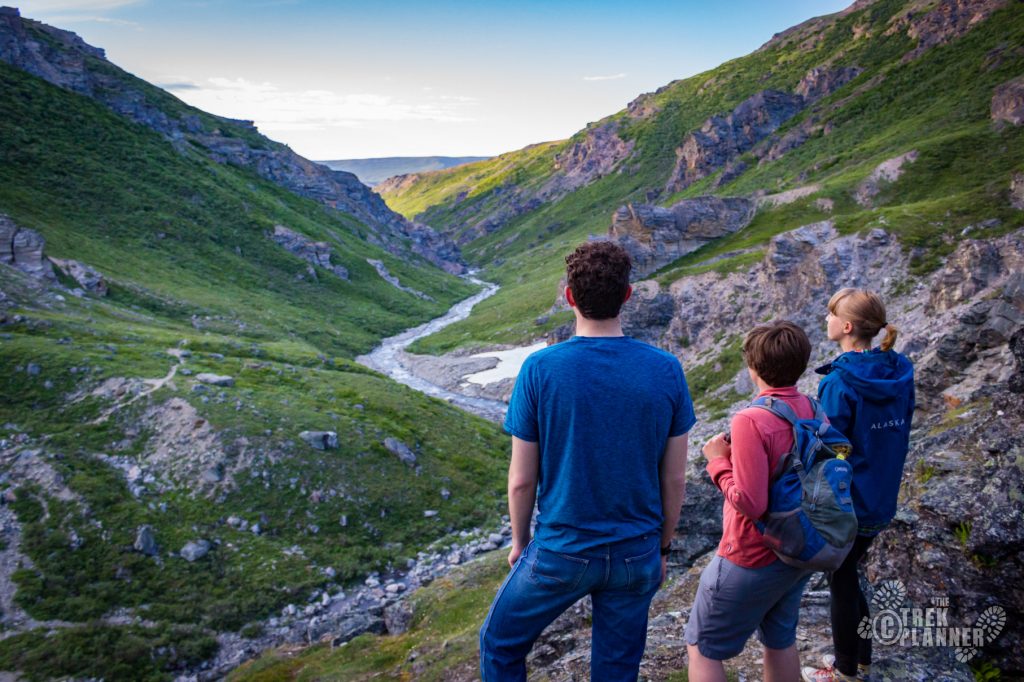 Savage River is located at mile 14 on the Park Road in Denali National Park; you can drive to this trail in your personal vehicle.  Savage River is a great family friendly hike for all ages and skill levels.  The trail is flat and crosses over the river and ends on the other side and you can hike it from either end.  I like this trail because it is calming to hike next to a river inside of a narrow canyon.  I have seen caribou and moose travelling through here on many occasions.  I love coming here when the sun is setting and most visitors have left for the evening.
Why I like it: Savage River is an easy stroll but I love getting to hike on both sides of the river.  I often see marmot and arctic ground squirrels here.



7. Denali National Park Glacial Erractics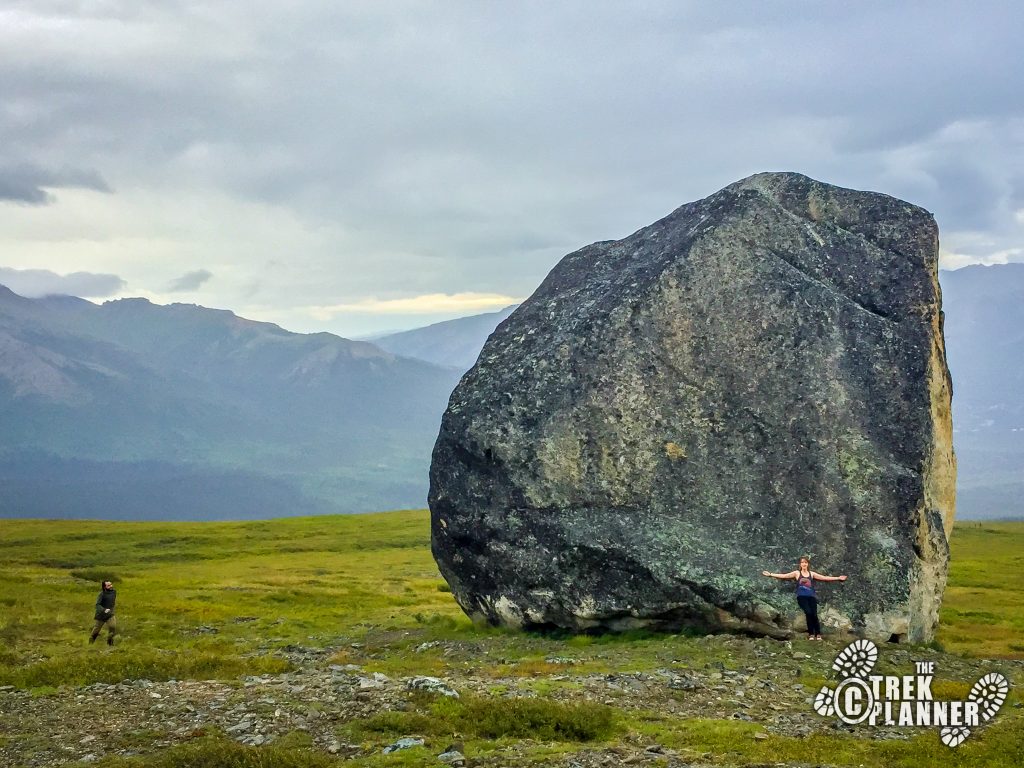 Even though you can see the two erractics from Denali shops and hotels, there is no actual trail to them.  The way to the erratics is steep and difficult due to the bushes and trees.  You will want to find a moose trail, follow it, and then bushwhack until you come to the next moose trail – this is what we figured was the best way to get to these large boulders.
Why I like it: I enjoy this hike because no one ever visits it.  You could have the entire hike to yourself!
Denali National Park Glacier Erratics Guide
Glacial erratics on top of the hillside


8. Denali National Park Bus Tour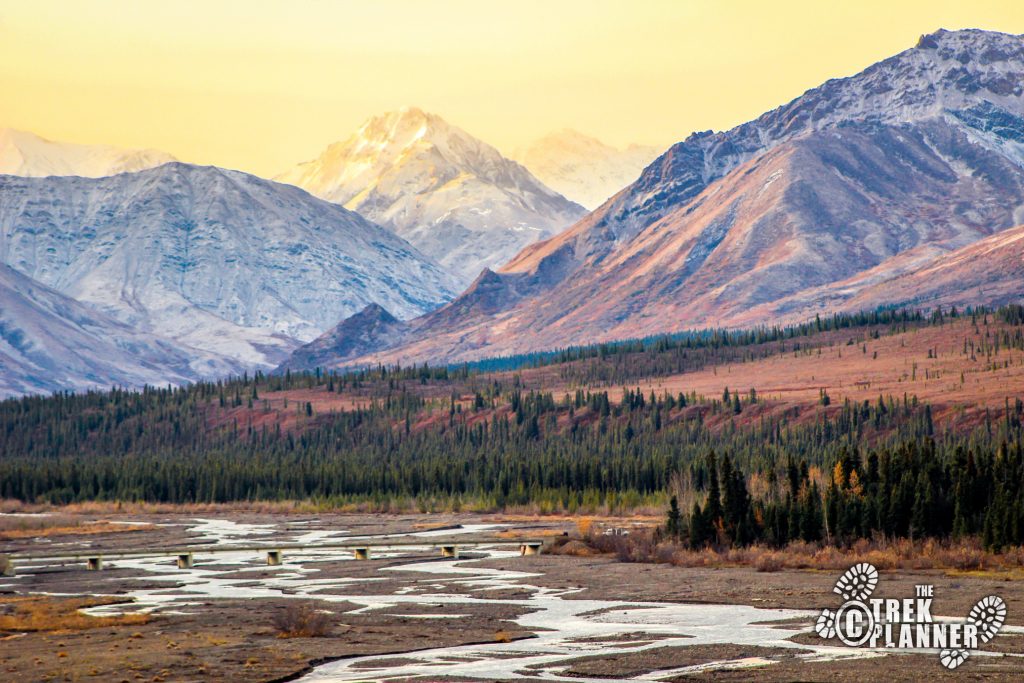 There is only one road into Denali National Park and you can drive your personal vehicle up to mile 15 but anywhere after that you will need to use the tour or shuttle buses.  The park is home to bears, moose, caribou, wolves and Dall sheep.  It isn't guaranteed you will see any of these amazing animals or even see Mt. Denali.  You will however have an incredible journey seeing vast landscapes, large braided rivers and learn about the history of the national park.  The bus tours can be long but if you come all this way and don't go inside the national park you will be making a big mistake!
Why I like it: I love having the opportunity to view wildlife in the national park.  In my opinion, the deeper you go the higher your chance of seeing bears, caribou and more.
Denali National Park Bus System
Denali from Stony Overlook


We hope you enjoyed this list! We will add more as we get out and explore more!