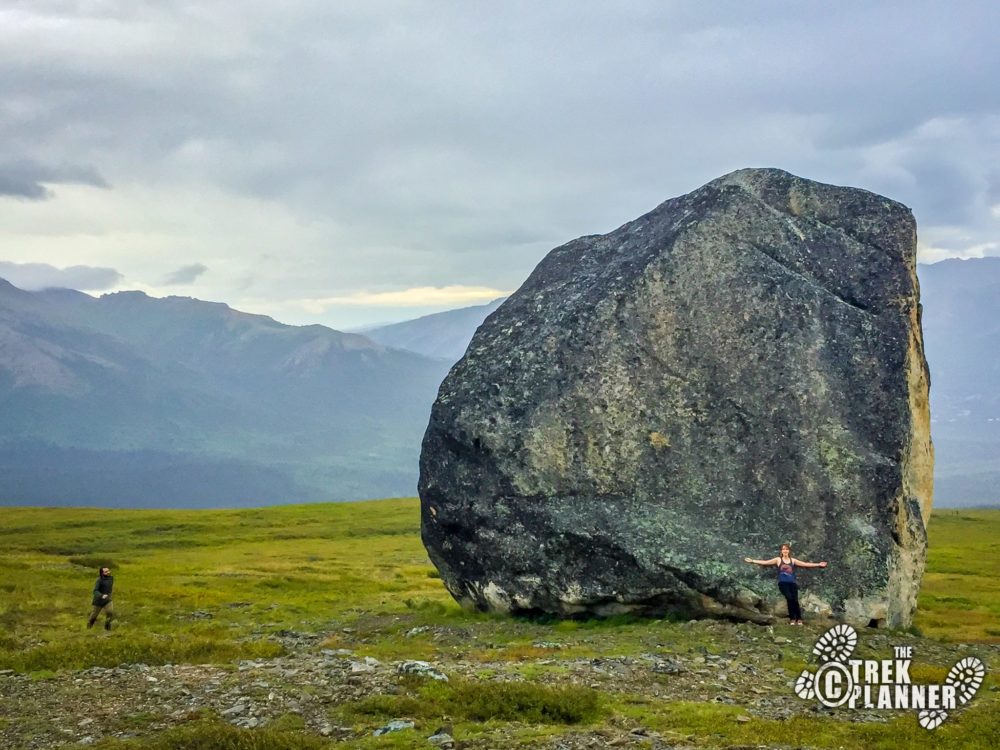 Overview
Denali National Park, Denali, Alaska
Numerous Wildlife, berries, erratics
Bring 2-3 liters of water
Lots of short trees that don't provide much shade
No trail – very rough until you pass the timberline!
Located at Visitor Center
Yes, by permit and only in the backcountry areas
Good hiking shoes are a must. Bear spray is optional but recommended. If hiking in late summer prepare to see millions of blueberries and even some cloudberries, so bring a jar or bag to carry some home. Camera. Bring a jacket just in case.
GPS Coordinates:
Trailhead: 63.72161, -148.96775
Spring Trail: 63.72014, -148.97331
Smaller Glacier Erratics: 63.69974, -148.99414
Glacier Erratics: 63.69476, -148.99247
Mountain Pond: 63.68934, -149.03057
Trail Map:
The content you are trying to access is only for Trek Planner Insiders. Signup
Driving Directions:
You will need to park near the dog kennels at the Denali National Park Headquarters.
You can drive to this location or take one of the courtesy shuttles here.
The Trail:
**UPDATED**
After four years of not doing this hike I came back again to do it in fall 2016.  I forgot how hard of a hike this was and how much bushwhacking was involved so I have changed my rating for it to reflect more difficulty.
The easiest route to the glacier erratics is from the sled dog kennels at the Denali National Park Headquarters.  You will park your car in the parking lot and hike down to where the park shuttles make a loop near the kennels.  Go to the east of the parking lot, hike up the embankment and you will see a lightly trodden grassy path which you need to follow for a little ways until you come to the "Spring Trail" sign.
When you see the "Spring Trail" sign follow the trail a little more ways to about .66 miles and then you will need to bushwhack to Hines Creek.
It doesn't seem like there is a spur trail to Hines Creek.  We found a short moose path but it quickly disappeared into willows.  We just made our own way to the creek by bushwhacking a little ways.
Be very careful when you cross Hines Creek.  The water was definitely higher due to the recent storms we have had.  We found a shallow place to cross and helped each other cross safely.
Once across you will find nothing but lots and lots of trees and bushes to traverse through.  Always remember that there will be no trail going up to the erratics so keep travelling up and you will eventually come to the open hillside where the erratics are located.
Luckily, we found a very used moose trail which led to the top of the hillside.  If you follow my GPS trail map you will most likely also find this path.
At the top of this hill we found a meadow with tons of blueberry bushes.  We planned our route from here and decided to just choose the path of least resistance.
I can't emphasize enough how slow we were hiking.  Hiking uphill on tundra, through bushes and trees is very difficult.  When we would find a narrow moose trail we would take it for as long as it would go and then bushwhack some more.
Just keep hiking up and up!
If you are hiking in late summer or early fall, you will most likely find blueberries, crowberries, low-brush cranberries (lingonberries) and cloudberries.  Cloudberries weren't too common until we were at higher elevations.
We were finally making enough progress to get where the bushes were lower to the ground and we were beginning to see smaller erratics along the way.
When we did this hike, we always tried to travel in a southwest direction, uphill the entire way.  Eventually we made our way to large patches of willow trees.  Always be cautious about moose and bears in the area, especially in willow trees.
We eventually found fields of cloudberries and blueberries.  Some of the cloudberries were old and tasted awful but the ripe ones taste like apricots or even baked apples.
After what seemed like forever, we came to the open hillside area which continued to slope upwards.  We could see evidence of other large erratics to the east but we only wanted to see the main attraction.
We followed this hillside all the way up until we could see the glacier erratics in the distance.  The only reason we knew which direction to take was because we had the GPS coordinates on our phones.
These erratics are as big as a house!
The glacier erratic boulders are chipped, chopped, cut and sliced in every direction – and that is what makes them so interesting.  Glacial erratics are basically rocks that have been cut and carved by prehistoric glaciers that were once in this location.
The many faces of the same two erratics which watch over Denali.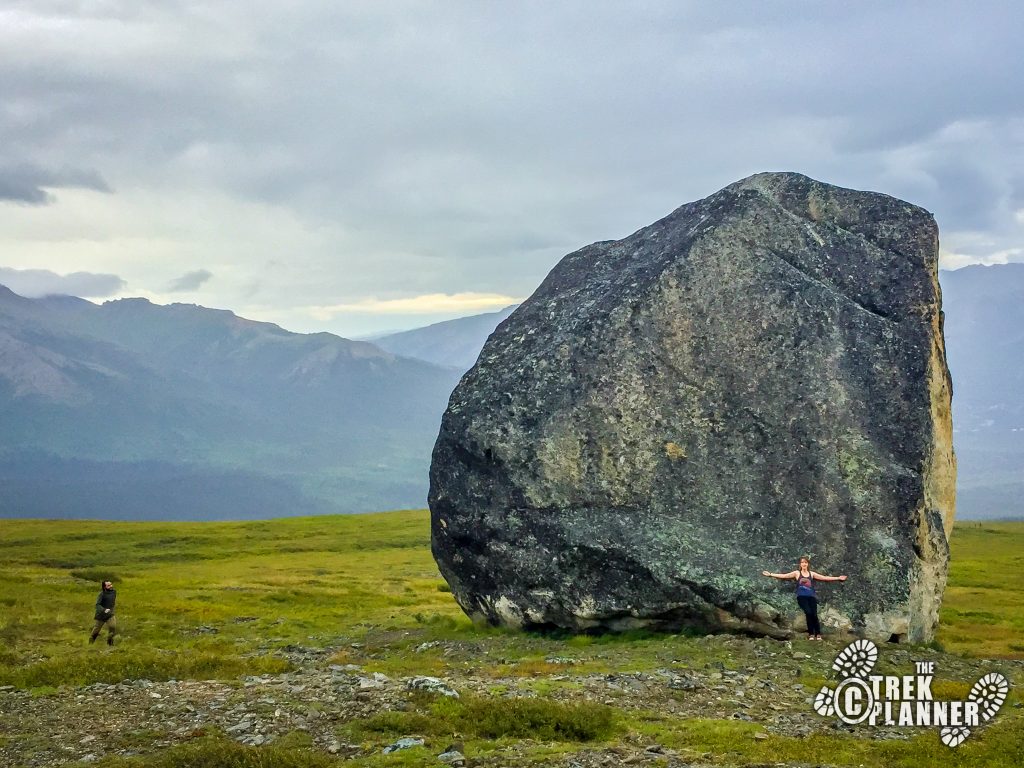 Keep hiking the 75 yards to the ridgeline to the south so you can get an incredible view of the next valley and mountains.
When it was time to go back, we almost followed our exact trail using GPS again.  It took us less than 1 hour to get to the creek.
The Return:
Look down towards the dog kennels and you will most likely hear the dogs barking.  Just head back down and follow the barking dogs and you will eventually come to Hines Creek and to the parking lot again.
Personal Thoughts:
Denali National Park has always been a favorite place for me to visit.  The glacier erratics silently watch over the park entrance and most people do not even notice them (they are visible from the Denali hotels!).  Very few people make the trek up this far because most of the guests coming through just take the buses into the park.  If you are in good hiking condition I would highly suggest you make the trek to the erratics.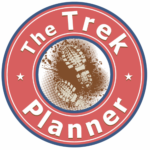 OPTIONAL SIDE TREK
If you want to keep going then I suggest you keep hiking to a nearby pond that is surrounded by lush green vegetation and amazing views of the park.
From the erratics keep going in a west direction following the spine of the mountains.  It is roughly another 1.25 mile to the pond but it is relatively easy hiking over rocky and dirt ground (instead of squishy tundra).
Not too many people visit this pond so you will probably be the only visitors in weeks if not months.
This Side Trek takes an additional 2 hours to complete round trip
The content you are trying to access is only for Trek Planner Insiders. Signup