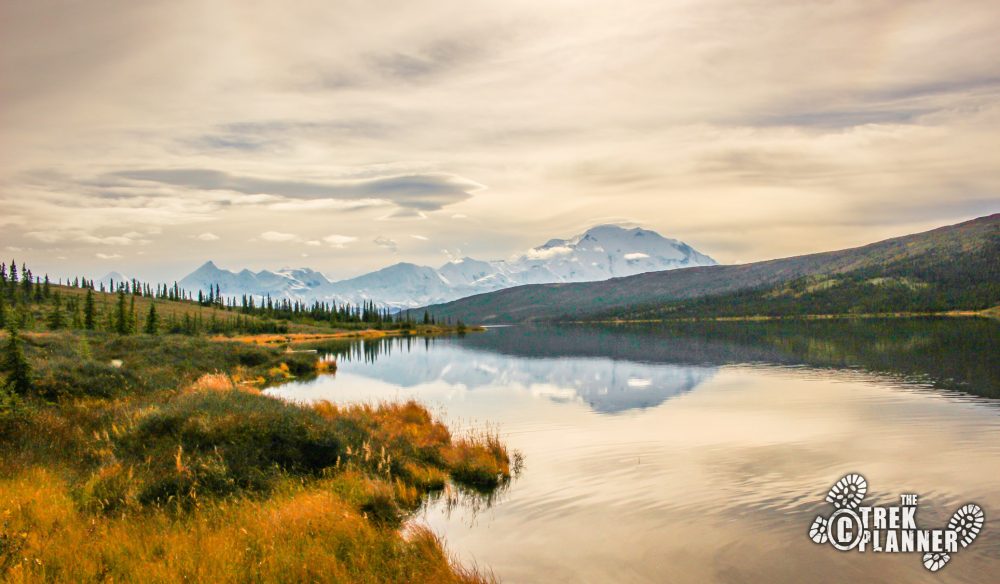 Overview
Denali National Park, Denali, Alaska
Wildlife, endless terrain, Denali, rivers, incredible landscapes, glaciers
Up to 92 miles. There are various stops along the way. Depends on what shuttle pass you purchased.
Varies greatly over the entire Park Road
Anywhere from 4-12 hours depending on which shuttle pass you purchased.
Only allowed on campground roads and the Park Road (the main road into the park). Not allowed on trails or in the wilderness.
Depends on how far you travel into the park.
Bring 2 liters of water if you don't plan to hike much. If you are hiking or camping I would bring 3-4 liters of water.
The shuttle buses only operate during summer months and can leave as early as 6am. It depends on the day. Please call the park for the most accurate shuttle times and schedules.
Trails are mostly non existent in Denali National Park. There are very few established trails. If you are hiking in the wilderness, the park service encourages you not to follow any trails or paths created by other hikers.
Only at the shuttle stops and visitor centers. Otherwise you need to pack it out.
Denali National Park Visitor Center outside of park and Eielson Visitor Center in the national park at mile 66.
Allowed. There are several large camping areas that are even big enough for RVs but offer no power, sewer or water hookups. There are also fees and even backcountry "training" is required if you plan to go camping outside the designated camping areas in the wilderness. Please visit the visitor center or the Wilderness Access Center for more information.
Bring snacks and meals again depending on what you are doing.
Bring bag for food, water and camping equipment, good hiking shoes, long pants, waterproof jacket, hat, sunglasses, bear-proof food containers, cooking equipment, bear spray, sleeping bag, sleeping pad, tent, water filter (optional).
GPS Coordinates
Denali National Park Visitor Center: 63.730971°, -148.917225°
Wilderness Access Center (WAC): 63.736630°, -148.897542°
Savage River: 63.738838°, -149.293867°
Toklat River: 63.520413°, -150.043861°
Eielson Visitor Center: 63.431258°,-150.310710°
Wonder Lake: 63.458171°, -150.865883°
Kantishna: 63.541852°, -150.995805°
Trail Map
Driving Directions
The Trail:
Are you looking to camp in Denali National Park?  Check out my camping guide!
Denali National Park is an immense wilderness with only one road, the Park Road, which goes 92.5 miles.  You are allowed to drive your personal vehicle to Savage River which is located at mile 15 of the Park Road but anywhere passed that you will need to purchase a tour bus or shuttle bus ticket.
The shuttle buses are green color and have a few scheduled locations where they make stops and you simply purchase the ticket of where you would like to go.  The buses overall are relatively comfortable but please remember they do not have bathrooms on the buses.  You are allowed to bring food and beverages on board and I would encourage you to do so.
The tour buses are in tan color and they offer the Tundra Wilderness Tour and the Natural History Tour.  Both of which are very different products with the Tundra Tour going deeper into the park but not to the very end of the road.
Once you are on the shuttle bus you can ask the driver to stop anywhere along the Park Road so you can go off and explore.  When you need a ride back you simply come back to the road and wait until a green shuttle bus, with vacant seats, comes by and you flag it down.  It really is that simple.  Remember that there are only a few maintained hiking trails in the park so you are free to day hike wherever you would like.
Since the green shuttle buses go all the way into the park road I will focus this Trek on the shuttle system.
Shuttle ticket prices are based on destination. Please click here for the most current shuttle fees.  You can choose:
Toklat River – 6.5 hour round-trip
Eielson Visitor Center – 8 hours round-trip
Wonder Lake – 11 hours round-trip
Kantishna – 13 hours round-trip
Camper Buses
Denali National Park is an extremely remote area.  If you get off the shuttle and hike you will most likely be one of the few people out on the tundra. This is one of the reasons why it is very important that you plan your day so you will have less of a chance of encountering problems or hard obstacles.  I personally know people who have underestimated Denali National Park and have gone missing overnight or didn't bring enough food or water and ended up having a miserable time.
In my experience the deeper you go in the park the greater your opportunity will be to view moose, bears and other wildlife – but please do not approach wildlife and keep your distance.
Depending on how far you travel you will possibly have the chance of viewing one of the tallest mountains in the world – Denali (which was formerly named Mt. McKinley).
I've taken the shuttle bus many times into the park and I can say that this is one of the best ways to see it.  Doing a narrated tour such as the Tundra Wilderness or Natural History Tour are great too but I like doing things on my own terms and with a shuttle pass I can stop and get on when and how I please.  The shuttle buses to Savage River (at mile 15) are free to take (tipping is encouraged though) but shuttle buses that go farther into the park have fees.
If you only have a few hours to spend then you might want to consider taking a shuttle bus into the park to see the park's Sled Dog demonstration or maybe a quick hike at Savage River.
The park service wants you to be as informed as possible. It is highly recommended and even required that you stop by and discuss your intentions with the park staff at the WAC (Wilderness Access Center) at the entrance to the park if you are camping or backpacking in the wilderness.  But if you are simply wanting to day hike you will still need to visit the WAC and purchase a bus pass.
For day hikes, taking the shuttle into the park is as simple as purchasing a shuttle ticket and jumping on board one of the GREEN buses. Tan buses are the tour buses (Tundra Wilderness and Natural History Tours) and they do not stop to pick up hikers.
If you take a guided tour you will get all of the narration, which is incredibly interesting, for the majority of your tour.  Green shuttle buses do not narrate that much, however, I have been on shuttles that the driver will still narrate and point out interesting things along the way – the drivers LOVE to talk about the park so feel free to ask them questions.
Regardless of what bus you take into the park, ALL of the buses will stop for bathroom breaks (at designated locations only which occur about every 90 minutes) and will also stop for chances to view wildlife.  I have been on a shuttle that stopped for about 8 minutes while several moose walked right in front of our bus and everyone had plenty of time to take some great photos.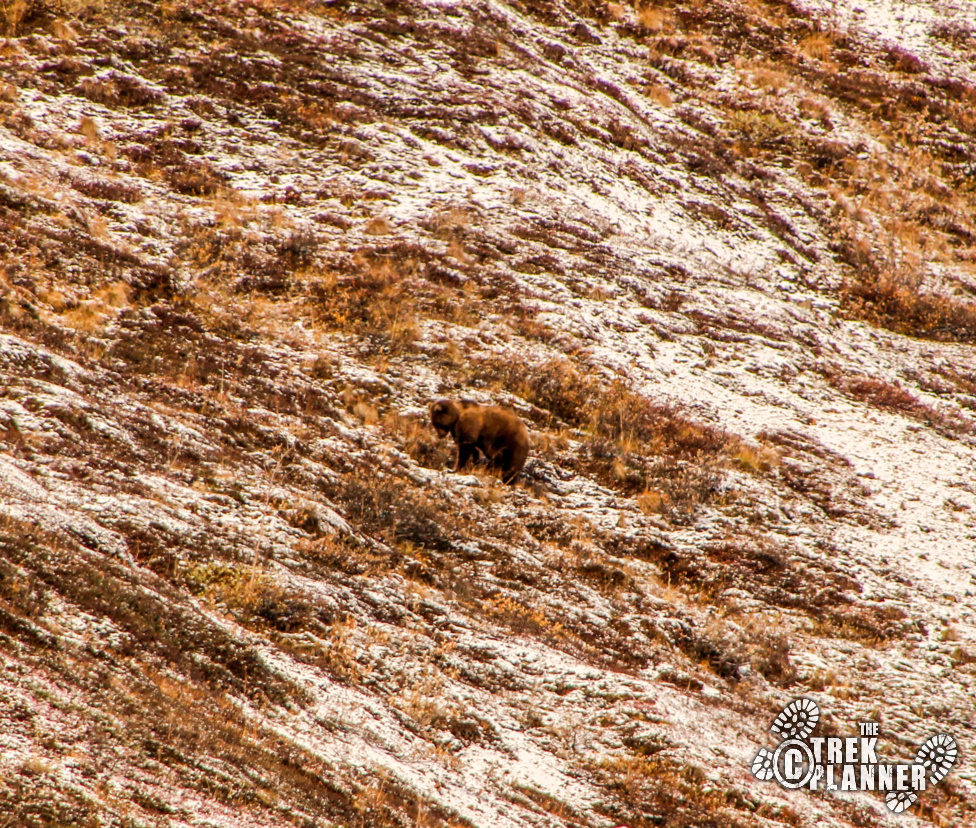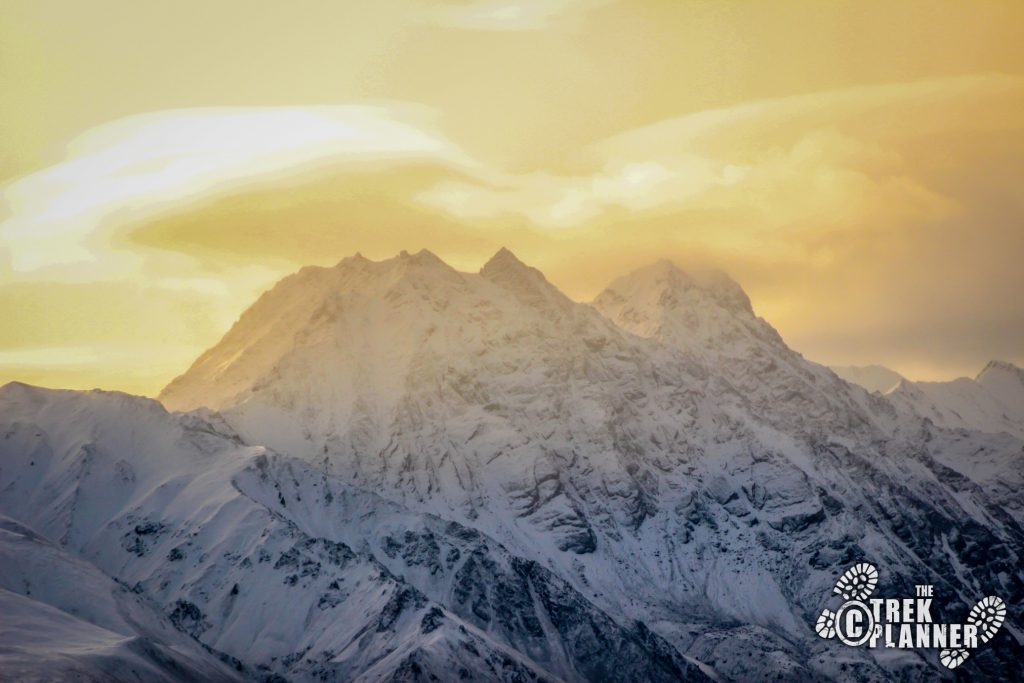 If you purchase a shuttle bus ticket you are allowed to get off the shuttle at any point along the Park Road.  Just politely tell the driver and he will pull over and you can get off.  Then once you are done hiking or simply just enjoying the park simply wait for another shuttle bus to drive by and flag it down.  NOTE: Please remember that shuttle buses may fill up and you may have to wait for long periods of time until there are seats available on the next buses.  "Re-boarding is on a seat-available basis".  
Bring food and water with you!  There are no food stops anywhere in the park so bring some sandwiches and snacks and even a few beverages to make the journey even more enjoyable.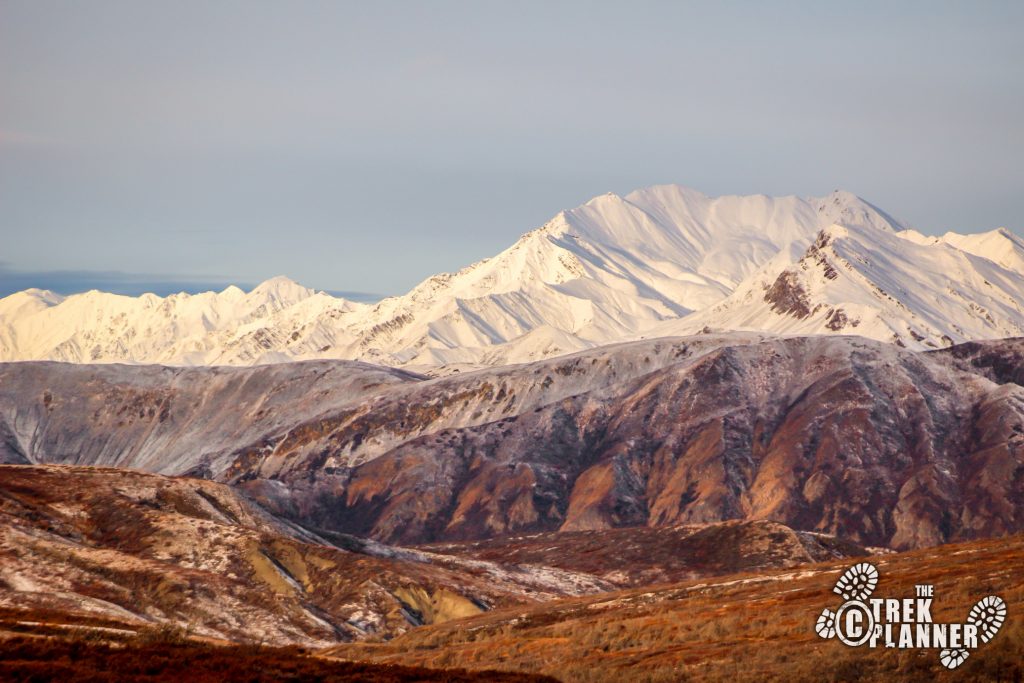 Just a little background information about how the park service works (I can't stress this enough). The park service is extremely concerned about your safety so please speak with a ranger about the park and your intentions if you plan to backcountry hike and/or camp.  Denali National Park and even Alaskan wilderness in general, can be extreme and unpredictable. You will be travelling in an area where bears, moose, caribou, Dall sheep, wolves, lynx and other animals live undisturbed by humans.
CAMPING:
There are several designated campground areas in the park itself but you are also free to hike and camp in the wilderness area.
For my camping guide inside and outside of Denali National Park, click here!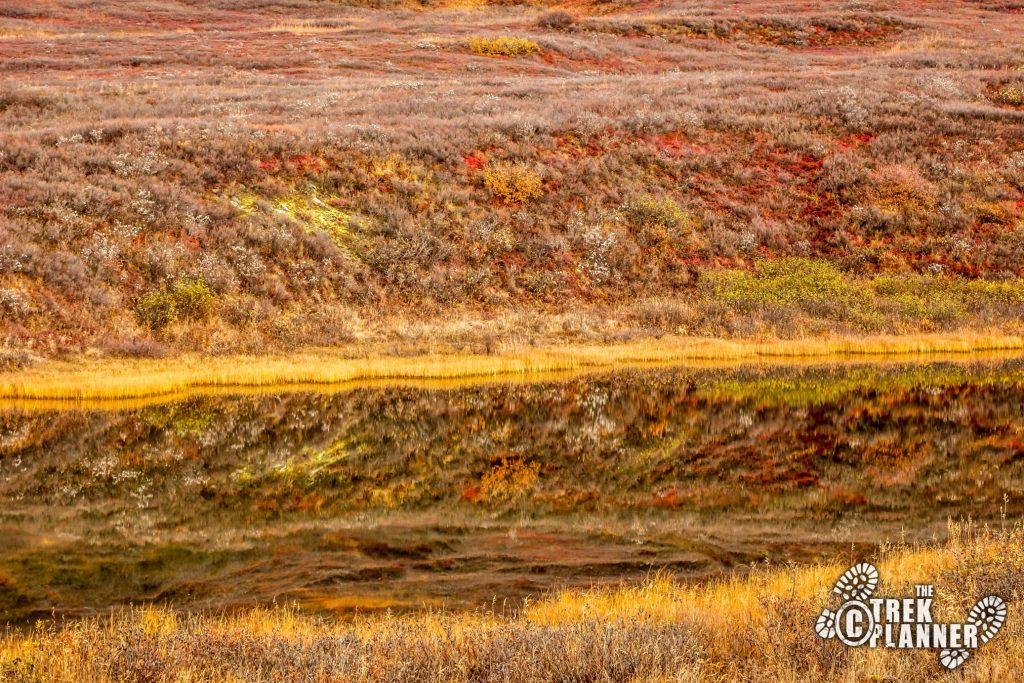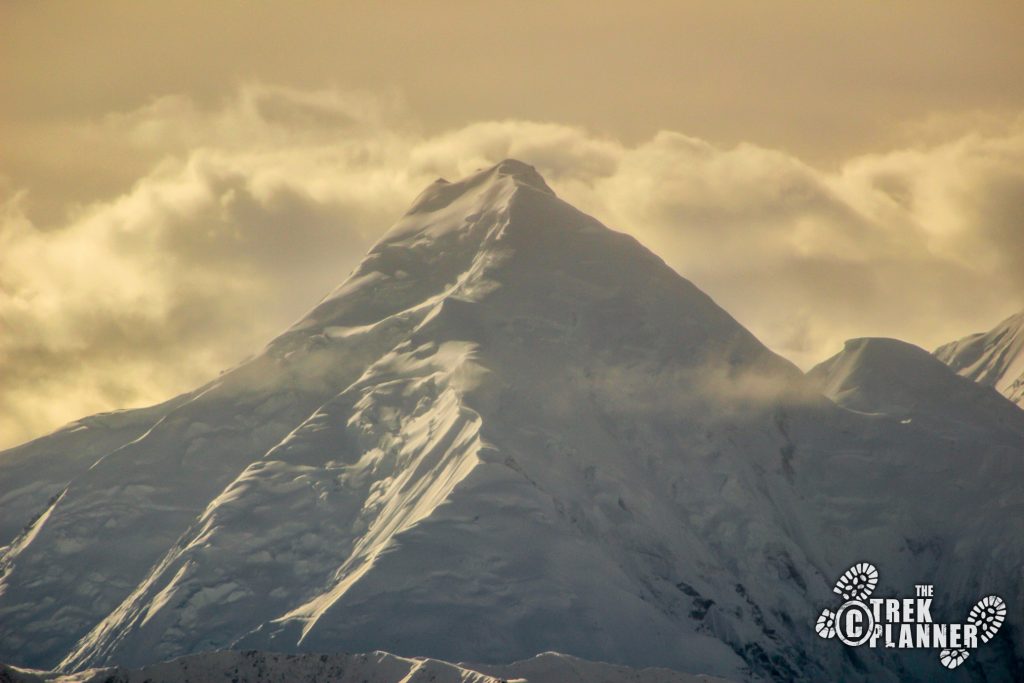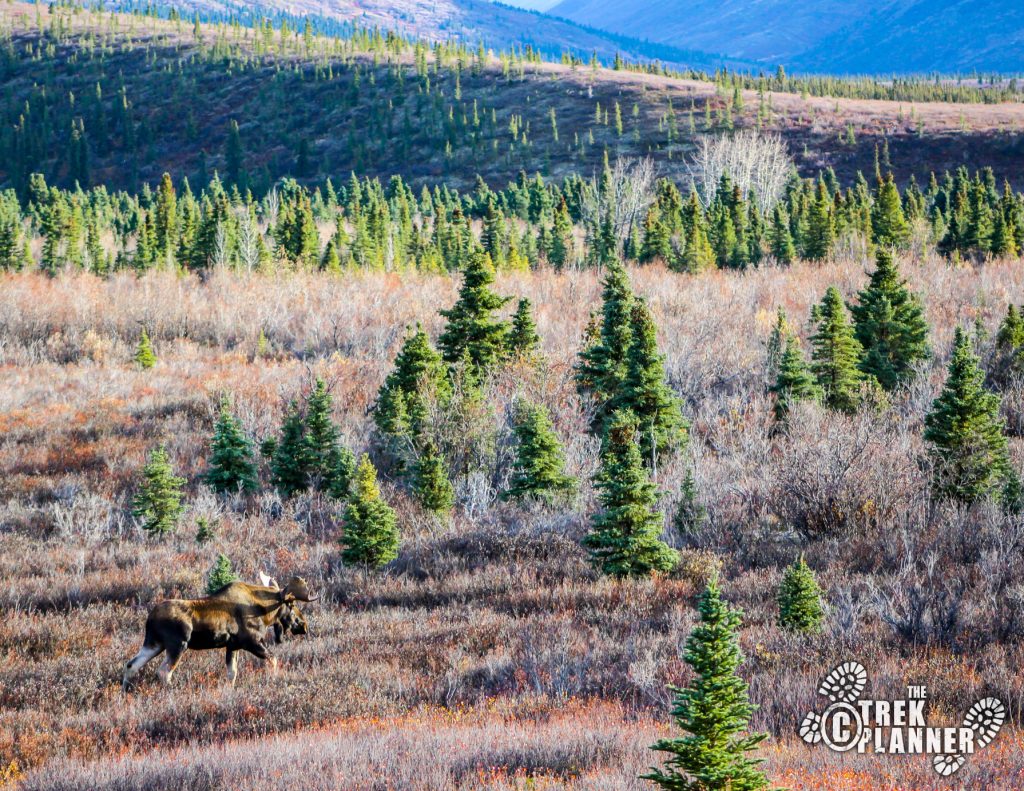 Listed below are the established campground areas in the park listed from the closest to the park entrance to the farthest away.
Riley Creek – 147 campsites available
Savage River – 33 campsites available
Sanctuary River – 7 campsites available
Teklanika River – 53 campsites available
Igloo Creek – 7 campsites available
Wonder Lake – 28 sites
Many of these campsites offer RV camping but no site offers power, sewer or water hookups.
Please click here for the most up-to-date information regarding camping in established areas in Denali National Park.
The designated camper buses are created to allow more room for your gear and even bikes.  Camper buses have the rear seats removed so as to accommodate your backpacks, bikes and other gear.  If you plan on spending a night or two in the park then the camper buses are what you should take.  If you plan on doing just a day hike or take the shuttle in then ride it back out in the same day then you should take just the regular green shuttle buses.
BACKPACKING:
Backpacking in Denali National Park is very unique. The entire park is cut into a 41 unit system meaning you must camp in a certain unit and you will need permits.
The park service lists 5 ways for you to obtain a permit.
1. Plan your itinerary
2. Watch the backcountry video
3. Experience a safety talk with a ranger
4. Delineate maps
5. Purchase camper bus tickets
The process of how you can backpack and camp in Denali is complex and will require some planning and serious thought. Instead of explaining everything here on Trek Planner, if you desire to know more about how the backpacking and camping works in Denali National Park, please visit here.
For backcountry hiking and camping you will need to reserve a seat on a camper bus. Camper buses are created just for backcountry hikers and bikers.
Camper bus prices are around $34.00 and run from early June to around the middle of September (each year varies so please check here for the current information)
THE PARK ROAD
Wilderness Access Center (WAC)
The 92.5 mile long Park Road begins at the Wilderness Access Center where you can purchase shuttle passes, speak with rangers about camping and other general questions and where you can purchase coffee, sandwiches and other last minute items you may need to get.  The Wilderness Access Center (WAC) is different than the Visitor Center because the Visitor Center features information and history about the park whereas the WAC is how you gain access into the, well, wilderness.
Once you purchase your shuttle or tour ticket online or in person, please arrive a little earlier before your departure and wait until they call you to your bus.
Denali National Park Entrance Visitor Center
There are two visitor centers for Denali National Park, the Entrance Visitor Center and Eilson Visitor Center located at mile 66 on the Park Road.
The Entrance Visitor Center is worth a visit if you have time.  It is located west of the Wilderness Access Center and there are displays, some art pieces and flushing restroom facilities.  There is also a gift shop and a place to eat a few steps away from the Entrance Visitor Center.
Eilson Visitor Center is accessed only by the shuttle buses.  Eilson also has some interesting displays and information but the best part of Eilson is that it has an incredible viewpoint of Denali.  Also, there are flushing toilets and drinking fountains at Eilson too so that is something to get excited about too!
Savage River Trailhead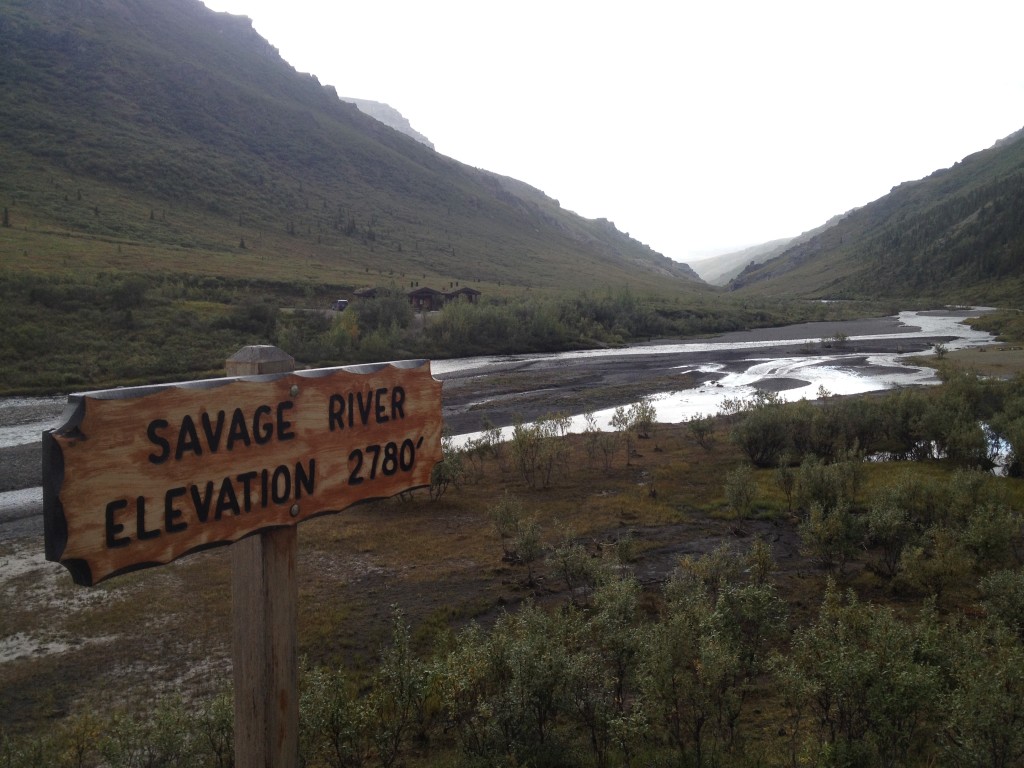 Mile 15
There are courtesy shuttles that begin from the Wilderness Access Center and also the Entrance Visitor Center which make a loop to Savage River.  You can also drive to this point if you have your own vehicle.  Savage River Trailhead has a very nice loop trail which follows Savage River, crosses over on a bridge then comes back the other side.  There are pit style restrooms here.
Teklanika River Rest Stop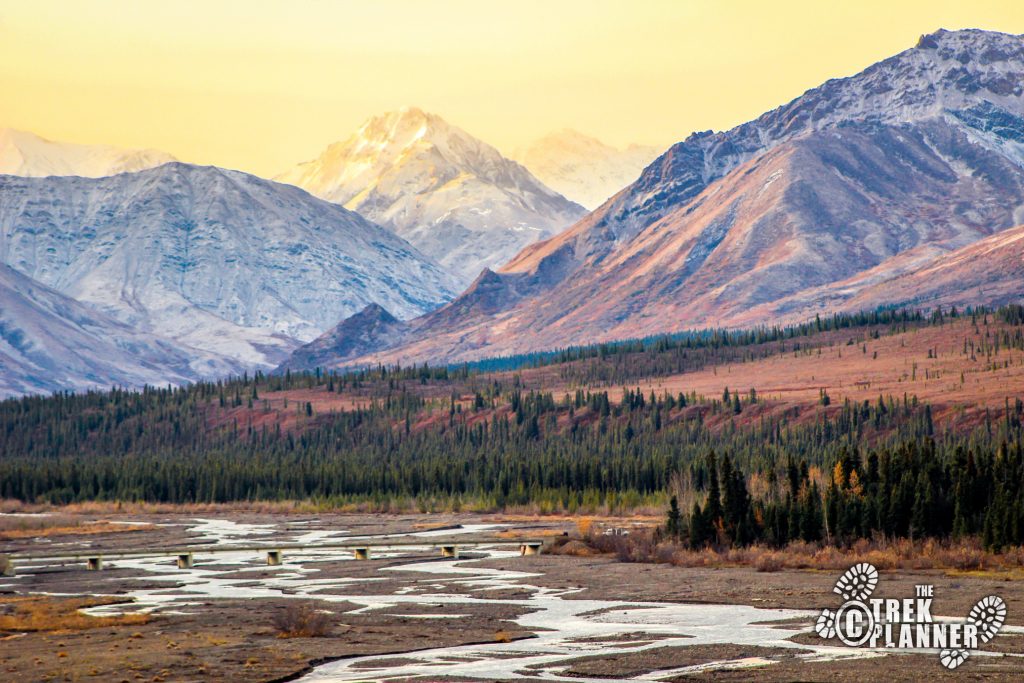 Mile 30
Stopping here at Teklanika River will give you a very wide view of the Teklanika River.  There are lots of restrooms here and a few information kiosks as well.  I always like stopping here on the shuttles because the river is braided and twists and turns all over the wide valley.
Polychrome Overlook
Mile 46
Polychrome Overlook is also an incredible stop where you can see a immense sloping valley where several creeks join together at the bottom.  There are lots of different colors and even a few glacier erratics that you can see in the distance.  There aren't any restroom facilities here but it is a stop for the shuttle service because of the view.
Toklat River Rest Stop
Mile 55
Toklat River features a gift shop and there are usually moose and caribou antler sheds that the park lets you touch and examine closely.  The Toklat River is also a very wide braided river and there are very sharp and jagged mountains nearby.  The gift shop is kind of fun to see but I like the mountain views even better.
Stony Hill Overlook
Mile 62
If the sky is clear you will have an incredible view of Denali from this overlook.  This seems to be an optional stop if Denali is "out" because if it is cloudy we have definitely kept travelling on to Eilson Visitor Center without stopping here.
Eilson Visitor Center
Mile 66
Eilson Visitor Center has flushing toilets and even a few drinking fountains.  It is a great rest stop because it is also a park visitor center which means you can speak with rangers and other travelers about the park.  There are some displays and even a small theater where they show a short film too.  There is the Alpine Trail which goes above the ridgeline to the north and there are also trails to the south which make short loops.  I have seen many bears around here so it is very important to be aware of your surroundings and any wildlife.
Wonder Lake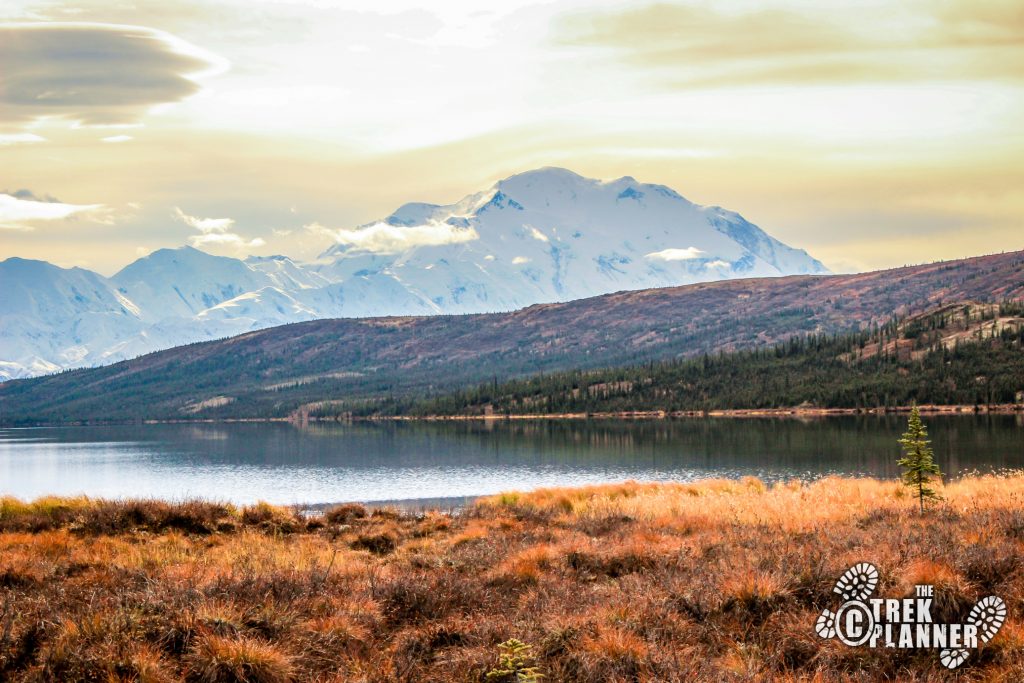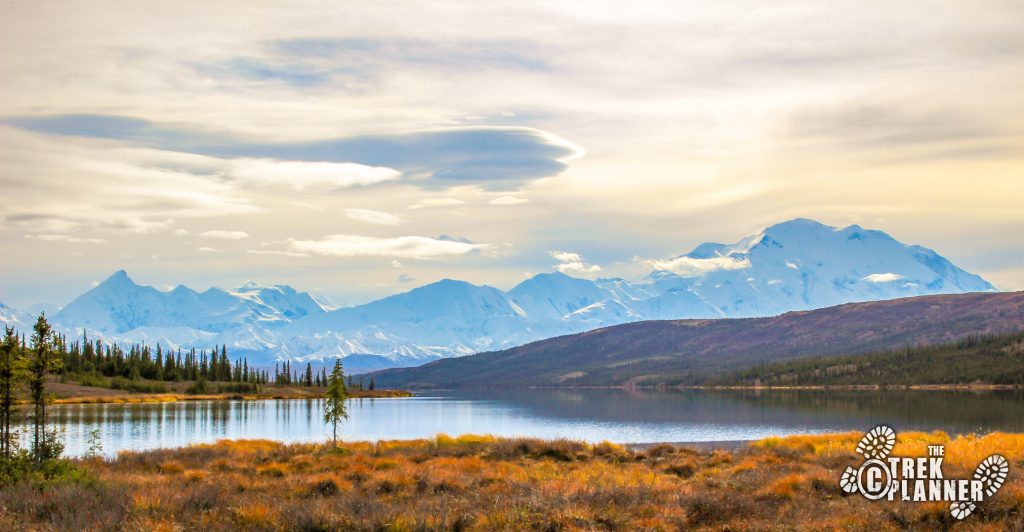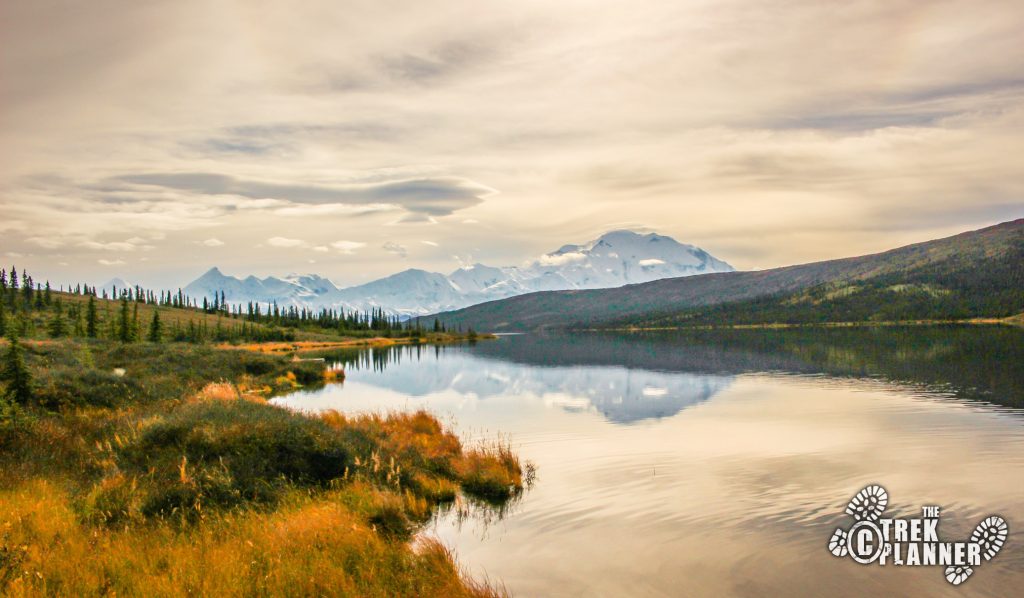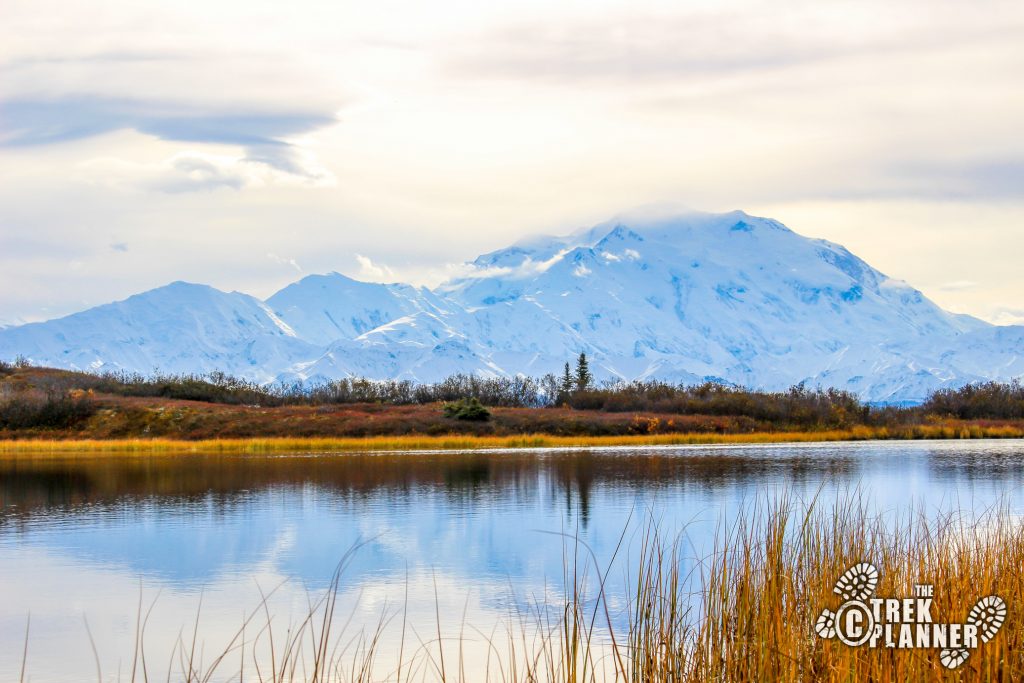 Mile 85
The Wonder Lake stop has a few restrooms along the road but the campground is located a short drive to the west (off from the Park Road).  Depending on the angle you are at you can get some amazing reflections of Denali in the lake.  This would be a very cool place to camp and spend a few days.
Kantishna
Mile 89 – (the end of the road in Kantishna is 92.5)
This is the end of the Park Road.  There are lodges and cabins scattered all over this old mining area.  The shuttle makes a stop here and then comes back to the entrance of the park.  Many of the lodges have restaurants and lodging for high prices.  There is also a ranger station in Kantishna.  You can visit Fannie Quigley's cabin, which may or may not be open depending on the schedule of the ranger visits.  When we visited a ranger was there with all sorts of pictures and historical information about Fannie and their mining and hunting adventures.  Fannie was a hard-core lady who came to Kantishna in 1905.  When the mining boom was over she stayed along with a few others.
The Return:
Hop back on a green shuttle bus and go back to the park entrance.
Personal Thoughts:
Even though the tour buses are a great option, the green shuttle buses are my preferred way of seeing the park.  They are flexible and allow me the opportunity to stop anywhere along the road and I can get off and explore then jump back on a returning shuttle.  I have lived in Alaska for eight years and have visited the national park many times and I never cease to be amazed by its beauty and seemingly endless wilderness.  Come to this park!