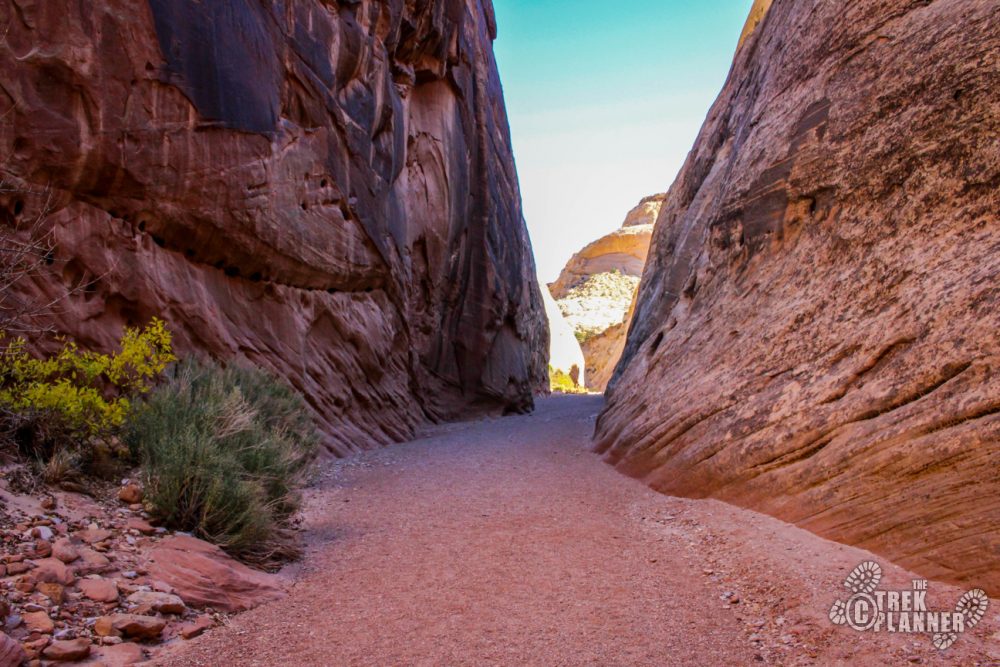 Overview
Capitol Reef National Park, near Torrey Utah
Pioneer Register, rock art, pictographs, petroglyphs, water tanks
About 2 miles round trip from the trailhead to the tanks and back.
Varies - mostly flat hike to the tanks
I spent about 2 hours exploring
$10 per vehicle after the campground
$7 per person (if riding bike or hiking in)
A good mix of shade and sun exposure
The trial is a mix between gravel and dirt. It's clearly marked with cairns
Yes, at trailhead (outhouse style)
Yes. Located at the entrance to the national park
Yes. At Fruita Campground (see our Fruita camping trek!)
There are additional camping fees
You will need good hiking shoes, a hat, sunglasses, and backpack for your food and water
GPS Coordinates:
Trailhead: 38.20951, -111.1687
Tanks: 38.21395, -111.15816
Arch: 38.21379, -111.15734
Trail Map
Driving Directions
The Trail:
The title of this Trek may sound odd: "Tanks? Military tanks? What kinds of tanks?"  Think back to when the Mormon pioneers were settling this area.  Why would they call a landmark tanks? Well, the tanks refer to deep sandstone pot holes that would hold lots of water – water tanks!  The tanks are situated in a wash that would funnel all of the rain and snow melt into the tanks, thus successfully storing water.  The trail to the tanks and Pioneer Register through the Petroglyph Narrows is easy and won't take you more than an hour or two.
This is a worthwhile stop and one I would recommend doing if you are visiting Capitol Reef National Park.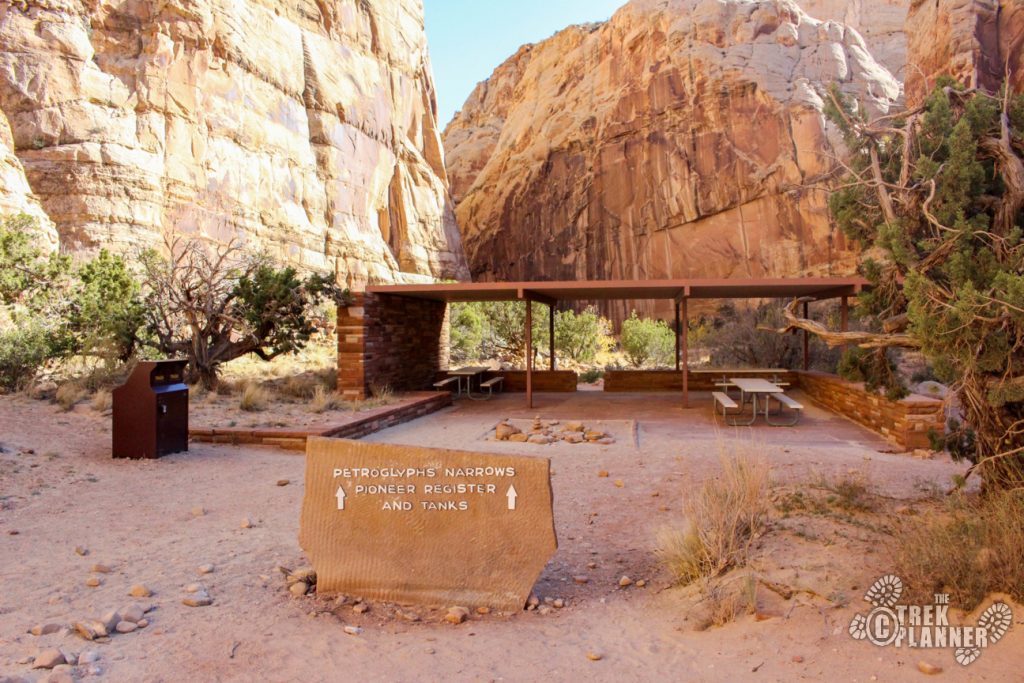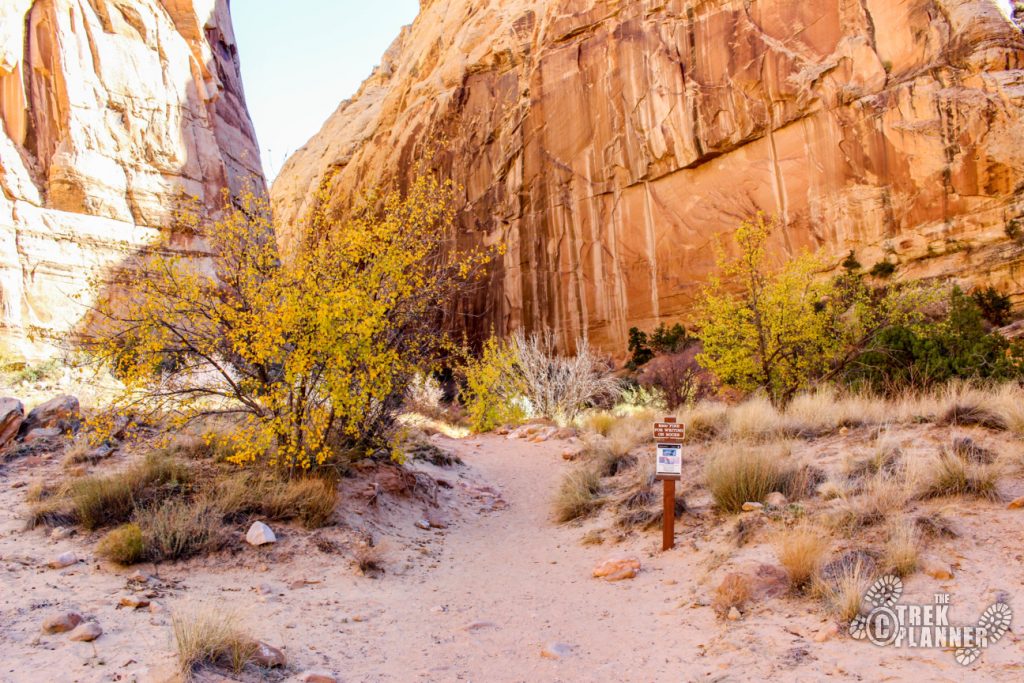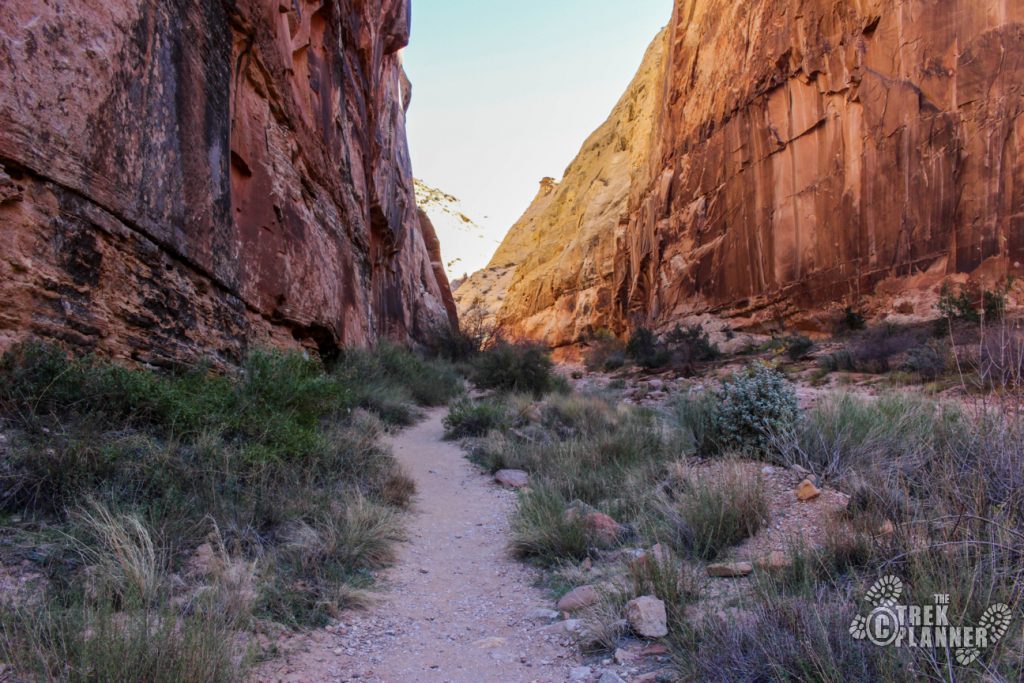 At the trailhead you will find a nice picnic area, outhouses and some informational kiosks.  The drive alone into this canyon is incredible and worth the visit.  Once you are at the trailhead you will see the trail goes right onto the wash.  I would not recommend hiking this if there were recent storms or if it was currently raining.  You never know when there could be a flash flood right around the corner.  If you have any doubt, speak with a park ranger at the visitor center.
Once you begin hiking you will see signs of Fremont Indian pictographs.  Watch the walls from this point and you will see countless pictographs, petroglyphs and pioneer names in the rock.  Some are faint but some are clear and distinct.  I really enjoy finding rock art and trying to imagine what the meaning is behind them so this hike was fascinating to me!
Pioneer Register is so named due to the Mormon pioneers and early settlers carving their names and initials in the rock as they passed through this canyon.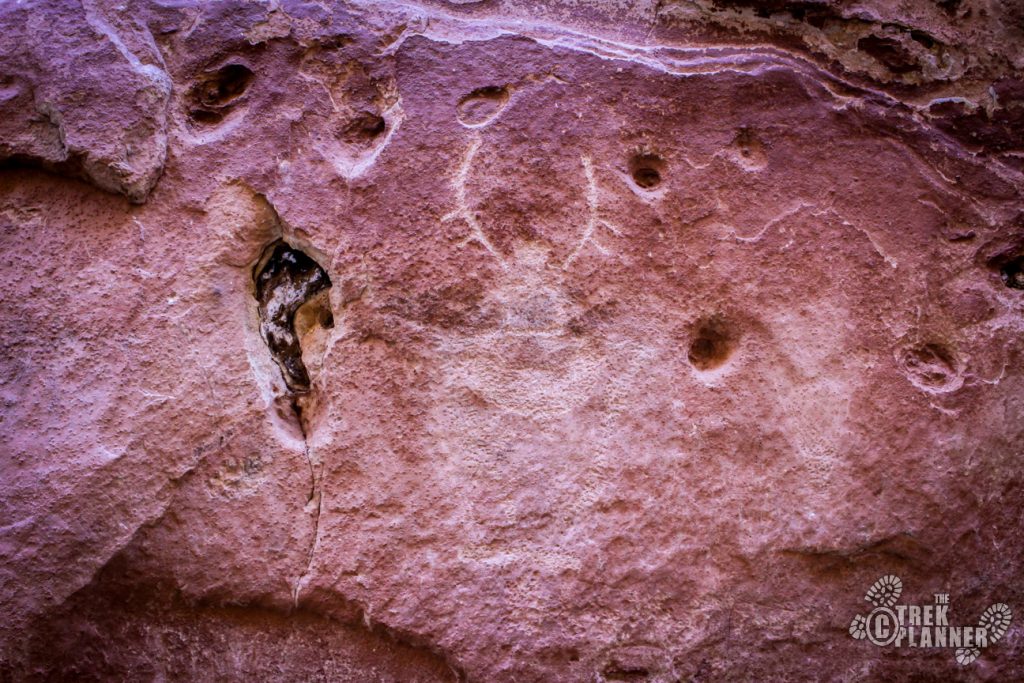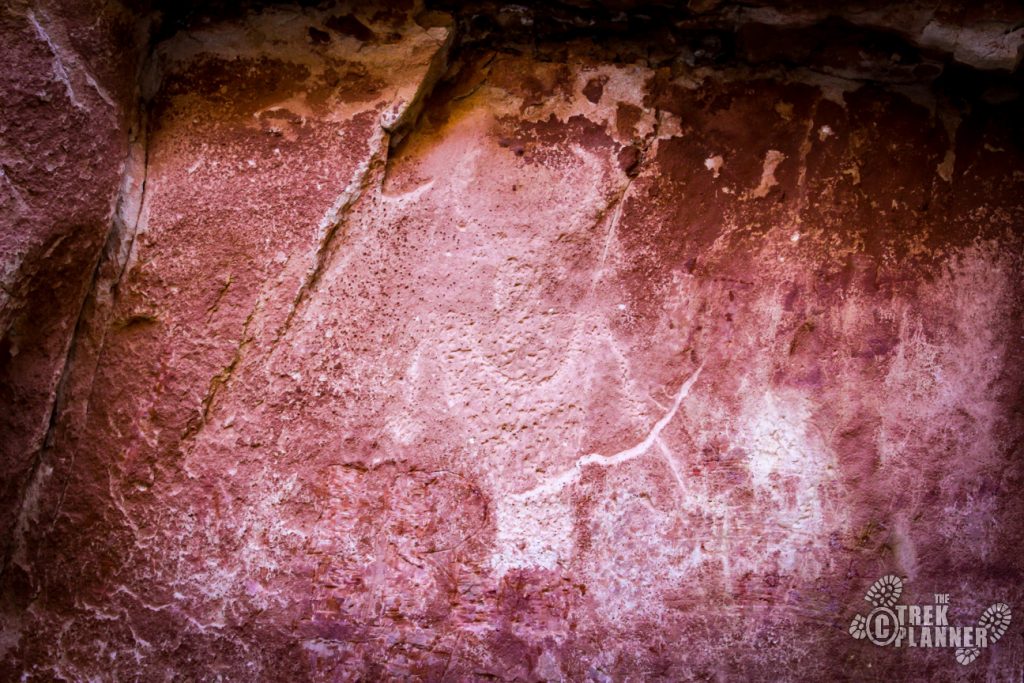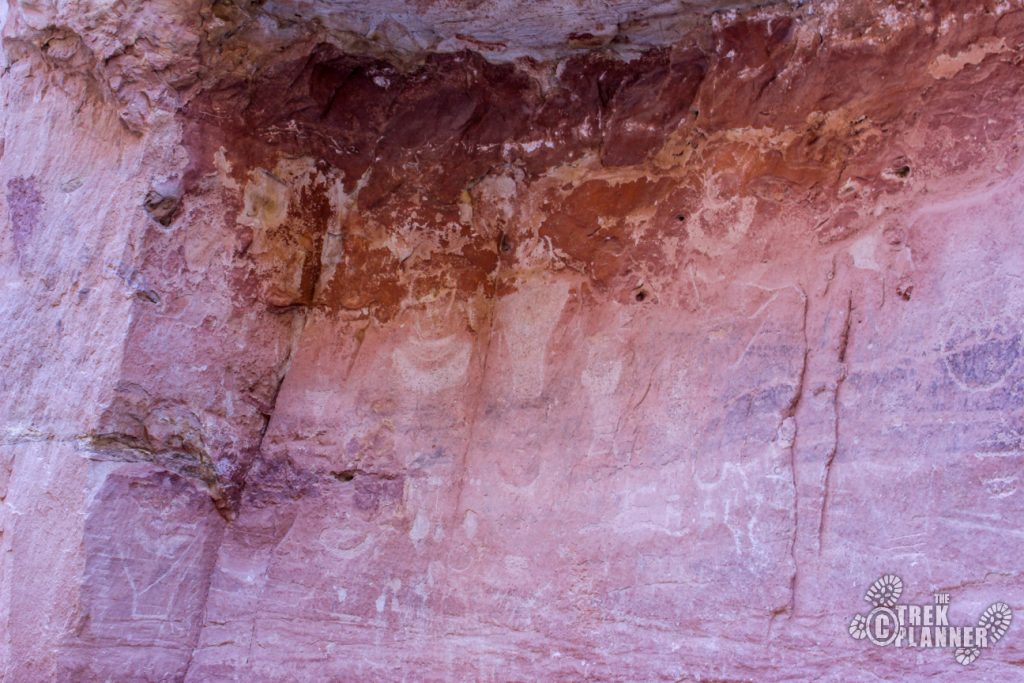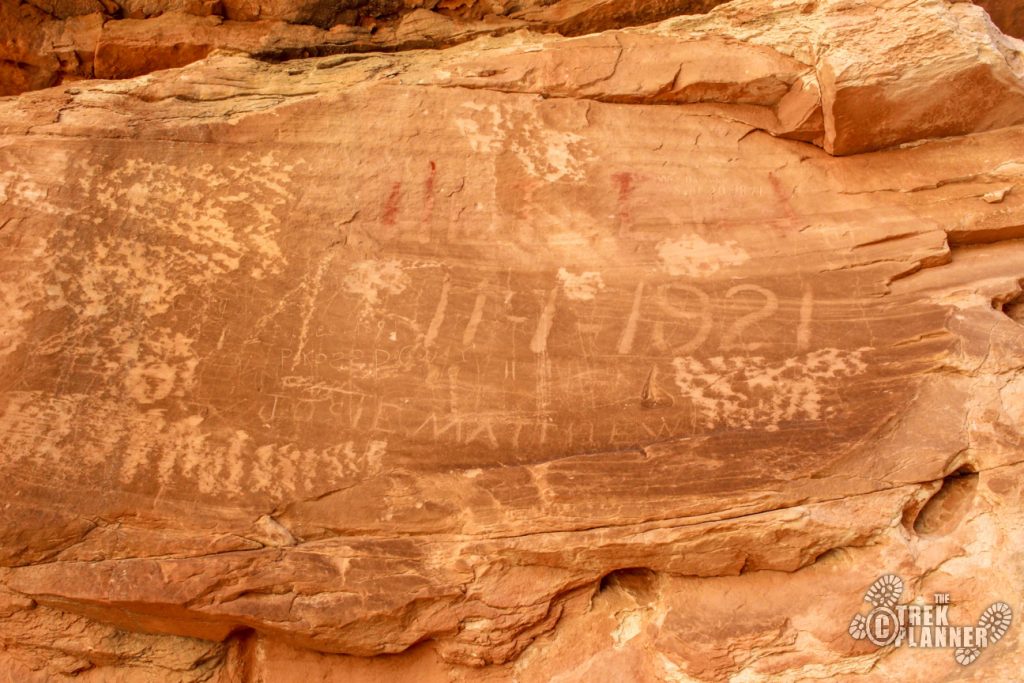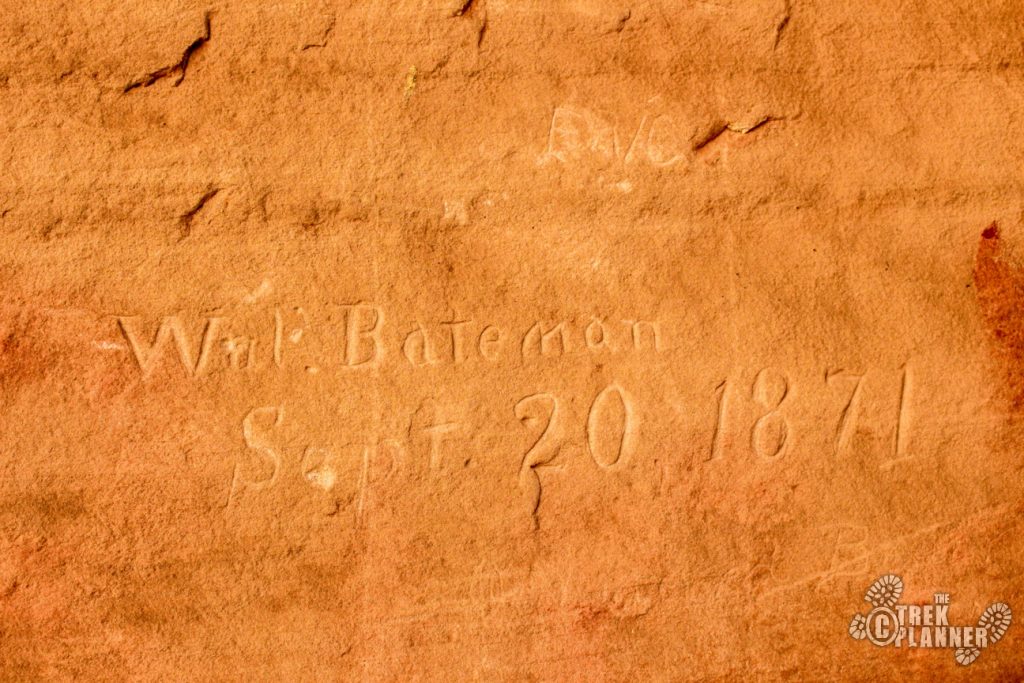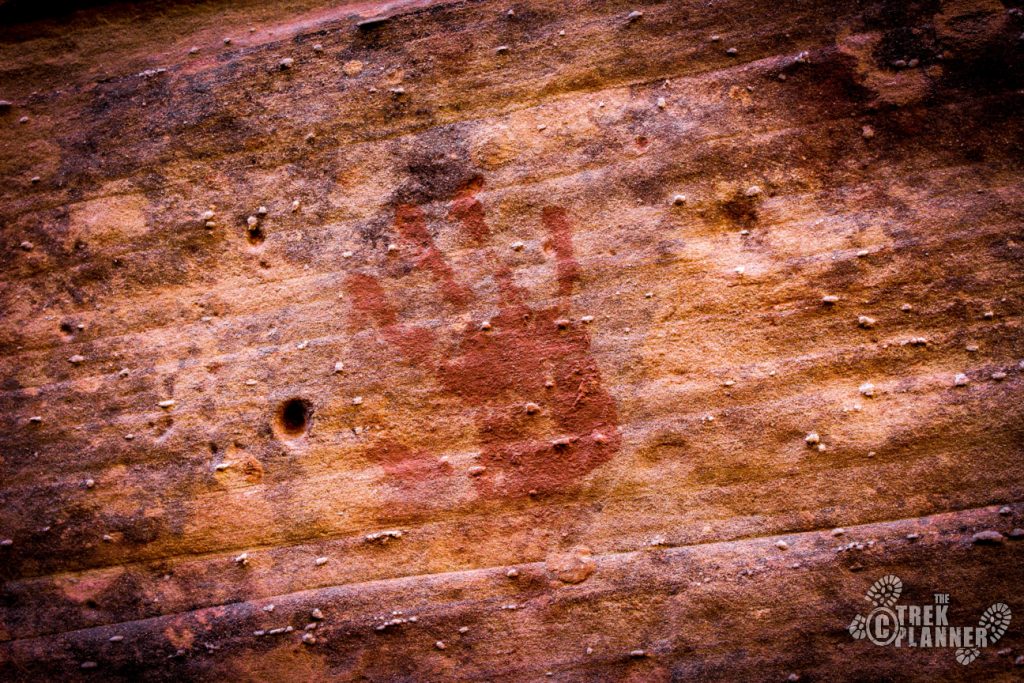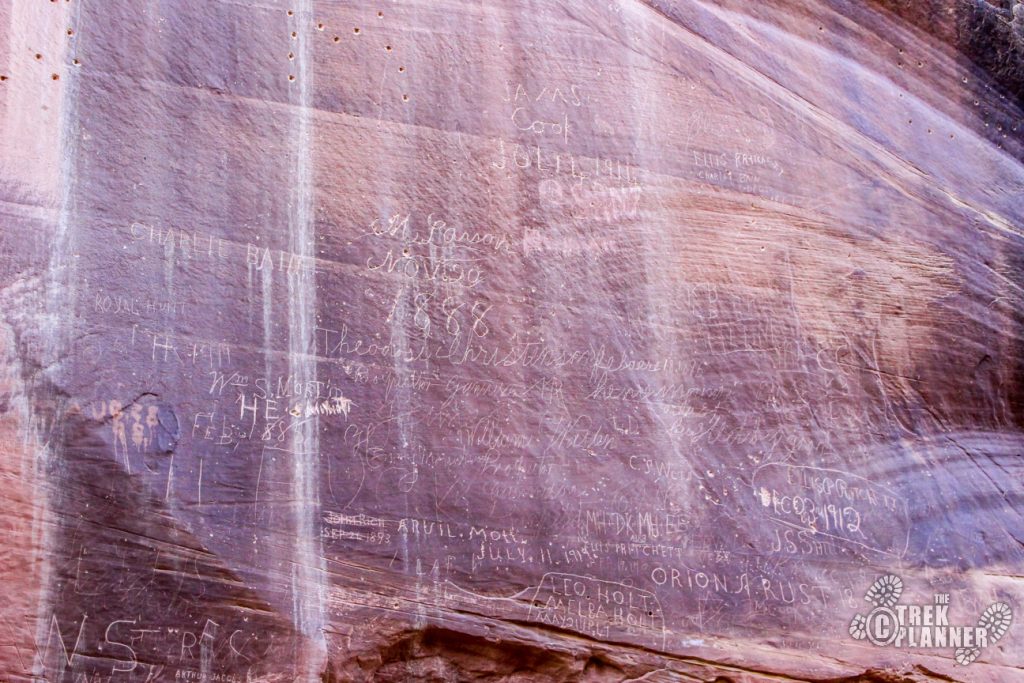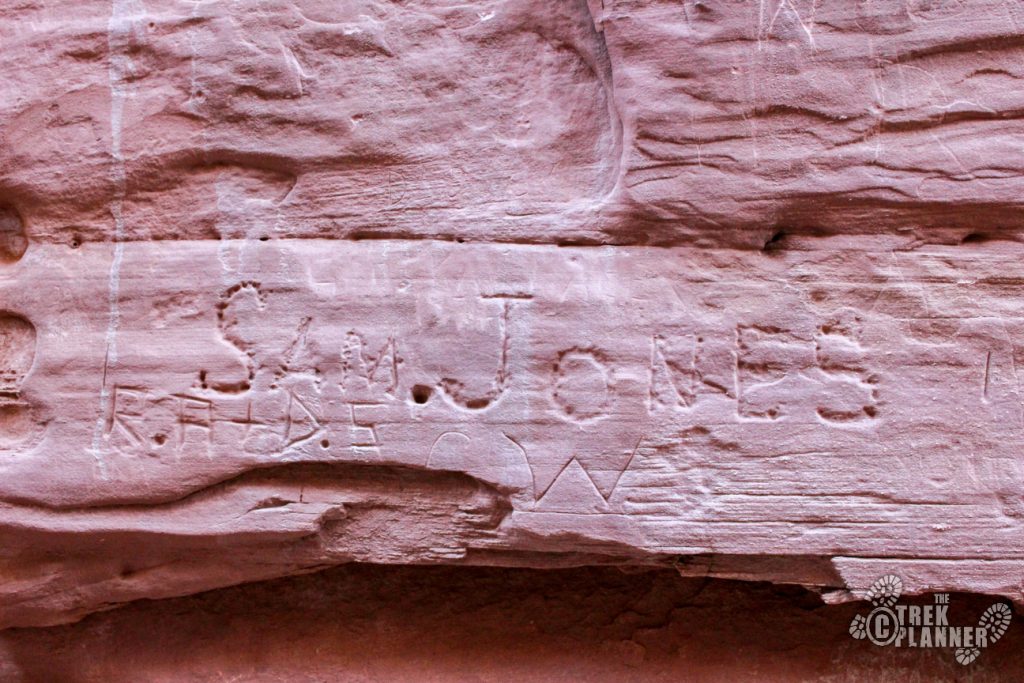 I love how the canyon narrows significantly so that you can look up and only see rock wall and sky.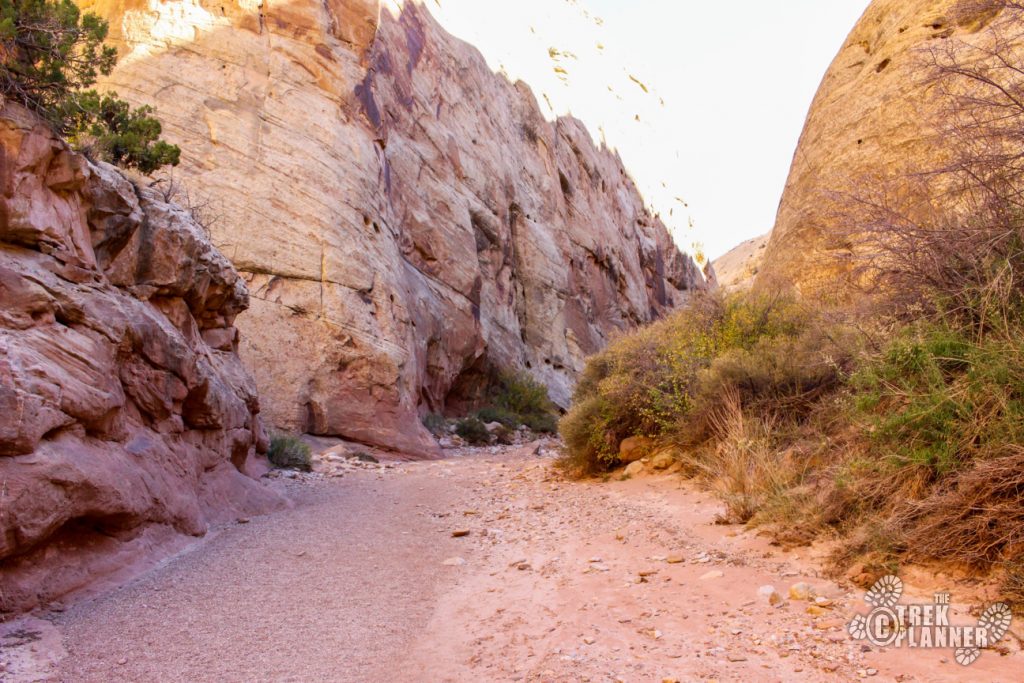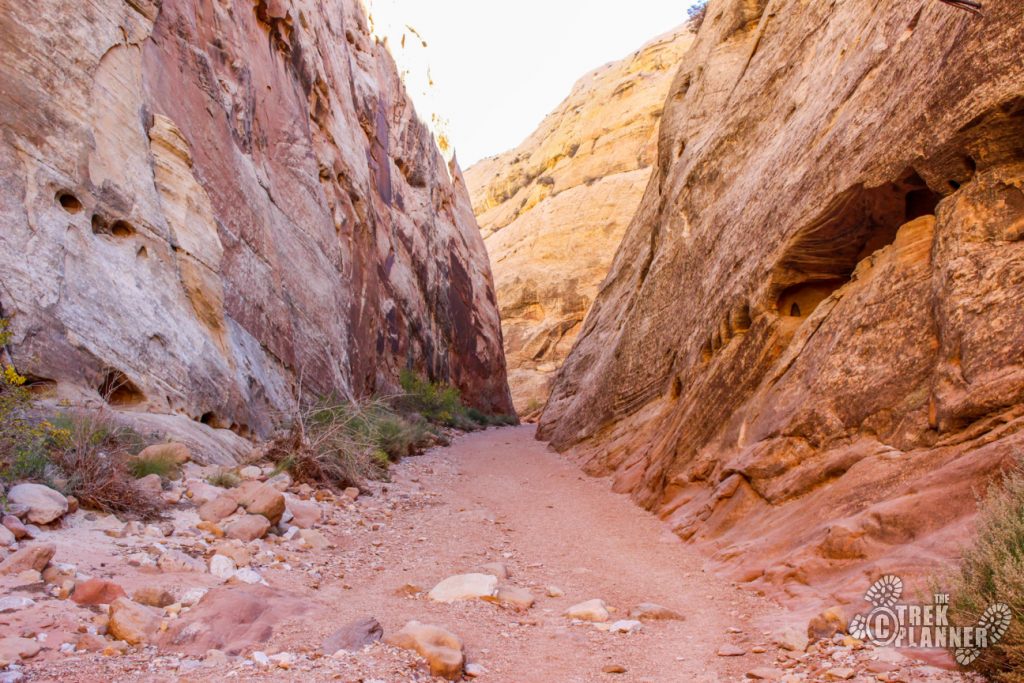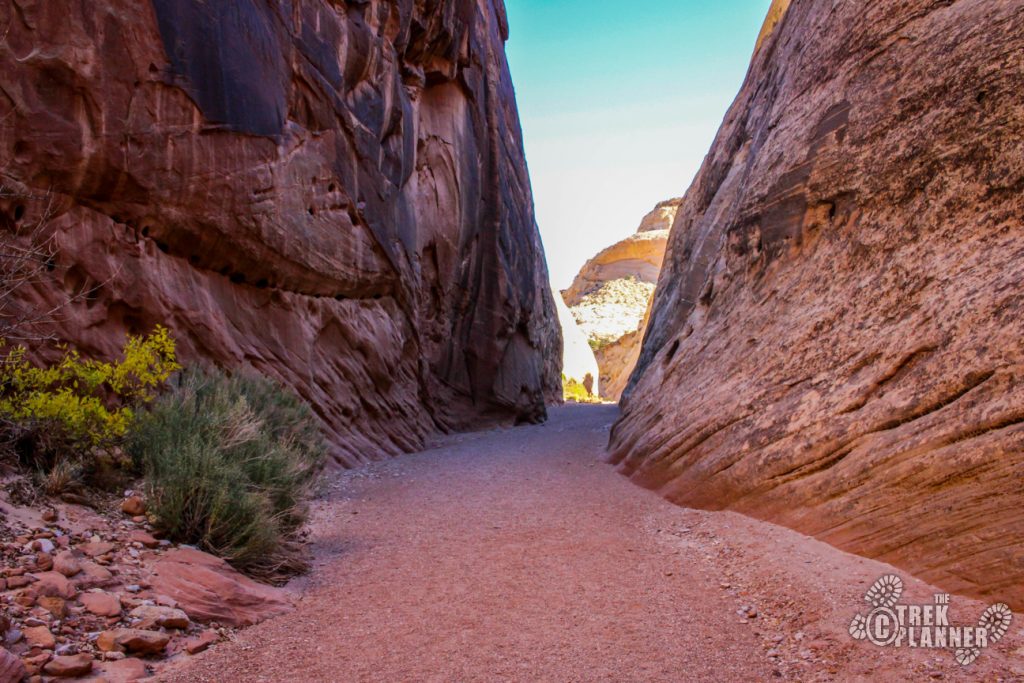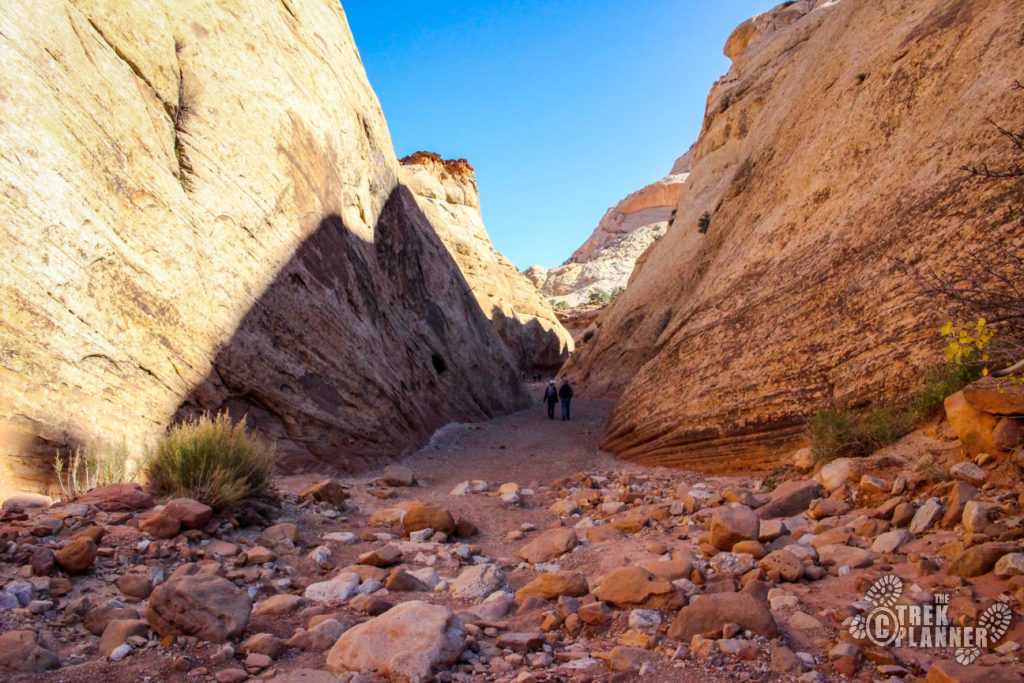 You may also notice little iron rods sticking out about 15-30 feet above the trail hammered in the sandstone.  I asked some other hikers what they thought and they surmised the rods were for keeping the telegraph lines high above the wash where it was prone to flash flooding.  Another hiker suggested lights could have been used at one point in the canyon before the road was highway was built.  Either way, it is really neat to see so many historical aspects going on in one place.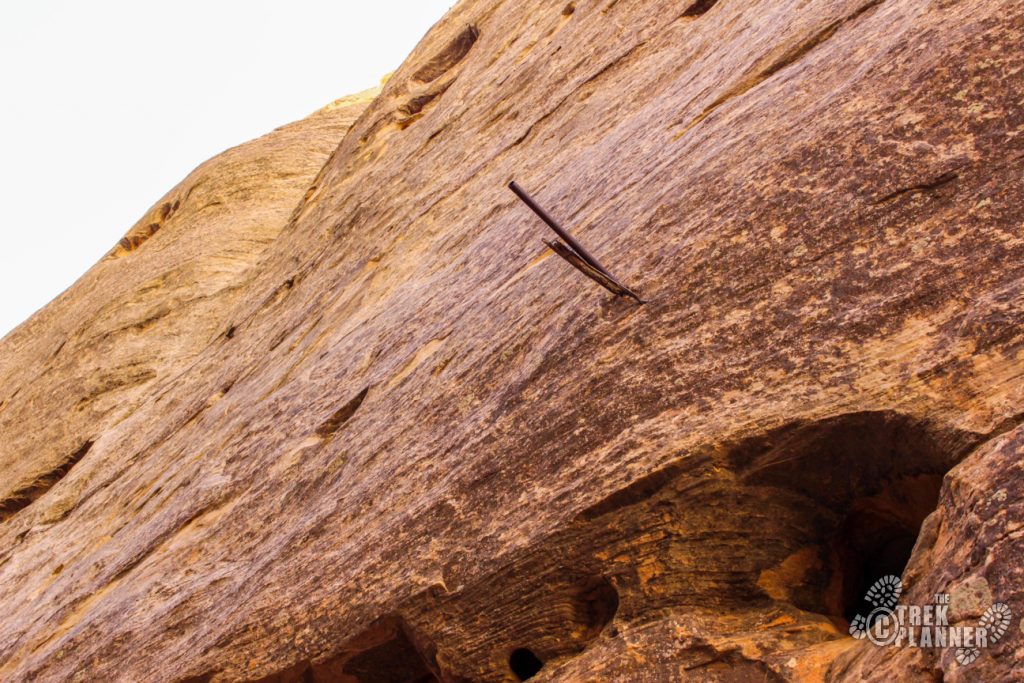 The canyon will open up just a little bit and you will see a sign that points you to the tanks.  Take a left and hike up the trail and follow the cairns to the arch and tanks.  There are several tanks and all of them were still holding water.  The water looked pretty gross but if I were thirsty enough I would consider taking a drink!  The arch is also located here just below one of the water tanks.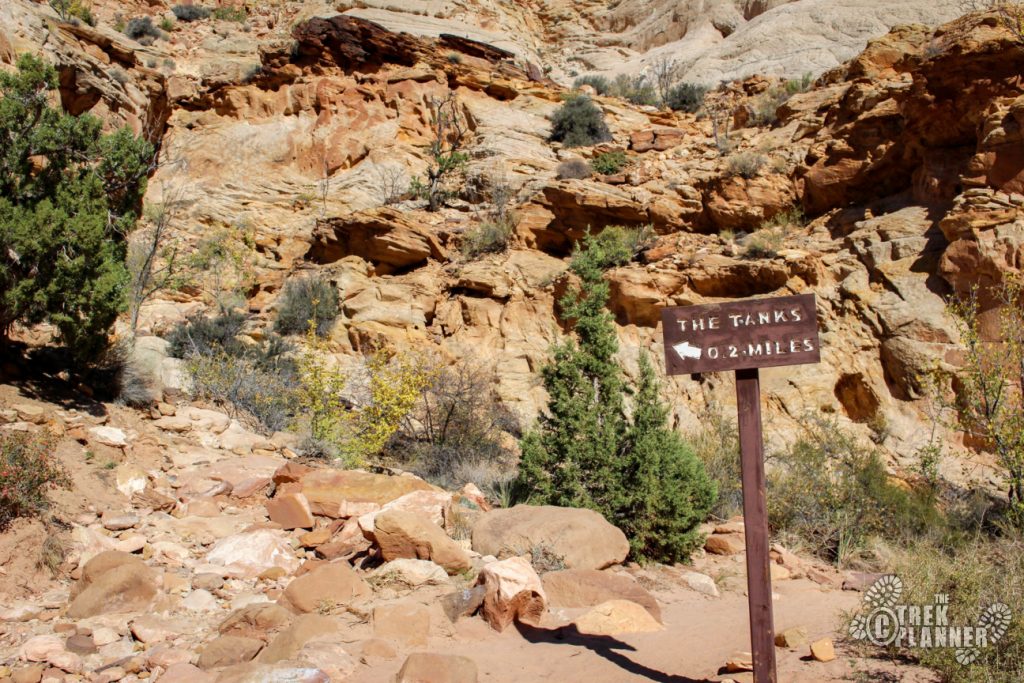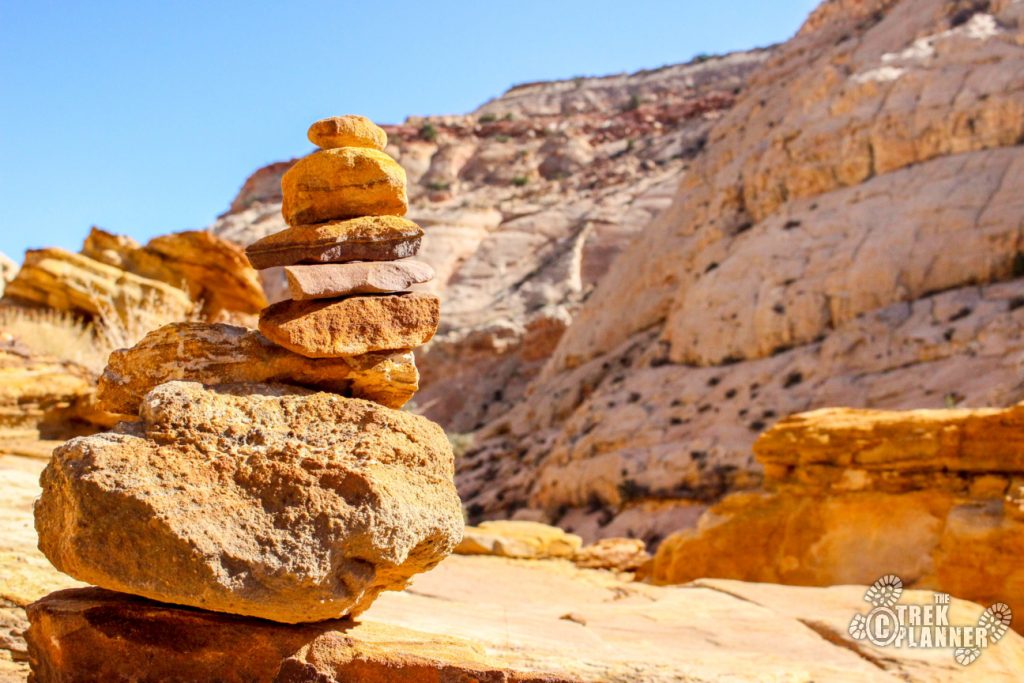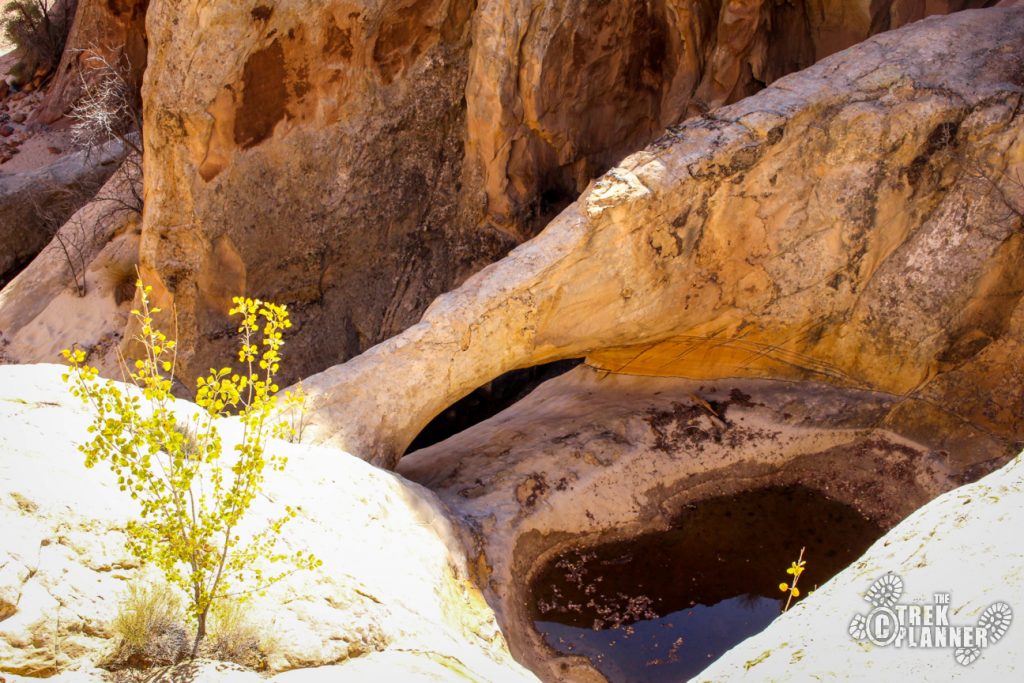 The Return:
Hike back the same way you came.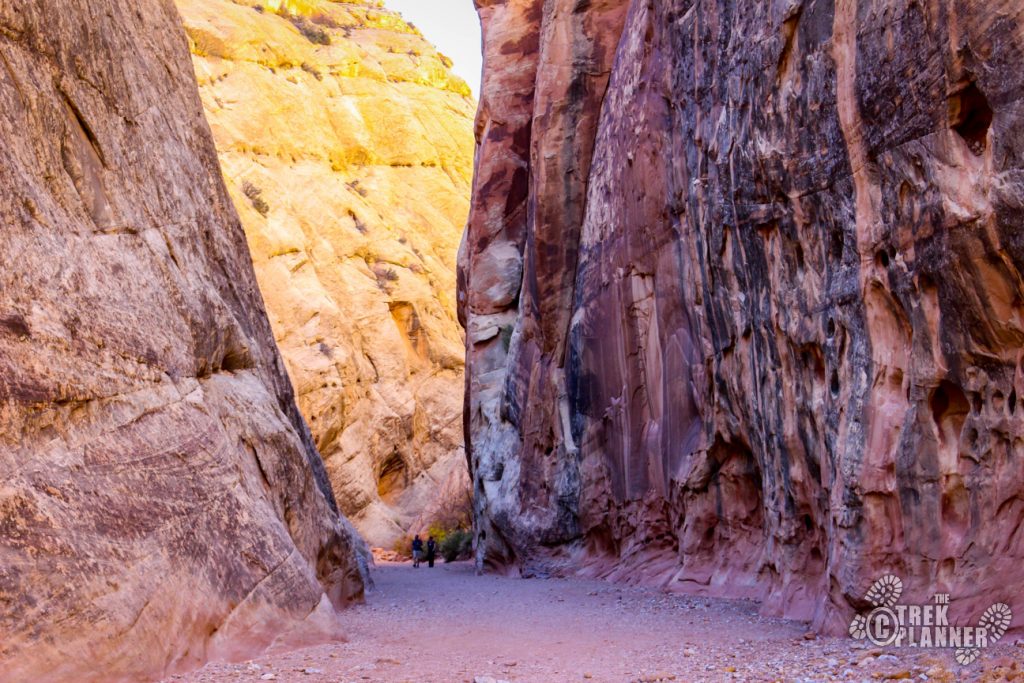 Personal Thoughts:
This was a quick and easy hike that showcased lots of interesting things in a short amount of distance.  It seemed everywhere I looked I would see a another pictograph or another pioneer name.
It is always interesting to me to see how different one culture would record history compared to another.  The Fremont Indians in the Capitol Reef area would put pictures of people, food, religious symbols and animals on the rock walls.  The pioneers and settlers would just carve their name, initials and dates.  I didn't notice any pioneers carving pictures of wagons, horses or even people.  I'm not suggesting or implying anything but the differences in the two cultures couldn't be more apparent.