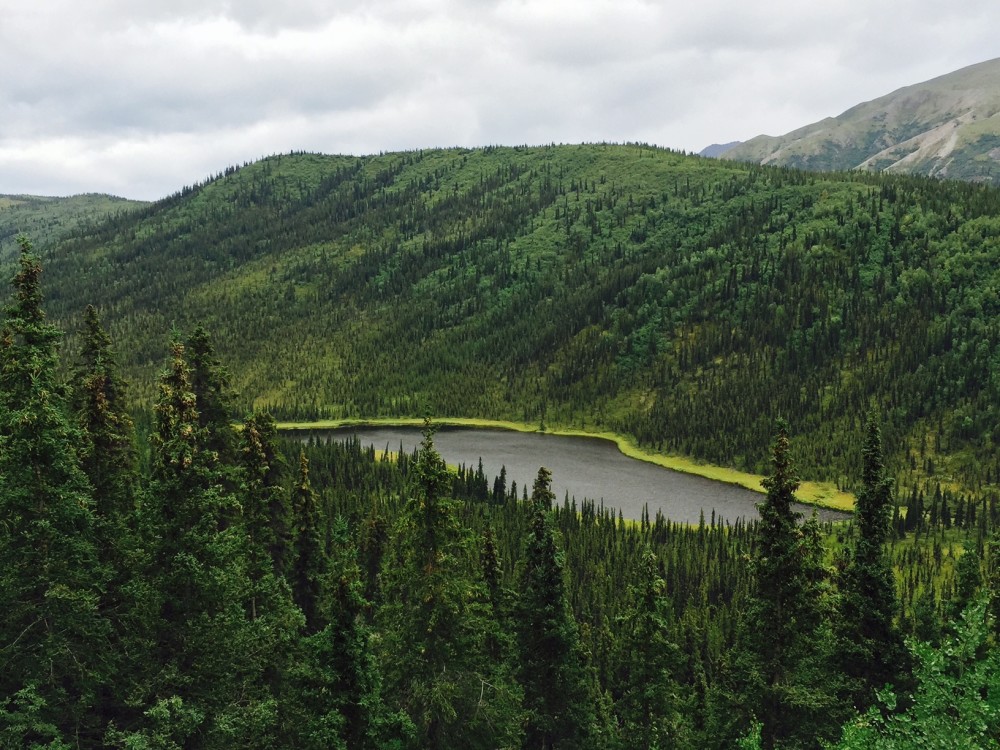 Overview
Denali National Park, Alaska
Triple Lakes, wildlife, Hines Creek, Riley Creek, lots of berries
4-8 hours depending on your speed.
Bring 2-3 liters of water.
Maintained trail. Gravel and dirt mix
Only allowed in designated camp sites
Bring snacks and meals as needed.
I brought a sandwich and a few pieces of fruit.
I brought good hiking shoes, a sweater, waterproof jacket, hat, sunglasses, backpack for food and water, water filter and camera.
GPS Coordinates:
Denali National Park Visitor Center Trailhead: 63°43'51.78″N,148°55'1.45″W
Suspension Bridge: 63°43'20.17″N, 148°55'4.98″W
First Switch-Backs: 63°42'35.51″N, 63°42'35.51″N
Lake 3: 63°40'2.46″N, 148°53'17.30″W
Lake 2: 63°39'29.31″N, 148°52'21.01″W
Lake 1: 63°39'11.13″N, 148°51'35.03″W
Southern Trailhead: 63°39'23.94″N, 148°50'11.68″W
Trail Map
Driving Directions
Driving Directions to the Denali National Park Visitor Center Triple Lakes Trailhead
Driving Directions to the Southern Triple LakesTrailhead
The Trail:
The Triple Lakes Trail hike is a popular hike in the frontcountry of Denali National Park.  I have lived in Denali for four summers now and this is the first time I have done this hike in full.  It is just over 9 miles in one direction but overall not a very strenuous hike.   If you really wanted you could do this hike down and back again but it would be over 18 miles making it a very long tiring day.  I would suggest doing it one way and then getting a ride or having a friend pick you up at the opposite end.  When I did this, I started from the Visitor Center and hiked down to the Southern Trailhead and went across the bridge to the Denali Park Village to get on their shuttle back to the visitor center (please check with the Denali Park Village for shuttle times and prices if any).
Since Triple Lakes is not a loop trail, there are two ways to hike it.  You can either start at the Denali National Park visitor Center or you can begin just across the bridge from the Denali Park Village (see the very last picture in this Trek to see the trailhead).  If you start at the Visitor Center, you simply hike south. If you start from the southern trailhead you simply hike north.  The southern trailhead is the fastest route to the 3 lakes so if you are looking for a short jaunt to the lakes, take the southern trailhead.
You will be hiking in moose and bear country so it is important to make your presence known to the wildlife.  Make noise, clap your hands, sing, do whatever you need to do, just make your presence known.  I hiked this by myself so I was always looking for signs of animals and being aware of my surroundings.
—————————–
I will start this Trek off by showing a few pictures of the many mushrooms and berry bushes that you will encounter while hiking the Triple Lakes Trail.
Mushrooms
Just about all of these mushrooms I found are non-edible, very poisonous or even deadly so I don't recommend you mess around with them.  They do make for great pictures though.








Berries
I found berry bushes along the entire length of the trail.  If you are hiking in August you will have better chances of finding ripe blueberries, huckleberries, crowberries, low-brush cranberries (lingonberries), raspberries and others.  Just make sure you know for sure so you aren't picking poisonous berries!
I hiked Triple Lakes in early August and found big blueberries and huckleberries all over the place.  I stopped almost every chance I could for handfuls of them.
I was trying really hard to search for raspberries but I only found those on mostly west facing hillsides near the first set of switch backs.  Raspberries were also more common near the actual lakes.  I found a large meadow that were only raspberry bushes – you can find it somewhere near Lake 2 and Lake 3…
Blueberries and huckleberries are very similar in shape and taste here.  I can't really tell the difference but when they are ripe they are very tasty!
Crowberries are small firm berries that are black which grow very low to the ground.  When they are ripe they have a subtle taste.  I mostly like these for texture.  Back in 2013 I made jam out of 2/3 crowberries and 1/3 blueberries and it had a very delicious taste.  I have heard from my Athabascan (Native Alaskan) friend that crowberries were used for dyeing things purple.  He also said that large quantities were stored when drinking water was scarce so they can be eaten during the winter months.
Rose hips are also edible and but wait until they are bright red to consume.  I like the texture of rose hips more than the taste.  Fresh rose hips have really high Vitamin C content arguably higher than oranges.
Low-brush cranberries or lingonberries, are basically mountain cranberries.  They are not sweet but are also delicious when making jam.  Lingonberries also have a good source of Vitamin C.
Happy berry picking!
Blueberries
Rose hips
Crowberries
Low-brush Cranberries (lingonberries)
Raspberries
Natures bounty
I started the Triple Lakes Trail behind the Denali National Park Visitor Center on the south side.  This trail is more than 9 miles one way and I recommend you stop and get as much water and food that you may need before you head out.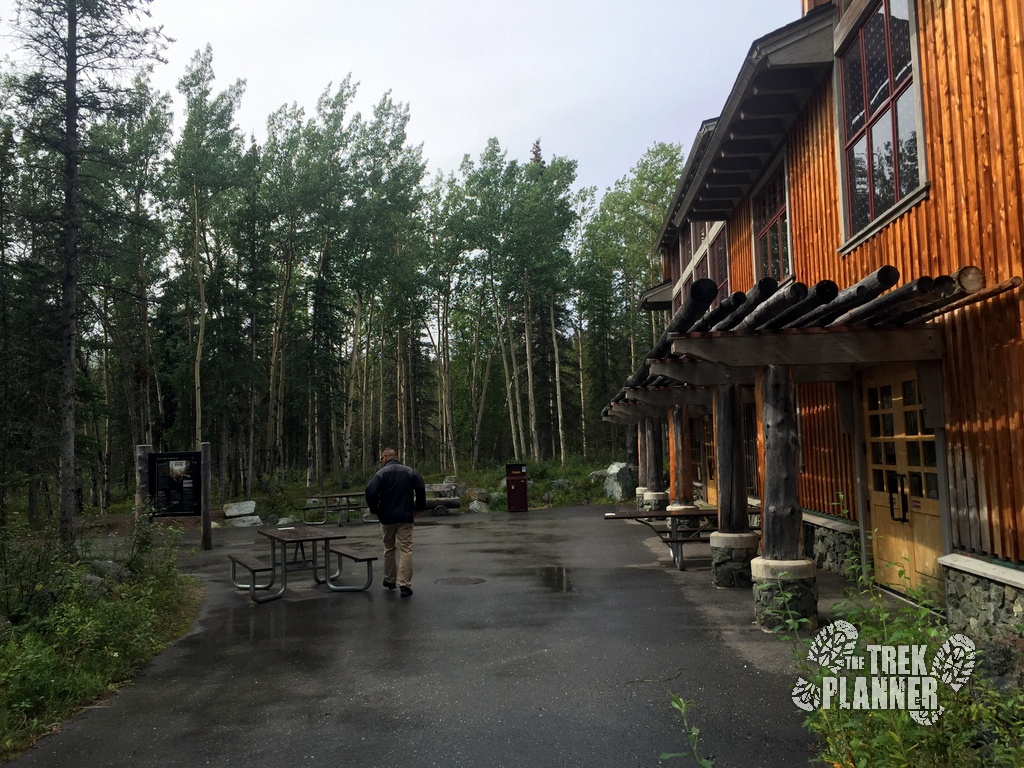 Just a little ways from the Visitor Center you will come to a fork in the road.  Take the McKinley Station Trail, which is the middle trail, until you come to the actual Triple Lakes trailhead.  With all the side trails it can be easy to get confused at which way is the Triple Lakes Trail.  Just make sure to read the sign posts when you find them so you can follow the correct trail.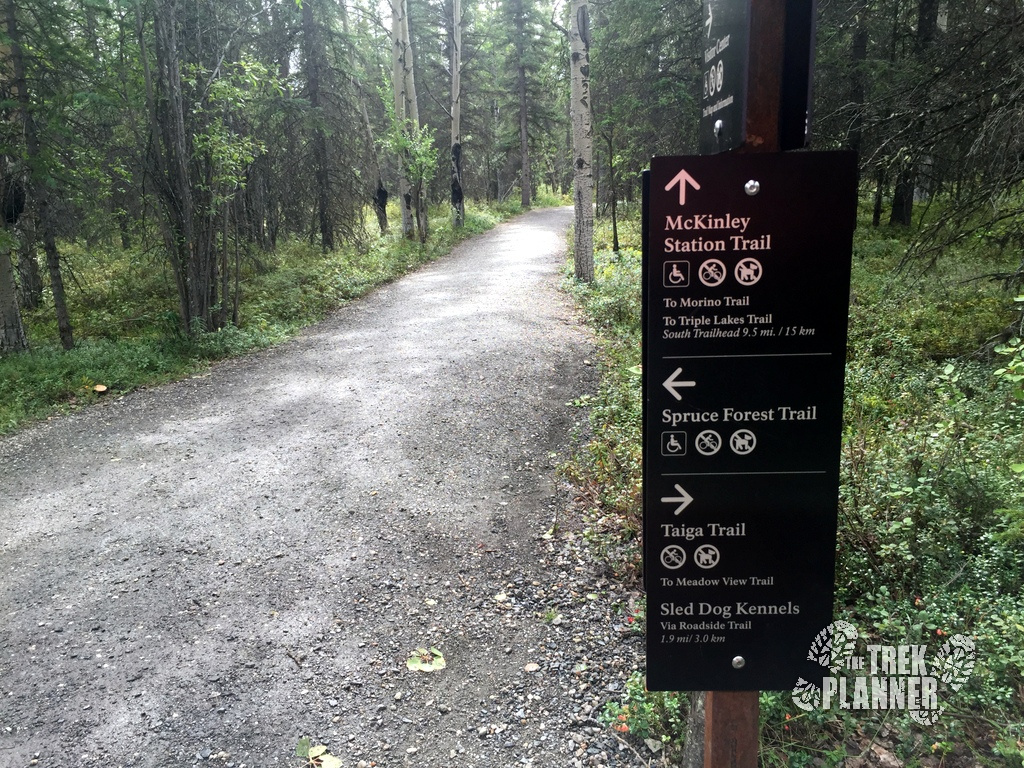 The McKinley Station trail winds down a little ways until you come to another fork in the trail which continues down the McKinley Station Trail or the Triple Lakes Trail.  Of course, take the Tripe Lakes Trail and continue on down to the wooden bridge.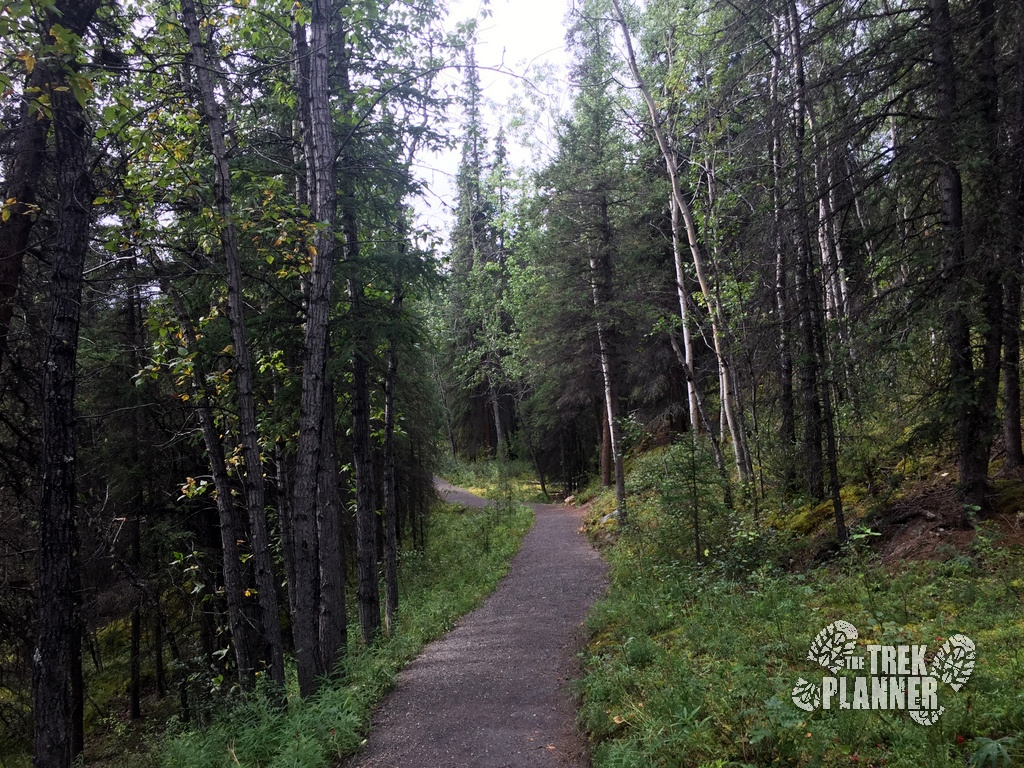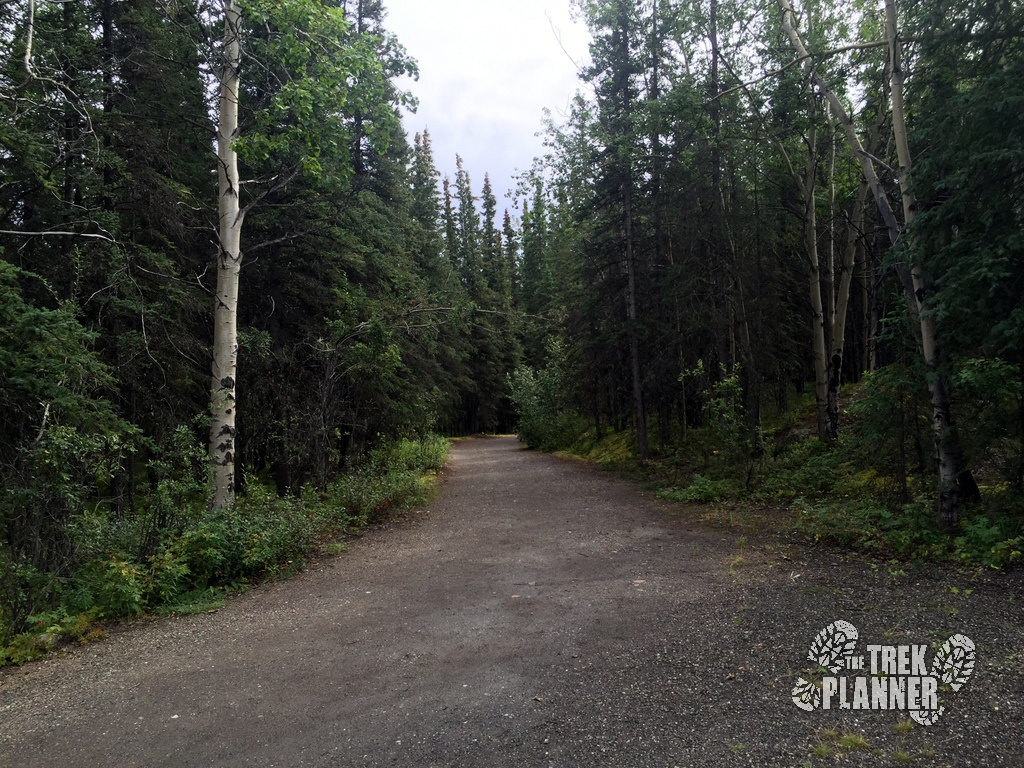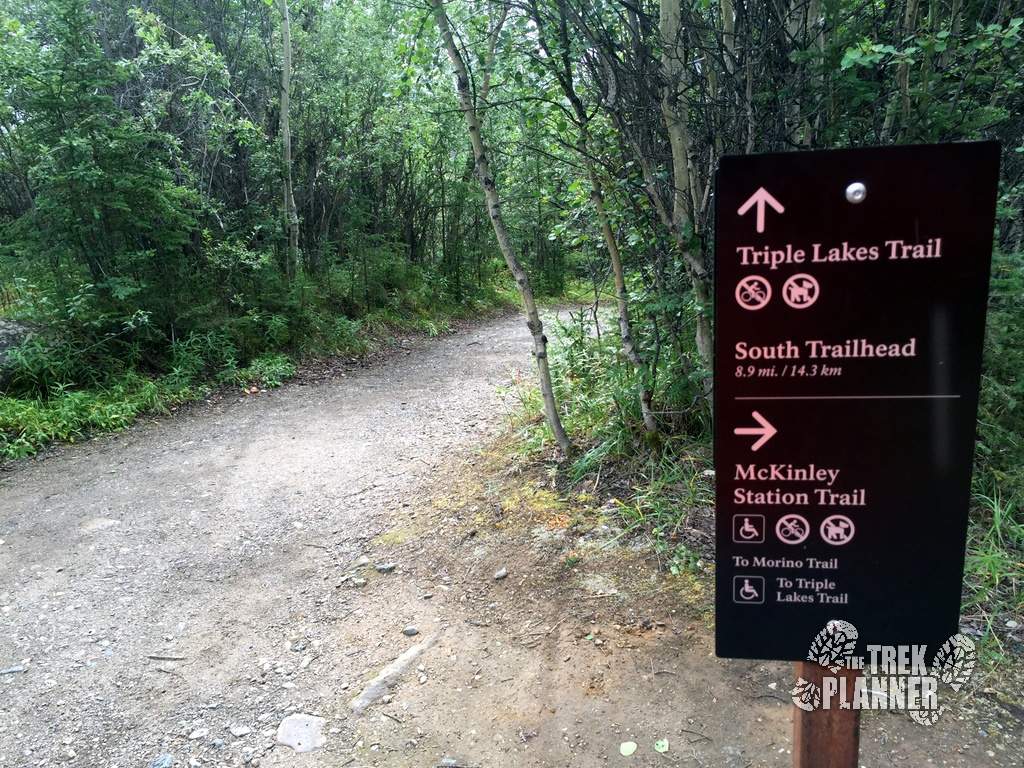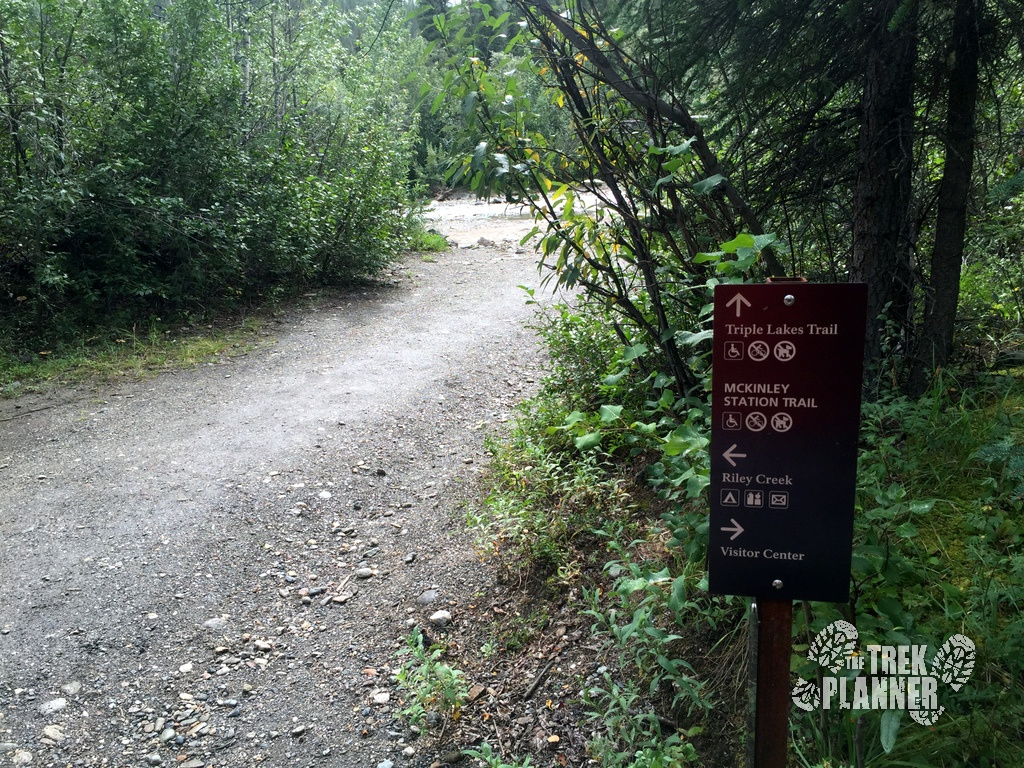 Pretty soon you will come to a wooden bridge and Hines Creek.  It is here you will also see an Alaska Railroad Bridge which makes for an awesome picture.  Cross the wood bridge and continue on the other side of the creek.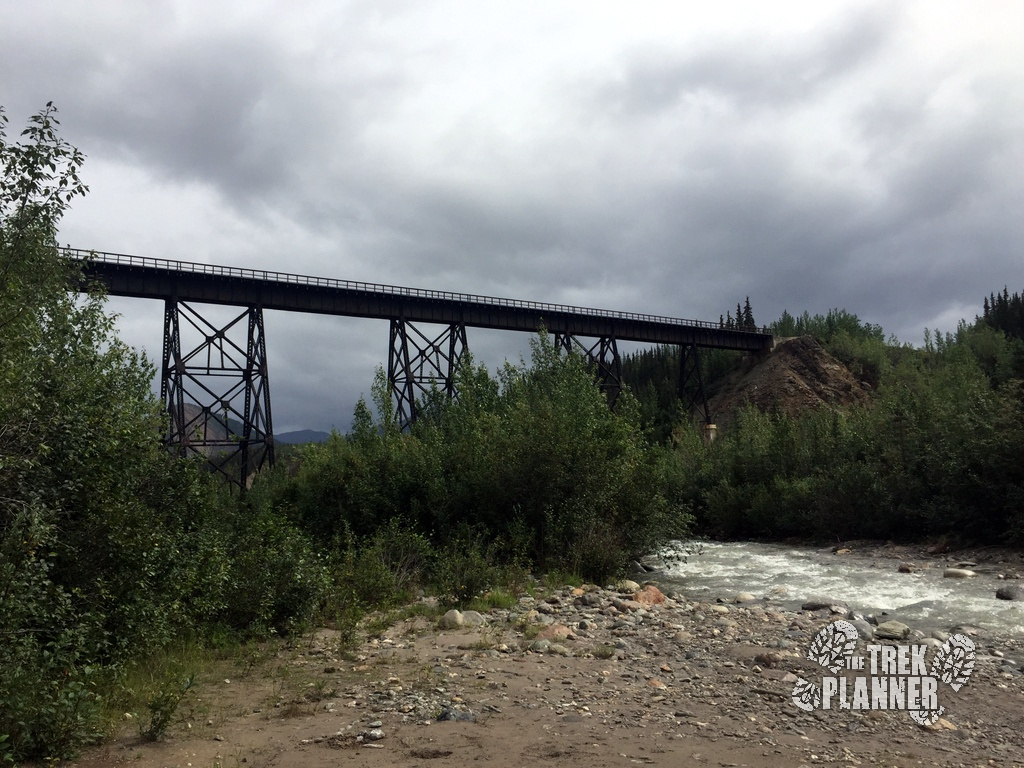 Crossing over Hines Creek.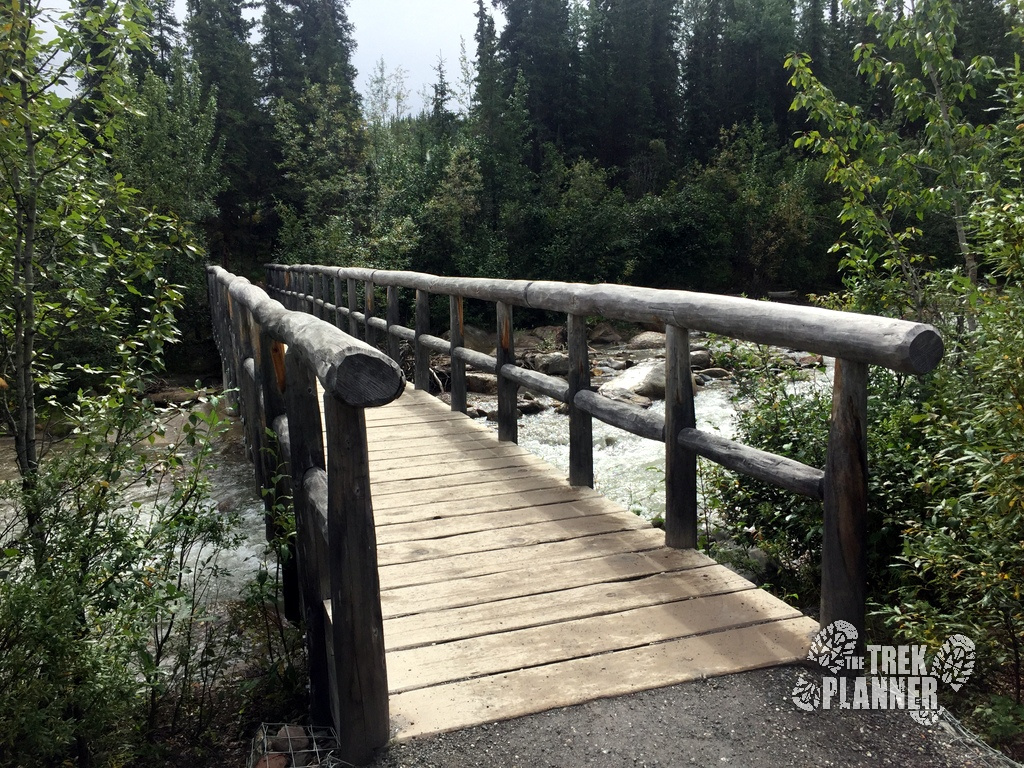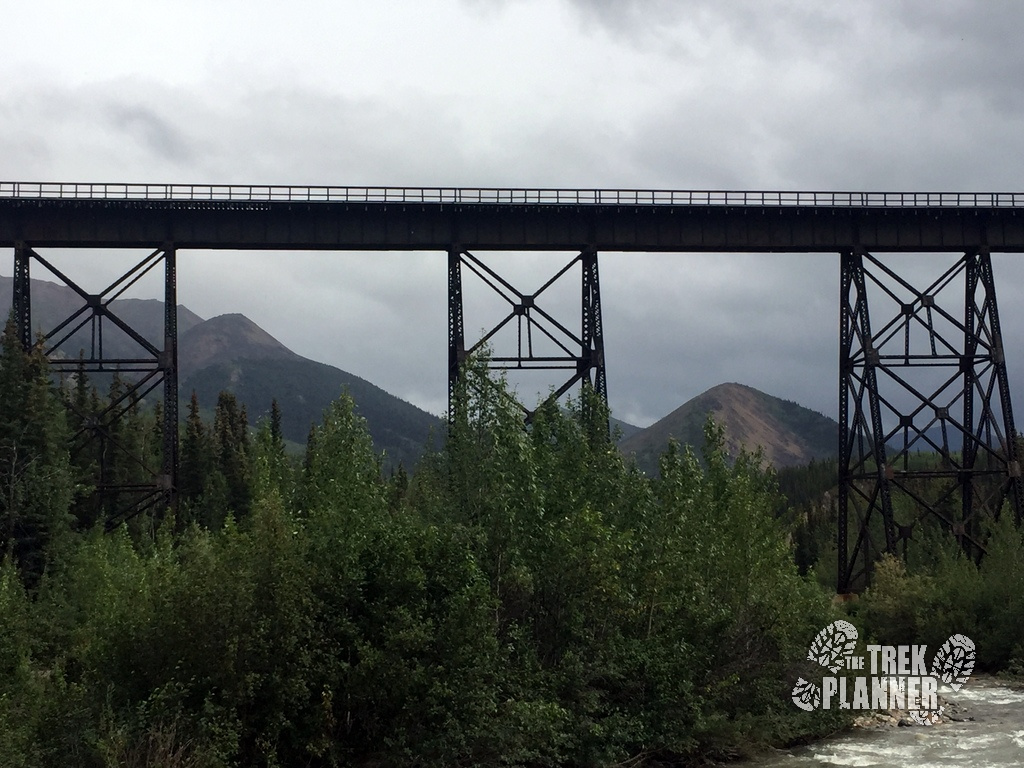 From here, the trail gets narrower as you pass through the forest.  You will soon come to another bridge which crosses over Riley Creek.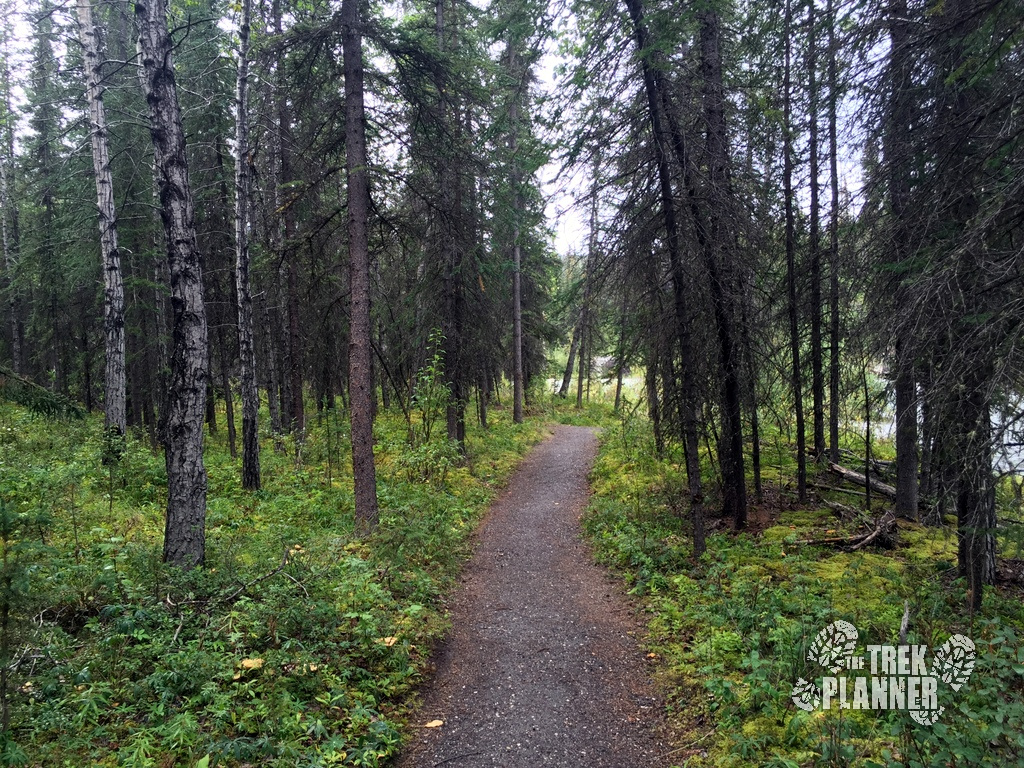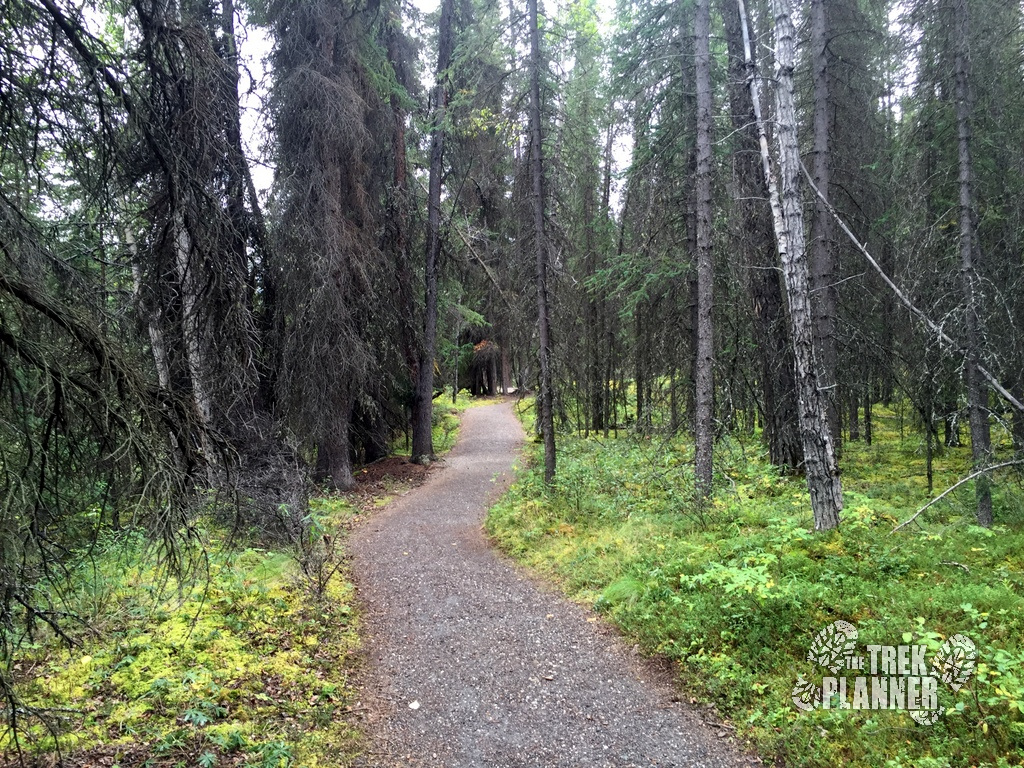 This bridge is really cool!  The bridge crosses over Riley Creek and you will no longer cross any more creeks for the rest of the trail.  The bridge is located at about the 1 mile marker.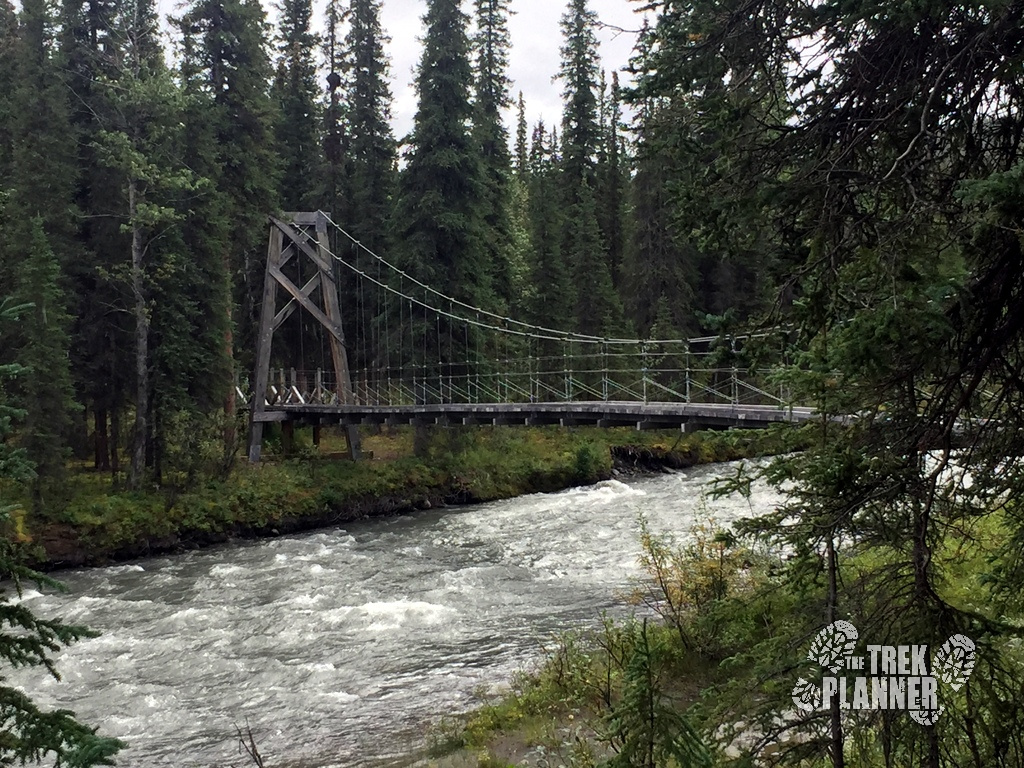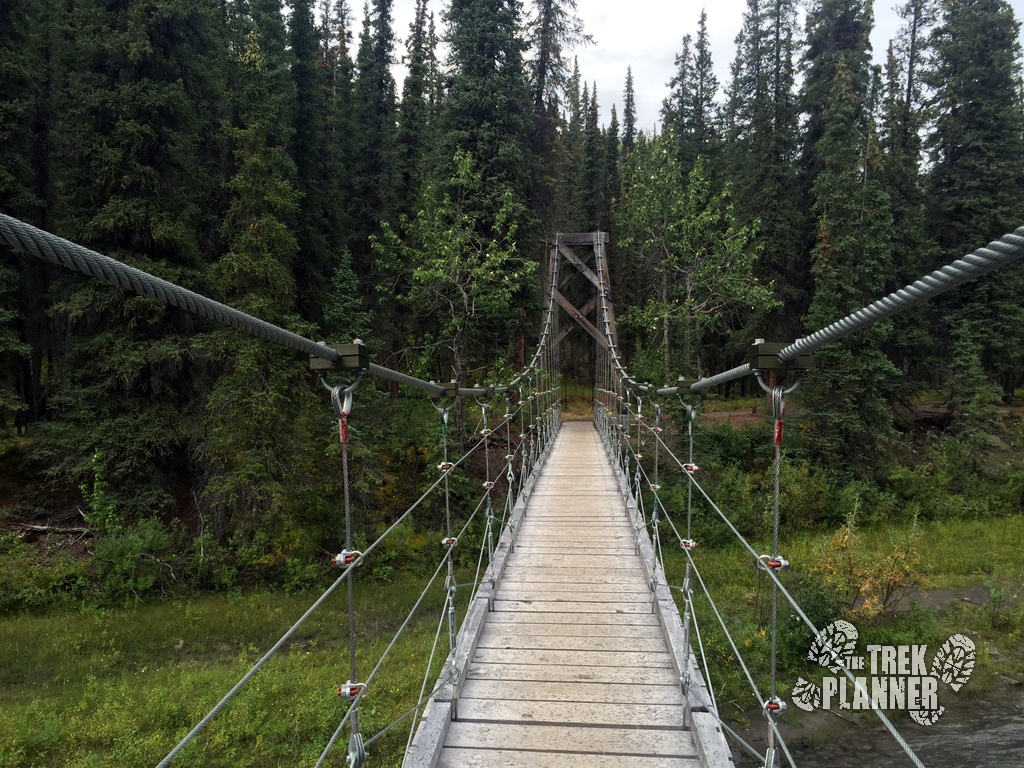 After crossing over the bridge I felt like I was finally beginning the trail.  Before this point I was still seeing hikers and hearing buses and traffic from the road but after this last bridge I felt like I was finally getting into the quiet wilderness again.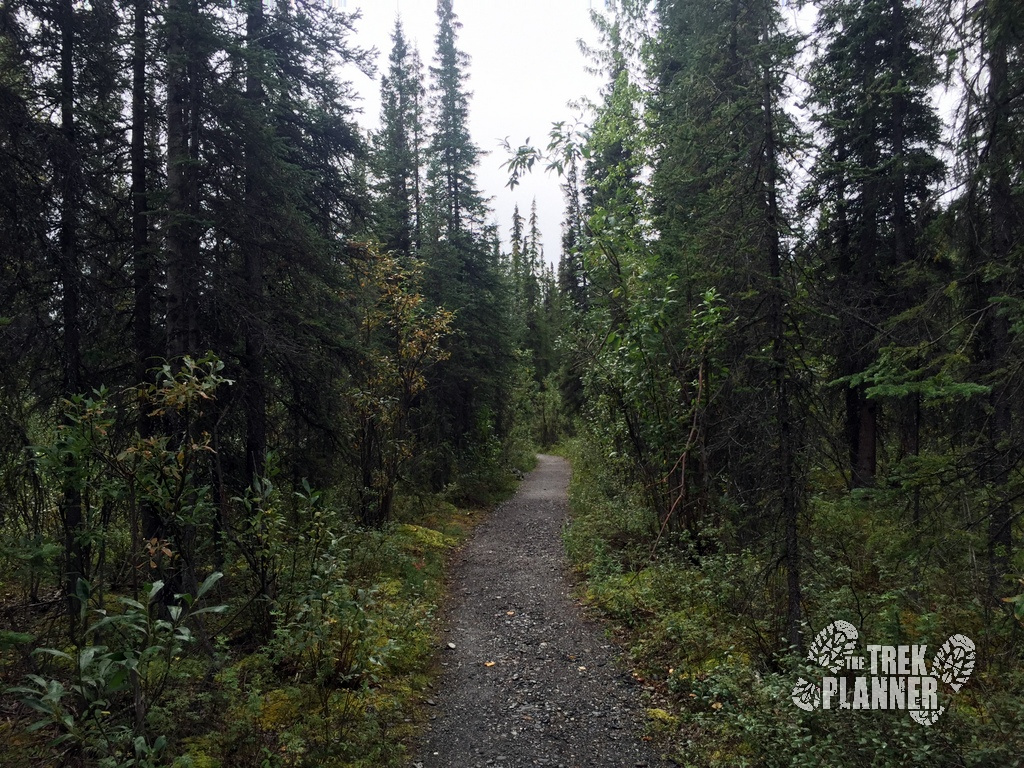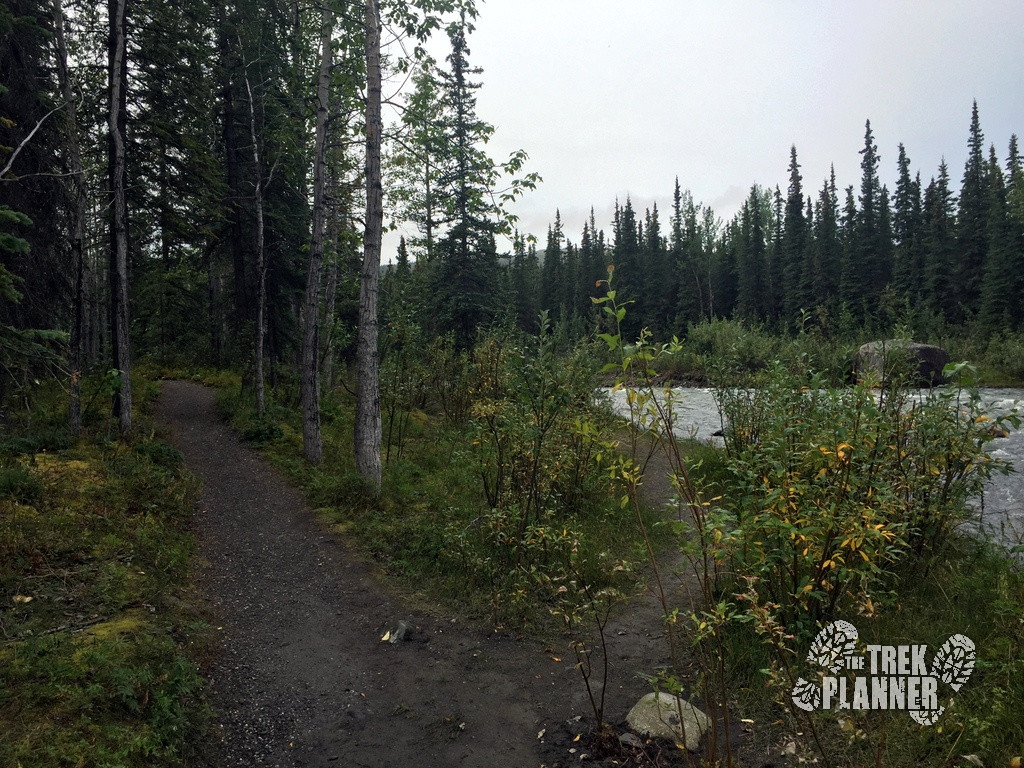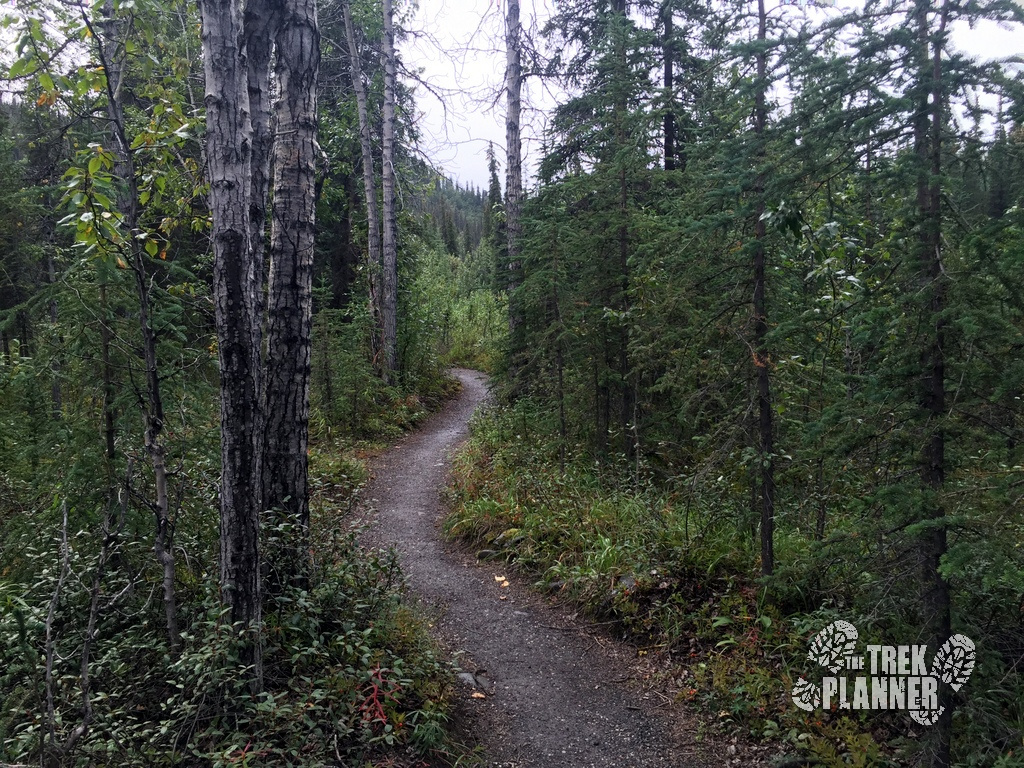 You will follow Riley Creek for a good ways until you come to the first set up switchbacks that go up the hillside.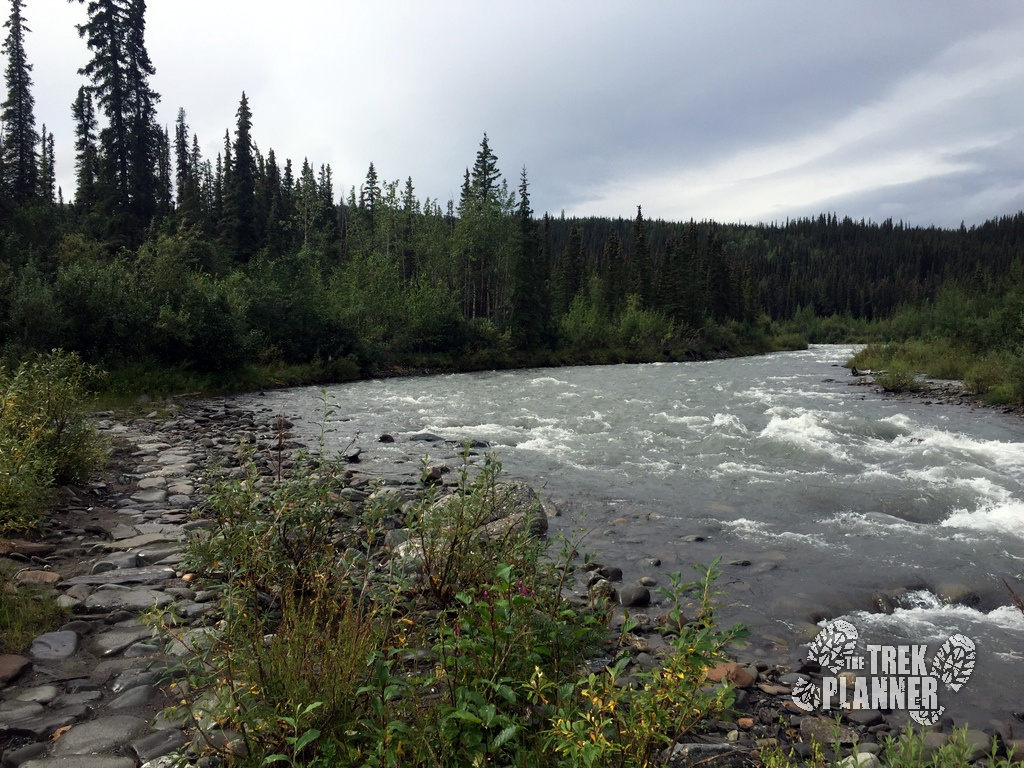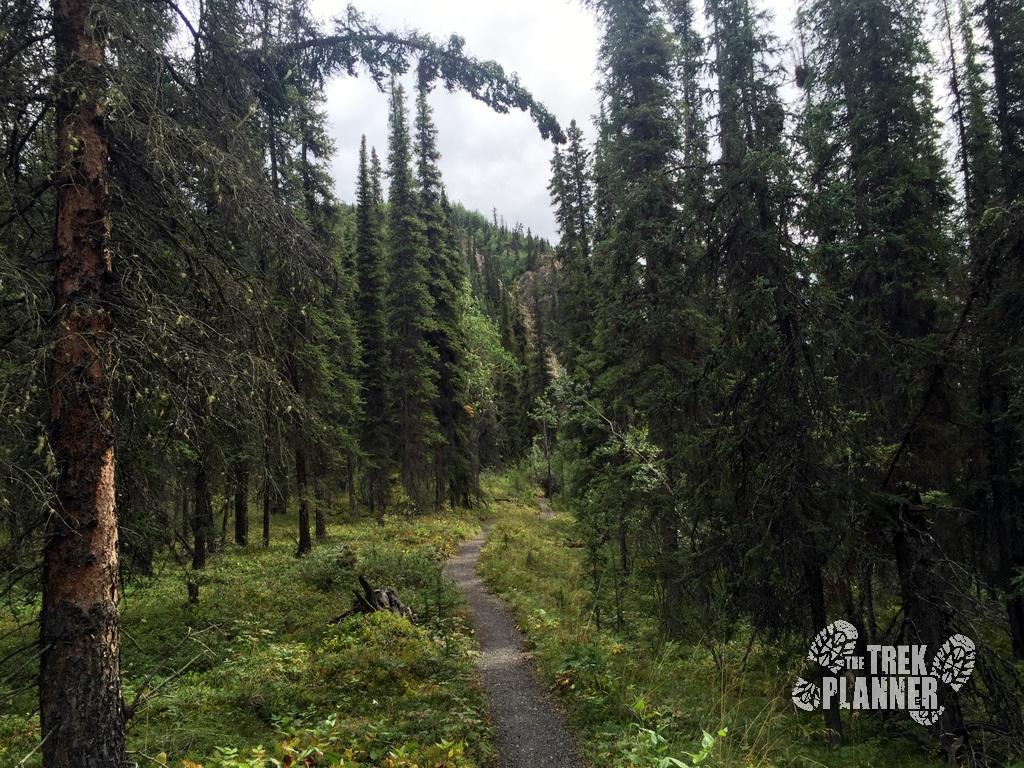 The first set of switch-backs were where I found the first sign of raspberries.  This is where you will gain the most of your elevation.  It isn't steep by any means but you will be heading up for a few miles.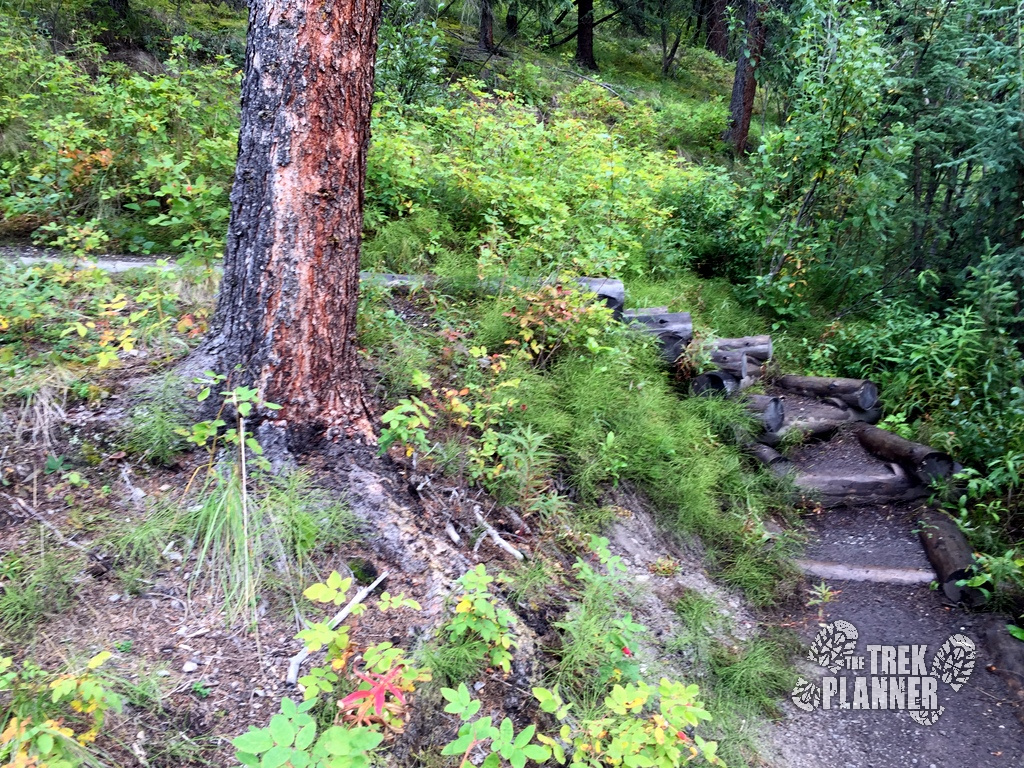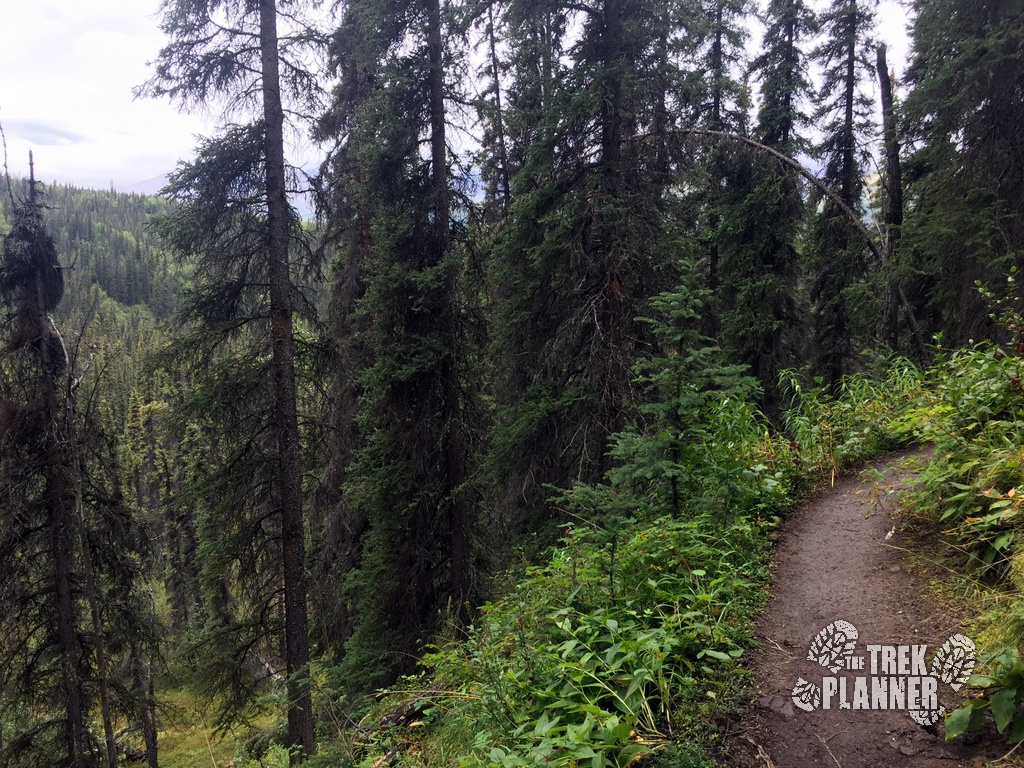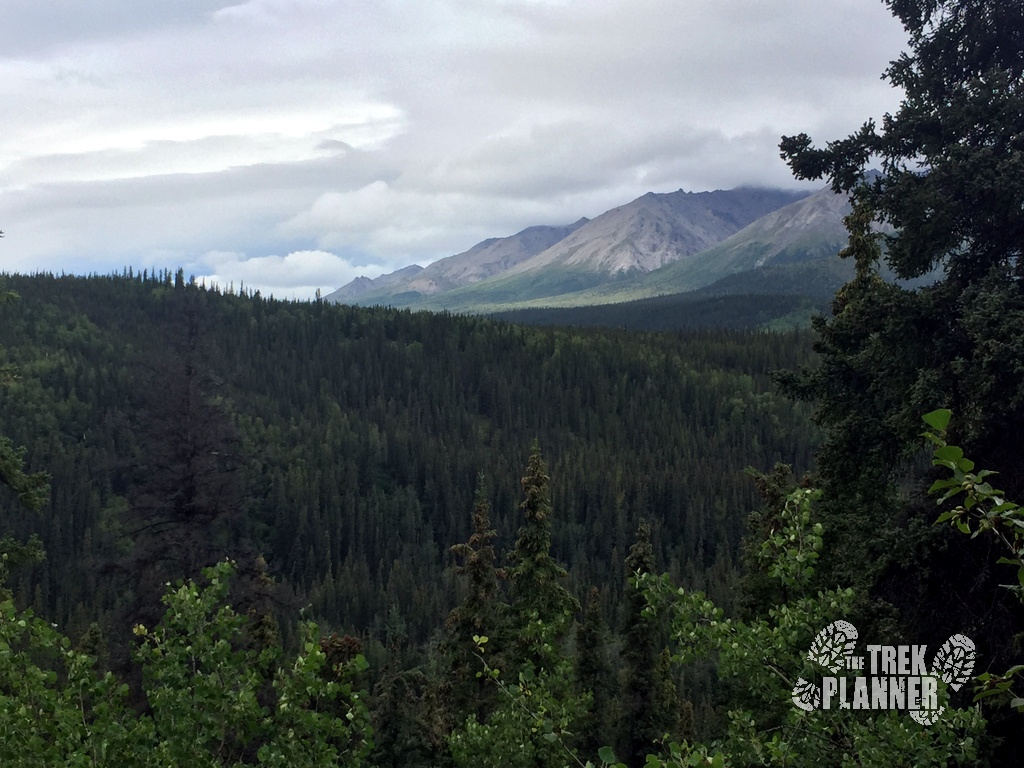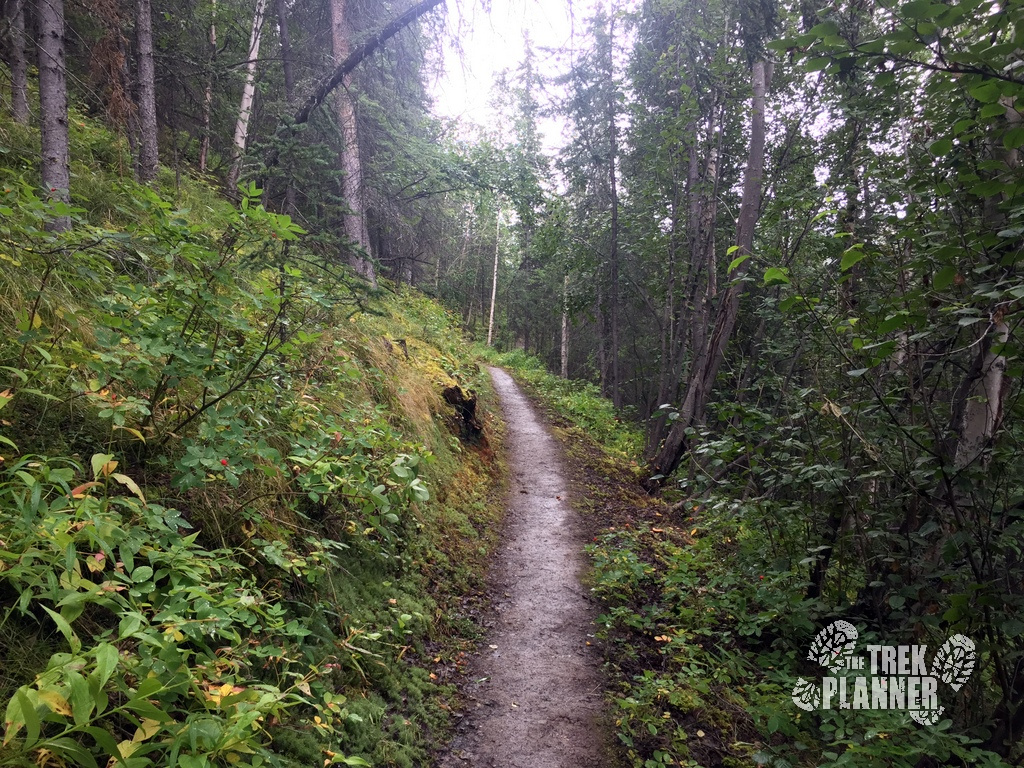 The park service has done an incredible job of maintaining this trail with many improvements along the way that fit to the immediate area's characteristics.  Even though it was lightly raining the whole day the trail was for the most part, clear of puddles.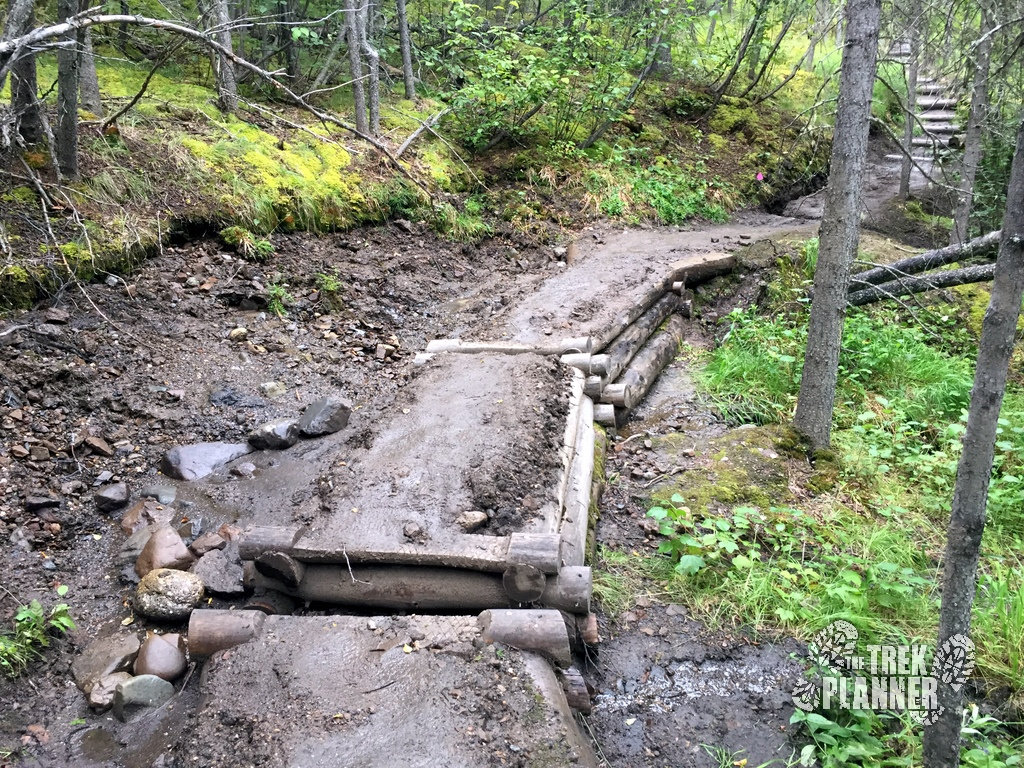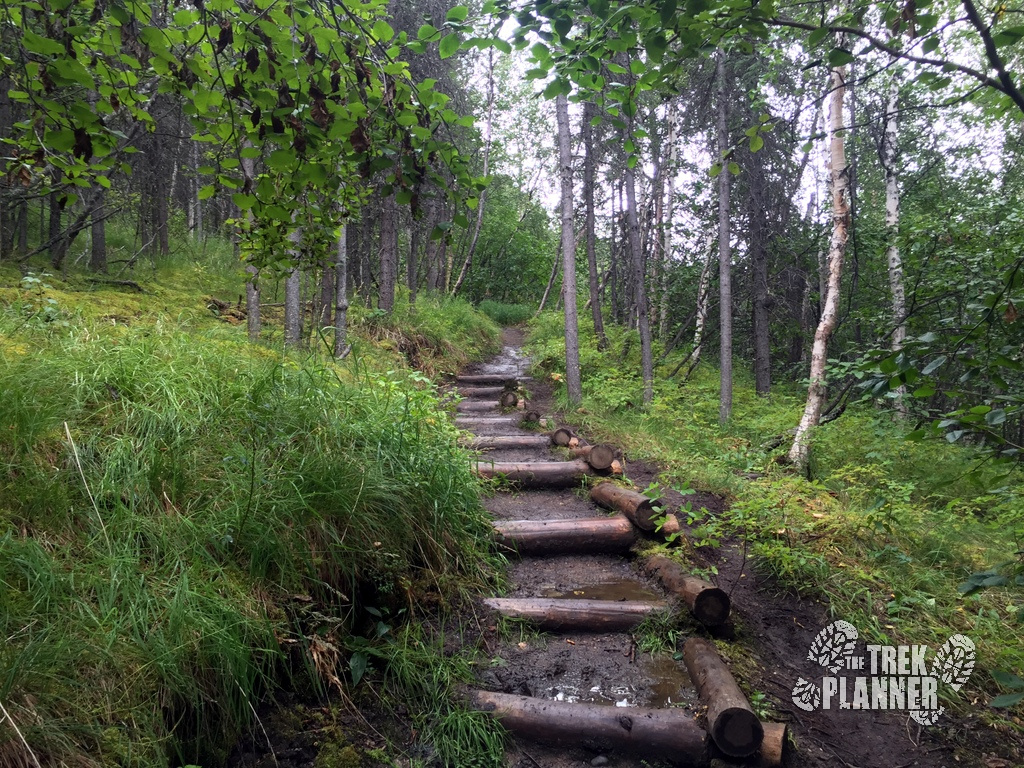 You will soon hike on top of the hillside and be able to view in all directions around you.  The picture below is looking towards Sugar Loaf Mountain which is also another great hike.  When I got to the top, I started to see even more moose droppings.  Since I was hiking alone and I saw only a few hikers since this point I began to make more noise by clapping or singing or doing what I could to make my presence known.
If you do encounter a moose, keep your distance and do not approach any wildlife.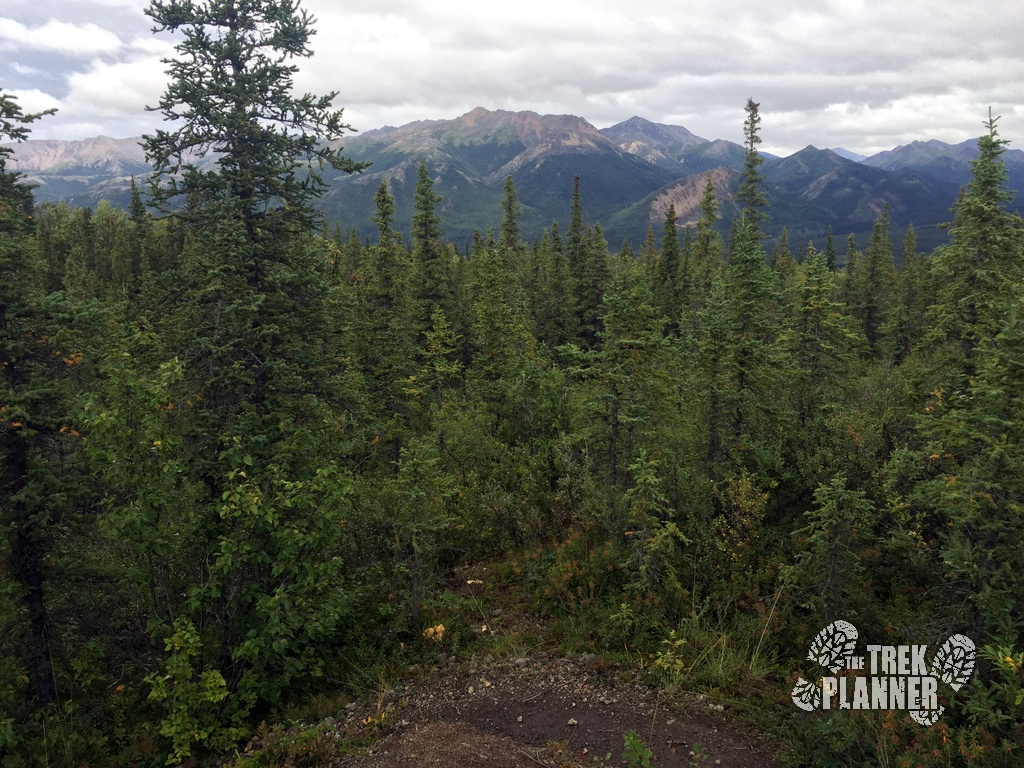 See those two black dots up on the mountain?  Those are two large glacial erratics that you can hike to from the Park Headquarters.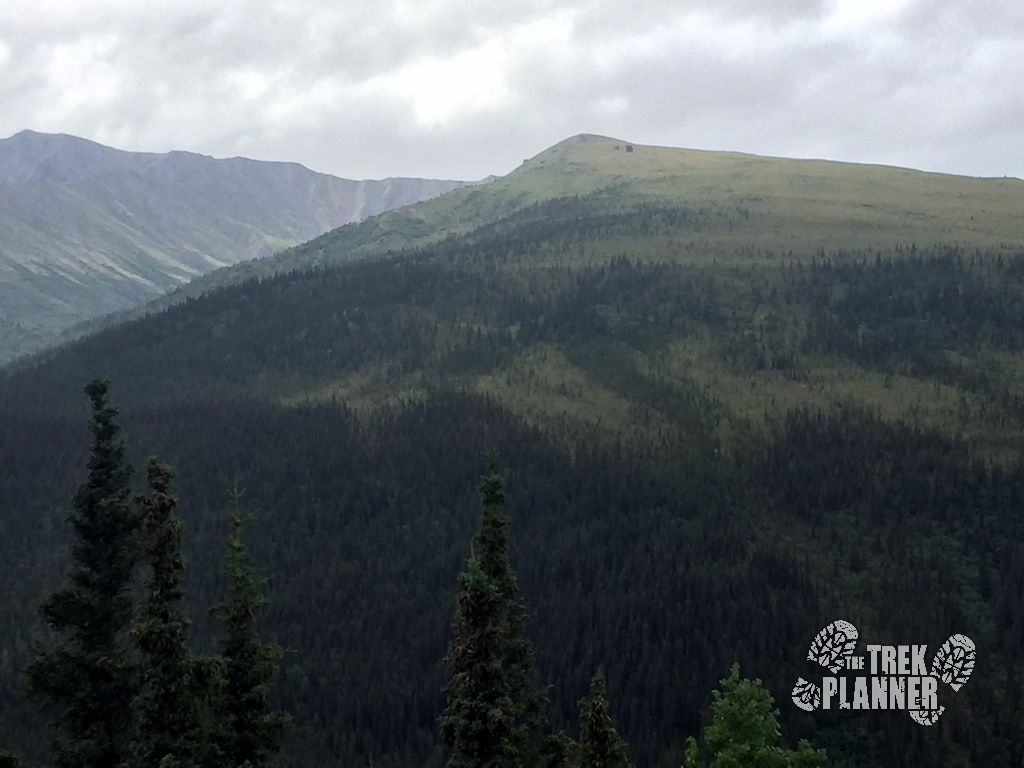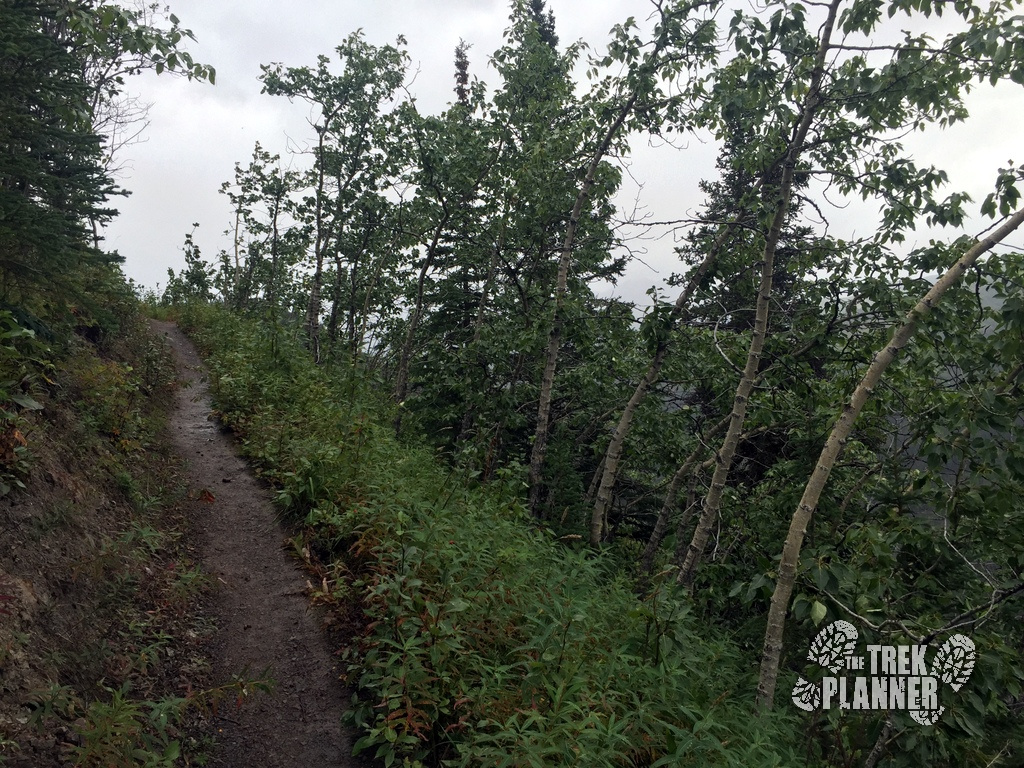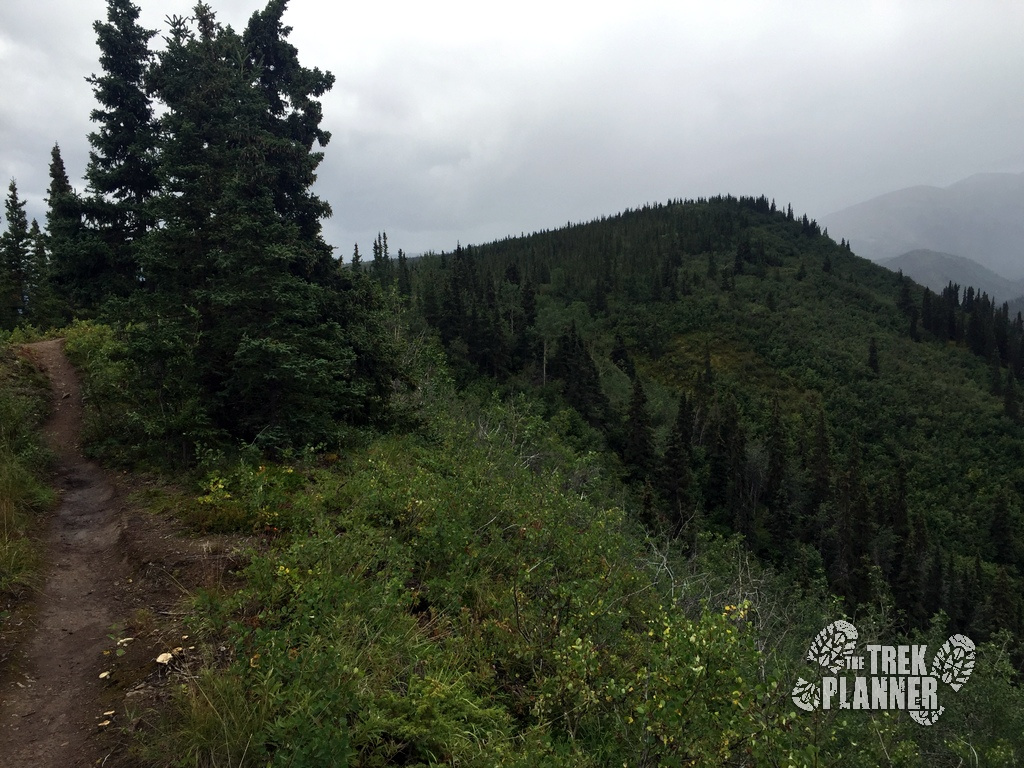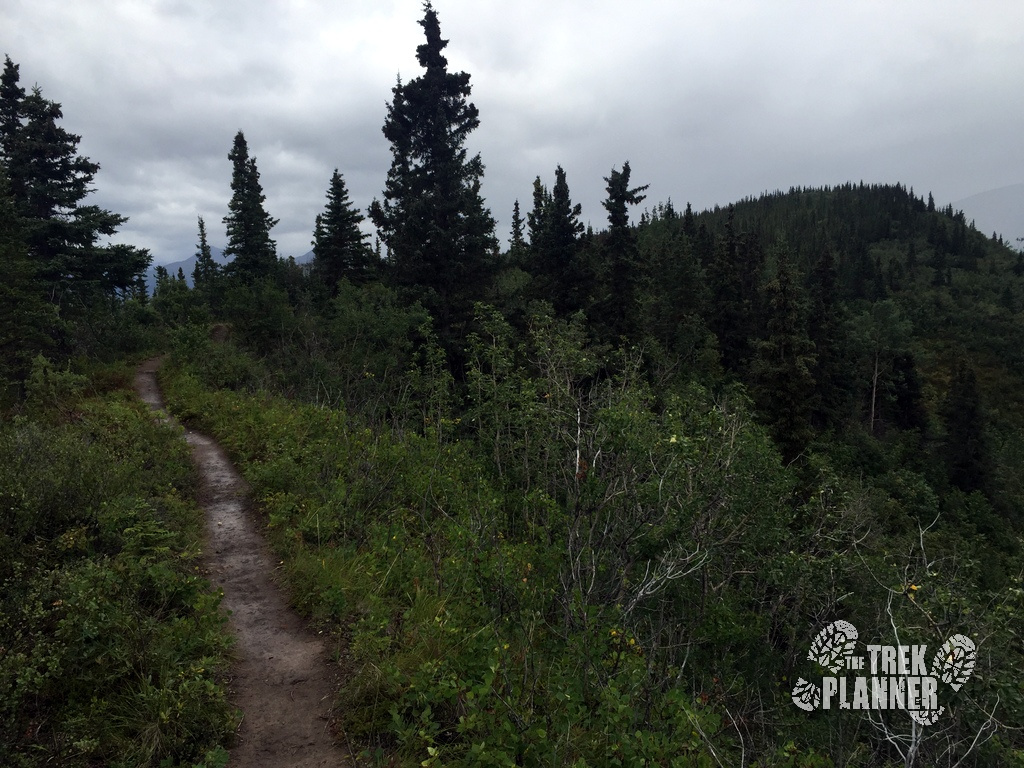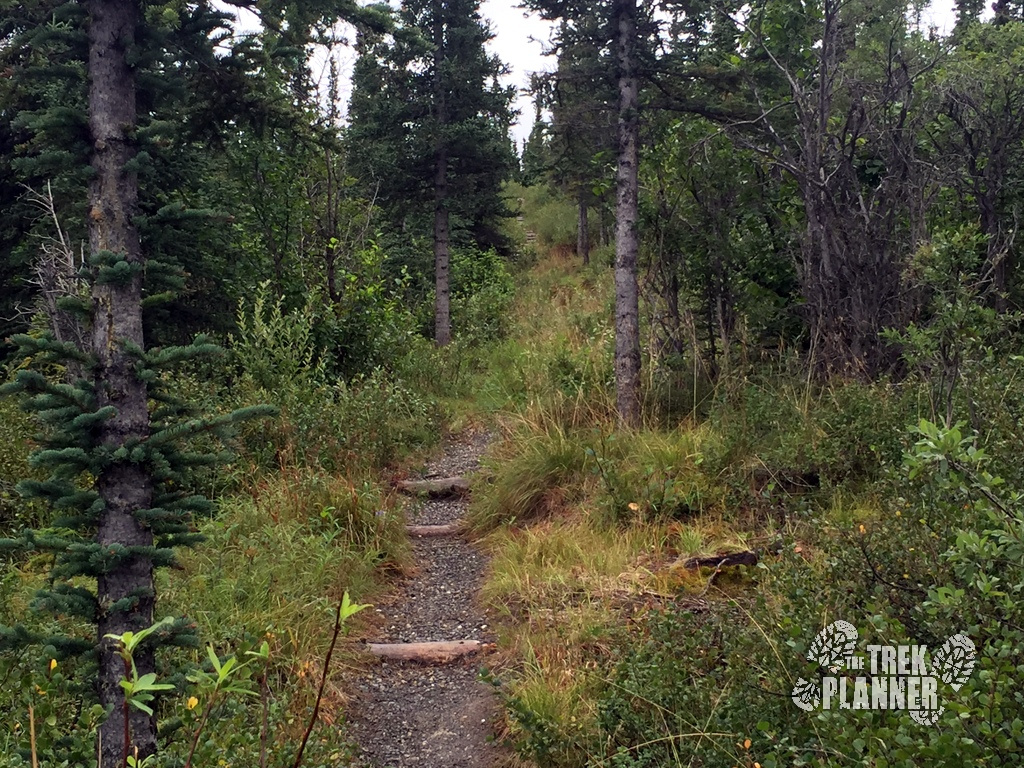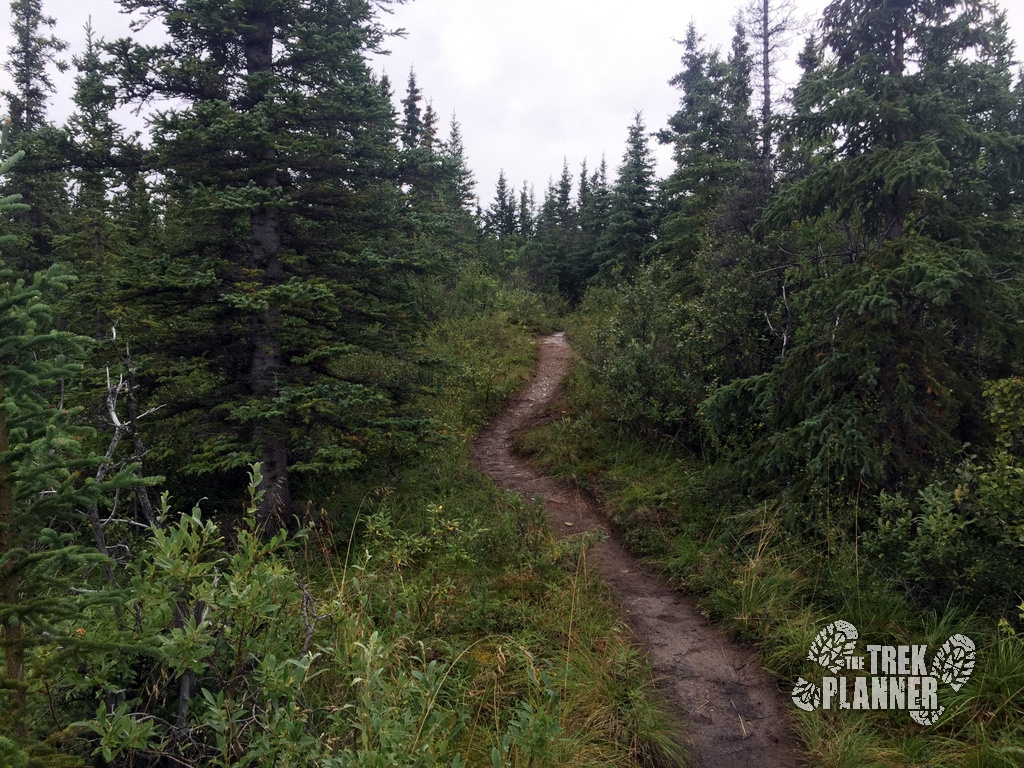 Honestly, the forest was so dense in spots that I couldn't even get a bearing on where I even was in relation to the lakes or the Visitor Center.  I kept my GPS tracking on the entire time so I could figure out where I was.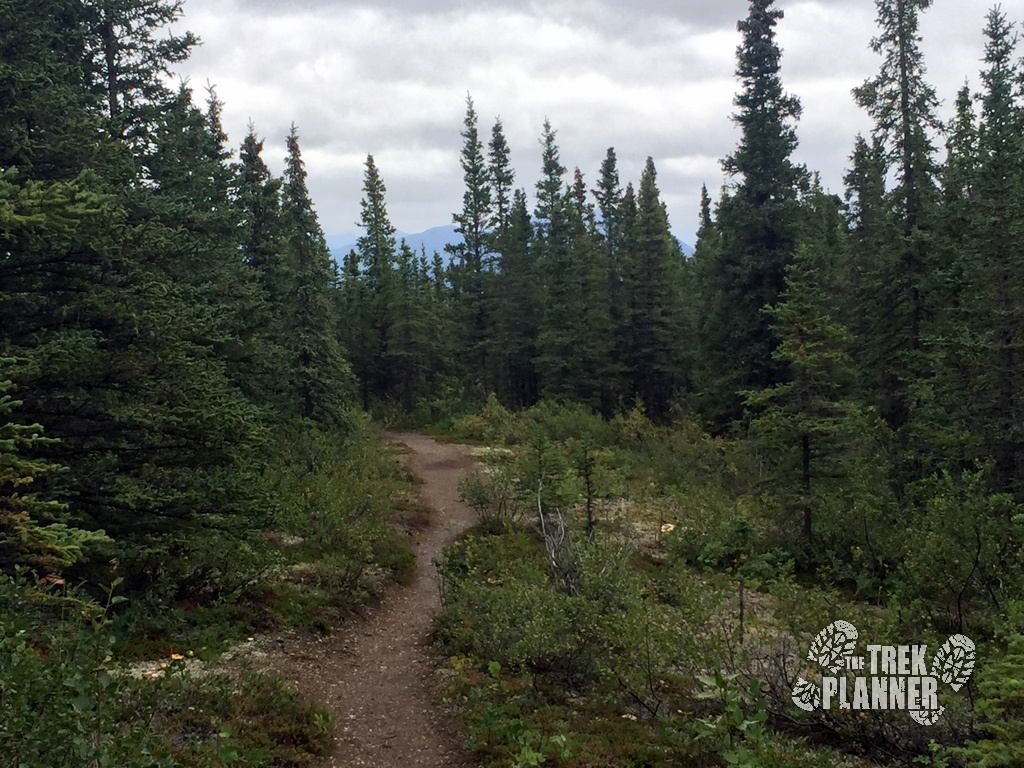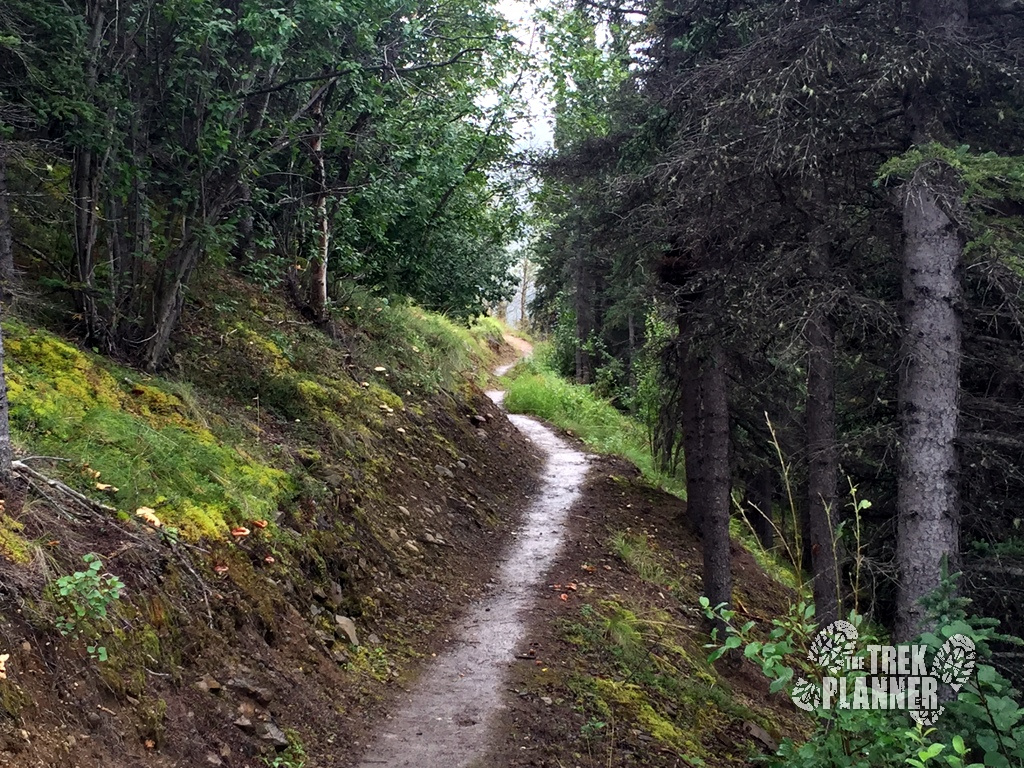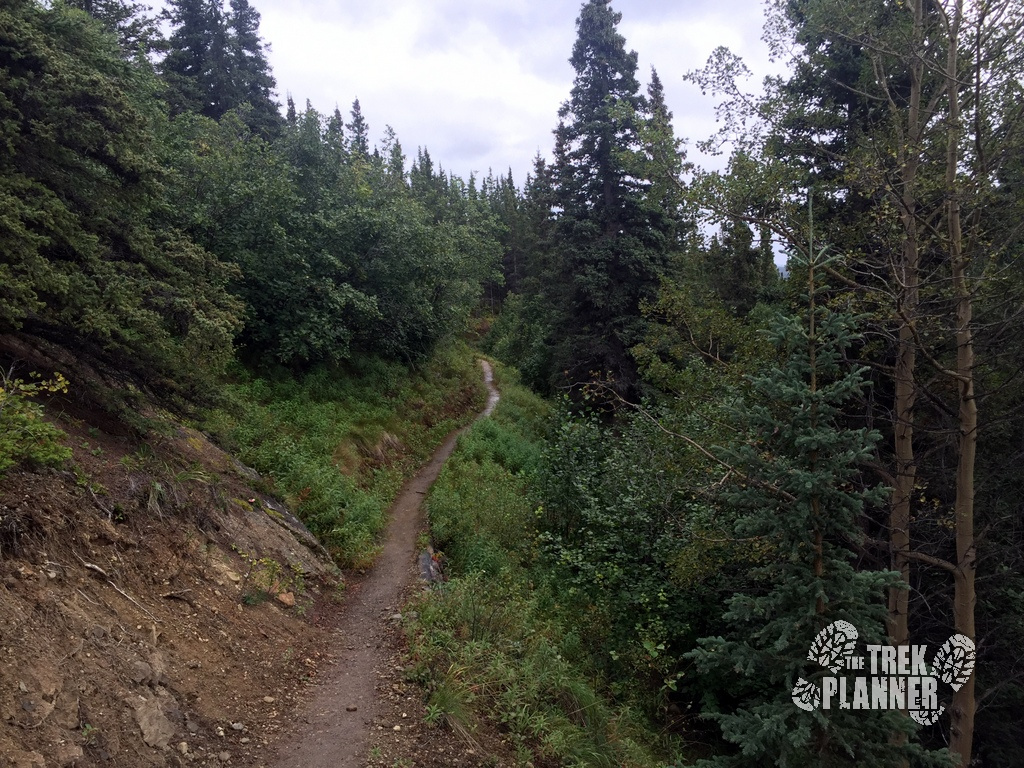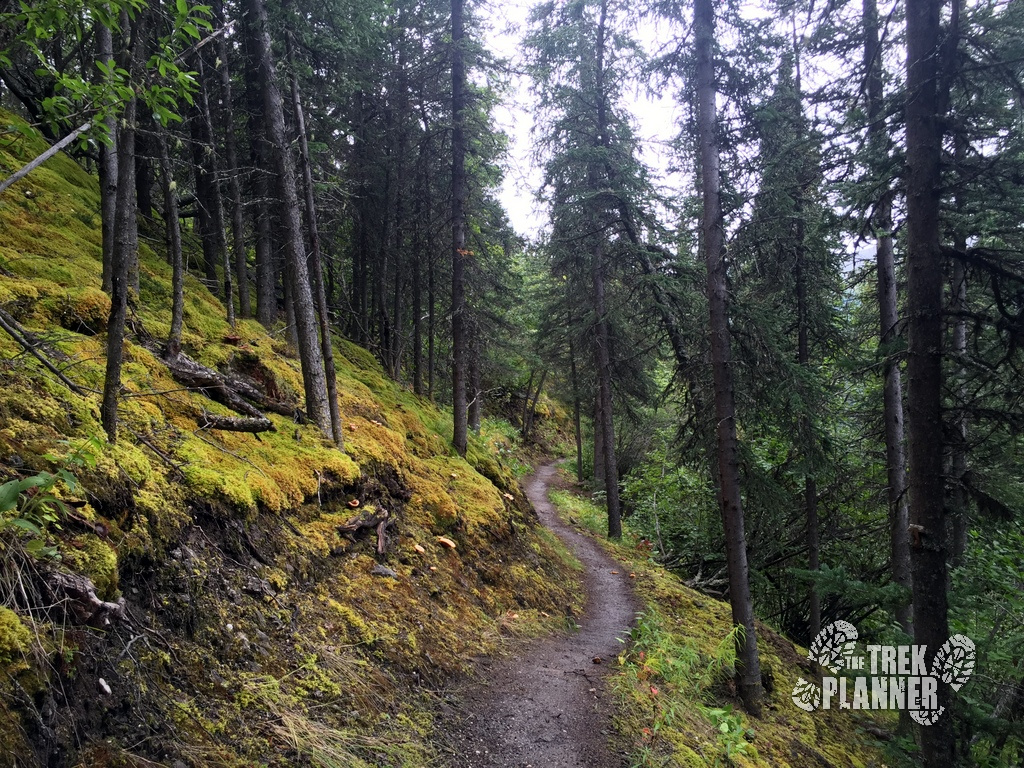 After about 5.2 miles of hiking I finally came to my first view of the three lakes.  Since I hiked from the Visitor Center the first lake I came upon was Lake 3, then Lake 2 and Lake 1.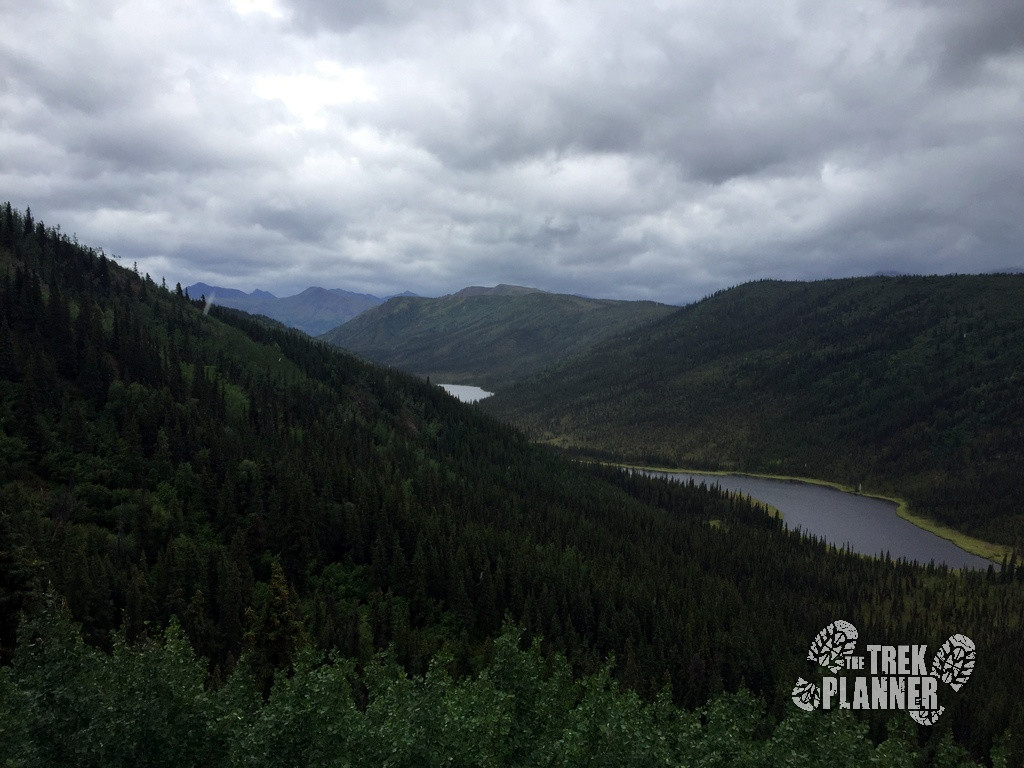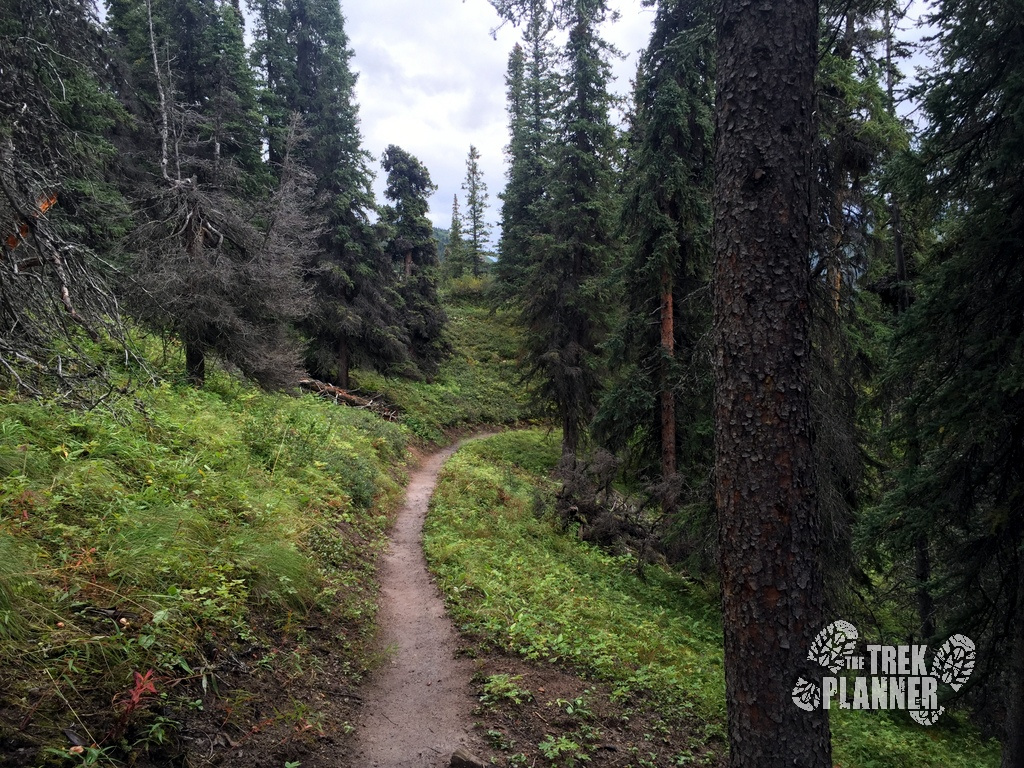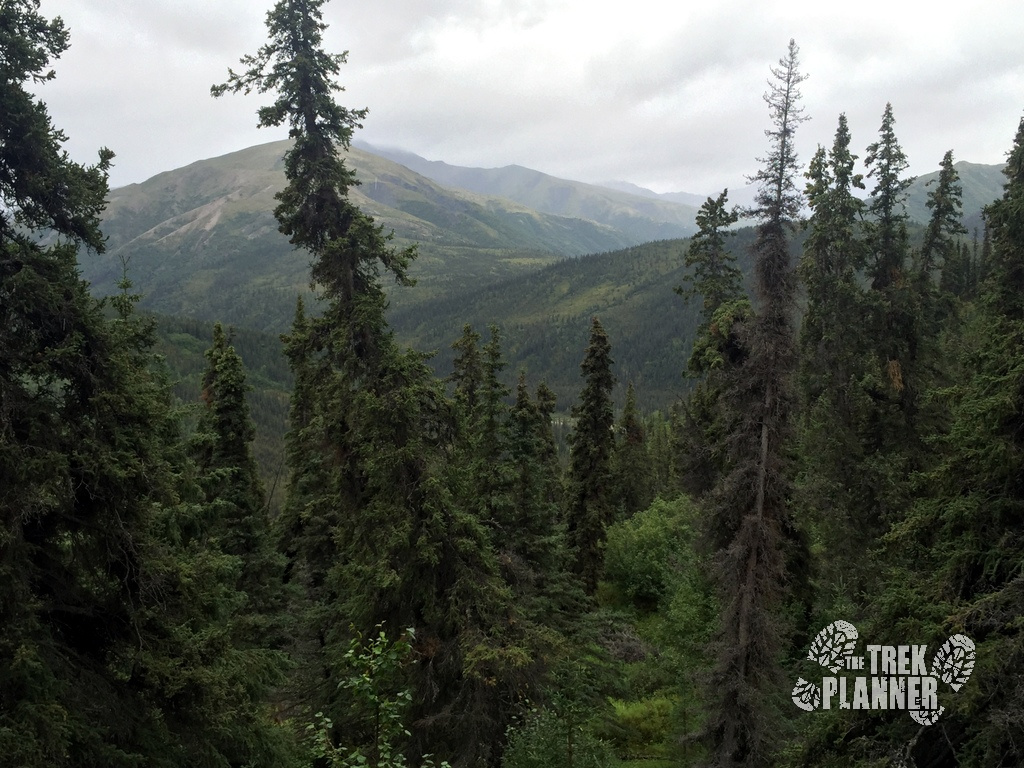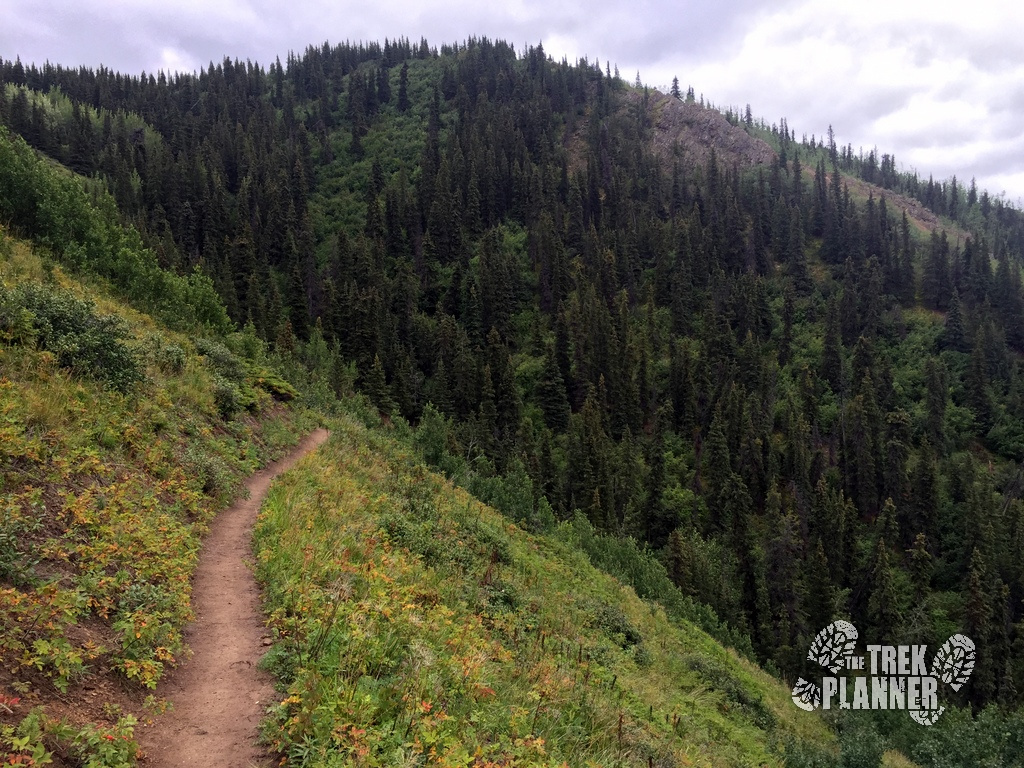 Below is Lake 3.  Lake 3 was really pretty and a sight for sore eyes after hiking for 5 miles and not really knowing when to expect to see the lakes.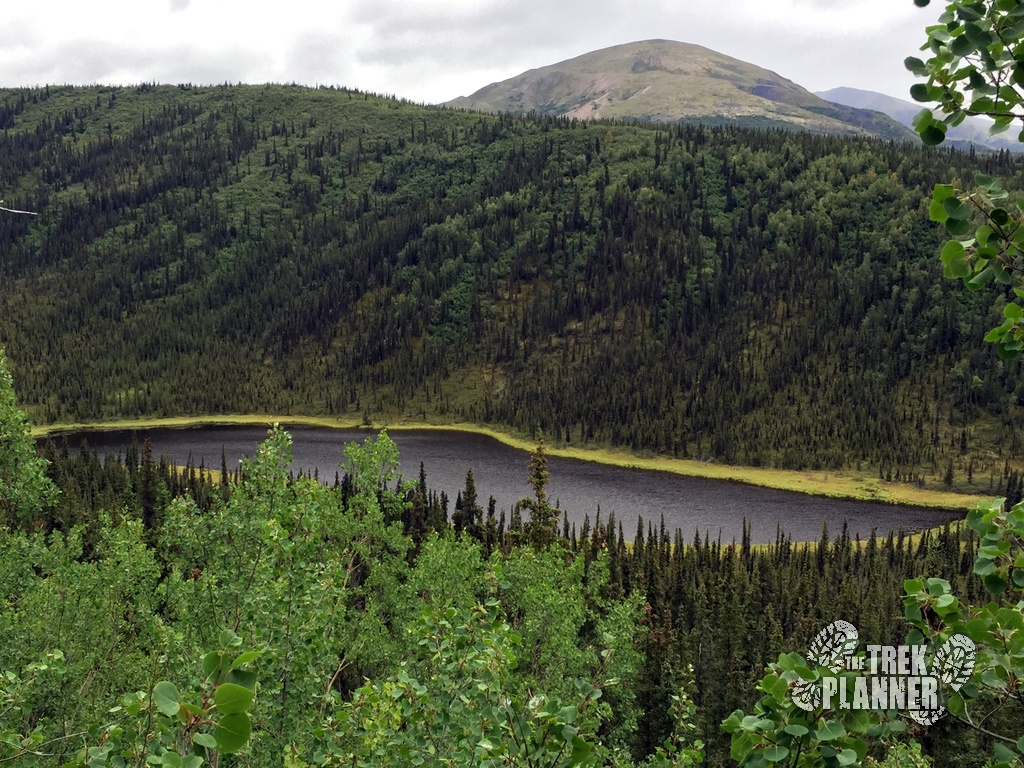 Each lake has a side trail that goes down to the actual lake shorelines.  The main Triple Lakes Trail does not go next to the lakes.  If you have the time and energy, I suggest you use the side trails and hike to each lake.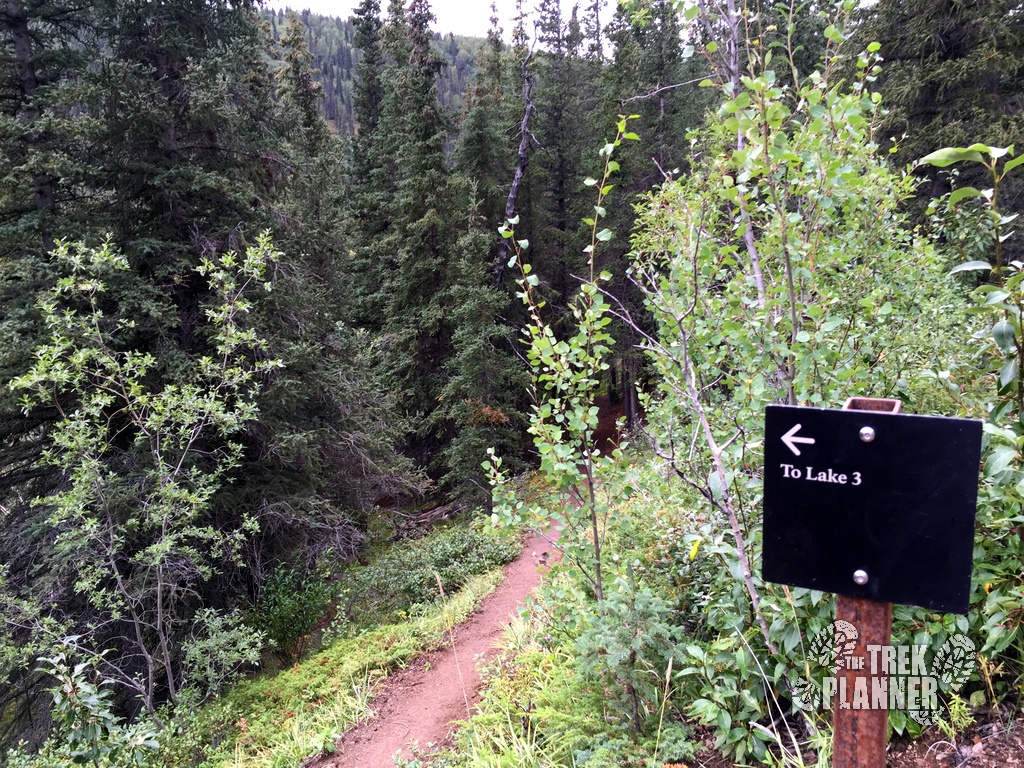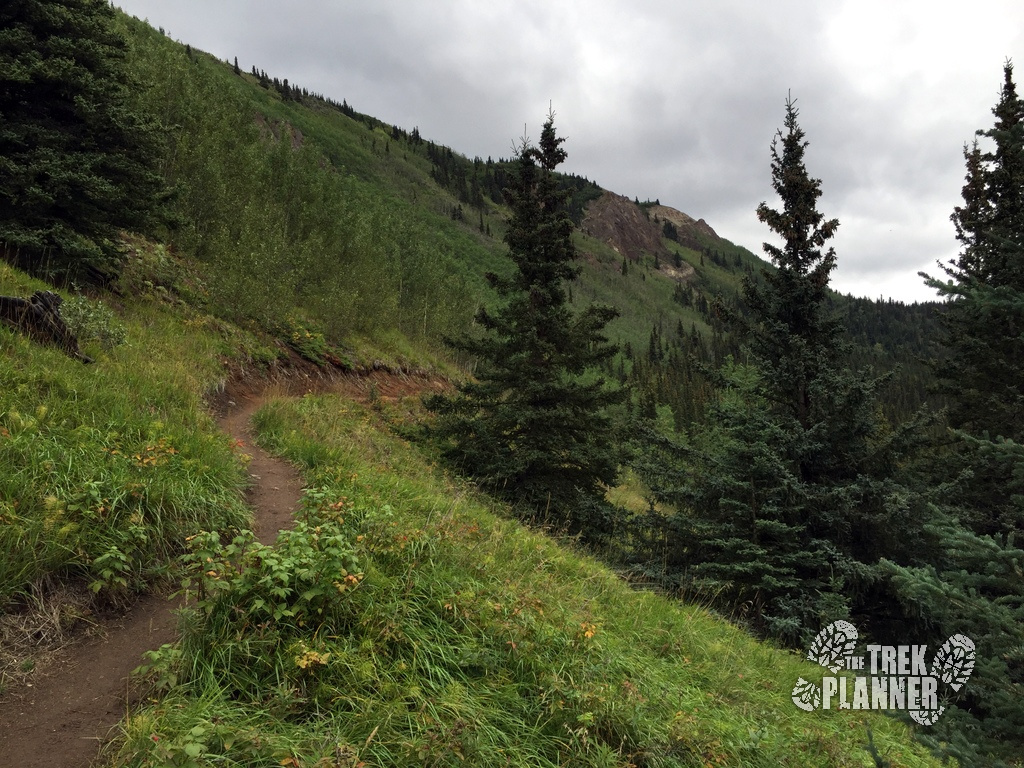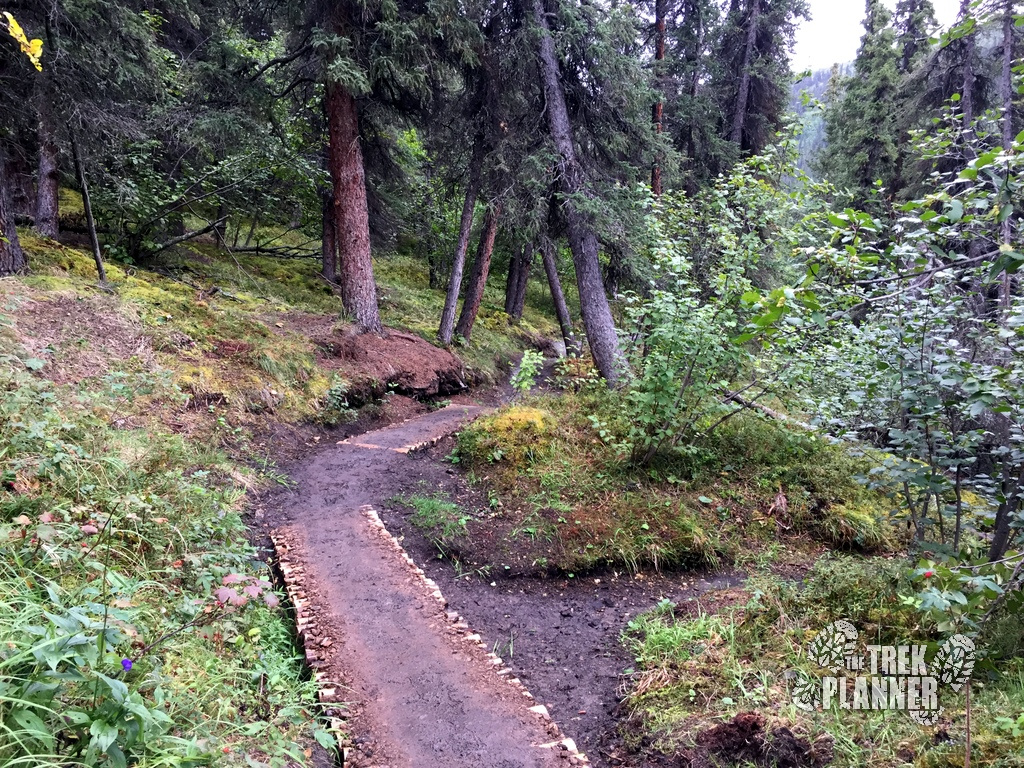 Below is Lake 2.  Lake two had a nice camp site which was already occupied but it was within reach of the lake.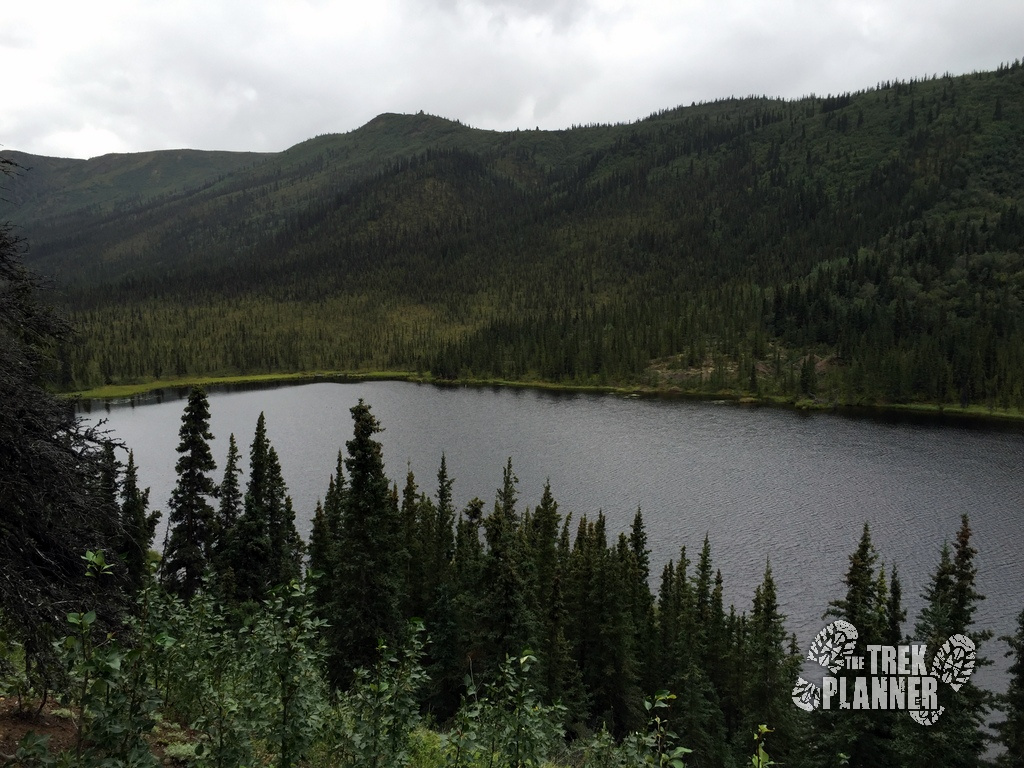 It isn't too much farther until you come to Lake 1.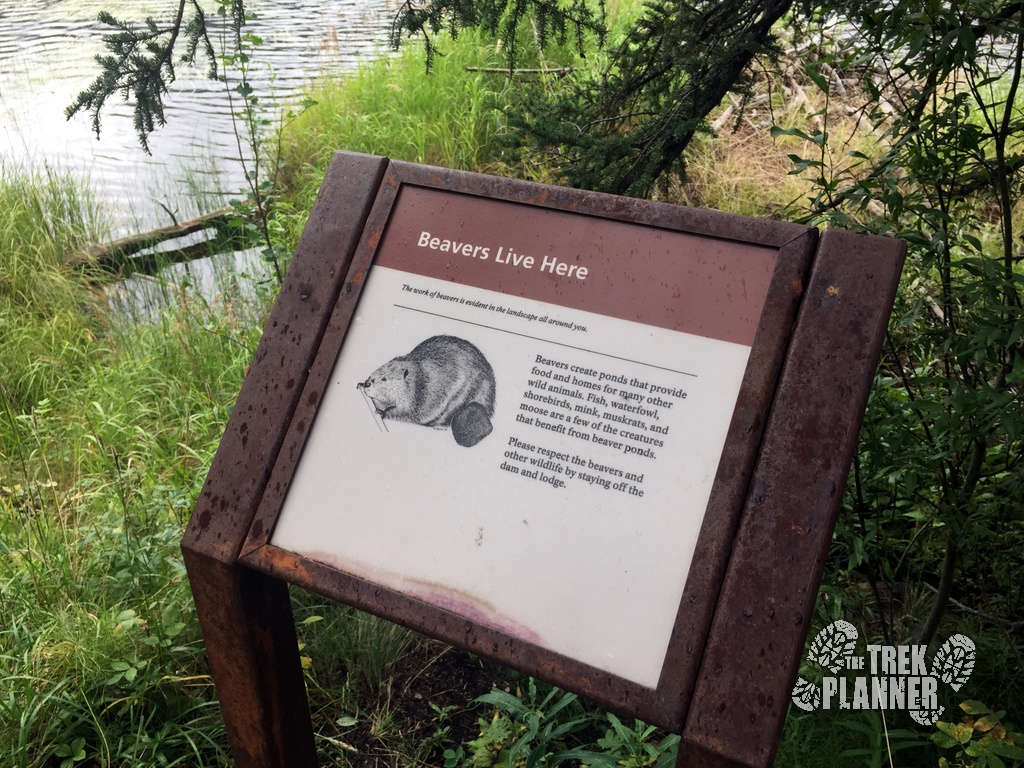 The trail winds around a little ways more until you come to a short ridge line.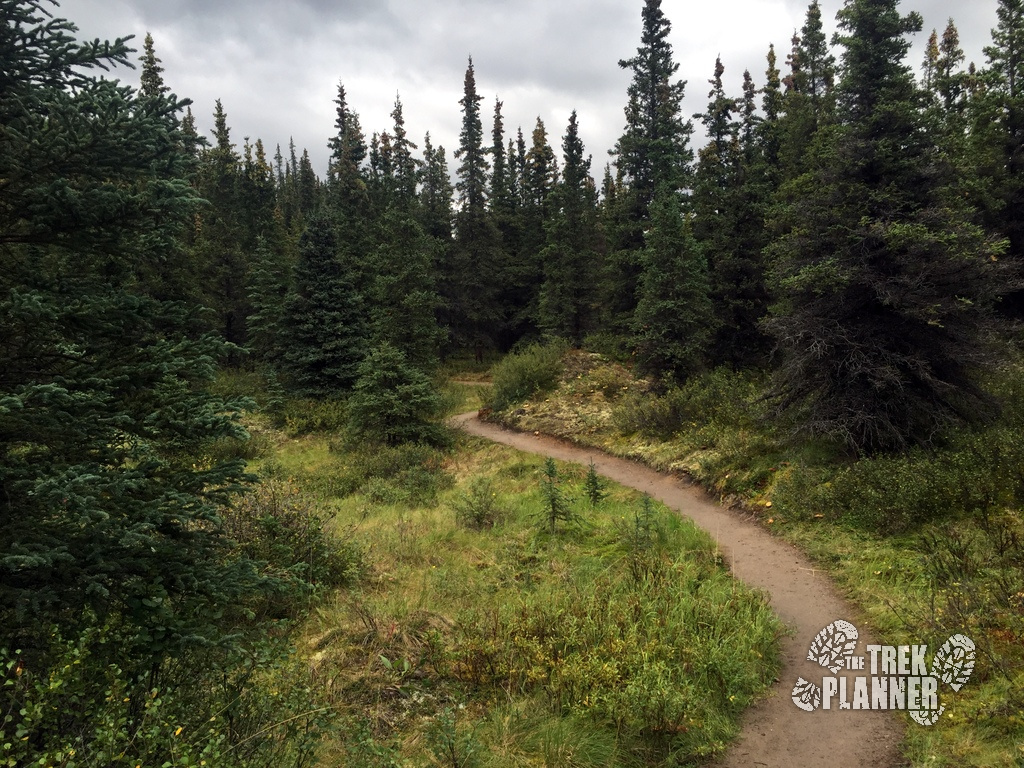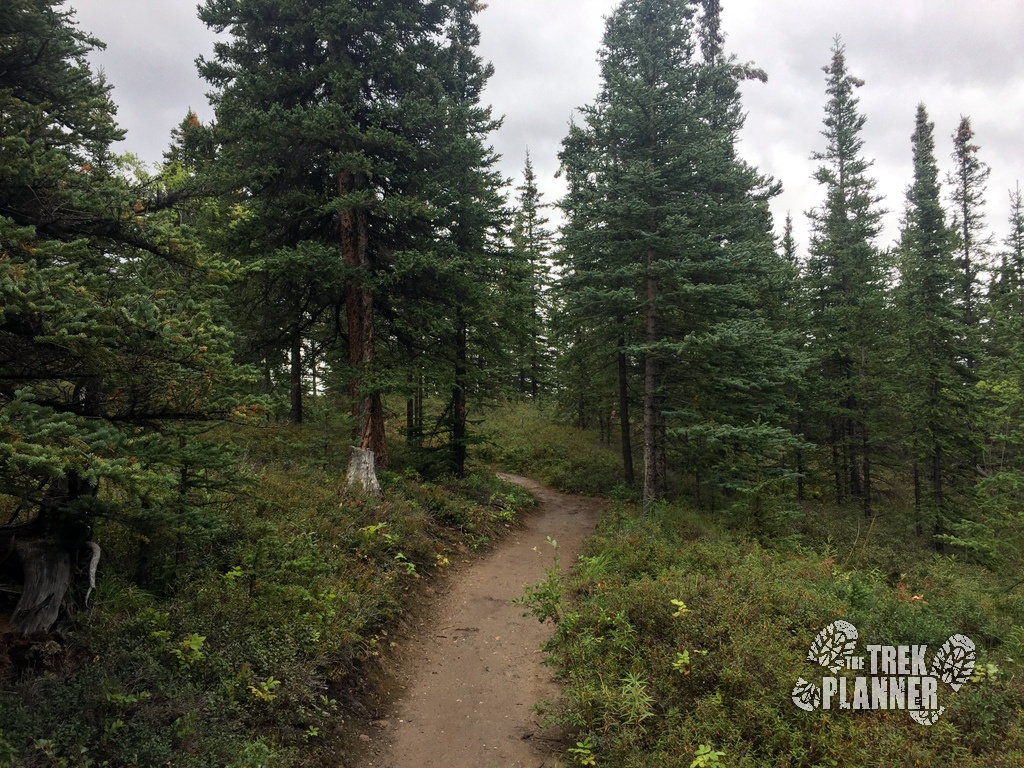 Once you come to the top of the short ridge you will finally get a view of the Nenana River.  From here the trail will slope downwards until you finally arrive at the southern trailhead.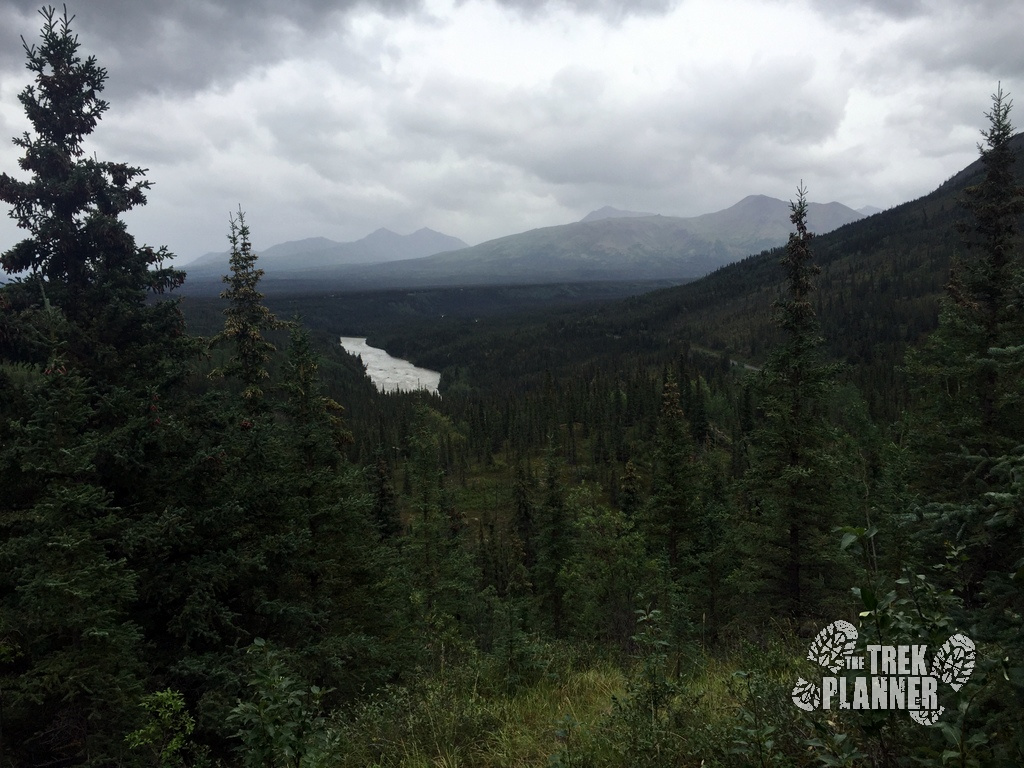 You can see Mt. Fellows in the distance.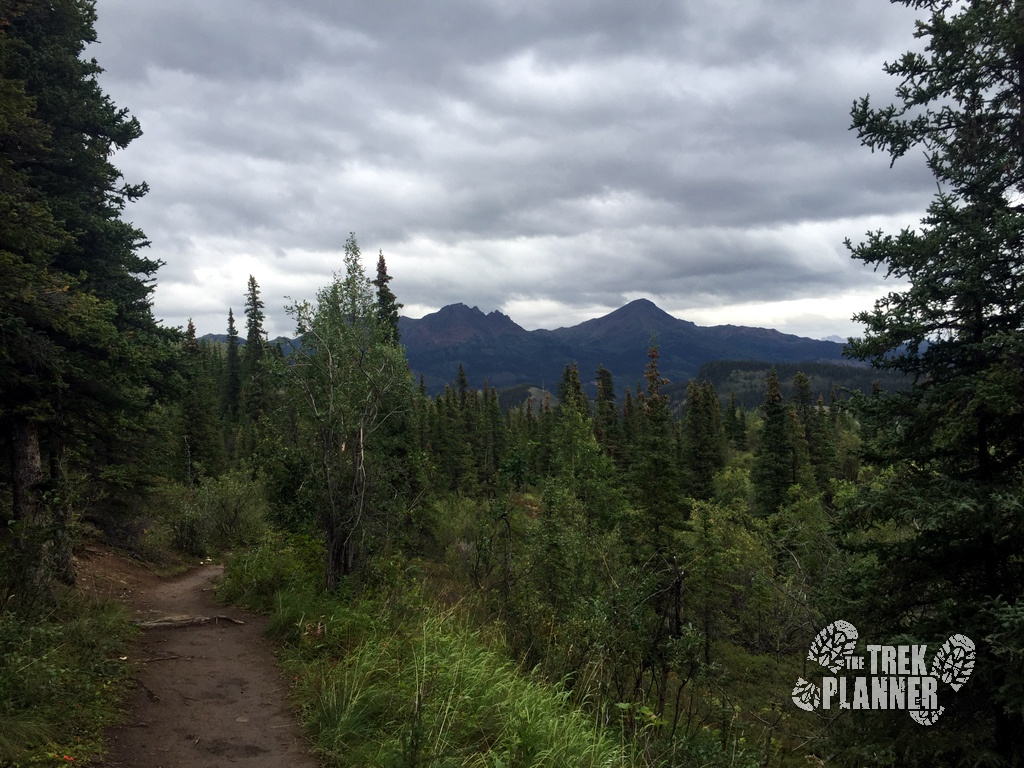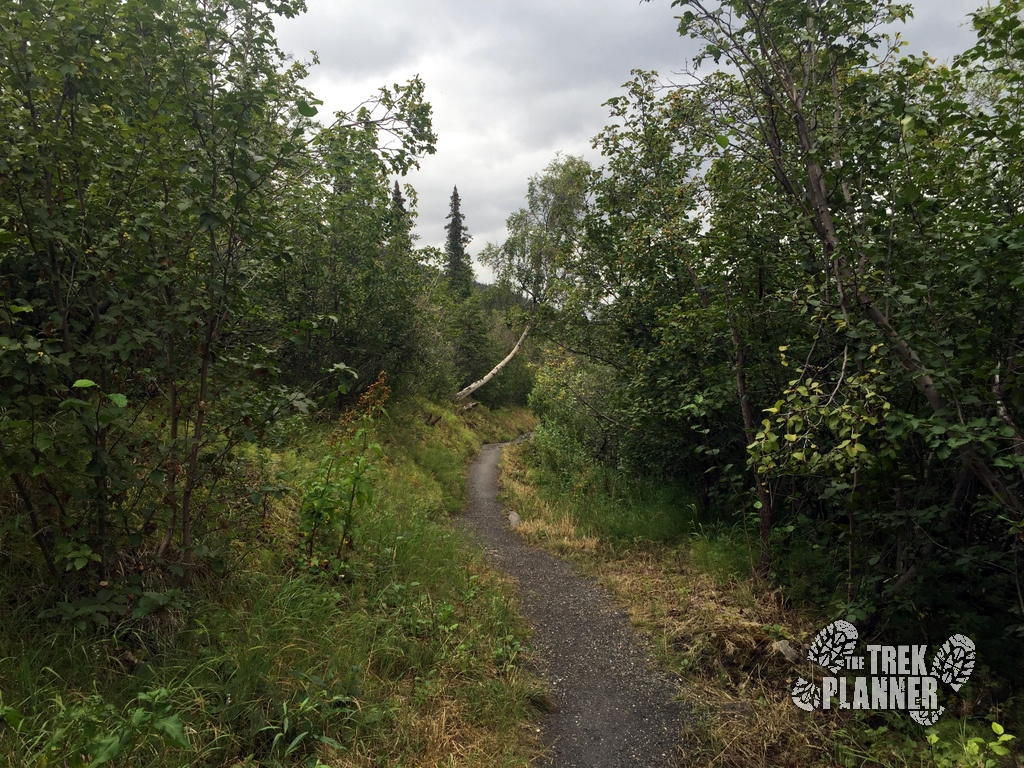 Once you come to the railroad tracks, make sure you safely cross.  If you see a train come through, make sure you wait until it passes to cross over.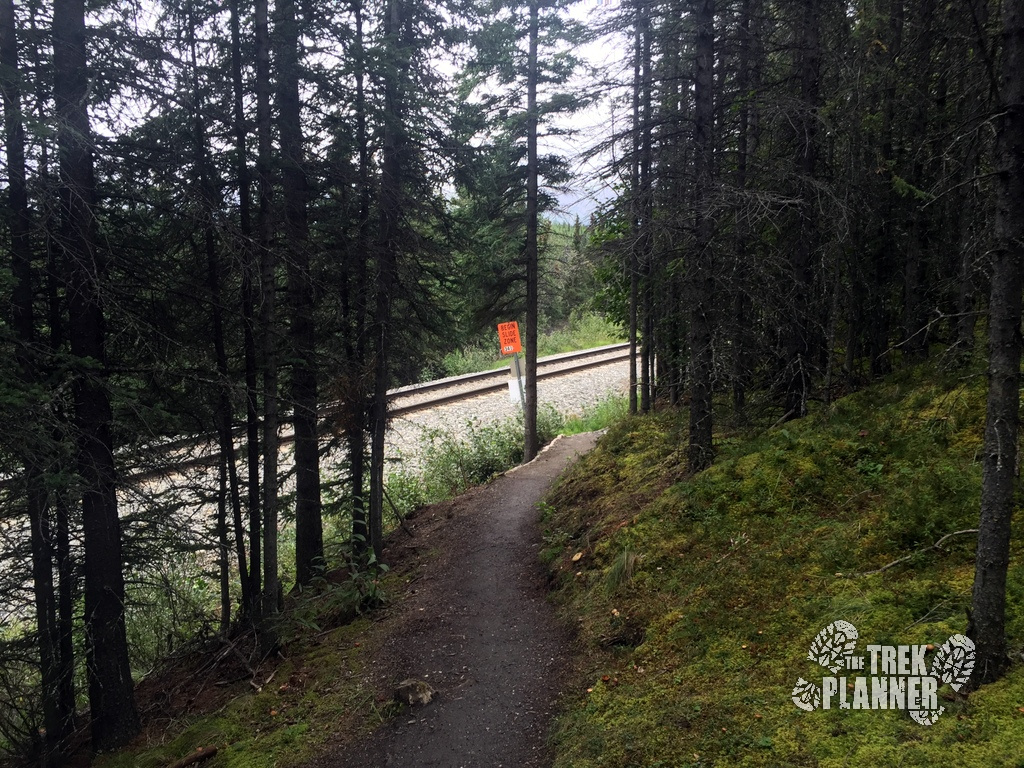 The trail will pick up on the other side of the tracks.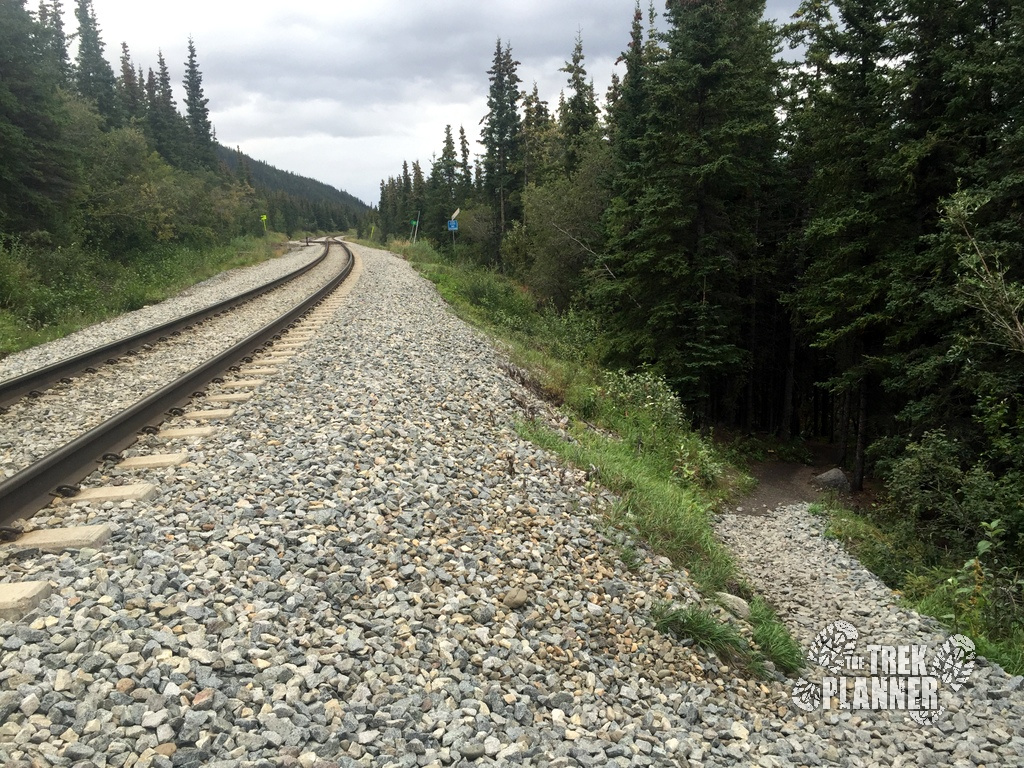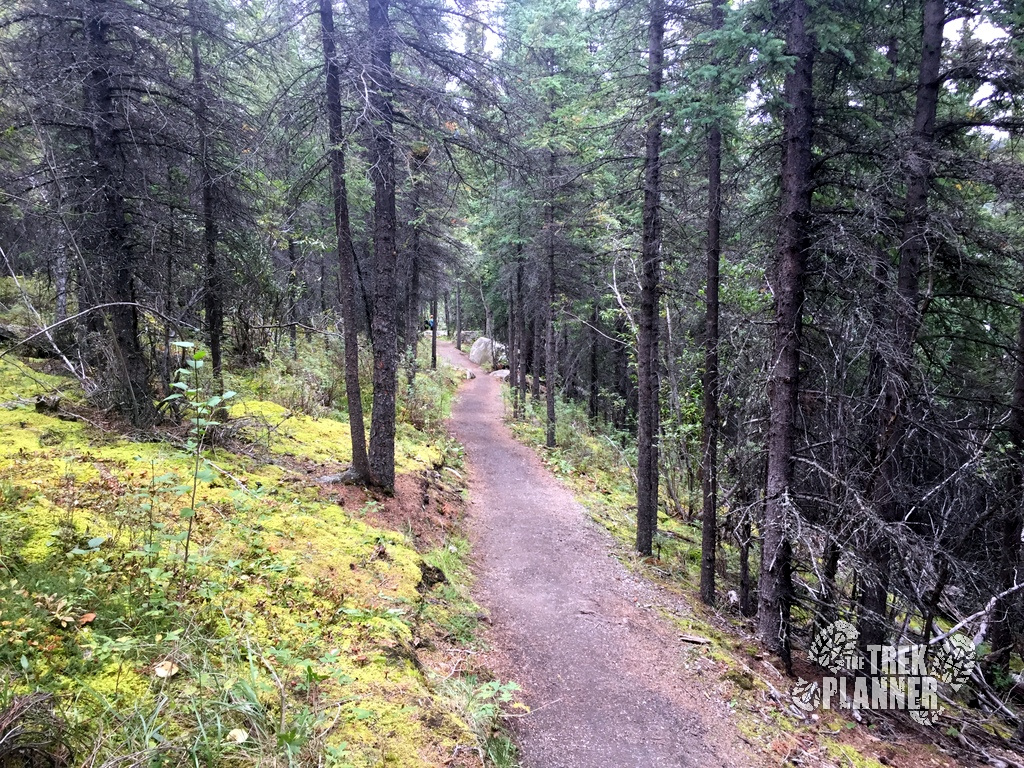 Here you can see the southern Triple Lakes trailhead sign.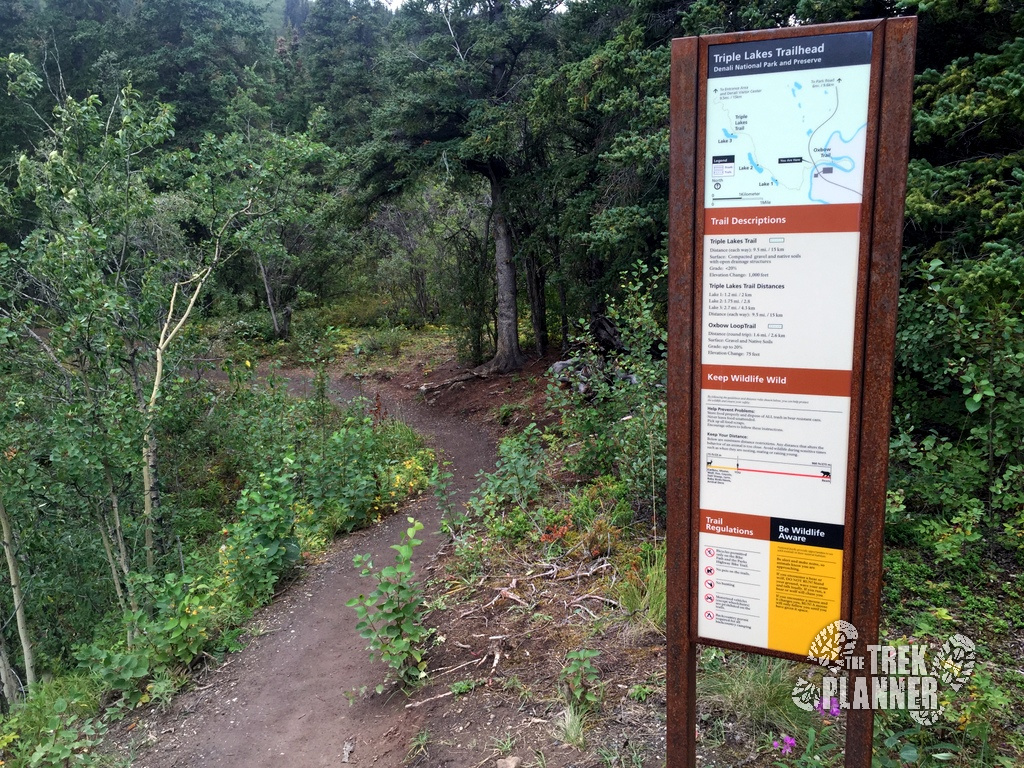 Finished at last!  This was a very long hike but I quite enjoyed it!
The southern trailhead "parking lot" isn't exactly a parking lot.  You simple park on the side of the road clear out of the way of traffic.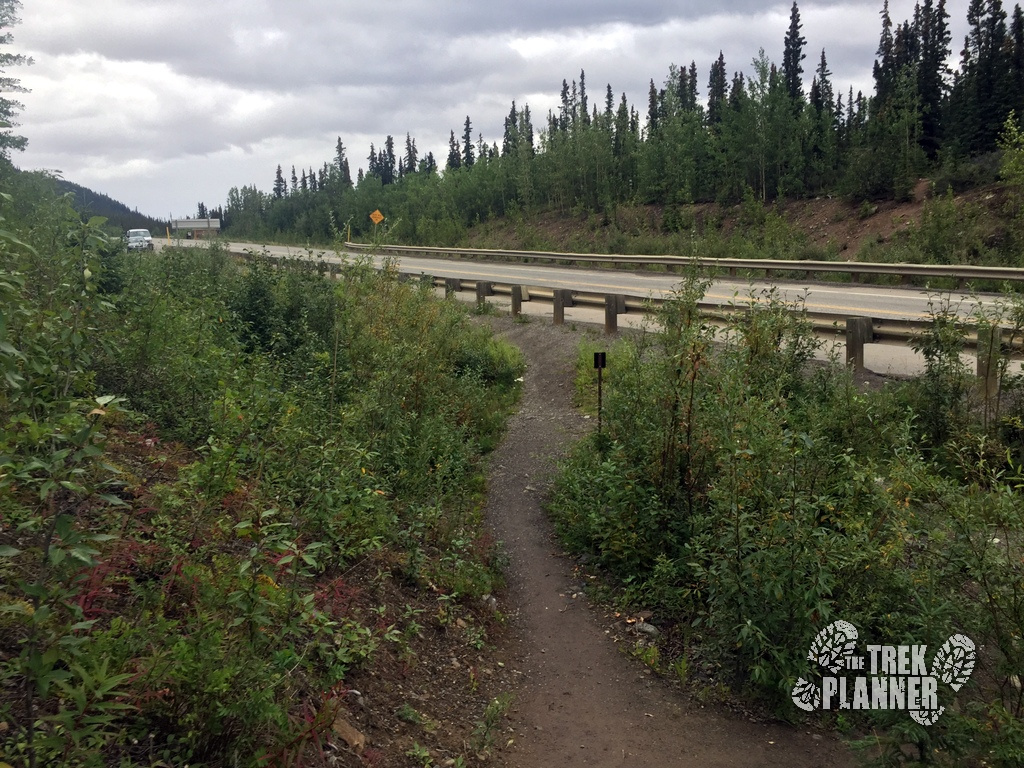 Personal Thoughts:
I really enjoyed the Triple Lakes Trail.  It probably isn't my favorite in the area but it is still a great hike.  Bring the family and kids and come hang out by the lakes!