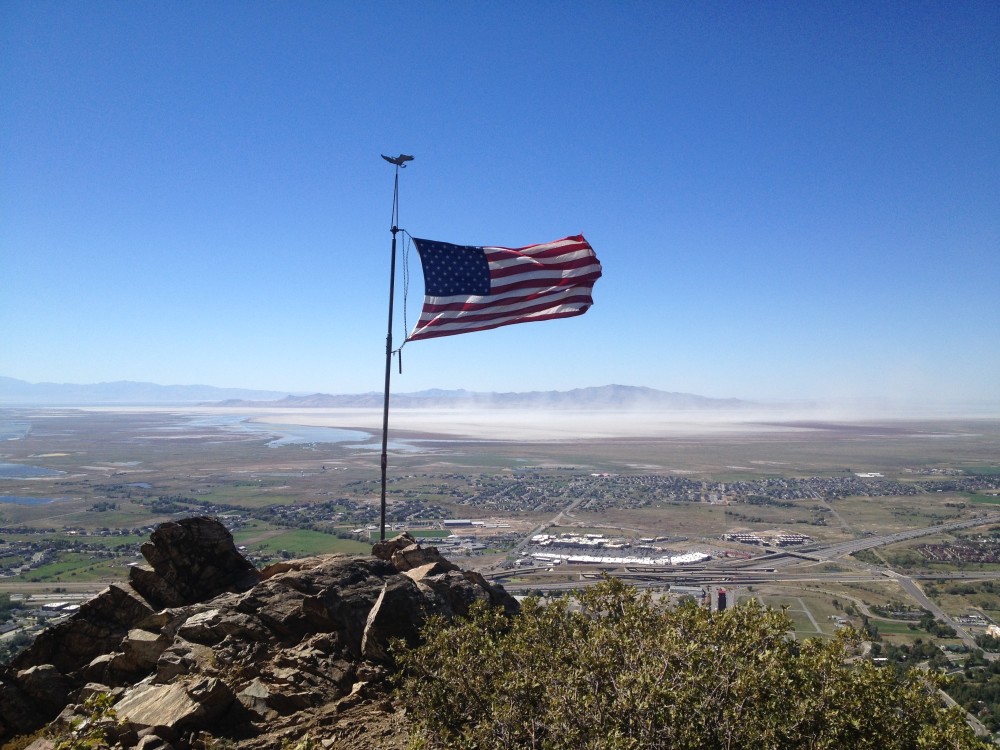 Overview
Depending on which trailhead you start. It is roughly 2.60 miles round trip.
Trail is in good condition. Dirt path
Bring meals and snacks as needed
Good hiking shoes, hat, sunglasses, bag for food and water
GPS Coordinates:
South Trailhead: 40° 58.920'N, 111° 52.586'W
North Trailhead: 40.989779°, -111.879436°
Flag Rock: 40° 59.218'N, 111° 52.323'W
Trail Map
Driving Directions
Once you get onto North Skyline Drive in Farmington, you will be travelling on a dirt road.  If you have a high clearance vehicle you can drive over here or if you don't you can always just hike it from the Farmington Canyon parking lot.

The Trail:
Please note that you have two trails to choose from if you are hiking to Flag Rock.
North Trailhead
The North Trailhead is seldom traveled but it is in decent condition.  It is roughly 1.33 miles from the trailhead to Flag Rock.
South Trailhead
If you choose the South Trailhead it is about 1.25 miles from the trailhead to Flag Rock.  I prefer this route because it is on the same path as Patsy's Mine and you can stop and check out the mine while you are going up to Flag Rock.  This is by far the most popular path to take.
For the sake of this Trek, I will use the South Trailhead.
Flag Rock is a fun hike to the top of a rocky ridge in Farmington Utah which offers amazing views of Davis County and the Great Salt Lake.  The Flag was placed by a man named Randy West to honor his friend.  There is more historical significance to Flag Rock which I will talk about in the Historical Information section below.
The South Trailhead begins at the Firebreak road in Farmington Utah.  Simply follow the GPS coordinates above and you will arrive at the trailhead just fine.
The trail zig-zags back and forth on the trail until you come up to the cross roads which points you to either left or right trails.  There is a trail marker that points you left to Flag Rock and Patsy's Mine.  The right trail leads you back down to the Firebreak road and to Steed and Hornet Canyons.  There is also a fun climbing area known as the Farmington Crag which is located directly east of here.  To read more about Anchor Rock, click here.
Take the left route and continue on for about another 1/4 mile until you come to another sign which points you to Flag Rock or Patsy's Mine.  I suggest you make a stop at Patsy's Mine.  The mine is an incredible feat considering it was mostly worked by one person.  To read more about Patsy's Mine, click here.  Also, the Rhymney Mining Claims were located just south of Patsy's Mine.  To read more about the Rhymney Mine, click here.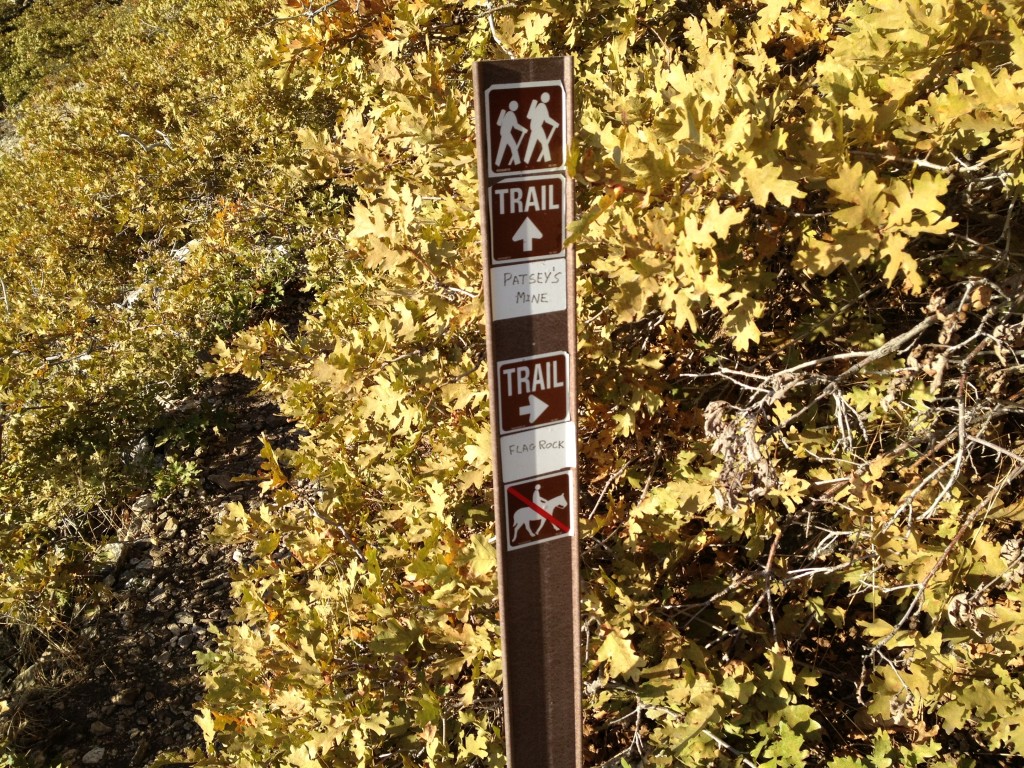 Go back to the main trail and keep going up the path to get to Flag Rock.  Flag Rock is still about another 1/2 mile.
The trail continues to zig-zag up the mountain side and it is somewhat steep.  If you take short breaks you will get to Flag Rock alright.
The flag pole is 20+ feet high and is anchored in to the surrounding rocks using chains.
It is strangely peaceful here and I have enjoyed every visit by simply resting near the flag for some time and then hiking back down.  This is a great place to recharge yourself.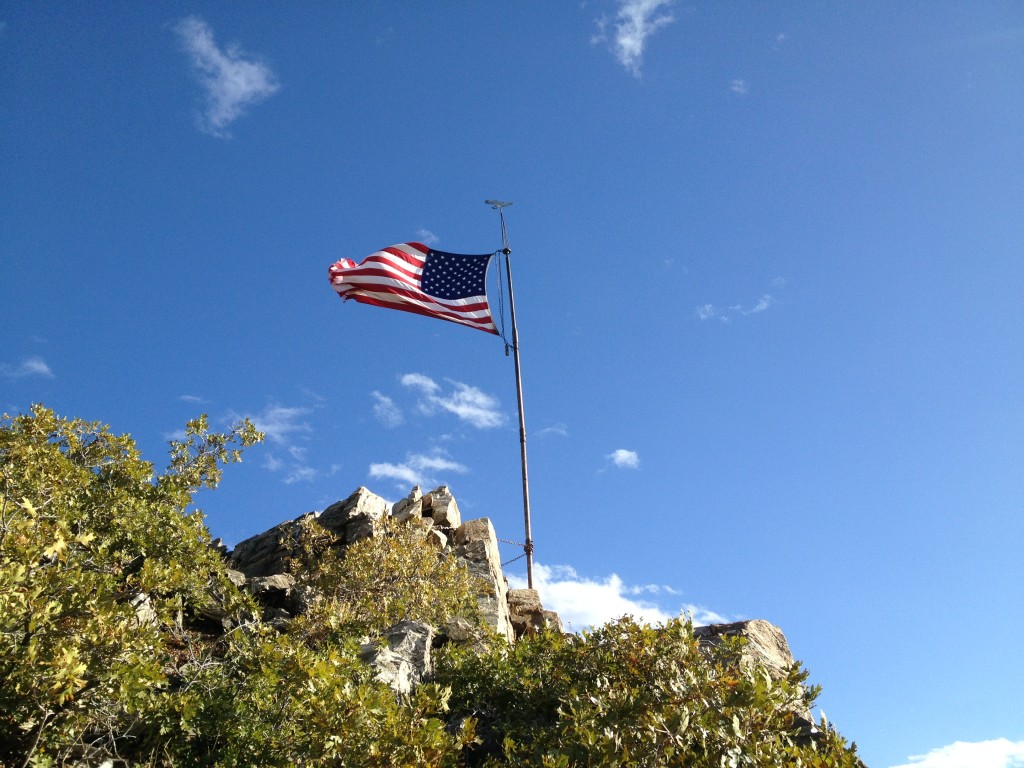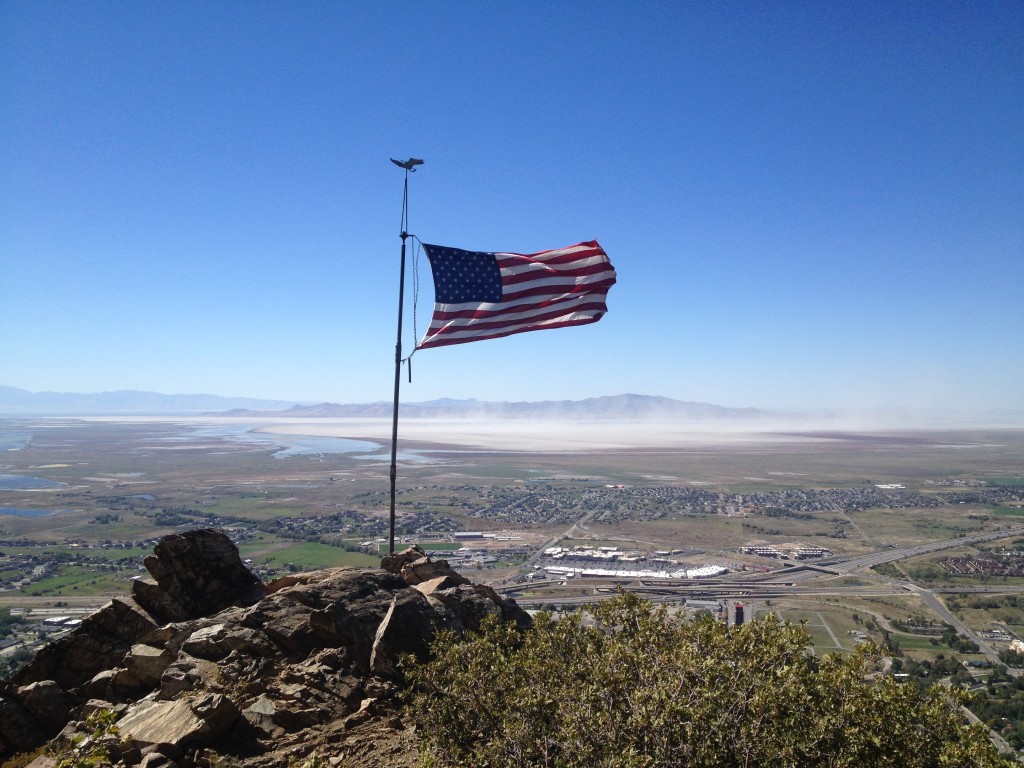 Historical Information:
Upon a recent visit to the Farmington City Museum I saw a display about Flag Rock.  Here are pictures of the display and information about the man responsible for the original flag and why he put it up there.
Here is what it says:
FLAG ROCK, FARMINGTON
On Flag Day, in June of 1997, I (Randy West), placed a 4'x6′ American flag on "Flag Rock" located on the foothills above Farmington.  I did this in honor of my friend, Gary Bradley, who was born on Flag Day.  He passed away in November of 1976, and his flag placement was my way of remembrance.  Due to wind and weather conditions, a new flag was taken up three times a year, with each new flag being provided by Olive Lenox, a lifelong resident of Farmington.
After the events of 9/11, I wanted to increase the flag size to make a larger statement of American pride and patriotism.  This became possible June of 2002, when I found the old flag pole which previously stood in front of the Farmington Elementary School, that was then laying against a fence behind Monte Vista Elementary.  I was allowed, by the school principal, to take the pole.  I presented the pole to Darrell Lake, a metal fabricating friend, and explained that I wanted a bigger flag which required a longer pole.  Darrell cut and sleeved the pole into three 6′ long sections weighing sixty pounds each.  The fourth top section was made with a swivel to allow for ease of movement as wind changes direction.  The crown of the pole is a stainless steel eagle which reflects sunlight and can be seen "flashing" for miles away from Flag Rock.
The next step was getting the pole sections to Flag Rock.  I modified my backpack frame and strapped each section to my back.  Four trips were needed.  Glen Curtis, another friend, hiked behind me to push and steady me. Without him, I doubt I could have gotten up the mountain.
On September 11, 2002, my brother, David, Glen and myself removed the 4'x6′ flag and its pole, and replaced it with a 24′ pole and a 6'x10′ flag.  The flag pole is pulled against a rock face using a long steel chain.
A few weeks after 9/11, I asked my brother, Davis, if he could find how high Flag Rock was to the valley floor.  Using his GPS, he found from the top of State Street to Flag Rock was 1,353 vertical feet, which was the same height of the World Trade Center Towers.  This has been posted on the GPS Cache Hunt Site website as a memorial to 9/11.  A retired EMT from New York City now leads a group of people from the top of 100 North to Flag Rock every 9/11.  It is a very emotional and very reflective experience.
Randy West
The Return:
Depending on which trailhead you started with you can either go down the same trail or make a big giant loop back to where you started.

Personal Thoughts:
I have hiked Flag Rock many times and it is a great adventure which offers many different things such as a visit to a mine and even a nearby climbing area.  Flag Rock would be a great hike for families too!