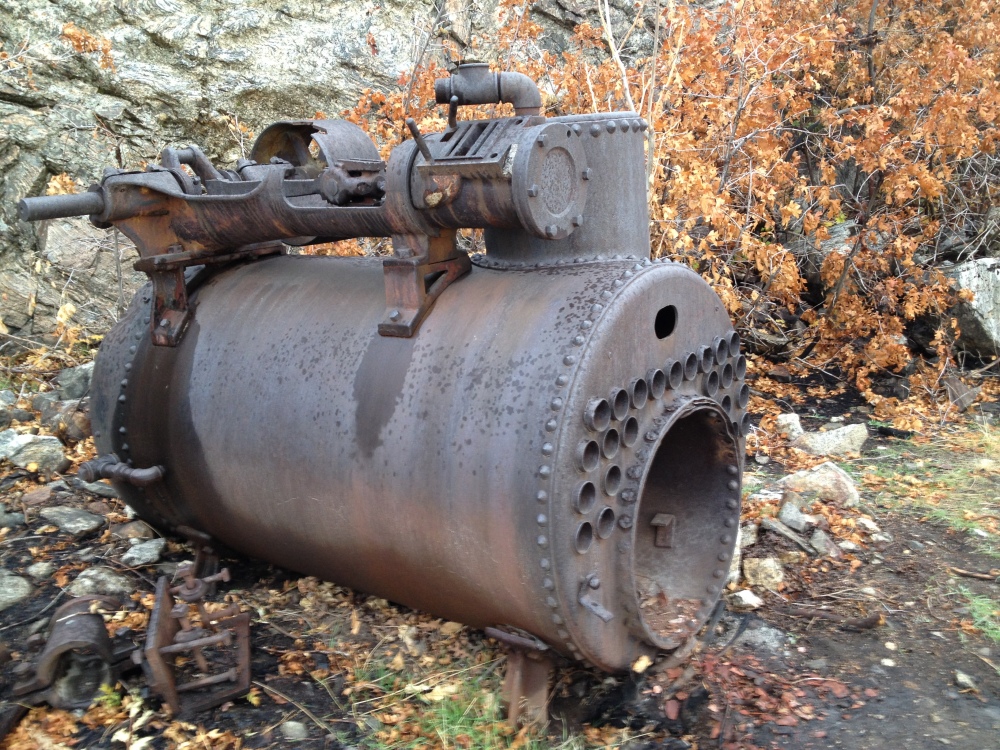 GPS Coordinates:
The content you are trying to access is only for Trek Planner Insiders. Signup
The Trail:
There is much evidence to support that there was a major operation in the area but if you physically hike to this area there is not much to be found.
Introduction:
I have been doing extensive research on the Rhymney Mine and have found significant amounts of evidence that proves it was a good size operation – by Davis County mining comparison.  The Rhymney mining claims are located just south of Patsy Morley's mine and just north of Steed Canyon.  Part of the reason why I am so intrigued and fascinated by this mine is that it seems impossible to locate: there are no tailings, very few mining artifacts and no other hints as to the mining location for the Rhymney Claim.  But more interesting to me is the history behind the mine and how much work went into it.
I have been up to where I think is the actual mining claim many times now and have found little to no evidence of tunnels or shafts.  This is confusing to me because all of the official affidavits I have found and studied at the Davis County building in Farmington Utah show that there were both shafts and tunnels worked for the Rhymney Mine.
I suspect that all of the entrances were blown or caved once the Rhymney mining claims went bust.
Listed below is all that I have compiled to fit the pieces back together on the Rhymney Mine.  Please be patient with me as I am still actively seeking out information regarding this mine, but I will put all the information I know here.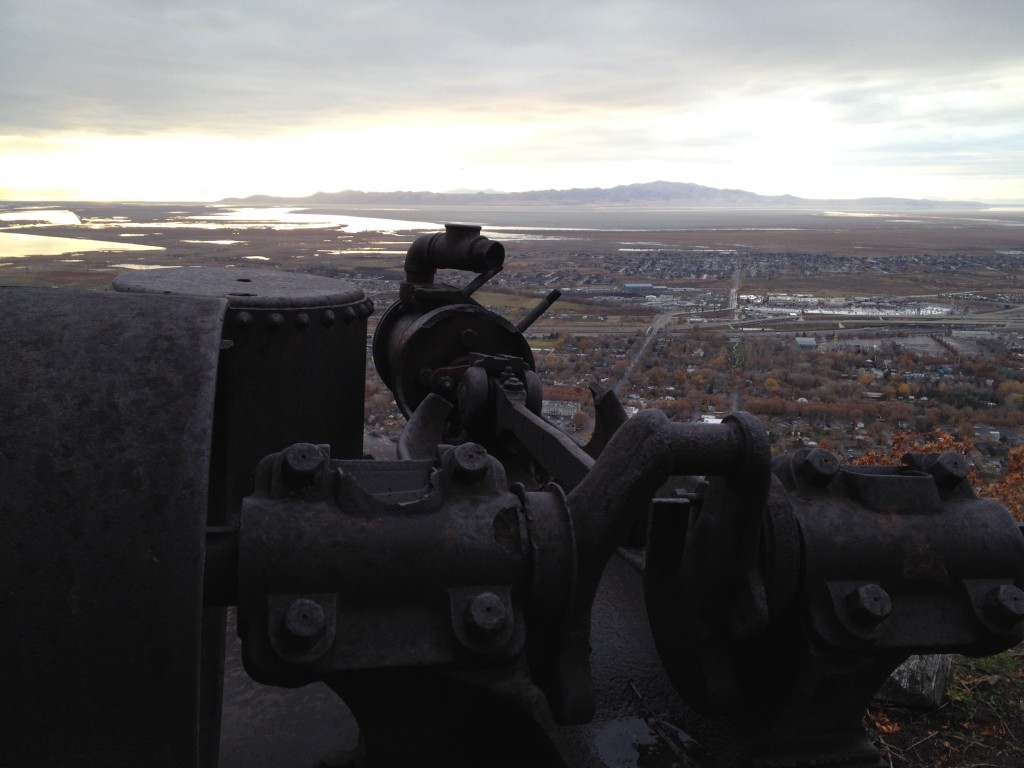 ---
What is the Rhymney Mine and where is it located:
The Rhymney mine is a set of several mining claims that are just south and east of Patsy Morley's Mine.  This area was originally discovered by Henry Haynes of Salt Lake City and then purchased by his son Hyrum E. Haynes and was mined by him and his associate until John Bogan in the year 1900.  John Bogan was bonded and leased by Hyrum's mining company called the Rhymney Gold and Copper Mining Company, to manage and work the mining claims.
The exact location of the mining entrances are unknown.
---
Characteristics of the Rhymney Mine:
The Rhymney Mine is of great interest to me because it features shafts and inclined tunnels, which are basically unheard of for a Davis County mining operation. Features include:
Ore featuring gold, copper and iron

A giant steam engine – used for mining operations

A spring used for the Rhymney Mine (see Water Deed below)

Wagon Road

Three roomed cook house

The Mine was timbered in many parts

4-5 feet per day was being tunneled

Ore chute

A cabin – for miners to stay in the winter time

A mill – for processing the ore

15-20 men were working at the mill and mine at one point

400,000 shares of stock

180 ft inclined shaft

Thousands of feet of workings

6,000 tons of rock had the potential to be removed
---
The Miners of Rhymney:
There were more miners but here are the miners that we have proof that worked in the Rhymney Mine.
Hyrum E Haynes

H.W. Owens

John Bogan

Annie Bogan (wife of John)

James Bogan (son of John)

James Young

Dick Solomon

Frank Baker

Richard Solomon

Fred Hayes
---
Affidavits and other Evidence:
The Rhymney Mine was originally claimed by a man by the name of Hyrum E Haynes on May 19, 1884.  Hyrum also goes by the name of H.E. Haynes.  His father is Henry Haynes and was the owner of a boiler company located in Salt Lake City, Utah.
The Haynes family is originally from Rhymney in Wales, and I guess in honor of their hometown we can assume they named their mining claim after their hometown.
Below is the original Notice of Location for the Rhymney Mine.  For your convenience I have typed up what the affidavit says but you can also read the original below.
Hyrum Haynes
Hyrum Haynes appeared to do a little work on the Rhymney Mine for a few years before officially turning over the managing of the mine to John Bogan (see John Bogan below).
Notice Of Location
Notice is hereby given, that the undersigned having complied with the requirements of section 2324 of the Revised Statute of the United States, and the Local Laws, Customs and Regulations of this District, has located fifteen hundred feet in length by 6 hundred feet in width, on this the Rhymney Mine Lode, vein or Deposit, bearing Gold, Silver and other precious metals, situated in Farmington Mining District, Davis County, Utah Territory, the location being described and marked on the ground as follows to wit:
Situated about one mile and a half easterly of the depot under a large cliff of Rock.
I claim from this notice 750 feet South-easterly to a monument of stone then North-easterly to a monument of stone from this notice 750 feet to a monument of stone.
The Mining Claim above described shall be known as the Rhymney Mine. 
Located this 7th day of January 1884
Names of Locators:
Hyrum E Haynes
Recorded, May 19, 1884
The above Notice of Location gives a very vague explanation of where the actual claim is located.  This is typical of the time as most, if not all mining claims where described in this similar fashion.
———-
Here is some interesting information regarding some mining done by Hyrum Haynes and his associate H.W. Owens
Proof of Labor on Rhymney, North and South Star
State of Utah
County of Salt Lake
Hyrum E Haynes and H.W. Owens and other employees, being first dully sworn, deposes and says that they have worked on the Rhymney, North Star and South Star Mining Claims, situated in Farmington Mining District, in Davis County Utah, and performed labor and made improvements thereon as follows:
Ninety days labor on the Rhymney Claim by sinking incline and grading from 1st day of May 1897 to 15 day of June 1897 and J Griffith for mining Tiber $21.00, Machinery Rails and bar $58.75 one Bourding house 17.40 Hauling and Supplies $3.50 and 272 cubic feet of earth and 1000 cubic feet of rock were removed.
Said work was done and improvements made at the instance or request of Rhymney Gold and Copper Mining Company.  The actual amount paid for said improvements and labor was Three hundred nineteen and 15/100 Dollars, and was paid by said company to hold the Rhymney, the North Star and the South Star mining claims by owners of said claims for the purpose of holding said claims.
Hyrum E Haynes
H.W. Owen
Subscribed and sworn to before me the 21st day of December 1897
C.M. Hammond
Notary Public
My Commission expires April 10, 1900
Recorded Dec-23-1897 at 11:30 AM
It is unclear who this Owens character is but he is probably just a friend or associate that is helping with the mining operations.  BTW, the North/South Star claims are located high on the mountain located west below the Farmington Flats area.
---
Water Deed by Hyrum Haynes:
Henry Haynes also claimed a spring for use by the "Rhymney Mine Shaft".  The claim below reads:
Spring Claim
-Hyrum Haynes-
Notice
Notice is hereby given to whom it may concern that the undersigned claim this spring of water and all the water flowing therefrom for "see "B" of Water Claims"
I then found the "Water Deeds" record book and found the claim that was described above:
-Spring of Water
-Claimed by Hyrum Haynes
Notice
Notice is hereby given to whom it many concern that the undersigned claim the spring of water and all the water flowing therefrom for culinary and drinking purposes and for purposes of irrigation , also for mining and mailing purposes mechanical manufacturing and agricultural and other purposes and described as follows to wit.
Beginning at a stone monument about 70 feet North West of said spring and running South therefrom 100 feet to a monument of stone East 100 feet to a stone monument then North 100 feet to a stone monument and then 100 feet to the point of beginning – Davis County, Territory of Utah, claimed and located this 27 day of August 20, 1885.
This spring is situated about one mile northerly of the Rhymney Mine Shaft in a grove of trees.
Hyrum Haynes
Recorded Sept 1, 1885
---
John Bogan:
I compiled and did research in local newspapers such as the Davis County Clipper and the Salt Lake Mining review that you can find online on the University of Utah's database.
The man responsible for the majority of the mining operations seems to be a John Bogan.  It appears that he was hired, leased and bonded by Hyrum Haynes to work and take control of most of the aspects on the Rhymney Mine.  There were more people involved with digging and tunneling but John Bogan seems to be the main character for this mining operation.
In my research I suspect that mining operations for the Rhymney Mine, under the direction of John Bogan, were just beginning around the the spring time of 1900's.  My reasoning is that I have found little no evidence of John Bogan's mining affidavits or newspaper clippings prior to the 1900's.
It appears that Hyrum Haynes bought the mining claim in the late 1800's and did a little prospecting in the area and then by 1900 he got serious as he hired and bonded John Bogan for the mining of Rhymney.
Below is the Indenture, Bond and Lease to John Bogan for the Rhymney Gold and Copper Mining Company.
---
Mining Lease and Bond
This indenture, made this 27th day of march 1900 between the Rhymney Gold and Copper Mining Company a Corporation (by its President and Secretary duly authorized hereto) of Salt Lake, Utah, Lessor and John Bogan of same place Lessee,
Witnesseth that he said lessor for and in consideration of the royalties, covenants and agreements hereinafter reserved and by the said lessee to be paid, kept and performed, has granted, demised and let unto the said lessee all the following described mine and mining property, situated in Farmington Mining District, County of Davis, State of Utah, known and recorded as the Rhymney Claim and more fully described on the records of said Mining District; together with the appurtenances; to have and to hold unto the said lessee for the term of two (2) years from the date hereof expiring at noon on the 27th day of March, 1902, unless sooner forfeited through the violation of any covenant hereinafter against the said lessee reserved, and in consideration of the said demise, the said lessee does covenant and agree with the said lessor as follows, to-wit:
First – To commence work within sixty days from date upon said mine, and work the same in a good and workmanlike manner, and that a failure to work said premises performing at lease one hundred feet of sinking, drifting, raining or crosscutting within six months from date and one hundred and fifty feet of such work during each six months thereafter May, at the option of lessor, be considered a violation of this covenant.
Second – To timber said mine, when and where necessary, at lessee's own expense.
Third – To allow the said lessor or its agent to enter upon and into all parts of said mine for the purpose of inspection.
Fourth – To not assign this lease, or any interest thereunder, or sublet the same, or any part thereof without the written consent of said lessor.
Fifth – To pay and deliver to said lessor or to its agent, as royalty, fifteen per cent of the net value of all ore extracted from said premises during the life of this lease.  Net value means after the costs of transportation from mine to smelter or samples, and sampling and assaying charges have first been deducted, then the royalty as aforesaid to be paid to lessor or its agent.
Sixth – To deliver up to said lessor the said premises with the appurtenances, and all improvements including all interior improvements and the tools and appliances received from them, except surface improvements made by lessee in good order and condition, without demand or further notice, on said 27th day of march 1902, at noon, or at any time previous, upon demand for forfeiture.
The said lessor, for and in consideration of one dollar cash in hand paid by said lessee, the receipt whereof in hereby acknowledged, does hereby bind itself and is firmly bound bound unto the said lessee his heirs or assigns in the sum of five hundred dollars, lawful money of the United States, to make, execute and deliver a good and sufficient deed to said claim, as location, free from all encumbrances, at any time before the expiration of lease to the said lessee, heirs or assigns.
Proved, that on or before the expiration of this lease, the said lessee, heirs or assigns, shall pay to the said lessor, heirs or assigns, the full sum of ten thousand ($10,000.00) dollars lawful money of the United States, being the price agreed upon between said lessor and lessee.  Each and every clause and covenant of this indenture shall extend to the assigns, heirs, executors and administrators of all parties hereto.
In witness whereof, the said parties, lessor and lessee, have hereunto set their hands and seals in duplicate, the day and year aforesaid.
Signed in the presence of Rhymney Gold and Copper Mining Co by Hyrum E. Haynes President and H.L.A. Culmer Secretary
John Bogan
---
Rhymney Mining Operations from Newspaper Articles:
To access the information below, you will need to purchase a Trek Planner Membership
The content you are trying to access is only for Trek Planner Insiders. Signup
---
Personal Thoughts:
There isn't much known in terms of actual location other than the vague directions listed above in the affidavits.  However, I am certain that I have found a "monument of stone" that was used as a boundary marker but am still trying to locate more artifacts and physical evidence of the mine.