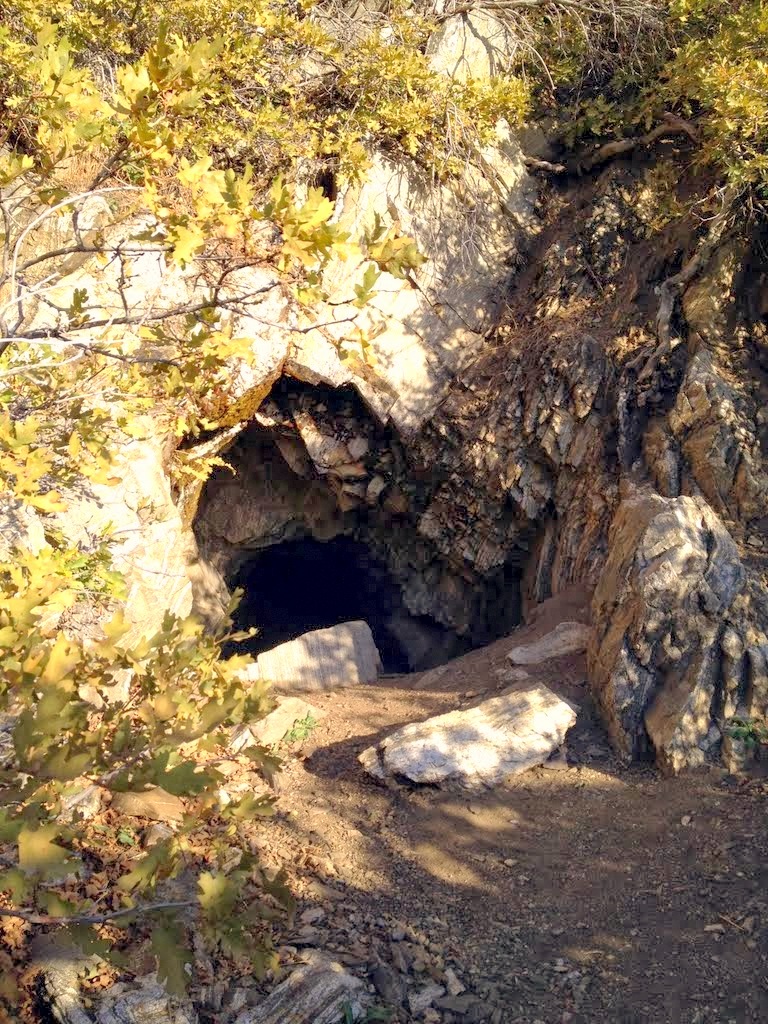 Overview
Farmington Utah – Northern Utah
About .70 miles to Patsy's Mine. Then another 1/2 mile to Flag Rock if you decide to keep going.
Bring 1 liter of water. No creeks or streams nearby.
spring, fall – summer is OK but very hot.
Lots of sun. Shade is minimal.
Clear trail the entire way up. Dirt path
Allowed in designated camping areas
Bring flashlights, shoes you don't mind getting a little bit muddy in the mine, bag for food and water
GPS Coordinates
Trailhead: 40° 58.920'N, 111° 52.586'W
Patsy's Mine 40° 59.099'N, 111° 52.344'W
Flag Rock 40° 59.218'N, 111° 52.323'W

Trail Map:
Here is just the trail to the mine. Very simple.

There are several trail options for this trek. If you plan to hike this trail in the range of spring to fall you can drive to the trailhead. If you hike in the winter months you must hike to the trailhead. Please use the map below and if you have any questions please feel free to let me know!

---
Driving Directions:
Once you get onto North Skyline Drive in Farmington, you will be travelling on a dirt road.  If you have a high clearance vehicle you can drive over here or if you don't you can always just hike it from the Farmington Canyon parking lot.

---
The Trail:
Patsy's mine was created by an Irish immigrant who settled in the Farmington area.  There is a main tunnel that leads into other areas with a total of about 200+ ft of tunnels to explore.  This is a fun simple trek and great for kids!
You will start your trek on the Bonneville Shoreline Trail which is accessible by the Skyline Drive road in the Farmington Canyon.  There is a trail marker at the start of the trail and the trail itself is well worn and easy to navigate even though it is steep at times.
---
You will zig-zag your way to the top unless you are gutsy enough to take the trail that takes you straight up the mountain side (not recommended).  After about 15-20 minutes of hiking you will come to a fork in the road by another trail marker. Take the left trail and continue on.
---
Keep going until you come to another trail sign that points you to either Patsy's Mine or to Flag Rock.  Continue straight and after about 25 yards you will see the mine entrance.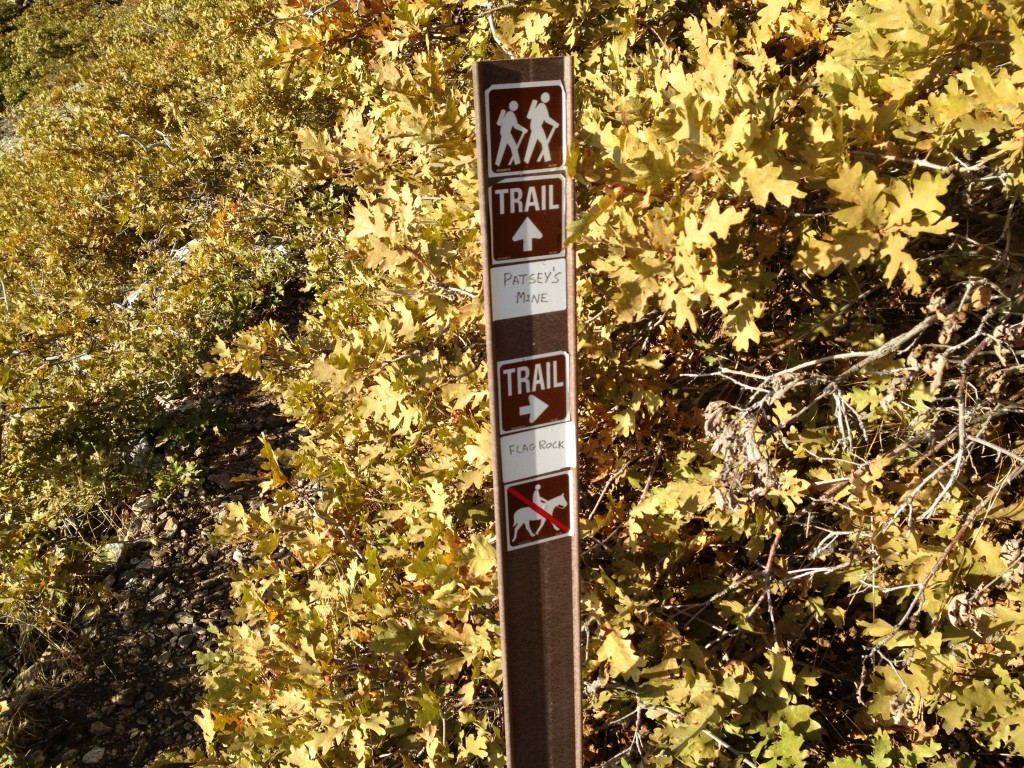 PLEASE ALWAYS REMEMBER TO BE CAREFUL WHEN ENTERING MINES!
In the mine you will see places on the floor where a old mine cart system was built and you can even see badly rusted rails in the back.
There is also graffiti all over the mine – please be respectful and leave only footprints and take only pictures.
From some of the documents I have found about Patsy's Mine, it seems that Patsy was mining for gold, silver, copper,  lead and other "valuable minerals".
While I was visiting the Farmington City Museum, I found this picture in a nice display of Patsy Morley, which was actually spelled Patsey Marley.  The picture is from an unknown date and taken by an unknown person.
Historical Information (Patsy's Mine):
I have been doing lots of research about Patsy Morley and the mine he made in Farmington.  As I was doing my research I found the original Notice of Location for his two claims.  One of which is called the "Locky Boy Mine" and the other is the "Groof" mine.  It is my opinion that these were misspelled due to Patsy's thick Irish accent or maybe some other type of discrepancies in the mine claim documents.  If you look closely there are other word misspellings that make me think that this Public Notary may have started their first day on the job right when Patsy Morley walked in the recorders office…I'm joking, but I can't help but still wonder why there are so many discrepancies.
Patsy? Patzi?? Patsey???
It appears to me that Patsy's own name was misspelled on the documents.  This alone is very interesting because Public Notary workers were the ones who wrote such documents and they should be as accurate as possible.  Patsy's name is misspelled several times (Patzy, Patzi, Patziy) on the same Notice of Location document – see for yourself below on the "Locky Boy Claim".
The Index to Mining Locations in Davis County is basically showing where to find the "Notice of Location" and other information.
It is interesting to note that another man is mentioned here with Patsy.  His name is Theodore Contri and I have not seen him on any other mining documents in the Recorder's Office.  This leads me to think that he is just a friend to Patsy and not an actual mining aficionado.  I've read many reports of people back in the day walking down to the Recorder's Office and purchasing a mining claim – and not doing anything with it.  This seemed to have been the popular thing to do back then.
From the documents it is near impossible to tell which one is the actual Patsy's Mine that we know today, since the directions and locations of the monuments mentioned are impossible to find.  Both of these Notice of Location documents were made and filed by Patsy Morley on November 26, 1904 at 10:00 AM and 10:05 AM.
As I was trying to find the actual deed to Patsy's Mine I found out that the land where the actual mine is located was located on land owned by the United States Government (note that this is different than the United States Forest Service).  I then found that Patsy mined on the land which was leased by the US Government to Patsy.  The deed is not in Davis County archives but actually somewhere in the Bureau of Land Management archives.
I'll continue research and see what else I can find.
—–
Update Oct 28 2013 – After scouring over books at the Davis County Library I finally found more information about Patsy's Mine.  According to the book "History of Farmington Utah" this mine is mentioned and here is the excerpt:
"Patsy Morley, a former Irish prizefighter, became a legend in Farmington for his untiring efforts to strike it rich in a mine on the bench just north of Steed Creek.  For twenty years, the old bachelor made daily trips to his mine from a back-room apartment in an old Main Street business building, hoping that each day would bring the lucky strike.  When he finally gave up, Morley left town as unceremoniously as he had arrived."
I have read that Patsy is actually buried at the cemetery to the south of the Rice-Eccles football stadium but I have yet to confirm this.
——–
I found an interesting newspaper clipping from the Deseret News September 4, 1902:
FARMINGTON FIRE
Blaze That Burned a Miner's Cabin and Frightened Citizens
There was a blaze in the foothills above Farmington last evening that destroyed a miner's cabin and an ore chute and some supplies and that frightened citizens for a time.  The flames spread quickly from a dry brush fire that started in the foothills and worked their way up to a cabin occupied  by Patsy Morley, who is watching a prospect in the vicinity.  Then it went still farther up the mountain side to the Rhymney claim, leased by John Bogan from Hayes and Culmer of Salt Lake.  The ore chute of this property was completely destroyed while Morley's cabin three-quarters of a mile distant was burned to the ground together with all the provisions it contained and a thousand pounds of coal that Morley had carried up to it from time to time on his back.  The story that Morley had probably been burned to death as stated by a morning paper is only a story and a yellow one at that.  The truth is that when the flames reached the cabin Morley betook himself to a cliff of rocks near by and remained there for a time, after which he went down to Camp Funston.  If he could have been seen there by the man who wrote that he was probably burned to death there would have been a different tale to tell, for Morley was very active.  In the old days he used to be a pugilist and like men of that calling he knows how to have a "good time" and it is reported that he had a "very good time" last night notwithstanding the fact that his cabin was burned to the ground.
——–
And here is the follow up newspaper clipping from the Deseret Evening News, September 6, 1902
PATSY'S OWN STORY
The Man Who Called Him a Hermit Is a Sensation Monger
Patsy Morley, the mining man who has been working a claim in the foothills above Farmington called at the "News" office today and said that the reporter on the morning newspaper who designated him as a hermit was a sensation monger who didn't know anything about civilization.  Morley rents a house in Farmington and lives there.  He is no recluse and as far from being a hermit as any man who leads the kind of life that he does, can he.  The story, too, about him seeking safety in a cave when the fire approached close upon him is also a myth.  He simply climbed a cliff of rocks as stated by the "News" and remained there for about three quarters of an hour, when the fire had burned itself out.  It was a hard climb and he was very tired when he had finished, but it resulted in him getting to a point of safety.
——–
Different spelling on Patsy's name
While doing research I have come across many different iterations of Patsy's name.  In several newspaper clippings his name has been spelled Patsey Marley.  The same newspaper clipping, from the Salt Lake Mining Review states that this same "Patsey" had dug a tunnel in Farmington Utah on the foothills leading me to confidentially conclude that this is the same Patsy Morley that is spoken of in this Trek.
This is my own personal opinion.  I believe that Patsy's thick Irish accent may have led people to incorrectly write down his name, which is why we get several different versions of his last name (Marley, Morley etc).
---
The Return:
Return the same way you came up.
---
Personal Thoughts:
Patsy's Mine is a great place to explore if you are new to mining.  It is a fairly good size mine in the Davis County area for there aren't too many that go past 100 feet or so.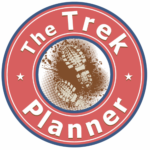 ---
Optional Side Trek: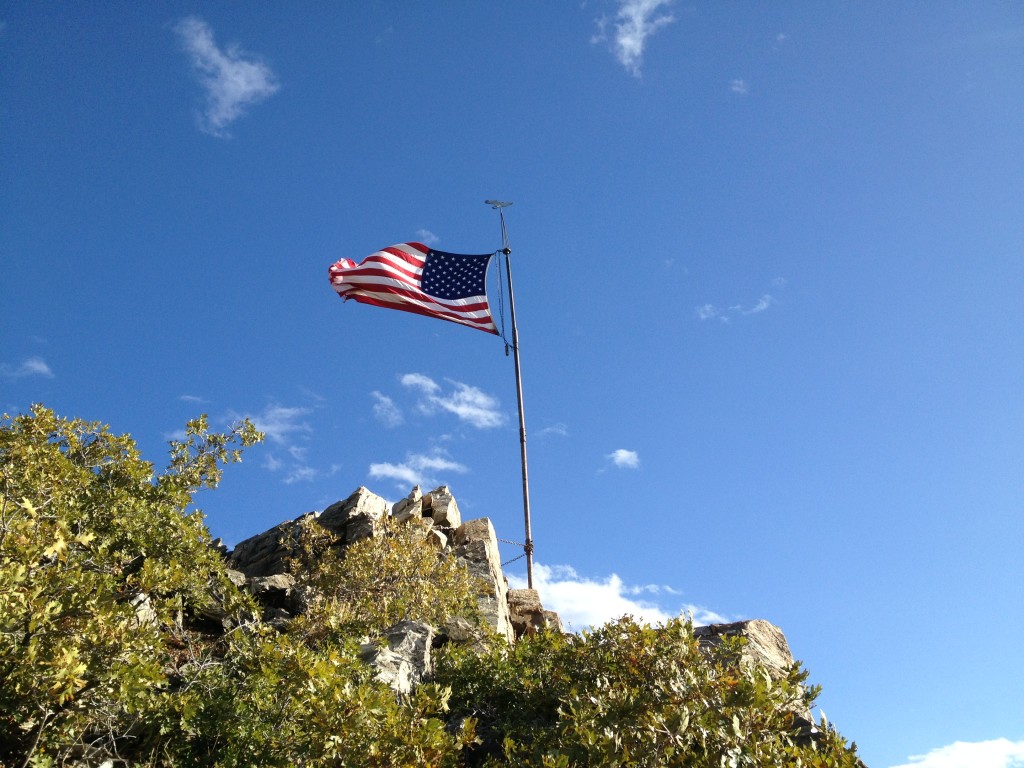 Hike to Flag Rock
Here is the detailed Trek to Flag Rock
Flag Rock is named for a tall metal pipe with an American Flag that is planted into the rock face.
Go back outside of Patsy's Mine until you come to the sign that points you to Flag Rock.  There are many switch backs until you reach the top which is roughly another 1/2 mile from Patsy's Mine
Once you reach Flag Rock you will have an amazing overlook of the whole county including Antelope Island.
This side trek can take up to an additional 1+ hour to complete.
Flag Rock:  40° 59.218'N, 111° 52.323'W
---
Historical Information (Flag Rock):
Upon a recent visit to the Farmington City Museum I saw a display about Flag Rock.  Here are pictures of the display and information about the man responsible for the original flag rock and why he did it.
Here is what it says:
FLAG ROCK, FARMINGTON
On Flag Day, in June of 1997, I (Randy West), placed a 4'x6′ American flag on "Flag Rock" located on the foothills above Farmington.  I did this in honor of my friend, Gary Bradley, who was born on Flag Day.  He passed away in November of 1976, and his flag placement was my way of remembrance.  Due to wind and weather conditions, a new flag was taken up three times a year, with each new flag being provided by Olive Lenox, a lifelong resident of Farmington.
After the events of 9/11, I wanted to increase the flag size to make a larger statement of American pride and patriotism.  This became possible June of 2002, when I found the old flag pole which previously stood in front of the Farmington Elementary School, that was then laying against a fence behind Monte Vista Elementary.  I was allowed, by the school principal, to take the pole.  I presented the pole to Darrell Lake, a metal fabricating friend, and explained that I wanted a bigger flag which required a longer pole.  Darrell cut and sleeved the pole into three 6′ long sections weighing sixty pounds each.  The fourth top section was made with a swivel to allow for ease of movement as wind changes direction.  The crown of the pole is a stainless steel eagle which reflects sunlight and can be seen "flashing" for miles away from Flag Rock.
The next step was getting the pole sections to Flag Rock.  I modified my backpack frame and strapped each section to my back.  Four trips were needed.  Glen Curtis, another friend, hiked behind me to push and steady me. Without him, I doubt I could have gotten up the mountain.
On September 11, 2002, my brother, David, Glen and myself removed the 4'x6′ flag and its pole, and replaced it with a 24′ pole and a 6'x10′ flag.  The flag pole is pulled against a rock face using a long steel chain.
A few weeks after 9/11, I asked my brother, Davis, if he could find how high Flag Rock was to the valley floor.  Using his GPS, he found from the top of State Street to Flag Rock was 1,353 vertical feet, which was the same height of the World Trade Center Towers.  This has been posted on the GPS Cache Hunt Site website as a memorial to 9/11.  A retired EMT from New York City now leads a group of people from the top of 100 North to Flag Rock every 9/11.  It is a very emotional and very reflective experience.
Randy West
---
MEDIA

---
Exploring Patsy's Mine