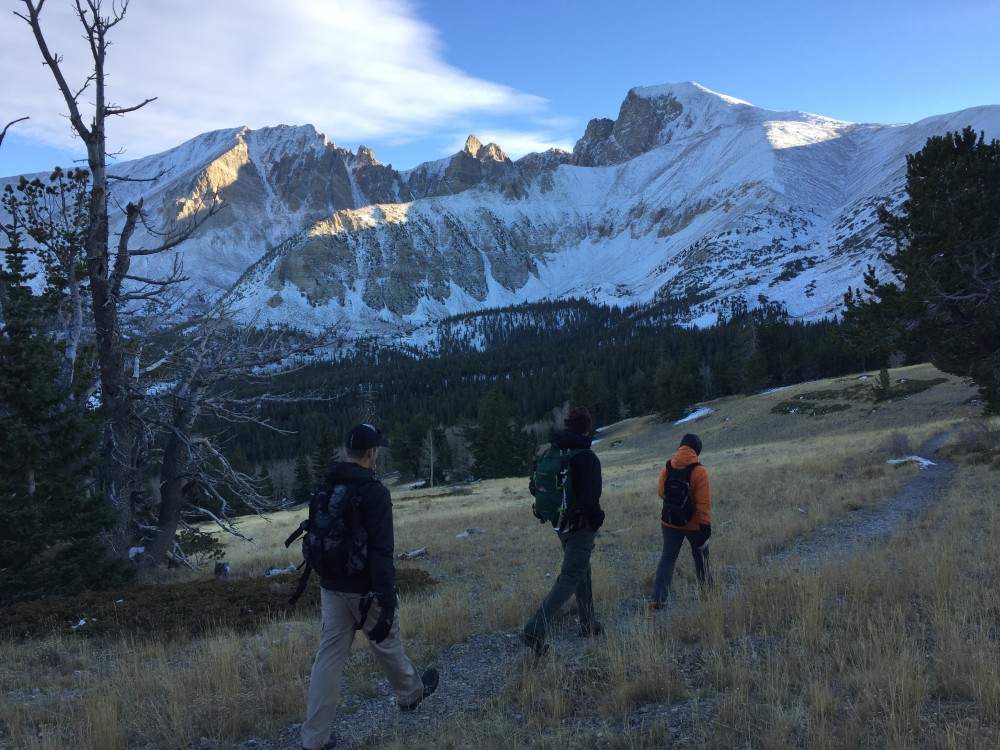 Overview
Great Basin National Park, Nevada
Wheeler Peak, Great Basin National Park, beautiful scenery
No entrances fees for the entire Great Basin National Park
Bring 2-3 liters of water
Late spring, summer, early fall
Lots of sun exposure but here are plenty of trees that provide shade for the first 2 miles of the hike.
Good dirt trail until you pass the timberline then you will be hiking on dirt and bigger rocks
Only allowed in campground areas and by reservations
Waterproof and windproof jacket, good high-top hiking shoes/boots, hat, sunglasses, crampons (if there is snow), sweaters, good windproof pants, thick socks, backpack for food and water, trekking poles.
GPS Coordinates:
Trailhead: 39.017153°,-114.303322°
Wheeler Peak: 38.985640°, -114.313726°
Trail Map
Driving Directions
Please keep in mind that the road to the Summit Trailhead is seasonal from about early spring to late fall.
The Trail:
In late October we took a quick trip down to Great Basin National Park to explore around the area.  The last time I visited here was more than 20 years ago and my memories of this place were quickly fading – so I wanted to come back and check it out again.
To start I want to emphasize that it is possible that you could get high altitude sickness – the trailhead begins at about 10,185 feet! Our fellow Trek Planner member Hawkeye-TP relayed a story about how he got high altitude sickness here at Wheeler Peak so it is important to drink lots of water, take it slow, take many breaks and make sure you take deep and full breathes often to compensate for the lower oxygen levels as you gain altitude.  With that said, let the fun begin!
The trailhead begins at a small parking lot which is big enough for about a dozen vehicles.  There is a registration kiosk here and I recommend you fill it out before and after your adventure.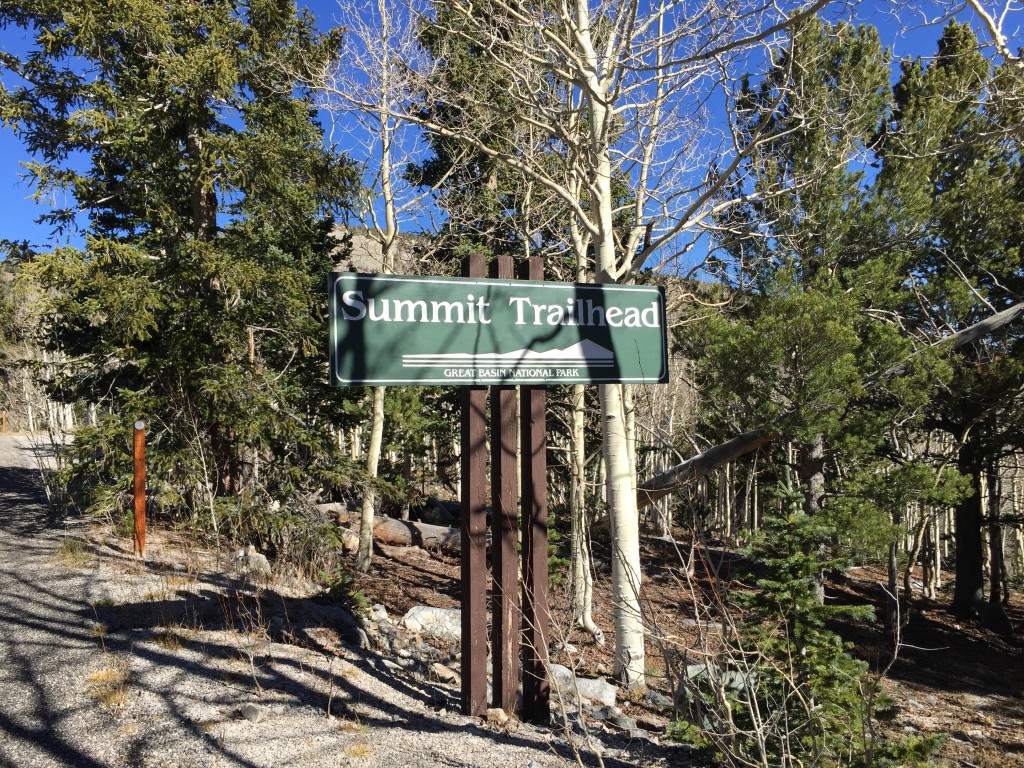 The first part of the trail winds around through lots of pines and aspen trees.  We found a few bristlecone trees along the way too.
This part was pretty easy and even though most of the aspens had already lost their leaves, we were grateful to have incredible views of Wheeler Peak through this section.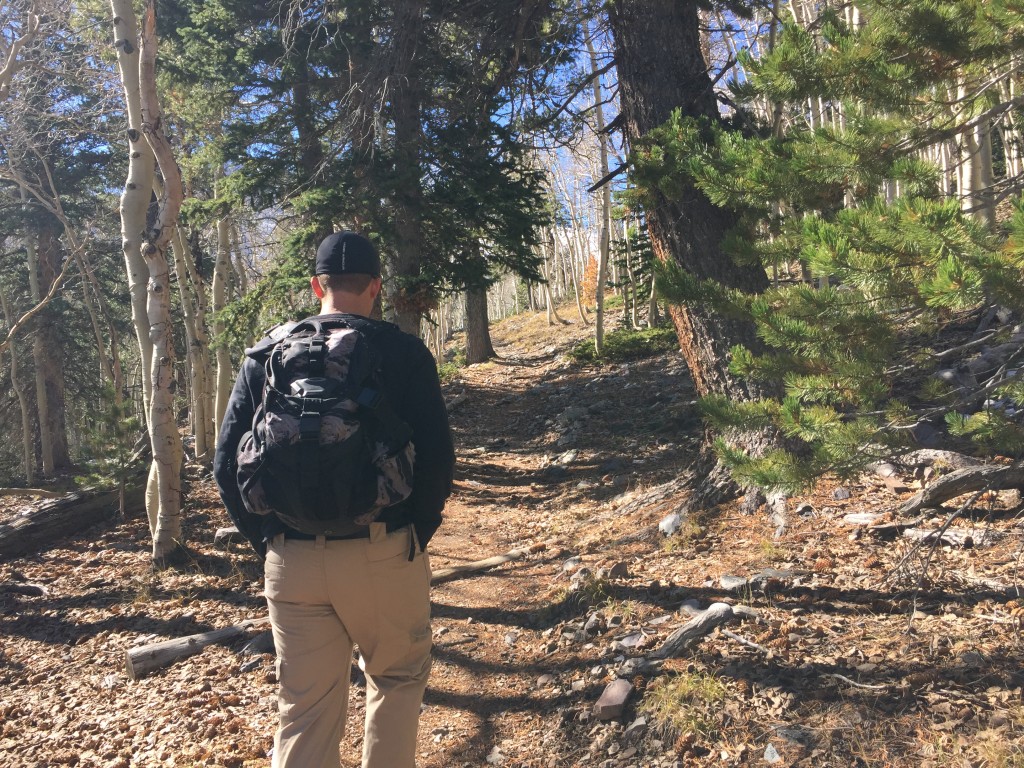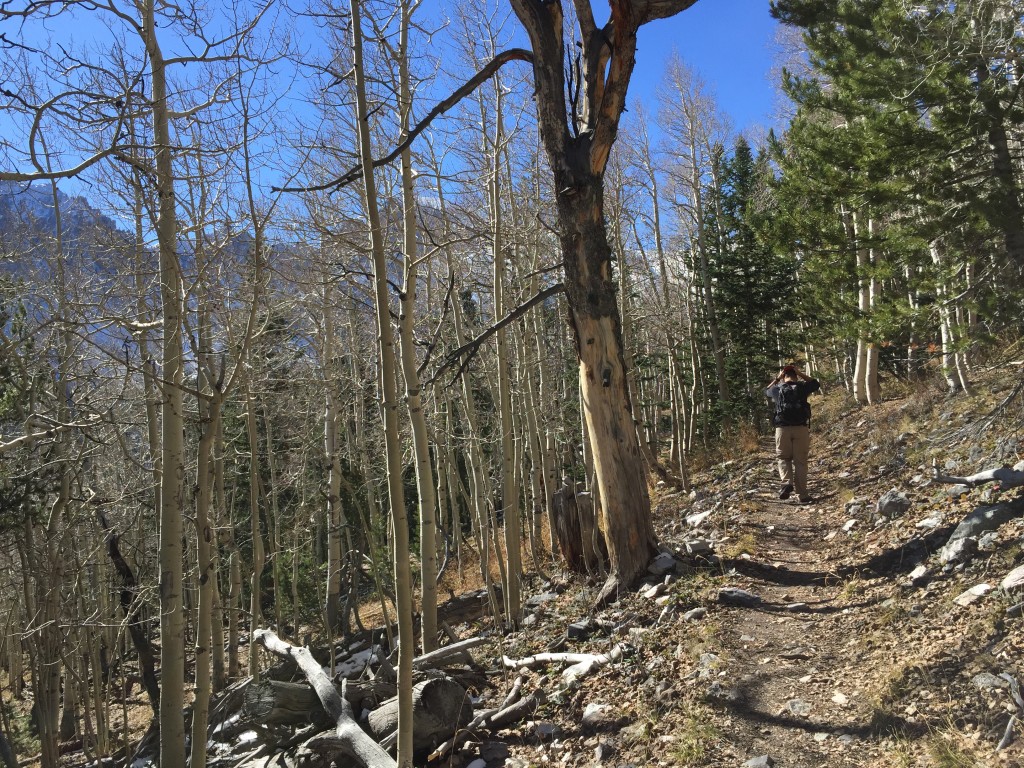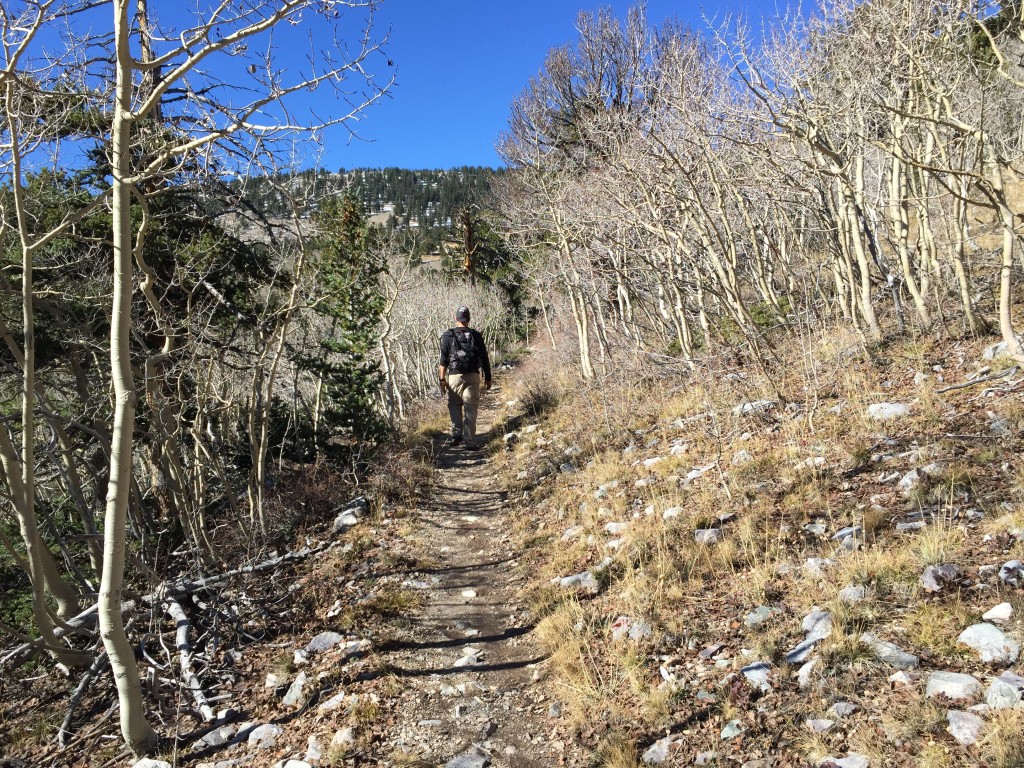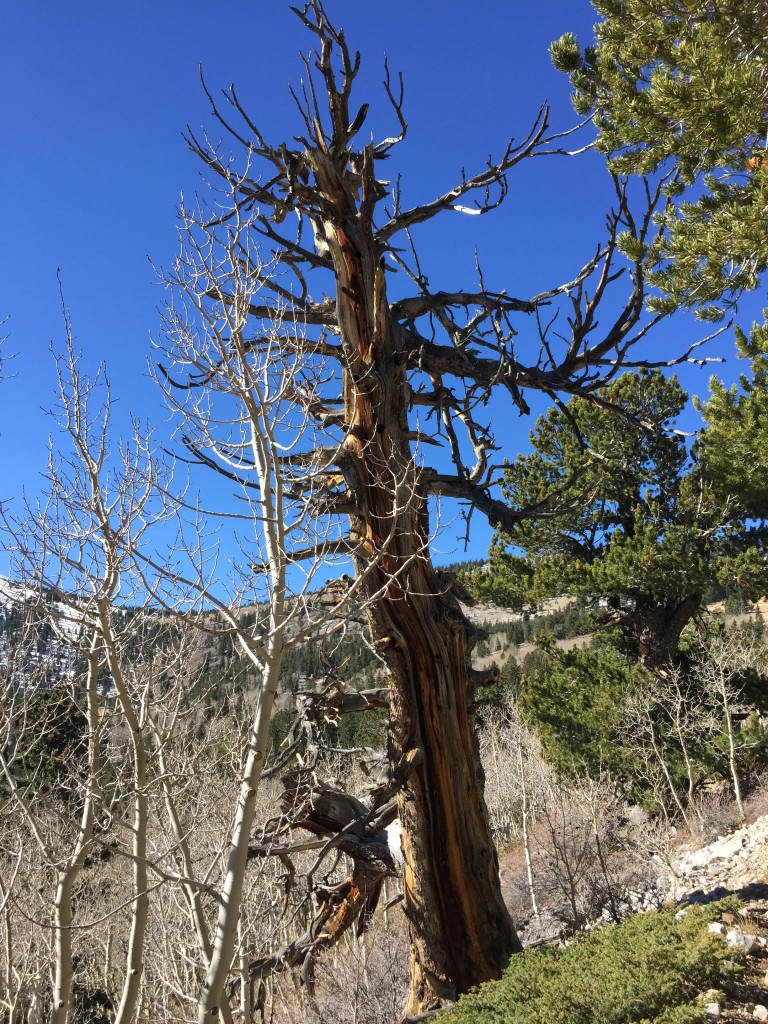 For about 2 miles, you will gradually gain elevation.  I quite enjoyed this part of the hike because it felt very casual and there weren't any switchbacks at this point.  Another cool thing about this hike is that Wheeler Peak is almost always in sight for the entire duration.  We all took plenty of pictures of all the different angles and views of the mountains and valley below.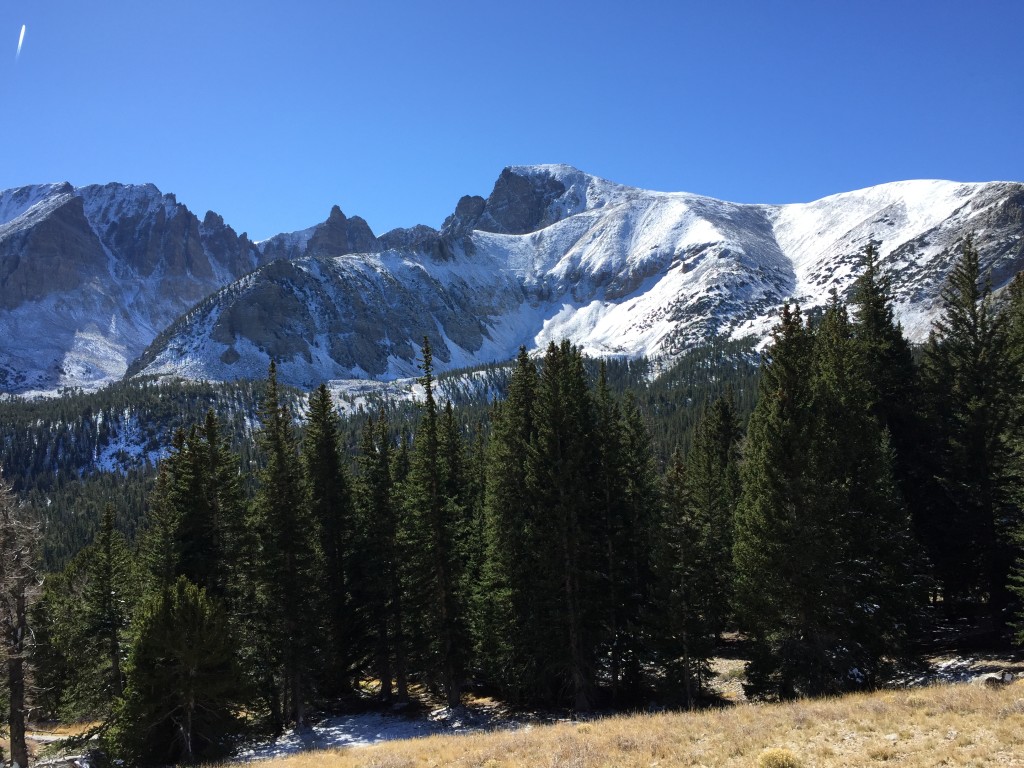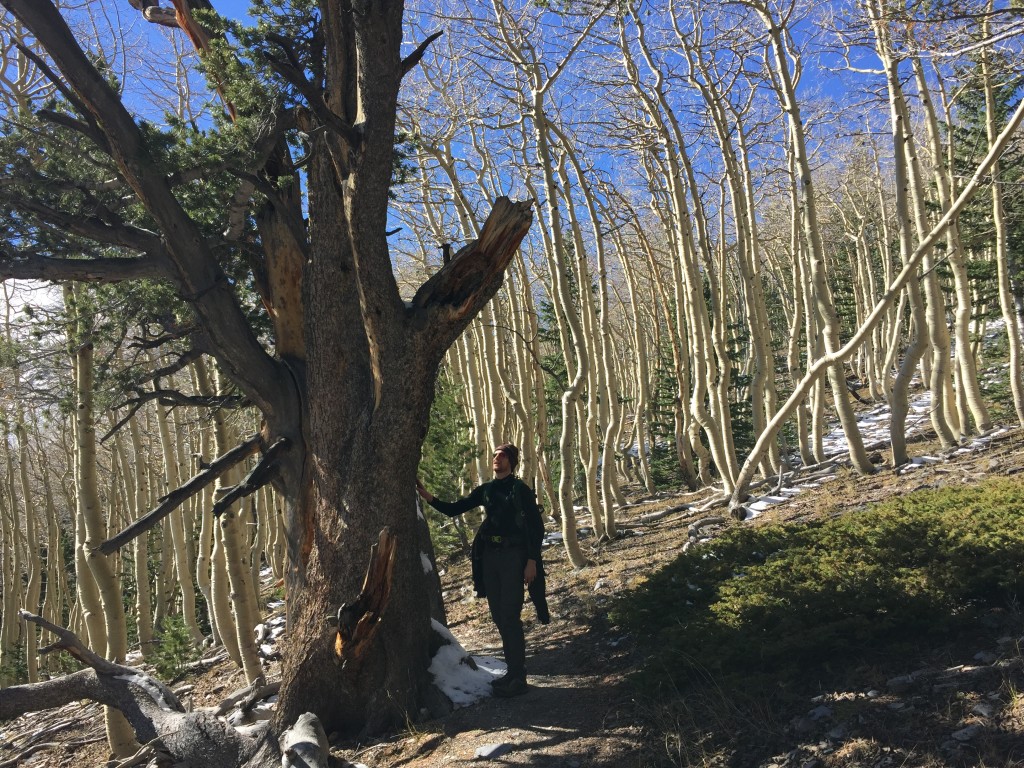 At about a mile into the hike you will come to a sign which points you to Stella Lake and Wheeler Peak.  Take this route which continues up the trail.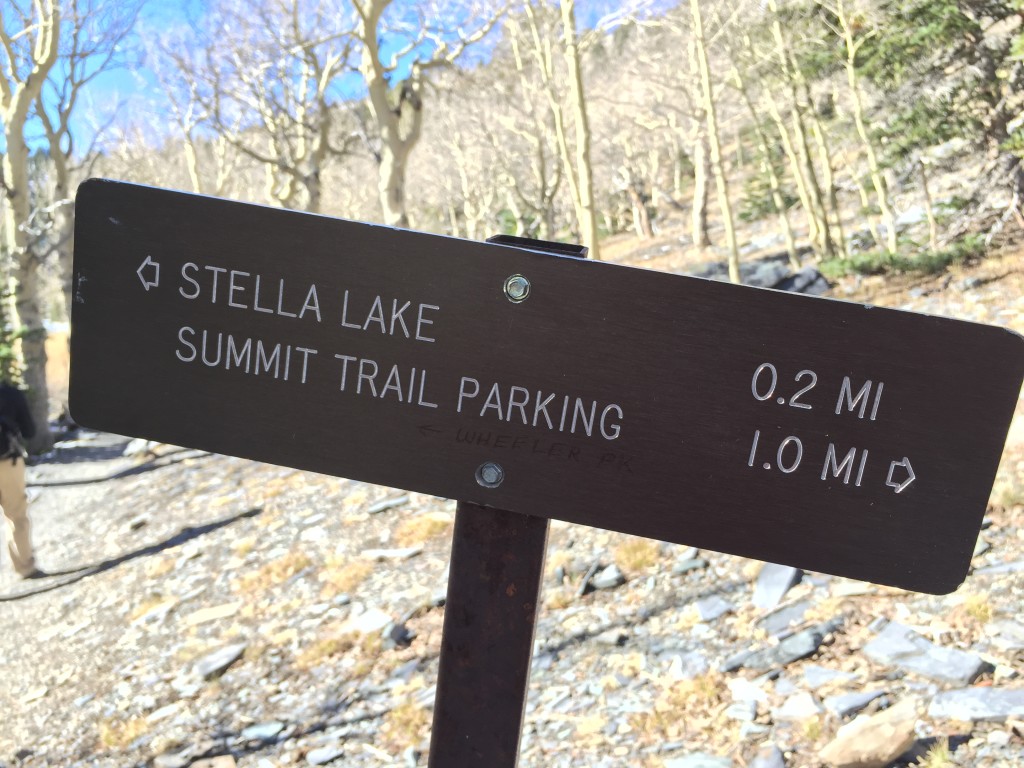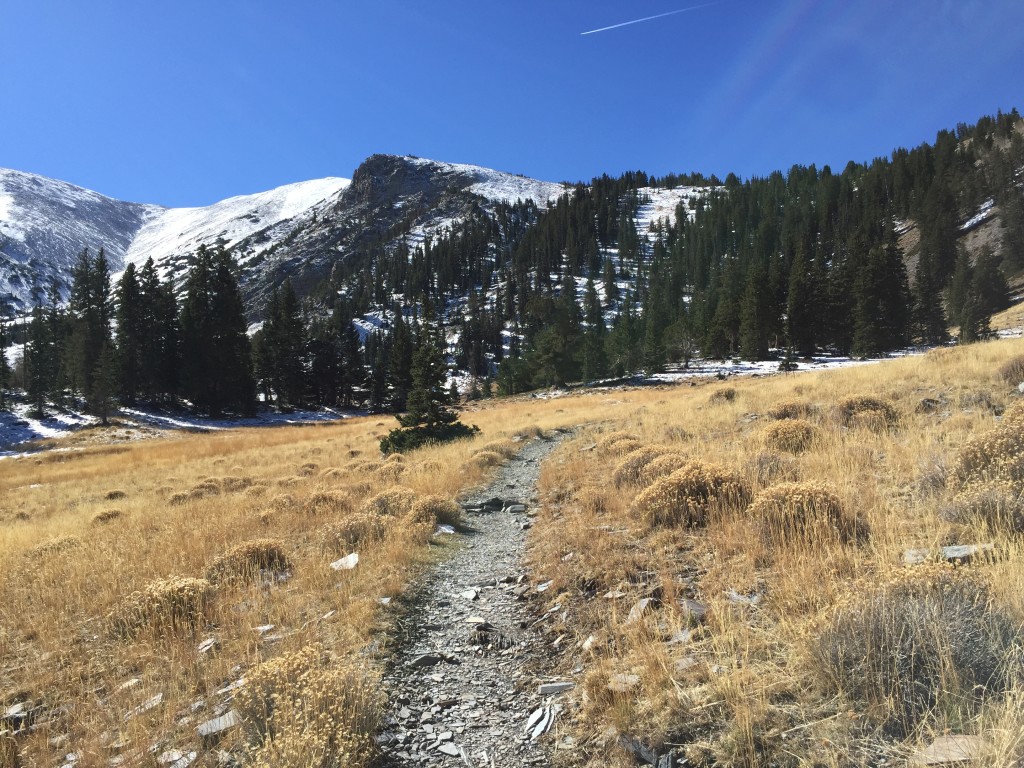 After a little ways you will come to another sign – to Stella Lake or to Wheeler Peak.  We took the right trail up to Wheeler Peak.  If you have time then I suggest you check out Stella Lake.  We visited the lake on the way down and it was worth the extra tenth of a mile there.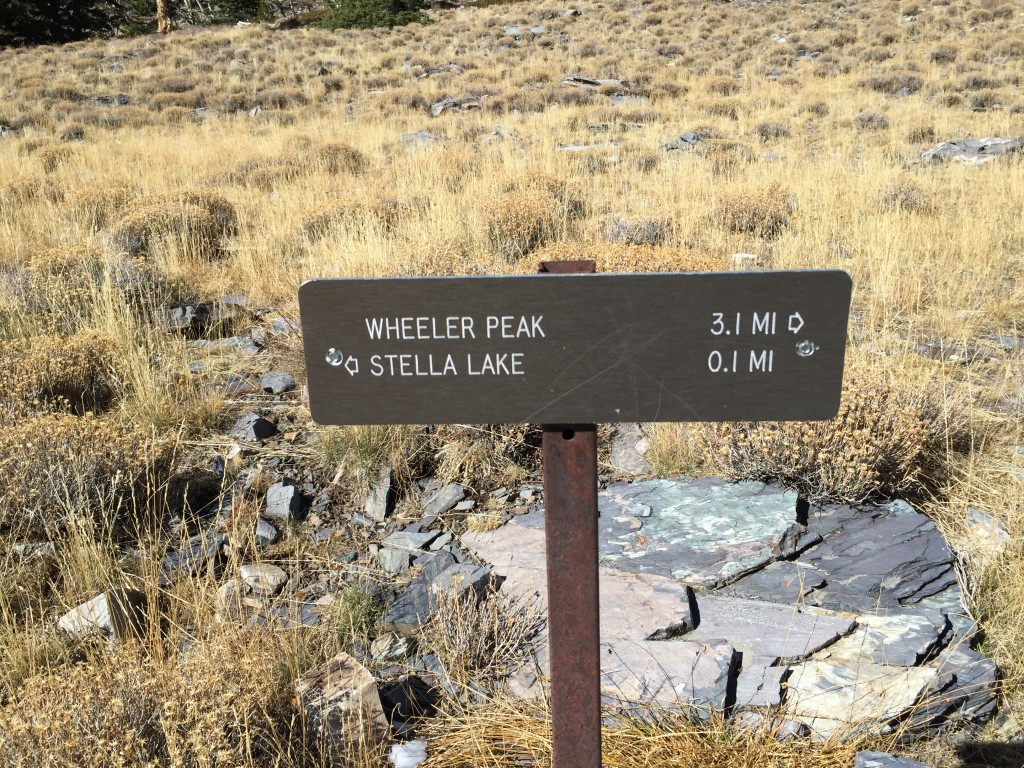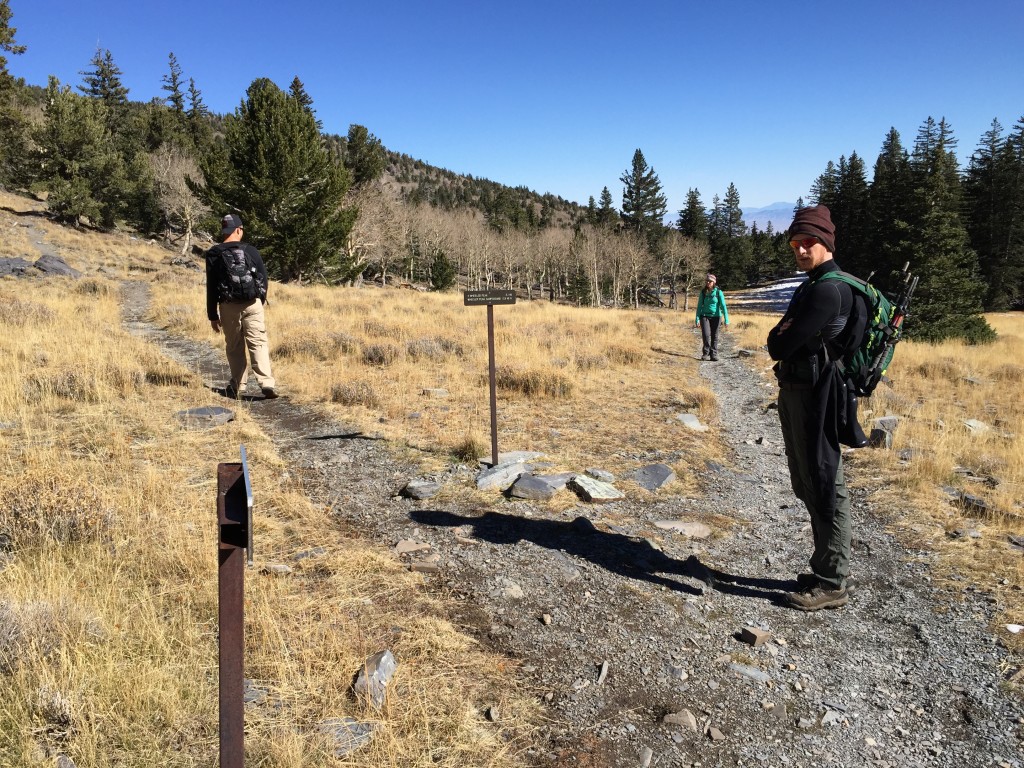 We didn't see snow on the trail until about the 2 mile marker.  Obviously, you can see the summit of Wheeler and you could clearly see all the snow so we came prepared with wind breakers, sweater, down jackets, crampons, hats, sunglasses, wind proof pants, good sturdy shoes and even trekking poles – and you should do the same as well!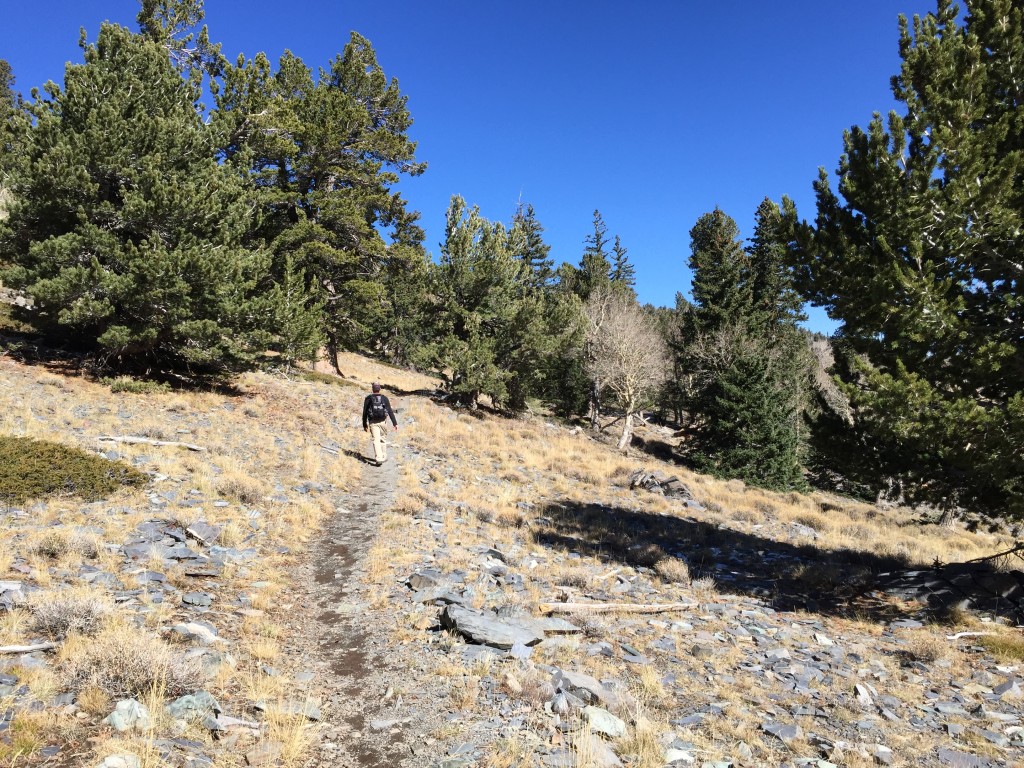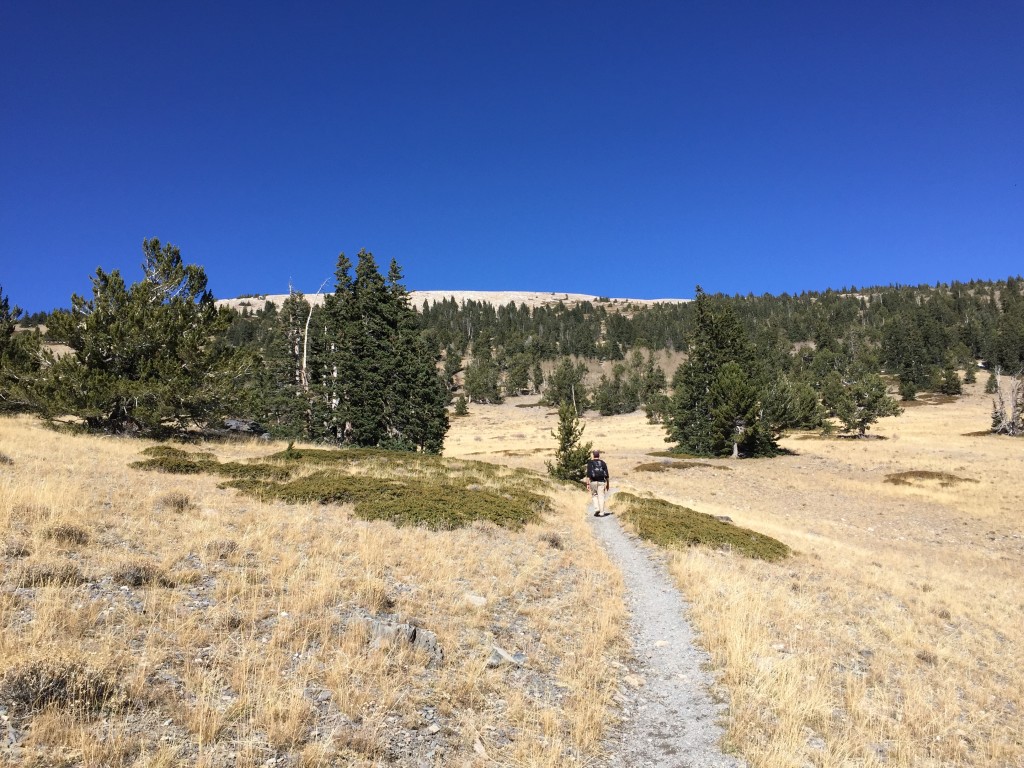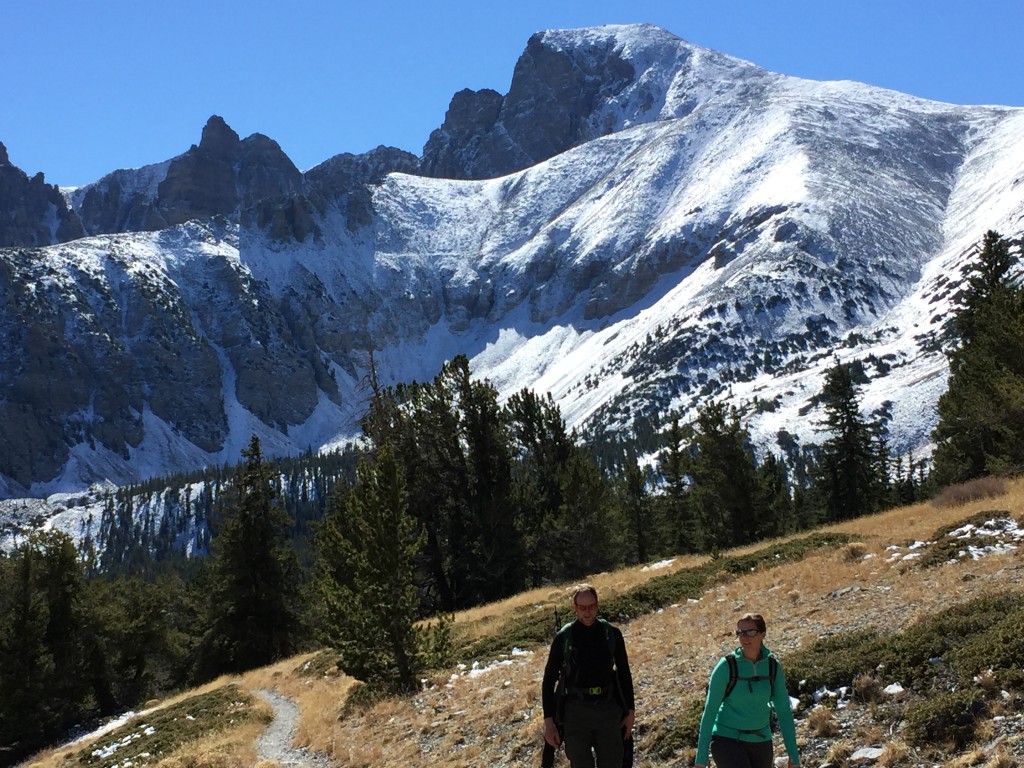 At this point in the hike we were all hot!  We were surprised by how warm it still was considering it was late October.  This is a good lesson to always dress in layers when you are exerting energy outside.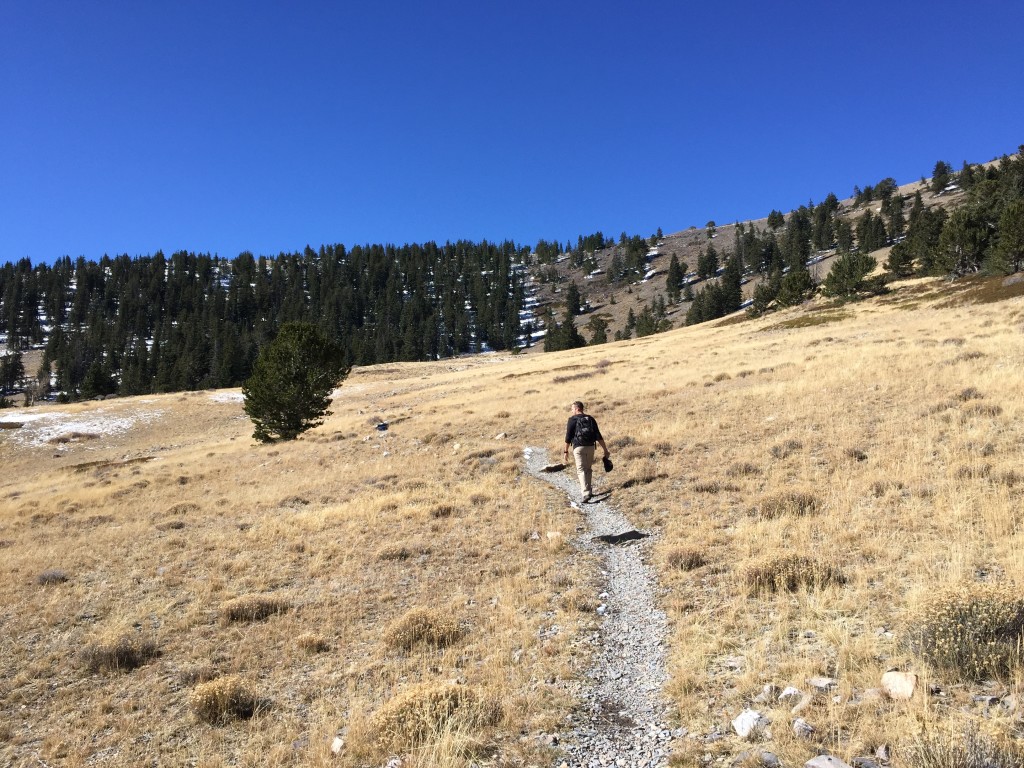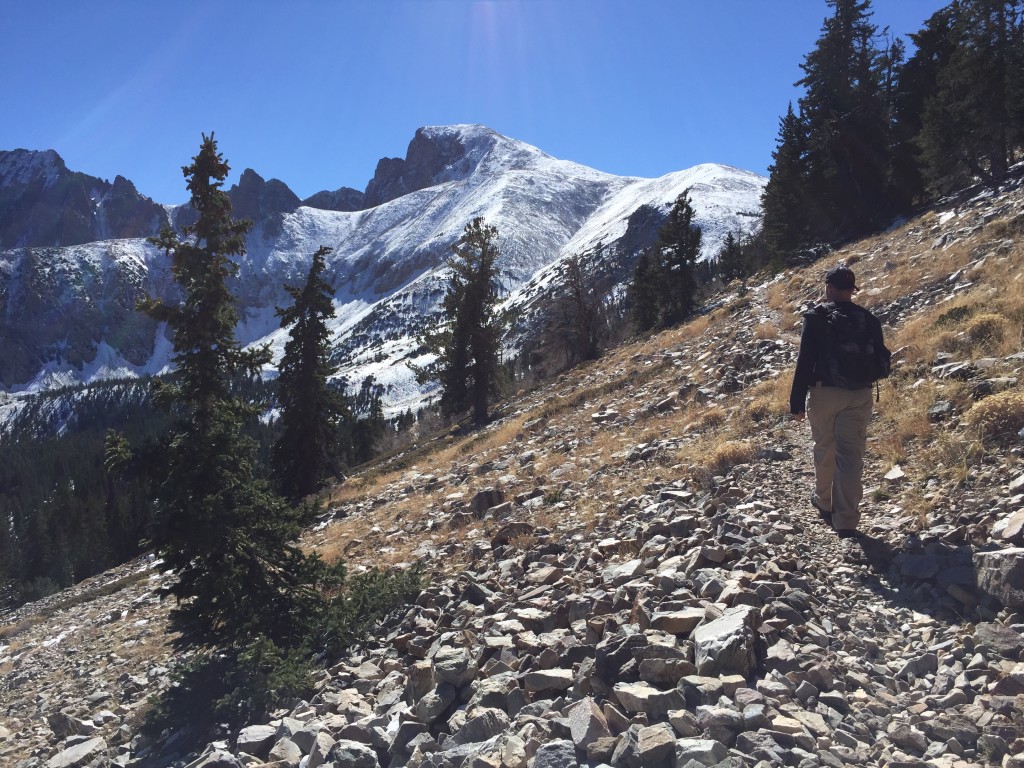 We just about reached the 2 mile marker and we saw the first snow on the trail.  It wasn't too bad until we hiked passed the timberline.  Every time another hiker would pass us coming down we would ask them about the weather conditions going up.  We were told it was very windy and cold and it was VERY windy at some points!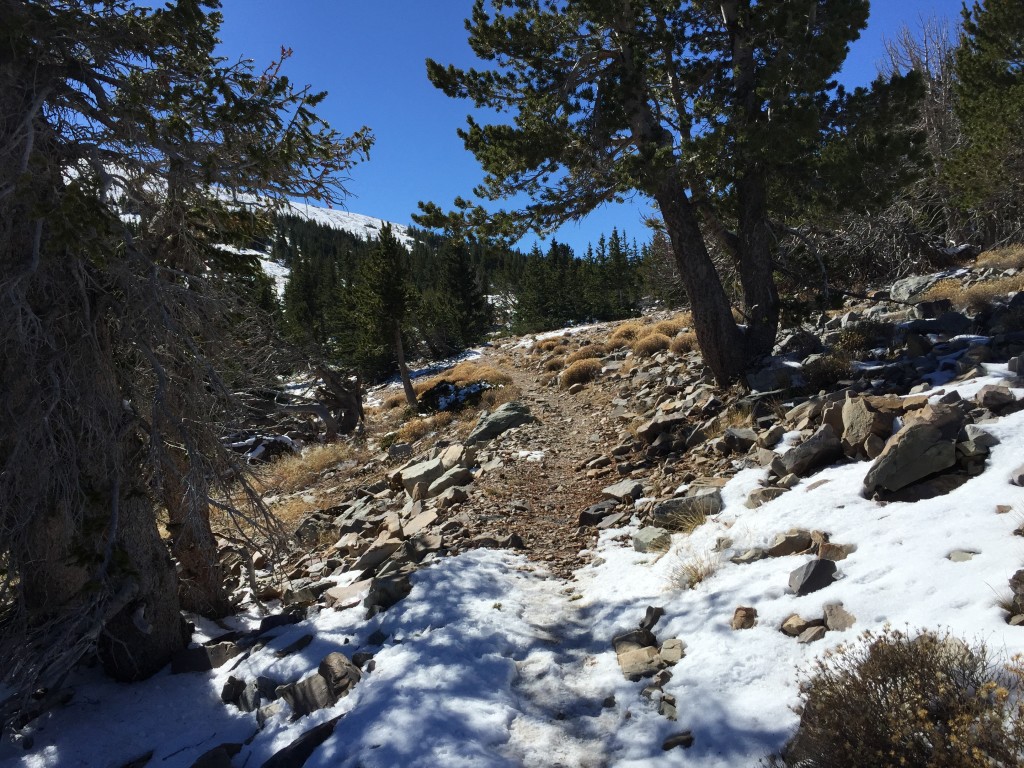 Just passed the 2 mile point you will hike above the timberline and be at the mercy of the wind and snow. The trail was still visible thanks to previous hikers' footprints in the snow.
From here on out the trail is steep and narrow.  Just remember to take your time and remember to breathe!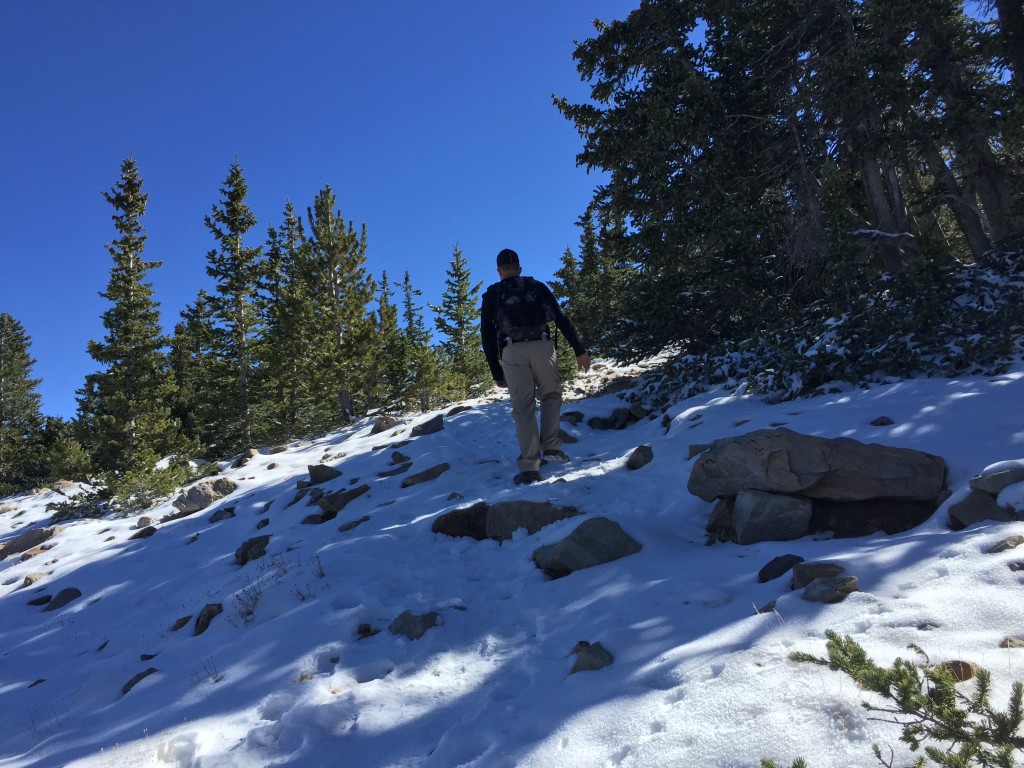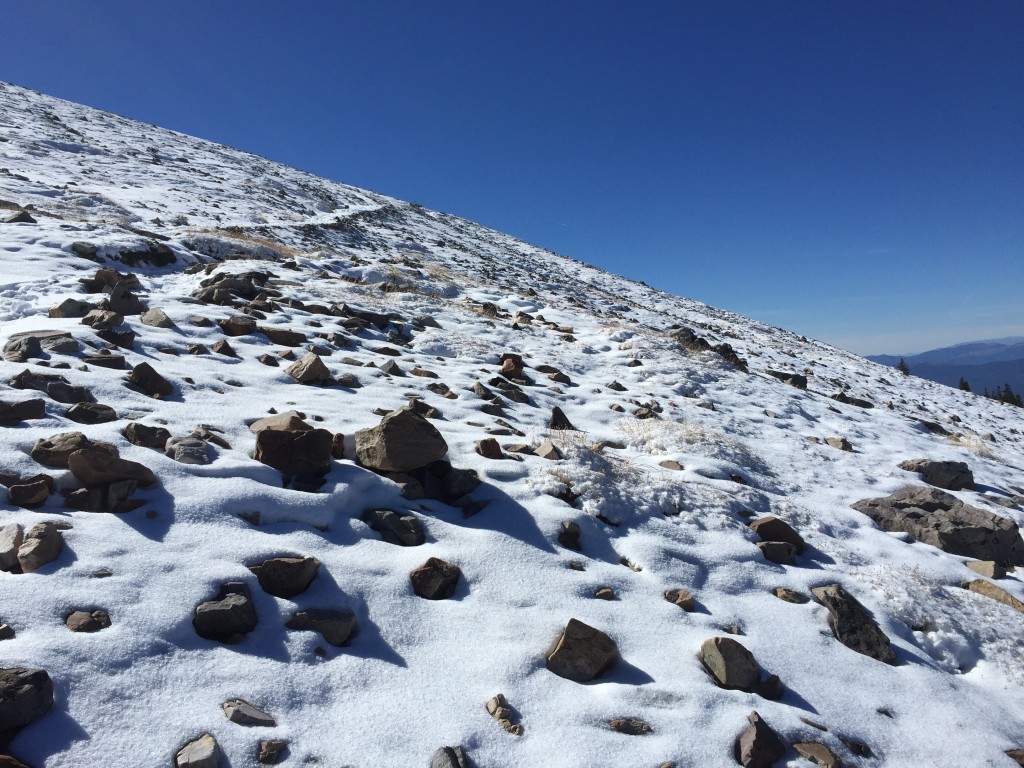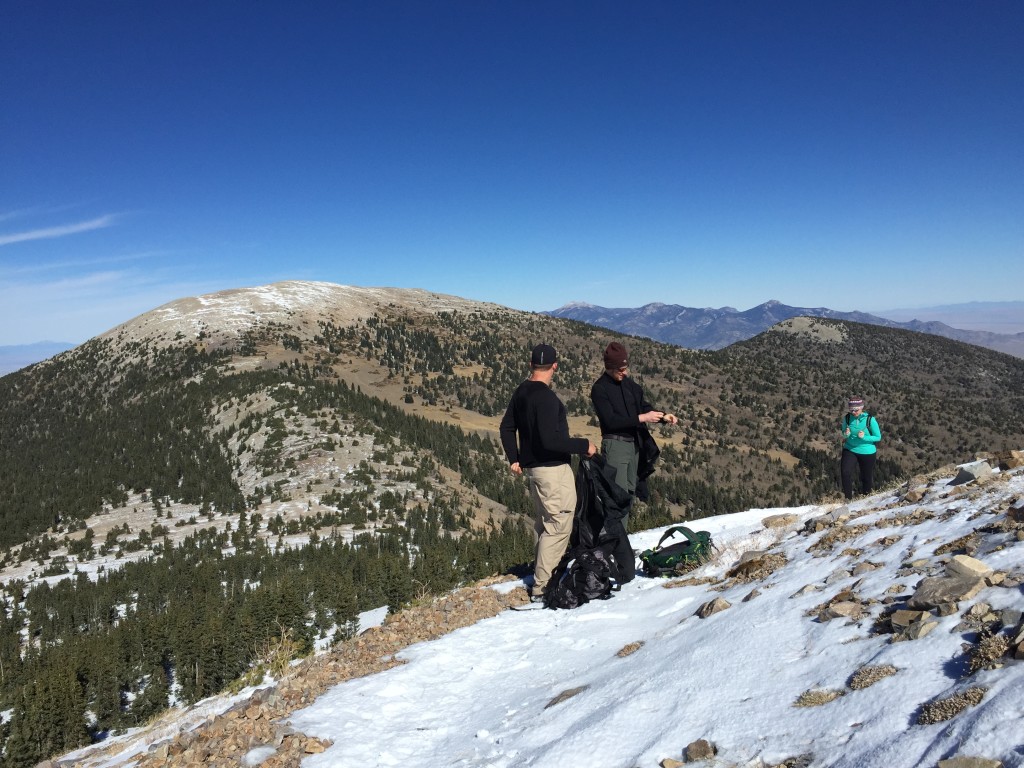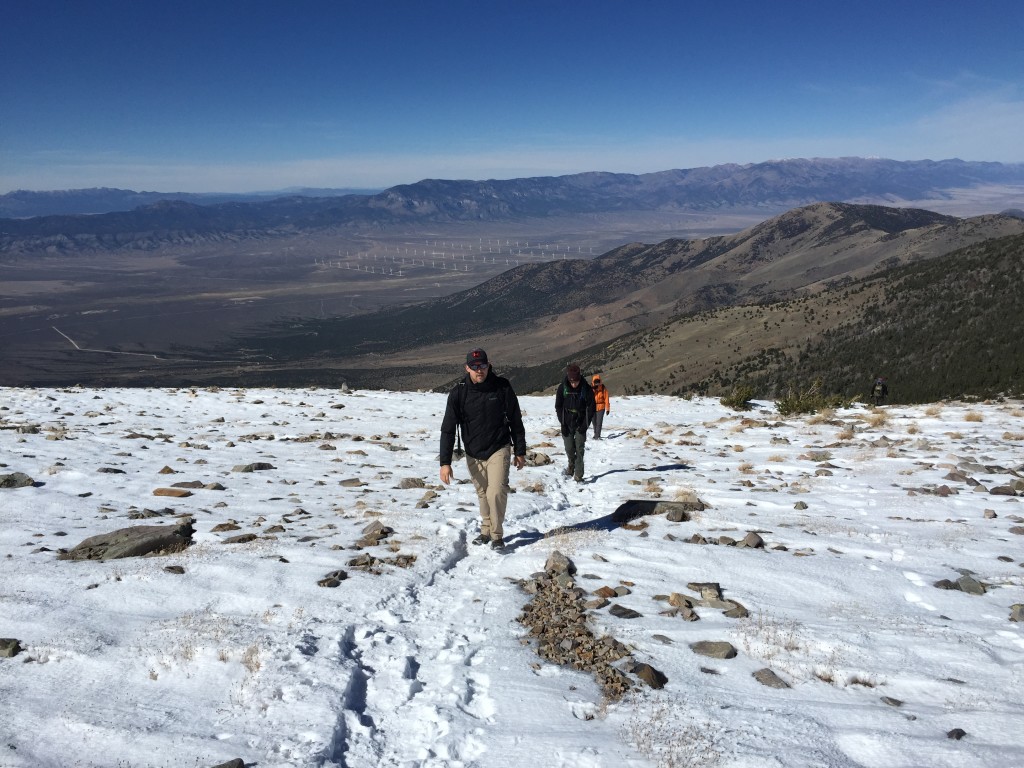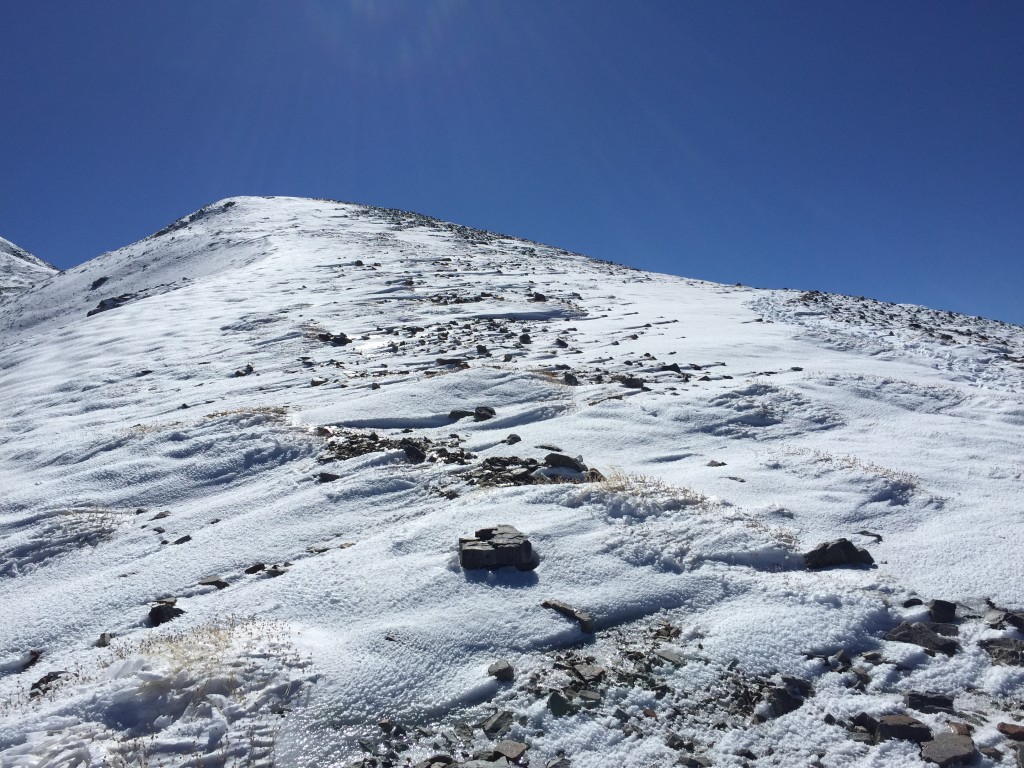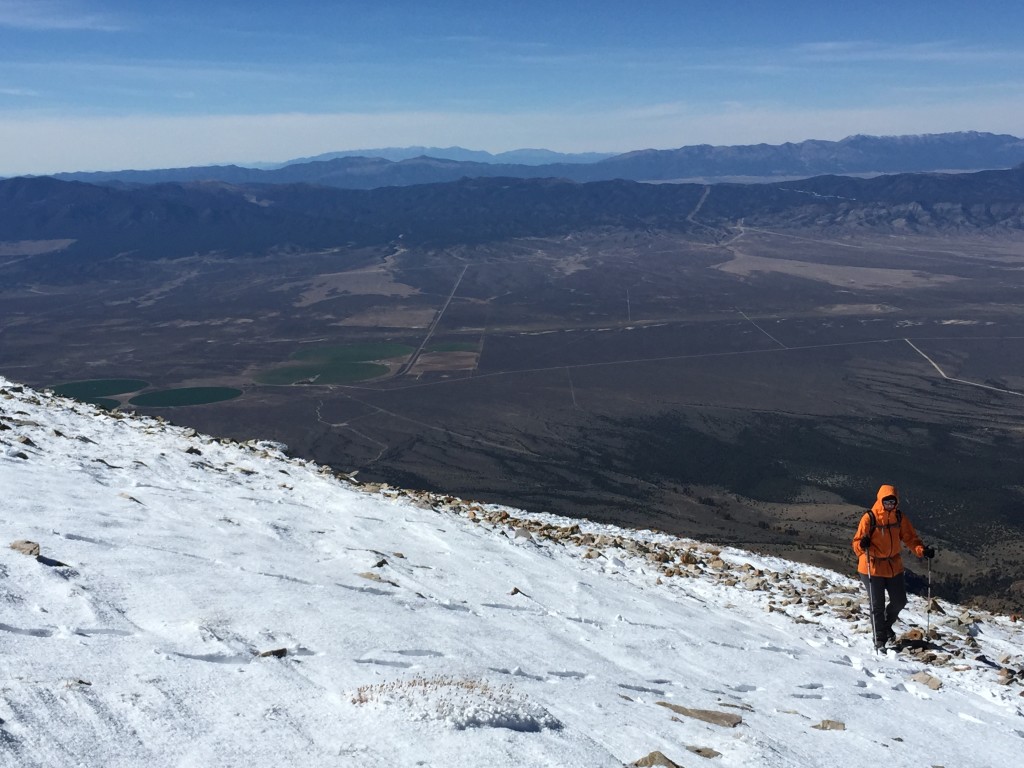 Because the wind can be extremely strong up here, these rock shelters were built so you can find a temporary refuge.  While the wind was very strong, it probably didn't reach more than 20 MPH.  If you find that the wind is extremely strong, turn back and hike another day.  It is not worth the risk.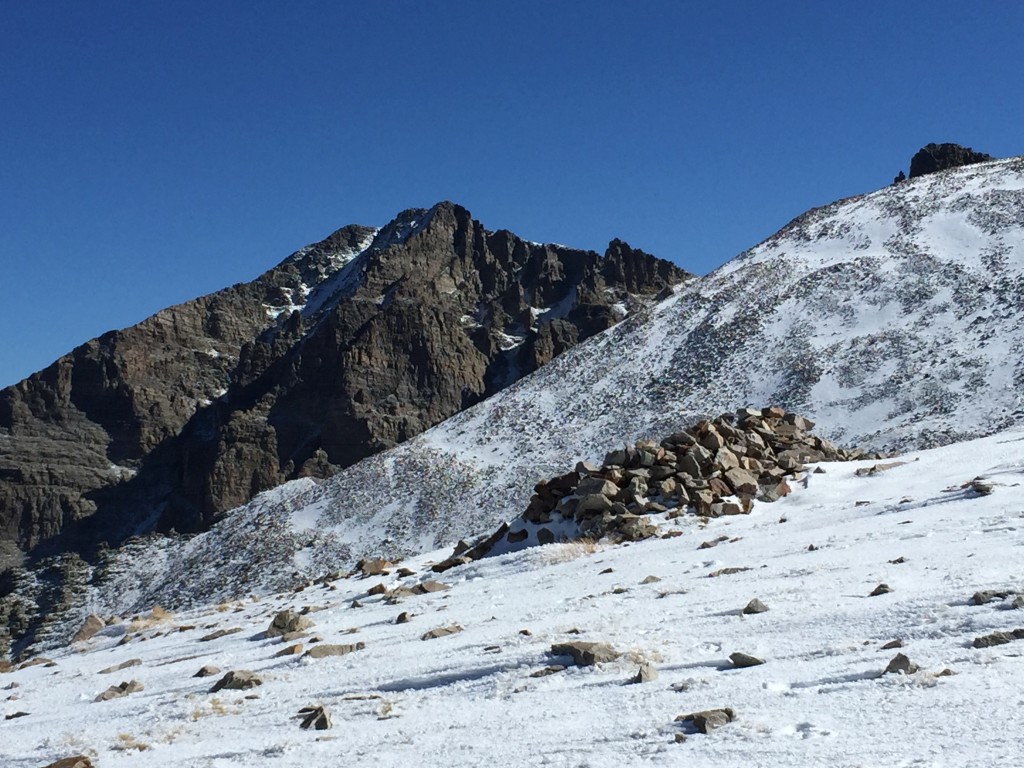 From these rock shelters, you still have more than a mile of hiking left.  From now on out there are steep switchbacks and one very dangerous and exposed area where if you slip you could tumble down several hundred feet so be careful!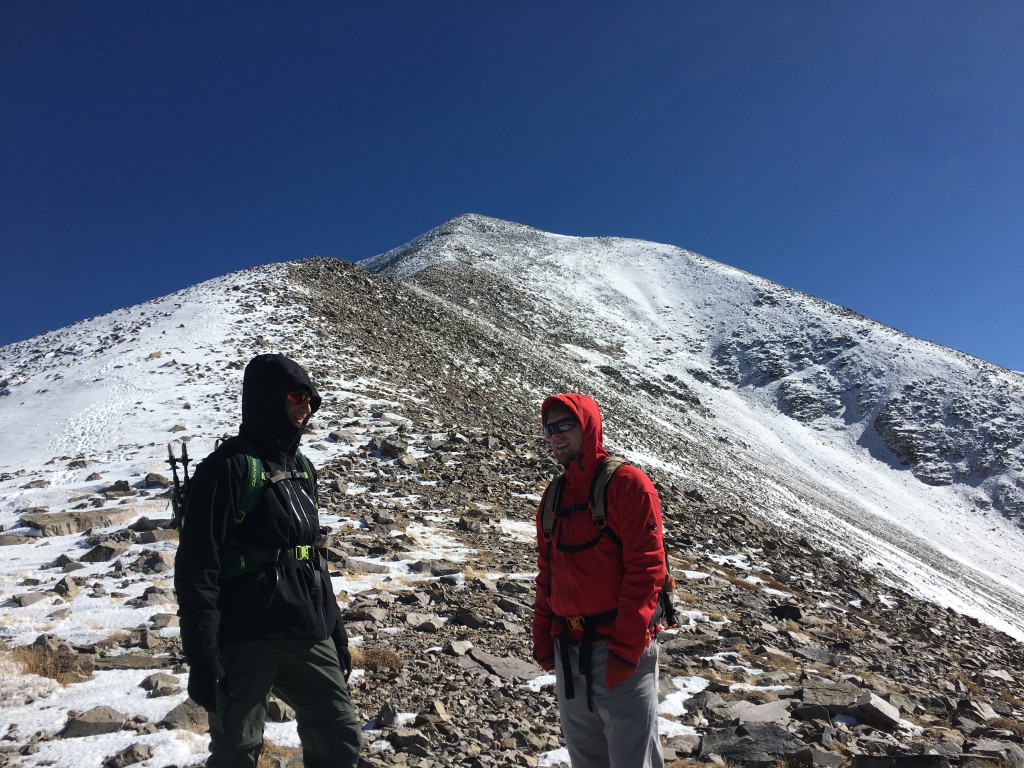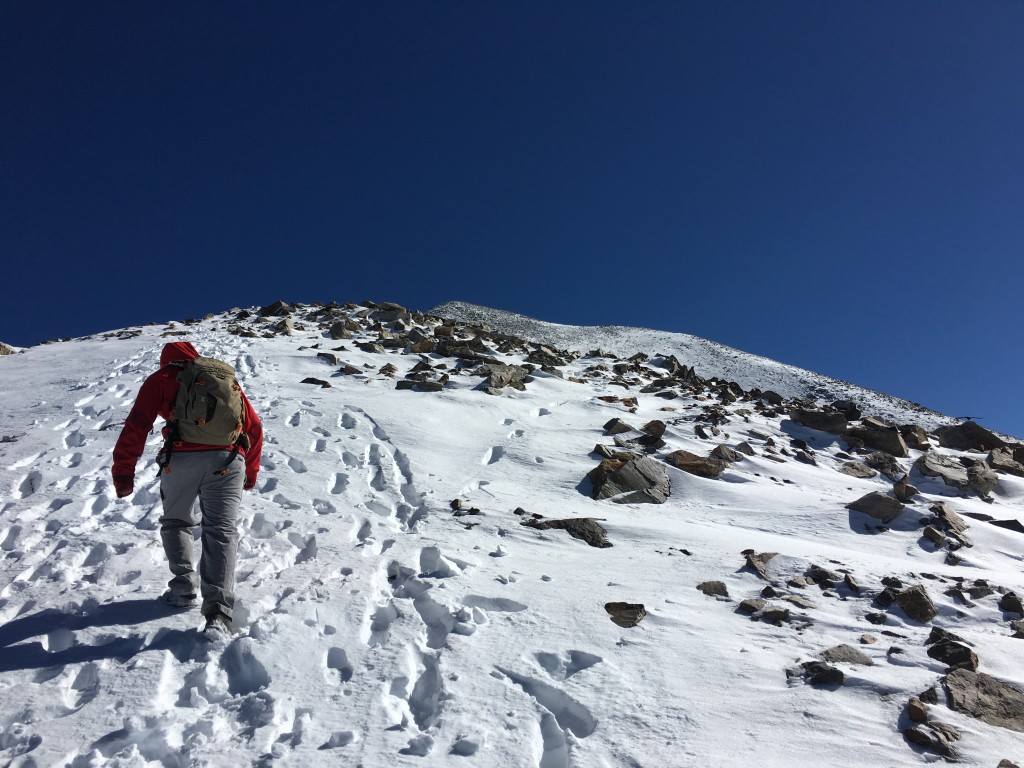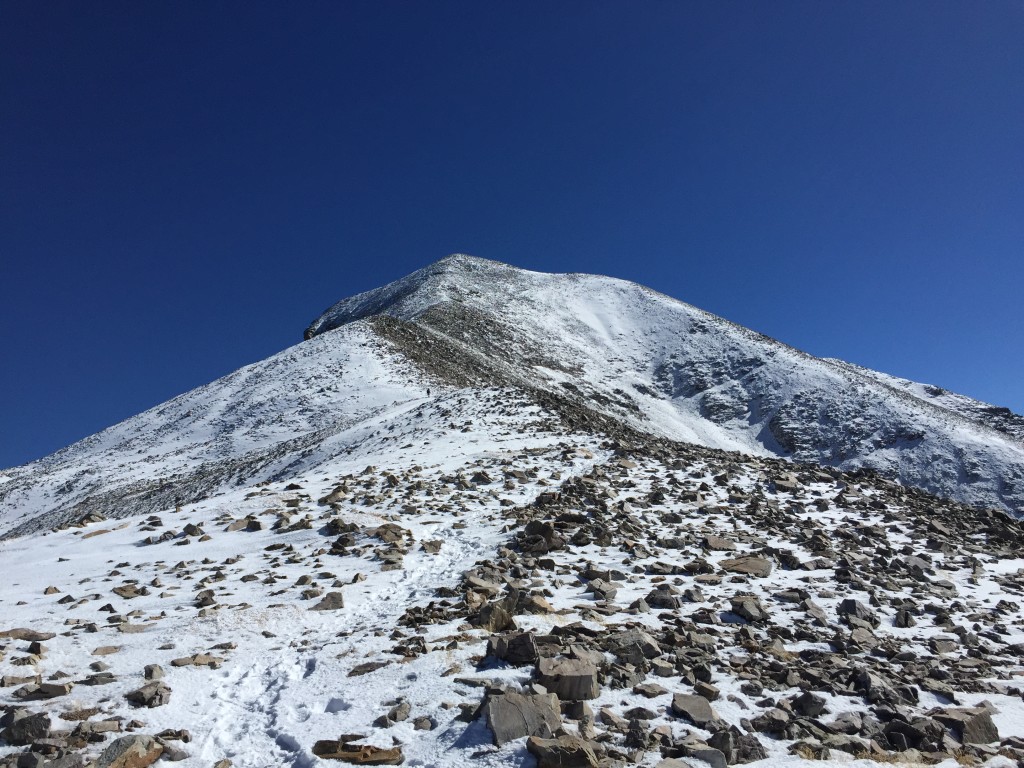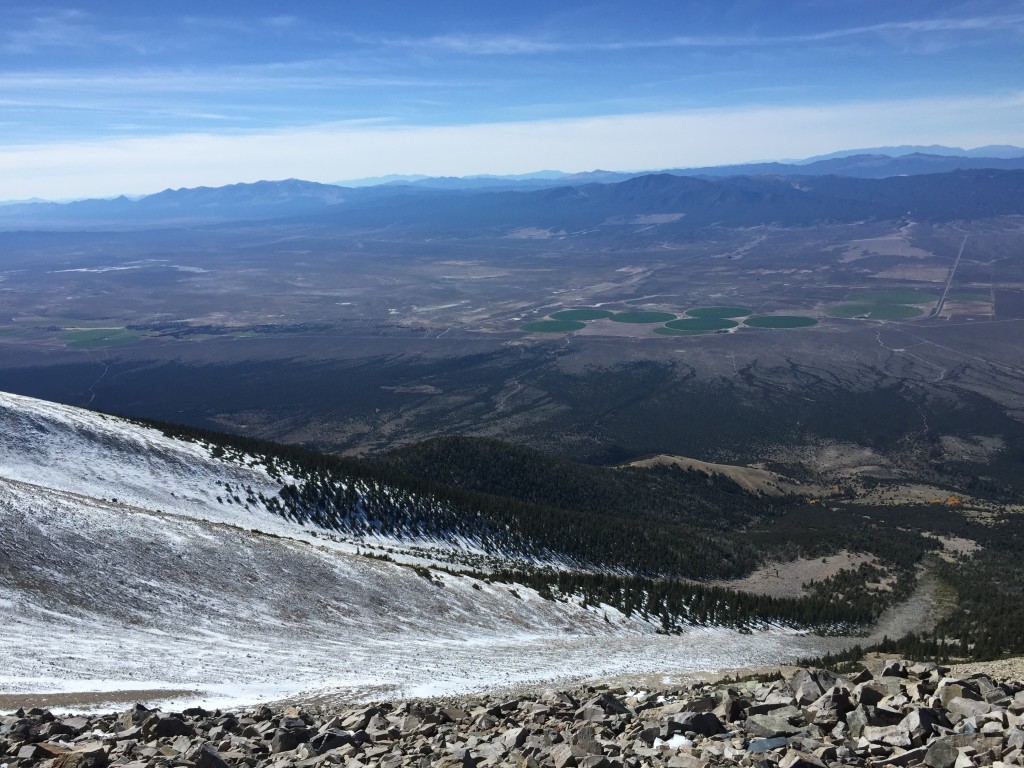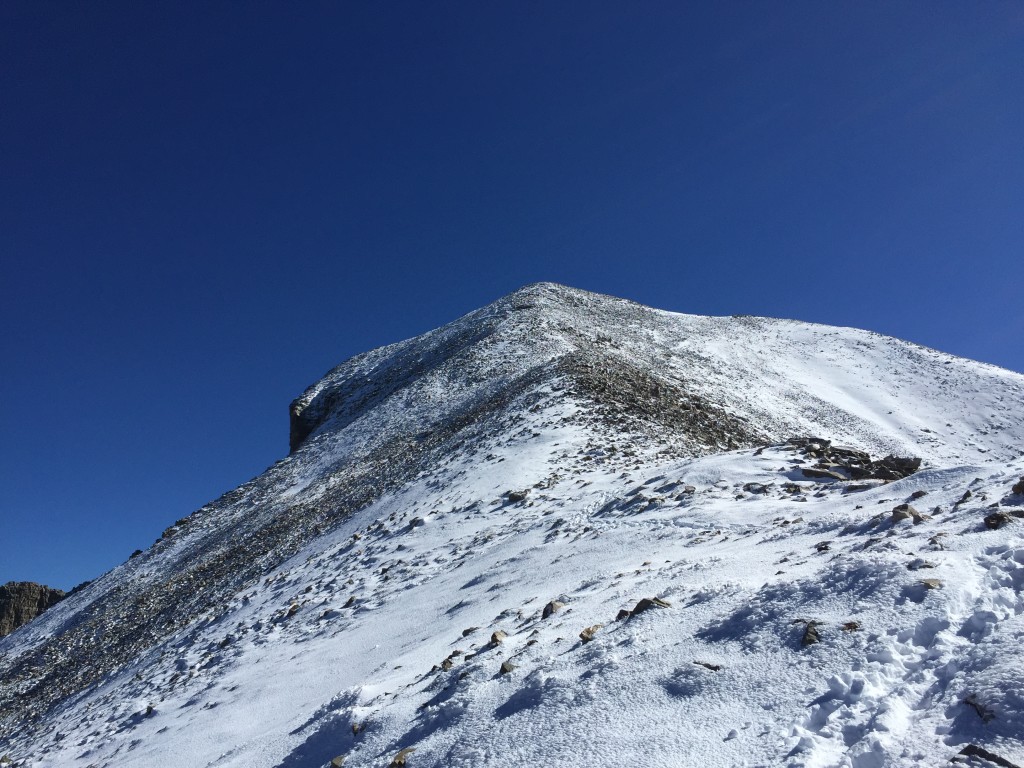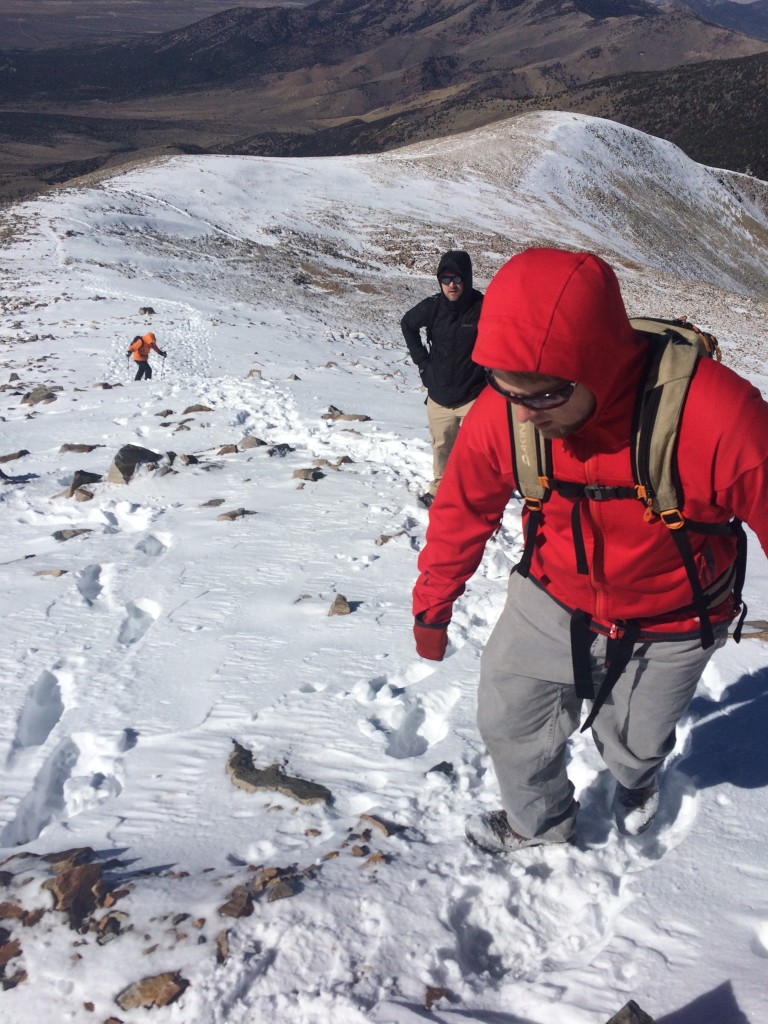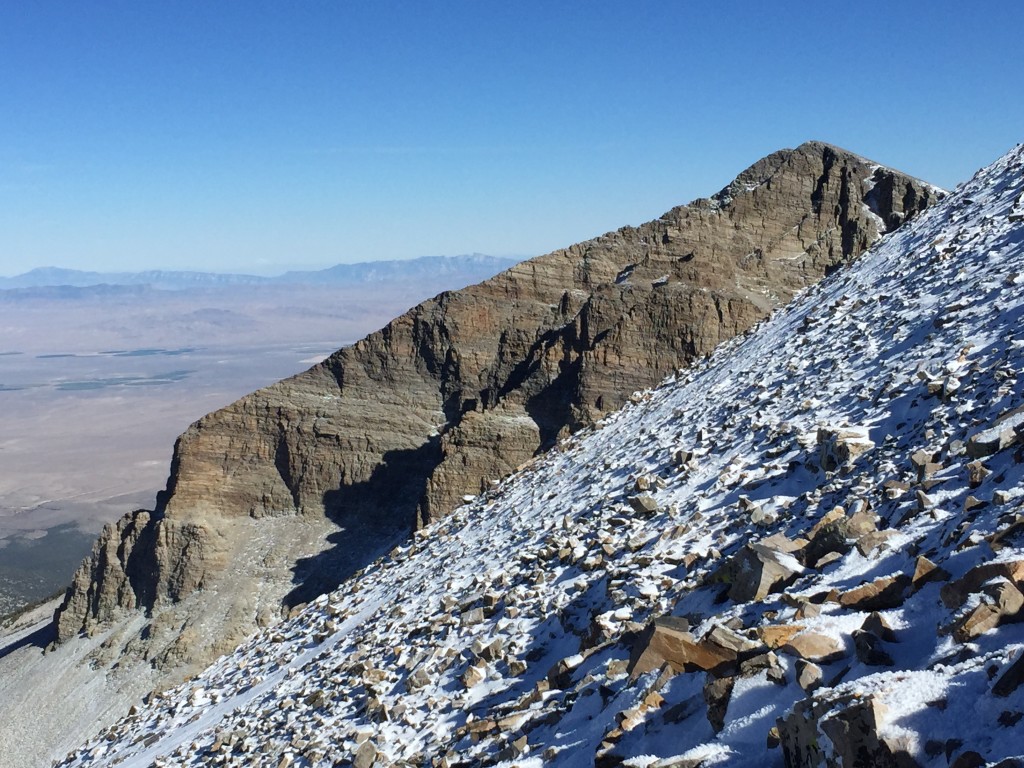 The summit has several larger rock shelters but surprisingly it wasn't too windy this time.
The views are absolutely incredible.  It felt like you could see the other side of Nevada from on top.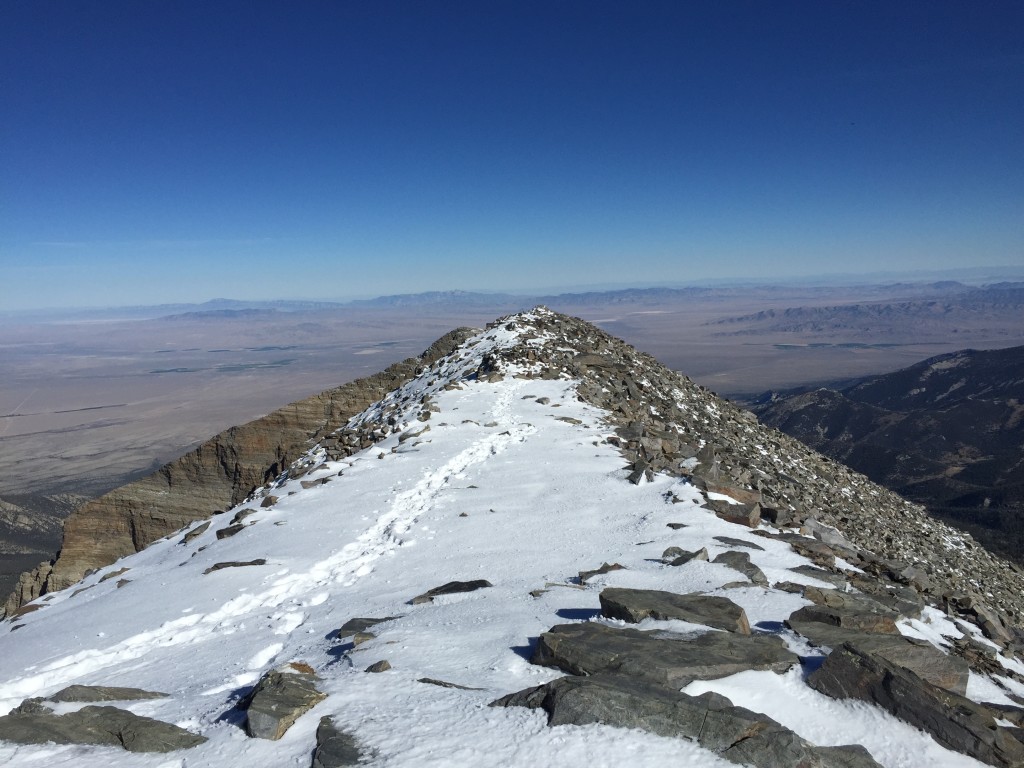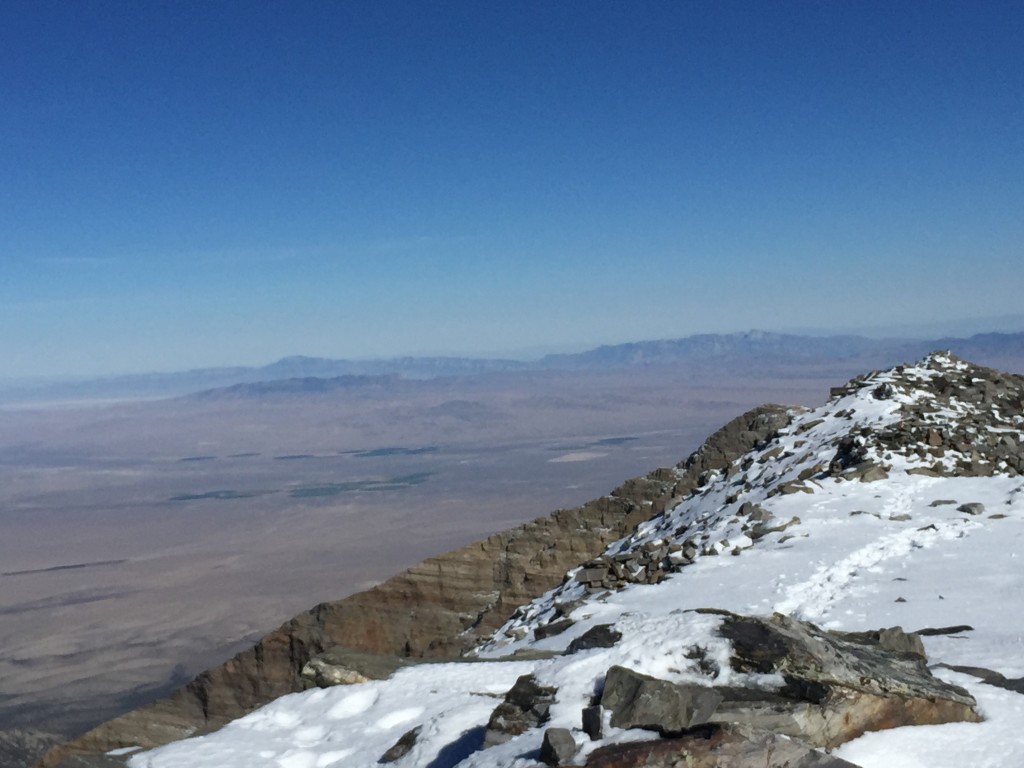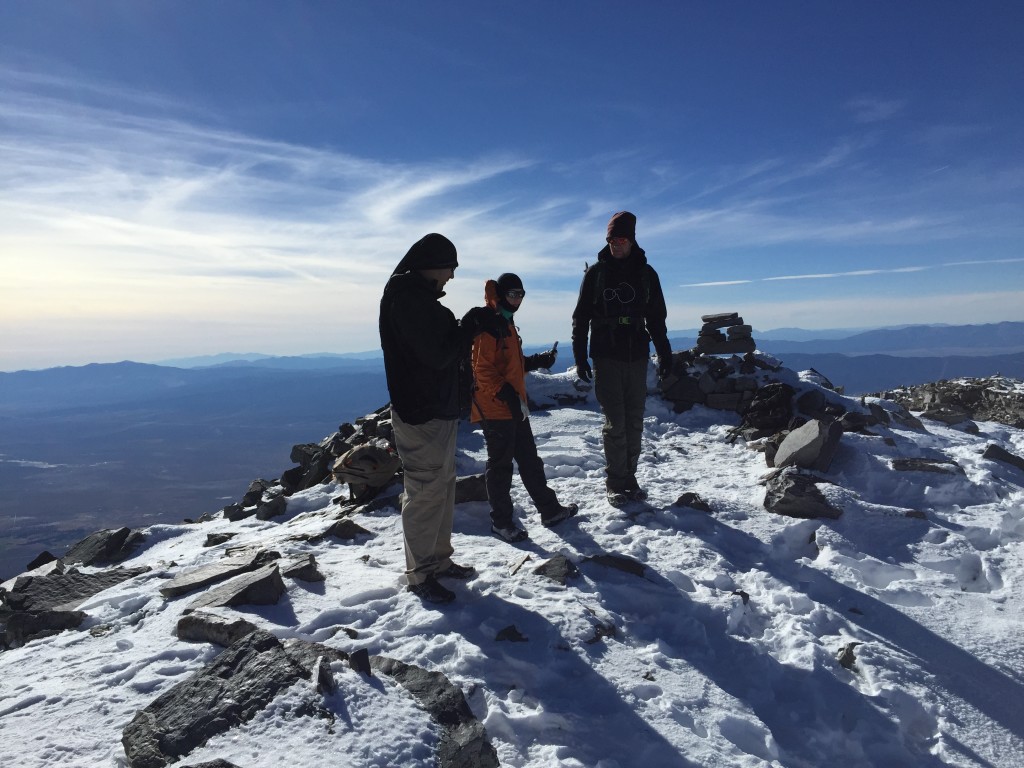 The Return:
After eating some more snacks we came back down and were glad to finally be on dirt again instead of snow.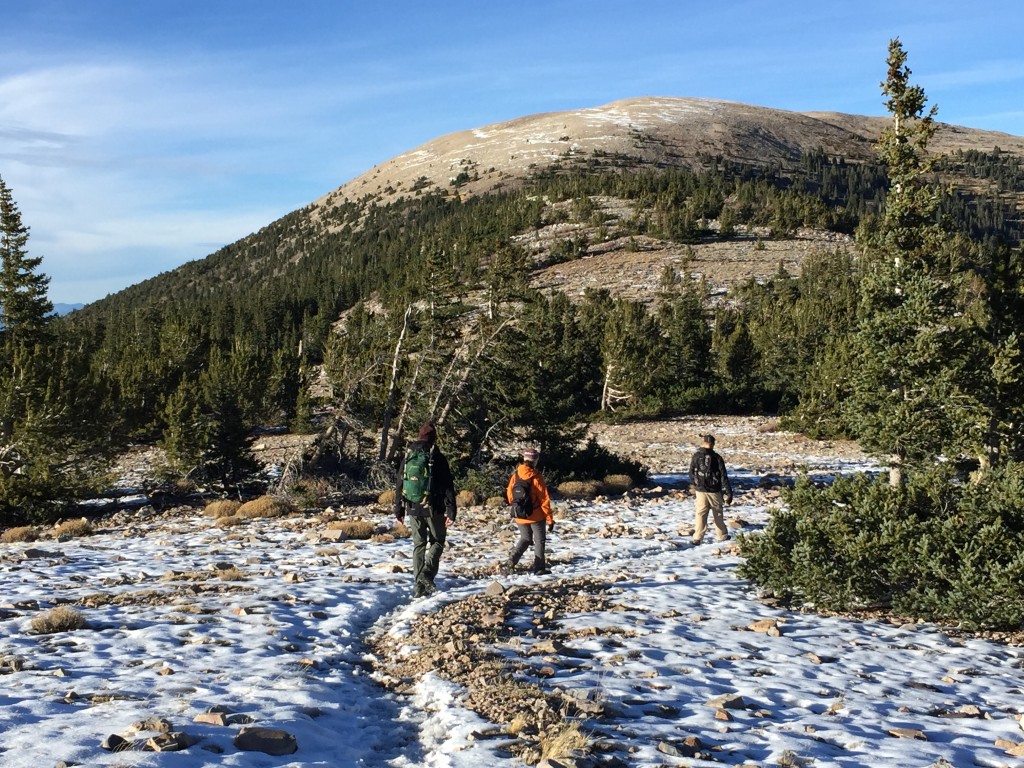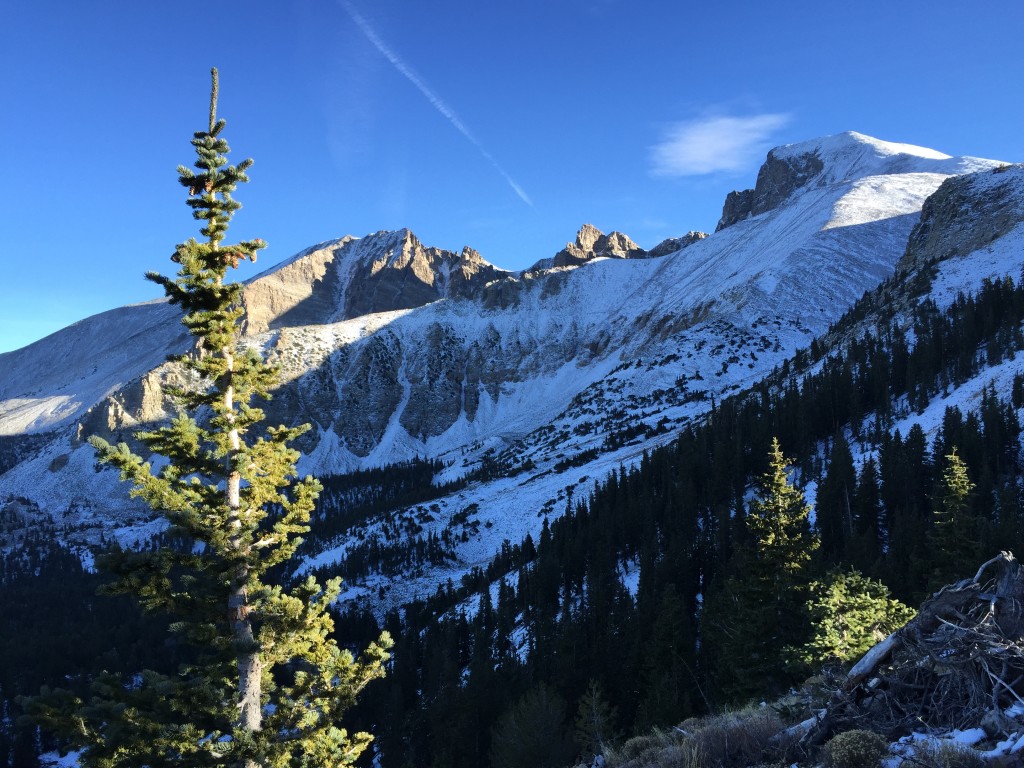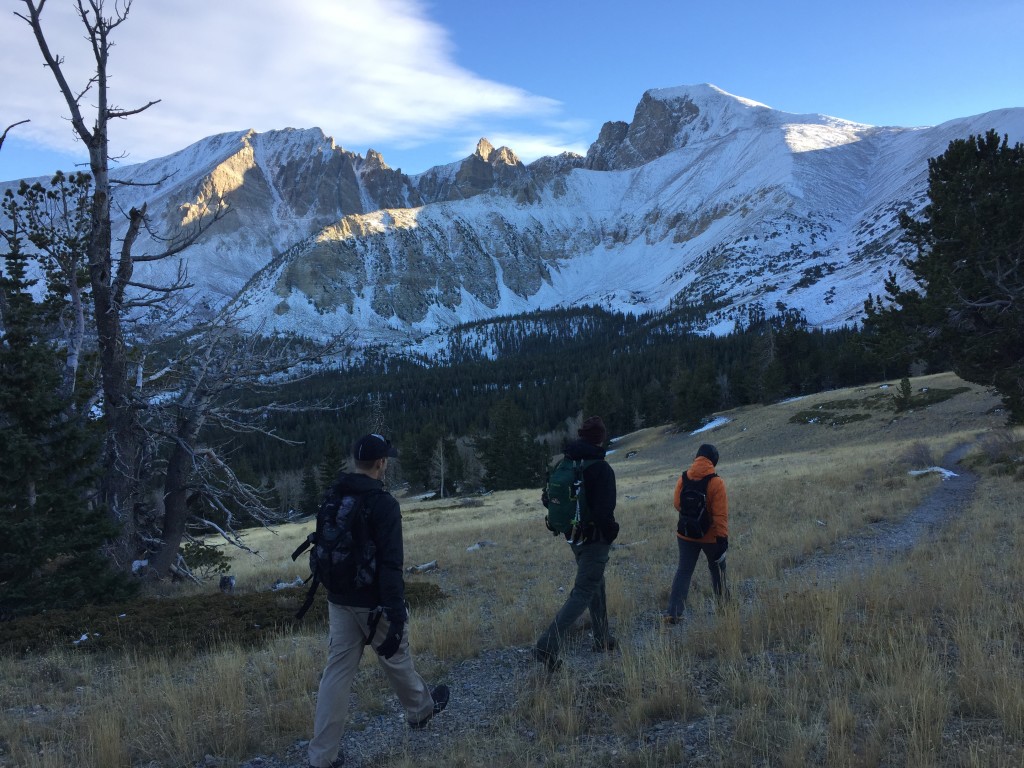 Personal Thoughts:
Wheeler Peak was a great hike all around.  I really enjoyed hiking up to 13,000+ feet and seeing the surrounding areas.  It would have been really neat to see all of the aspens before the leaves fell but we still had a blast.  It was really peaceful in Great Basin National Park and I hope to visit again soon.