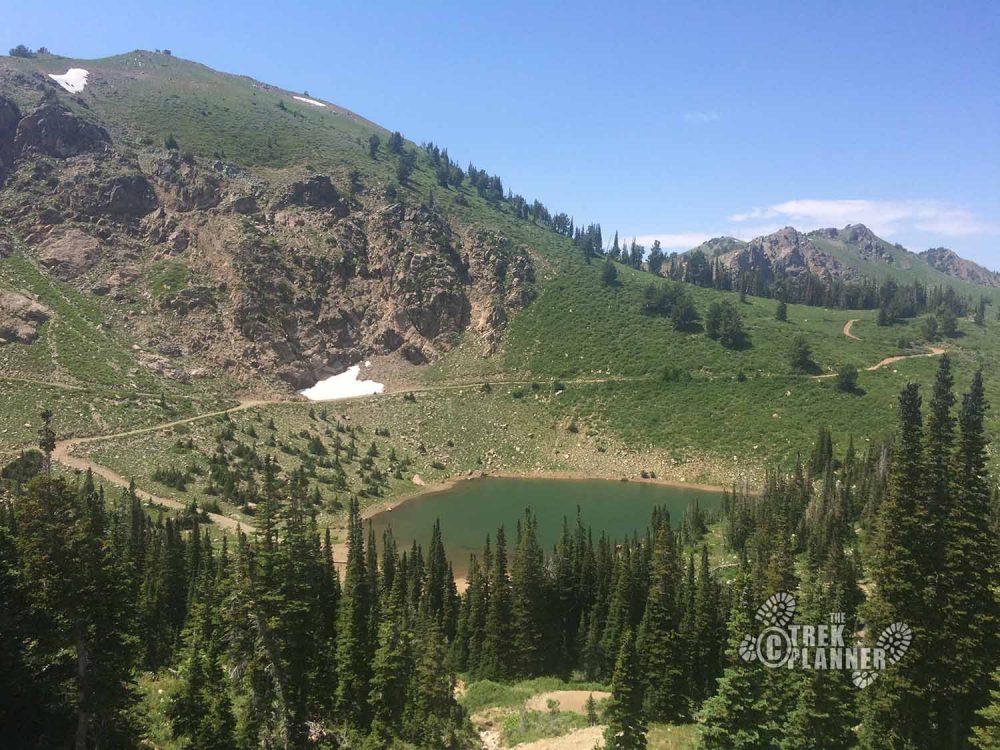 Overview
Wasatch Front, Northern Utah
Vistas stretching for a hundred miles, wild flowers, deer, and lots of ATVs
Smith Lakes, or Smith Creek Lakes, are a great hidden treasure of the Wasatch Front. This out and back trail offers a taste of the alpine right from the city. Temperatures are mildly cooler up here in the summer, and a quick dip in the lake can help you forget all your hot summertime worries.
These trails are quite popular and can be busy at times. This is not a place to seek quiet solitude, by any means. Motorcycles, atvs, and in the winter snowmobiles cruise these roads throughout the day pretty much every day.
But, if you expect that, you will still really enjoy this area for a campout, picnic, or a swim.
GPS Coordinates:
Standard Parking:  41.027423°, -111.837980°
Advanced Parking:  41.041435°, -111.838393°
Smith Lake 01:  41.049481°, -111.840352°
Smith Lake02:  41.052731°, -111.841869°
Smith Lake 03:  41.055828°, -111.841964°

Trail Map
Driving Directions
See our Trek on Farmington Canyon . You will be driving up this for the last half of your drive. This is a narrow dirt road with large drop offs, and many motorcycles racing up and down.
The Trail:
Choose your method of travel: foot, ATV, horse, truck, or other. I've seen it all up here, and all are fun and acceptable (within reason). Horses may not like the traffic, though I see them on occasion. ATVs and motorcycles are king up here. You can rip down the trails at a good speed and enjoy the bends and jumps. Trucks with good clearance can bounce all the way to the third lake if you are an adventurous driver. I haven't done this yet, but do plan on it. The roads have a few ruts and rock obstacles, but nothing too technical or dangerous.
For our most recent trip we parked and hiked down to the lakes. For the purposes of this trek, all stats and considerations are done with hiking in mind.
We did this mid week in the late afternoon and were quite happy with how little traffic there was up on this side of Francis Peak. Other than two ATVs, one truck, and a couple of skinny dippers who were quite annoyed when we walked up on them, we had this place to ourselves! Note: skinny dip at your own risk. These lakes are easy to access and very popular. Pictures may be taken of you at any time…just saying.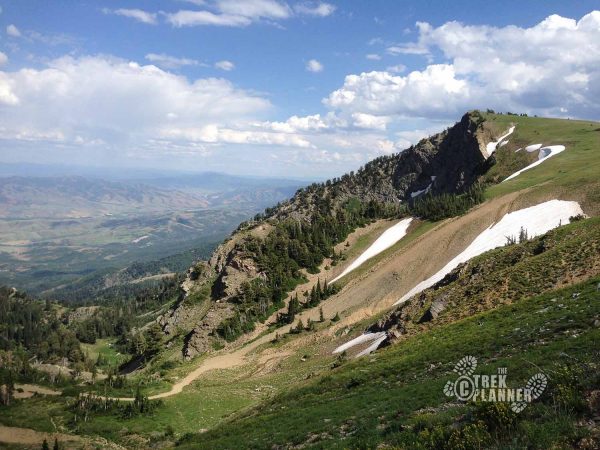 The views are of course instantly and constantly awesome.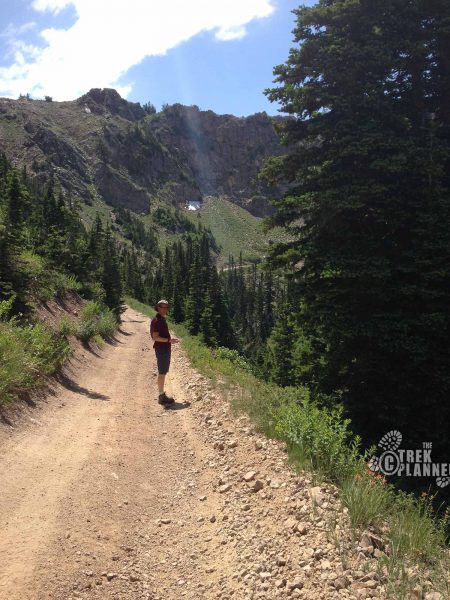 Again, this is a road to all three lakes. You can't get lost unless you really try.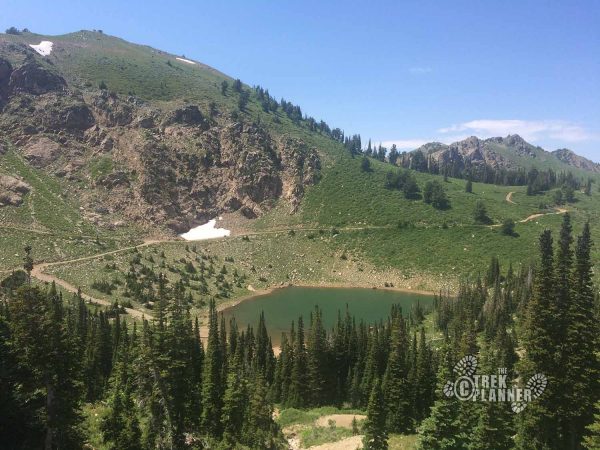 The road winds steeply down to the first little basin with Smith Lake 01.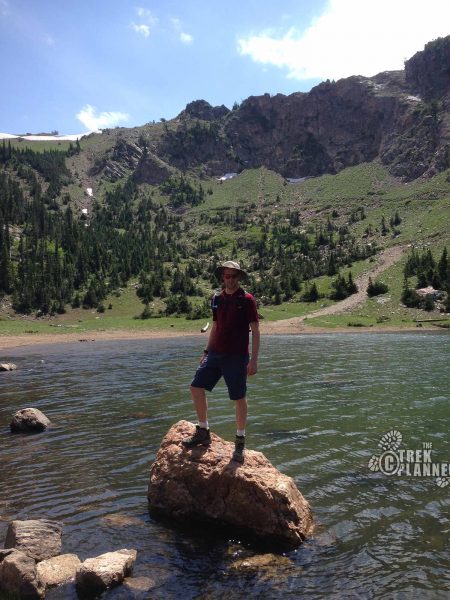 There are some great places for fires and camping at the lakes. Again, I'd imagine you'd have quite a few visitors on the weekend until decently late at night. Awkward as it is, Lake 02 has a great spot that is off the main road that would at least keep people from riding right by your camp fire. Lake 03 has two little spots just below the lake right at the very end of the road.
We're planning on taking my brother and his family up here for a campout. We'll update this once we do.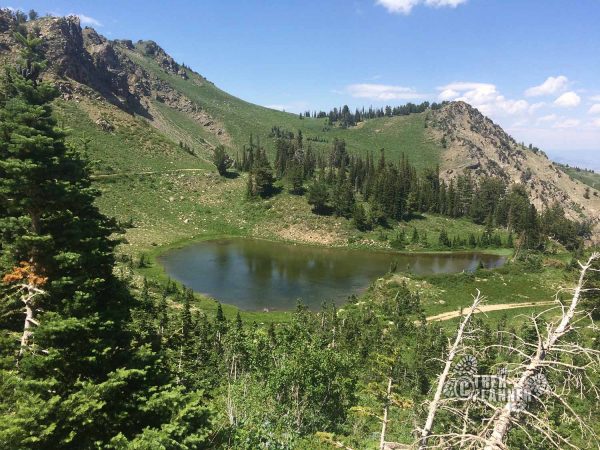 Smith Lake 02 is small and somewhat awkward. We just ignored it and hiked on by. Sorry Lake 02…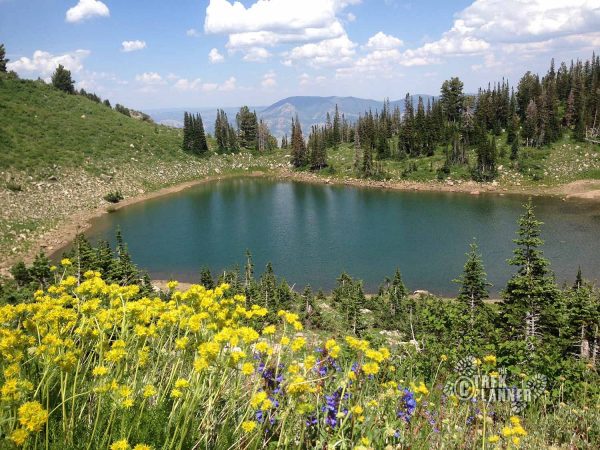 Smith Lake 03 was picturesque. This is where the road ends, so it is also your best bet to get the least number of visitors.

Lake 01 and 03 are decent sized. Decades ago the Forest Service used to stock them with fish. But the lakes are still small enough to freeze solidly often in winter, killing off the fish each year. So the Forest Service gave up and stopped stocking them. So don't bother with the fishing pole.
Personal Thoughts:
I love the Smith Lakes. While I may prefer the greater solitude of Thurston Peak, I don't mind the drive and quick hike they offer. If you only have a bit of time, they are perfect for a quick get away or overnighter. If you want a fast and fun ride on your motorcycle, these offer an easy challenge for beginners, and great scenery for everyone.
Bring your family, your pets, and your cameras and get out of the summer heat without having to drive away from the Wasatch Front!