Overview
Ruth Glacier - Denali National Park
Mt. McKinley, glaciers, mountains, Ruth Glacier
We traveled over 200 miles by airplane
Our airplane only went to about 13,000 feet.
Bring a few snacks to eat during the flight.
if you want to enjoy this trek you MUST bring sunglasses! Bring a light jacket and a sweater that you can take off when it gets too warm. Also, bring a camera and a bottle of water.
GPS Coordinates:
Ruth Glacier: 62.92351, -150.68126
Glacier Landing Point: 62.96973, -150.74495
Sheldon Cabin: 62.96973, -150.75466
Denali (formerly Mt. McKinley): 63.06912, -151.00701
Trail Map
Driving Directions
You can't drive here.  You must fly or hike.  Flying is the preferred method.

The Trail:
There are several ways to access Ruth Glacier.  You could hike or backpack up the glacier or you could take a flight.
I don't know all the rules and regulations regarding backpacking in the park, but I do know that if you are backpacking into Denali National Park you are required to get a permit and go through a little backcountry orientation training at the Backcountry Information Center.  For this trek, however, I chose to do the easiest route and booked a sightseeing flight to explore the glacier!
This is the plane we flew in.  It sat 8 people with one pilot and it was quite comfortable.  I had enough window space on both sides to view whatever I wanted so make sure you bring a camera or you will miss out big time!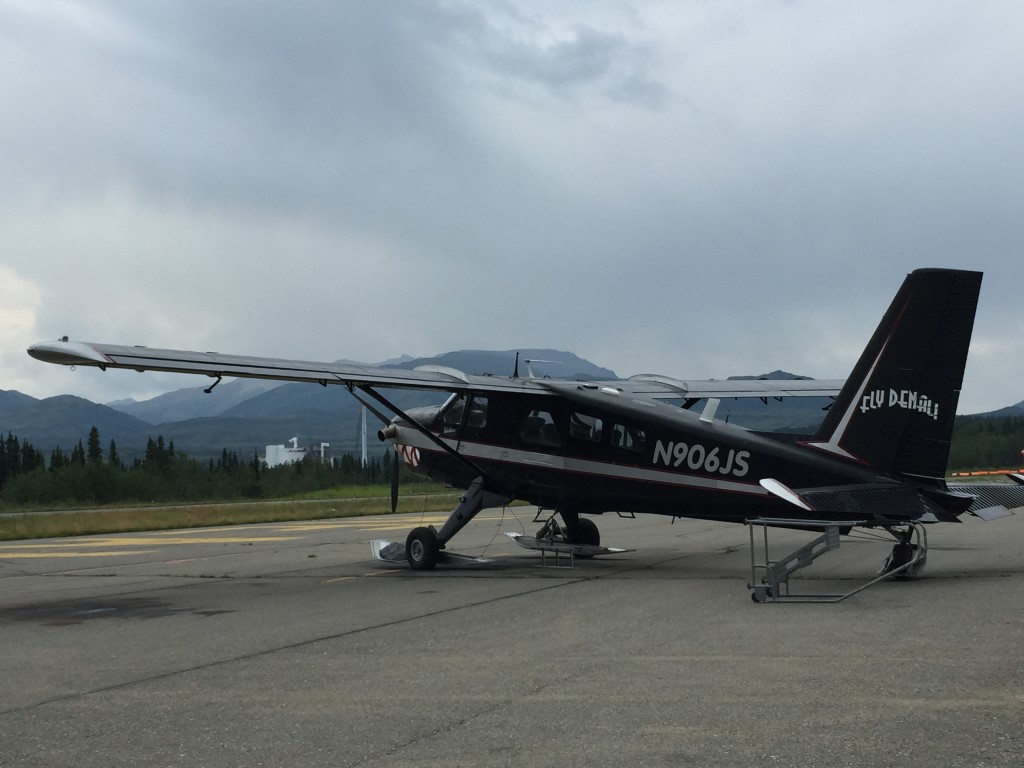 Our flight began in the town just north of the national park in Healy.  We took off and flew passed Mt. Healy, glitter gulch and then on down to Ruth Glacier.  The flight down was very smooth despite there being lots of dark clouds.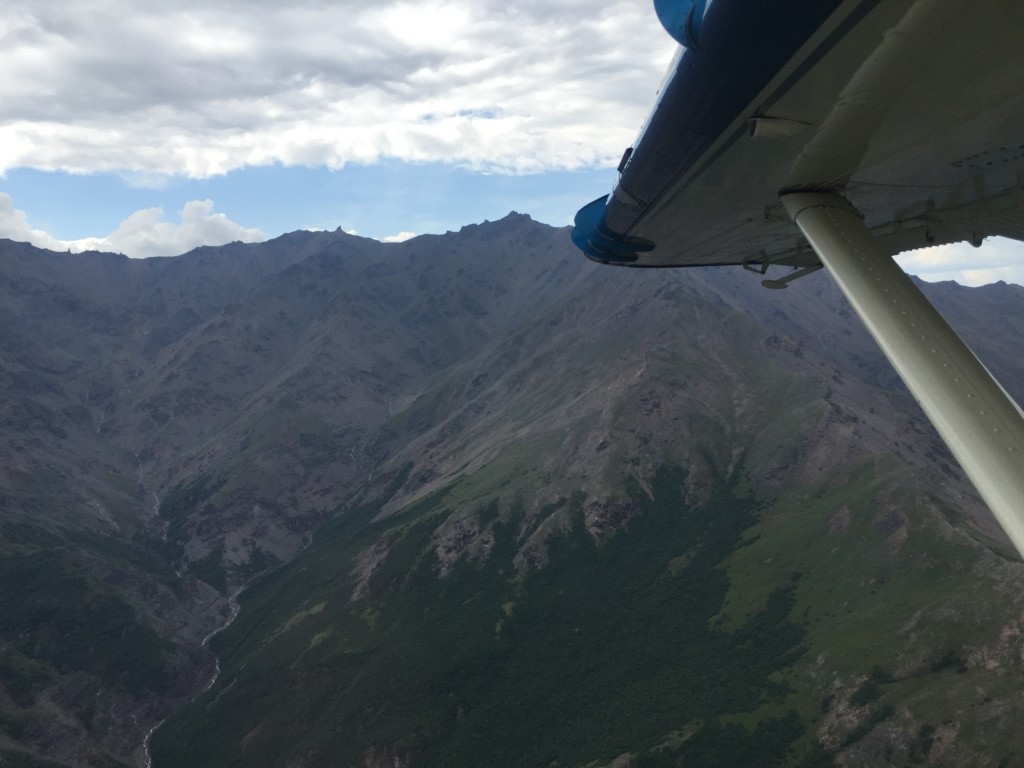 We crossed over the "Frontcountry" of Denali National park and got a great view of the park road.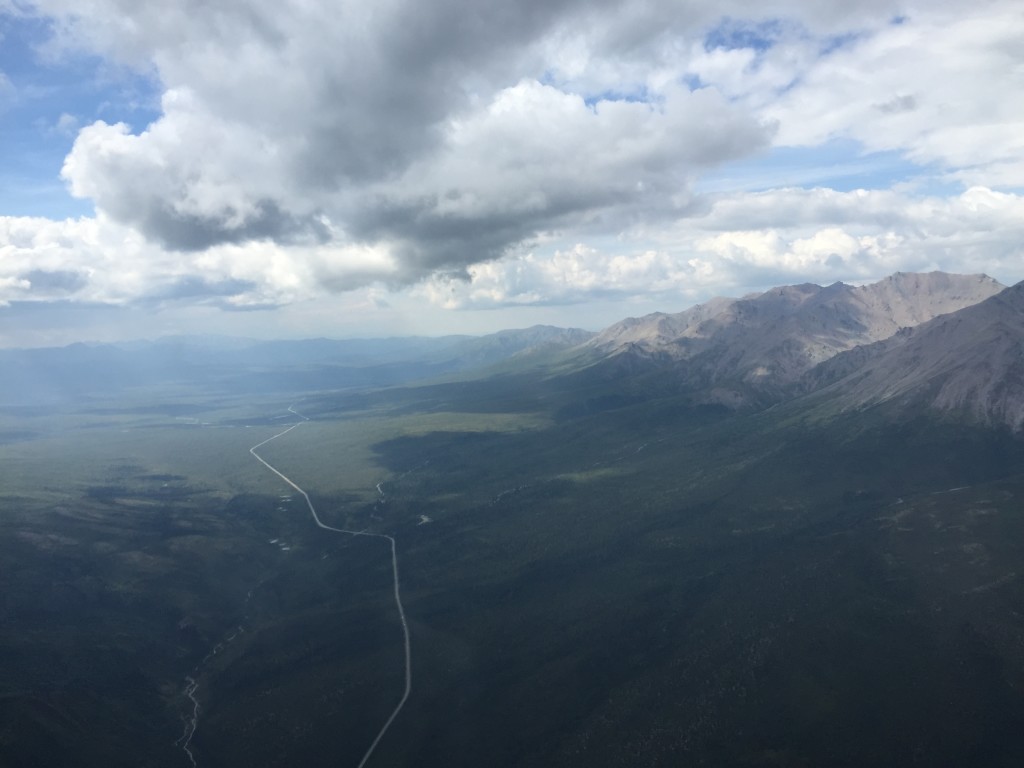 After about 10 minutes of flying we were already seeing small glaciers dotting the higher elevations.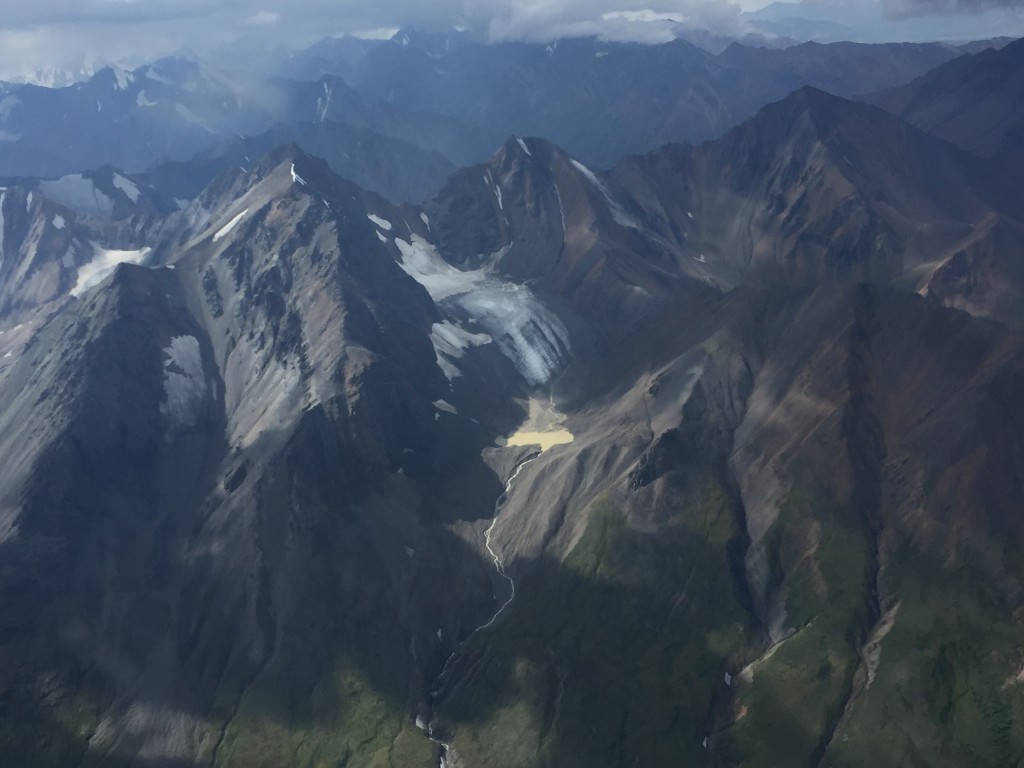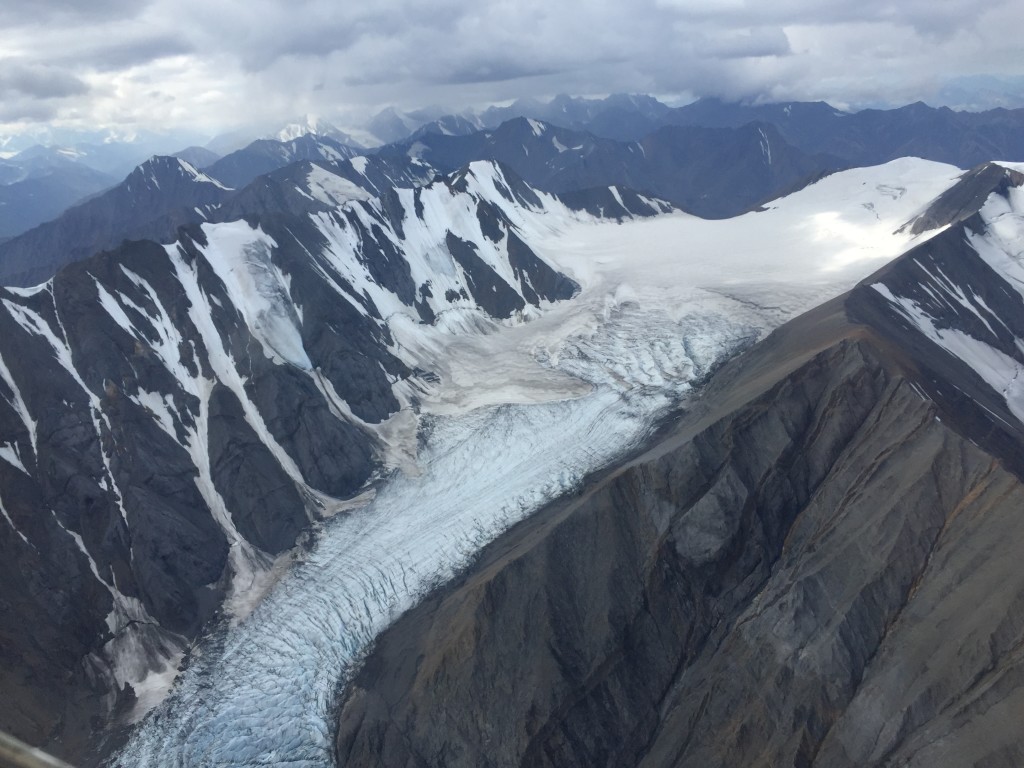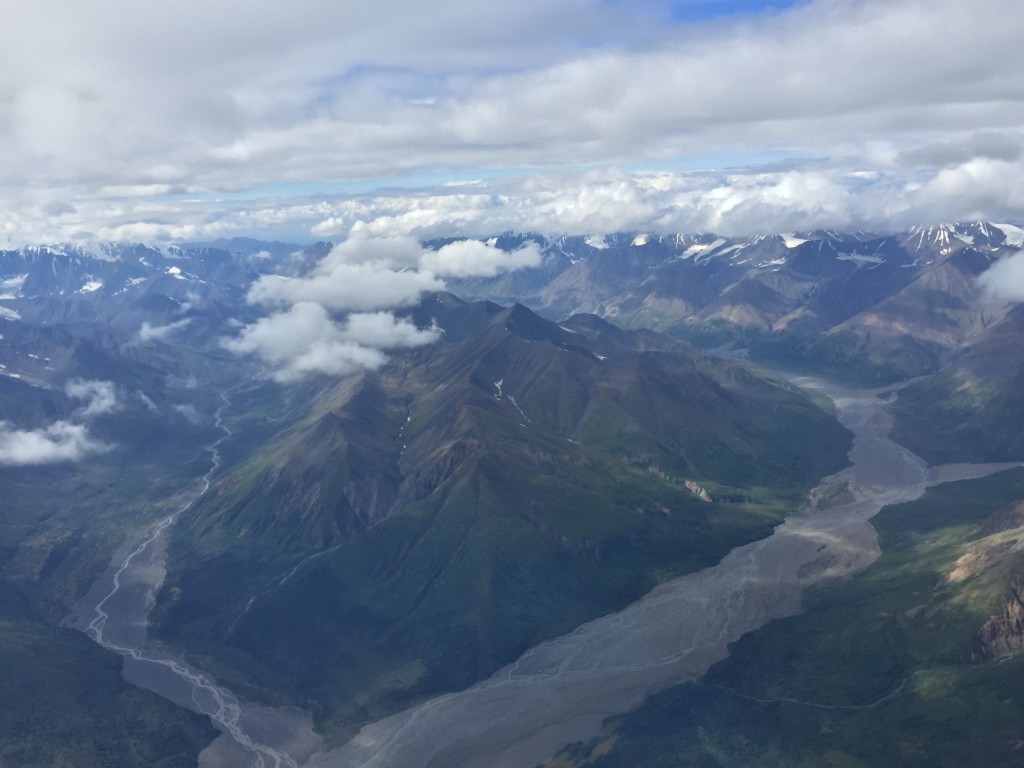 Even though it was cloudy, our pilot made a short detour so we could get a better view of Denali (Mt. McKinley).  I never get tired of seeing this mountain.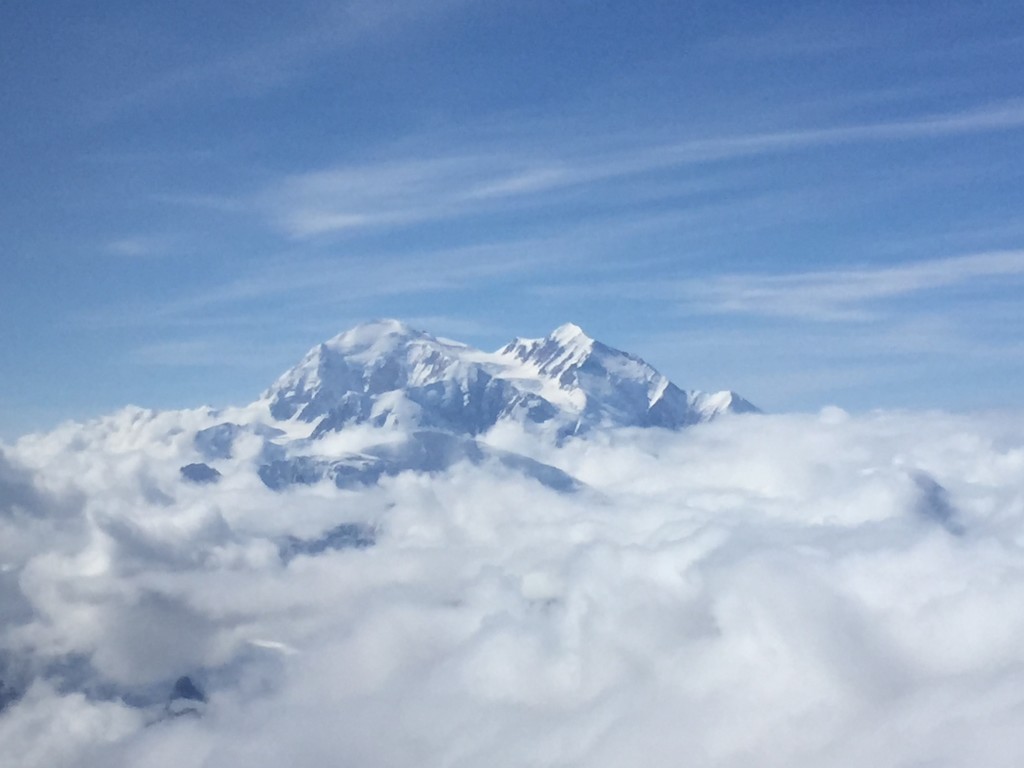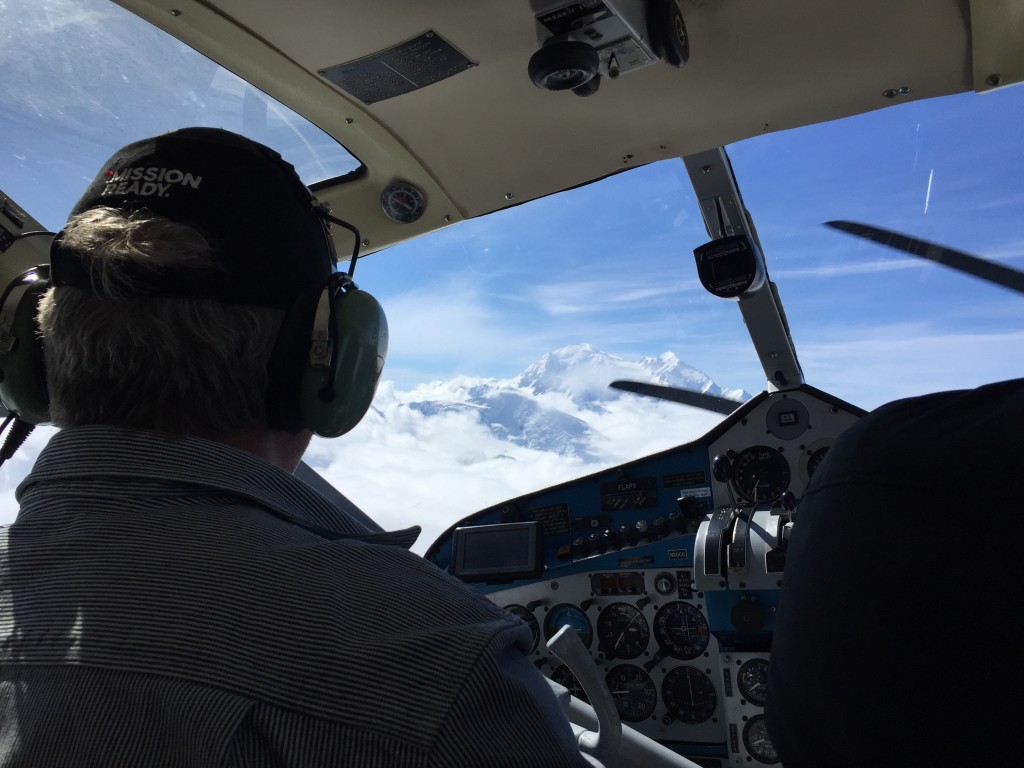 We then made a giant S curve towards the south of Denali so we could fly up the Ruth Glacier cathedral.  We were flying in between mountains and valleys – it was incredible!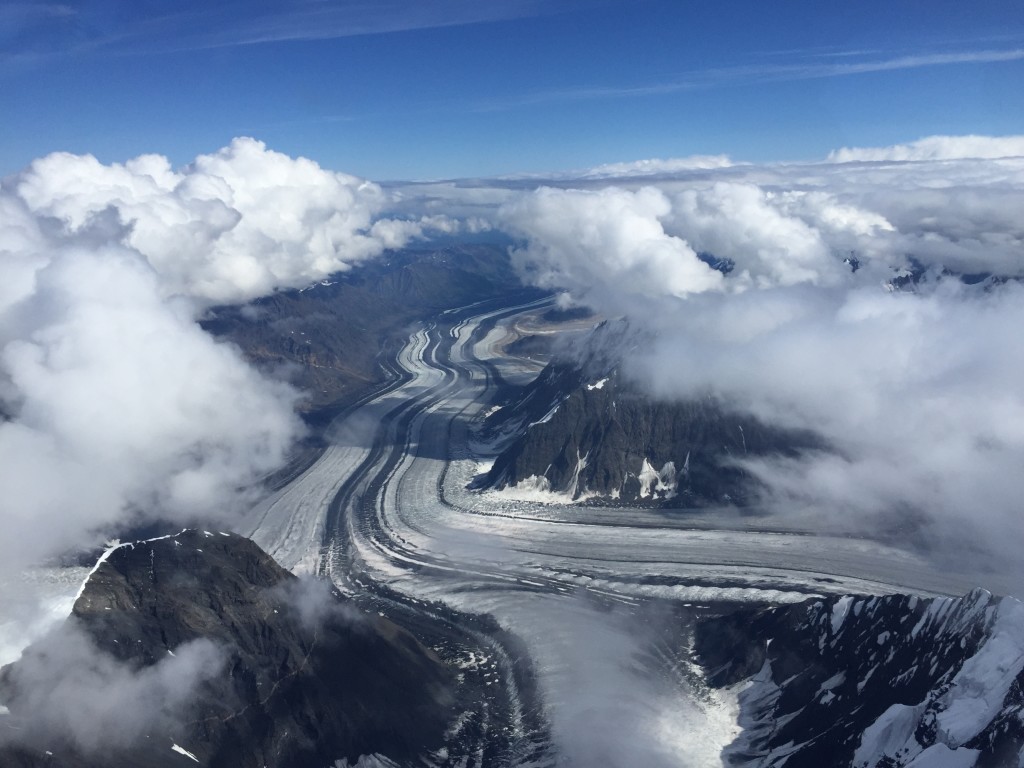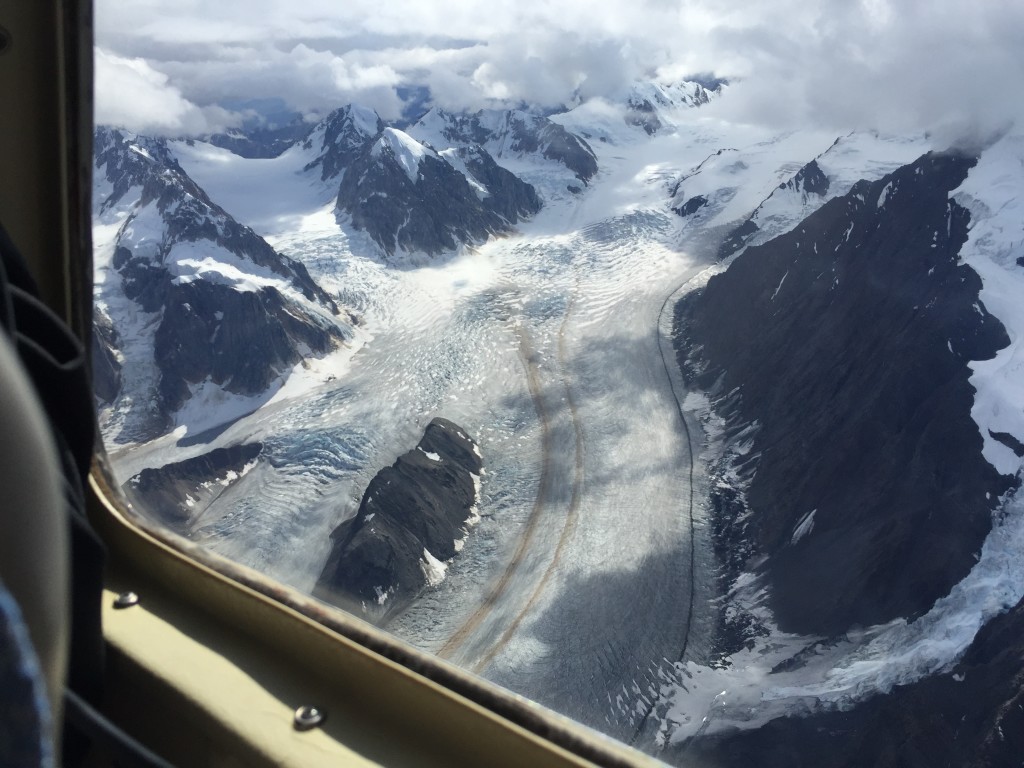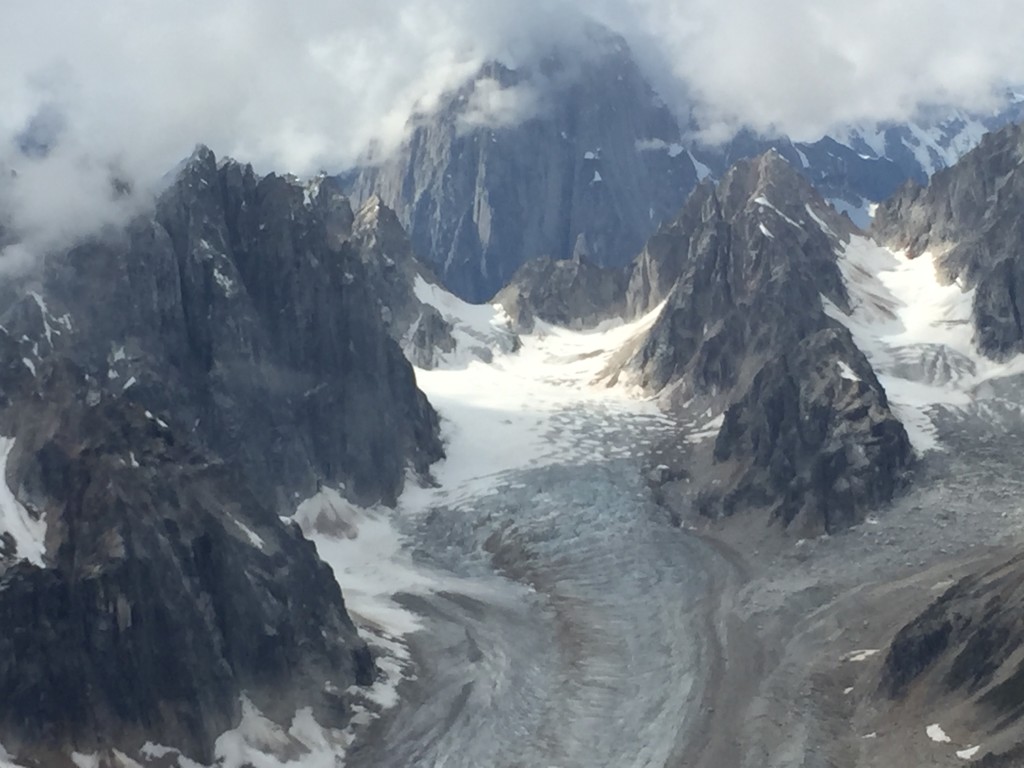 We finally arrived at Ruth Glacier.  The cathedral is more than a mile wide in spots and goes on for many more miles in length.  We flew around for a while until we landed near the Sheldon Cabin.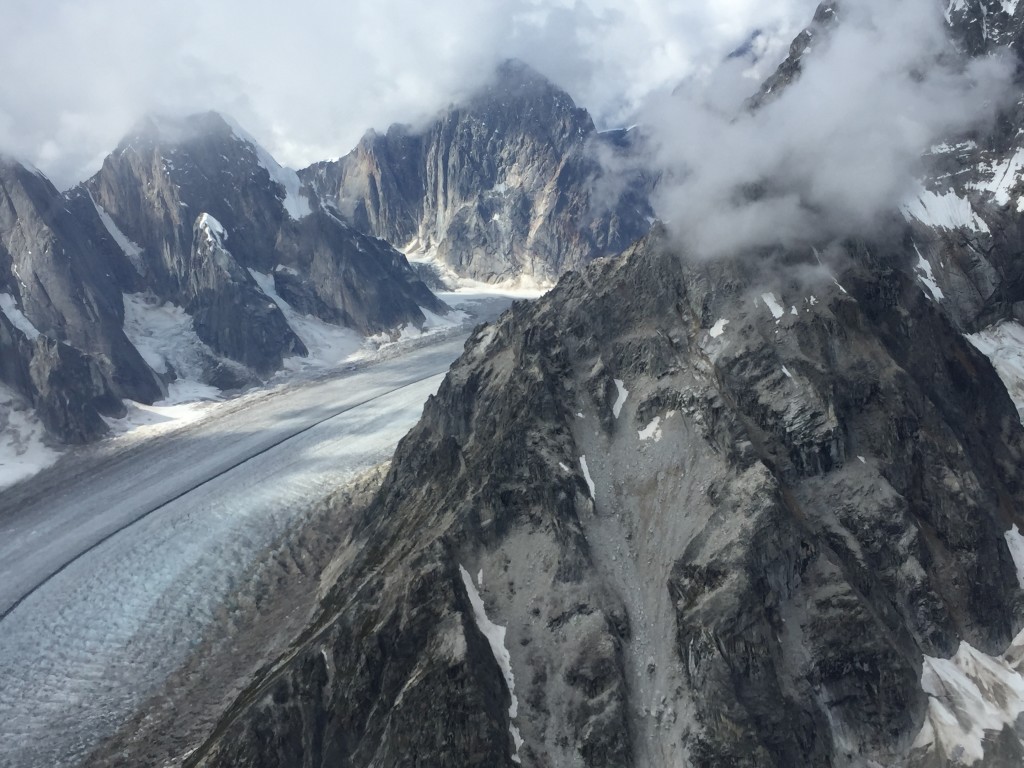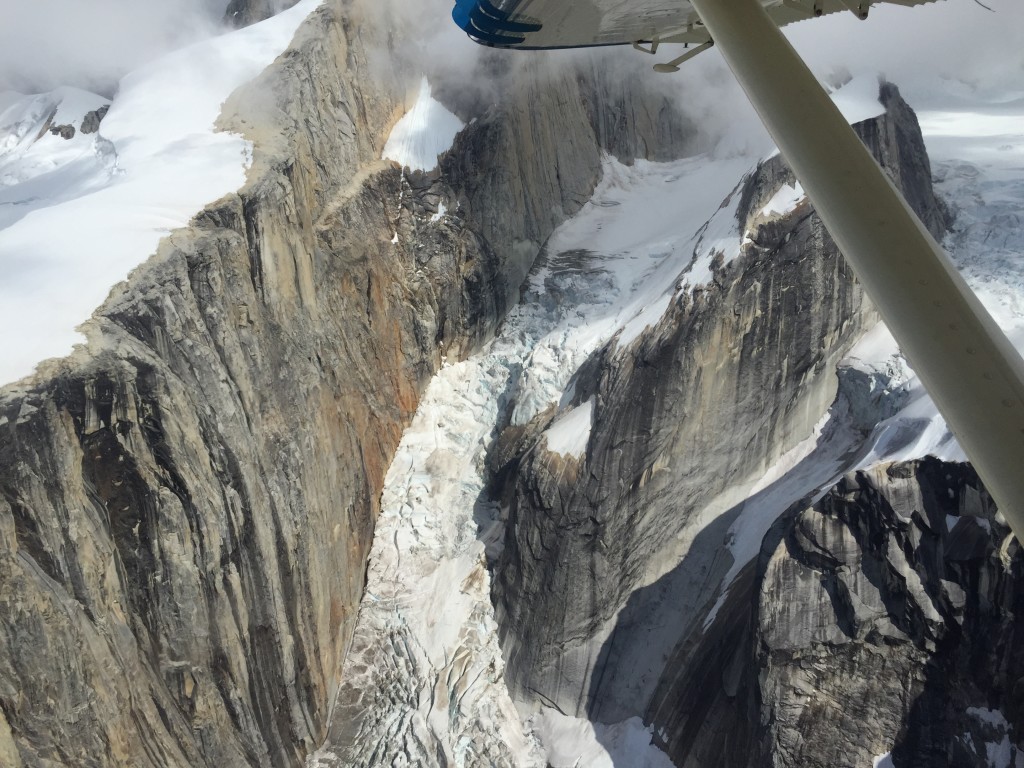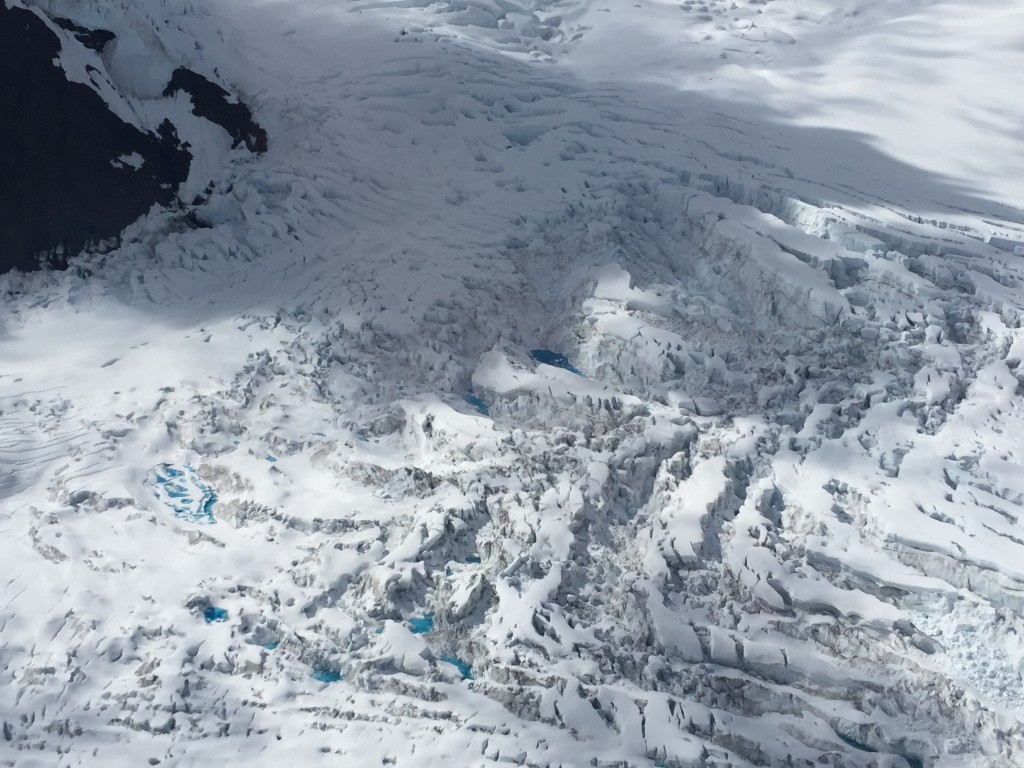 We landed uphill on the glacier to a very bumpy landing.  When we arrived it was just the eight of us in the area and it was deadly silent (once the plane engine was off).  We spent about 30 minutes walking around on the ice and snow making snowballs.  If it was a perfectly clear day we would have an incredible view of Mt. McKinley – and you are still 10 miles away from it!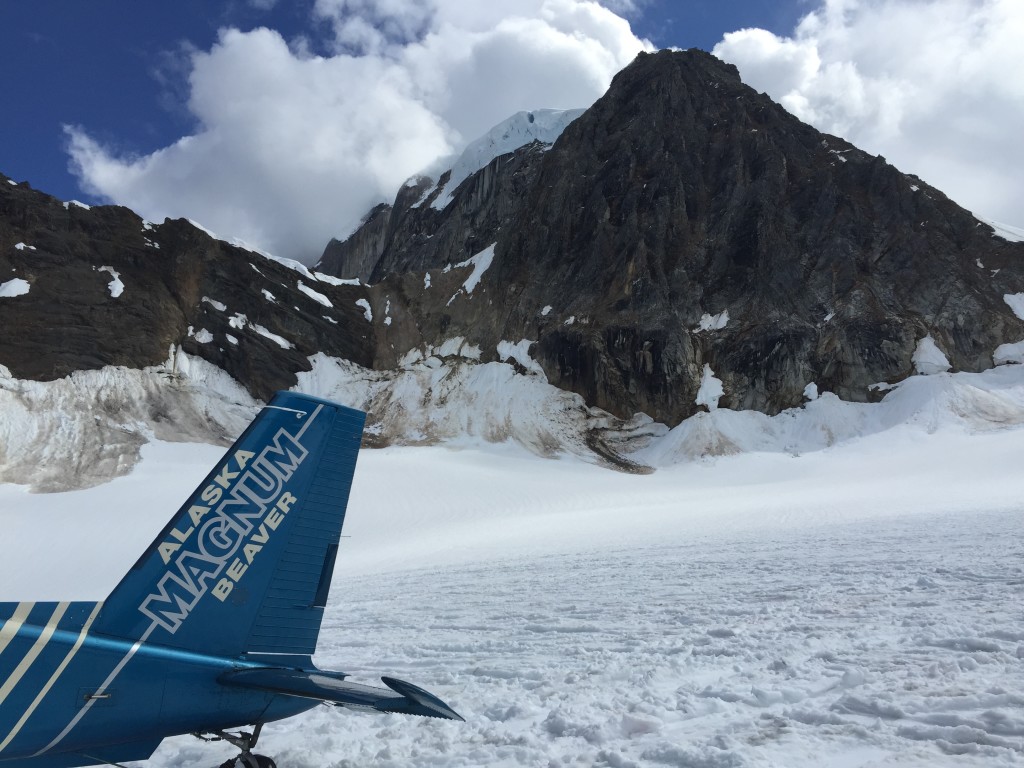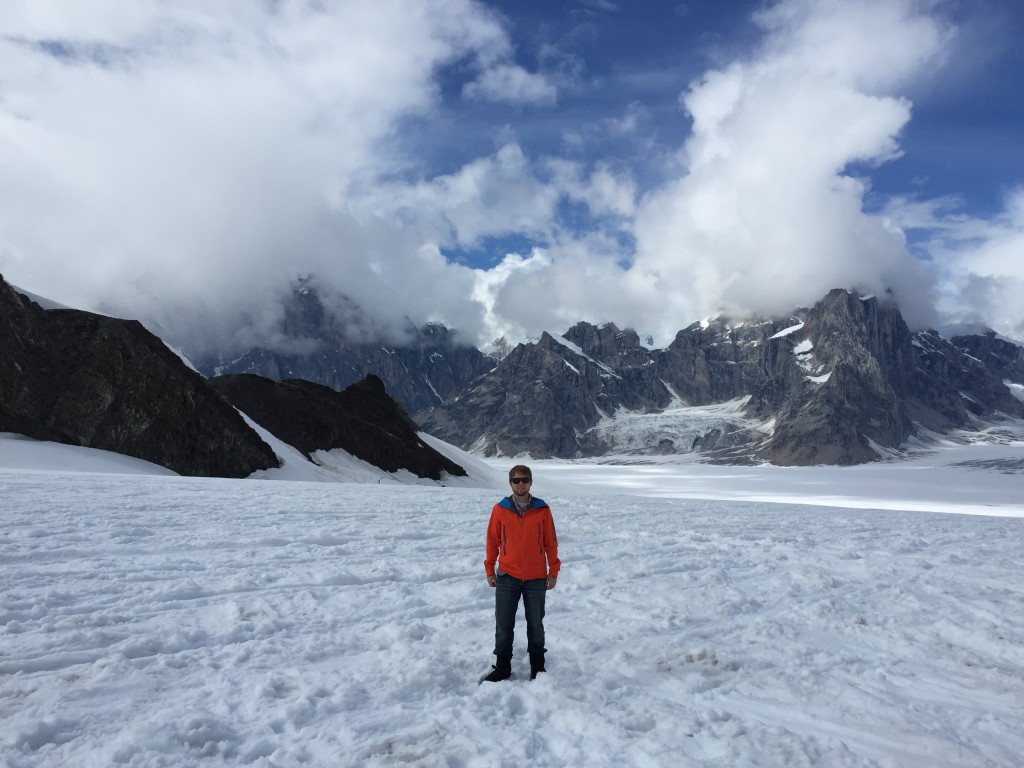 There is a cabin out here for rent (the last I checked it was over $500 per person per night).  You can see the outhouse and the top of the cabin in the above picture.  It would be an incredible experience to spend a night out here on the glacier in the quiet.
After looking around for a bit, we all got back in the plane and took off to go back home.
I truly couldn't grasp just how big this glacier is and how tall the surrounding mountains are.
The weather got a little bumpy on our way back so our pilot took a different route home where we got to follow, from a distance, the Denali Park Road.
The Return:
Head back towards your vehicle.

Personal Thoughts:
Landing on a glacier in Denali National Park has to be one of the coolest things I have ever done in my life – and I mean that without any sort of sarcasm.  I never get tired of visiting this amazing national park.  Seeing it high above the sky is just as good as hiking on the tundra below.