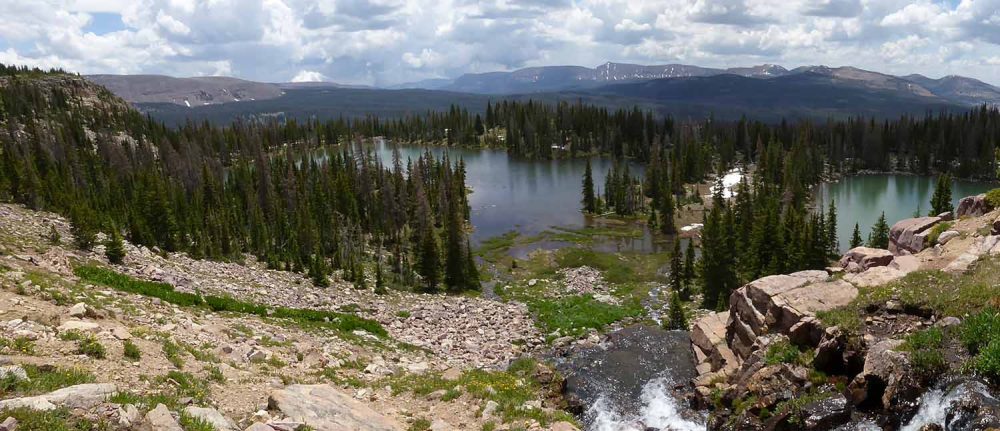 Overview
Northeast Utah: Uinta Mountains South Slope.
Lakes, pine trees, mountains, waterfalls, streams, fish, deer, mountain goats
15.5 miles or so, roundtrip.
Lots of streams and lakes you can pump or purify!
What do you define as an alpine paradise? 14 lakes all easily hikable? Many waterfalls cascading down prominent cliffs? Pine forests? All in basin surrounded by tall mountain peaks? Well, then this is an alpine paradise! Just ignore the swarms of mosquitos and crowds of people. Hey, no place is perfect. And this basin is big enough to avoid the people. But sorry, there is no way to avoid the mosquitos.
GPS Coordinates:
Highline Trail Head:  40.721951°, -110.864152°
Naturalist Basin Trail Split:  40.687844°, -110.820747°
Naturalist Basin:  40.697311°, -110.808230°
Main Lakes:
Jordan Lake:  40.703111°, -110.798672°
Shaler Lake:  40.709617°, -110.789144°
Faxon Lake:  40.711635°, -110.796950°
LaConte Lake:  40.707957°, -110.804352°
Blue Lake:  40.704461°, -110.812785°
Morat Lakes:  40.700735°, -110.812988°
Trail Map
Driving Directions
The Trail: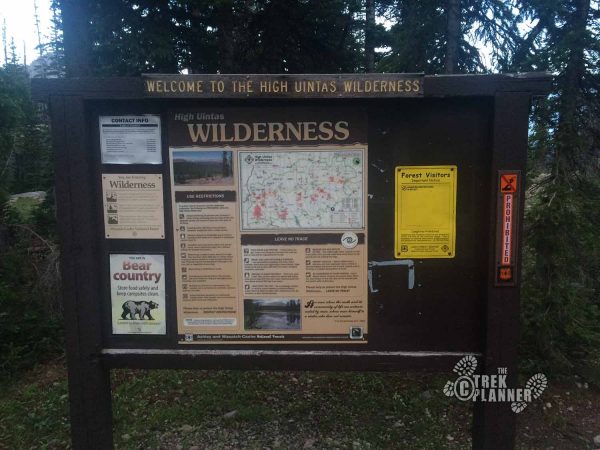 The hike starts at the Highline trailhead on Highway 150 a few miles past Mirror lake. The highline trail runs around 80 miles west to east following the spine of the mountains. This starting section of it is very popular, providing access to many different basins. So parking can be tight, especially on holiday weekends.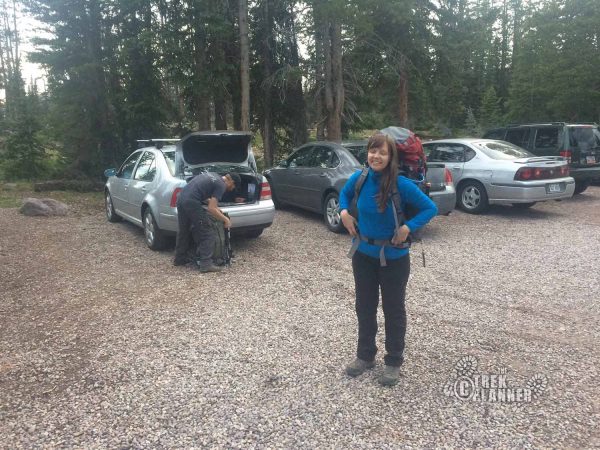 Follow the Highline trail into the wilderness area for 4.2 miles. The trail is generally downhill or flat. It is easy to follow with many people on it.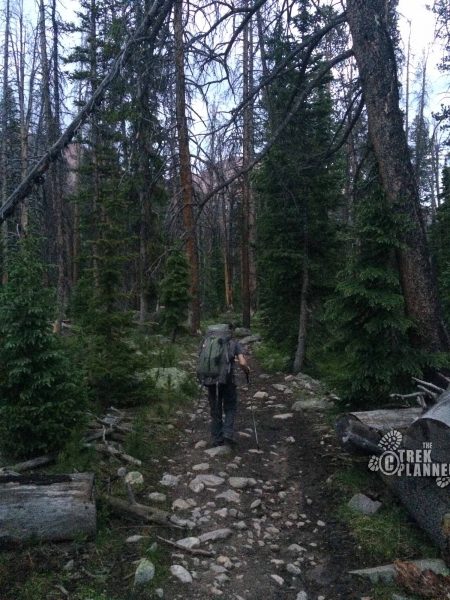 You will pass Scudder lake and Packard lakes. For the entirety of the time you will be hiking in pine forests with the occasional open meadow affording good views of the close mountain peaks. There are many small streams and the area is quite wet. I've taken to packing only a liter or so of water, and just pumping whenever I run out. It saves on weight!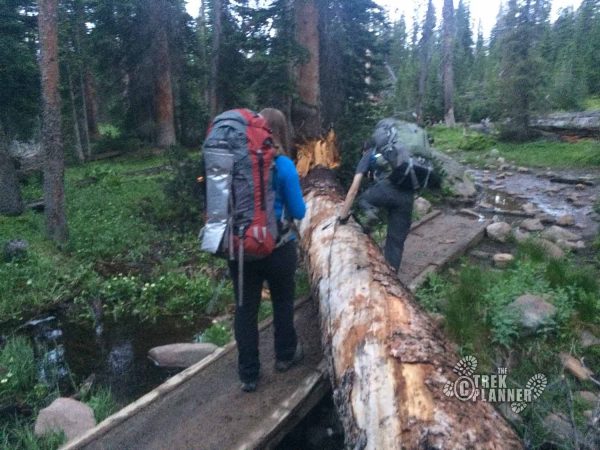 At 4.2 miles in the trail has a left branch to Naturalist Basin. This section climbs around 300ft in 1.2 miles and pops you into the basin next to a great fishing creek.
Here the trail splits and you can go left or right. Most people go right and end up at or near Jordan Lake for camping. No fires are allowed within 1/4 miles of any of the lakes, or above tree line. For that reason I usually head left and camp immediately. There are fewer people, easy access to water, and you are far enough from any lakes to have a fire. I also prefer to hike Naturalist Basin starting on the left with Morat Lakes.
Hiking the Basin:
Hiking the basin clockwise makes you get all that nasty uphill climbing done right at the beginning. Yes, it is steep and some would say unpleasant. But once you get up to Blue Lake, everything is essentially downhill from there! And for me, that makes the rest of the day quite enjoyable. It is a 350ft climb up two cliff bands to get to the top of the basin. That isn't that bad.
The trail around the basin starts up the cliffs quite distinctly. But once you get up to Blue lake the trail pretty much disappears and it is a choose your own adventure.
Morat Lakes are very picturesque especially in the early summer when the water falls are raging. There are often people camped here between the two lakes, and there or along either side makes a fine campsite. The lakes are different colors from the minerals in the water. The western lake gets all the mountain and snow runoff and captures most of the minerals.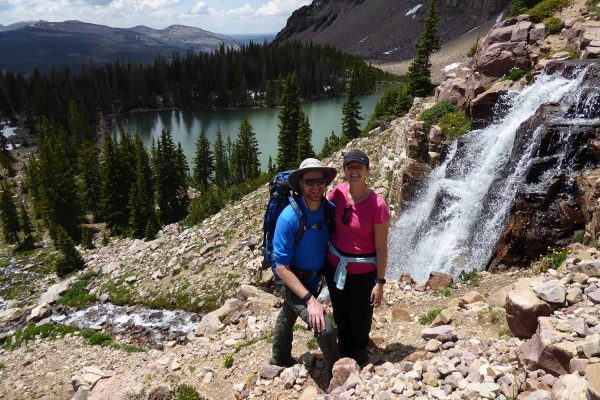 The upper basin is right under 11,000ft and well above the tree line. Views are awesome up here. Blue lake is often very windy. I've seen people camping up here. The views would be great, but there is no protection from the weather. More on that later.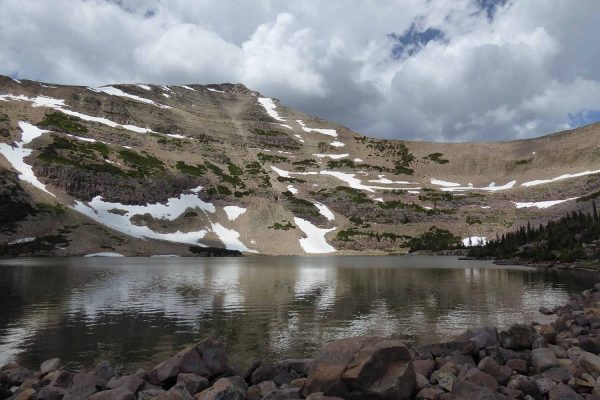 I meander around Blue lake and then across the high plateau. There is a lot of land up here to explore and it is fun just walking around and relaxing. Take in Walcott, LeConte, and Faxon, and Shaler lakes.

I once stopped for lunch near a half frozen Faxon lake. The wind kicked up and took my new and expensive hat right off my head. It landed out on a snow-shelf sinking into the lake. As I riskily scrambled for it, it dropped into the water and the wind floated it out into the middle of the lake. I figured it would cross to the far shore if it didn't sink first so I started hiking around the lake. But there is a small island in the middle and that is exactly where the wind blew my hat. It floated into the rocks on that island and just stuck there. I waited for an hour and it hadn't sunk yet. So then I decided to try and swim it. I rounded up all wood I could find, lashed it together with some para-cord, removed my clothes, and started into the lake. I made it mid-shin depth before I realized how stupid this was. My raft was nothing but clump of sticks that would maybe help my upper chest stay afloat. The water was obviously ice cold and there was no way I was submerging my entire body for more than a minute and getting out alive. No matter how nice or how new a hat, it wasn't worth it.
So I accepted defeat. I'd been there for almost two hours when I finally left and my hat was still bobbing happily among the rocks at the little island, like it was taunting me. Curse that hat!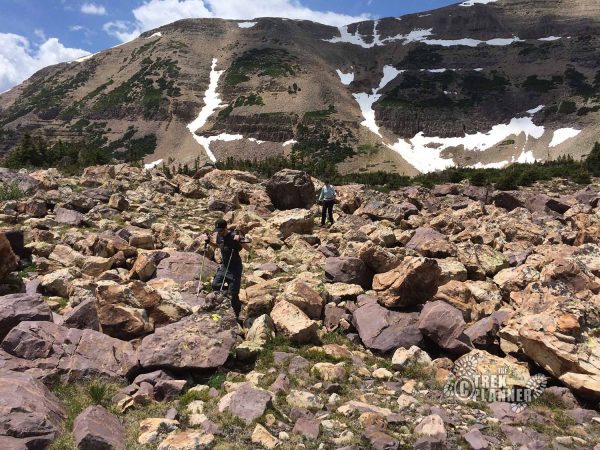 Shaler Lake is my favorite upper basin lake. Every time I've hiked this it has had nice waterfalls still flowing into it. It is a big and picturesque lake.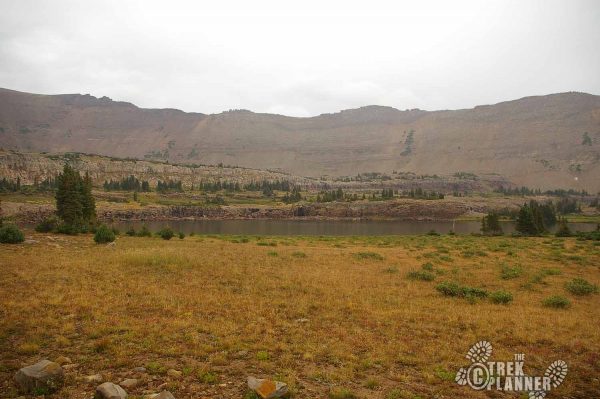 Drop back down the cliff bands finding the safest and funnest route you can. Take another break and enjoy Jordan lake. There is a reason most people camp here. The lake is large with plenty of camping opportunities. It is beautiful with pines right up to the shore and waterfalls crashing down the cliffs right behind it.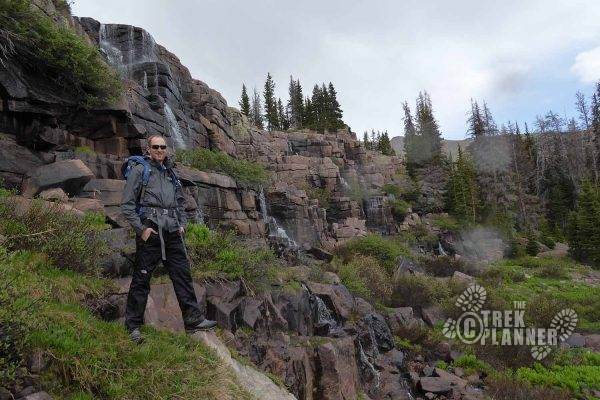 Again, on one of my many hikes around the basin I was walking along the trail beside Jordan Lake when two college girls in bikinis came running around some trees right in front of me and ran into the lake. They immediately shrieked from the cold and clambered back to shore.
I've seen a lot of things in the Uintas, but at this point had never had cute girls in bikinis jump out of the trees right next to me. Honestly, that is not something I expect when I am hiking in the high mountains.
One of them turned to me and asked, "When do these lakes warm up? It is July for crying out loud!"
I laughed and responded, "You are not from around here are you? You are in the Uintas at over 10,000ft. The lakes often don't warm up until August, if at all."
They told me they were visiting from California, and then shivered their way back to camp. I continued my hike wishing "they all could be California Girls…"
The more popular the Uintas get, the more often I see girls in bikinis up here. In fact, I'd say I see far more people in swimsuits than I do mountain goats anymore.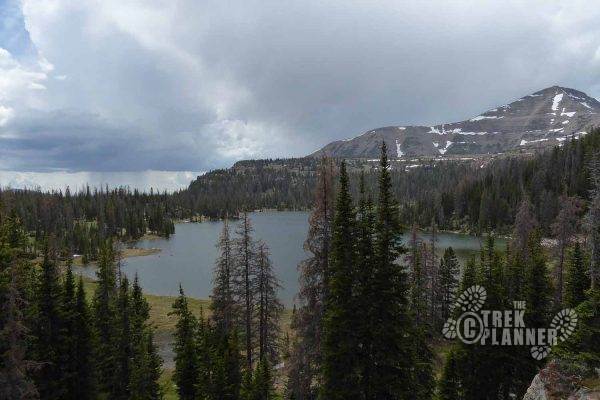 A note about weather:
There's a lot of it up here. And it happens fast. Be prepared. I've experienced extreme winds, heavy rains, and dangerously close lightning. The worst thunderstorm I've experienced was in Naturalist basin. We got several inches of rain in one hour and had a tree a hundred meters from our camp struck three times by lightning. People were panicking and running down the trail screaming for everyone to get out of there.
The upper plateau of Naturalist Basin is definitely not a place to be caught in a storm. If there is any hint of lightning, or a forming thunderstorm, get off that high plateau.
On good days, be ready for wind and rain. It can appear over the spine of the mountains coming from the North with no warning. A sunny day suddenly becomes wet and windy.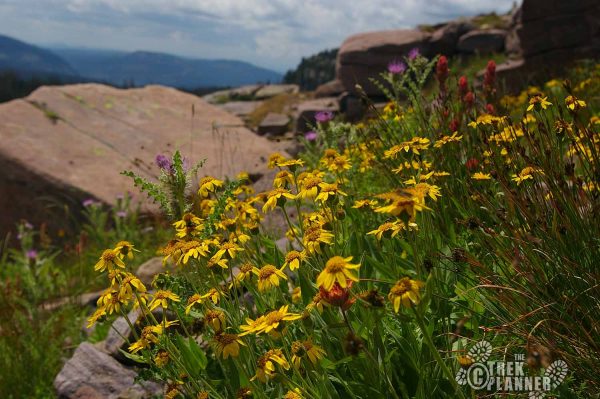 Personal Thoughts:
This is a great place to backpack. It is beautiful, easy, and offers a great variety of scenery. Even though it is somewhat crowded, there is a lot of space to find some peace and quiet. This is a trip I'll do every few years because it is always worth the visit. And if you're lucky, you'll have some cute girls in bikinis jump out and surprise you too!