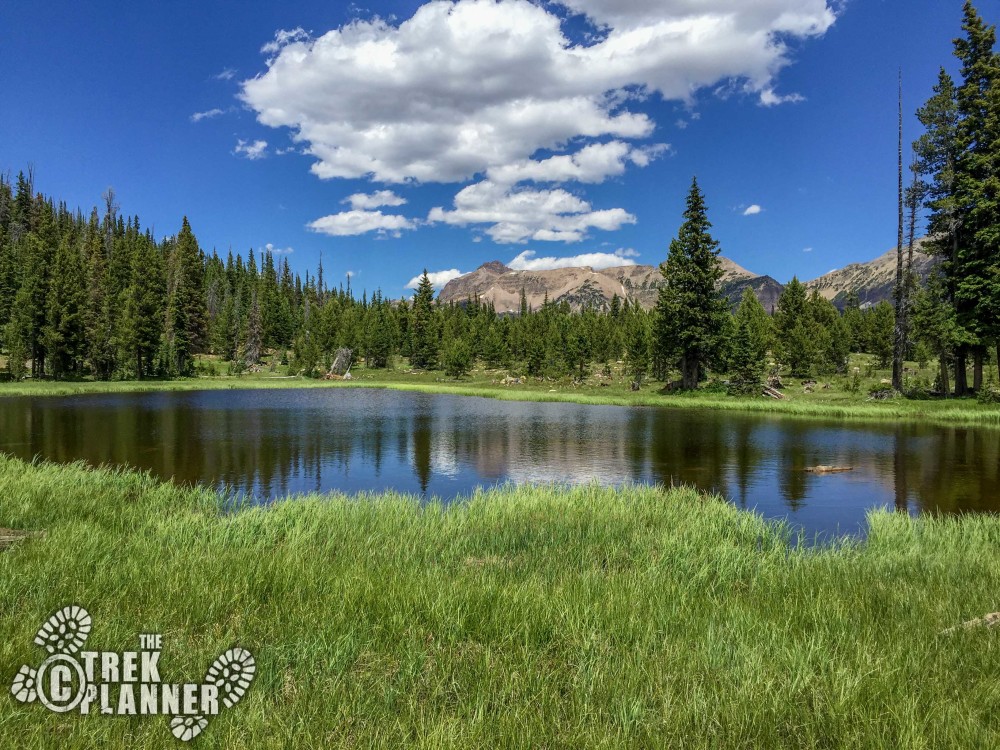 Overview
Mirror Lake Highway, Uinta Mountains, Utah
Huge Mountains, Forest, Many Lakes, Fishing
There are about 50 miles of trail. Spend at least one day in the area.
Varies on trail selection
VERY rocky 4x4 roads and 50 inch ATV trails
GPS Coordinates:
Trail Head:40.63268N, 110.93178W

The Trail:
This is a great area to ride ATV's and dirt bikes. There are also roads open to side by sides and high clearance vehicles. The area can be very confusing if you don't have a forest service motor vehicle use map. These can be had at any of the nearby ranger stations and in Kamas, or Evanston at either end of the Mirror Lake Highway. Here is the part of the map that will be covered on this trek. This would also be a fantastic area for easy backpacking as there are many lakes just a short trek from the trails. This area is a best explored with that map and going where ever you want instead of a set ride. I will document the trail numbers that I tried and enjoyed.
This beautiful basin is located in the heart of the highway very close to Mirror Lake. I forgot my good camera on this one which was sad because there are some very picturesque lakes. There are plenty of areas to park and a ton of different areas to camp. This is also a great area if you wanna do some fishing during your ride. There are many lakes to choose from but we saw the most anglers at Echo Lake. You can also see the beginning of the Duchesne Tunnel. The trails in this area are easy but VERY VERY rocky. Even on my very soft set ATV it felts like my brain had been jarred loose by the end of the day. Even the 50 inch trails though, were pretty easy for most any skill levels. I never needed my 4×4. There are many roads in the area open to any high clearance vehicles but be warned the rocks will make it very slow going. The first trail we did was trail 308 that is a 50 inch only trail. Please obey the width restrictions. I am so tired of running into side by sides and jeeps who think they are entitled to break the rules and ruin it for everyone. The off road adversaries are only given more weapons when stupid people break these rules. Trail 308 is one that larger vehicles will quickly be turned away as there are many tight turns through thick trees. The trail ends at a lookout above the highway. As far as lookouts go I would say it was so so at best but the trail in was a lot of fun. Next we tried trail 304 and 304A which make a lollipop loop with trail 312 being the exit back on the main road 137. All three trails are also 50 inchers. You will pass a few small and shallow ponds and get high up on a ridge with great views toward Bald Mountain.
Next up we took road 410 to Echo Lake. This was the most busy area we saw but was still not bad. Its a very pretty one.
Just off 410 is a short side road to Pyramid Lake that is number 522. It is a short walk to the actual lake from the parking areas but it is worth the walk. This would be a great area to backpack and spend a night.
Next we took the 50 inch trail 326. This was a very fun trail that wasn't quite as rocky as the others and gave great views toward Hayden Peak.
Just after the end of the 50 inch section there are two small ponds that have amazing views of the giant Hayden Peak towering above them in the distance.
Next up is a short un numbered trail to Maba Lake. There are some good camp sites here but the lake is only OK.
Side trail 977 will take you to Hoover Lake. This one is gorgeous and would be a great place to camp and fish. Bald Mountain towers over of the center of this lake.
Next up trail 976 takes you within a short walk of Marshall Lake. This was by far my favorite of the lakes with amazing views of Hayden Peak and deep blue water. 
We took the main road 137 most of the way back but took one last detour on road 027 which takes you down Cataract Gorge and to the Duchesne River. The area at the bottom is very pretty and you will see part of the river is diverted into the infamous Duchesne Tunnel that we discussed above.
The Return:
After the Duchesne Tunnel we took the main road 137 all the way back to our truck.
Personal Thoughts:
If you can handle the rocks there are several beautiful areas that are worth seeing but the rocks really hurt the experience for me. I don't say that often. As long as you can get around that then this area is well worth exploring and has a lot of potential for other activities like fishing, camping, and even backpacking. A trip mixed with several activities is always a fun one.