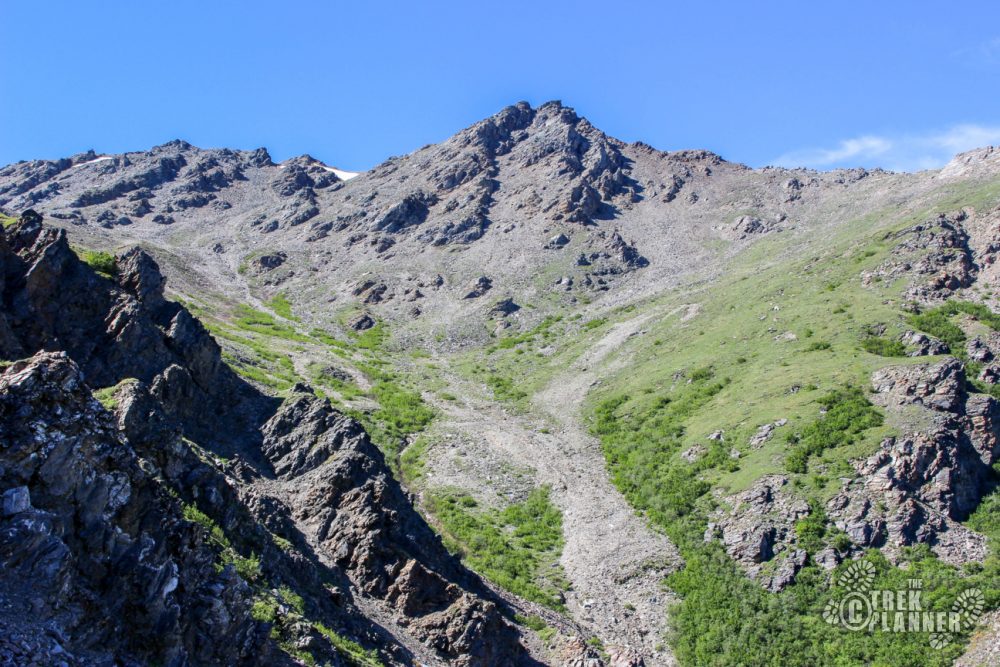 Overview
Denali National Park, Alaska
Mt. Margaret, Savage River, Park Road, opportunities to see Dall Sheep and other wildlife
About 4-5 hours round trip
Bring 2-3 liters of water
No trail after you begin bushwhacking from the Savage River Trail. You will need to do some route finding
Yes. At the Savage River parking lots
Yes. At the entrance to Denali National Park
Yes. In designated spots only. Check with the national park for details
Bring some good hiking shoes and bring your hiking poles to save your back and knees. I brought my medium sized backpack to hold 2 liters of water, snacks and my camera.
No. This route to Mt. Margaret is way too steep for children.
GPS Coordinates:
Trailhead start: 63.74386, -149.2925
Cut up the mountain here: 63.74952, -149.29195
False Summit: 63.75162, -149.32443
True Summit: 63.7516, -149.34344
Trail Map
Driving Directions
The Trail:
Note: Keep an eye out for moose and bears!  I have only seen one bear in the Savage River area but I have seen lots of moose and even some caribou.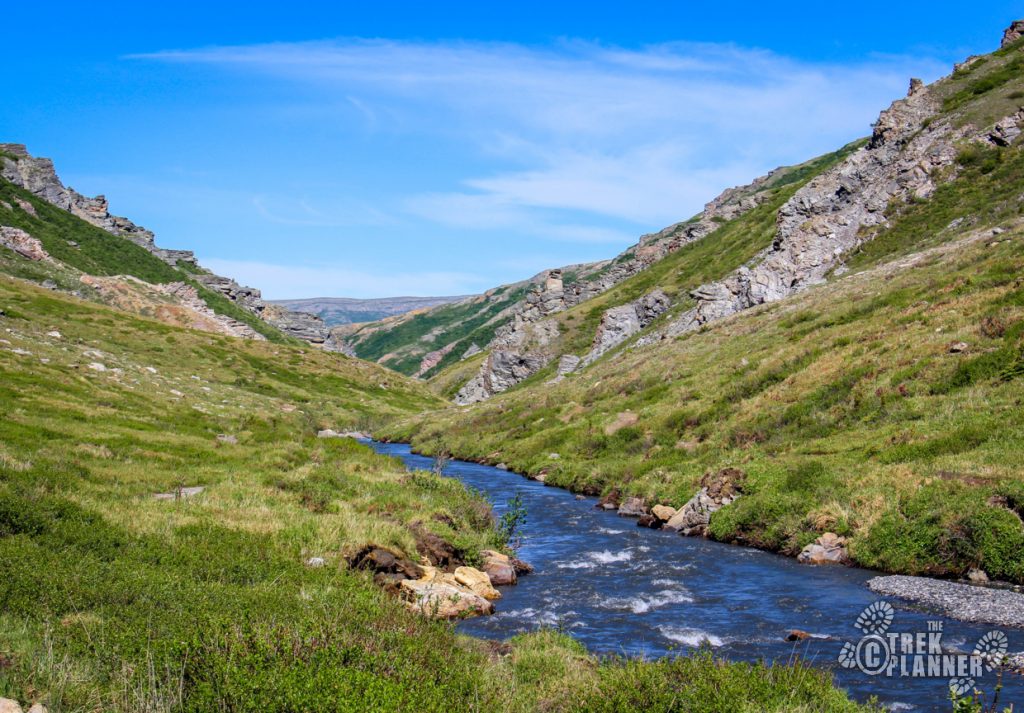 There are definitely easier ways to hike to the summit but I chose the quickest which was also the steepest too.  You won't be finding any "trails" to the top of Mt. Margaret.  You will be doing lots of route finding and planning and of course, some bushwhacking.  I planned my route by starting down at the Savage River trailhead and found some clearings along the mountain where the vegetation was lower to the ground and I just found a decent route up the top.   Of course, as I got going, I had to adjust my plan and hike around to different locations but overall I can say that this hike was very steep and rocky.
Start off from the Savage River trailhead on the south side parking lot.  You can drive to this point even though you need to drive passed the ranger station.  The ranger will, as per usual, stop and ask where you intend to go.  Just say you are parking at the Savage River trailhead and they will let you pass without any problem.
Once you are at the trailhead, hike down about 1/2 mile on the Savage River trail before you come to the wooden bridge which crosses over the river.  I found a nice clearing and simple cut straight up the mountain from here making my way to the first ridge line on the mountain.
My route was steep and sometimes dangerous because I came to several cliffs but just be aware of your surroundings and you'll be fine.
I'll be honest, at some point I wondered why I was even hiking this miserably steep mountain.  I thought about turning back and doing an easier one but then I thought I would just take a break and hike slower for a little bit (I think I was just tired!).  After taking a break, I hiked to another ridge line and found a relatively flat area.  I saw signs of Dall sheep and was hoping there was a few around.  I continued on up a little ways until I saw a Dall sheep looking at me from on top of some cliffs and was probably wondering what in the world I was doing!  I took a few photos and pressed on.
I found a talus field and heard some water cascading down on all the rocks.   I used this stream as a trail for a while until I came to the top of the mountain just above the snow you can see in the picture below.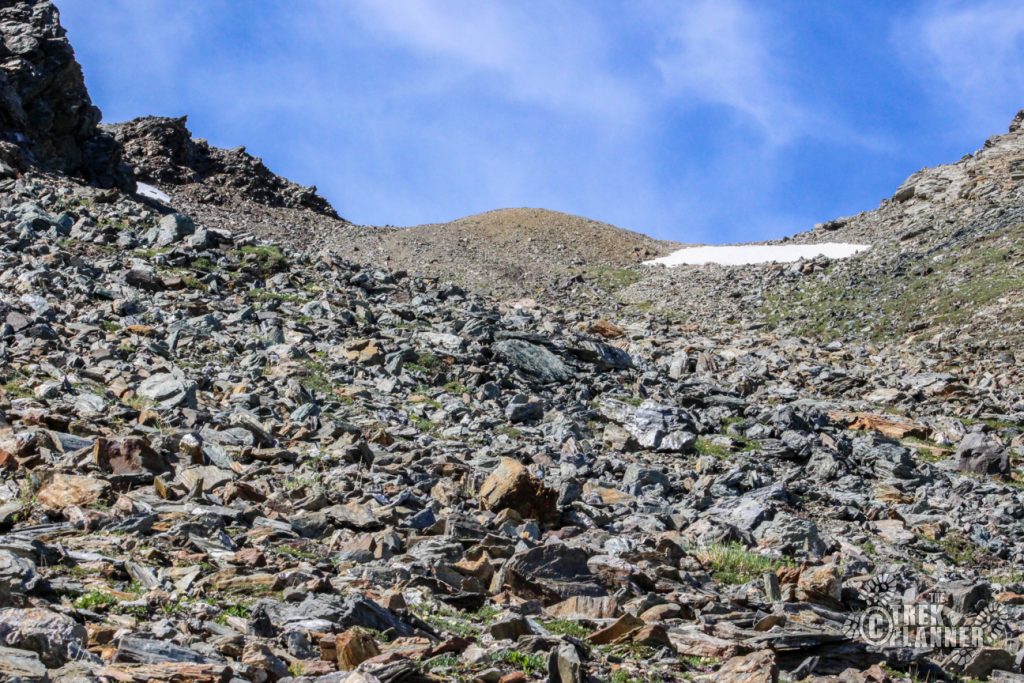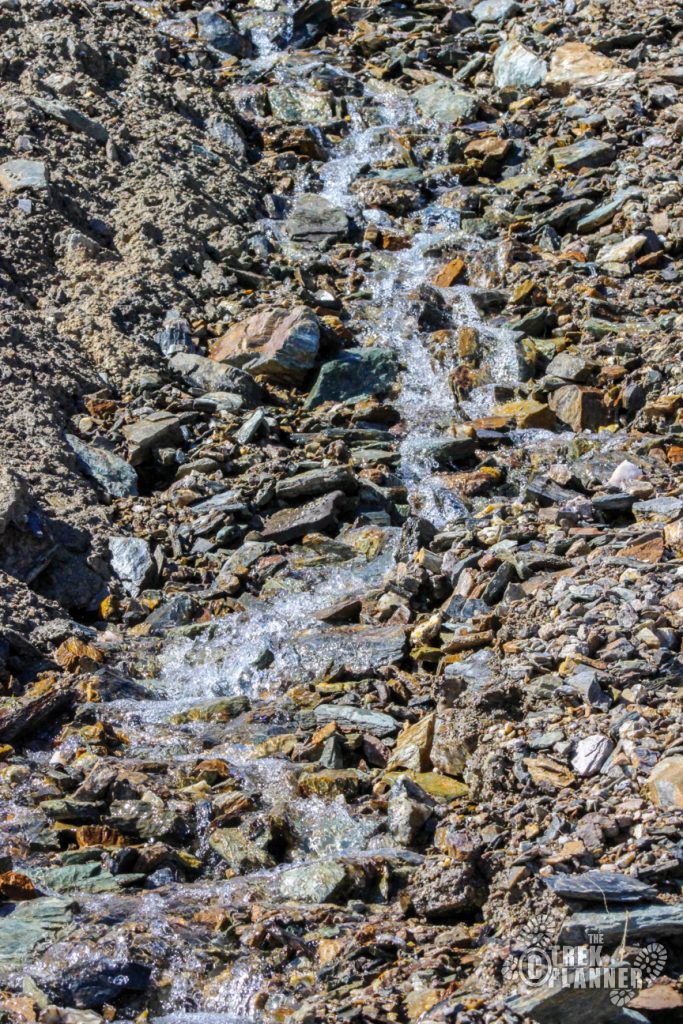 I didn't realize how high I was until I looked back towards to where the trailhead was!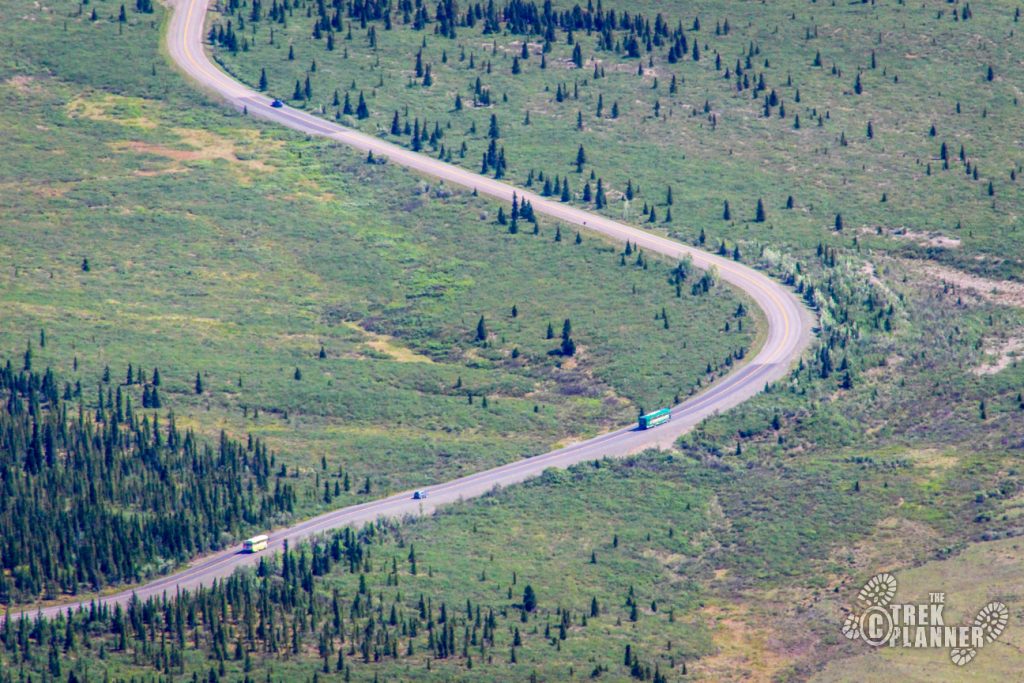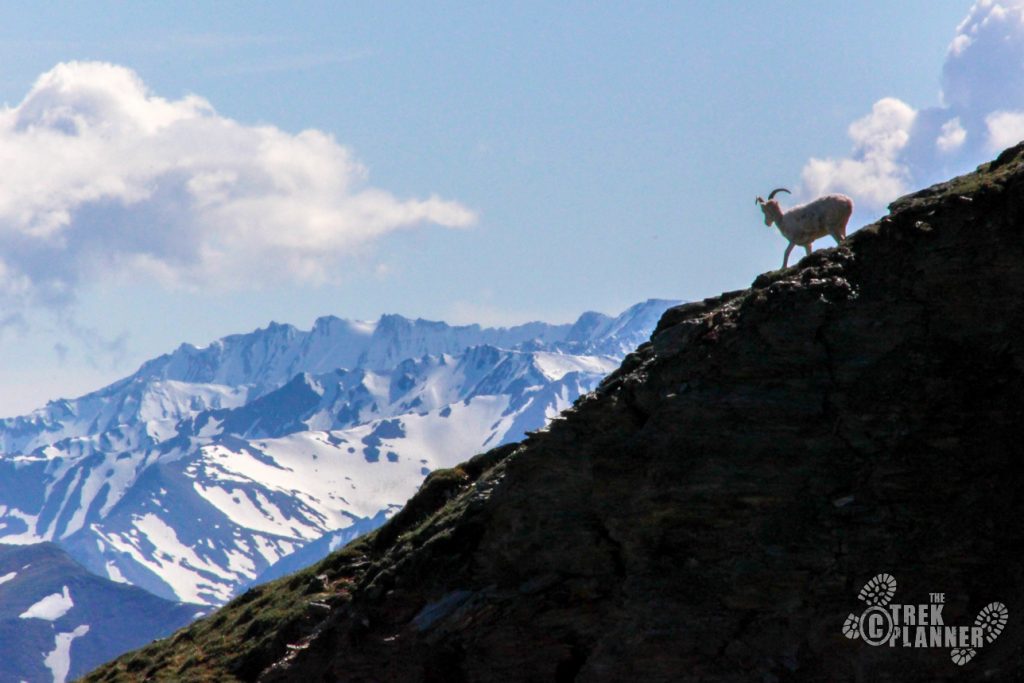 I finally got to the top and realized that Mt Margaret is VERY flat.  Being from Utah, it reminded me of a mesa, but Margaret is covered in short grasses and flowers.  There are some boulders on the top which were fun to explore and I found a giant field of just small puddles of what appeared to be fresh water – I wouldn't drink it without a filter though.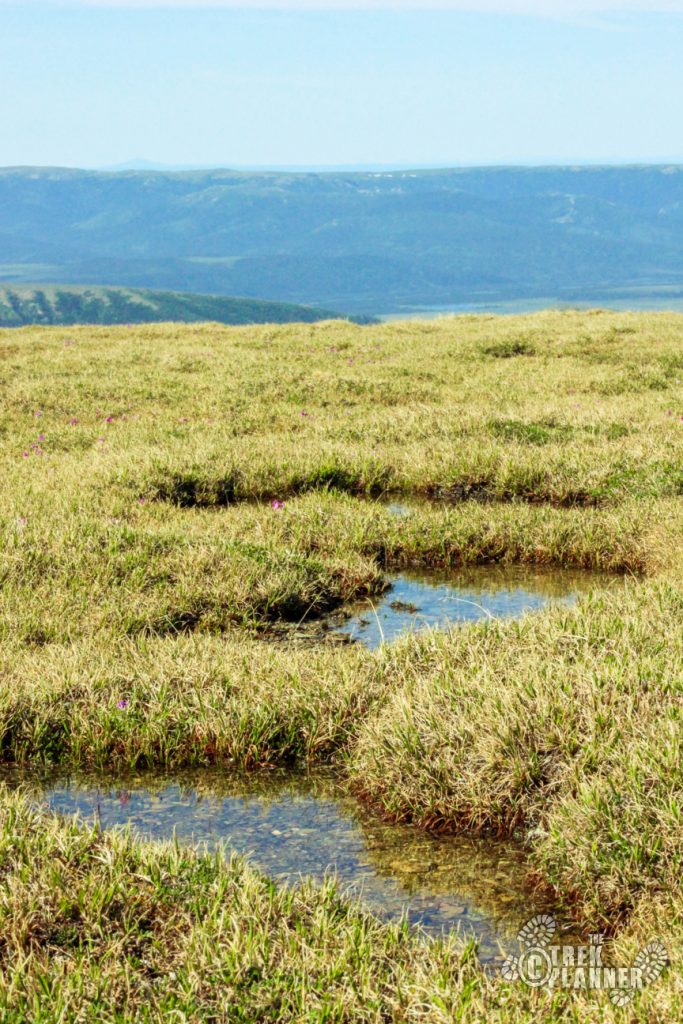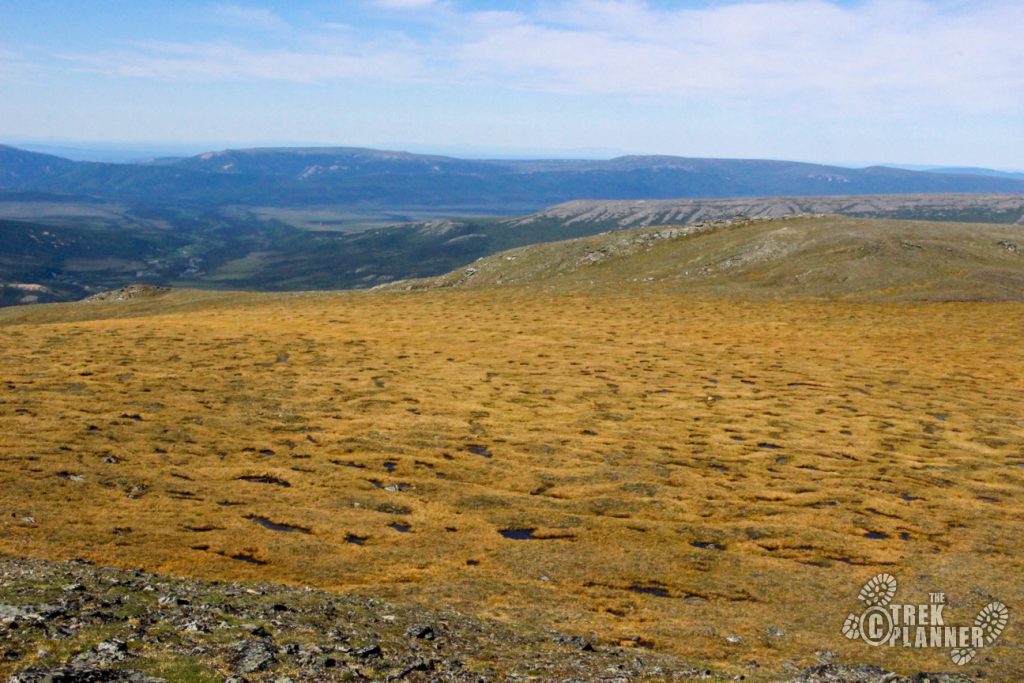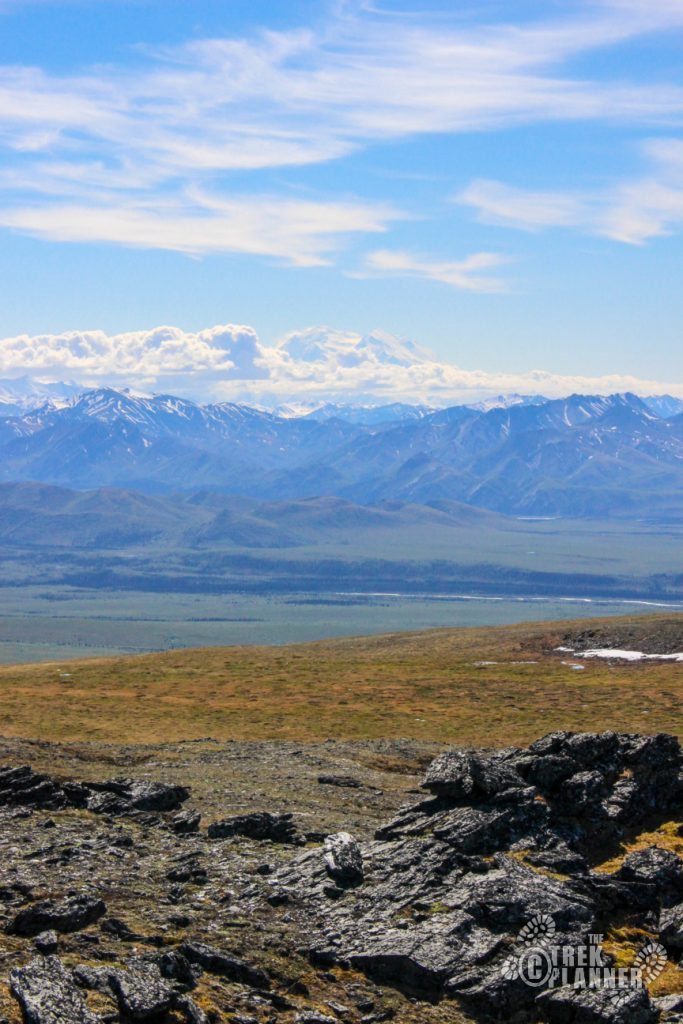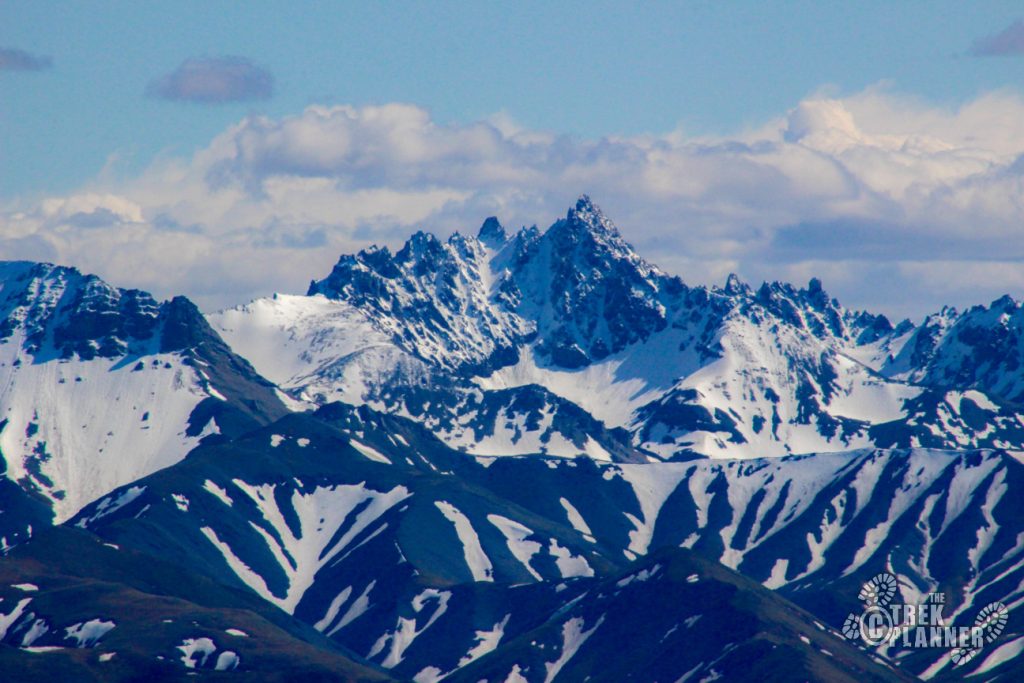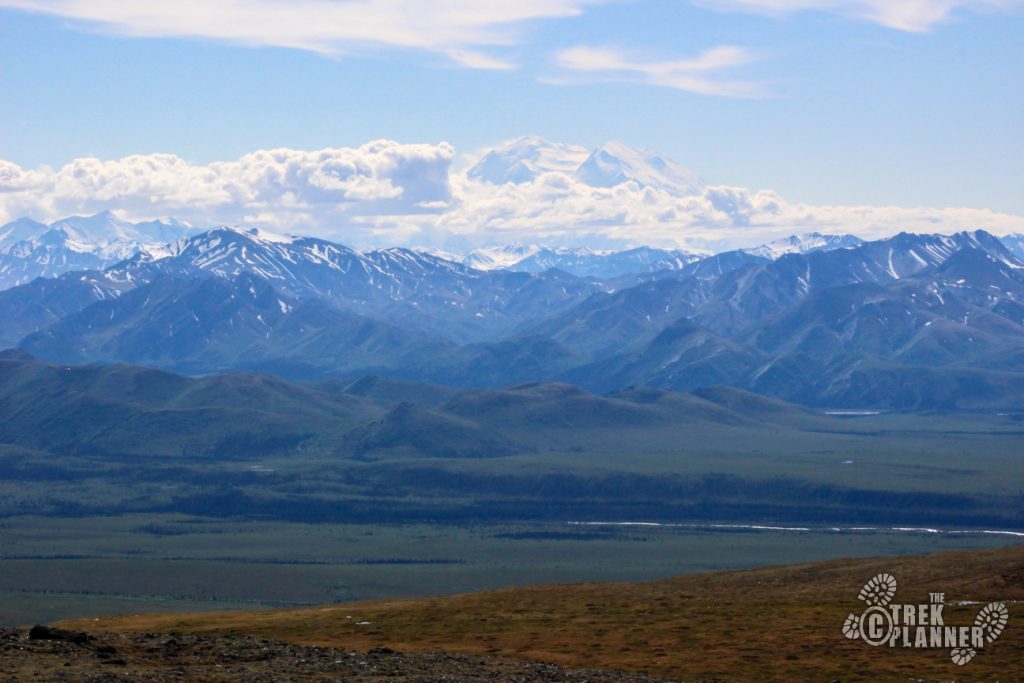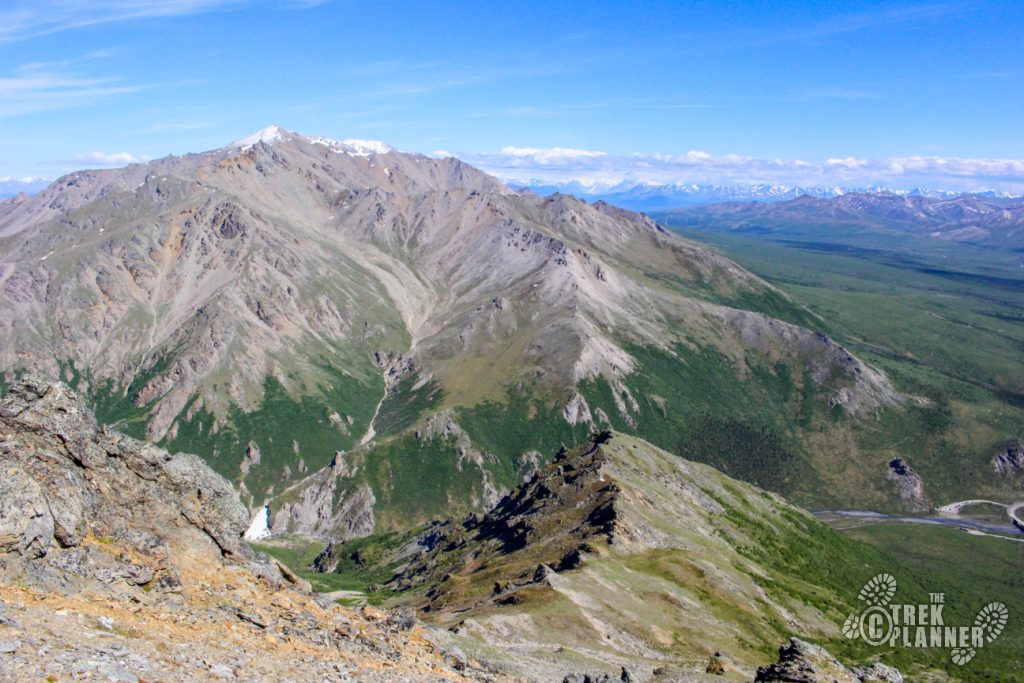 I spotted some rocks on what appeared to be the summit and went to the top of those.
After returning home, I was a little disappointed to find out that I hadn't climbed to the top but I was at the false summit!  The true summit is another 1+ miles away from here.  Oh well! At least I enjoyed the hike!

The Return:
Head back down the same way.
Personal Thoughts:
For several years now, my friend has been telling me she loves this hike and I can see why.  For me, I wouldn't say it was a favorite one of mine in the area but it was still a great hike and once I got to the top it was surreal how flat the mountain was! I've heard there is an "easier" but longer route if you approach Margaret directly from the south, but you will need to hike in or take a shuttle bus to that point and honestly, I don't know where it is!
While this steep hike will scare families away, if you are looking for a good half day challenge in the national park, look no further!