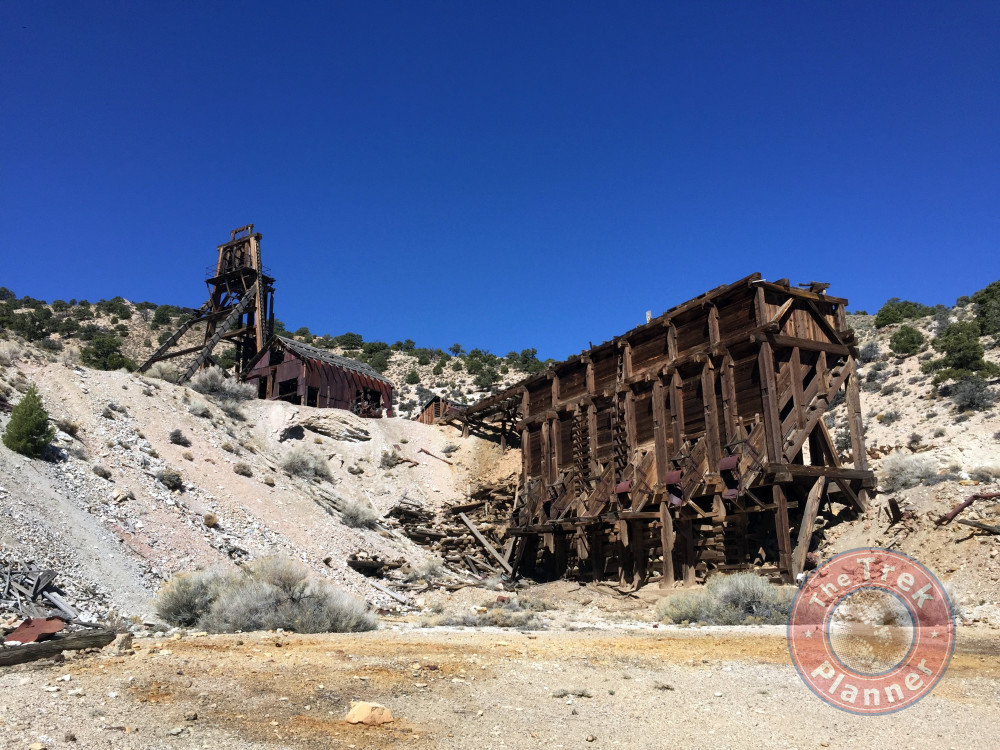 Overview
Frisco, Utah - West of Milford
Many old buildings and structures, adits, shafts, cemetery, kilns and more!
I hiked a little over 5 miles. It depends on what you do
I spent close to 8 hours exploring.
Bring lots of water since there are no good drinking sources near here.
Good hiking shoes, camera, hat, sunglasses, backpack for food and water, jacket, camping equipment (if staying overnight)
This trek compiles information regarding the Frisco ghost town and also the Horn Silver mine located west of Milford Utah.
Frisco Map:
Driving Directions: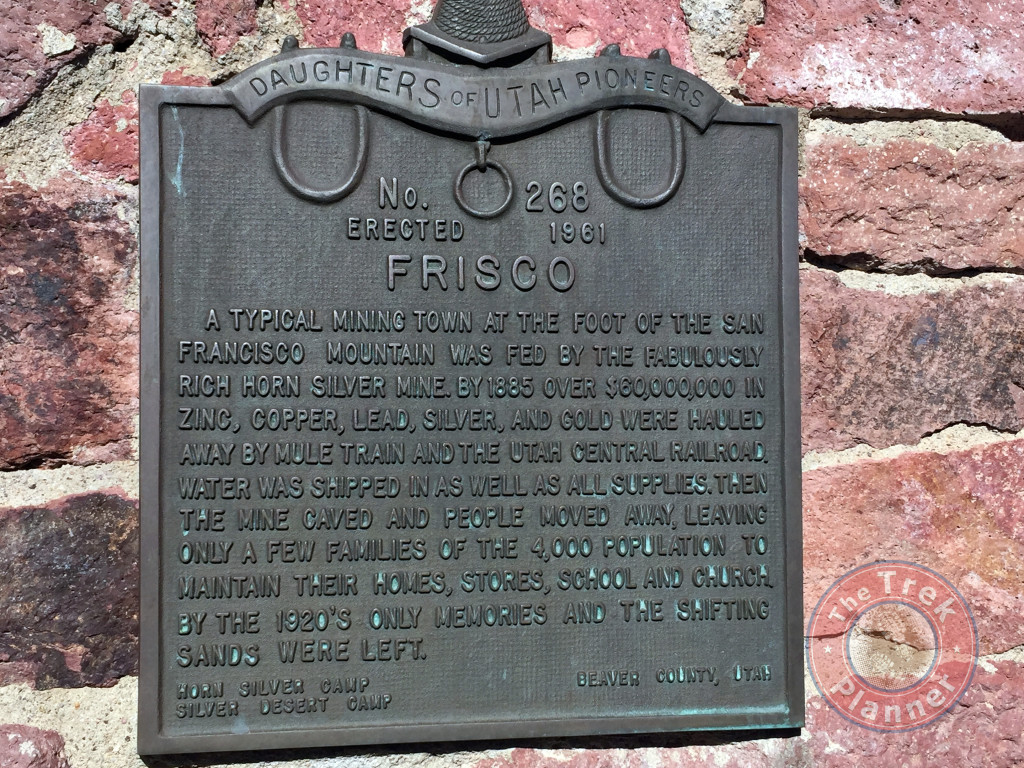 Note: When I visited I did not see any "no trespassing" signs or any sort of fencing.  I read on a few other blogs that a company came and bought the mines and land but I saw no evidence whatsoever of any recent mining activity.  If a mining company did buy the mines, they did a poor job of setting up proper fencing and placing "no trespassing" signs because I saw nothing of that sort of thing.  That being said, please be very respectful of this area! Do not take any artifacts or disturb or enter the kilns or buildings as they are all in severe disrepair and may collapse.  Do not enter any mines and structures. If you do, you enter at your own risk.
Frisco was once a large and wild mining city with close to 6,000 people during its heyday.  Nowadays, there is nothing but jack rabbits, rattlesnakes and the occasional curious visitor.  Even though there was a giant collapse in the Horn Silver mine which basically made Frisco a ghost town over night, the mine tunnels were mostly cleared out during the late 1890's and early 1900's but the entrances have since been gated and sealed shut making it impossible to enter.  The mine is immense and it would be incredible to explore someday!
Just driving by this area you can get a real sense that this used to be a happening place.  There are ruins scattered all over with large kiln ovens, foundations for buildings, tailings, mine entrances, cemetery, retaining walls and of course the few remaining standing structures.  This area is quite dangerous because of the many shafts, adits, pits, trenches and artifacts laying all over.  Not to mention the poisonous gas coming out of some of the mines and shafts.  Please be very careful if you venture off the road.
I wasn't planning on making this an exhaustive research Trek but the deeper I dug the more I found and I became more curious – sounds like a miner!  If I find more information I will compile it here.
This Trek will be designed so that you can easily navigate using the section anchors to the left. Find the section heading to the left and click it to go to the section you are looking for.
All of the historical information will be listed first.
Frisco City Characteristics
The biggest reason why Frisco even existed was because of the Horn Silver Mine and accordingly I will spend the bulk of this Trek detailing the operations of this massive mine.
During the bonanza era of Frisco and the Horn Silver mine, Frisco was known as one of the wildest places in the west.  Lawlessness was abundant and nightly killings were more than common.
During the

late

1880's there were 6,000 residents of Frisco and many businesses:

4,000 residents worked for the mining operations with 500 men working inside the actual mines.
the Frisco population included many Mormons and non-Mormons (this is significant considering there were many Mormons who worked the mines and even the mine manager Farnsworth was a prominent Mormon).
23 saloons
restaurants
churches
one school house
stores
hotel with a dance hall
hospital
brothels
kilns for smeltering
several boarding houses
two Chinese wash houses
smelters
cemetery
"Boot Hill" make shift cemetery for criminals
40 mile telegraph line to Beaver
The Frisco Mining and Smelting company employed 18 men who were paid $3-4 per day.

Frisco had a very high crime rate according to newspapers and journals.  December 28, 1880 "a lawman known only as Marshal Pearson was hired from Pioche, Nevada, to enforce the law.  Charlice J. Brown states that the marshal shot criminals rather than bringing them before a judge or to jail."

(SOURCE: Encyclopedia of Immigration and Migration in the American West)

In 1885 there was a huge mine collapse at the Horn Silver which stopped production for a number of years.  The collapse was due in part to the poor timbering in the time.
The mine eventually re-opened and major production was again underway after a number of years.   During a large part of its lifetime, the Horn Silver gave the United States more than half of its total silver production. Many of the tunnels were cleared out of rock and debris and even new tunnels were dug.
The city of Frisco dwindled significantly after the mine collapse.
During World War II when many mines were closed due to the passing of the Limitation Order L-208 by the War Production Board, the Horn Silver mine stayed open to support the war efforts.
The mine saw a series of re-openings and other companies bought the rights including the large Anaconda Company.

(SOURCE: Encyclopedia of Immigration and Migration in the American West)
Horn Silver Mine Characteristics
Horn Silver ore body discovered by James Ryan and Same Hawkes in August 1875
Ryan and Hawkes sold the mining claim for $25,000
As of March 1879 the Horn Silver produced:

10,352 tons of lead
1,293,250 ounces of Silver

By 1880 the Horn Silver area had 800 people including the following skilled laborers:

4 coal contractors
21 coal burners
7 stonemasons
1 brick mason
4 wood contractors
five wood choppers
Most of the residents were between 27-42 years old
During 1880 the construction of the railroad from Milford to Frisco was built.

The United States Annual Mining Review and Stock Ledger stated that the Horn Silver mine was the richest silver mine in the world.

(SOURCE: Encyclopedia of Immigration and Migration in the American West)

In 1885 there was a huge mine collapse at the Horn Silver which stopped production for a number of years.  The collapse was due in part to the poor timbering in the time.  The mine was set up as sort of a trench or pit until it was later established as more of a tunnel system.

The mine collapse happened during a shift change so no one was injured or killed.  The foreman thought he heard some tremors or rumblings underground so he didn't allow the next shift to go down the mine.  Then, an even bigger collapse was heard and felt all the way at Milford!  This collapse basically shut the whole town down and many people left after this.

The mine eventually re-opened and major production was again underway after a number of years.  Many of the collapsed tunnels were cleared.  During a large part of its lifetime, the Horn Silver gave the United States more than half of its total silver production.
In 1901 the mine was assessed to having

per ton

:

25-60% of lead
20-70 ounces of silver
$1 worth of gold
Quantities of zinc, copper and other minerals
Lower levels of the mine had galena

The Horn Silver mine was gigantic and had 16 levels worth of tunnels and shafts
The main shaft drops 1,600+ feet
The Horn Silver mine had very large stopes and caverns
The King David shaft eventually was tunneled into the Horn Silver mine.
Close to $60,000,000 and reports of up to $70,000,000 worth of ore were extracted from this mine alone.
During World War II when many mines were closed due to the passing of the Limitation Order L-208 by the War Production Board, the Horn Silver mine stayed open to support the war efforts.
The mine saw a series of re-openings and other companies bought the rights including the large Anaconda Company.

(SOURCE: Encyclopedia of Immigration and Migration in the American West)
Collected History
The below pictures were taken in roughly the same spot of the Horn Silver Mine.
"Good ol' days"

How did Frisco and the Horn Silver mine come to be?
So how did this place come to be? How about one of the miners themselves tells you about the beginnings of Frisco…
"W.A. Hooker, in a report to the Horn Silver Mining Co., dated April 5, 1879, makes the following statement concerning the discovery and early history of the mine.  The remarkable deposit of ore was discovered September 24, 1875, by James Ryan and Samuel Hawkes.  A shaft was commenced and had been sunk about thirty feet in ore when the claim was sold February 17, 1876, to A.G. Campbell, Matthew Cullen, Dennis Ryan and A. Byram, to whom is due the credit of having developed the mine and brought the district to its present state of prosperity.  

These developments have resulted in proving the vein to a depth of over 280 feet, and about 25,000 tons of ore have been extracted and into billions.  On February 17, 1897, the mine came into the possession of the Horn Silver Mining Company, and has been worked by that company to the present time.  From 1880 to 1884 it was one of the largest producers of lead and silver in the state.  On February 12, 1885, the ground which had been settling for some time, caved to the seventh level. The shaft was closed and the extraction of ore was interrupted for some time.  The mine was reopened however, and has since been a steady producer."
In another article it is mentioned James Ryan and Samuel Hawkes sold the mining claim for $25,000. Biggest mistake of their lives.
To access the bulk of the history we have compiled for Frisco, you will need to purchase a Trek Planner membership.
The content you are trying to access is only for Trek Planner Insiders. Signup
Recent Exploration and Information
I spent about 8 hours total over two days exploring the area and checking out much of the old buildings and artifacts laying around.  Most of the mines are sealed up with concrete or a bat gate style so it was impossible for me to enter them.  The King David mine was also sealed up and I smelt some propane-type gas coming from the entrance which after about a minute I started feeling a little sick and light headed.  Not sure what kind of gas this is but it didn't smell good and I didn't want to find out!  Better be safe than sorry!  The Horn Silver is also sealed making it impossible to enter.
Frisco Cemetery
When I pulled up to the area I immediately checked out the cemetery which was really quite depressing but interesting.  Many of the tombstones have since been knocked over or completely destroyed.  Also, there were lots of children buried in the cemetery so it was double depressing.











Frisco Kilns
By this time, it was getting darker and I wanted to get some good shots of the kilns before it was too dark.  So I got in my car and headed over to the 5 large kilns.  These 5 kilns are just some of the many scattered around the greater area.  These were used for a multiple of purposes such as charcoal and smeltering.  There is a chain link fence that surrounds the kilns but someone has since destroyed part of it so you can walk right up to them.  They are falling apart and I didn't dare  touch or walk inside of them and I recommend you do the same.
In some of the newspaper articles I found that the kilns were staffed by one man per kiln and they would operate in a 24 hour shift.
The kilns are listed on the National Register of Historic Places.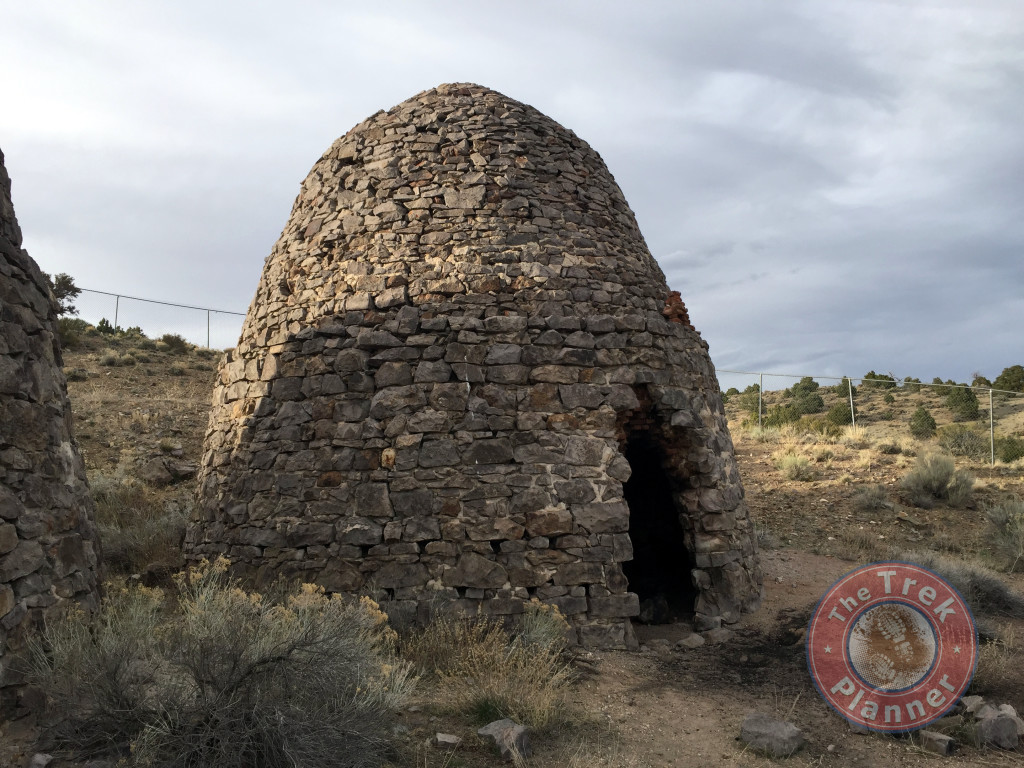 I then walked around the area in close proximity to the kilns and found lots of old buildings, foundations and machinery laying around!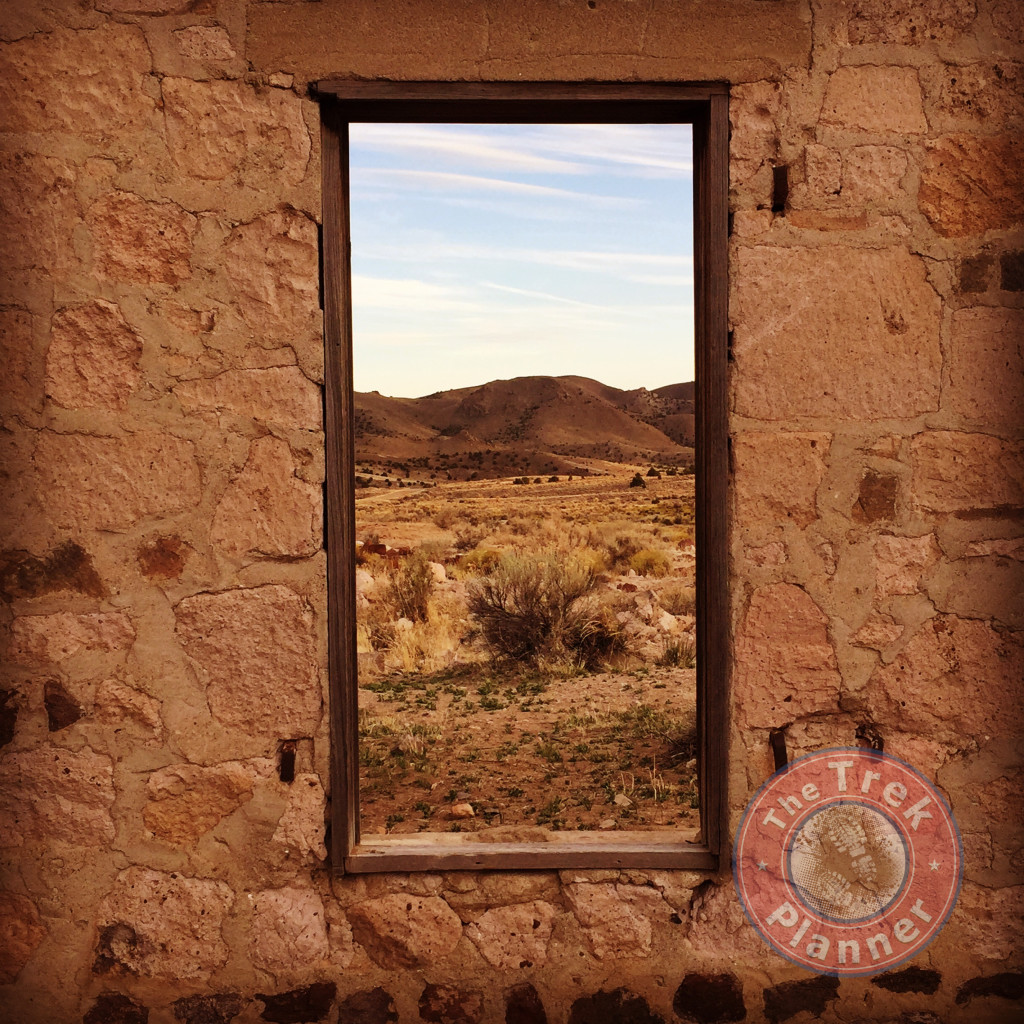 After seeing the kilns and the ruins nearby, I got back in my car and headed back to where there was a gate which made it impossible for me to drive through with my car of course.  So I jumped out and walked up the dirt road a little bit and found some more ruins and a collapsed shaft.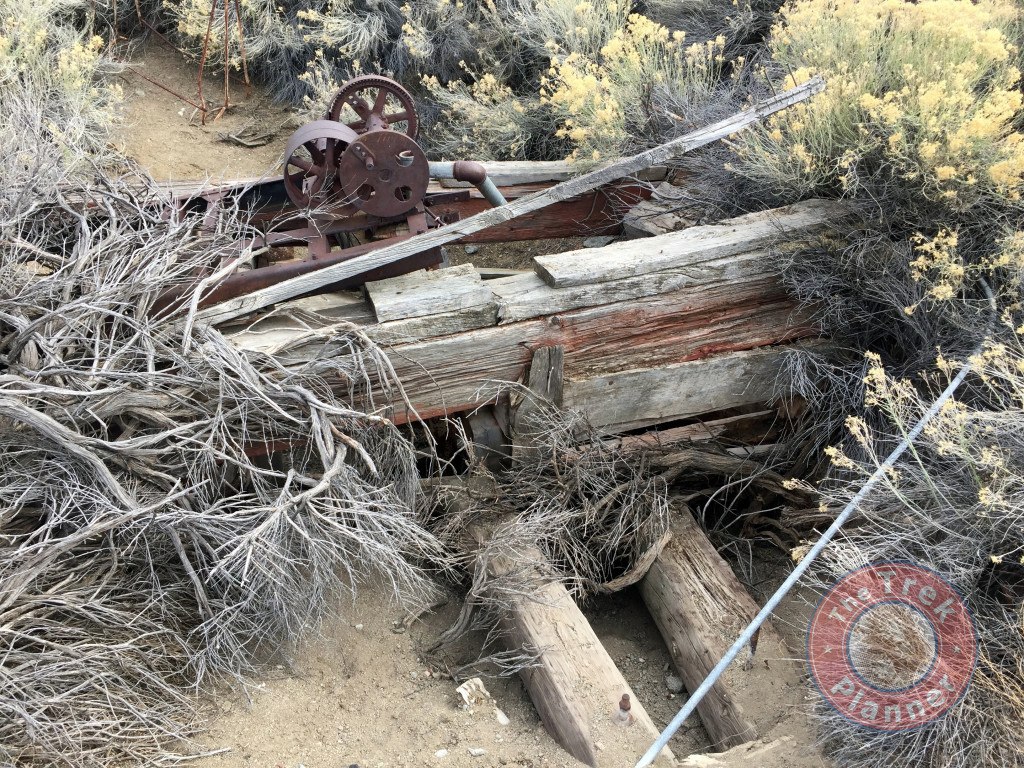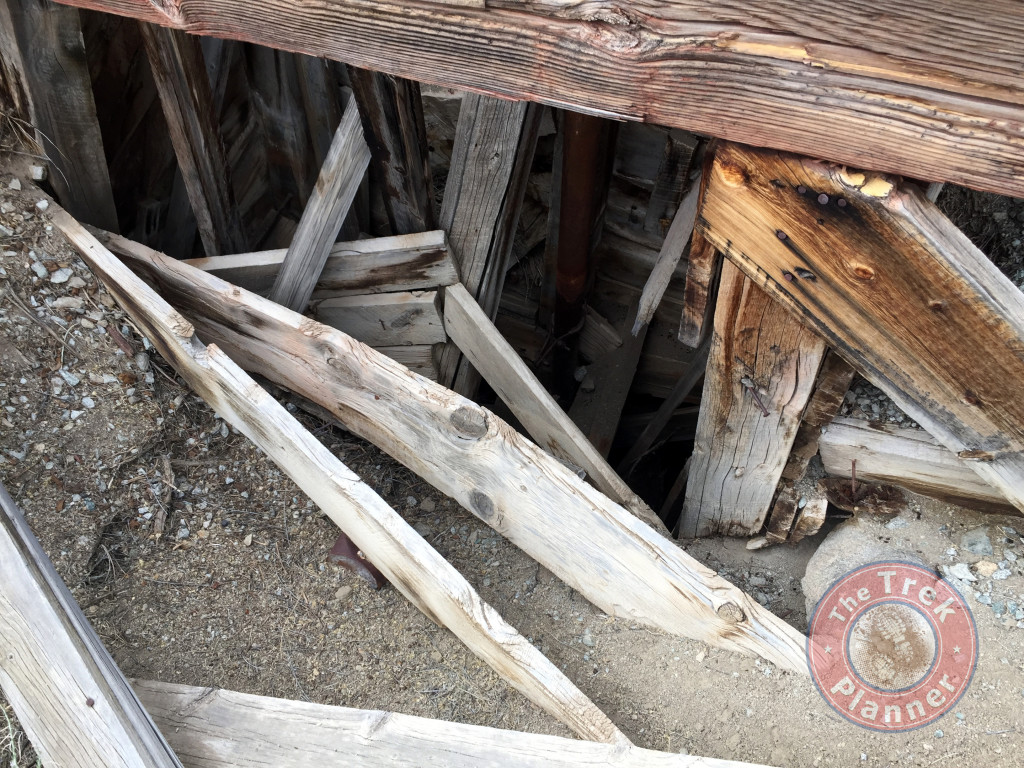 Camping
After this it began to get dark and I realized that I hadn't found a place to camp yet.  I wanted to camp near a creek or river so I found on my map a place called "Squaw Spring" which was located about a mile down the road.  I drove there and didn't find a spring or creek but I did find a cool camping spot on top of a short hill which overlooked the Wah Wah mountains and I got some really cool sunset pictures!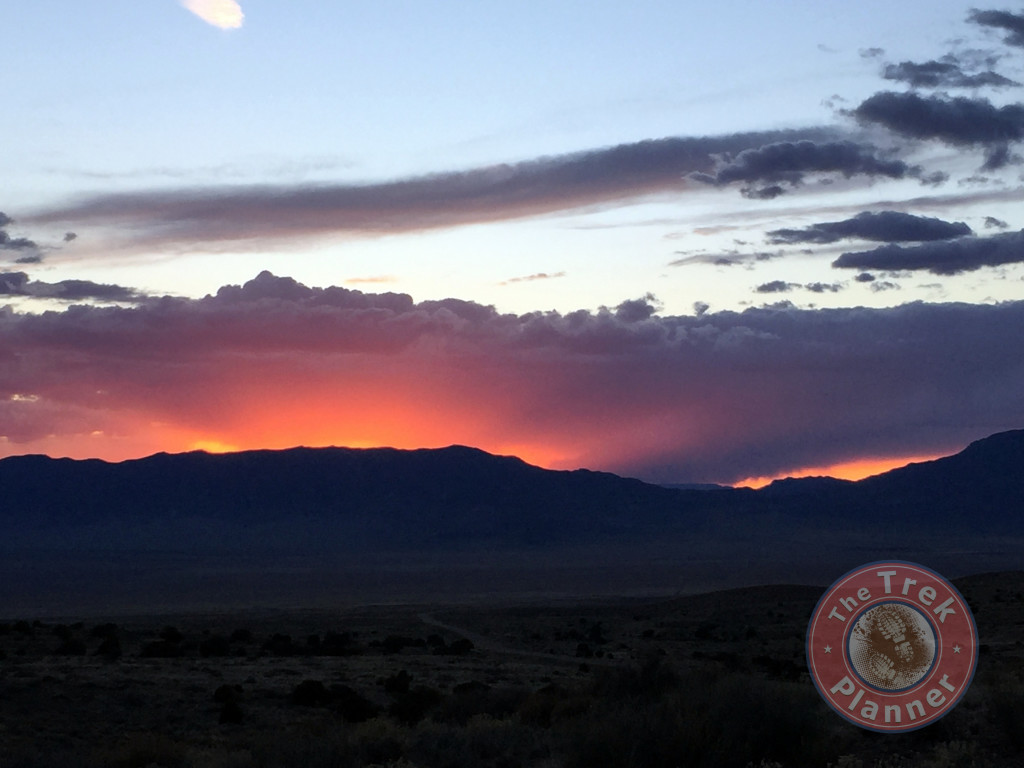 Horn Silver Mine
The next morning I drove back to the cemetery to park my car to begin the rest of my exploring around the actual mines and mill area.  I was very surprised that there were no "no trespassing" or fencing anywhere to be found since I discovered on a few other websites that an out of state company bought the mines – oh well!
Now for the crown jewel of Frisco – the Horn Silver Mine!  Over the years this mine produced close to $60,000,000 and some reports are in the $70m range!  Using an inflation calculator I found that $60 million in 1885 money is about $700 million to $1.3 billion dollars in 2016 money!  It is no wonder that Frisco was famous! And well, it was also known as a very rowdy and crime ridden city during its heyday.
Anyway…
You can see in the picture below the side of the mountain that the miners blew up and dug out.  If you go up close to it you can see some tunnels and holes high up in the rock.  This is the same area where the giant collapse happened so I do not recommend you come close to this area as you never know what could happen.
After learning so much about this mine, it felt very strange to finally see where all the action took place.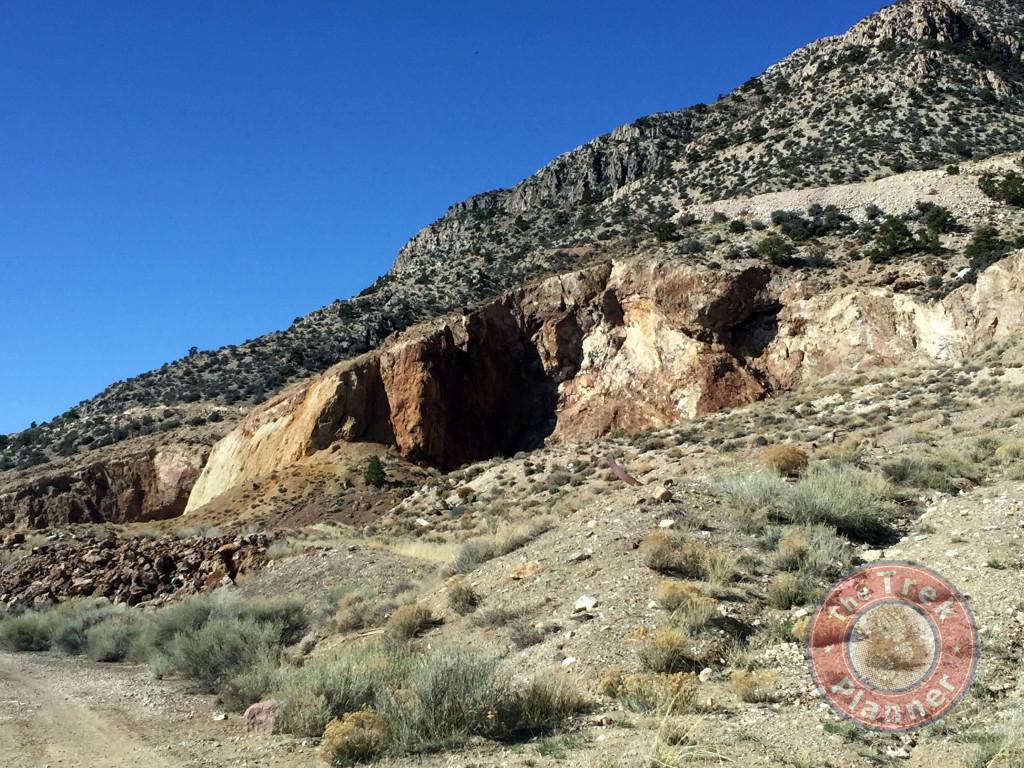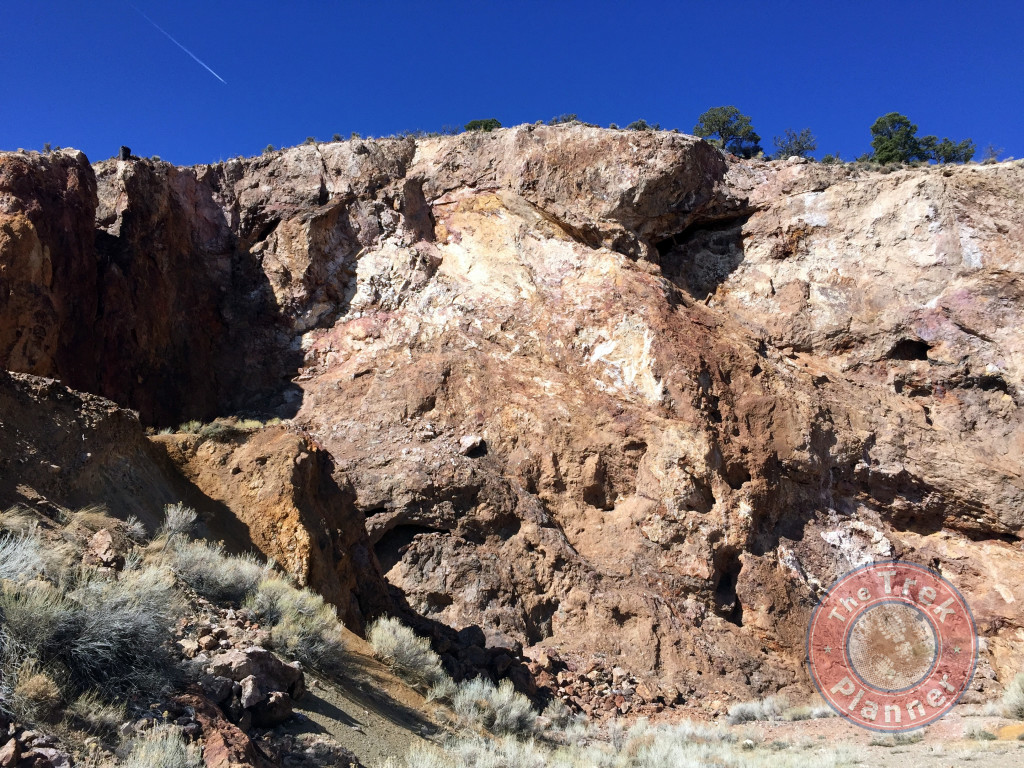 Below you can see a small adit that you might be able to climb up into.  I tested the makeshift ladder but it was shaking pretty bad and I didn't want it to break since it was about an 18 ft drop to the bottom and no one else was around!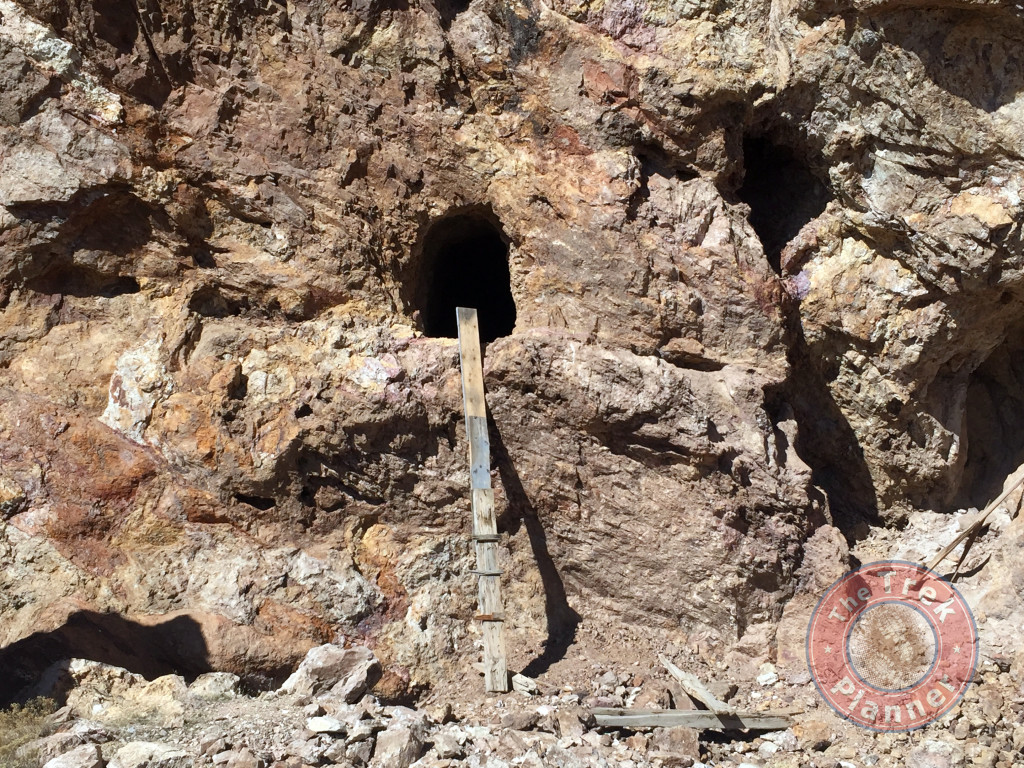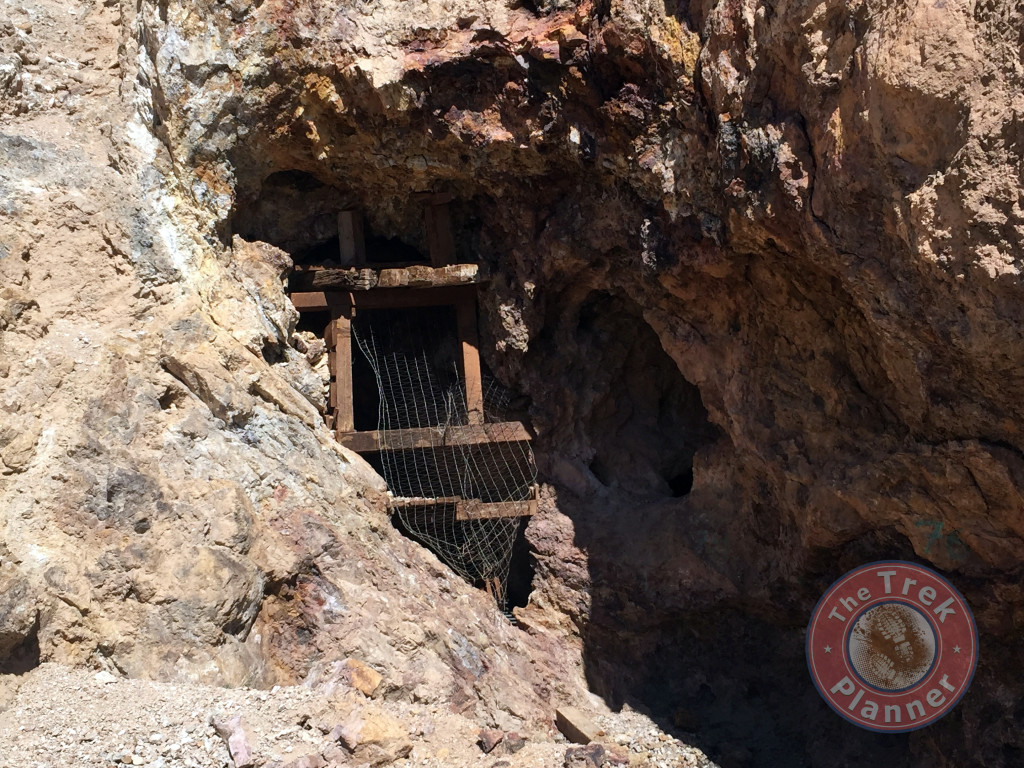 I turned around and headed back to the Horn Silver mine shaft to see what I could find there.
Horn Silver Mine Map
Here is a really cool mine map I found of the Horn Silver Mine.
This mine profile was made for the Deseret News Publication December 21 1901.  I compiled all three maps onto one page.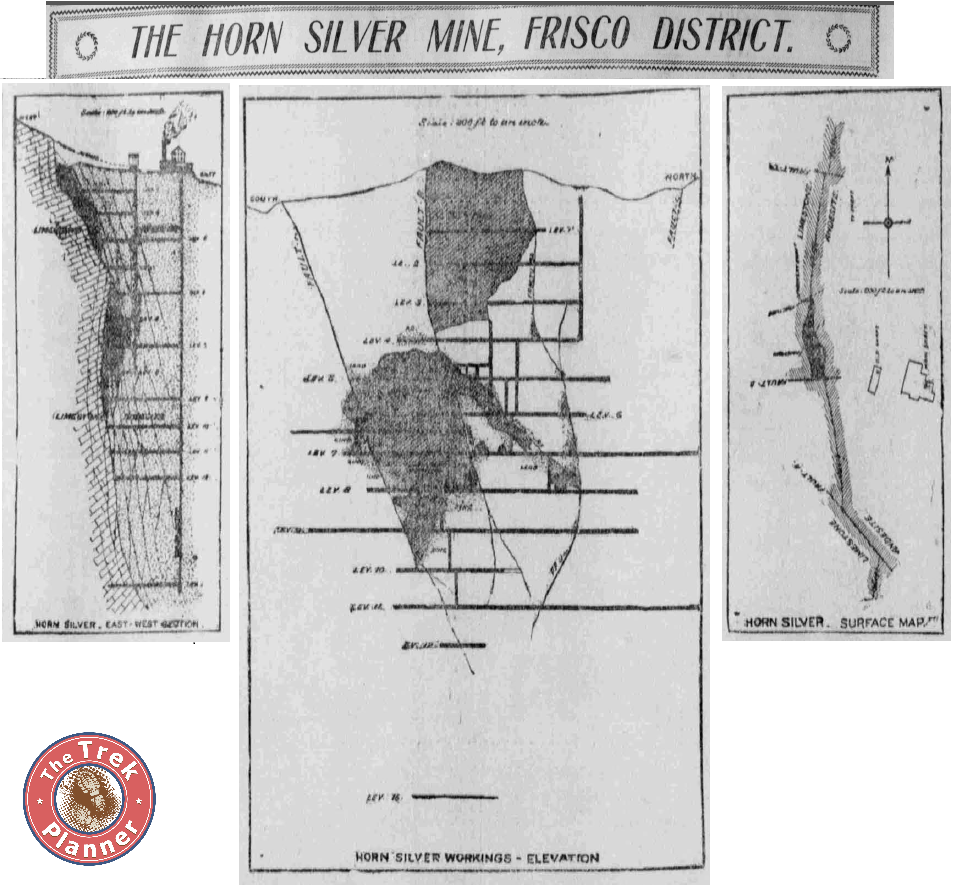 Frisco Mill and Horn Silver Mine Shaft
Just a little east was where I believe the mill was located and the main shaft for the Horn Silver Mine.  I walked right up to it and there was a grate covering the shaft which went down about 70 ft to another level.
If my interpretation is correct of the Horn Silver map, the shaft in the picture below drops more than 1,600+ feet to the very bottom 16th level!  But if you look down it you can see that it drops about 70 feet.  Maybe there is a false floor or jam?  It was amazing to think that this very mine at one point produced $60+ million!
In the photograph below you can see the mill and headframe to the shaft.  The large black patch to the right of the smoke tower is the Horn Silver mine pit area.

The mill and the Horn Silver headframe sits right on top of a massive tailings pile.
Here you can see part of the mill foundation and the tailings pile.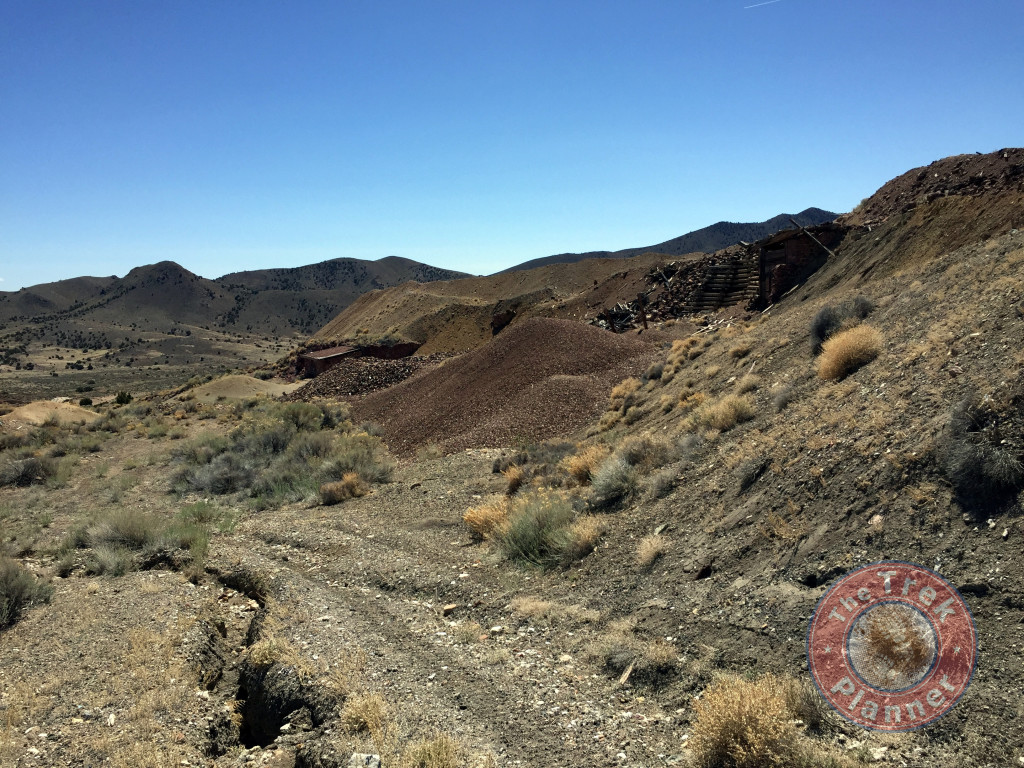 Here is another side by side comparison of the mill and Horn Silver Mine:

recent picture
There was  a cool building just below the tailings which had the ceiling falling down.  It was nice and cool inside this one but I could tell that there were pack rats living in it now.



Stone House
Next I went back to a really cool stone house which was nicely built.  I wish I knew what some of these buildings were used for!  I could almost imagine mine manager Philo T. Farnsworth walking around in this stone house planning the next phases of the mines and ordering supplies.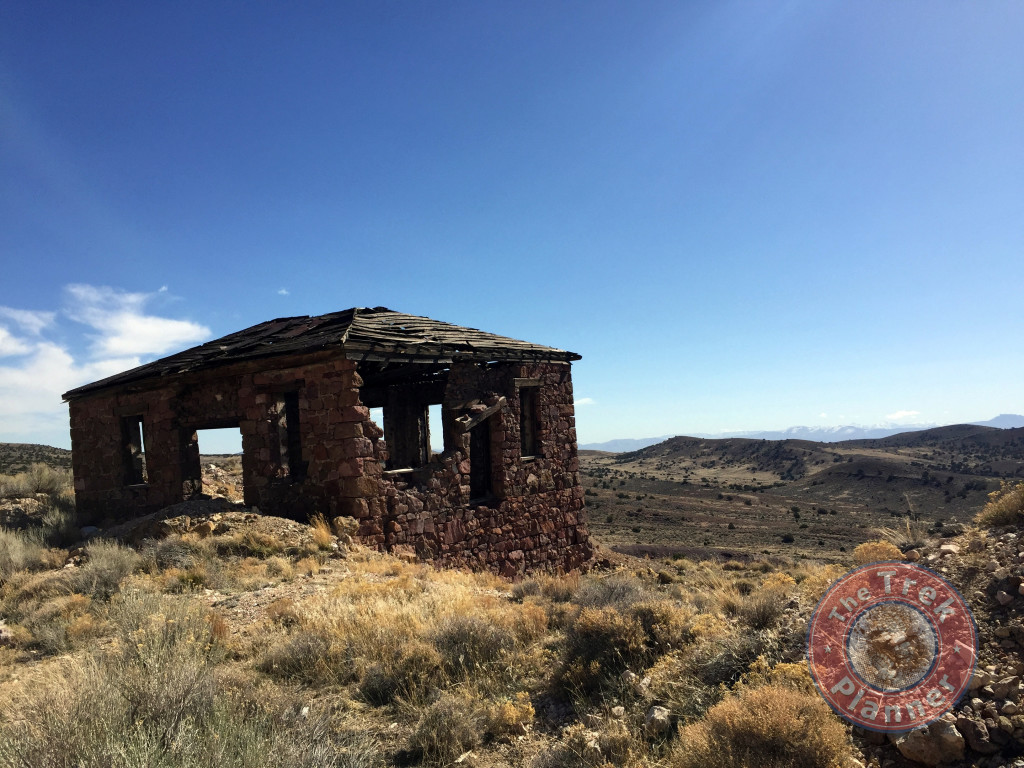 The Frisco Dam
A short walk down below the tailings was a water retaining wall and where I think the dam headgate was located.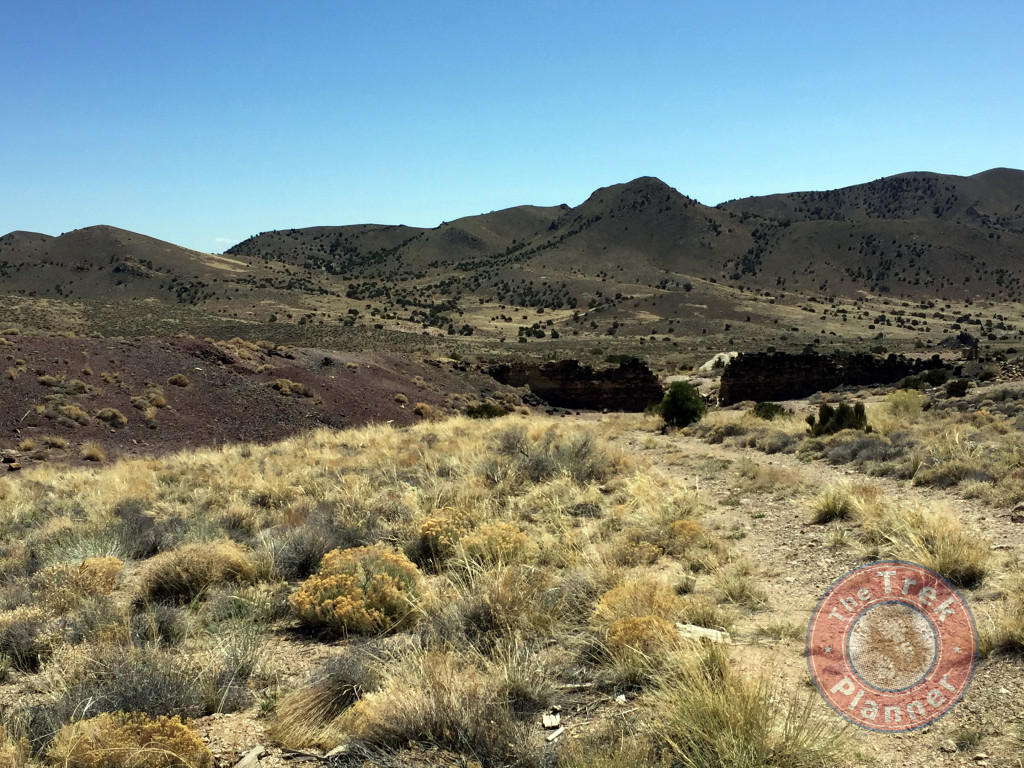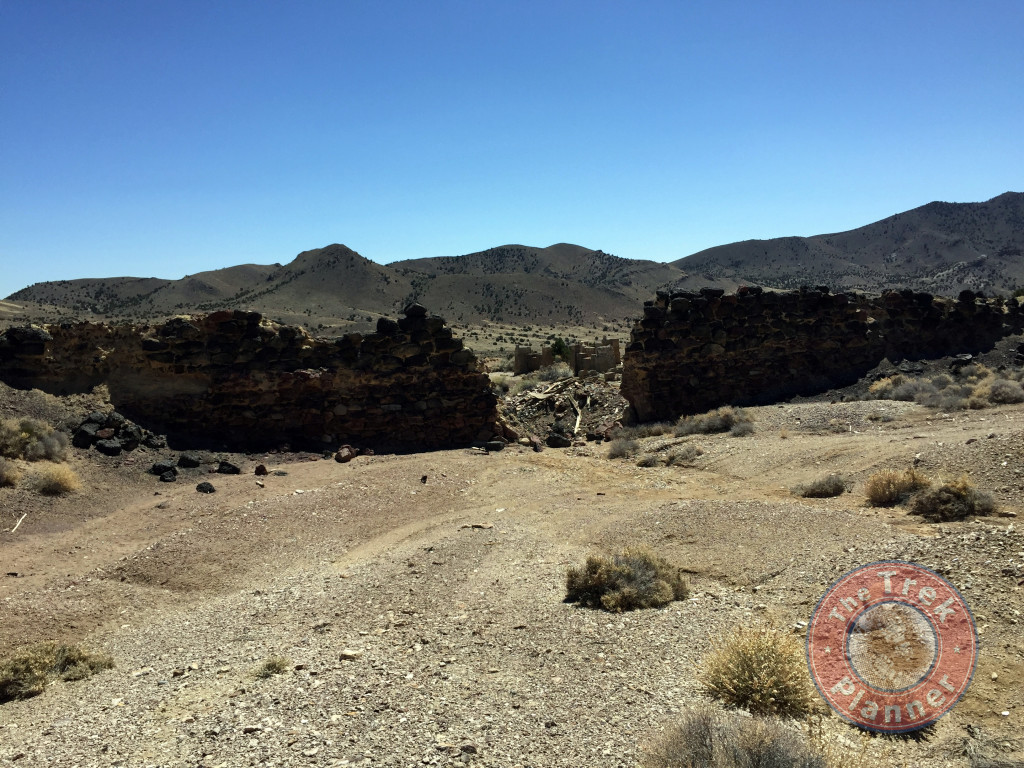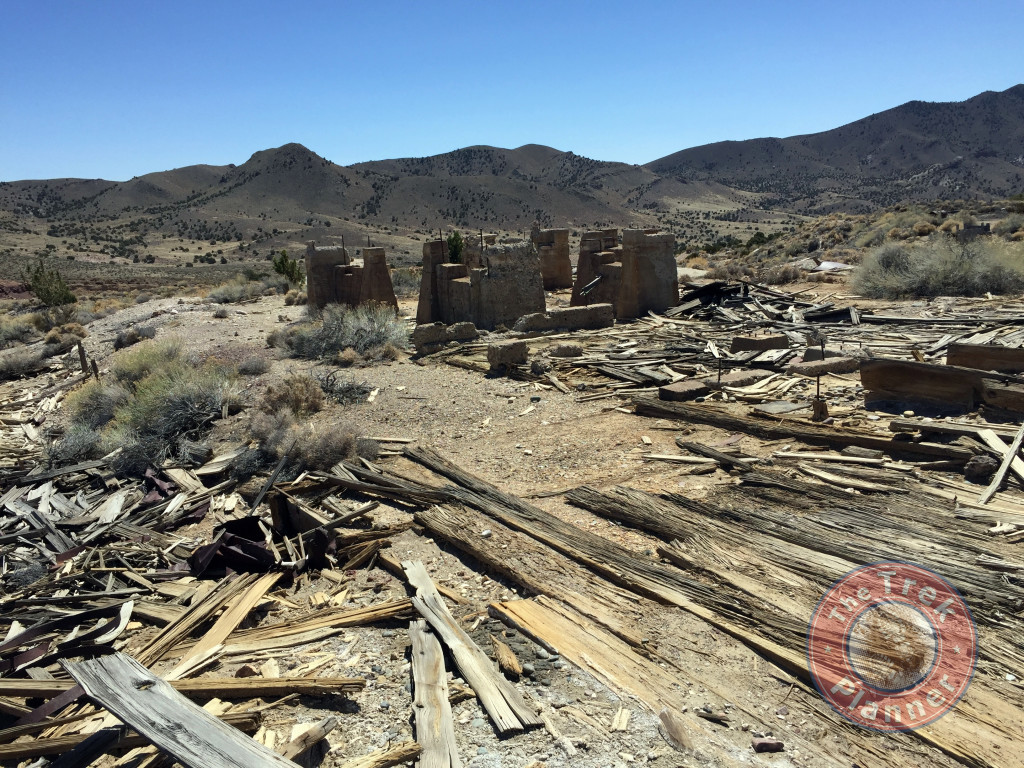 Bottomless Pit
To the west a little ways was a "bottomless" pit shaft with gate on top of it.  This shaft was probably around 300 ft deep or more. I threw in a rock and I thought I could hear it hit the bottom but I wasn't really sure if I was just hearing things…
This shaft is called a "drill hole" on the topography map above.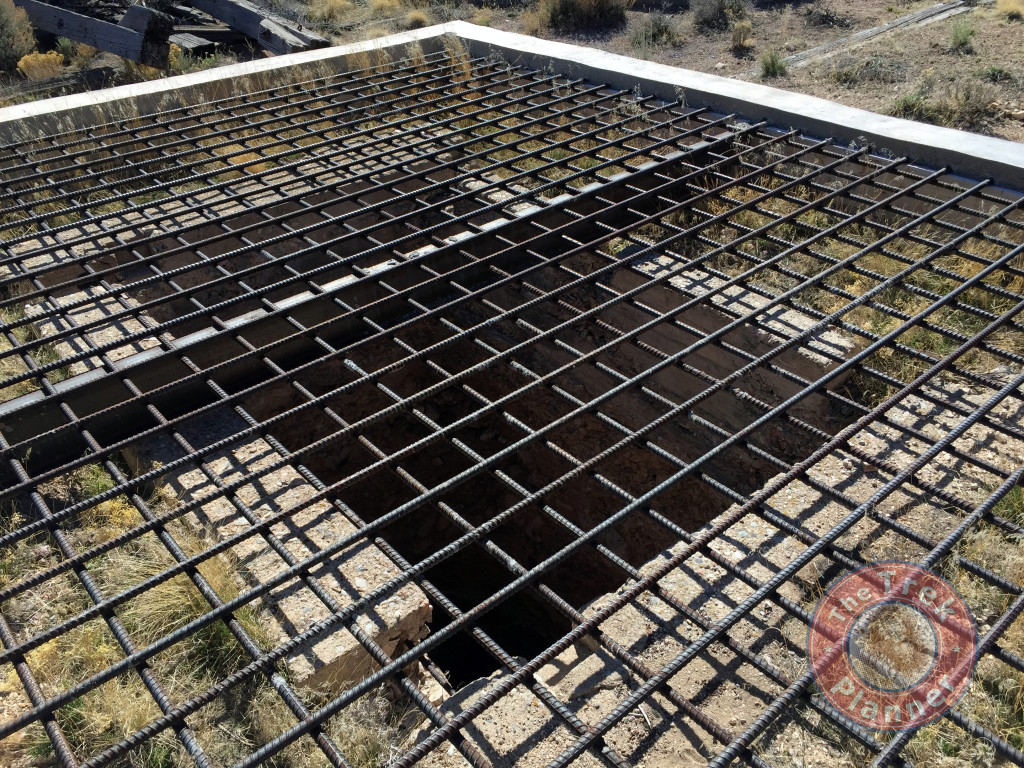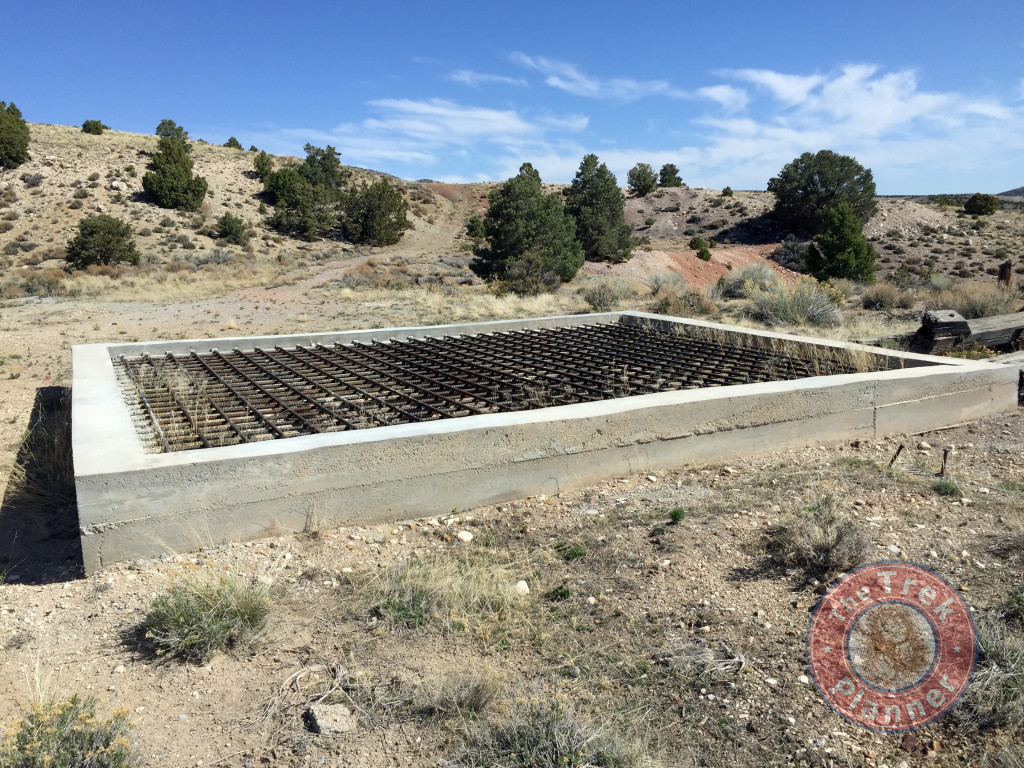 Nearby this shaft was a small shack and a very large boiler next to it.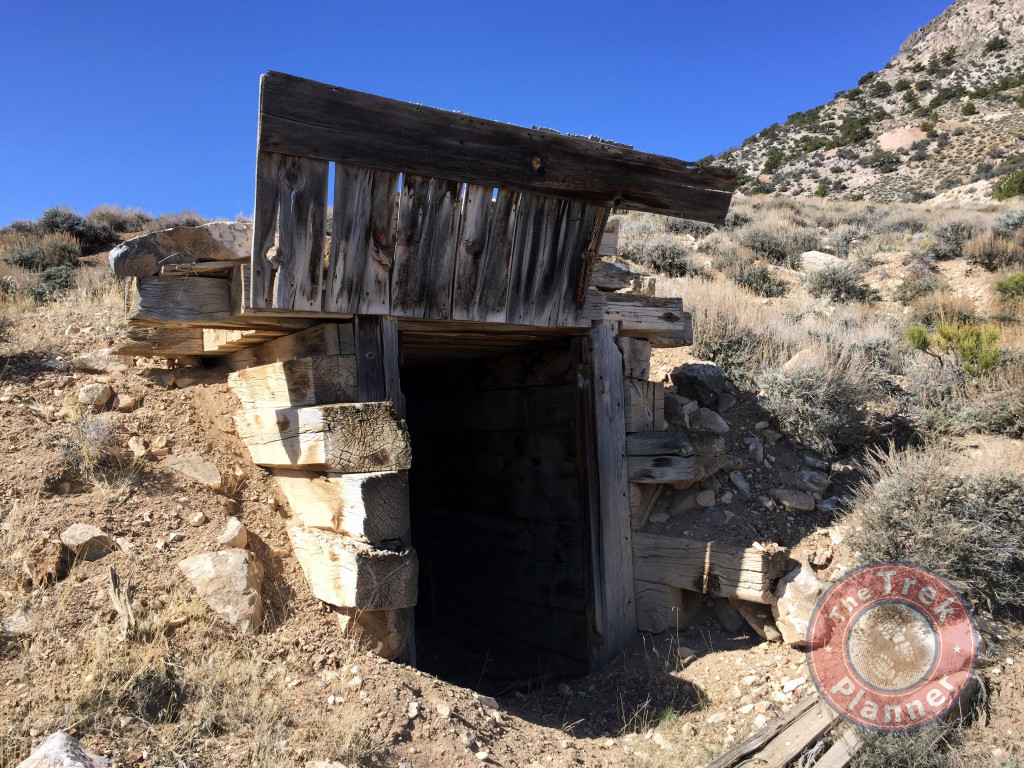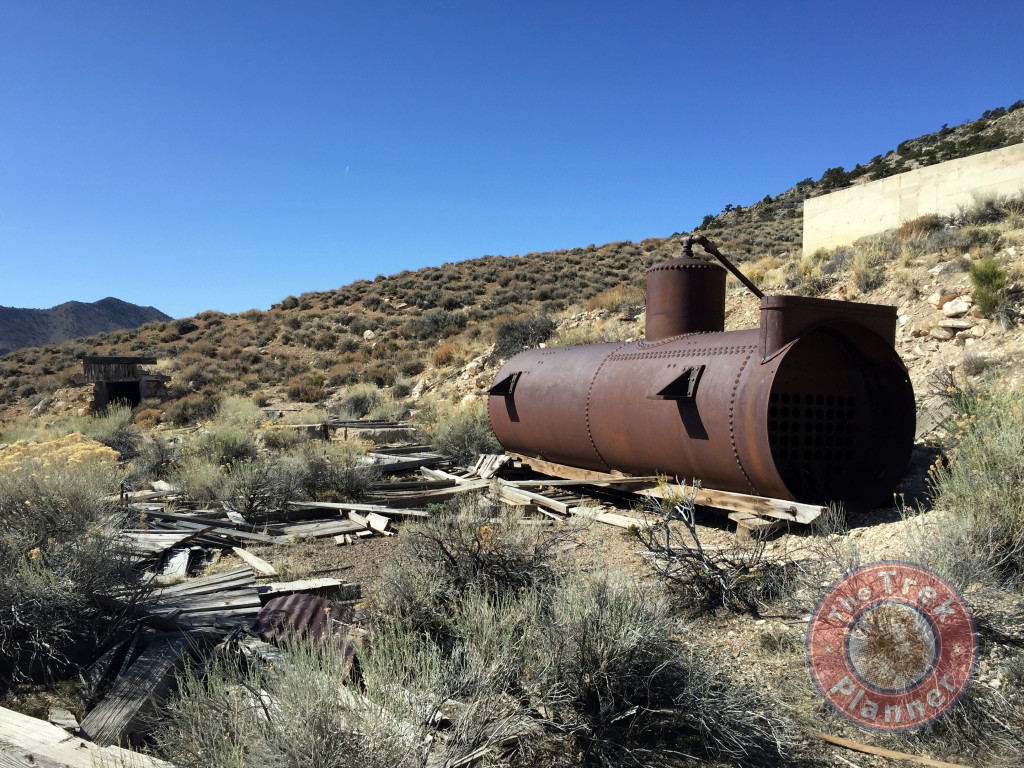 A little ways south to this was another shaft with a grate over the top.  This one looked messy and not as deep. I then found another shaft to the west of this which was completely open – I'm not sure why the DNR would spend tons of money closing short harmless adits and then leave shafts like this open! This seems to be typical of the DNR.  Anyway, this shaft seemed to be about 50 feet deep.  I wouldn't trust that ladder either!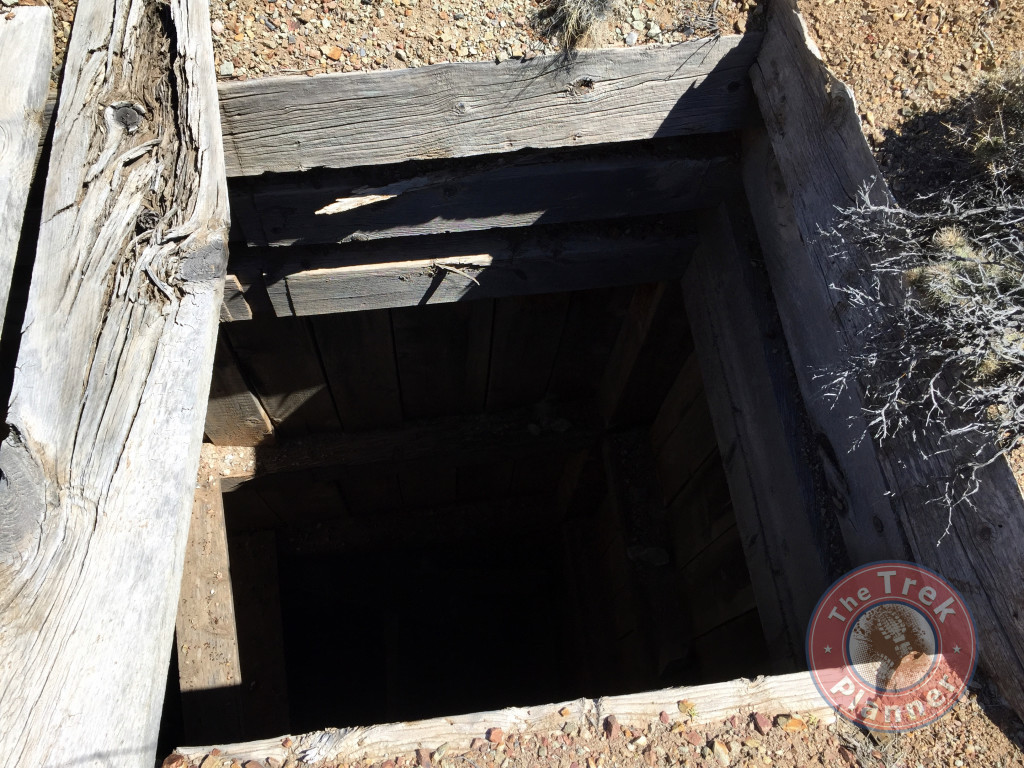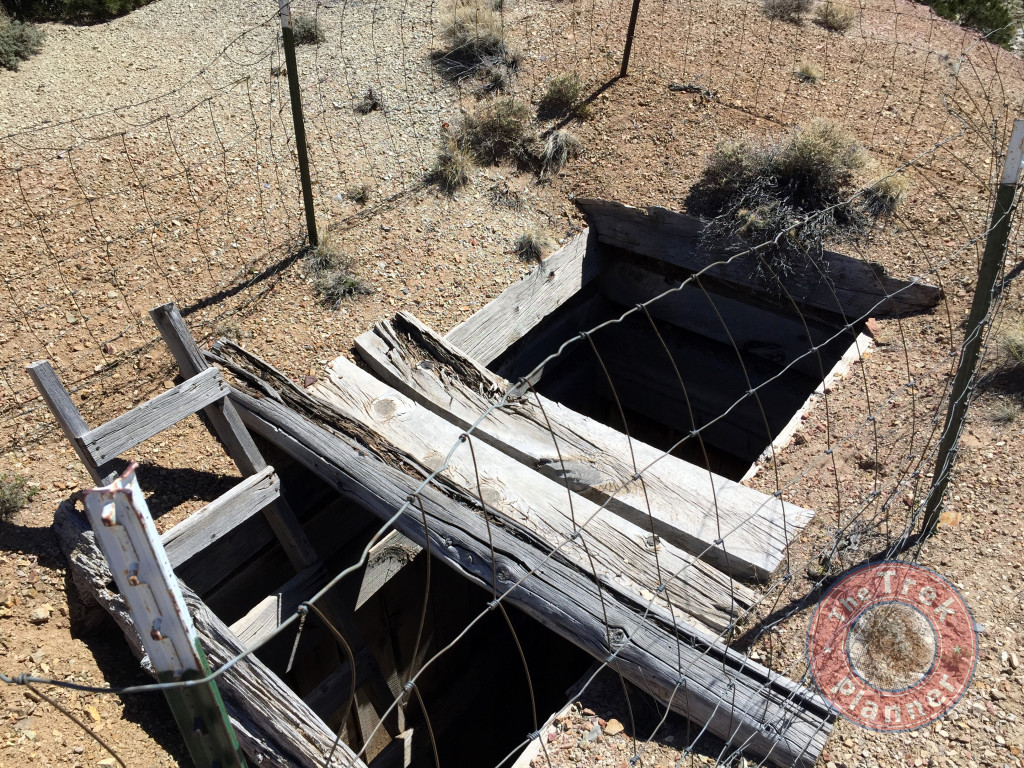 Various Adits
I then made a beeline for a few prospects on the side of the mountain I noticed the DNR closed these too.  There were tons of open pits, trenches, strip mines, adits and short shafts on this mountain side.  I will post a few pictures of the ones I found.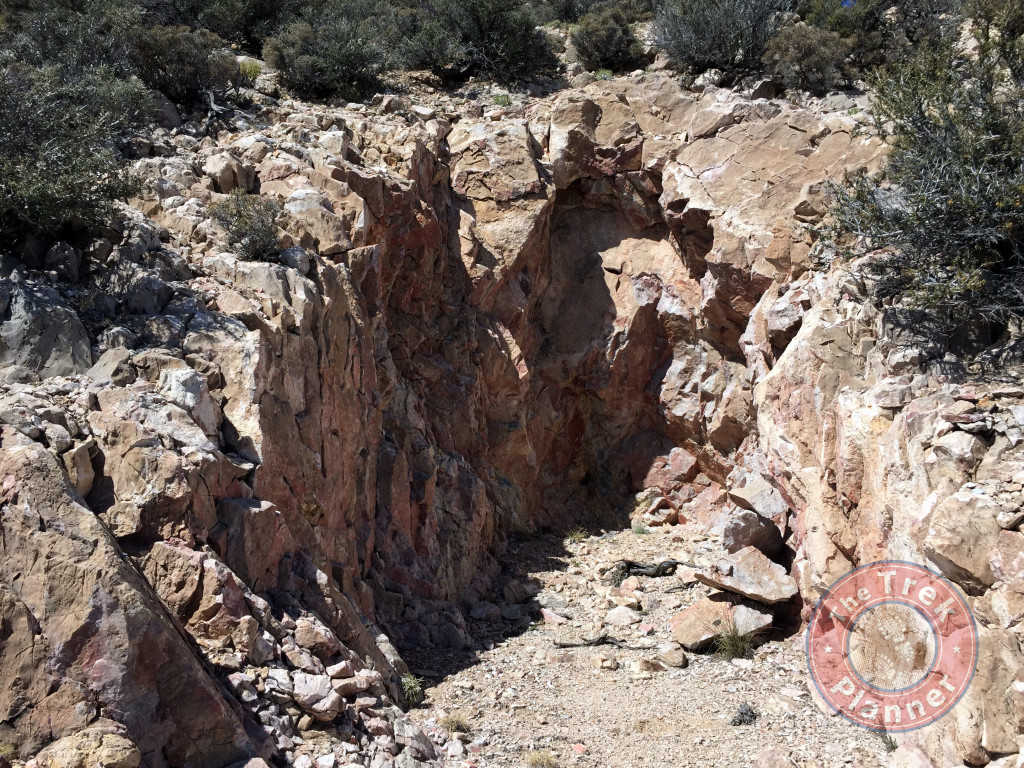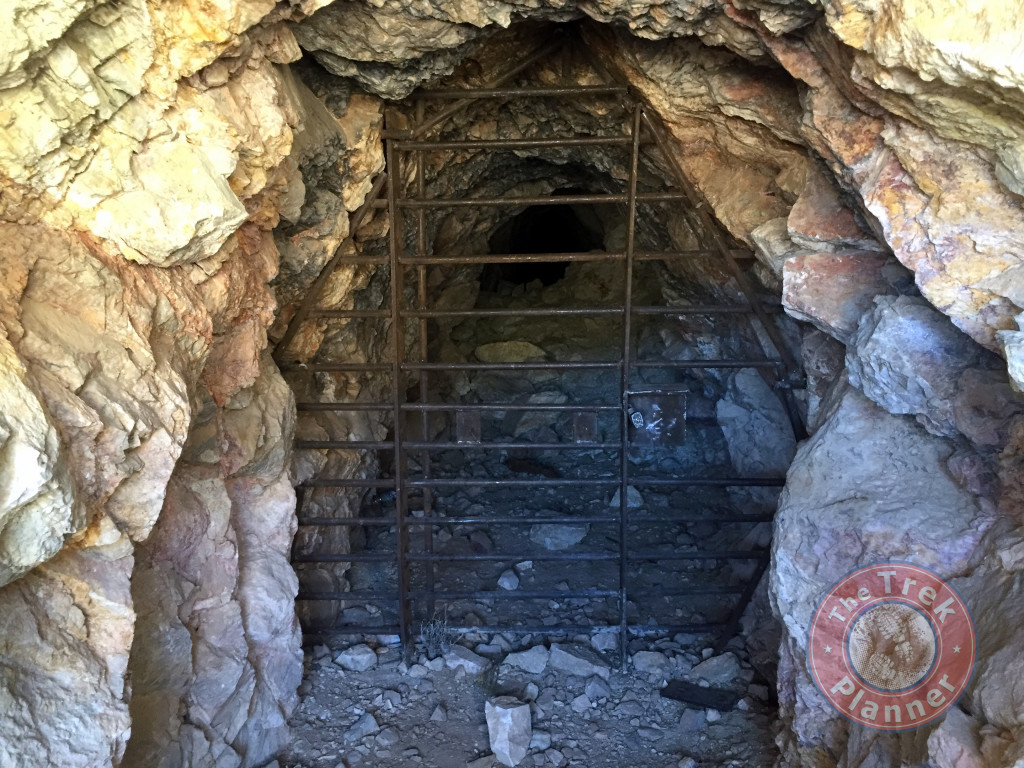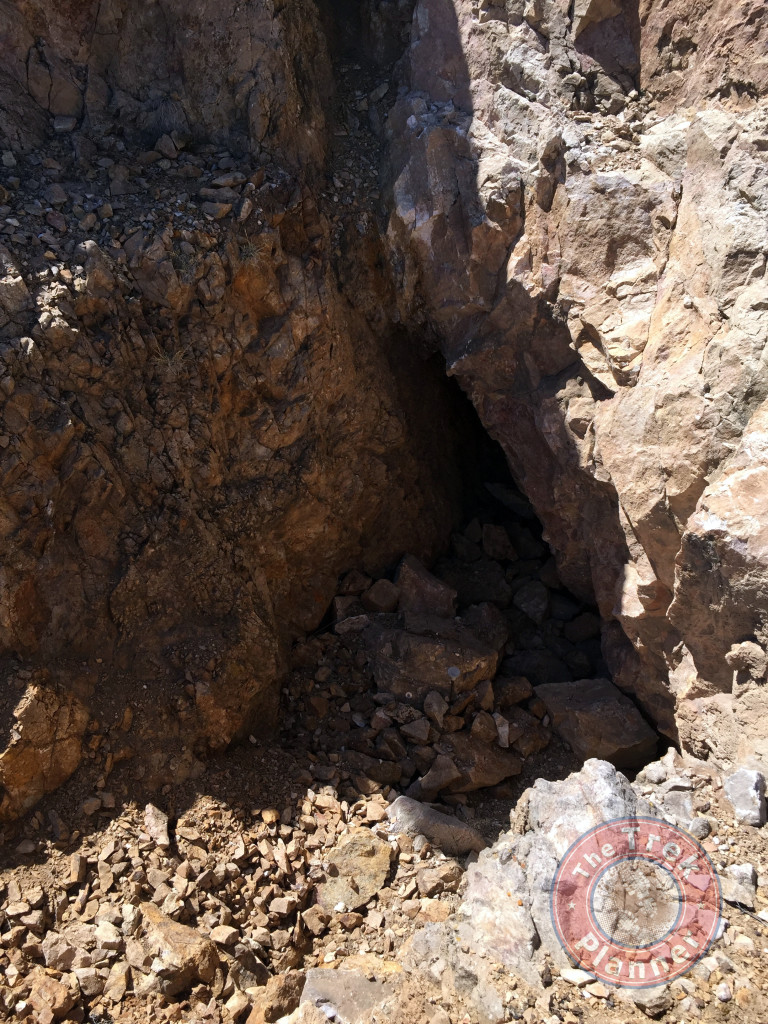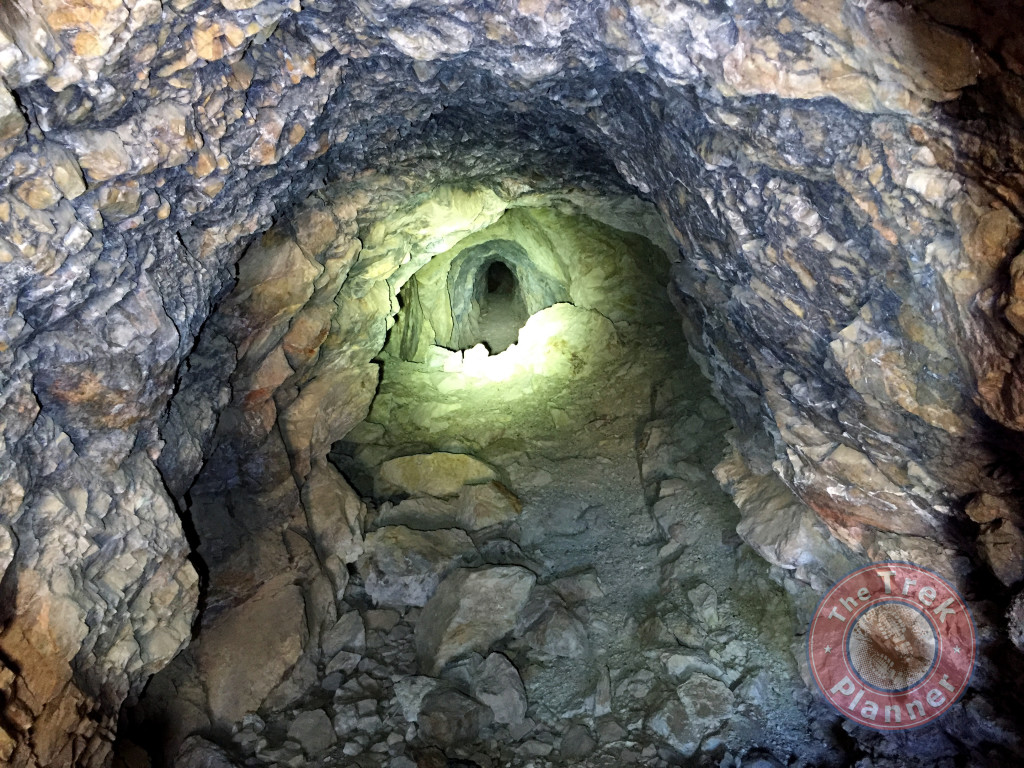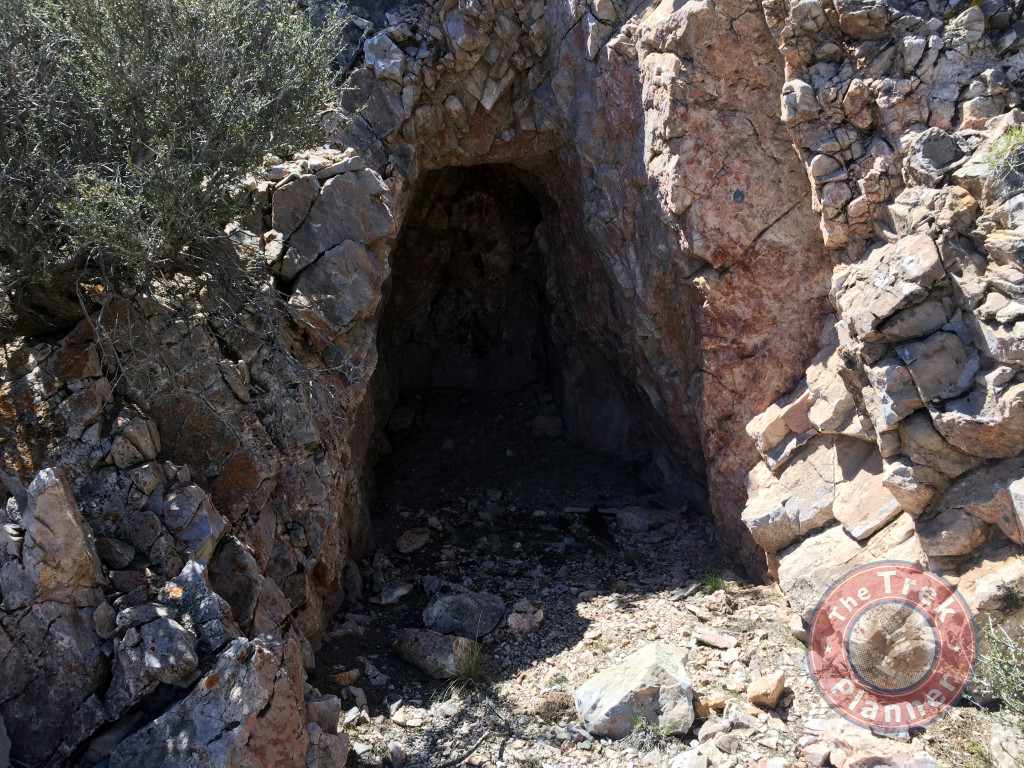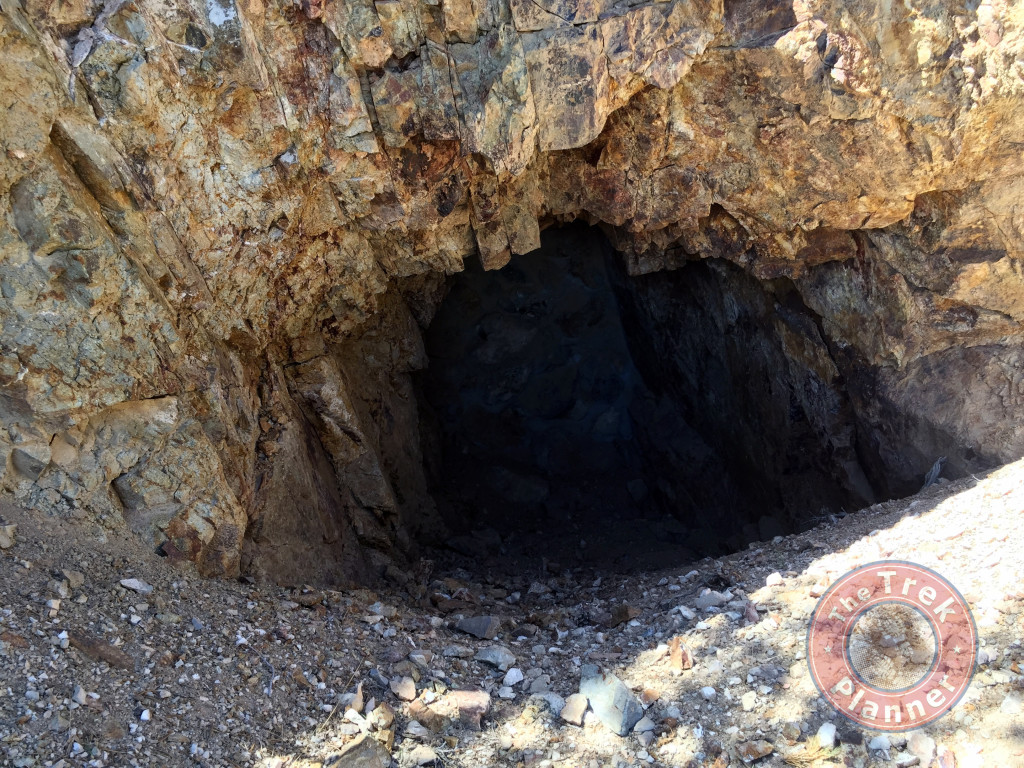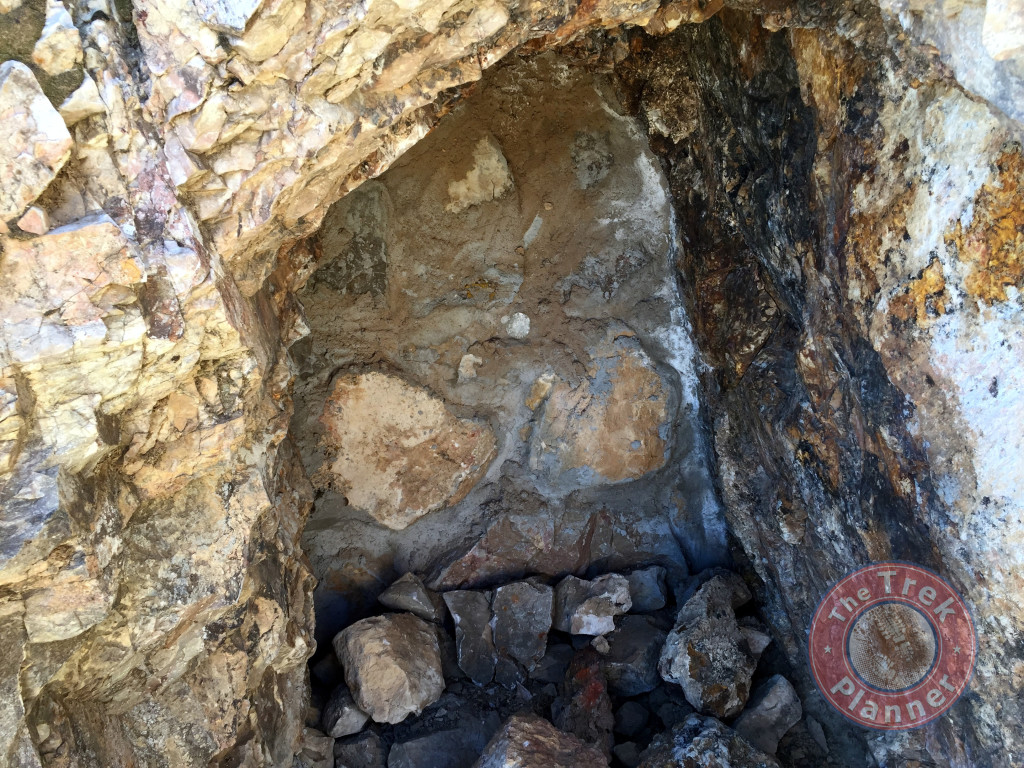 Old King David Shaft
I headed up to the Old King David Shaft and found a few more prospects along the way including this sealed adit. It looked like it went back a few hundred feet and then turned left…I wonder where it goes!


Just near here is another tailings pile and you will see the large ore hopper.  It is still in surprisingly incredible condition.  I went right up and I could see how well the craftsmanship was on this thing.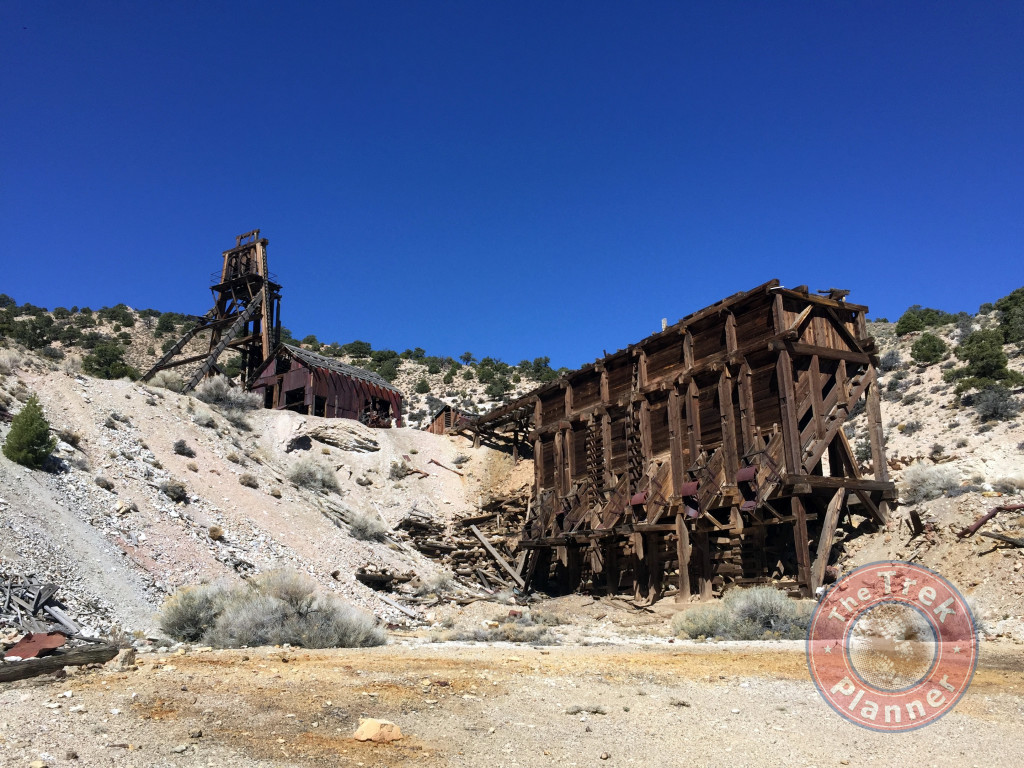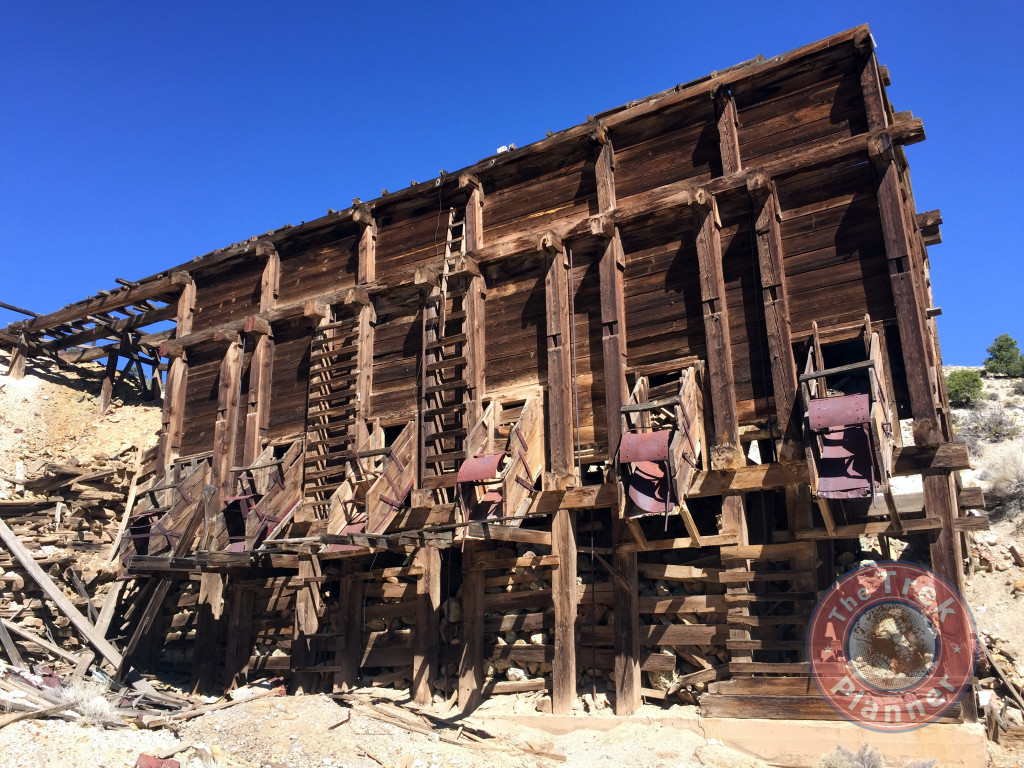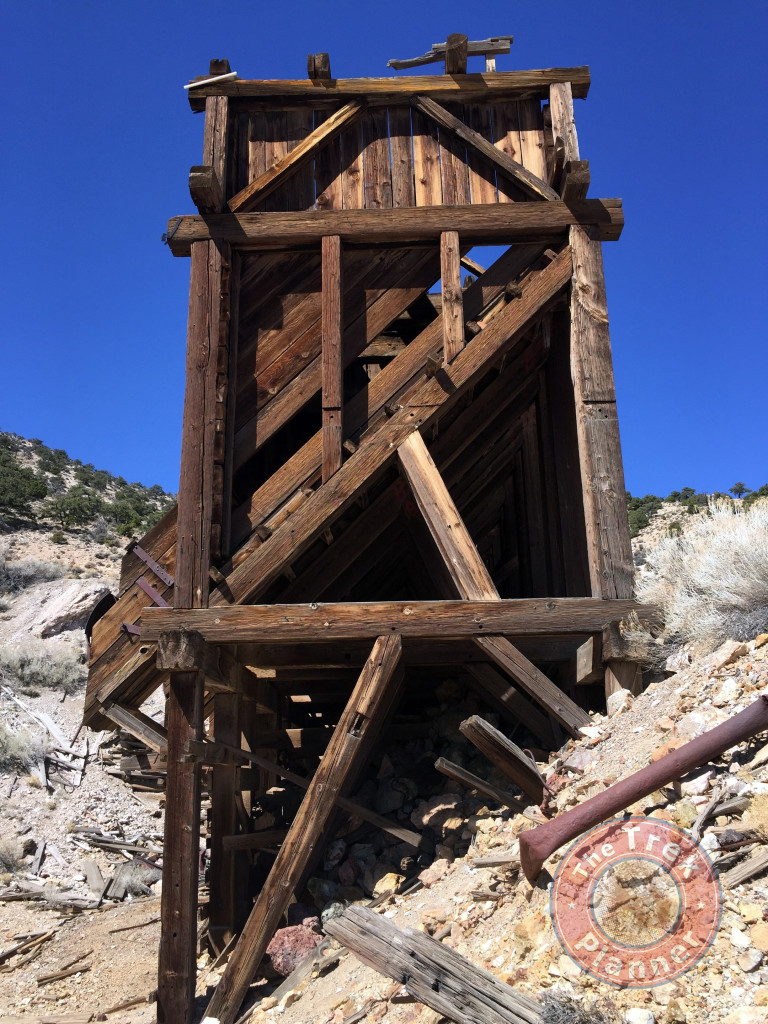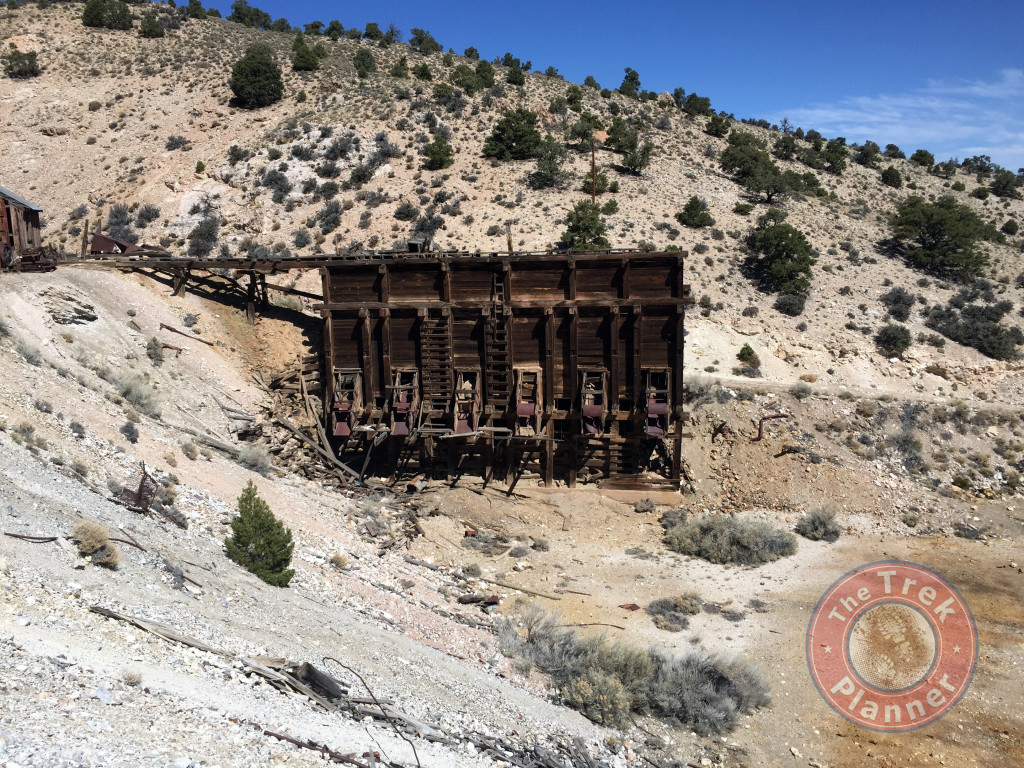 There was a road which I got on and went to the headframe to the Old King David mine entrance!
The headframe is probably over 60 feet tall and still structurally sound.  The entrance is gated over with rebar and you can still see the ore bin which was used probably thousands of times bringing ore and miners to and from the surface.
!Caution – The Old King David mine shaft has poisonous gas coming out of it! Do NOT approach!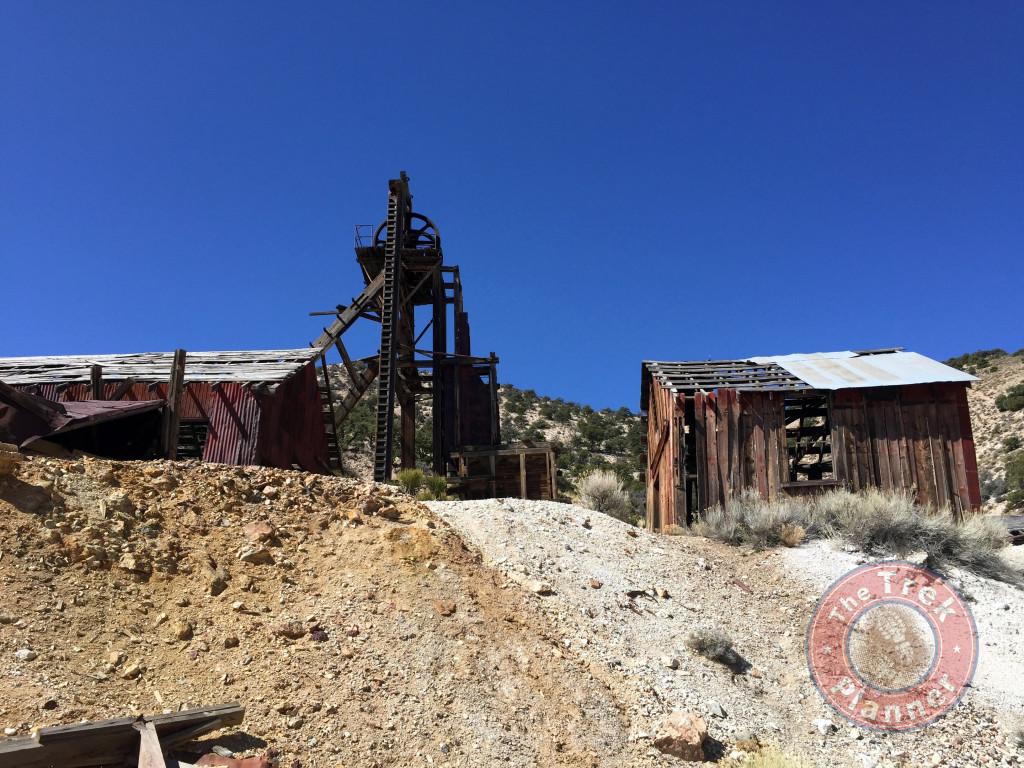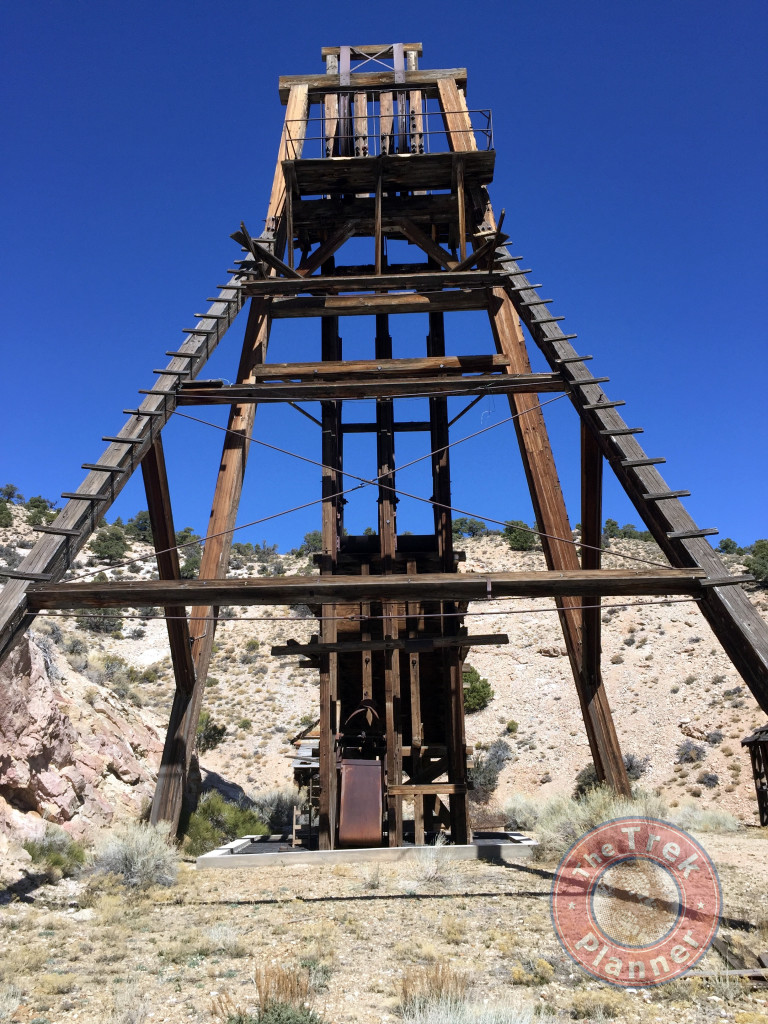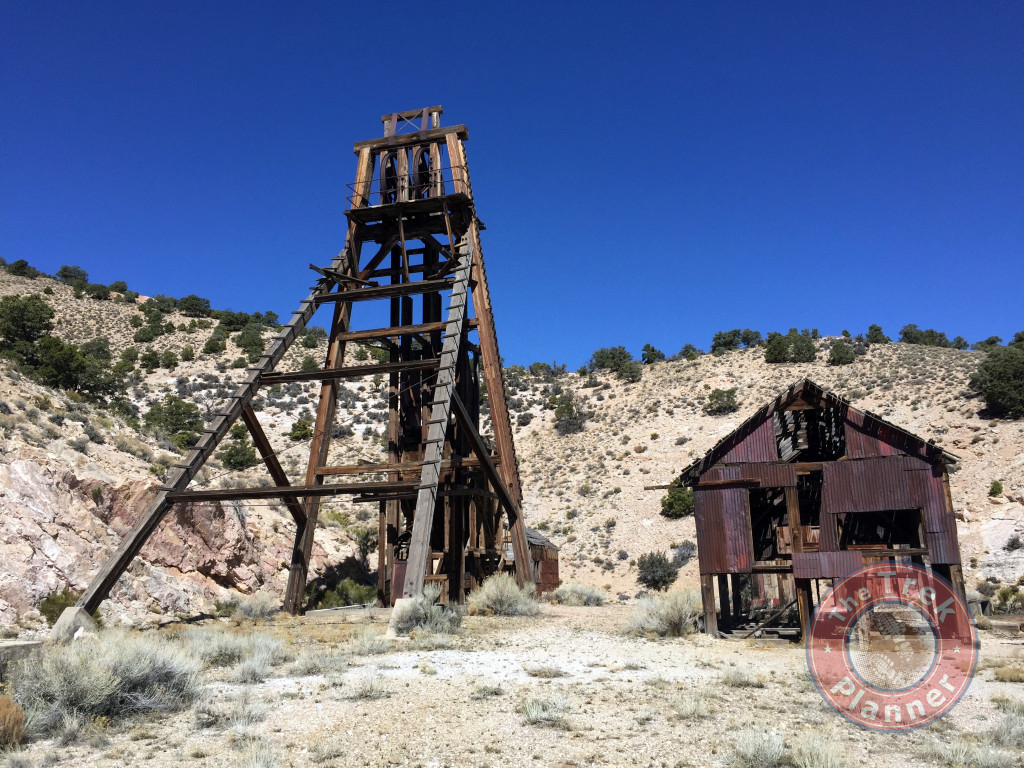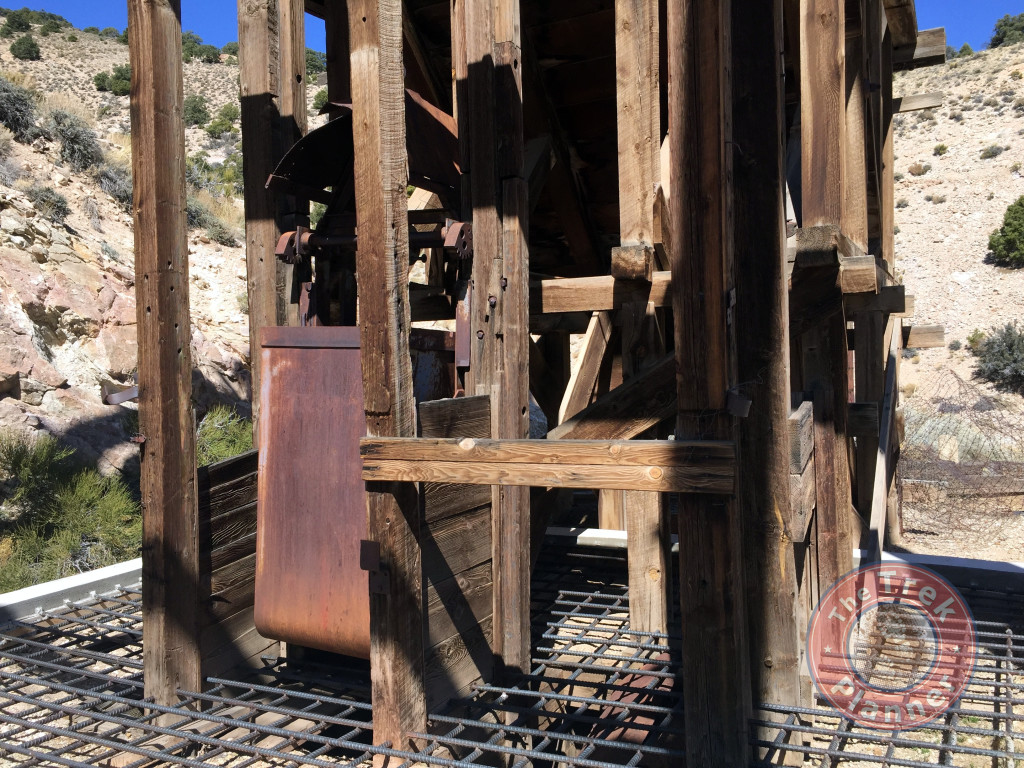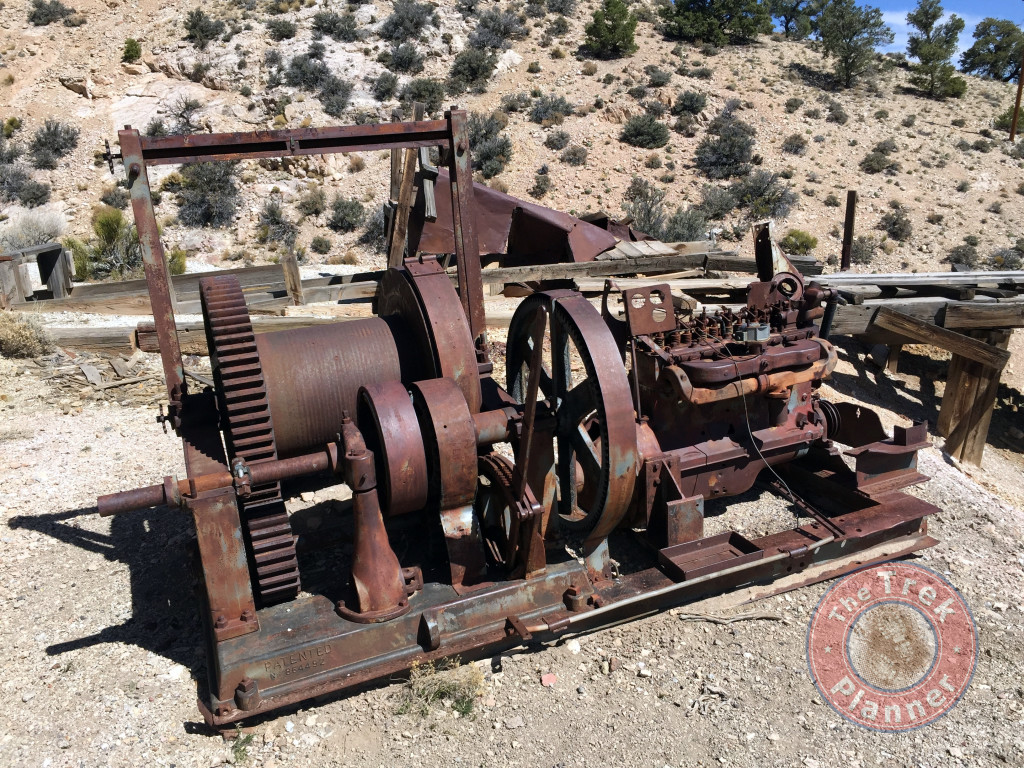 As I took a close picture of the opening I got a whiff of a propane type smell.  It was off-putting and after being near the shaft for about 30 seconds I started to get a little light headed.  Once I realized what was happening I quickly got away from the shaft and got to fresh air.  I have read on some blogs that this is definitely poisonous gas.  I would stay far way from this mine if I were you.  But I'm curious as to what type of gas it was…but not curious enough to go back to find out!
Once I was again in fresh air, I started to feel better and continued on with my exploration.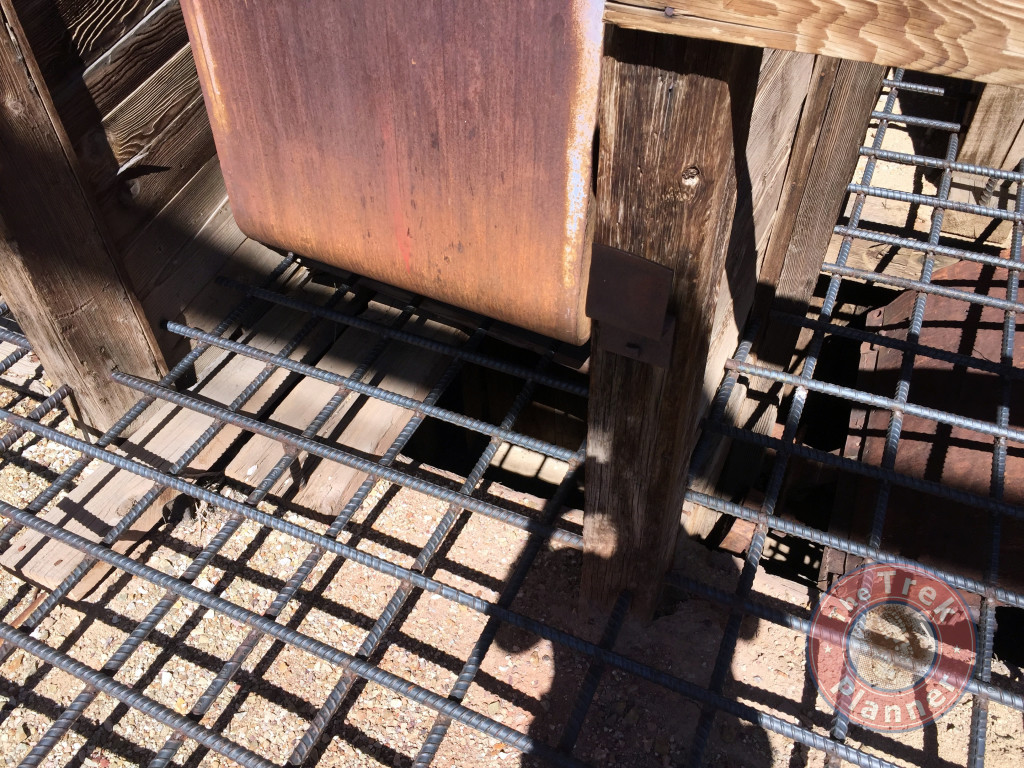 I hiked a game trail a little ways away to get this shot of the headframe and ore hopper.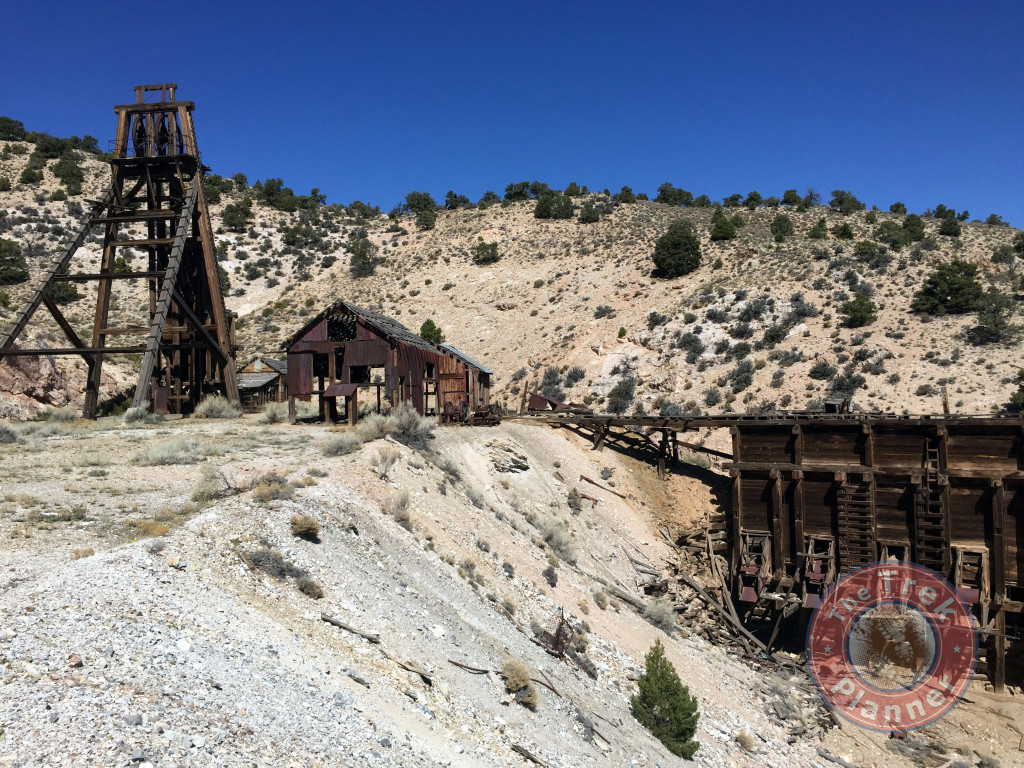 I found this old photo of the headframe from the Davis County Clipper of all places.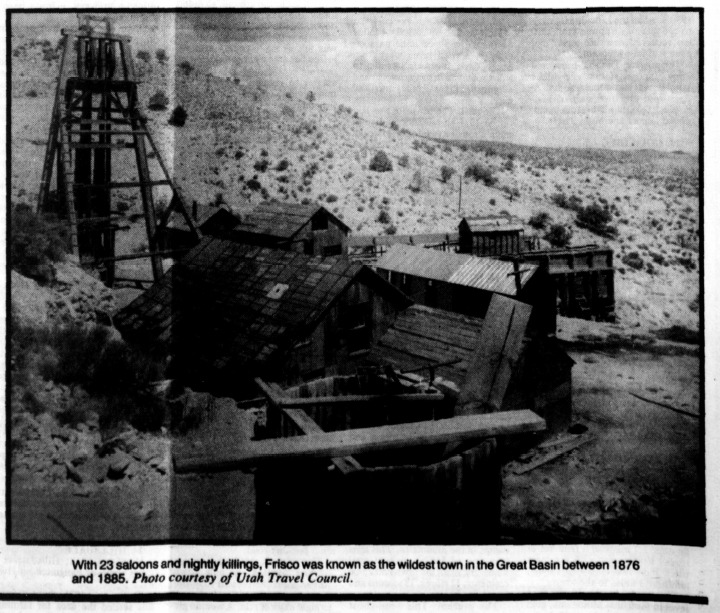 Personal Thoughts:
Frisco is the most extensive ghost town I have visited.  I really enjoyed all of the old structures and mines scattered all over the place. But what really makes me enjoy Frisco and the mines is the history behind it.  I could almost see it being made into some type of exciting documentary or drama.  It has all the wild history, the exciting and romanticized mining exploration and it has many fascinating stories how the Horn Silver attracted the world's attention.  I will definitely be back for a visit many times to come.