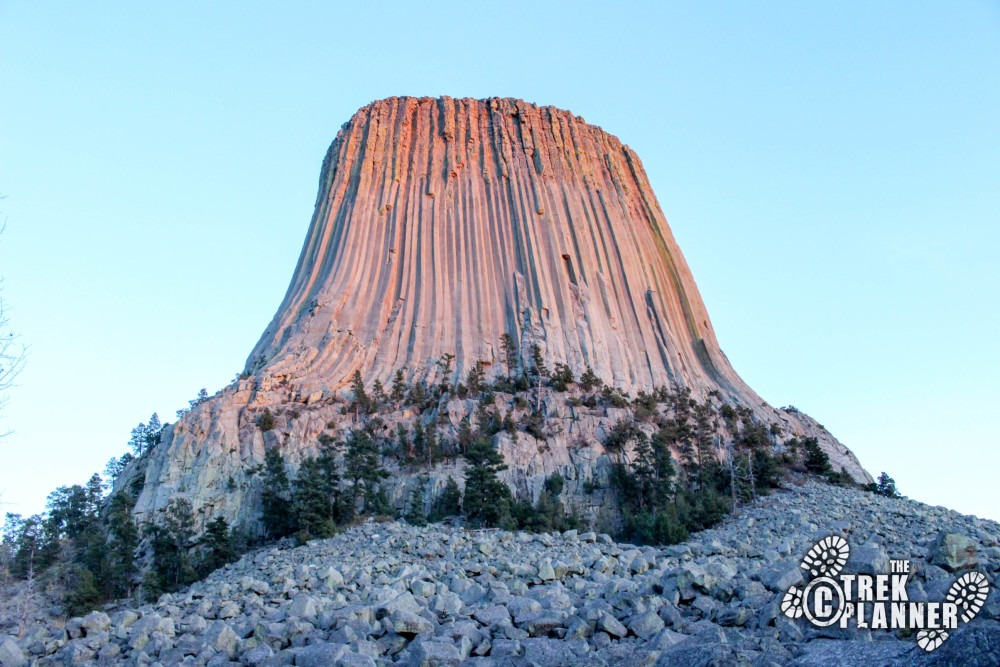 Overview
Northeastern part of Wyoming
About 1.2 mile loop around the tower
Not allowed on any of the trails
*2016 prices*
$10 per vehicle
$5 per motorcycle
Bring some water to carry around while you hike. They had drinking fountains at the restrooms
The Devils Tower loop trail is paved
Yes. Flushing-style. Near the Visitor Center
Devils Tower is open 24 hours a day and 7 days a week.
The Visitor Center and bookstore are open daily from 9am to 4pm
Belle Fourche River campground
Available on first come, first served basis.
Open May through October
50 sites available and 4 ADA accessible sites for $12 per site per night
3 group sites available for $2 per person per night (10 person minimum. 20 person maximum)
Potable water and restrooms are available for campers.
GPS Coordinates:
Devils Tower: 44.59074, -104.71609
Trail Map
Driving Directions
The Trail: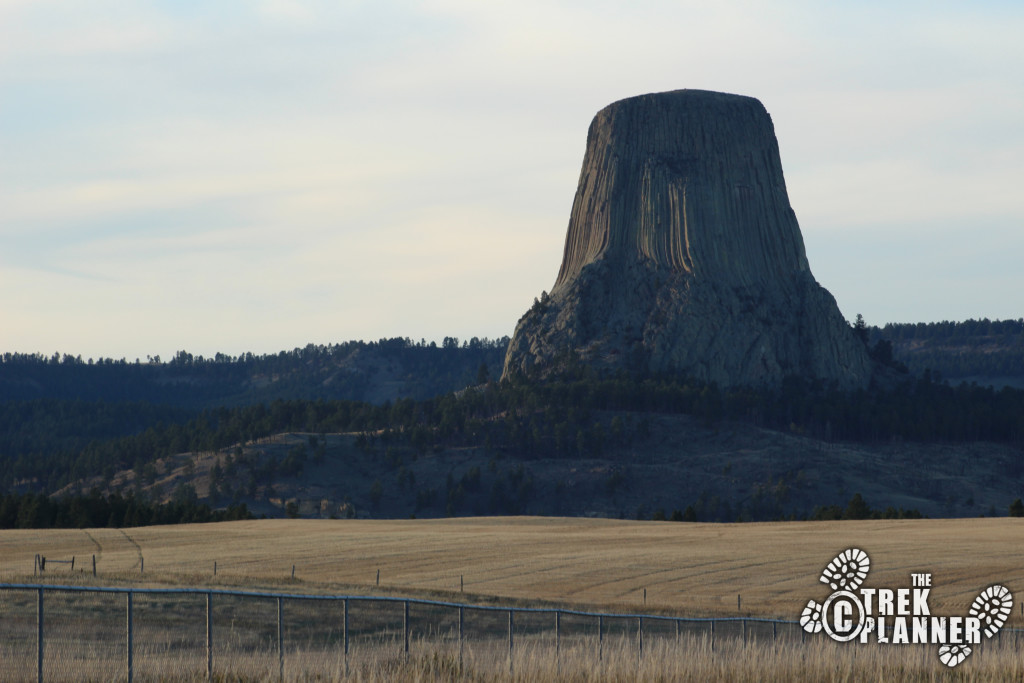 Devils Tower was the first national monument in the United States signed into law on September 24, 1906.   President Theodore Roosevelt was the man who declared and signed the 1,347 acres a national monument.
I have been wanting to visit Devils Tower for more than two decades now.  Ever since I was little and seeing the tower in pictures it made me wonder if anyone could ever climb it and of course, what was on top of it.  I had no idea about the geological side of the tower and how it formed and what its composition was, but all I knew was that it looked really cool!
I decided one day to take a trip out to see Devils Tower.  From Salt Lake City it isn't that bad of a drive even though it is more than 9 hours.  The scenery on the way is beautiful.
You can see the tower in the distance right before you drop down into the valley.  The tower is absolutely incredible from far away and I stopped several times to take photos of it.  It dominates the landscape from every direction you look.  It is so abrupt and odd looking that it is almost impossible not to stare at it like I and many others did.
Before you enter the park you will come to a guard station where you will need to pay the entrance fee to enter.  The time I arrived there were no rangers present so I just used the self-pay envelopes nearby to pay the $10 entrance fee.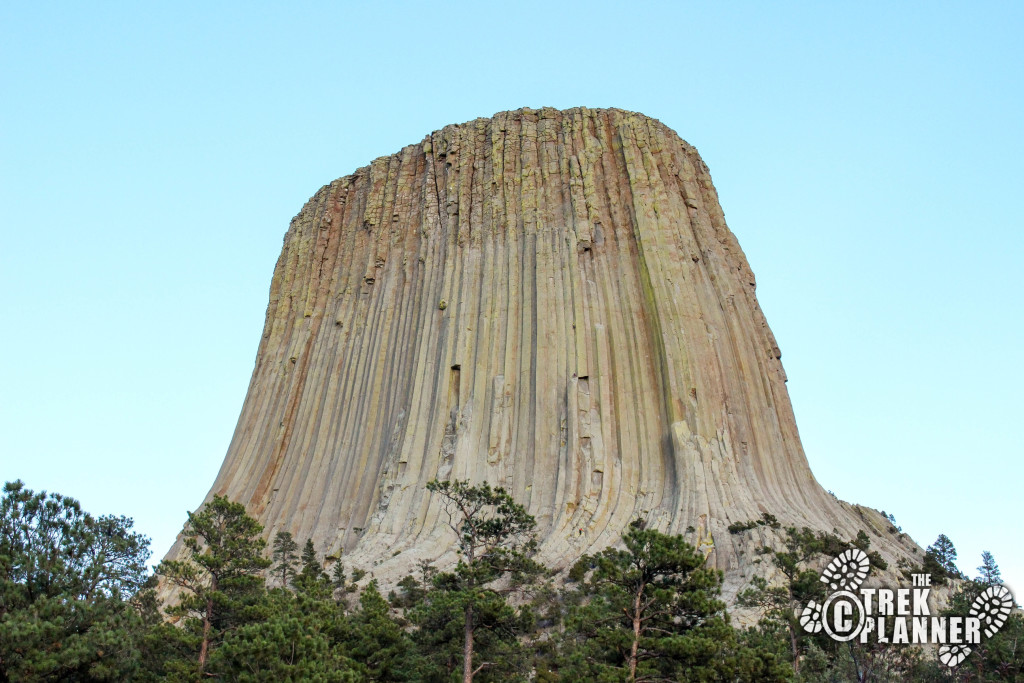 The drive up circles around the tower and you can get some fantastic views before you arrive at the Visitor Center.  The Visitor Center closed at 4pm and I arrived at about 5pm so I didn't even have a chance to speak with the park rangers about the area.  At the guard station where I paid below, there were a few maps thankfully – which was a nice surprise!
The Visitor Center was small but it was perfectly situated where you can have some of the best views of Devils Tower around.  From this vantage point you can instantly see the many rock columns on the tower that seem so unnaturally straight.  I overheard someone nearby say that the tower was "earth's zit".  I couldn't help but laugh out loud when I heard this.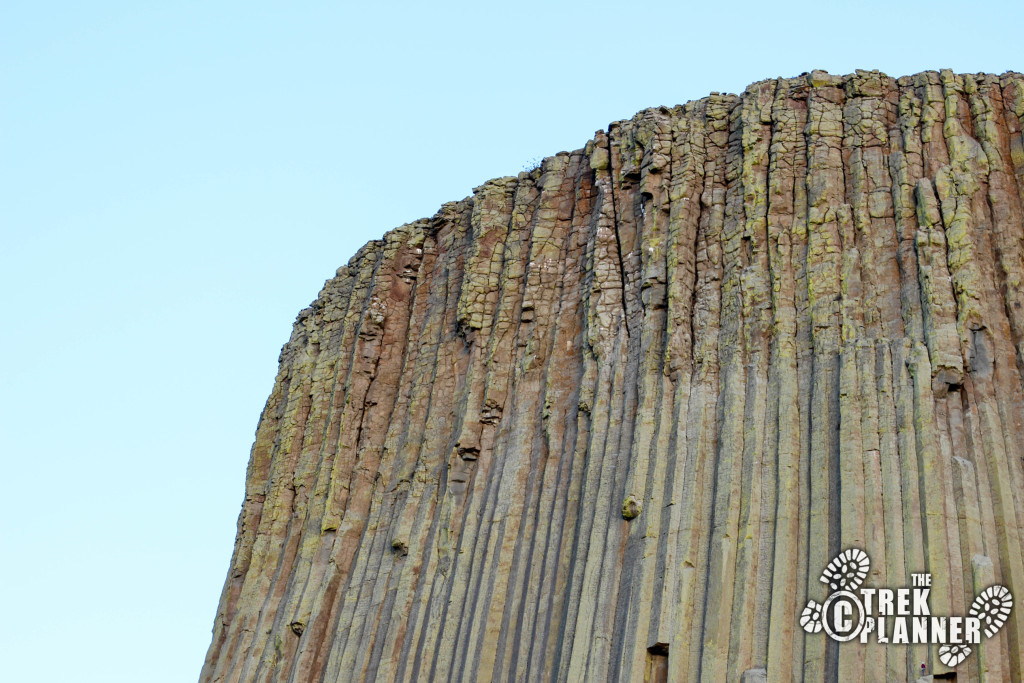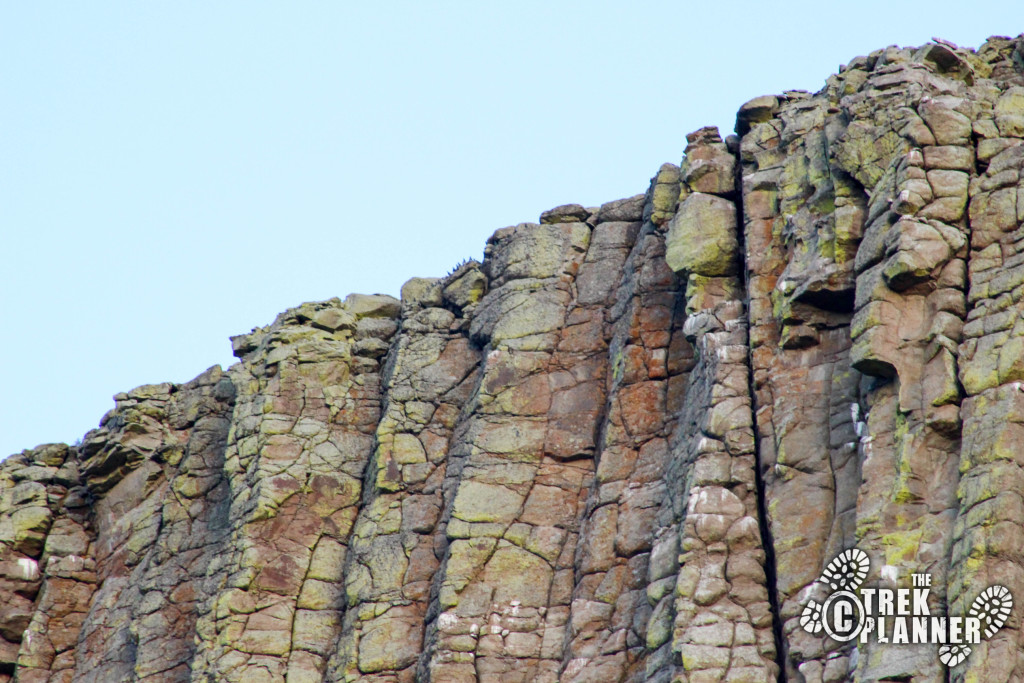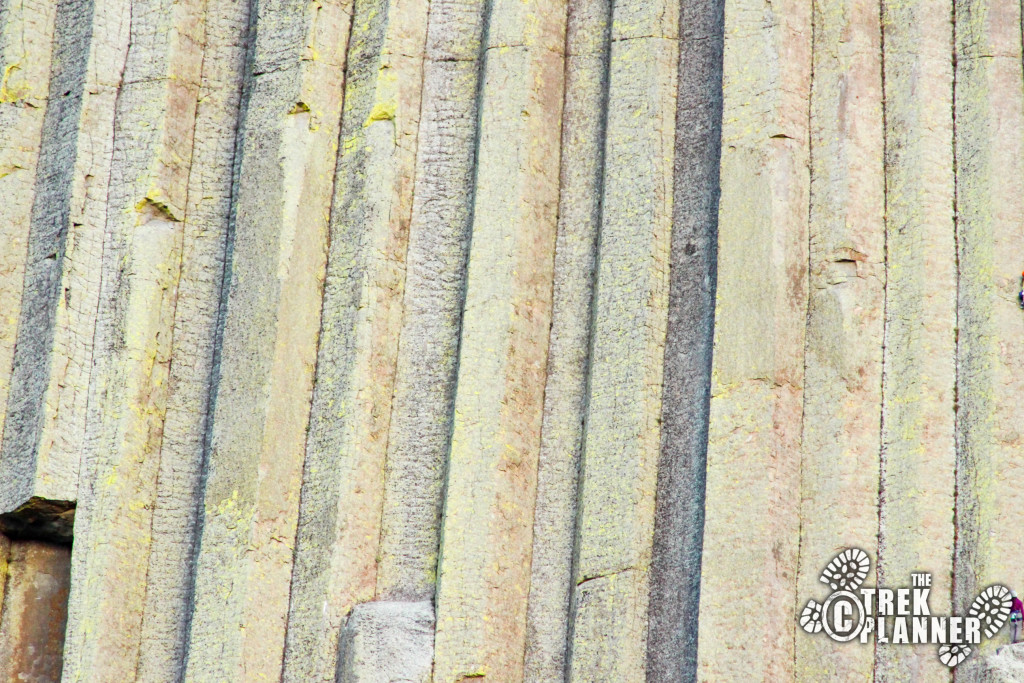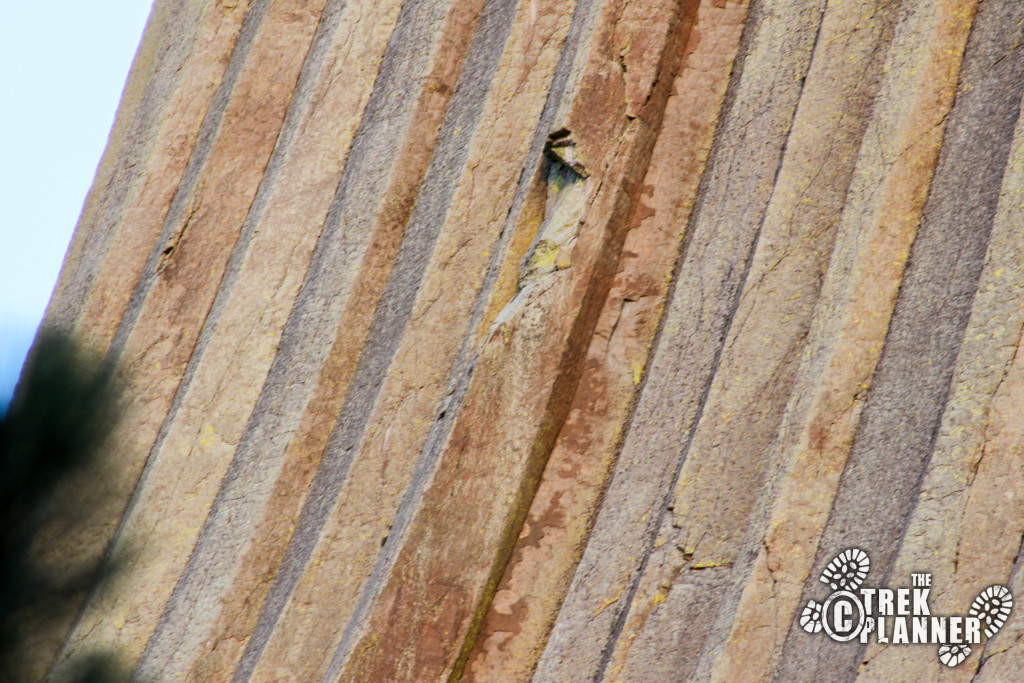 Right when I arrived and as the sun was setting I thought I heard some people speaking way high up on the tower.  Once I pulled out my 300mm telephoto lens I could easily make out 4 climbers on their way to the very top!  I couldn't believe how vertical some of these columns looked like on the tower.  It was mesmerizing to watch them slowly climbing.  While I was watching them, a few people came by to ask if they could look through my lens to watch the climbers.  I happily obliged and we struck up a conversation about where we are all from and why Devils Tower was such a fascinating place!
The tower is 867 feet from base to summit! So those climbers had a long way to go!  About 4,000 climbers attempt to climb Devils Tower each year.
The sun was setting and I wanted to hike around the tower before I couldn't see any more.  The trail around Devils Tower is about 1.2 miles (I clocked in at about 1.39 miles because I took a few of the side trails).  The trail begins at the Visitor Center and then circles around the tower and meets back up at the same spot.  There are other trails in the area which lead down to the campground and entrance gate but I only had time to hike the 1.2 mile loop.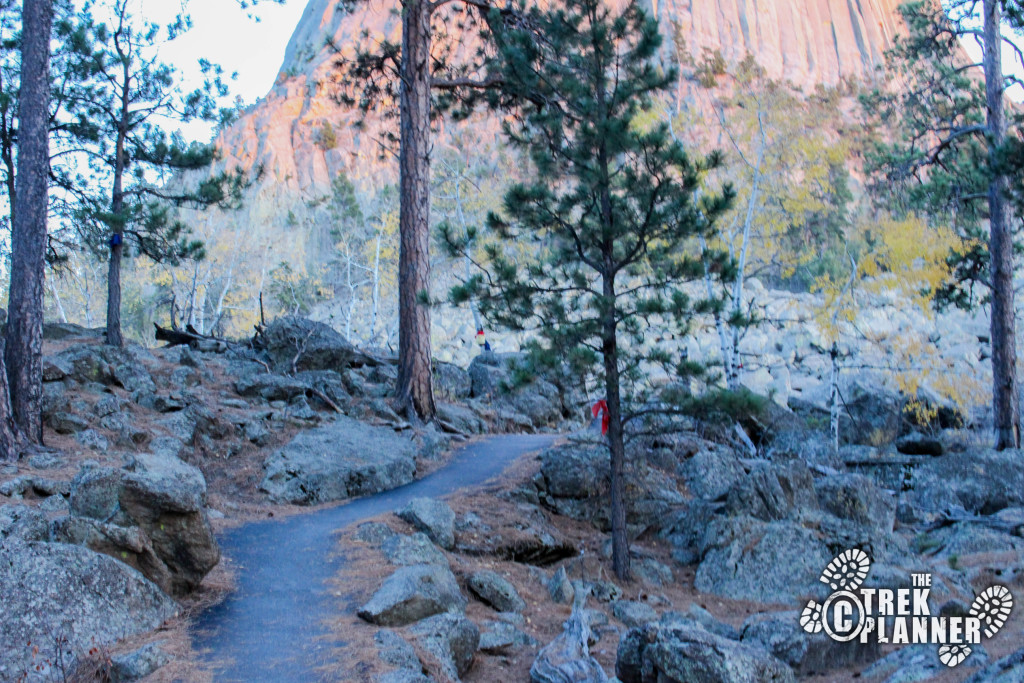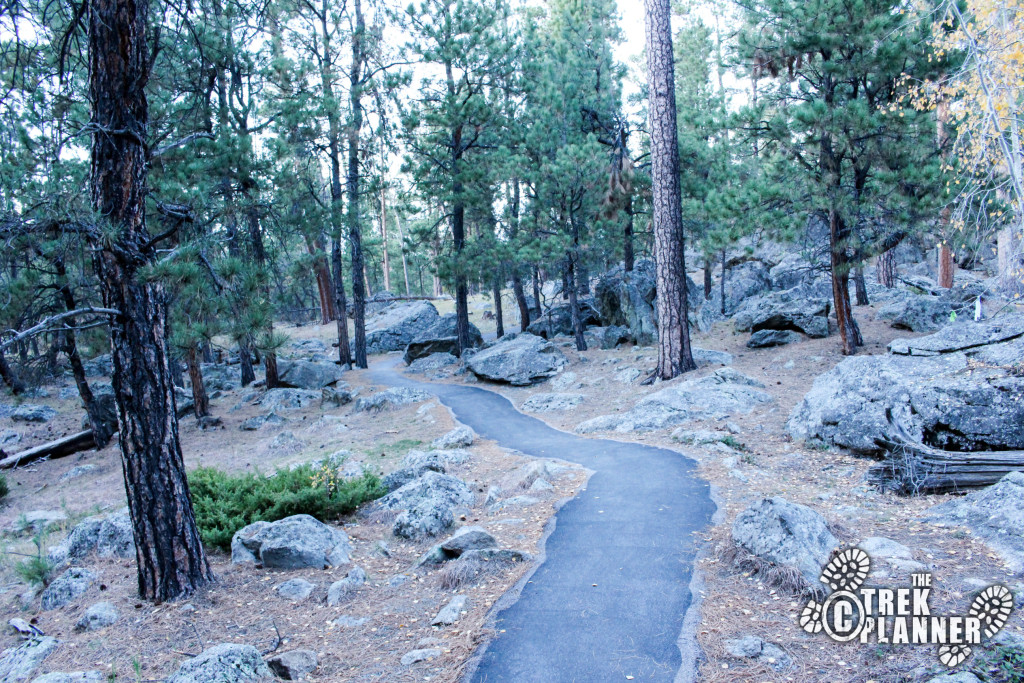 You are only allowed to stay on the paved path, unless you have a permit to climb the tower.   You will notice colored cloths in some of the trees.  Please do not disturb these cloths because Native Americans tribes view Devils Tower as a sacred place and they come here to place their prayer bundles and prayer cloths.
I have to note that many Native Americans object to rock climbing because they view the tower as sacred.  Climbers say that the tower is on federally owned land so they have a right to climb it.  Either way, during the month of June when there are sacred ceremonies conducted around the tower, most rock climbers honor this month long voluntary ban by not climbing during the whole month.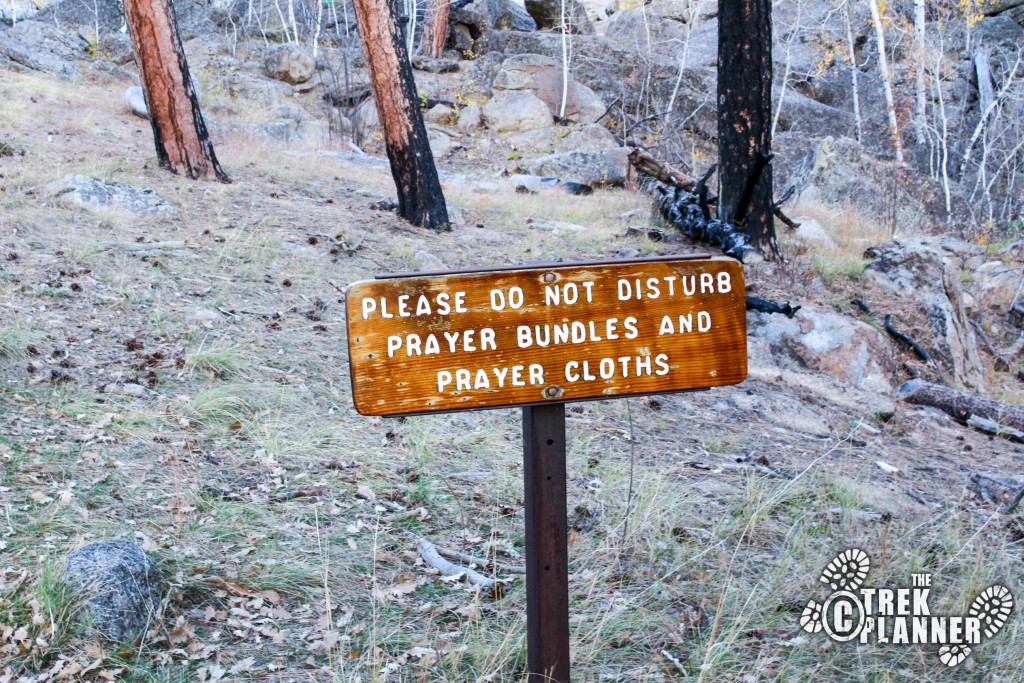 The trail really wasn't that hard but it gained slightly in elevation every now and then.  It winds underneath tall pine trees and it was very peaceful as I was the only one this time of night to do the hike. Even though trees sometimes block your view of the tower, you will come to several points that have incredible views of it.  I stopped at nearly every one to take pictures of the different sides of the tower.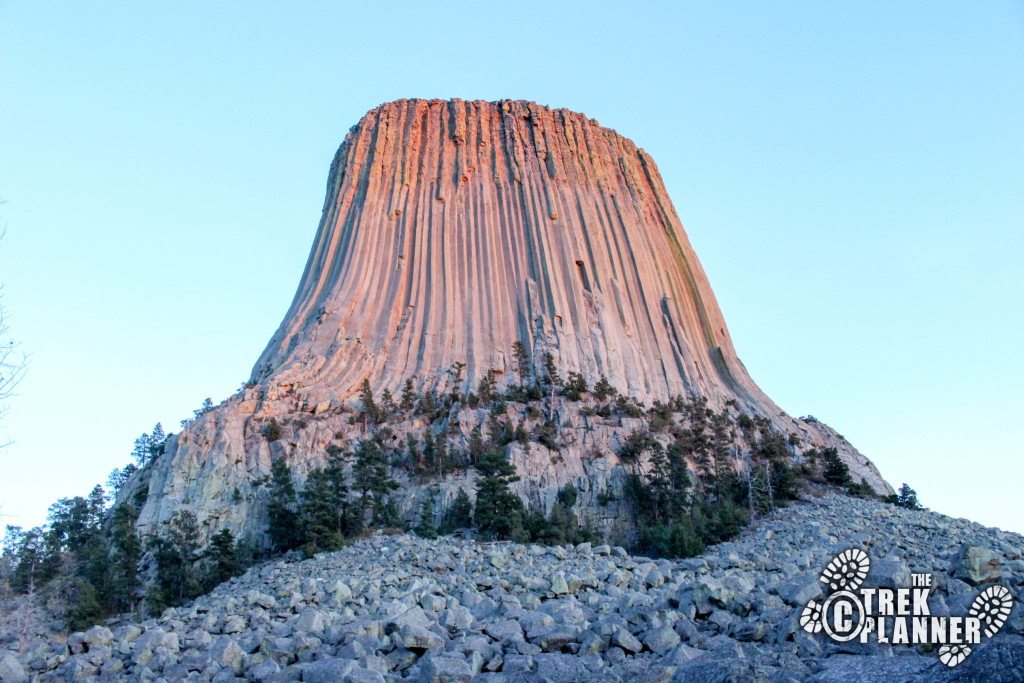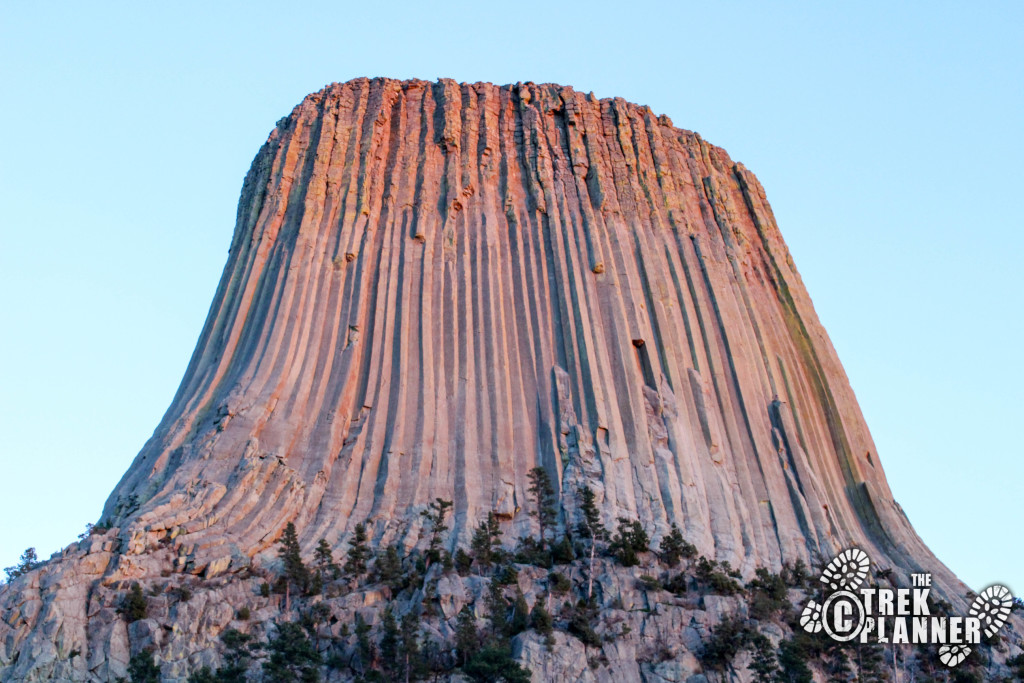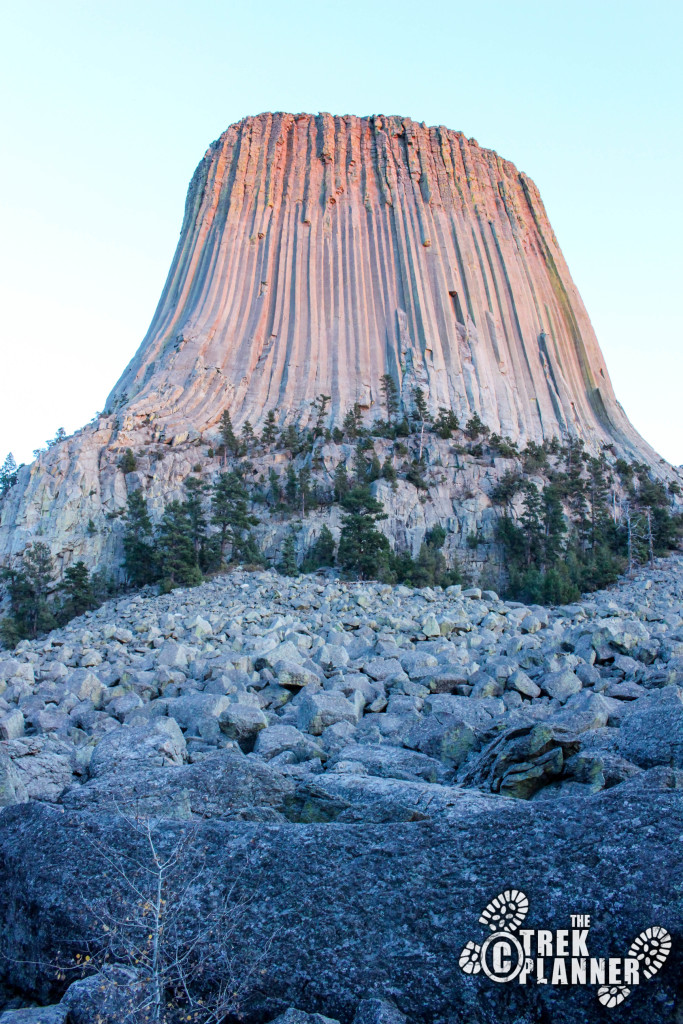 I couldn't stop taking pictures of it!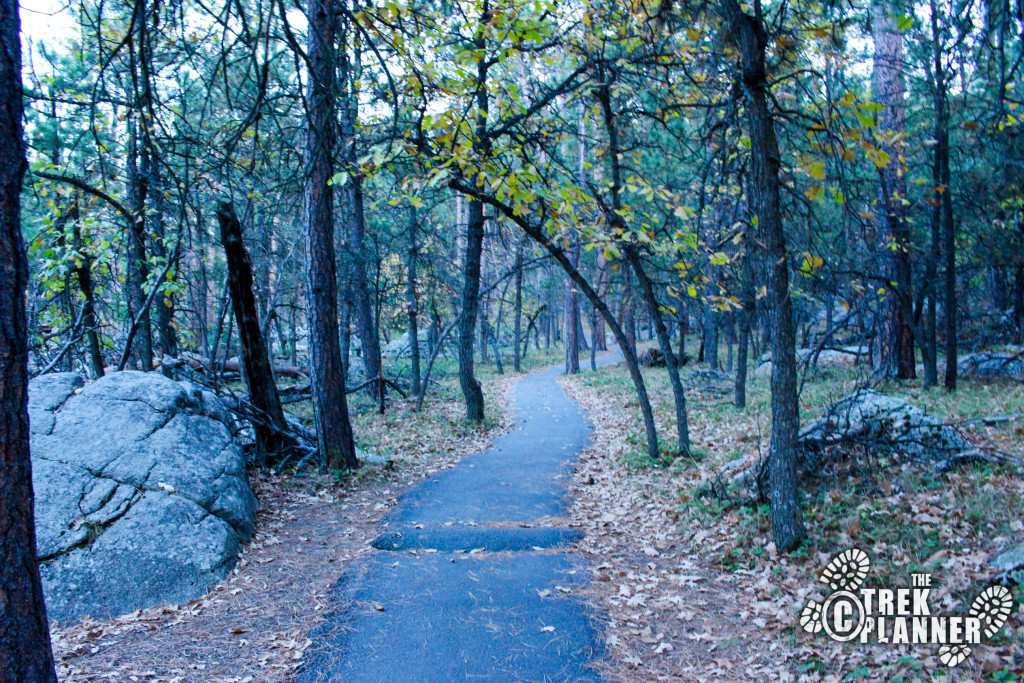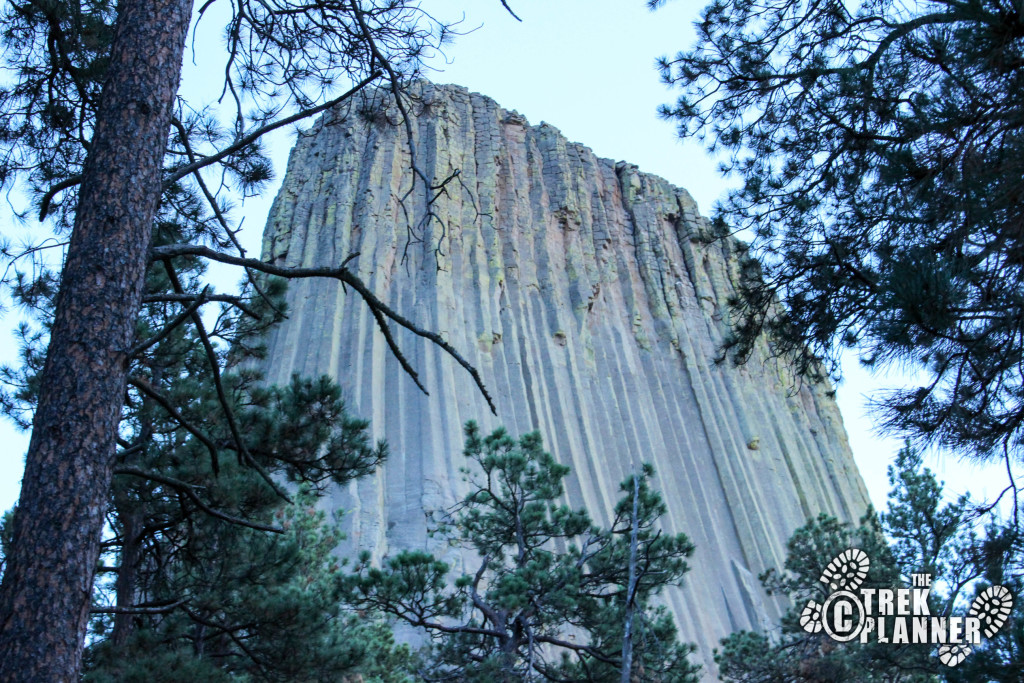 I could tell that the trail was thoughtfully planned out to go through the trees and stop at the best places that open up to view the tower.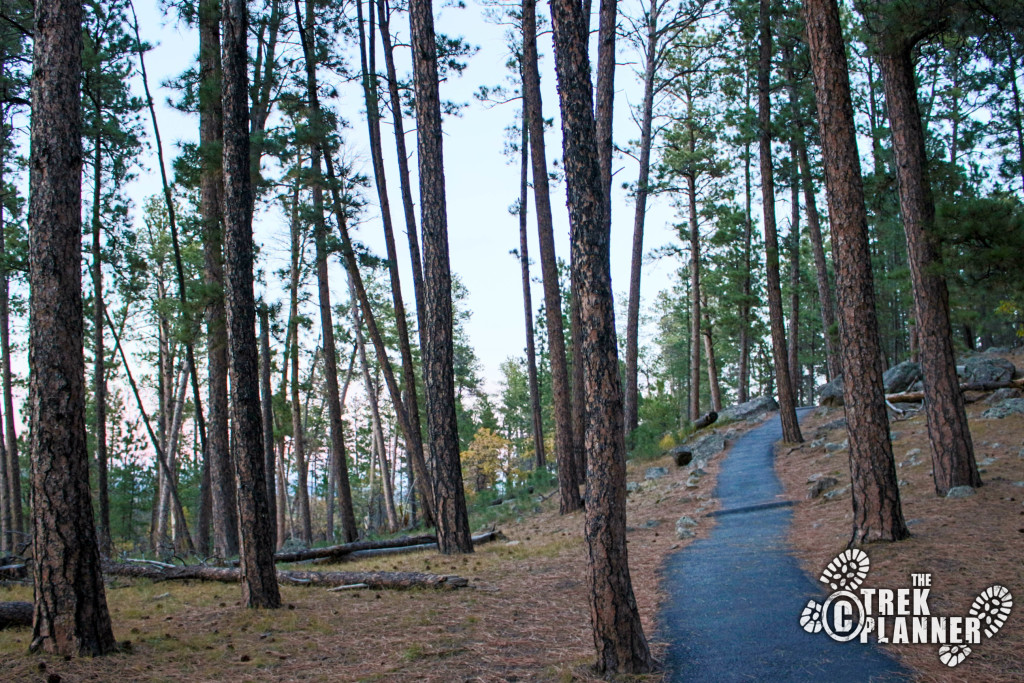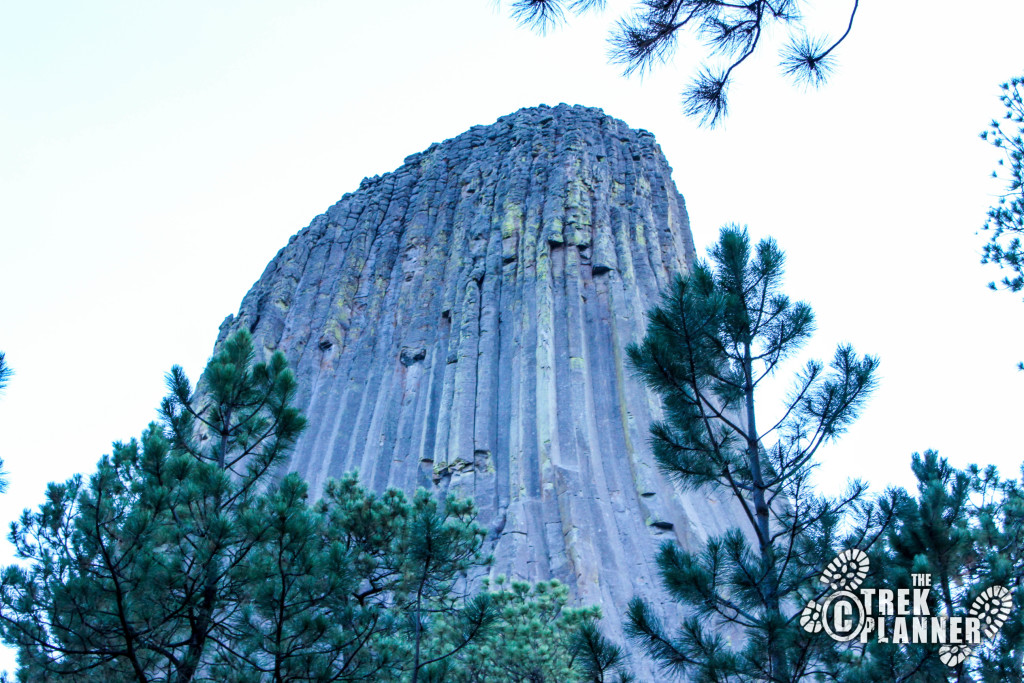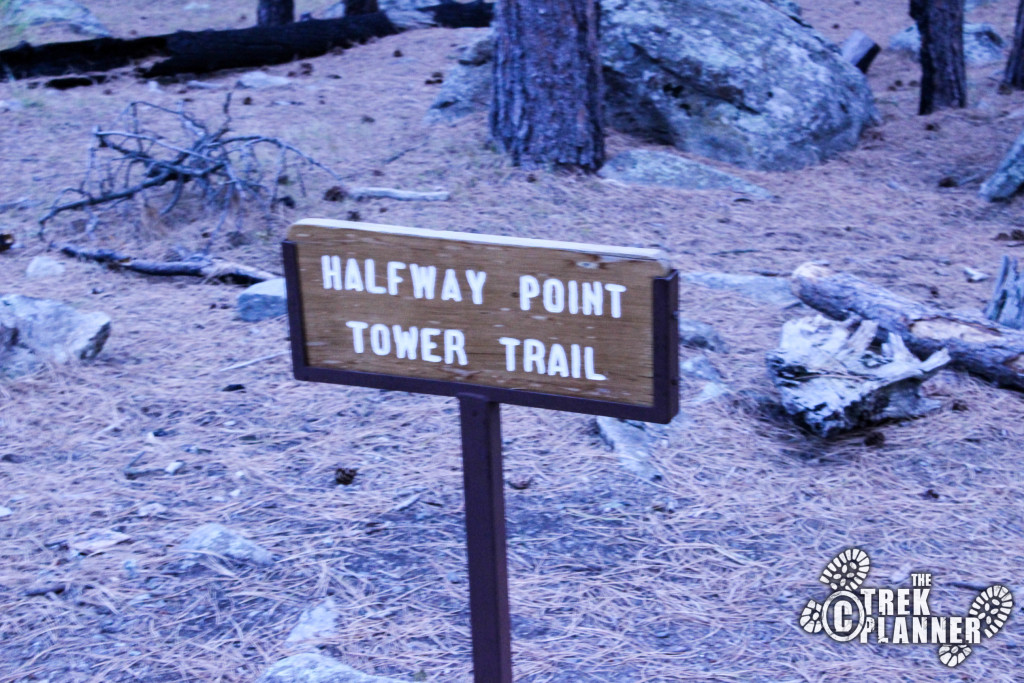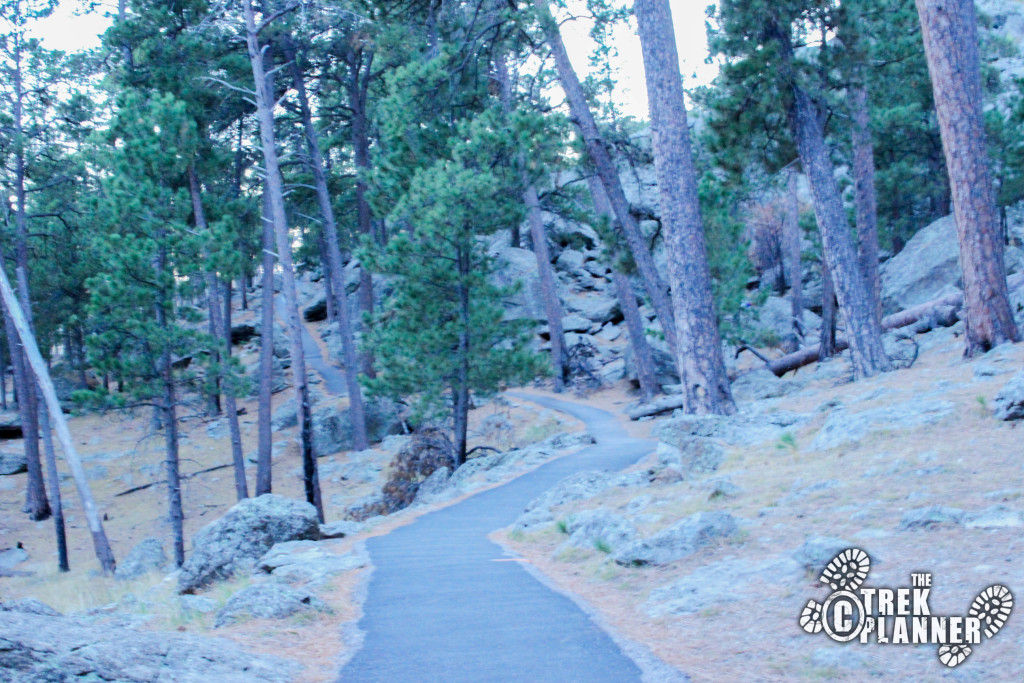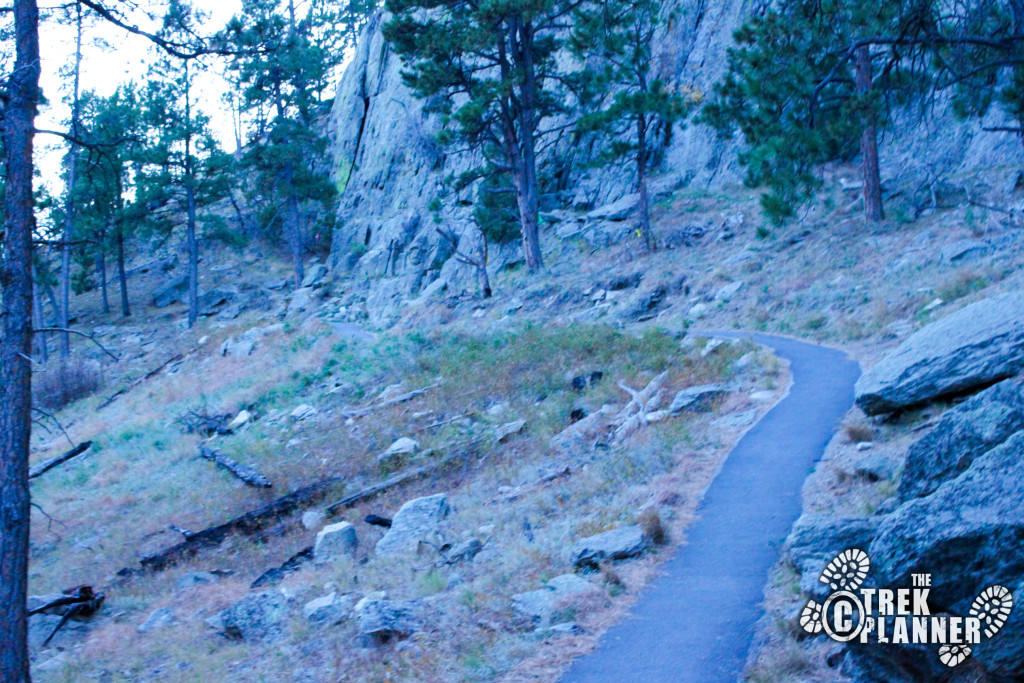 I got so obsessed with taking pictures I didn't realize that I almost needed to pull out my flashlight.  It was getting pretty dark and I was just a little passed the half way marker – oh well!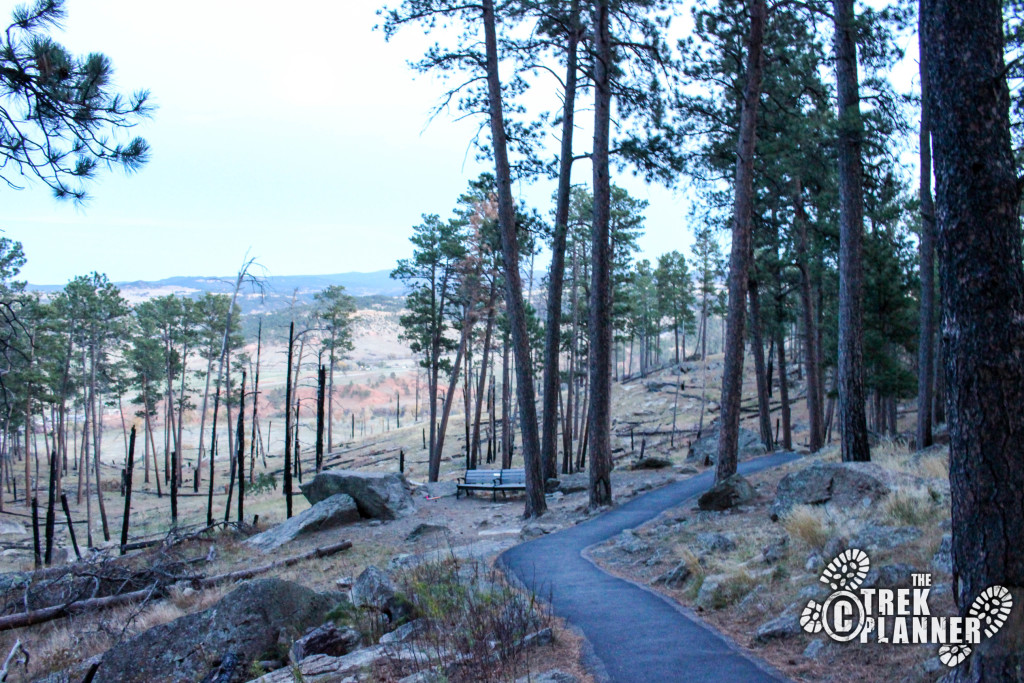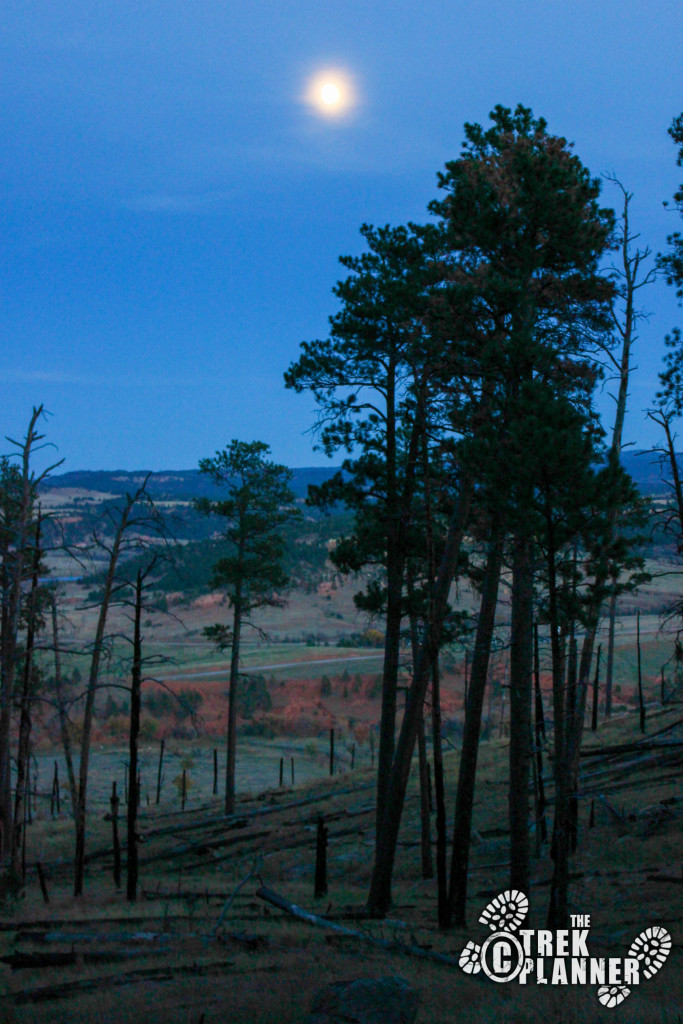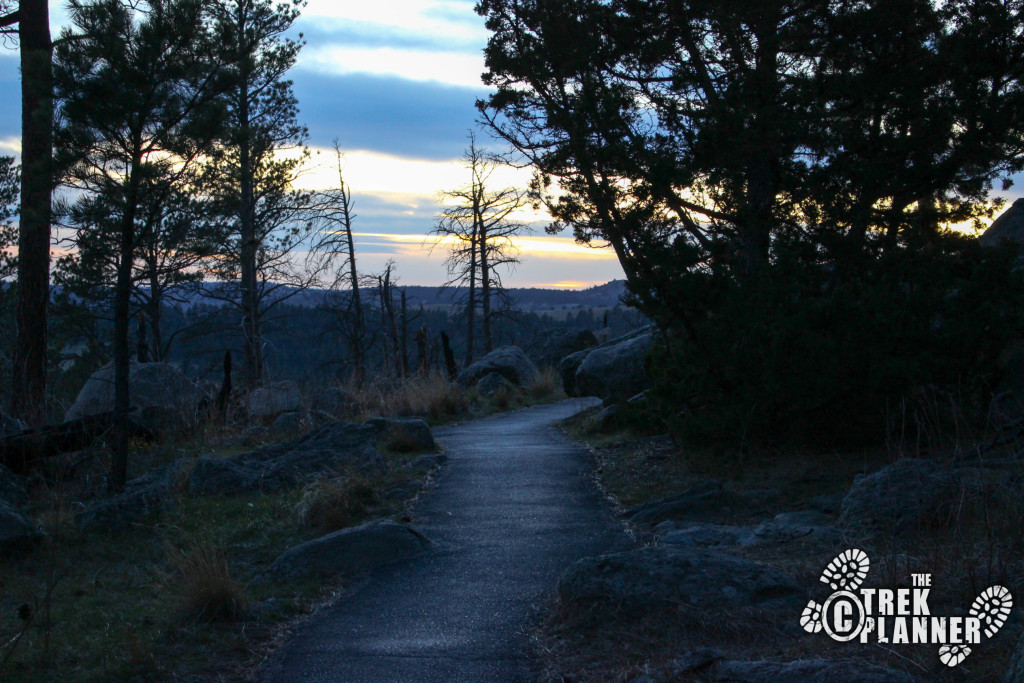 The trail passed near these large meadows of short grass and trees sporadically growing all over.  I had to crank up my camera's settings so I could take pictures in the near darkness.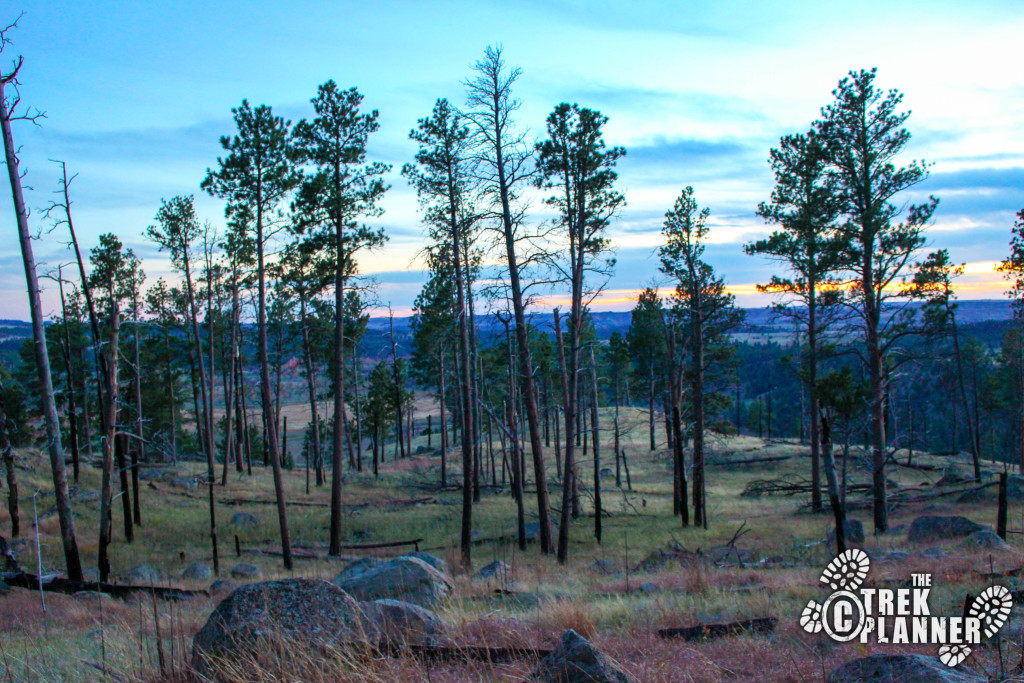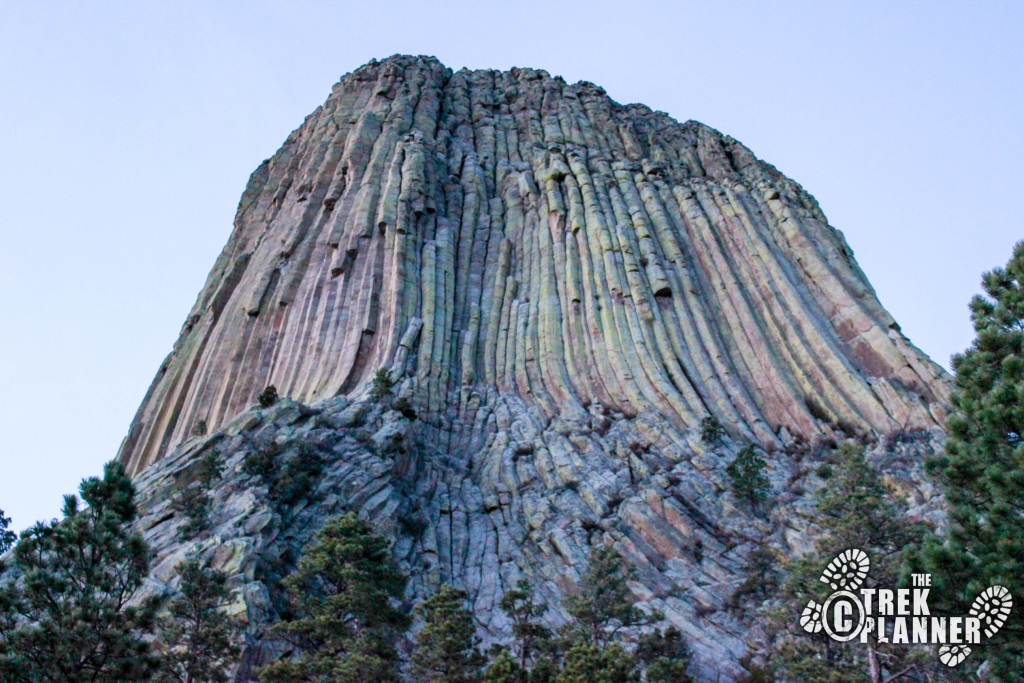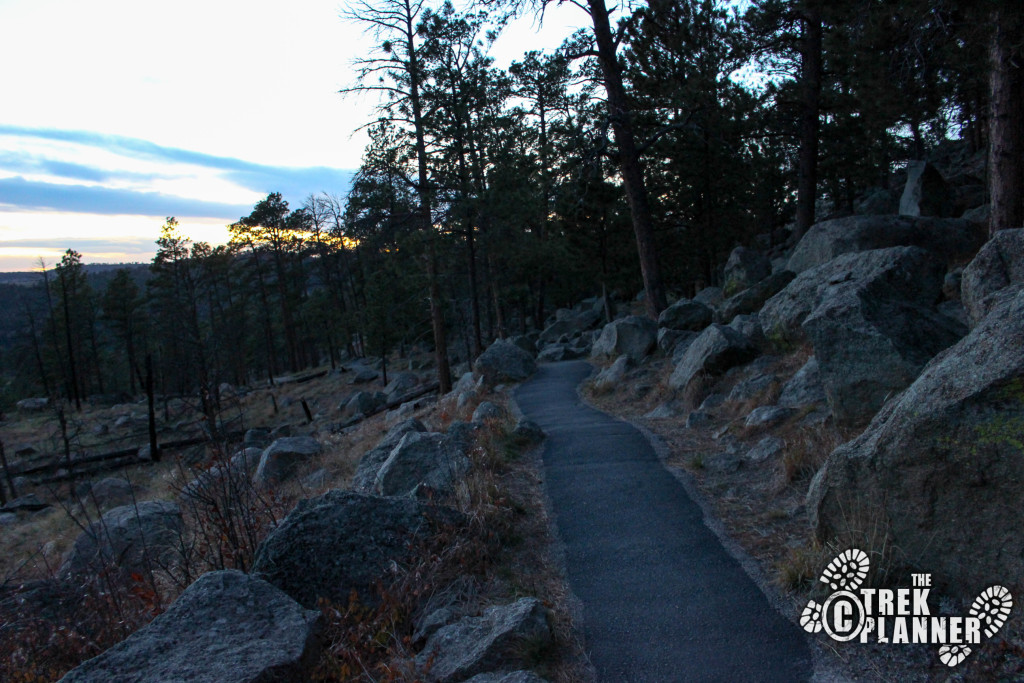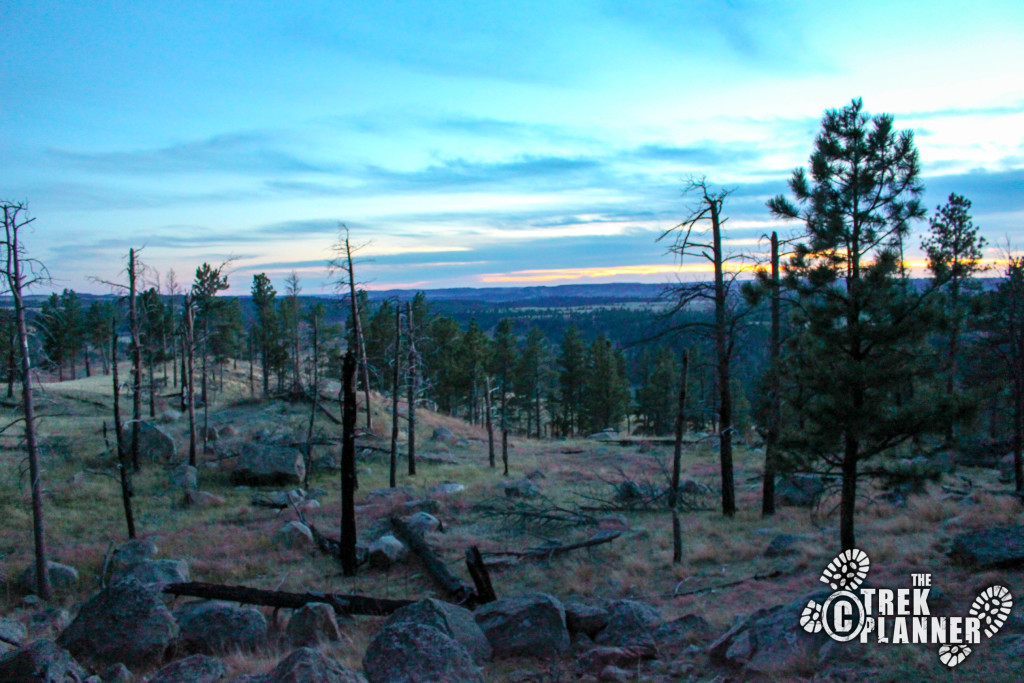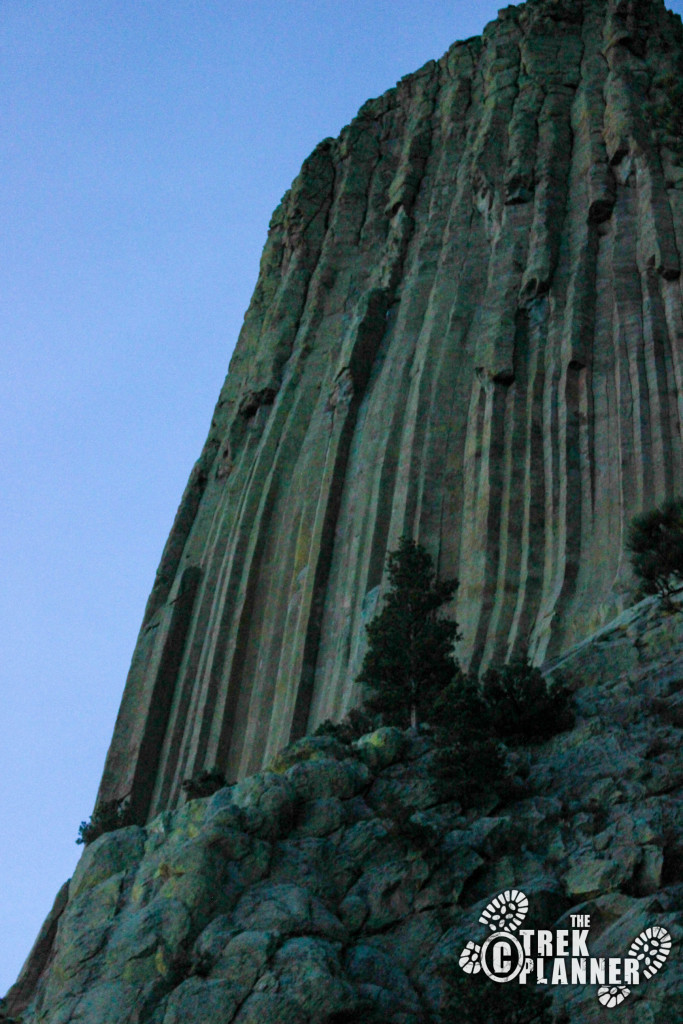 You will eventually come out to the Visitor Center.  I was surprised by how many people were still sitting on park benches or on the backs of their vehicles taking in the views.
Before leaving I stayed a little bit longer to get some pictures of Devils Tower with the stars.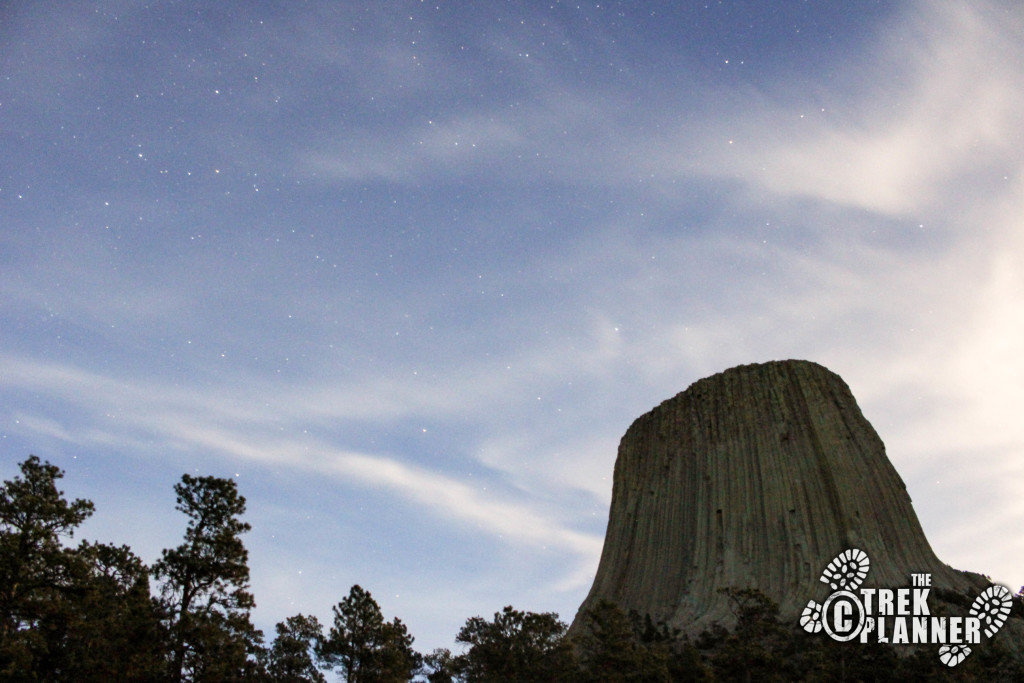 Personal Thoughts:
Even though I spent less than a half day at Devils Tower, I would love to come back and explore more.  On my way out, I checked out the campsite and found that it would be a great place to stay too.  It has an amazing view of Devils Tower.
While this was a very long drive I would wholeheartedly recommend you come see Devils Tower wherever you are coming from!