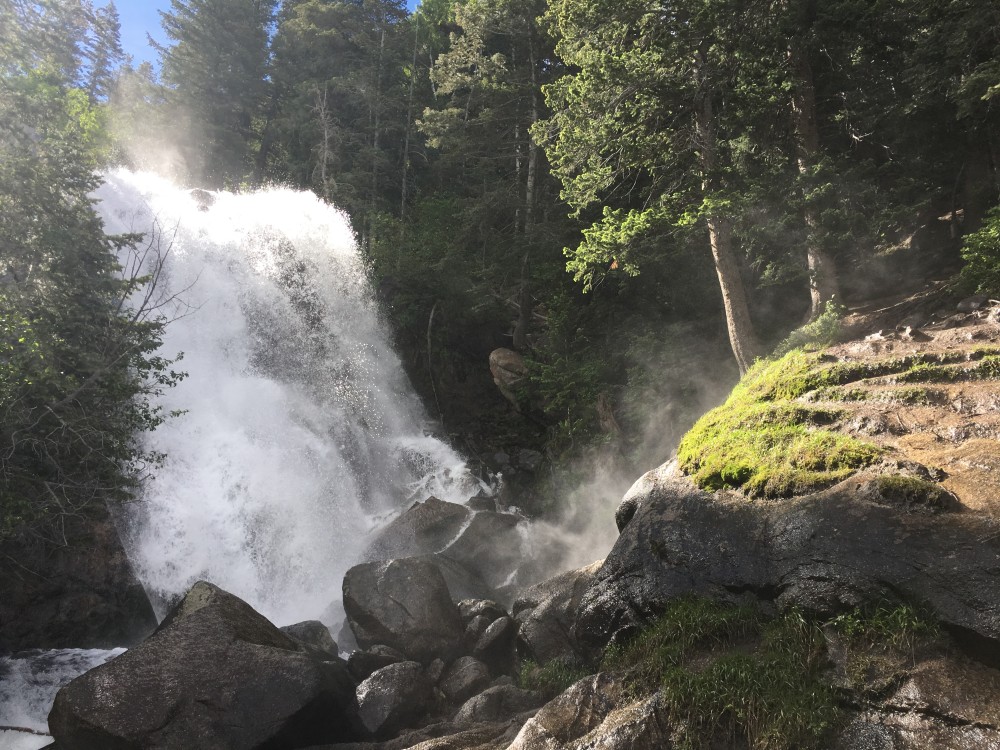 Overview
near Granite, Utah (One Trailhead is on Little Cottonwood Road and the other is on Wasatch Blvd). See "Trail" for more info.
Waterfalls, cascades, granite rocks, Lower Bell Reservoir, Upper Bell Reservoir
Approx. 2 miles to the Lower Falls (one-way)
Approx. 5 miles to Upper Bell Reservoir (one-way)
Lower Waterfall - 6600 ft
Upper Falls - 7500 ft
Upper Bell Reservoir - 9300 ft
2-3 hours for the "Lower Falls"
6-10 hours for the "Upper Reservoir"
2-3 liters. You will be following a stream of 9/10 of the hike, so if you are worried about running out, bring a water purifier. Do not drink directly from the stream.
Summer (preferably in June).
Bring sunscreen if you plan to hike to the Upper Reservoir. It is mostly shaded until you reach the lower Falls.
clearly-defined. Rocky. Many brick-size granite rocks cover the trail.
None. Pack it in, Pack it out.
Yes. No campfires however.
Sturdy hiking shoes, hiking poles (if hiking to the Upper Reservoir, although not required), water, snacks, lunch, and a backpack.
GPS Coordinates:
Trailhead from Wasatch Blvd:N40°33'54.03″, W111°48'13.30″
Trailhead from Little Cottonwood Canyon:N40°34'18.26″, W111°47'48.55″
Lower Bell Reservoir:N40°33'56.03″, W111°47'49.34″
"Lower Waterfall":N40°33'39.76″, W111°46'13.71″
"Upper Waterfall":N40°33'30.35″, W111°45'41.23″
Upper Bell Reservoir:N40°32'27.68″, W111°45'0.36″
If you have a Suunto Watch that supports "Routes", you can download this route here.  I did all the work for you. Download it to your watch now!
Check the route in
Trail Map
Driving Directions
The Trail: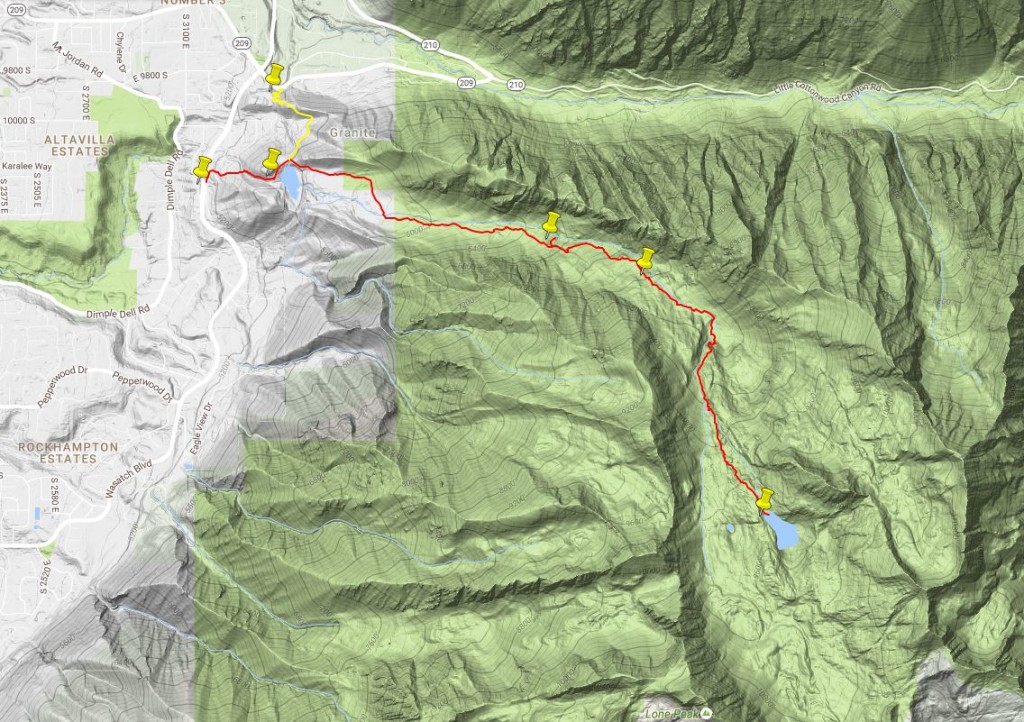 Of all the hikes, destinations, and peaks that I have been to in the Salt Lake area, Bell Canyon ranks on my Top 3. By a long shot too. Simply put, this hike, whether you are hiking to the "Lower Waterfall" or the "Upper Bell Reservoir" which is the furthest point 5 miles later, you can't call yourself a "local" and NOT do this.  Visitors to Utah: DO THIS HIKE!
Hiking to the lower waterfall can range from a two hour round-trip to four hour round-trip.  And hiking to the Upper Reservoir and back puts you at 10+ miles round-trip and time can be between 6-10 hours, depending on your fitness level and the speed of your slowest member (who I affectionately call the "weakest link").
This is a VERY popular hike on the weekends AND for good reasons too.  The main reason why I put this in my Top 3 hikes of SLC is because the trail follows the granite-strewn creek for 9/10 of the hike. It is densely shaded. There are meadows.  There are majestic granite cliffs all around you.  There are many, many waterfalls along the hike, especially as you near the Upper Reservoir.
(The Trailhead from Wasatch Blvd).
You will be parking in a residential area. PLEASE be respectful of the home-owners with your noise levels as you walk pass and do not trespass on their lawns. Show some class…don't be a (fill in the blank).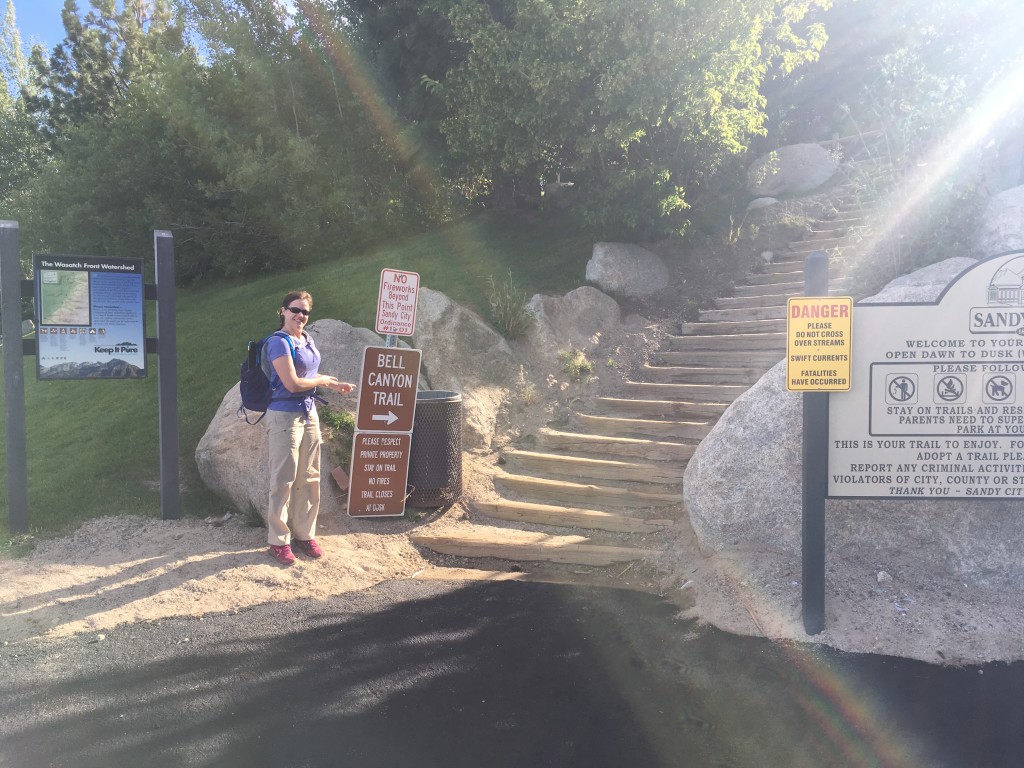 About 20 minutes later of hiking you will arrive at Lower Bell Reservoir.  Take your time here, catch your breath, and enjoy this lake view.
Remember – NO SWIMMING. Protect Your (Our) Watershed!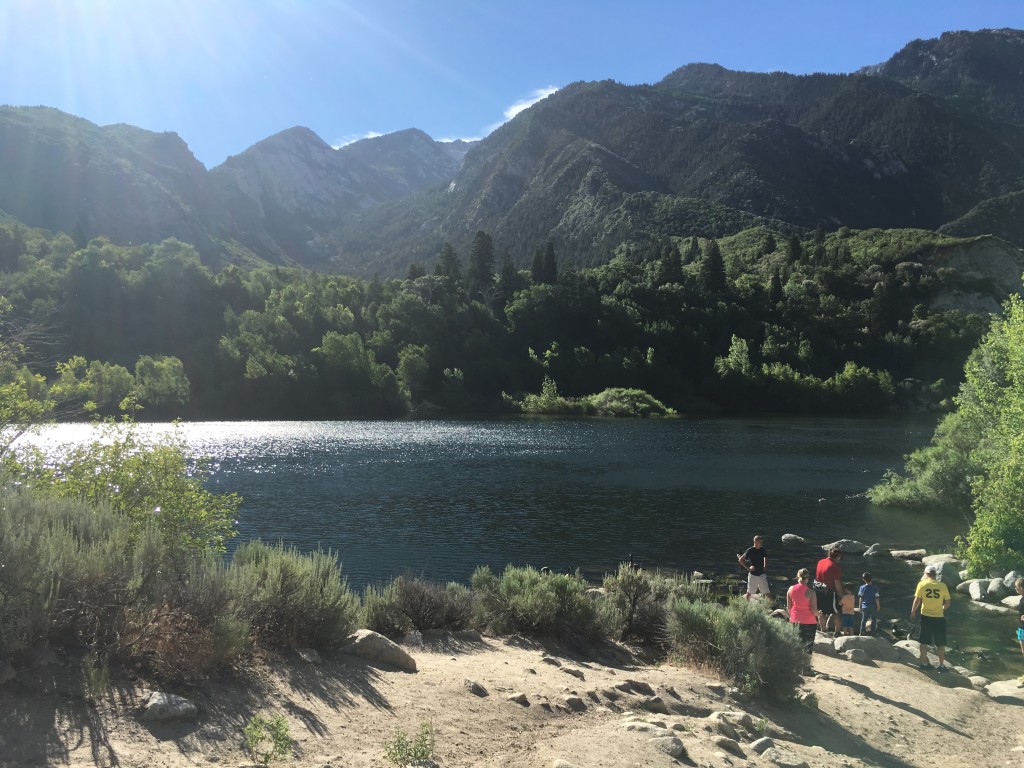 After the reservoir, follow the clearly-marked trail up the canyon for 1.6 miles to head towards, what I call the "Lower Waterfall".   The following pictures show you what you will be following for most of the hike.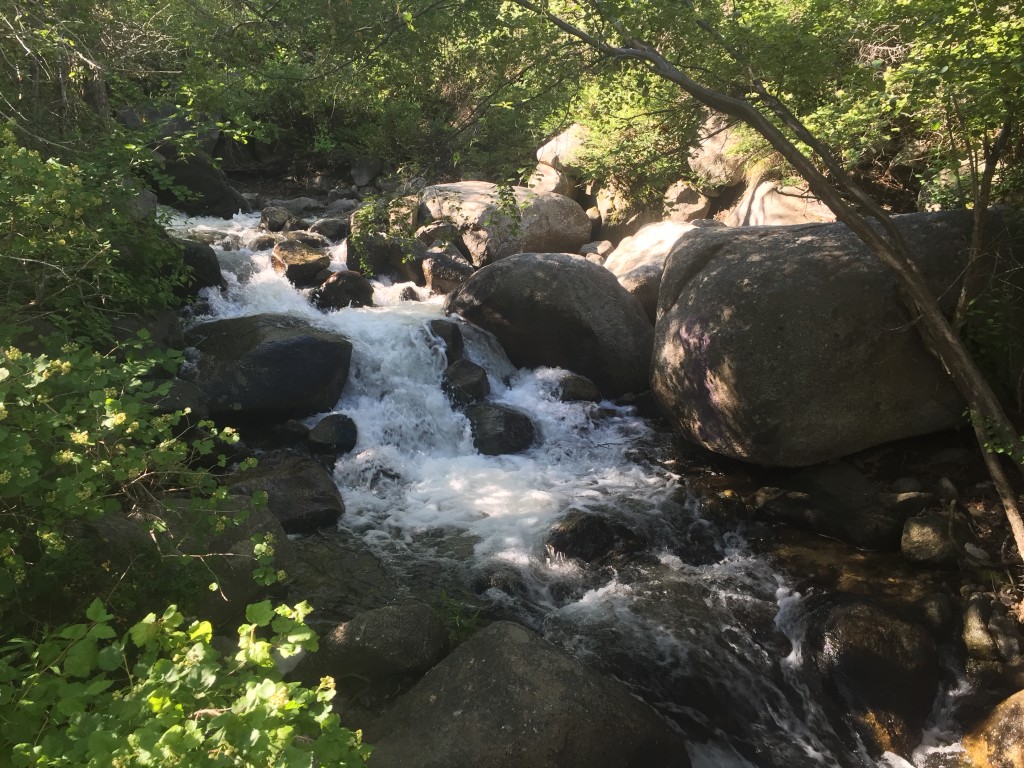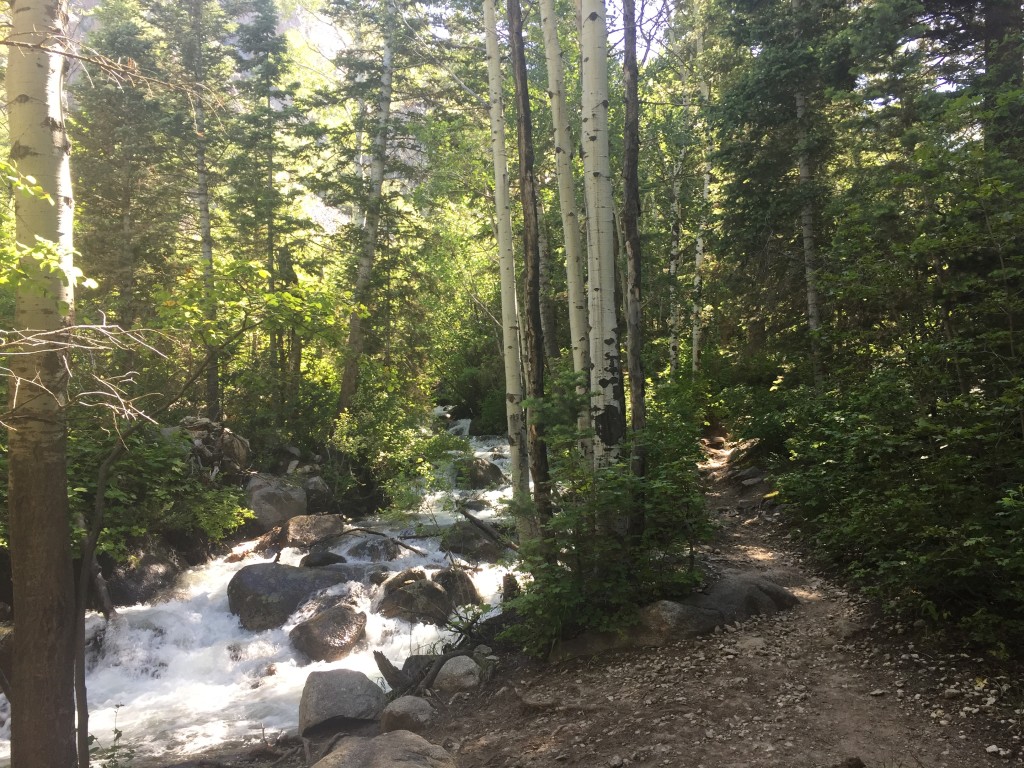 After 1.5-1.6 miles, you will hit a non-signed junction in the path.  LEFT (or North), takes you to my unofficially named "Lower Waterfall". Heading straight (or East) takes you to the officially designated "Upper Bell Reservoir".  When you reach the lower waterfall, this is a good time to re-evaluate everyone's energy level, water storage, time, and day-light remaining.  If you want to head to the Upper Reservoir, plan on AT LEAST an additional 4 hours (round-trip).  Mileage wise, you have an additional 1.6 miles to the Upper Reservoir with an elevation gain of 2,700 feet.  It's steady and not overly steep.  But if you are not in good shape, add at least another 1-2 hours round-trip to the 4 hours already.
Heading towards the lower waterfall – head 50 yards to the North and you will be presented to the majestic 40-ft waterfall!  Spring time (May and June) is when this waterfall is at full-throttle.  Be VERY careful!  There have been deaths and dozens of broken bones over the years due to people *always* seeing how close they can get to the edge. Do NOT be this person.
The last Search and Rescue in 2015 ended with a guy slipping on the slippery granite rocks, bouncing 15-20 feet or so to the jagged rocks below, breaking a vertebrae which resulted in him being paralyzed from the waist below. Please be smart!  Parents – do not let your kids get close to the edge!  They will slip!! The mist from the waterfall coats the dirt and makes it very muddy and icy.
Even in June when the thermometer reads 100 degrees, the water wasn't warmer than 48 degrees Fahrenheit . Brrrr!  Put another way, this isn't a stream to wade or play in.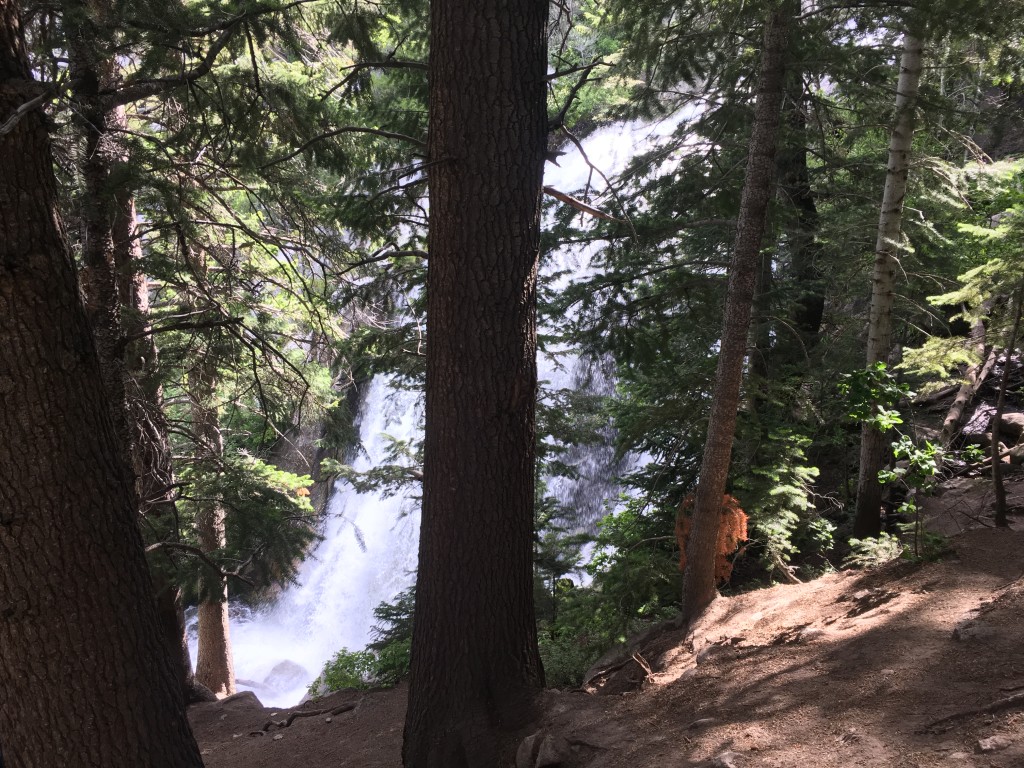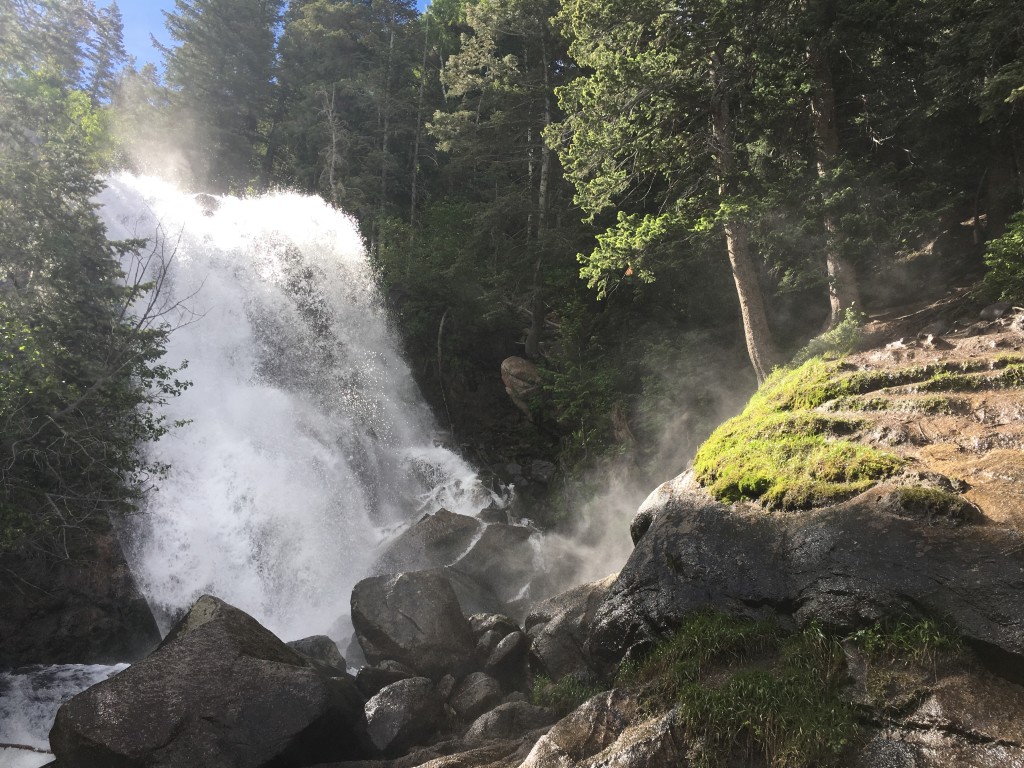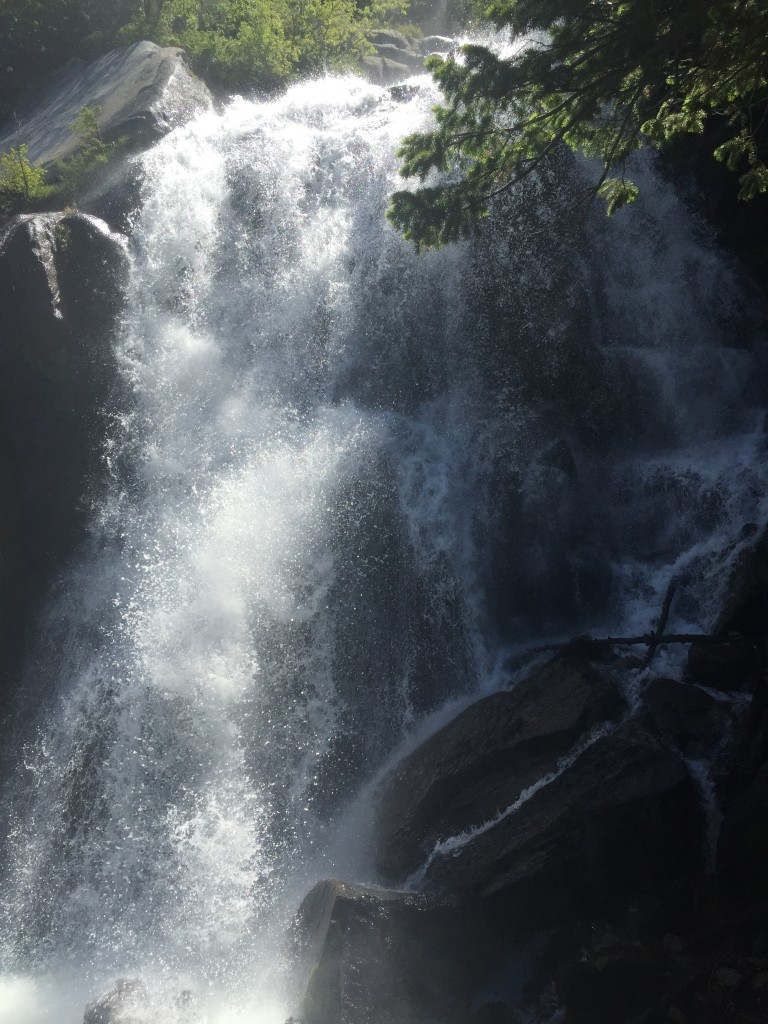 Directly south of the waterfall is an excellent place to have a picnic (bring a date!), soak up the warm Utah sun, or show off your sweet yoga moves!
Here, you have a great uninterrupted view back into the Salt Lake valley below.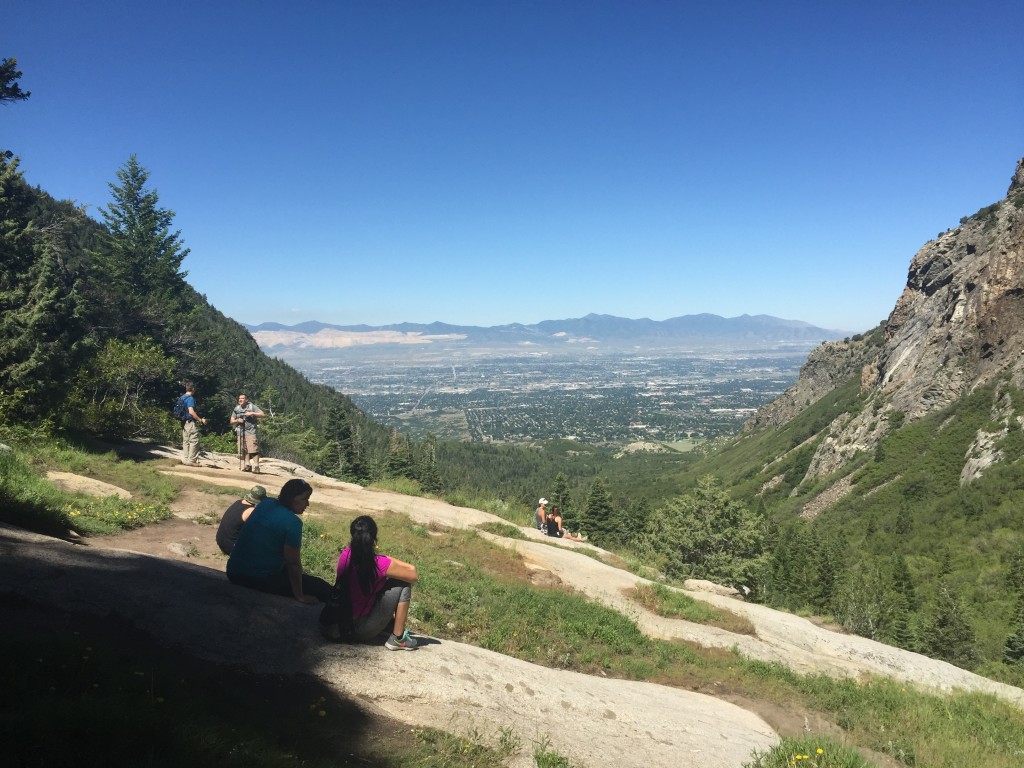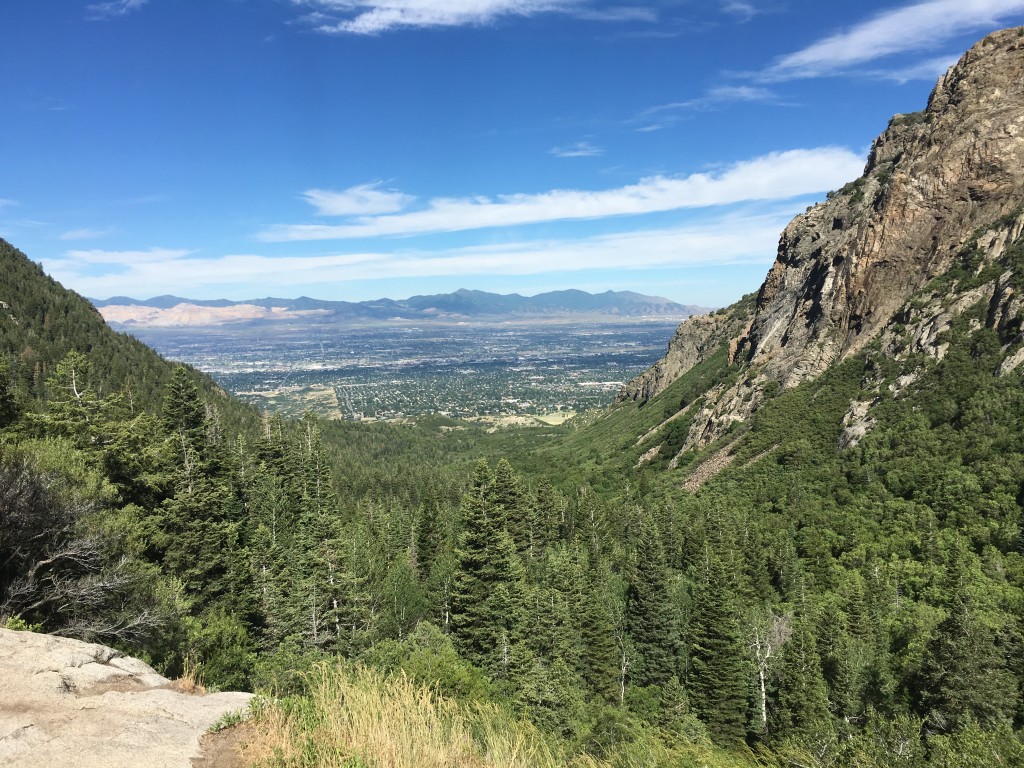 I need to point out that most people on this trail only hike up to the lower waterfall and head back down the same path.  This will take the average hiker between 3-4 hours.  For the more adventurous and much less-crowded, keep reading to reach Upper Bell Reservoir.
The mileage: 0.62 to the "Upper Waterfall" and 1.6 miles to the Upper Reservoir
From the Lower Falls, return the junction (50 yards to your west) and instead of heading down canyon, make a left (turn East) and follow the clearly-defined path for 1.6 miles.  This upper trail while difficult at times is not extremely strenuous.  There are many level areas to catch your breath again, but this will continually happen as you stop and take hundreds of photos of the creek and mini-waterfalls following their due course! Beautiful! Something about Granite and flowing water is a perfect combination.  If you have hiked in Yosemite N.P. and want something familiar to that experience, then this is it!
Another important note to those attempting the Upper Reservoir – If you attempt this in June or earlier, you WILL hit snow at 8000 feet and higher.  Some areas can be tricky with a 20-ft fall exposure, but it is still doable.  Be safe and step wisely. Bring hiking poles.  And hiking in July, there should be LESS snow but still be prepared.  Crampons aren't necessary, especially in July, but hiking poles will help plenty in this area.  To older hiking adventurers who do NOT want any snow – wait until the last week in July.  The water will still be roaring but the snow will be gone.
And here are some pics between the lower falls and the upper reservoir:
(This is the "Upper Waterfall")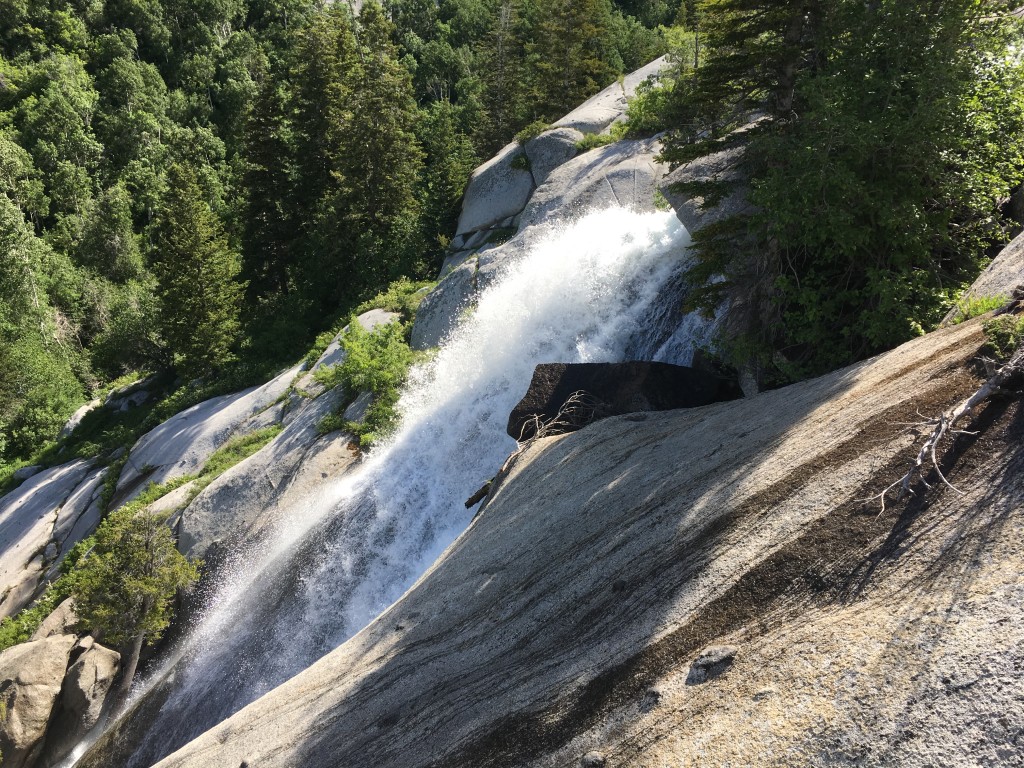 ,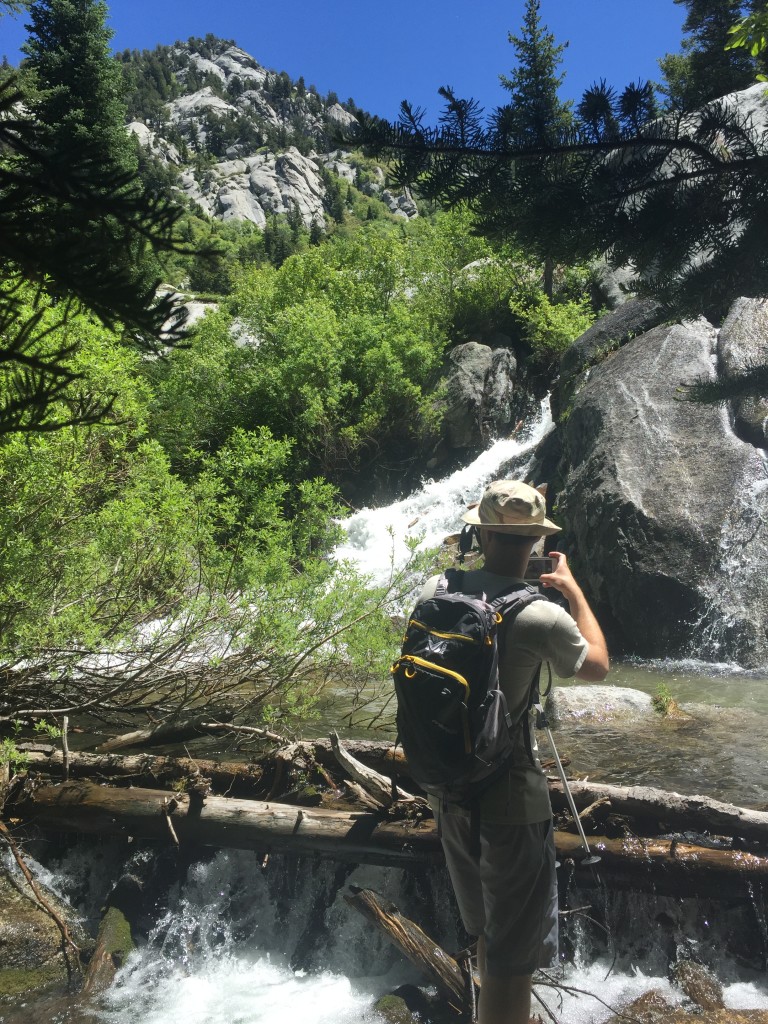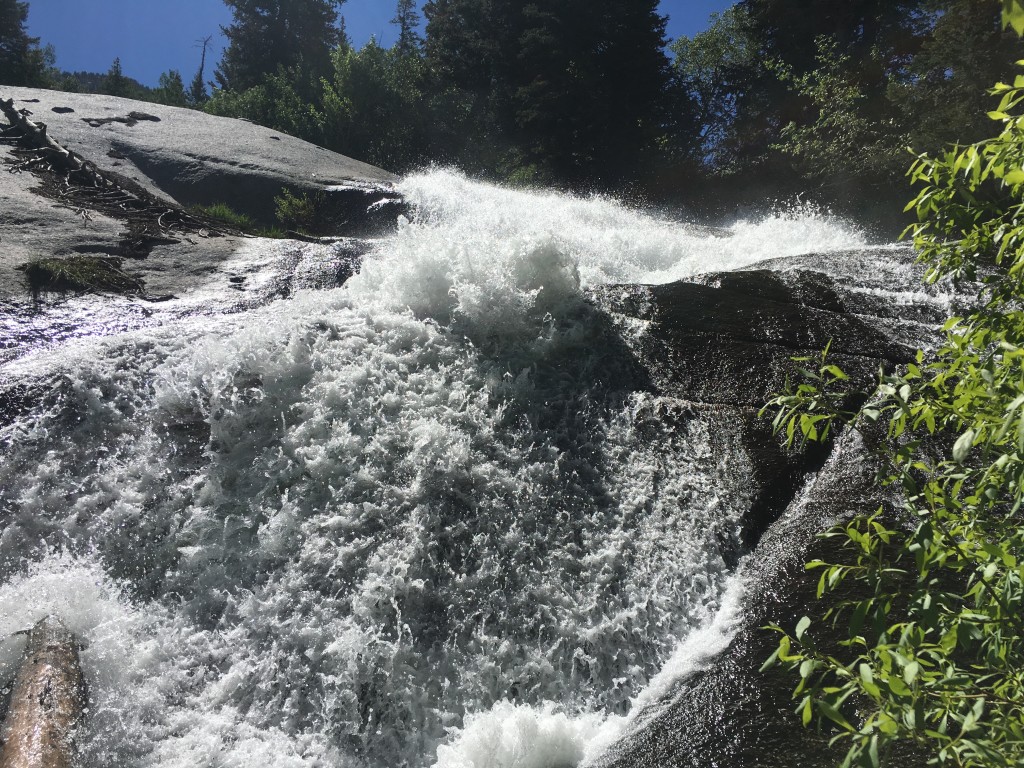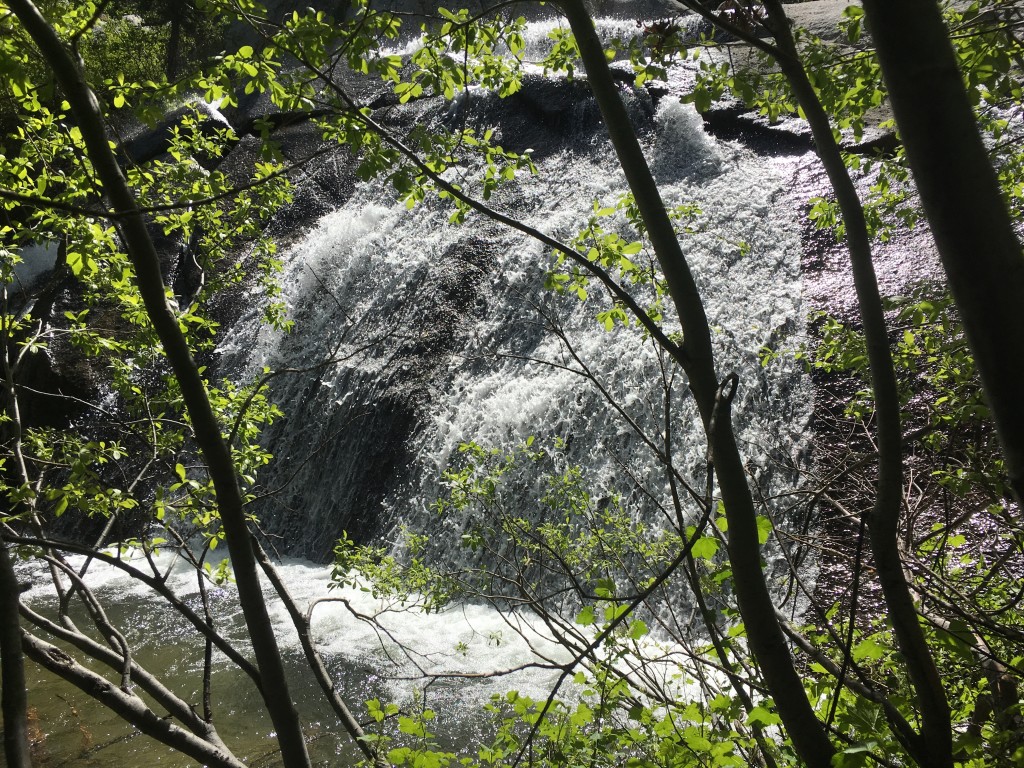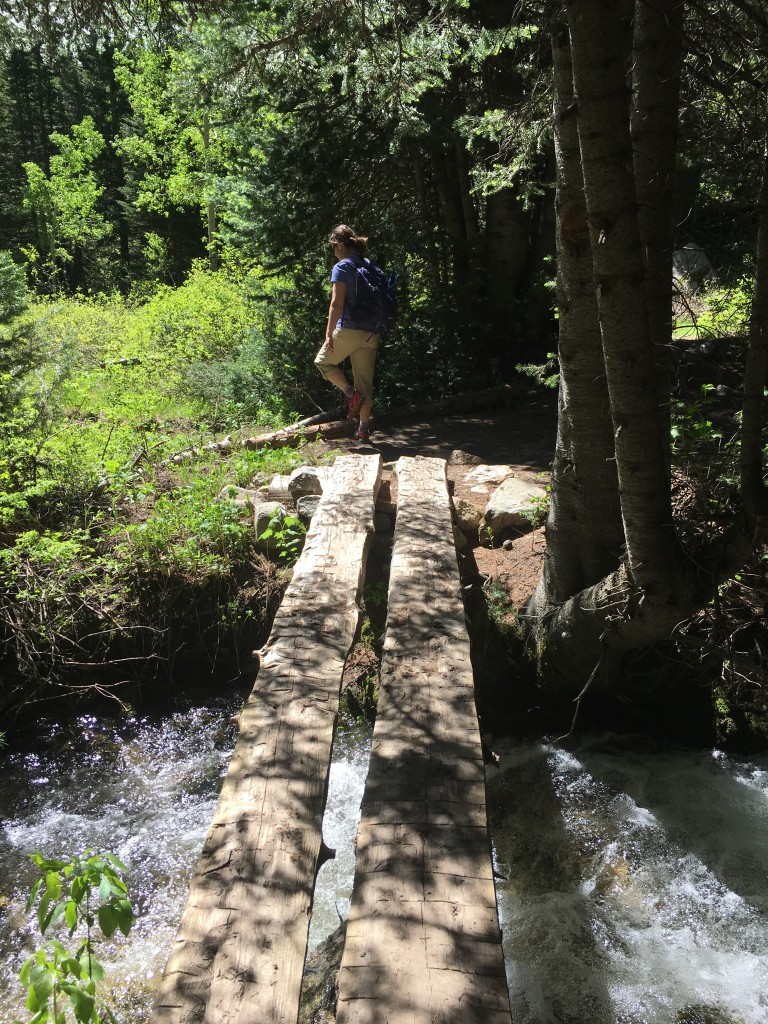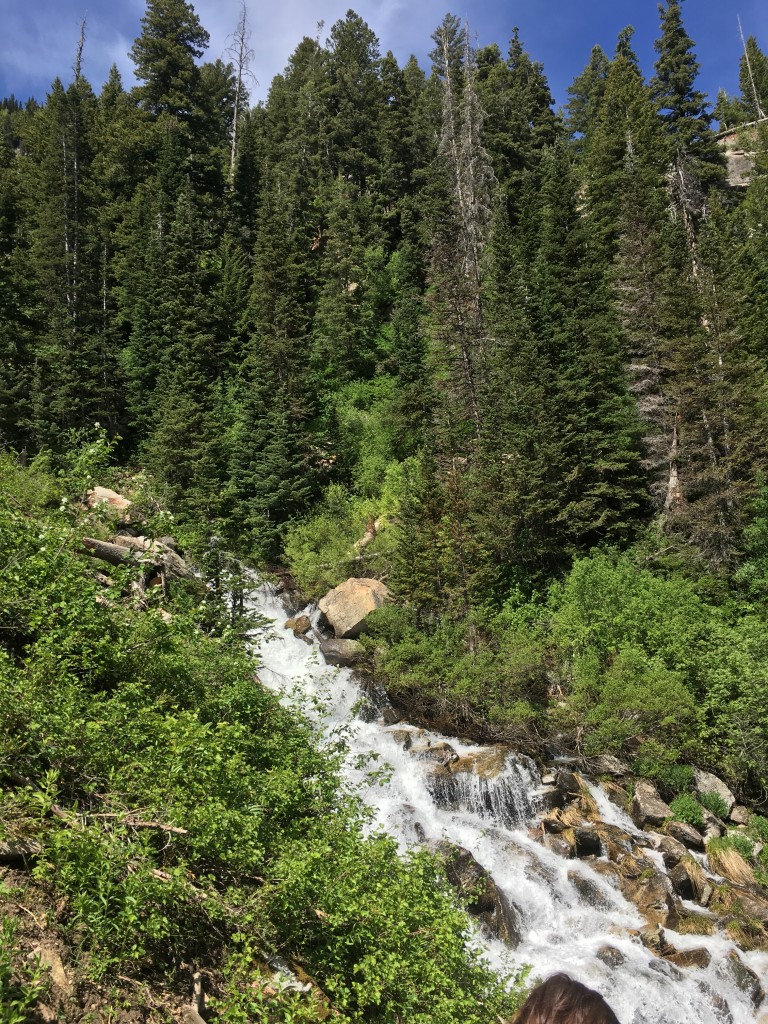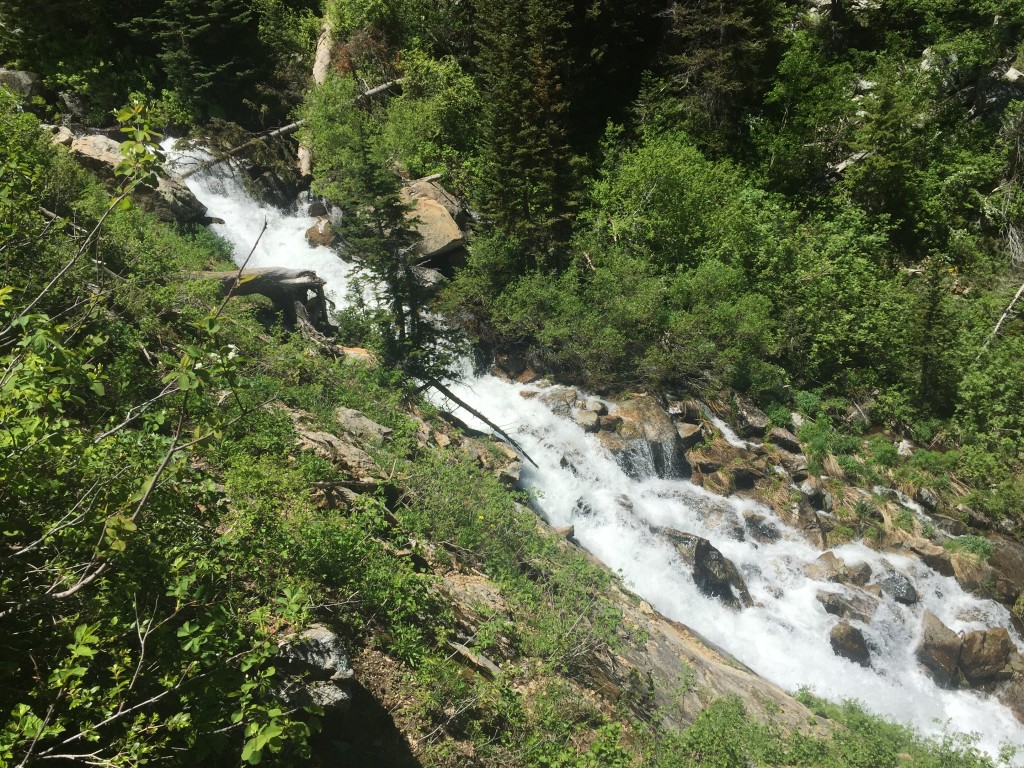 On the left side of these boulders is the trail.  There are cairns that mark the path across the rocks, but please take caution as you maneuver up and over the rocks.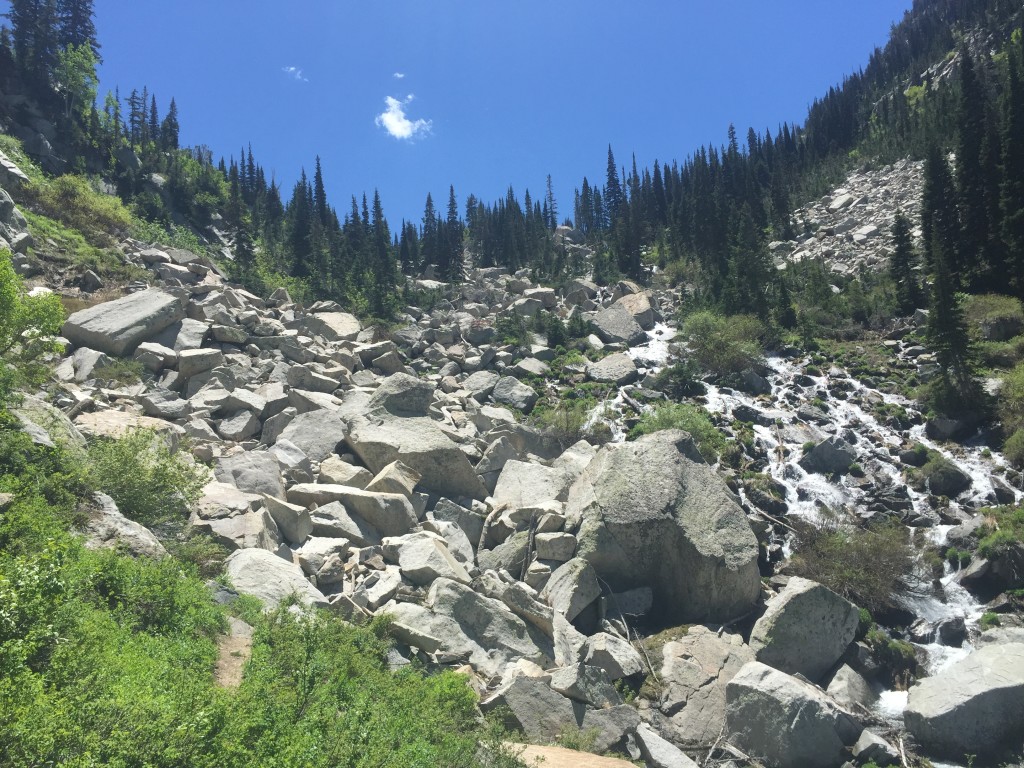 This is one of the snow sections that I was referring to earlier.  If you have trekking poles, you can surmount this with relative ease.  Otherwise, take your time.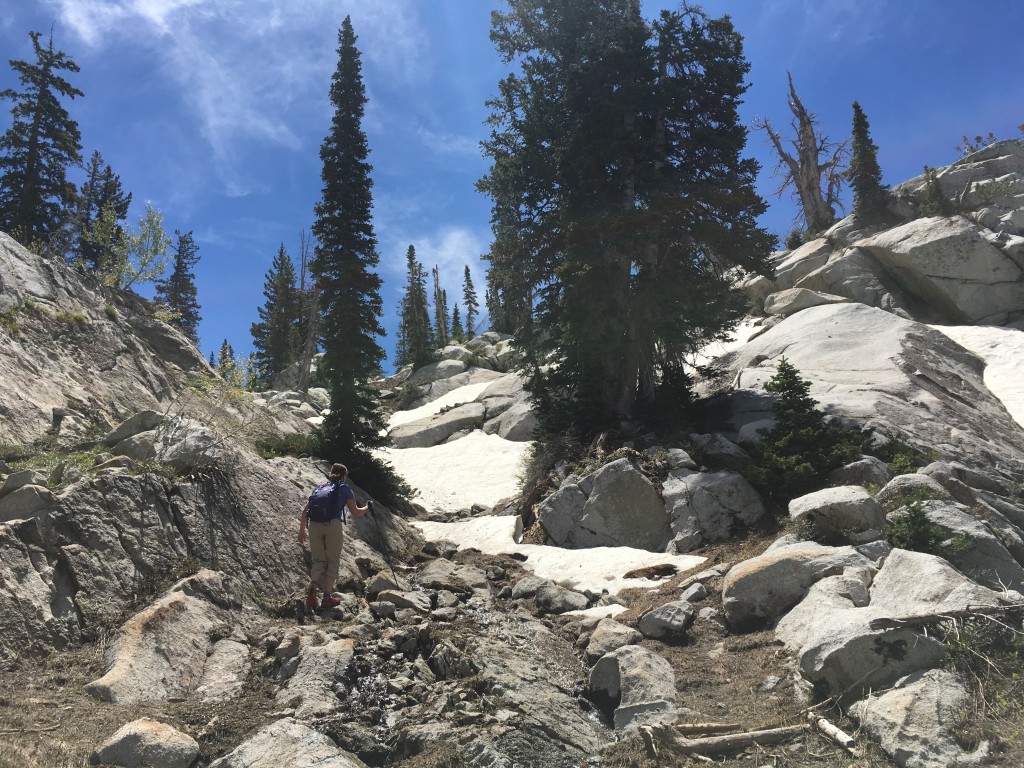 Near the top, it begins to level out slightly and you enter into "Lone Peak Cirque".  It truly is breathtaking up here.
In June, you won't be staying long just because the elevation at 9000+ feet will be still be quite cold!  Gotta stay moving to stay warm!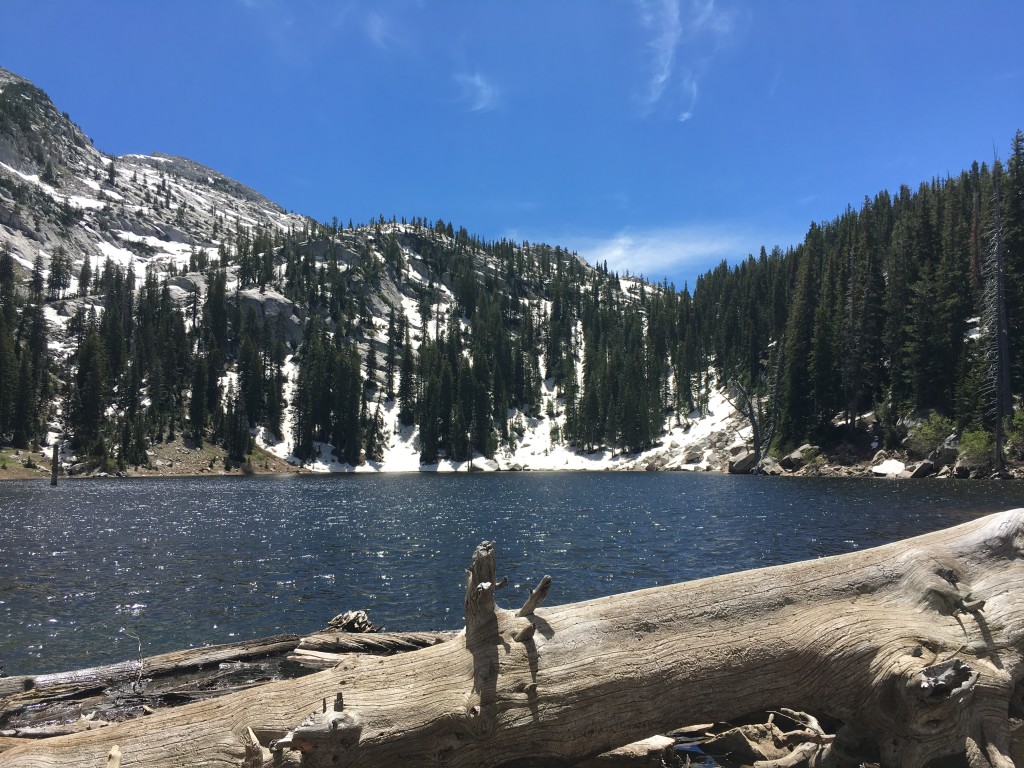 The Return:
From the Upper Reservoir/Lower Waterfall – take the same path back down to your vehicle.
Personal Thoughts:
Like I mentioned at the top, out of hundreds of hikes I have done in Utah, this easily is in my Top 5 hikes of Utah, especially when you take in the path to the Upper Reservoir.
The copious amounts of shade, the loud nearby creek, the granite rocks and cliffs surrounding you, the many waterfalls and cascades, and finally the two picturesque reservoirs all make it an unforgettable hike.
-Brett Johnson