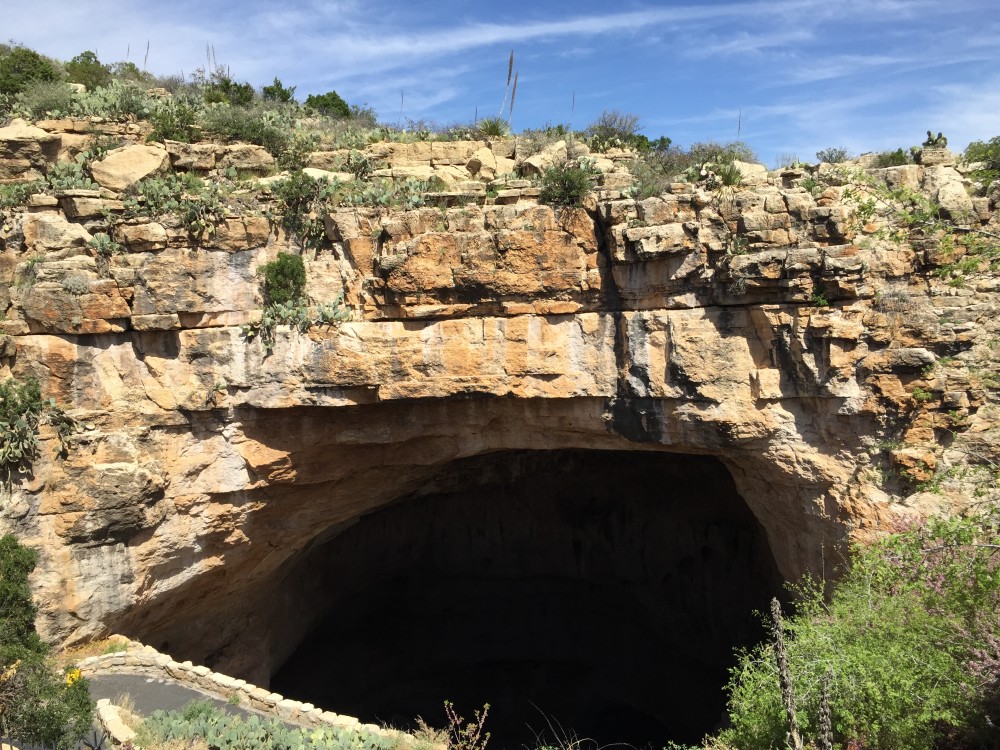 Overview
Near Carlsbad, New Mexico
Ginormous caverns, many incredible cave formations, deep "bottomless" pits
1.3 miles round trip loop on the Big Room trail. There are more opportunities for hiking and exploring.
The caverns are located around 700+ feet below the surface
You could spend a few hours or multiple days exploring all there is to see here.
Entrance fee is required. There are also optional ranger guided tours which cost extra
Open year round. Open normal operating business hours.
Yes. Located at the surface and in the Rest Room and Lunchroom area
Yes. Located at the surface.
Allowed in designated spots on the surface in the backcountry
You are not allowed to bring your own food in the caves. But there is a restaurant at the Visitor Center and a snack bar located below the surface.
Bring a flashlight, light jacket and/or sweater, small bag for water, good hiking shoes.
GPS Coordinates:
Carlsbad Caverns National Park: 32.175386°, -104.444191°
Trail Map
Carlsbad Caverns National Park Map
Click on the map to make it zoomable.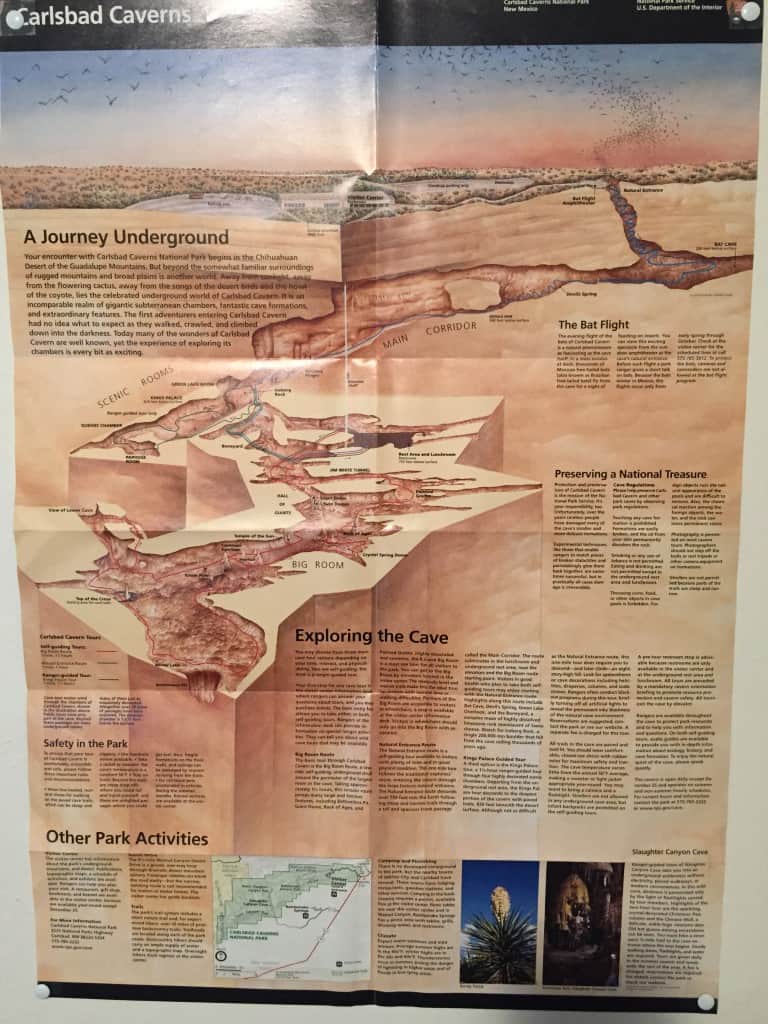 Driving Directions
The park is located about 40 minutes from Carlsbad New Mexico.

The Trail:
Note: I highly recommend you bring flashlights!  Flashlights made our trip through the caverns so much more enjoyable.  I was surprised by how few people brought lights down in the caves – it just made sense to us to bring some light for our own exploring.  Also, you are NOT allowed to bring in your own food to the caves.  You are only allowed to bring in your own water.
Carlsbad Caverns National Park has a very large and complex cave system near Carlsbad, New Mexico – in all I think there are around 115+ caves in the National Park.  As a person who loves mines and caves I knew I would have a blast exploring around underground here and took full advantage of our visit.  This national park is very unique in that it is located almost entirely underground!  There are only a few other national parks that have vast cave systems and Carlsbad is one of them.
I won't go into too much of the history of the caverns but they were discovered no doubt by the Native Americans living in the area hundreds of years ago – you can still see some of their rock art in certain areas just outside the natural cavern entrance (where the bats fly out of).  But what made them popular was a young man named Jim White (he is also credited with exploring the caverns) who explored much of the caverns on his own in 1898.  It is truly inspiring that such a young boy with very limited equipment and no cave knowledge explored many miles of the caverns on his own with only a homemade kerosene lantern.
——-
The main entrance is located at the top of a hill which overlooks the valley below – it is actually really pretty.  There are a few buildings spread around for employee housing and the Visitor Center has a gift shop, restaurant and some informational kiosks and displays.  You can of course get an amazing view of the natural entrance to Carlsbad Caverns which can be seen below.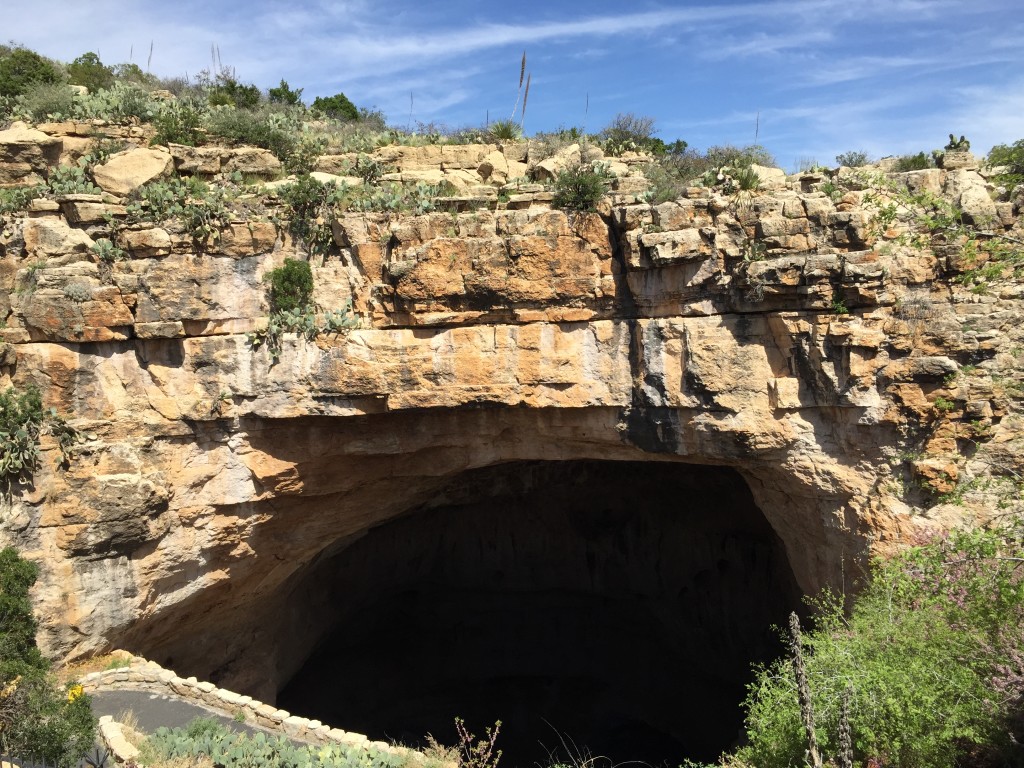 Natural entrance
There are a few trails and backcountry caves and hiking/camping opportunities but we just wanted to see the giant underground caverns that the place is famous for.  If you want to see any of the other caves you need to make reservations.   There are also other caves located on the adjacent Forest Service and BLM lands if you are interested.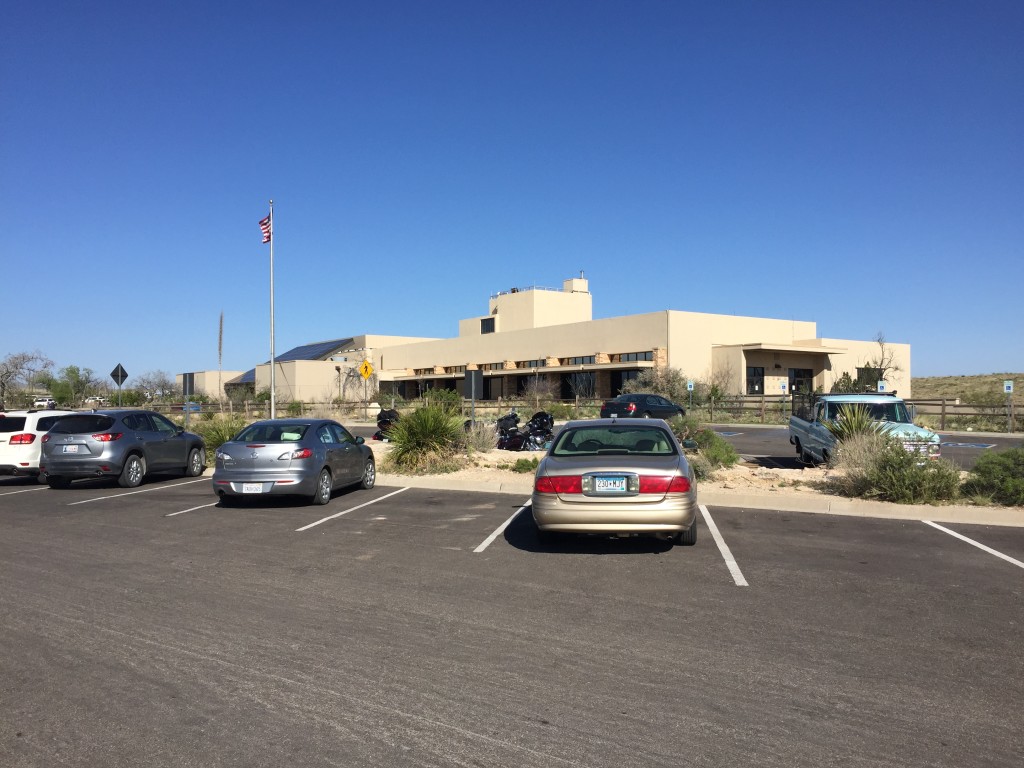 The parking lot has plenty of parking for tour buses and vehicles.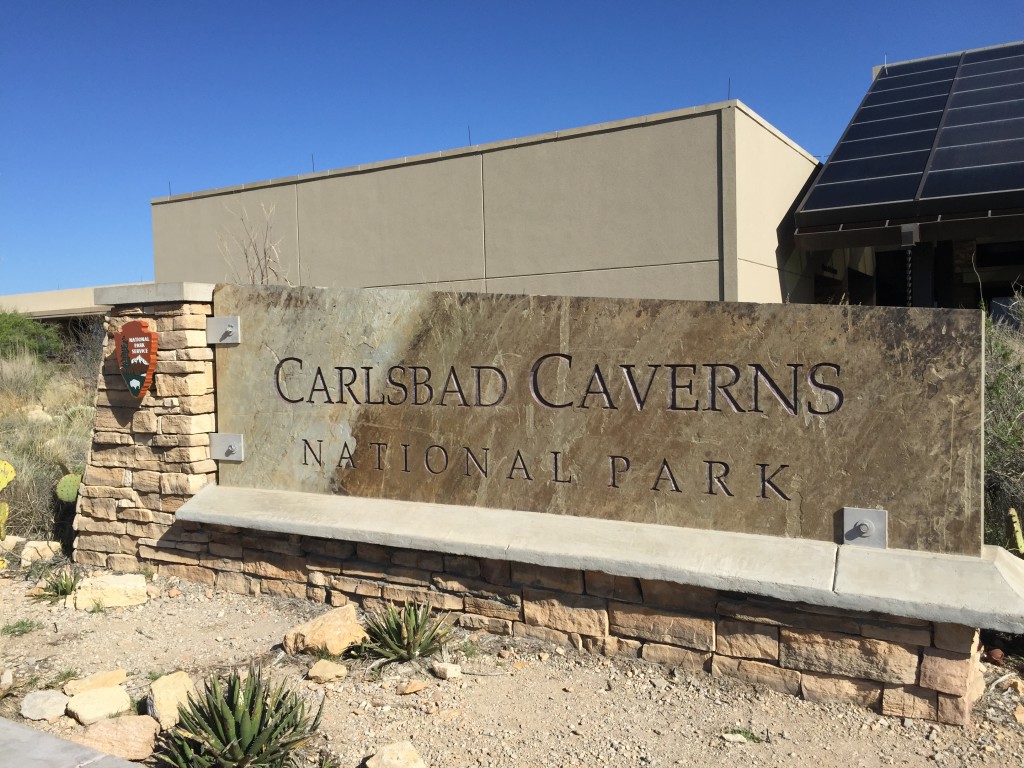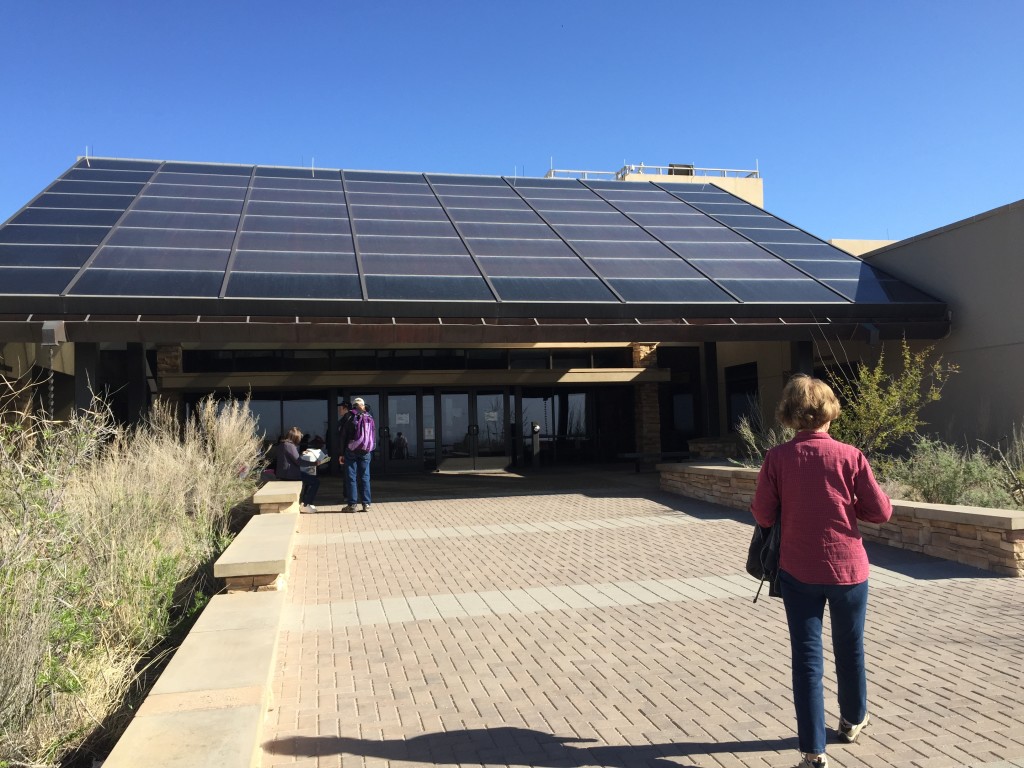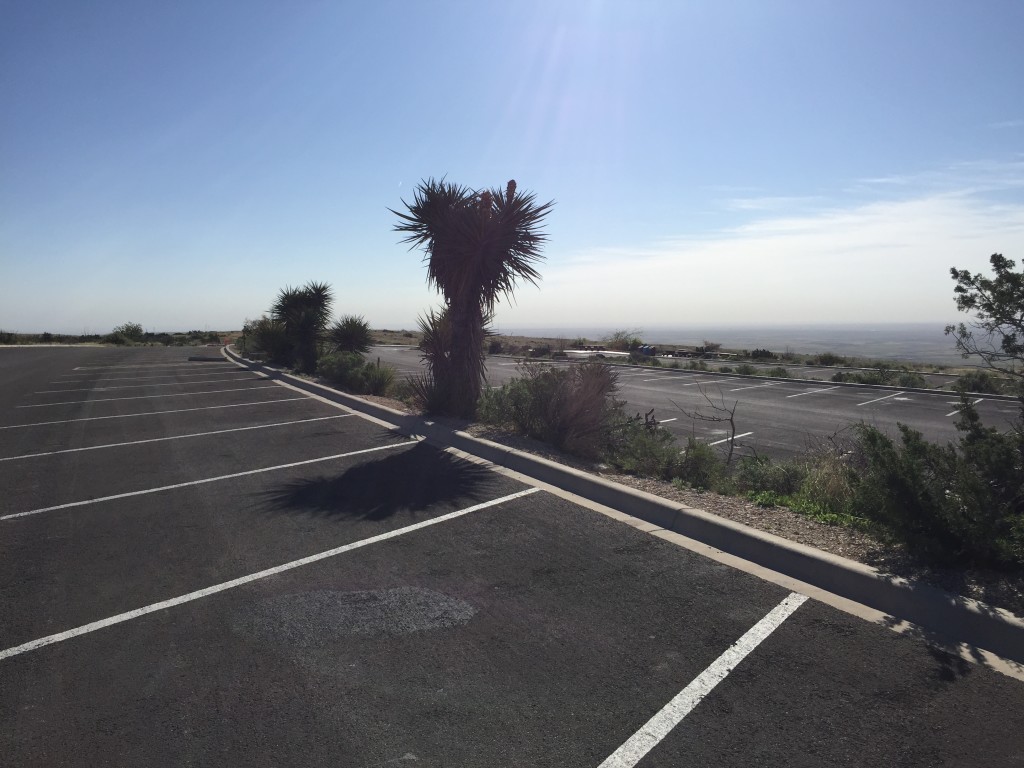 Once inside the Visitor Center you are met by an information booth staffed by park rangers.  We stopped here and asked what the "must see" things are at Carlsbad.  The ranger told us to do a ranger guided tour of the Kings Palace which cost a little extra but it was very well worth it!  You should also speak with a park ranger so you have a good idea what to see and do and what are the available tour options.
Note: If you do a self guided tour you can rent an audio guide for an extra cost.  Also, make sure you bring a sweater or some other layers of clothing to keep you warm and comfortable in the caverns.  The temperature is about 56°F year round underground and it is very humid.  If you have any concerns about your health or safety please speak with a park ranger.
After speaking with the ranger we walked over to where we pay the entrance fee and spoke with a few more park rangers about the park then we checked out the rest of the Visitor Center.
There were lots of maps, displays and other cave information which we gladly read. We probably spent about a 1/2 hour here learning all we could about the fascinating history and geology of the caverns before it was time for our Kings Palace tour.  If you want to read more about the Kings Palace tour click here.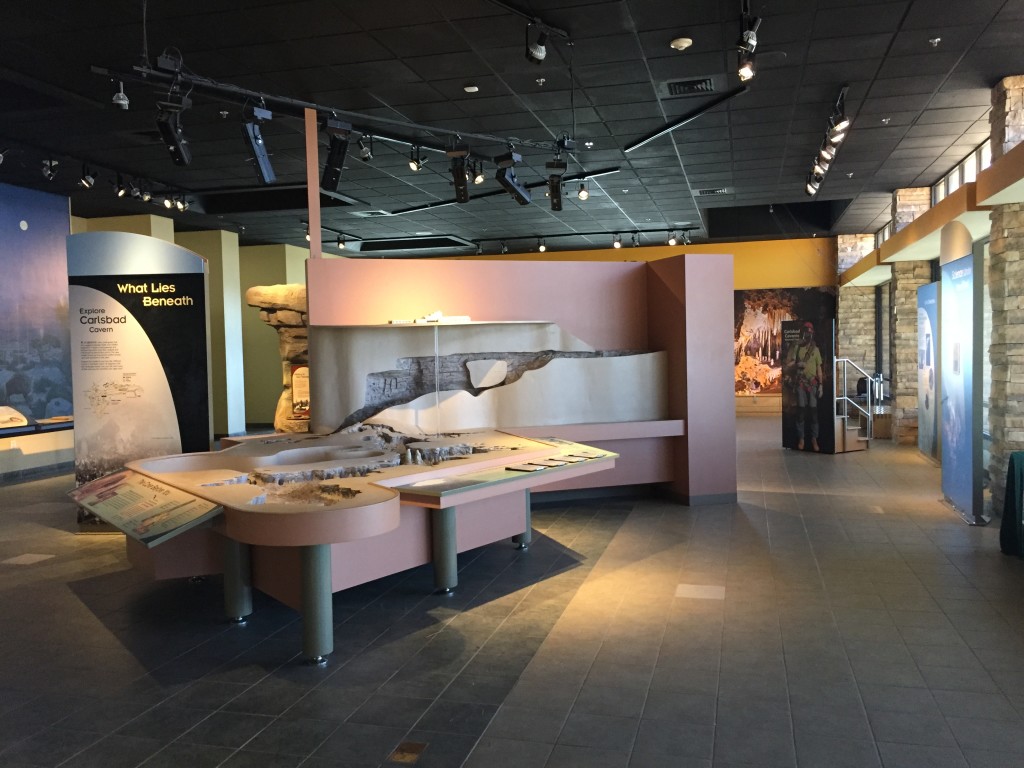 The caverns are located about 700 feet below the surface with varying depths.  Don't worry, there are two elevators that drop you to the bottom of the 700+ feet.  If you want however, there is also a trail through the natural entrance where you can walk the entire way down to the Big Room caverns – which we didn't have time to do unfortunately.  You can decide which way you want to go but for us, we decided to conserve some of our energy and take the easy way to the bottom through the elevator.
The elevator is located inside the Visitor center where you pay the entrance fee. It runs on schedules so as to maximize the capacity of the elevator – it is a first come first serve basis.  It is kinda freaky to think that you are standing in a 700+ foot shaft going down in an elevator but thankfully it doesn't go too fast!
Once down the elevator, make sure if you have any health issues that you take some time to assess your health before you continue, especially if you are diabetic.
Now you are in the Main Rest Area and Lunchroom where there is another gift shop, snack bar and of course the restrooms.  Take some time here to let your eyes adjust to the low light levels before you continue on.  There are many lights and even several emergency light systems to help guide you along the caverns but we brought a few lights anyway.
Since you aren't allowed to bring in any of your own food, we bought a sandwich and some chips.  It is very strange buying food underground in the dark but we found it comfortable sitting at a table and resting for a bit enjoying the adventure so far!
If you are taking a park ranger guided tour this area is where you will meet.  If you are simply exploring the caverns on your own in a self-guided tour then you can go at your own leisure and don't need to wait for a ranger to guide you along.
There are plenty of amazing things to see along the way as you do a giant loop around the caverns in what is called the Big Room.  The Big Room is absolutely stunning with its sheer 8.2 acre size – it is almost 4,000 feet long and about 250 feet at the highest point.  The trails are actually paved concrete pathways with handrails and benches to rest on.  The Big Room trail makes a 1.3 miles round trip loop and I highly recommend you do this.
If you rented an audio guide you will use it here.  As you walk around the Big Room you will see little signs with numbers on them.  Simply press the button on your audio device to hear the information regarding the numbers.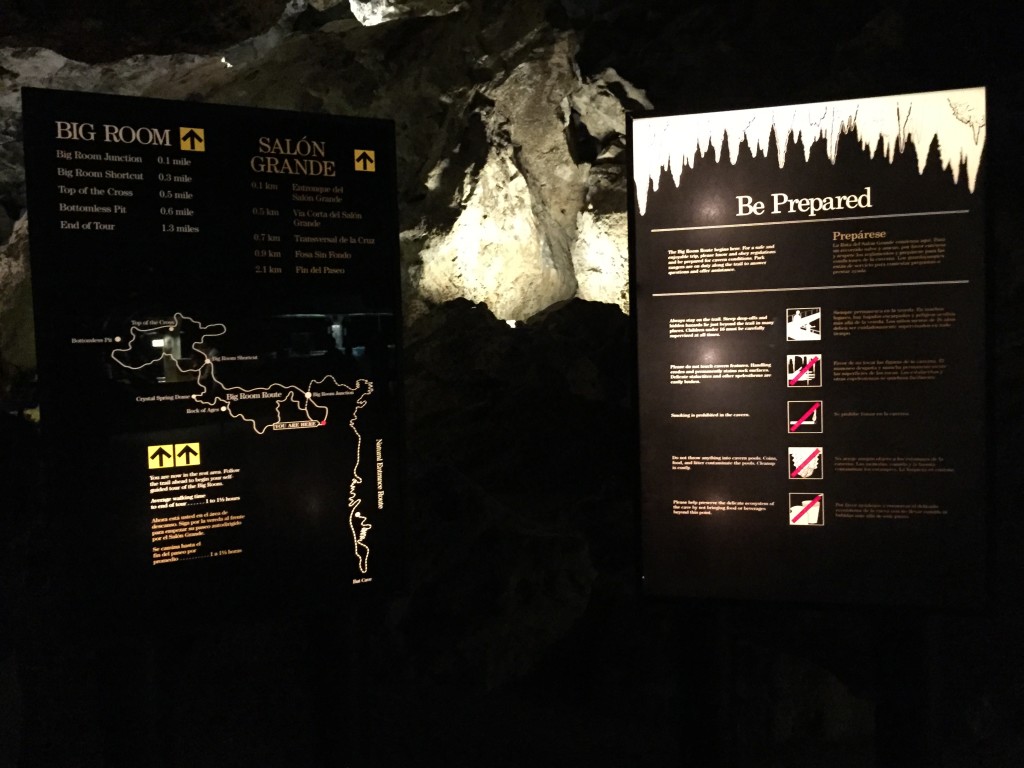 The Big Room trail starts off winding around a narrow path which opens up into a large room…then into another larger room…then another…and another…you get the picture.  I'll just post some of the pictures that I took as we went around the loop trail.
It is almost impossible to grasp just how large these caverns are from pictures.  There were several points along the trail where you can see far out in the distance and it makes you feel like you are in a giant football stadium because of how the caverns are shaped.
It was interesting to pass other visitors in the dark and you could faintly see the scared expressions on some of their faces as if the lights were about to be shut down and they were to be left alone in the darkness.  I, however, rather enjoyed the dark and silent passageways and thought it was quite peaceful.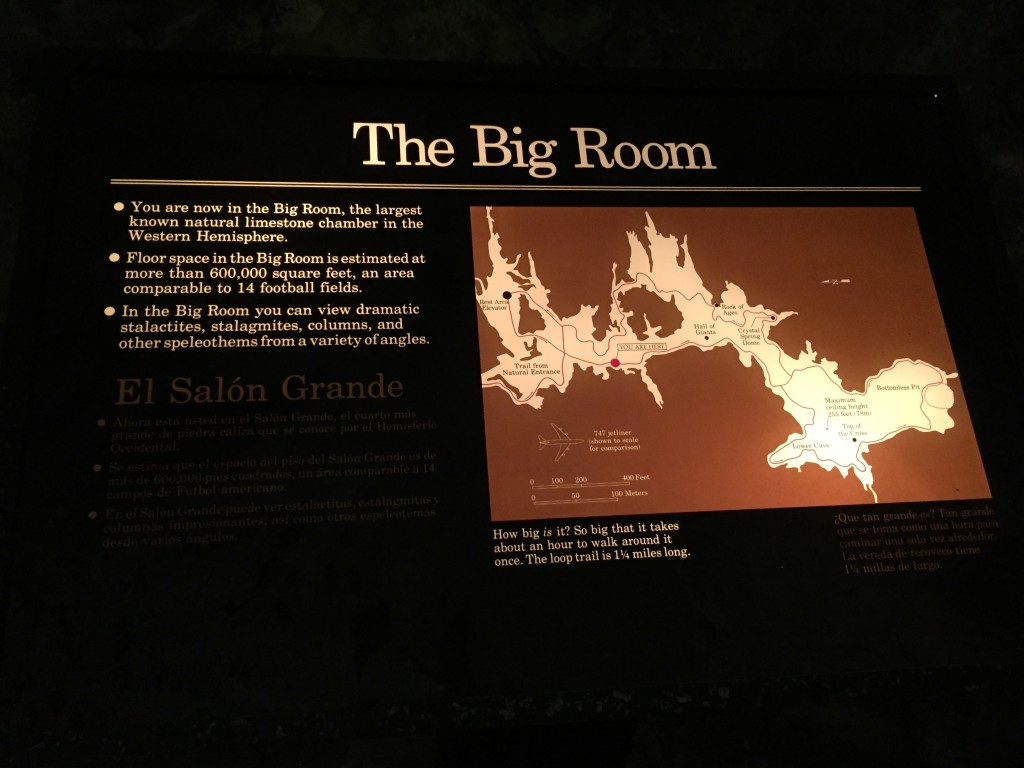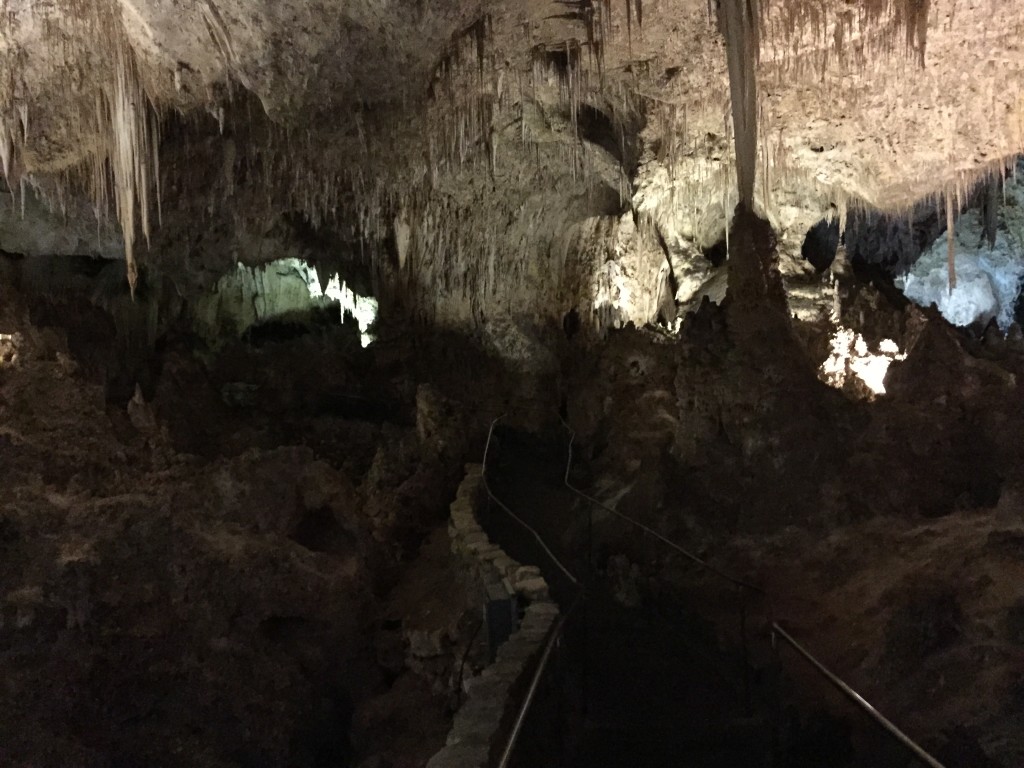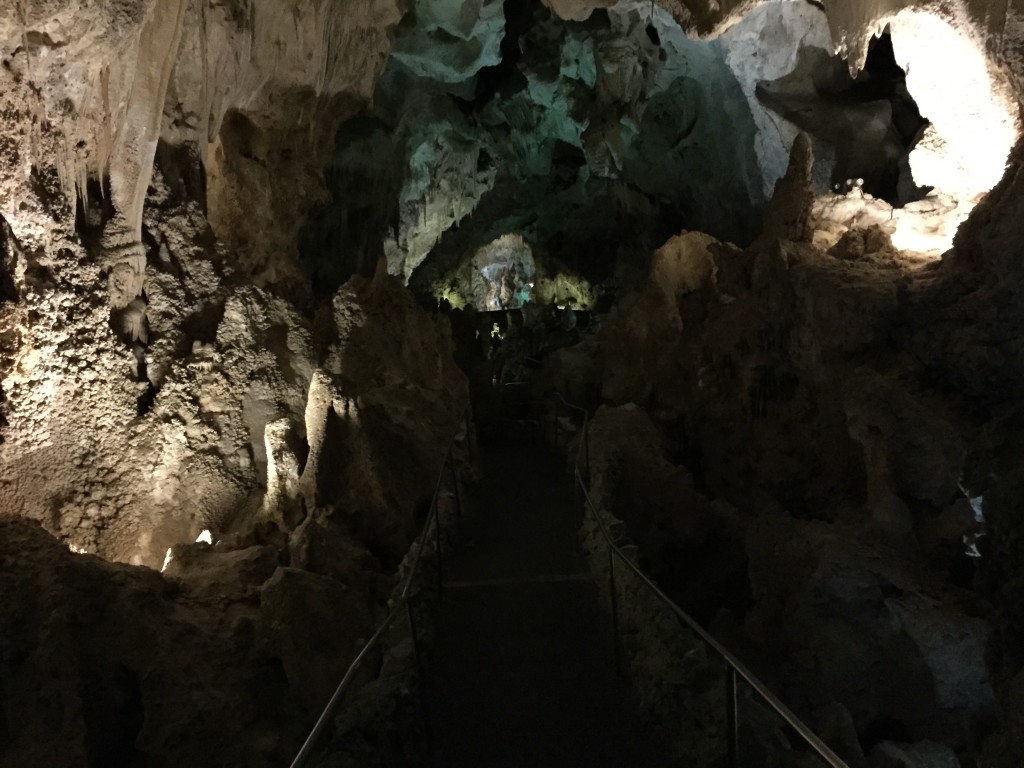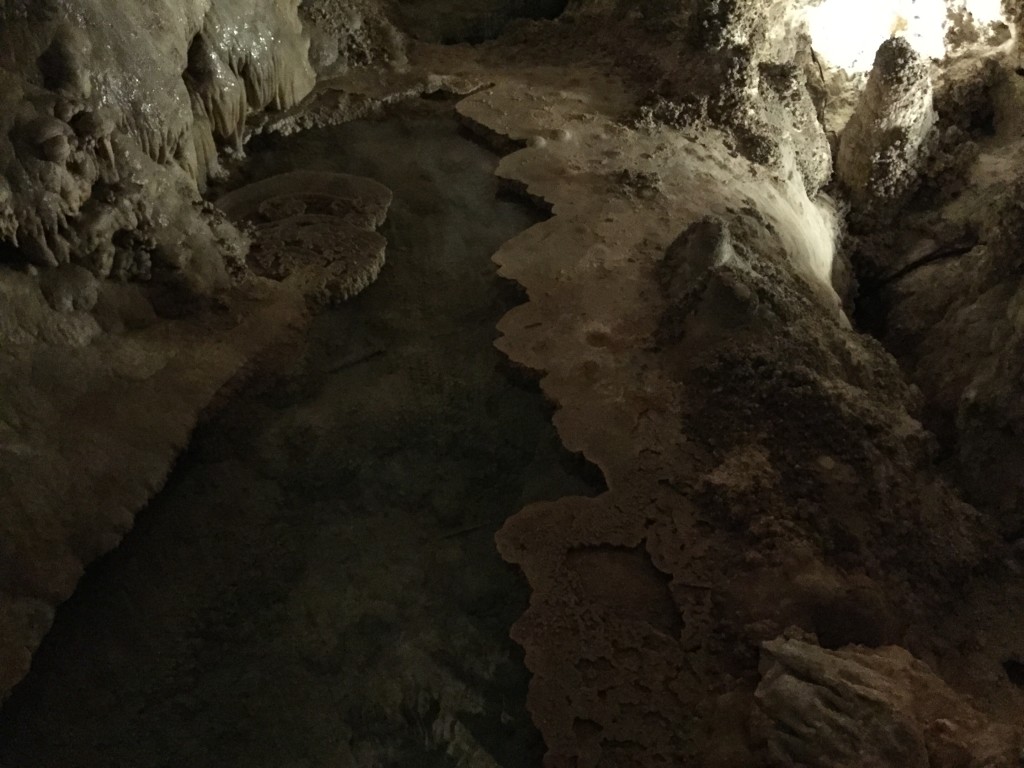 As far as wildlife is concerned, there isn't much wildlife inside the caves outside of bats.  Even deep underground we still found guano stains on some of the formations.  After speaking with a park ranger, we found out that bat guano was mined in the caverns for some time.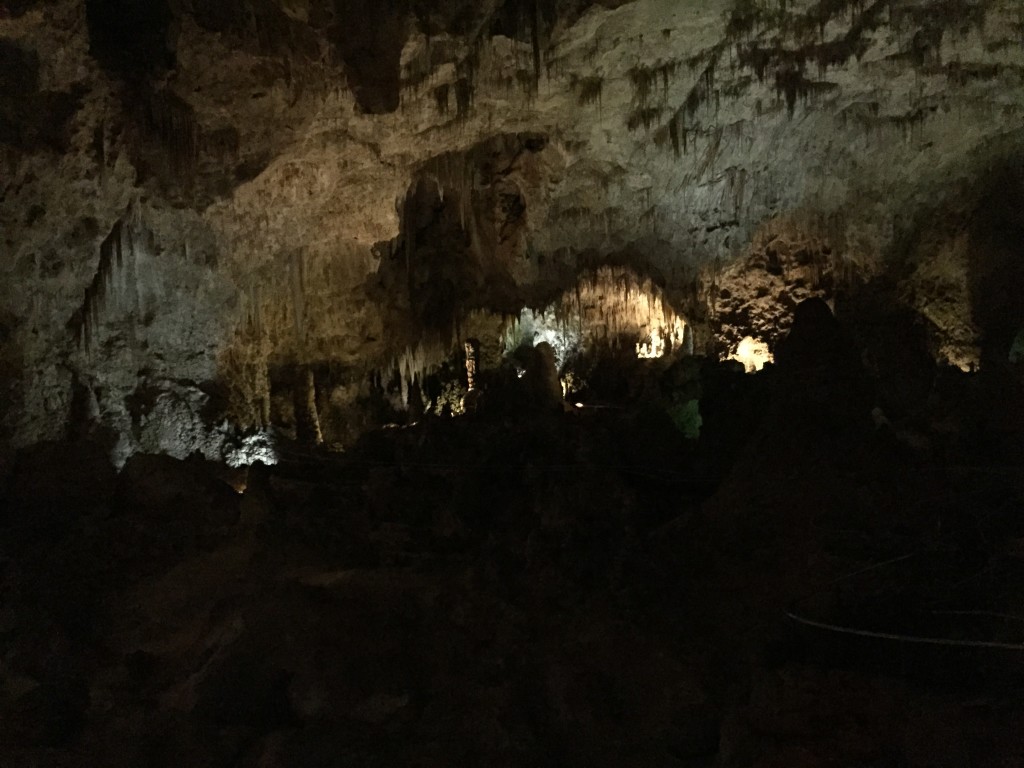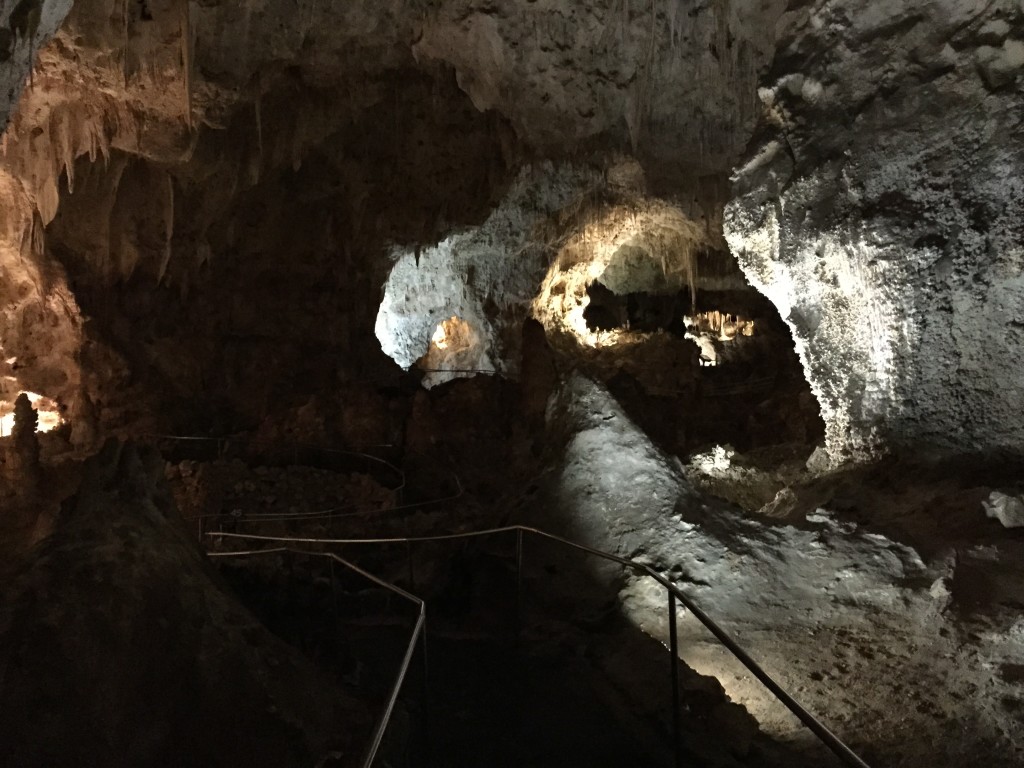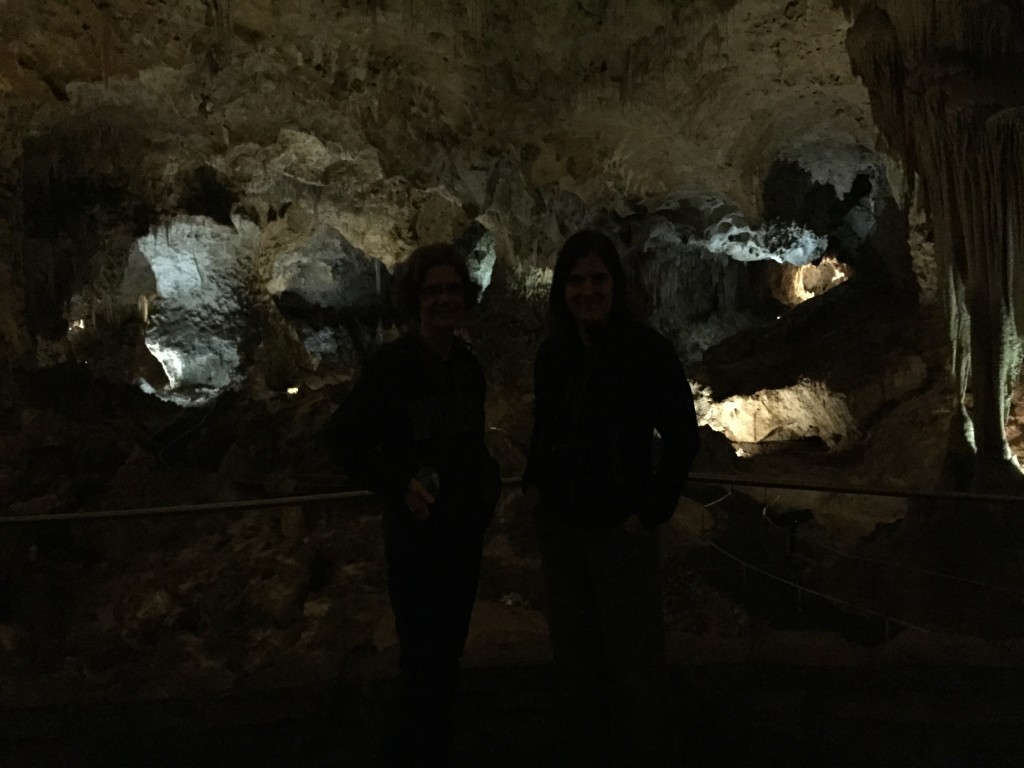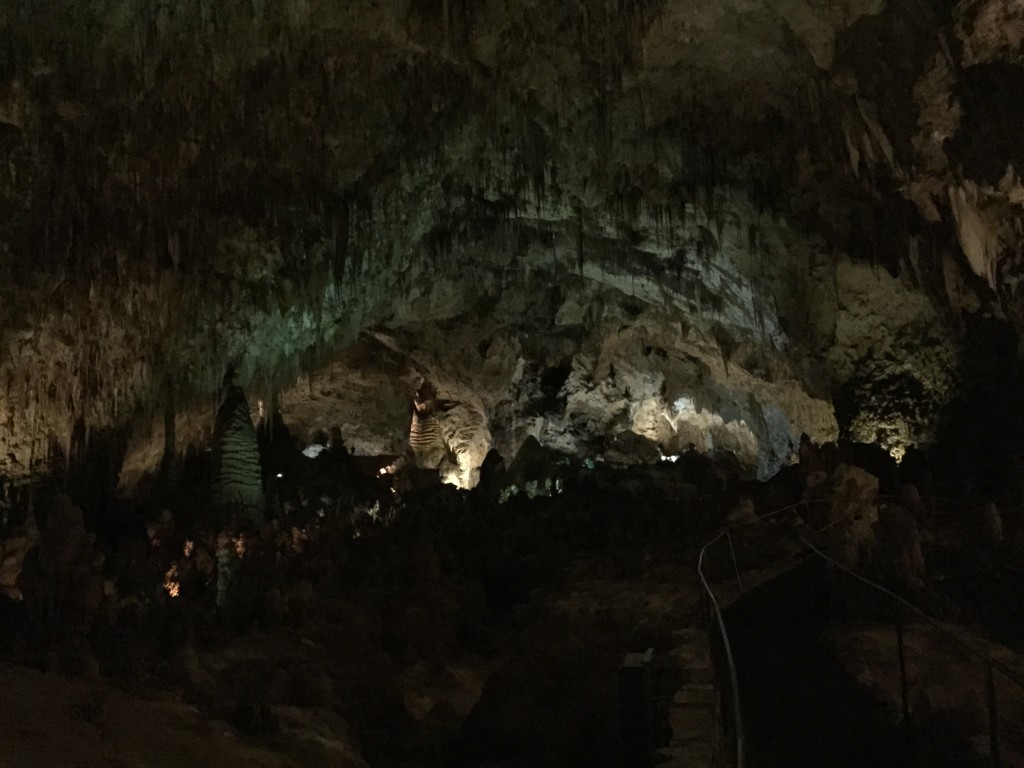 We passed many visitors with families and the kids seemed to be having a ton of fun.  Just make sure no one is breaking off cave formations or damaging anything so we can all enjoy the park.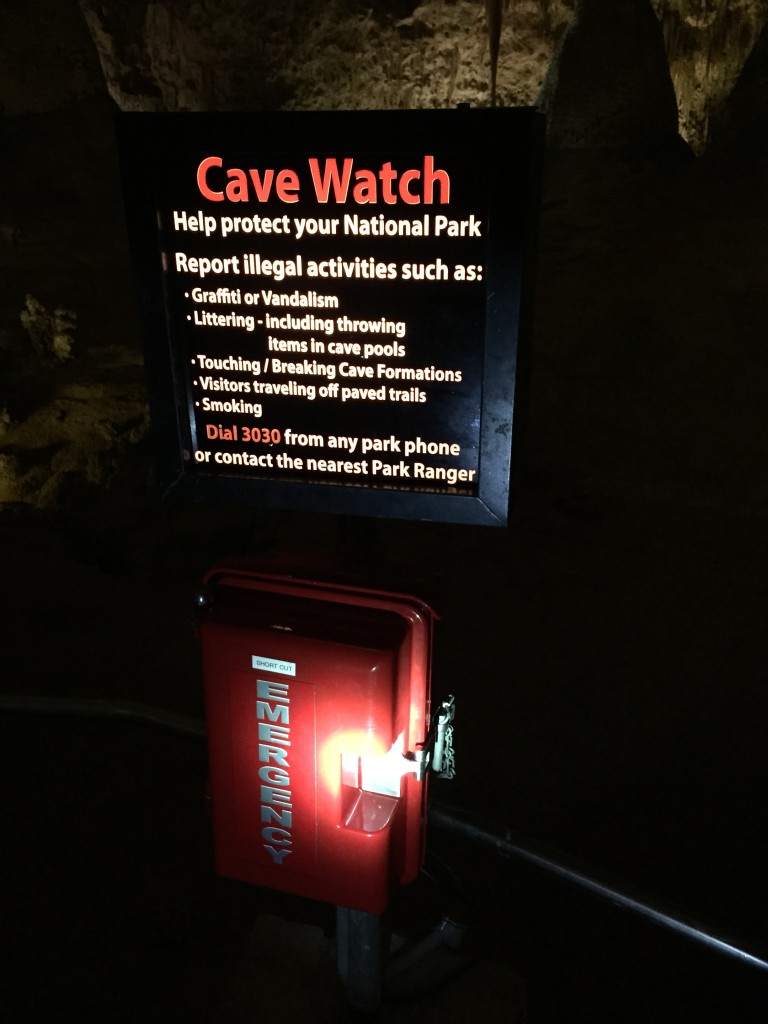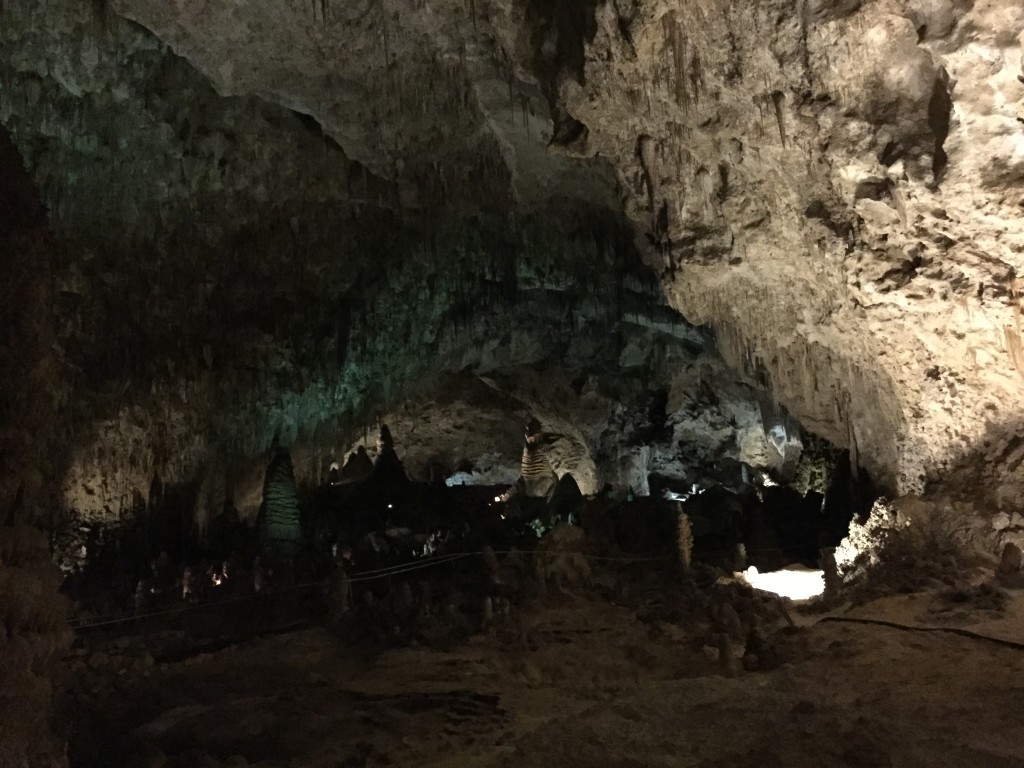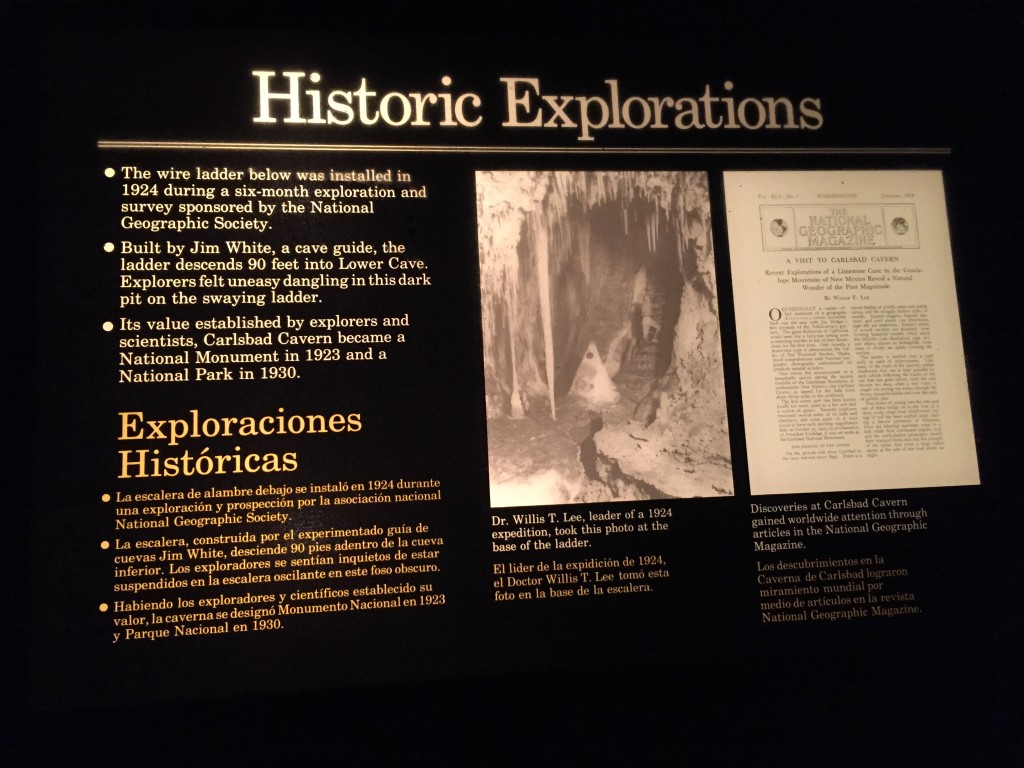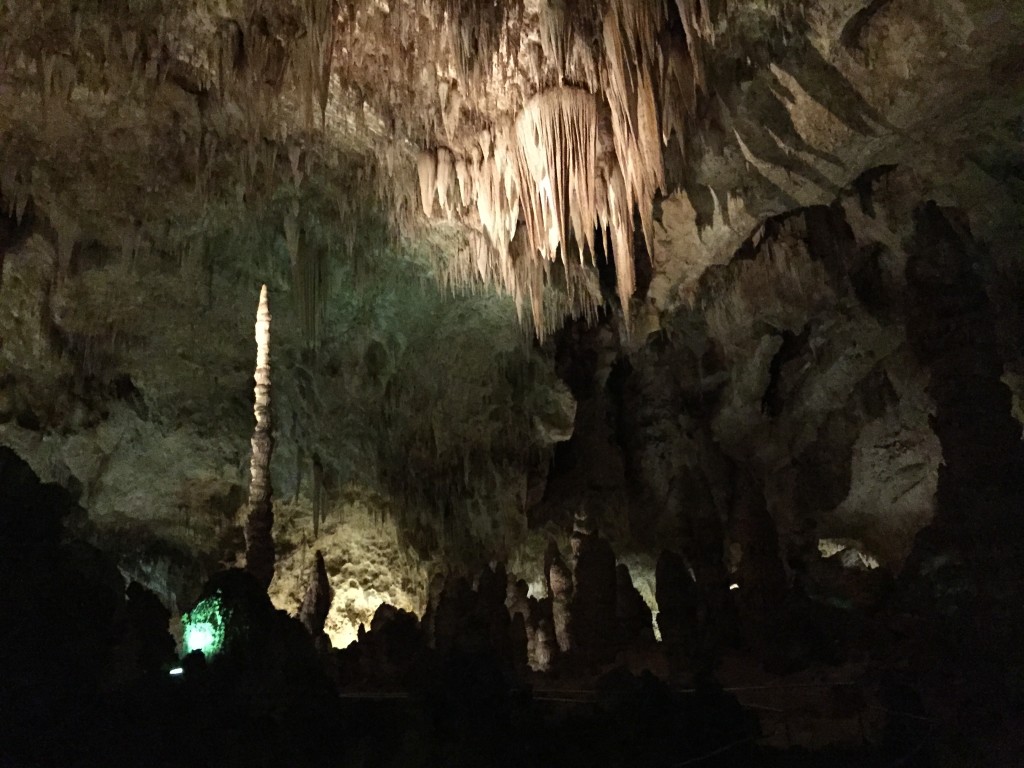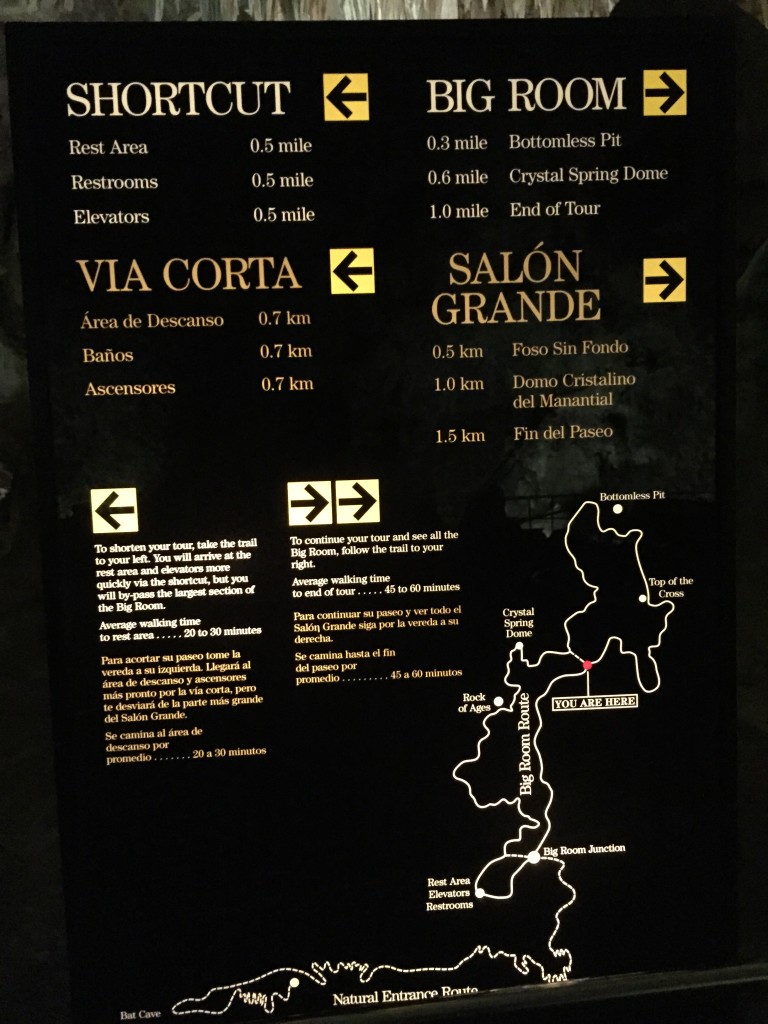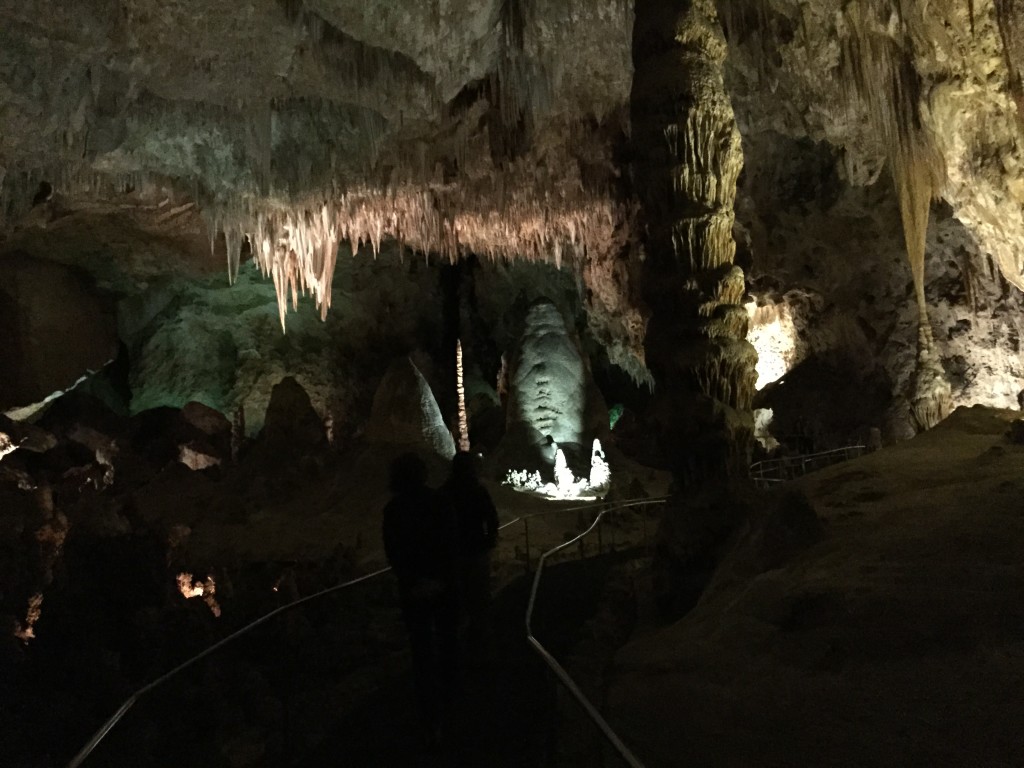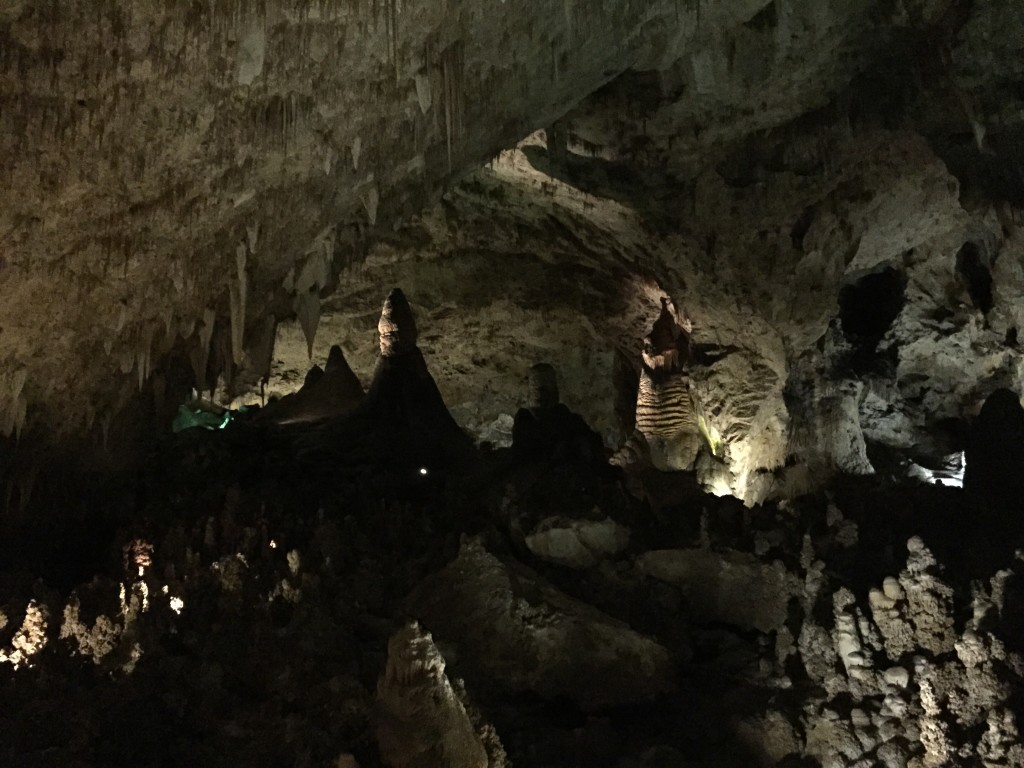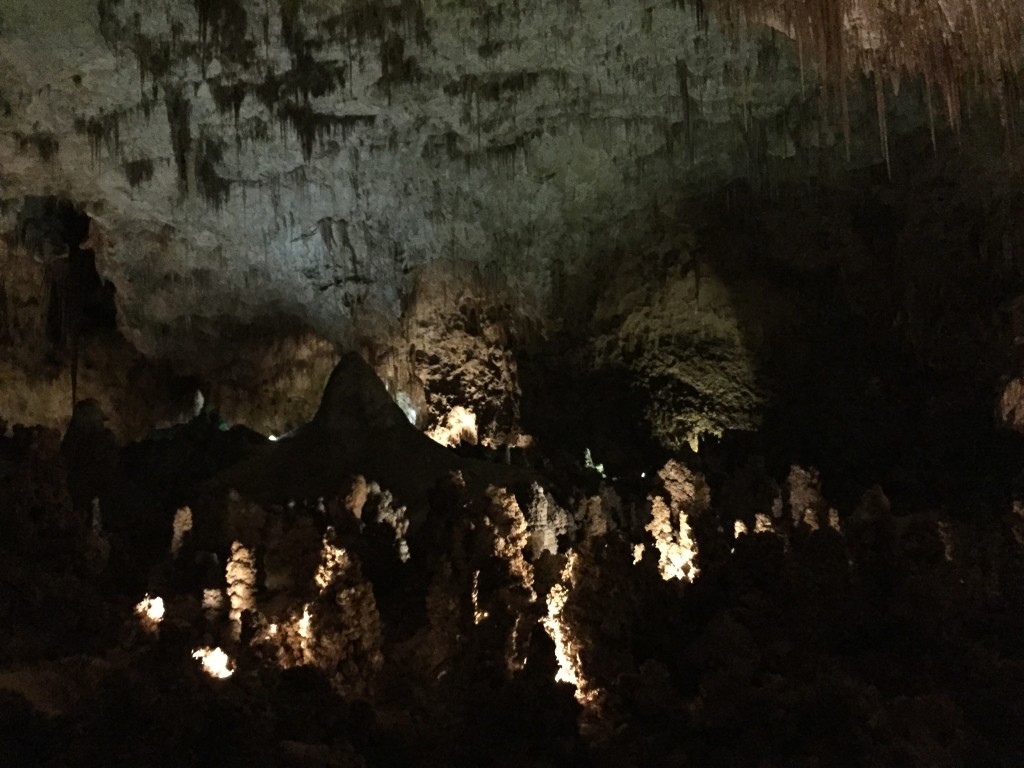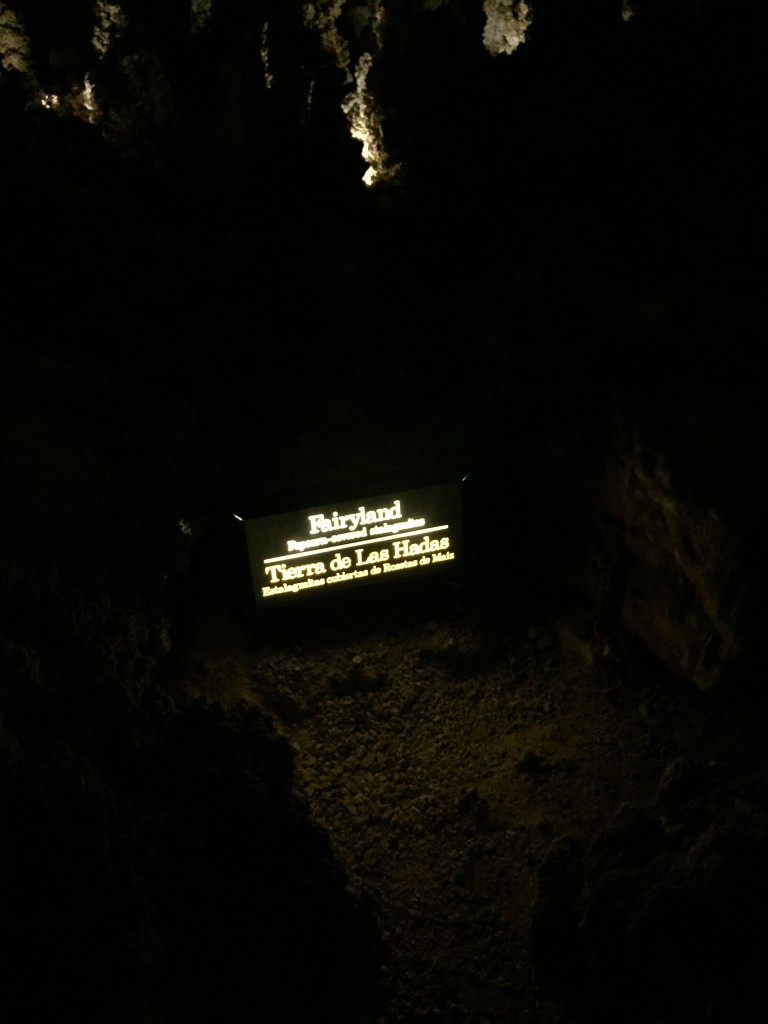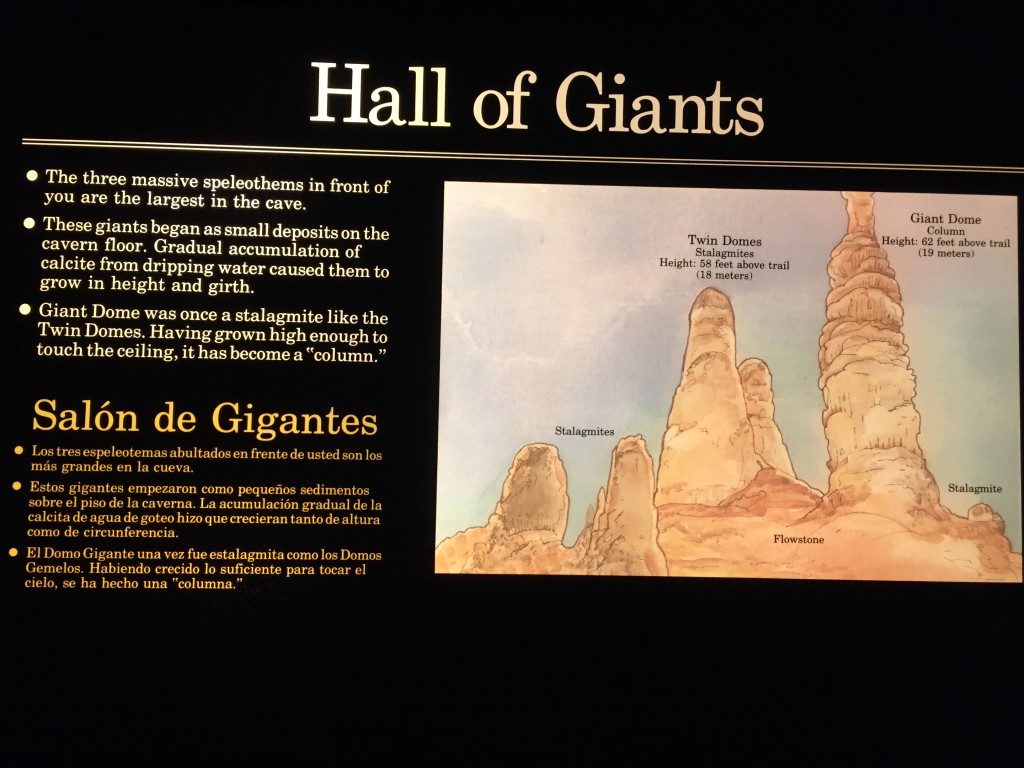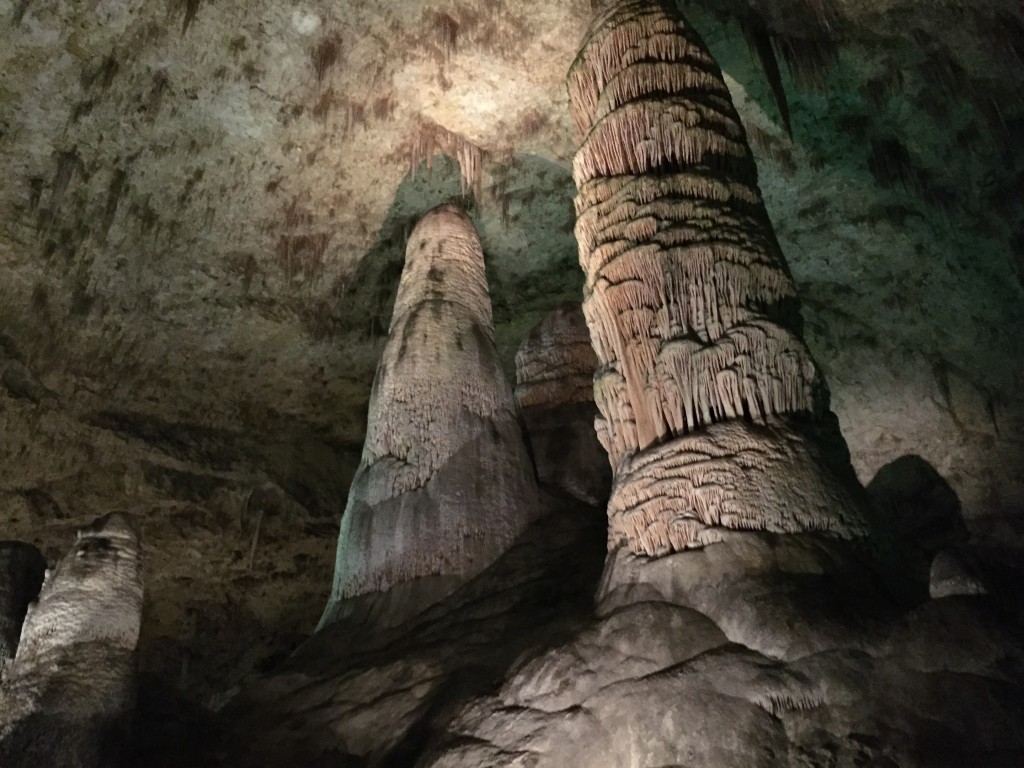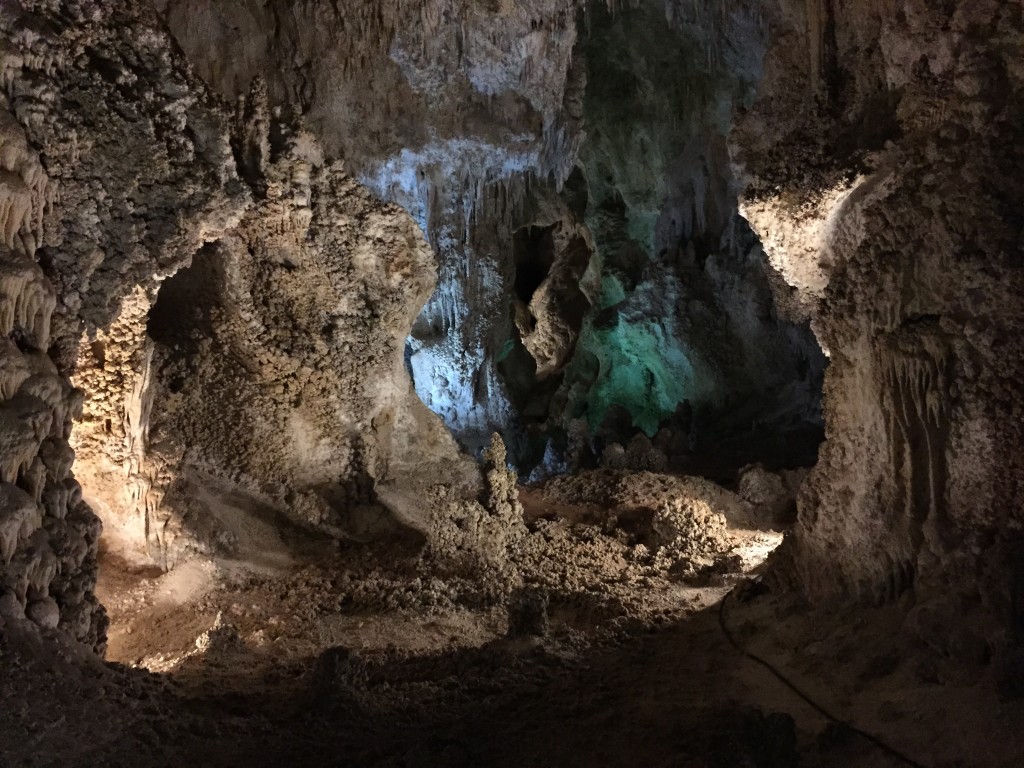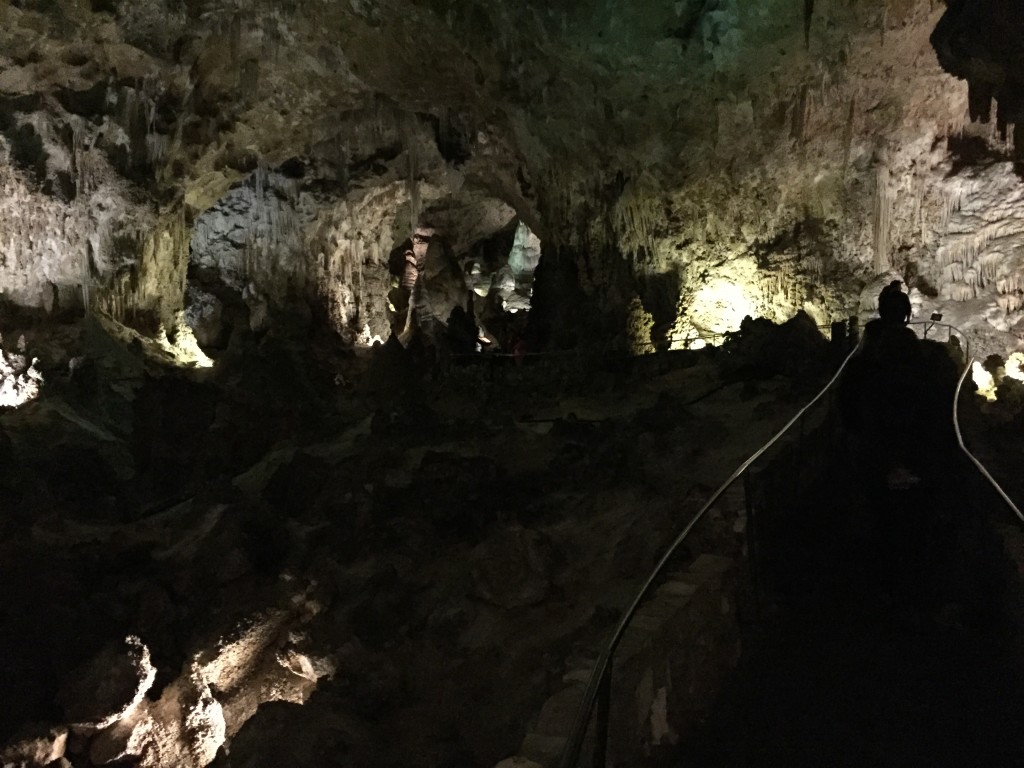 The Return:
Head back up the elevator or if it isn't park closing time you could hike out to the top to the natural entrance – just follow the signs.

Personal Thoughts:
I loved Carlsbad Caverns National Park and plan to come back here in the future!  Looking back at all of my pictures it is sad that I couldn't fully capture the immensity of the caverns and all the amazing formations.  This place is truly one of those incredible destinations where you just have to come see it to believe it – lame I know, but it's true.