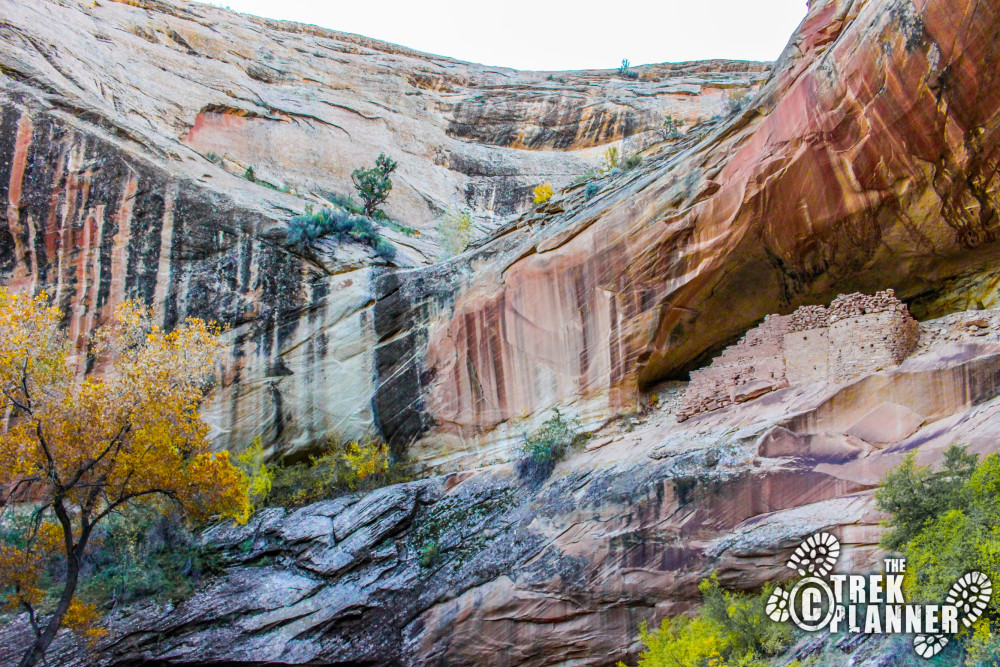 Overview
Comb Ridge, near Bluff Utah
Monarch's Cave, Native American ruins and rock art
It was about 2 miles round trip
Not allowed in any of the immediate ruins areas but allowed in Comb Ridge
Bring all your own water. No water sources except for periodic rain run off in the Butler Wash
Pack in all your own food
GPS Coordinates:
The content you are trying to access is only for Trek Planner Insiders. Signup
Driving Directions
If you approach Comb Ridge from the south you will see a closed gate.  This gate is simply to keep cattle out of the area and it doesn't have a lock on it.  Just unwrap the chain, drive in and make sure you close the gate behind you.
The Trail: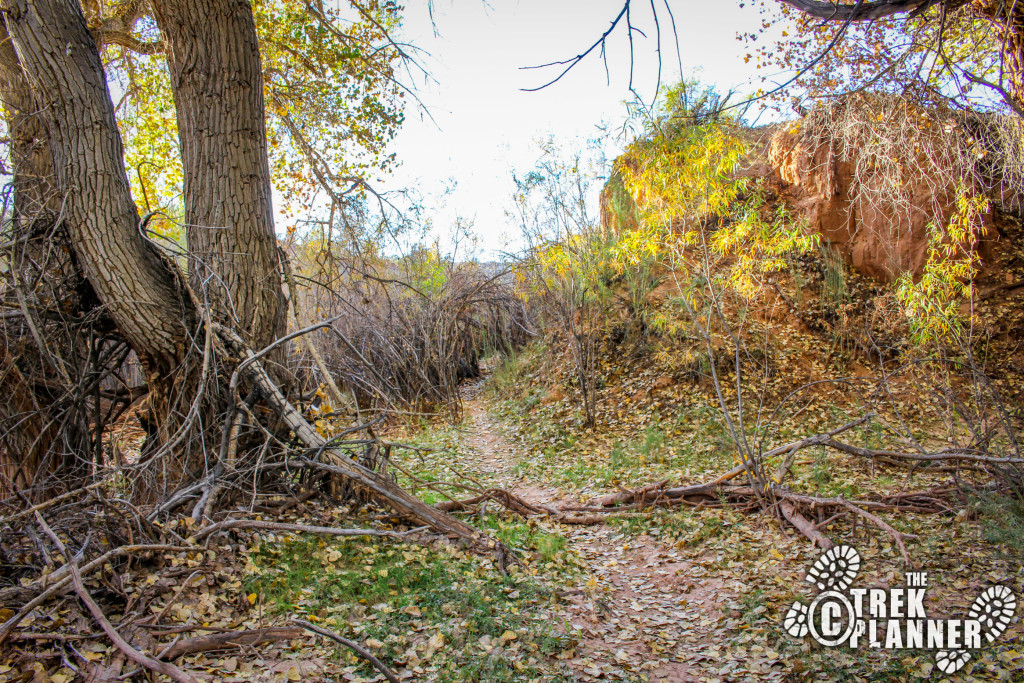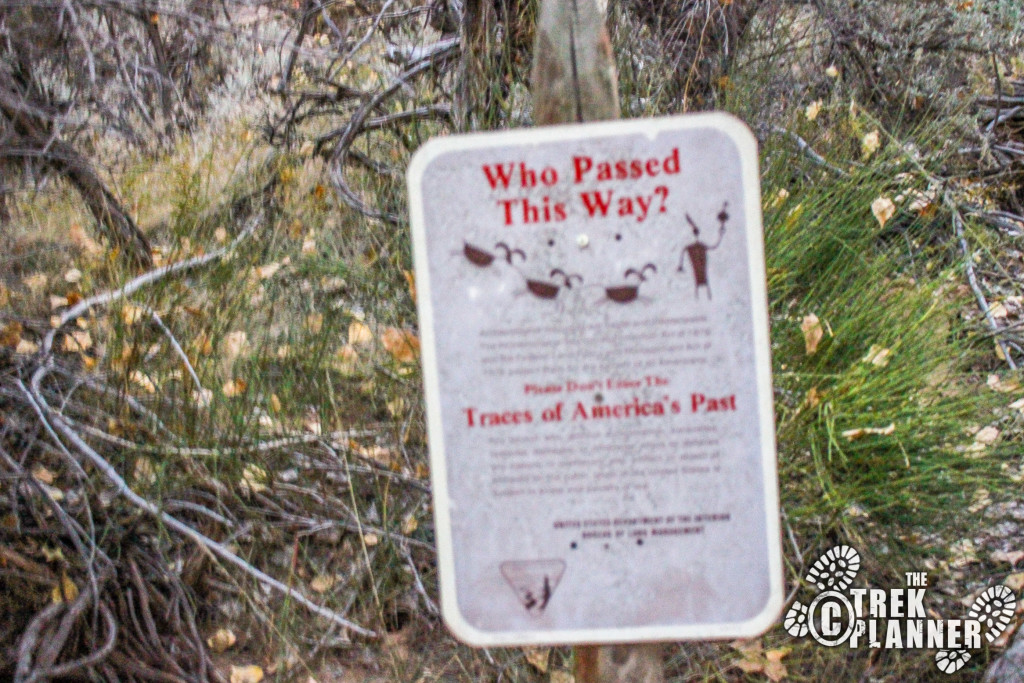 Comb Ridge is located on BLM land so you can camp and explore mostly as you please but there are some rules to this place that are important to understand.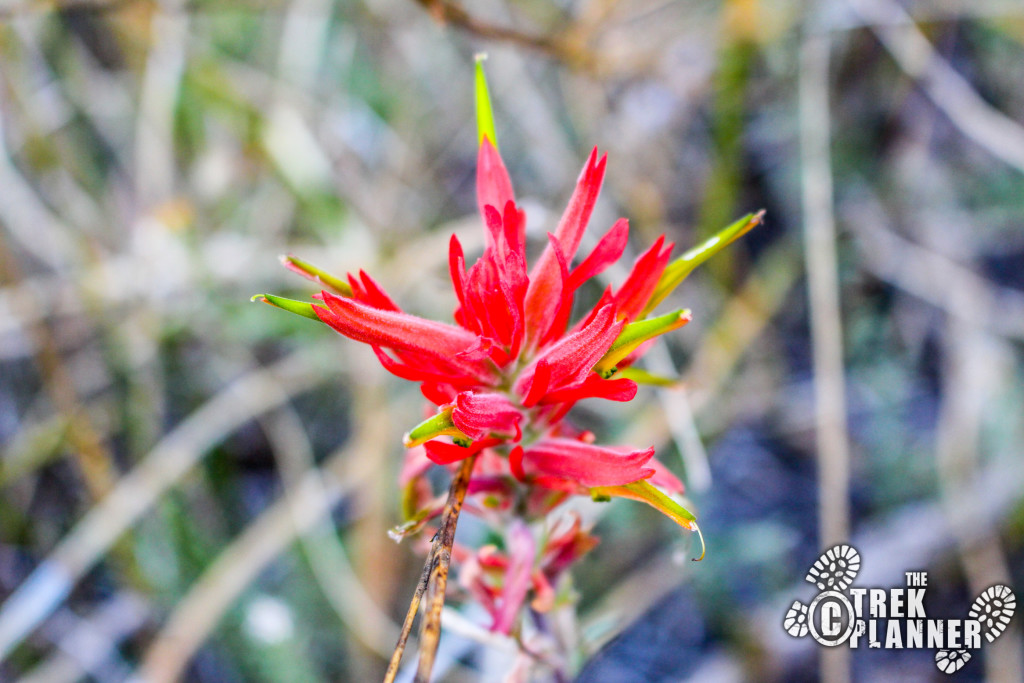 Before you make your way to the cave, or any other Indian ruins in Comb Ridge, make sure you read the signs about the rules.  Basically, you are only allowed to look at the ruins and rock art but you are not allowed to drink water or eat food in the immediate area of the ruins. Taking artifacts is of course not allowed either.  You shouldn't go to the bathroom near ruins or washes too.  All of the rules for the area can be found right when you go through the entrance gate into Comb Ridge.
Comb Ridge is such an incredible area for discovering Native American ruins and rock art.  I feel like every canyon and every little alcove had some type of rock art or granary.  You could literally spend weeks in this area and still not see everything there is to see.  That being said, please be respectful of this area.  There is a reason why I'm only posting GPS coordinates to the parking area and not the actual ruins themselves.  Some stupid people have written over the pictographs and even destroyed the ruins or stolen pottery and other relics in this area.  Just come and enjoy this area and leave everything as you find it since this area is still an open archaeological site.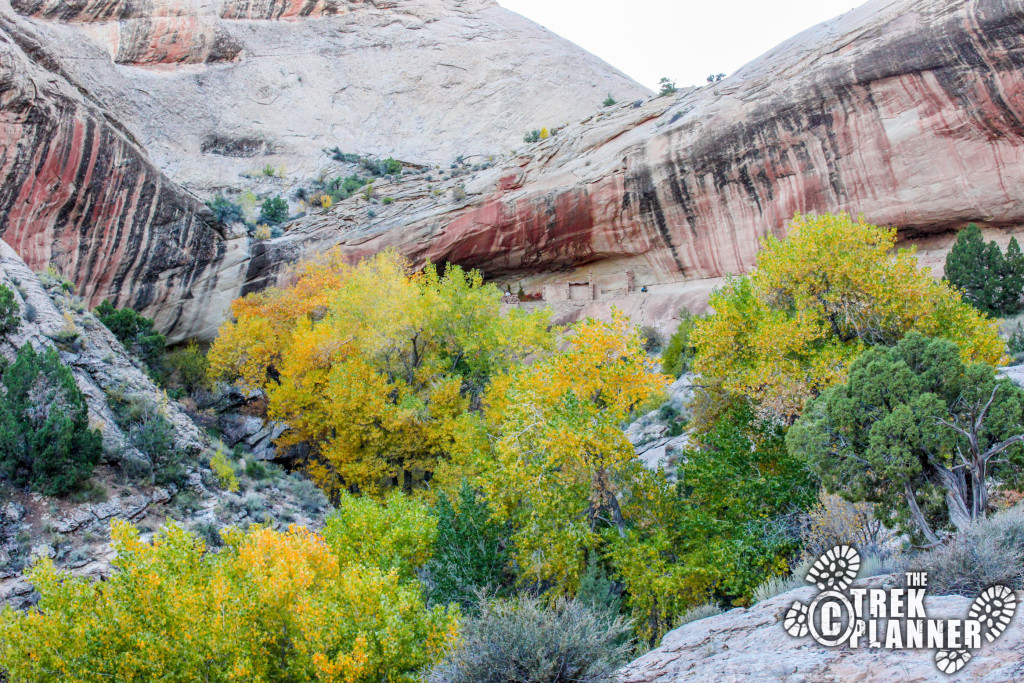 Hiking to Monarch's Cave you will find that there are a few different trails that lead right up to the cave.  You will have to explore a little bit in order to find the one that leads directly to the cave because some of these trails interconnect with others that lead into different canyons.  We took one trail and we eventually met up with some other hikers who started on a different trail nearby – it could be a little tricky trying to find the cave.
Right when you get in the canyon, look all the way back and you will see the adobe and rock structures high up in the cave.  But before you go straight for this part, try to find the side trail that hugs the canyon wall on the right side.  Here you will find some grind stones and plenty of interesting rock art.  We found some corn cobs and broken pottery shards too.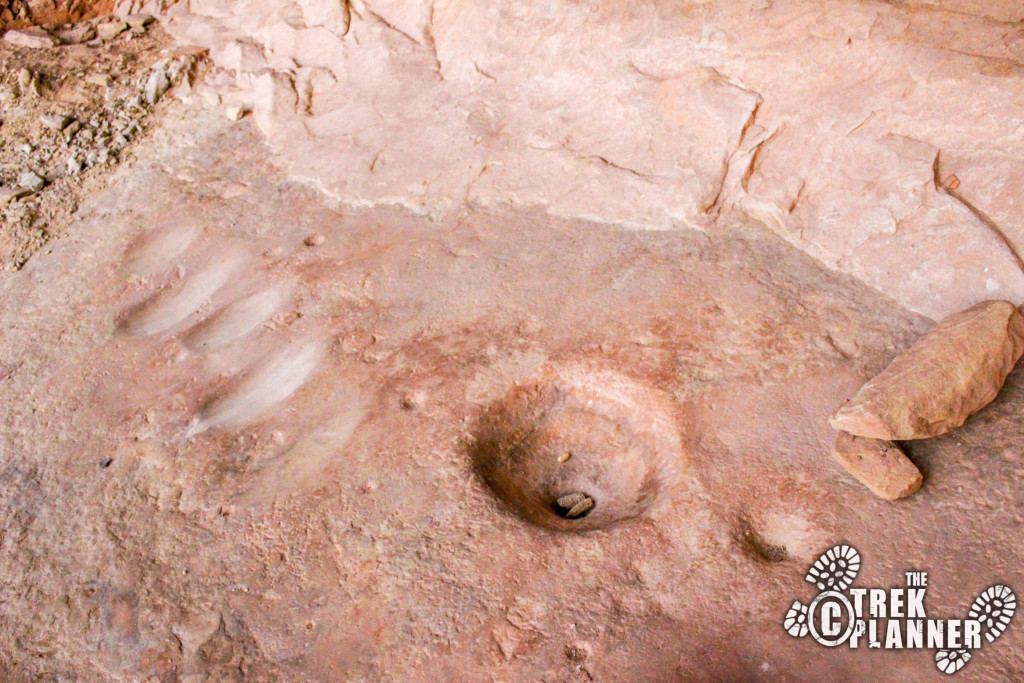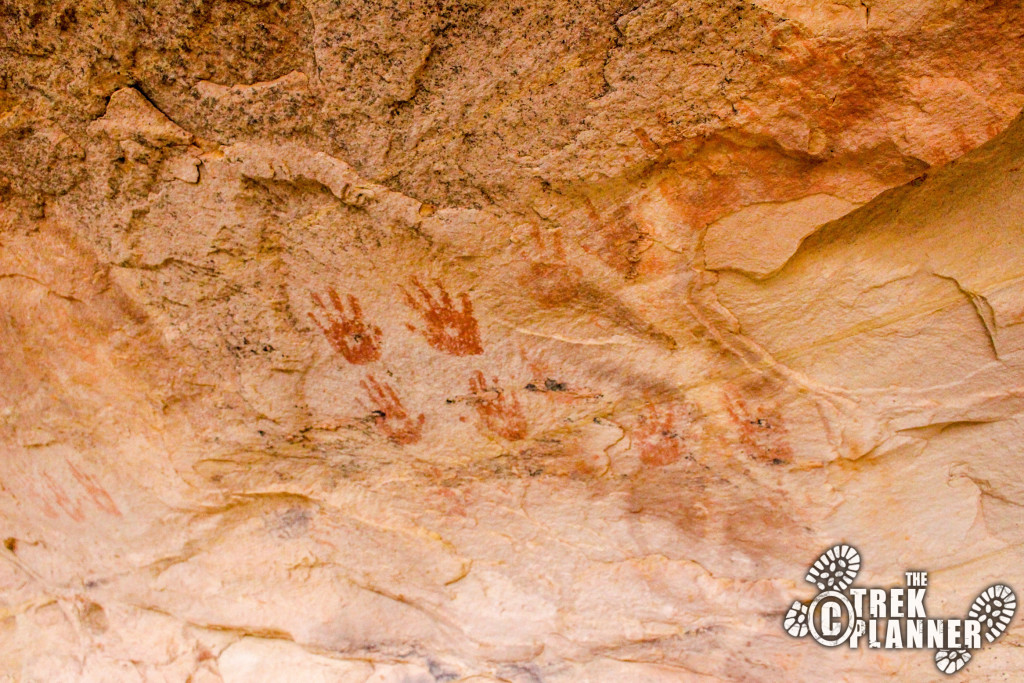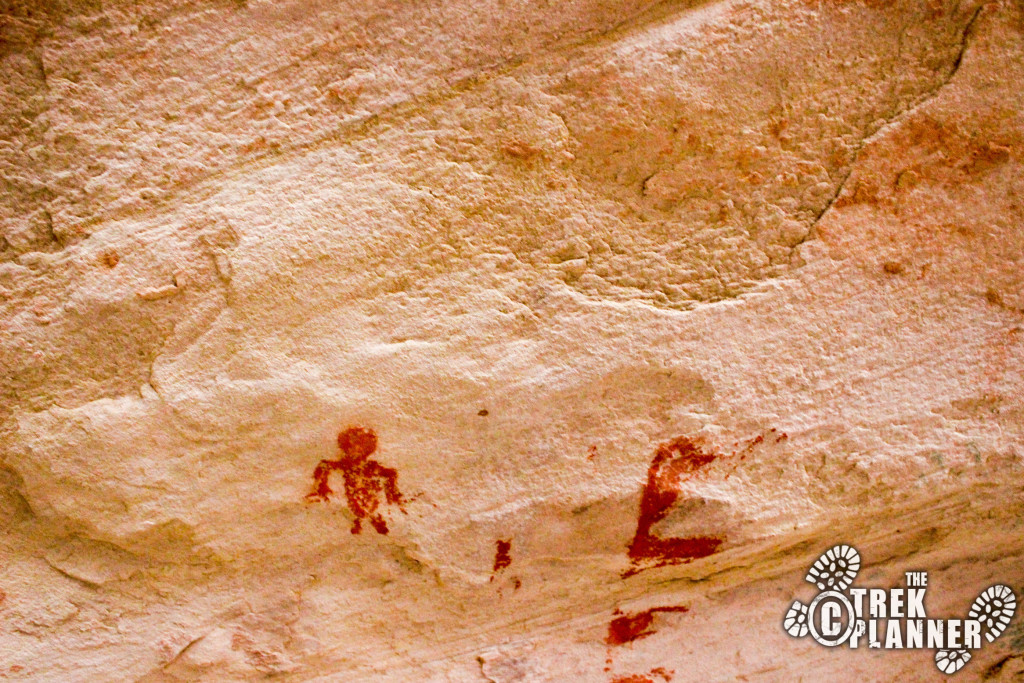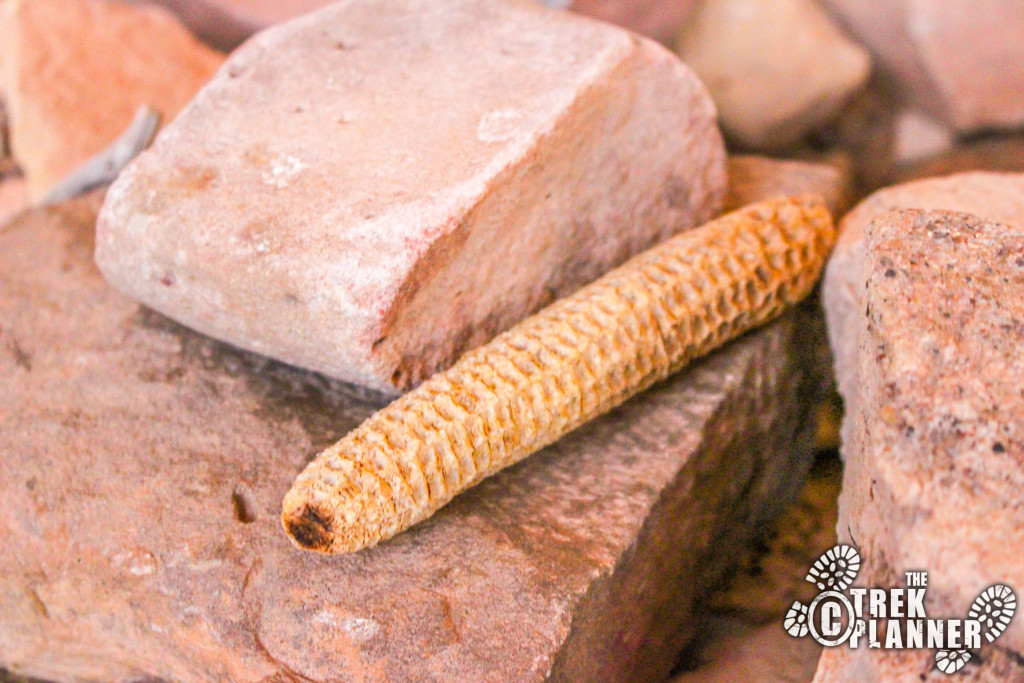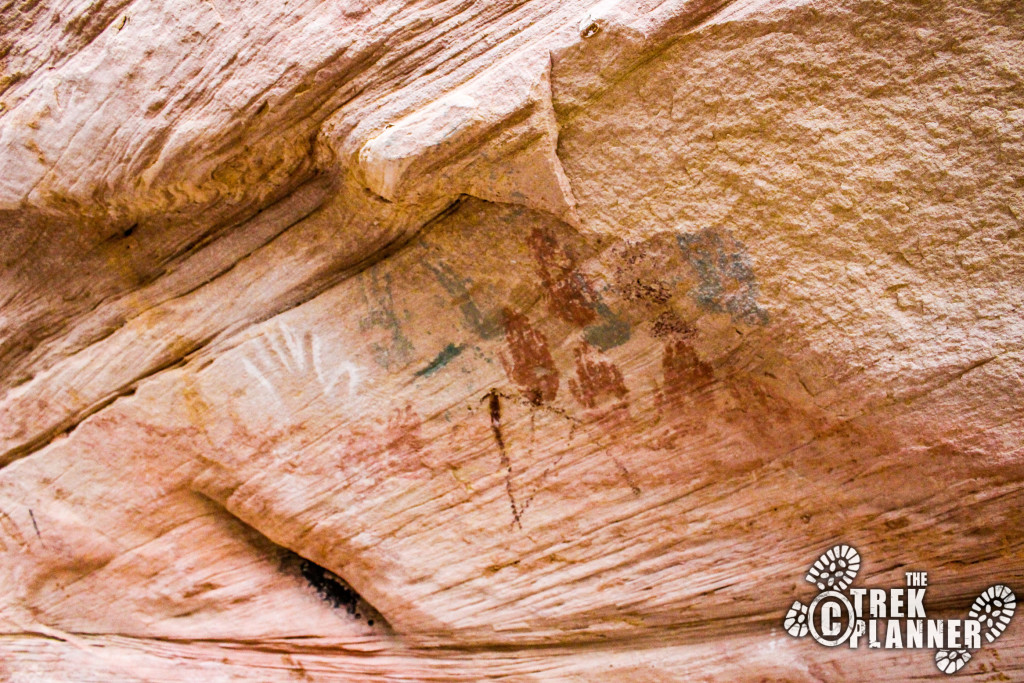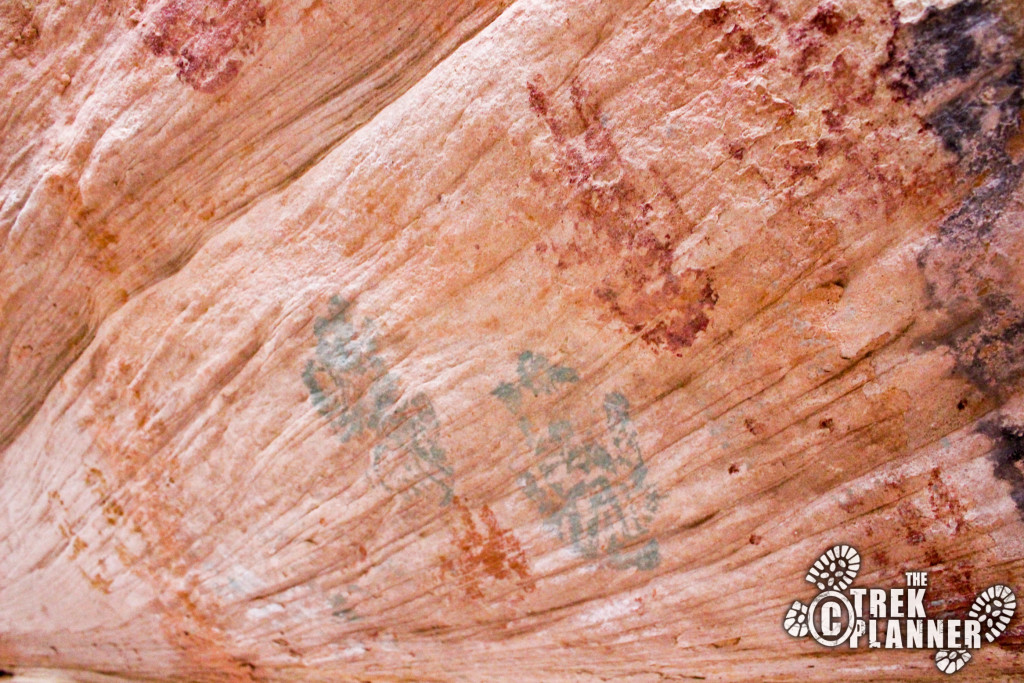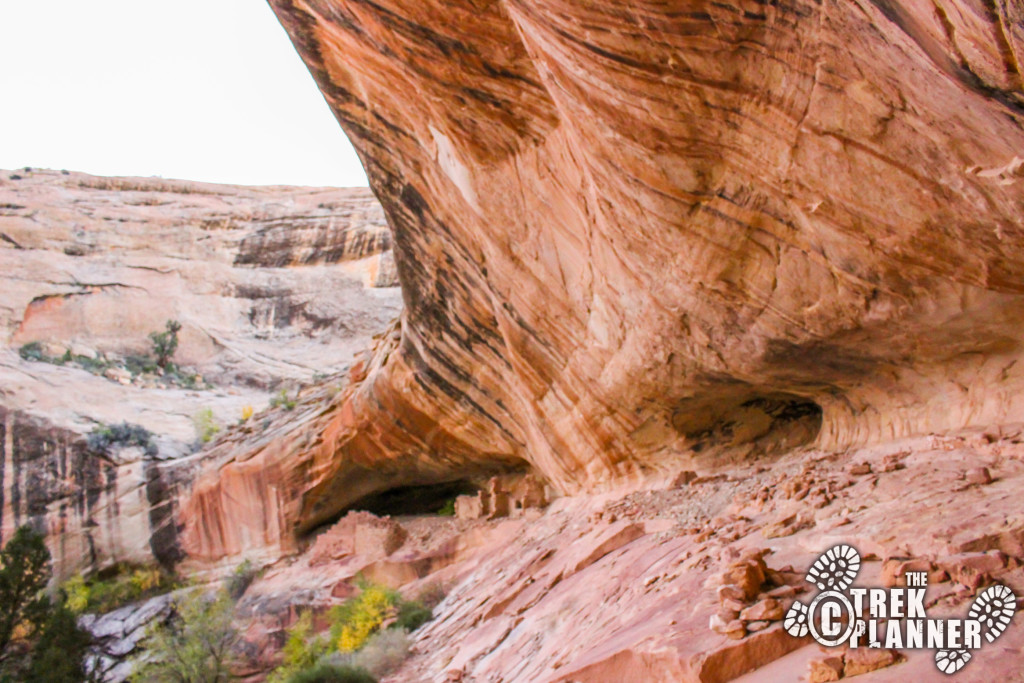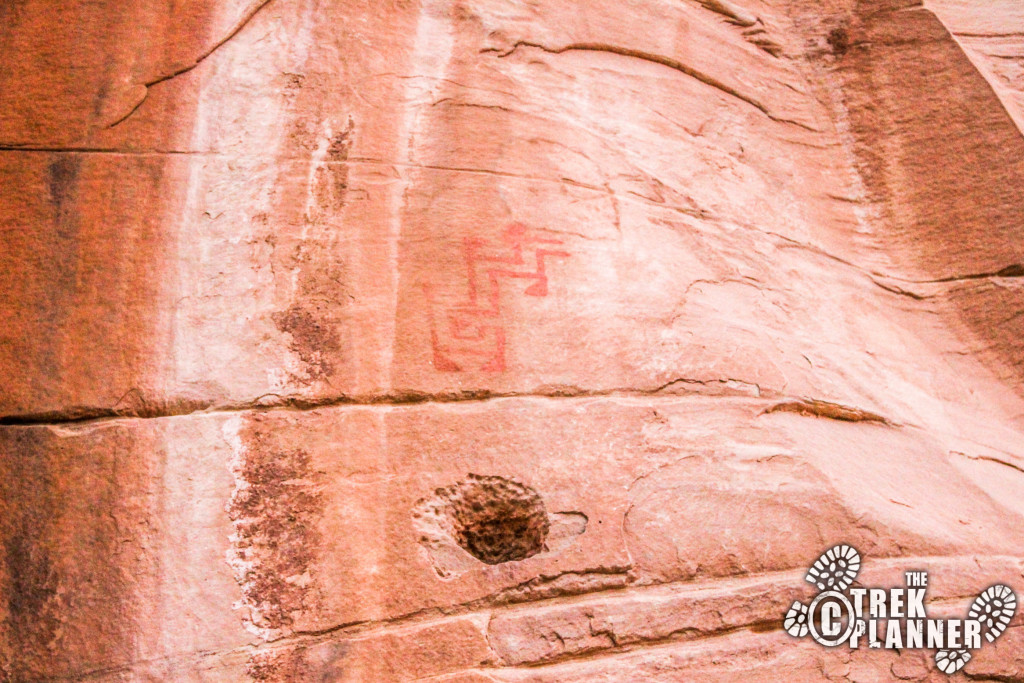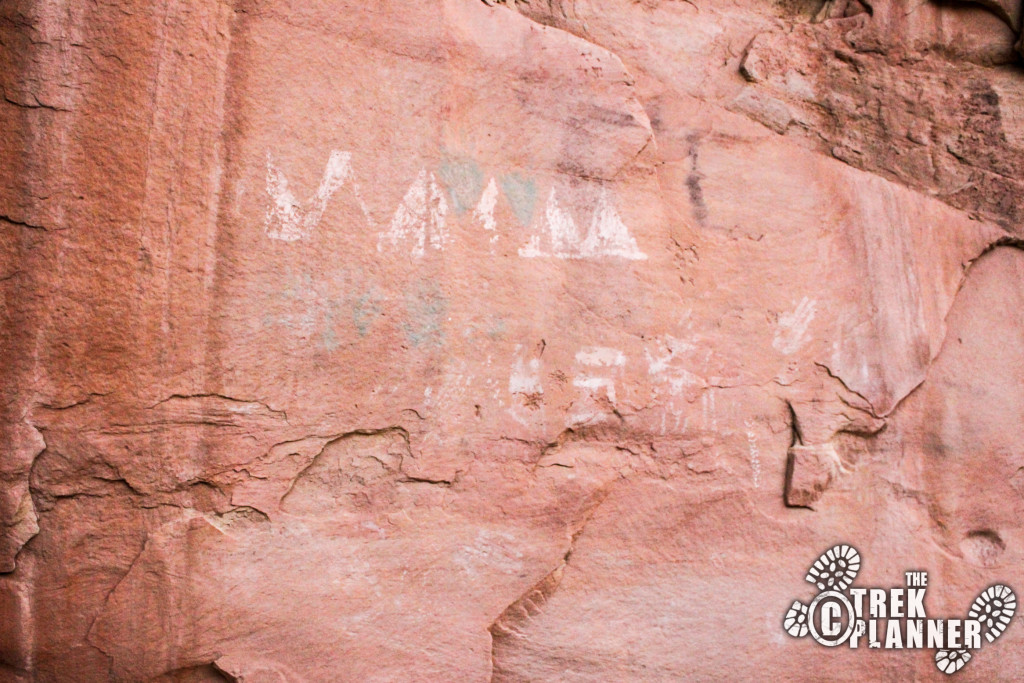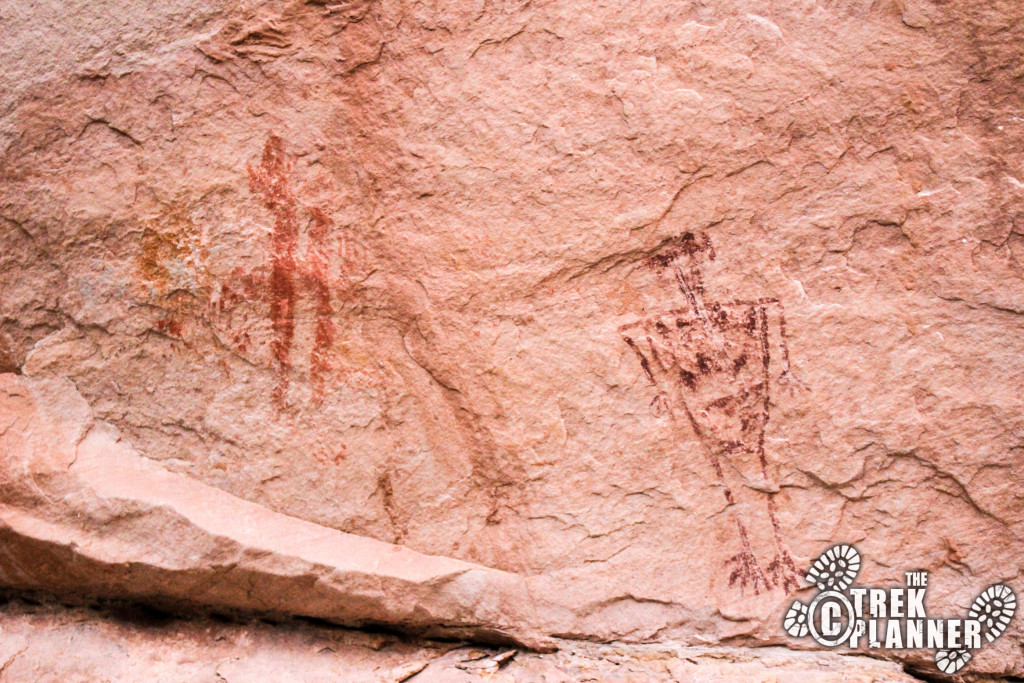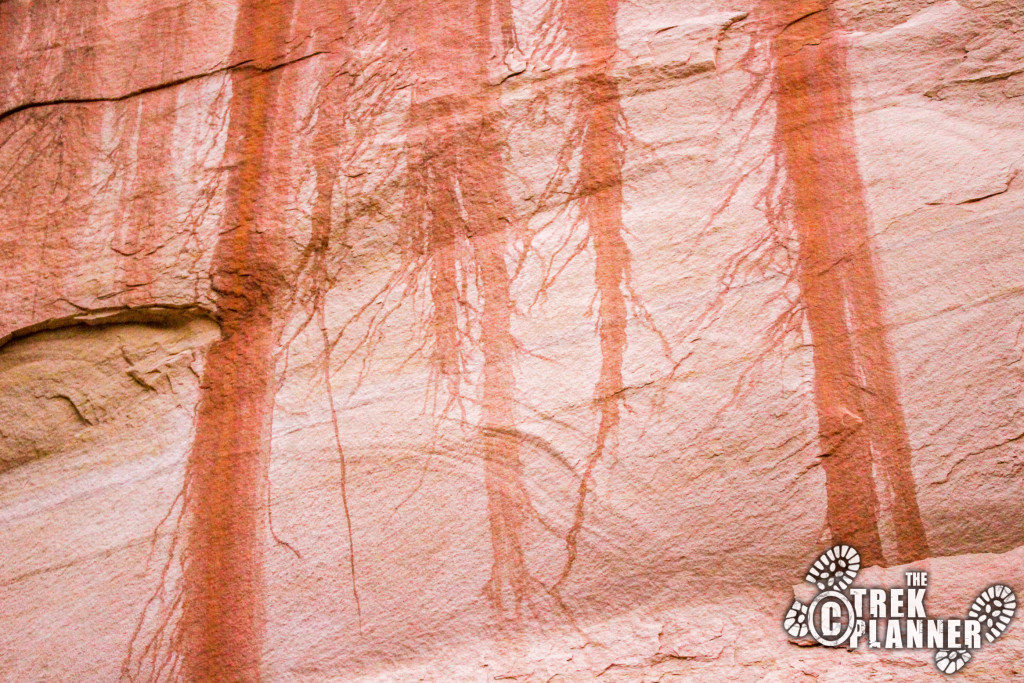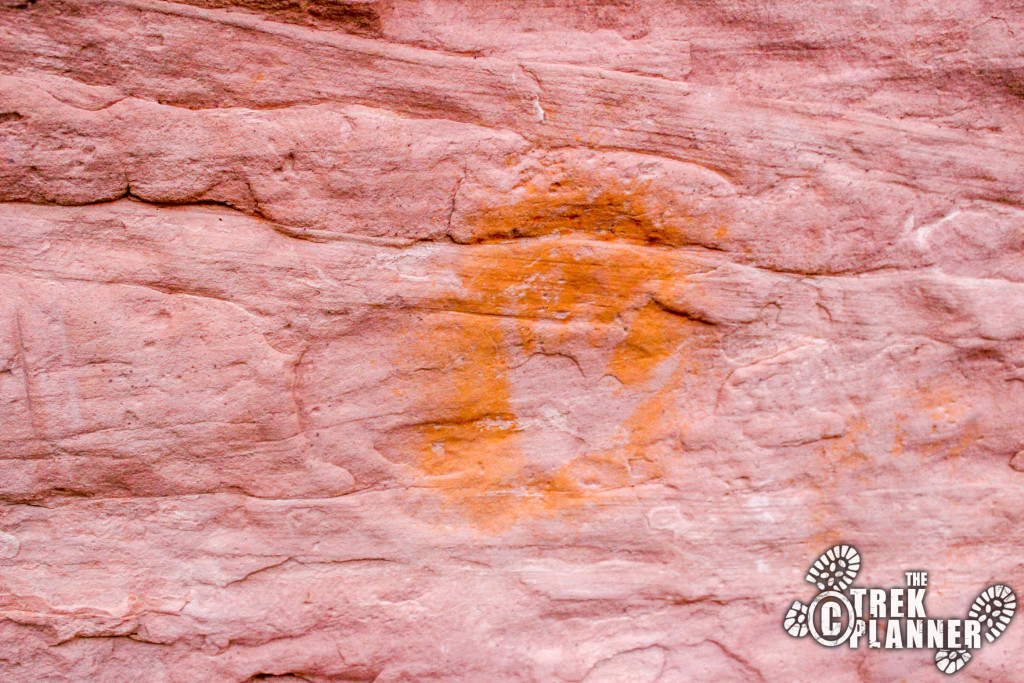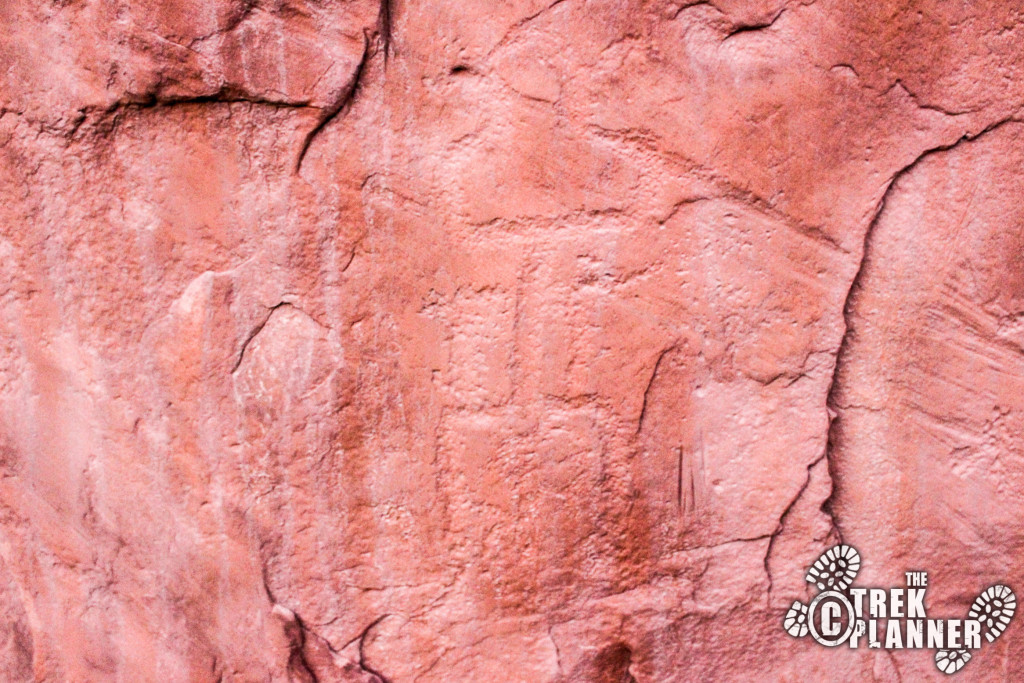 You will also notice a fenced off area too.  This area hasn't been sifted through yet so they don't want you to walk around on it.
Monarch's Cave is really not so much a cave as it is an alcove. Along the northern wall of the canyon you will find tons of rock art, grind stones, corn cobs, pottery shards and of course the adobe and rock structures.  Many of the structures have been destroyed or dismantled but there are a few that are still somewhat intact.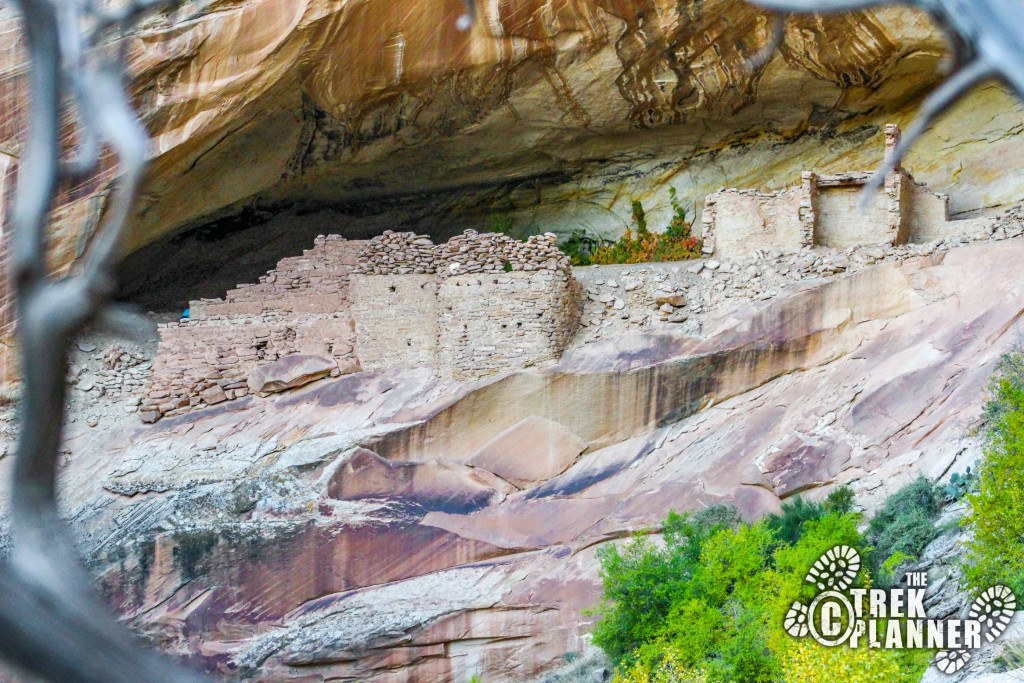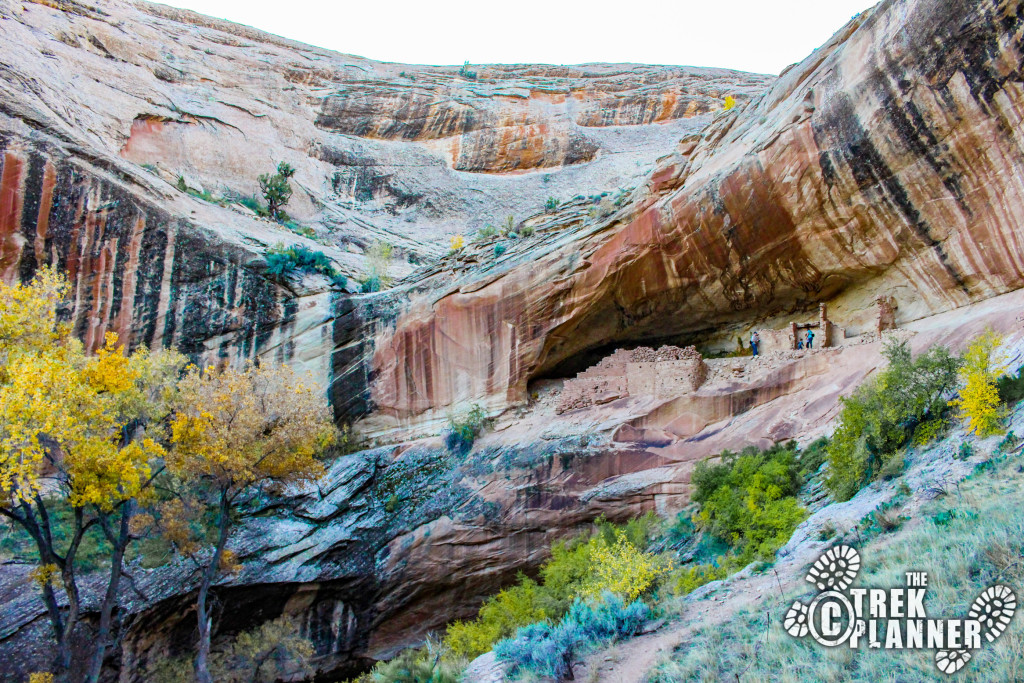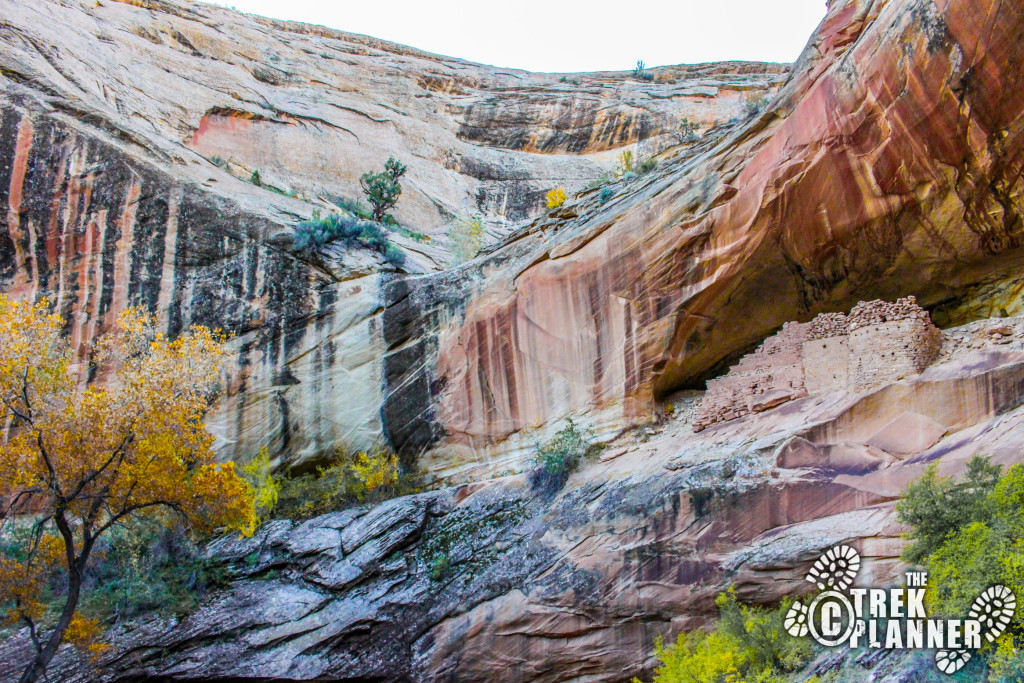 The walk up to the cave is very steep but you can see that the ancient inhabitants chiseled small foot steps into the rock.  If it is too steep for you then don't attempt to climb up.  It was crazy to imagine people 1000+ years ago living in this very area I was now enjoying.
Once across, do not climb on top of the structures.  They look very fragile even though they are more than 1000 years old and have withstood years of rain, snow and wind up to this point.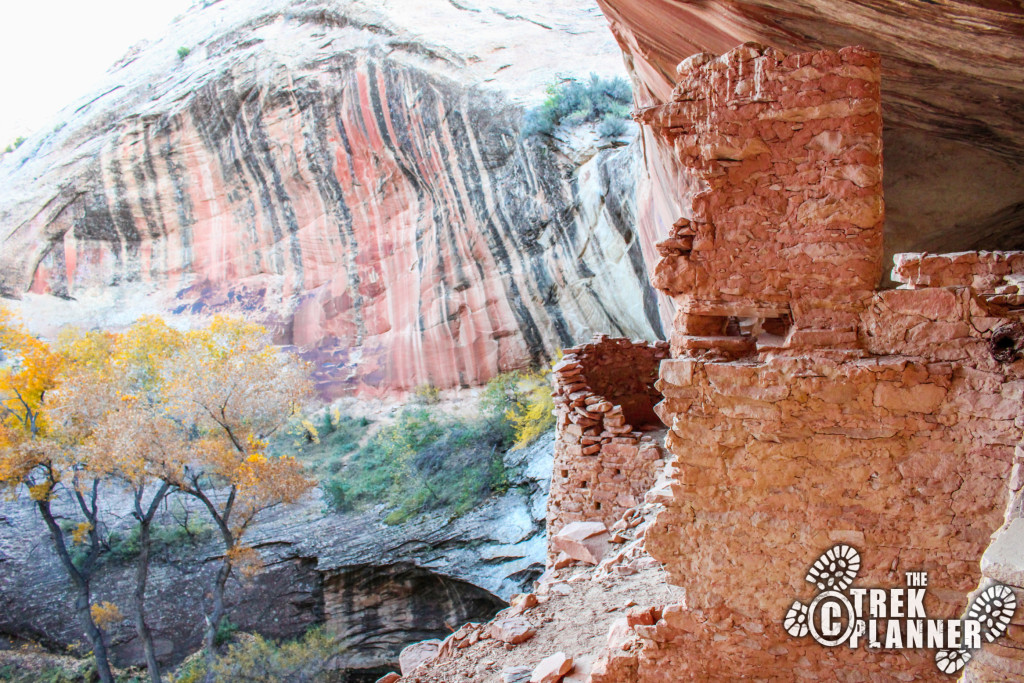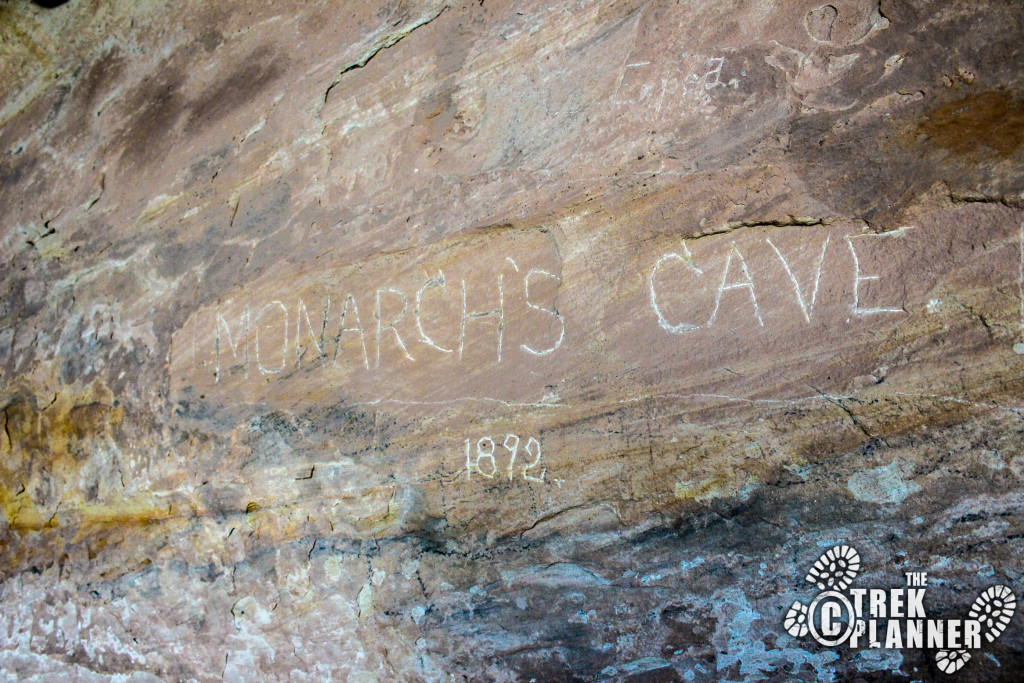 Along the back wall you will find some soot on the ceiling and lots of hand prints and other figures on the rock.  There must be a small seep in the rock too because there were some large green plants growing in the cracks.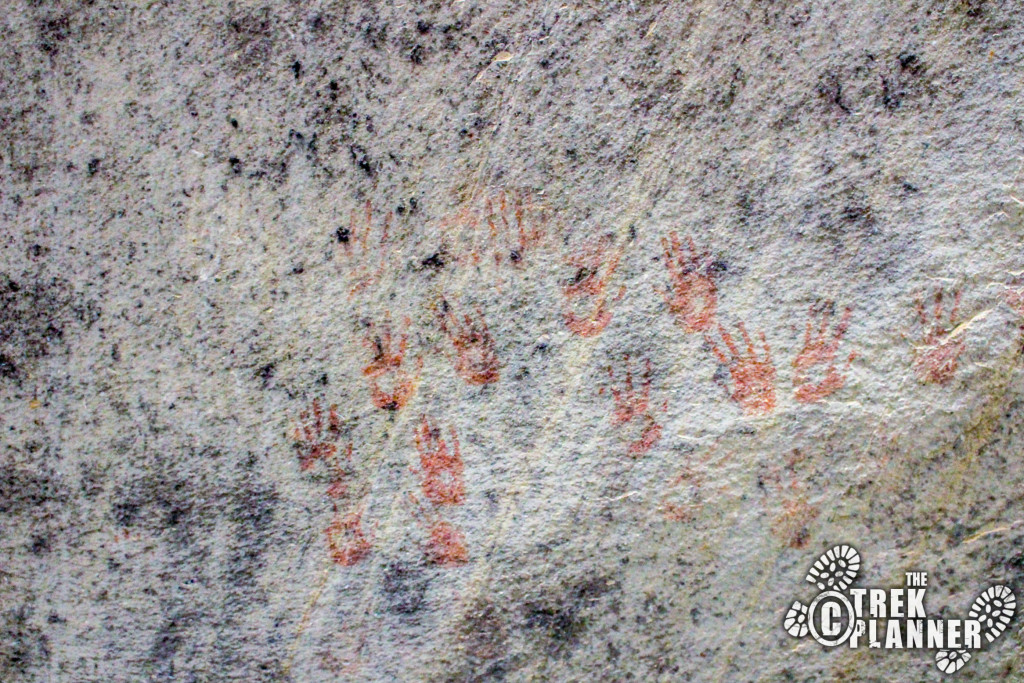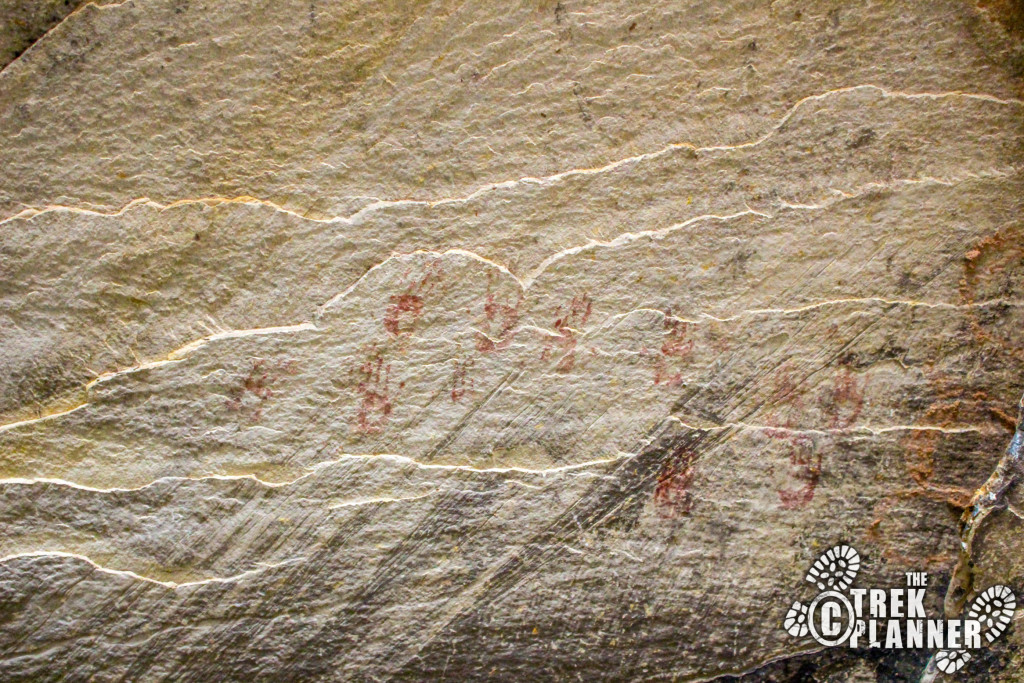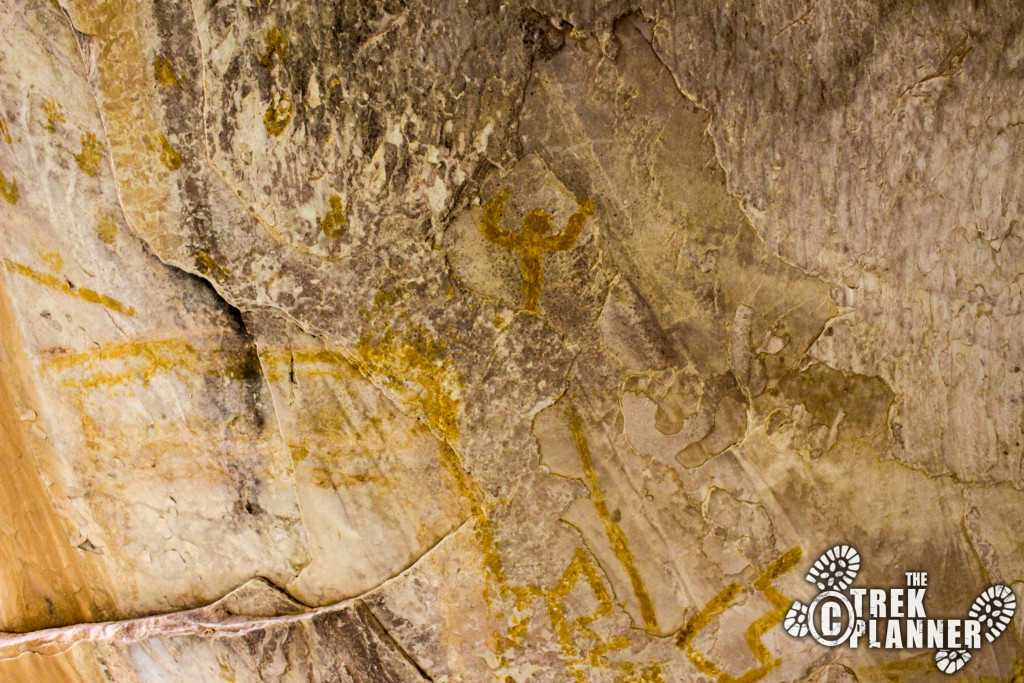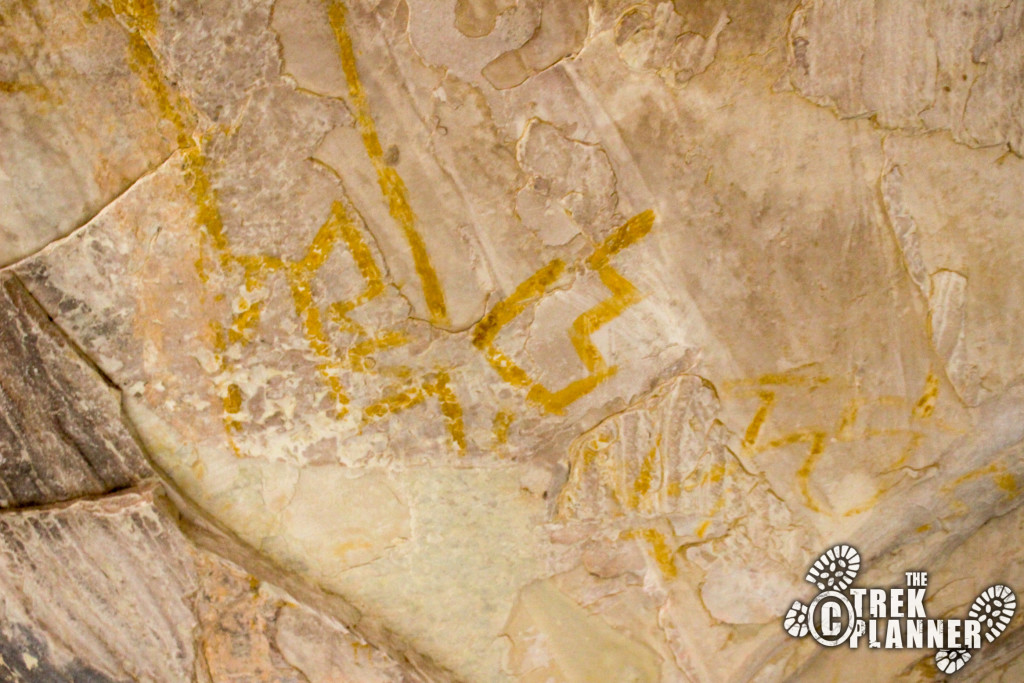 The ruins themselves are incredible.  If you haven't noticed already, the structures were built right on the cliff edge.  This would provide a commanding view of the canyon and also provide protection against any one trying to get in.  Below the ruins we found a large pool of water and some cottonwood trees.  If you are exploring with children please keep any eye on them as it is probably a 60+ foot fall to the bottom from this spot.
You can still clearly see the brick walls to some of the rooms. There are even a few nooks in the walls where small items could be placed or stored.  Small windows made it possible to bring in light and fresh air and see out in the canyon below.  A lot of work went into these structures!  I still can't believe many of the walls are still standing!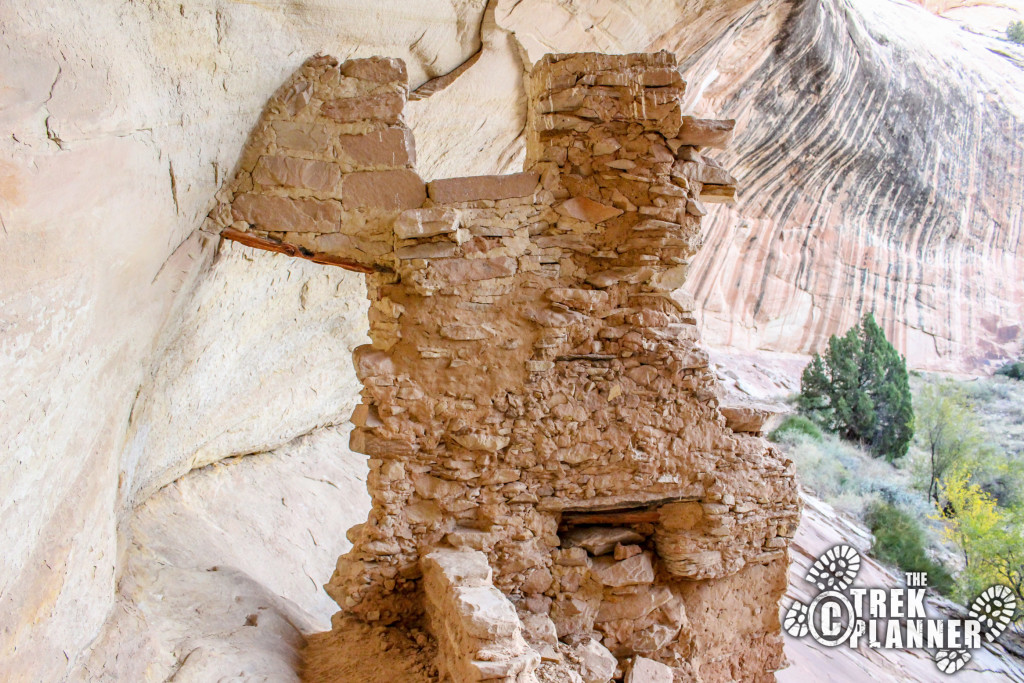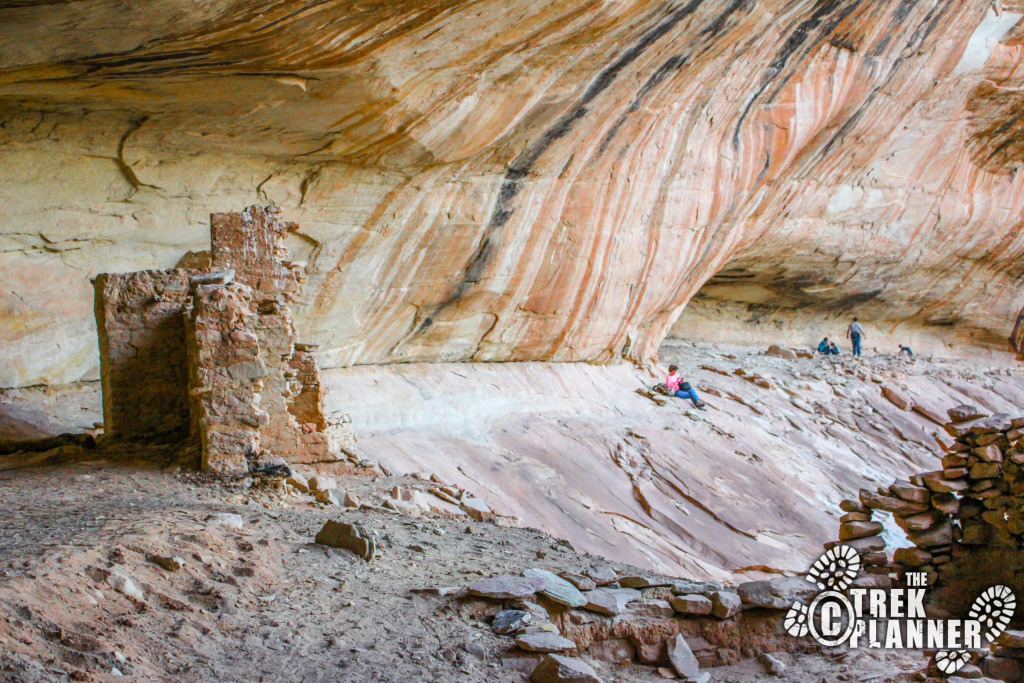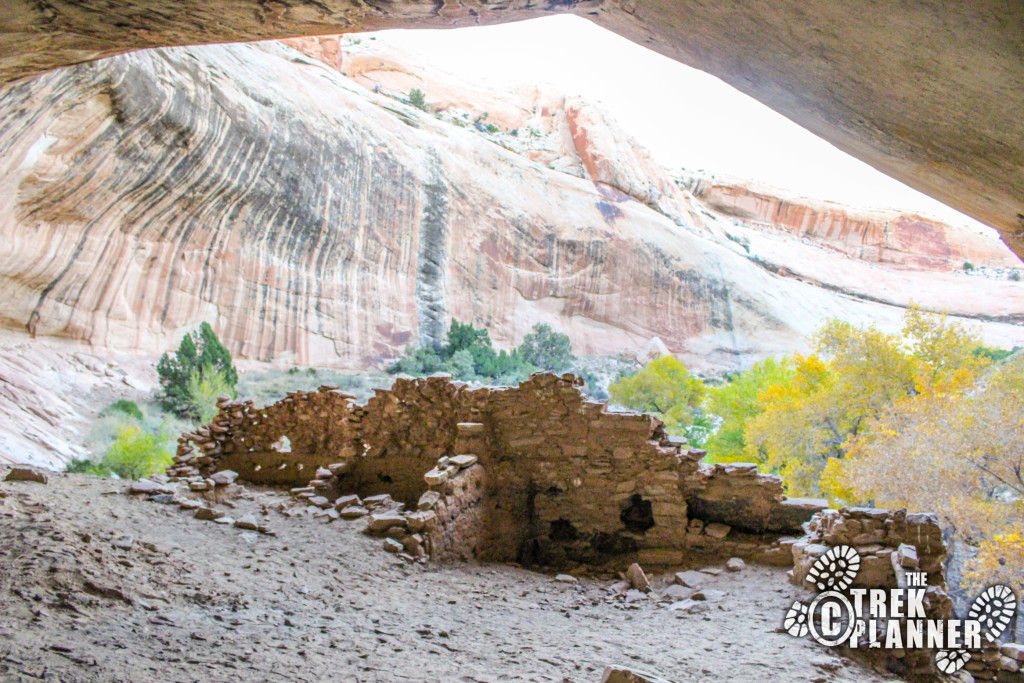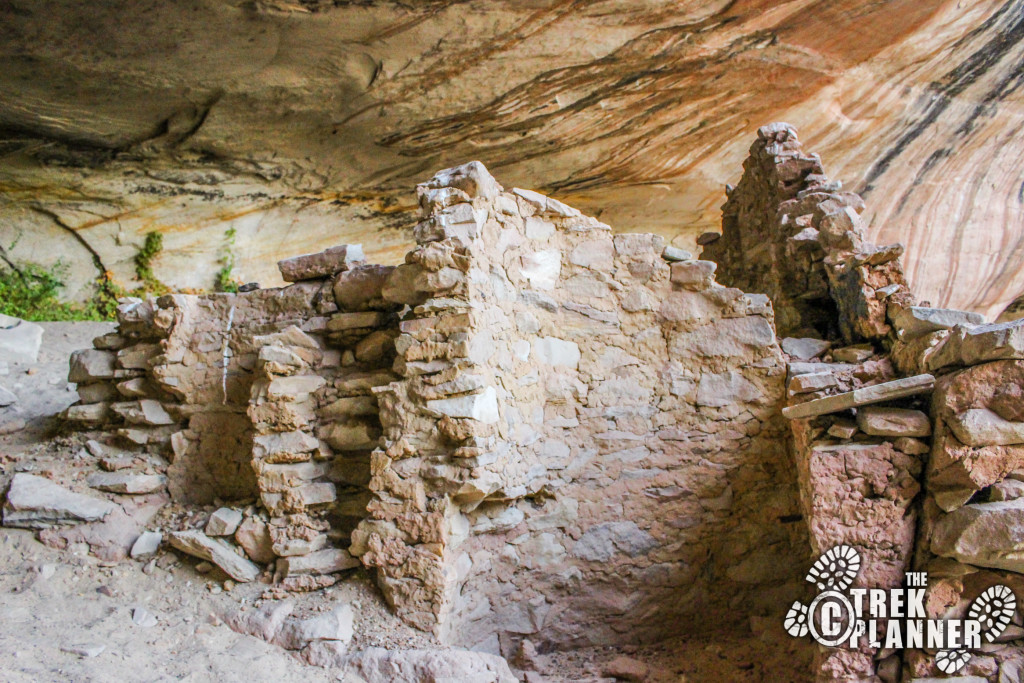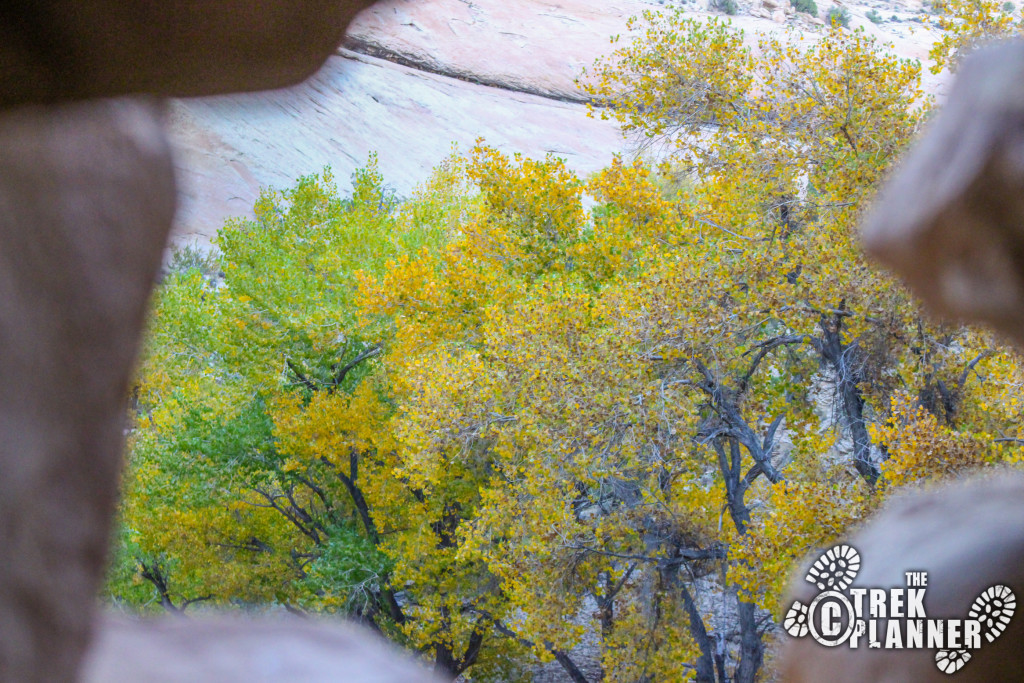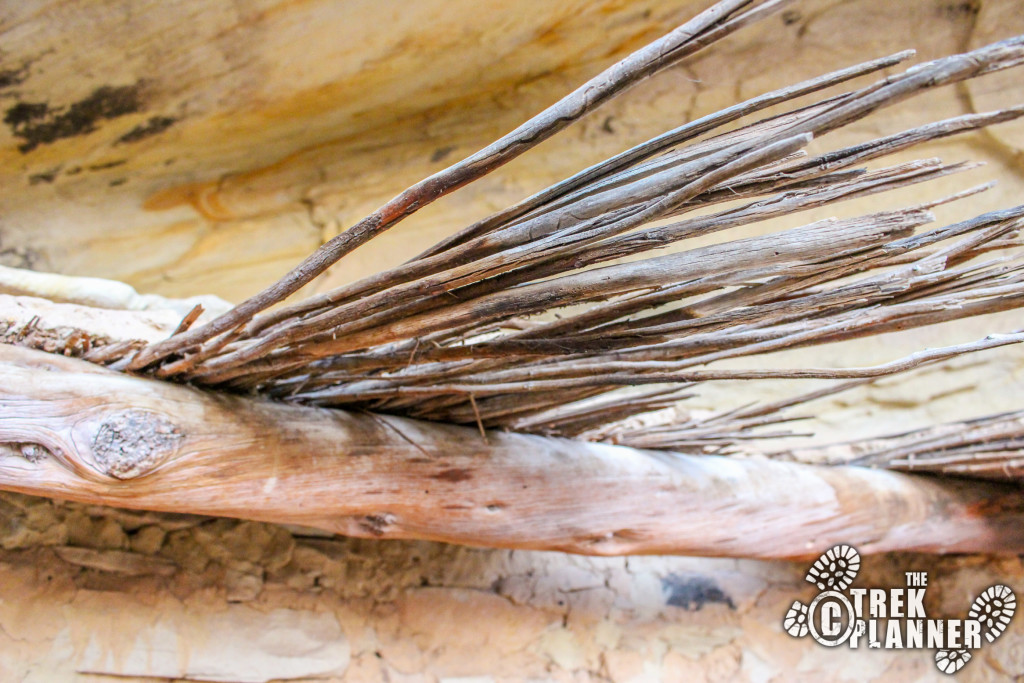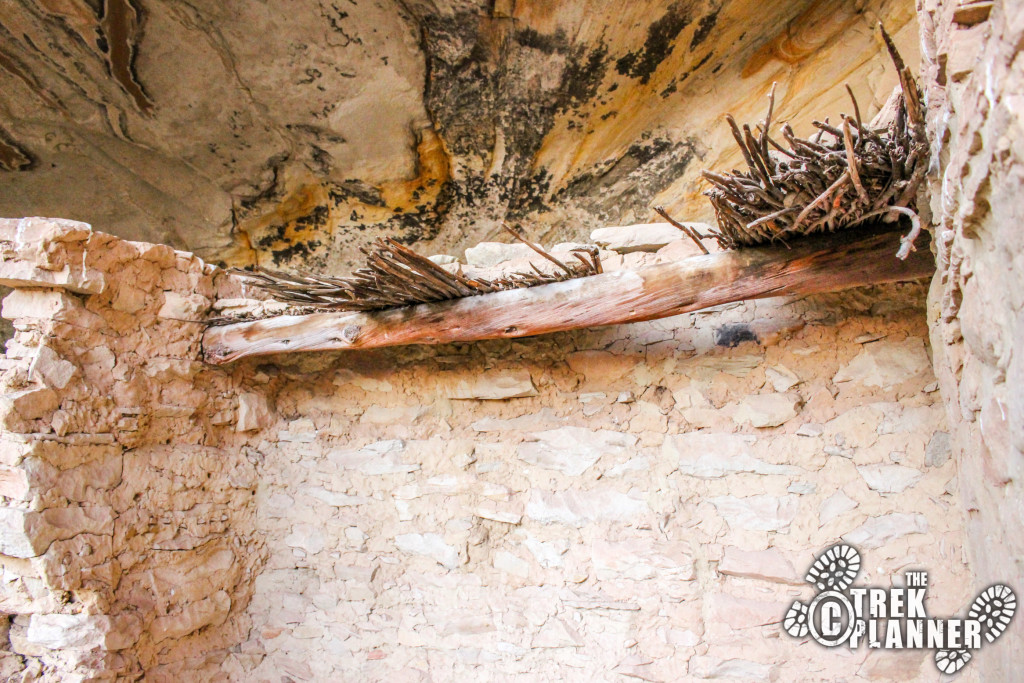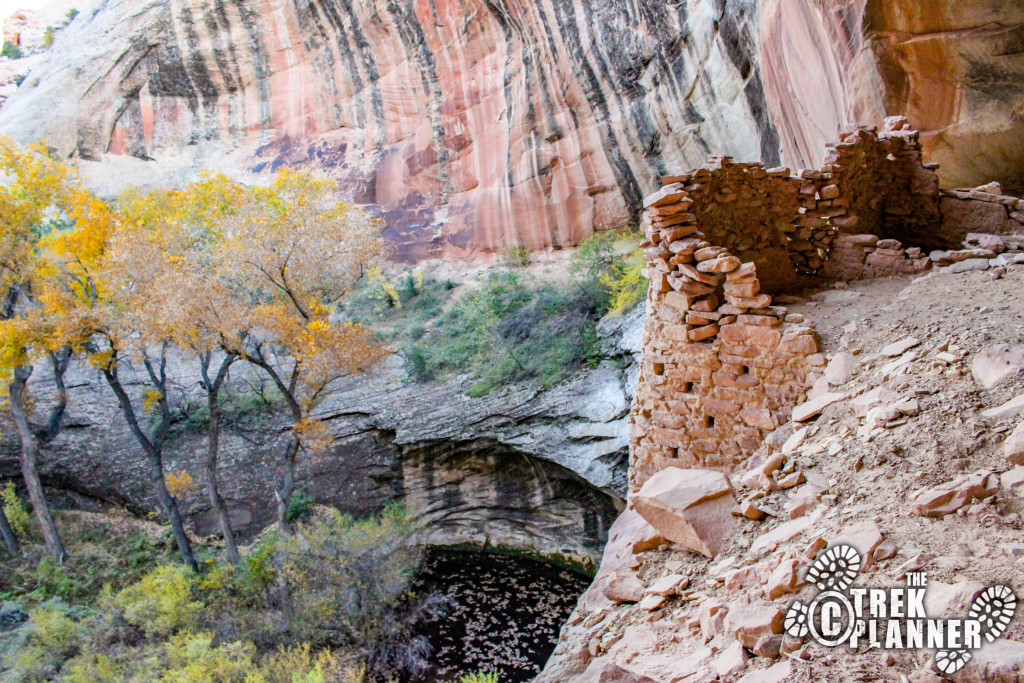 Towards the back of the cave we found a large grinding stone with more corn cobs.  It was really hard to believe that these same stones and corn cobs were the same ones that were used by the ancient inhabitants of this cave.  You could almost imagine them grinding corn – it was surreal to see that this stuff was left behind almost as if they just picked up and left the canyon one day.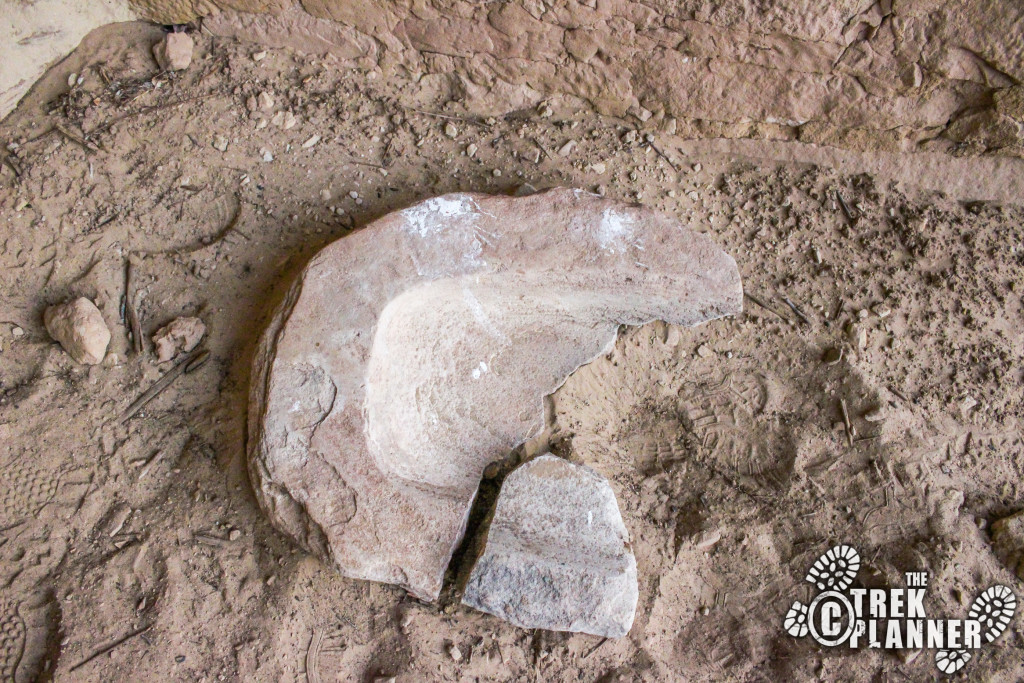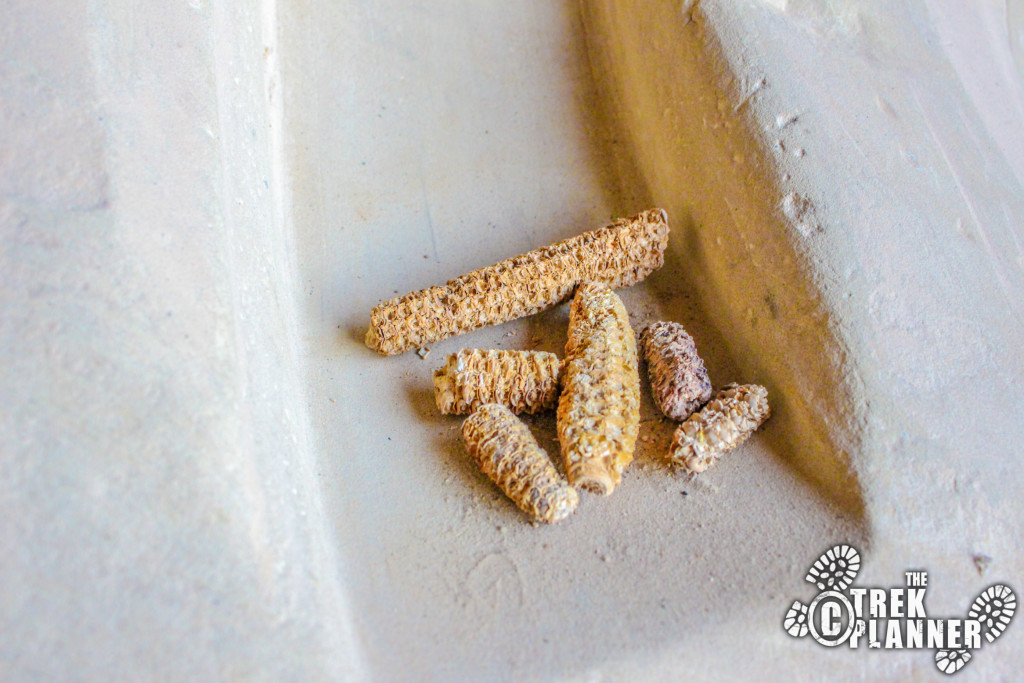 Personal Thoughts:
Monarch's Cave is an incredible place to see and explore.  We spent about 2 hours in the canyon and I'm sure we didn't see everything.  It was kind of odd and even surreal to be walking through someone's home that is more than 1,000+ years old.  Do you think any of our modern houses will last 1,000 years or more?