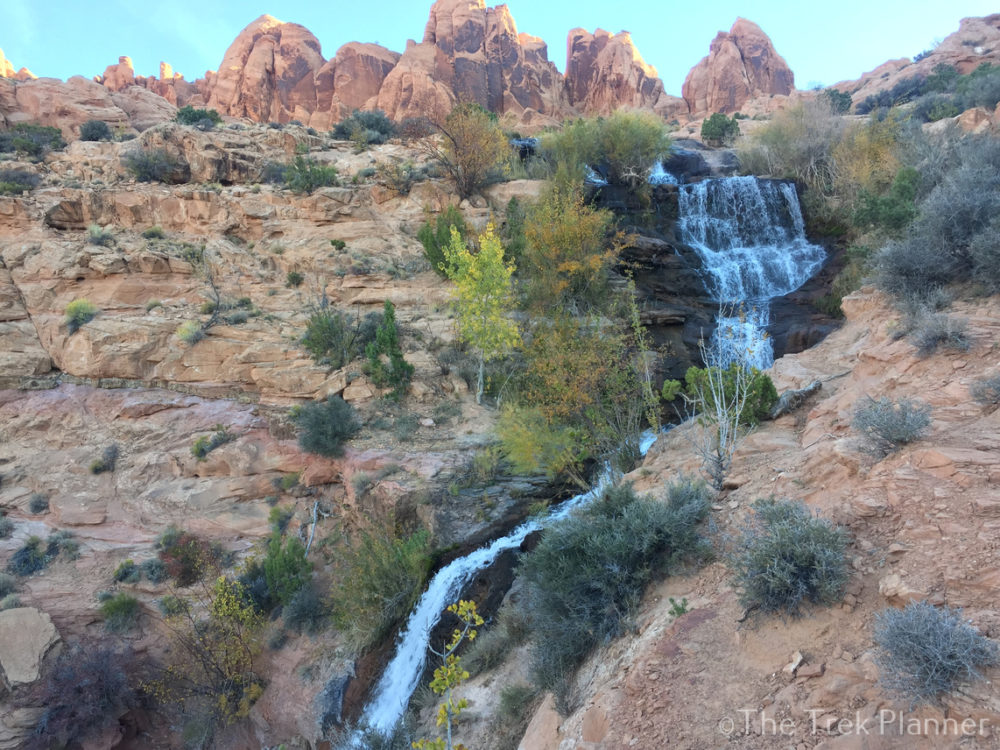 Overview
I hiked probably less than a few hundred yards in total
You could see the falls and Ken's Lake in about 30-45 minutes
None. Unless you are camping or boating
Lots of sun exposure but there is shade
Yes. Pit Style. Located at the campground and Ken's Lake
Yes. At Ken's Lake Campground. There are camping fees
Yes. But be aware that some of the falls are over 20 ft high. Please keep an eye on your kids.
GPS Coordinates:
Faux Falls Parking Area: 38°28'49.31″N, 109°24'45.74″W
Faux Falls: 38°28'51.76″N, 109°24'39.94″W
Ken's Lake Boat Ramp: 38°28'42.96″N, 109°25'45.77″W
Trail Map
Driving Directions
The Trail:
Note: Some of the waterfalls and pools are pretty steep so please keep an eye on children.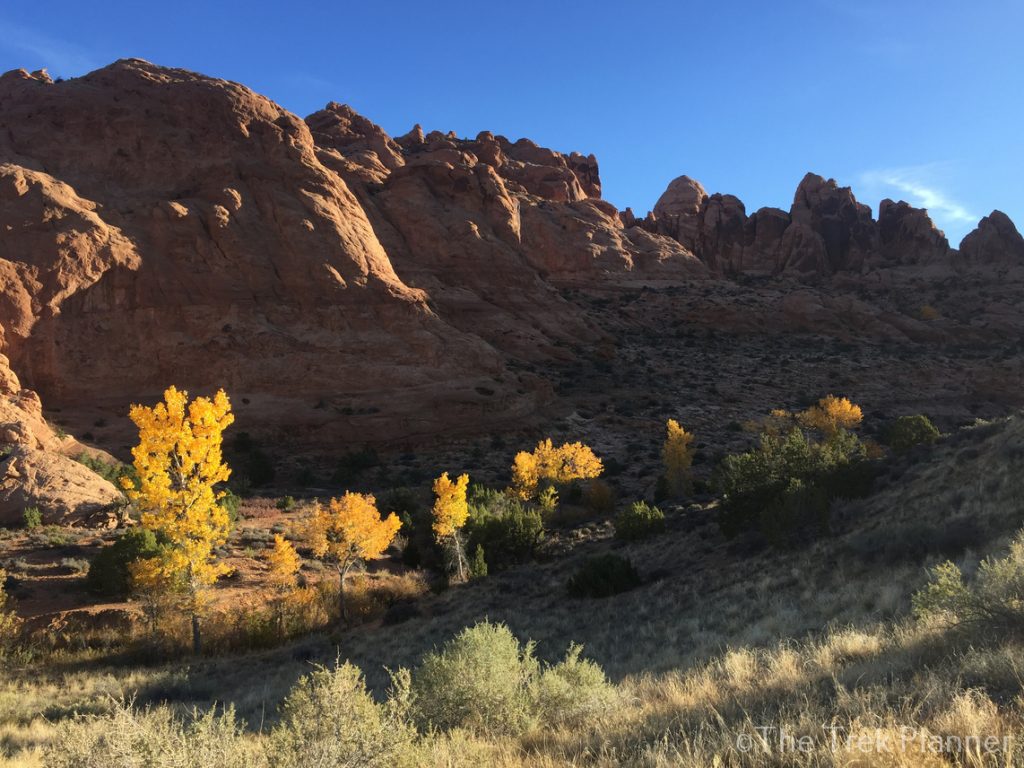 The water that is used for Faux Falls comes from the other side of the sandstone towers directly to the north.  Sheley Tunnel was blasted to bring Mill Creek water through the sandstone and used to fill up Ken's Lake below.  Faux Falls is impressive to behold even though it is man made.  It is still a fun place to explore and absolutely worth a visit!
I can imagine visiting here on a hot summer day and soaking in the cool water or sitting under one of the many waterfalls.  Kids would have a blast here in the many pools!  Although, I was the only one visiting on this particular day in mid-October, I'm sure this place can be busy in the hotter months.
Faux Falls is located right next to Ken's Lake Campground.  You don't necessarily need a 4-wheel-drive vehicle but a high clearance vehicle was beneficial.  If not, you could easily just hike on the dirt road to the parking area.  A trail from the dirt parking area leads to many different levels of the waterfall.  I started at the lowest level and hiked up to where the pipe is located.  It is a really short hike and you could see all of the falls in about 15 minutes if you wanted.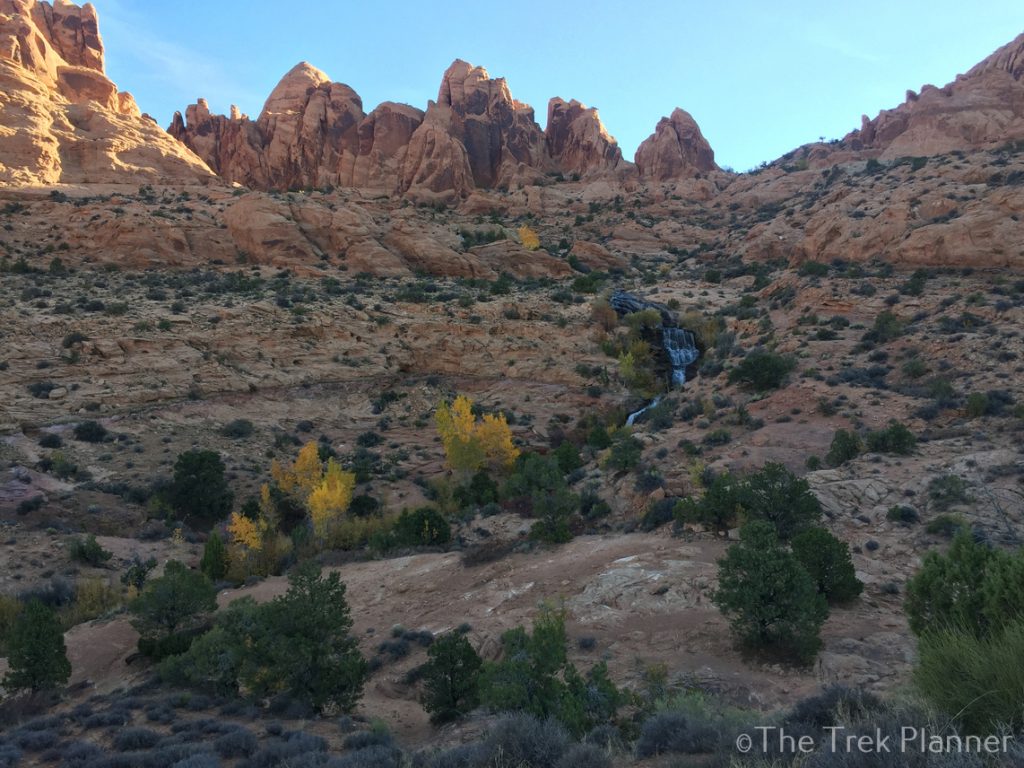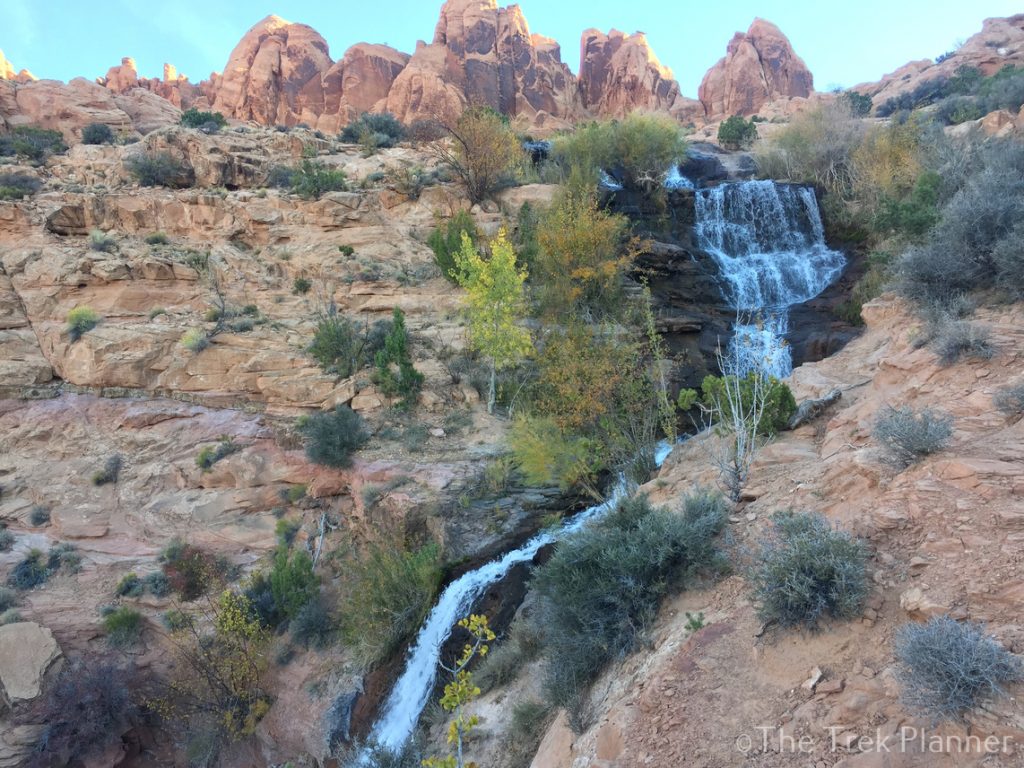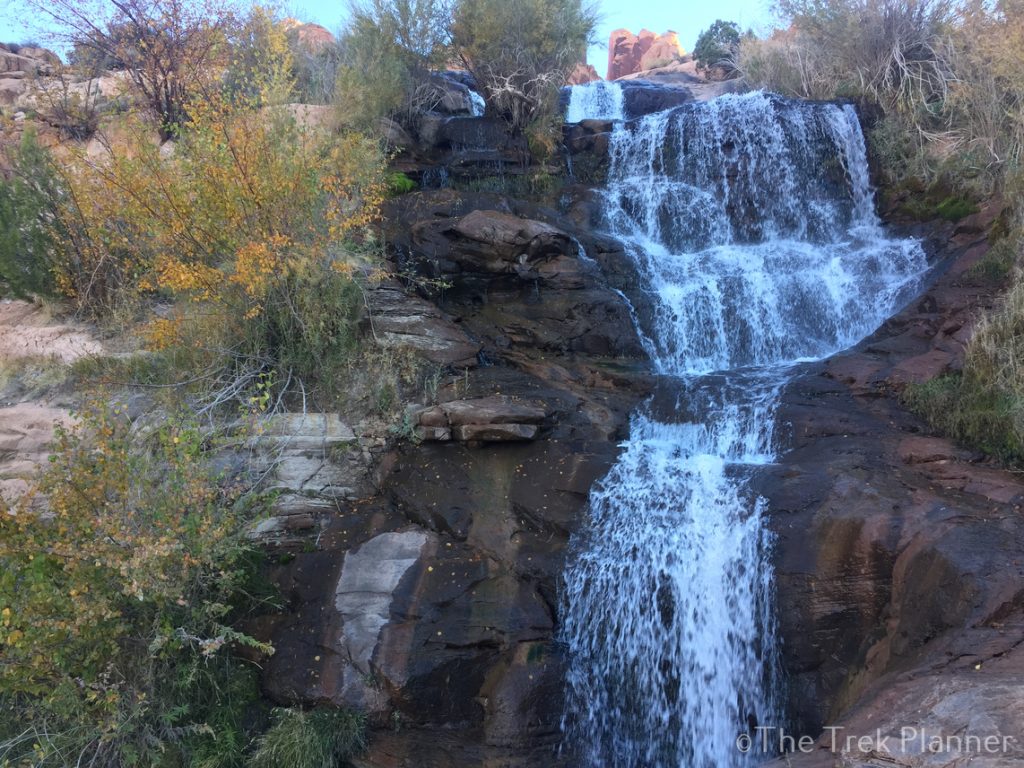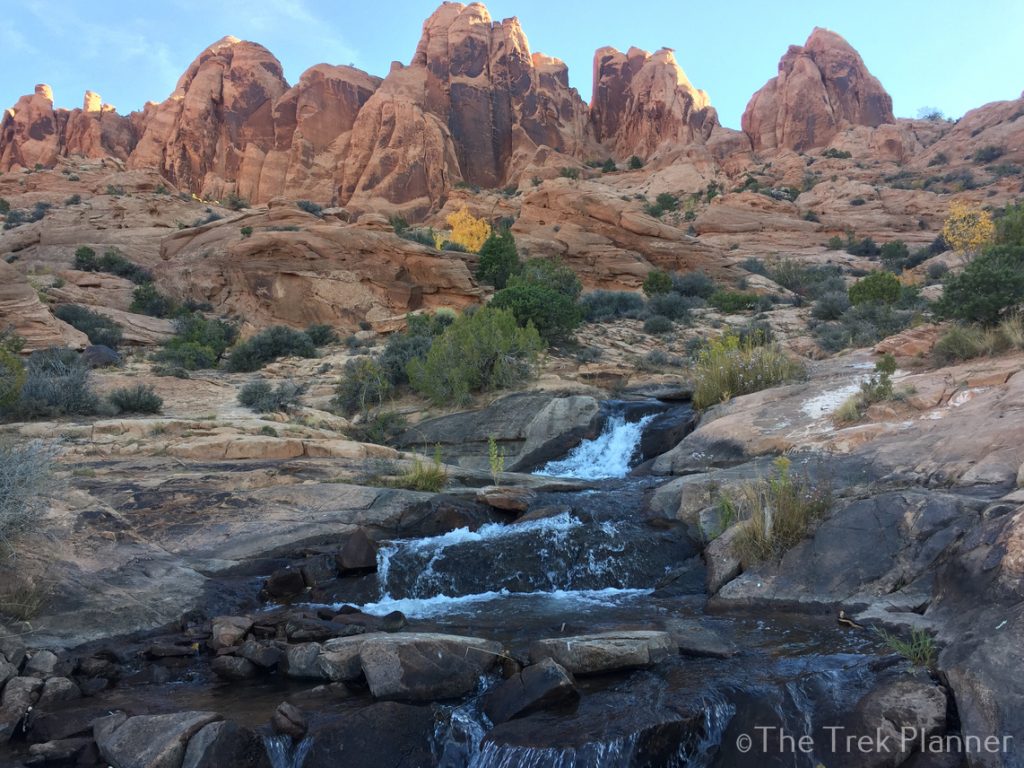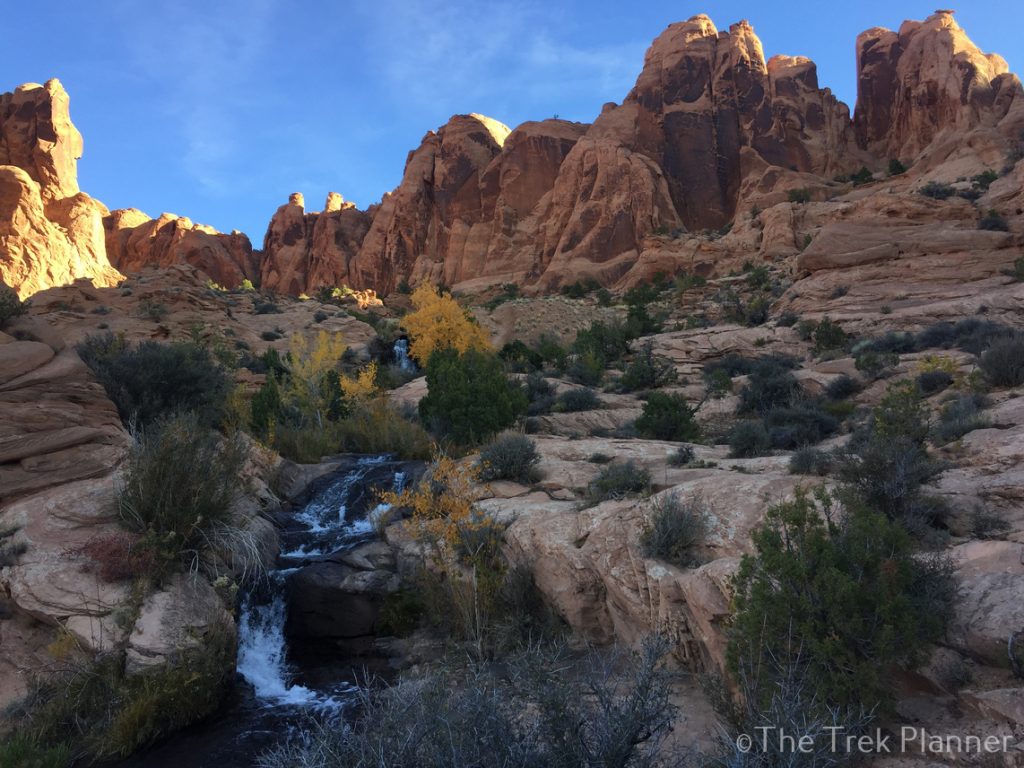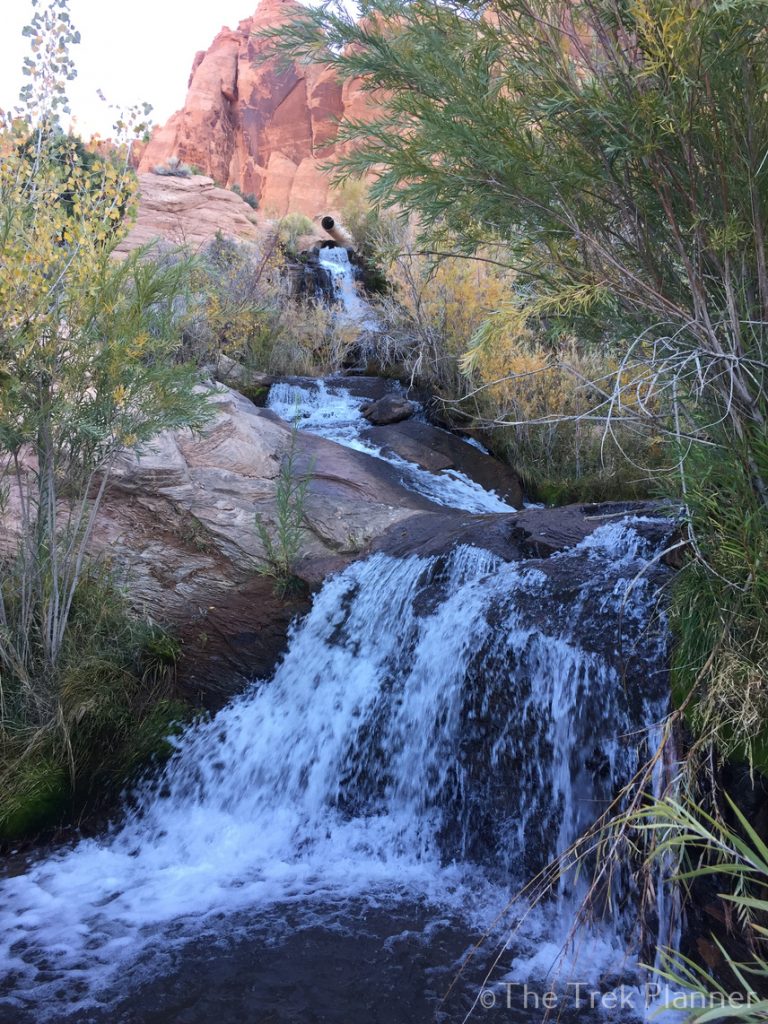 I arrived just before the sun was setting and I began to hear owls in the distance.  I even heard a pack of coyotes to the east howling at a group to the south.  It was really cool!  I came back in the morning  though to get better photos of the falls.
You can see lots of cottonwoods and desert flowers growing near the creek.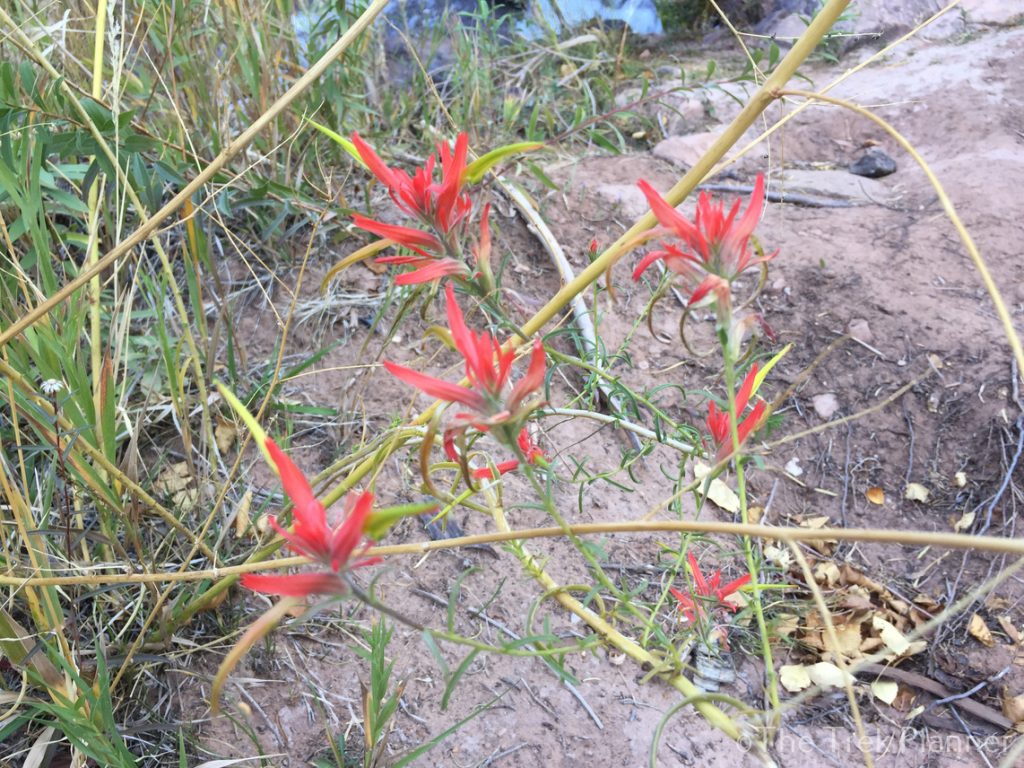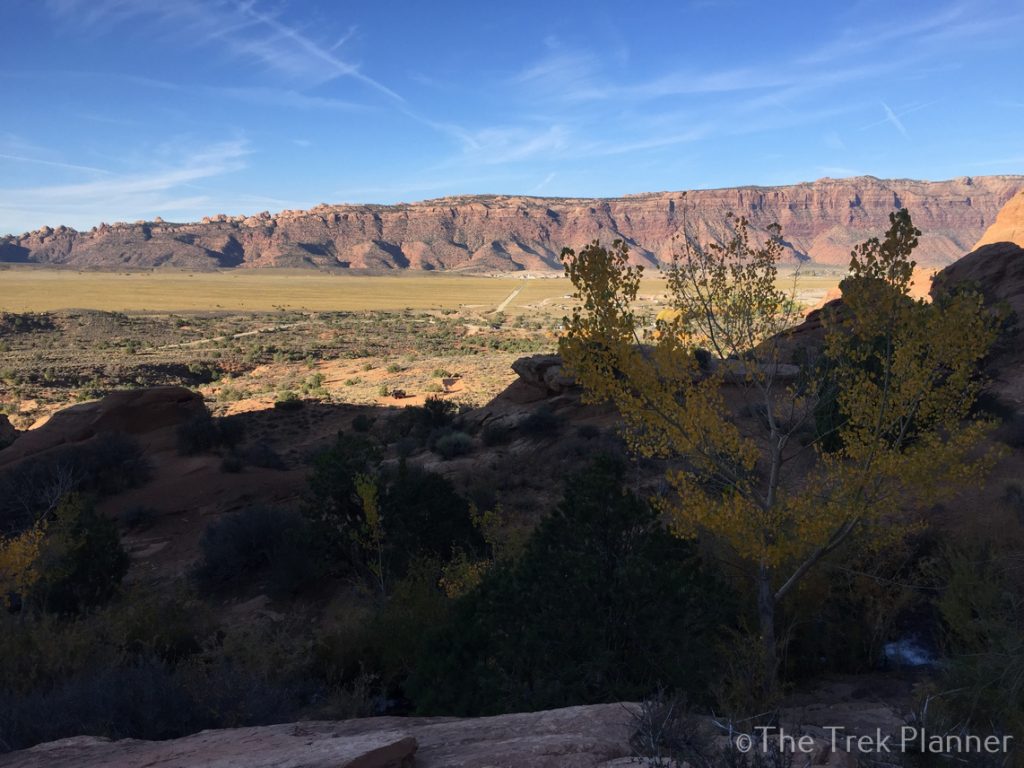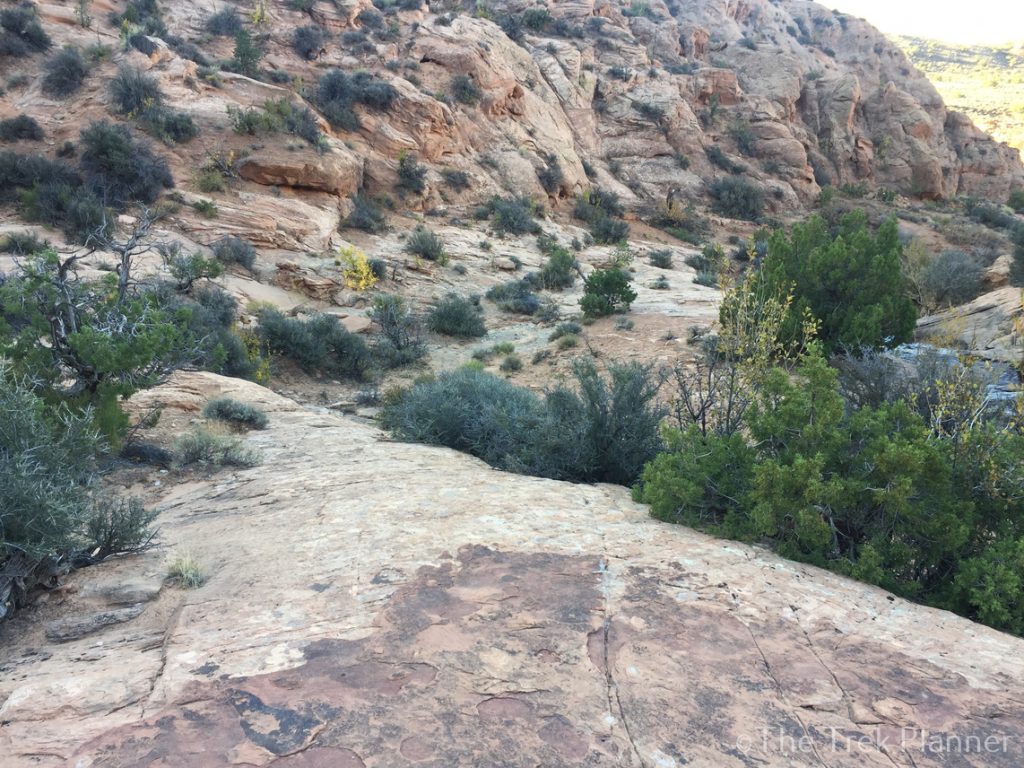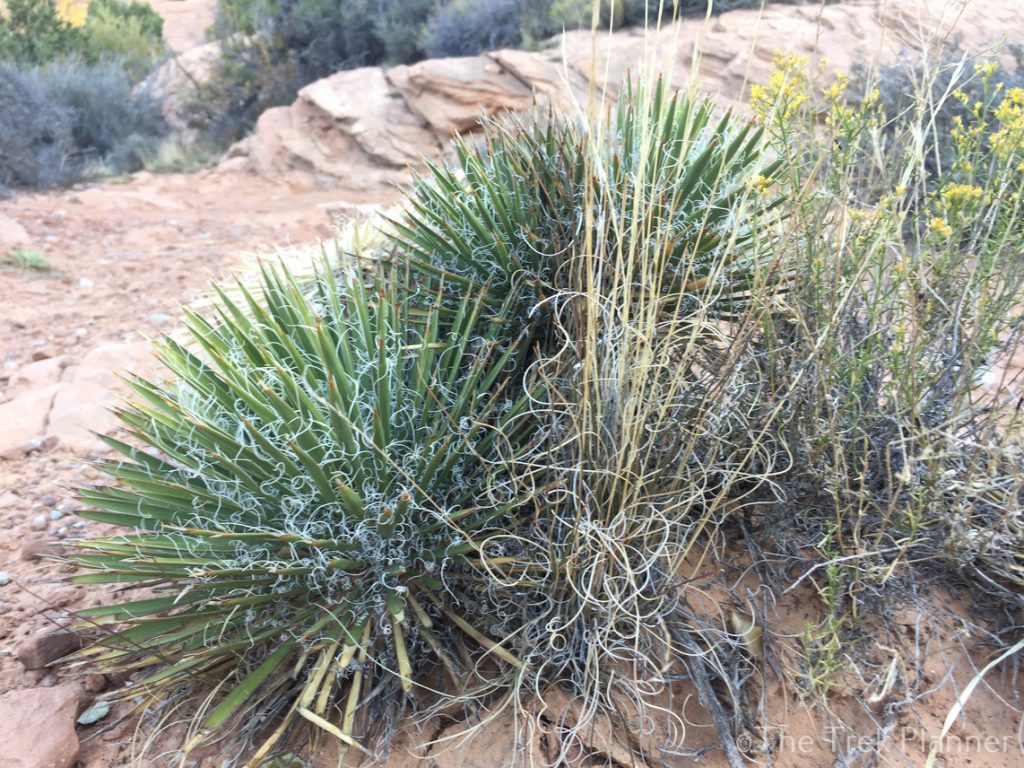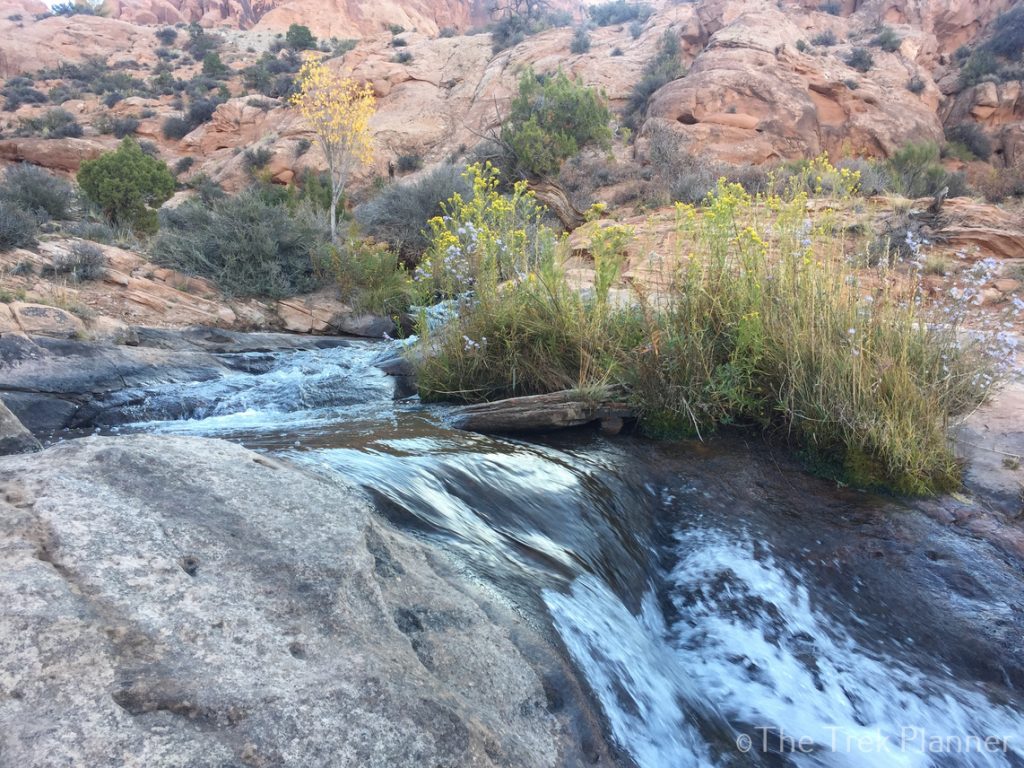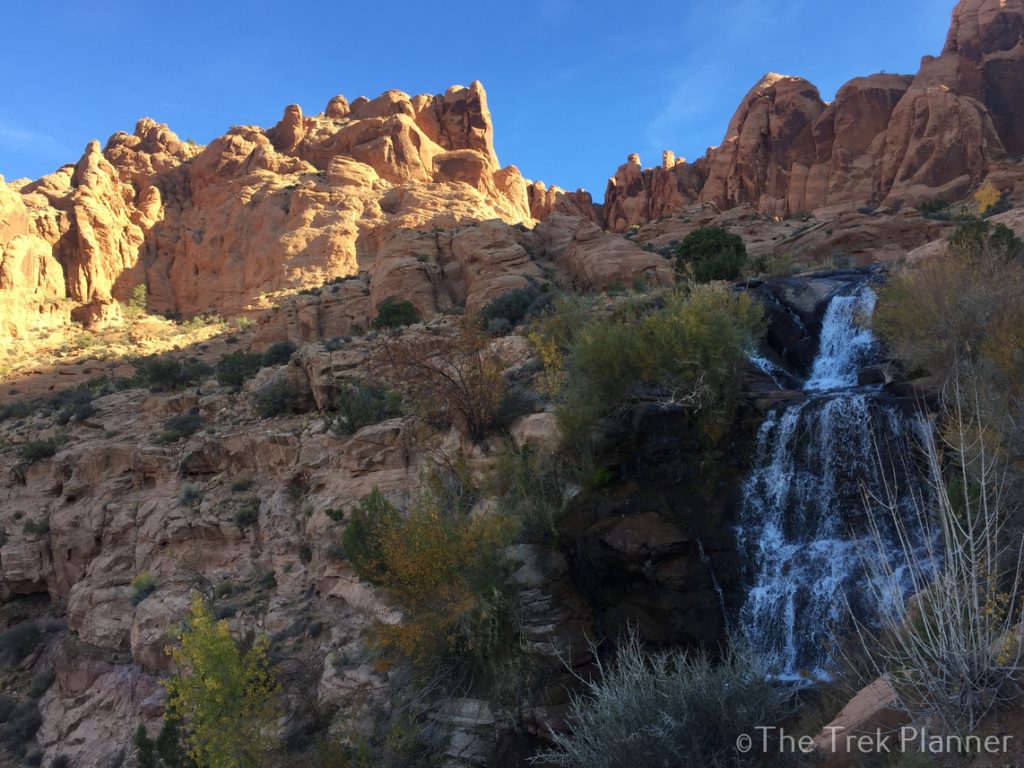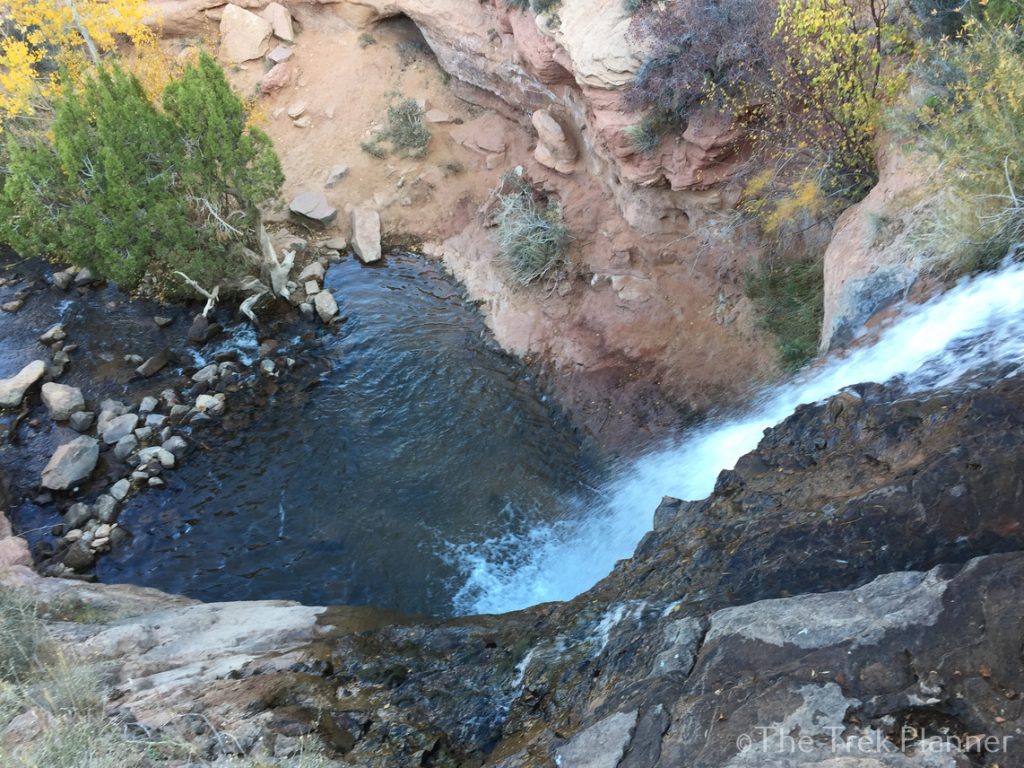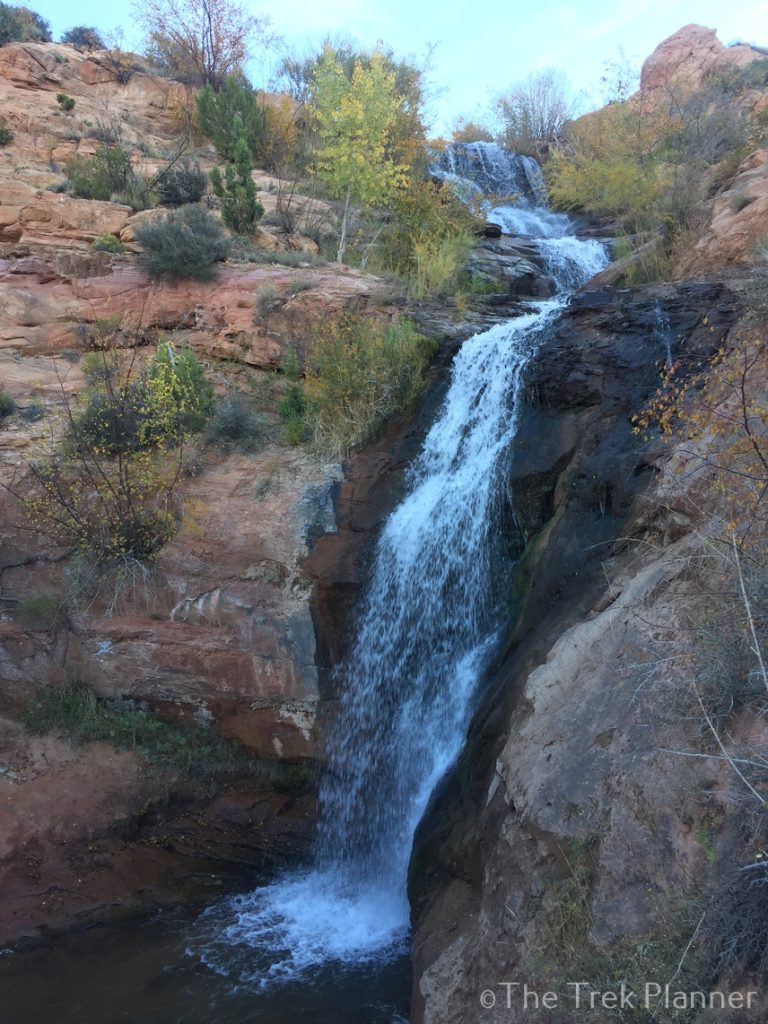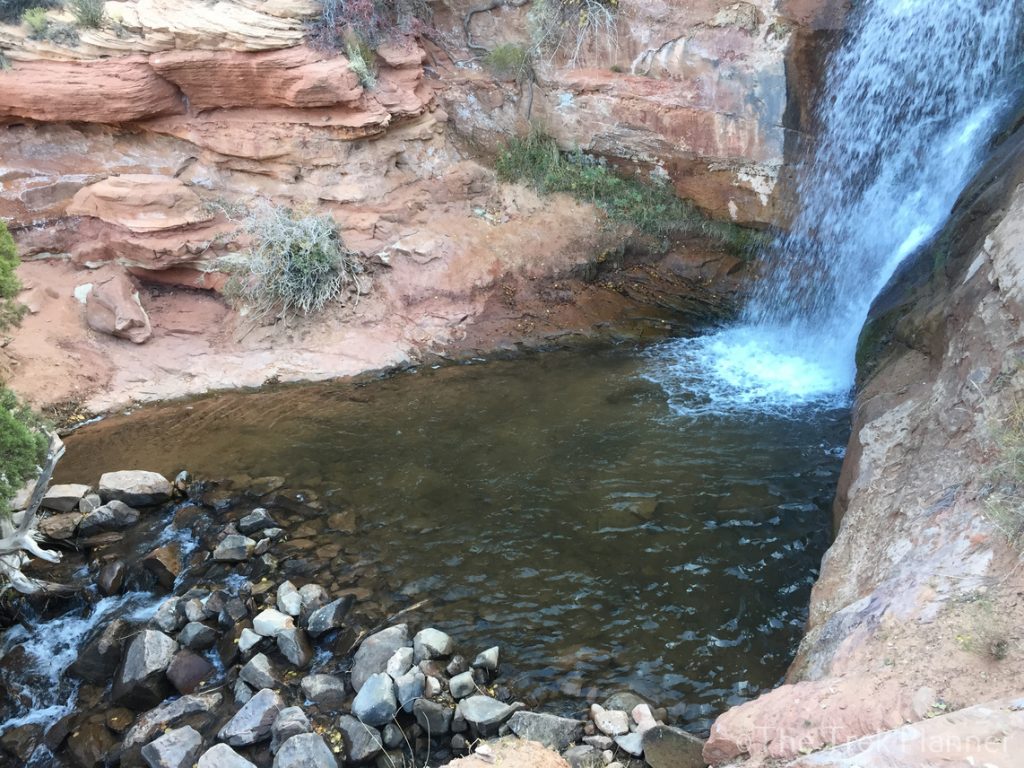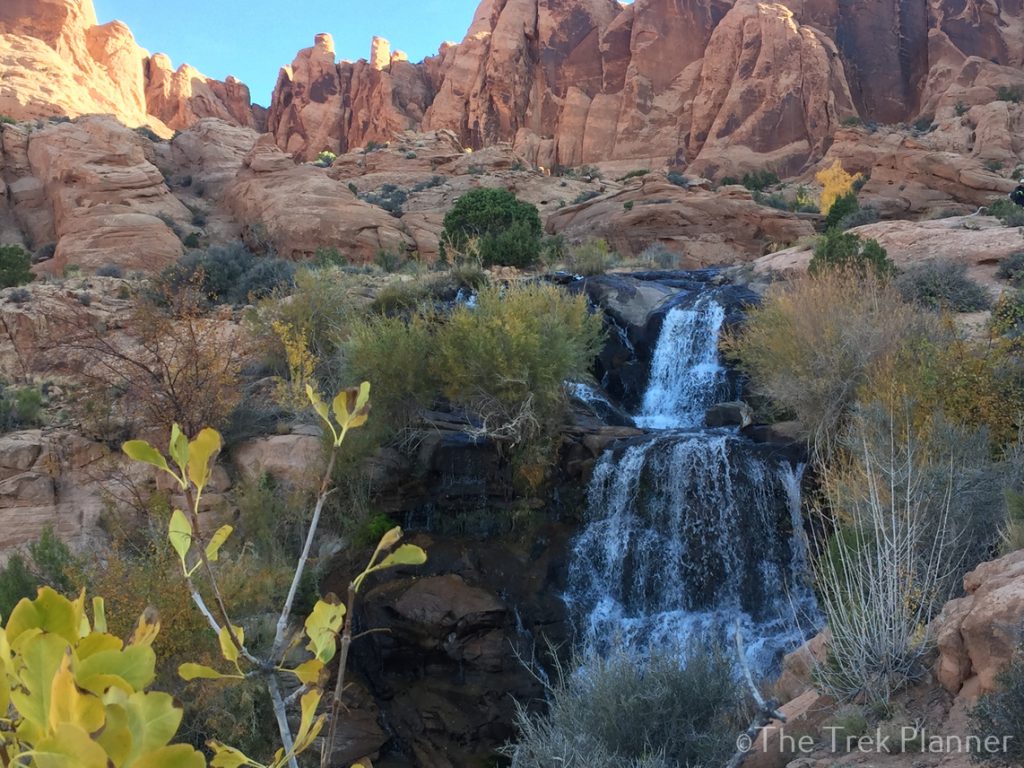 The water then flows into Ken's Lake.
I went down to Ken's Lake and it was really neat to see but I don't think it's worth a visit each time you come to Moab.  You are allowed to boat in the lake but you are not allowed to drive in it!  (Seems silly to even mention but I guess people in their Jeep's do crazy things sometimes, right?? 🙂 Plus there is a sign that says don't drive in the water)
The work to build Ken's Lake began on Oct 4, 1979 and it was finished on June 5, 1981.  The lake is named for Ken McDougald who was the founding chairman of the Grand County Water Conservancy District and also a former mayor of Moab.
It's crazy to see the 96 ft retaining wall that holds all the water in the lake…and then look at all the houses and ranches below it…
I stepped outside of my car to get a look at the lake and immediately got swarmed by bugs, so my visit here was cut short.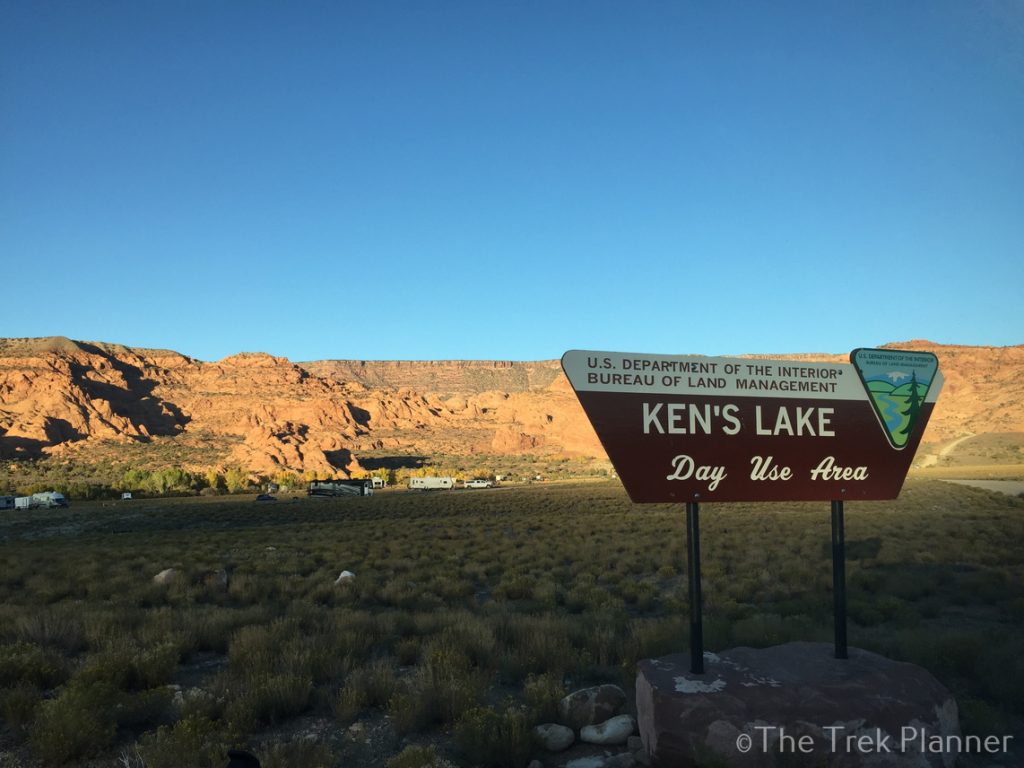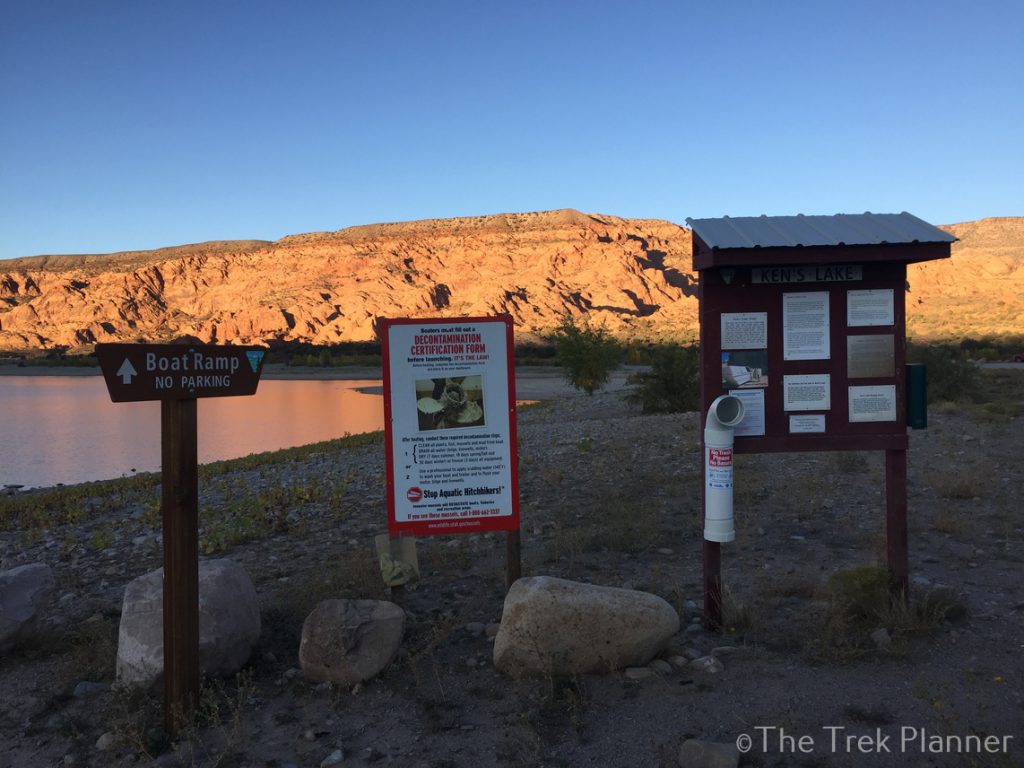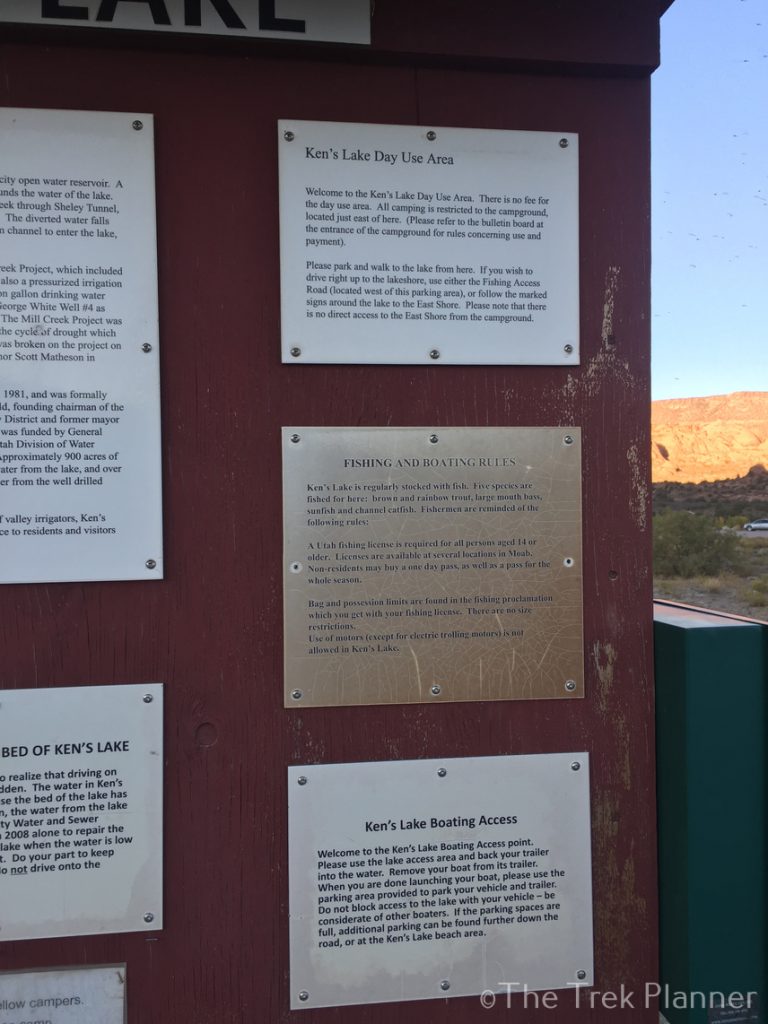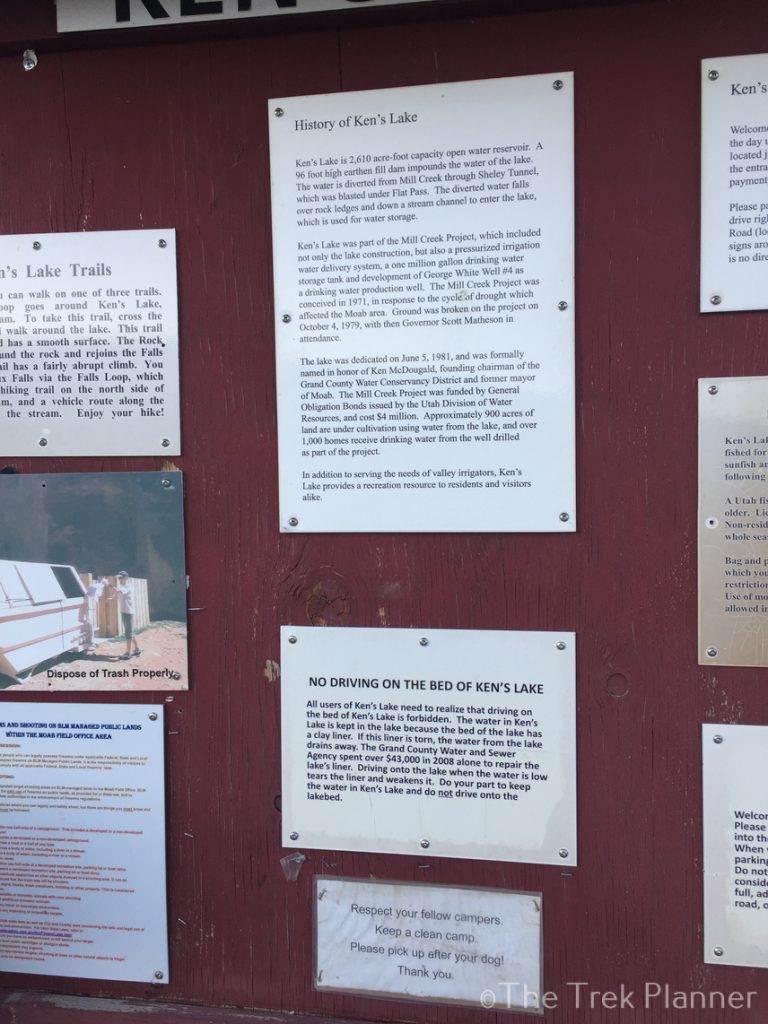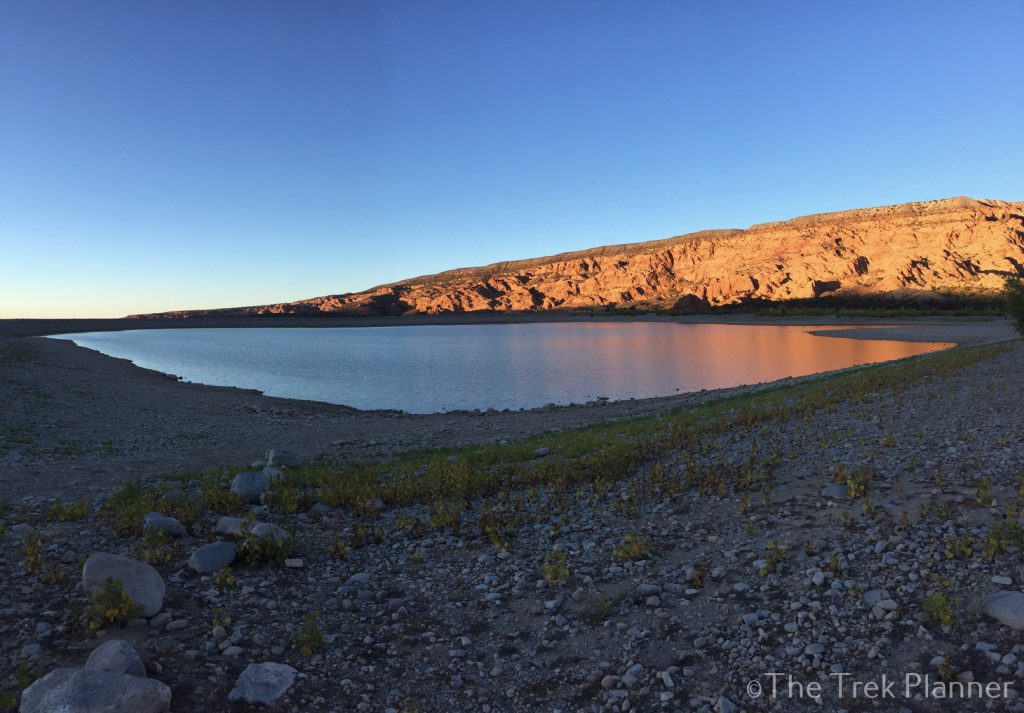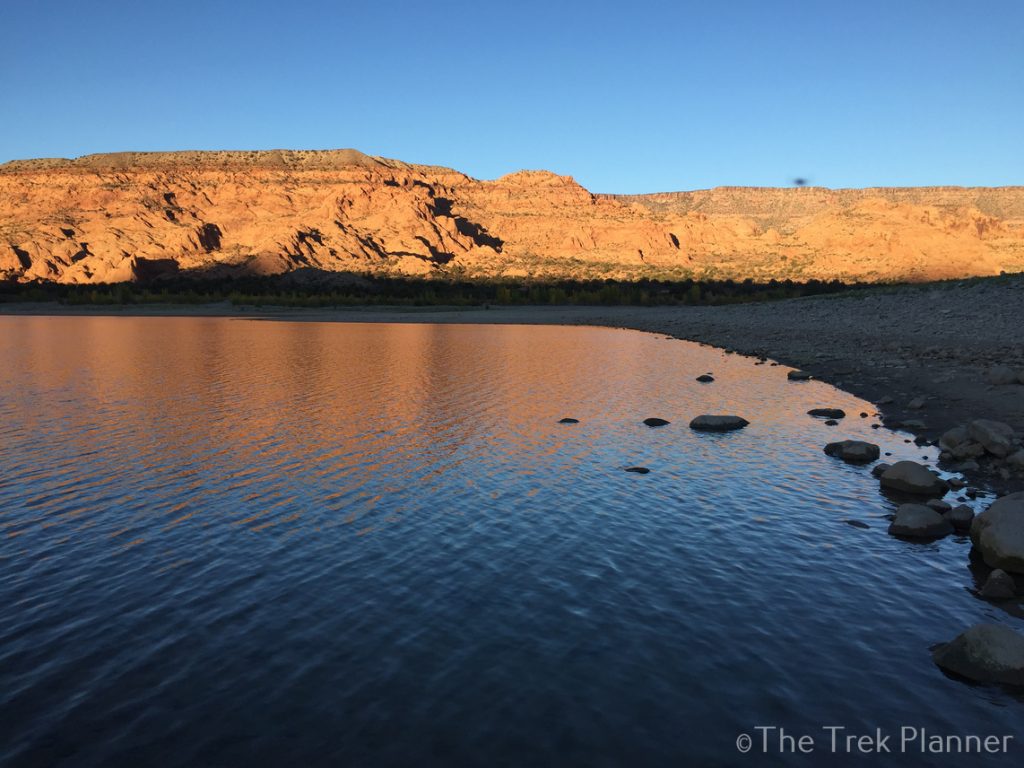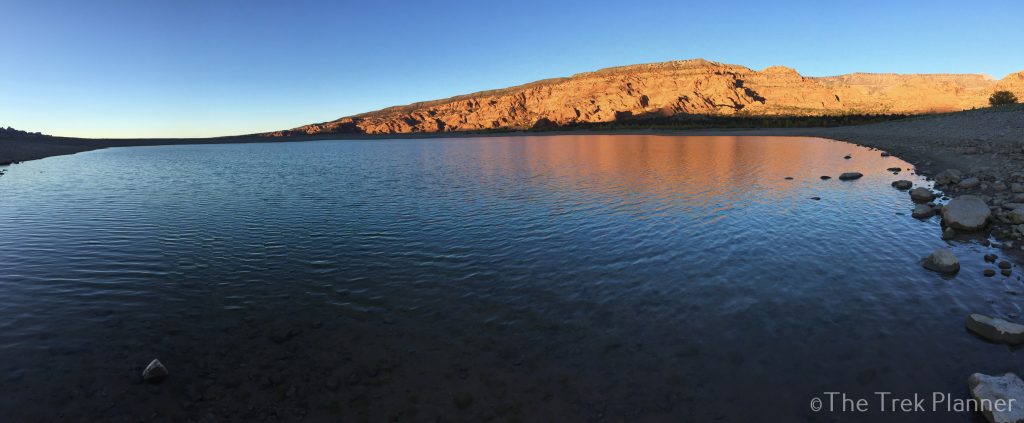 Personal Thoughts:
Normally when you think of Moab, you envision Arches and Canyonlands National Parks, slick rock trails and tons of hiking and rock climbing opportunities.  Faux Falls and Ken's Lake were a great place to visit and if I come back to Moab in the summer I will definitely visit Faux Falls and cool off under the waterfall!