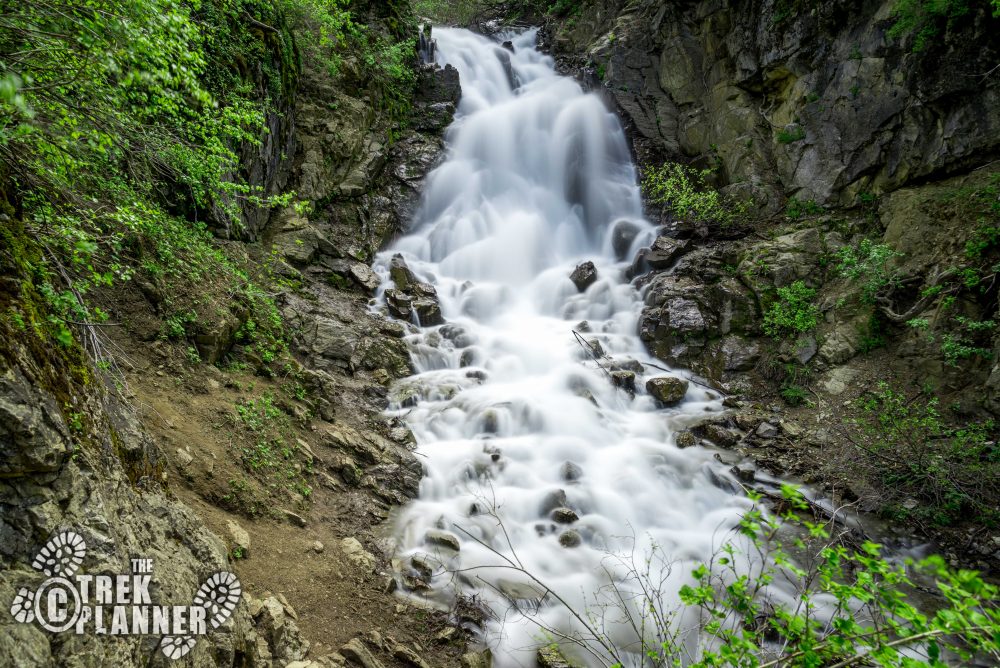 Overview
The trail gets a lot of sun so bring your own water for sure
Much of the trail is in shade but can be very hot
Well traveled but a few steep loose spots not suitable for very small children
GPS Coordinates:
North Fork Park Entrance:41.36629 N, 111.88583 W
Trail Head:41.37136 N, 111.92113 W
Waterfall:41.37290 N, 111.92772 W

Trail Map
Driving Directions
The Trail:
This was a nice surprise for me. I have spent a lot of time in the Ogden Valley area but had never stopped at North Fork Park. This place is huge. There has to be at least 100 camp sites and some huge group sites. There are several great spots to have campfires as well. Another thing that surprised me because it is so close to Ogden is that this is a certified dark sky park and I love to see stars. I had never heard of the waterfall but came across a sign in the park that said simply "Waterfall." The fall ended up being much larger than I was expecting. The park sits below Willard, and Ben Lomond Peaks and the area gives you great views of Willard Peak in particular. We also saw a Moose but I did not get any pictures of it.
The trail head has enough room for 5 or 6 cars.
From there simply look for the waterfall sign and head on up.
You can see the decent sized creek in a gully below you.
This ended up being a decent trail for families. My wife got to try out the baby pack for the first (and probably only) time. Haha. There were a few spots where you had to climb over logs and there is one steep loose hill you climb but most kids 5 or older should be just fine.
Here is a picture of the tricky hill.
The trail passes through very nice forest with great shade although it was still very hot.
Before long you will hear the waterfall. It really was much larger than I was expecting. I would guess about 30 feet. Here is a picture with my wife for scale.
The waterfall was a great spot to cool off with cool mist and take some good pictures.
There was a second short trail that is very loose and steep and not suitable for kids that takes you above the falls for a different perspective.
The Return:
This is an out and back trail and you must return the way you came.
Personal Thoughts:
This short steep trail was a pleasant surprise to a very pretty spot in Ogden Valley. The falls were awesome but probably die down quite a bit later in summer.