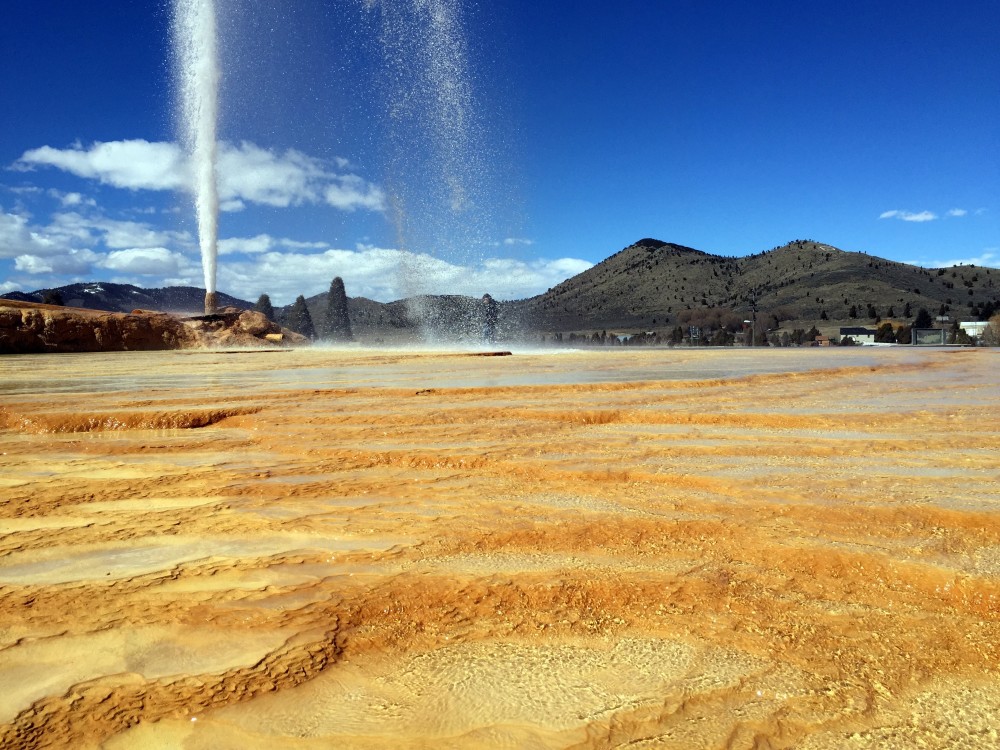 Overview
Down town Soda Springs, Idaho
Geyser Park, geyser, orange travertine
Less than a few hundred feet walking
The water temperature from the geyser is about 70 degrees Fahrenheit. The geyser erupts every half hour on the hour. When the geyser isn't erupting there is still a good amount of water coming from the headgate
Wooden boardwalk trail. You can also walk around on the travertine
Yes. Located in the Visitor Center
Yes. Located a few hundred feet southeast from the geyser
GPS Coordinates:
Geyser Park: 42.65734, -111.60517
Trail Map
Driving Directions
The Trail:
I have visited Geyser Park in Soda Springs many times during my life.  I remember coming here when I was very young and being amazed at the geyser and the surrounding orange-ish buildup.  Even now I still feel it is a great place to stop.
Geyser Park is located downtown Soda Springs behind several of the buildings on Main Street.  I have always enjoyed coming here, seeing the geyser and then eating in town when visiting.
The geyser has a very interesting history.  Trying to find a hot water source for their planned swimming pool, a drilling company drilled down some 300 ft in November 1937 until they reached a large chamber. Inside this chamber, carbon dioxide gas mixes with the underground water building up pressure which then makes the water shoot out of the drill hole.  The geyser can reach heights of around 100 ft.  A timer and cap control the geyser so it erupts every half hour, on the hour, year round.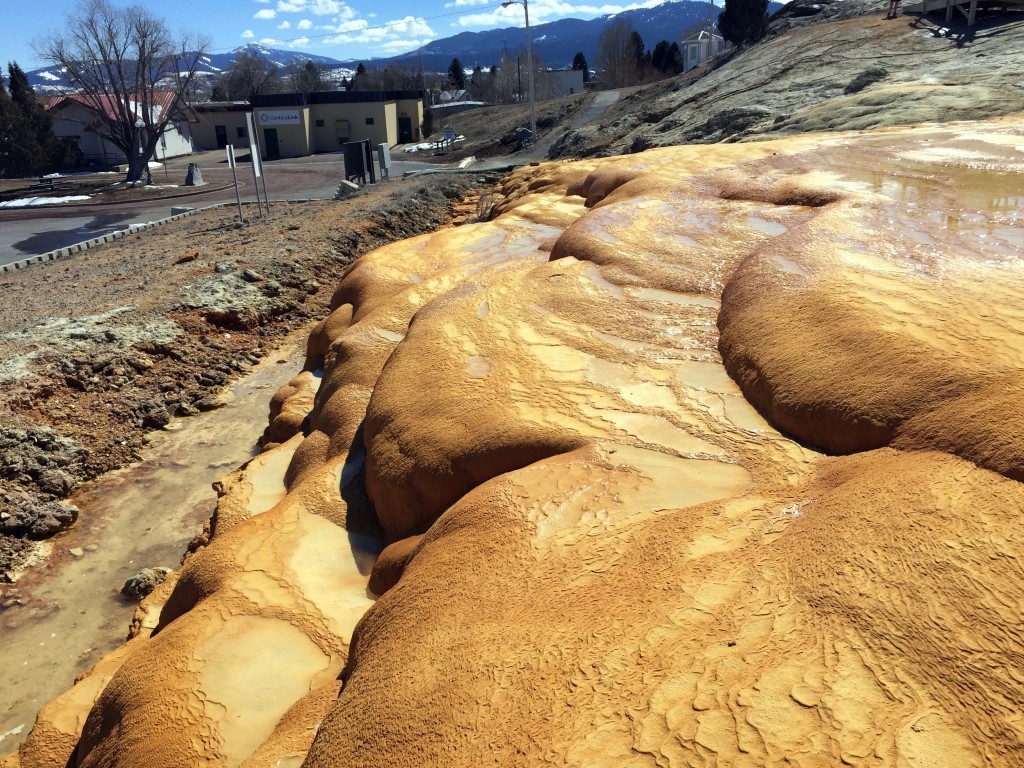 The park features a large parking lot right next to the geyser and the "hike" to the top of the geyser mound where you can get a great view of the spouting water is only about a hundred feet or so in length.  There is a nice boardwalk trail surrounding the geyser and some information kiosks too.
The geyser is capped but there is still a good strong flow coming from the headgate even when the geyser isn't shooting out.  The water temperature feels about 70 degrees Fahrenheit and it would be nice to let the mist spray you on a hot summer day.
The city claims that this is the only captive geyser in the world!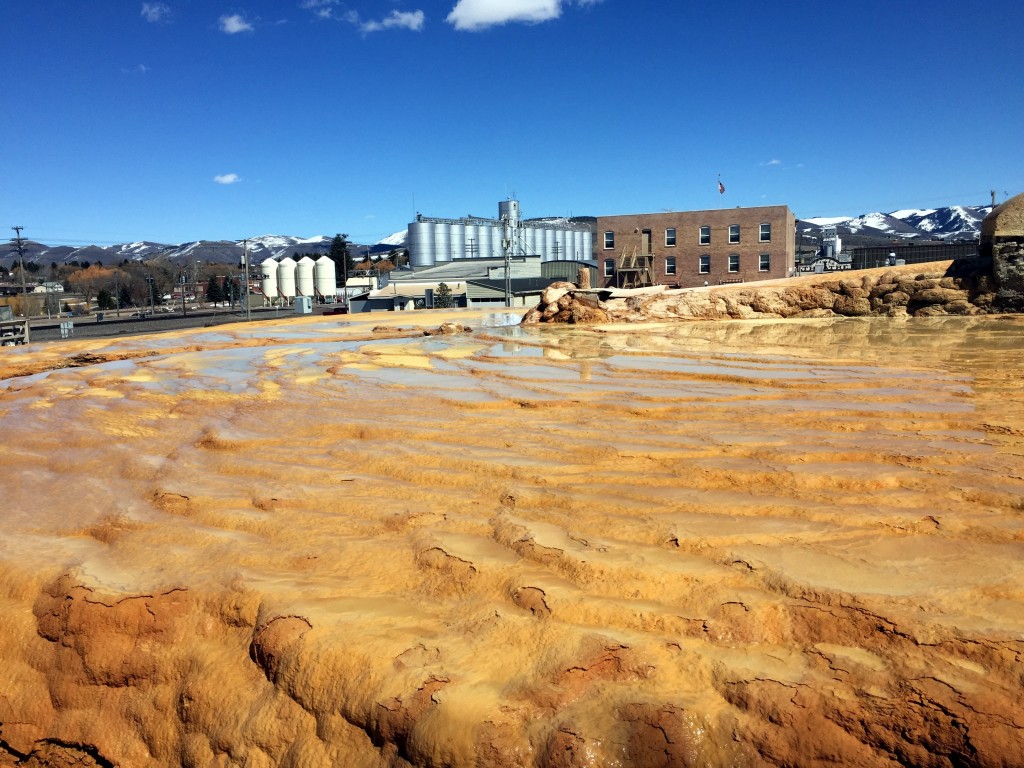 I have seen children running all over the orange and red colored mineral buildup and they always seem to enjoy the geyser too! If you do bring younger kids make sure to keep an eye on them because some of the edges are steep and end in the ditch that is running with the geyser water.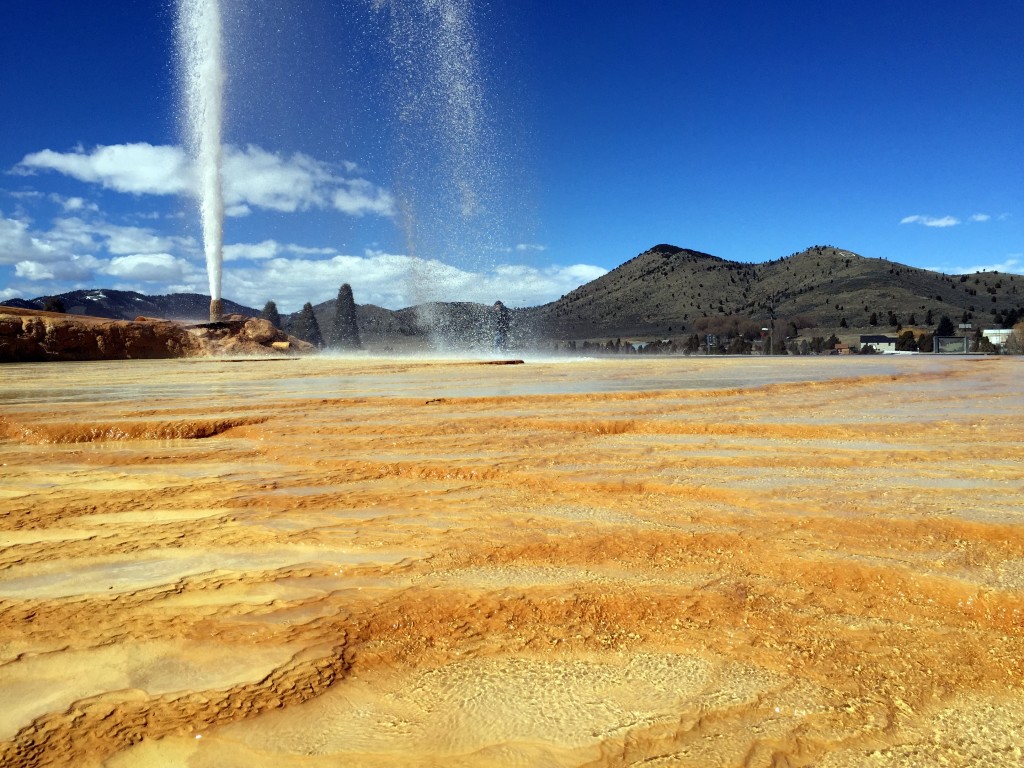 That's all there is to see here at Geyser Park besides the cemetery next door which is also interesting.
The Return:
Head back to your car.
Personal Thoughts:
I really enjoy hot springs, geysers and other mineral pools.  The Geyser Park in Soda Springs is a great place to stop and enjoy something different and grab some lunch while in town.  Kids love this place too.