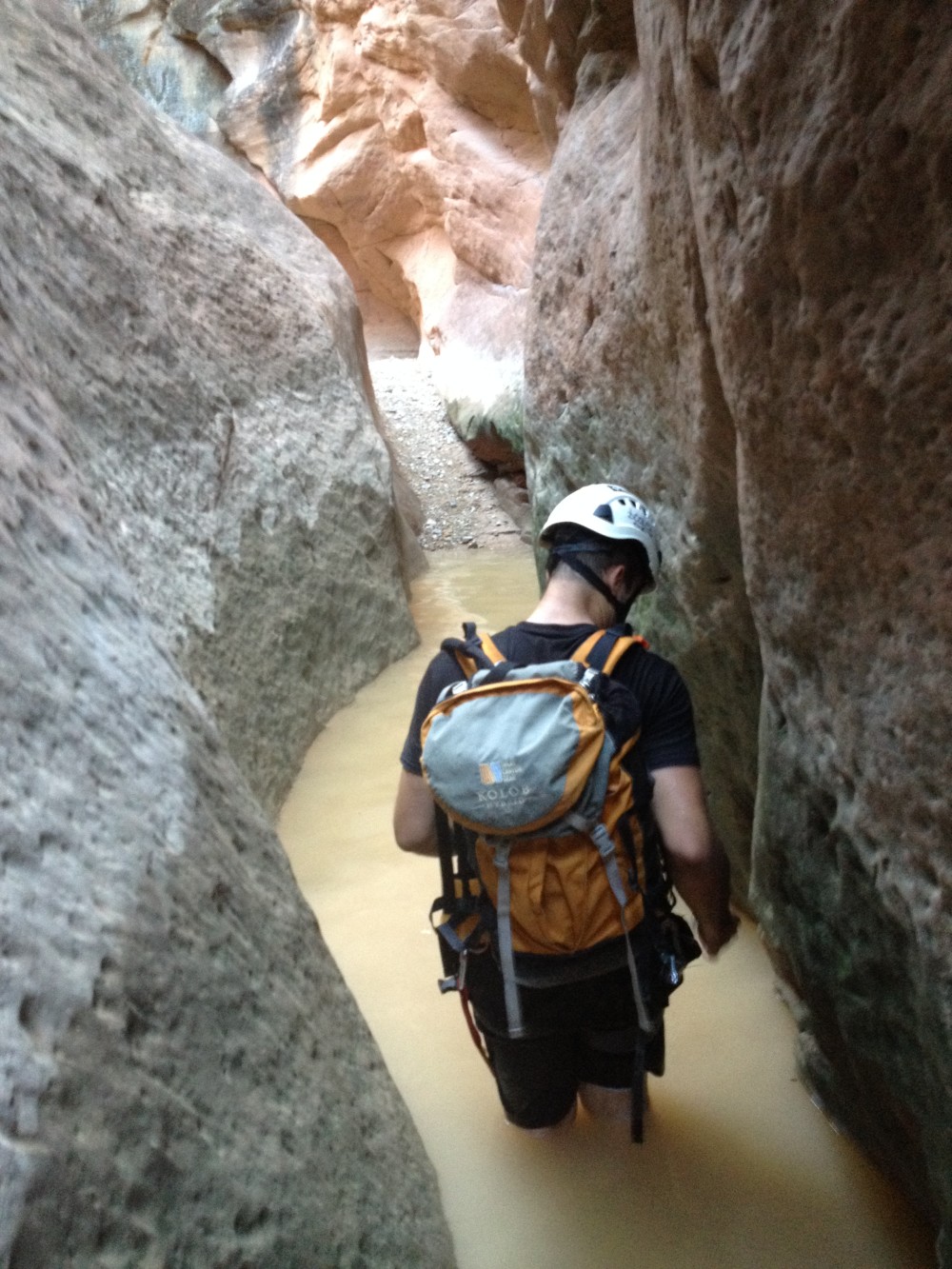 Overview
West of Leeds, Utah (Southern Utah)
About .75 mile round trip from car to car
Drops down to about 4088 ft. Then you will need to hike back up to the parking lot
About 2+ hours depending on size and skill of your group
I wouldn't bring a pet through this canyon
Even though you are in a very narrow canyon there is still sun exposure.
Just follow the canyon down.
Bring some snacks and other food if you need it.
Bring a 200ft rope, some webbing, all the carabiners you need, belay devices, ascenders (for emergency and other tasks), helmets, harnesses, gloves, good grippy shoes that can get wet, camera, bag for equipment and food.
GPS Coordinates:
Yankee Doodle Trailhead: 37.236629°, -113.453299°
End point: 37.236801°, -113.450205°
Trail Map
Driving Directions
Yankee Doodle Canyon is located about a 35+ minute drive west of Leeds, Utah.  We drove in a truck but we probably could have made it in a small car on the dirt road.
The Trail:
Please only attempt this canyon if you have the right equipment and skills!  You do this canyon at your own risk.
Yankee Doodle is a short technical canyon that is located west of Leeds, Utah.  There were only three of us in the group that explored this canyon and all we had were a GPS coordinate of where the parking lot was located.  We didn't know where the exact start of the canyon was which meant we went down a different route instead of the cool 90+ ft rappel that we could have went down.  We still found several anchor points which was nice and we still had a ton of fun navigating Yankee Doodle Canyon.
—————————————————————————-
At the trailhead there is a small sized parking area which has room for several vehicles.  You can park here or you can park back on the road.
When we did this canyon, we didn't know where the exact entrance was located so we just walked down about 50 feet south of the parking lot and went down into the canyon.  We found several anchors and webbing so we figured we were in the right place but come to find out we went down a different way than the cooler 90+ ft rap.  Either way, we had fun doing the rappels and all the technical down climbing that was needed.
This canyon is a beginners canyon but you will still need to know what you are doing.  There are many down climb areas with anchors but we found it was not really necessary to use a rope in most of these cases.  We really only used the rope at the beginning and got it out when the down climbing areas were more easily navigated with a rope.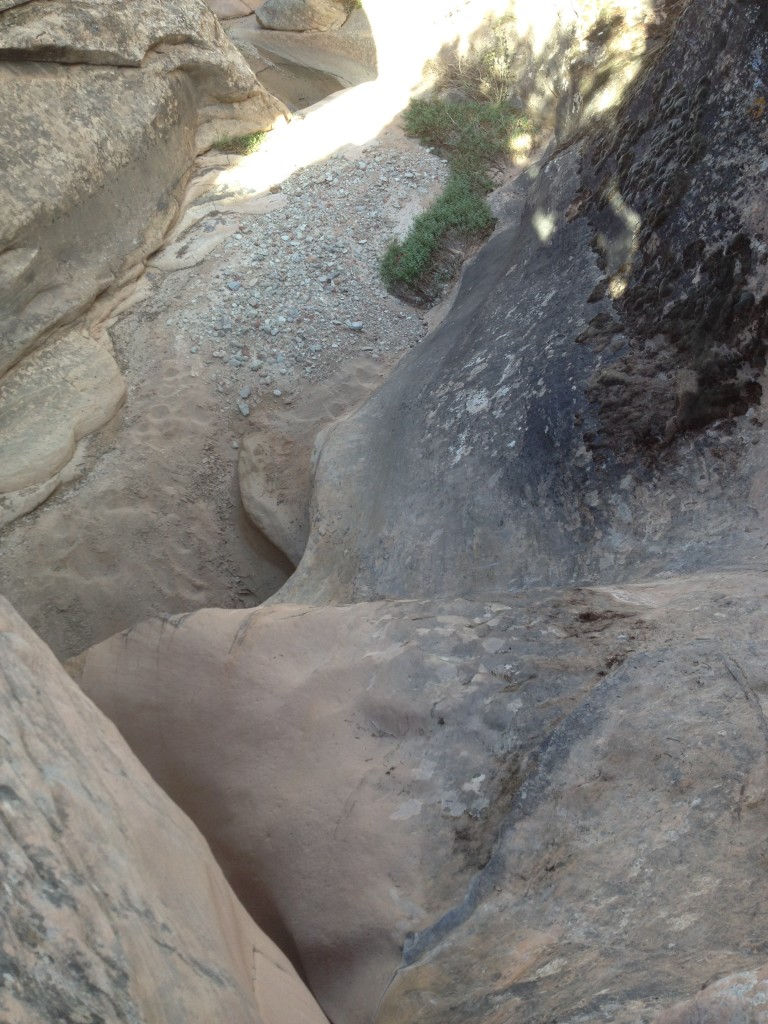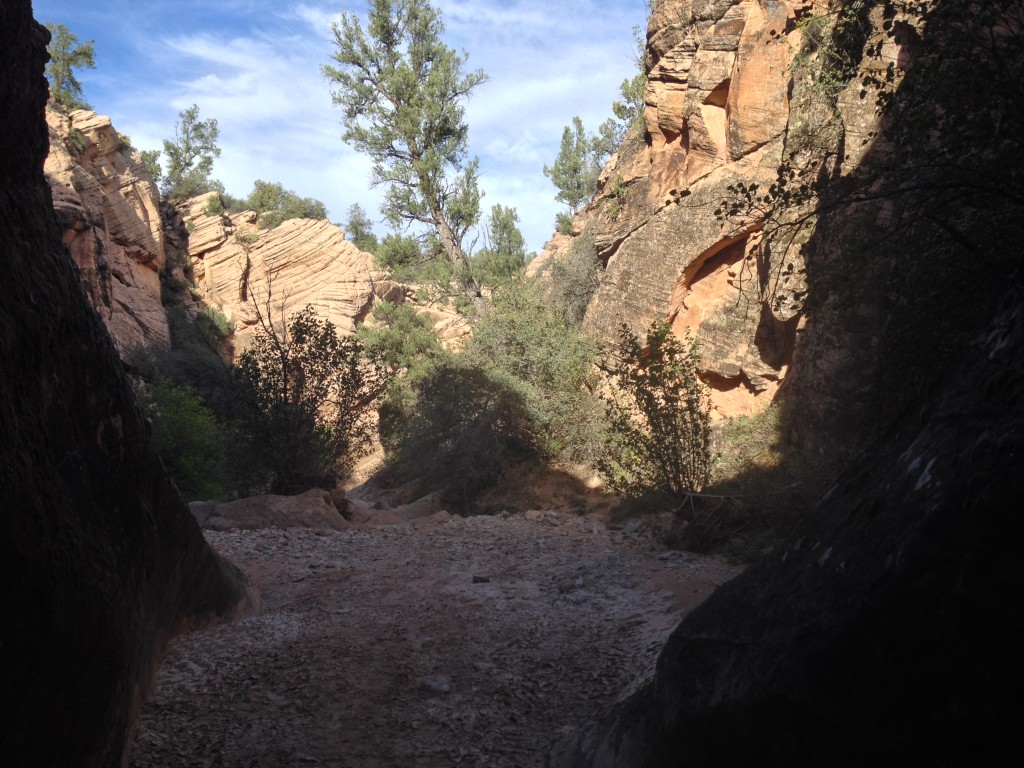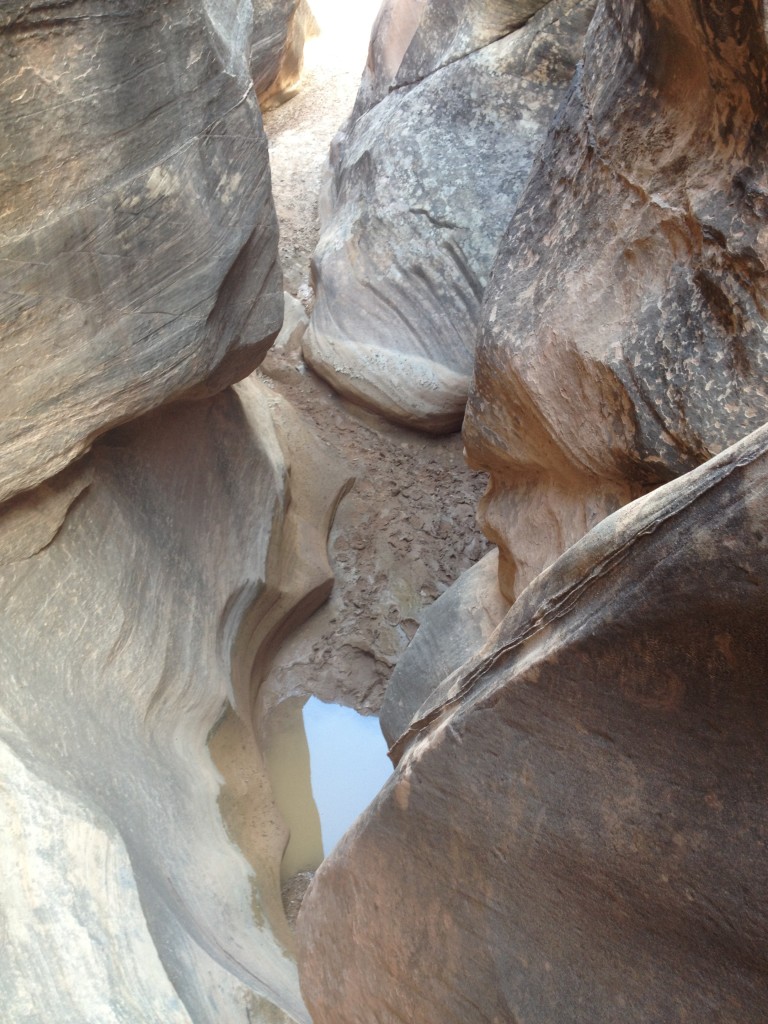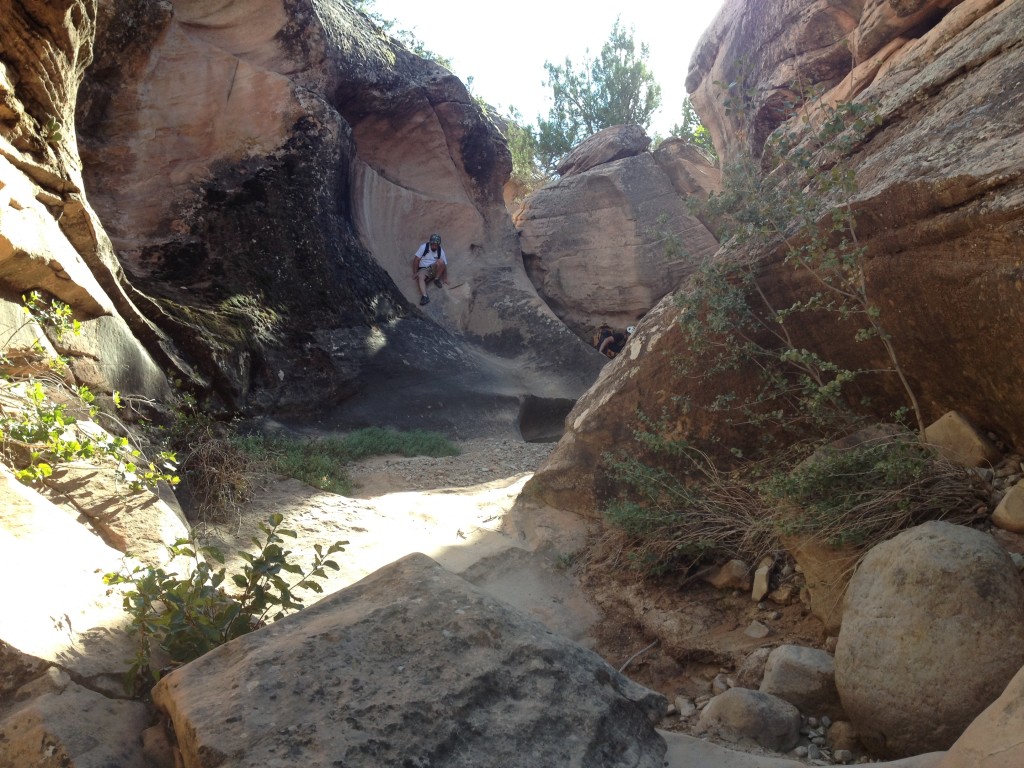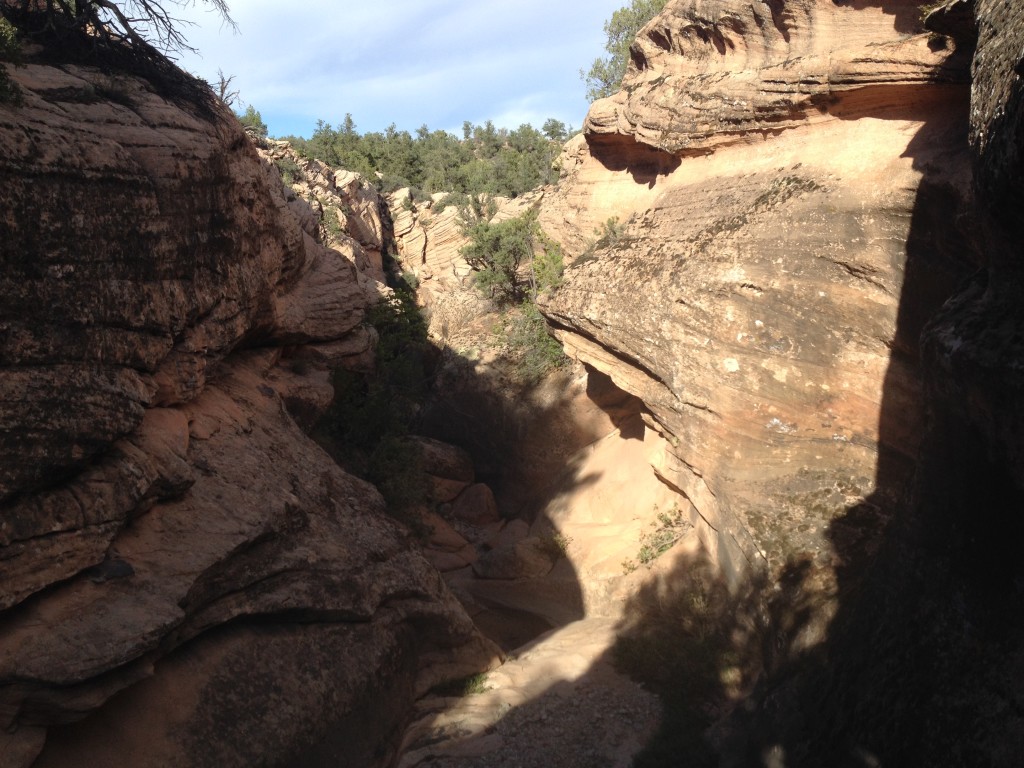 First Rappel
Once you come to the first rappel you may find water in a large pot hole.  We chose to avoid the pot hole because we found anchors directly above this on the left side and just used those instead.
Make sure to always be careful and use tethers/slings/chain reactors when setting up the rope on steep and exposed areas.  We had a new person to canyoneering join us this trip so it was good to review all the important safety steps.
This rappel here was about 50-ish feet and wasn't quite completely vertical.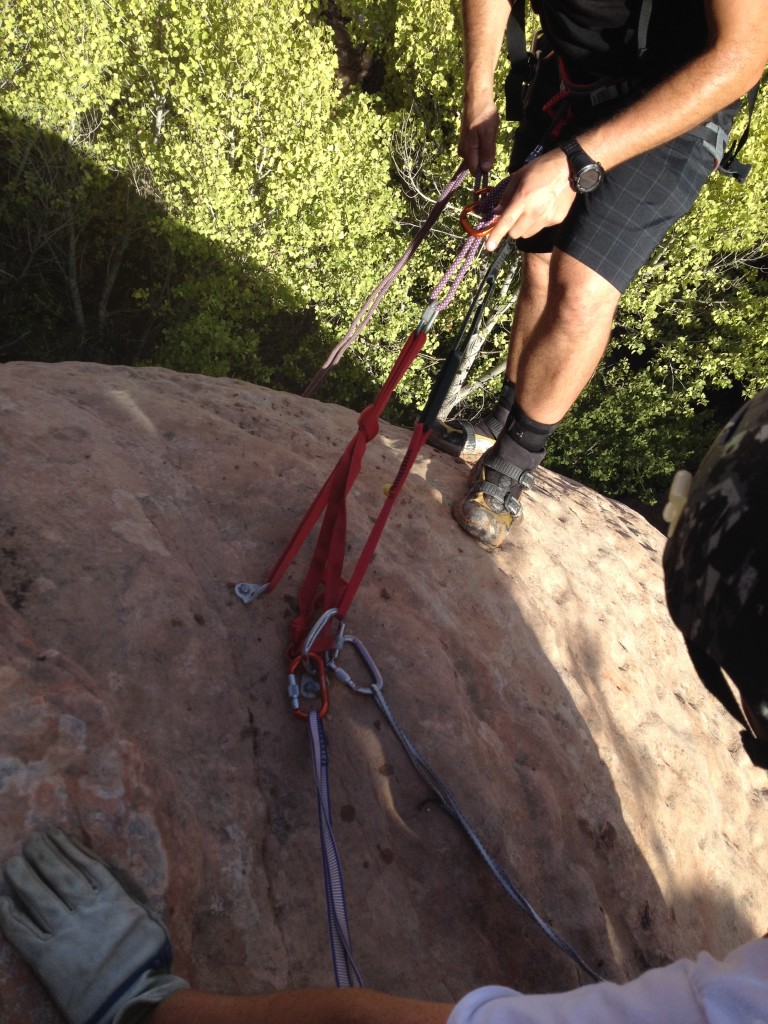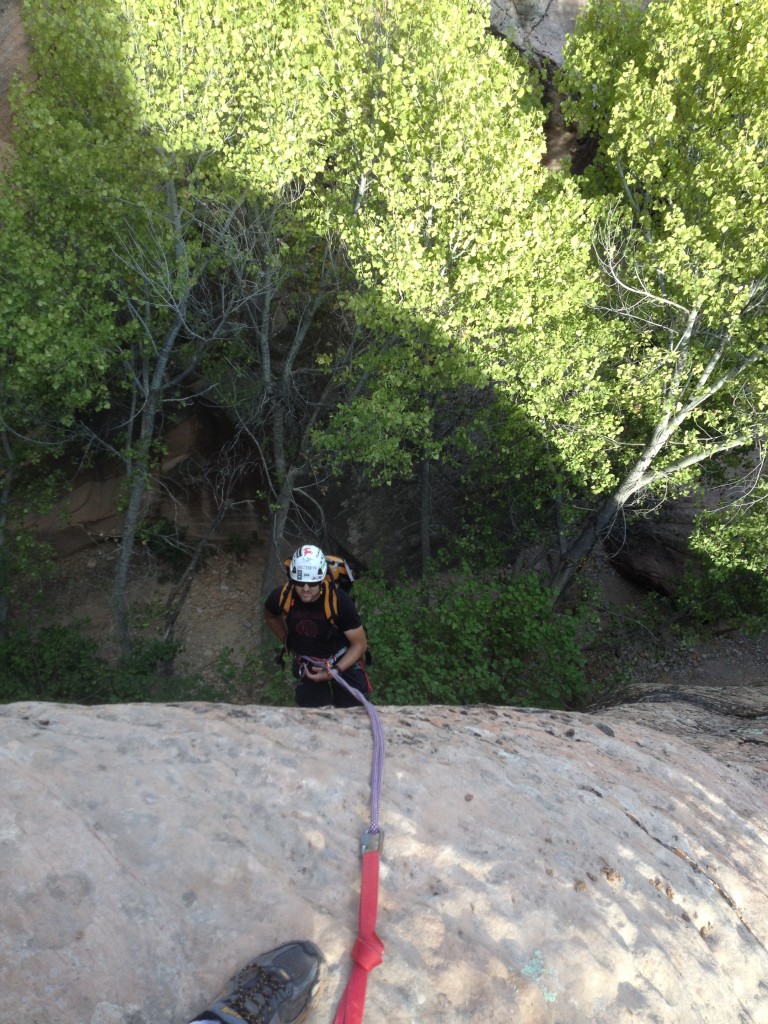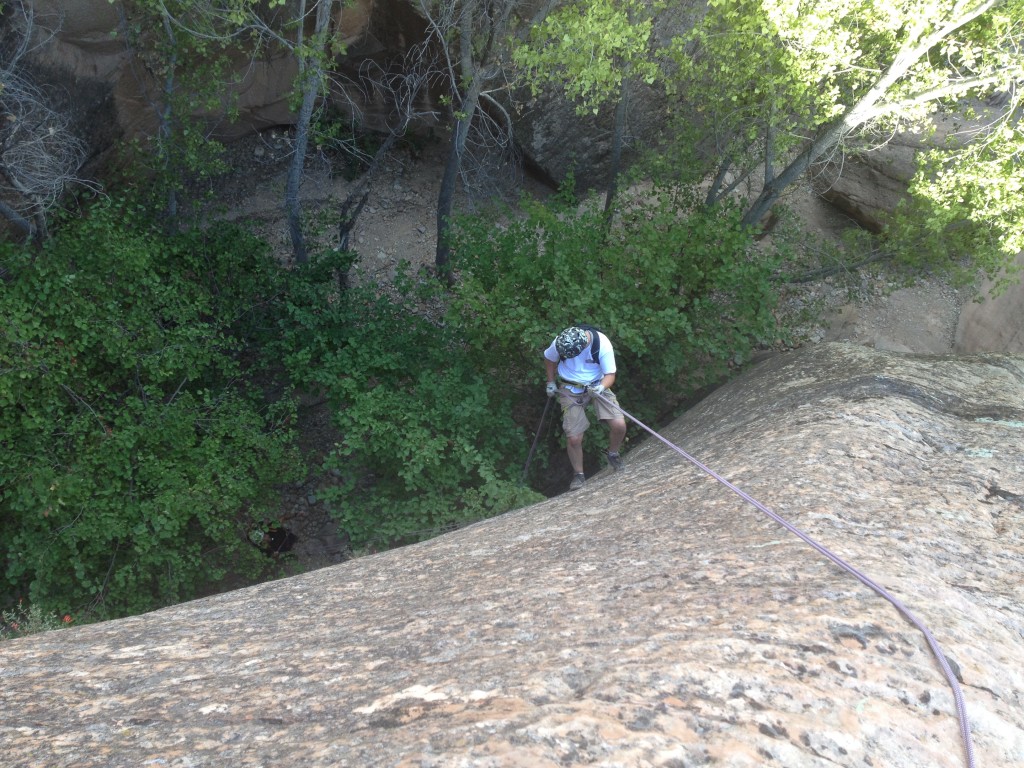 Once down at the bottom we realized we could have come down the MUCH cooler way which is through this fun little chute here.  This is the 90 foot rappel.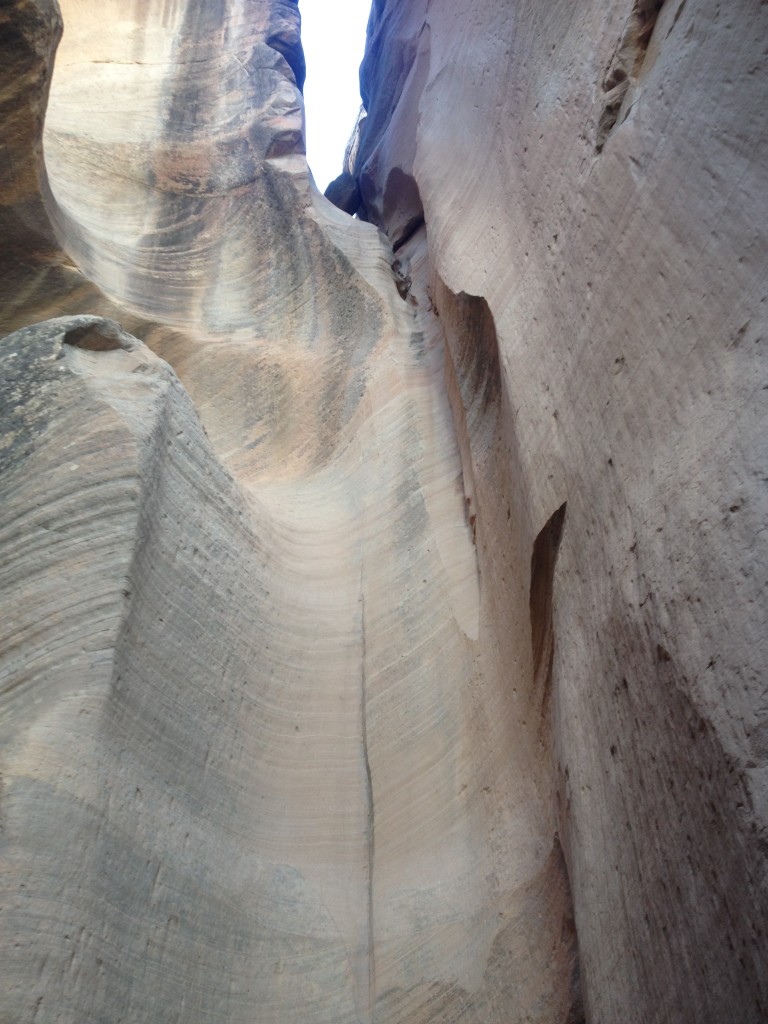 From here we spent the rest of the time slowly down climbing areas in and out of water.  None of us had wet suits but the water never was that bad and it was at most, chest deep.  Since I haven't been canyoneering in about 5 months it was nice to take it slower and build up my down climbing skills a little bit here – I was rusty!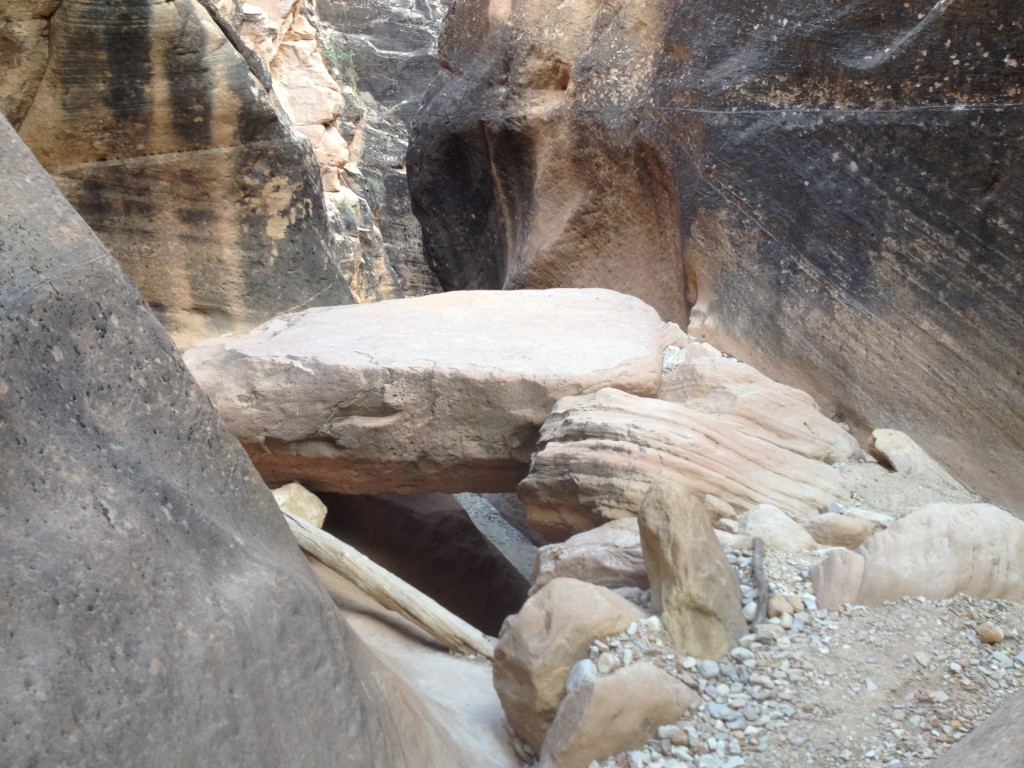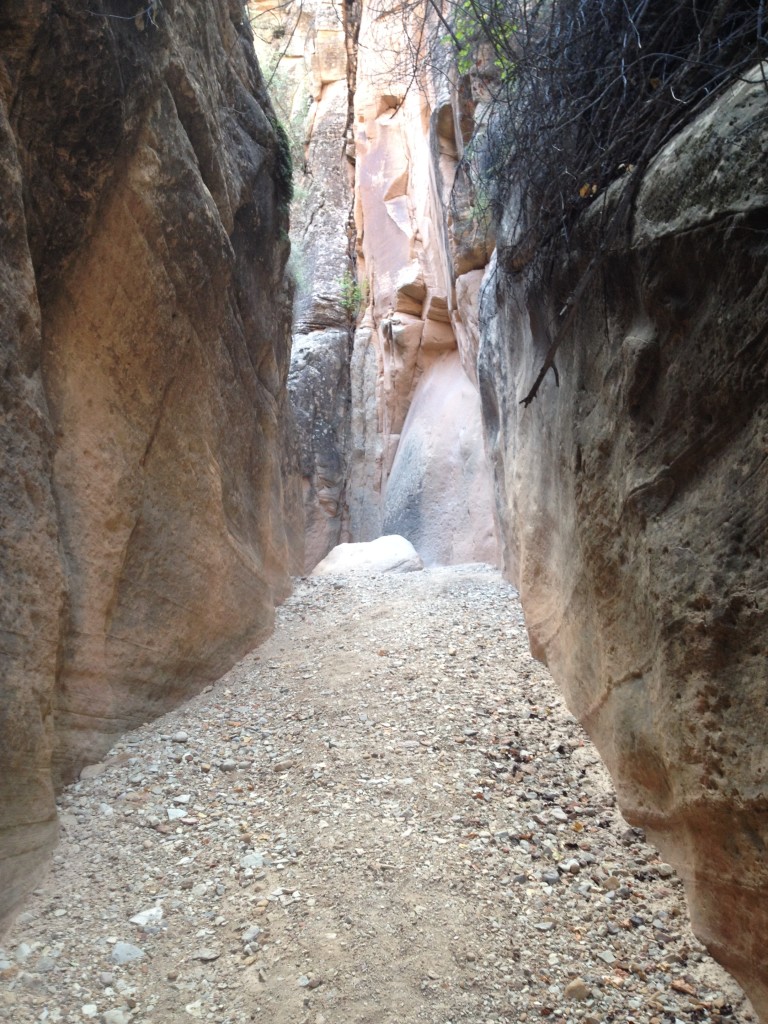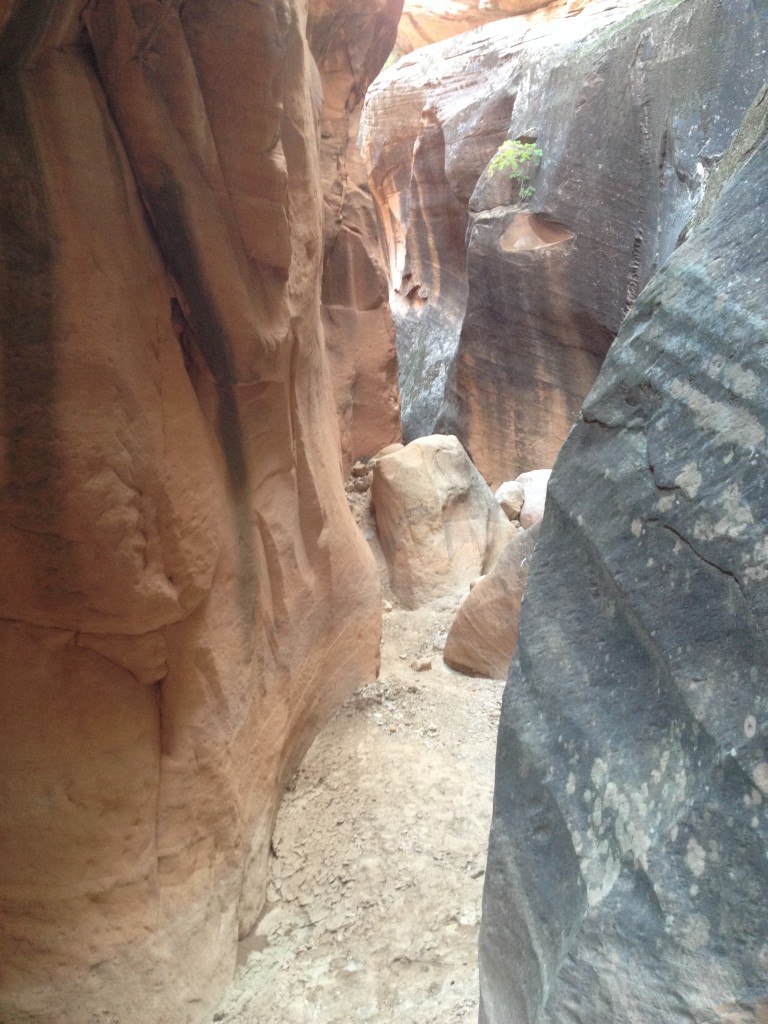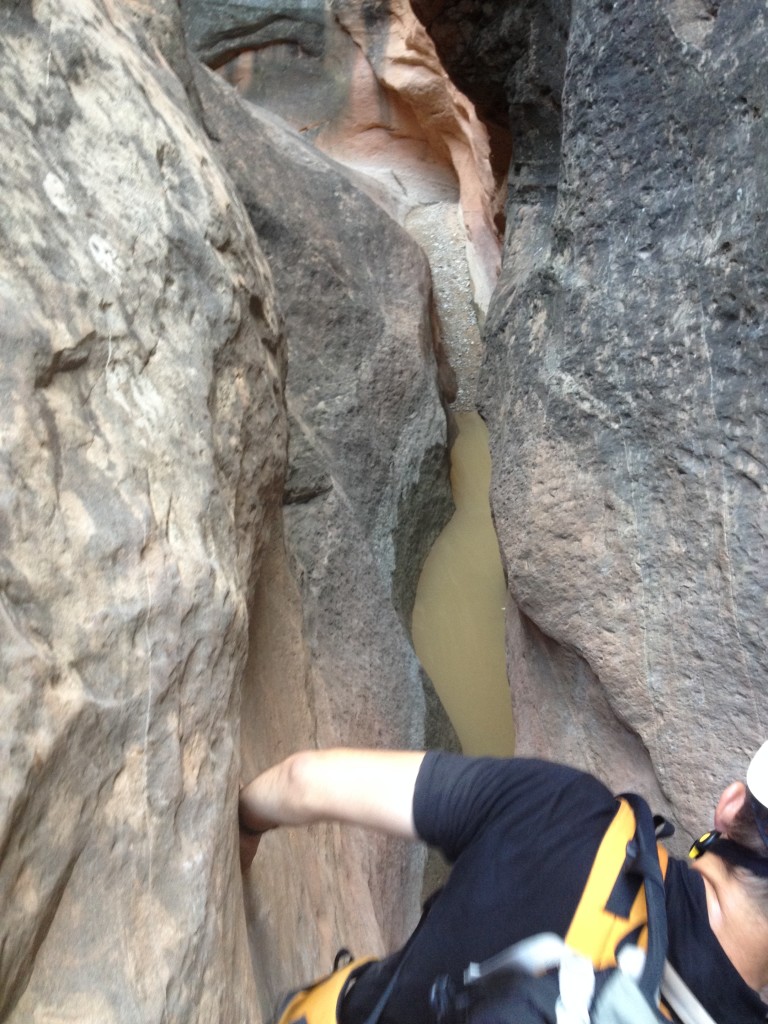 You will more than likely find some water in the canyon.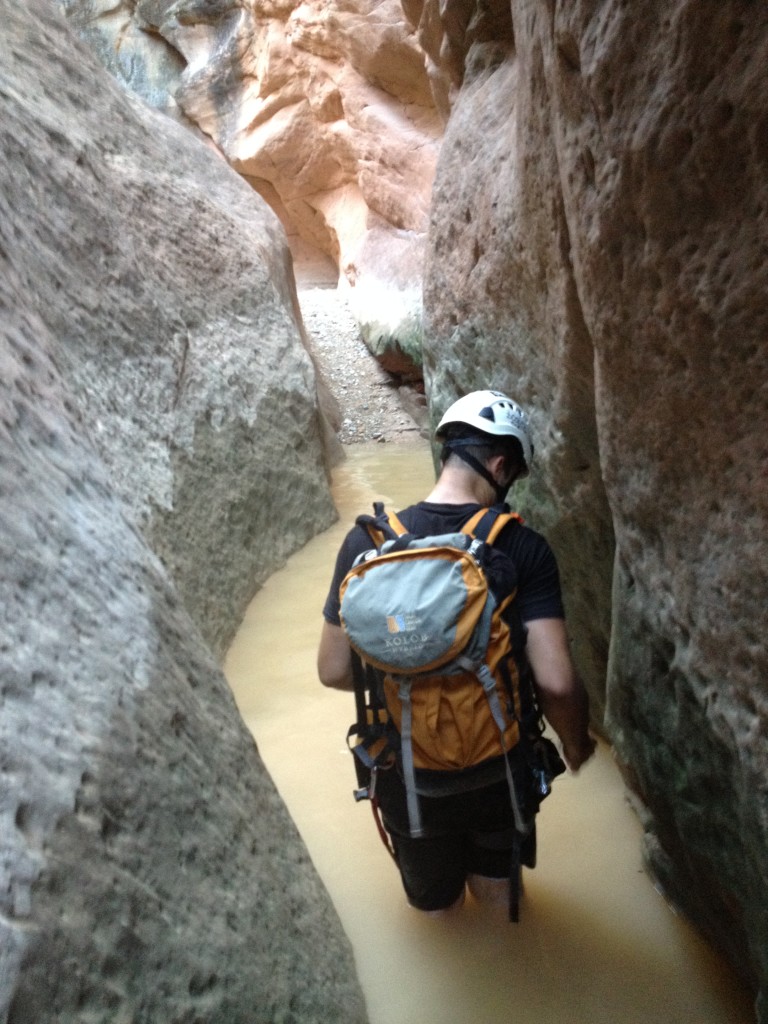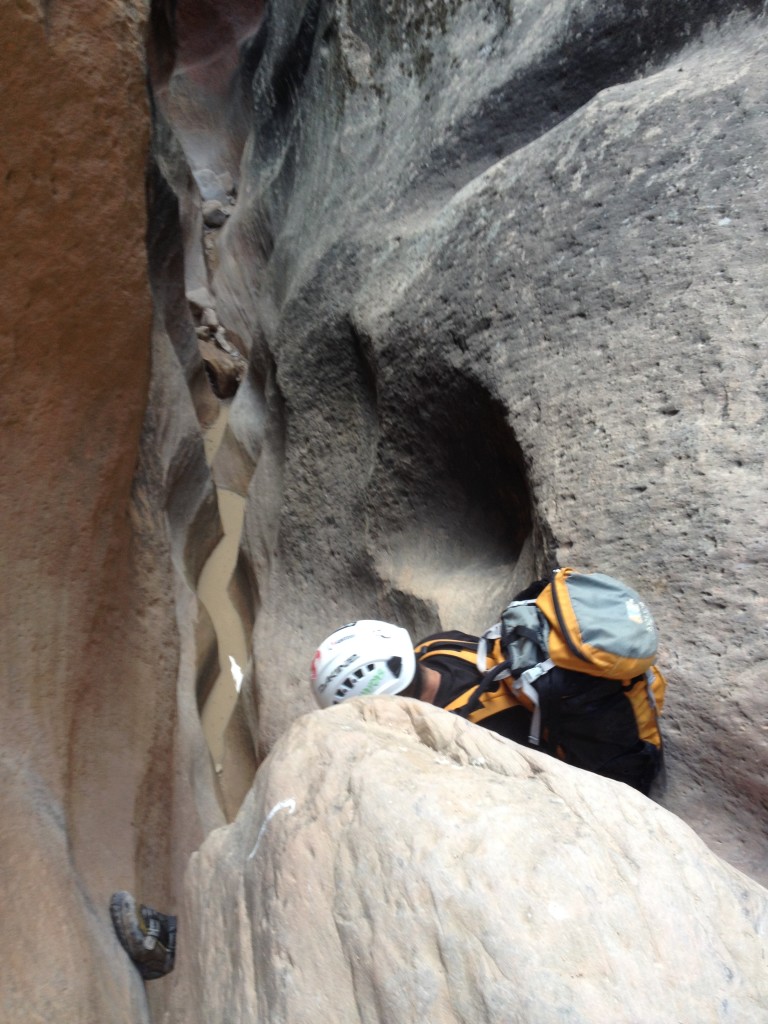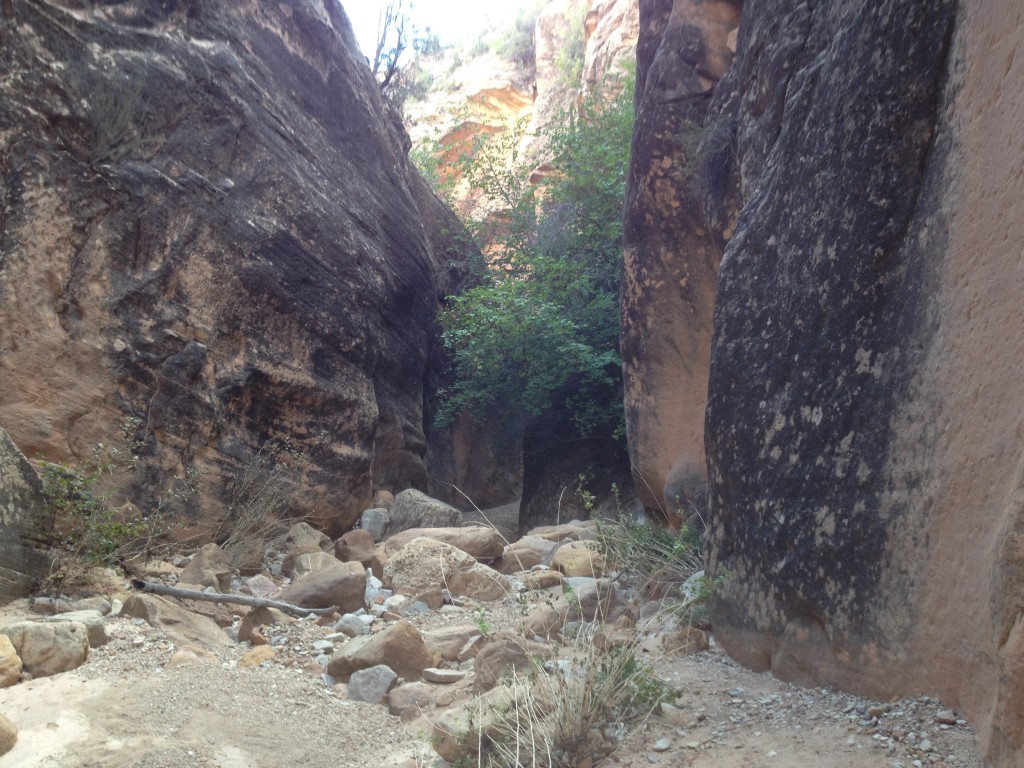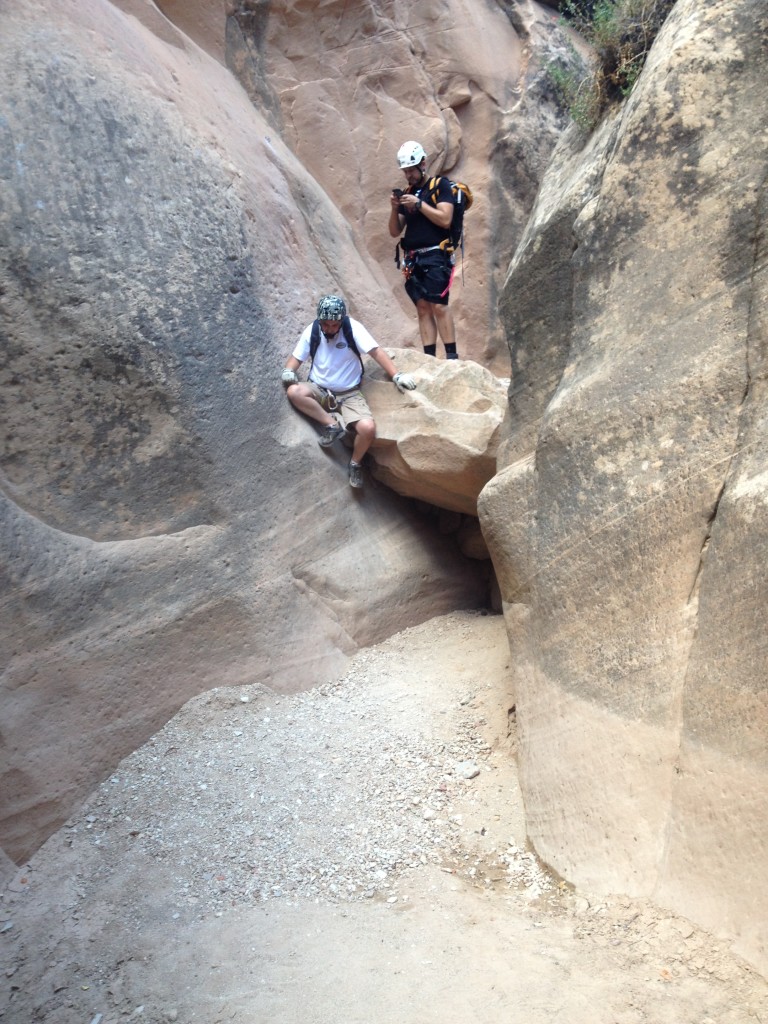 We found several bolts and anchors already placed in the wall.  Some of these locations we found it not necessary to pull out the rope and use our harnesses but if you feel the need to use them then go for it.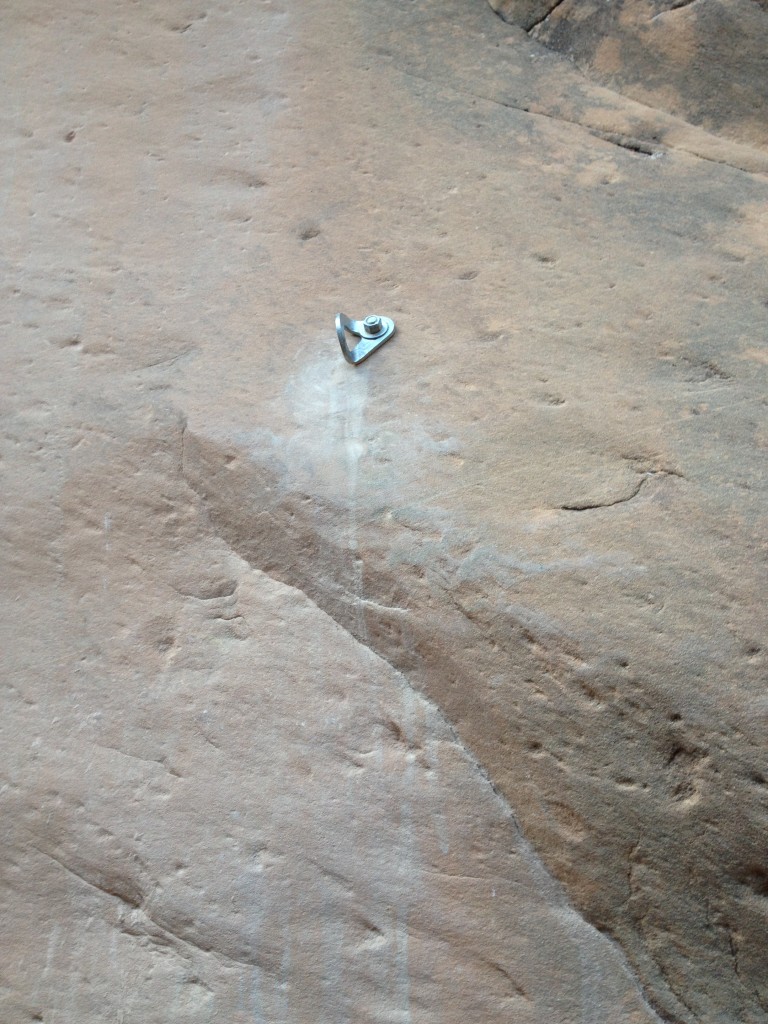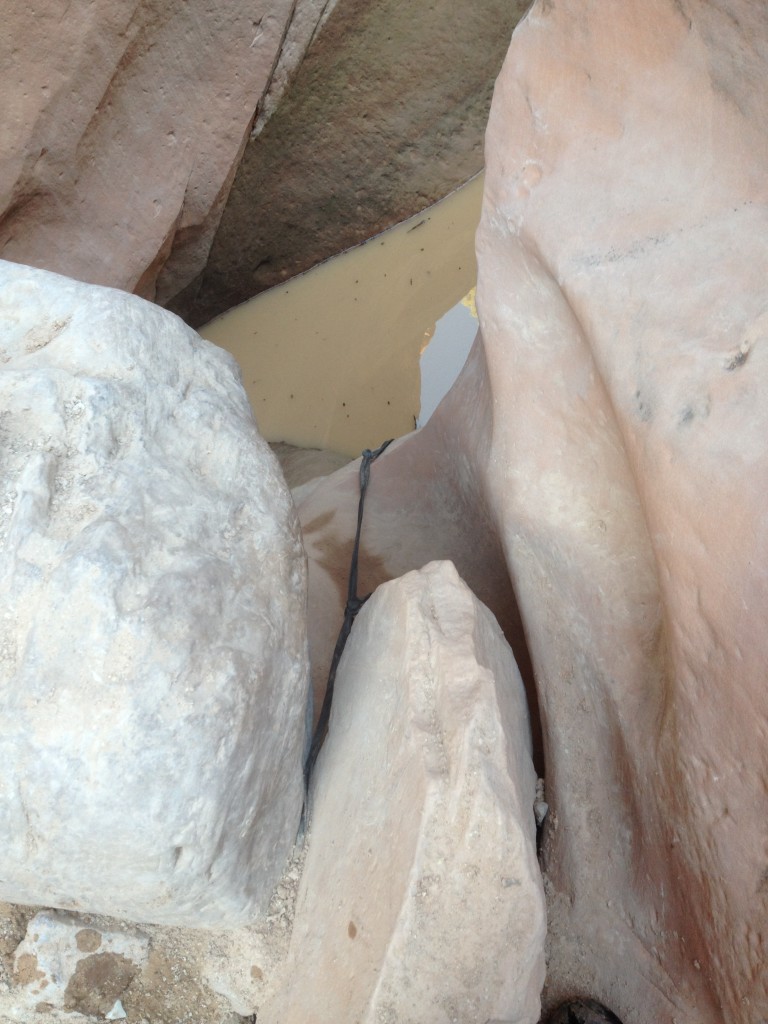 How you know you are at the end is when the canyon opens up and you will see a cairn – this is the exit ramp.  At this junction you will need to climb up the left side of the rock face (it's a little tricky) and climb back up to the top of the road.  You will see evidence of other people being in the canyon by the scratched and carved sandstone (some people carved foot and hand holds).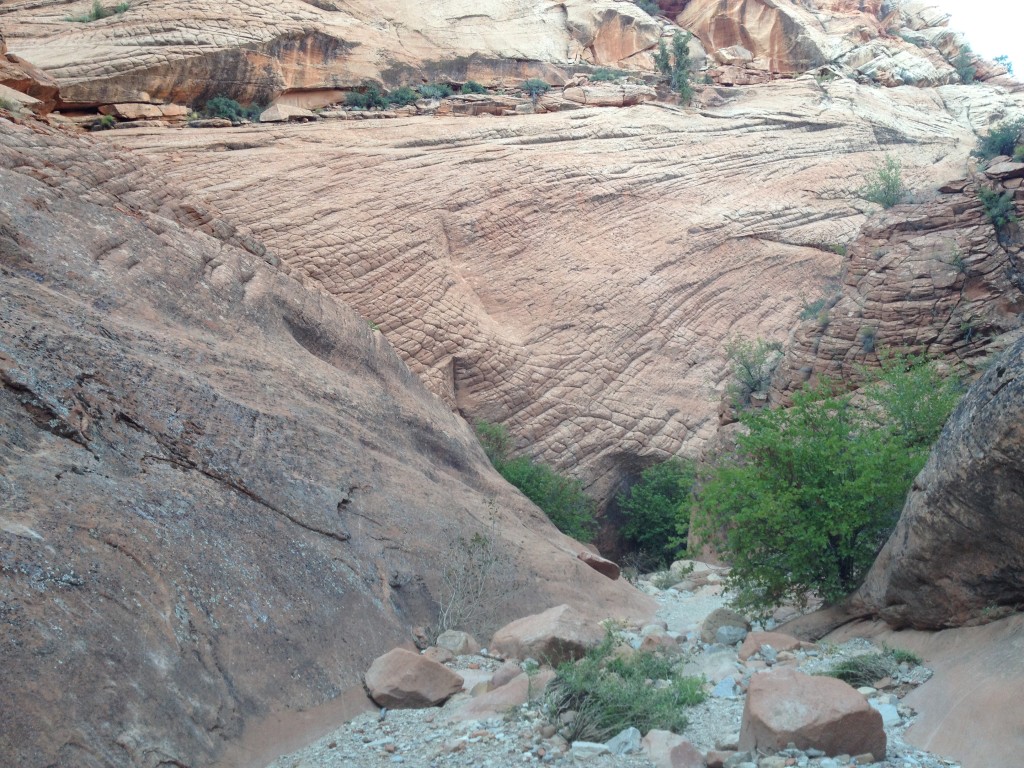 This is the rock face you will be climbing on to get out of the canyon.  Notice the white marks from peoples shoes and hands rubbing off the sand stone.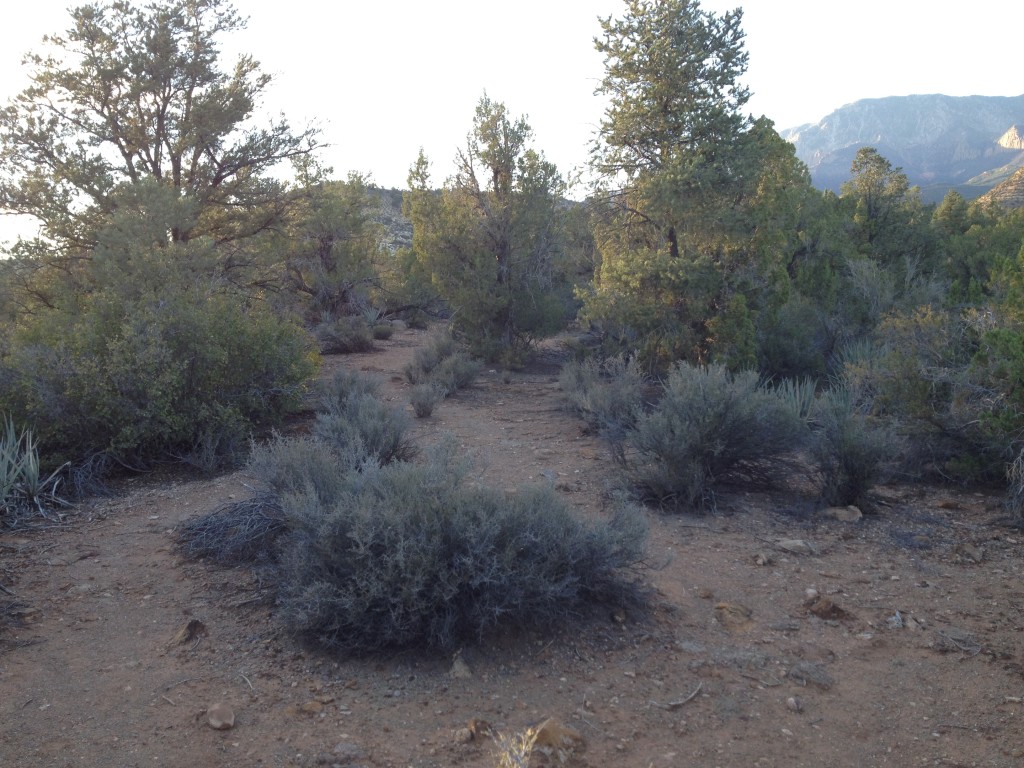 You are only a short ways away from the road.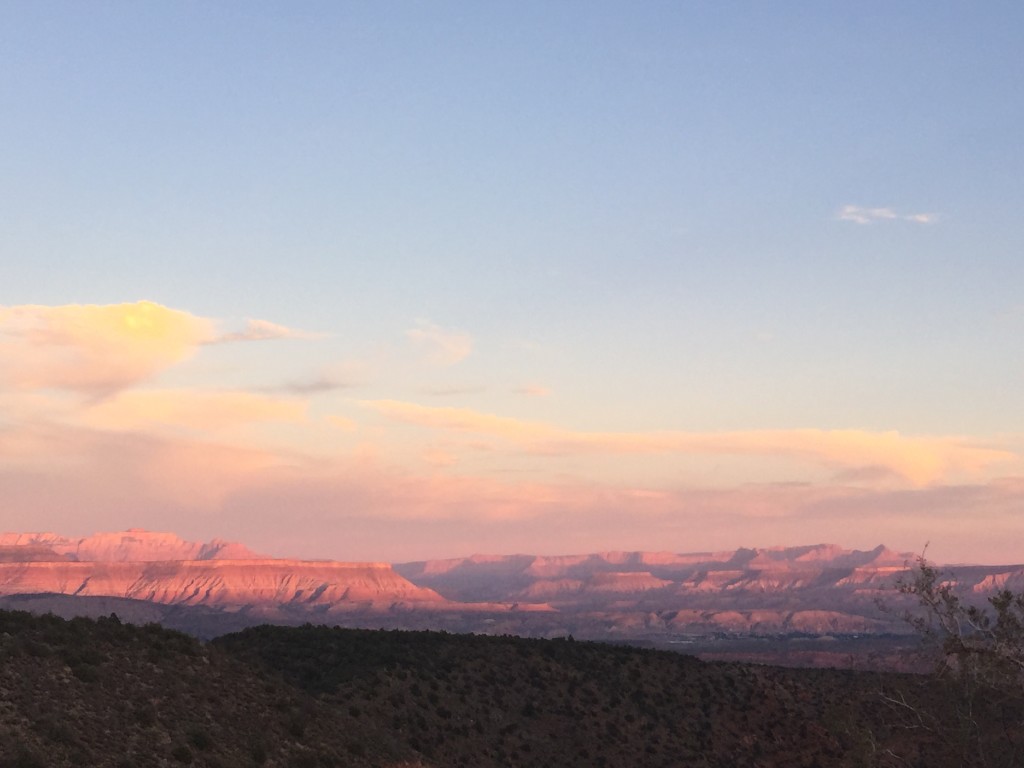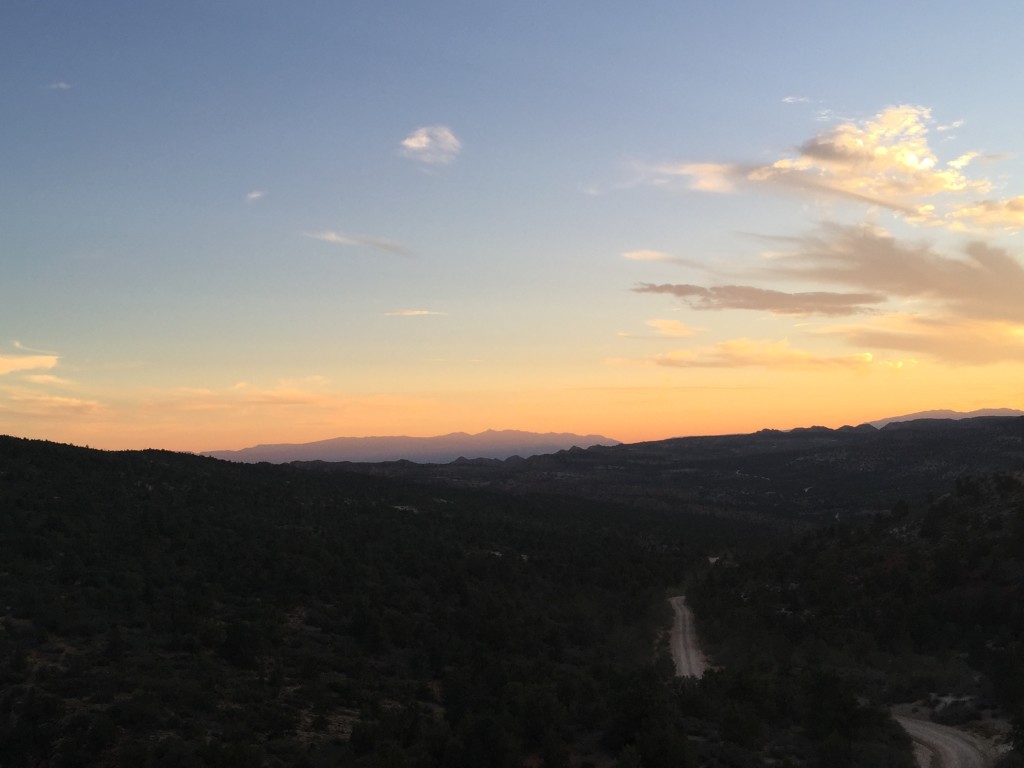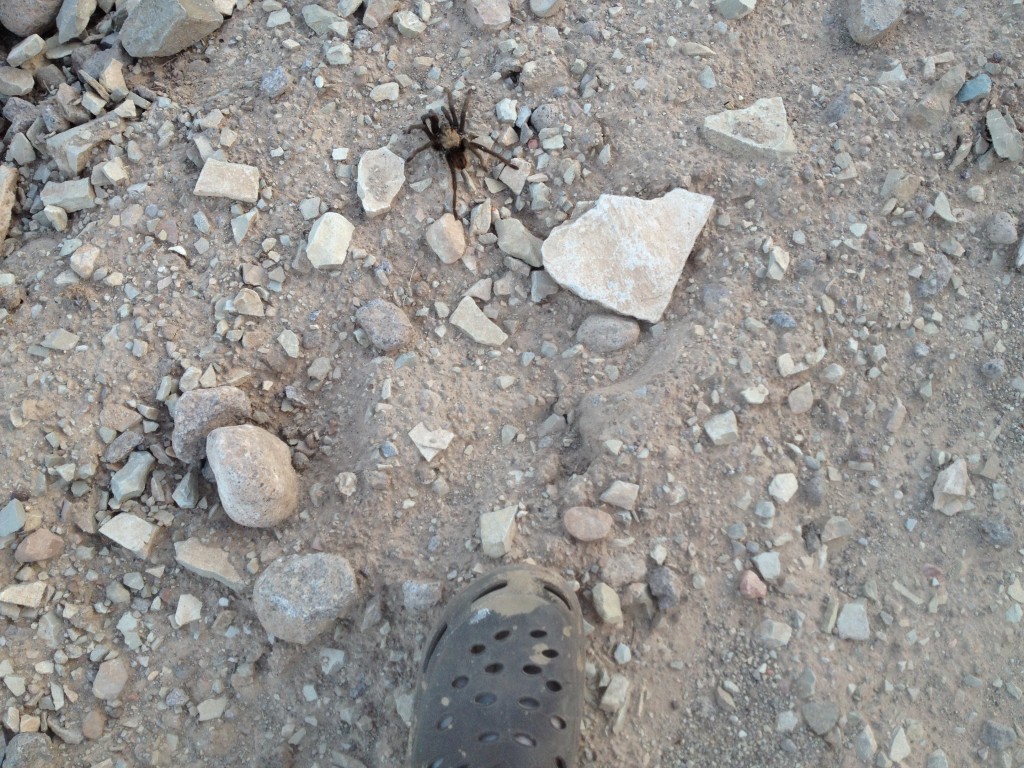 The Return:
Walk back up the road a few hundred yards and you will be back at the start of the canyon.
Personal Thoughts:
Overall this was a fun quick canyoneering adventure.  It wasn't as incredible as some of the other canyons I have been through but it was still nice to see and do.