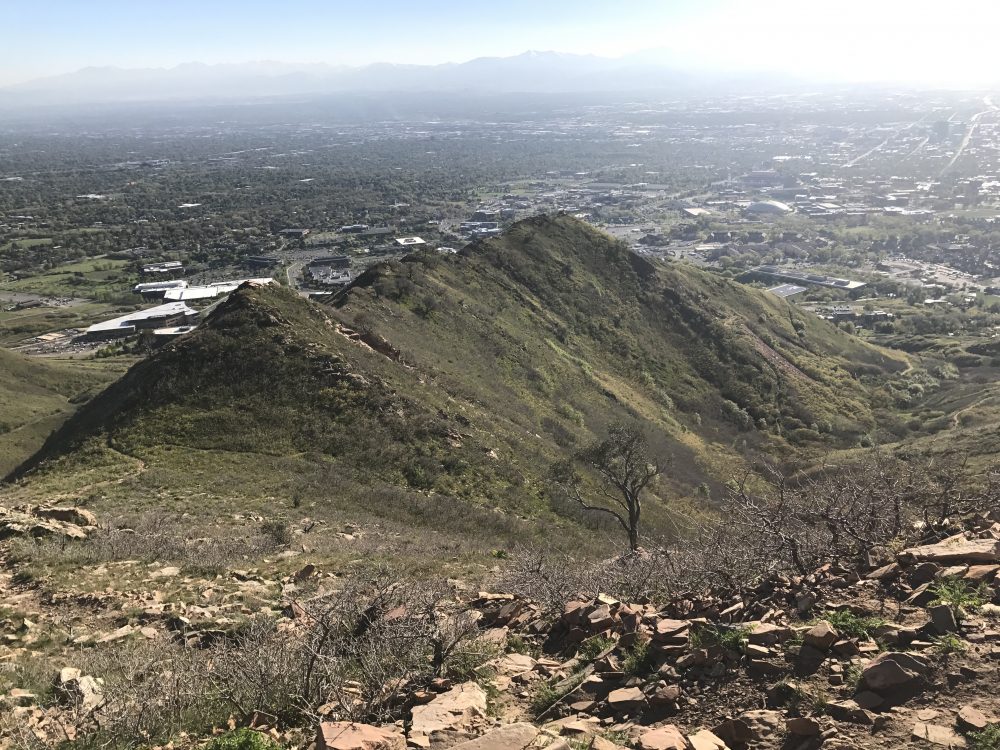 Overview
near Red Butte Gardens (near the University of Utah).
There is no designated parking lot.
viewpoint of the Salt Lake Valley and surrounding Wasatch Mountains.
1.24 miles one way. 2.48 miles round trip.
1 hr (if jogging/running)
2 hrs (for the average hiker)
3 hrs (leisurely taking your time, taking many breaks, or travelling with a large group)
Yes! Dogs are permitted.
Please bring waste bags, as none are provided at the trailhead. Besides that's what "responsible" pet owners always have on them, right?
And please bring a lease. "Little fifi" will startle people along the hike or the numerous people on the hike will cause "emotional stress" to "little fifi".
And if you bring a dog, please bring water JUST for it! In May of 2017, I gave up a 20oz bottle of water so that a "responsible" hiker-couple could cool down their dog. The dog was going to pass out due to heat...
Based off of my tone, you can see that I am not angry that dogs are hiking on this trail, but rather my angst is directed at the so-called "responsible" pet-owners who are CLEARLY not responsible. Don't convince me otherwise! Your actions speak louder than words.
None at the trailhead. During the spring months and within 100 yards of starting the hike, there is small annual stream that you can easily jump across. Otherwise the entire hike is dry.
Bring at least 1 bottle. Recommended is 1 liter. During the heat of the summer, 2 liters is strongly recommended.
Spring or Fall; Summer is doable, provided you bring 1-2 liters of water to cool down your overheated body.
1 hr (if jogging/running)
2 hrs (for the average hiker)
3 hrs (leisurely taking your time, taking many breaks, or travelling with a large group)
The beginning half you will be in and out of shade. This part of the hike I quite enjoy. Near the top, you will have full-on sun exposure, however, there are plenty of trees and shrubs that provide shade.
The trail can be wide at most places; and certain sections can be one way traffic for a hundred yards or so. Generally, in great shape. It is well traveled.
The ONLY confusing part is when you reach the Bonneville Shoreline Trail and don't know WHICH trail to head up.
None at the trailhead or at the top. There are gas-stations/stores along the the driving directions that you can use before hand.
I would bring fresh snacks such as as oranges (or I my favorite "little cuties"), a banana, jerky, or even a small sandwich while you sit at the top and enjoy your views!
Small backpack for your water and snacks.
Sturdy shoes work well. Don't bring flipflops. Protect your feet!
NO amplified music. Personal headphones are fine.
Yes; but keep in mind you are ascending and descending 1000 feet over the course of the entire hike. You know your children/family best. Would I take my 70-year old mother on it? Yes, but just because she is awesome and active in the outdoors. We will need to rest a few times which is just fine. Would I bring young kids? Yes! They would love it; provided you bring the appropriate snacks and water.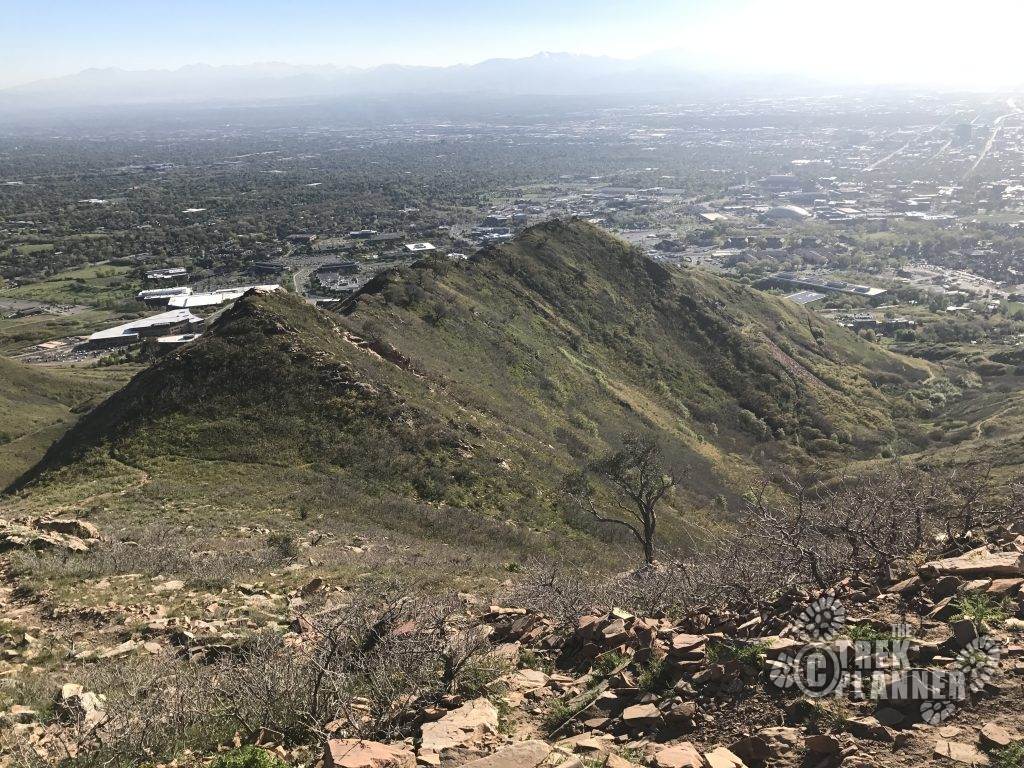 Trail Map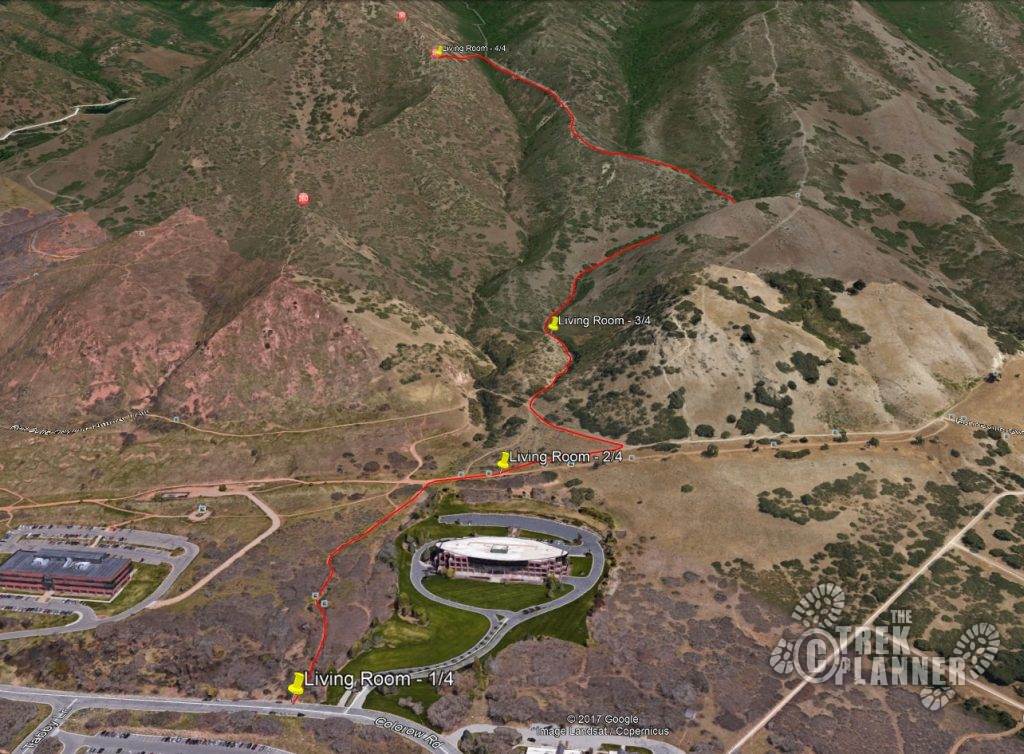 Driving Directions
The Trail:
This heavily-trafficked, 2.48 mile round-trip hike will take you to a great viewpoint overlooking the entire Salt Lake Valley.  You can do this hike any time of the year and will not be disappointed with the views! Due to the proximity to Salt Lake and the University, expect people! Perhaps few in the early morning, but in the afternoon and especially at night, expect crowds.  You may enjoy them or they will be a bother and just be in your way. Go in with lowered-expectations though, and you will be pleasantly surprised.
[Begin my angst!]It's still a must-do but it all depends on how well you deal with crowds.  Personally – I am okay with crowds in general.  However, I am not okay with so called "responsible" pet owners not taking care of their animals and picking up their poop. I'm also irritated by loud amplified music along the trail (which of course, everyone has to suffer through), juveniles who won't move to the side of the path and let you pass, the frat boy gangs up on top and their love of the never-ending "f-word" along side their hooping and hollering; people who "act" when they are in social settings who seek nothing more than attention; and lastly, young women who complain that it's too hot. Well duh! It's the 2nd driest state in the Nation. It's a desert. It's not Hawaii…(and you would think that point would be obvious).[End of my angst]
So please keep your phone just to pictures, keep the amplified radios at home, and try not to sour the "wilderness" experience for everyone else more than it already is on this hike.
Have I scared you away yet?? I'm providing you my anecdotal experience from the 5+ times I have been on this.  Would I do this in a again?  Of course. Just go in with very low expectations for the crowds and their behavior and you'll be just fine!
Moving on, when I first heard about this hike back in 2012, no one quite explained what the "living room" term even meant.  Was there actual furniture at the top of the hike you could relax in??  Actually…as a matter of speaking, yes!  Instead of furniture being built out of wood and thread, it's all made out of rocks. Comfy!! 😉
Essentially, is's an overlook hike, that people have gathered surrounding rocks and made them into "furniture" for you to lounge in. Similar to your own living room at your house.  Although, mine is actually comfortable to sit in…   If you are new to Salt Lake and want to see what all the fuss is about with the "hiking in Utah" and our scenery, then this is it! This is a great beginner hike to Salt Lake/Utah.  Even for veterans, it's a great lunch break or after-dinner hike in the summer.  The winter time will see less visitors, and snowshoes won't be necessary as enough people "boot" up to it where it's walk-able.
During this hike, this the type of landscape, terrain, and flora that will you encounter is very similar to what you will discover on many other northern-Utah hikes.  To the Utah native; this is not a new hike that will blow your mind or leads to a fantastic waterfall, but rather leads to a great viewpoint of the S.L. Valley and nearby Wasatch Mountains.
The trail starts near 497 Colorow Road. Park where you can and look for the trailhead below.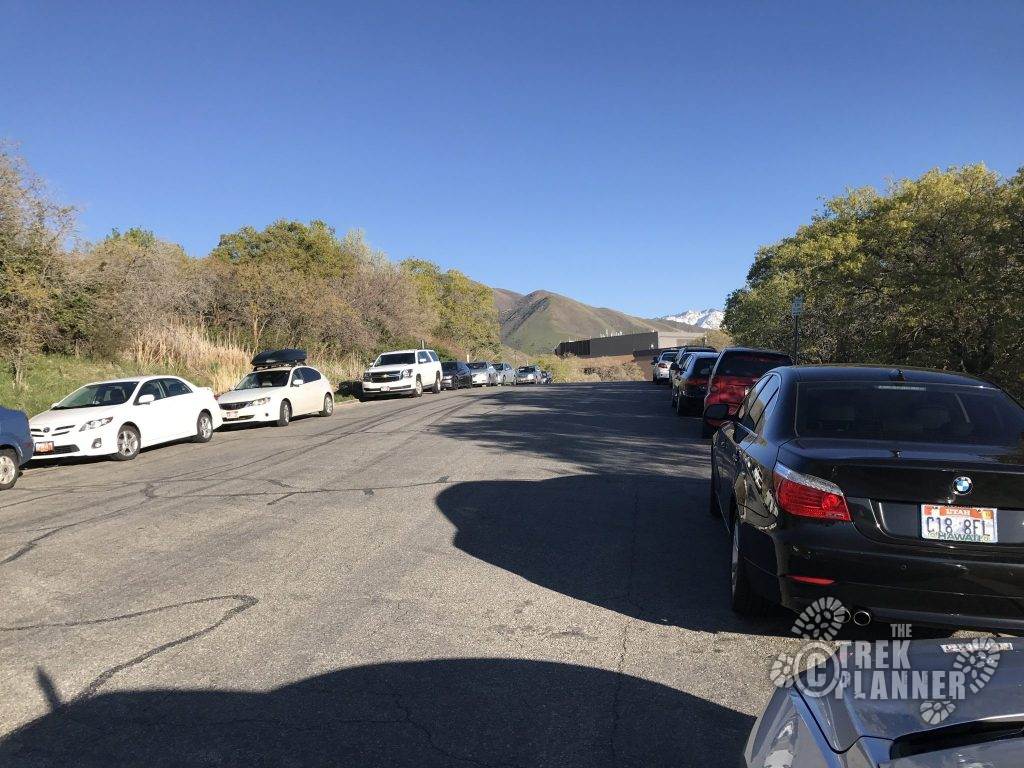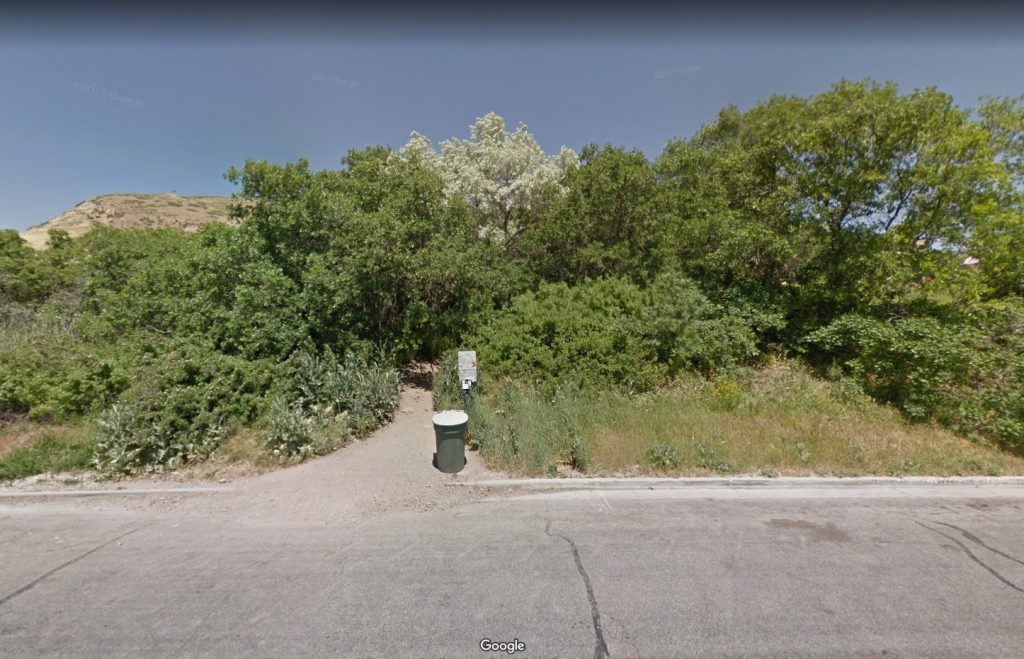 (Credit: Google Earth – Street View)
*IMPORTANT* From here, hike up a couple hundred yards, cross the the small stream, and follow the path until you connect to the "Bonneville Shoreline Trail" (or BST).  Look for the "174 sign" and take THAT path.  Many trails connect with the BST, but the 174 leads up to the Living Room.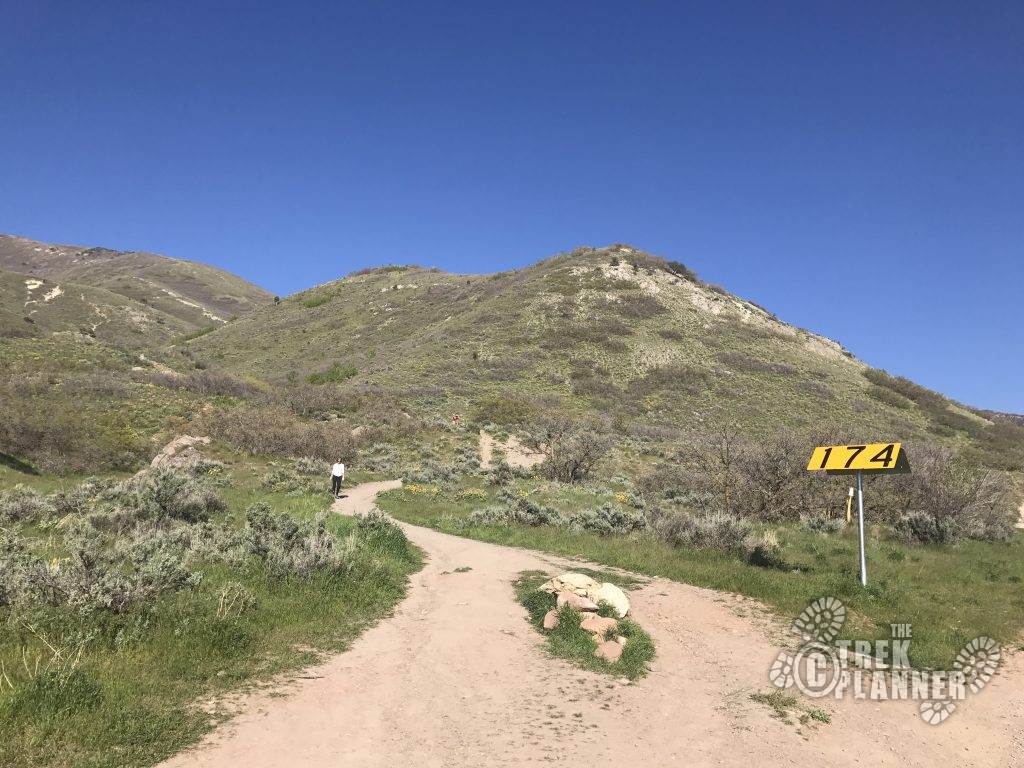 From here it's up and up 1000+ ft over the next mile.  And PLEASE be courteous of other hikers. Say Hi! If someone wants to pass you – let them! Don't plug up the trail. Please move to the side. Most of these antics are found in juveniles and while I'm drives me crazy to no end, I have to remind myself that I was probably just like that growing up. So I have to a take a deep breath and ask them politely to move over.
If you come across any junctions along the path, don't go left. Just stick to the trail that follows the drainage, except for the last part, which then is obvious, and follows the heel of the mountain to the view point.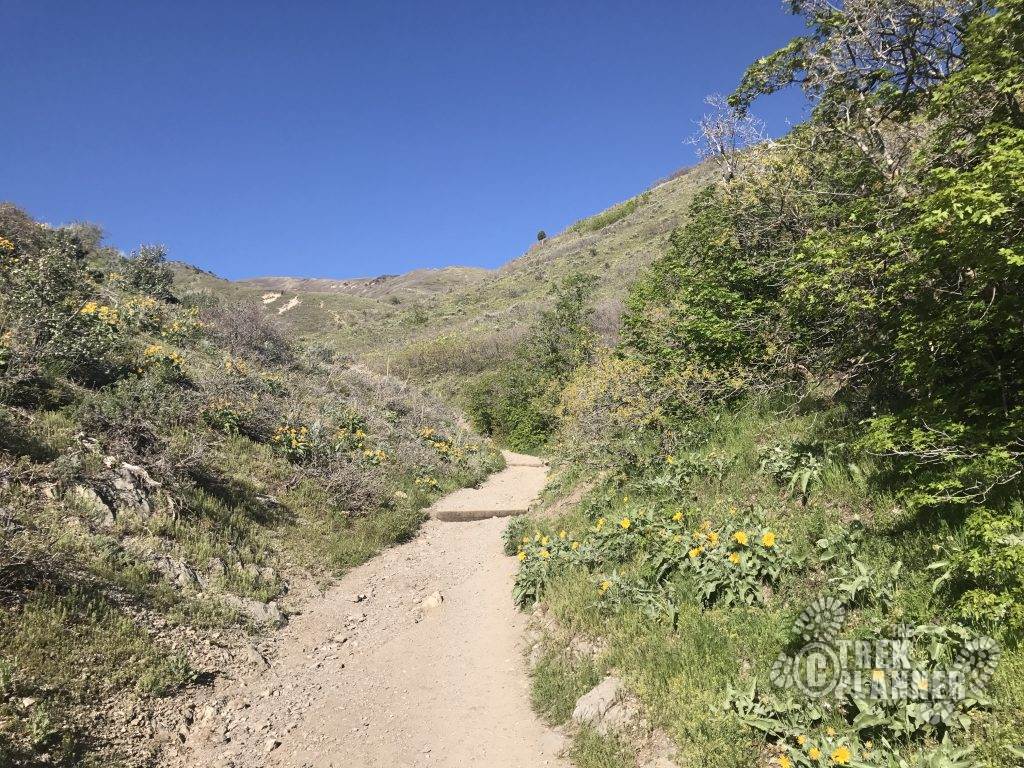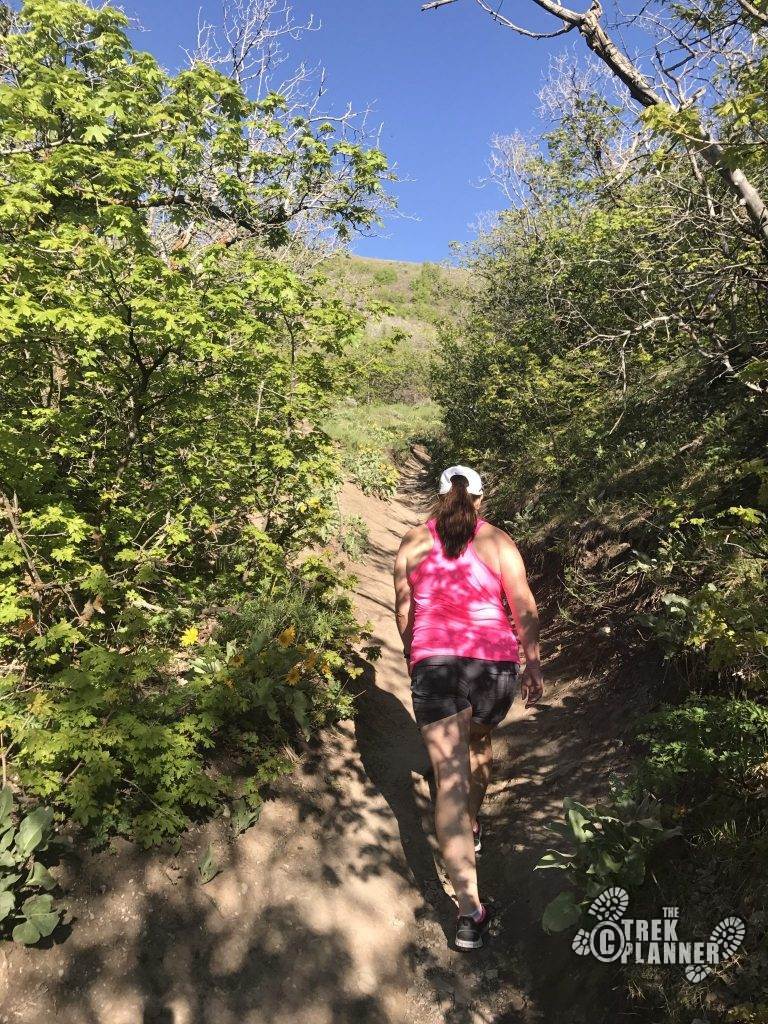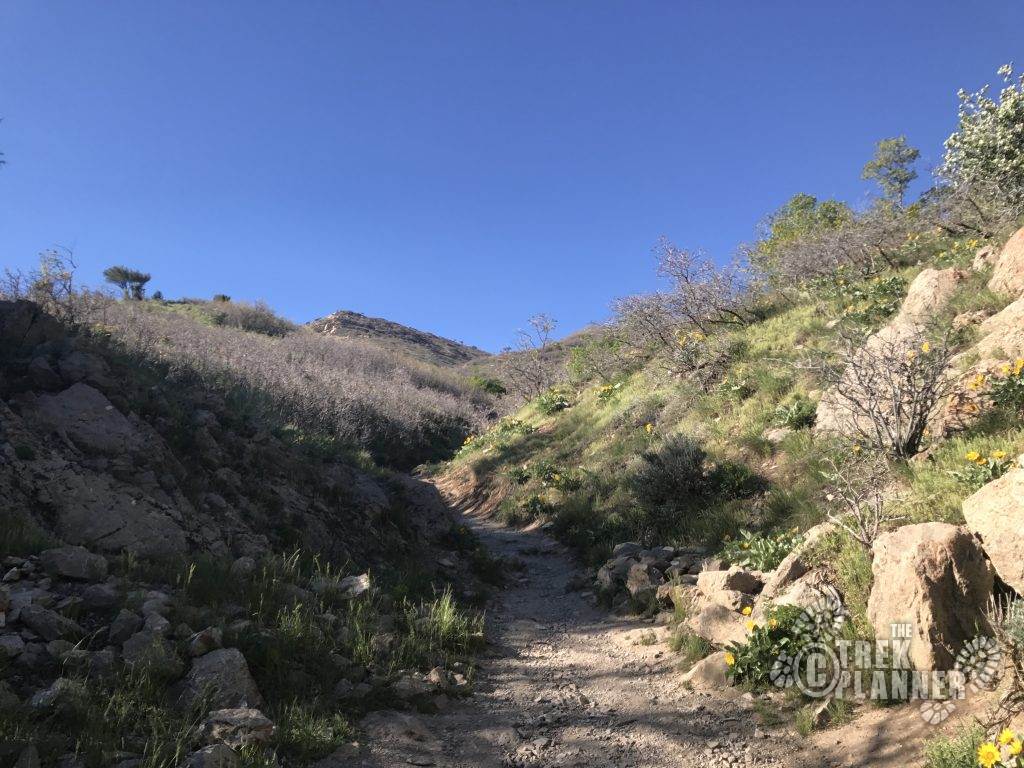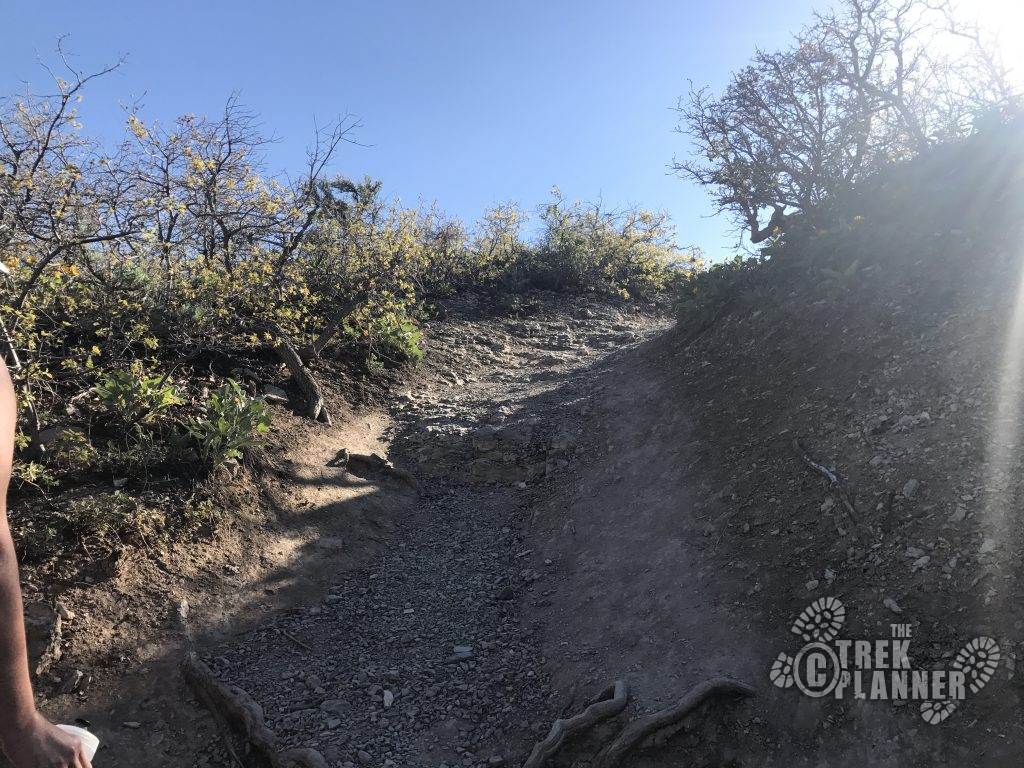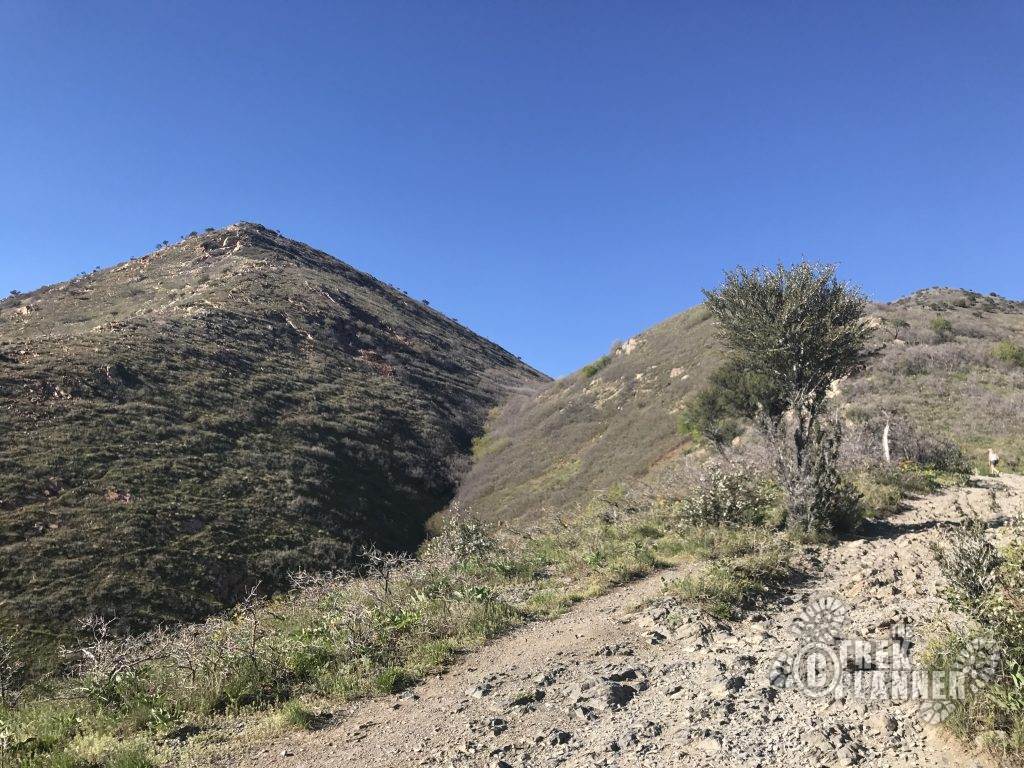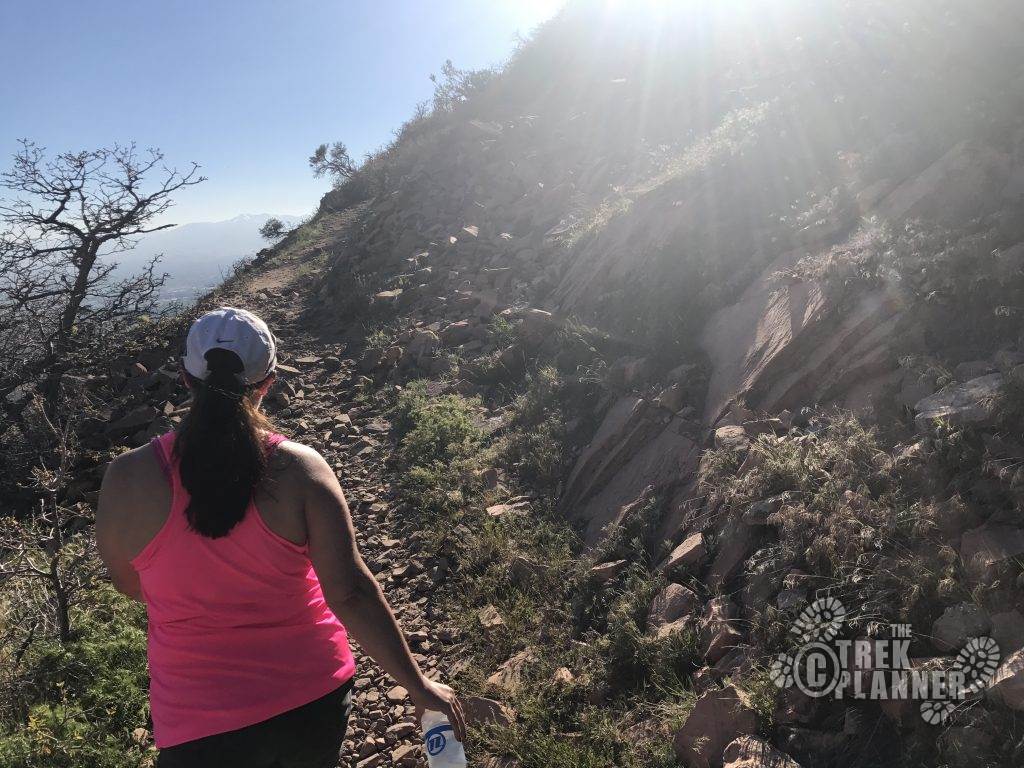 You know when you reach the viewpoint because you will see "chairs" shaped from rocks.

The Return:
Return the same way in which you came up. Easy as that.
Note – A friend pointed out to me during the hike that there is an "alternate" route up to the hike, but that one starts at the Natural History Museum.  I'll investigate it when I get more time and add that here.

Personal Thoughts:
 (Add Description)