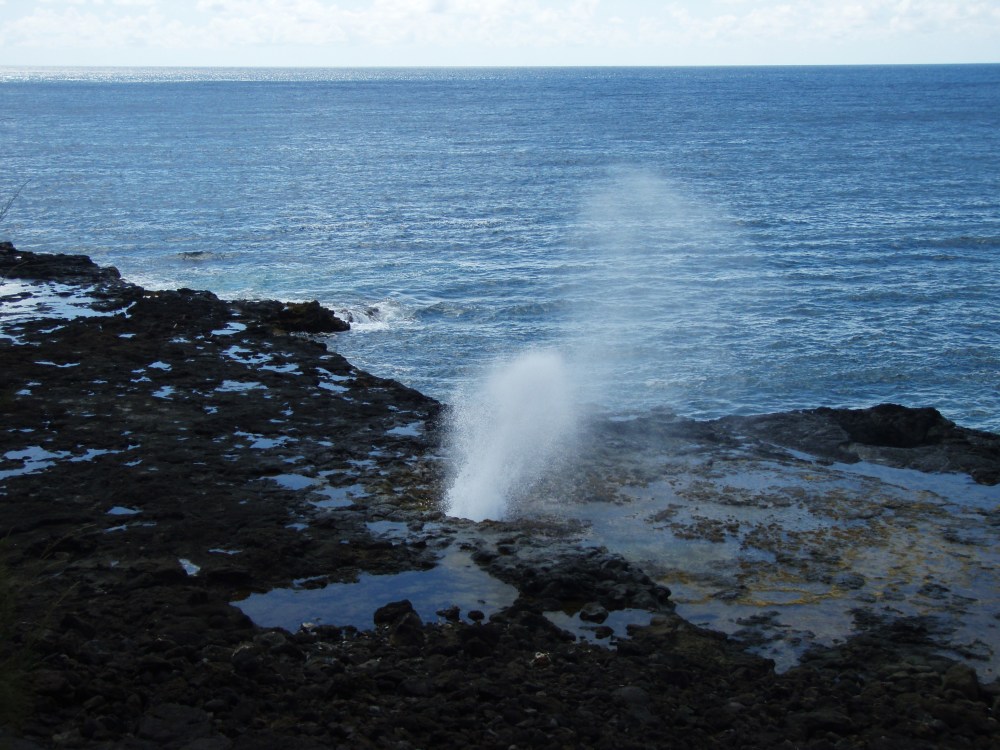 Overview
South Shore, Kauai, Hawaii
Only a few hundred yards round trip
Bring a bottle of water. This is a really short hike so you will most likely not be needing water
None. But there are many small shops (very touristy) in the park area.
This is a really short hike so you will most likely not be needing food
GPS Coordinates
Trailhead:  21° 53.131'N, 159° 29.631'W
Spouting Horn: 21° 53.082'N, 159° 29.579'W

Trail Map
Driving Directions
The Trail
The spouting horn is just west of Poipu and worth a visit if you haven't seen it already.  The parking lot is fairly large and can fit several dozen cars and buses.  There are shops that sell crafts and jewelry too.
This is a very easy and fun experience for all.  During high ocean swells there is a natural lava tube that funnels water through the spout and shoots it high in the air.  You can even hear it hissing with the water too.  When we were there the tides were fairly low so the spout wasn't shooting out too much water.   I have seen pictures with the water shooting up 40+ feet in the air.
There are signs and fences that keep people from walking right up to the spout.
The Return:
Head back towards your car.
Personal Thoughts:
The Spouting Horn is definitely worth a visit if you are in the Poipu area.