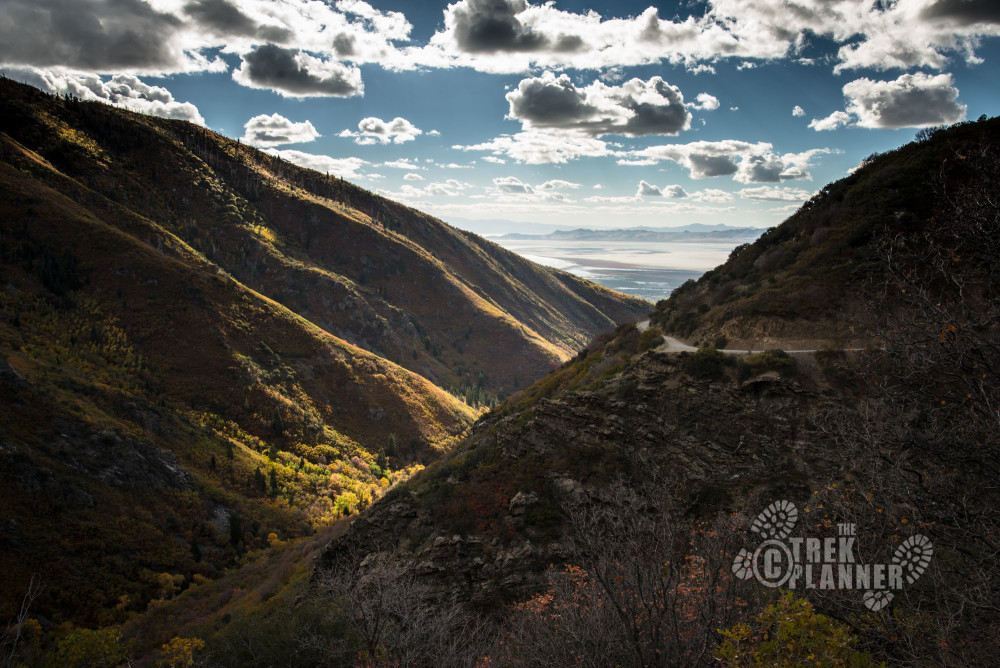 Overview
Expansive vistas, Great Salt Lake, fall colors, deer, and ATVers
Late summer -late fall.
Skyline gate is locked Nov ? - June 1st.
Farmington Canyon is locked Nov ? - mid April, depending on snow.
Mostly decent dirt road (almost two lane)
Yes. Campgrounds have a fee. Backcountry camping allowed anywhere (watch out for private land in Farmington Flats)
Water bottles
Jackets
Truck
Camera gear!
This is an incredible Sunday or evening drive. It is relaxing, the road is good, and the views are phenomenal. And it can be done in a regular car in two wheel drive, though in places the road can be quite rough sometimes. As such, the one negative is that everyone and their dog is up here during the fall. This is a very popular road. The day we did it I counted over 50 cars (and ATVs) passing us coming from Bountiful and going down Farmington.
This road is best traveled in good weather. Be prepared for snowdrifts and unexpected obstacles, especially in late spring or early summer.
GPS Coordinates:
These coordinates are listed as if you are driving from Farmington south to Bountiful.
Farmington Trailhead: 40° 59.515'N, 111° 53.119'W
Right turn onto Skyline: 40° 59.236'N, 111° 48.001'W
Right Turn: 40° 58.924'N, 111° 48.305'W
Right turn onto Bountiful Canyon: 40° 55.768'N, 111° 47.582'W
Bountiful Trailhead: 40° 53.759'N, 111° 50.765'W

Trail Map
Driving Directions
The Trail:
We started in Farmington Canyon on a cool Fall Sunday. The road was busy so we took the narrow canyon slow. The road is long and we were alone most of the time. It was incredibly relaxing!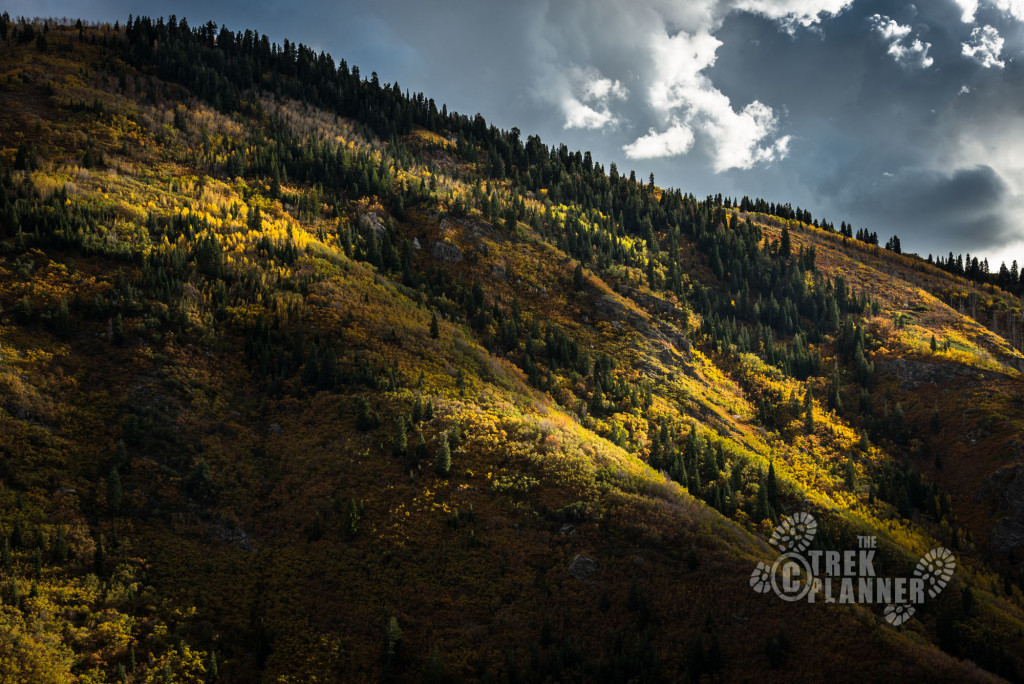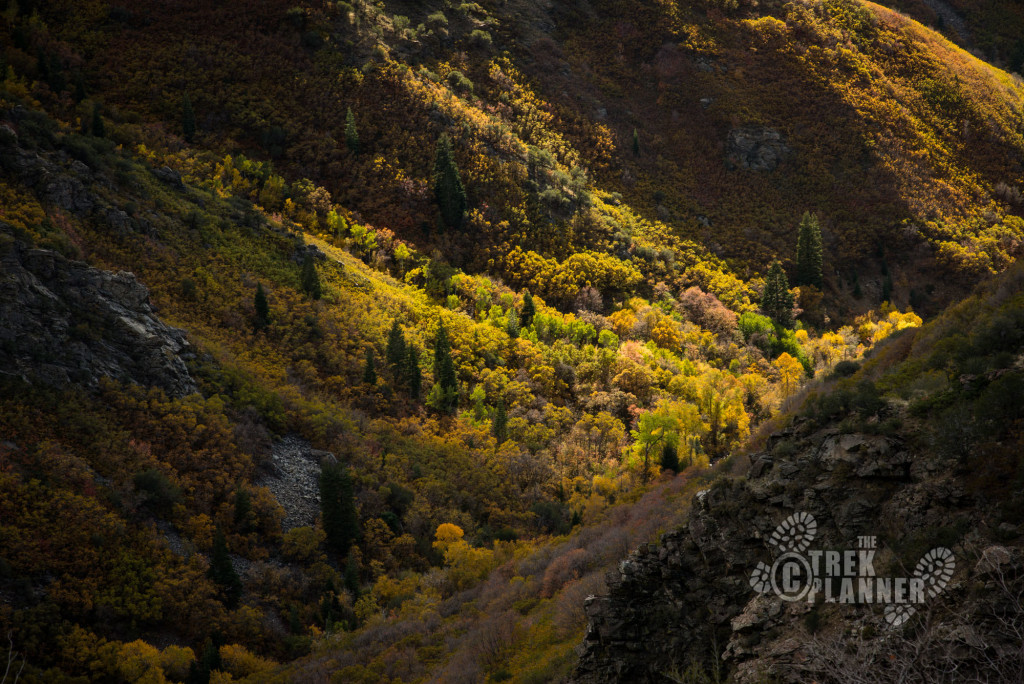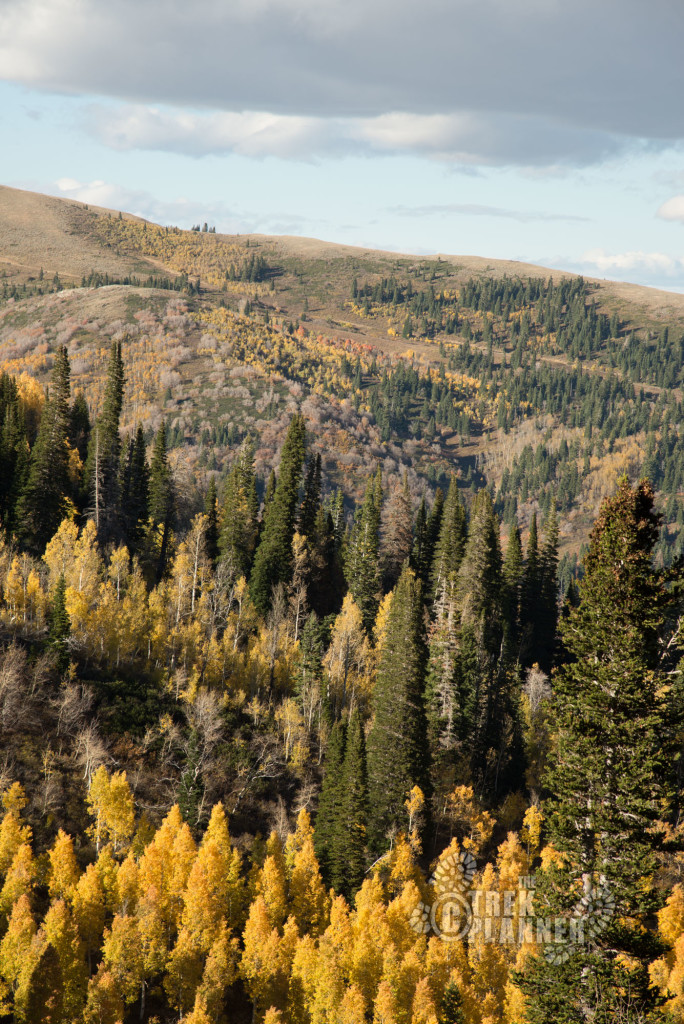 From Visit Davis Area:
In the area above Centerville, there is a trail that leads down from the road to an amazing fern grotto. It's hard to believe that it exists. It's a fun place for kids to play hide-&-seek, as the ferns grow to the height of an adult. Watch for a turn out above Centerville, at the top of the Chase Lane trail.
We need to check this out!
In the picture above, when seen at full screen you can see the dozens of miles of terraces which were part of the 1932 Conservation Corps efforts to control flooding back in the early 20th century. These run along the mountains in many places.
Personal Thoughts:
This really is a great drive. If you live in the area and you have not done this, stop reading this Trek and go do it now. (or wait until the road opens and the trees have got their leaves). Farmington Canyon has the most exposure. There are some narrow blind curves with large drop offs. But over all it is not too bad. If you like off-roading, then this will be calm to you. If you are timid about large drop offs and steep roads, then this will provide some good thrills for you. Either way, it is worth doing. I'll see you up there this fall!