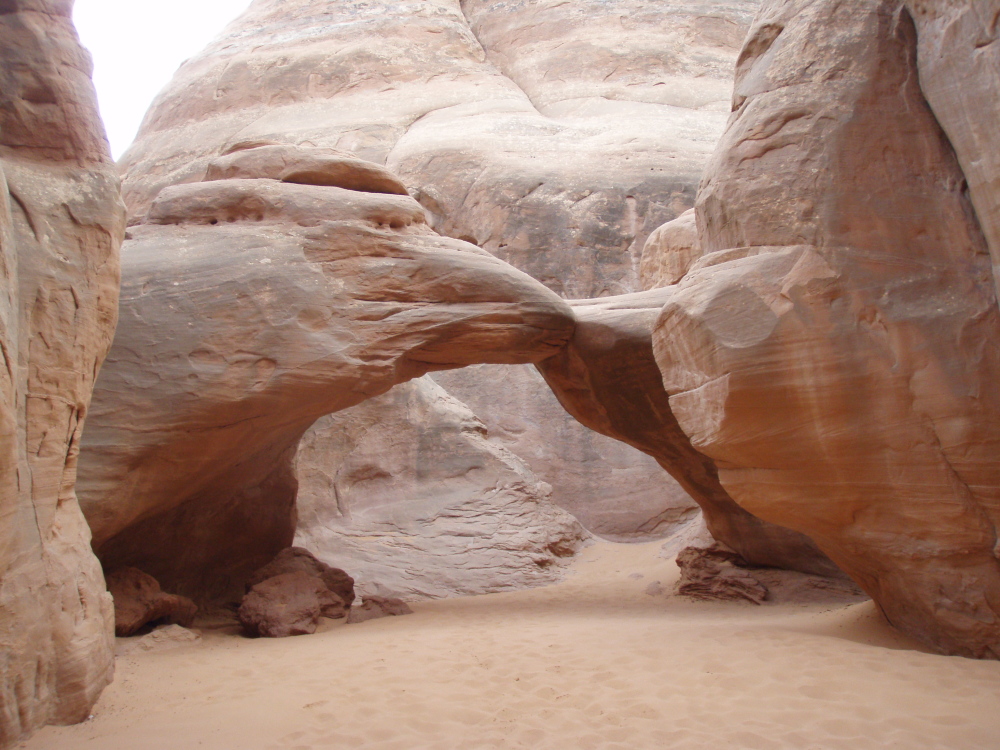 Overview
Arches National Park – near Moab, Utah
About .32 miles round trip.
There are entrance fees into Arches National Park
About half in shade and half in sun
Nearest restrooms are at the Delicate Arch or Devils Garden parking lots
Good hiking shoes, hat, sunglasses, bag for food and water
Sand Dune Arch is a great little hike that is perfect for families.  It is short and provides amazing views of sandstone "fins" and an arch.
GPS Coordinates
Trailhead:  38° 45.885'N, 109° 35.001'W
Sand Dune Arch:  38° 45.859'N, 109° 34.857'W
The Trail
---
Driving Directions:
---
The Trail:
The trail starts at the same parking lot as Broken Arch just before Skyline Arch.  The trail is very wide and easy to follow for the majority of the hike.
At about 300 feet from the parking lot you will come to a fork in the path.  The left fork continues straight and eventually goes to Broken Arch.  The trail to the right goes on to Sand Dune Arch.  Take the right fork and continue on the trail.
---
I enjoy this little hike because from the parking lot you are quickly enveloped inside sandstone fin structures that tower up above you.  You feel a little claustrophobic as these giant fins seem like they will fall on top of you as you pass through.
Just as you get inside the sandstone fins you will be hiking on top of very fine sand.  You will travel another 500 feet or so until you turn the corner and see Sand Dune Arch hiding towards the back.
---
Sand Dune Arch is named because there is a large pile of sand just underneath it.  The shape of the arch is intriguing as it appears to be two sandstone pieces coming from both sides of the walls that are fused together.
It really isn't that big of an arch but it is still quite impressive.
If you continue hiking to the east after Sand Dune Arch you will be treated with a larger canyon opening that is fun to rock crawl around.  But unfortunately this is a dead end so you will need to turn back.
---
As you are heading back towards your car you can actually get an incredible view of Dark Angel in Devils Garden.  It is still pretty far away but it is stunning how the opening of the mini slot canyon is exactly lined up with Dark Angel.
---
The Return:
Head back towards your car
---
Personal Thoughts:
If you want a quick exciting little hike than I suggest you take a look at Sand Dune Arch.   It is a surprisingly rewarding little adventure.