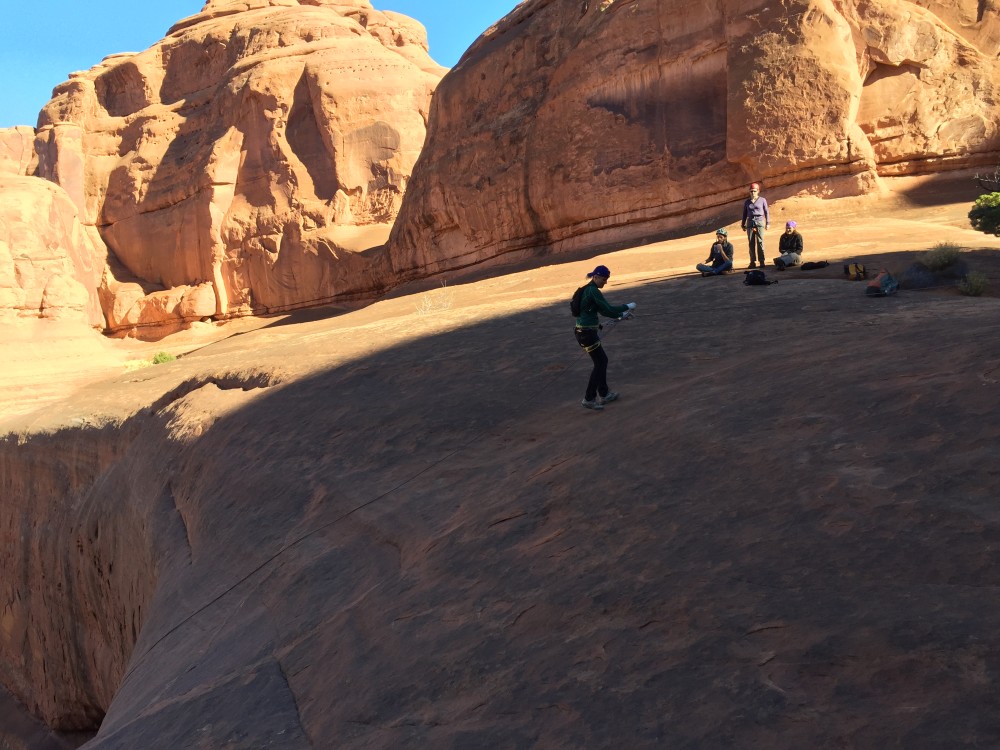 Overview
Arches National Park - Moab, Utah
Not Tierdrop Canyon, Park Avenue, Arches National Park
About 1.4 miles round trip
2-3 hours depending on size and skill of group
Only the entrance fee is required. Although you should go to the Visitor Center to fill out a permit (no permit fee required)
Bring 1-2 liters of water
Good dirt trail leading right up to Not Tierdrop Canyon
Yes. Located at park entrance
Allowed in camping locations only
200 ft rope, 200 ft pull cord, belay devices for every person in your group, helmets, good sturdy shoes, harnesses, gloves, carabiners, backpacks for food and water and equipment, About 60 feet of webbing, rapides (we brought several).
GPS Coordinates:
Trailhead: 38.62432, -109.59989
First Rappel: 38.62497, -109.60517
Second Rappel: 38.62554, -109.60515
Third Rappel: 38.62659, -109.60482
Trail Map
Driving Directions
The Trail:
Not Tierdrop Canyon is located right above the upper parking lot to Park Avenue in Arches National Park.  You will need full canyoneering equipment and skills and make sure you go with people who know what they are doing.
Let me start off by saying that we needed to create a few of our own anchors.  If you do not know how to create safe anchors then do NOT go technical canyoneering where using ropes and harnesses is required.  We brought enough webbing and rapides (quicklinks) for our own use and make sure you bring enough for yours.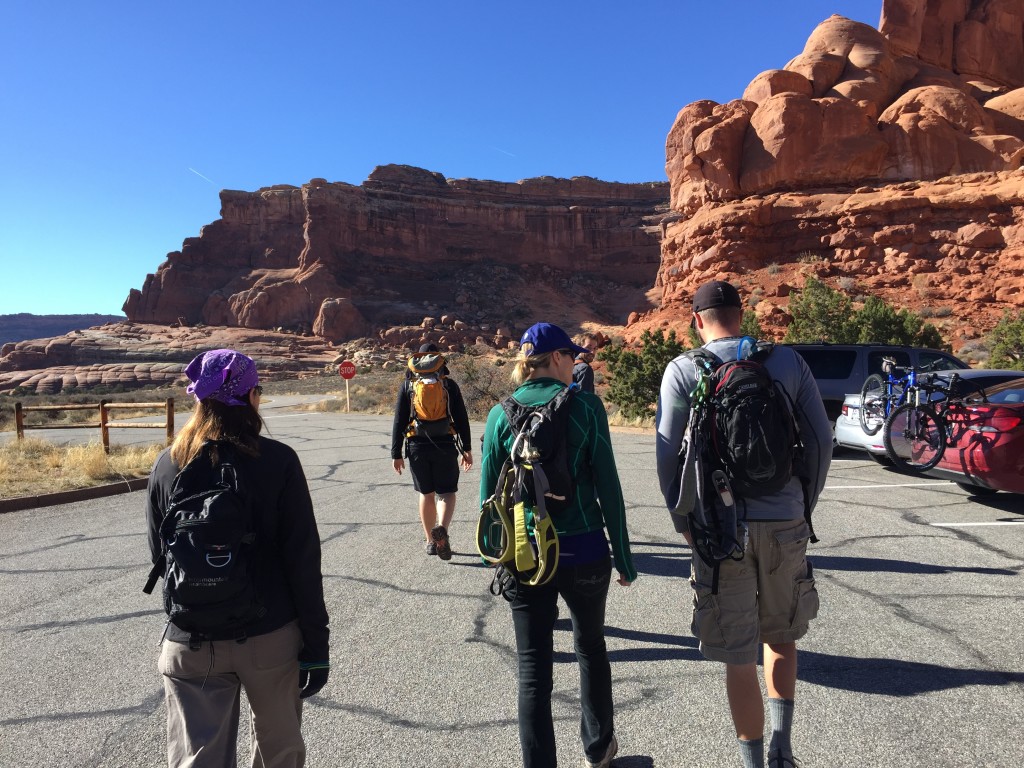 Follow the asphalt park road south west for a few hundred yards until you see a dirt path which cuts immediately west.  Take this trail until you come right up next to the sandstone wall.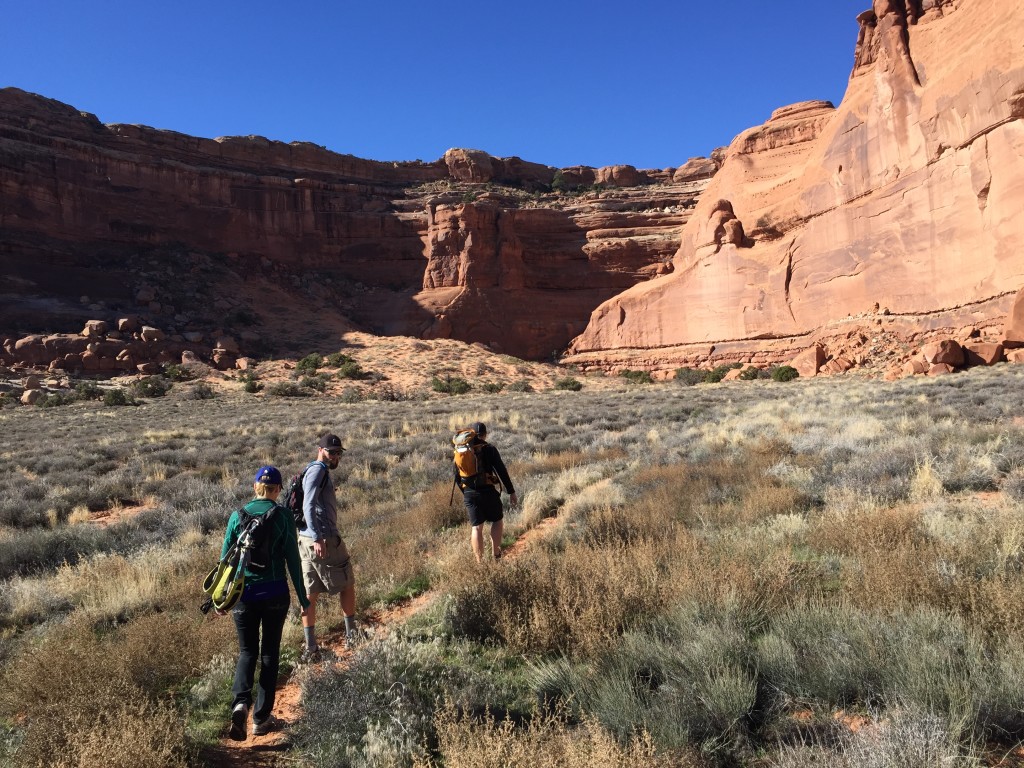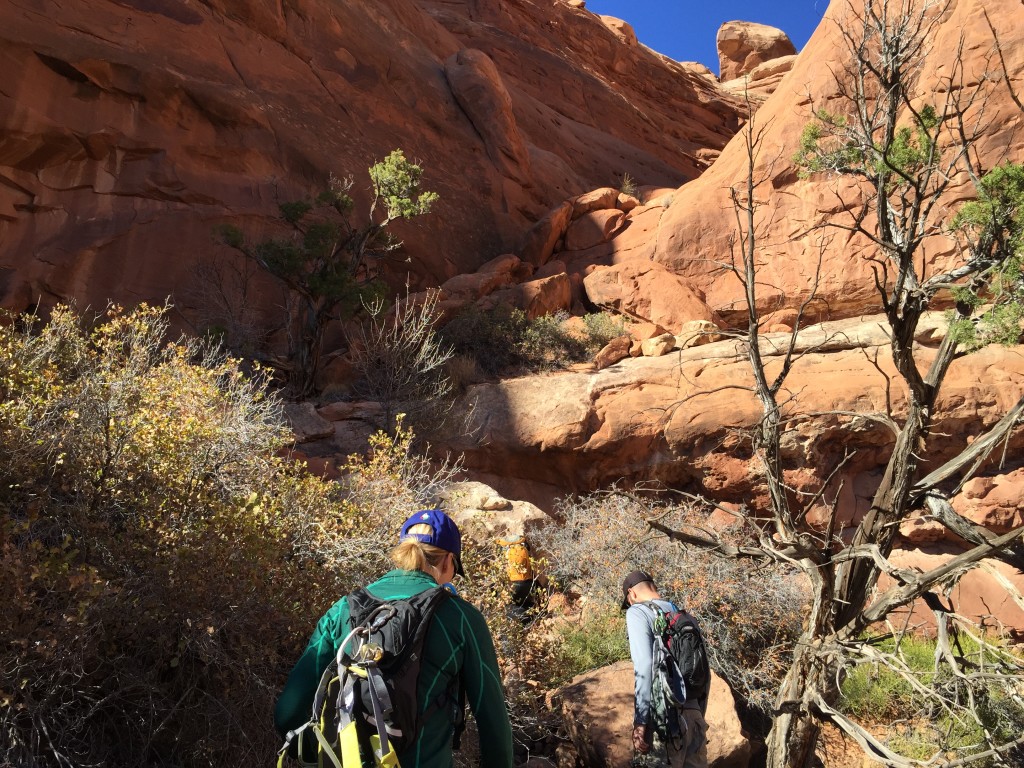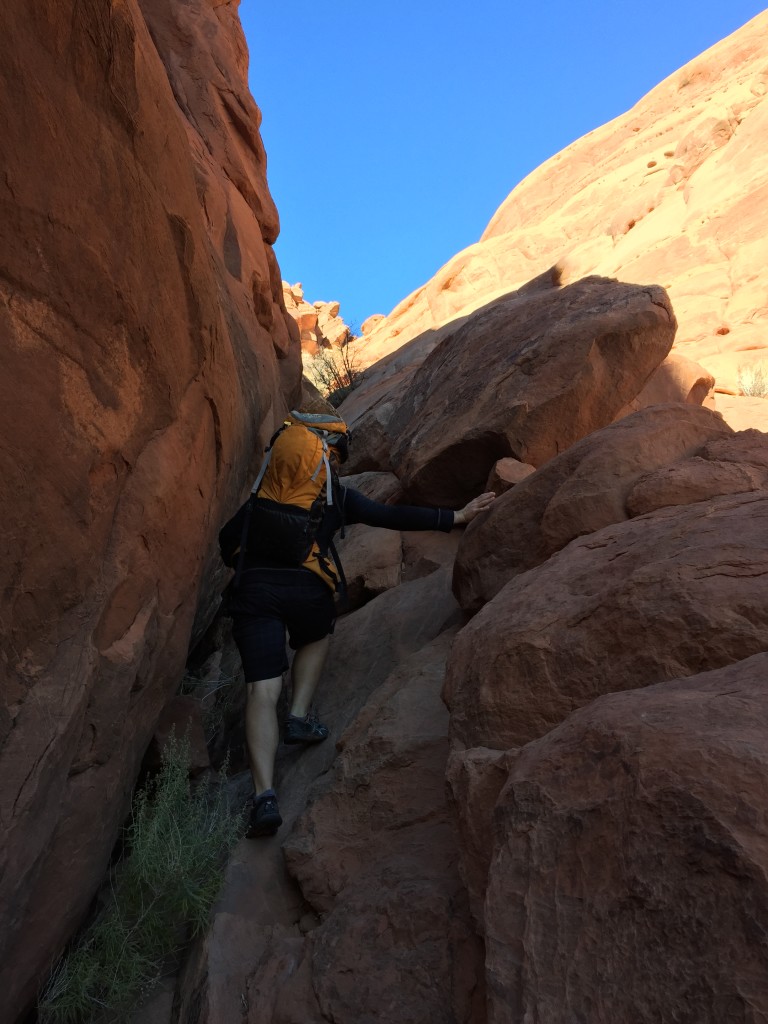 Hike up this steep crack until you come up to the top and it will open up to a small flat area.
At the top you will see three canyons to choose from.  The middle canyon is Not Tierdrop and is the one you will need to go to.  The left side is Tierdrdop and the right side is U-turn.
First Rappel
Once you enter the canyon you will quickly come to the first rappel.  We searched the area for some anchors but we never found any.  So we found a big stable rock and used our own webbing for an anchor.  The rappel is about 90 feet in length and isn't a full vertical drop.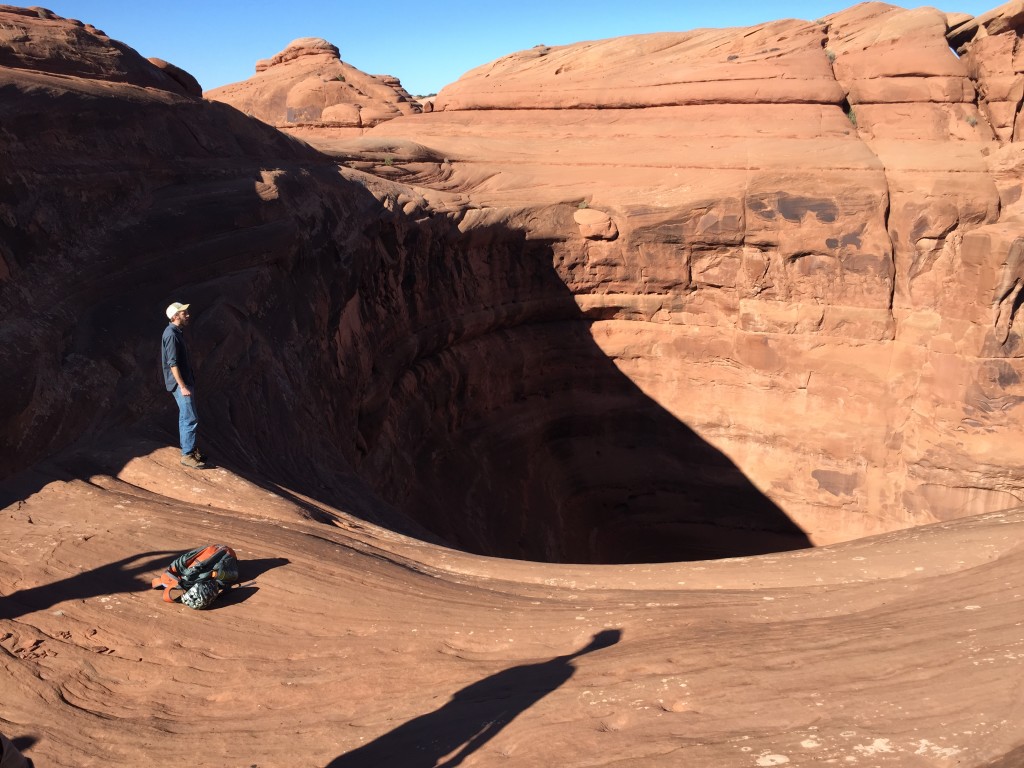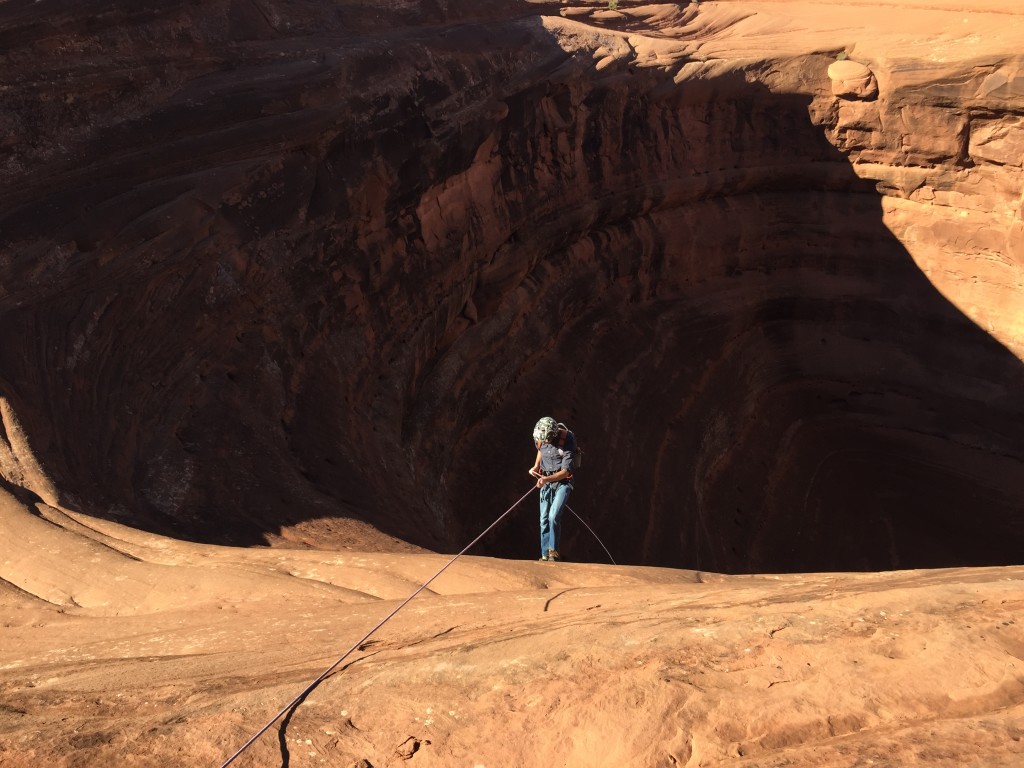 Second Rappel
The Second Rappel is located at the bottom of the first rappel so don't even bother stuffing the rope in its bag.  This rappel has two parts: the first being a short vertical drop of about 5 feet which can be a little tricky.  Then it slopes down to a flat area (stay on the rope!) then it ends in a about a 30 foot free hang.
Someone was nice enough to make a pile of rocks with webbing already rigged up.  We tested the anchor and found that it would still work for us.  You can see other people used larger rocks farther away for their anchor – just do what is best for the safety of your group.
The third and last rappel is located about 60 yards away from the second rappel.
Third Rappel
Again, we didn't bother stuffing the rope away since the last rappel was located close enough.  You will know you are at the last rappel when you come to a very exposed cliff edge.  Note: there is a way to hike out through a crack in the rock on the western side here.
The third rappel has two parts. The first part is about 100 ft tall until you come to a ledge then you can rappel over the ledge for about another 30 foot rappel.  In our case, we thought it would be too hard to pull down our rope from the very bottom so we got to the fist ledge, pulled down our rope then we rigged an anchor around a boulder then rappelled down the rest of the way.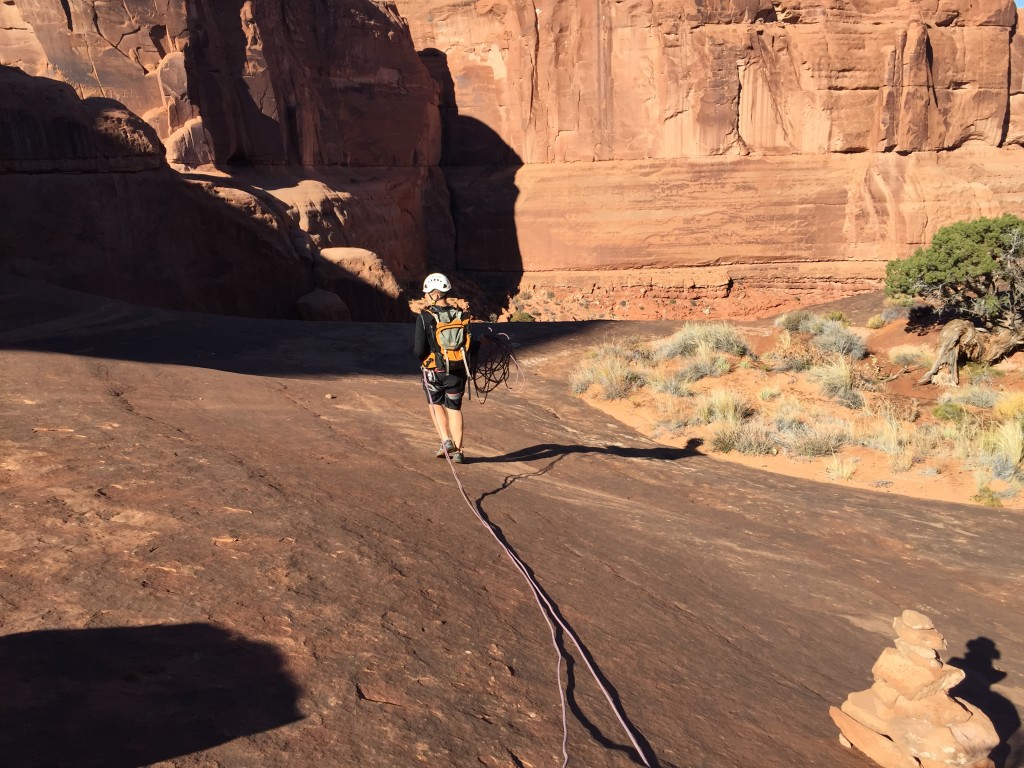 We found a very sturdy juniper tree and wrapped some webbing around it and made our own anchor again.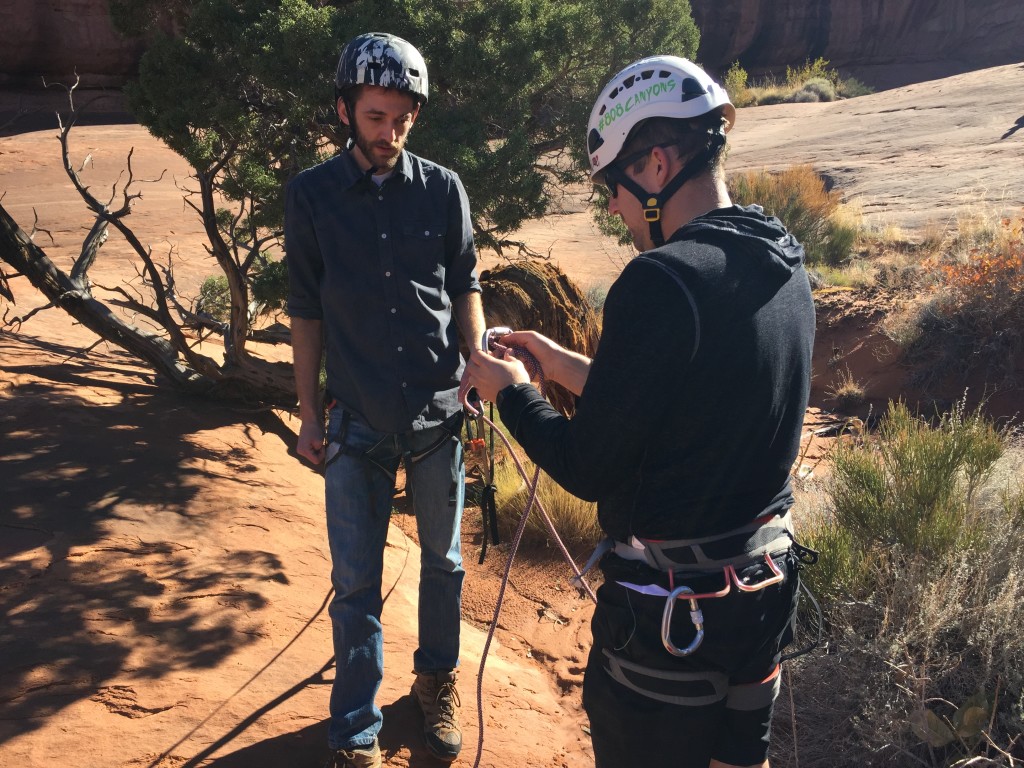 Then after testing our anchor we all had a blast going down this rappel!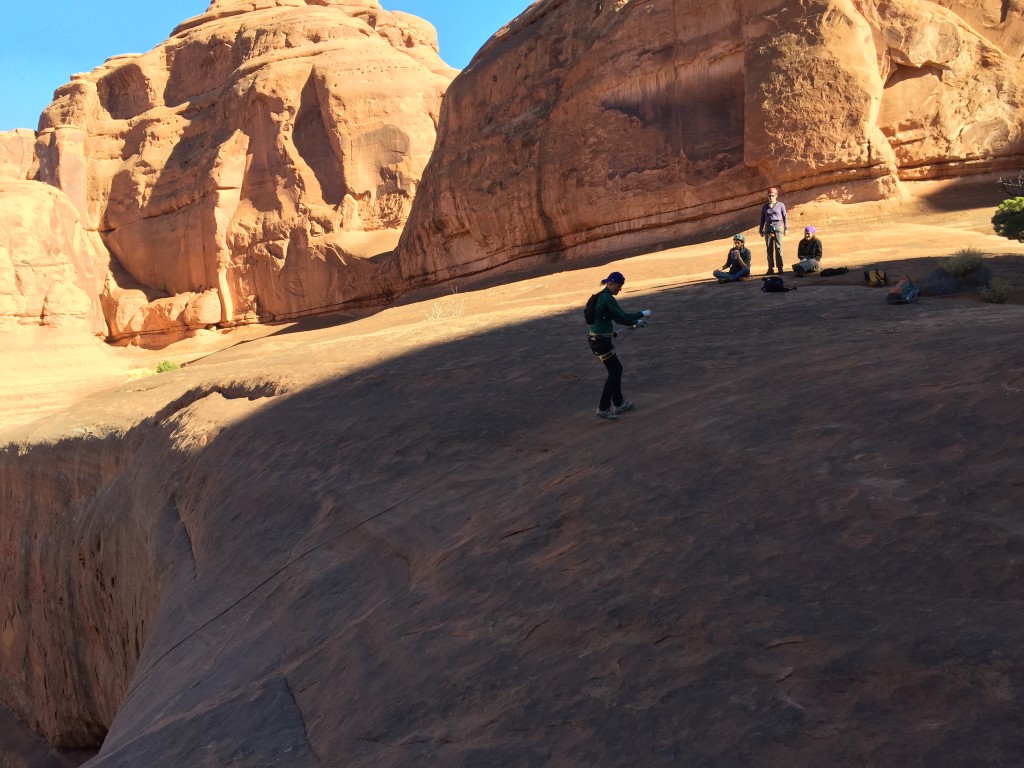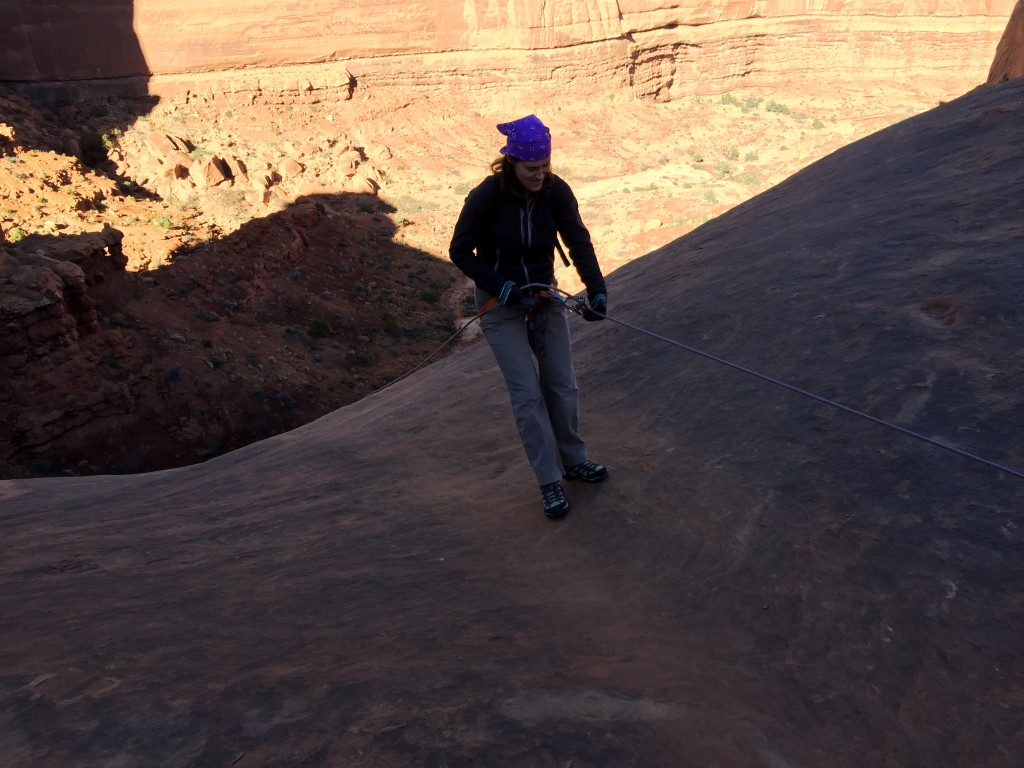 The second part of the last rappel.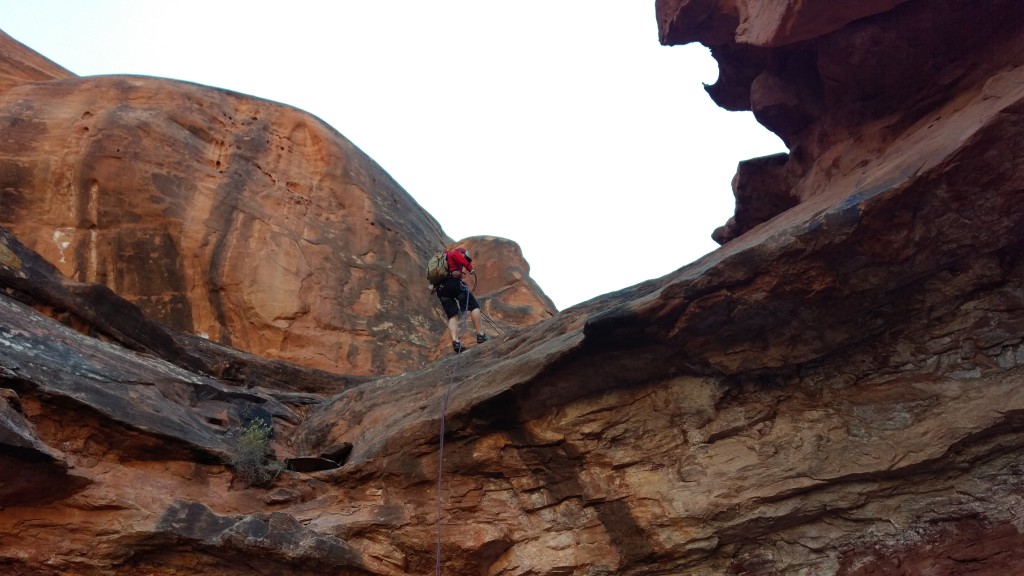 Once at the bottom you can pack away all of your gear and hike back to where the trail meets up with the Park Avenue trail.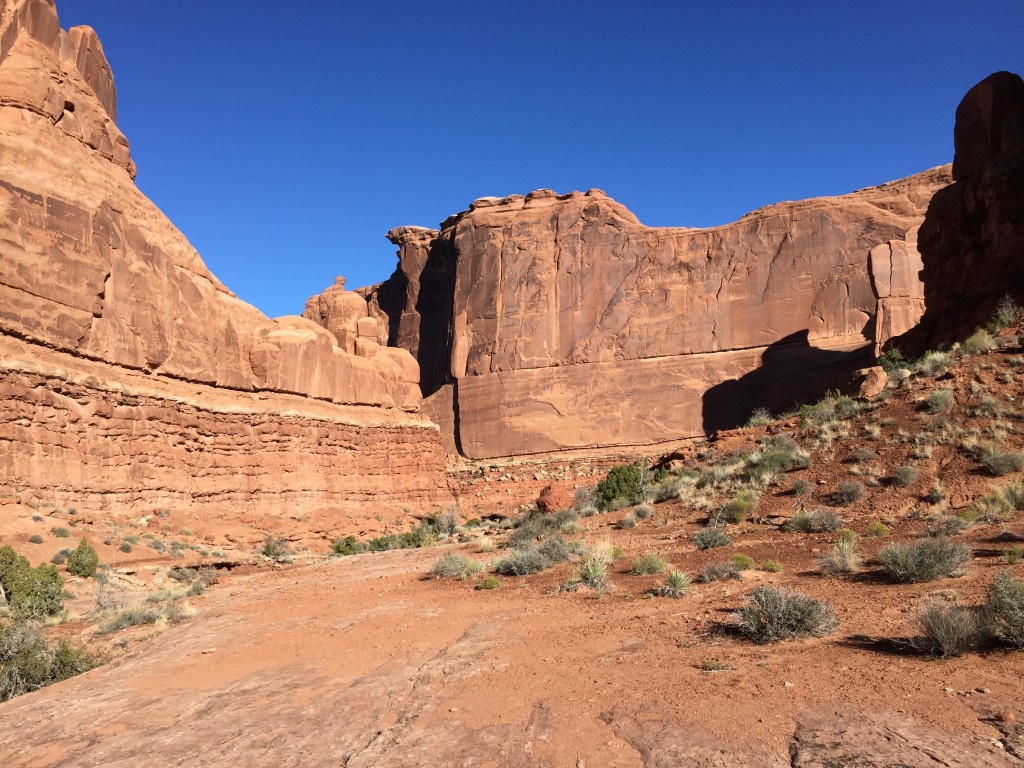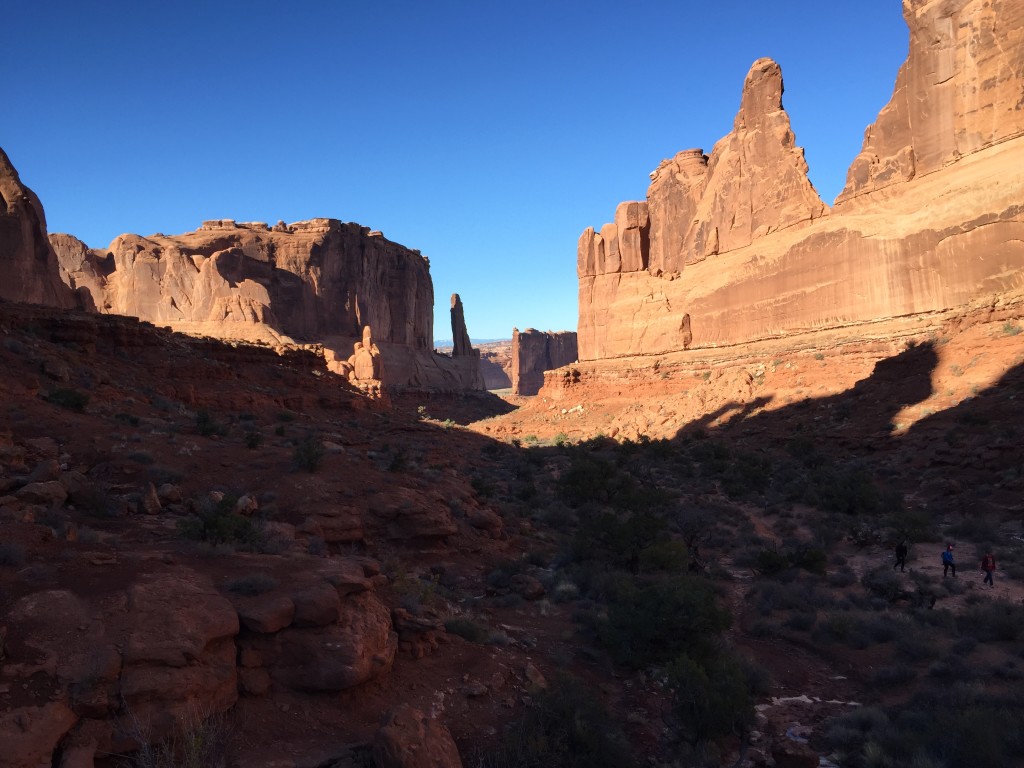 The Return:
Head back towards your vehicle.
Personal Thoughts:
Arches National Park isn't known like Zion National Park is for canyoneering but there are some very fun routes that are short and sweet.  Not Tierdrop is probably one of the better ones that I have done here and I will do it again when we come back!