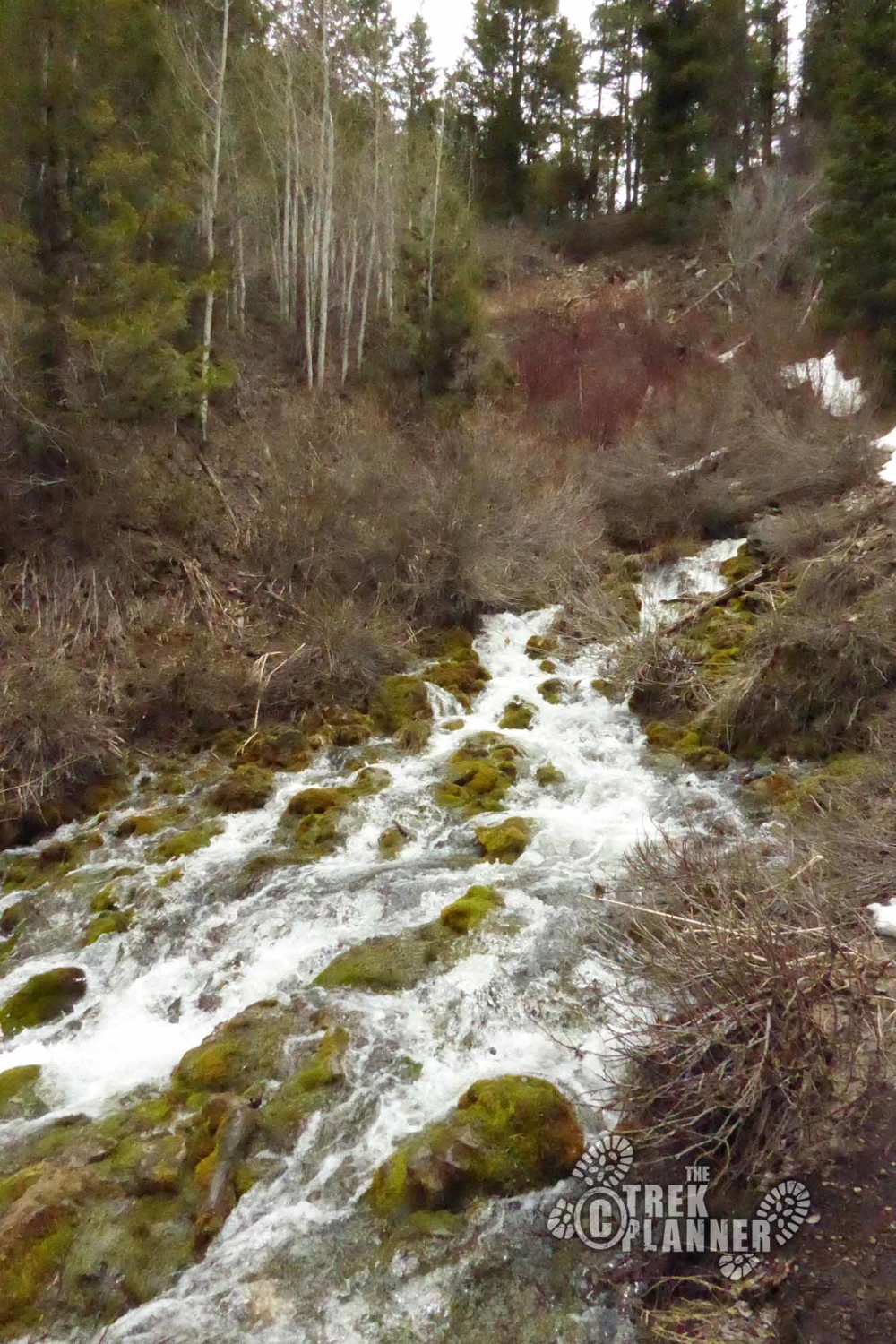 Overview
Moose, beaver, birds, ponds, stream, pine trees.
Stream year round. Spring is drinkable.
Obvious but with mild obstacles
Columbia Pants
Icebreaker wool Apex LS Insulating layer
Stoic Rainshell
OR Rain hat
Ok, with a name like Nobletts, you've got to be curious. I was. This is a great, quick family friendly hike that follows Nobletts Creek up a narrow canyon. It is a mild climb, well shaded, and very beautiful the entire hike. For most the hike you are surrounded by tall pine trees, at the side of a bubbling brook lined with moss-covered stones, and staring up at cool rock formations (the nobletts?).
This hike has snow on it until decently late in the season. We ventured up this trail in late April and found plenty of snow. But don't be daunted. This is a great trail to snowshoe for beginner-intermidiates. And apparently some people even cross country ski it. I'd say it is a bit on the harder side it you want to try that. But as hiking goes, late spring through late fall, this is a fun, quick trail to get you away from city traffic and into moose traffic.
GPS Coordinates:
Trailhead:  40.542784°, -111.094943°
Ponds:  40.544806°, -111.093990°
Spring:  40.545400°, -111.080104°

Trail Map
Driving Directions
The Trail: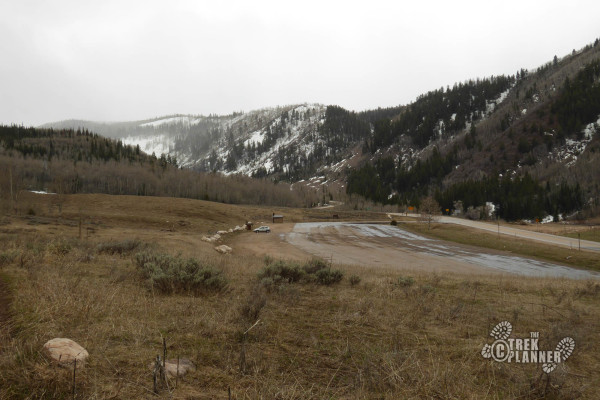 Park at the giant lot on the side of the road. This is where the road closes during winter. All the trucks crowd in here and drop off their snowmobiles. But this cloudy day in April, we were the only car in the parking lot.
The trail starts from the sign in middle of the lot. It shoots straight north-east and drops down directly into the canyon.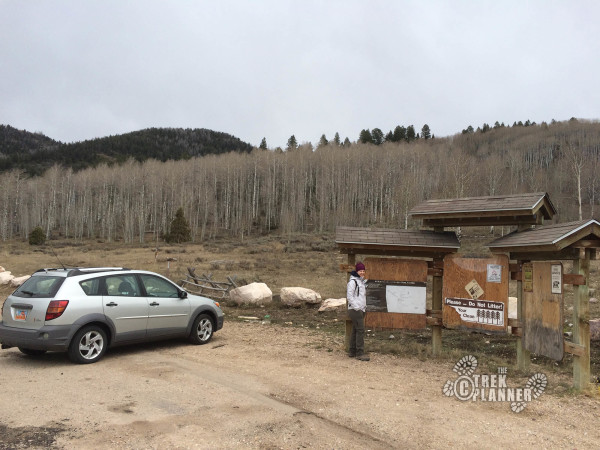 There are some picturesque ponds at the mouth of the canyon. I was telling my wife that this was the perfect place to run into a moose when one walked out of the brush on the far side of the pond. Perfect!
We never quite managed to get a clear shot, though.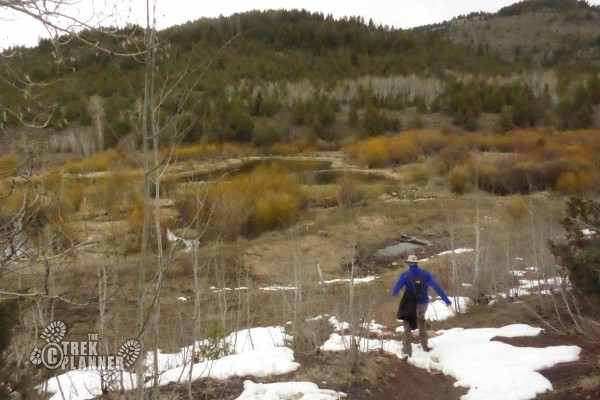 We waved goodbye to the moose and continued our way up the canyon. The trail stays on the South side of the stream the entire way up.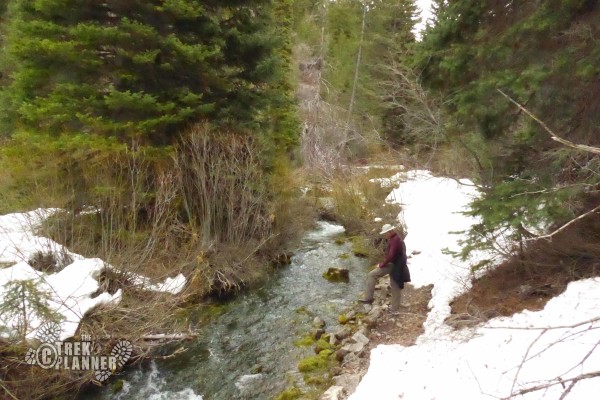 It is a clear trail, and easy to follow. Once in the canyon there are now side trails that break off.
The stream was beautiful. It made me want to come back with my good camera in spring when the flowers are in bloom.
There really are no steep sections. It is a good, mild trail.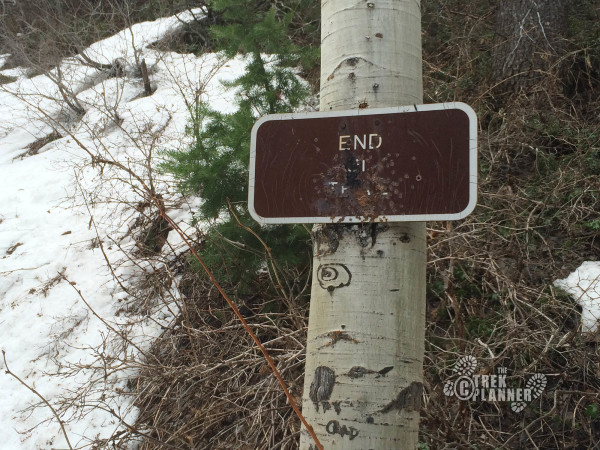 Noblett's spring was a surprisingly strong (read raging) spring. The stream suddenly bursts from the ground at full force. None of this quiet trickling stuff.
The spring is reported to be drinkable. We were told that it forms from the water percolating down through the mountain. So we gave it a try. Months later, I can say there were no side effects. It tasted great.
Personal Thoughts:
We'll definitely be doing this hike again when it is warmer and greener. I also fully expect to explore this whole area, which is new to me. It looks like there is some really great terrain for all types of outdoor trekking. If you hike this one, let me know and give us an update.