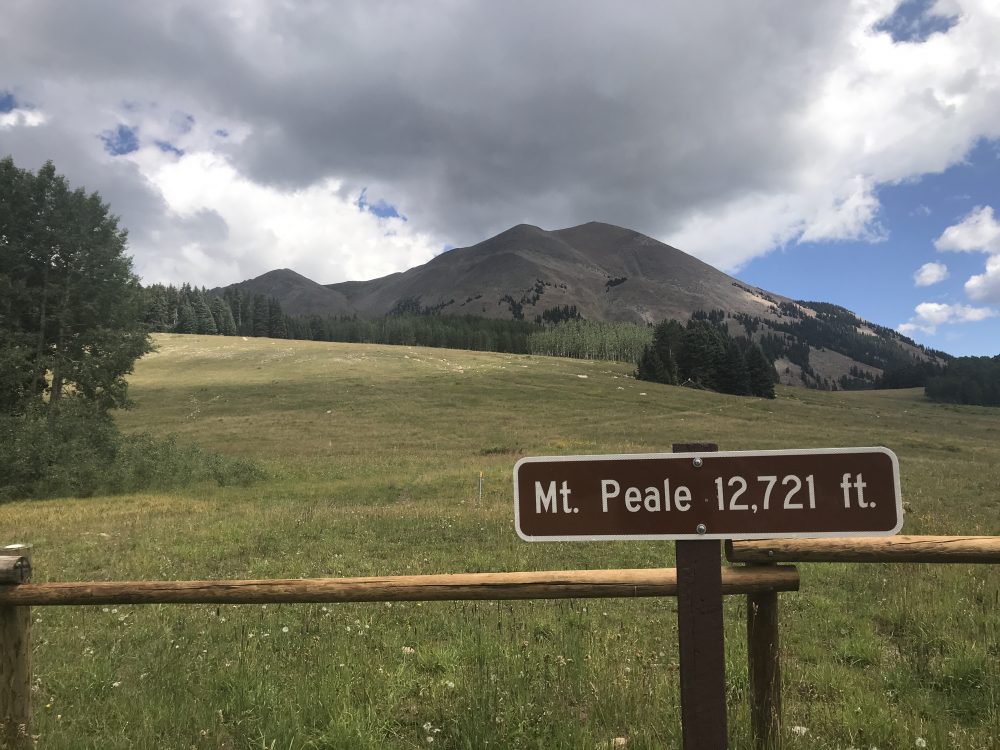 Overview
Mount Peale, La Sal Mountains. Near Moab, Utah.
5 miles roundtrip, with the potential up to 5.5 miles depending on the path you take at the top.
4-7 hours. My first time was 4 hours and 15 minutes. And that includes many pictures and a 10-minute break on top. If you power-hiked up this, you could do it probably 45mins faster. If this is your first hike in awhile, plan on at least 5-6 hours.
I have only read about one account of a dog on this hike who reached the summit. A dog *could* do it, but why? You will be traversing unstable rocks and little fifi will be uncomfortable. More info here: http://www.girlonahike.com/2016/08/hiking-to-mt-peale-mt-tukuhnikivatz.html
You know your pet best, but I would NOT recommend pets on this hike. Please keep them home and save them for something easier another day. Unless you like bloody paws on your dog? But you wouldn't do that - because you are a RESPONSIBLE pet owner, right?
I hiked this in late August and didn't come across any streams or snow. I would recommend at least 2 liters of water at a minimum. 3 is probably ideal especially if the sun is out and it's a hot day and you have a big and slow group.
Late-Summer, Fall
Earlier will need snow traversing gear.
The first half you will be in between the trees so you will have shade.
The last half is direct sunlight (depending on cloud cover, time of day, etc).
Not good! It is NOT a frequently traveled trail or destination. The last half is mostly choose-your-own-adventure style over the loose rocks.
The first half is following a good trail until it merges with the 4x4 trail. From there, the trail is faint but still distinguishable if you look closely.
None at the trail-head. However, there is nearby outhouse about 1/4 mile south at the "Medicine Lake" parking lot.
BLM primitive & dispersed camping.
Bring either a lunch or a snack (for the fast traveler).
Sturdy shoes, hat, jacket (it will be cold or windy at the top!), sunscreen, and a camera!
Depends. If your children are under 10 years old, I would NOT bring them due to the unstableness of the rocks that you will traversing across. Younger children are not trained, smart enough, or physically able to jump out of the way if a rockslide occurs - which is most likely.
Older than 10 years old I would say it would be acceptable; however do so with high caution! You are stepping on unstable rocks for the last 1/2 of the hike to the summit. For the most part, the ground won't move too much, however, young kids need to know how to react when the ground starts shifting and moving all around them. I warned you!
GPS Coordinates:
Parking Lot:  N38°25'8.36″, W109°15'6.13″
Junction to Burlfriends Trail:  N38°25'24.68″, W109°14'43.44″
Junction with 4×4 trail:  N38°25'33.08″, W109°14'36.26″
spur trail; large cairn pile:  N38°25'57.16″, W109°14'35.63″
head in opposite direction:  N38°26'29.43″, W109°14'19.11″
Saddle:  N38°26'17.77″, W109°13'54.85″
Summit, Mt. Peale:  N38°26'18.43″, W109°13'45.17″
Trail Map
Driving Directions
*******IMPORTANT*********
There is a stream crossing about 20-30 minutes from the trail-head that you car will need to cross! My 2015 Chevy Cruze was able to cross it in late August and was able to do it without issue.  At that time, it was maybe 5-6″ deep.  The road is in great condition as it is the only road into those mountains from the south side.
Any attempts before this in a small passenger car and you most likely will not be able to cross it and retreat for another day.
If you are in a high-clearance vehicle, you should be able to cross it without issue (but come prepared, just in case you do get stuck for some reason).
******************************
From Moab, it's about 44 miles south east of town. Plan on at least an hour and half to get here.
From Main Street in Moab, Head south on US 191 for 33.3 miles.
Turn East (left) on UT-46 for 12.6 miles.
**This is will where you will ford the stream** (see above!)
Slight Left onto 2 Mile Road/FR0208 for 1.9 miles.
Turn Left onto La Sal Pass Road for 7.6 miles, where you will head at a giant dirt parking lot.
The Trail: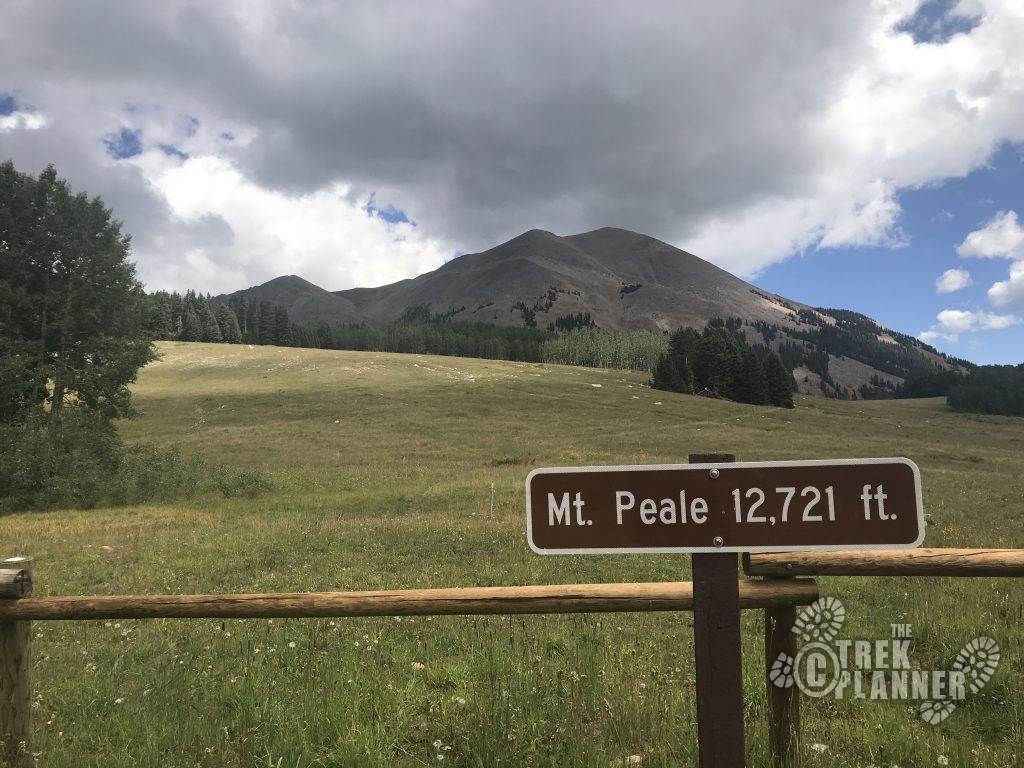 Mt Peale, La Sal Mountains, near Moab, Utah.
Mount Peale at 12,721 feet is the highest peak in the La Sal Mountain range.  While 28th on the highest peak summits in Utah, it is ranked #2 on that same list but with peaks that have a prominence of 500 meters (1640 feet).  And speaking of prominence, Mt. Peale ranks #23 for the highest prominence in the Lower 48 states.  In other words, you are in for a special hike.  But as far as you and me go – let's keep this hike and range to ourselves!  Well…mostly.
The La Sal Mountain range (Spanish for "The Salt") is found 20 miles South-East of Moab. And did you know that they are the second-highest mountain range in Utah? Yes, they are even taller than the Wasatch by another 1000 feet.  In fact, most people ignore these mountains as nearby Arches and Canyonlands National Parks take the highlight.  Let's have the "touristas" (people who only hike for Instagram and social media likes) stay in Arches and Canyonlands and keep the good stuff for us – the people who like to adventure, the people who like to discover things off the beaten path.  For that is where the rewards are hidden, are they not? Not to mention, some solitude, a true desert view in an alpine setting, and beautiful mountain range most never venture in to.
But if you want an escape from the blistering heat (105 degrees) in the summer, the La Sal Mountains are it!  In fact, I would call them Moab's "best-kept secret"!  On this particular day (August 25th, 2017), the trail-head at 10,005+/- feet was 71 degrees, the summit was 60 degrees, and downtown Moab was 96 degrees Fahrenheit.  Quite the difference!
**NOTE*** If you attempt the hike in June or July, prepare for snow! You are starting the hike at 10,000 feet elevation and hiking close to 13,000 feet. Snow gear will most likely be required if you plan to do this if you see snow at the top.
So, for those not wanting to hike in snow, please wait until late July thru October.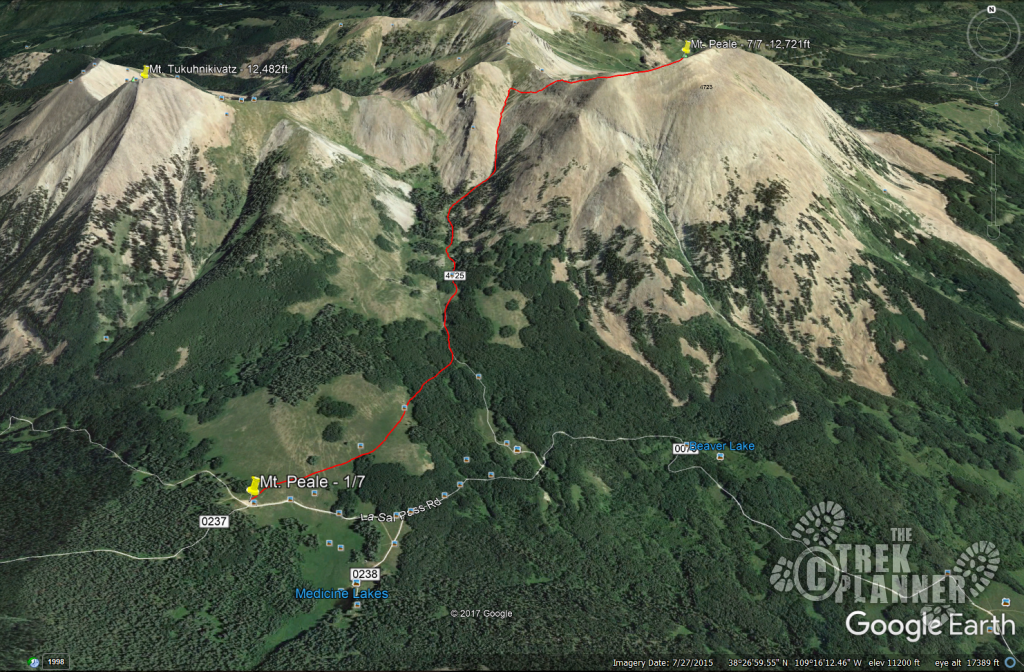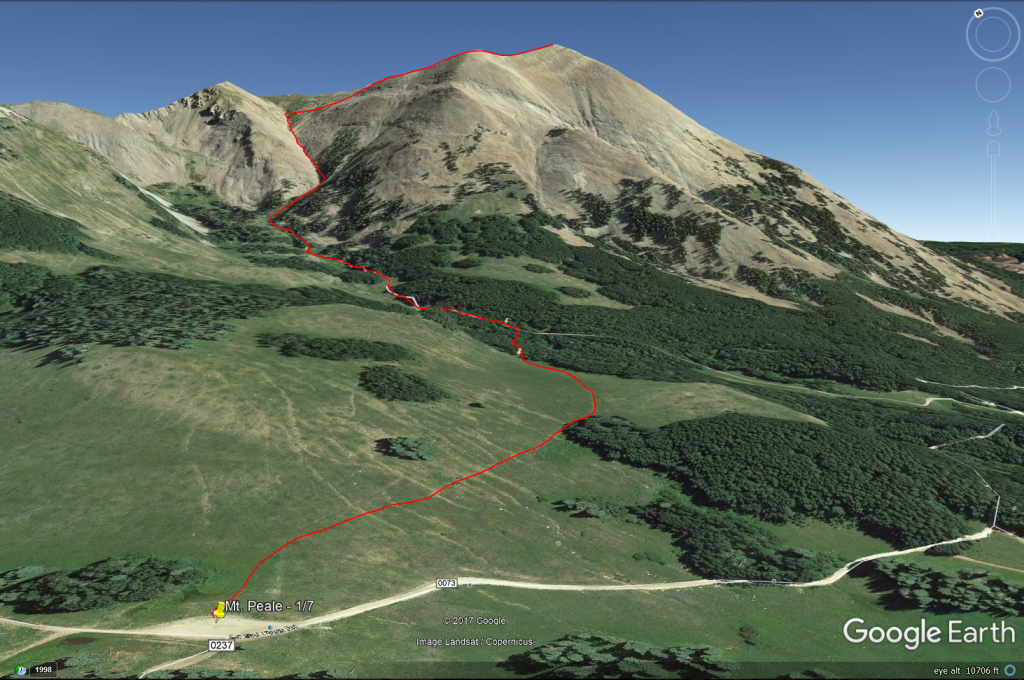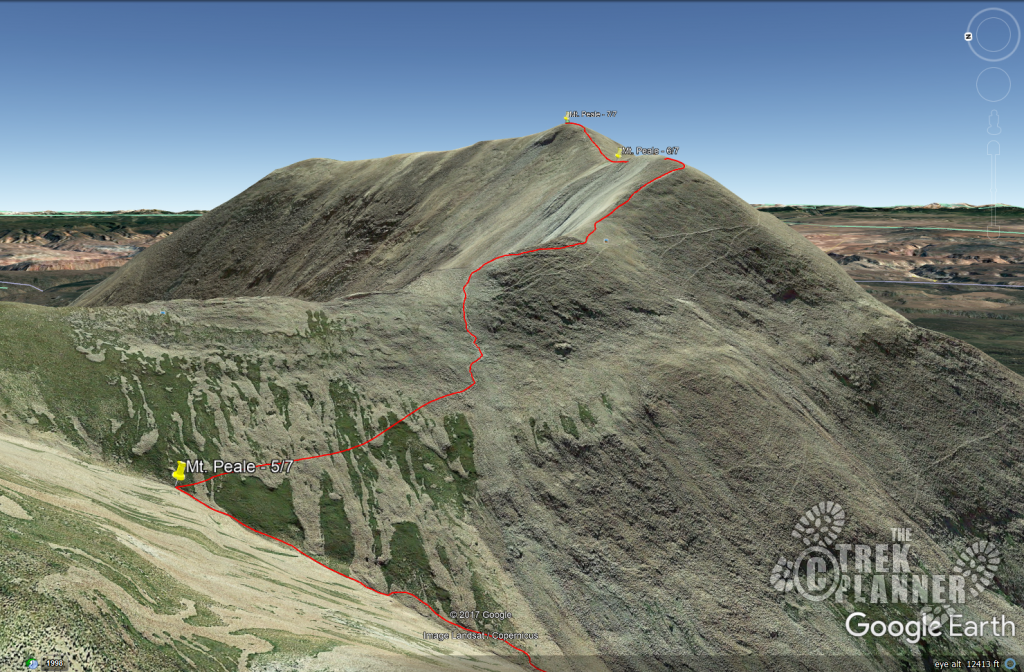 For those who care about statistics, there are two Utah counties whose boundaries cross into the La Sal range – Grand and San Juan.  The high point of Grand County is Mt. Waas at 12, 331 feet and the high point of San Juan County is Mount Peale at 12, 721 feet.  So you peak-baggers out there, take note.
The trail-head starts at the "La Sal Pass" with the obvious Mount Peale sign next to it. Follow the obvious trail. A little shy of 1/2 mile, you will encounter a junction. Take a right and follow the "BurlFriends Trail", trail until it turns into a 4×4 road.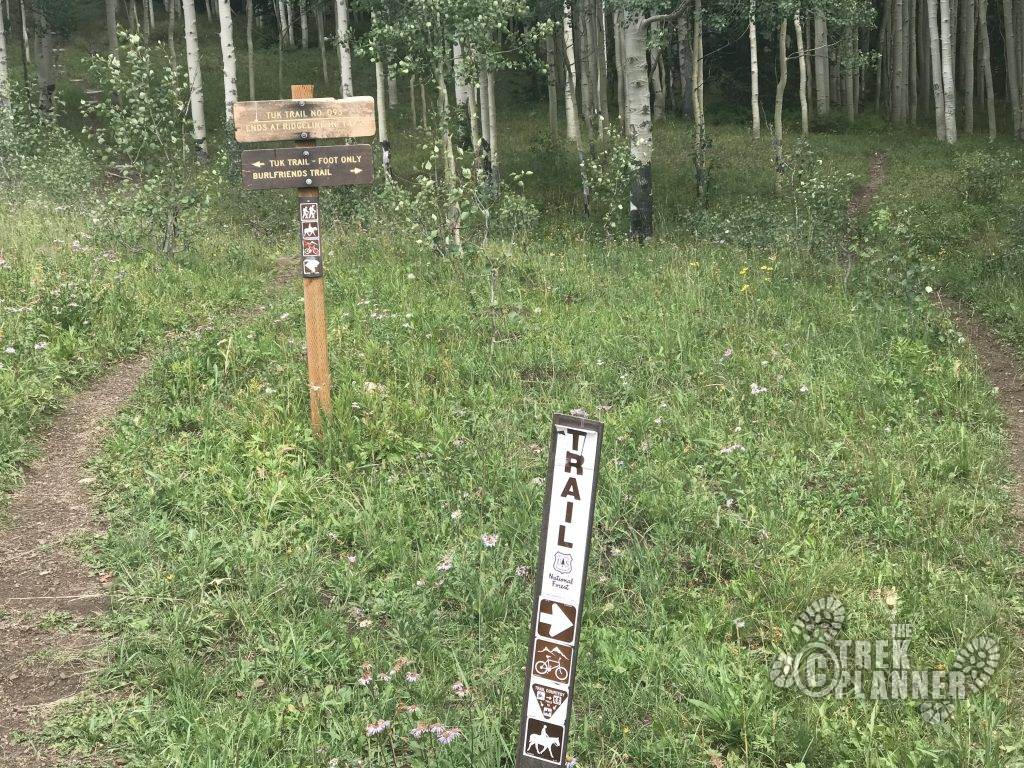 Follow this for close to another 1/2 mile until you reach a spur trail which heads to your right. It is marked by a large cairn pile.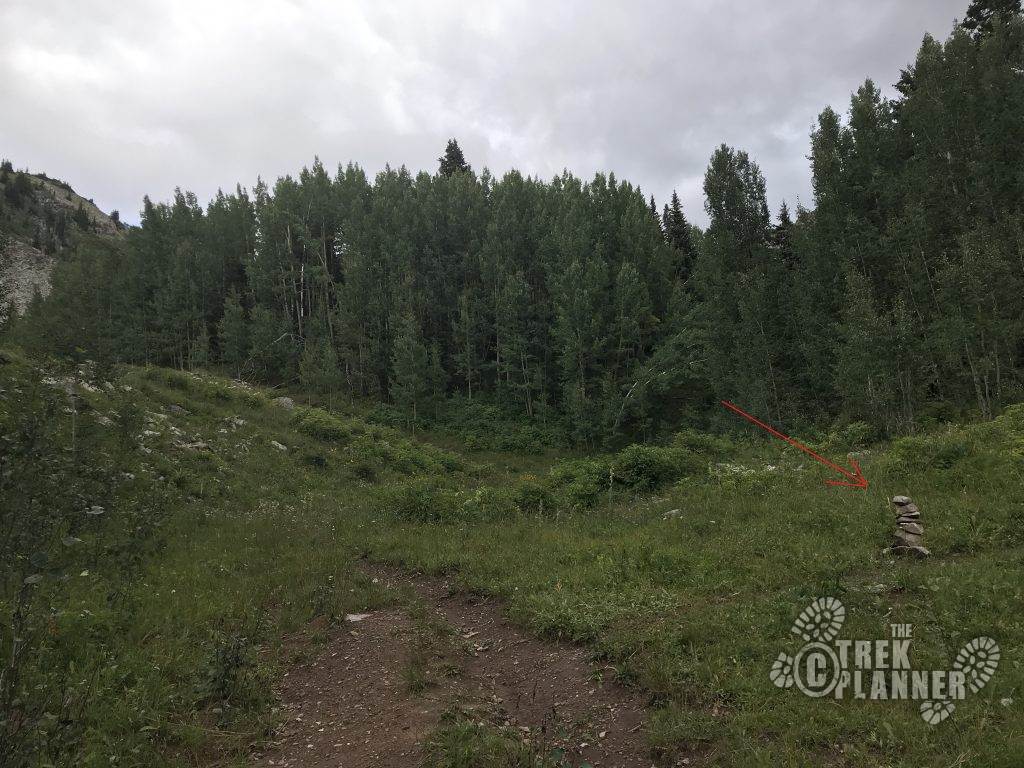 This the start of the mountain adventure! The previous mile was just a warmup! The path is quite clear for most of the way up until you hit the the rock scree mountain side! Then it's a choose your own adventure over the rocks!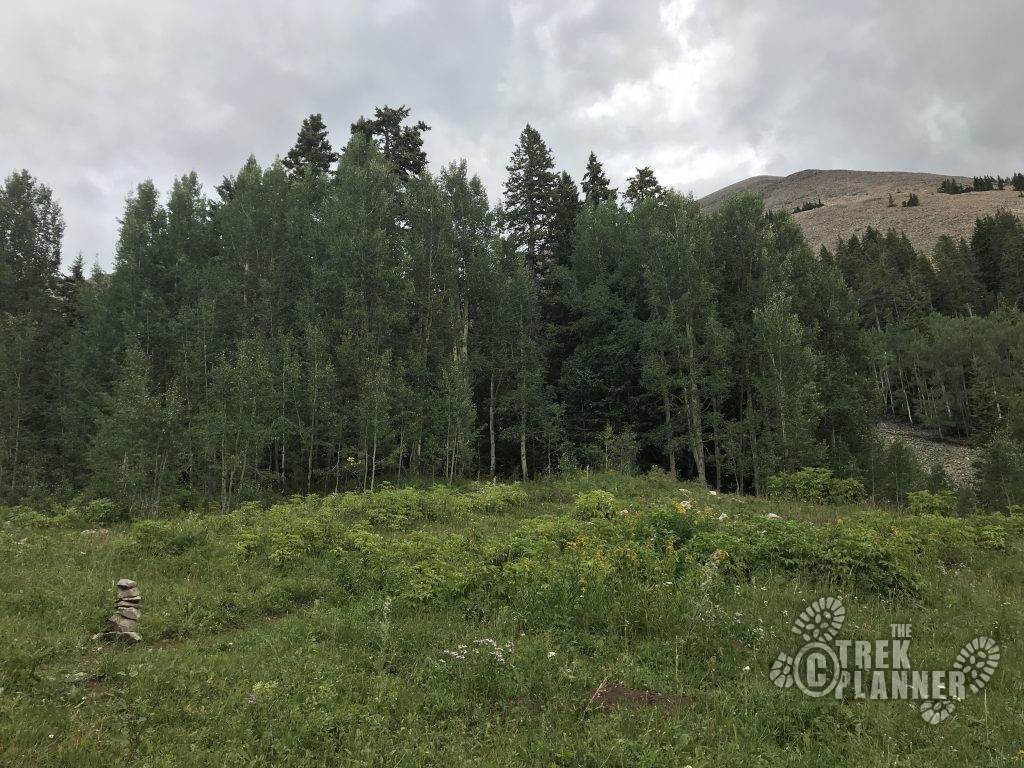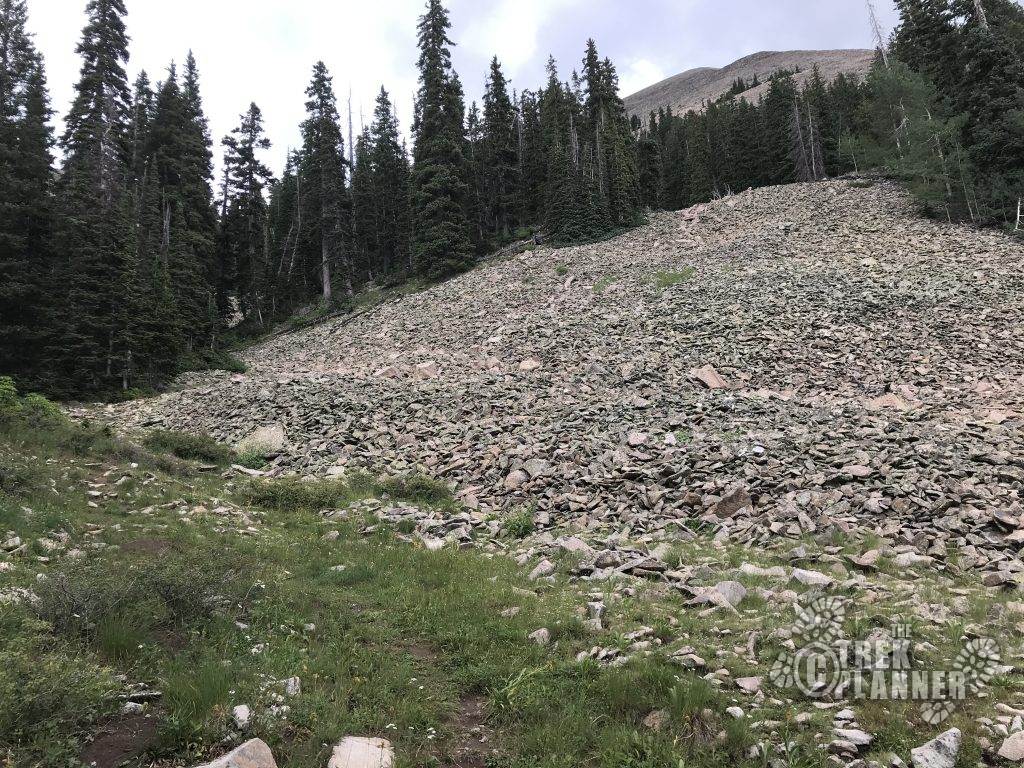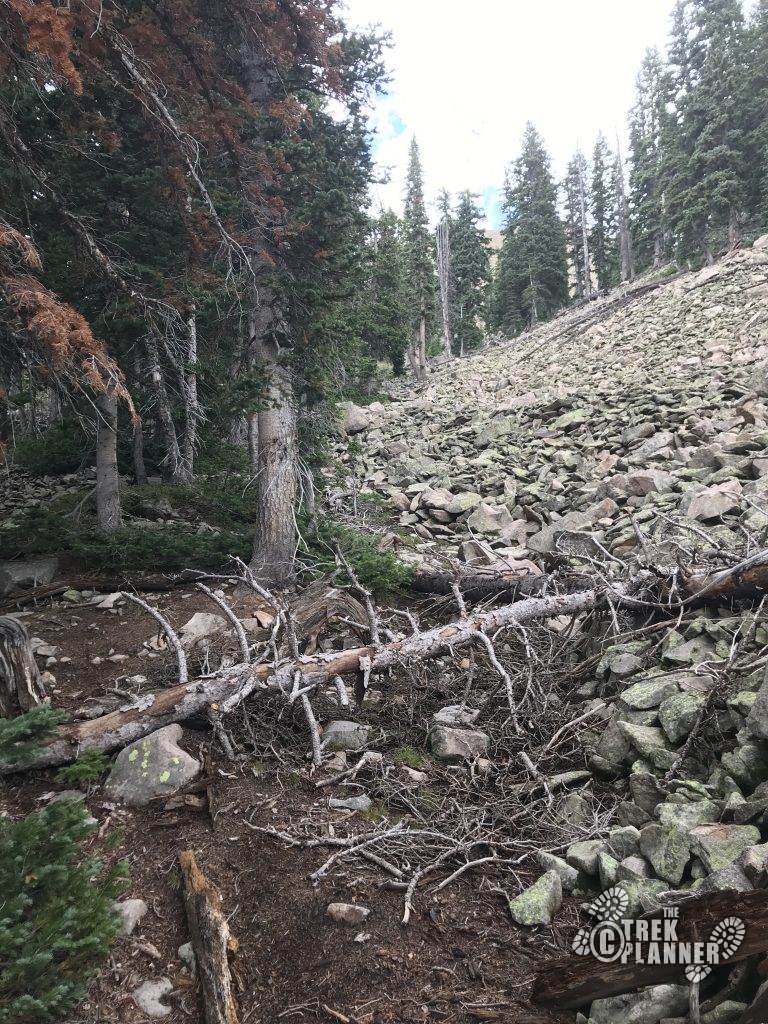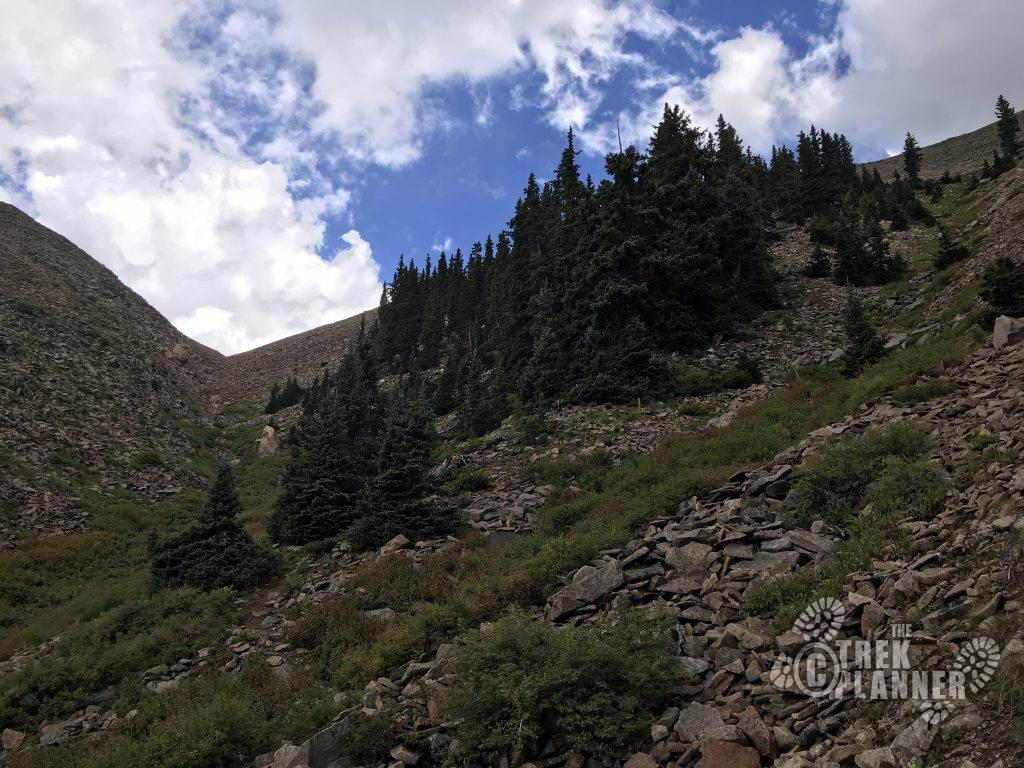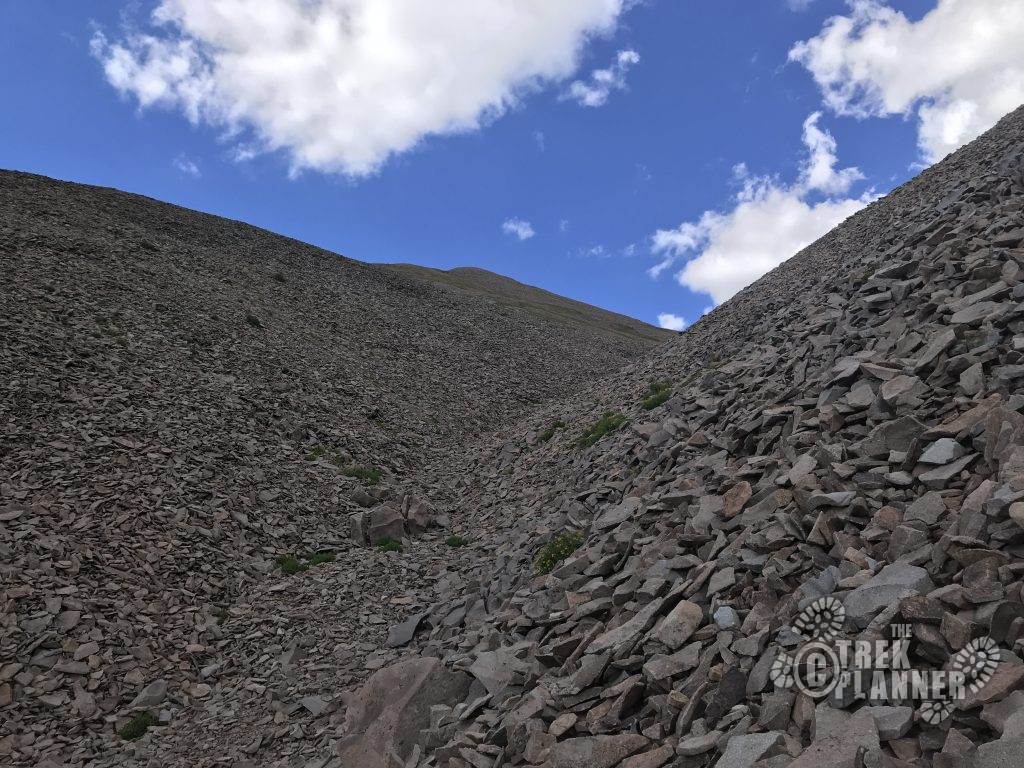 Be very careful here! The rocks are sized between a potato and bowling ball and have the potential to create a dangerous rock slide! If I had young kids (younger than 12 or so), I would not bring them past this point. Not that they couldn't do the rest of the hike, but IF (or rather WHEN), those rock slides and your kid is 10 feet ahead of you and it starts to slide…what are you going to do? What is your kid going to do? Scary thoughts. Warning aside, adults who can be quick on their feet shouldn't worry too about about this hike, especially if you stay off the steep areas.
There is trail or cairns to guide you to the top from here! This is where a GPS can be handy, or printing out this guide, and at a bare minimum, having a map will be essential.
Once you reach this area, shown below, it's best to keep hiking straight up to about 3/4 from the top. About 3/4 from the top (or my GPS point) is where you will want to head in the other direction and hike in a parallel position in relation to the ridge and while hiking higher. (Refer to the map near the top)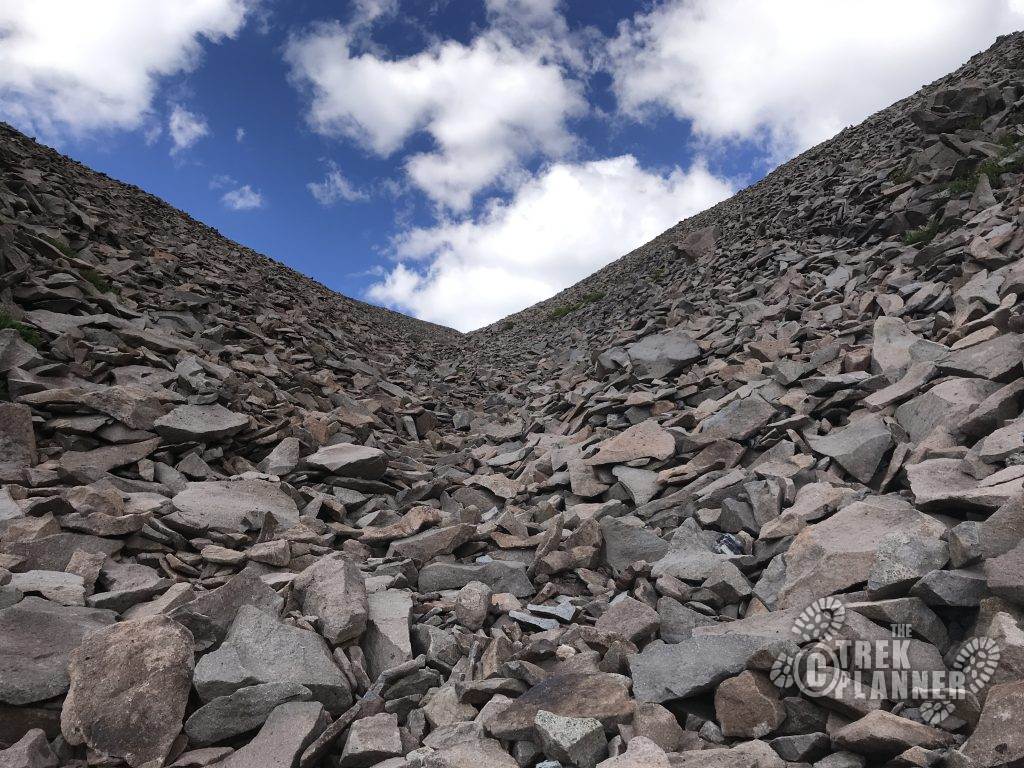 From there follow the delinated path up to the ridge and work your way to the top! Please be careful. I can't stress enough how prone those rocks are to slide. I didn't bring trekking poles and I'm not sure if they would help here, but if you do, please report back and let me know!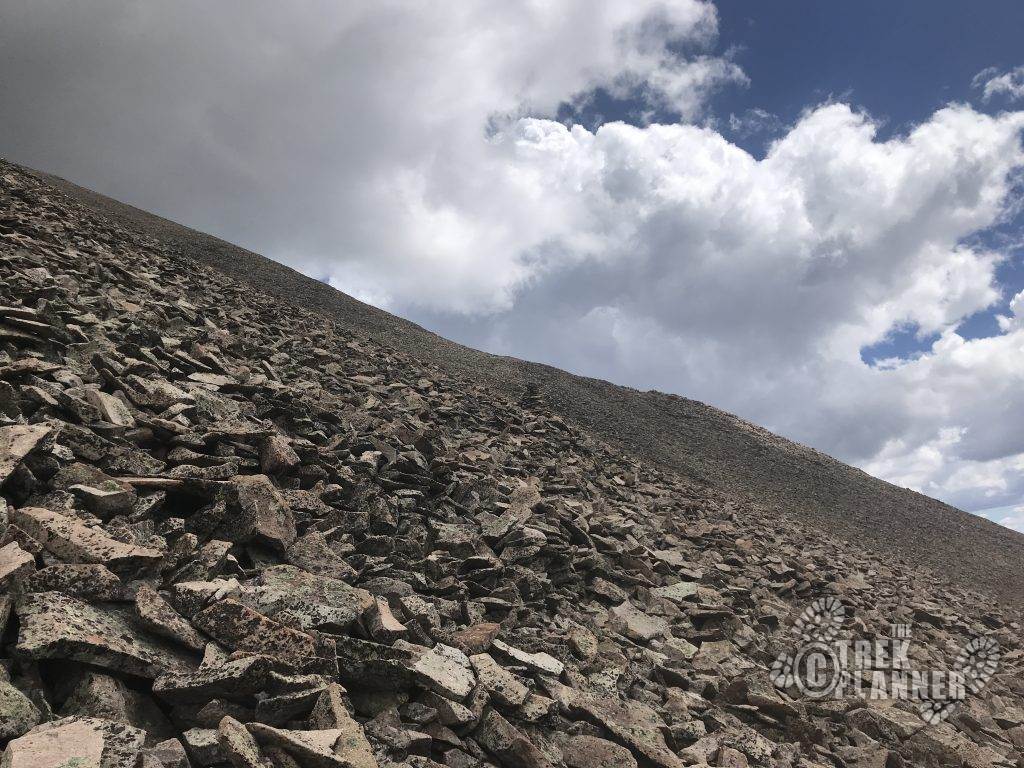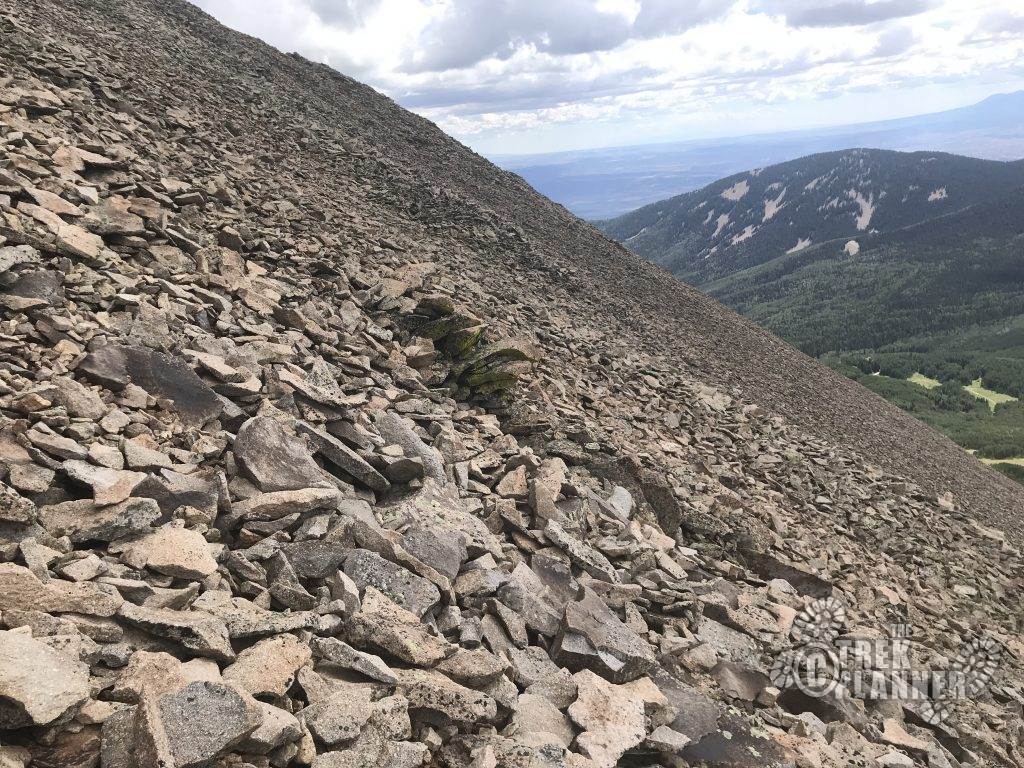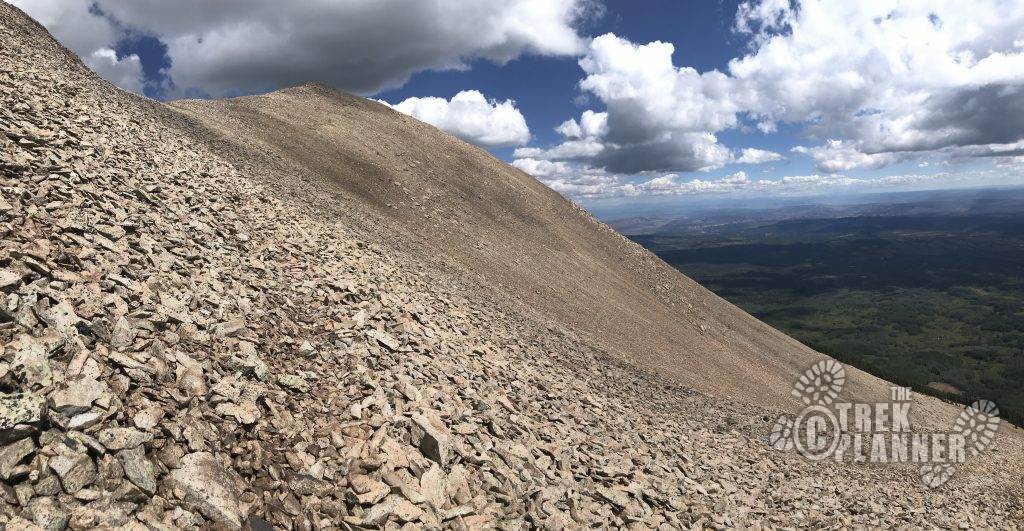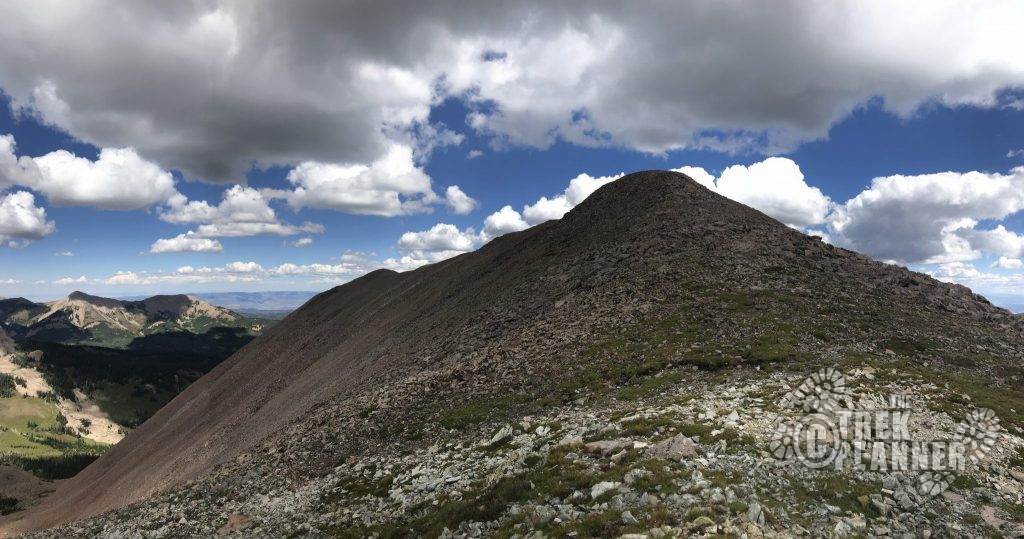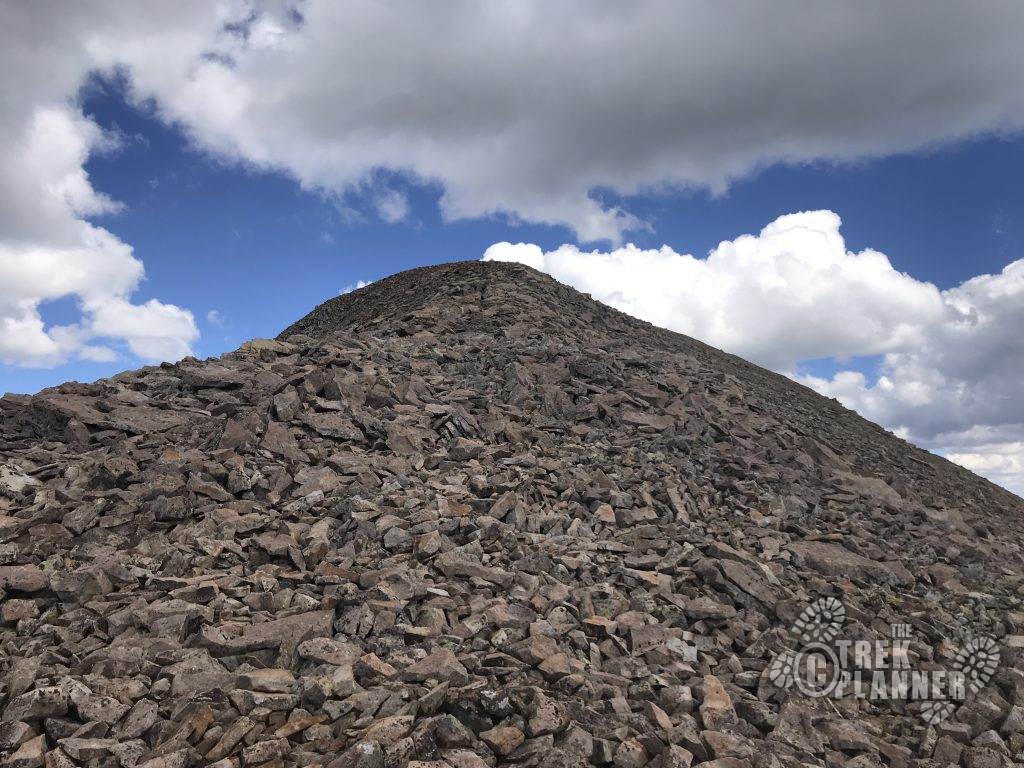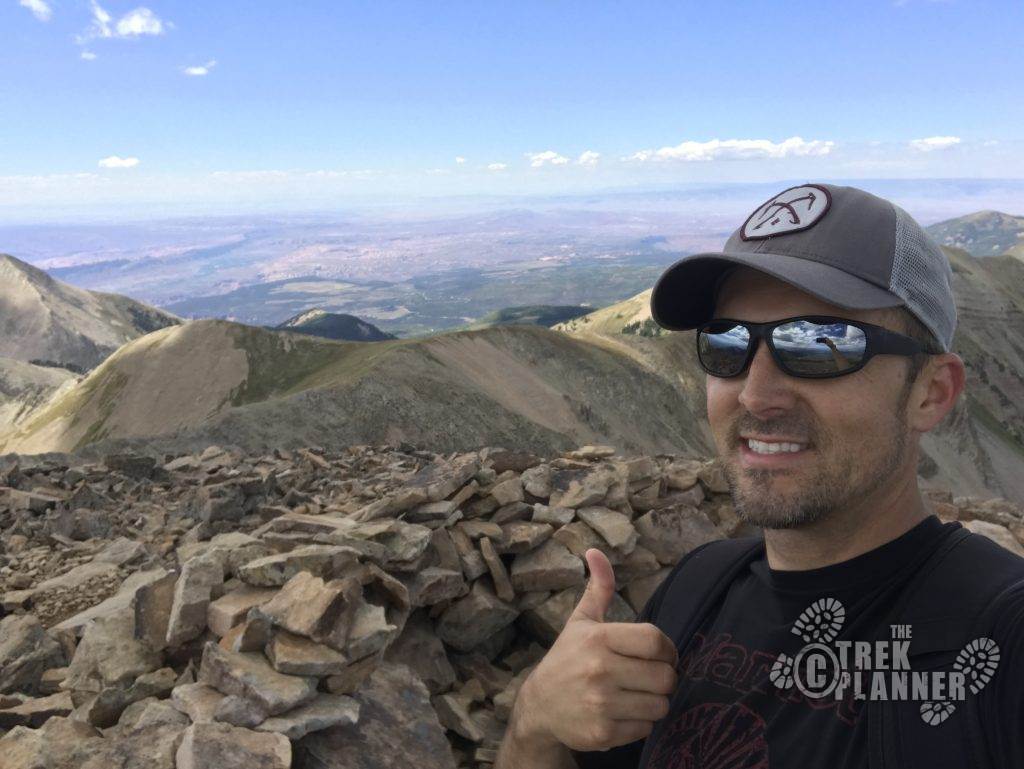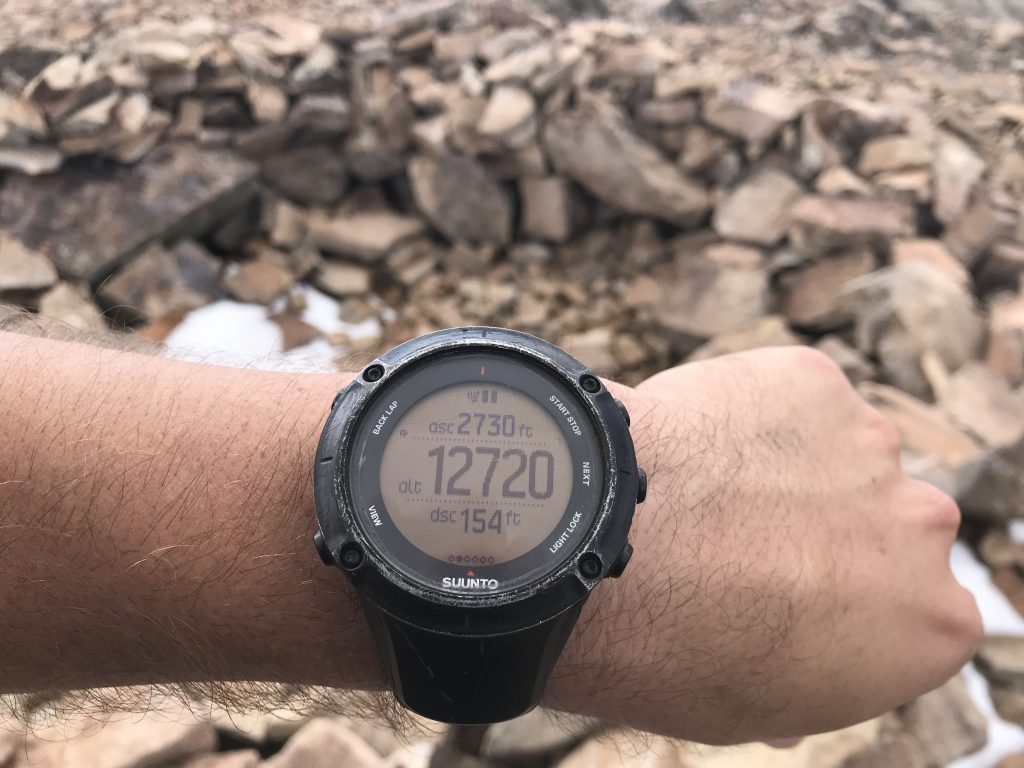 The Return:
Follow the same path that you came up, back down. Simple as that. However, going down those rocks will probably take more time as you are being careful to not cause a rock slide and injure those below you.
Below are some pictures of the hike down with the sun fully out.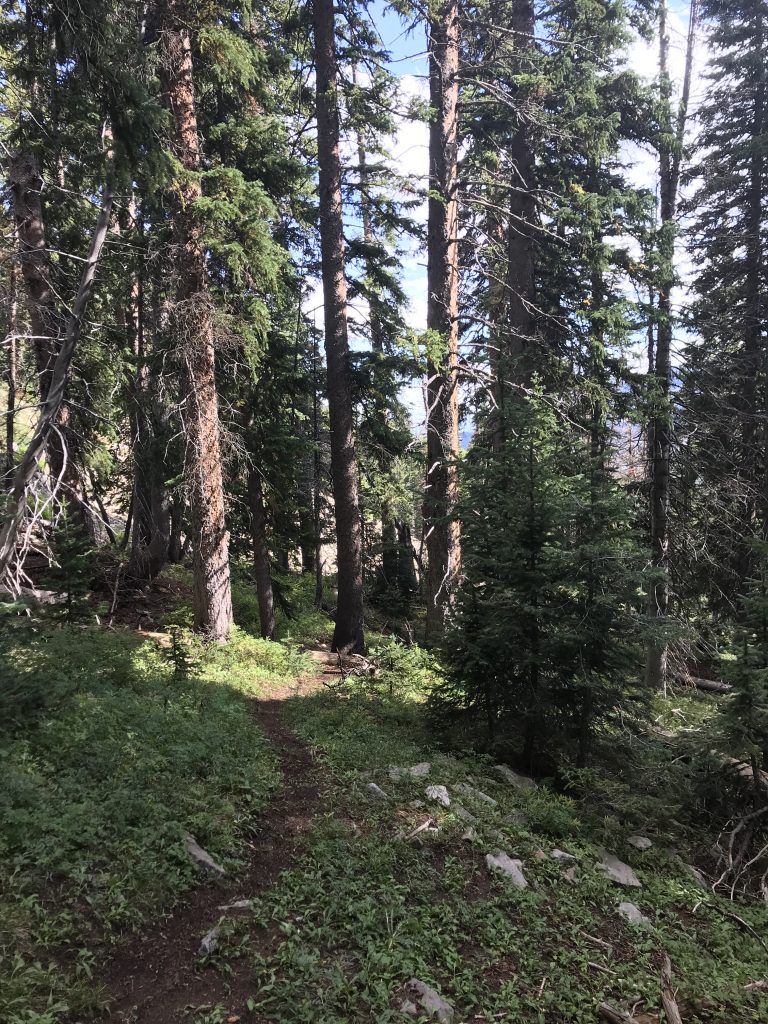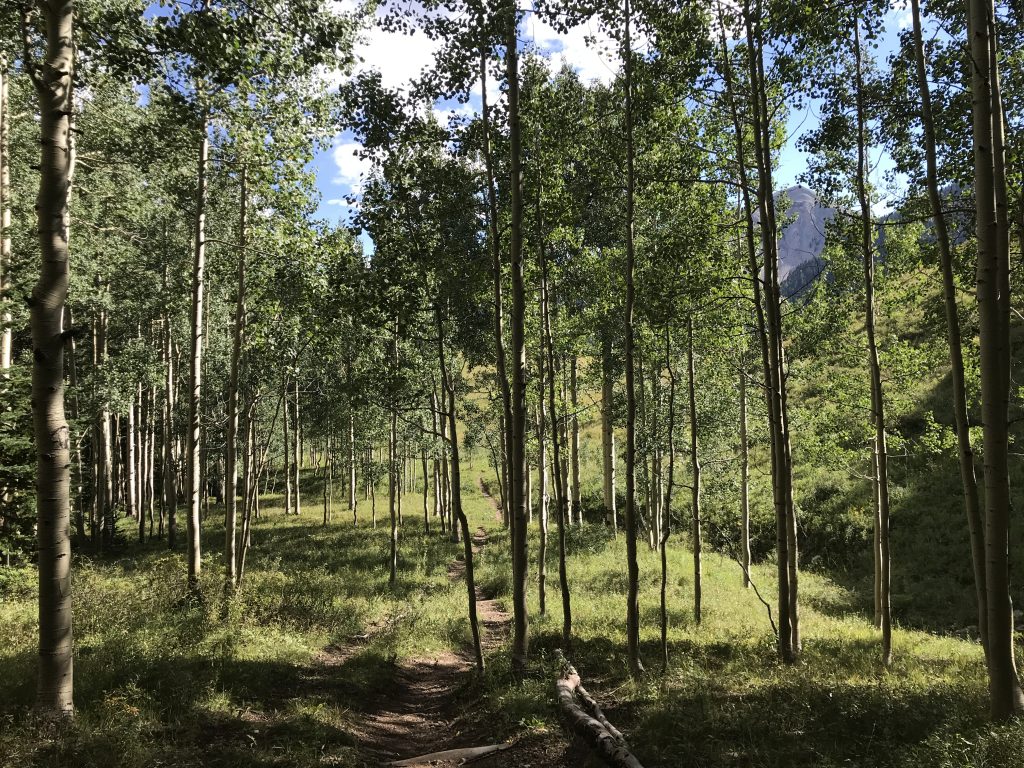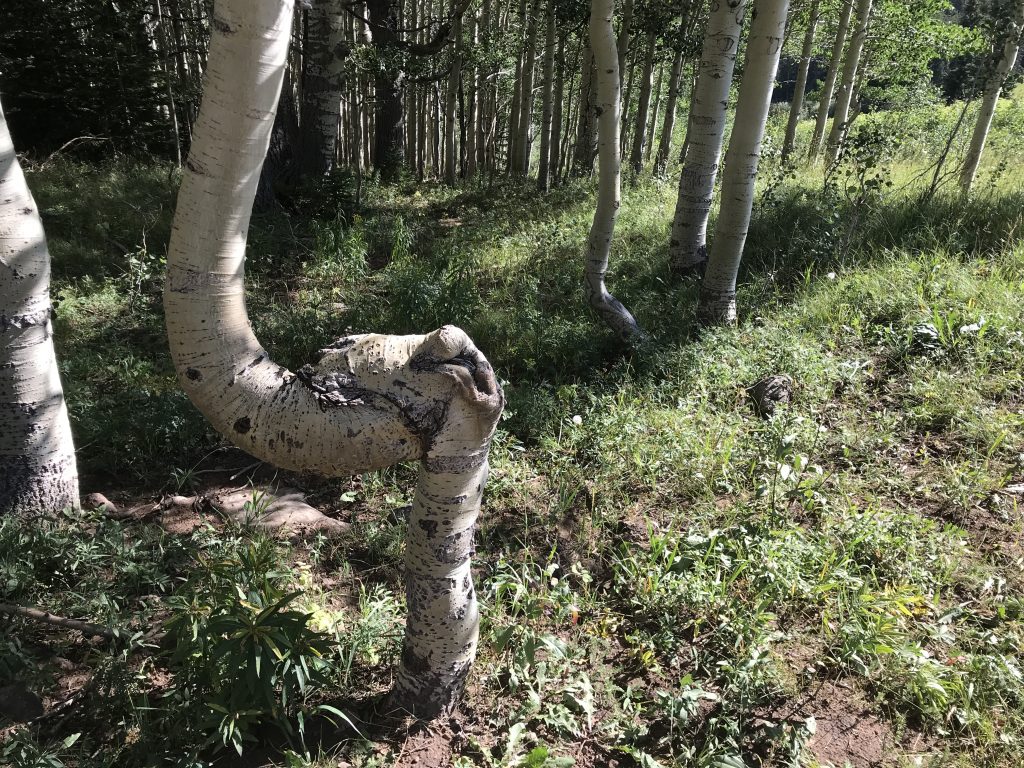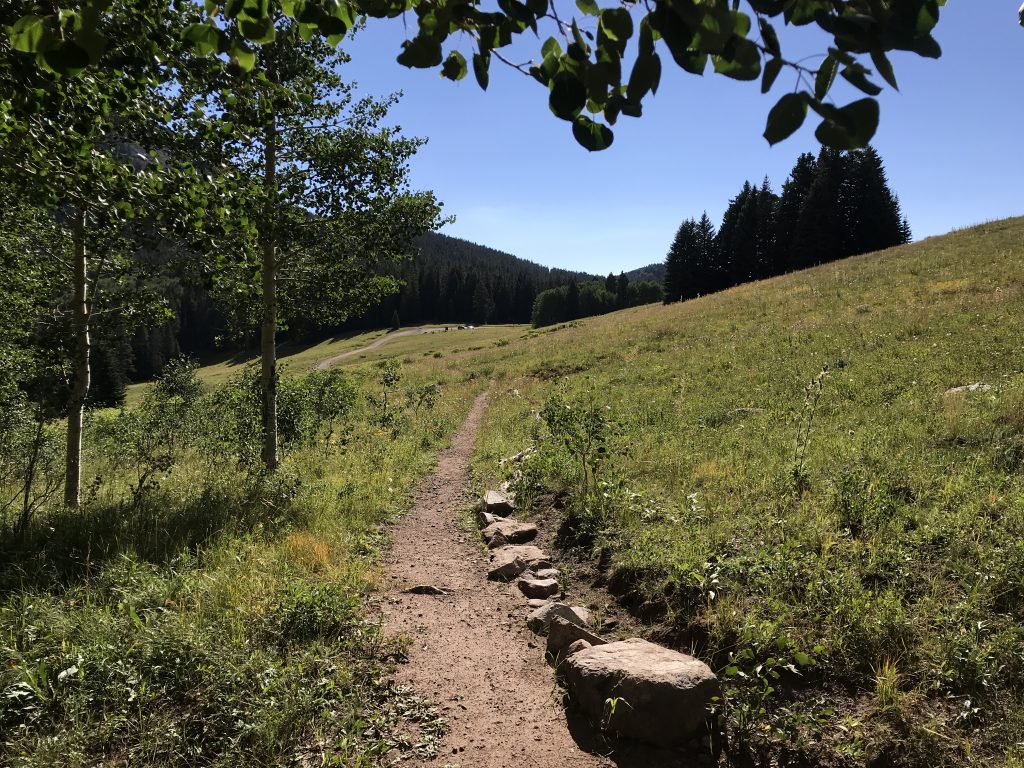 And if you have about 20 minutes extra, I would also add in the "Medicine Lakes" which is about a 3 min drive from the Mt. Peale trailhead, and offers a great view of South Mountain which is directly west of Mt. Peale.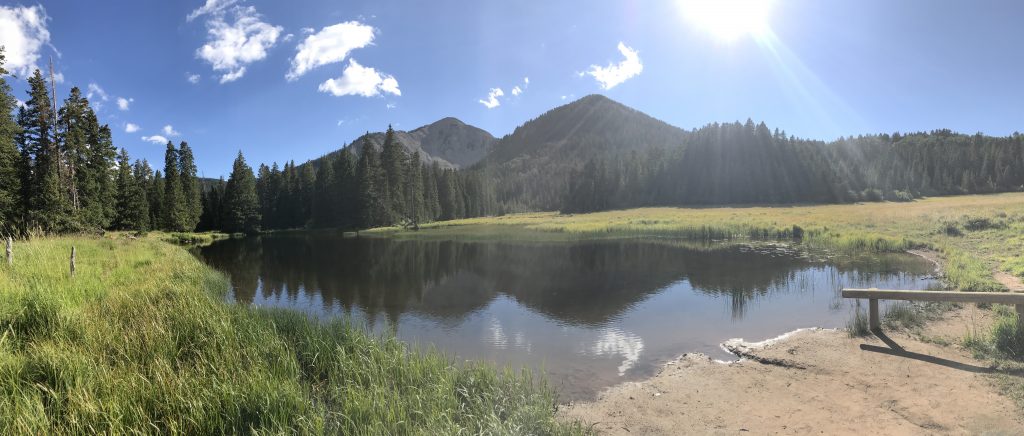 Personal Thoughts:
I loved this hike! As a peak-bagger, it was nice to finally get this one off the list. The La Sals really are something else. The alpine setting (with streams and small lakes) all while being surrounded by the hot Moab desert, makes it that much more enjoyable. I will do this again in the near future and explore more of the mountains here. In particular, I'm looking for any slot canyons in these mountains. There is one on the other side which is a canyoneering route and starts at about 9000 feet elevation, and I have heard of 2 more up here but people will not reveal their locations, which is fine. Exploring is all part of the game and adventure!
Let me know what you think about the hike or area in the comments below!