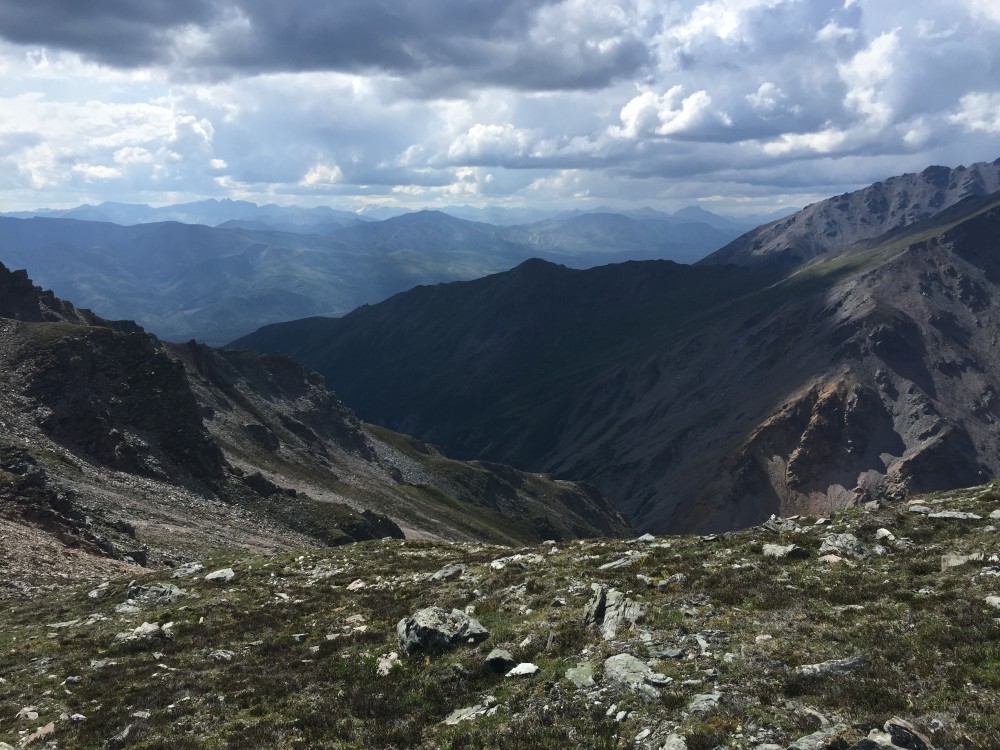 Overview
Mt. Healy (Castle Rock), Alaskan Range mountains, wildlife, tundra, tundra berries, Denali
6-12 miles in length depending on the route you take.
5-10+ hours depending on the route you take
Bring 3-5 liters of water
Trails are good until you hike above the timberline where they become sporadic
Wear good hiking shoes with good tread, hiking poles are recommended, backpack for food and water, light rain jacket, sunglasses, hat, sweater for colder days.
GPS Coordinates:
Trailhead (From the Denali National Park Visitor Center): 63°43'50.01″N, 148°55'8.33″W
Mt. Healy Overlook end: 63°44'33.28″N, 148°57'13.40″W
Grassy Meadow: 63°45'23.28″N, 148°58'21.93″W
Cave: 63°45'50.46″N, 148°59'0.66″W
Top of Ridge Line: 63°46'6.62″N, 148°59'13.51″W
Monolith: 63°46'6.93″N, 148°59'43.96″W
Chocolate Ridge: 63°46'8.83″N, 148°59'53.59″W
Two Spikes: 63°46'22.79″N, 149° 0'32.16″W
Mt. Healy: 63°46'50.58″N, 149° 0'46.79″W
Trail Map
Driving Directions
The Trail:
There are three different good trails that will lead you to Mt. Healy:
From Mt. Healy Overlook: 12.88 miles round trip
From Antler Creek: 8.4 miles round trip
From Bison Gulch: 6.84 miles round trip
The most direct route to Mt Healy is via Bison Gulch.  But if you want a more immersive experience then I suggest you hike it from the Mt. Healy Overlook trail but it will take way more time to do it this way.  The trail from Antler Creek is interesting too.  It all depends on how much time and energy you want to spend.
I've hiked to the top of Mt. Healy, from all three of these trails.  If you have 9-12 hours to spend and want to do some crazy exploring then I suggest you hike this from the Mt. Healy Overlook Trail.  If you want to hike to the top quickly then you should do it from Bison Gulch.
Hiking to Mt. Healy from Mt. Healy Overlook
Total length is 12.9 miles round trip
9-12 hours round trip
This is by far the longest route to Mt. Healy and the most strenuous.  I brought 3 liters of water and a whole bunch of food and ended up eating and drinking everything way before I began my hike down.  So I would recommend bringing 4+ liters of water, snacks and a few sandwiches.  The trail to Mt. Healy from the Denali National Park Visitor Center is 6.44 miles and it took me just under 5 hours to accomplish.  The reason why this hike is so strenuous is because of the steep mountains you will be climbing that do not have trails.  You basically just create your own trail for much of the hike.
I found that there are many trails cut by Dall sheep or mountain goats and some are very helpful but some will give you false hope.  You will need to be creative again in your planning of this hike so you won't end up wasting all your energy hiking up the wrong mountain or the wrong trail.
The trail to Mt. Healy begins at the Mt. Healy Overlook finish sign (see picture below) – to get to this point follow this link to the Mt. Healy Overlook Trail.  There will be another trail that immediately begins that follows the ridge line.  This is the one you will need to take.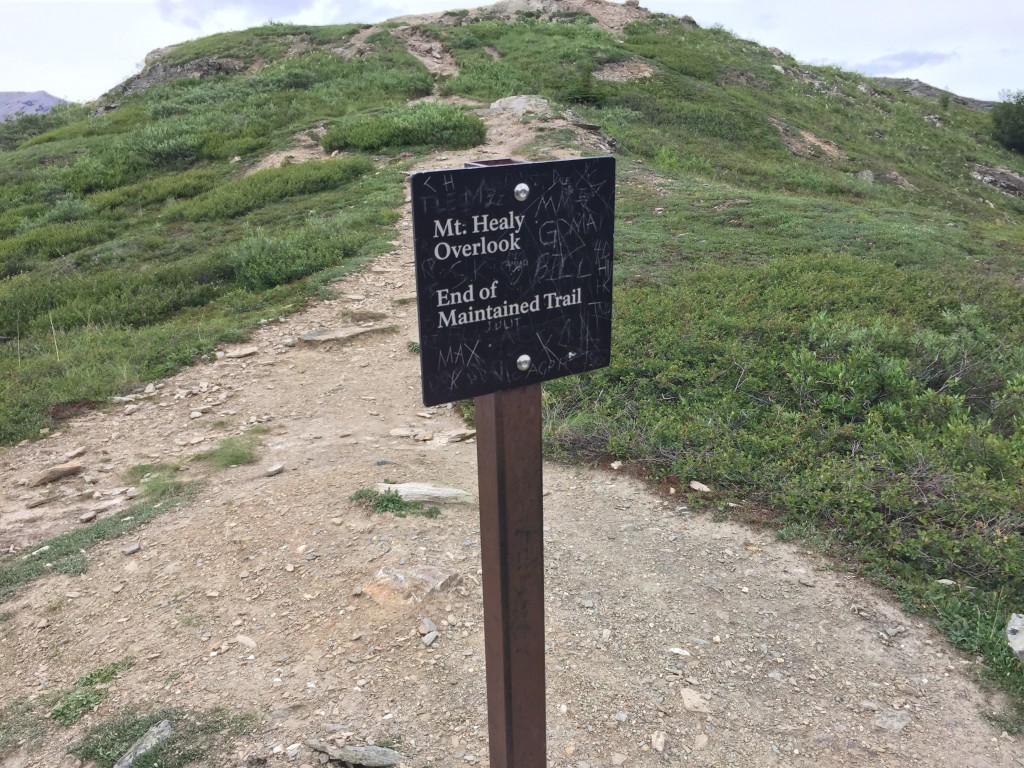 You will most likely encounter other hikers as you go along the ridgeline.  Also, if you are hiking in late July or August, be sure to check out the sides of the trails here because you will see tons of blueberries, huckleberries, crowberries and even some raspberries.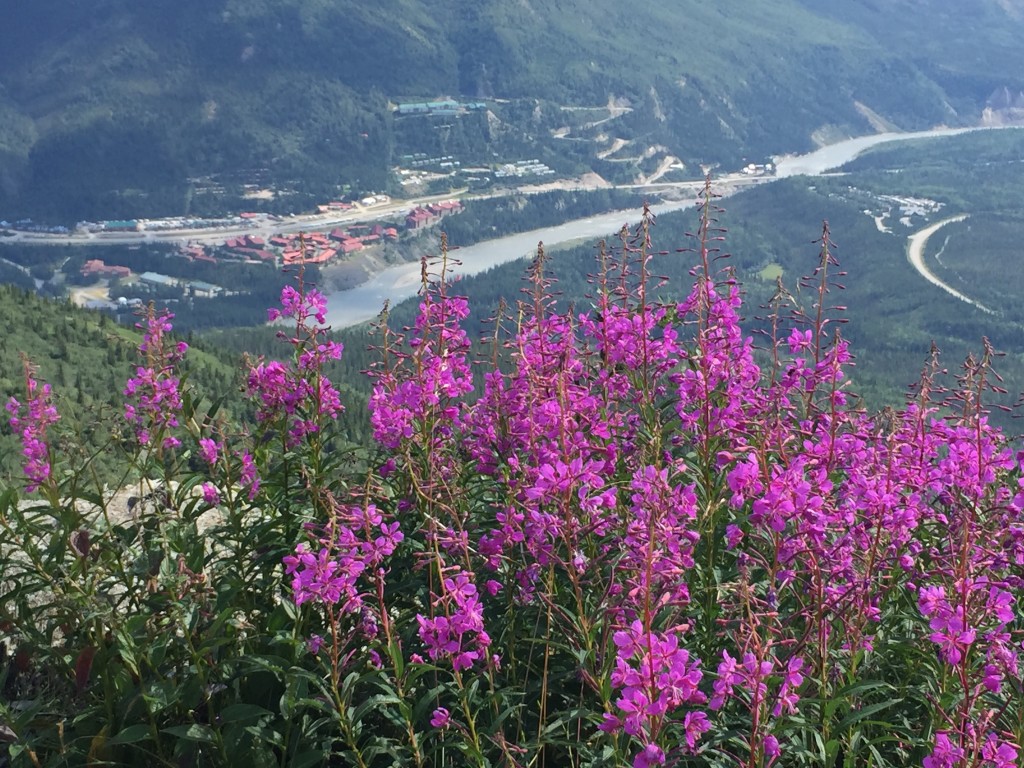 Here you will get amazing views of the Denali area lodges and restaurants and also of the national park.  The trail isn't too steep here but you will soon leave it and hike on the open tundra.
After about another 1.25 miles of hiking you will come to a large rocky area with tall cliffs.  The trail goes up to the top of this or to the left. I stuck with the left trail, going around the rocky cliffs then made my way to a large open grassy meadow.  You could hike to the top but it is too steep to climb down to where you need to go.  I always bypass going up to the top and just hike around on the left side.
When I got to this meadow area I had lunch and even took a nap.  By now I was far enough away from the Overlook Trail that I didn't see a single hiker for the next 5 hours – yeah, it was weird.
Here, I found a few little pot holes full of water from the recent rain.  It would have been a great place to use a water filter.
From now on out, you will need to scan ahead about a mile or more so you can plan your hike.  If you don't, you may spend more energy, water and food than you need to.  When I came to this spot, I picked which ridge I wanted to hike to and steadily hiked up to the top.  This meadow area is much bigger than I thought and it took me about another 30 minutes to climb to the top of it.
Once you are at the top of this ridge you will need to hike north.  This is about the 4 mile mark.
The picture below is of the adjoining mountains and valley.  I love how all the green quickly disappeared into talus and shale pieces and became a barren landscape – I still think it is beautiful and interesting!
Honestly, by this point, I was getting tired and sore.  I began to take a slower pace and took more breaks.  I had no idea that I still had more than 2.5 miles of hiking left until the summit.
At about the 4.5 mile marker (according to my GPS) I found a small alcove which was east facing.  This would be a good place to hide out in a bad rain storm.
Eventually, you will leave the grassy tundra behind to begin your long trek on broken shale.  I was surprised to find a beaten path which I assume was made by Dall sheep, goats and probably also hikers.
Just under the 5 mile mark you will come to the very top of the ridge line where you will see Mt. Healy in the distance.  From here you will have about 1.5 miles more to hike to reach the summit
This area was really cool!  Mostly because I felt like I was on a different world.  It was eerily quiet, there was only sporadic moss and other very low vegetation and I hadn't seen any more hikers since I left the Mt. Healy Overlook trail a few hours earlier.  I had never seen such an unusual alien landscape before.  It was refreshing!
However, it is also interesting that when I came to this point I thought about turning back and giving up.  Maybe it was at that moment I realized how tired I was and I knew I still had a long way to go.  After not being able to see Mt. Healy until this moment it made me realize just how impossible it seemed to climb to the very top.  My legs were sore and cramping, my knees felt broken, my back was tired, my feet were blistered…
But what choice did I have?
I took a long break and continued to the top…
The trail now is even less visible but I could see Mt. Healy in the distance so I had a clear direction of where I was trying to go.  To get to Mt. Healy from here you will need to follow the ridge west, passed the Monolith, across the Chocolate Ridge (that was the name I gave it since it looked like chocolate and I was getting hungry for real food and not trail bars), and then you will come to two metal spikes drilled into the rock.
The hiking wasn't too strenuous from here but I just took it slow because I knew I wouldn't be coming back to this place for a long time.
At around 5.2 miles you will see a very large rock structure which I dubbed the monolith.  The 50 foot tall rock pillar shoots straight up into the sky and makes for an excellent landmark.
You will then pass by the Chocolate Ridge staying on the north side.  Be careful as to not slide down into the gulch below (which is more than 1000+ feet deep).  It isn't too scary but one wrong slip could be a disaster.
You are now almost to the spot with the two spikes in the rock.  Just hike up again the steep area and you will arrive.
I'm not sure what these are for.  Maybe a border marker for the national park perhaps?  Either way, this is another great landmark for you.
This is the location where you will want to hike north to Mt. Healy.  It seems far off in the distance but it is only another .75 mile.  I didn't realize that I was really sun burnt and I was just about out of water too.  Don't give up!  You are almost there!
The closer you get to Healy you will need to do more scrambling on rocks and boulders.  When I got really close to the summit it was a nice change of pace to step on large solid rocks instead of broken shale.   This of course wouldn't last forever and I was back on talus again.
Once you arrive to the scene below do not climb to the top of this because on the other side is about a 100 foot sheer cliff.  Just hike below this staying on the west side below all the debris.
Once you come to the base of Mt Healy you will need to scramble to the top.  It is precarious and dangerous but if you take the time to look for good hand and foot holds you will be fine.  You will need to approach it from the southern side. There is tons of broken shale and large rocks to traverse and it is a little unnerving so make sure you do not doubt your ability before you scurry to the very top.  Go to the top at your own risk.
Finally!  You have arrived at the top of Mt. Healy!
You will notice that the east side has about 200+ foot cliff edge that I would avoid at all cost.
At the very top you will see a blue bottle hiding…check for my name and a Trek Planner reference on a piece of paper on the inside for July 24, 2015!
The views are absolutely amazing.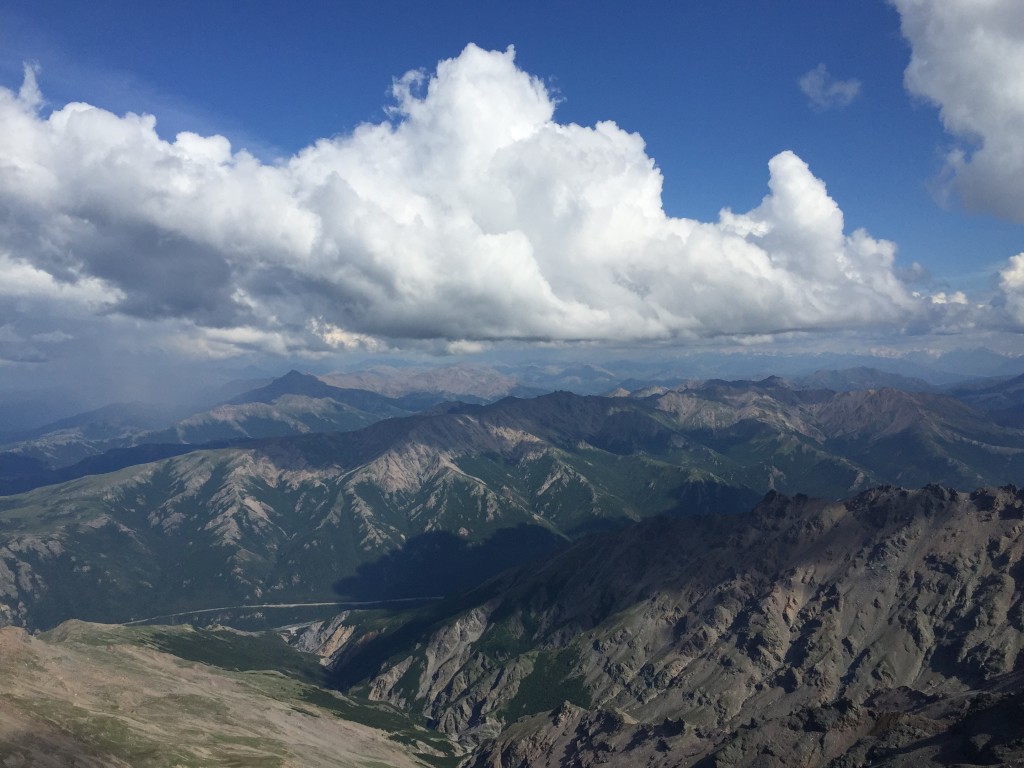 Once you are at the top, instead of hiking back down the same path, you could also hike down the shorter Bison Gulch or Antler Creek.  This of course would require you to use a shuttle system or get a ride with someone.  I took a gamble and hiked down Bison Gulch and called one of my friends to come pick me up.  I doubt I could have made it if I went down the same way I came up.
If you are crazy, and I hope you packed extra water and food, you could hike down the same way you came up.  It would be very fun to bring a tent and camp near the top and hike down the next morning…oh well! Next adventure!
Hiking to Mt. Healy (Mt. Healy) from Antler Creek
Total length is 8.4 miles round trip
6-8 hours round trip
Check out the full Trek Guide here for Antler Creek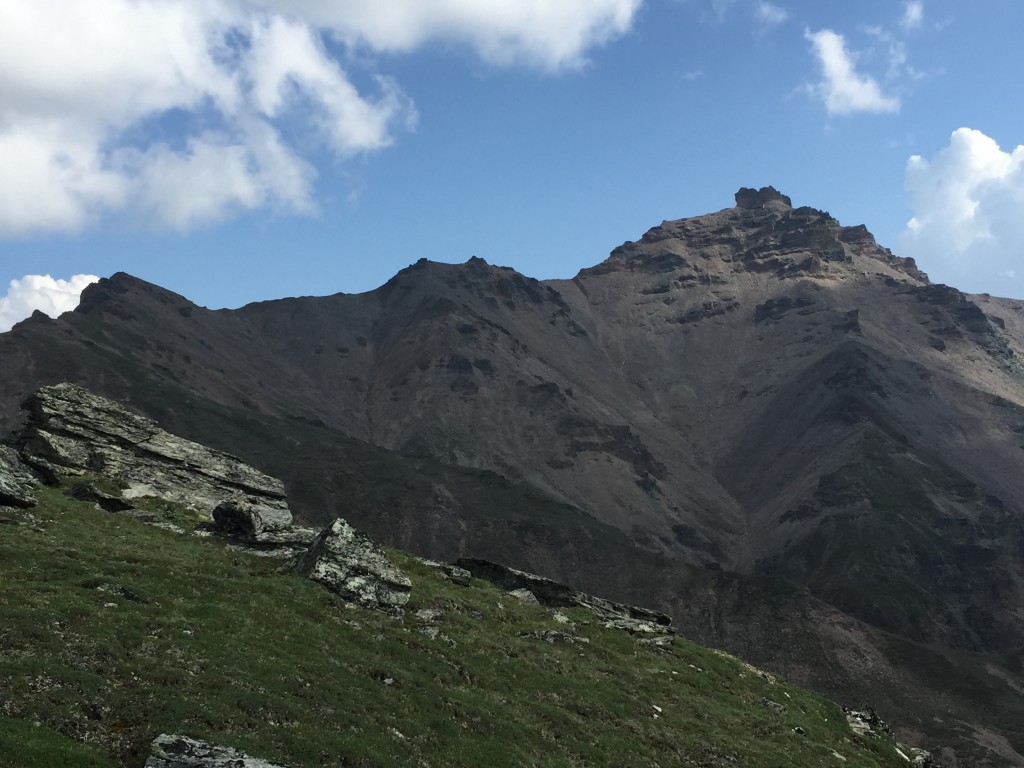 Hiking to Mt. Healy (Mt. Healy) from Bison Gulch
Total length is 6.84 miles round trip
5-7 hours round trip
Check out the full Trek Guide here for Bison Gulch
The Return:
From top of Mt. Healy, you could hike down Bison Gulch, the Mt. Healy Overlook Trail or even Antler Creek.  It depends on you.

Personal Thoughts:
Mt. Healy is one of my favorite hikes to do in Alaska.  I love hiking to the very top and being able to see for miles in any direction.  I also love how quiet and peaceful it is up there.  If you are looking for an amazing adventure then come to Mt. Healy!  I still prefer to hike Mt. Healy via the Bison Gulch way.