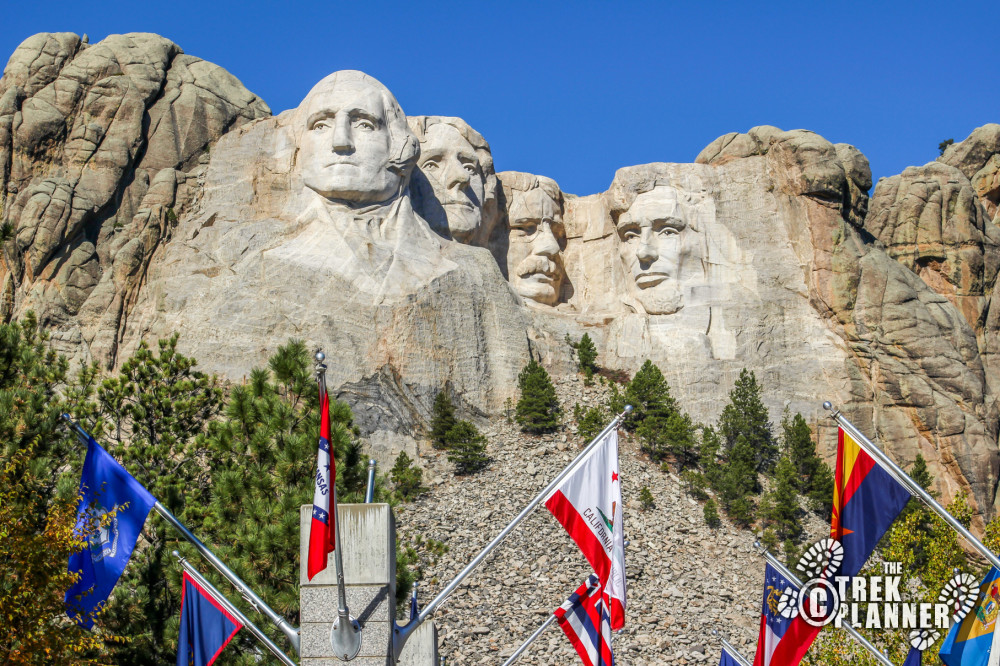 Overview
Black Hills, South Dakota
Mt Rushmore
Sculptures of the following past United States Presidents from left to right:
George Washington
Thomas Jefferson
Theodore Roosevelt
Abraham Lincoln
The Presidential Trail is just over a 1/2 mile loop trail.
Entrance into the memorial is free but there are parking fees (which last up to 1 year).
There are plenty of drinking fountains around
Open year round. There are sculpture lighting ceremonies during the summer months.
Granite and cement trails and paths.
There is the Carvers Cafe on site.
Trail Map
Driving Directions
The Memorial: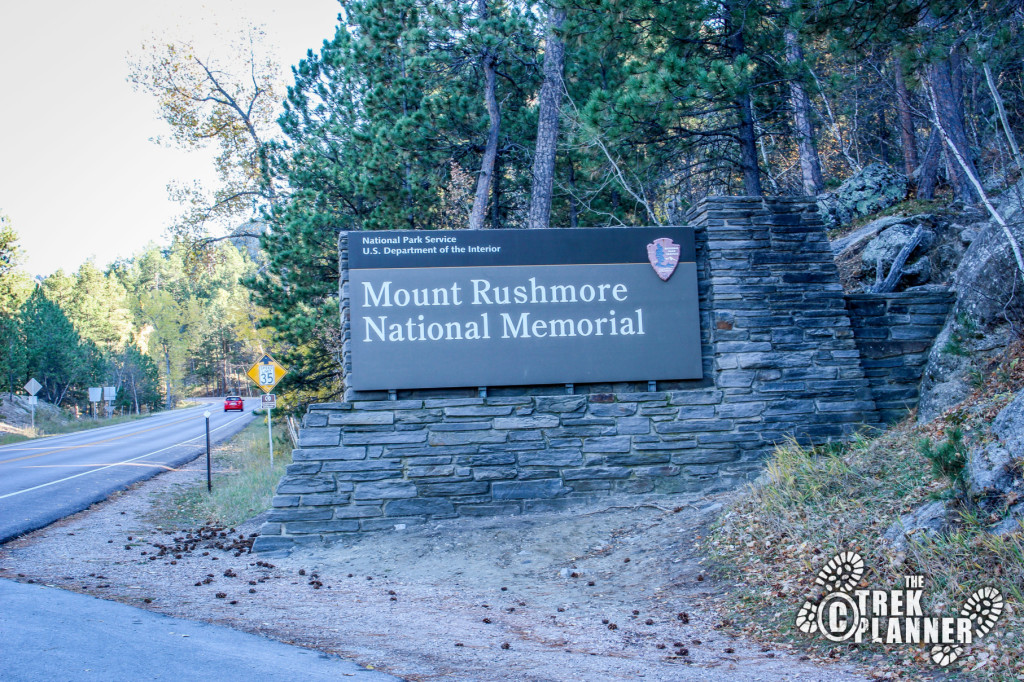 I won't go into much detail about the historical aspects of Mount Rushmore.  If you want to read more about how the mountain was carved and other interesting history please visit the Visitor Center or find a book.  I will only attempt to give a very very brief history of Mount Rushmore.
The idea for the sculpture was thought up by a Historian named Doane Robinson back 1923 as a way to bring tourists to South Dakota.  The actual mountain was designed and sculpted by Gutzon Borglum and his son Lincoln Borglum and around 400 workers helped between October 4, 1927 and October 31, 1941.  The whole project cost just under $1,000,000 and there were no fatalities.  During 2010 it received 2,330,000 visitors.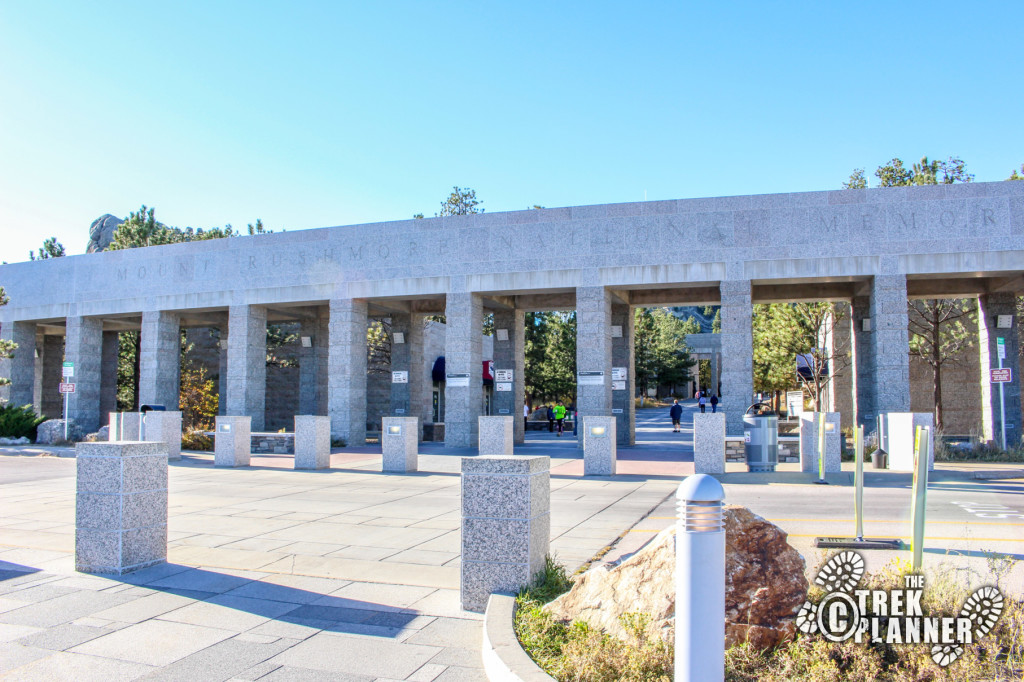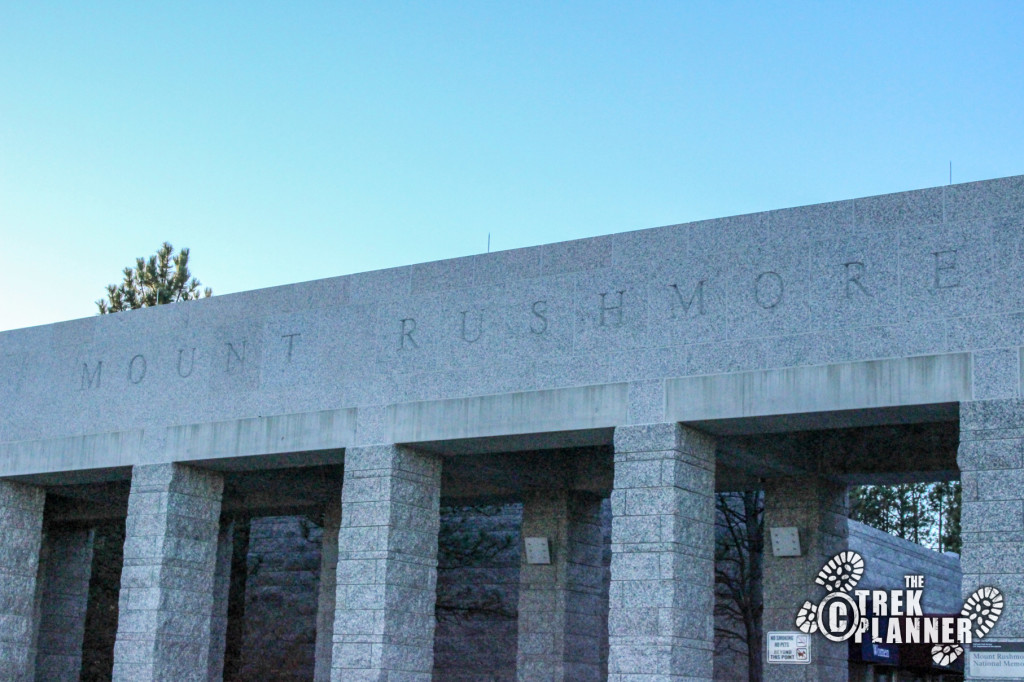 Once you arrive at the memorial you can quickly see that this place gets a ton of visitors.  There are two 3 story parking lots, gift shops, a visitor center, outdoor theater, many displays, a cafe and a few trails!  If you come during the summer months, they even have an outdoor lighting ceremony every night where they play some music and then flip the switch to light up the sculptures.  I unfortunately arrived 1 day too late so I didn't get to see the lighting ceremony this visit.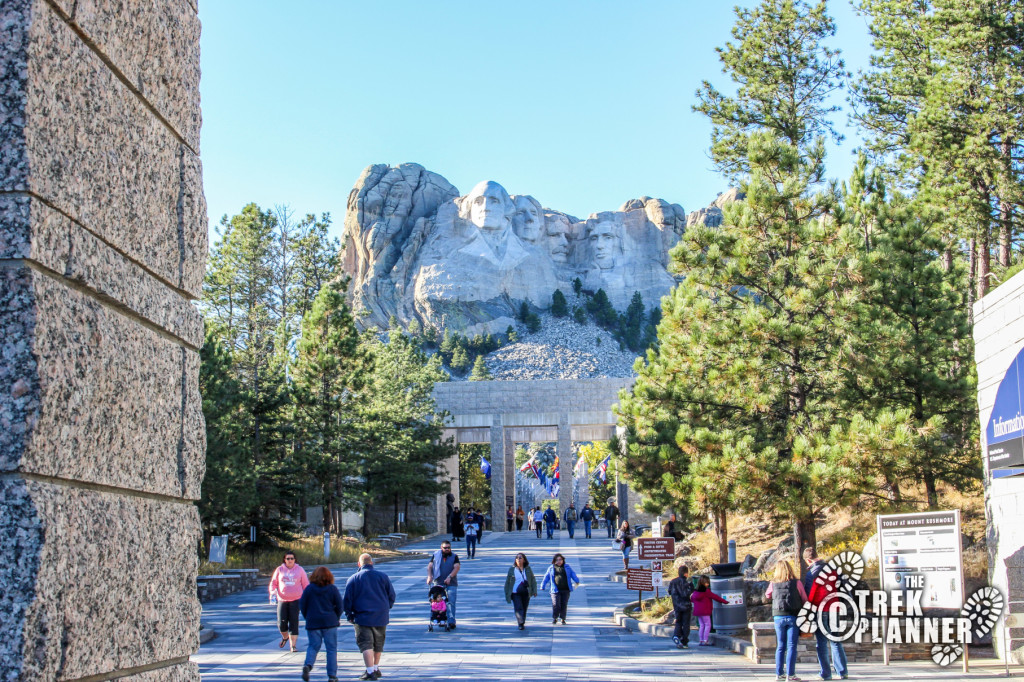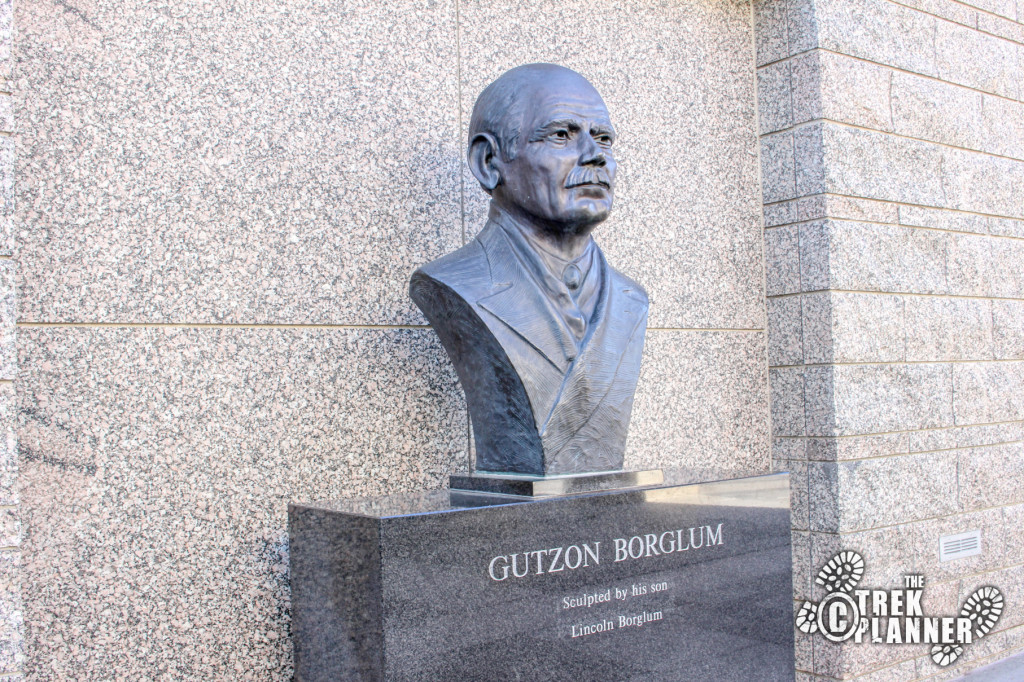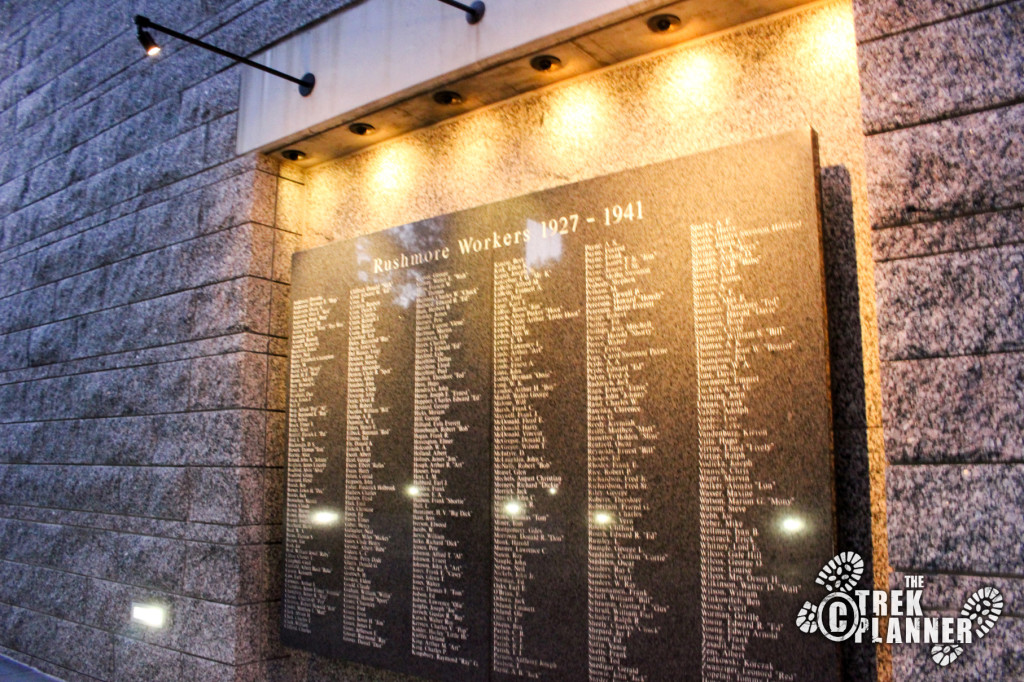 After you park your car, you will see a long straight granite path that leads to the presidential faces.  You aren't allowed to go up and close to them but the path leads on top of the visitor center where you can get an impressive overlook of the area.  As you get closer to the mountain you will pass several exhibits on Gutzon Borglum and his son Lincoln.  You will also see a list of every person who worked on the sculptures.  You will also pass the gift shop on your left and the Carvers Cafe and ice cream shop on your right.
Now you will pass under all 50 state flags with inscriptions on when they became states.  I have spent lots of time in Utah and Alaska so I of course found those flags first.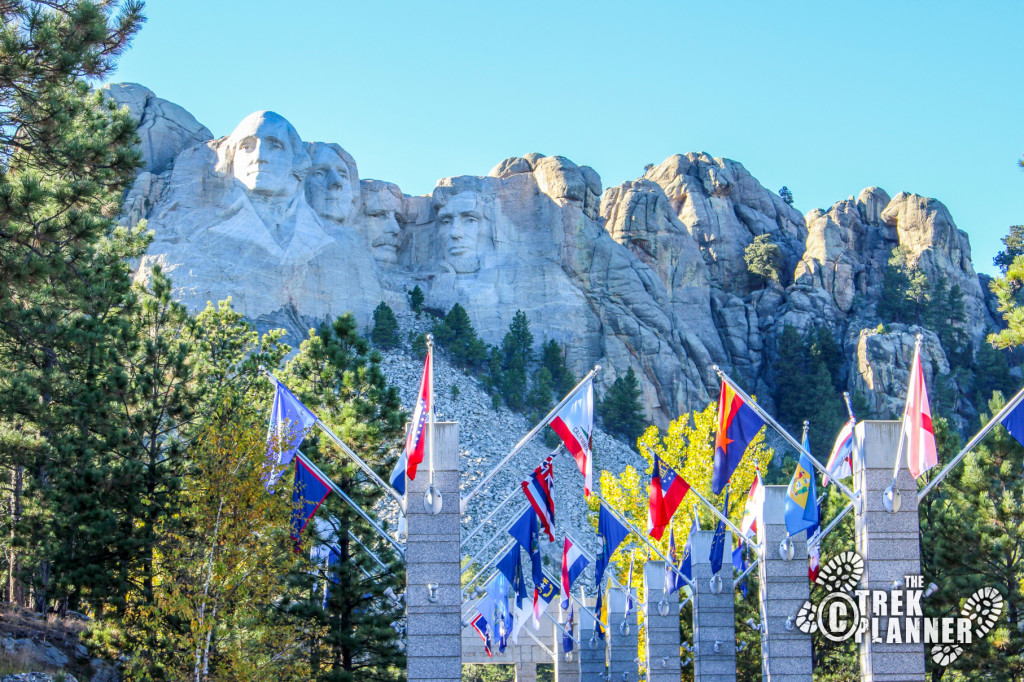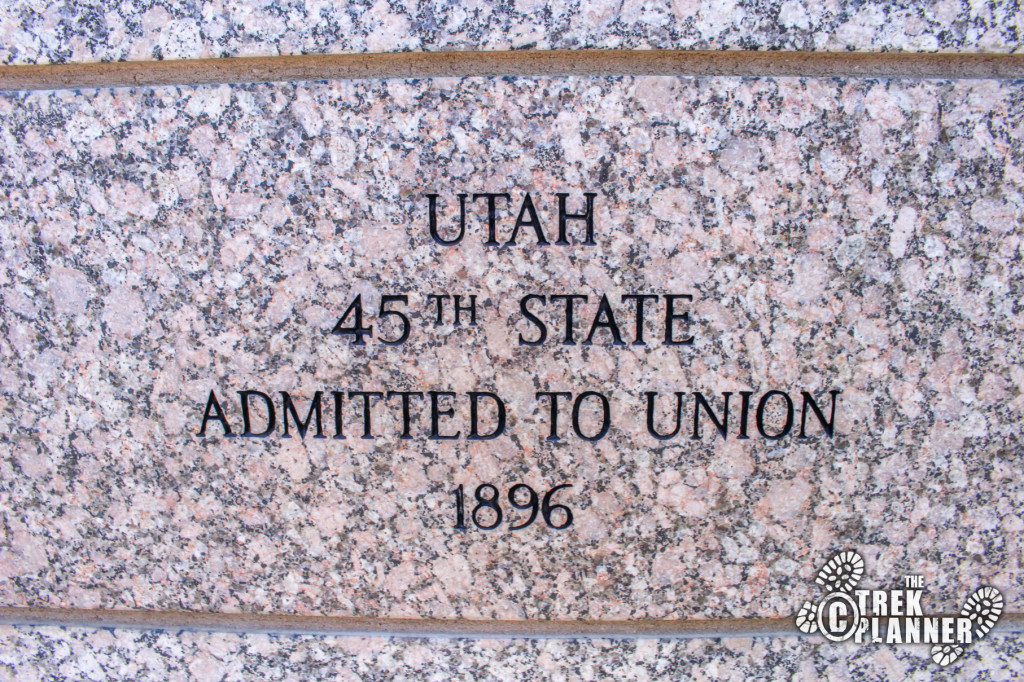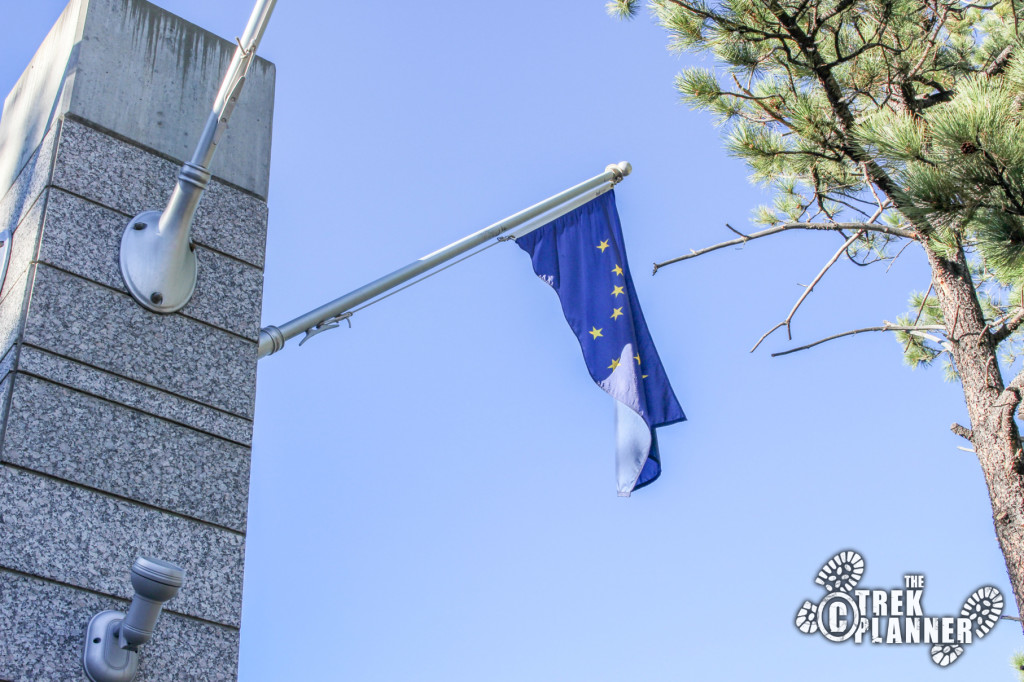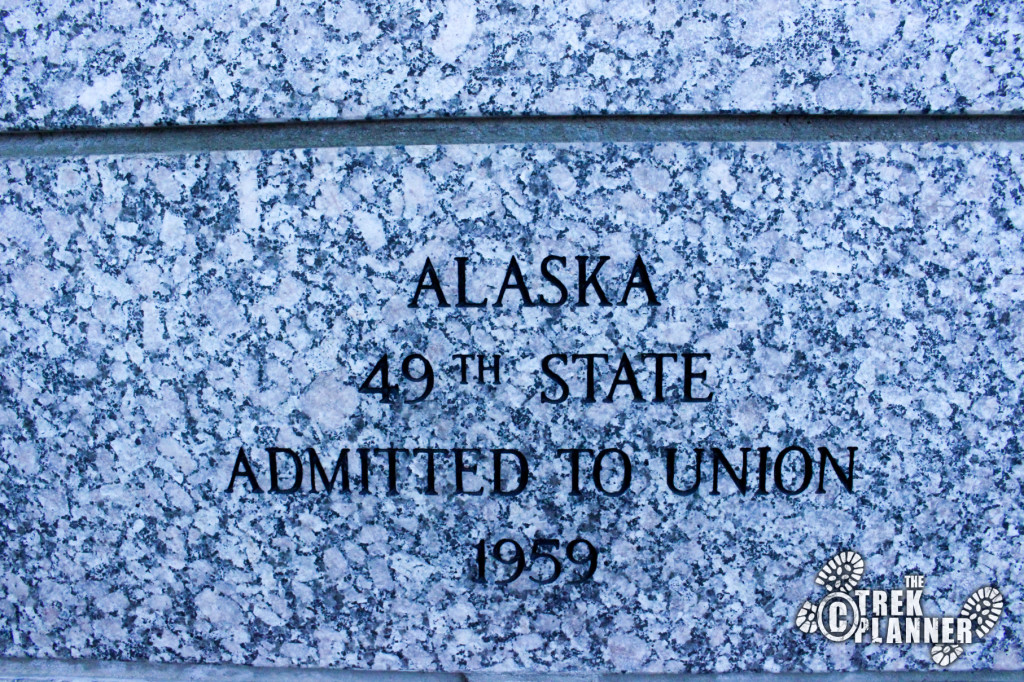 After you walk under the flags you will come to a wide open area called the Grand View Terrace (which is basically the roof of the Visitor Center) where you can see the whole mountain.  There are benches and seats all over here for you to use too.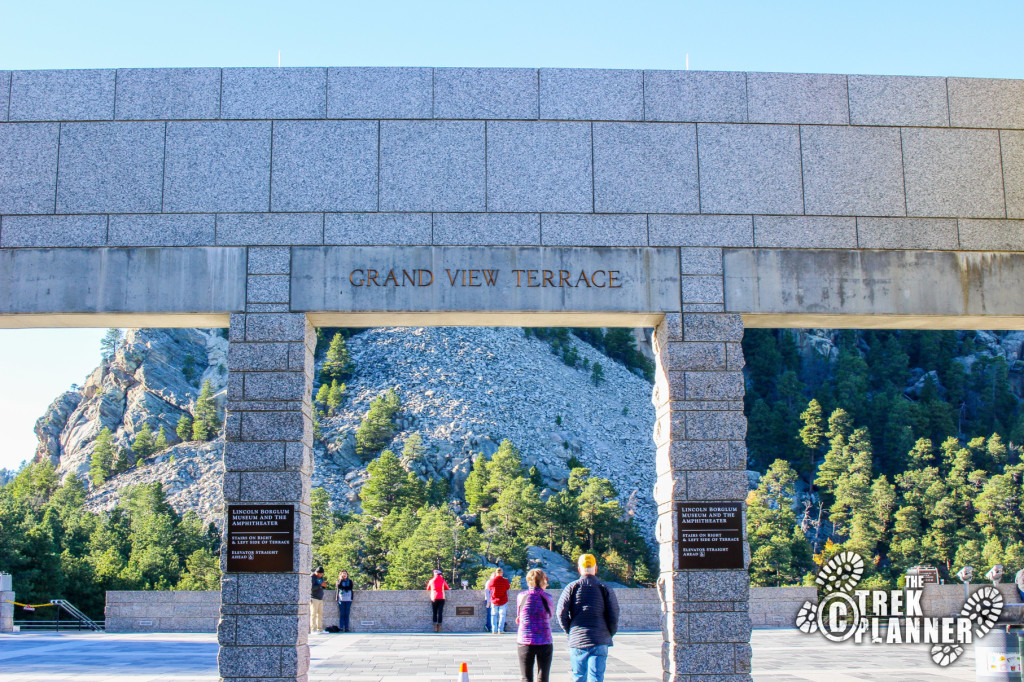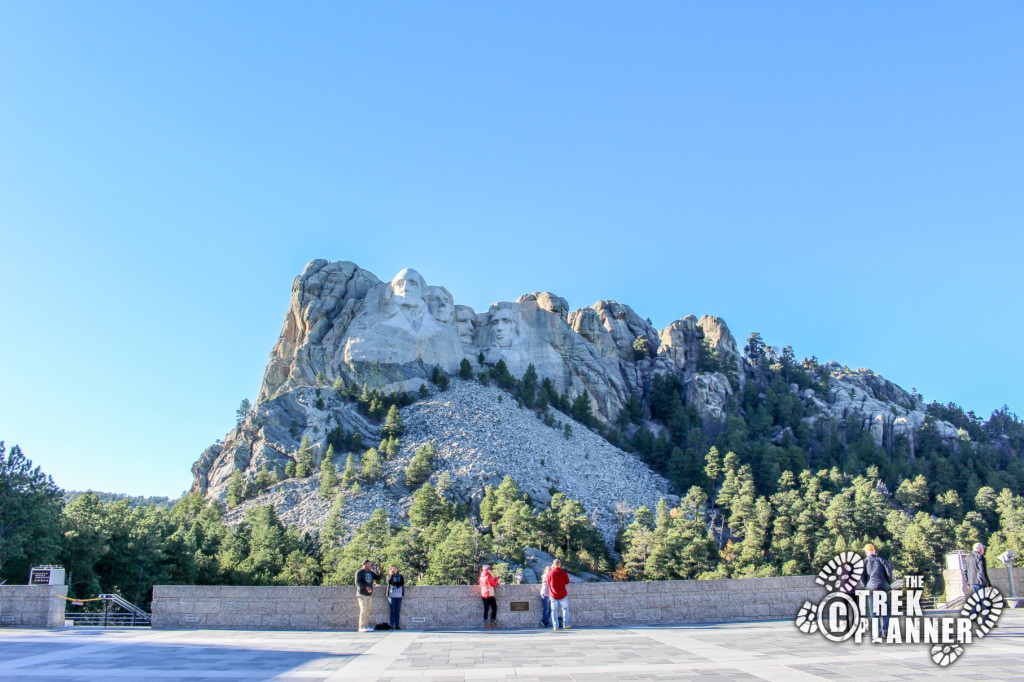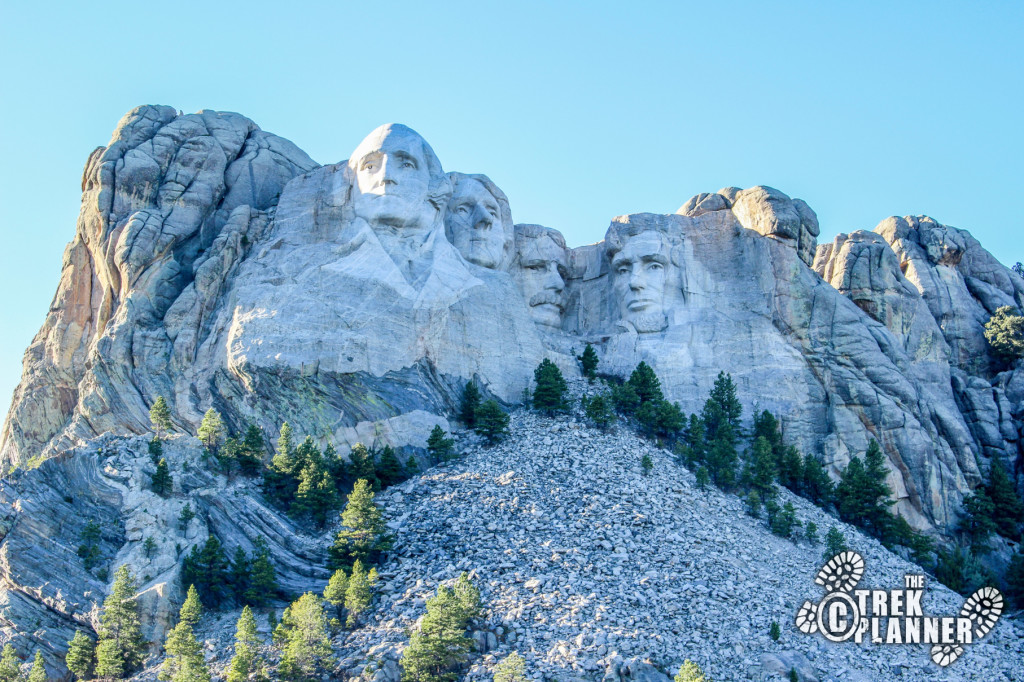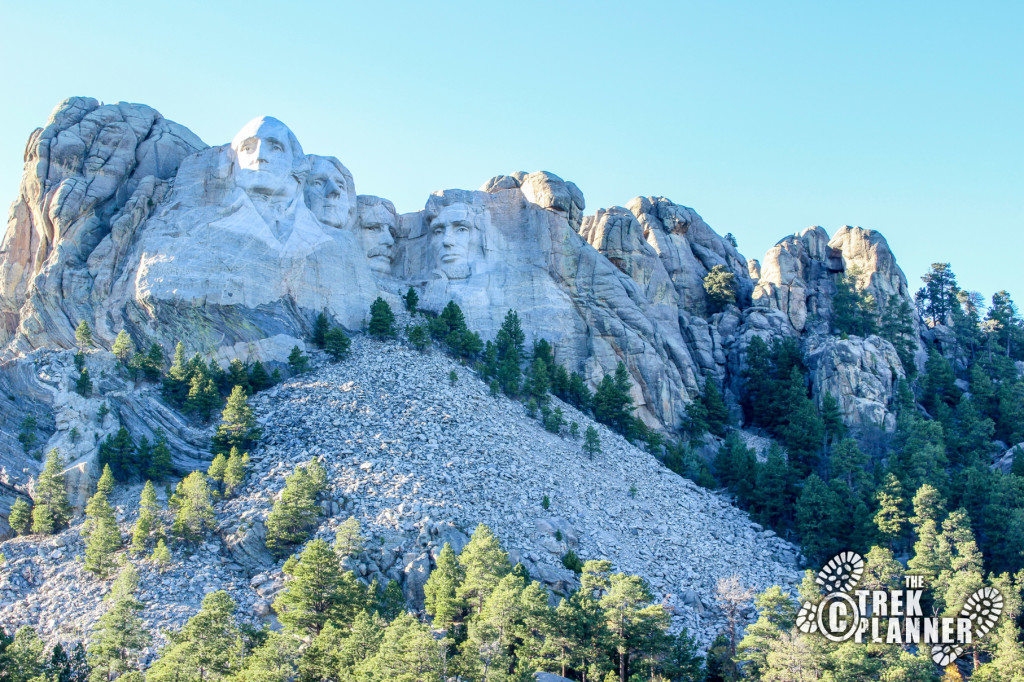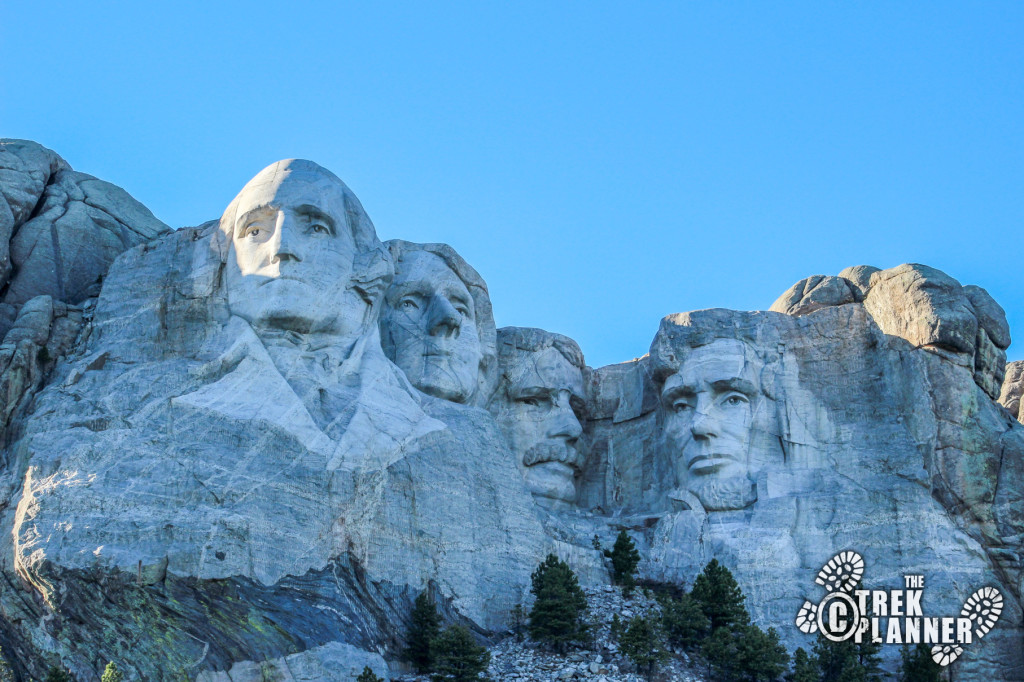 If you look over the edge you will see the outdoor theater where sometimes they have live concerts and other events.  Nothing was going on while I was visiting though.
I can't really explain how amazing it was to see Mount Rushmore in person.  To imagine all these workers carving and sculpting in this exact same spot for 14 years is unbelievable.  You can see most of the excess rock below the faces.
There are stairs to the left or right that lead down to the theater and also the Visitor Center.  The Visitor Center has many displays and relics from the carving days.  Pretty much any question you have about Mount Rushmore can be answered here…except for one!  I looked for the life of me and couldn't find any information on why Mount Rushmore is called Rushmore.  Maybe I didn't look hard enough or something but I asked a park ranger and he said that the original mountain was called "The Six Grandfathers" by the Lakota Sioux.  It was then renamed after a New York lawyer, Charles E. Rushmore when he visited the area in 1885.
The Black Hills are sacred to the Lakota Sioux and others and after a few wars and the Treaty of Fort Laramie the United States Government took control of this area.  For more reading on this controversial topic please read this article from PBS.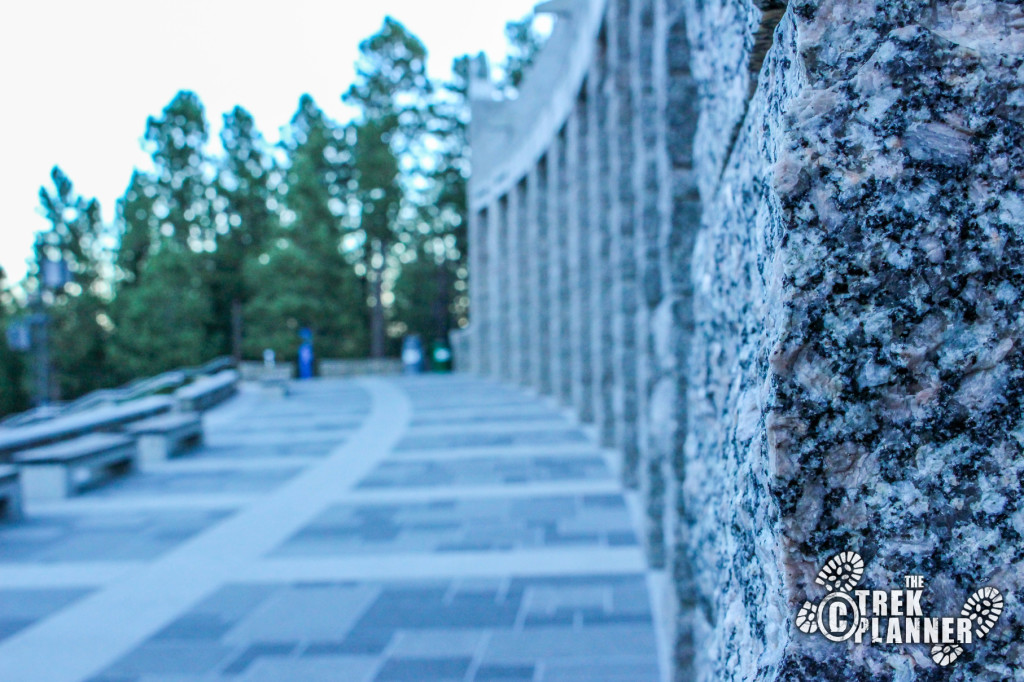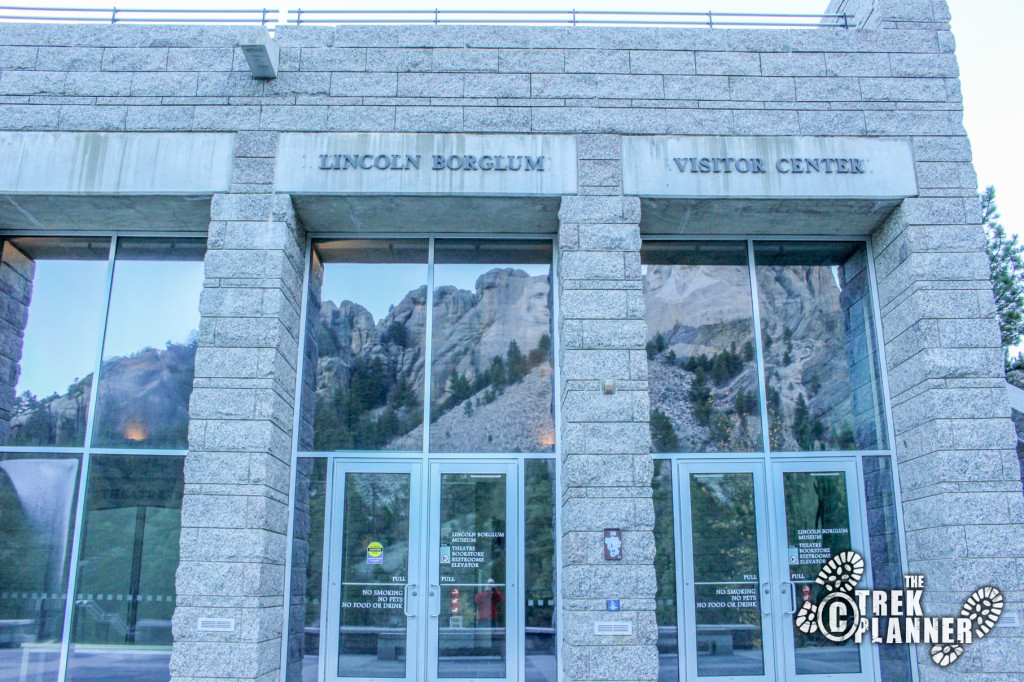 The Presidential Trail
There is a short 1/2 mile loop trail that gets closer to the faces and then loops around back to the Grand View Terrace.  It is good to know that there are hundreds of stairs on this trail, so if you can't do steps and stairs that well, I would consider going only part ways on this.  This trail is accessible to wheelchairs up to the Mt. Rushmore Terrace which you can see in the below map.
I hiked this from left to right but you can do it however you choose.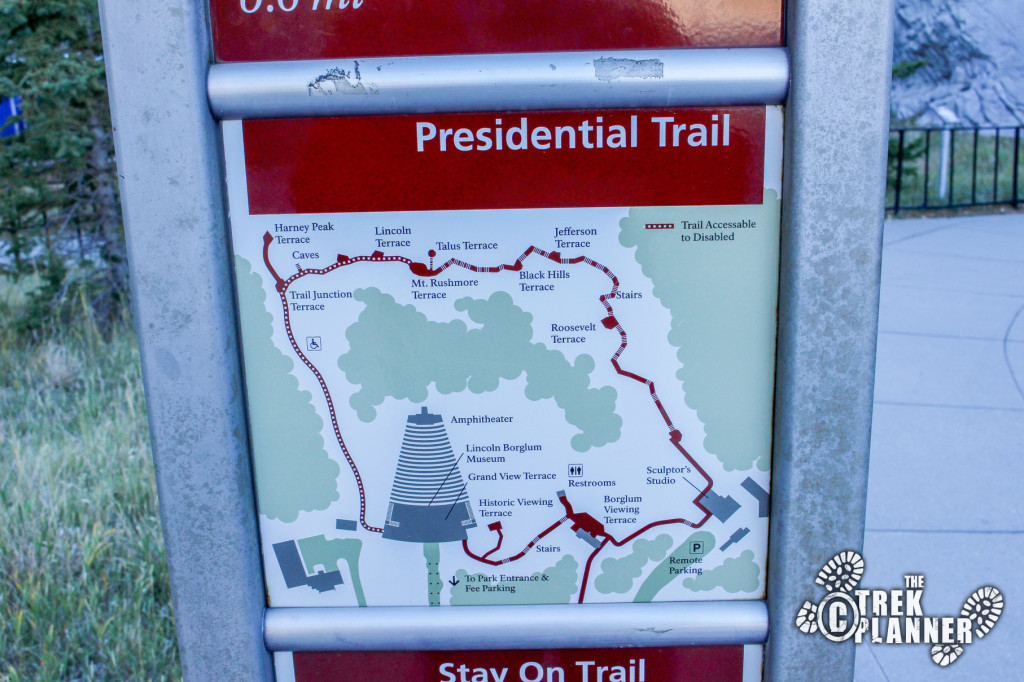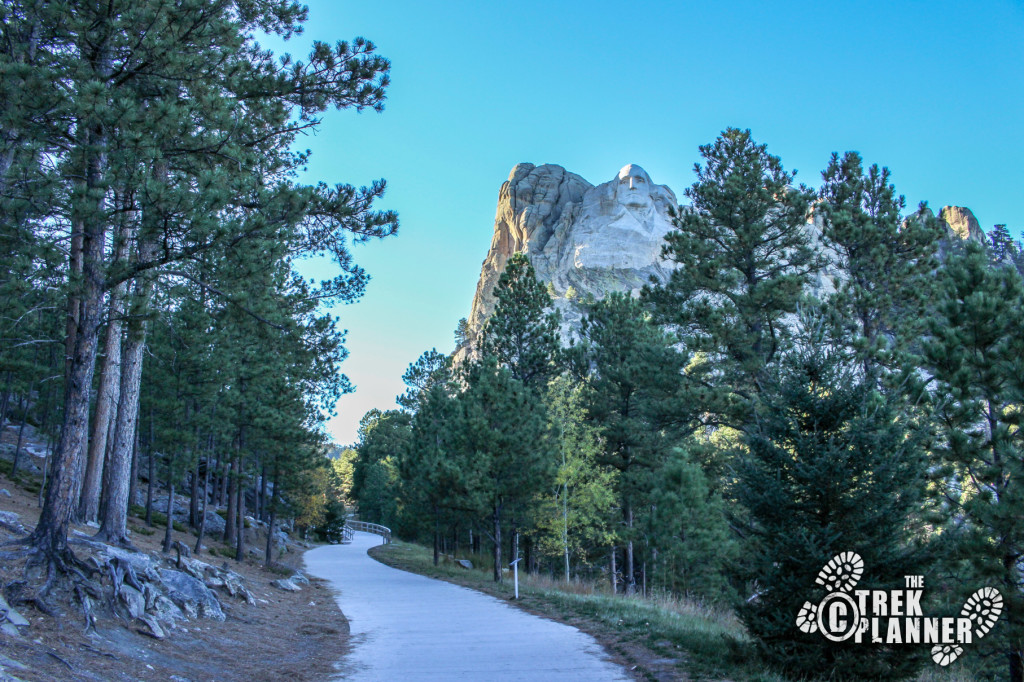 This trail was a great way to see the sculptures closer.  You can practically see up the noses of the presidents!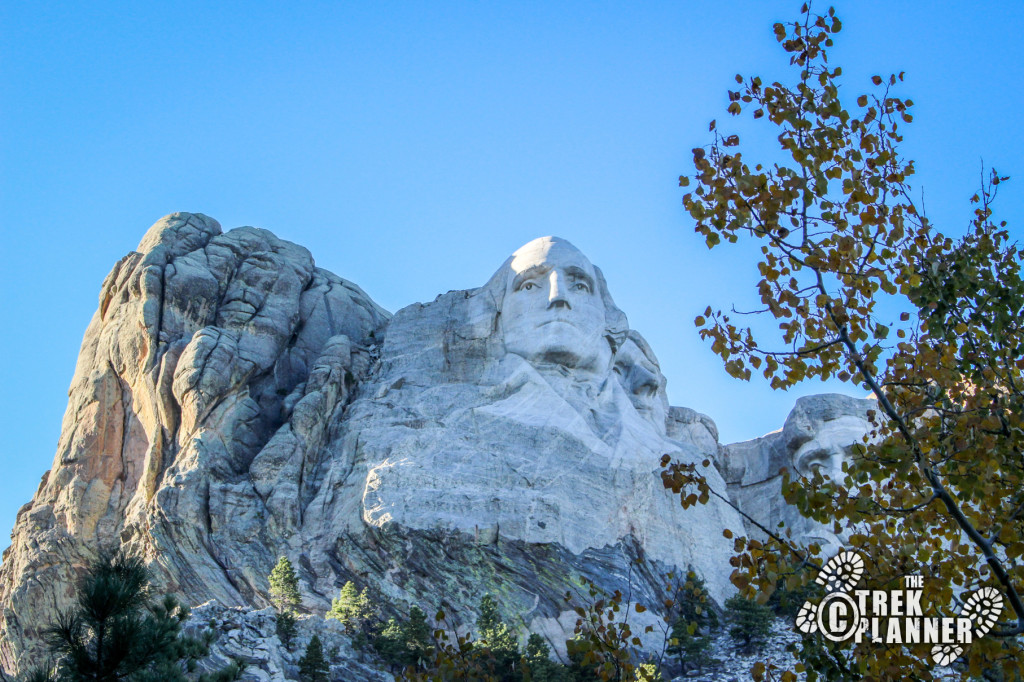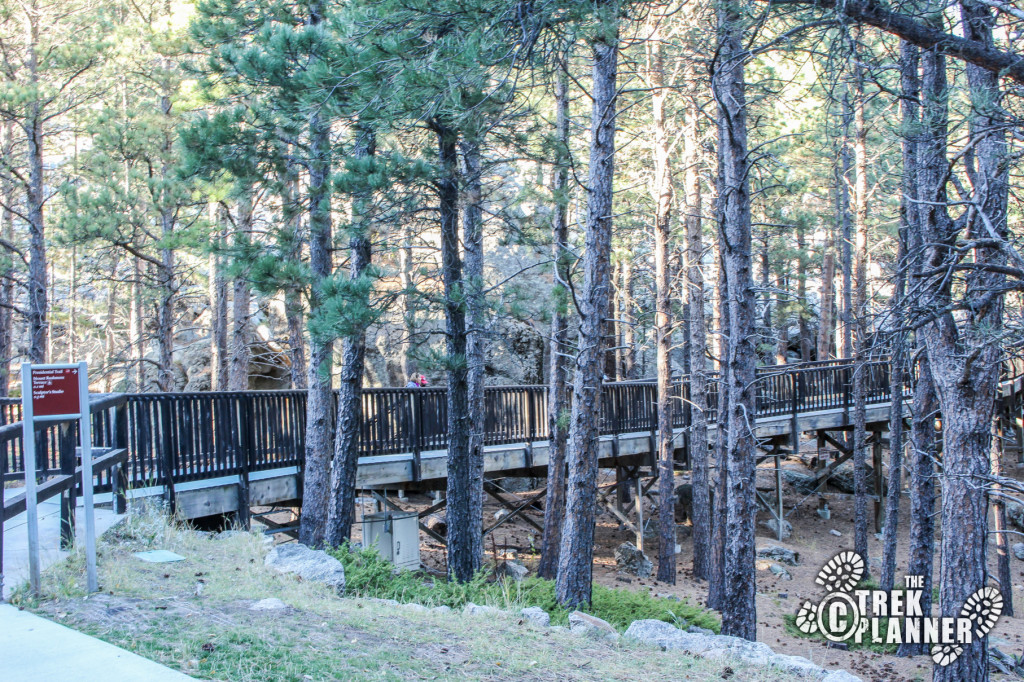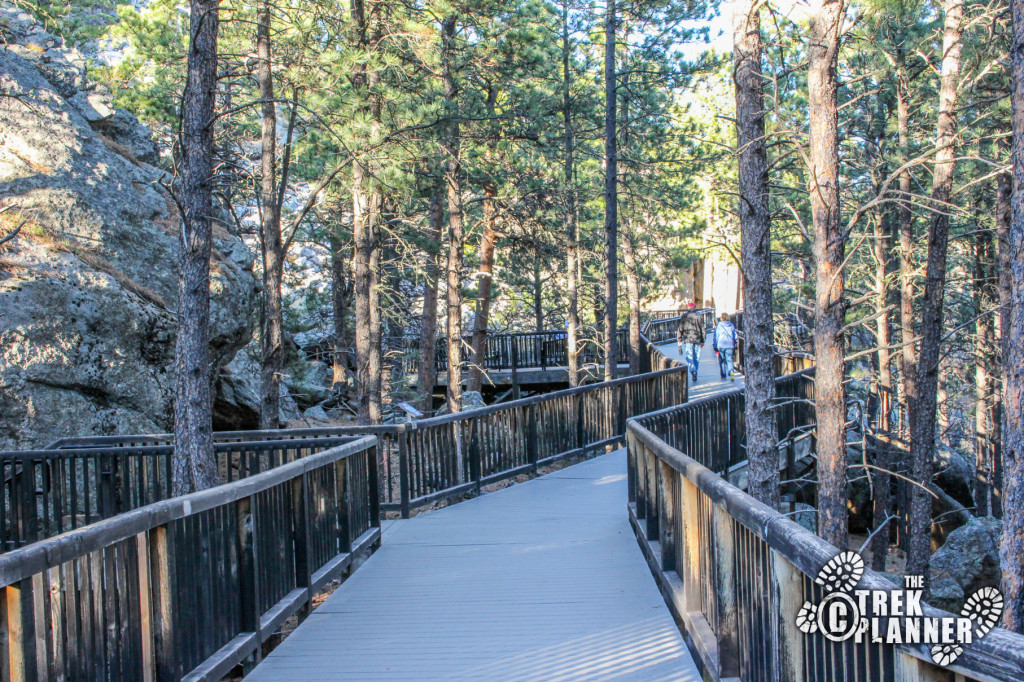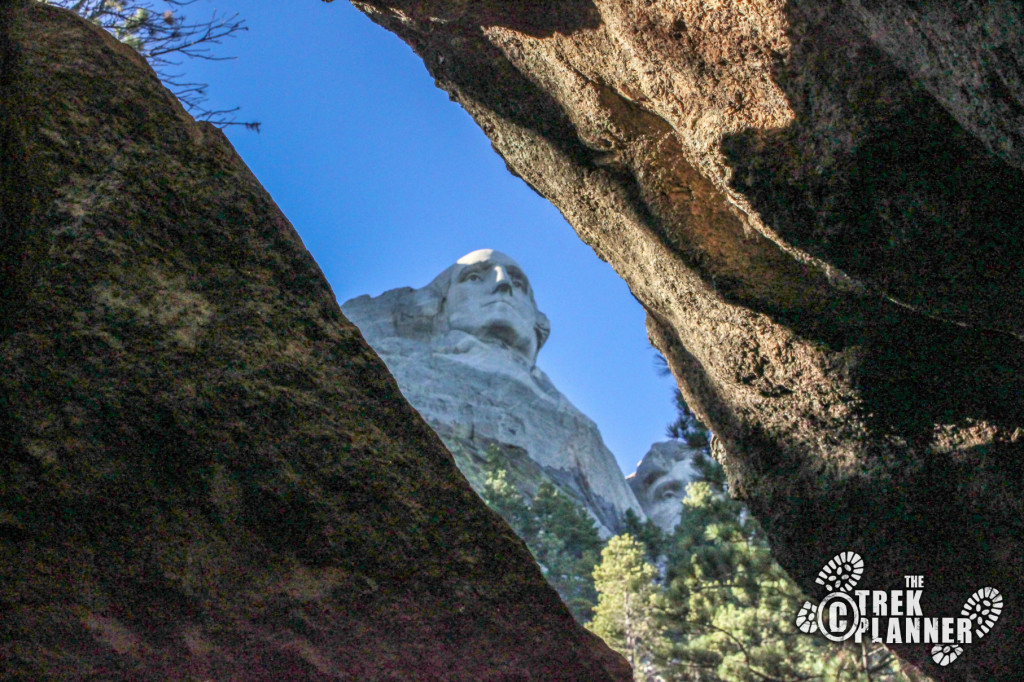 Once you come to the Mount Rushmore Terrace you will hit the hundreds of stairs.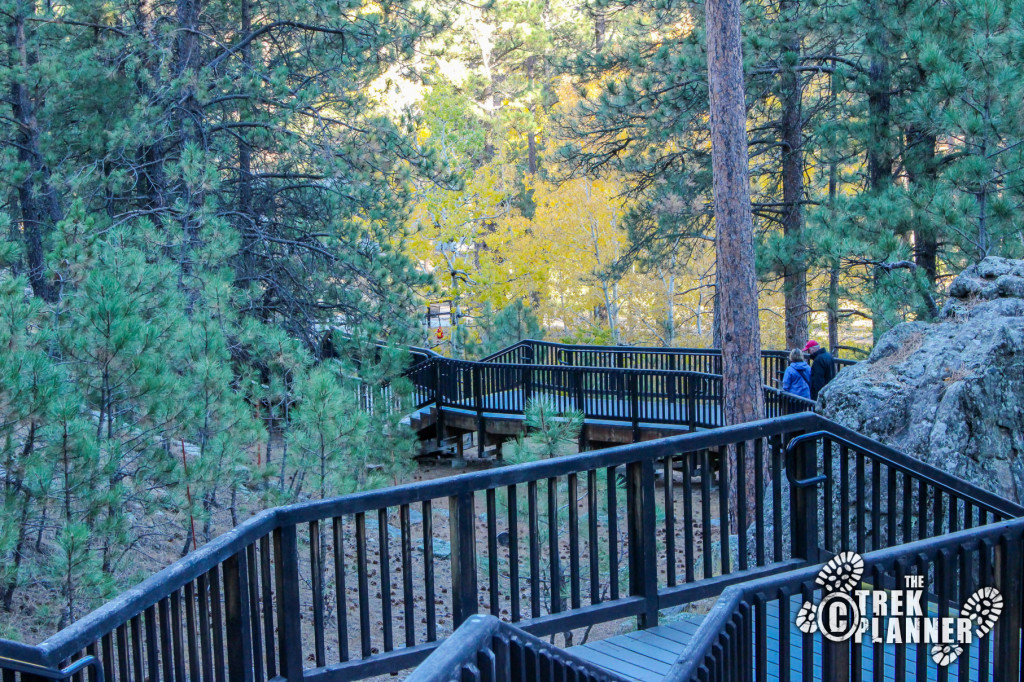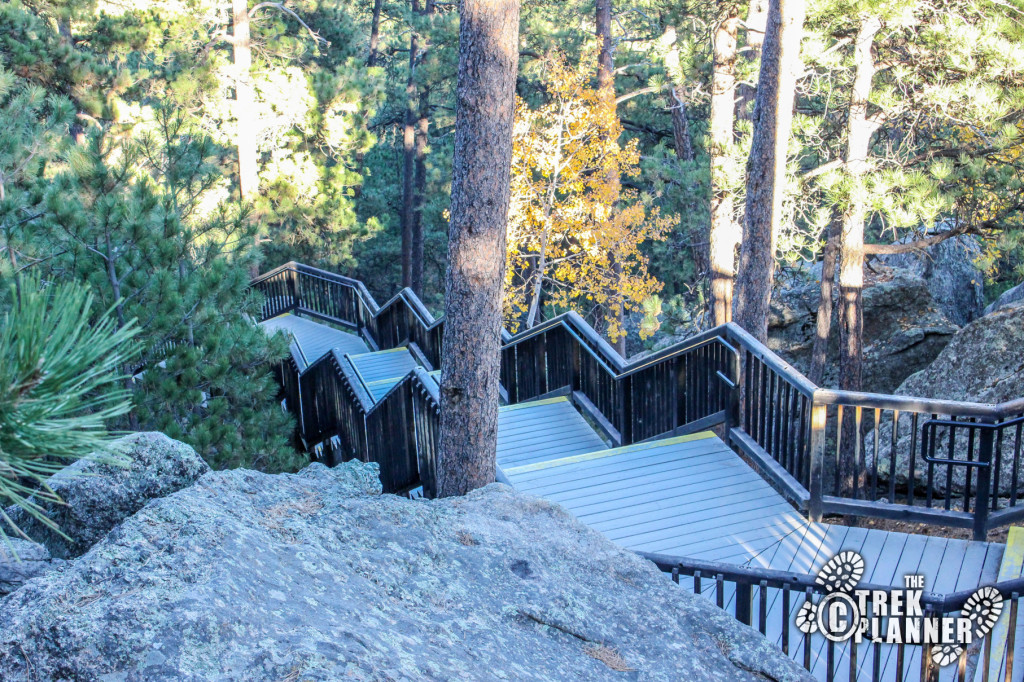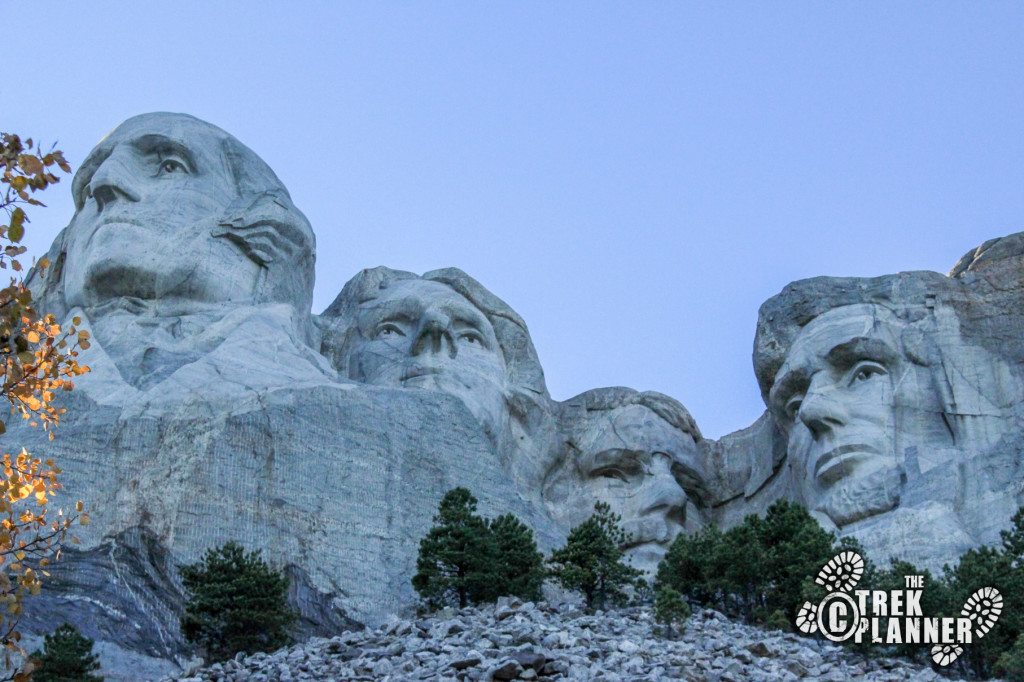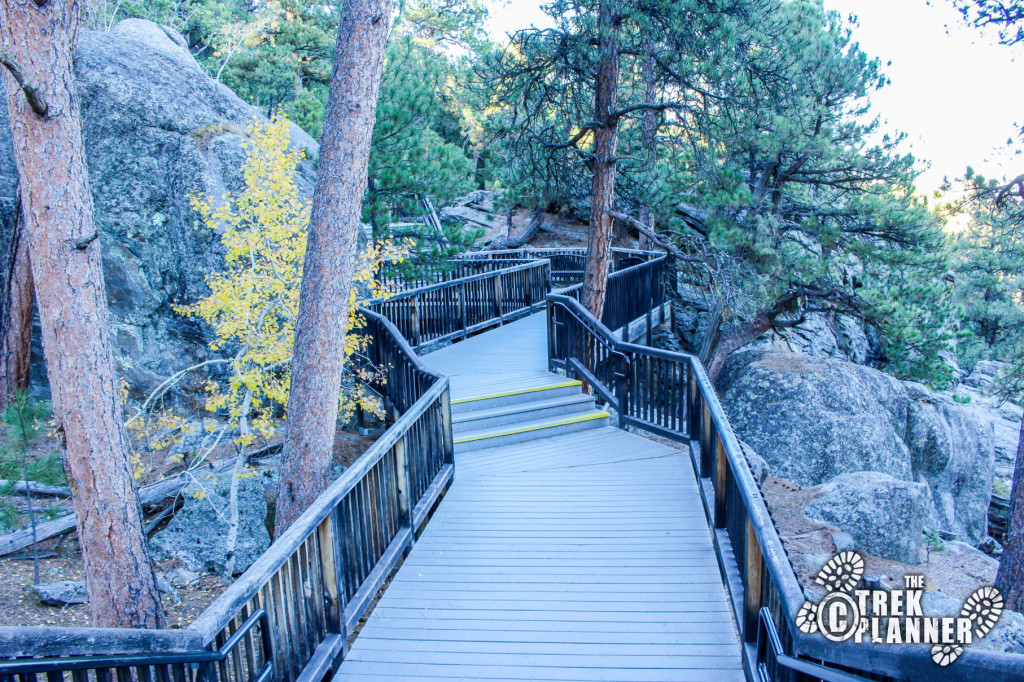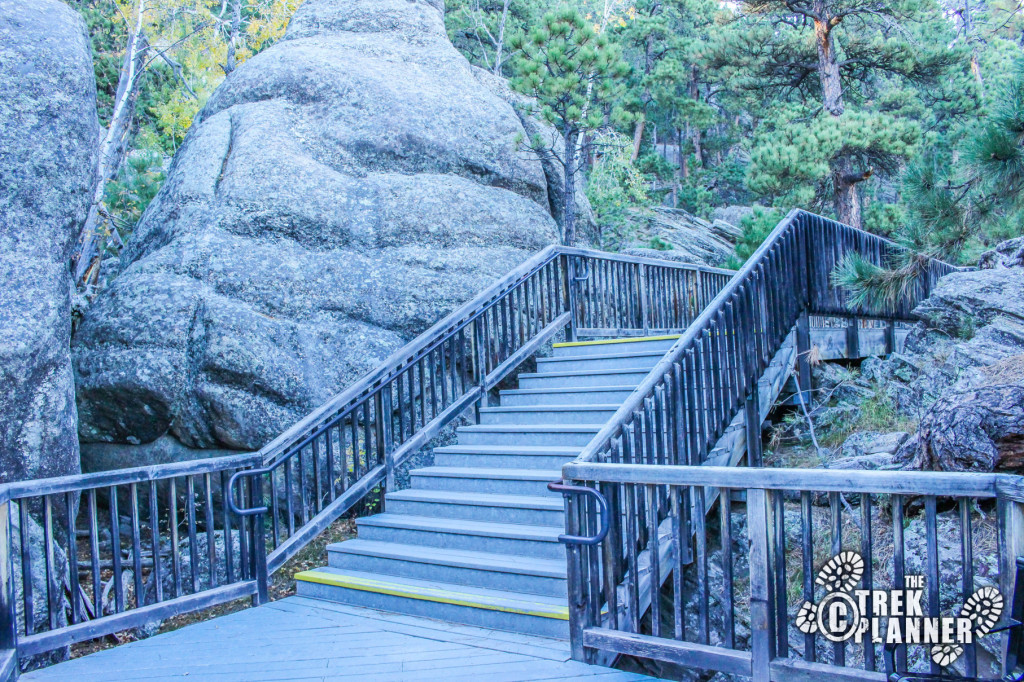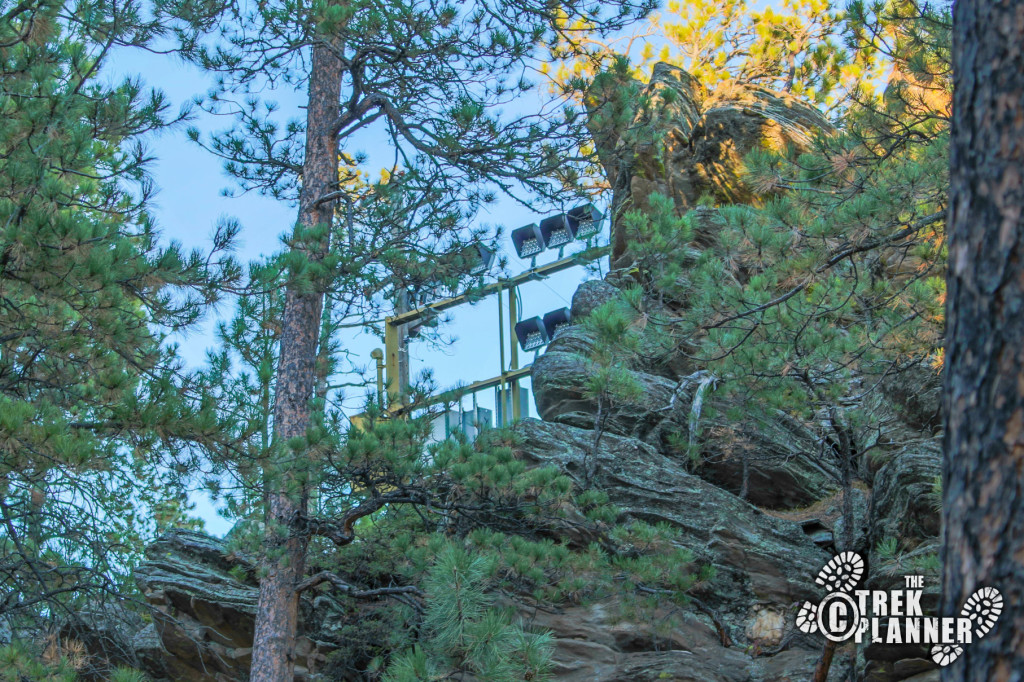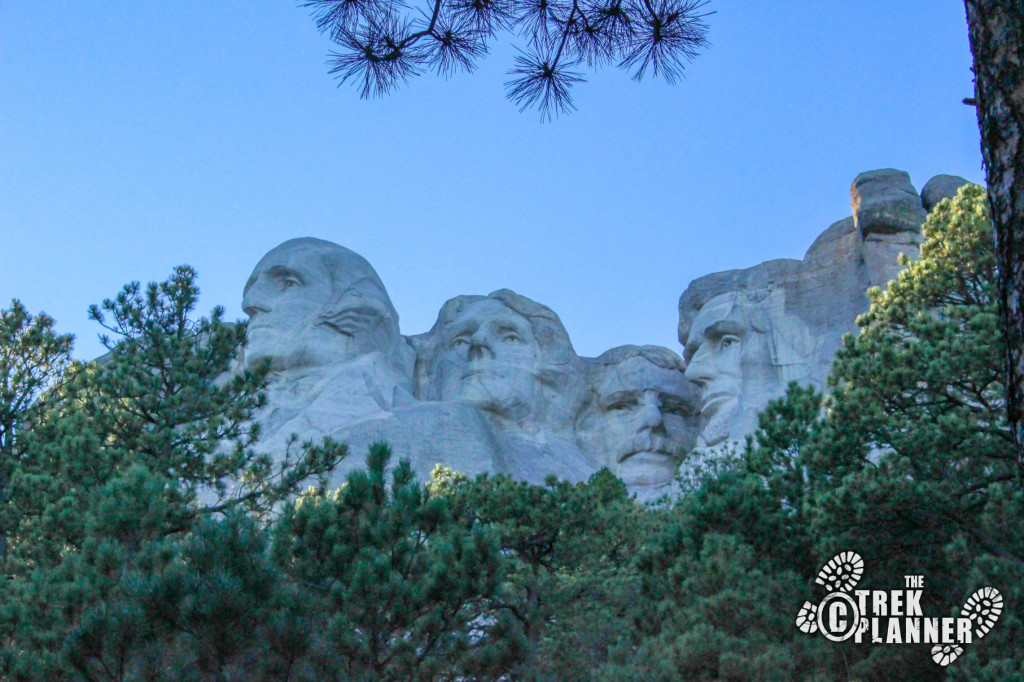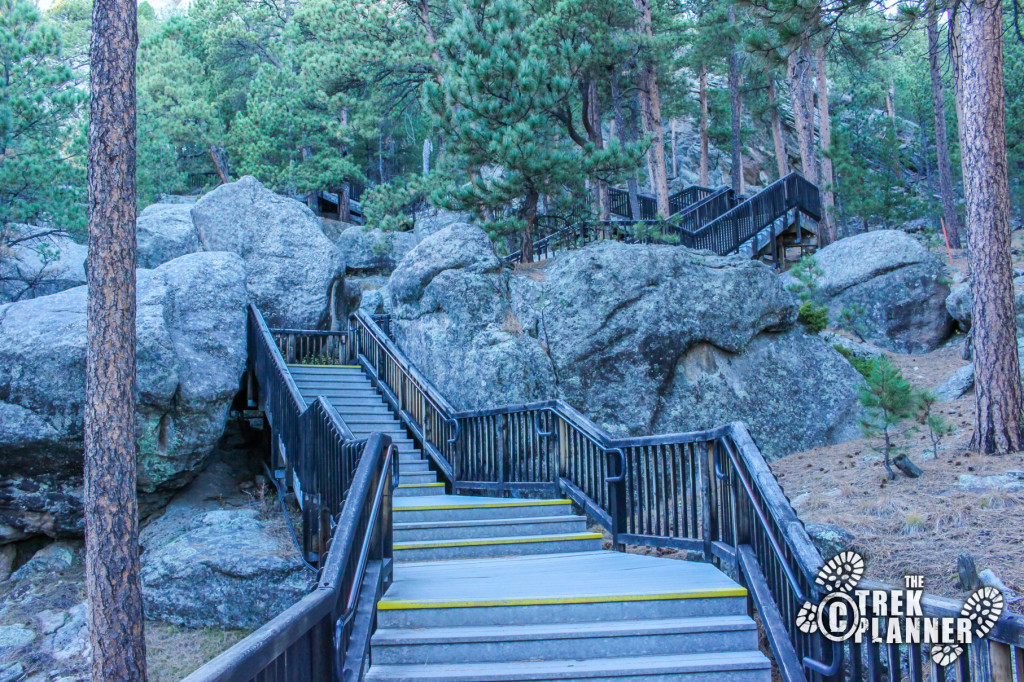 Found this odd sign near the bottom of the trail.
Along the Presidential Trail you will also find four displays on who these 4 men were and why they were sculpted on the mountain.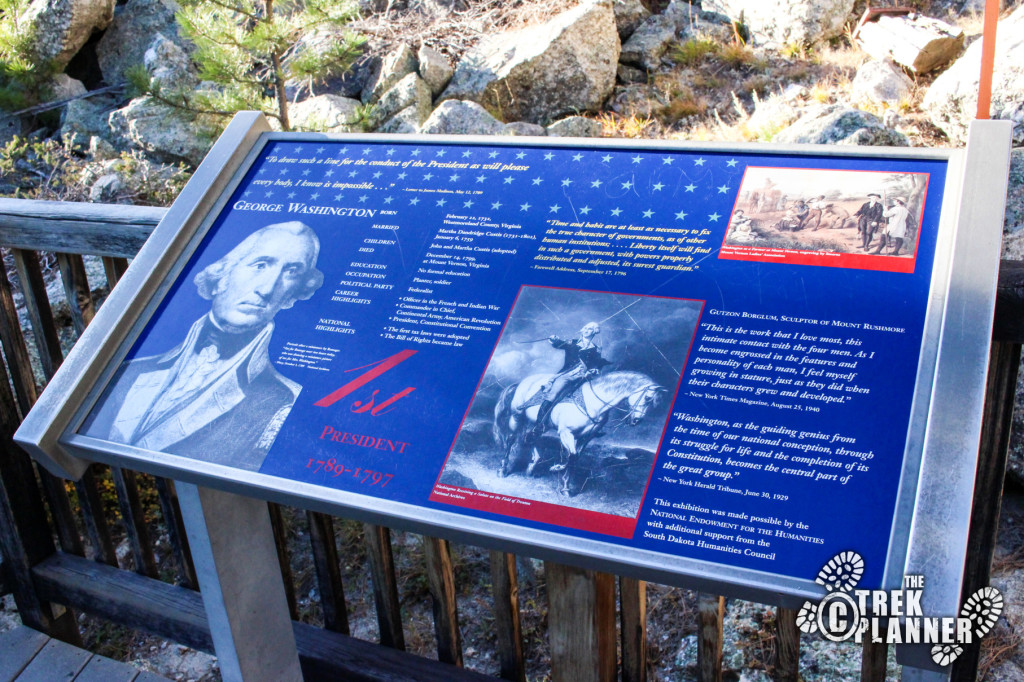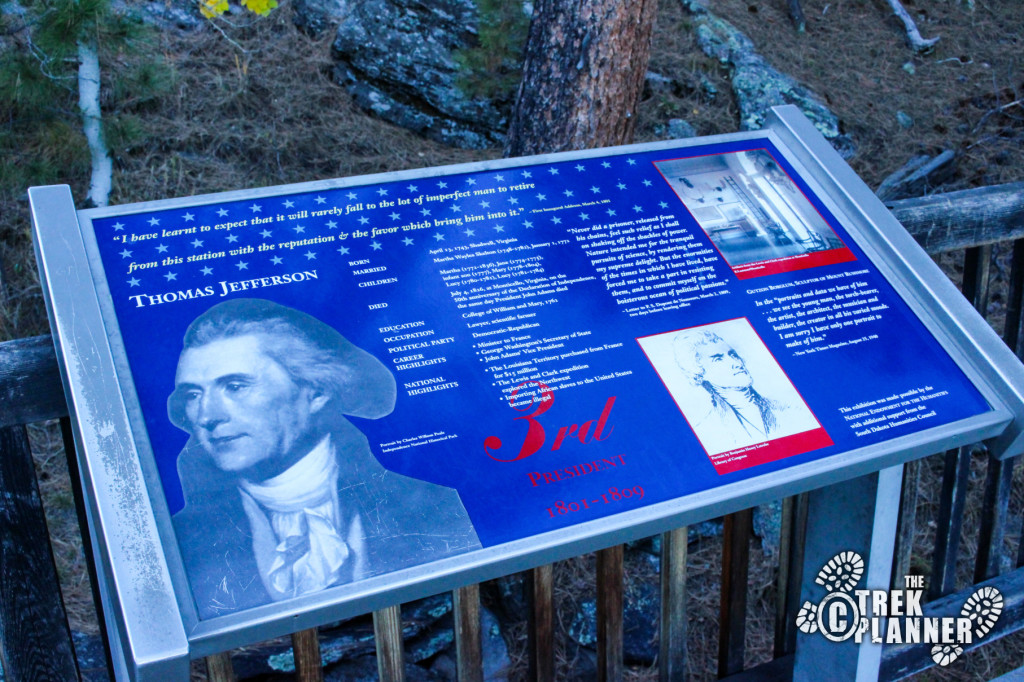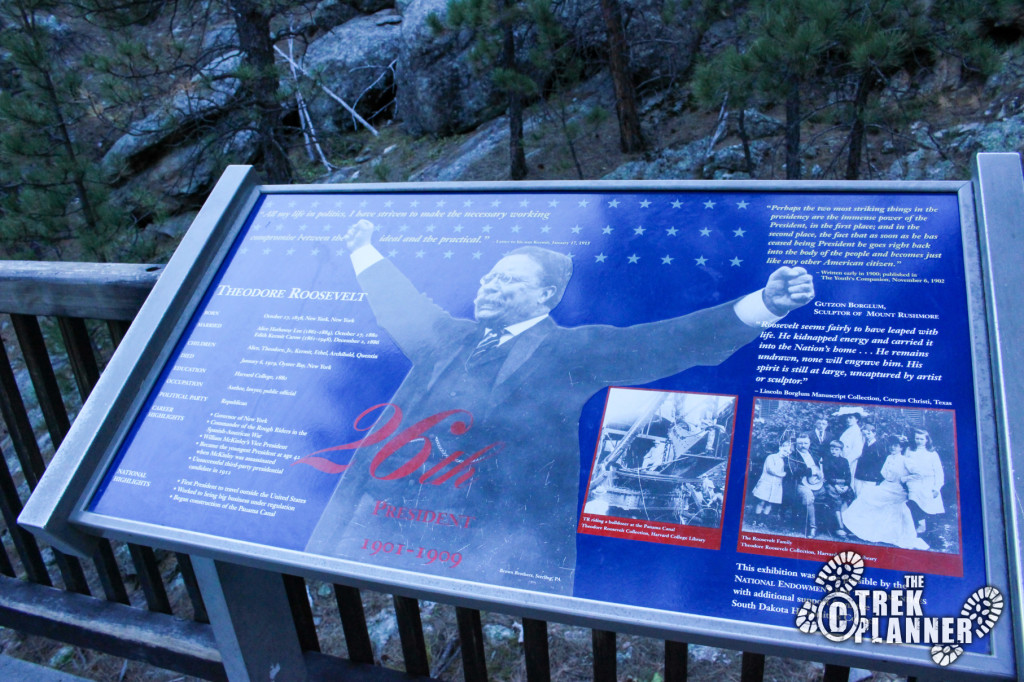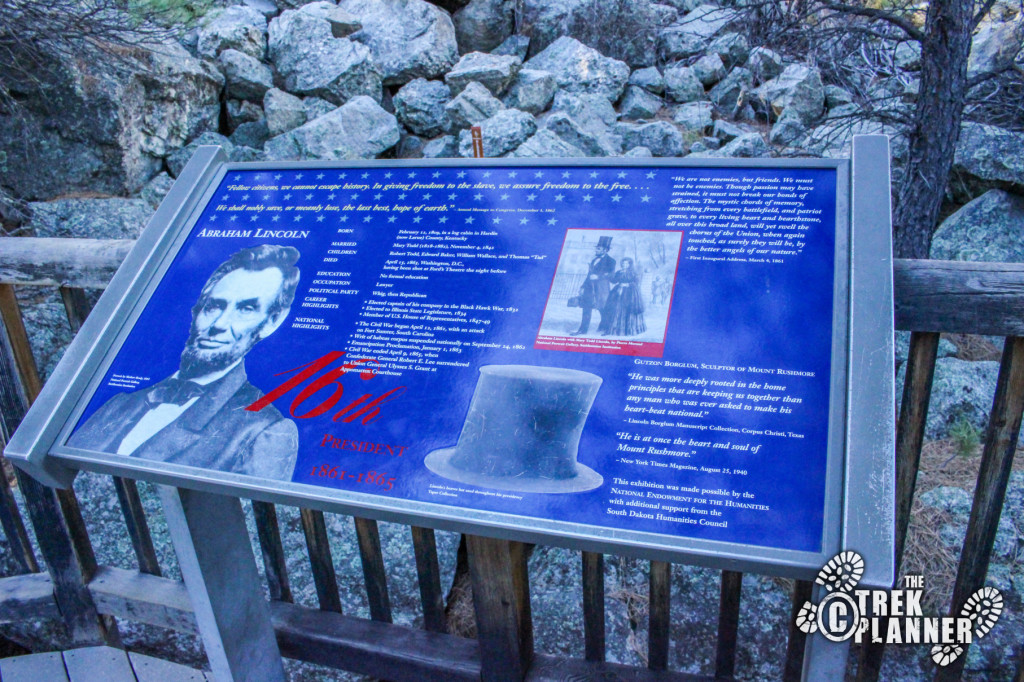 The stairs will eventually lead you to the Sculptures Studio where you can see where much of the planning and designing took place.  You can also see a small design of what Gutzon Borglum truly wanted to do with the mountain including adding hands to Jefferson and Lincoln and a coat to George Washington.
Also, did you know that behind the presidential faces is a small vault containing some historical documents.  This area was originally intended to house historical records, busts of famous people and other things.  There is no access to this vault to regular visitors, even no matter how hard you ask. 😉  Even if you wanted to hike up to the vault you will find that there are cameras all over this place.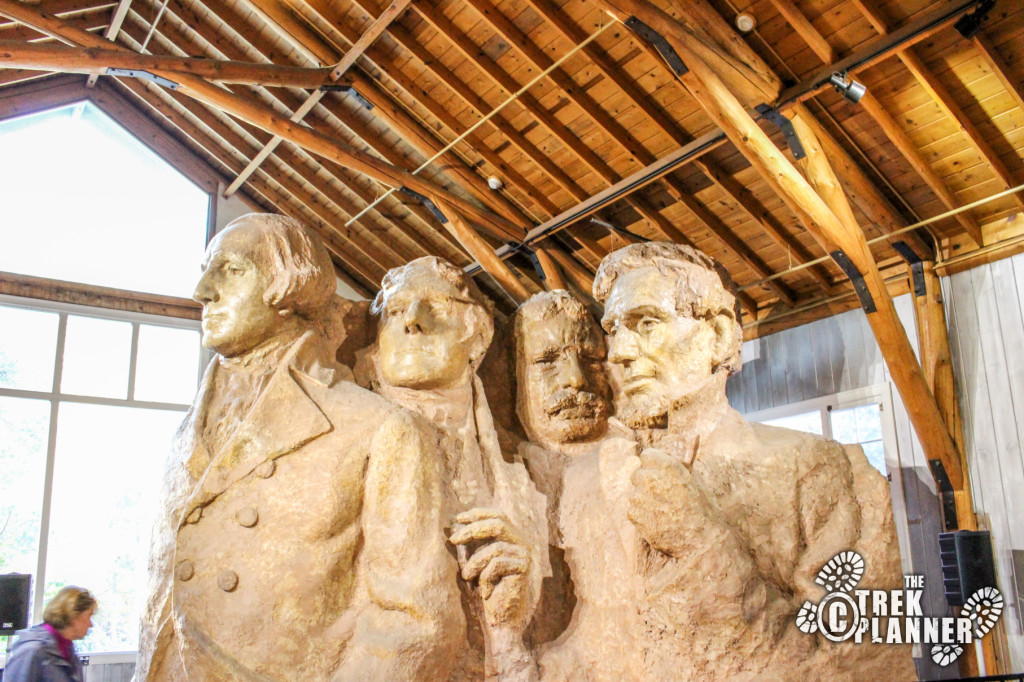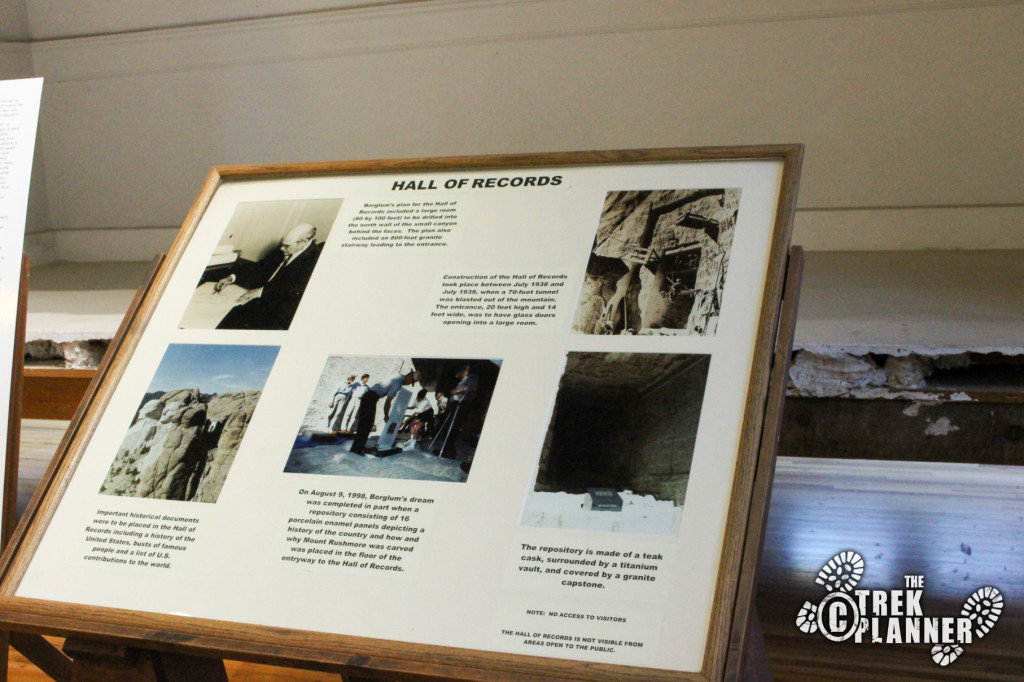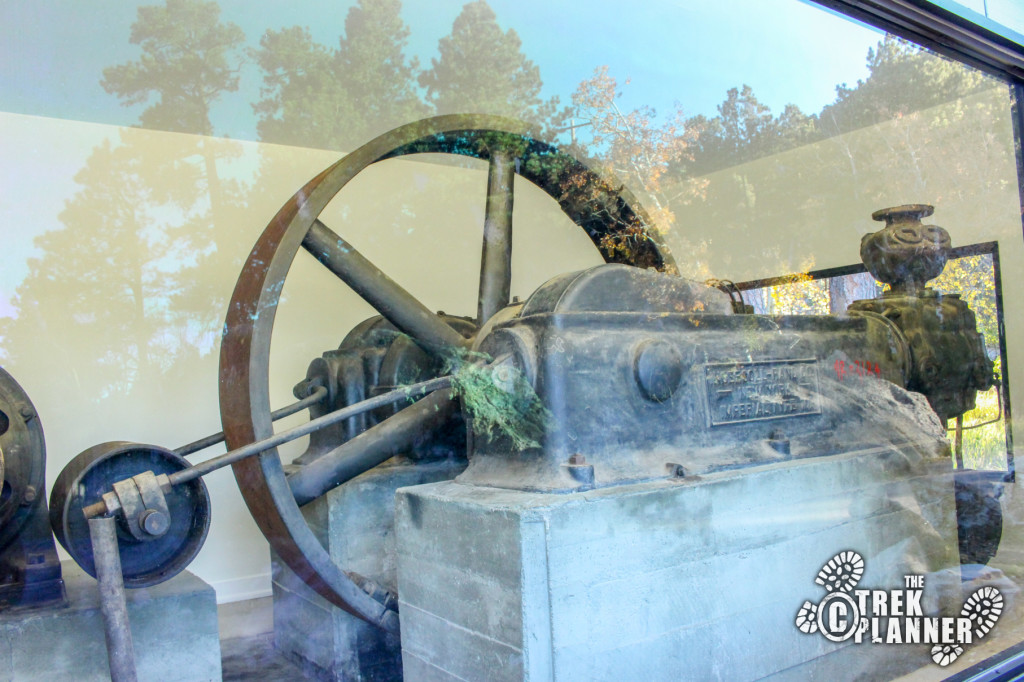 From the studio, the trail winds back up to where you started.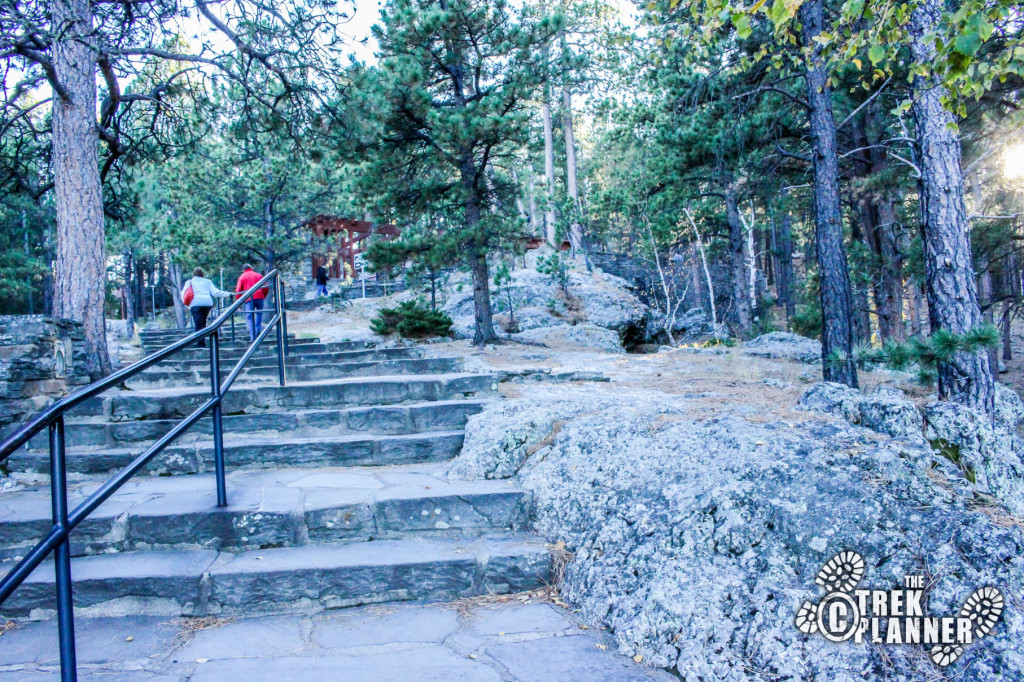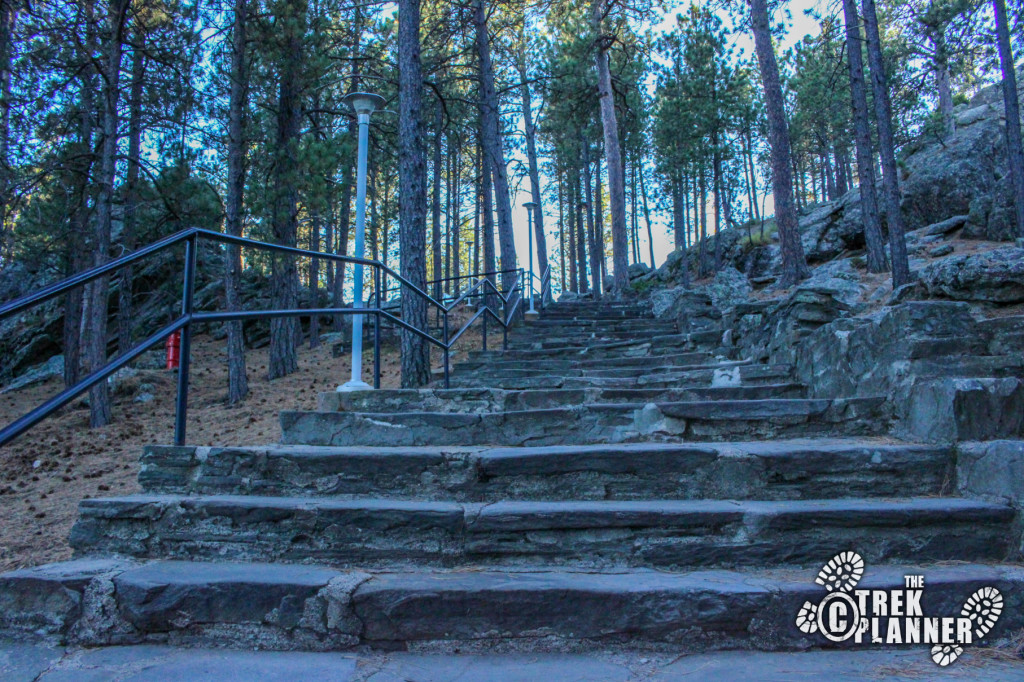 But before you reach the very top, there is a small turn off that leads to a different angle of the overlook to Mount Rushmore.  There was only one other person over here so it made this area nice and quiet because everyone else was in the Grand View Terrace.  Come over here if you want your own semi-private viewing area.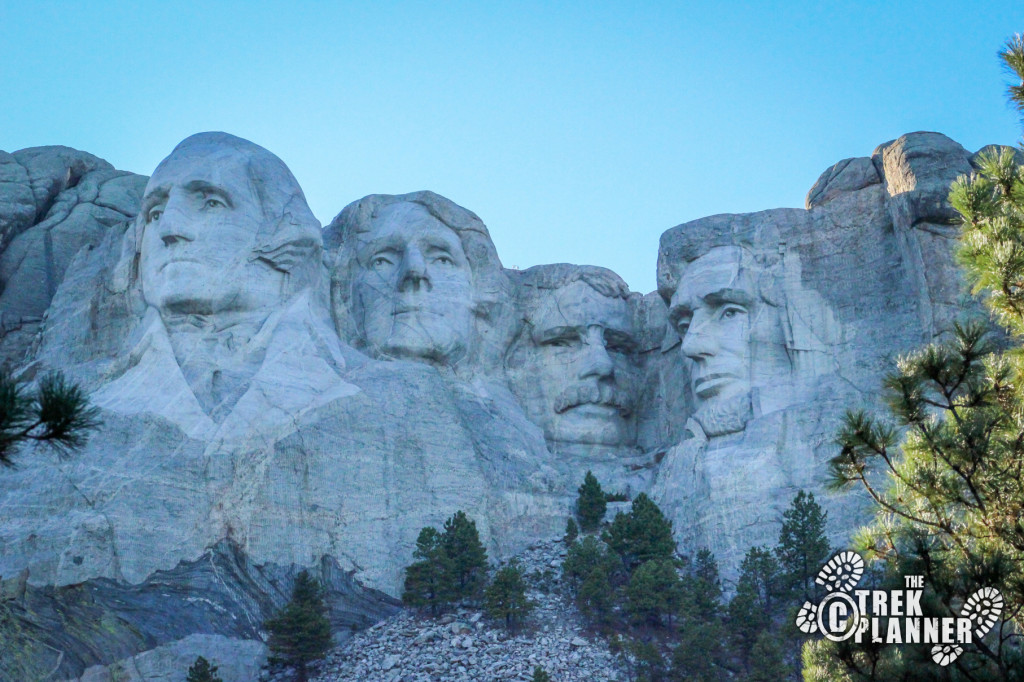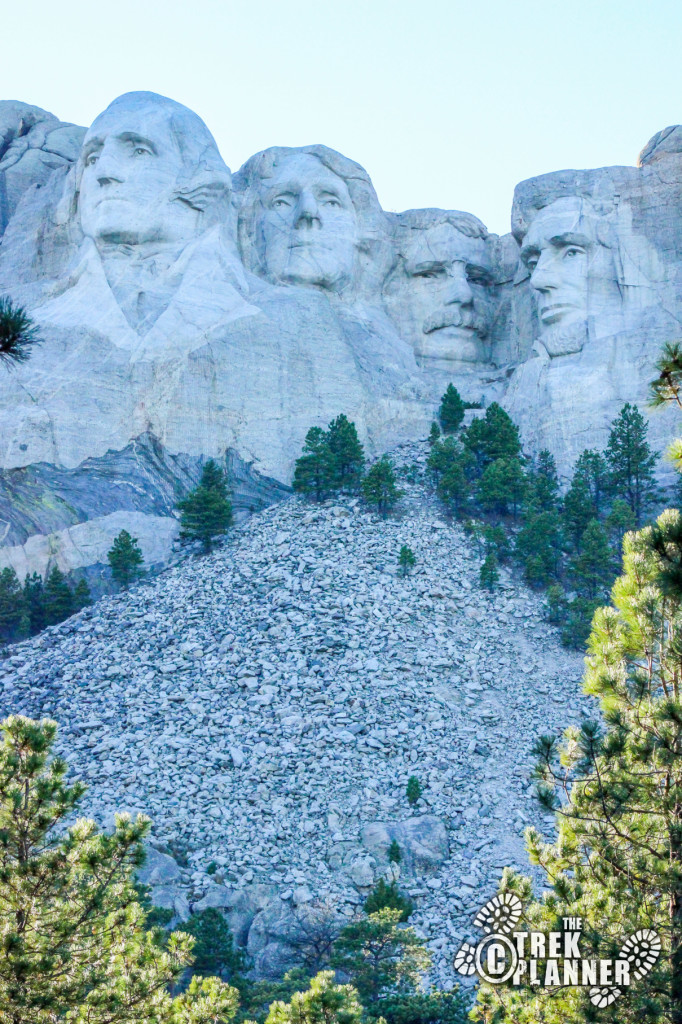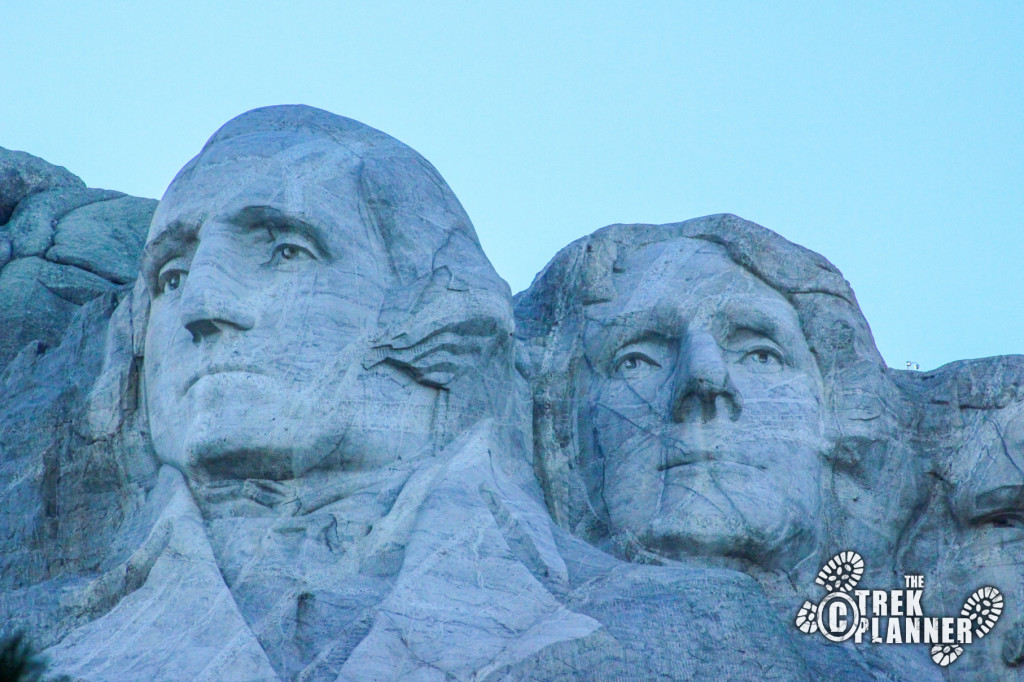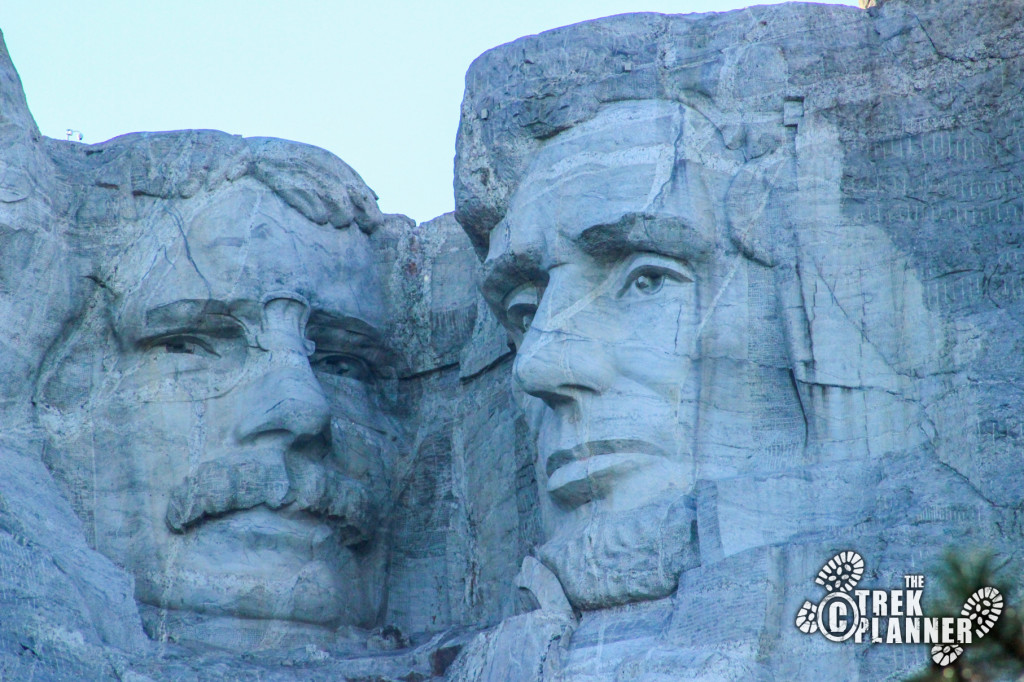 Here is a close up of what would have been George Washington's coat.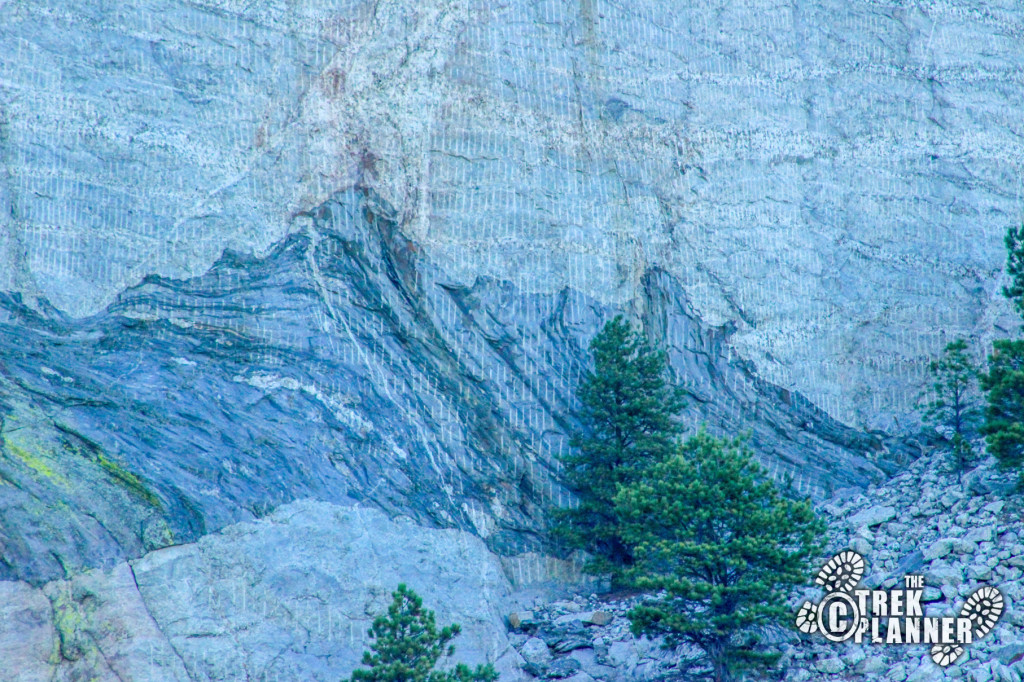 I came back the next day and stopped at a little pull-out area where I could get a different angle of Mount Rushmore.  I almost like this side better than the front profile.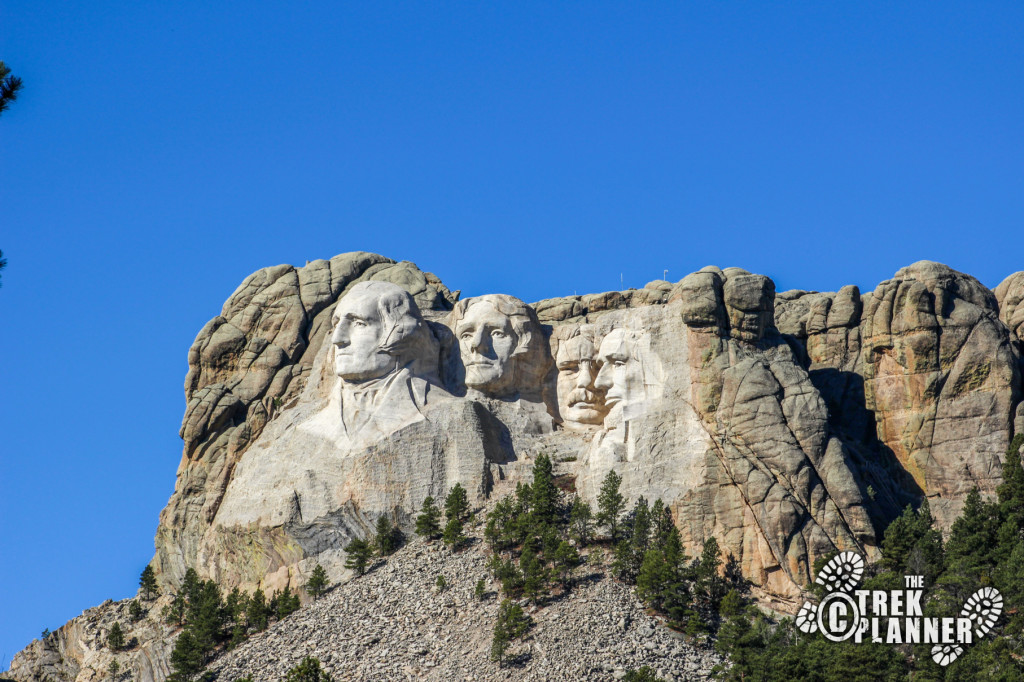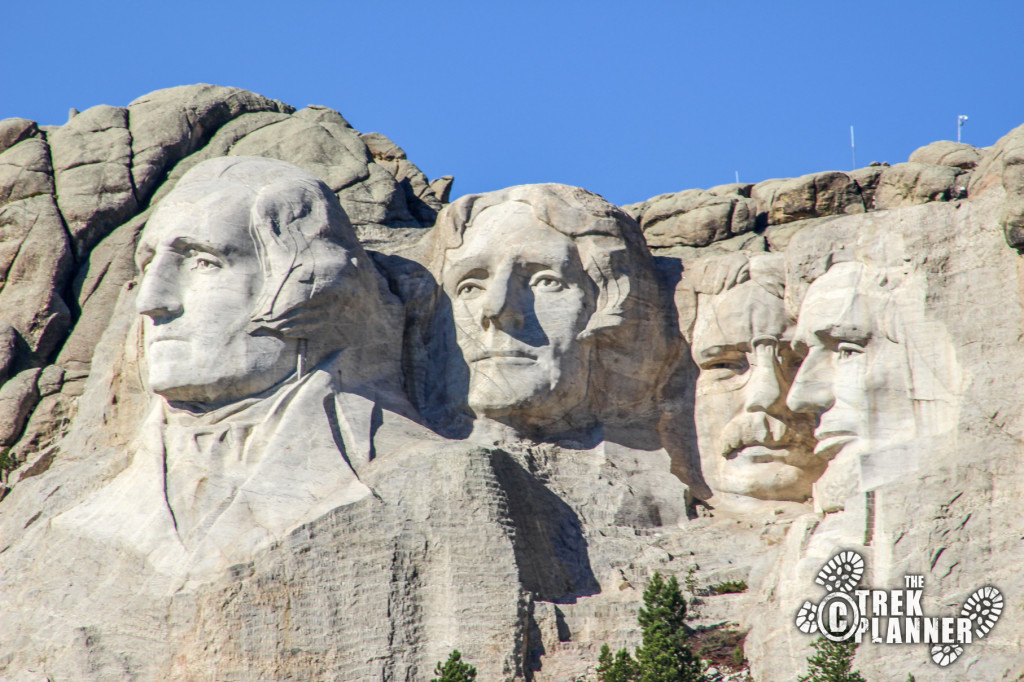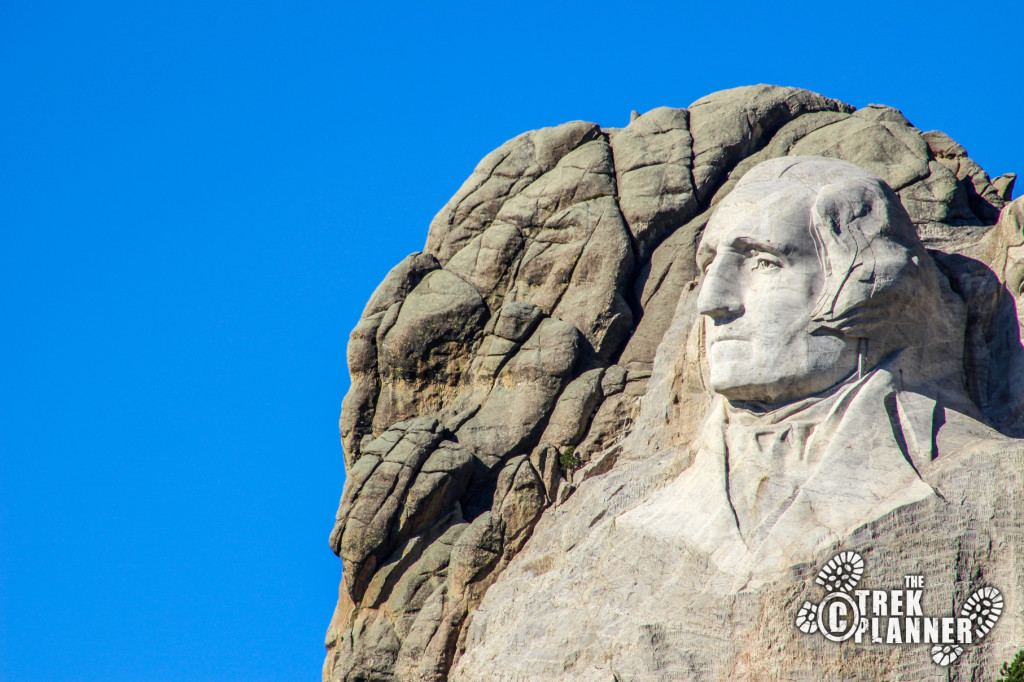 Since I was staying at a hotel 20 minutes away I came back several more times.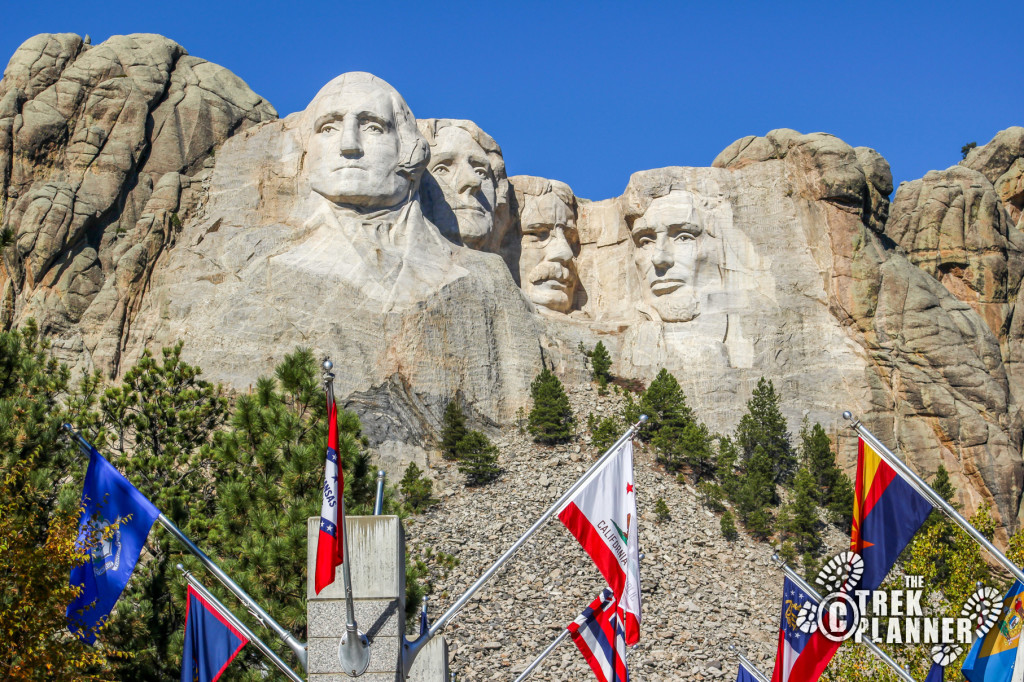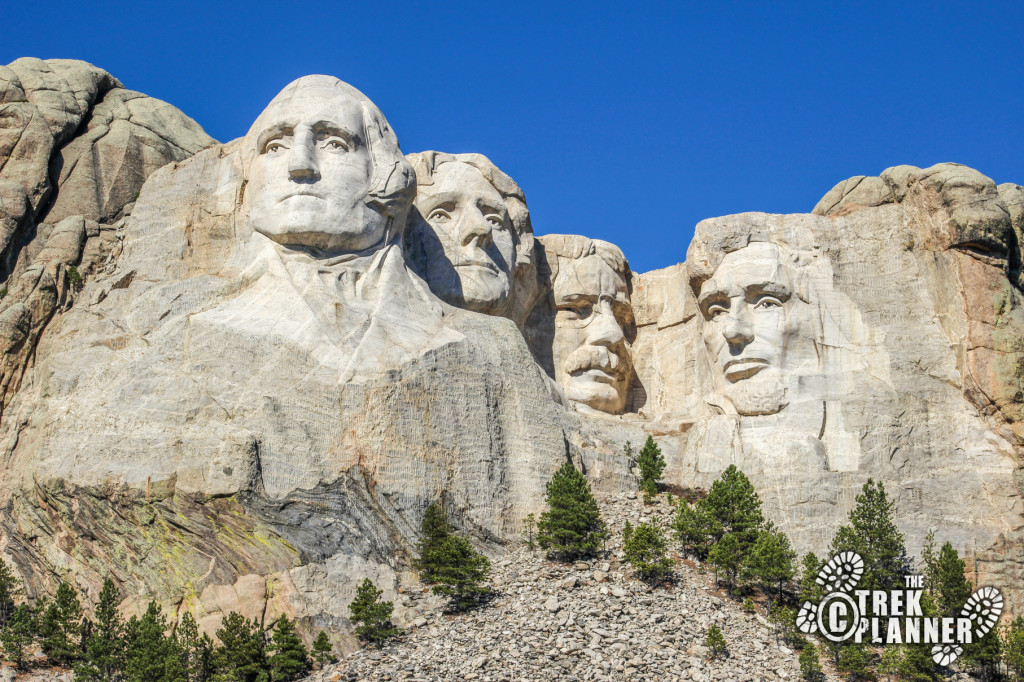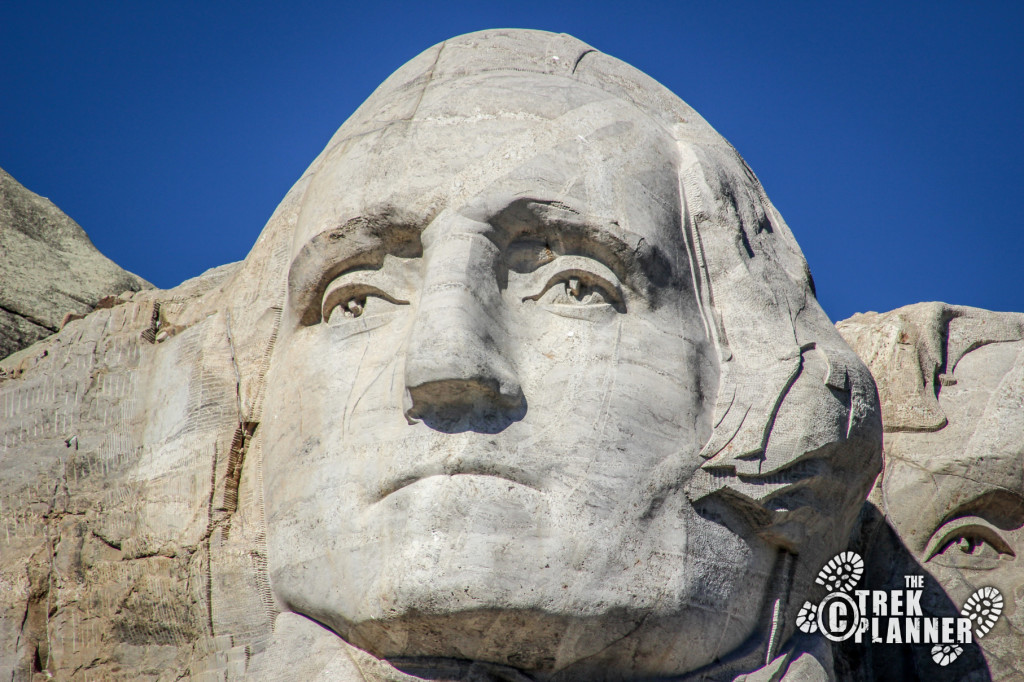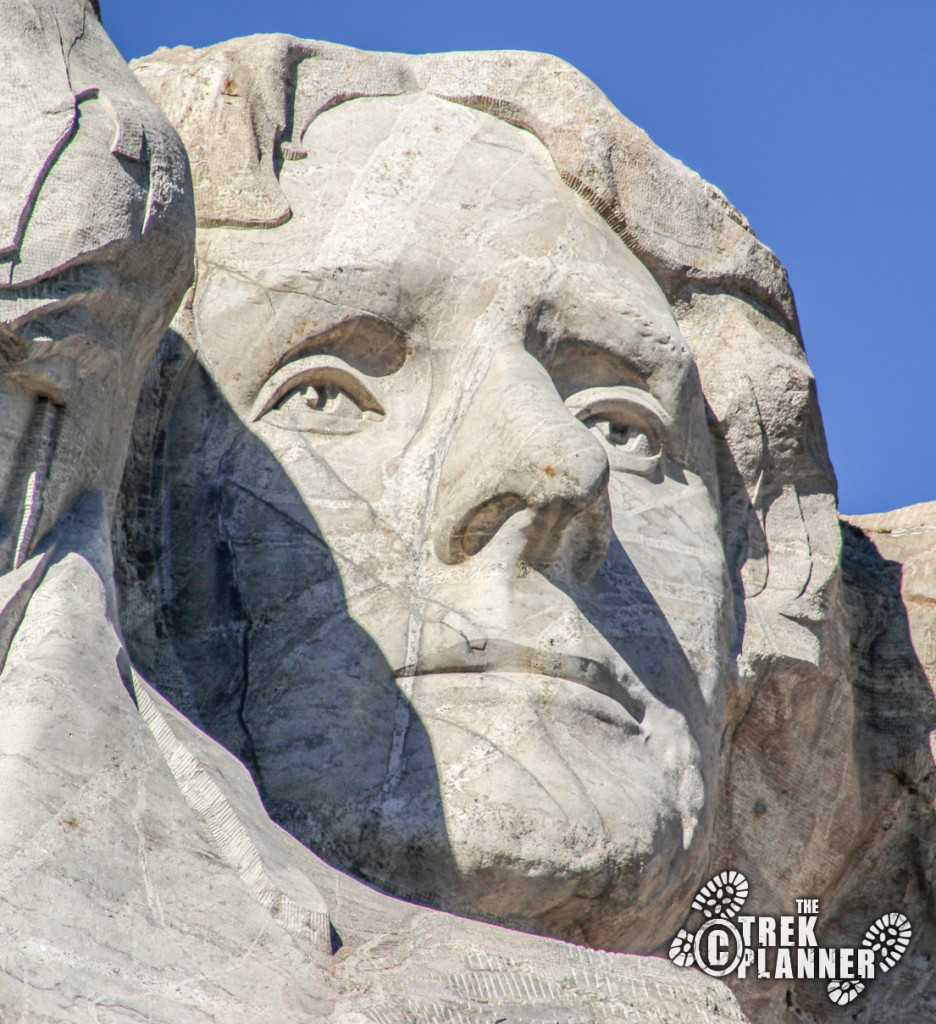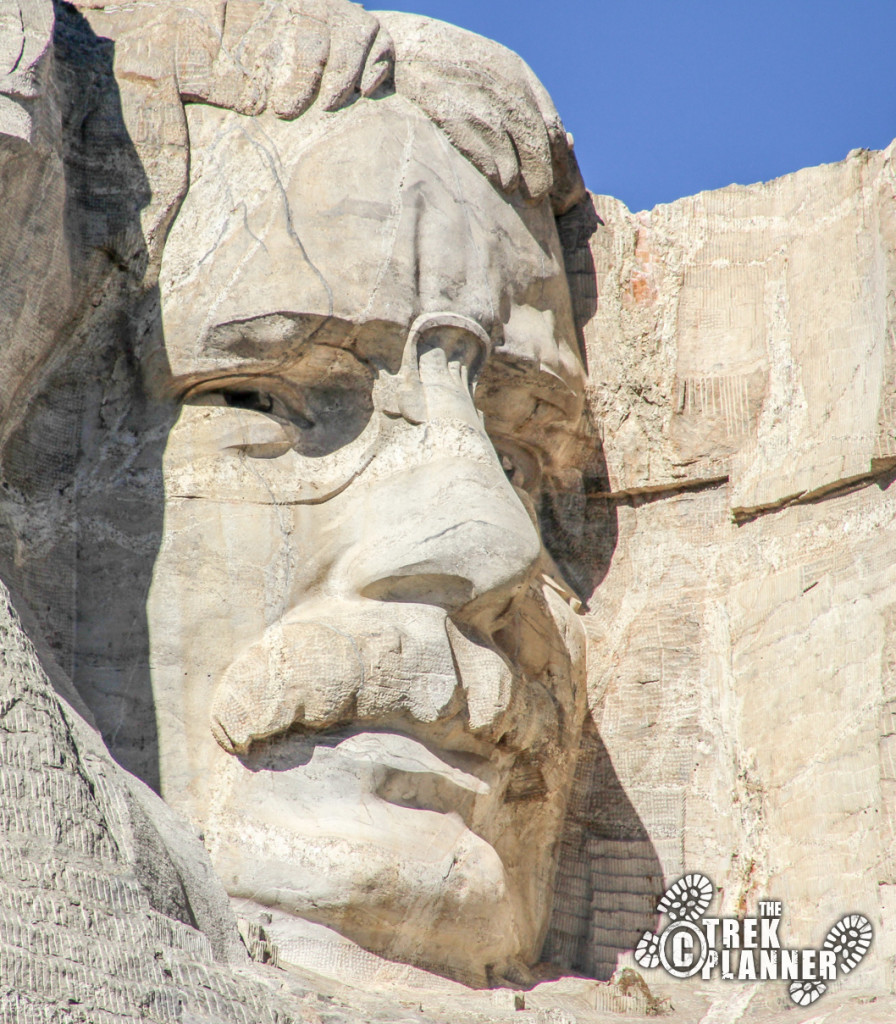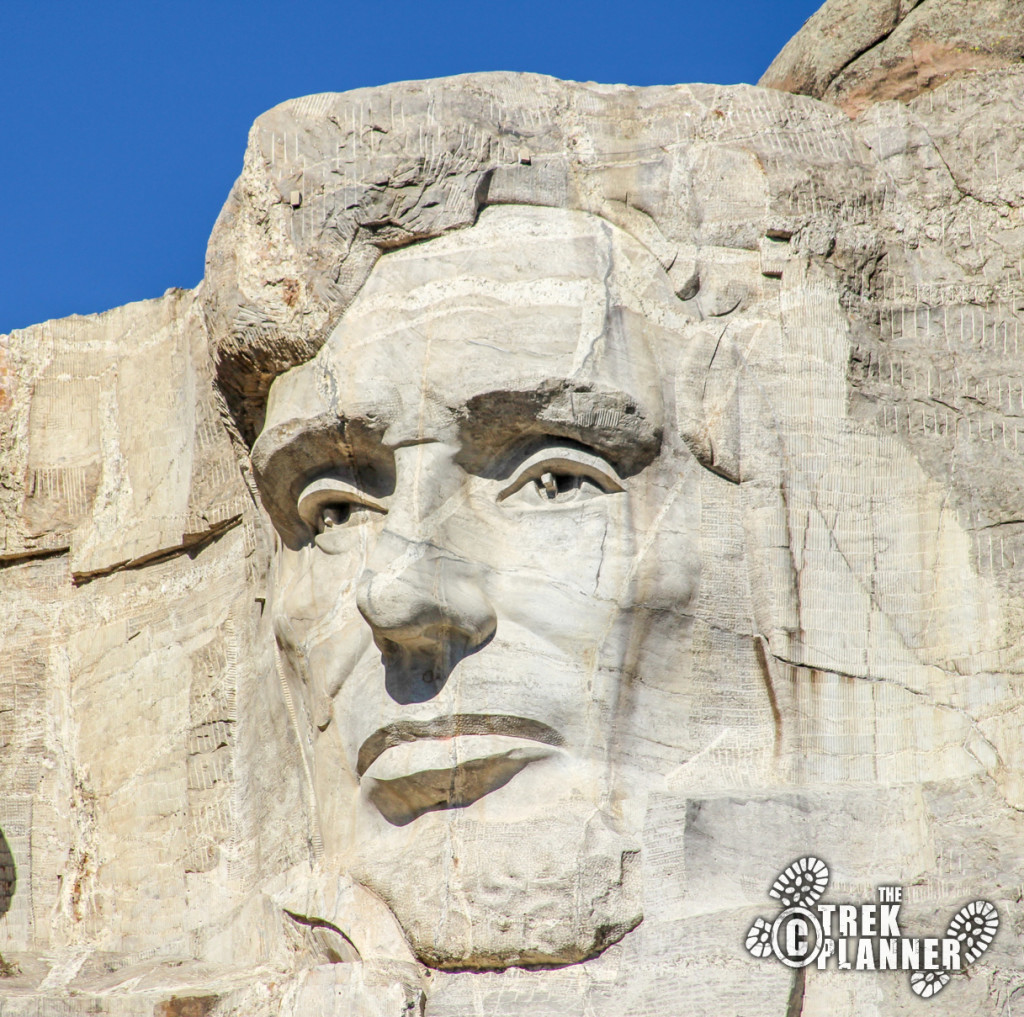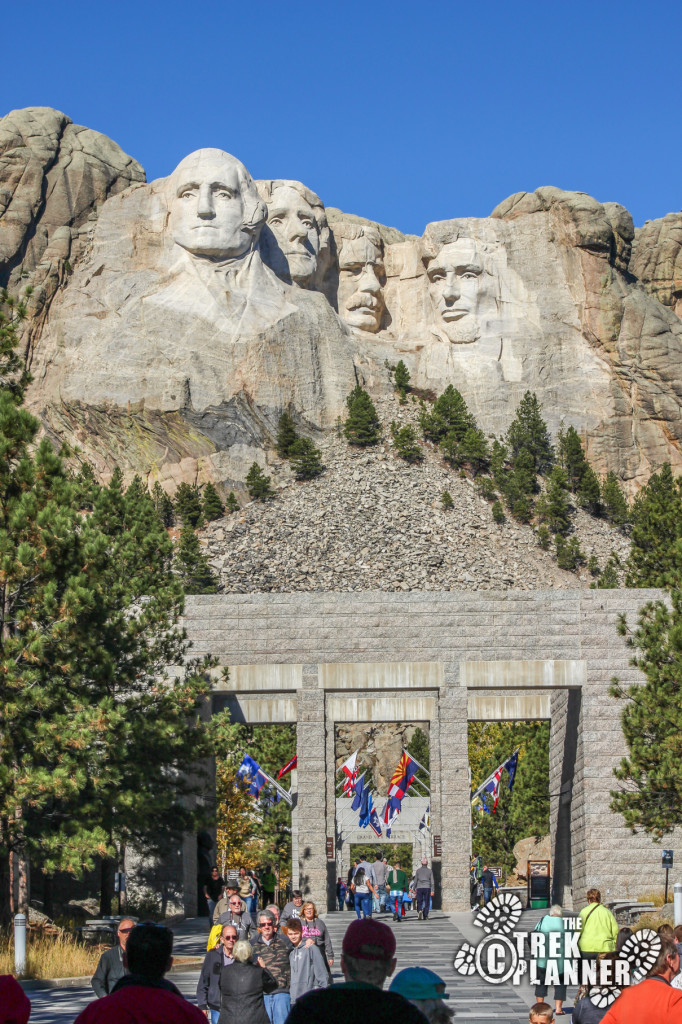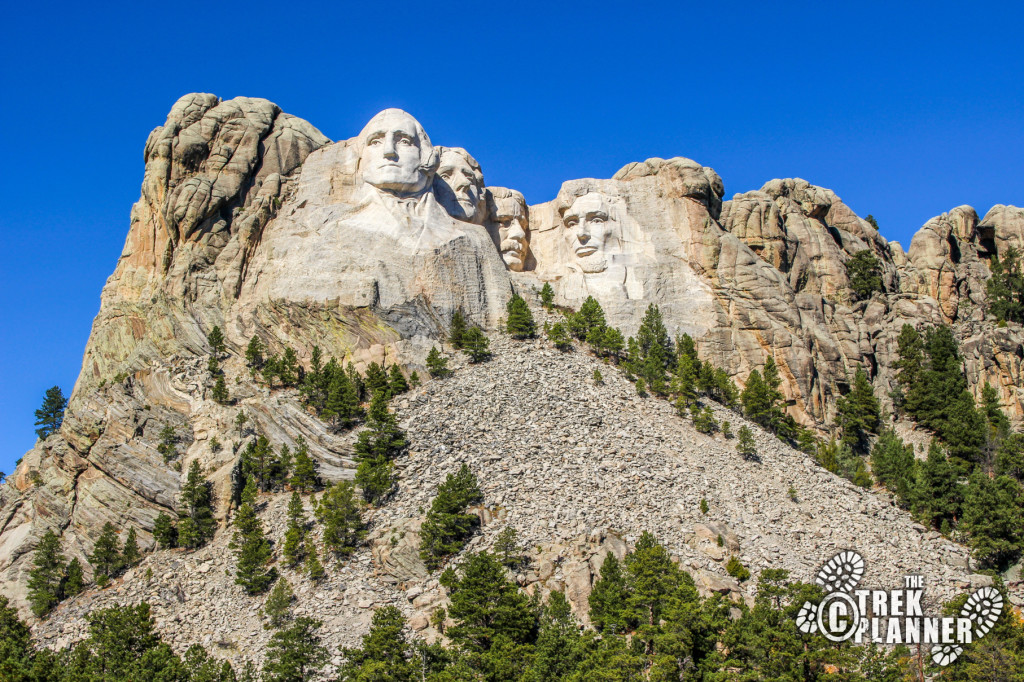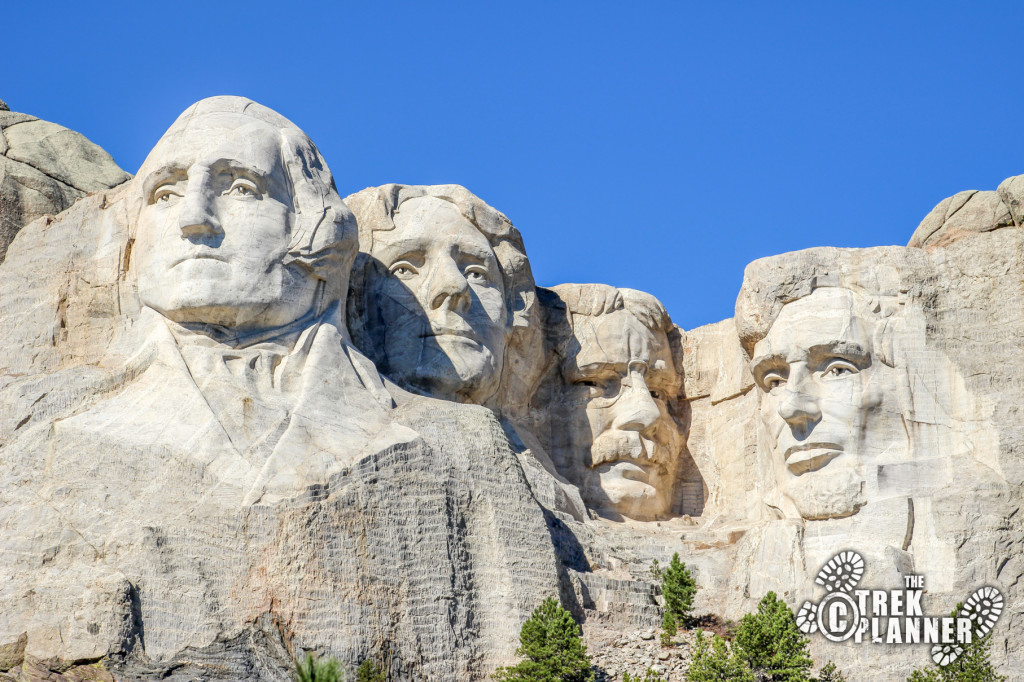 I also came back at night to wait until the lights would turn out so I could try and get a few night photos.  There were probably a hundred people hanging around with their cameras and tripods doing the same thing I was doing.
Personal Thoughts:
I would love to come back and see Mount Rushmore again.  This place might seem boring to some people because it's "just rock carvings" but I found it simply incredible!