Review
Marmot Tungsten 3p Tent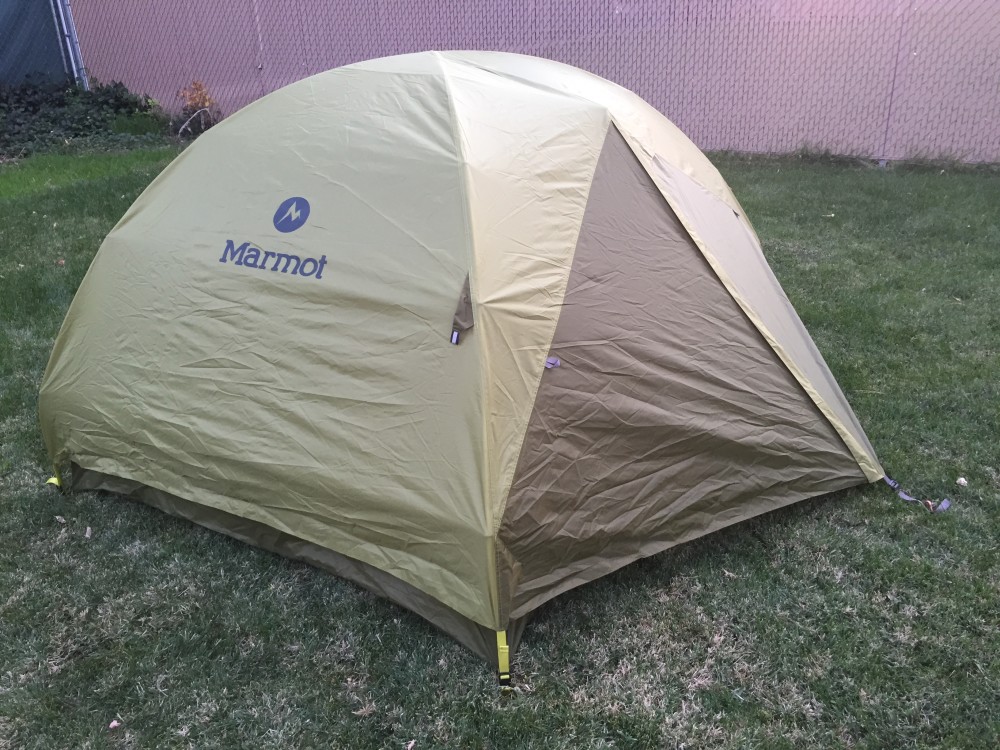 The Marmot Tungsten 3 person 3 season tent is a great choice for those who like car camping or short backpacking trips.  It really is easy to set up and take down and I can usually set it up by myself in less than 5 minutes.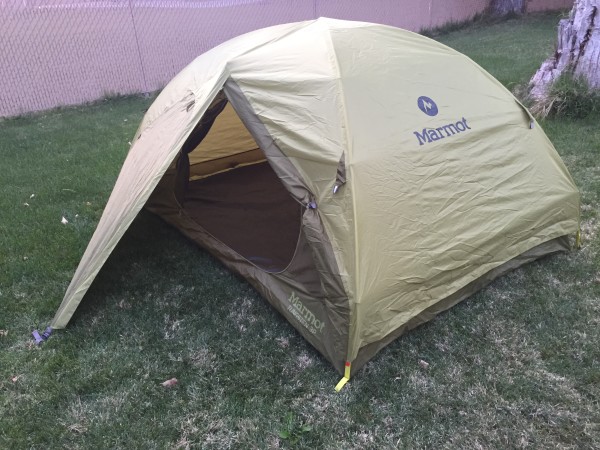 Marmot Tungsten Tent
I have used this tent on many occasions now and it has worked great for my needs!  I have the 3 person version, but I admit it is a little small if you actually have three people inside of it.  It would be way better for two people or even more luxurious for one.  Marmot makes the Tungsten series in 1p, 2p, 3p and 4p to suit your needs.
The tent has two doors (one on each side) and if you throw on the rain fly, you will also have two vestibules to use.  The entire package comes with a footprint (the footprint is a small ground tarp designed for that specific tent), stakes, tent body, rain fly, poles and guy line.  The stakes work just fine for me but they are pretty basic.
The poles that provide the frame to the tent are bent slightly at the bottoms and they offer some good vertical space for your head, feet and sides.
Rain Fly
I like the rain fly on this tent because it goes all the way to the ground.  This comes in handy if there is a lot of wind or rain/snow.  The fly has two vestibules for easy access and it is a great way to keep your gear dry and keep it close to you without using more of the interior space.
Color Options
The green color has grown on me.  I was disappointed at first with the green but after waking up in the morning and the green actually made the sunlight not so bright in the tent I then realized I made the right choice.  That being said, I also bought another one of these in the orange color because these tents are so simple, durable and easy to use!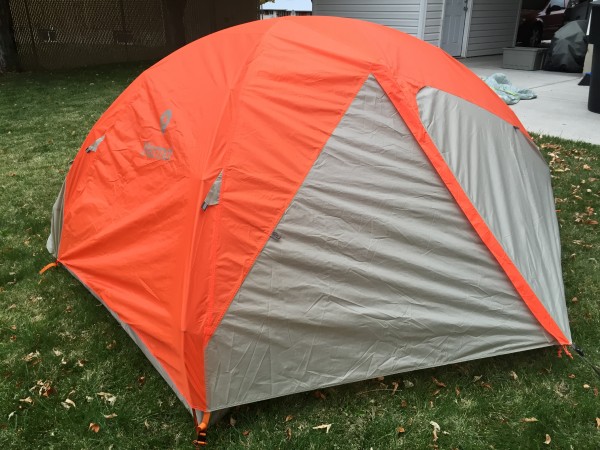 Durability
I haven't used this yet in strong wind but the times I have used this in wind it has proved very sturdy.  Marmot makes really great tents.  The tent material is durable and tough – it isn't light by ultralight or even some backpacking standards.
How to set it up
Here is what is included with the tent
Insert the poles in the 4 ends of the tent.
Stand up the poles so it looks like this.
snap all clips around poles and insert green pole

Throw the rain fly over the tent and use the buckles to clip into the tent.
Highlights
Strong durable tent
Very easy to set up and take down
2 doors
Footprint included
5 lbs 15 oz
Cost
It retails for about $259.00 but I waited until a sale put it at $189.

Double vestibule
Ventilation on the rain fly if you want
Here is a top view looking down into the tent from above
interior pockets
Here is the whole tent next to a 32oz nalgene bottle
*Marmot did not pay us or donate any product for this review
Camping near Ding and Dang Canyon
Camping near Ding and Dang Canyon
Positives
Strong, durable and lots of vertical room on the sides
Negatives
A little heavy for long backpacking trips.