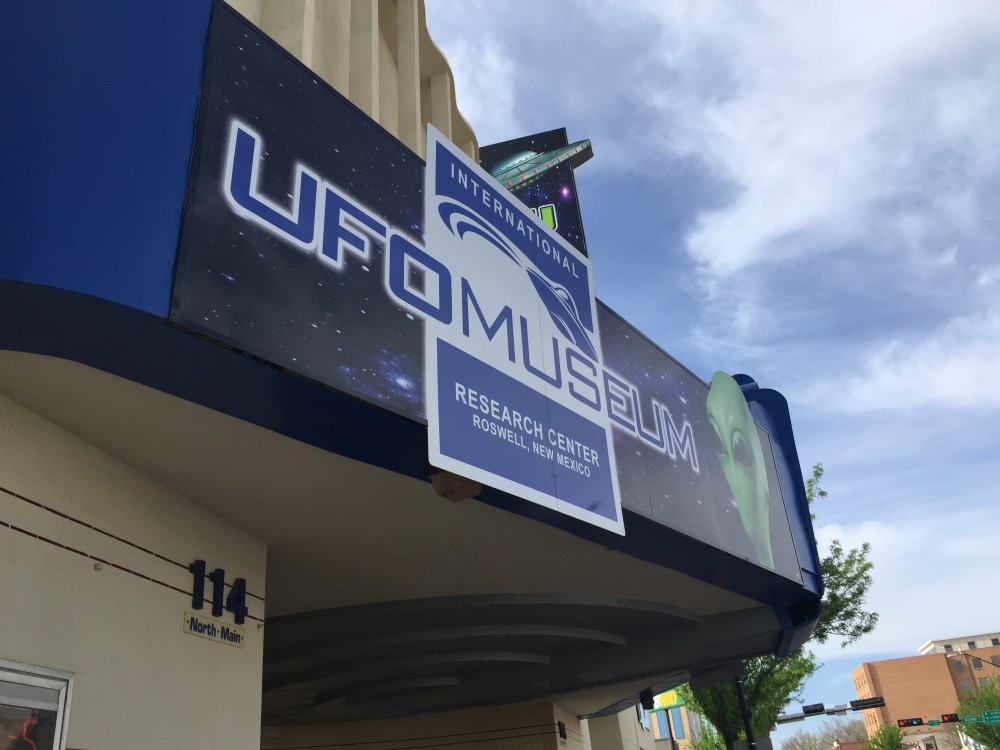 Overview
UFO displays, Museum research, video, Roswell 1947 incident information
I walked less than a hundred yards
Depends on how much time you want to spend in the museum
$3 per adult. They have different prices for seniors and children
They have a drinking fountain inside
GPS Coordinates:
International UFO Museum and Research Center:  33.393657°, -104.522897°
Trail Map
Driving Directions
The Trail:
On a recent trip to New Mexico we had some time to spare in Roswell so we decided to check out one of the many UFO museums just for kicks and giggles.  We checked out some of the reviews and found the International UFO Museum and Research Center to be rated fairly high and we had no idea what to expect.
Upon entering the museum, you could tell that the place was stuck in the 70s or 60s.  It clearly had not seen any updates for several decades but strangely, this only added to the feel of the museum.
The museum is mostly dedicated to the incident at Roswell of 1947 and other UFO research.  You can find loads of information about the people involved, newspaper clippings, pictures and supposed artifacts left by the UFO (or weather balloon).  The whole museum is, of course, left to the interpretation of the visitor to decide for themselves if the incident was just a weather balloon or an actual UFO.  Regardless of what you want to believe, it is still an entertaining and interesting experience.
The museum makes a large horseshoe shape which leads you from one end to the other and you could spend days reading all of the information they have inside – we only spent a little more than an hour.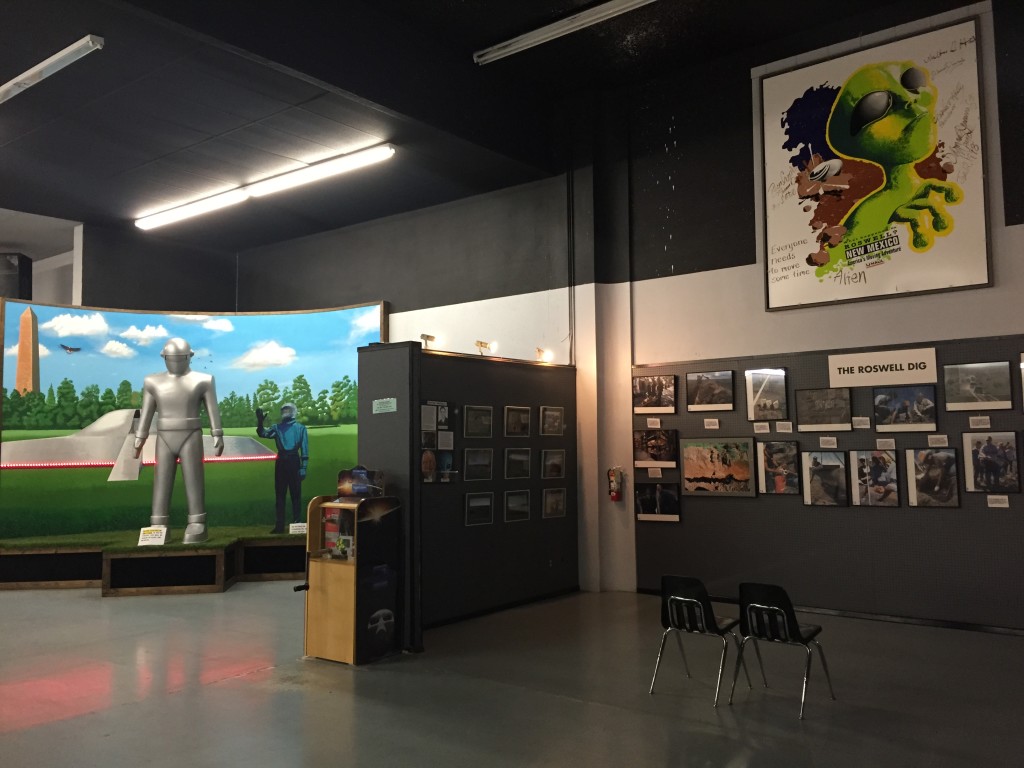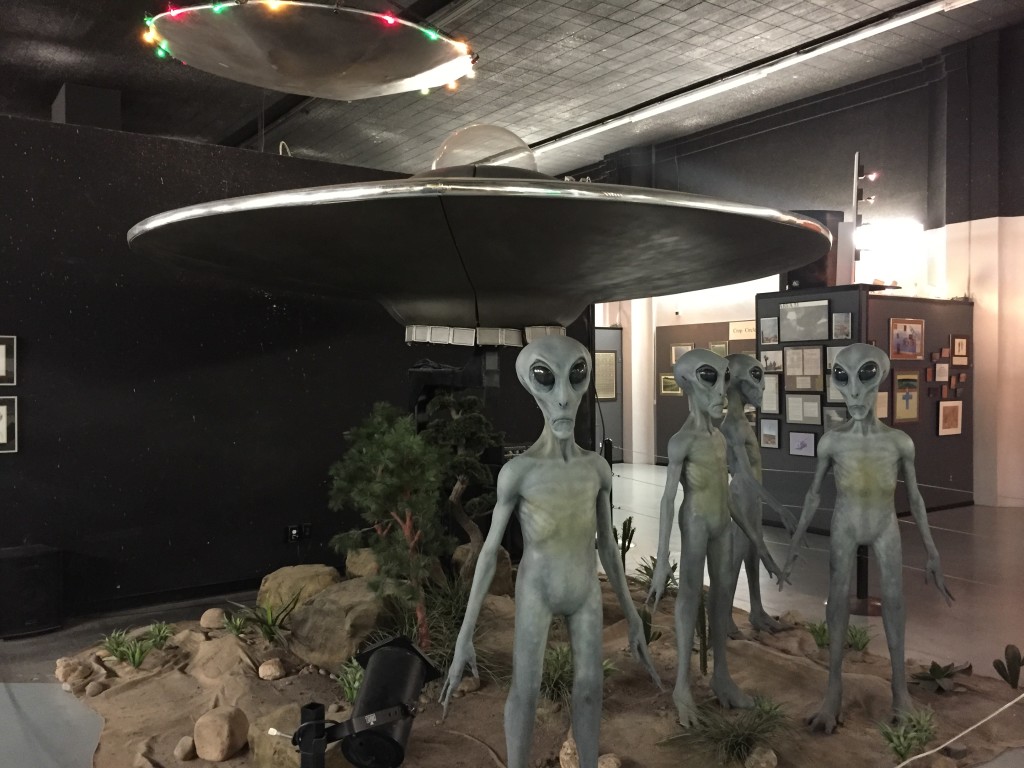 The museum also has displays about UFO sightings around the world and Native American rock art similarities to alien symbols.  There was also a large hand carved wooden piece that was modeled after a stone lid on the sarcophagus found in Palenque, Mexico.
The museum features this because they say it may reference an ancient astronaut.  It is fascinating to read their interpretation because it brings much to the imagination.
However, after you read what researchers and archaeologists had to say about what this inscription means then you will realize that people will see only what they want to see.  Archaeologists have said that the man in the inscription is Pakal (a king of Palenque) and he is laying on top of an earth monster.  You can see the celestial bird above him as he lies between heaven and the underworld.
Towards the end of the museum I found some interesting rock art picture displays.  The information reads "Smaller photos were taken by researcher Ron Regehr who feel they are not rock art, but a language that shows the Hopi, Zuni and Ute migrations, sagas and myths.  "Some seem to suggest flight or extra terrestrial alien influence.  According to one Hopi Indian leader, the petroglyphs on the Hopi Reservation show a definitive connection between the Indians and visitors from space."
I find this interesting because there are photos of the Sego Canyon Rock Art that I personally visited a few months ago.  I didn't get the feel that these pictographs were showing "visitors from space." But it is still nonetheless a very interesting connection to suggest.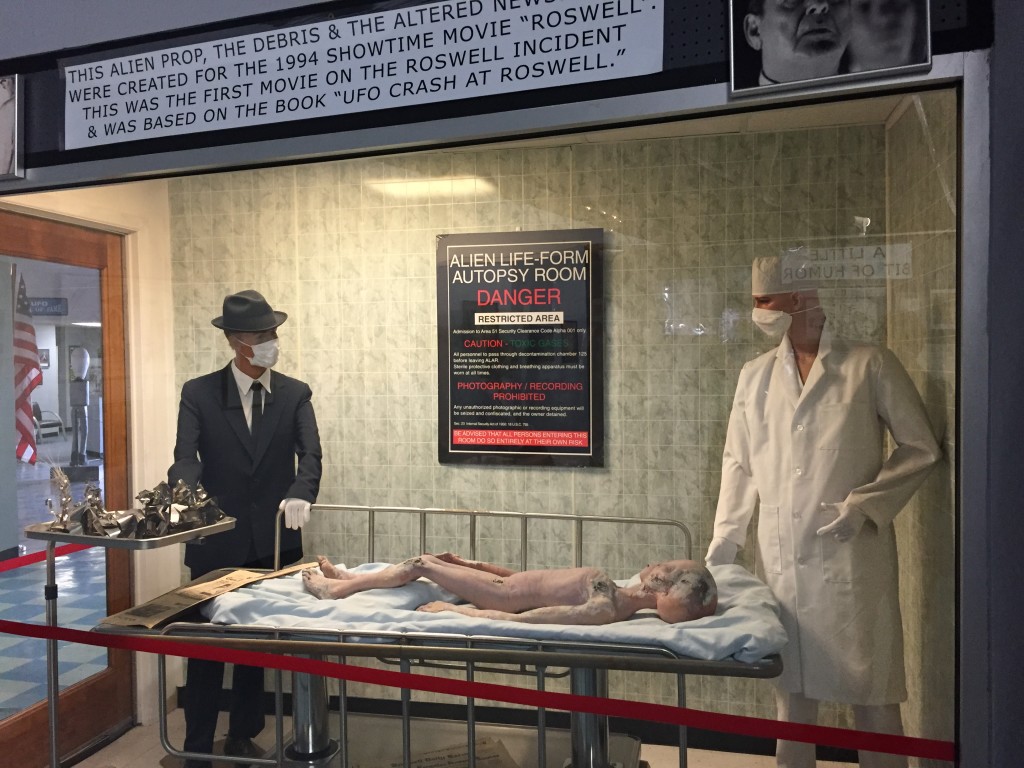 The museum takes you around in a full circle to a display of an alien autopsy.
The gift shop is around the corner too but no photography is allowed in there.  There is also a short video which you can watch if you have some time.  We didn't have the time to check out the Research Center either but I'm sure it would be just as interesting to see.

The Return:
Head back towards your vehicle.

Personal Thoughts:
I was surprised by how much I enjoyed this museum.  Yes it was a little silly at times but it was still an interesting experience.
I'm sure children might find this boring but I think if you approach this from the historical aspect then you will get a lot from it.  The museum is on the "serious side" of the UFO debate but it also does a good job for the most part to show both sides of the 1947 Roswell incident so you can form your own conclusion.  Or you can simply enjoy the newspaper clippings and photos as you meander around.