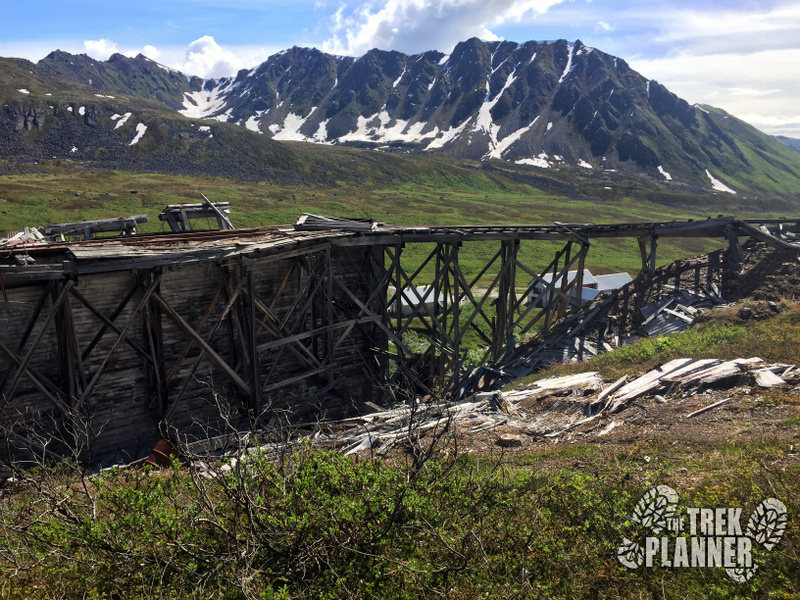 Overview
Near Hatcher Pass, Wasilla, Alaska
Independence Mine, buildings, incredible mountains
I walked about 2 miles exploring around. You could easily hike one of the longer trails and go for many more miles.
Bring a liter or more of water
Open for a short time in the summer. Check with the visitor center for current hours of operation
Part of the trail is paved and the other parts are dirt
Yes. Check with the visitor center to see when it is open
No overnight camping allowed.
Hat, sunglasses, backpack for your food and water.
GPS Coordinates:
Park Entrance: 61°46'47.60″N, 149°16'42.00″W
Visitor Center: 61°47'26.23″N, 149°16'57.76″W
Water Tunnel: 61°47'26.64″N, 149°17'18.64″W
Independence Mine: 61°47'29.98″N, 149°17'44.44″W
Trail Map
Driving Directions
The Trail:
The Independence Mine State Historical Park is located about an hour and a half from Anchorage or about 30 minutes from Palmer and Wasilla.  I spent a few hours exploring up here with my family and we all absolutely loved it.
The Independence Mine is a very large mine with dozens of miles of tunnels underneath the granite rock.  This gold mine began production prior to 1938 but seemed to pick up steam when a company bought the Independence Mine and the nearby Alaska Free Gold Mine, called the Martin Mine, and consolidated resources and production.  Production amounted to more than $6,000,000 in gold but the mine closed down in 1951.  Many of the buildings are well preserved making for some very enjoyable exploration.  The Independence Mine is on the National Register of Historic Places and covers about 270 acres of land.
For more information about the mine and area click here.
The self guided tour starts off just below the mine complex and buildings.  There is a small parking lot with pit style restrooms and a gate.  You could park here and hike up to the mine or you could pay the $5 parking cost (per vehicle) and drive up the little ways to the main parking lot.
The preservation of this area is absolutely astounding considering there are still thousands of artifacts, a few dozen buildings and large tailings still littering the area and they are still in the same place they were left more than 50+ years ago.  I can tell that an enormous effort took place in trying to keep the area as intact as possible.
The state park management could have easily "cleaned" up the area and demolished many of the decrepit buildings under the guise of "safety" but they simply built a few fences and hand rails and you are free to look and explore all you want.  Except, exploration inside many of the buildings is not allowed – you will see in my pictures below that some of the buildings are just about to tip over.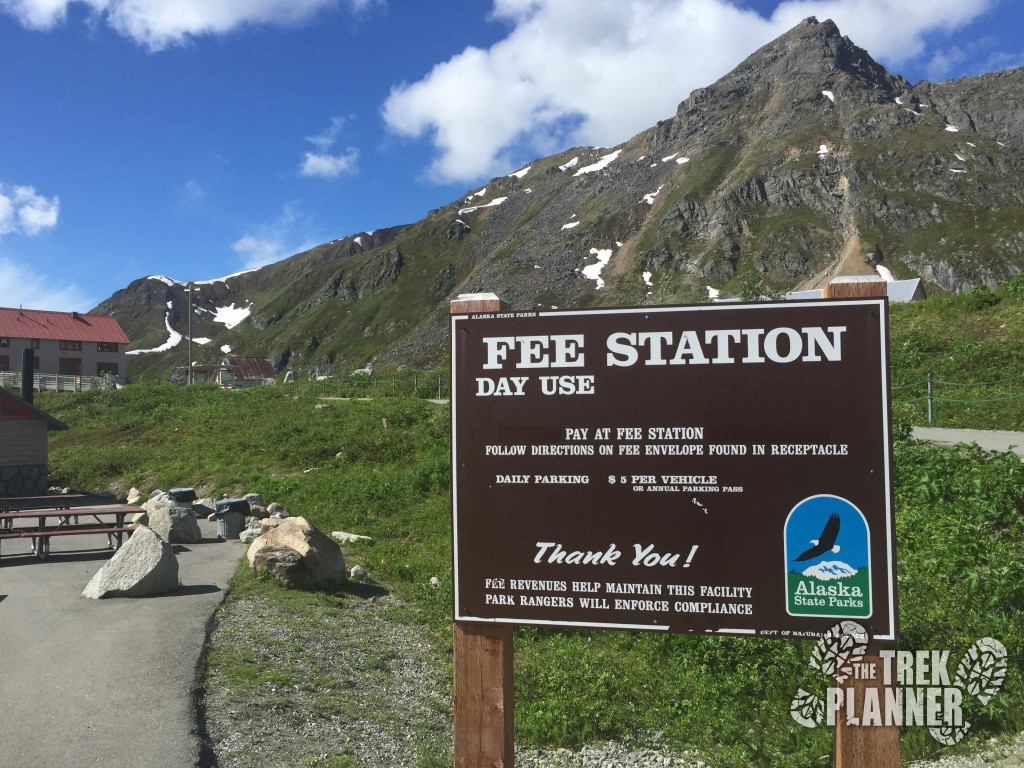 At the main parking lot there is plenty of room for vehicles, RVs and buses.  During our visit, there were a few hundred people wandering around and the parking lot quickly began to fill up.
It is here you will find the visitor center, a few picnic tables and more pit style outhouses.  We headed on up to the visitor center to get more information but come to our surprise, it was closed until the following week.  Despite this, we found plenty of information about the Independence Mine and area through the many kiosks scattered around the park.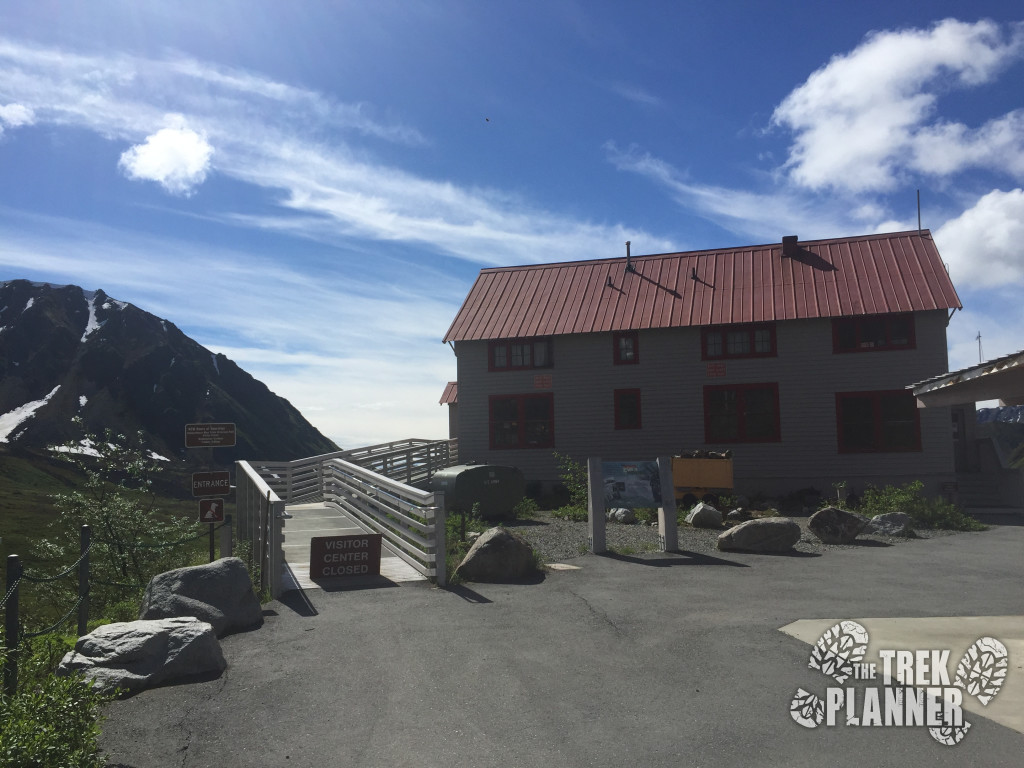 Now, you are probably like me and wondering, are the mines still open? The short answer is, sort of.  Most of the adits are sealed or gated shut.  If you glanced around the surrounding area you can probably see evidence of other mine openings.  We didn't have time to explore those but I can imagine that they are also sealed shut as well…but I still want to go and see what is up there.
There are several trails in and around Independence Mine State Historical Park but we only had a few hours to spend so we chose to focus our time on the immediate area.  We looked at the map, which can be found in a few pictures below, and simply decided to explore on our own and not really follow any one trail – since a few of the trails surrounding the mine interconnect.  We didn't really know what to expect since the visitor center was closed but a few websites suggested that this place is best explored as a "let's see what's over there" type of place – and I agree.
We eventually took the Mill Loop trail which makes a circle around all the cool buildings, visits the Water Tunnel and then meets back up near the parking lot.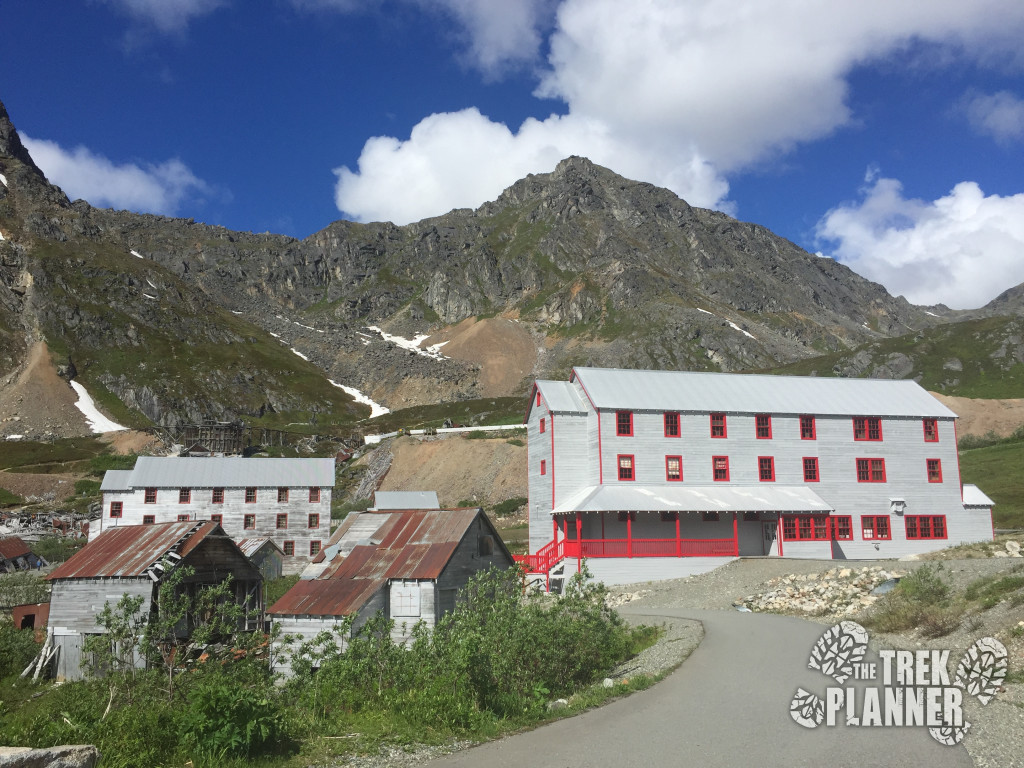 With that in mind we explored the large three-story bunk houses and then headed up to the Fishhook Creek waterfall from there.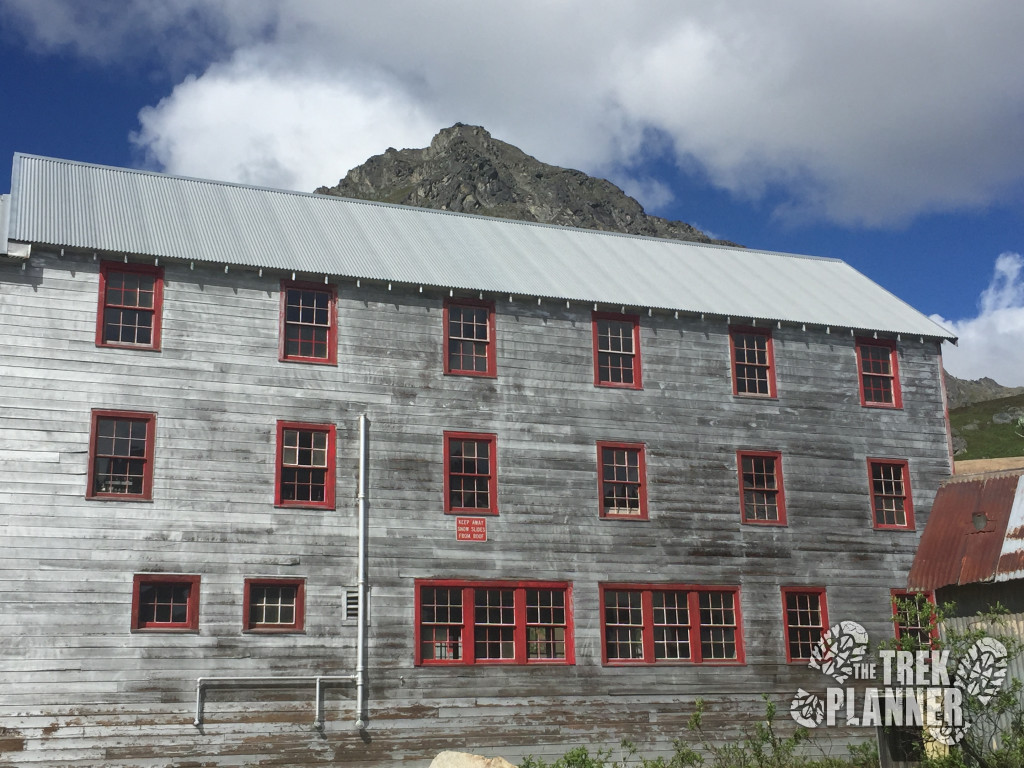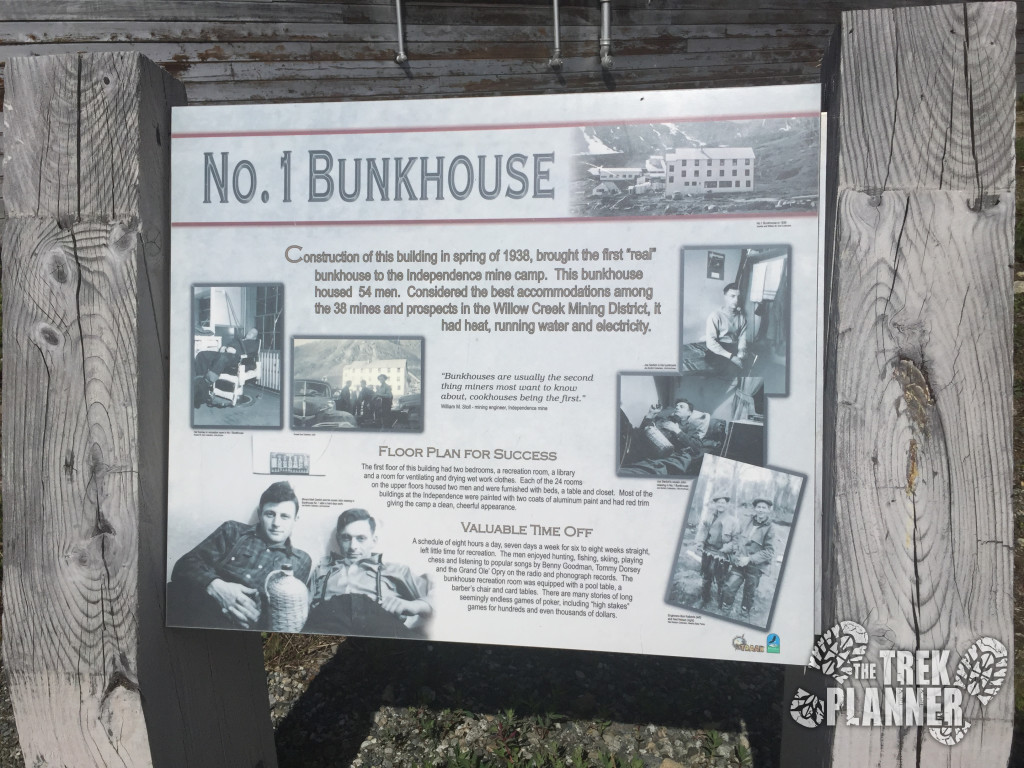 If the visitor center was open we could have asked which buildings we could explore but since it was closed we weren't allowed in any of the buildings.  This however didn't hinder our exploration too much since most of the buildings have clear windows and we peeked in most of them to find tons of old artifacts and cool things to see.
We were all very surprised by all the tools, bottles and other artifacts still visible through the broken windows of one of these buildings.  It added a thick layer of adventure to this area that made us want to come back again and see what else we could find.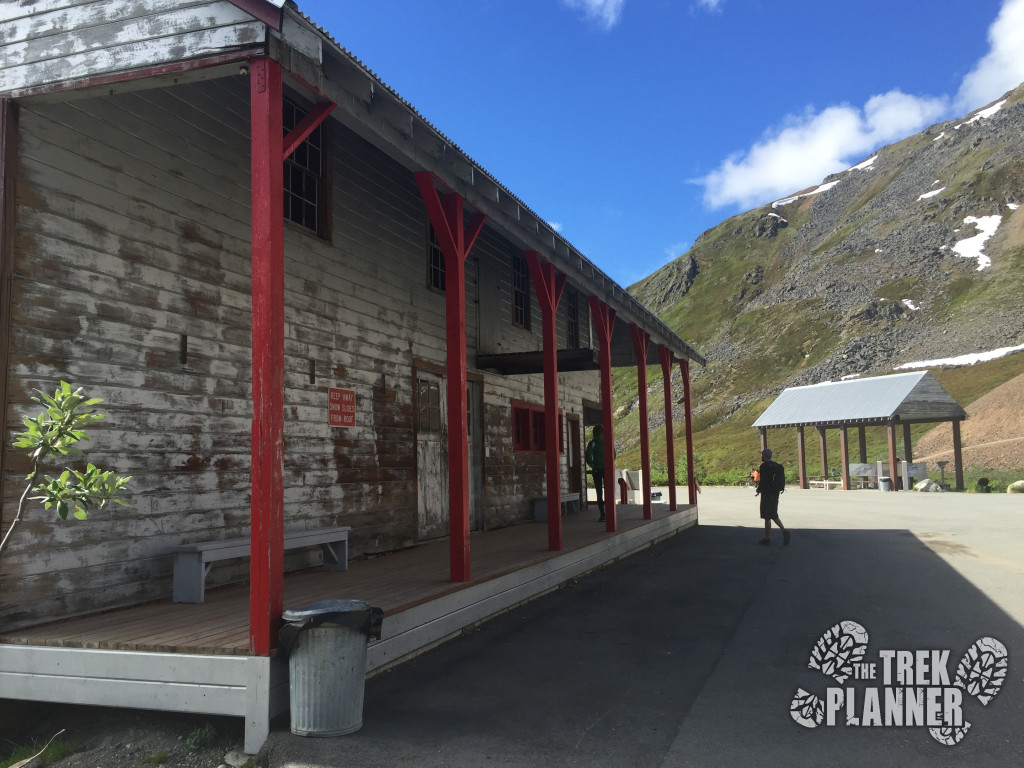 Another reason why this park was so much fun to explore was the incredible scenery.  The whole area is treeless but there is endless green tundra landscape, tall pointed and jagged mountains and several small lakes.  I stopped many times to take pictures of the surrounding mountains but I simply could not capture how beautiful it really was – all the more reason for you to come visit!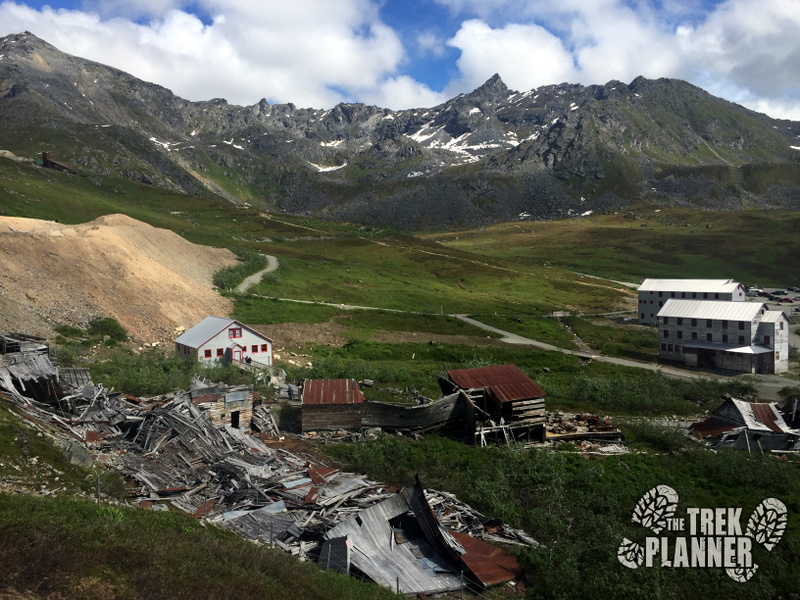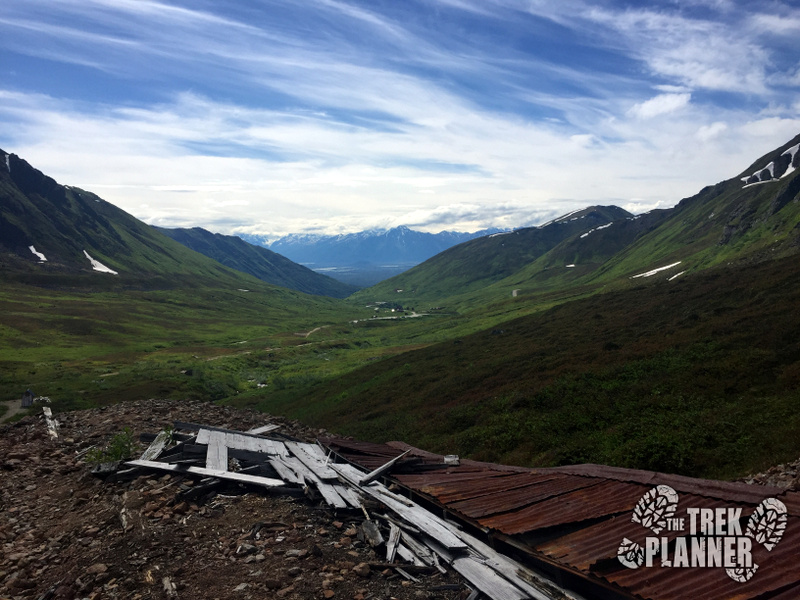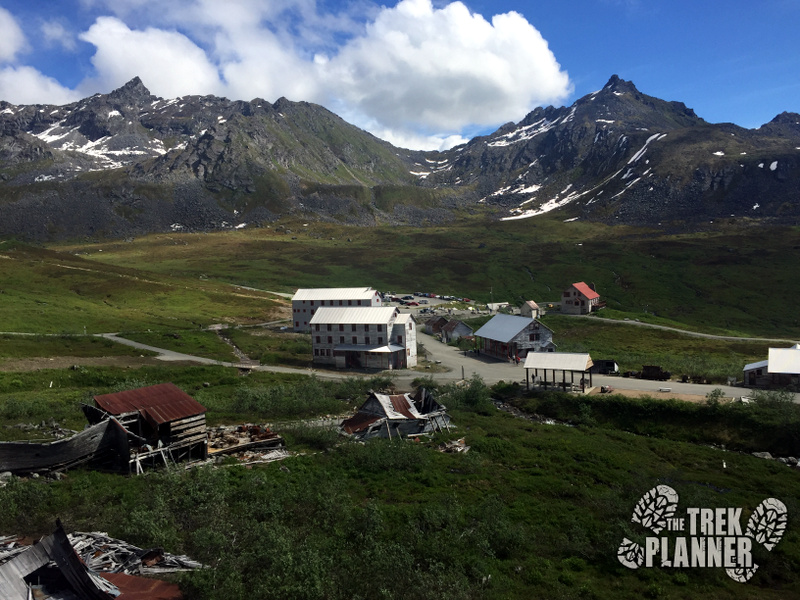 We quickly discovered a waterfall which brought the Fishhook Creek close by the now destroyed mill, near the main complex of buildings and then it exited outside of town.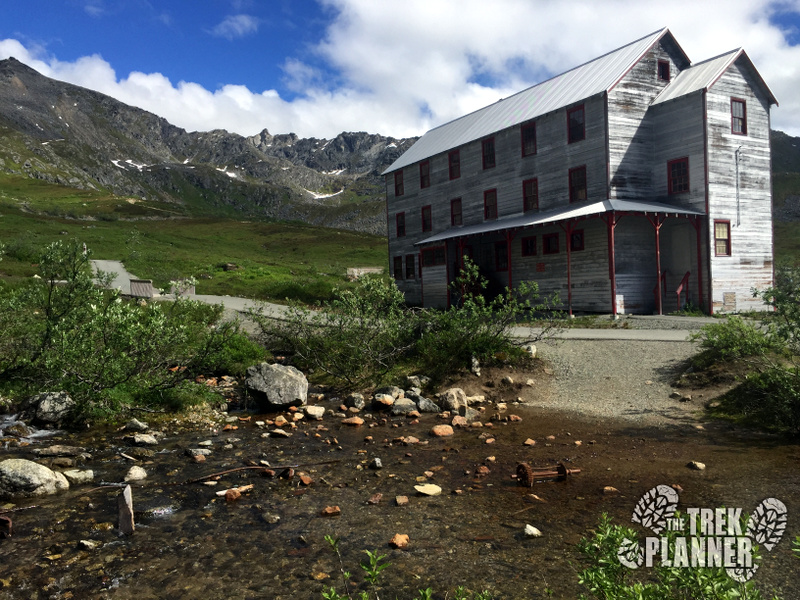 You can see that the park service has been repainting and repairing some of the buildings.  Some of them looked really good!
It was really fun to see families hiking with their small children and seeing them excitedly run all over the place.  All of the kids we saw loved exploring and finding things on their own.  Don't worry parents. Most of the mining relics are behind fences and hand rails making it somewhat difficult for your kids to get into trouble.  Just keep an eye on them and they will probably enjoy this park just as much as you will!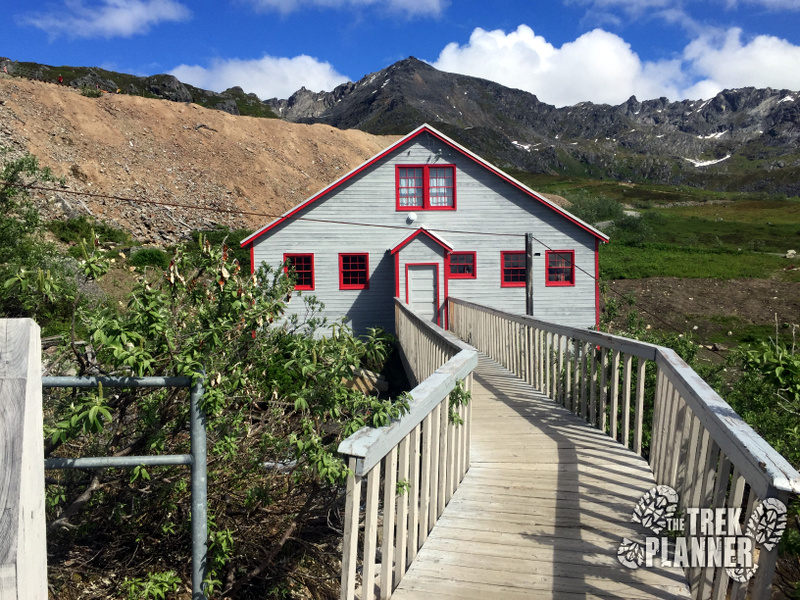 From here the trail dead-ends.  We went back and took a right up an inclined dirt path up to the top of the mill site.  The mill has since been demolished or toppled over by snow and weather but you can see by the thousands of pieces of wood that the mill was huge.
Once near the top we could see that there was once a rail system which would bring many ore carts and dump it right into the mill.
At the top we followed a short dirt path over to the base of the nearby mountains and found a small stream.
Look up the mountain a little ways and you will see the actual Independence Mine (in the next two pictures below).  According to topography maps this is the location of the main entrance.
We made our way back to the top of the mill and got more great pictures of the rails.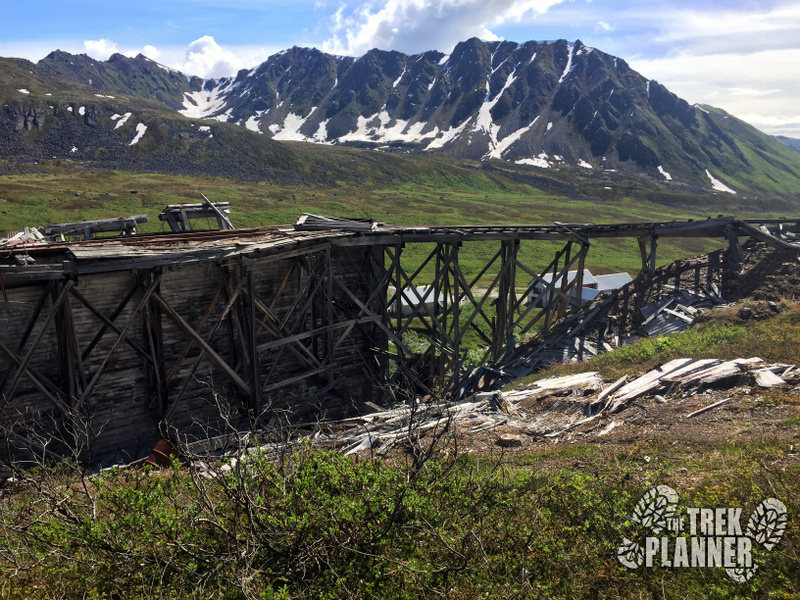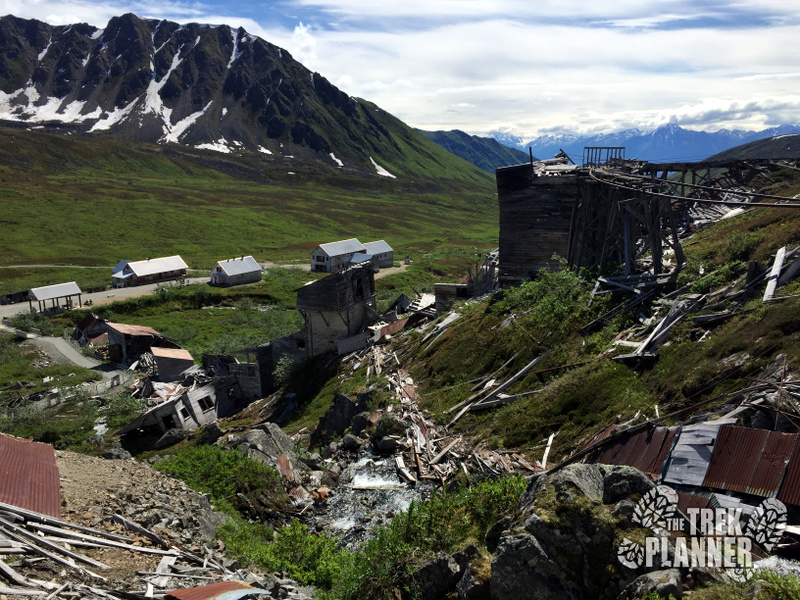 From here we followed a dirt trail, which still had some snow on it in late June, and just wandered around on the tundra.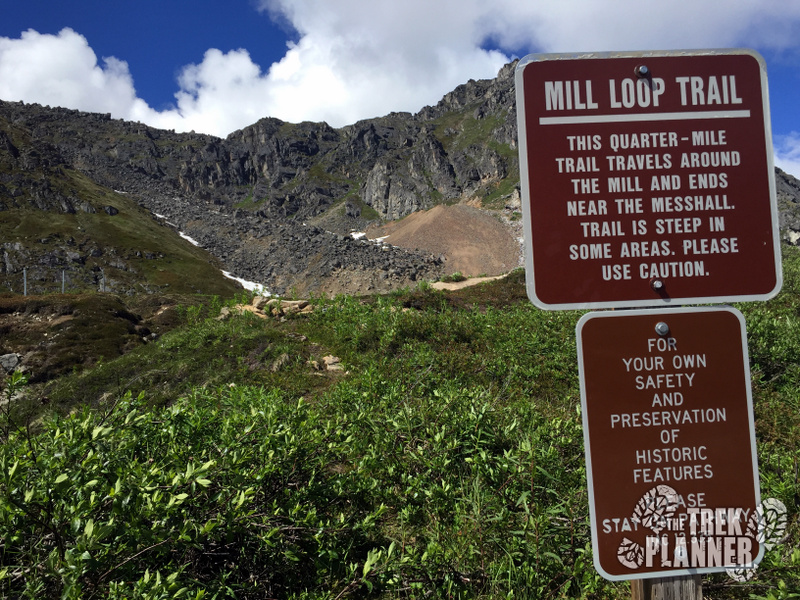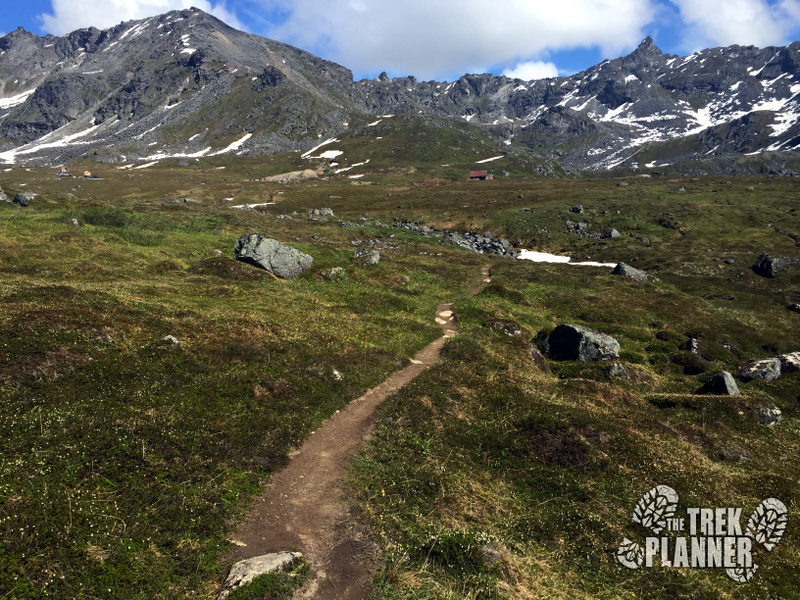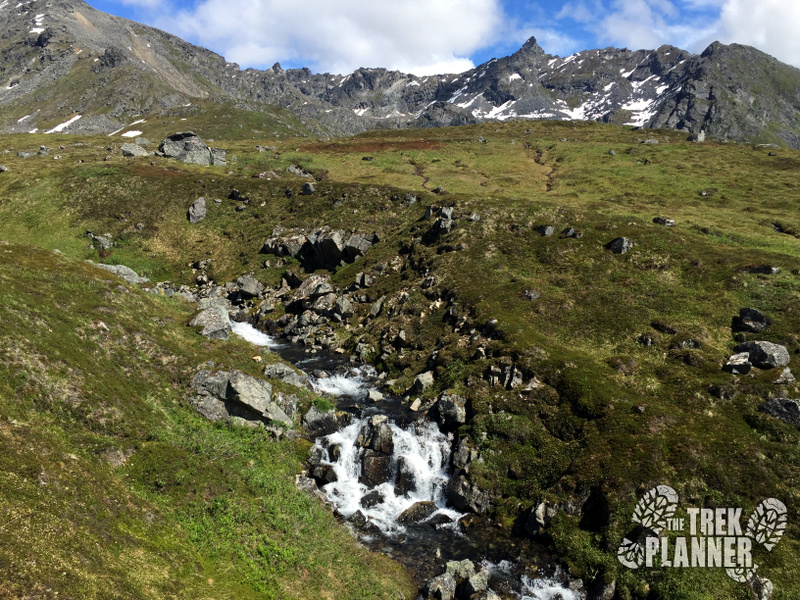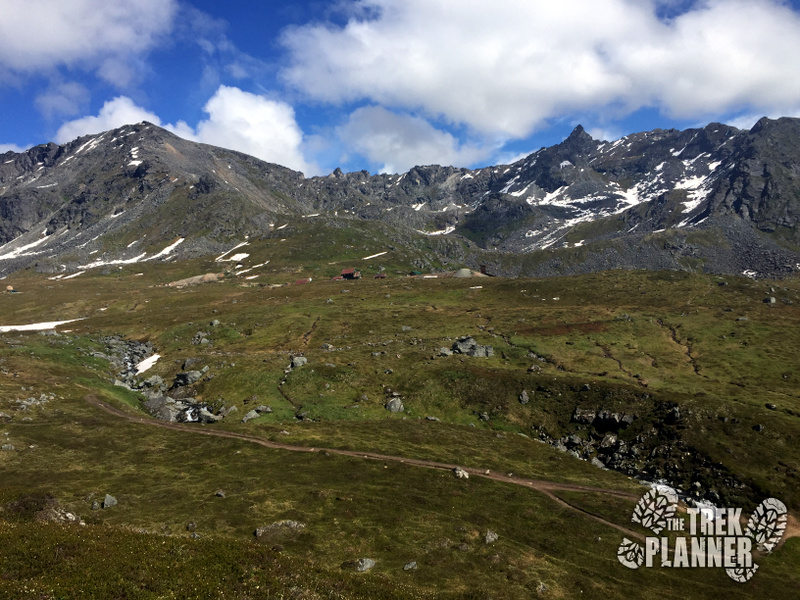 We eventually made our way back to where the Water Tunnel is located.
The Water Tunnel was the only entrance in the immediate area that we were allowed to check out. It is an adit which intersects upper workings of the Independence Mine and coincidentally brings out a good amount of ice cold water.
The water tunnel features two separate locking doors and is impossible to enter…unless someone at the Alaska DNR is kind enough to give me a tour! hint hint…
Anyway,  it was still really cool to see as the park built a fantastic wooden platform complete with rails and ore carts.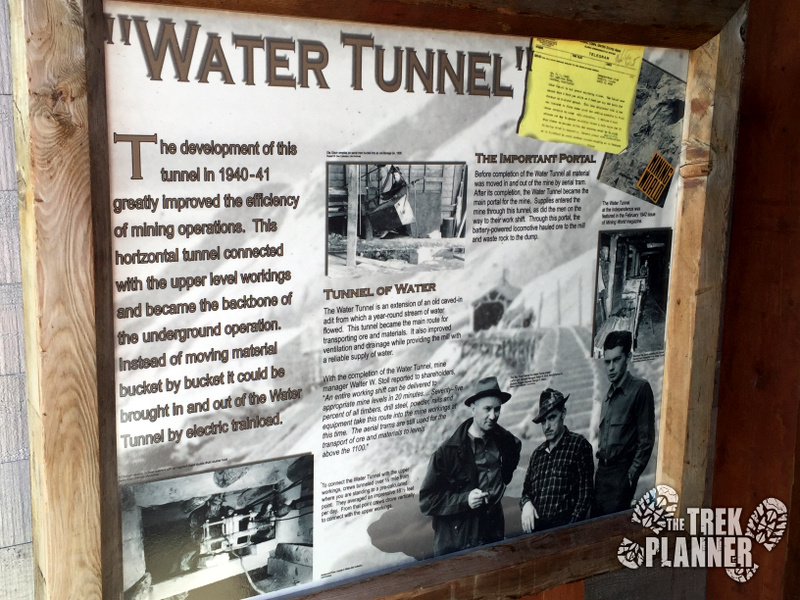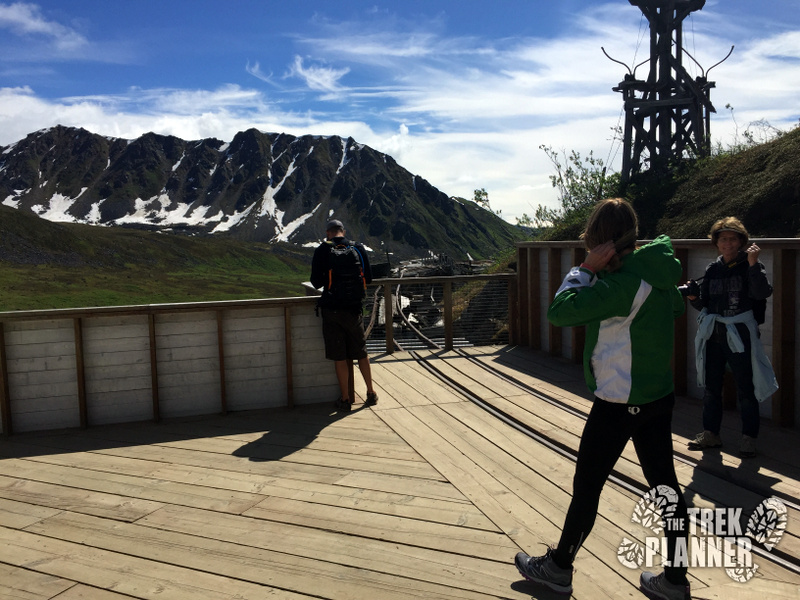 There is a kiosk which explained that the year-round temperature for this mine was below 40 degrees Fahrenheit!  Imagine mining underground in 40 degree temperatures and then coming outside to negative 40 degrees!  I think I would rather stay in the mine and work all winter.
After the Water Tunnel we came upon a line of ore carts which you can jump inside of and pretend you are getting ready to enter the mine for your shift of mucking and drilling.  I really enjoyed seeing many ore carts lined up complete with an engine!  We saw a few kids climbing all over these and the adults couldn't help themselves either.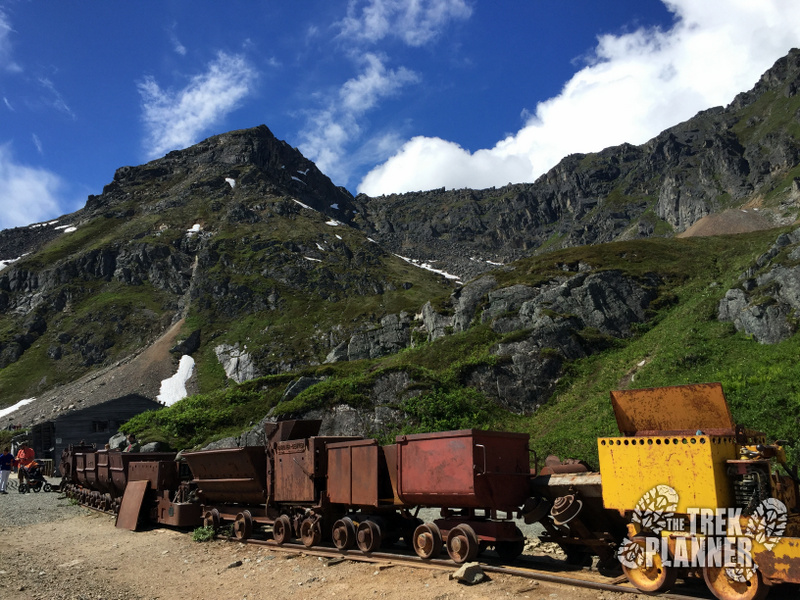 We then circled around and came back to our car.  There was another interesting information kiosk about the conditions of the mine and camp.  I made several comments to my family about how in all the pictures, most of the miners were smiling and looked very comfortable.  This is because the mine company took care of its employees by making the conditions as safe as possible, building comfortable bunk houses complete with lounge areas and even a library.  The company even provided one month of paid vacation time for an employee who works for more than a year.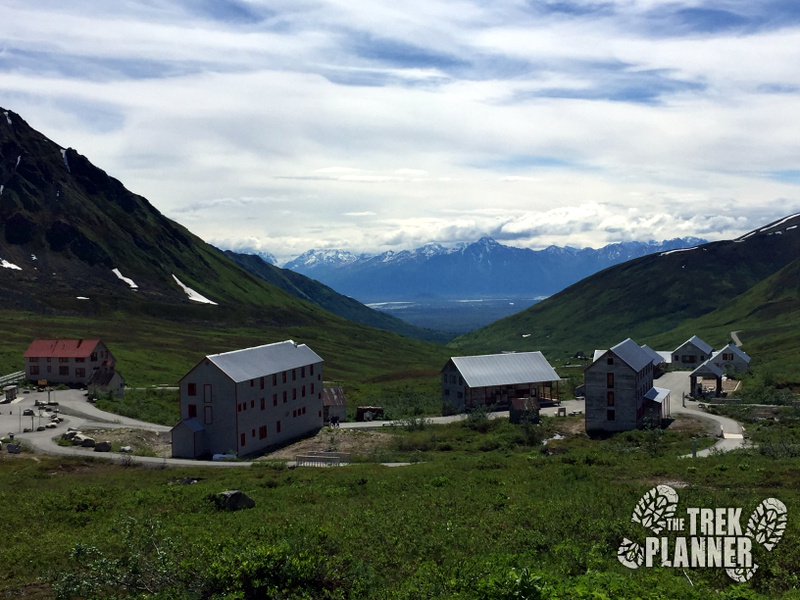 Secret Area:
The content you are trying to access is only for Trek Planner Insiders. Signup
The Return:
The Mill Loop trail meets back up at the parking lot.

Personal Thoughts:
I really enjoyed Independence Mine State Historical Park!  This is probably one of my favorite state parks I have visited – besides Goblin Valley State Park in Utah.  It is very small in size but the area was so incredibly beautiful and the mining history was so fascinating and the old buildings were really cool to explore and that is why I am rating this one so high.  I will definitely come back and explore more of the trails and see if I can't venture higher up in elevation to check out the other mines.
Come see this state park!