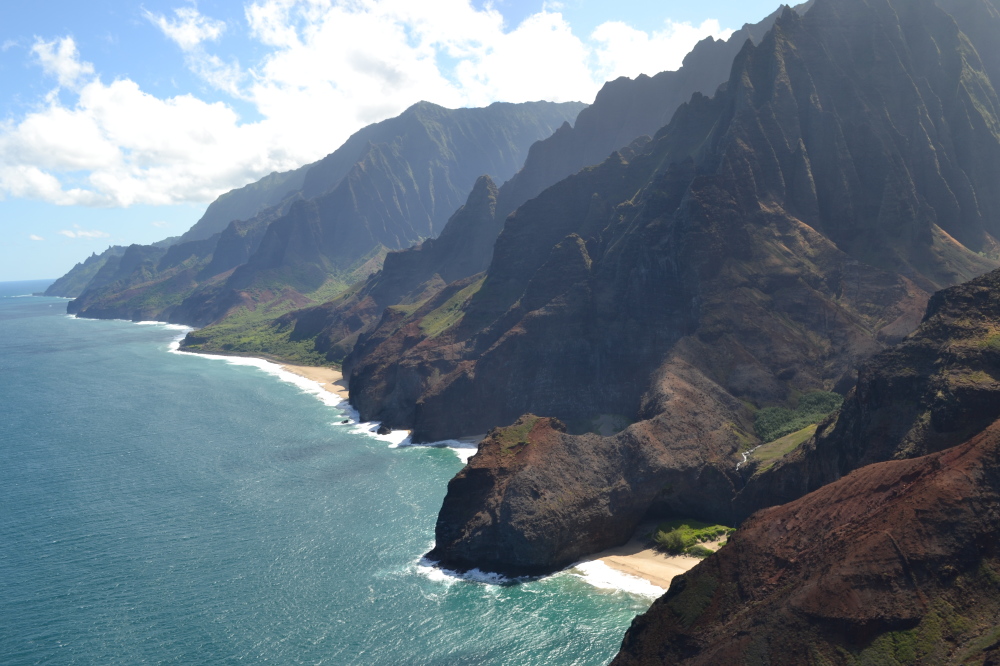 Overview
Napali Coast – Kauai, Hawaii
Beautiful beaches and scenery, wildlife
It's about a 4 mile round trip
535 ft at highest point then drops back down to sea level
Bring 2+ liters of water. This is a hot hike so please bring more water than you think you will need
Lots of shade but still hot
Trail is a dirt path all the way to the beach. It's about a 4 mile round trip
Bring good hiking shoes, bag for water and food, sunglasses, hat, camera
GPS Coordinates
Trailhead: 22° 13.223'N, 159° 34.967'W
Hanakapiai Beach: 22° 12.555'N, 159° 35.877'W

Trail Map

Driving Directions
The Trail:
The trail starts off next to Kee Beach.  Parking may be hard to find so you may just have to park farther away up the street.
Follow the street up to Kee Beach and you will see a trailhead sign that points northwest to the Napali Coast trail which is called the Kalalau Trail.
The trail is steep in places but it is still wide and accessible for traffic going both to and from the coast.  There are many opportunities for amazing pictures of the ocean and coast line.  This is truly one of the most memorable hikes I have been on.
When we did this hike we saw hundreds of hikers going to and from Hanakapiai Beach.  The trail to Hanakapiai Beach is only a smaller segment to a much longer trail which continues on up the Napali Coast but it would have taken us two days to hike to the very end and we were only in Kauai for a week.
We were more than just fine hiking to the beach but someday I would love to return and hike all the way to the end.
Anyway, during the hike we saw several guava trees and stopped to taste the fresh fruit.  The plants and trees make this hike incredible.  It is constantly green and lush and you feel like you are in a Jurassic Park movie…maybe because parts of the movie were actually produced here in Kauai.
At about the 1 mile mark you will see Hanakapiai Beach in the distance.  But at this point you still have about .83 miles to go until the actual beach.  Fortunately, it is mostly downhill from here.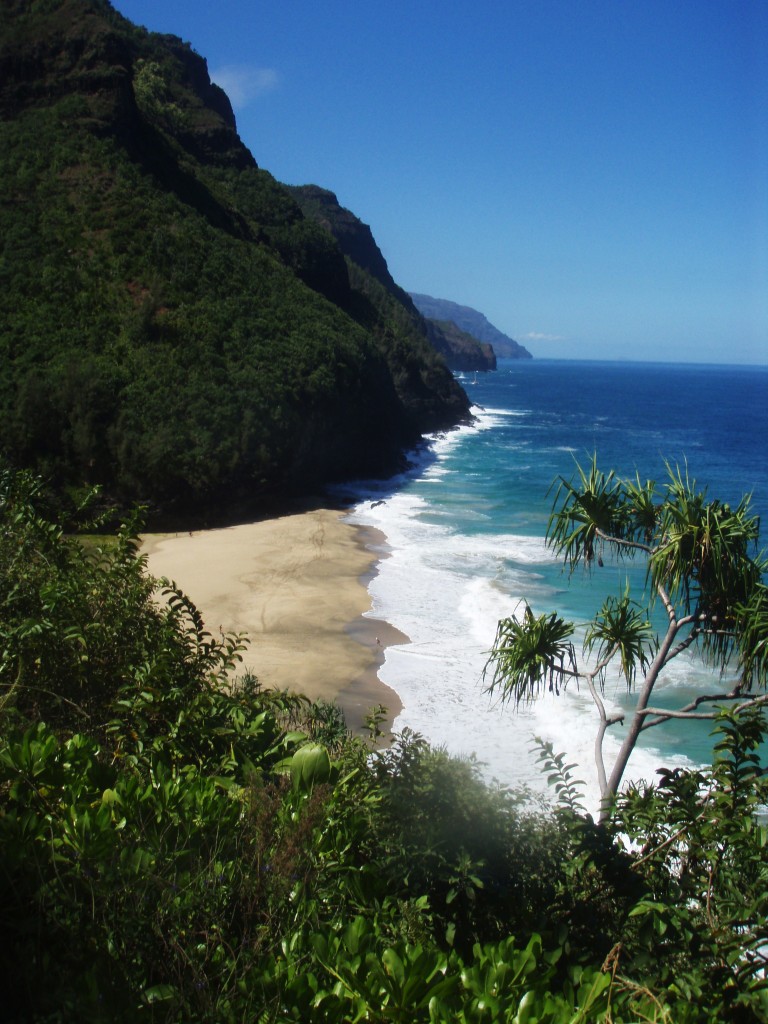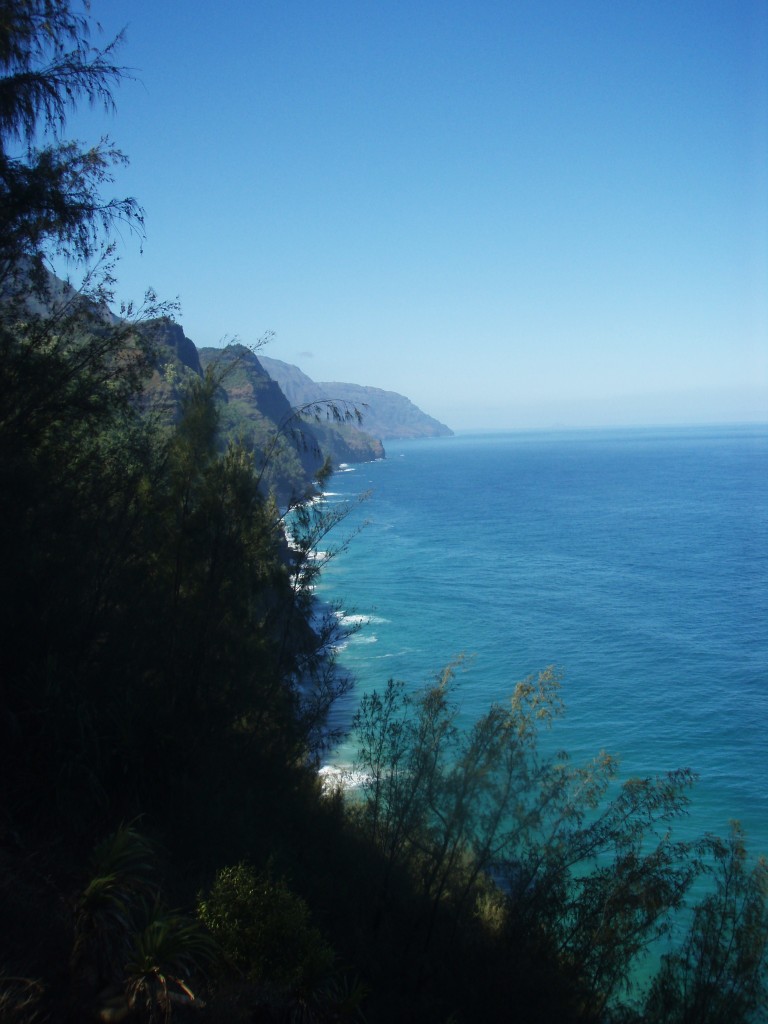 As you approach the beach you will need to cross a creek.  This is a beautiful spot but it can be very dangerous when there are recent rains.  While we were here we saw a family of feral cats hanging out around the hoards of people eating lunch.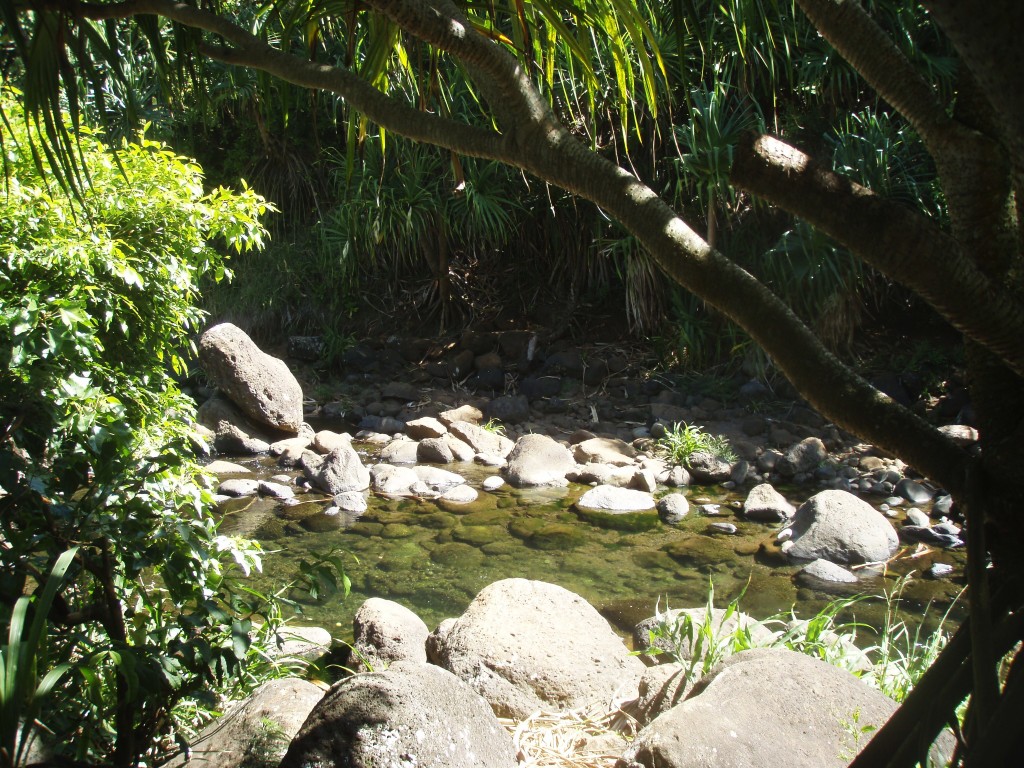 And finally here is Hanakapiai Beach.  It is a very dangerous beach to go swimming at so it is not recommended that you enter or go close to the water.  We spent about an hour relaxing and hanging by the beach.
Here is the beach from up above on the trail.
There are signs in the area that discourage people from getting close to the water.  The currents are very strong here so please be careful.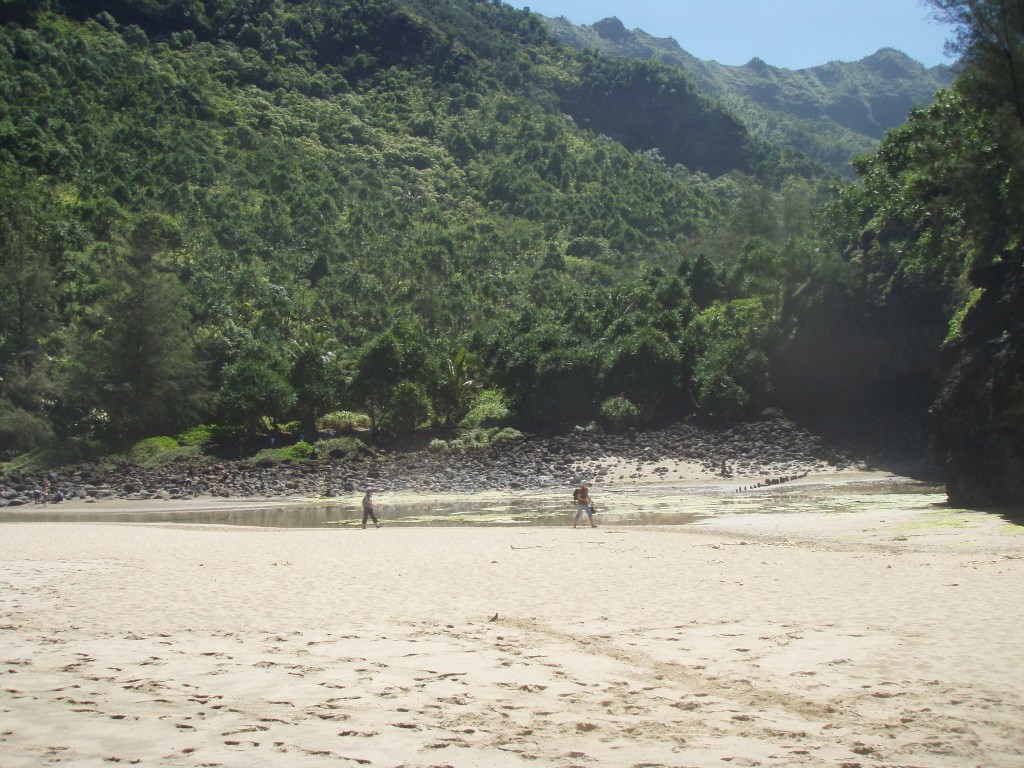 The Return:
Head back along the trail to the parking lot
Personal Thoughts:
If you plan to visit Kauai this is a MUST do hike.  It will take the majority of your day to drive there and actually hike the trail but you will not regret doing it.