Overview
Dust devils, cattle, and lots of cave formations.
1.5 - 2 miles (including hiking distance)
None. Closest water source is Goshute Creek.
Late fall - early spring.
Moderate - extreme (on the hike)
Clothing:
Nasty old cotton pants
Long sleeve Polyester hiking shirt
Wool socks
Asolo TPS 520 boots
Outdoor Research Halo Sombrero
Sunglasses
Gear:
Dakine Pro II backpack
60oz of water in Camelbak
First aid kit
40ft of 550 para-cord.
Camera Gear :)
Petzl Elios Helmet
China Windfire headlamp
Spark SD6-500CW headlamp
Homedepot kneepads
Goshute Cave is a great beginner/intermediate cave. It is mostly horizontal, with walking or wide crawling passages. The lower section is damp and muddy, but the majority is dry and dusty. There are tight passages if you seek them out, and places to climb and explore; it offers something for the skilled and the unskilled alike.
This is a publicly posted and advertised cave; despite decades of abuse, the cave has managed to retain quite a few decent formations.  The damage that has been done is sad and highlights the issue of conservation and education.
We encourage you to be respectful in any cave. Pick up garbage, and leave none of your own behind. Be careful what you touch and grab, and avoid damaging any formations.
GPS Coordinates:
Trailhead: 40° 3.833'N, 114° 47.554'W
Cave: 40° 4.041'N, 114° 47.596'W
Camping: 40° 2.945'N, 114° 47.916'W

Trail Map
Driving Directions
The Trail:
The rising sun woke me. Anxious to get going, I jumped out of my sleeping bag. Others, just as excited were waking as well. Late March, the night was quite cool but sleeping under the stars was very doable.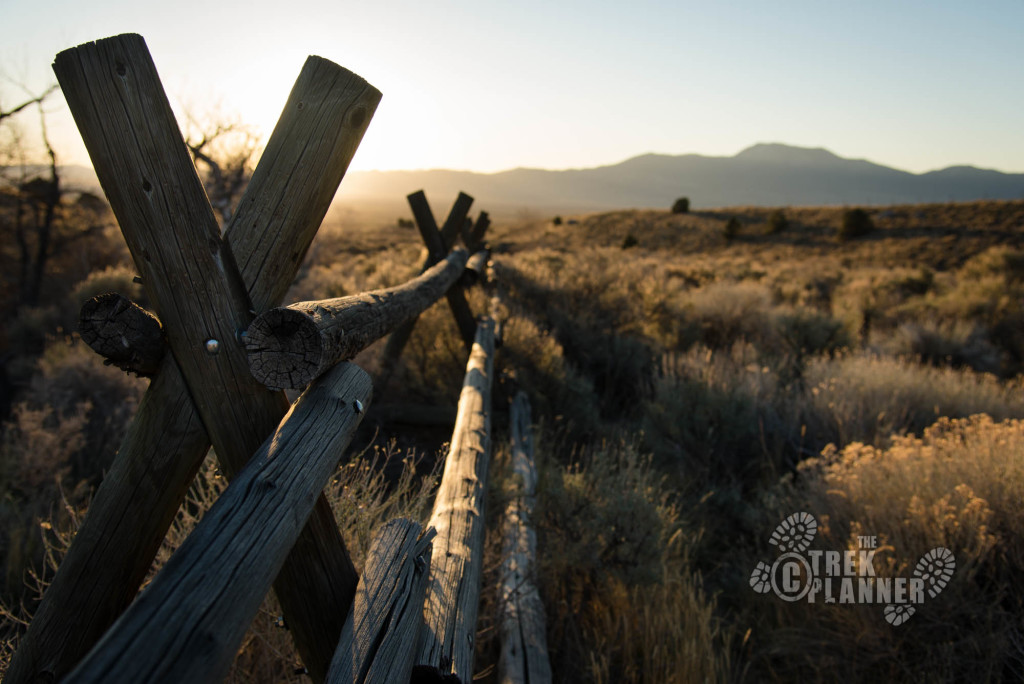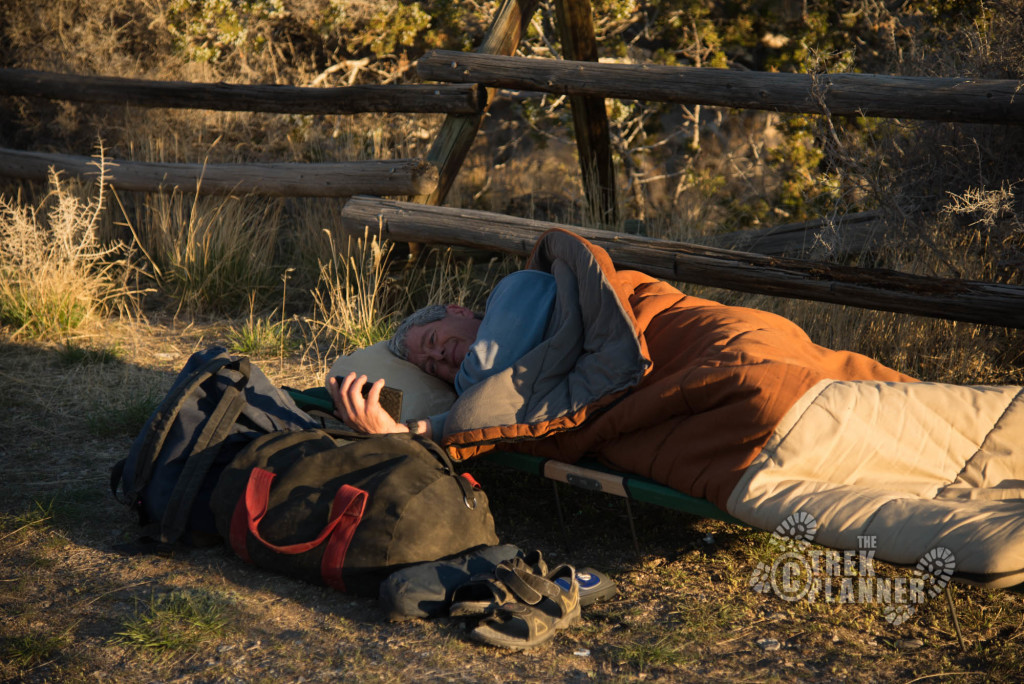 We drove over to the trailhead and stared wearily up at the cave far above us. The hike is short, just under a half mile. But it is very steep. And at the end there is some scrambling/climbing you must do to reach the cave.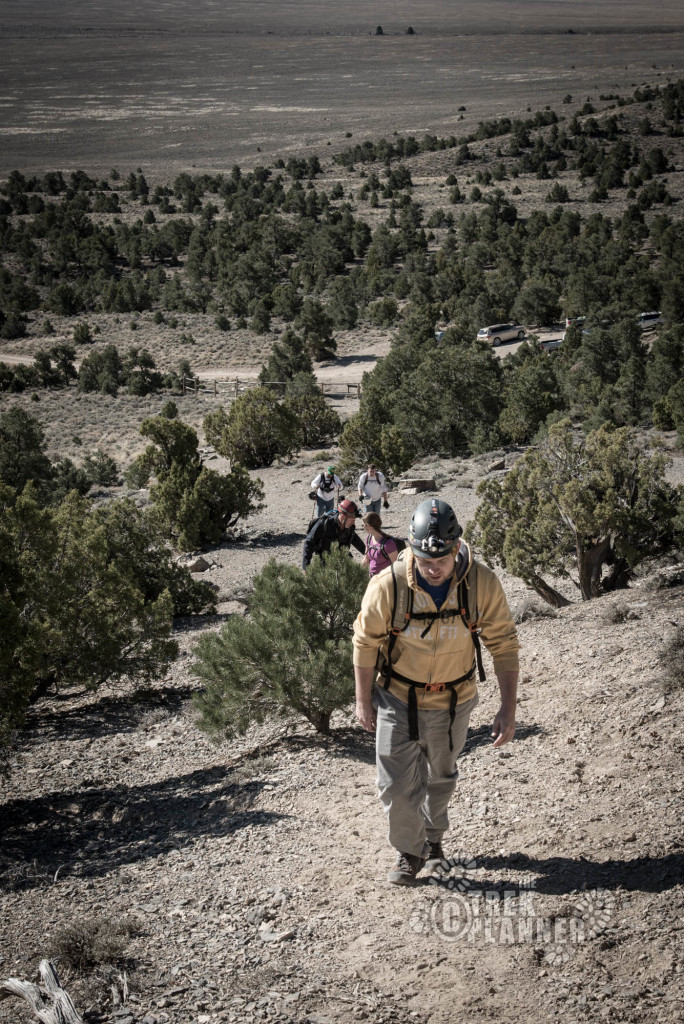 We all hiked at our own pace. We did this the last week in March, and it was already 75º. Believe me, it felt more like 100º. Take plenty of water and feel free to take it slow. I was sweating terribly, and could not imagine doing this in the summer.
Sun exposure is moderate to extreme: trees offer scanty relief from the sun. Take sunblock and a good hat if you are going to take this very slowly.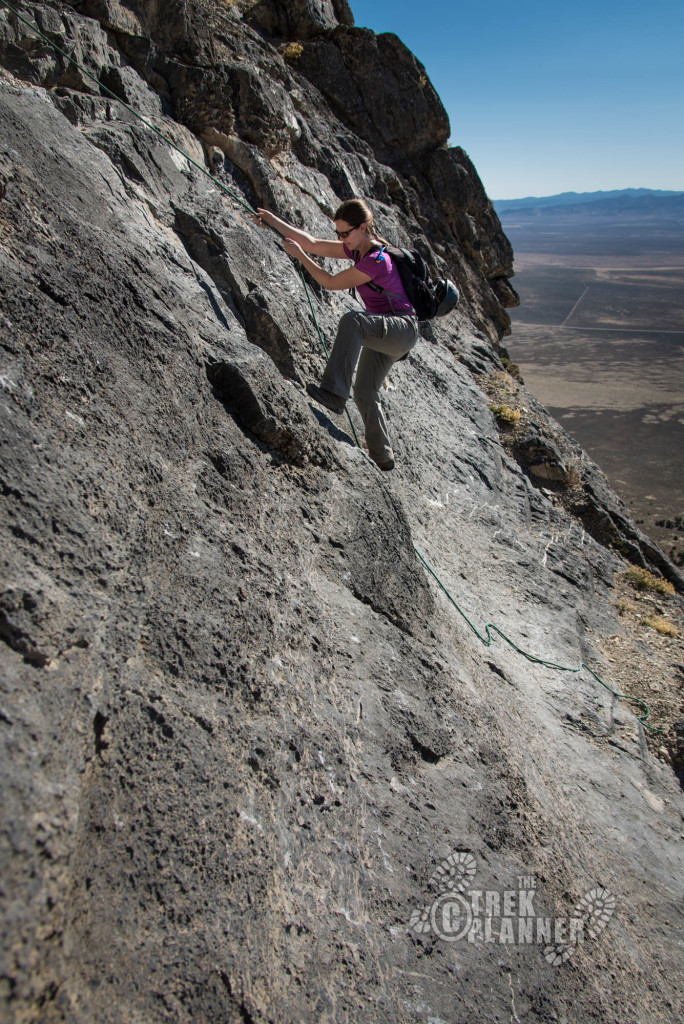 Just below the cave you hit the sloping bottom of the limestone band. This looks worse than it is. You can easily climb it in any shoes, and a rope makes it far easier. I'd rate it at a 5.0 on the climbing scale. It is right on the edge of scrambling and climbing. It proved too much for a couple that came up as we were exiting. We offered to help them up, but the wife took one look at this and just turned and started back down the trail. The husband shrugged sheepishly and then followed.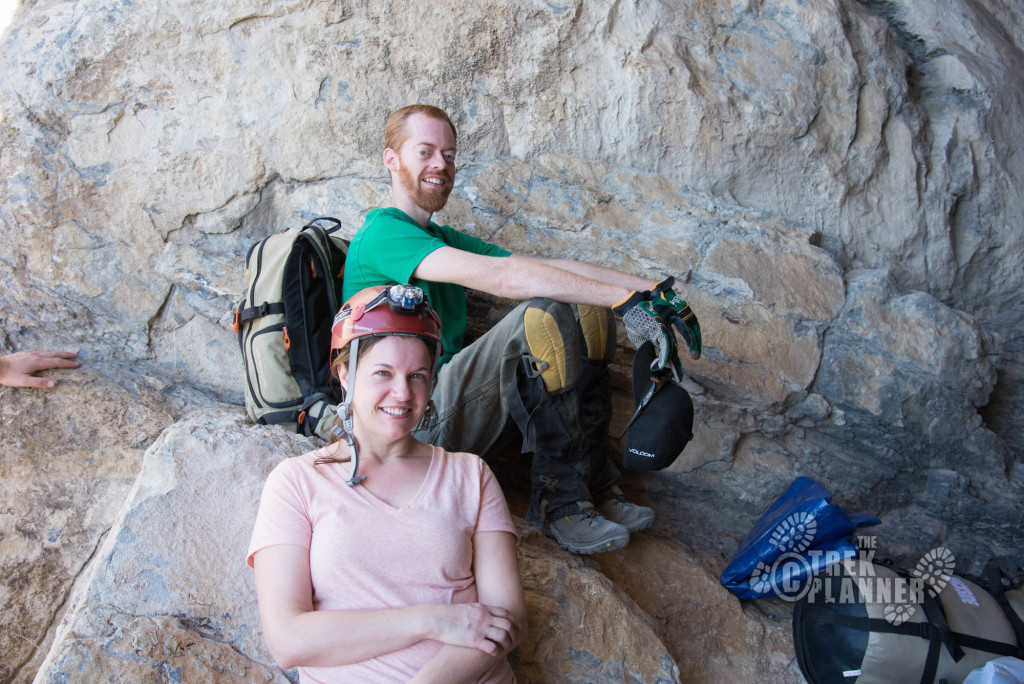 We rested in the large alcove. The giant alcove, visible from the trailhead, is not the cave. People who do not know better have hiked up, explored the alcove, and then gone home exclaiming that Goshute cave is pretty lame. You now know better. The entrance is just to the left of the alcove behind a small bushy tree (if you are facing into the alcove).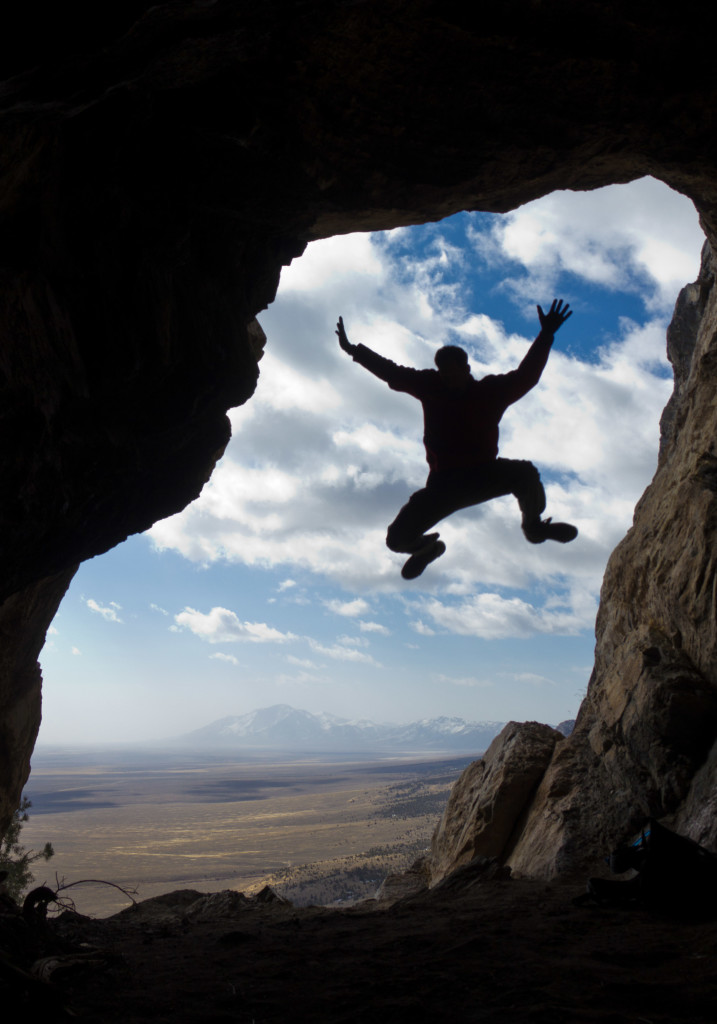 Crawl in. It is best to go first. The entrance section of the cave is very dusty. Those who go last will be inhaling a thick cloud of dirt. One of our members, David, has gotten very ill from this dust. A mask is encouraged.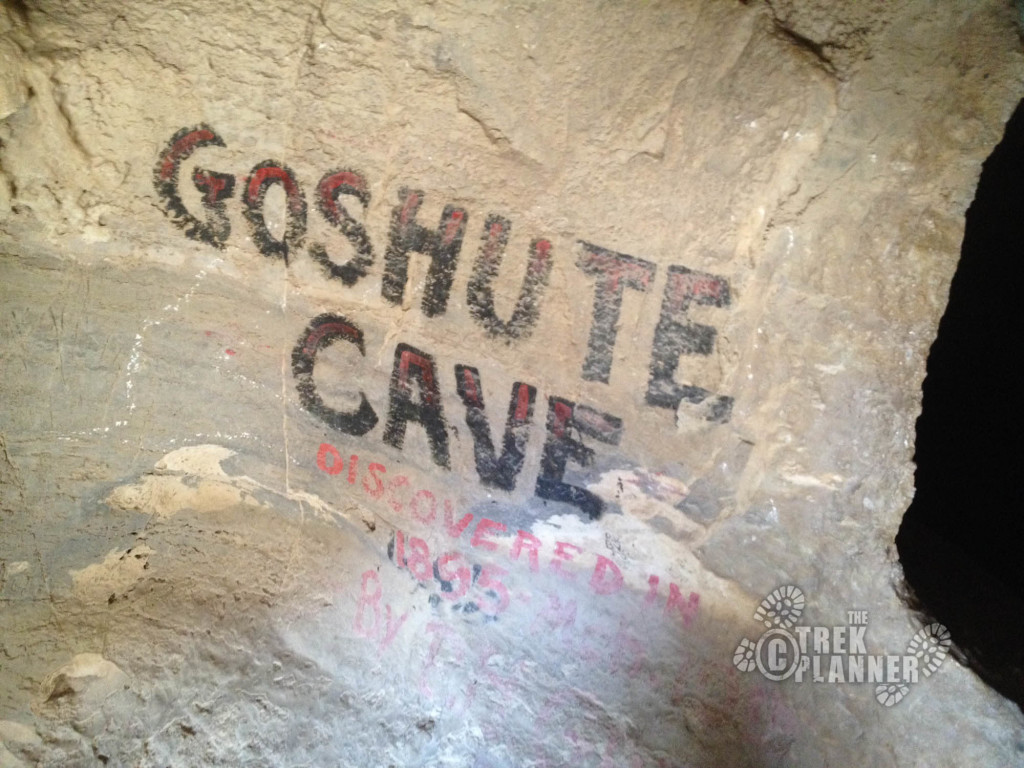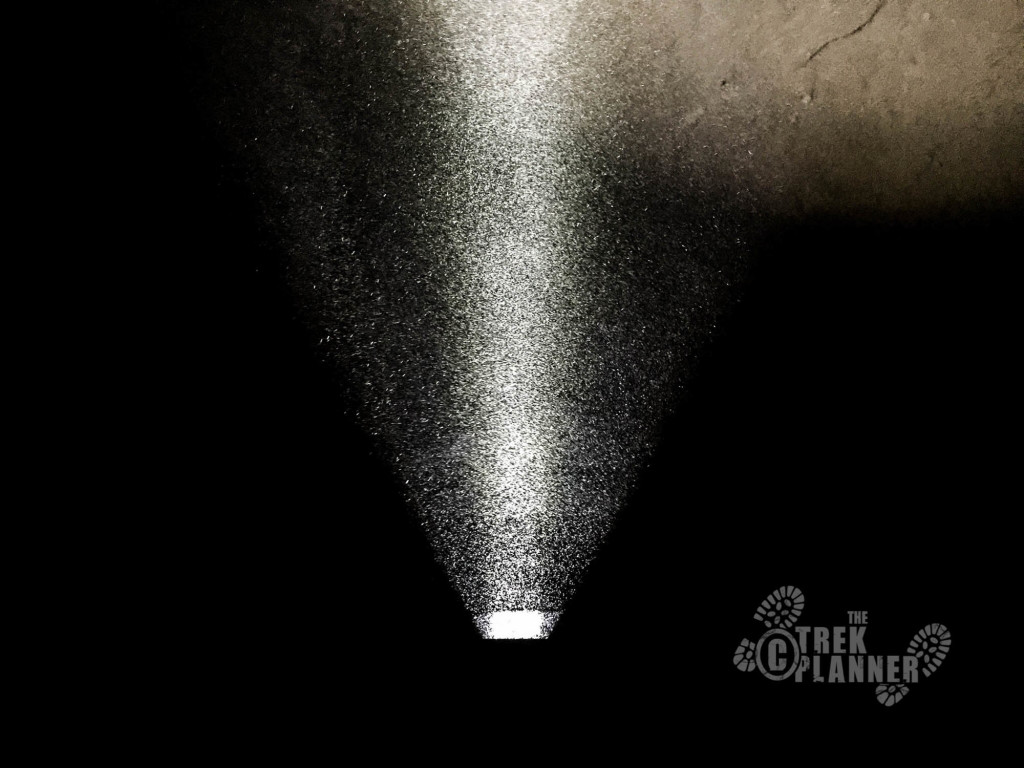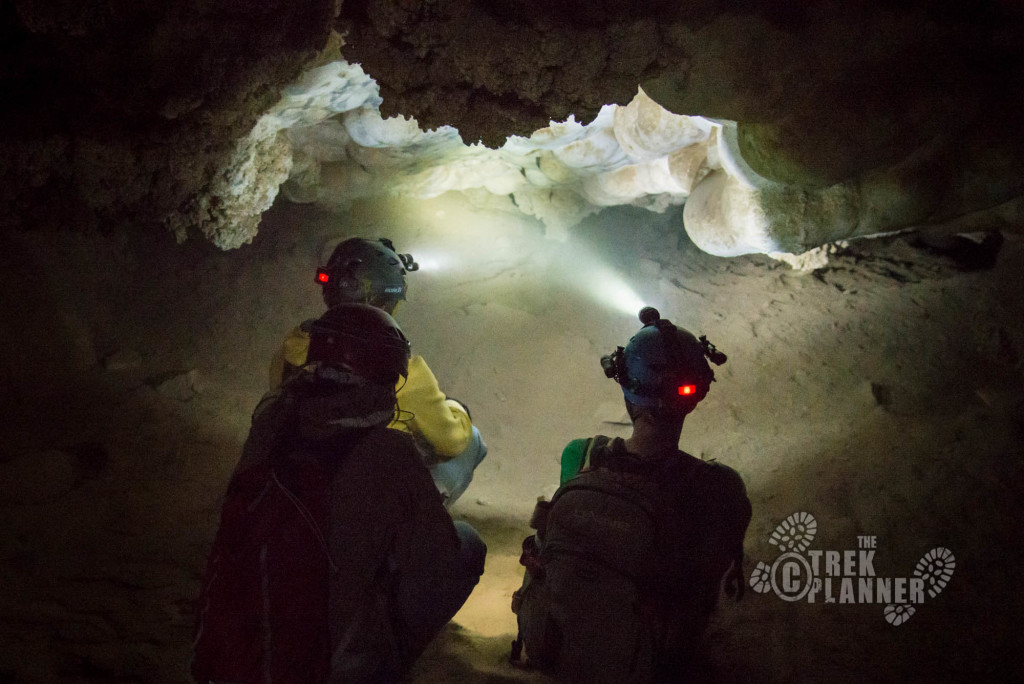 The cave branches left and right. There is a lot to do and see and in a medium sized group, you can easily spend 3-5 hours in the cave. The left branch (Dance Hall) is very dusty, but the right branch moistens up and the dust vanishes once you are in a few hundred feet.
There are many great formations still intact. The cave is covered in 'cave popcorn' and a formation called 'mammillaries' that resemble…well, I'll let you use your imagination.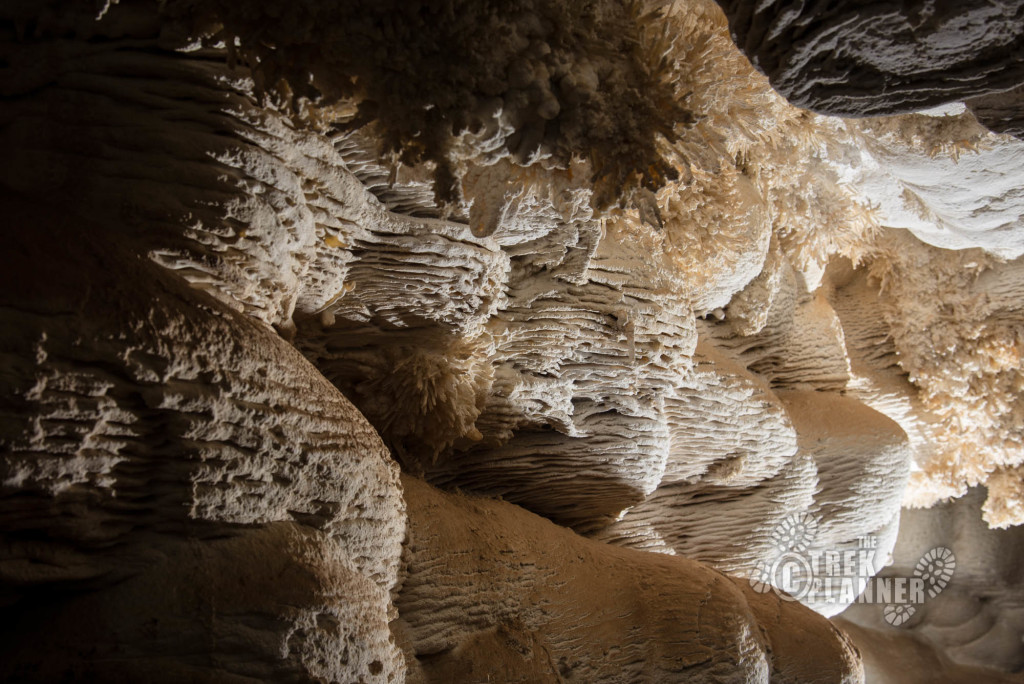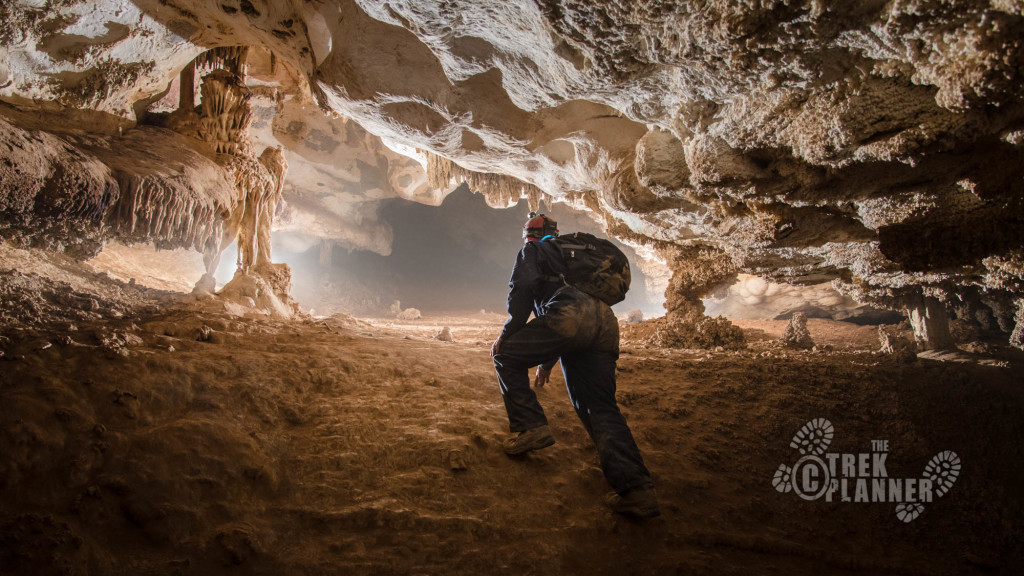 There are columns, stalactites and stalagmites, shields, helictite, coralloids, folia, and more!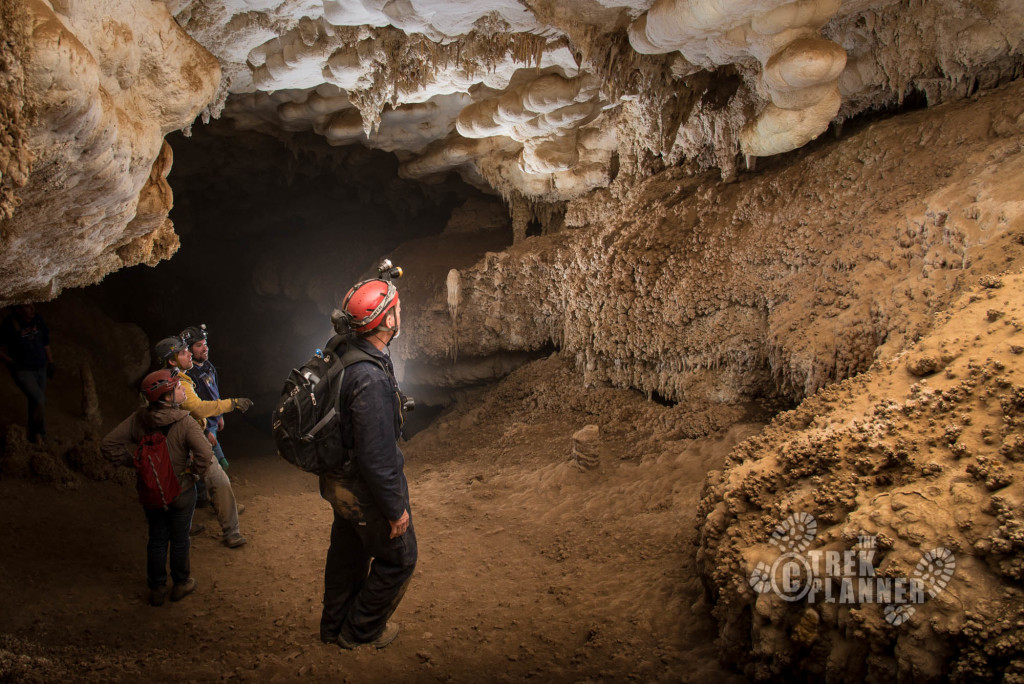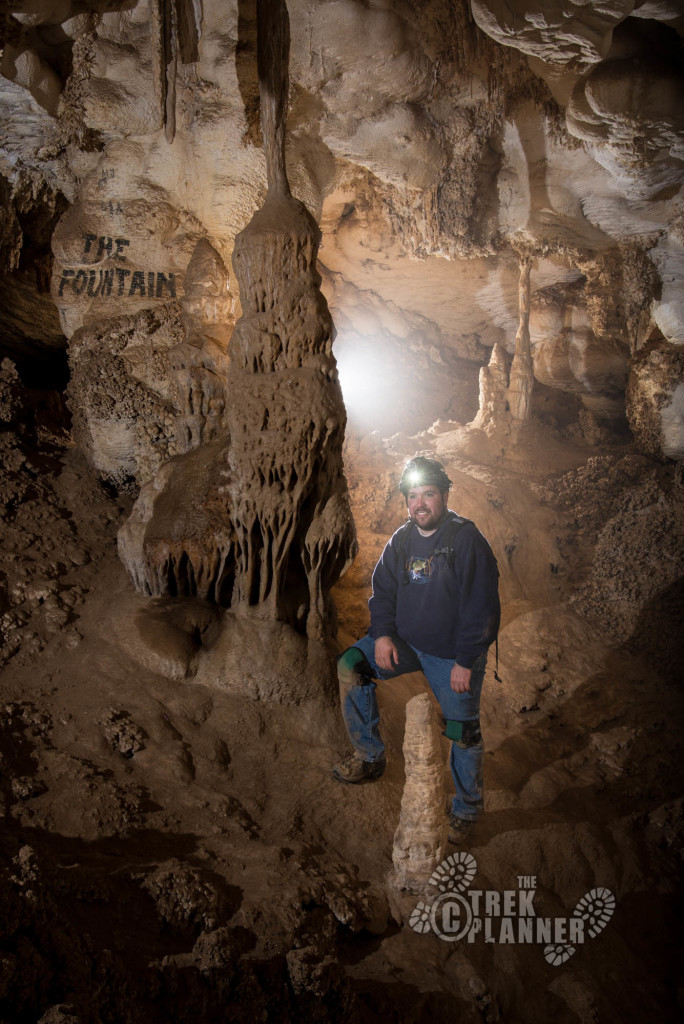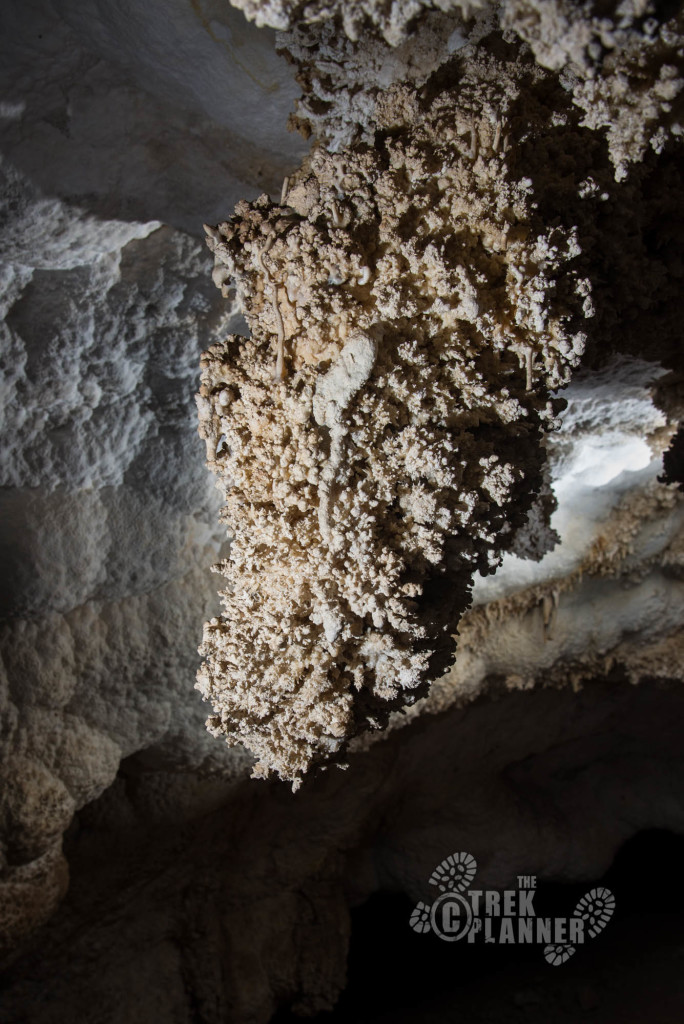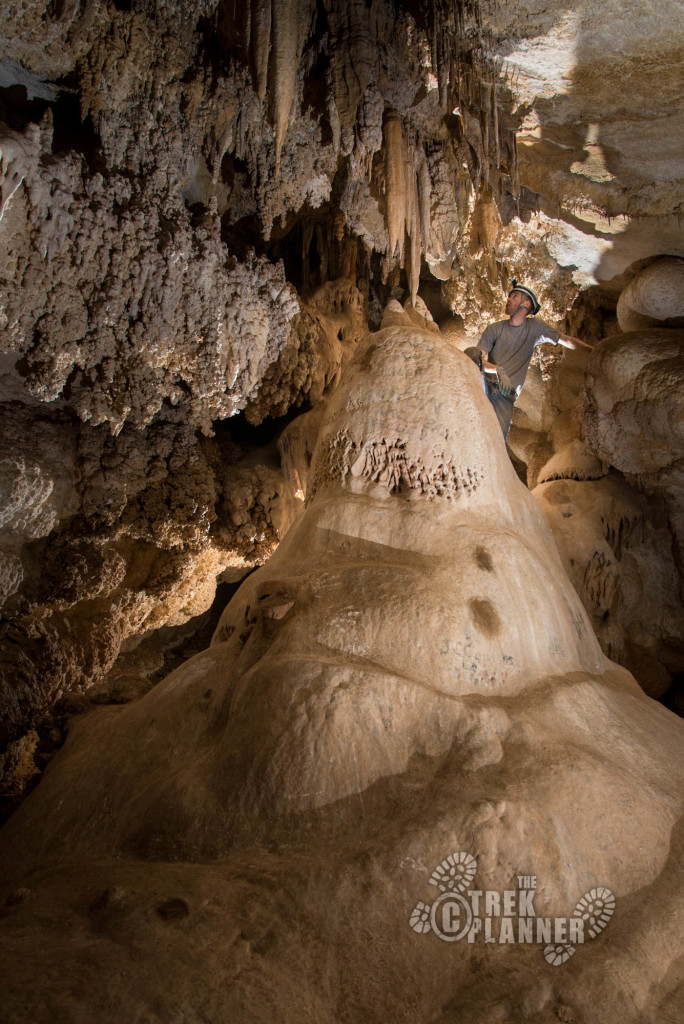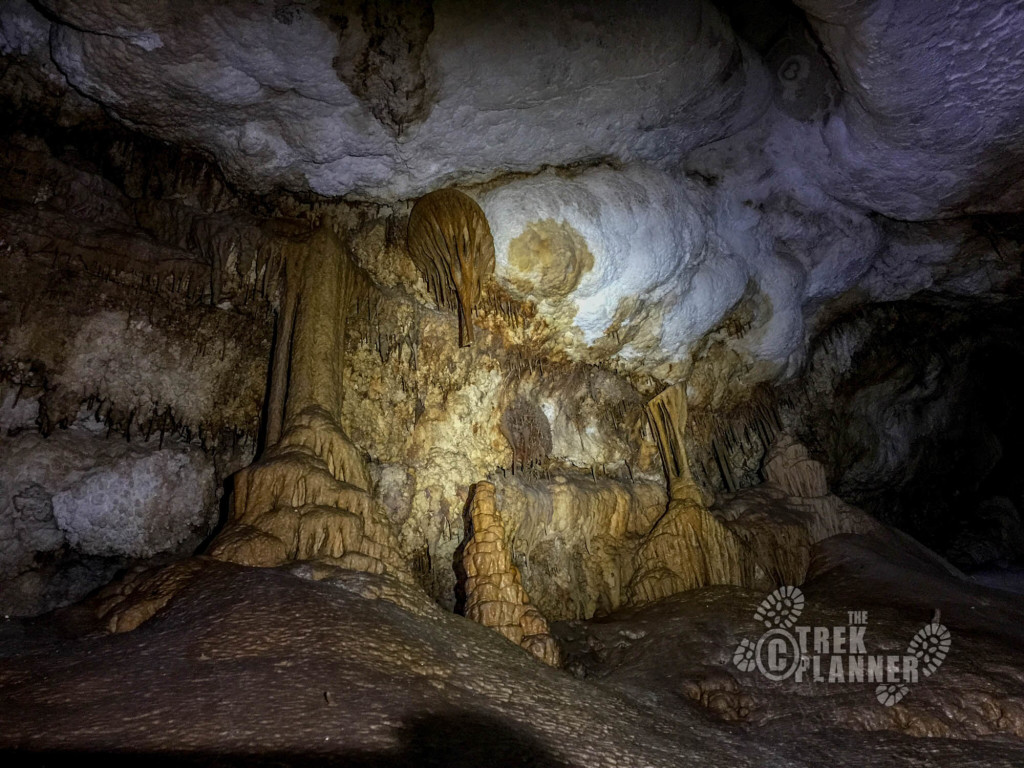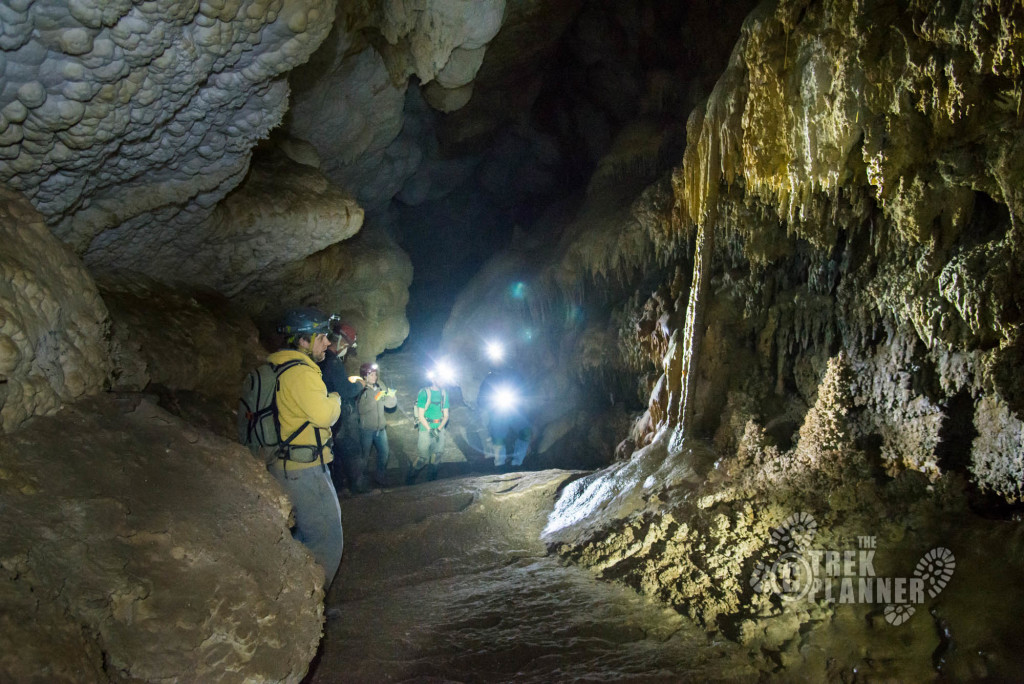 The adventurous can climb up to the upper chambers. There are several open strata between mammillary layers with crawl space.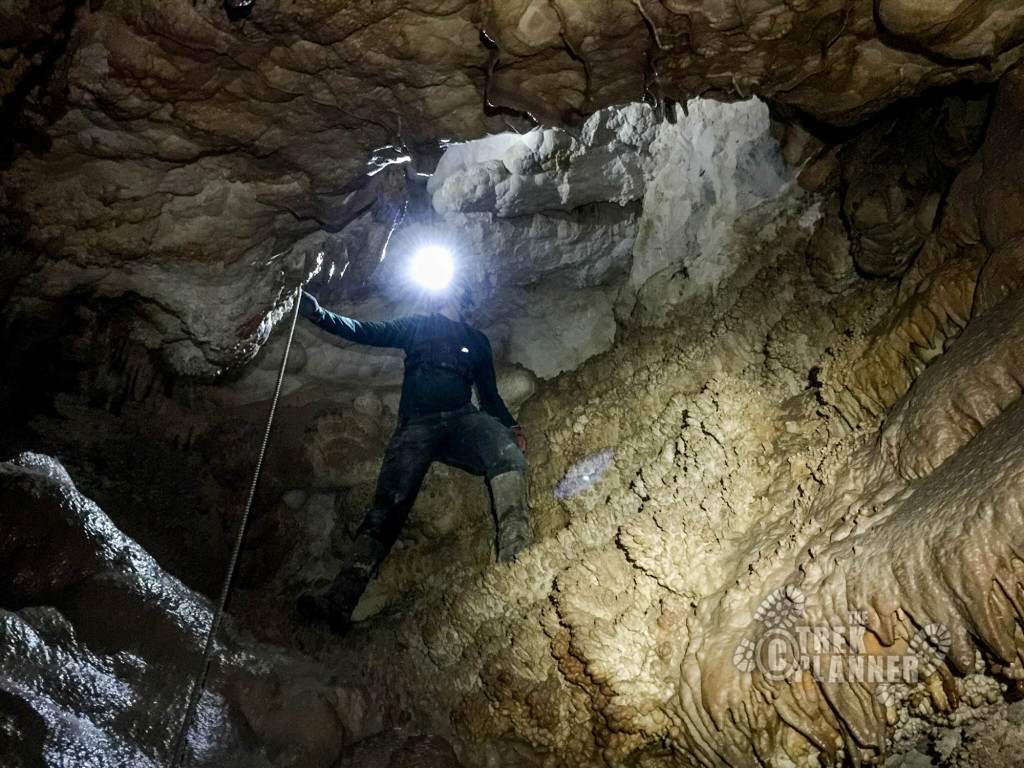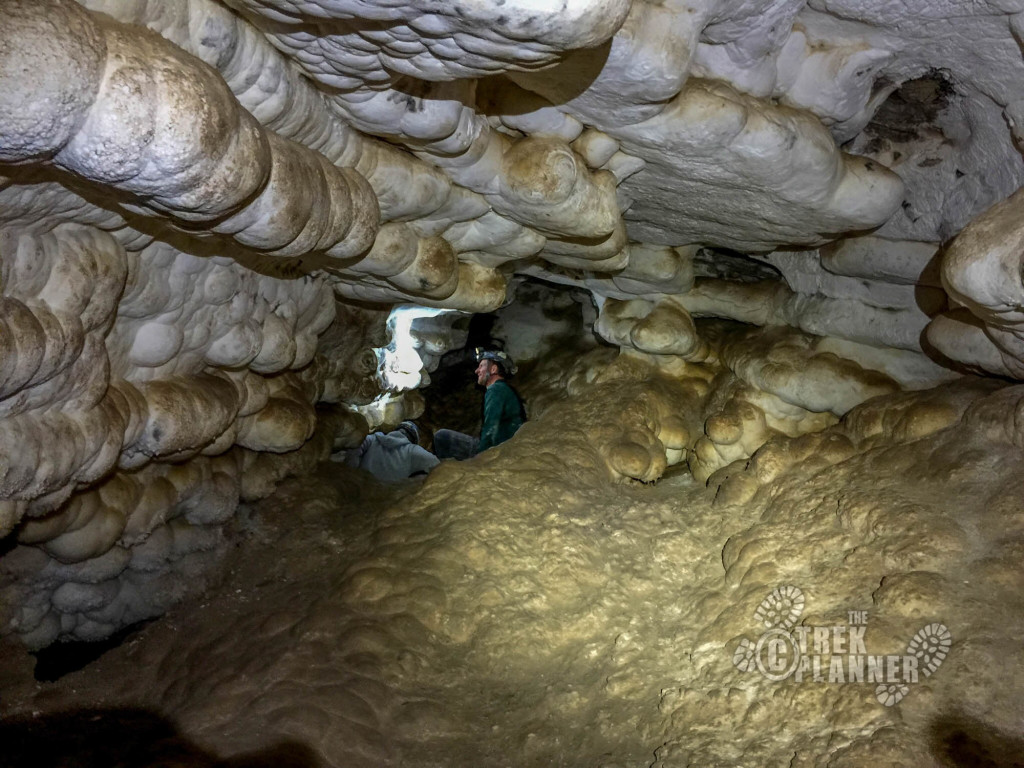 Here I sit above the feature known as the toilet bowl. Below, Josh slides down the toilet bowl and away.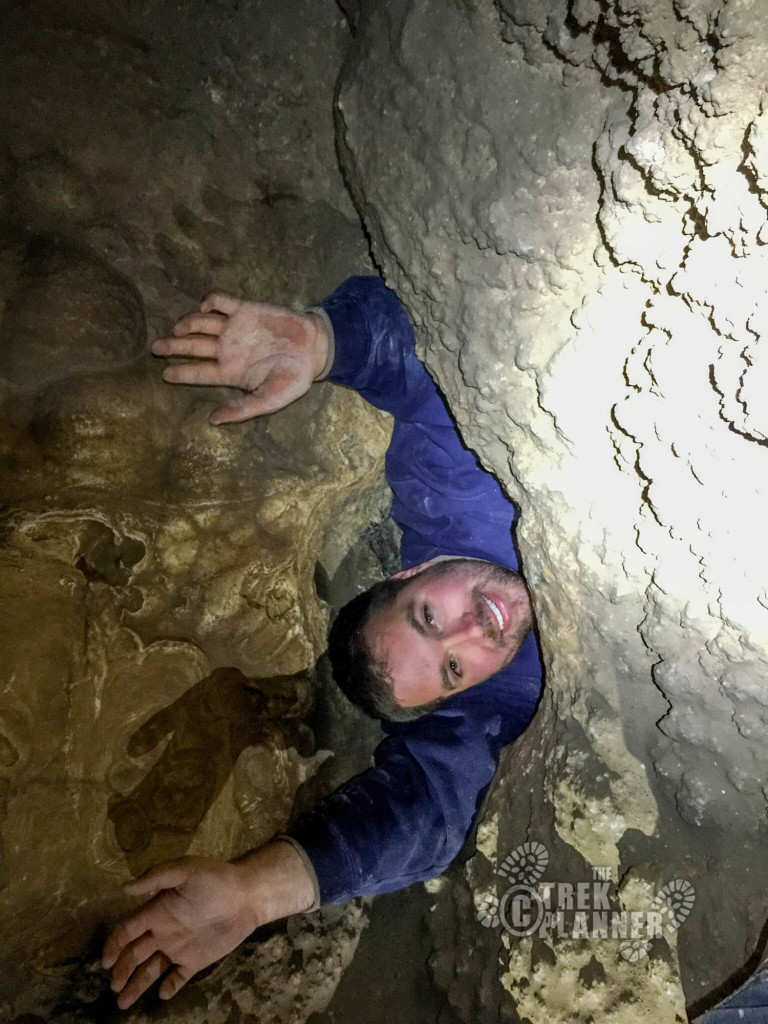 The cave terminates in a small crawl that in turn terminates in a ridiculously tiny crawl. For the average adult, that is the end of the cave. Very few people can fit through it. We'd heard that the young and abnormally skinny (no offense) who fight through the tunnel can find another small room with various tight tunnels to explore, called TJ's Hideout.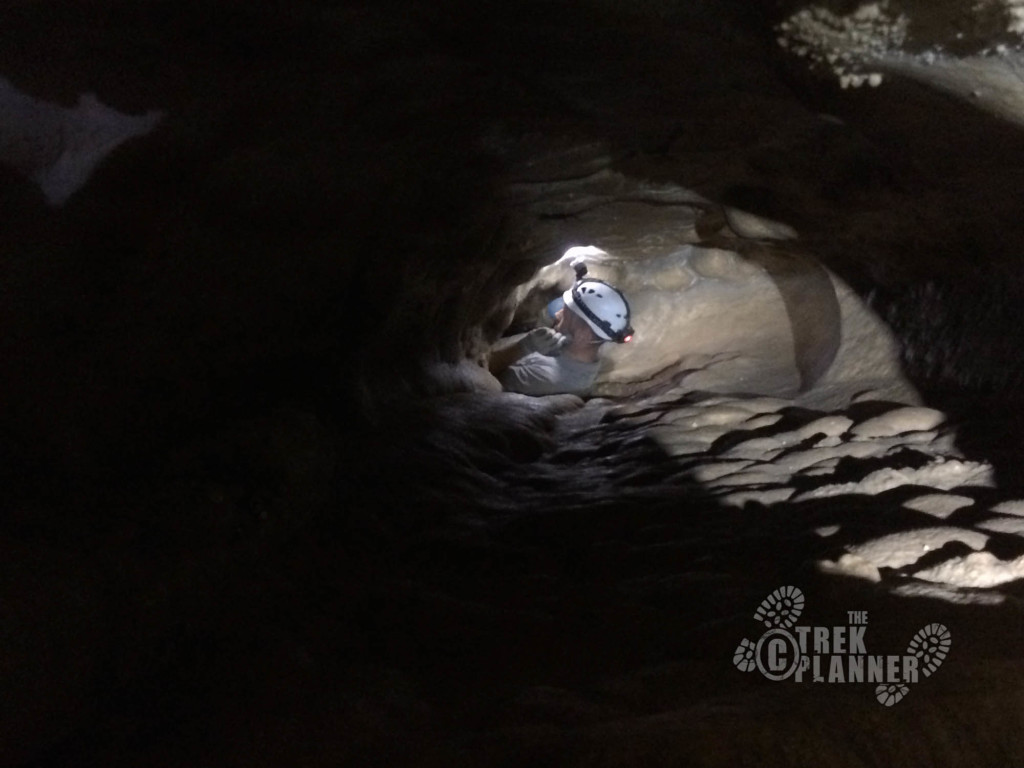 It turns out that two of our group were able to fit through the ridiculous crawl and were the first people I have ever met to see TJ's Hideout. Below, Gary lays exhausted after exploring and then crawling back out.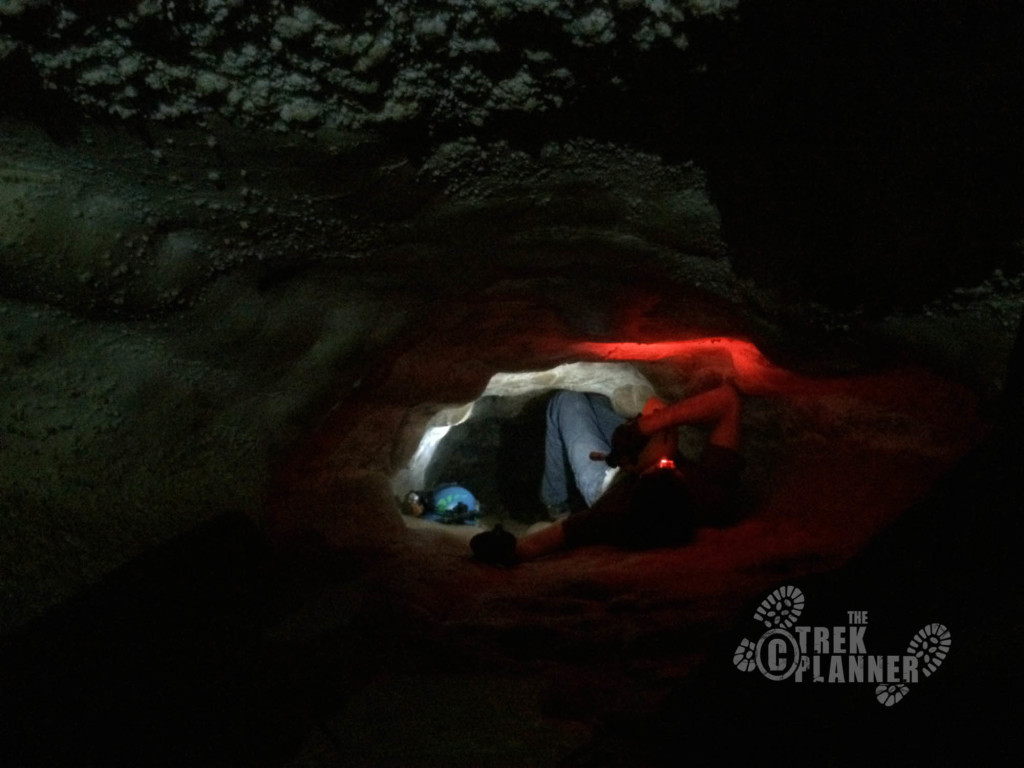 Jeff was thoughtful of us larger (read fatter and longer) people and made a video of TJ's hideout to share what so few have ever seen. Thank you Jeff; don't ever gain weight!
We emerged tired, dirty, and happy. For several in our group, this was their first cave. It received an exhausted two thumbs up.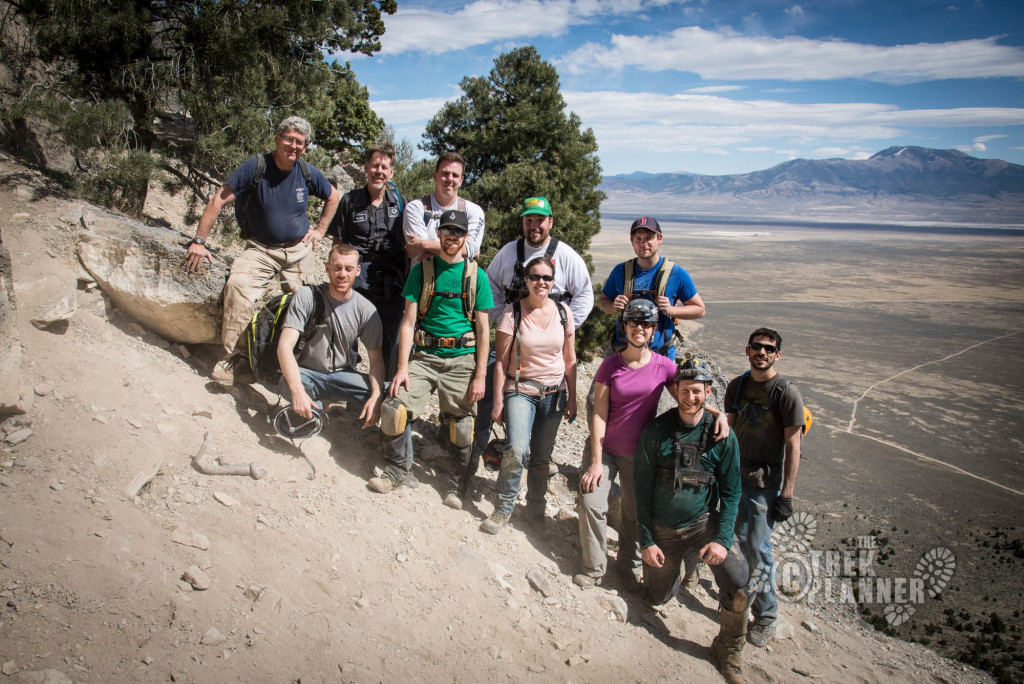 The Return:
Head down and enjoy those 800+ft of elevation loss!
Personal Thoughts:
I love this cave. It is simple, fun, and great place to take new people. I love how far out it is: this valley is peaceful and makes for great camping! Generally there is no one around during the week. Weekends, though you might run into people at the cave or the Goshute Creek Campsite. This trip, we found a scout group from Draper Utah camping in the alcove next to the cave. So you never know!
And remember: be very careful trying to reach TJ's hideout. Do not get stuck! Help will be a long time in coming. Our guys that made it were well under 6′ and less than 150 lbs.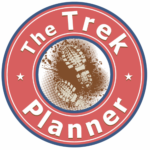 Optional Side Trek:
If you want to do a little more since you just drove all the way out here, check out these two places: