Overview
Gandy Warm Springs
Spring Mountain
You will pass Great Basin National Park so why don't you stop for a visit - it's free!
Bring your own water and/or a purifier
Open all hours of day and night
I would recommend bringing flip flops or sandals to walk in the pools. Travertine is sharp and will cut your feet.
Yes! Families would love this adventure
GPS Coordinates:
Parking: 39°27'35.75″N, 114° 2'13.62″W
Lower Pool: 39°27'36.21″N, 114° 2'13.97″W
Upper Pool: 39°27'36.96″N, 114° 2'15.77″W
Trail Map
Driving Directions
Gandy is in the middle of nowhere.  Once you leave the pavement from Highway 6 (Grand Army of the Republic Highway), the road is dirt but it is graded and level for most of the time.
The road goes right up to the springs so you won't need to hike at all.
The Trail:
Gandy Warm Springs is an unknown location that doesn't see a lot of visitors.  The lukewarm water is a welcome surprise to the dry desert climate.
A few years ago my brother, a few friends, and I went to visit Great Basin National Park.  We hiked around the park and had a great time hiking to the top of Wheeler Peak.  During our visit my brother mentioned some "warm" springs nearby Great Basin so we decided to check them out.  We unfortunately visited when it was very cold and dark so we didn't get a good feel for the warm springs but we knew it would eventually be worth a visit again.
---
Just like most of my trips, I randomly decided to have an adventure day and check something off of my list that I've been planning to do for a while.  So I remembered Gandy and drove out there to see the warm springs again.  It's about a 4 1/2 hour drive form where I live in Kaysville Utah so keep in mind this isn't just down the street a few hours.  It will be a nine hour day of driving just to get there.  I would recommend visiting Great Basin National Park and spending a day or two seeing the area.  Great Basin is one of the least visited national parks but it is also one of my favorite.
Gandy is located north of Baker, Nevada. Gandy is a very small community and was established as an outpost for the Pony Express.  It is named for a settler named Issac Gandy.
Near Baker, there is a gas station, lodging and even slot machines available at the gas station near the Nevada/Utah border so I suggest you fuel up before you head to Gandy.  You won't really see any signs that point you towards Gandy but remember that you will be passing several tiny communities on the way out there until you come to the Gandy sign.
Once you see the sign above, turn left and go down until you come to another intersection.  Turn left and go all the way down for about 1.6 miles and then take a right.  The road will go down and then circle around – this is where you will park.  You have now arrived at the warm springs!
It was very muddy when I visited and my Jeep almost got stuck.  The mud was caked to my tires like delicious chocolate frosting but I sadly remembered that dirt isn't food, so I ate a sandwich instead.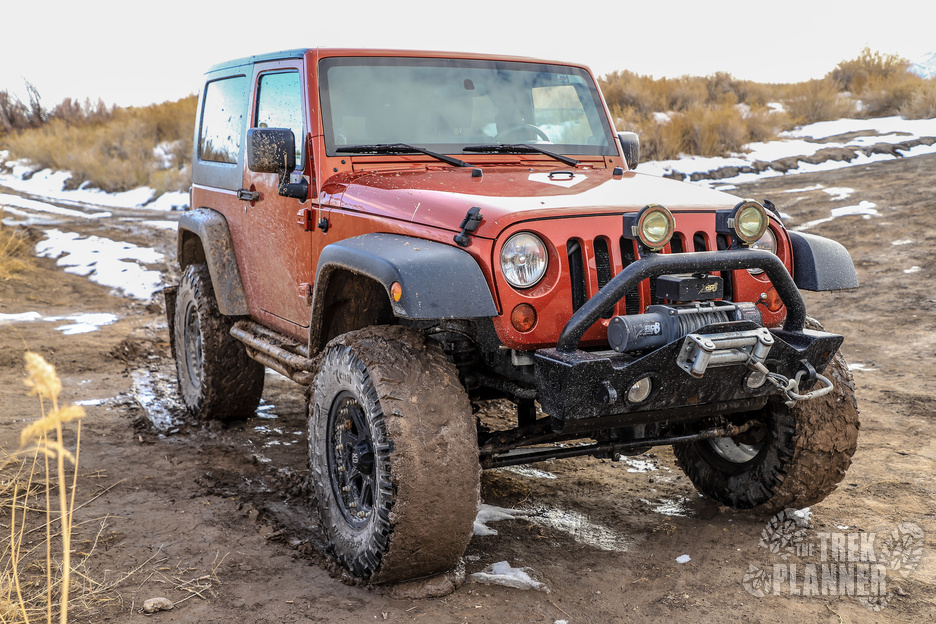 Lower Pools
The warm springs have two pools.  The lower pool is big enough for about a dozen people and is deep enough to go up to my chest.  There is a small cave here where lots of water gushes out.  I don't recommend going in the cave for safety reasons but apparently it goes in quite a ways.  The upper pool is located about 50 feet up from this pool and is more private and offers space for about four or five adults.
Water Temperature
Both of these springs are warm NOT hot.  The water temperature is just above 80 degrees Fahrenheit which puts it a lukewarm bathtub water.  When I visited at the end of January the air temperature was about 65 degrees Fahrenheit and the water felt really nice!  It wouldn't feel so good at night in the winter but it would feel great during the hot summer months!
The one thing apparent right off is just how much water flows from Spring Mountain.  It's almost like someone opened the headgate to an irrigation canal.  The water is crystal clear and smells fresh!  If you were driving by Spring Mountain you wouldn't even think there would be water here.   It truly is an oasis in the desert.
There are tiny fish that live in the pools. They aren't worth catching because they are 1-2 inch in size.
Spring Mountain
Take a look at Spring Mountain and you will see that it really is a weird looking thing.  It juts out from the desert all alone and it's limestone foundations make for great exploring.  I wish I had more time to explore it but I didn't.  Spring Mountain is also home to the Crystal Ball cave which a family nearby operates the tours.
Upper Pools
Hike above the travertine waterfalls about 50 feet and you will come to the upper pools.  More water comes straight out of the mountain and cascades into the pool.  The views from this upper pool are much better and someone built it up so there are rock seats.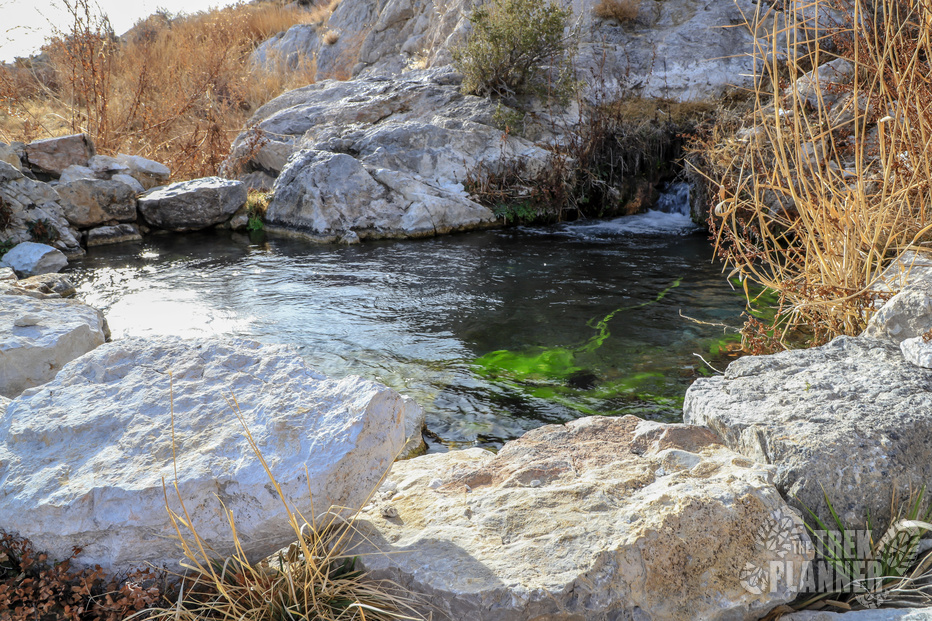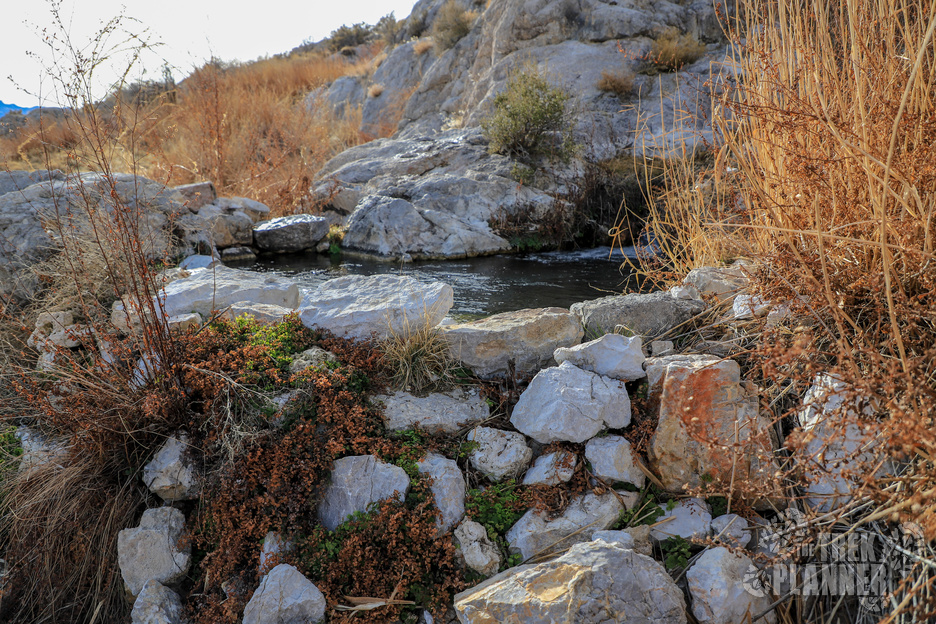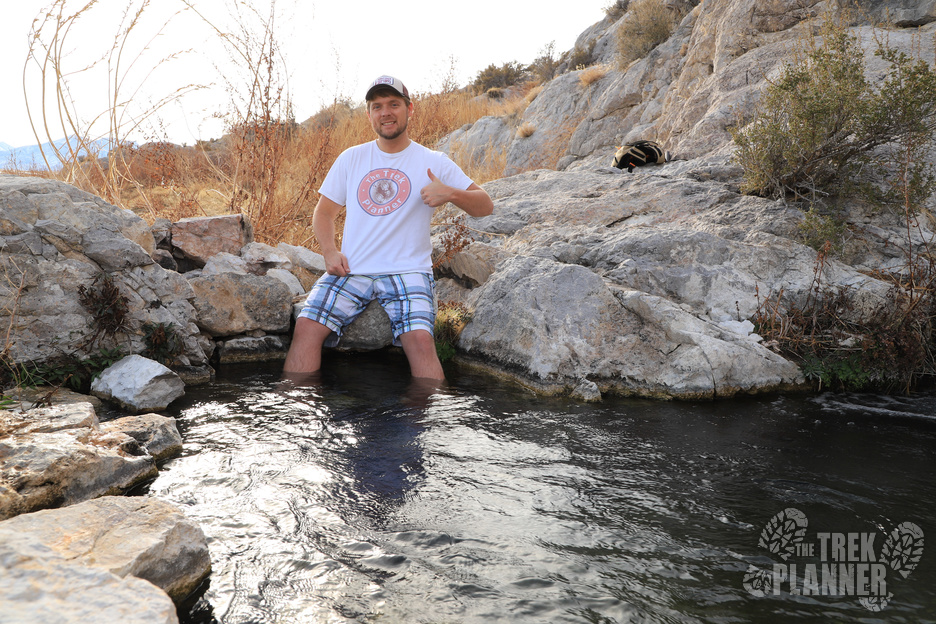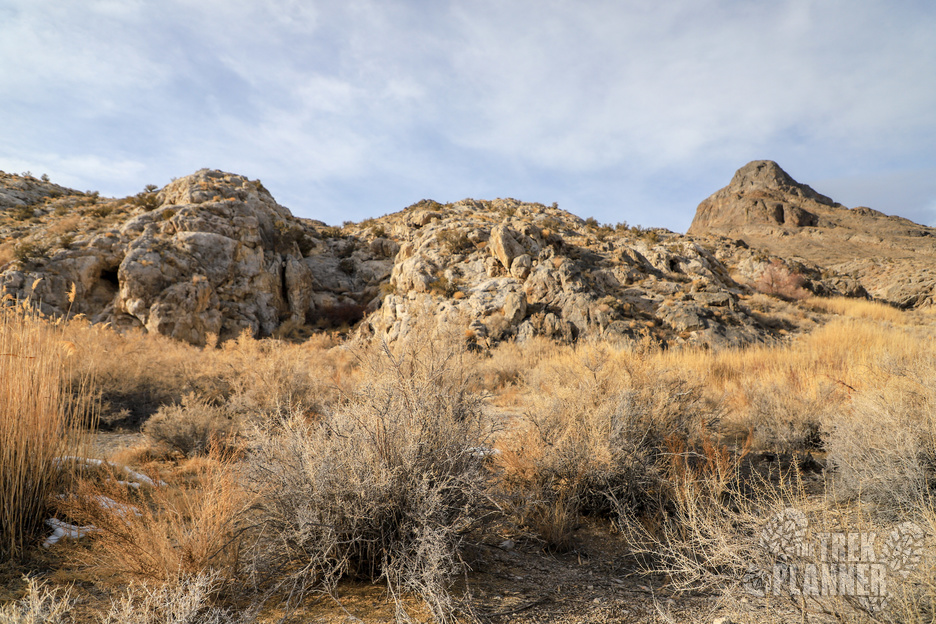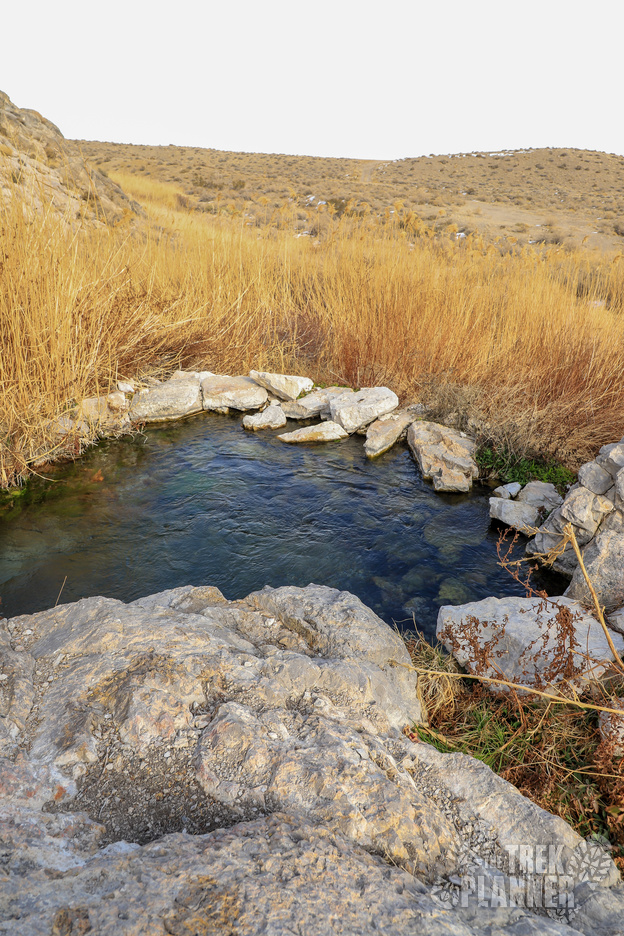 Personal Thoughts:
Seeing water gush out from a desert mountain is thrilling to me.  I know that may sound weird but considering just how unique this spring is makes me want to do another Great Basin/Gandy trip soon.
If you do come out here, please be respectful of the houses and communities you pass.  I was tempted to stop and take some pictures but I realized that I was being a nosy tourist and wouldn't want people driving down my driveway with their cameras out either.