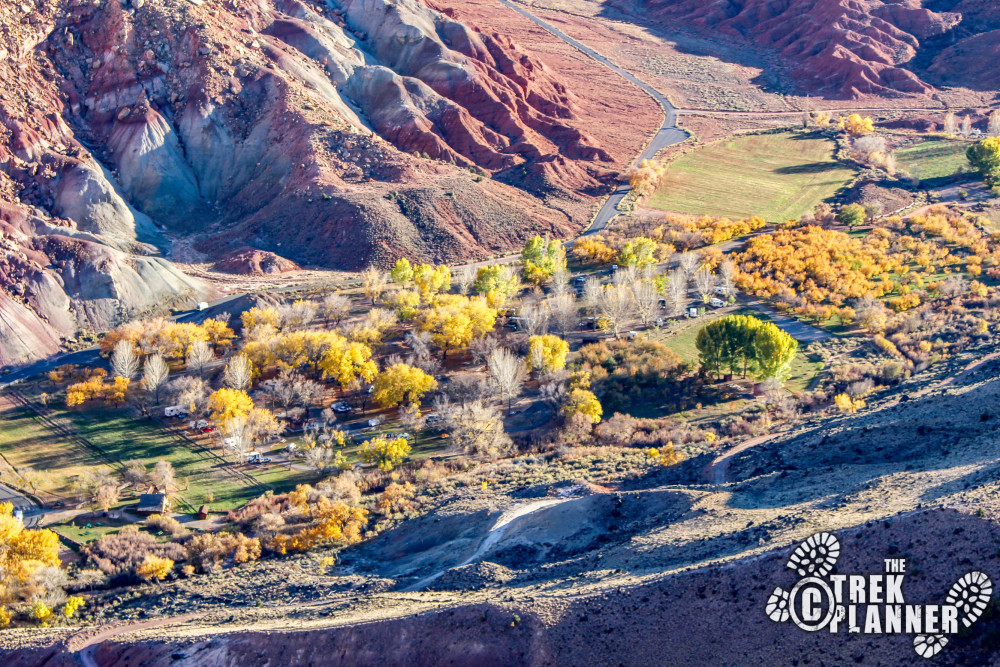 Overview
Capitol Reef National Park, Fruita, Utah
$20 per site
$10 if you have a Golden Age/Senior Pass or Golden Access/Access Pass holder
There is both potable and non potable water here for your use.
The Fremont River runs on the west side of the campground
Open year round.
Camp hosts are in sites A1 and A2 from March until October.
There is a self service fee station at the entrances to the A, B and C loops.
There are tons of tall trees to provide shade.
Yes. Both flushing and pit-style available
No showers
Yes. Located at the entrance to the national park
There are 3 site loops (A, B and C) that are available for first come, first served basis. Group camping is also available with reservations for up to 40 people.
There are 64 RV and tent sites with 7 walk-in tent sites available too.
A picnic table and a fire pit are also available in each site.
There aren't any sewer, electrical or water hook ups at the sites but there is a dump station with potable water at the entrance to the loop A and B.
There is also an amphitheater for ranger presentations and other events.
If you bring your RV there are size restrictions on some of the sites. Check with the Capitol Reef National Park website for maps and RV dimensions restrictions.
Bring in your own food. Although you are allowed to pick the fruit and nuts when in season and when the national park authorizes it. It is best to check with the Visitor Center about current rules regarding fruit and nut picking.
Bring all your own equipment. Tents, sleeping bags, pads, cooking equipment, tarps, camp chairs, fire wood and more.
GPS Coordinates:
Fruita Campground: 38.28252, -111.24702
Campground Map
Driving Directions
The Trail:
Fruit Campground is a great place to stay while you are visiting Capitol Reef.  I was happy to see very tall cottonwood trees at almost every site.  Fruit and nut trees are in the surrounding orchards and you are free to pick the fruit with some exceptions and rules.  Please check with the Visitor Center on current fruit picking rules before you start filling up sacks of apples and pears.  The Visitor Center gift shop had an assortment of jams and salsas all made from produce here in Fruita.
The campground is first come, first served so you simply pull up to the campground fee station.  Fill out the envelope with your information, insert the money in the envelope, tear off the receipt side (write how many days you are staying on the receipt) and then put the receipt on your campsite marker.  At night time, the camp host came by and picked up my receipt and asked how I was enjoying my stay so far.  Both the camp hosts were very nice and I saw them every morning walking around speaking with the guests.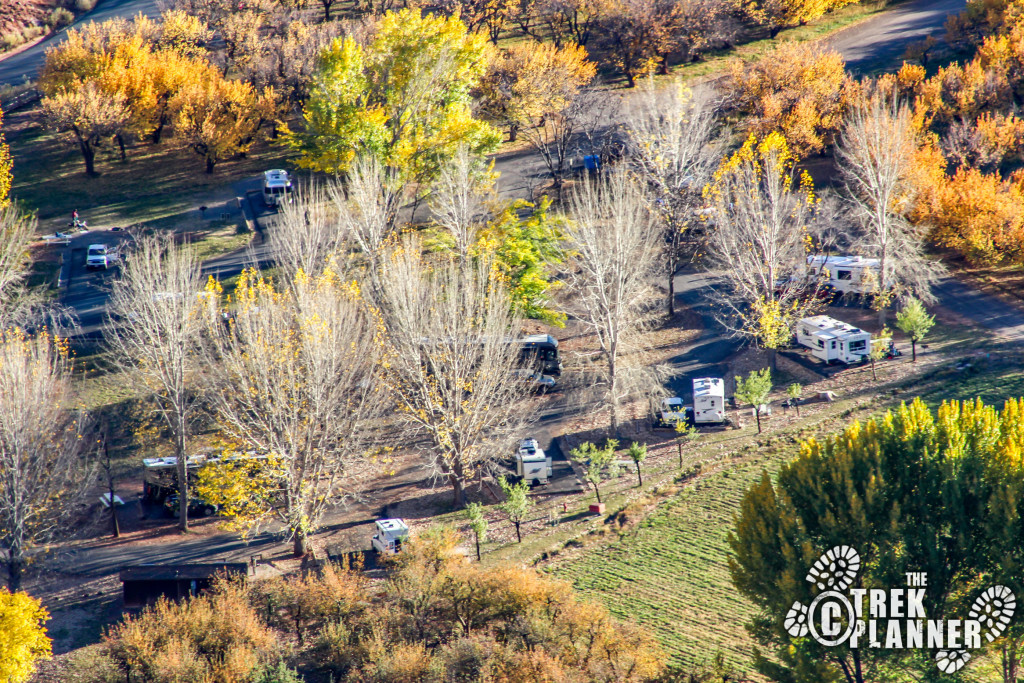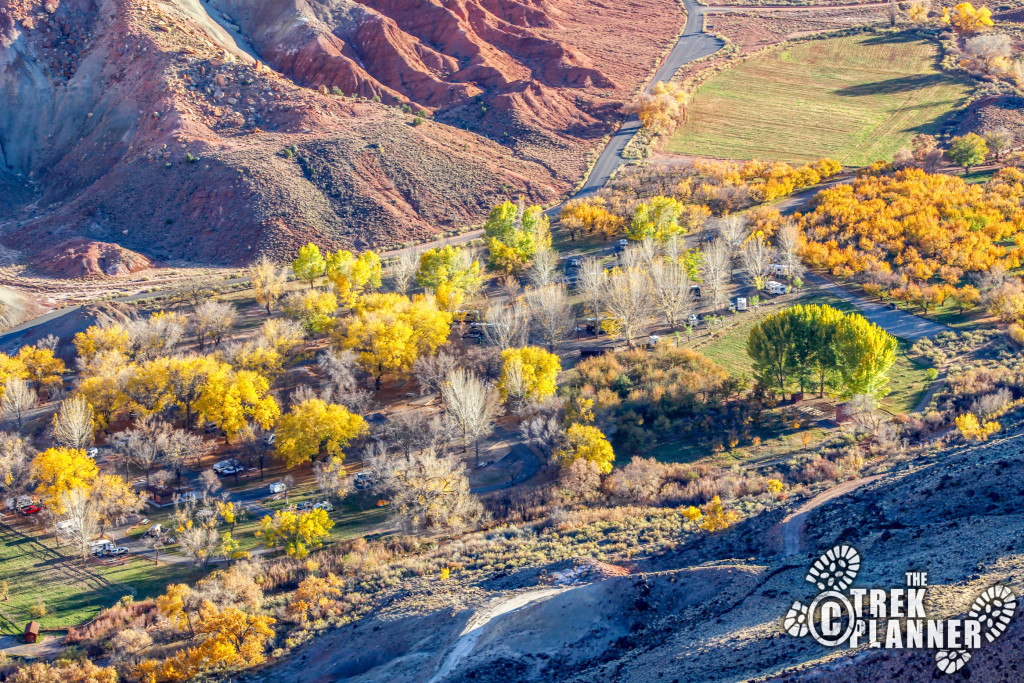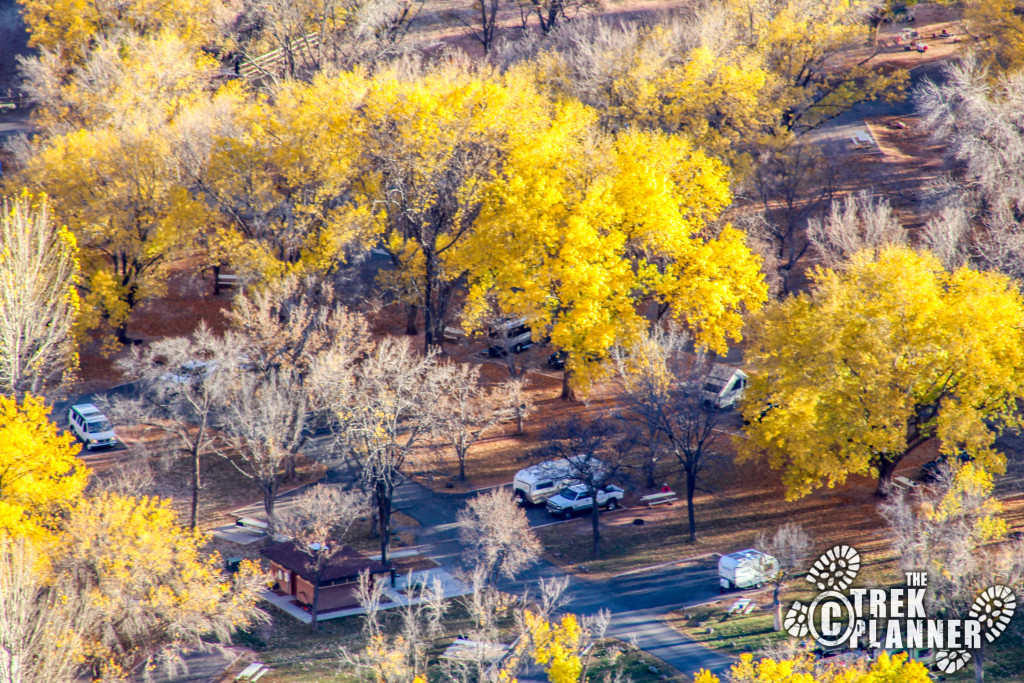 The campground has three loops: A, B and C.  I stayed in Loop A at site 22 which was close to the flushing bathrooms and dish washing area.  I wanted to be close because I'm usually the guy that has to wake up at 2am to go to the bathroom.  I was pleasantly surprised to find CLEAN bathrooms and facilities!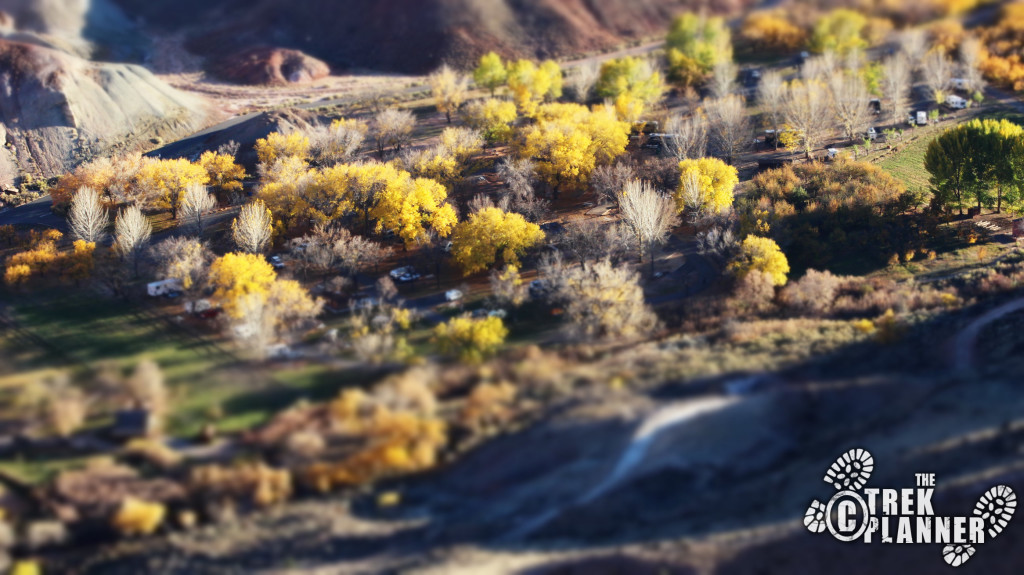 All of the flushing bathroom buildings had a dish washing area on the outside and also a drinking fountain and pump where you can fill up your water bottles or canteens.  The water was nice and cold and didn't taste bad at all.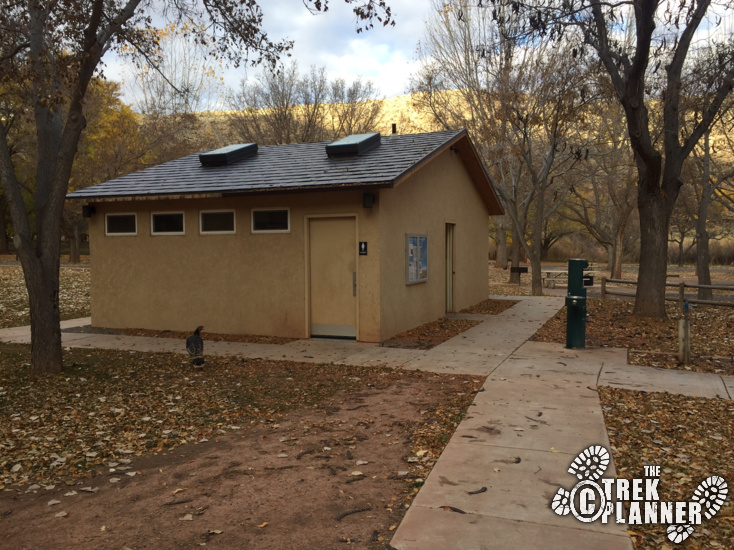 The campground roads are paved with cement and asphalt with each spur in each site also paved so you could easily back up your RV or vehicle without kicking up dust and dirt.  Most of the sites have flat areas for tents and chairs too.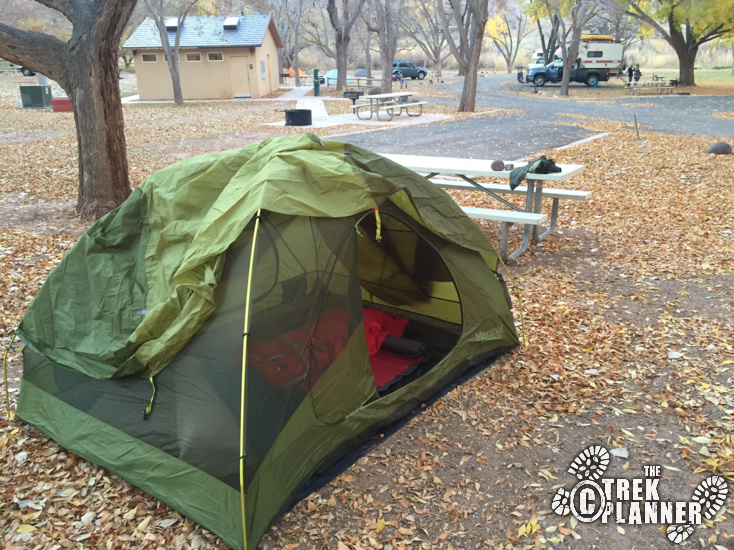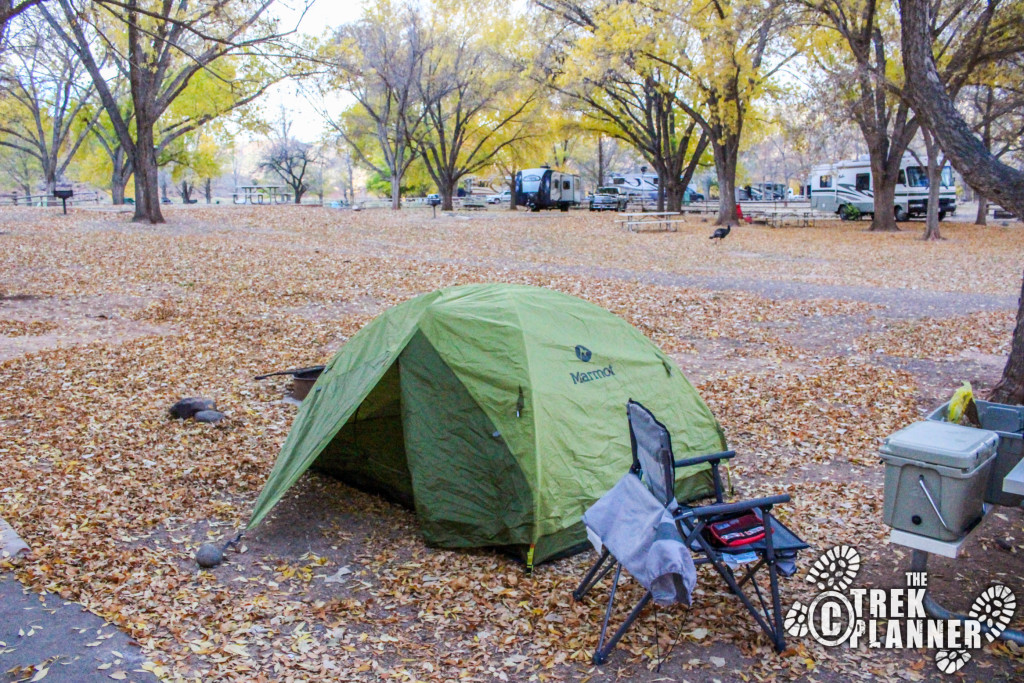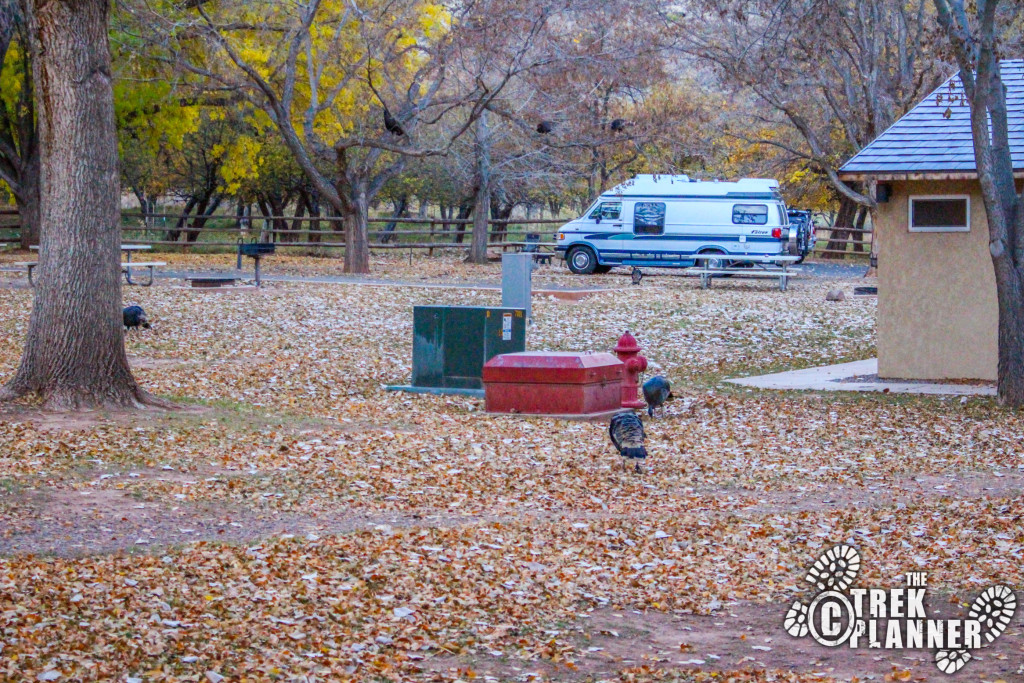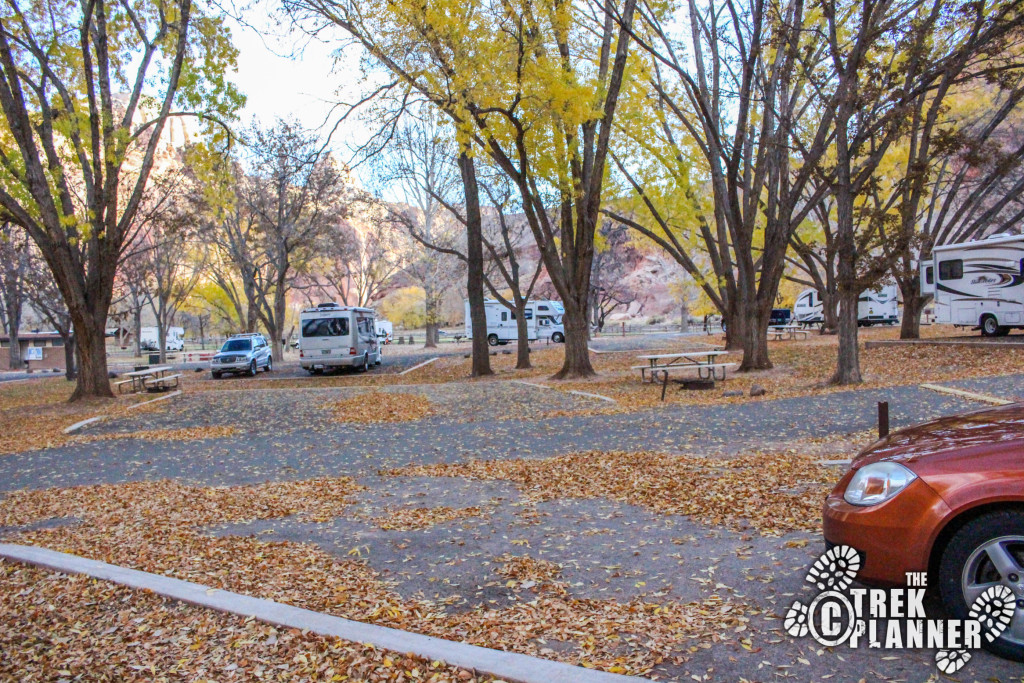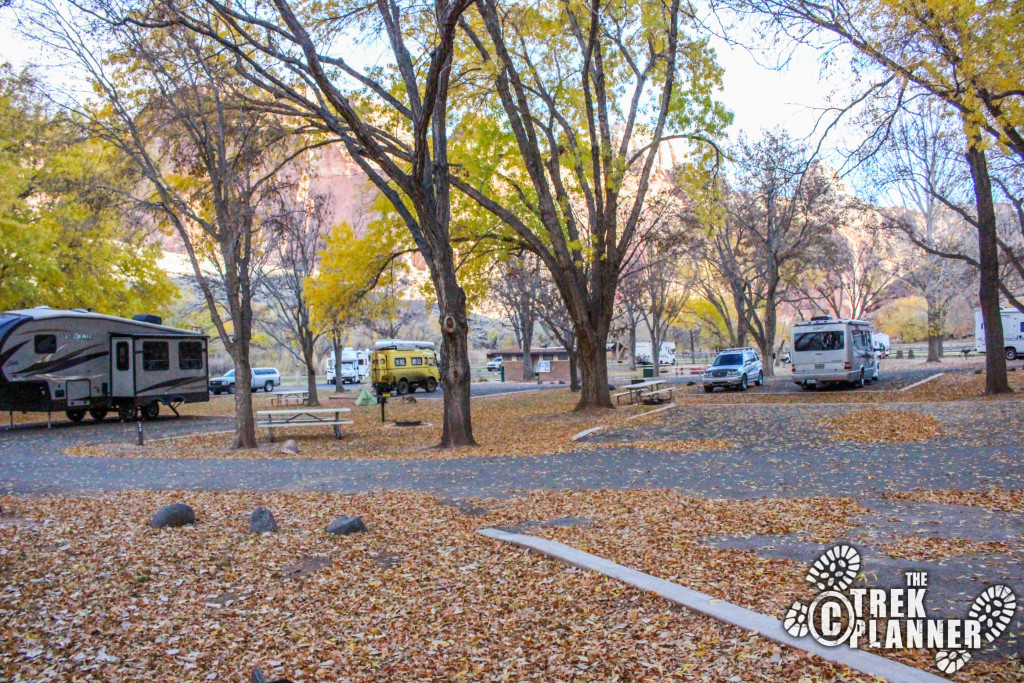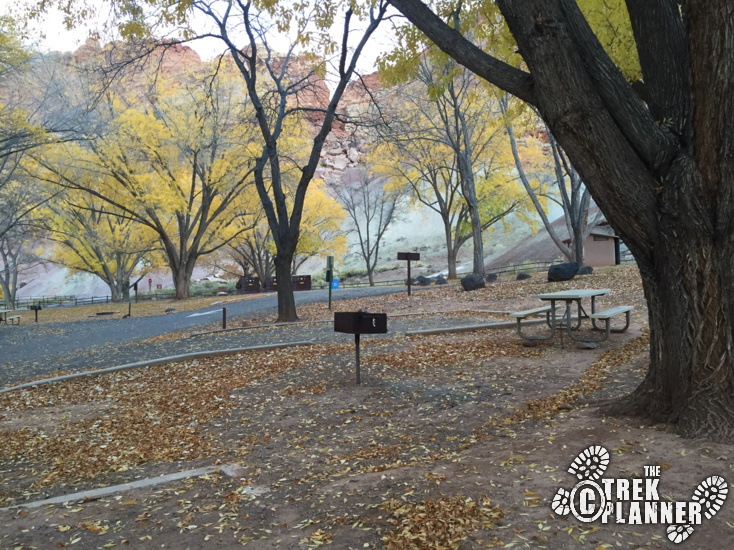 I really enjoyed spending a few nights here and when I come back to Capitol Reef National Park I will be staying here again.  It was nice and quiet and at least during my stay all the other visitors were respectful.  I arrived around 6pm and there were about 15 spots left open so I quickly got one.  I left the campground around 10pm to try and take some night photos of the area and when I came back around 11pm all the rest of the spots were taken.  The next morning I woke up just before 8am and found that most of the campers had already left or were in the process of packing up and leaving!  That was way too early for me!
Each morning I found several dozen wild turkeys roaming through camp picking up food off the ground.  They would also fly in the cottonwood trees to eat the seed pods.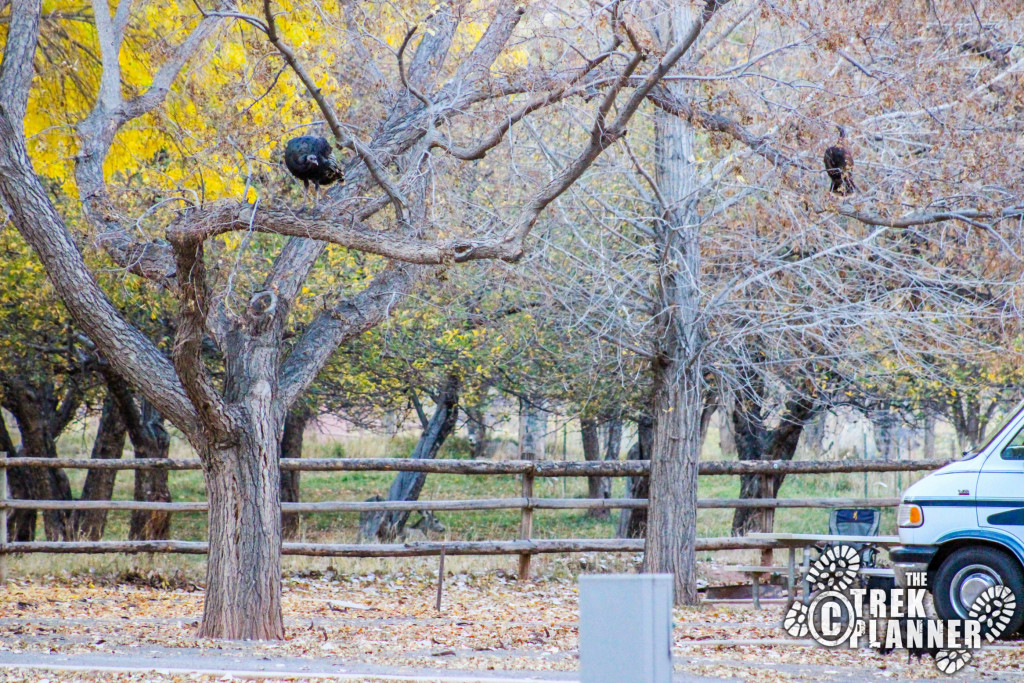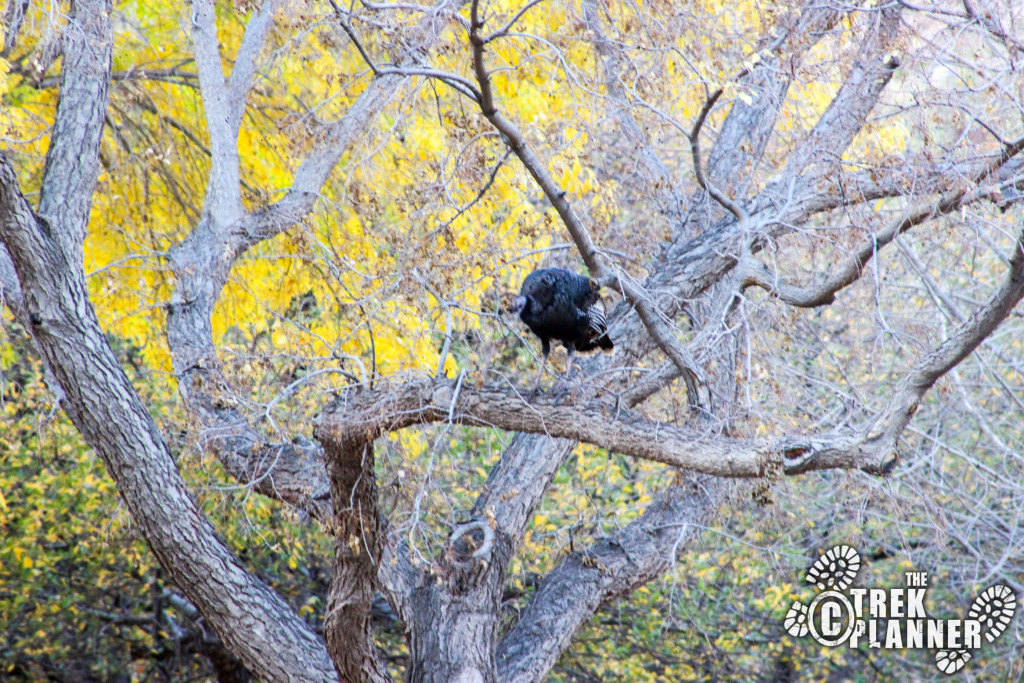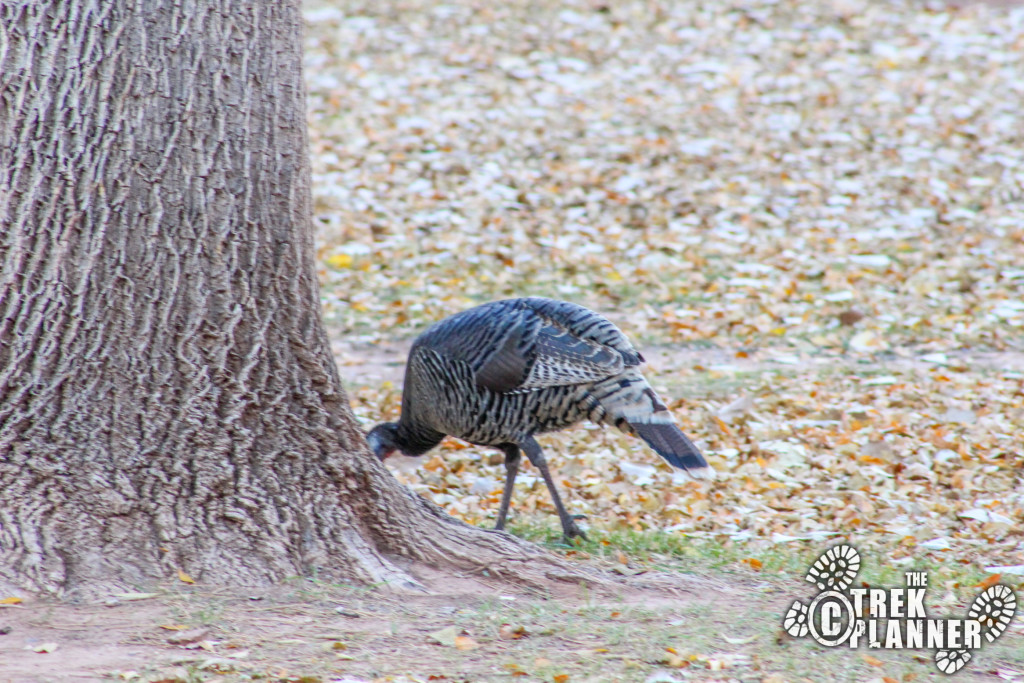 Even though the campground allows RVs, trailers and generator use, there are established generator non-use hours which I believe were from 10pm to 8am so it was very quiet at night except for the occasional mule deer walking through camp.
Also, if you are going to camp, make sure you have the experience of making your own food!  Don't just go buy a bag of donuts (even though I've done that plenty of times!), bring some potatoes and some meat or whatever and make a good meal!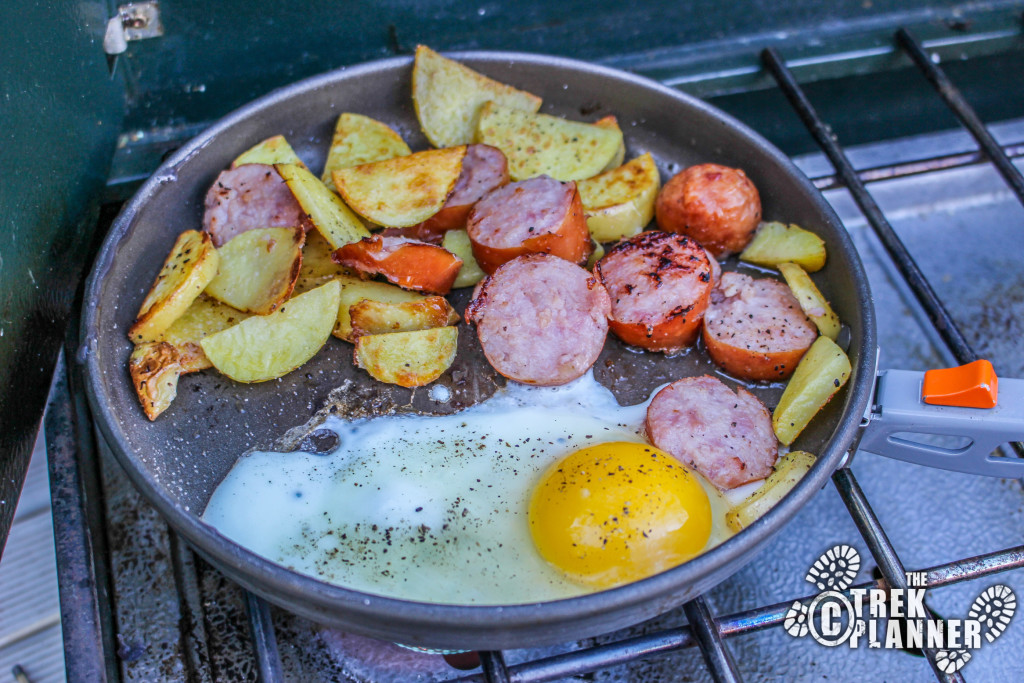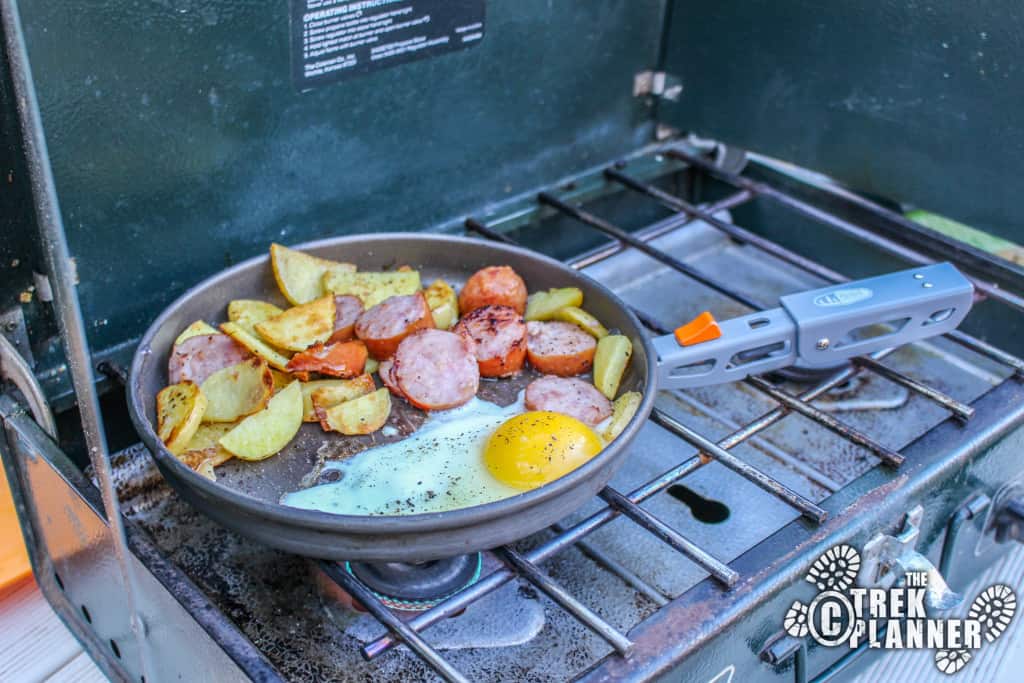 While you are here, check out the historic buildings that are spread around Fruita including the old schoolhouse and Gifford house and barn.  I didn't get to see any of these because I came one day after most of them closed for the season.  But it is truly incredible that Mormon pioneers built a sustainable society here starting in 1880 that included apple, pear, cherry, apricot, plum, mulberry and peach trees and even several varieties of nuts including almond and walnut.  There are around 3,100 trees in the orchards here.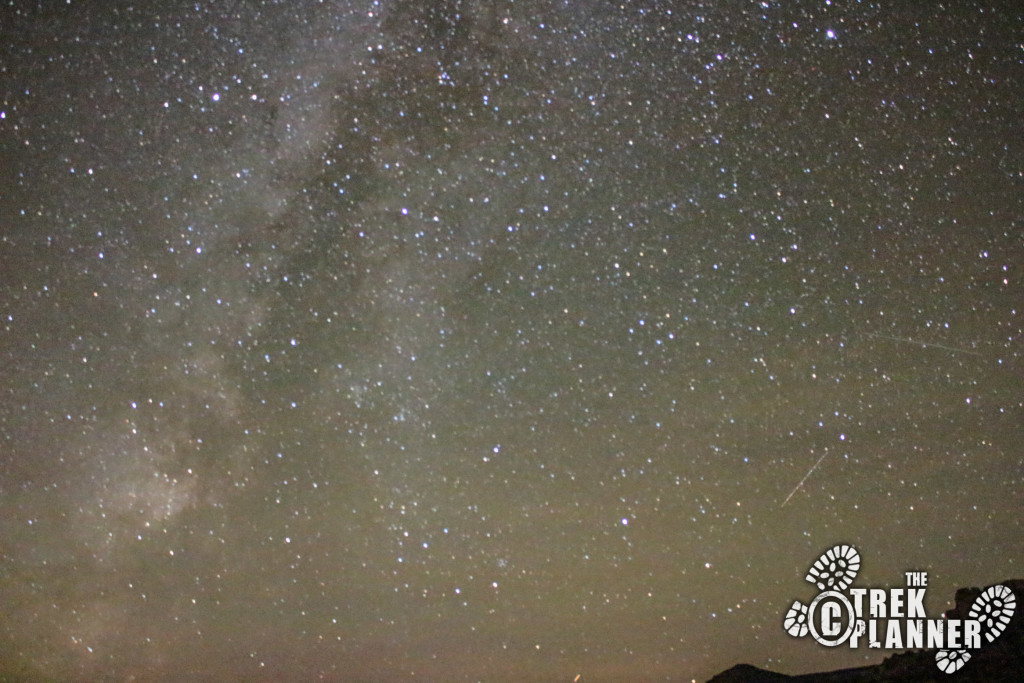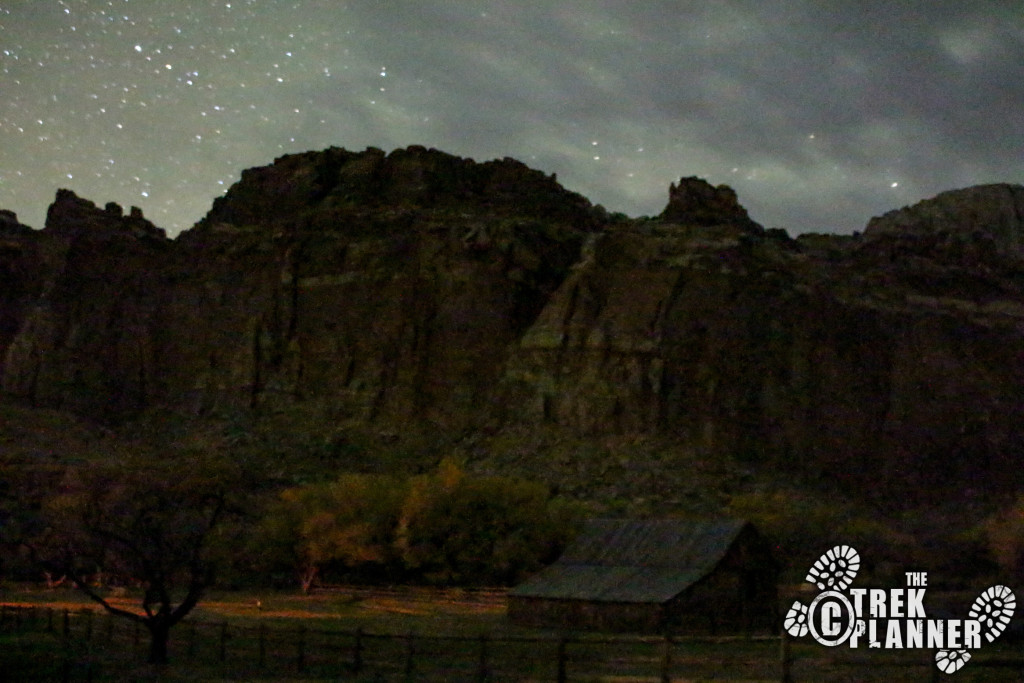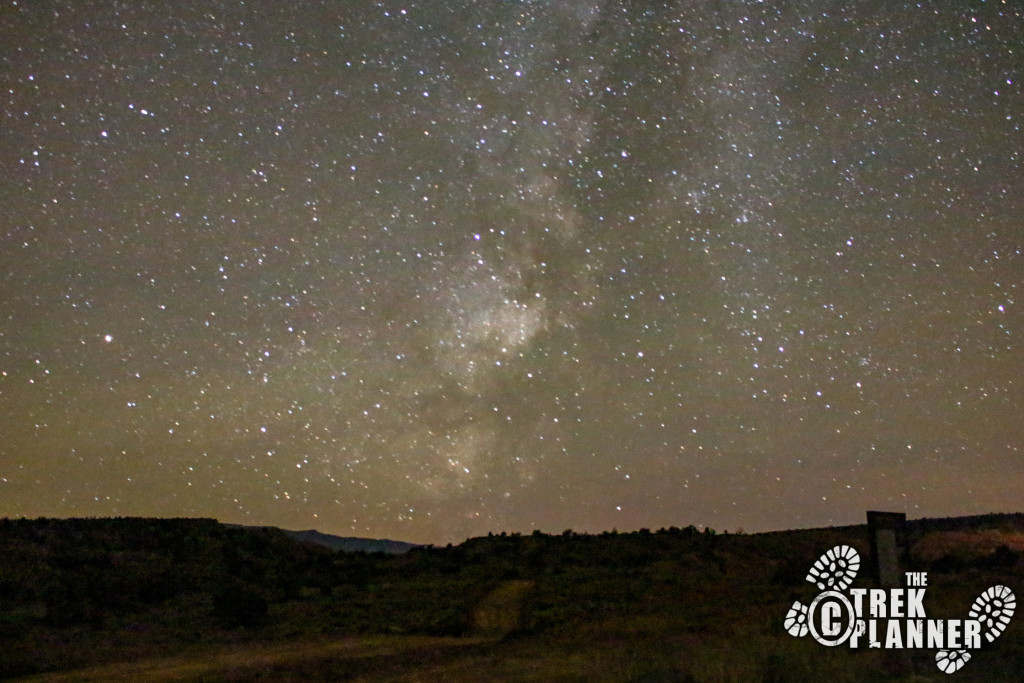 Personal Thoughts:
I didn't have a single complaint about the Fruita Campground!  Excellent place to stay and it was located right inside the park!