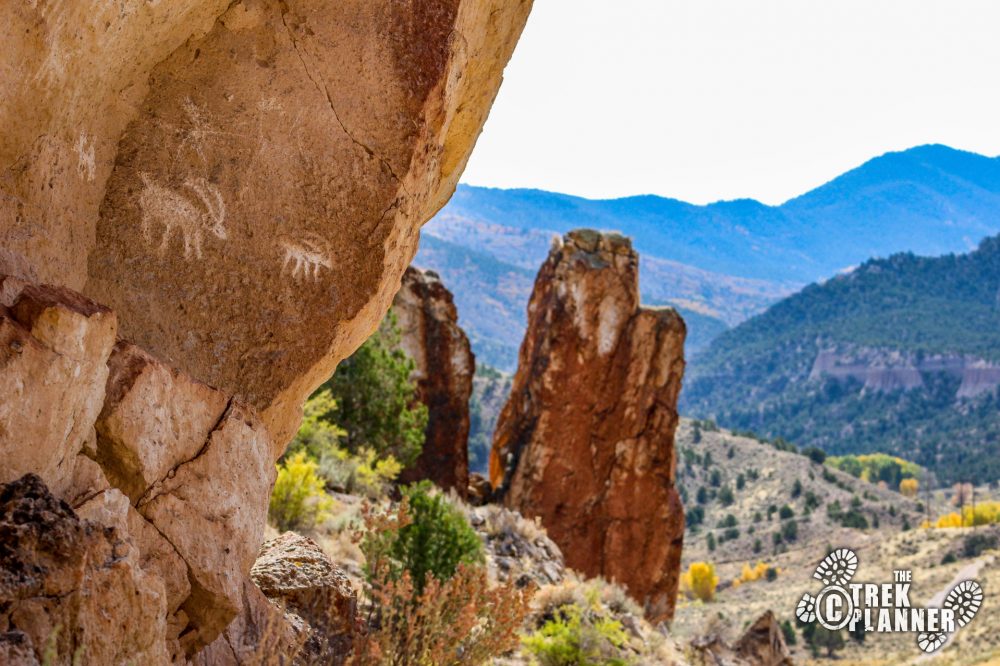 Overview
About 1/2 hour south west of Richfield Utah
Thousands of Fremont pictographs, petroglyphs, museum,
Depends on what you do. I hiked about 3 miles total
1-5 hours, multiple days. Depending on what you do
There are entrance fees. Pay at kiosk outside of visitor center when closed or pay inside when open
Bring 2 liters of water. There are drinking fountains at the visitor center. Campground has water
Hours vary depending on season but open year round
Some trails are on pavement and others are dirt and rock.
Yes at the visitor center, campground and picnic area
Yes. There is also a museum here too.
Yes.
Castle Rock campground has 31 sites with tipis to rent and RVs are welcome too. Running water available.
Sam Stowe campground has 7 full hook up sites for RVs with flushing style restrooms and showers. Can accommodate RVs and tents.
Group Sites are available at Sam Stowe campground
Bring your own meals and snacks. There is a really nice picnic area at the Visitor Center and also at Centennial Cabin picnic area.
Good hiking shoes, camera, hat, sunglasses.
GPS Coordinates:
Visitor Center and Museum: 38.57759, -112.33493
Trail Map
Driving Directions
The Trail: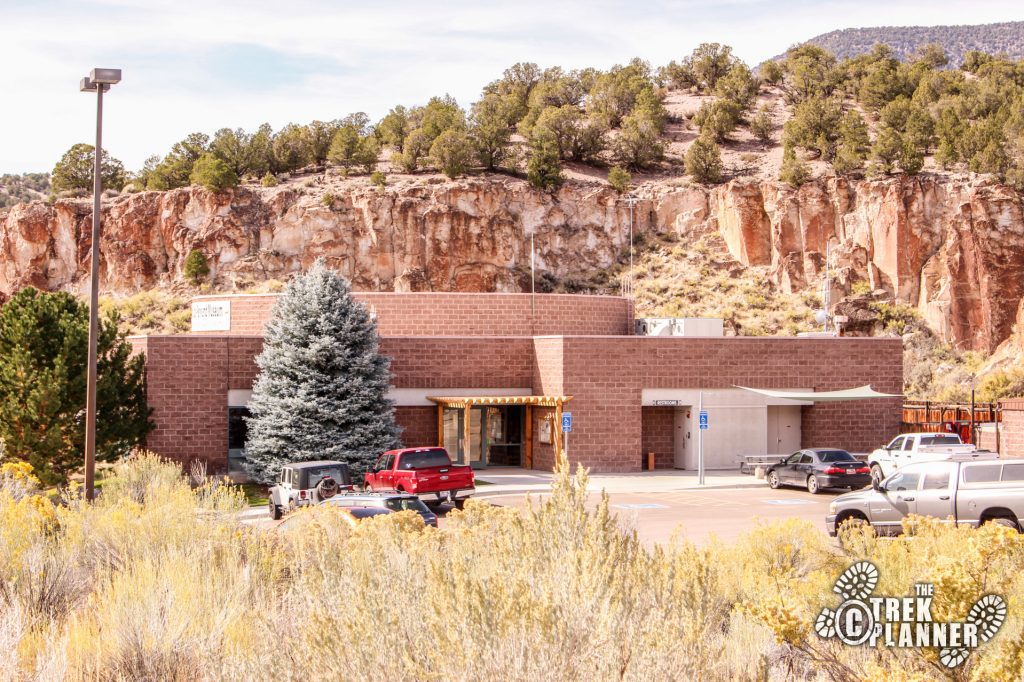 Fremont Indian State Park is a great place to explore for people of all ages.  There are plenty of things to discover here and it all depends on how much time you want to spend.  I spent a full day and felt like I could have done more.  Before you head out on your own, check out the Visitor Center (which is also the Museum) and speak with the staff about hike recommendations.  The staff was so helpful that I came back three more times to speak with them about the park and their interpretations on some of the pictographs I found.
The state park is set up where you have to drive or walk to many of the stops.  The Clear Creek Canyon Road cuts through the park and you will find a campground, picnic area and of course, the thousands of pictographs and petroglyphs at many different points.
At the Visitor Center you can ask for little laminated pamphlets that explain each trail and the history and sites along the way.  I recommend you plan your day on what trails you would like to hike and then grab a few of these pamphlets to take with you so you can learn and discover why these places are so important.  Then when you are finished please bring back those pamphlets to the Visitor Center.
While you are at the Visitor Center, watch the short presentation on the park and walk through the museum.  I don't really enjoy museums that much.  I am the kind of person who would much rather be outside to see where the artifacts came from then to see them sitting in a museum.  However, I found this museum to be impressive and I was happy to spend 45 minutes reading all the displays.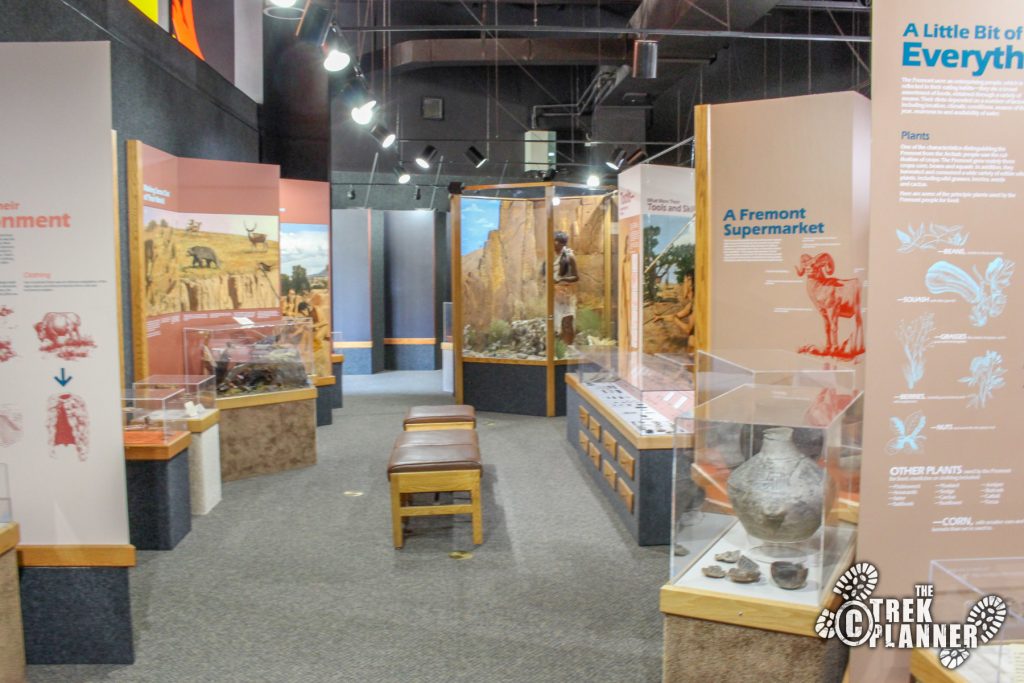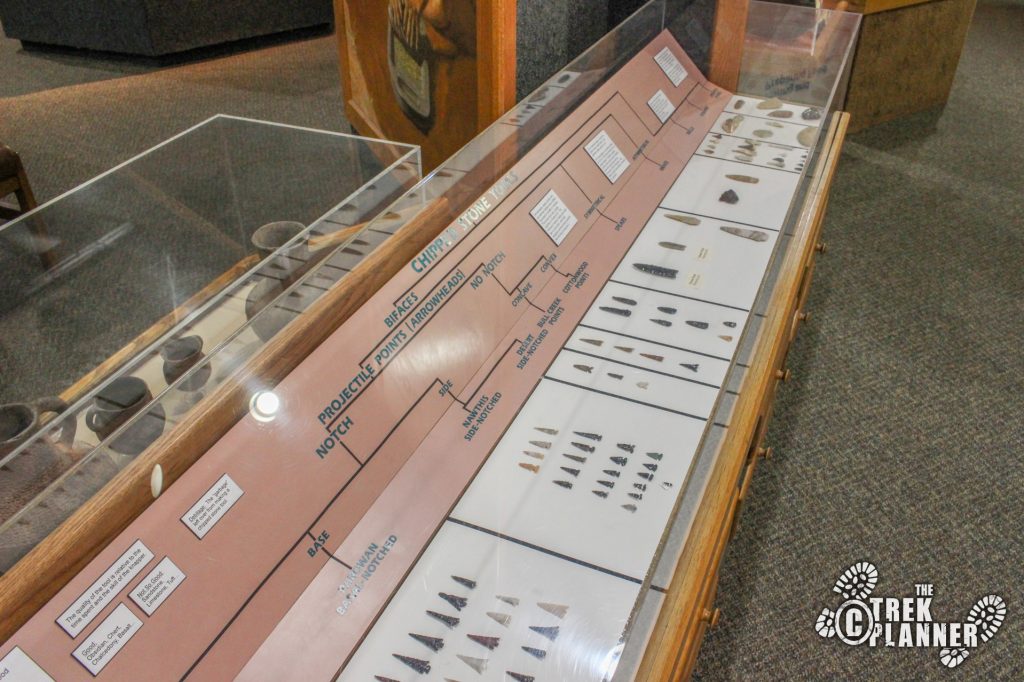 The first trail I hiked was right by the Visitor Center on the west side.  It was a paved concrete trail and it made a short loop around some incredible petroglyphs.  The trail also splits from here to go on a longer trail (Court of Ceremonies) but I only did the shorter loop.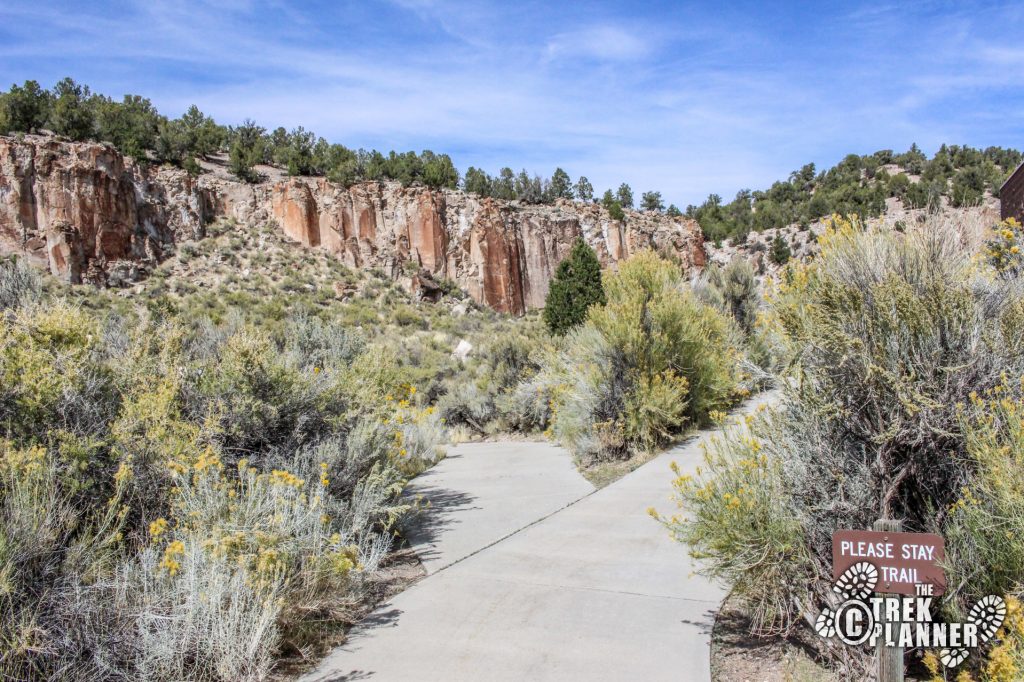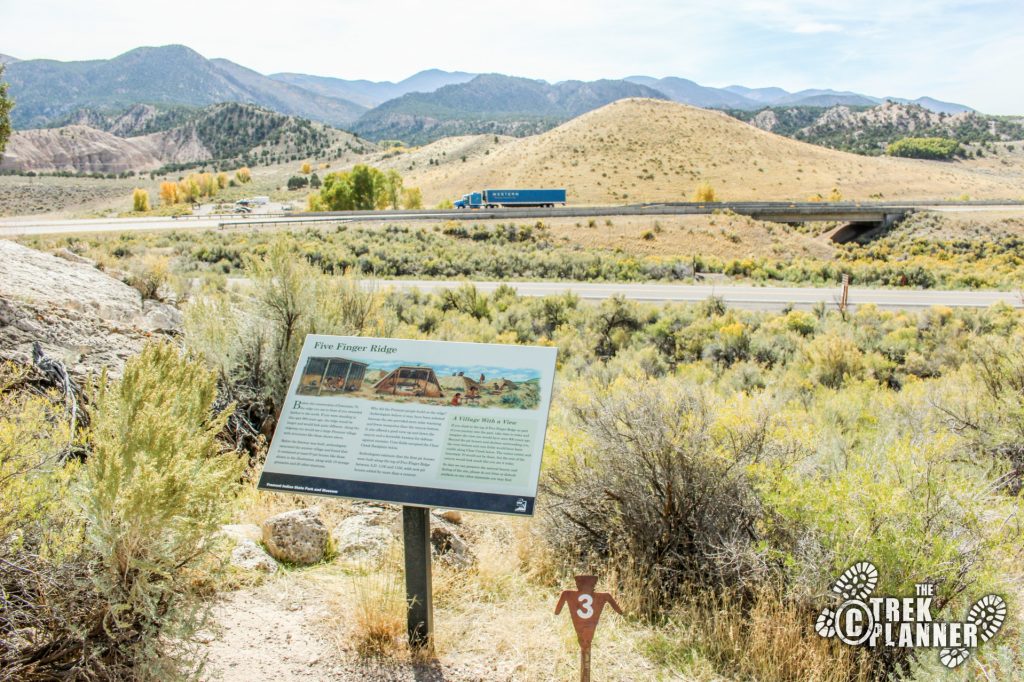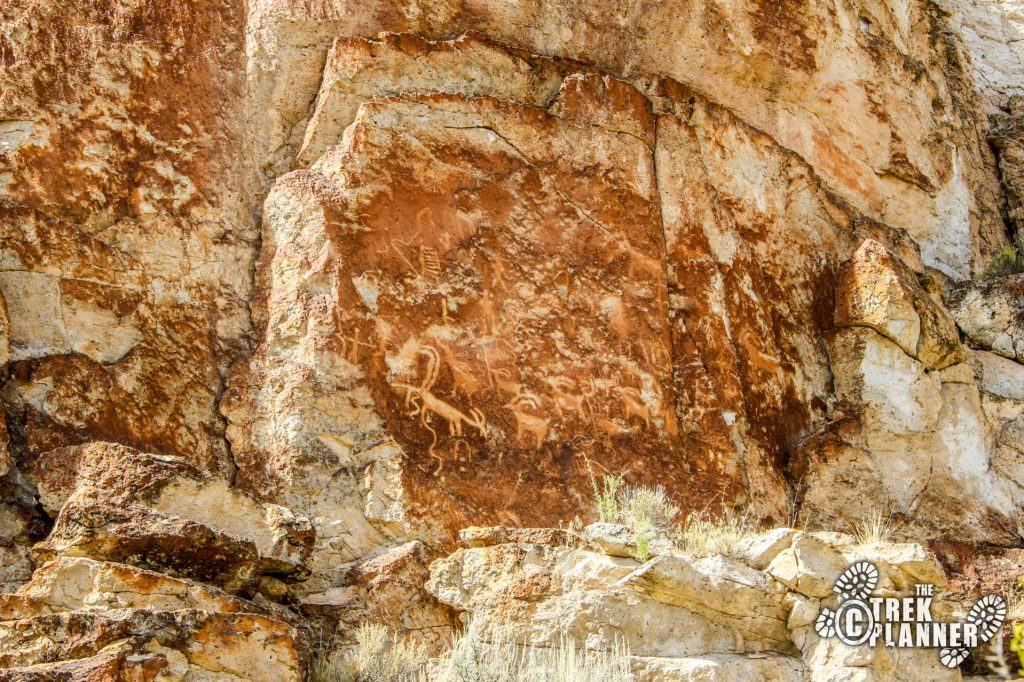 One of the most common petroglyphs seemed to be big horn sheep and mule deer.  There are plenty of other animals and human or spirit representations.  I think they are all fascinating!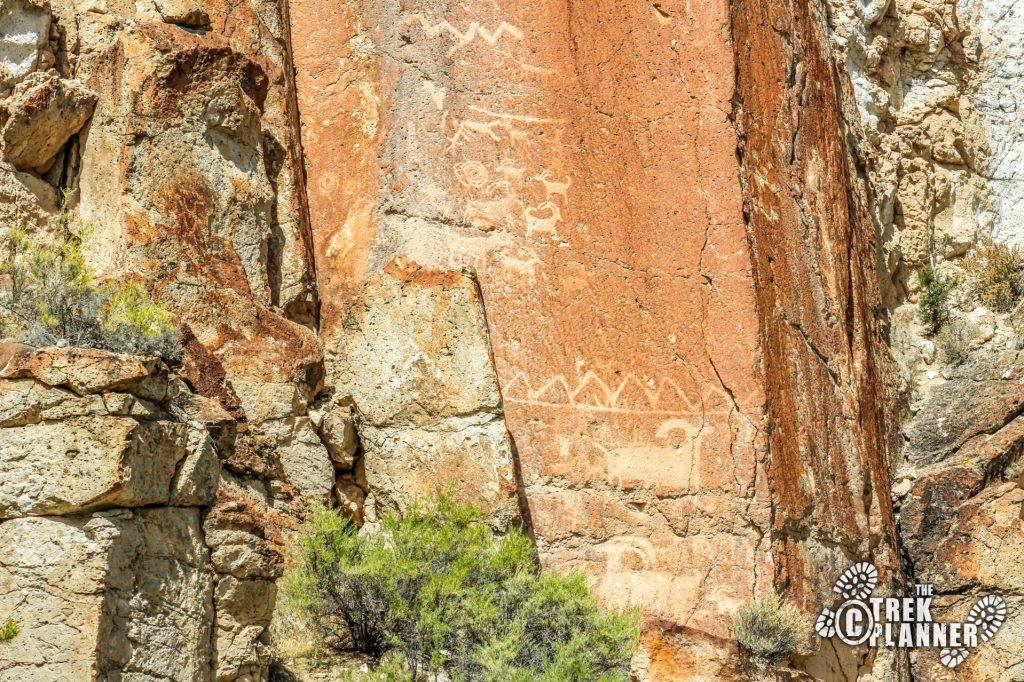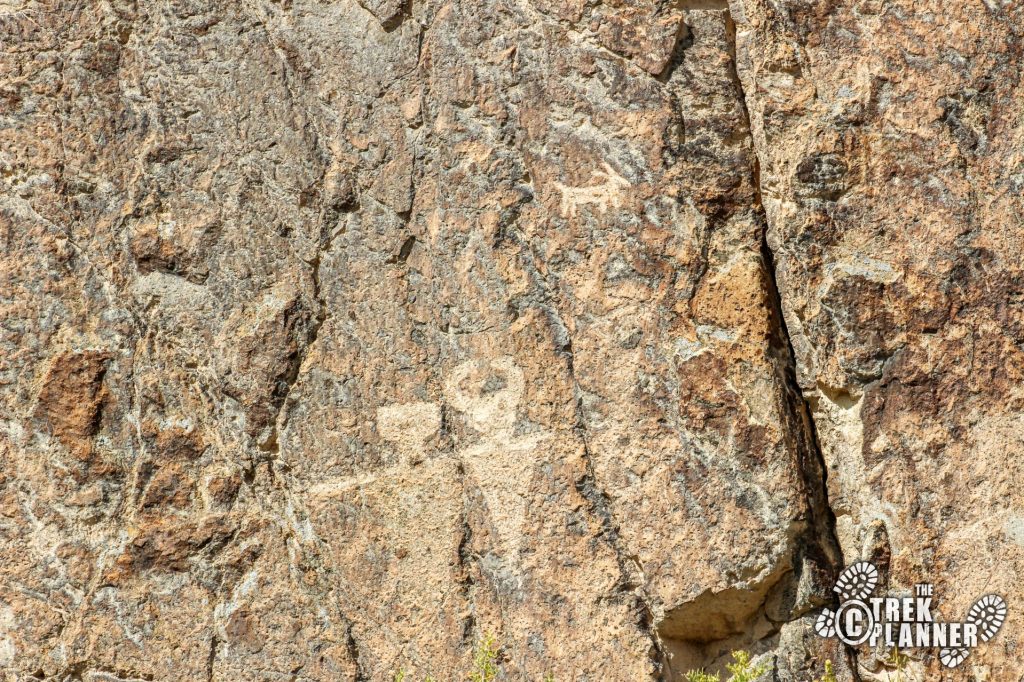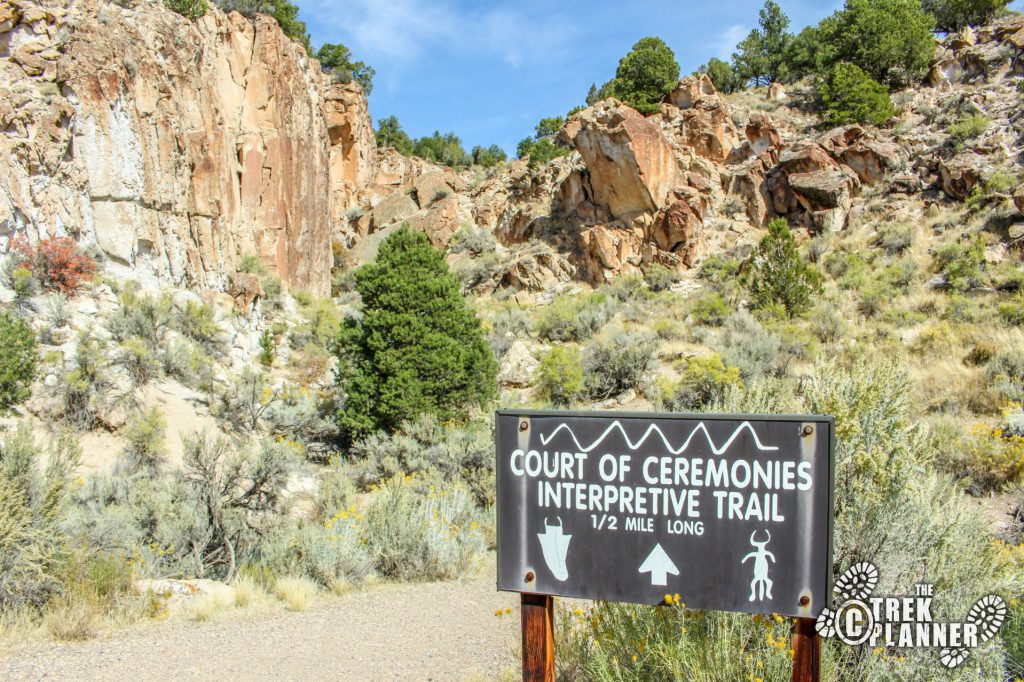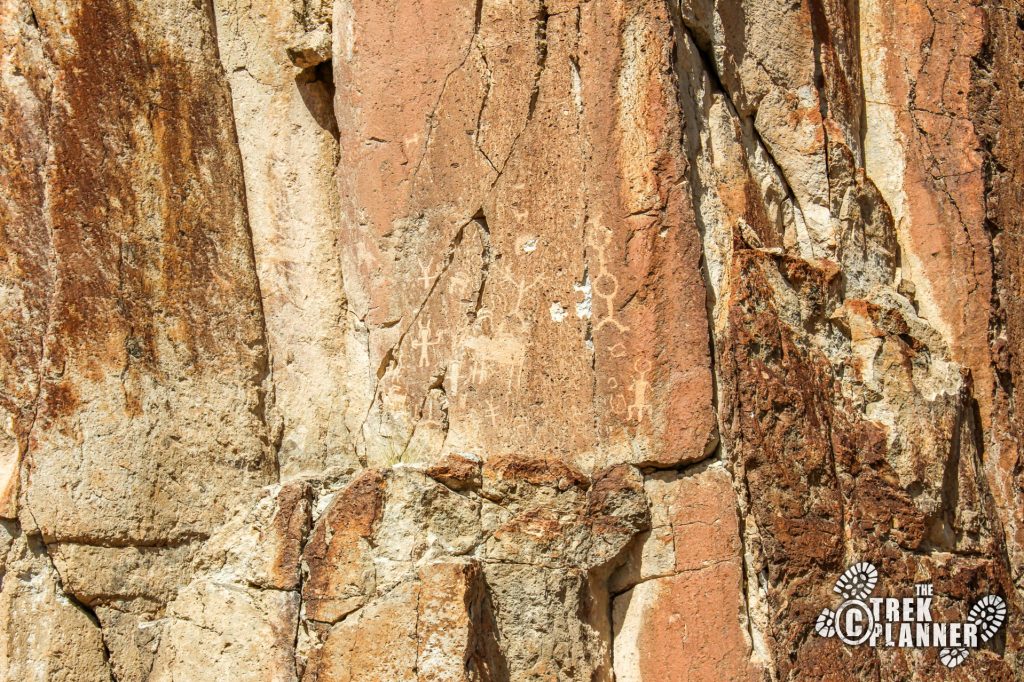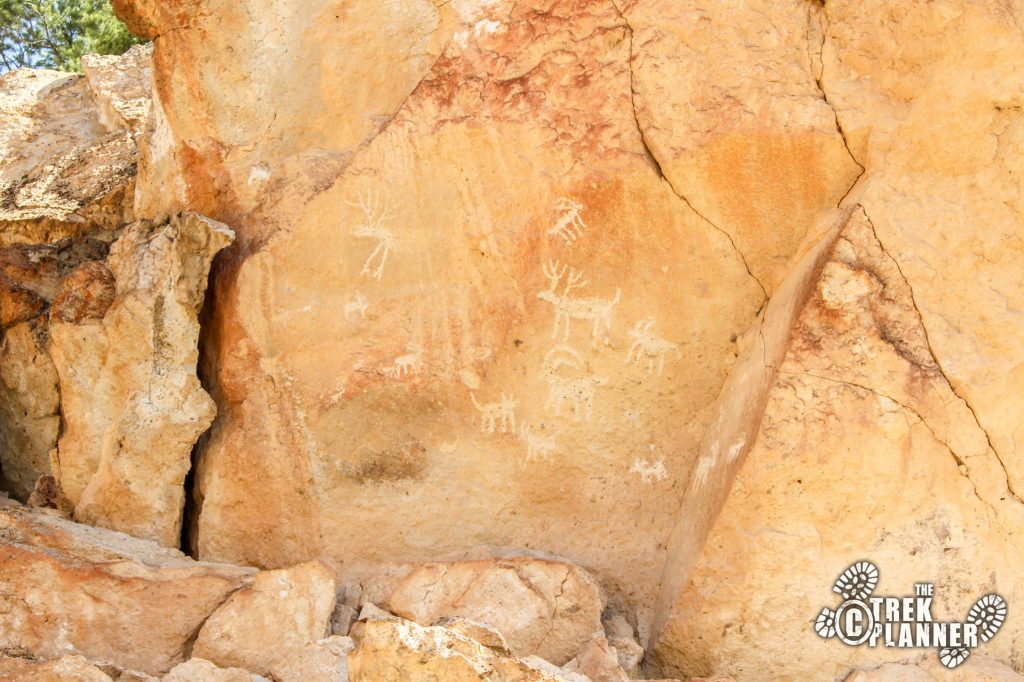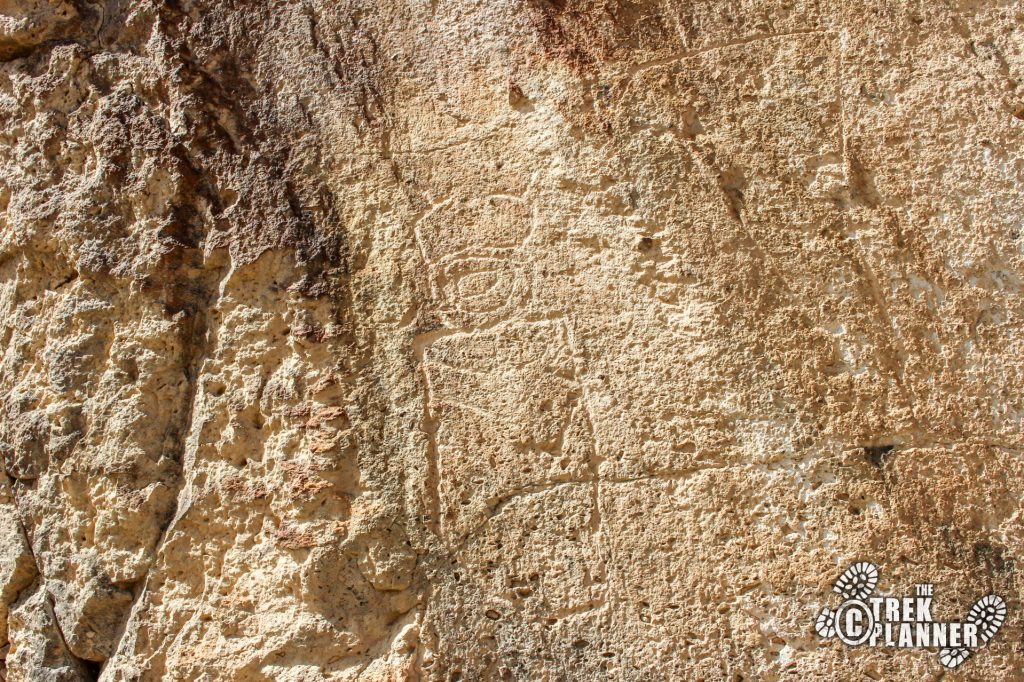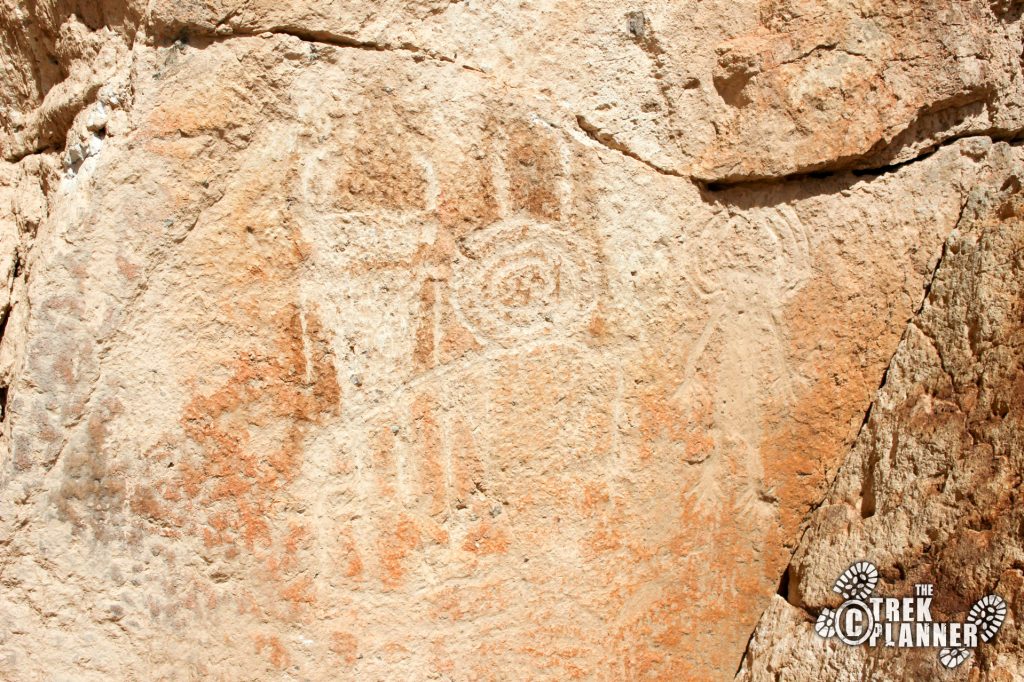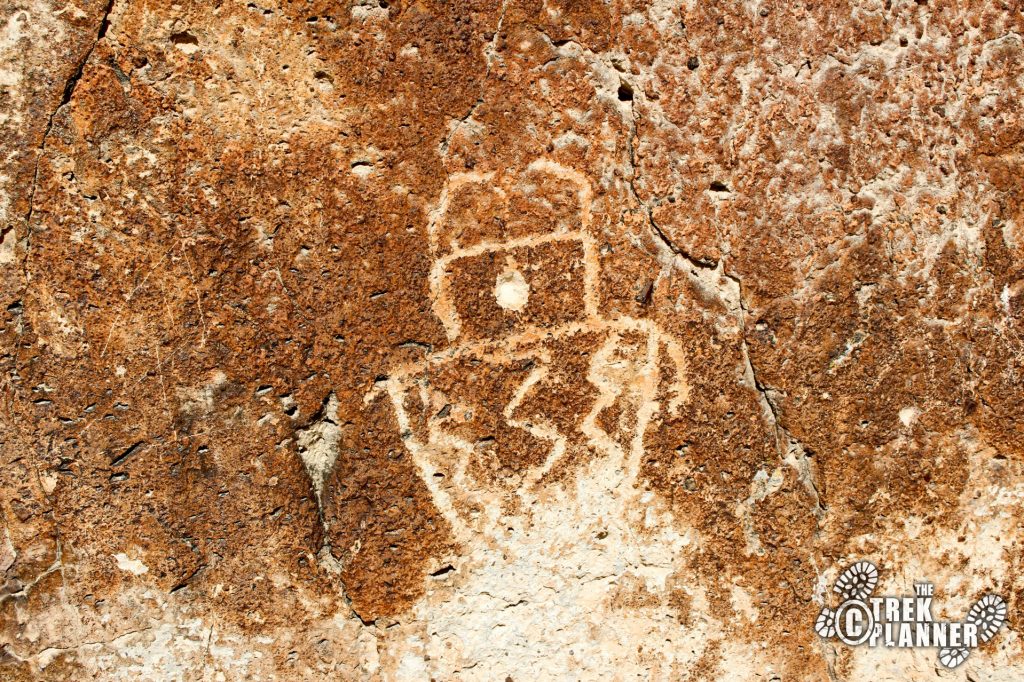 On this particular trail, there were only four people including myself.  Everyone must have been at the nearby Capitol Reef National Park instead.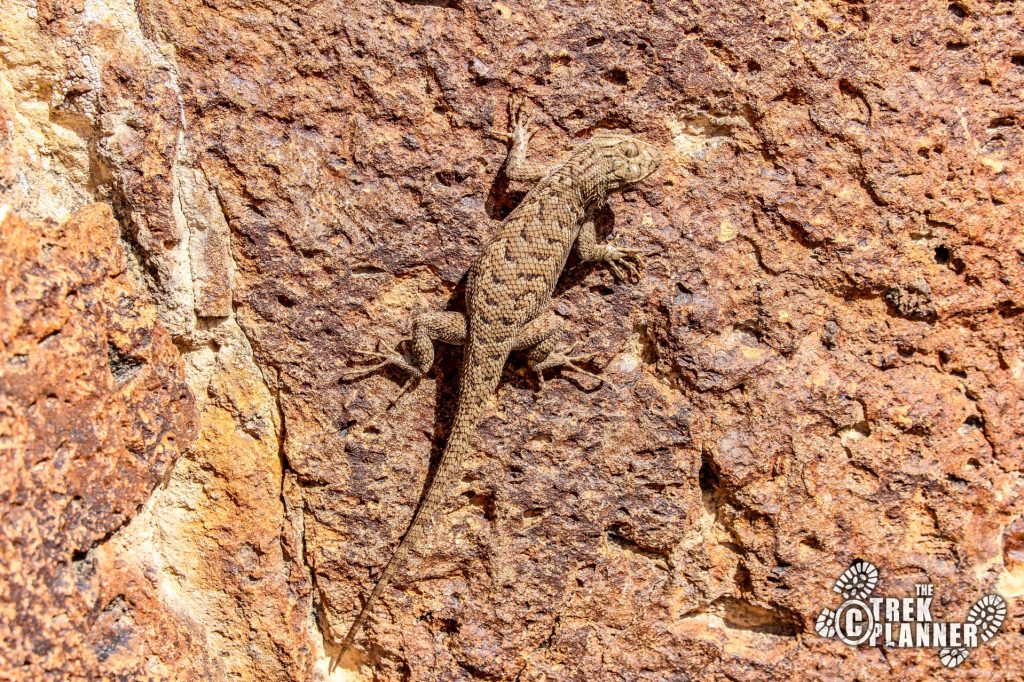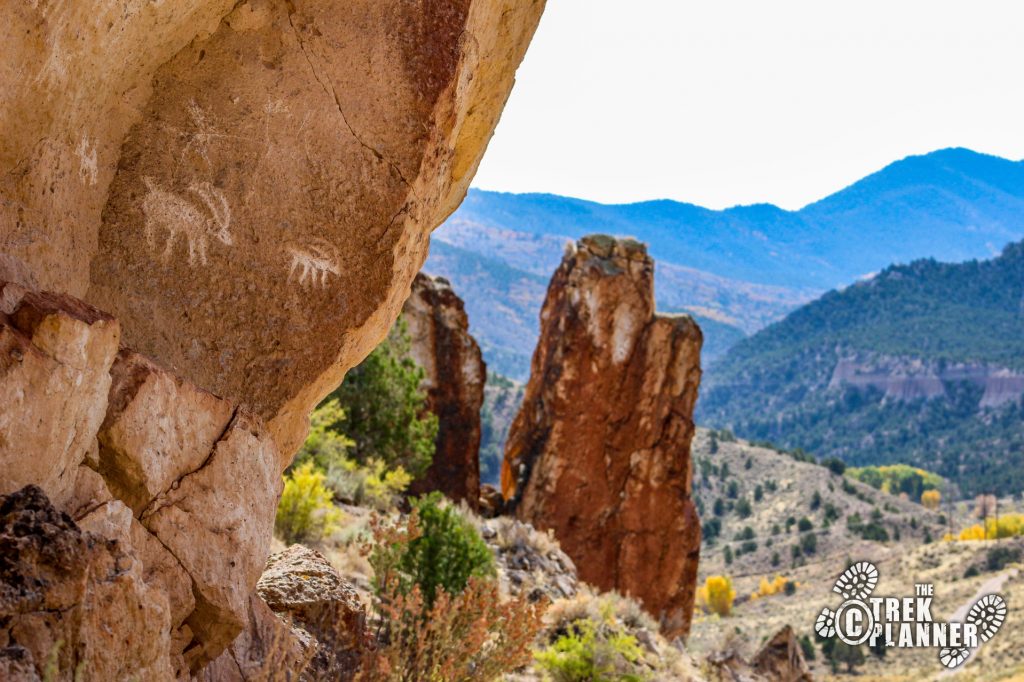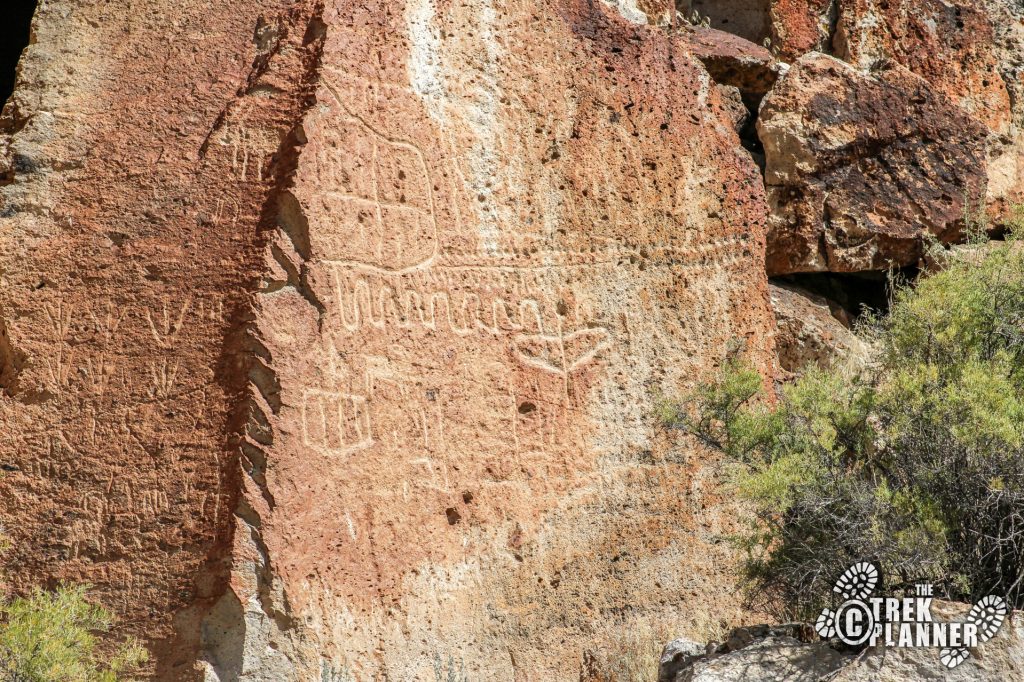 After this I drove down the street a little ways to hike to the Cave of a Hundred Hands.  This one was intriguing to me because who wouldn't want to explore a cave where there were a hundred hands inside!
There is a small parking area and a bridge to cross over.  You then  hike for a ways and go under the I-70 bridge.  Once at the other side you head east and the trail will go until you see the gated cave.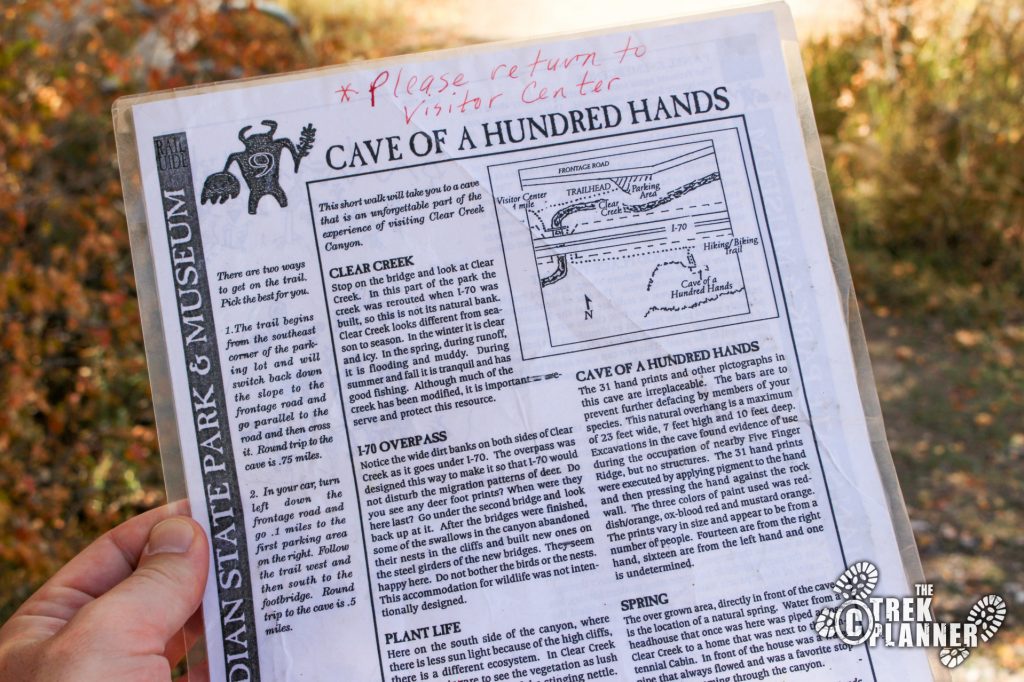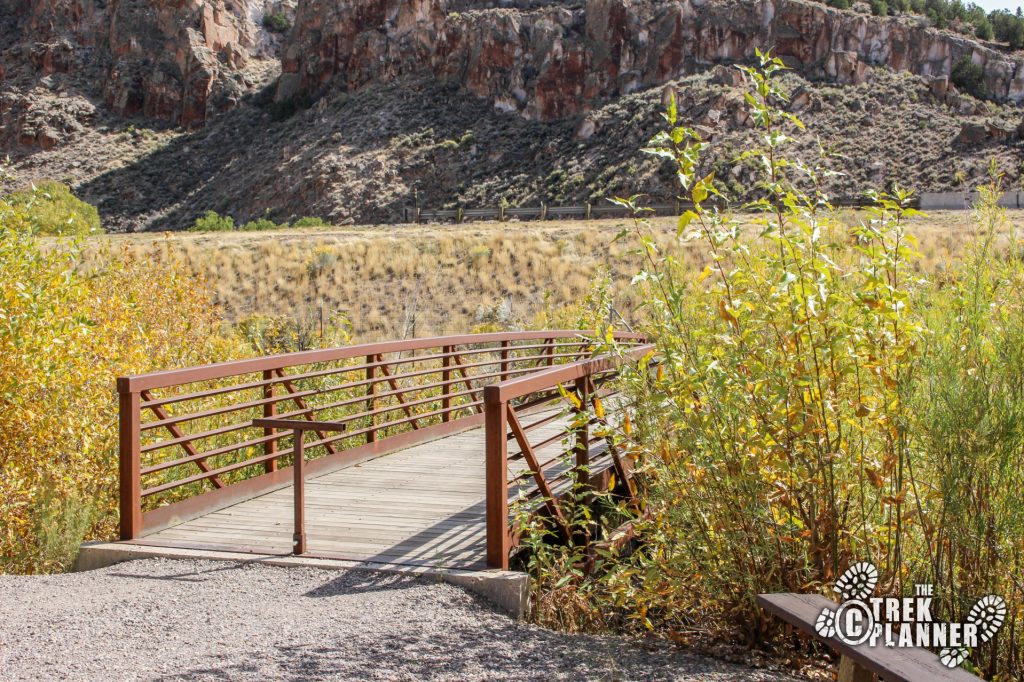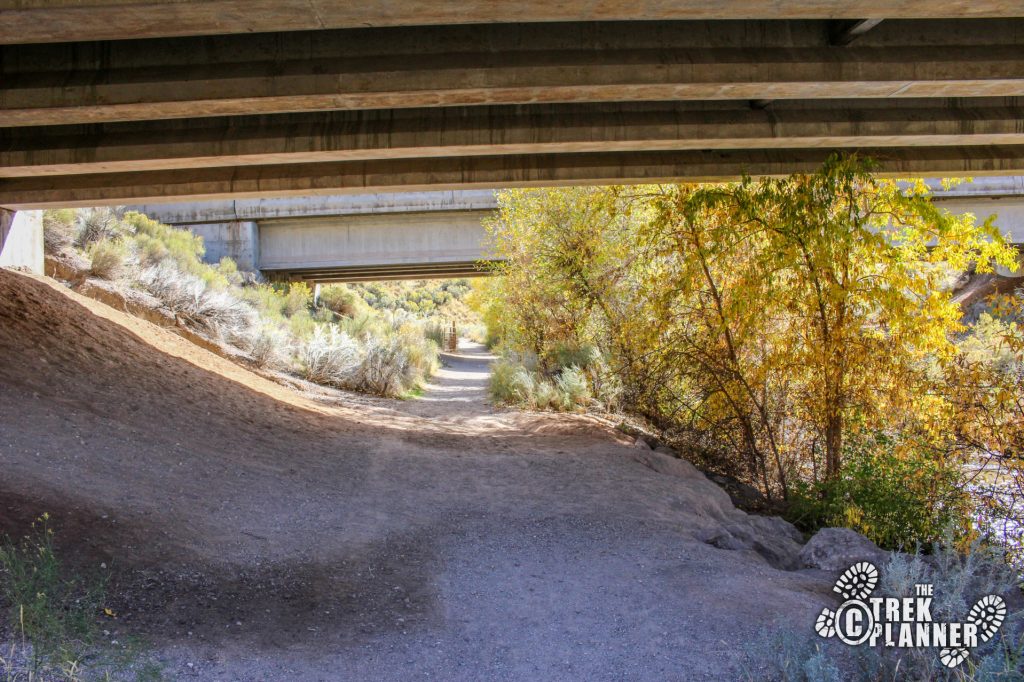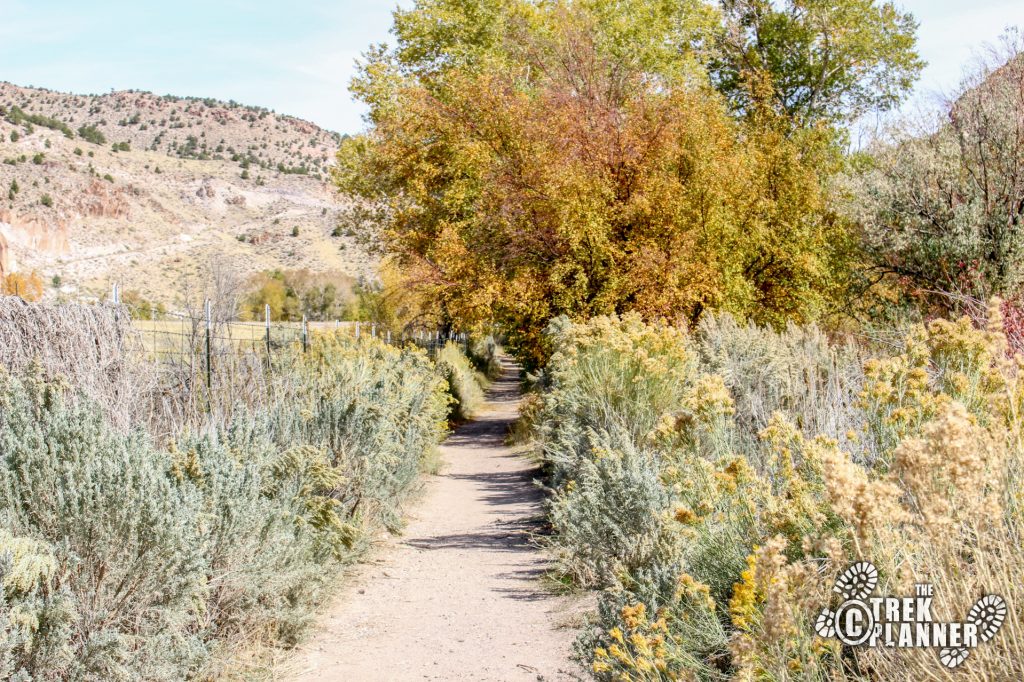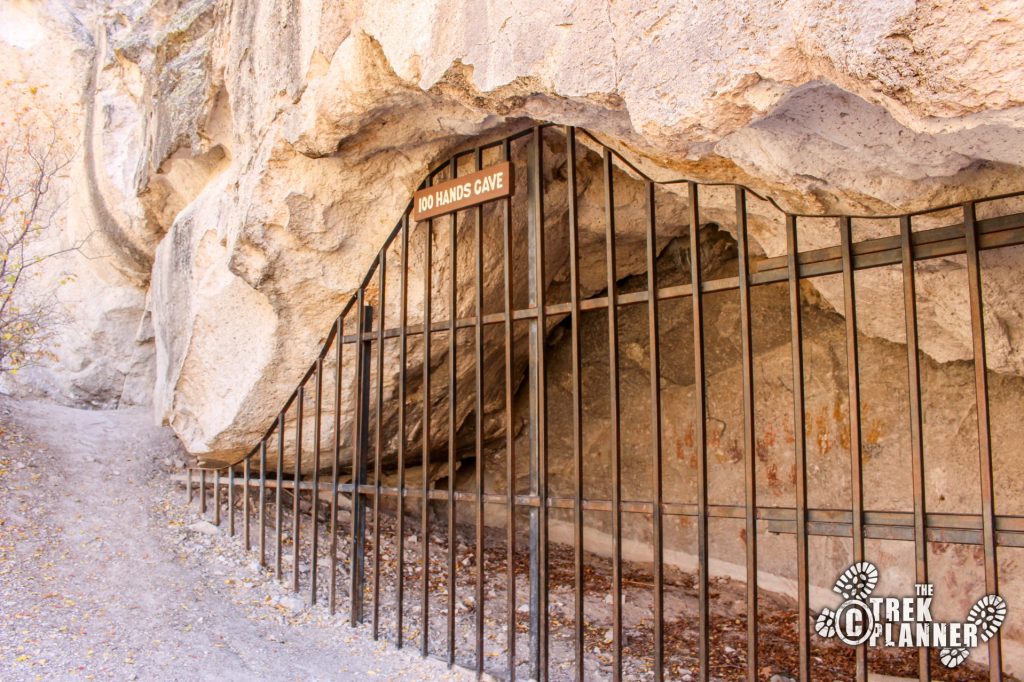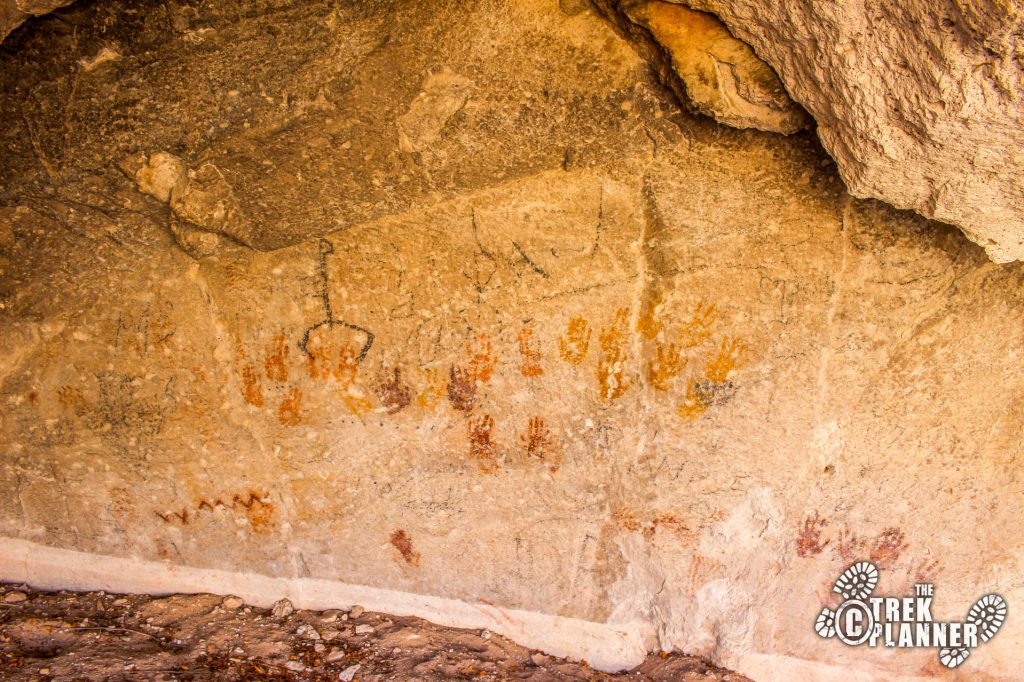 The cave only has 31 handprints and a few other pictographs.  I was expecting an actual cave you could go inside but thanks to some idiots, the park put up bars to keep everyone out.  You can only view them from a few feet away because those idiots vandalized the handprints and pictographs.
I really enjoyed seeing the handprints in different colors.
After the cave I checked out the Sheep Shelter and Indian Blanket.  I went back to my car and drove to the next stop.
I don't remember exactly what the Sheep Shelter was about – I forgot to grab one of those documents…but it was also located behind bars and in a shallow alcove.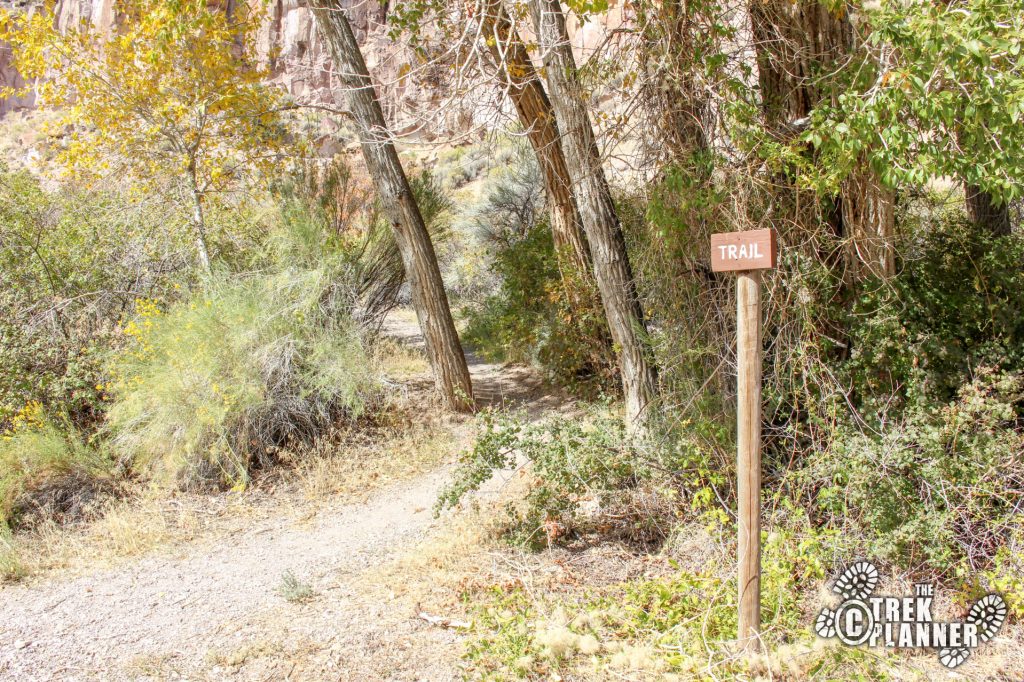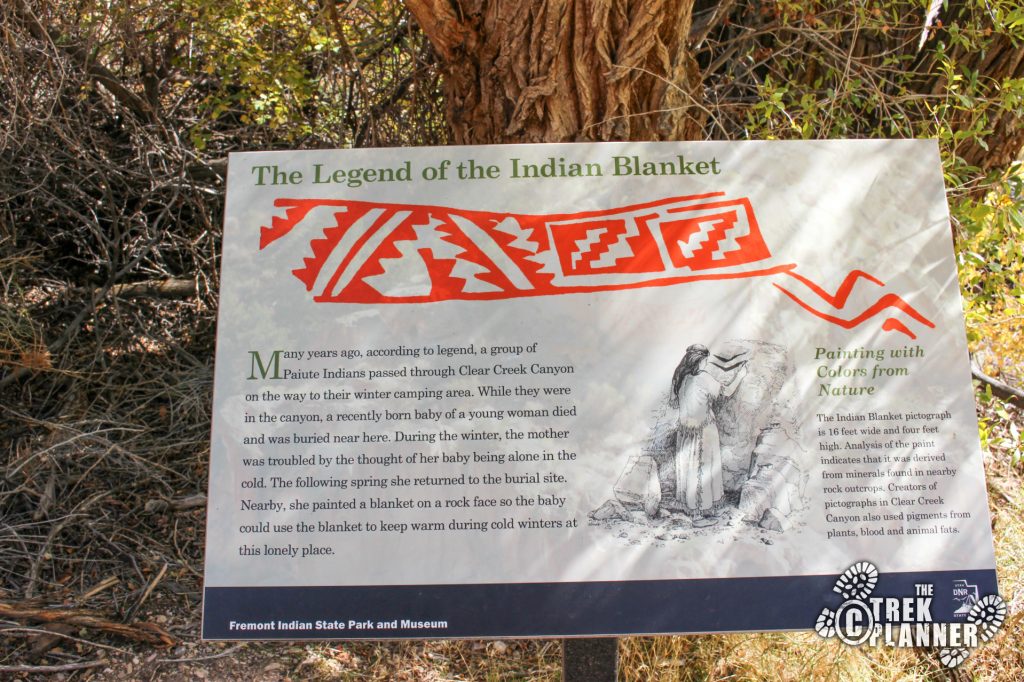 The Indian Blanket was really cool to see, even though it was located on the other side of the freeway.  I also didn't have my telephoto lens so I couldn't get a good picture of it either.  There is a metal pipe which points directly to the blanket pictograph and if you have good enough eyes you can make it out pretty good.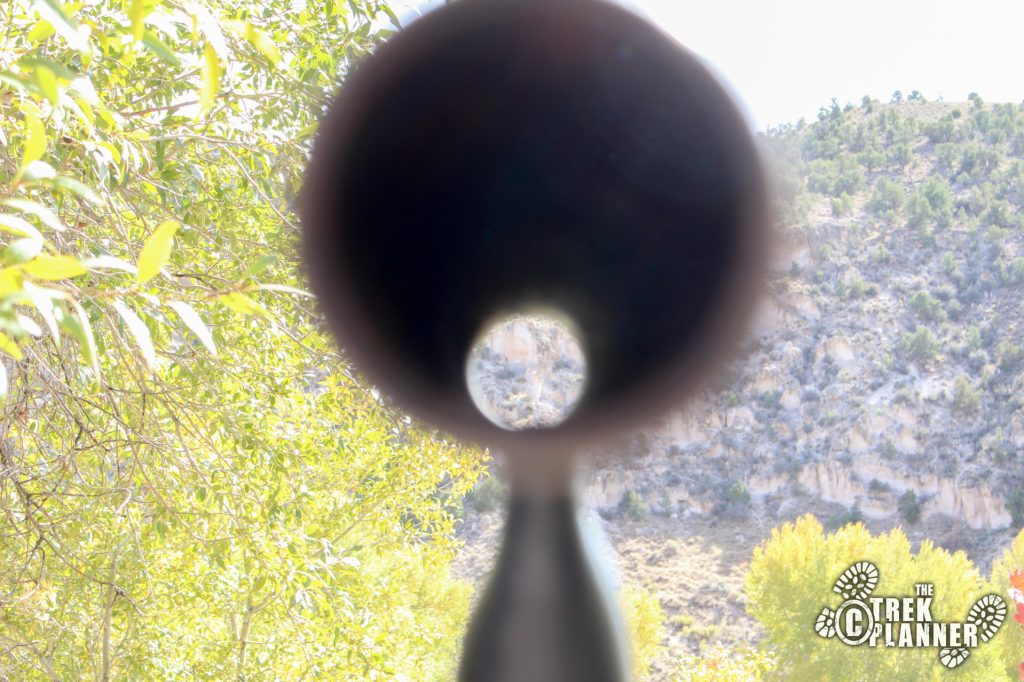 The Sheep Shelter was located right above this and it was a short easy hike.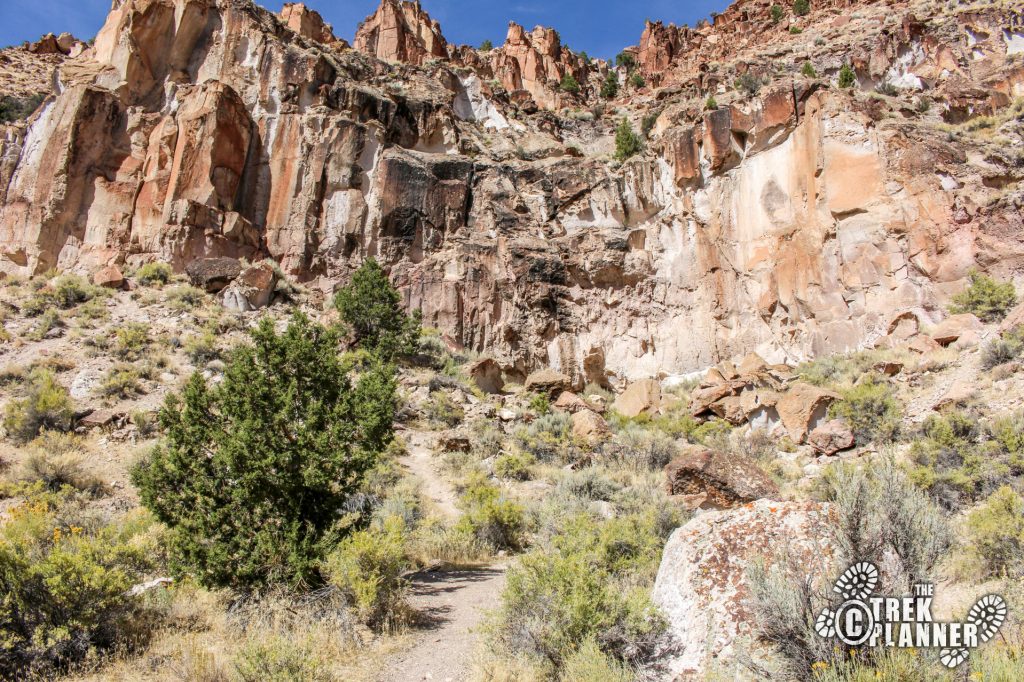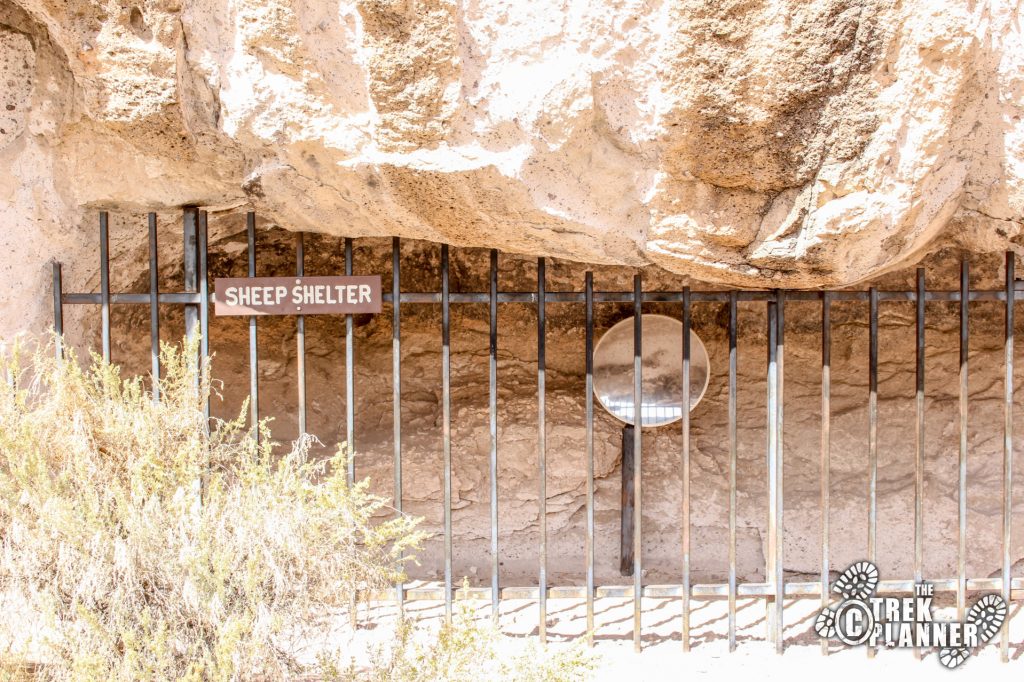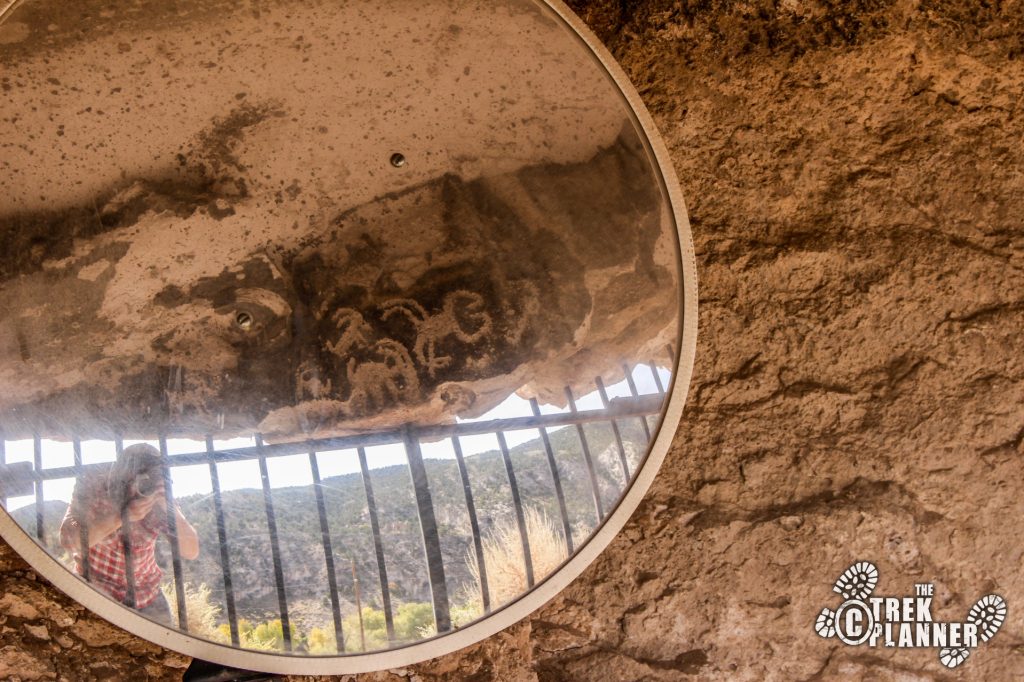 If you look directly to your left and up a little bit you can see some excellent examples of more sheep.  I enjoyed these more than the ones behind the bars.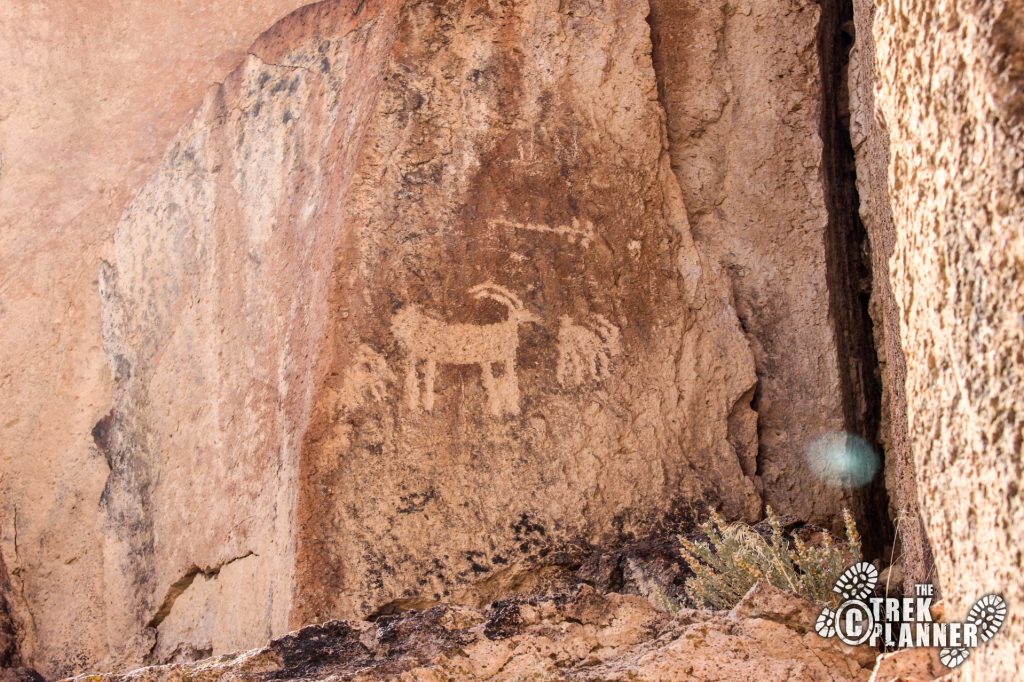 I explored around here for a bit because I found lots of other petroglyphs.  If you keep looking around you will find them just about everywhere…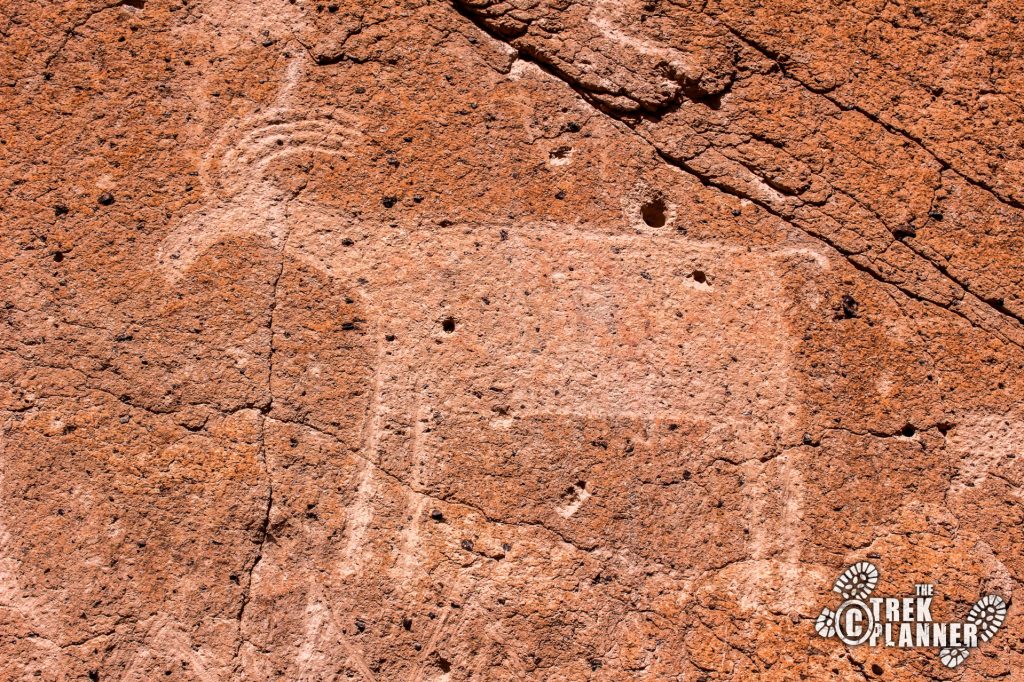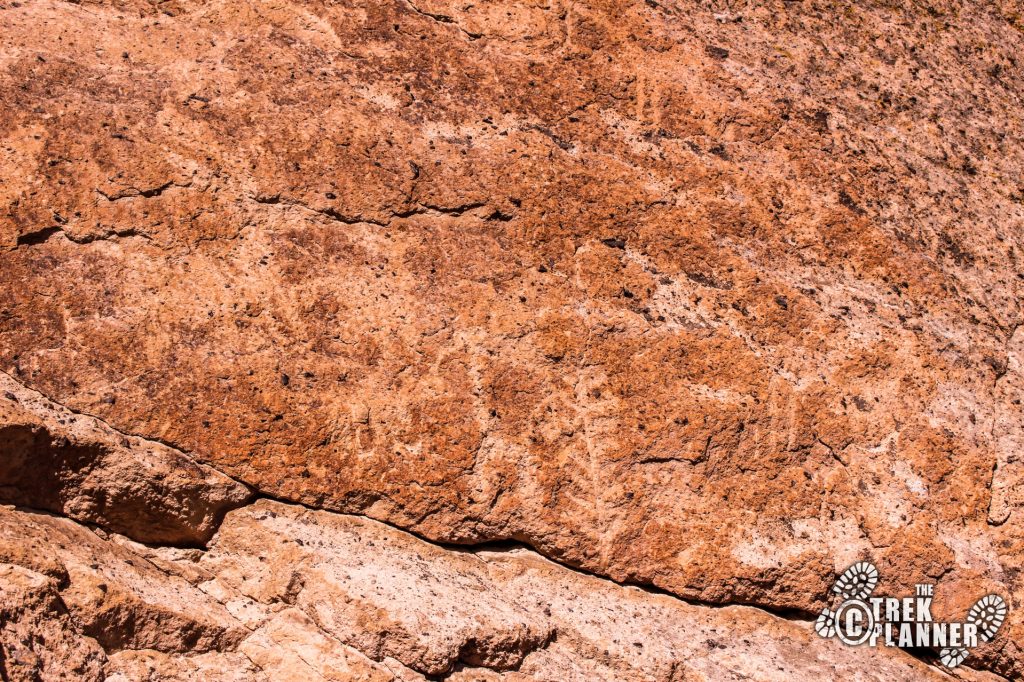 I wasn't planning on spending the night here but I wanted to check out the Sam Stowe campground.  It seemed like a big area with all the comforts you could wish for.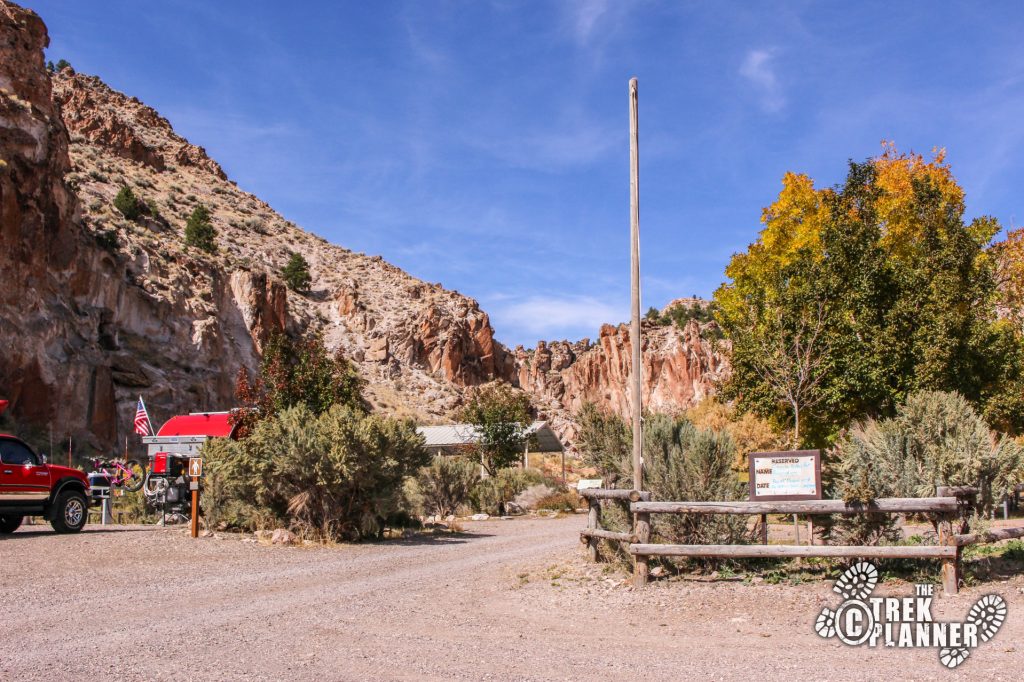 There was also a really nice picnic area with restrooms, picnic tables and large grassy areas.  Lots of tall cottonwood trees provide all the shade here.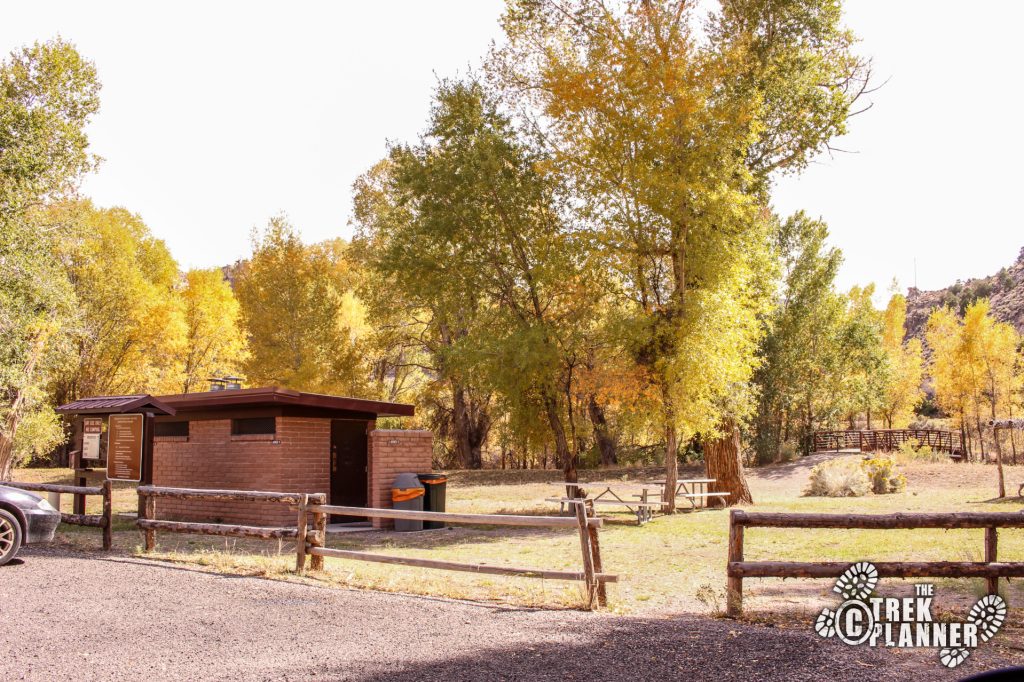 I went back to the Visitor Center one last time and decided to check out the Pit House on the eastern side of the parking lot.  You are free to go inside of it.  I had to wait about 10 minutes due to the many children going up and down the ladder having a blast!
The Pit House was big enough for maybe 10 people inside.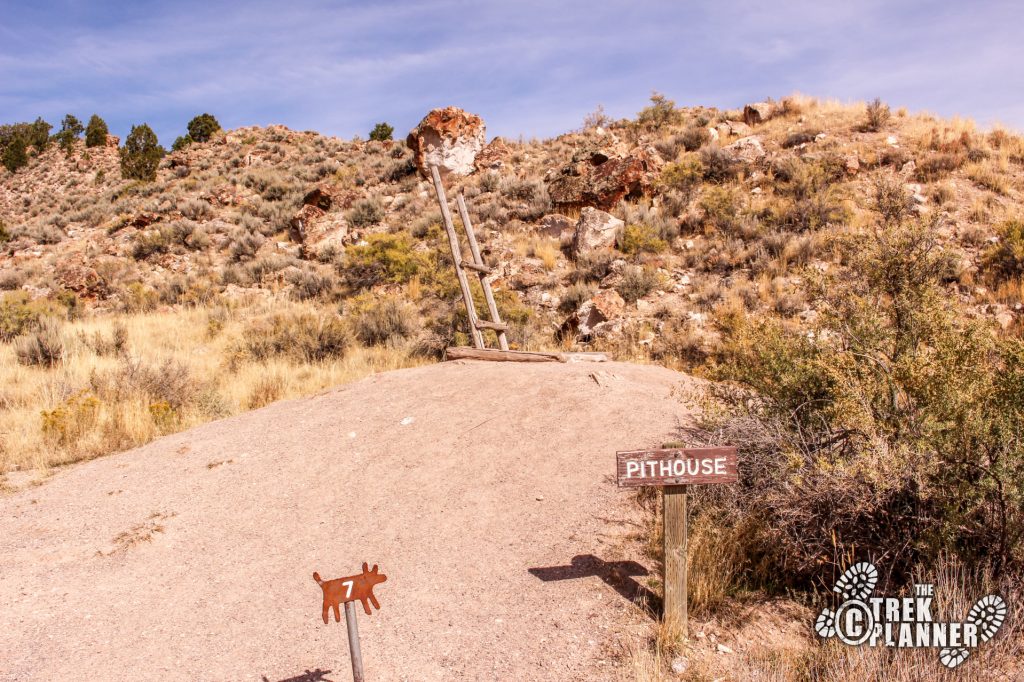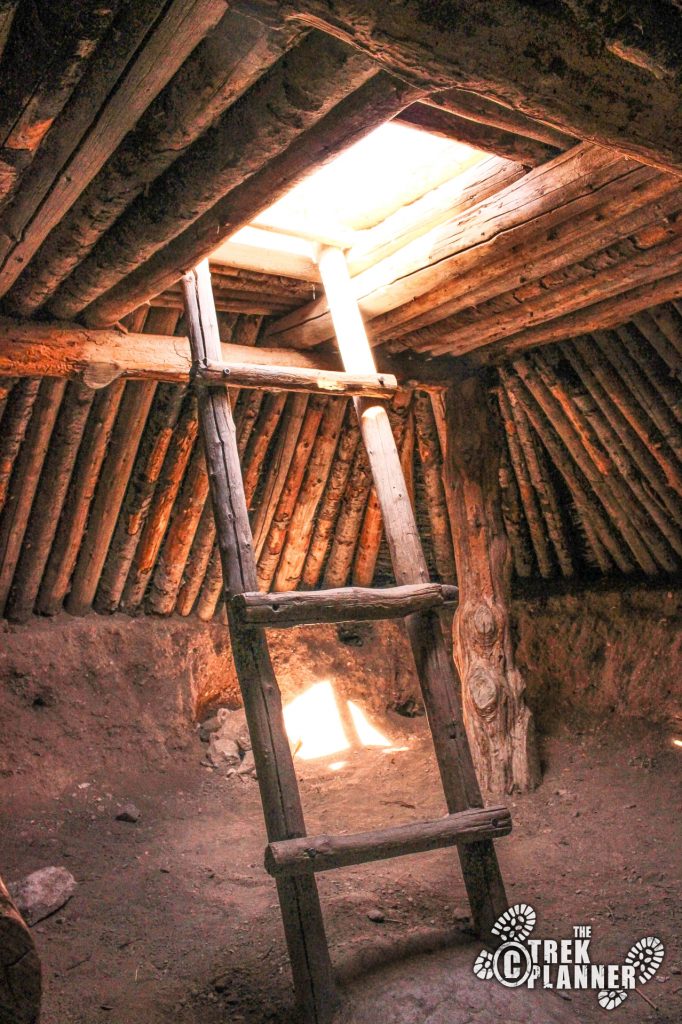 On my way out of the park and back home I remembered that one of the staff told me to go see some of the petroglpyhs where the Clear Creek Canyon and Kimberly Roads join together.  She mentioned that there are some newer pictographs by a Fremont man who went to either Chicago or New York City, and came back and pecked his story high on the canyon walls.  It was truly incredible to see!
It is located pretty high up on the wall so bring your binoculars!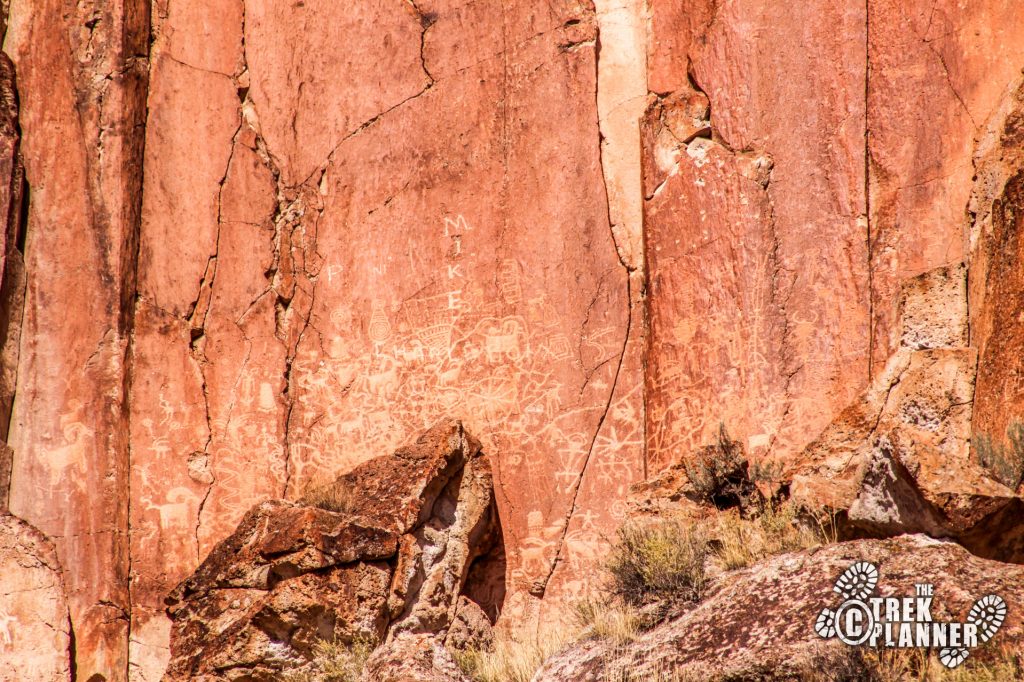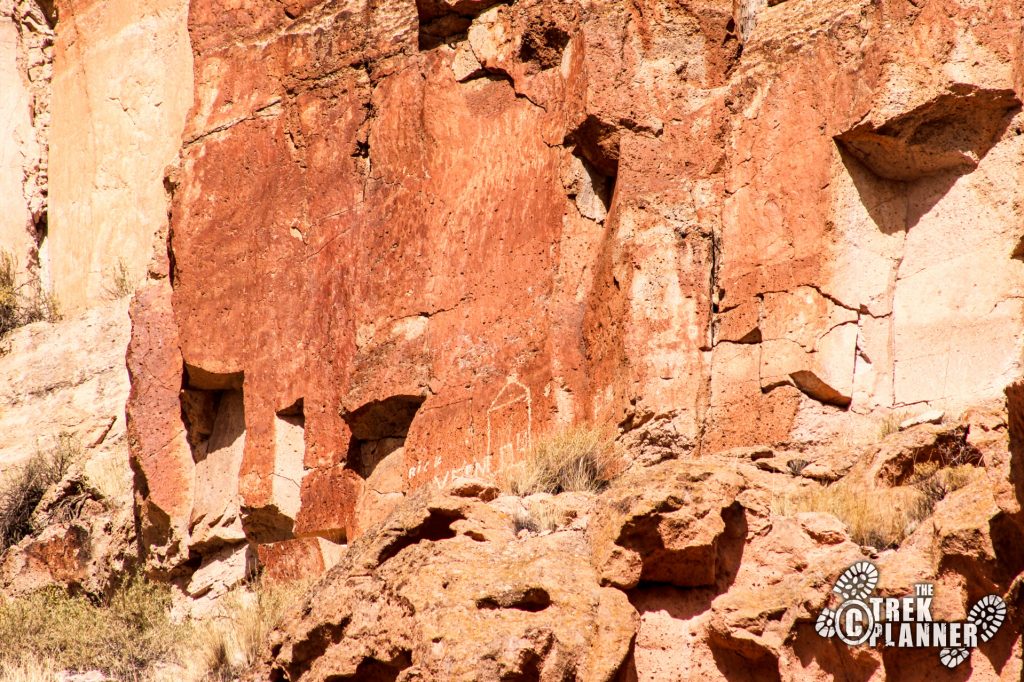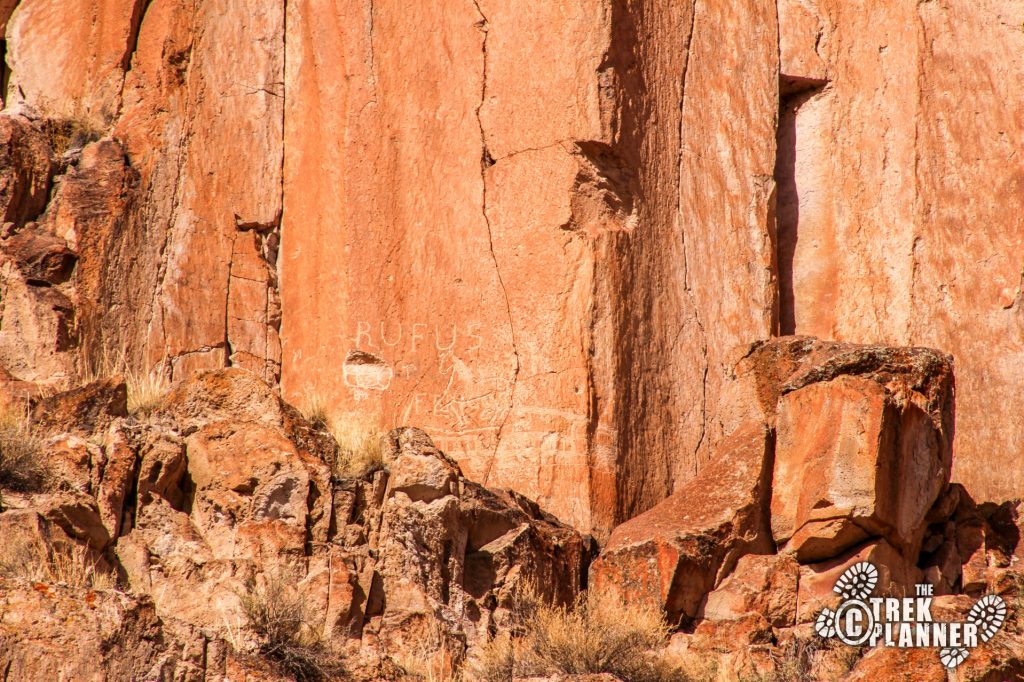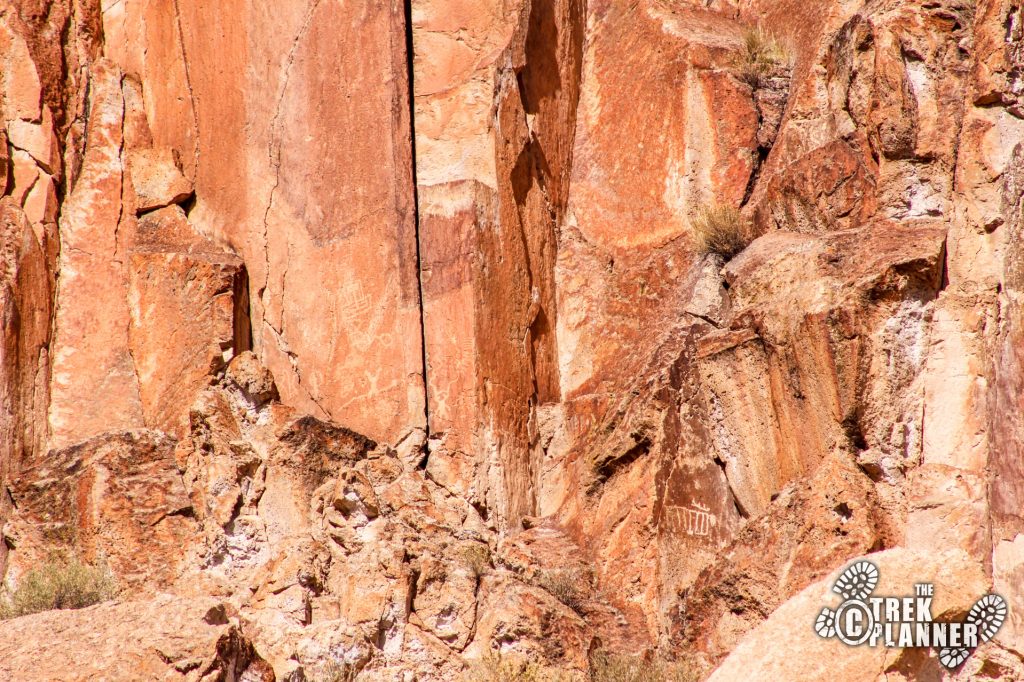 Personal Thoughts:
I would love to come back and explore more of this park.  You can even rent ATVs here to go on some of the old trails on the western side of the freeway.