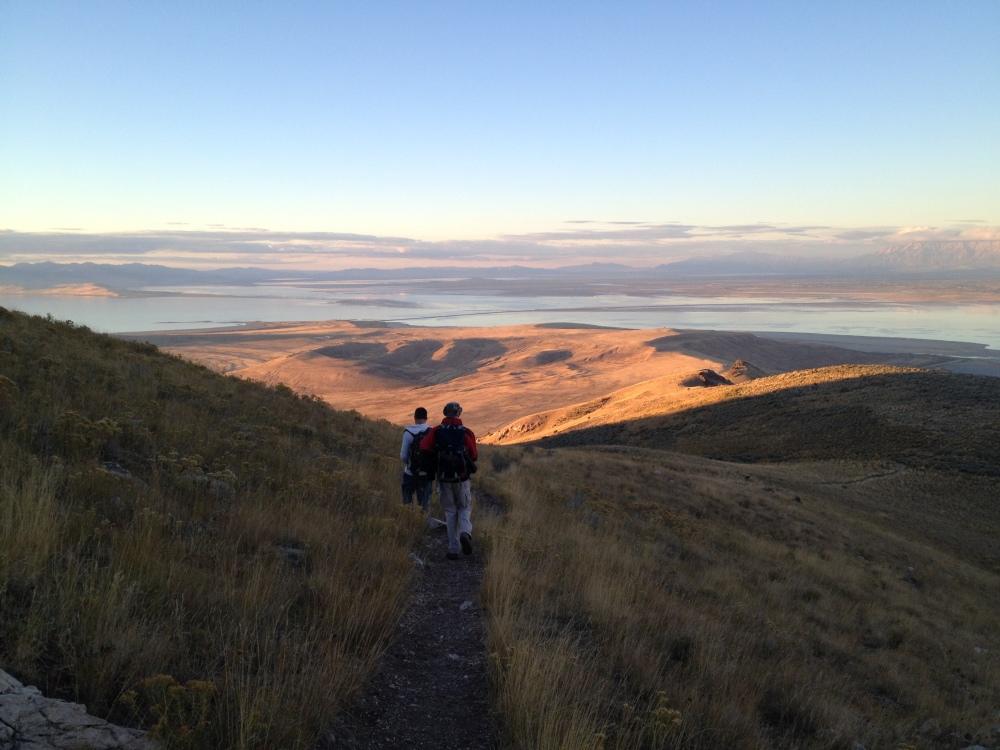 Overview
Antelope Island State Park – Northern Utah
Bison, big horn sheep, antelope, incredible views of the surrounding area and lake.
About 6.5 miles round trip
Pets are allowed on the island but not on the Frary Peak trail among other places.
Yes. There are fees to enter the state park.
Bring 2-3 liters. There is no water at the trailhead. You can get water at the visitor center if you don't bring any.
Spring or fall. Summer has tons of insects.
Very little shade along entire trail.
Trail is well worn dirt path – easy to follow
Located at the visitor center or Fielding Garr Ranch.
Yes. Located at north end of island.
Not allowed on Frary Peak Trail but allowed in approved camping areas.
Bring a meal and snacks as needed.
Jacket, backpack for food and water, bug spray (for summer hiking), hat, sunglasses
You could possibly see some bison and antelope on the road going out to the Frary Peak parking lot and maybe on the trail going up.  In the summer expect lots of gnats and flies = miserable hiking!
GPS Coordinates
Trailhead: 40°59'38.33″N, 112°12'9.13″W
Collapsed Mine Adit: 40° 59.031'N, 112° 12.821'W
False Summit: 40°58'0.16″N, 112°12'59.55″W
Trail Fork: 40°57'58.85″N, 112°12'58.87″W
Frary Peak Summit: 40°57'43.24″N, 112°12'57.81″W

Trail Map:
---
Driving Directions:
If you are coming from the Ogden or Salt Lake City areas, travel to Layton and take the Antelope Drive exit from I-15.
Then travel west on Antelope Drive for about 6 3/4 miles until you approach the entrance to Antelope Island State Park.  There is a small station there where you must pay entrance fees depending on if you are walking, biking or driving into the park.
Get on the causeway for another 7.2 miles until you come to the island itself.  Take the first left and travel a additional 3/4 mile and take a left turn.
Travel another 5.5 miles until you see the Frary Peak turn off to your right (going west).  Travel up the incline until you reach the parking lot.
---
The Trail: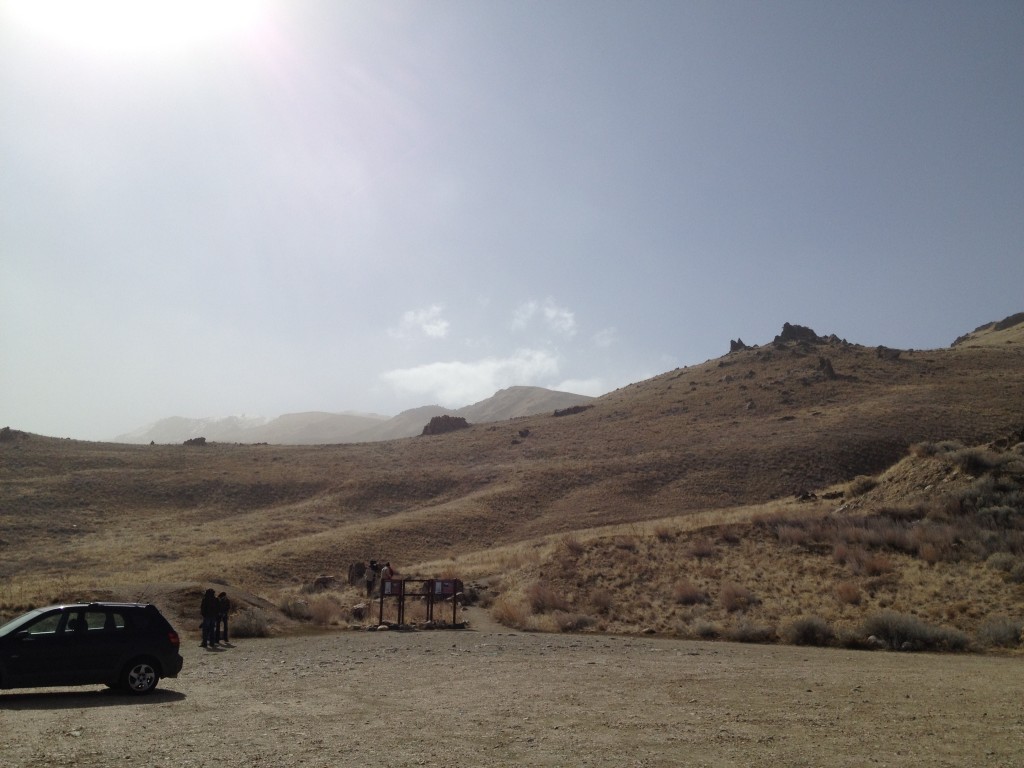 At the parking lot
The parking lot sits at about 4520 ft in elevation and Frary Peak summit is located at 6,595 ft so you will be gaining about 2,075 ft in about a 3 mile trip (about 6 miles round trip) so be prepared to stair-master your way to the top and then back down to the bottom.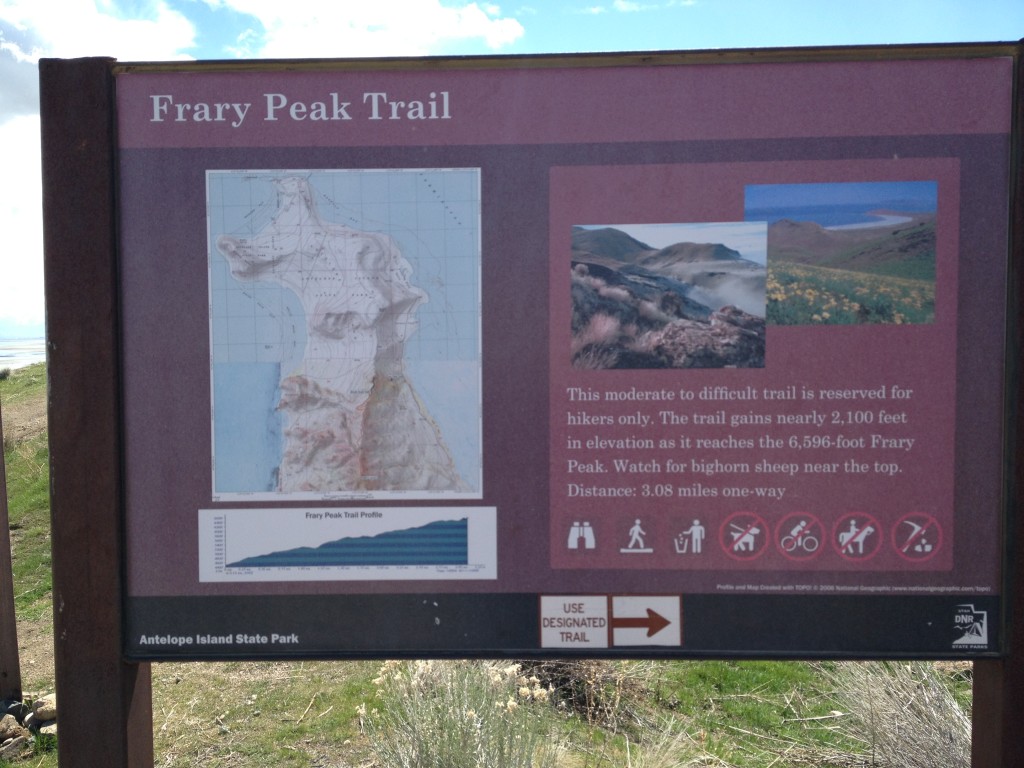 At the southern end of the parking lot you will see a trail information sign with a map of Frary Peak.  The trail is located next to this sign and snakes around to the hill directly to your west.  You will climb up with and continue zig-zagging around hills and obstacles all the way up.
Once you leave the parking lot you will have no problem staying on the trail for it is clearly marked.  You will most likely find other hikers.  In the past three years I have hiked Frary Peak about five times and I have always seen other hikers.  I also have seen bison and antelope on just about every visit to the island.
About a mile up from the parking lot the trail forks leading to other parts of the island (see Optional Side Trek below) but the Frary Peak hike trail is clearly marked with a sign
---
From here the trail winds around large boulders before gaining in elevation.  I love this part of the trail because you finally get great views of the western side of the island before you climb up to the summit.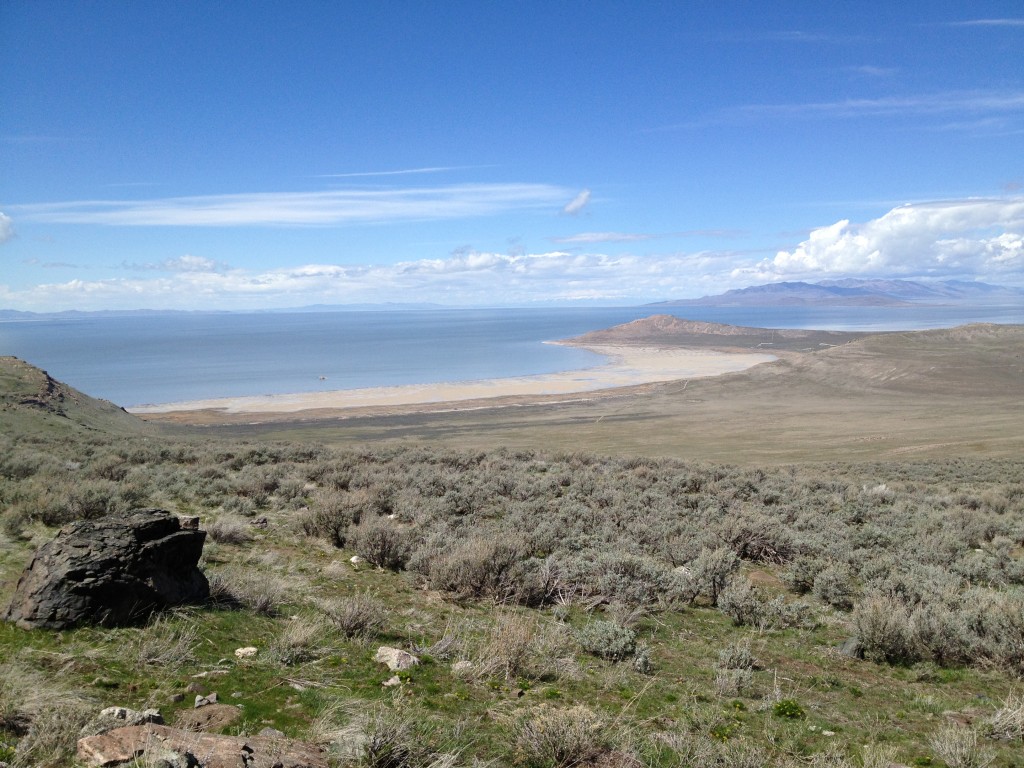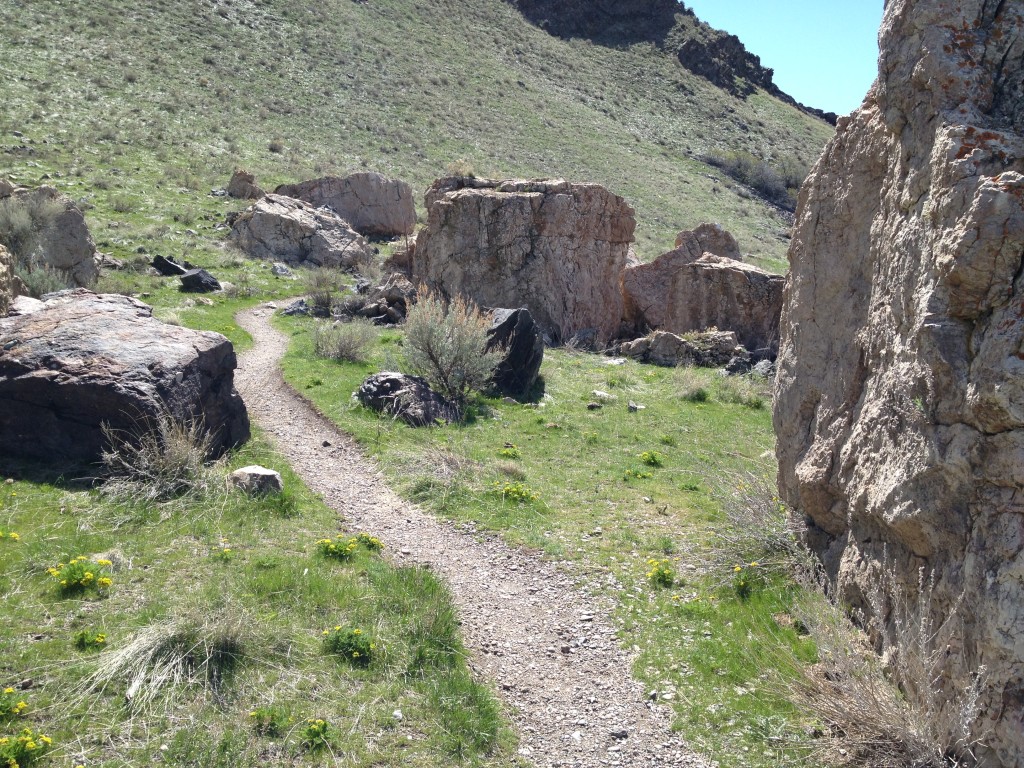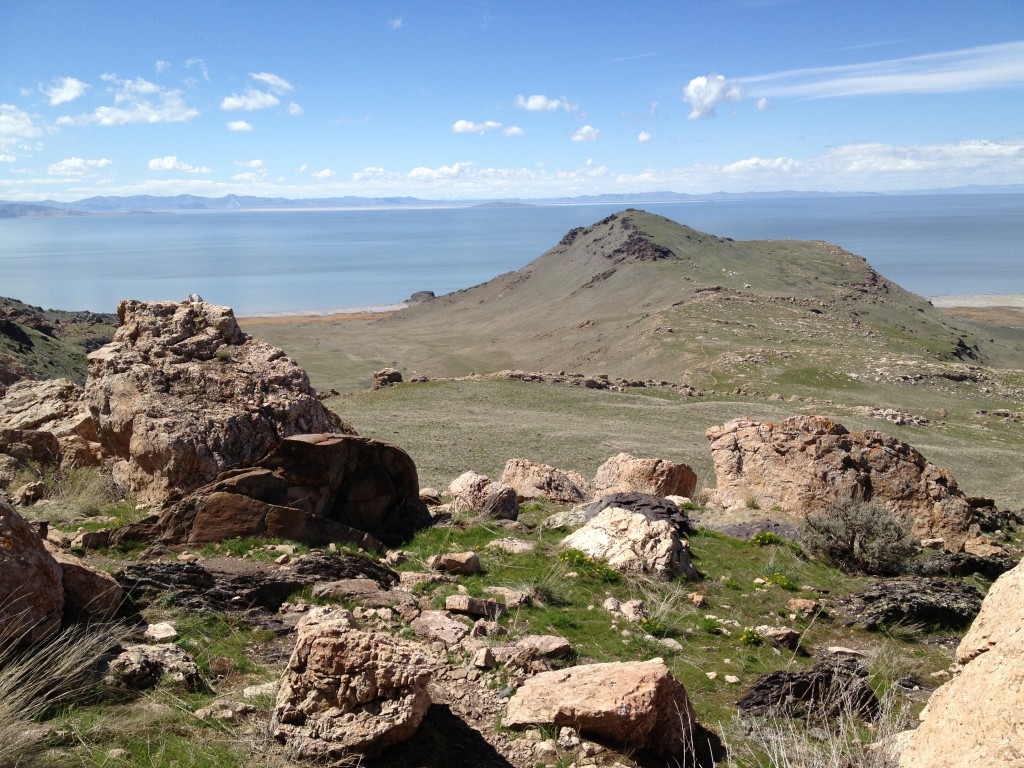 The trail will make a U-turn and cut straight up the mountain side.  Just take your time and don't push yourself too hard.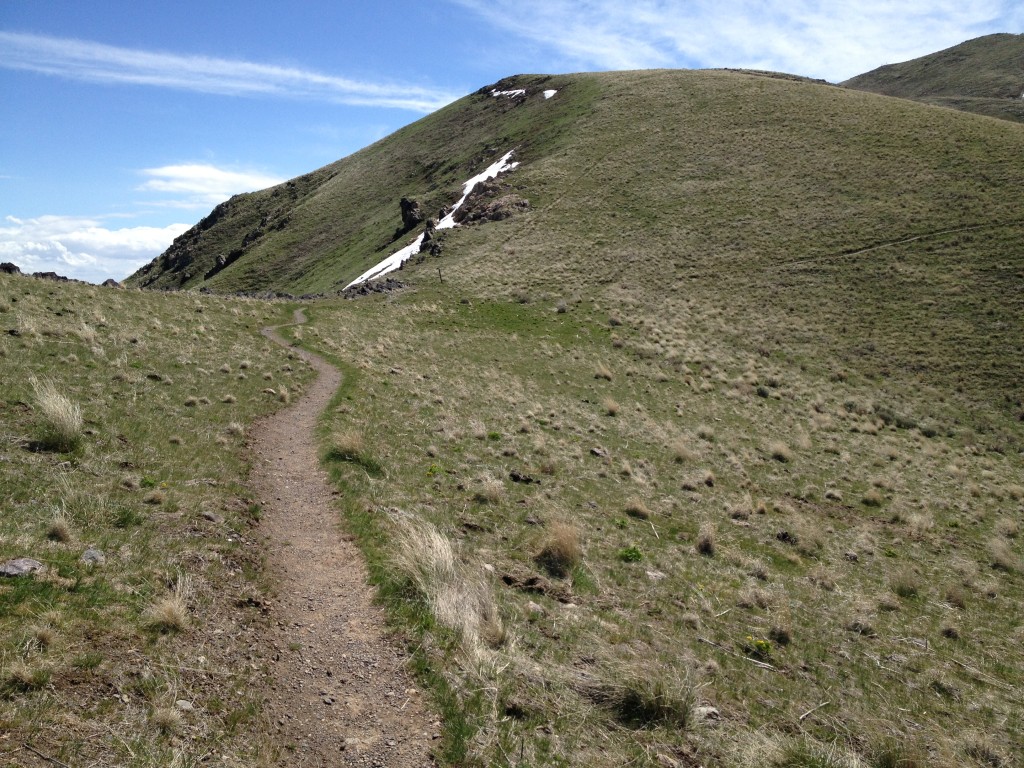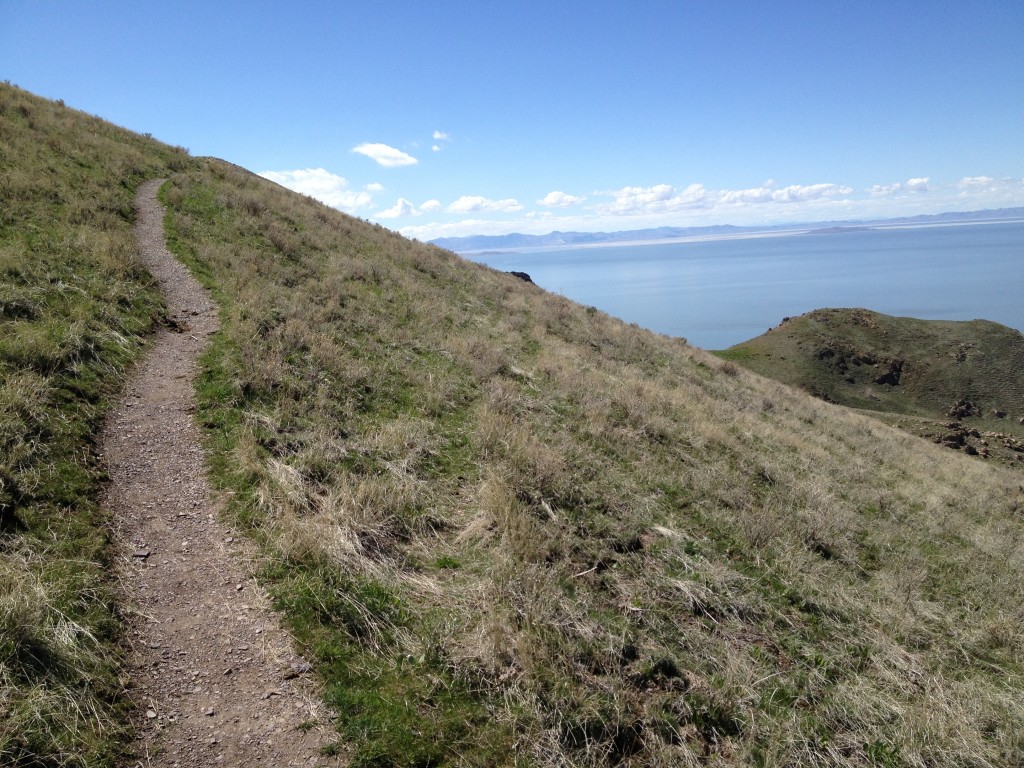 You can see why this is one of my favorite trails in Northern Utah.  The green short grasses, serene environment and the amazing overlook of the Great Salt Lake make this hike absolutely incredible!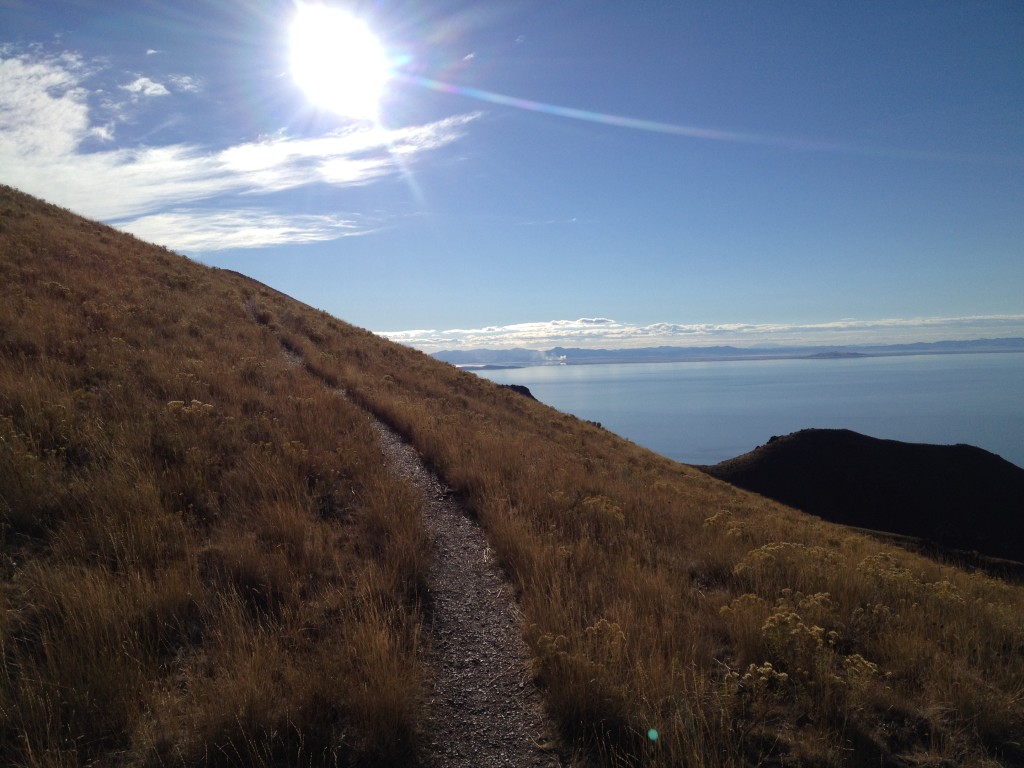 Once you get to the top you will see a radio transmitter on top of the False Summit.  Some hikers usually travel to this location and then hike back down to the bottom.  The radio transmitter is at about 6,430 ft in elevation which means you are almost there – just another 1/4 mile left until the summit. You will also see a "3 mile" marker sign near the radio transmitter.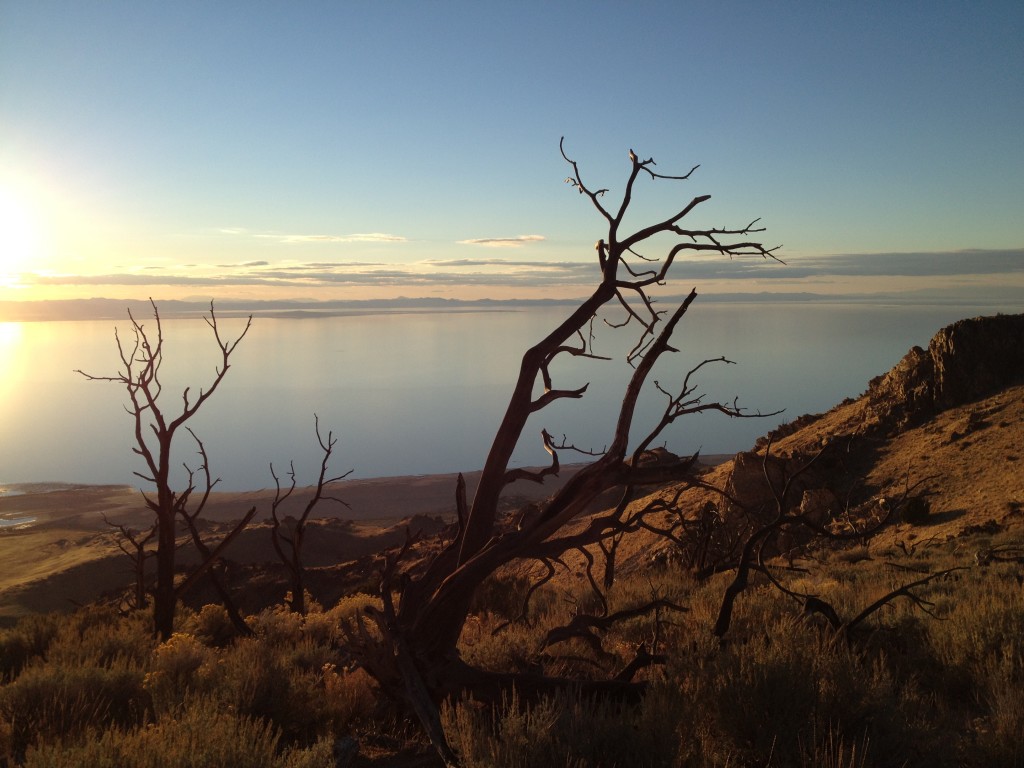 ---
Once you are past the radio transmitter you will notice that the trail seems to go down to the right or left side. See GPS Coordinates for 2 Trail Choices. Here you basically have two options.  You can either scramble around the large rocks on the left trail or take the defined trail to the right.  If you choose to go to the right you will drop down a little ways and then make your way back up towards the Summit and travel through an area filled with bushes and trees.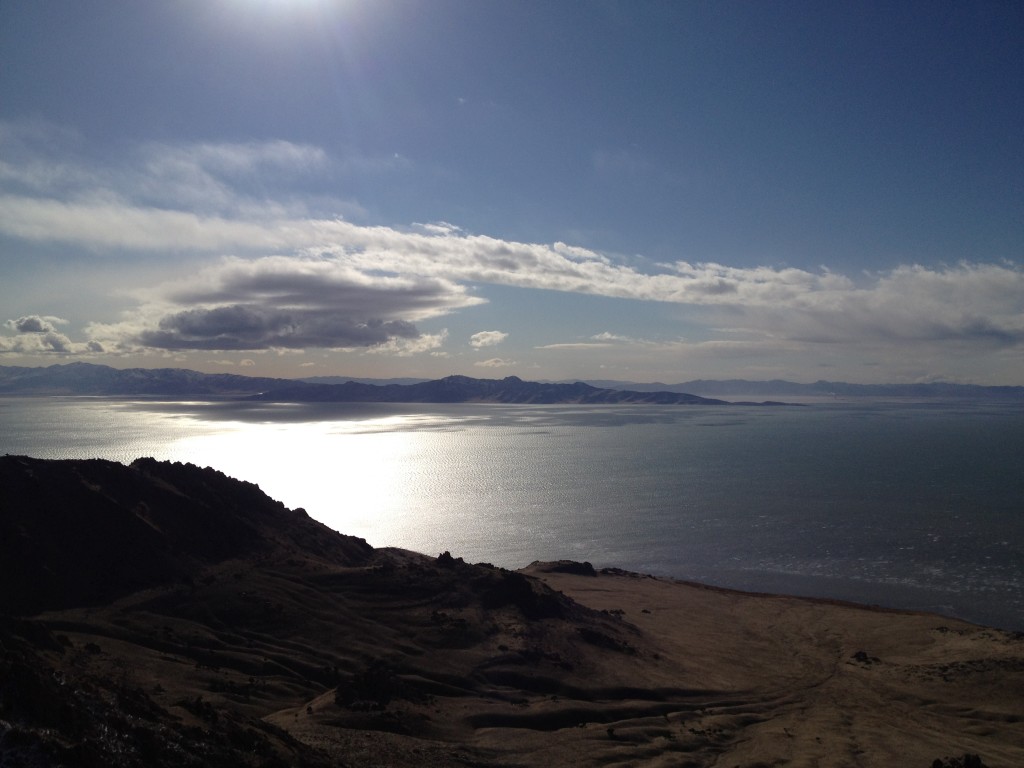 The left trail does not drop too much in elevation but the trail is harder to find and keep track of but you can see the summit the entire way so it is rather difficult to get lost.  I usually choose to go up on the right side and then come down the other way, creating a small loop.
The left trail is very precarious for anyone and the park service has even tried to block this route.  And for liability reasons, I do not suggest going the left route.
---
Either way, once you reach the summit prepare to see amazing views all around you.  You can see into Tooele, Salt Lake City, Davis County and even parts of Ogden.  The summit is marked with piled rocks, concrete pad and a survey point marking the summit.
---
The Return:
Getting back to the car is all downhill from here.  Just follow the same trail and you will be back to the parking lot much faster than you went up.
---
Personal Thoughts:
The Frary Peak Hike is a great trek for everyone.  You can take all the time you need going up and know that you will be fully rewarded while going up and when you reach the summit.  As for me, I love this hike, I love Antelope Island in general so it is really great to slowly climb to its top and see the entire island.  I have done this hike in as little as a three hour round trip but I was practically not stopping for the entire way.
---
OPTIONAL SIDE TREKS
The content you are trying to access is only for Trek Planner Insiders. Signup
---
Seasonal Spring
The content you are trying to access is only for Trek Planner Insiders. Signup
---
Historical Information: 
A fun story about George Frary:
During the 1890's Alfred Lambourne homesteaded Gunnison Island, built a cabin of native stone and attempted to establish a vineyard. He planted over 1,000 vines of various kinds, but lack of water for the plants destined the experiment to failure. While Lambourne was making his vineyard attempt, George Frary spearheaded a movement to harvest the extensive guano deposits found on the same island. The Utah Guano Company, operated for three years, shipped rather significant quantities of guano to the mainland, but the venture was not financially successful and had to be abandoned.
FF
About Antelope Island:
John C. Fremont and his party were apparently the first white men to visit Antelope Island, September 18, 1845. The first white man to live on Antelope Island was "Daddy" Stump, an old mountaineer, who was there before the Mormon Church took over. Stump built a cabin consisting of cedar post uprights and a dirt floor, near a fine spring. He also planted an orchard and a garden. Peaches produced in this orchard were small, but were Utah's first homegrown peaches.
When the Mormon Church decided to use the island for a stock range in 1849, Fielding Garr was sent there as herdsman and caretaker. He built a five room structure of adobe bricks made on the spot. The building still stands and may well be the oldest building in Utah still being used for the purpose for which it was constructed. The Church herd consisted of cattle and horses collected as tithes and privately owned stock placed under church care.
It was early in the 1890's that the idea was conceived of restocking Antelope Island with buffalo. William Glassman was evidently the first to promote the scheme. In 1891 he purchased twelve head from "Buffalo" Jones of Texas and had them billed to Ogden. However, they were mis-sent to a small siding west of Garfield. Two years later these animals were purchased by John E. Dooly and J. H. White for planting on Antelope Island. The buffalo were shipped to the island in 1893.
J. W. Walker and George Frary were in charge of this special shipment. A nat-bottomed cattle boat was partitioned into special compartments to keep the animals in order during the voyage. "It took several trips to get twelve buffaloes across to the island".
In stocking the island with buffalo, Dooly and White had two purposes in mind, one of which was to preserve the rapidly disappearing "denizen of the plains". The other was for breeding purposes. An at- tempt was made to cross the buffalo with hornless Galloway cattle. This novel experiment was not successful; only one "Cat-Io" was produced. However, the first objective was achieved. The small herd grew rapidly, and under very limited hunting and slaughtering permits, it soon numbered over 300 head. In filming "The Covered Wagon" in 1922, Hollywood producers gained permission from the island owners to shoot the buffalo scenes there, with great success.
p.6-8, "Great Salt Lake: A Historical Sketch" by D.E. Miller. Found in Great Salt Lake, a Scientific, Historical, and Economic Overview. Published y the Utah Geological and Mineral Survey, bulletin 116 June 1980.
---
Seasonal Spring on Antelope Island
---
Hiking Frary Peak Trail in the Wind