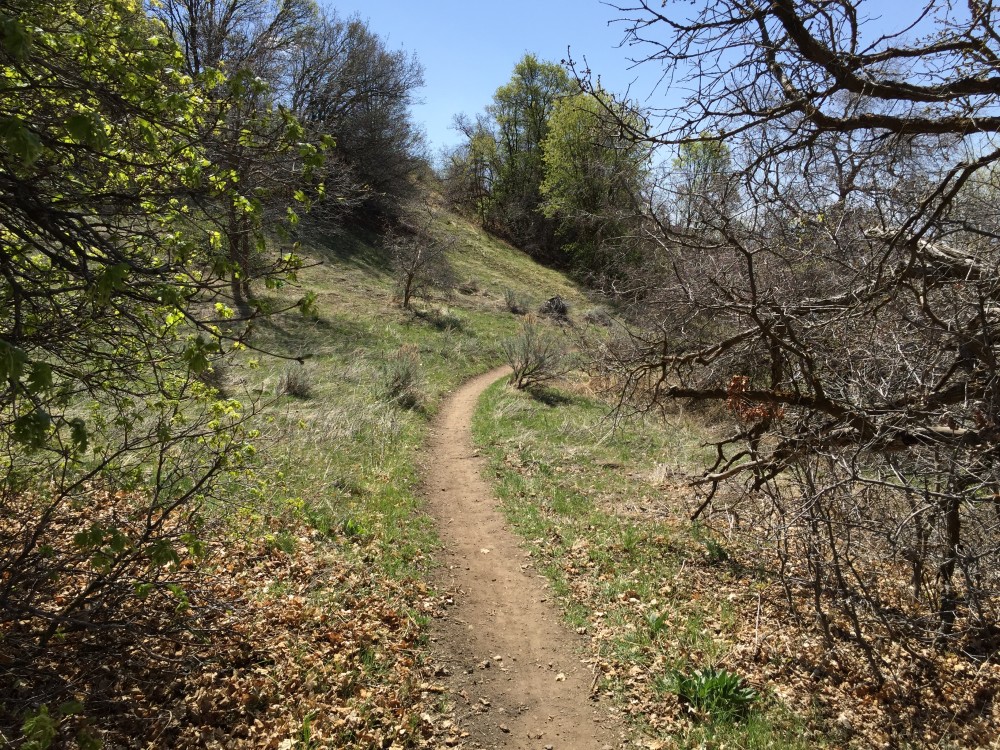 Overview
Kaysville, Utah – Northern Utah
Bike path, lots of vegetation, tree tunnel
1 mile loop from start to finish. Many other side trails.
1+ hours – depends on what you do
Pets are allowed on leashes. Horses are allowed too
No fees associated with this trek
Bring a bottle of water or 1-2 liters depending on if you are jogging, hiking, walking or biking. There are a few creeks that run through the general area. There is also a drinking fountain being built in the parking lot
About half shade and half sun exposure
Very clear trail. Dirt and gravel paths. 1 mile loop from start to finish
One outhouse style restroom in the parking lot area
By permit only (contact Kaysville City for permits)
Bring meal and snacks, again depending on what activity you are doing
Mountain bike (if using dirt bike trail), small bag for food and water.
Expect to see many hikers, bikers and even horses.  The main path is about 1 mile in length and features many different side trails that all eventually meet back up to the main trail.
A local biking business is helping the city produce a fun biking path which I recommend you try.  This place is especially beautiful in Fall months.  Be prepared to hear the gun range which is located up on a hill to the East.
GPS Coordinates
Trailhead: 41° 2'48.02″N – 111°54'17.06″W
Bonneville Shoreline Trail Fork:  41° 3'8.18″N – 111°54'8.94″W
Swimming Pool Area:  41° 3.353'N, 111° 53.977'W
Trail Map
---
Driving Directions:
From Highway 89 driving towards Kaysville at the 200 N exit by the mountains, exit east and turn left (going north) on N Mountain Road.
Follow this road for a 1/4 mile and it will force you to turn towards the mountains (now going east).
You will keep going on this road which is 650 N. and go for about another 1/4 mile until you see the "East Mountain Wilderness Park" on the left hand side.
---
The Trail:
When I was much younger this area was called the Vita Course due to the structures that were built around the area.  They are all but mostly destroyed now.  They featured pull up bars, rings, push-up benches and more.  People who are very familiar with the area still call it the Vita Course.
The hiking trail starts off next to a giant sign that reads "East Mountain Wilderness Park."  There are two paths at the very first of the trail but they meet up with each other again in about 30 feet or so (the left trail leads under some trees and the right trail just goes past a gate which is used for the Parks and Rec department.)
This area is great for everyone because there isn't much elevation gain and there are plenty of bushes and trees to provide for the beautiful scenery.
---
There is also a mountain bike path here which if you have a bike, you should try it!
Please be aware that there is a gun range directly to the East of this area.  You will often hear gun shots in the distance.  Please stay on the trails and do not venture above or anywhere near the gun range.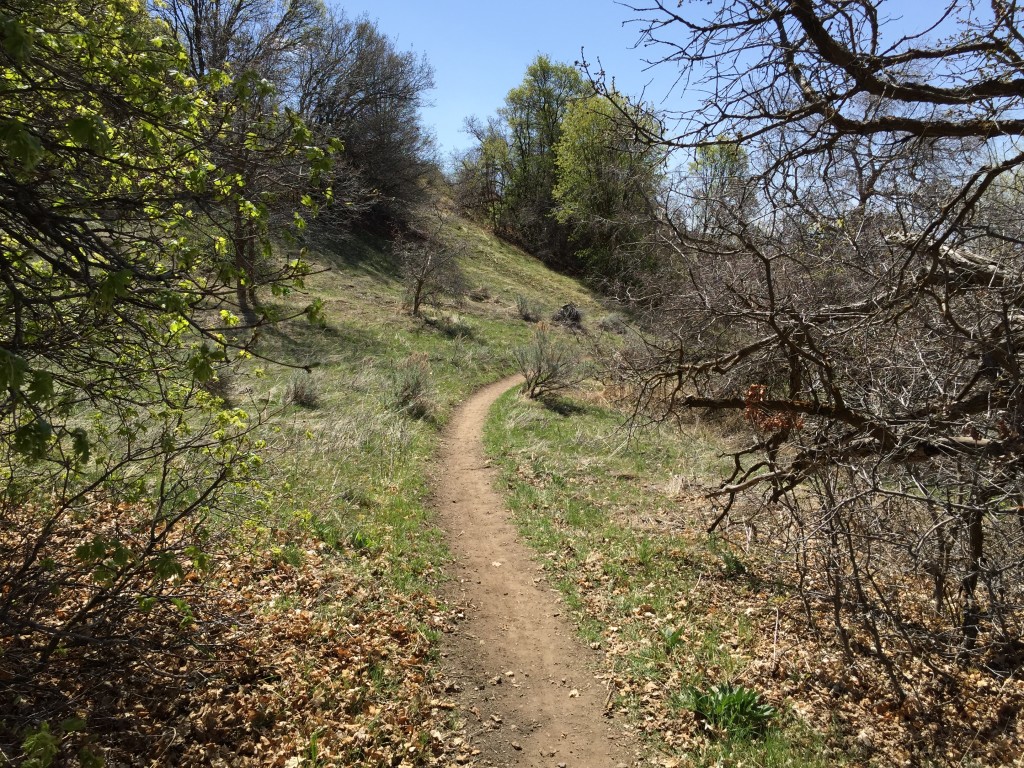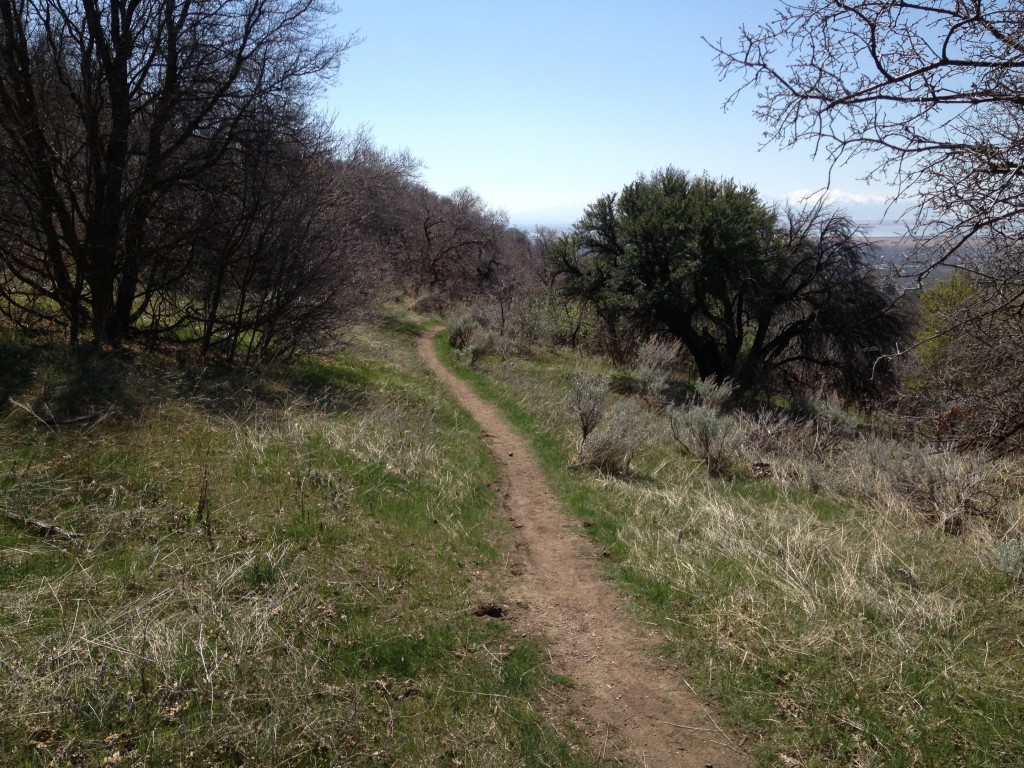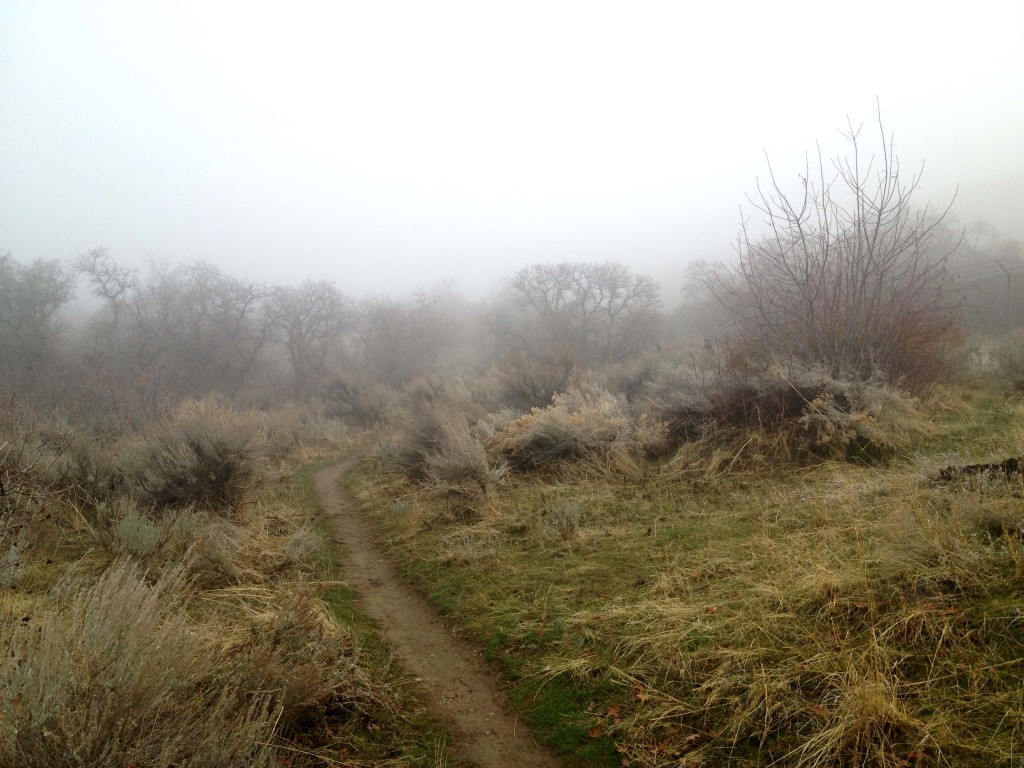 Along the way you will notice many different side trails.  You should take the time to venture off the trail and explore a little bit as most side trails lead back to the main gravel access road.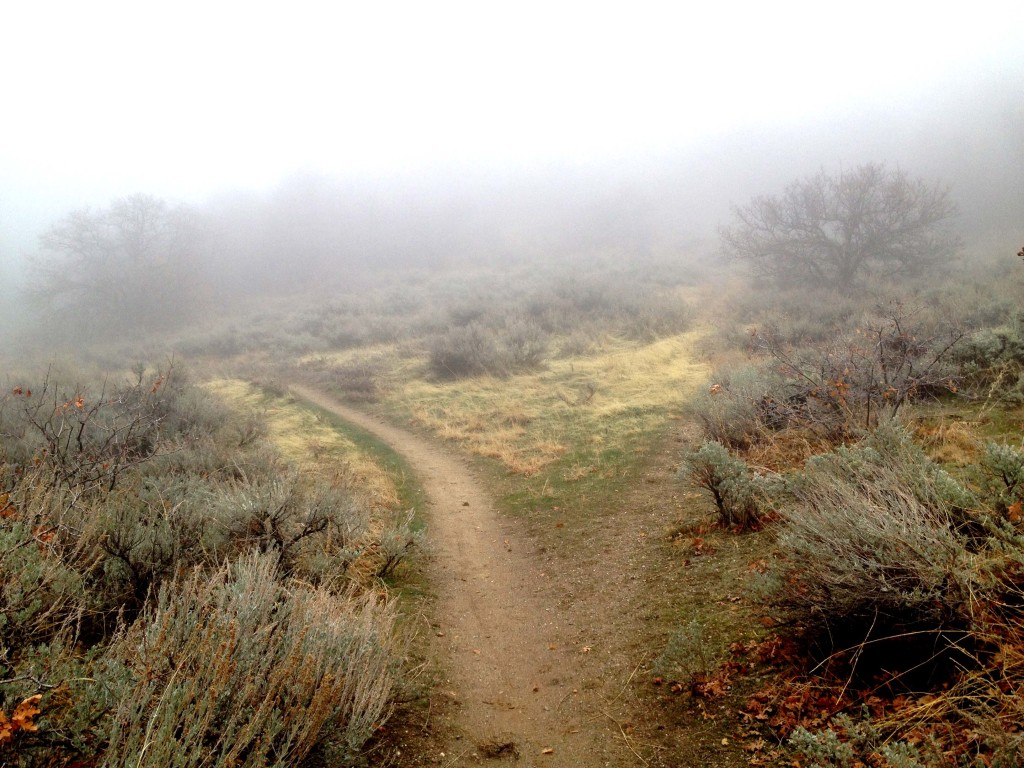 I've had a chance to use my mountain bike along this trail and it is FUN!  There are all sorts of trails that go around the trees and bushes.  If you have a mountain bike I HIGHLY recommend you bring it and test out the new trail.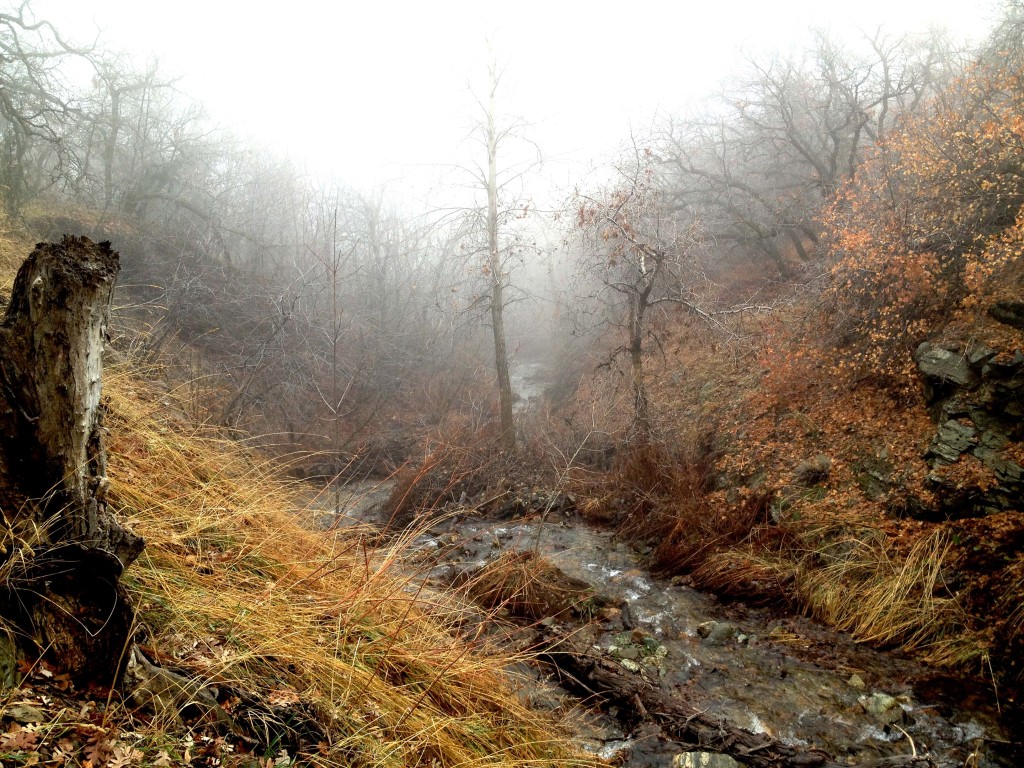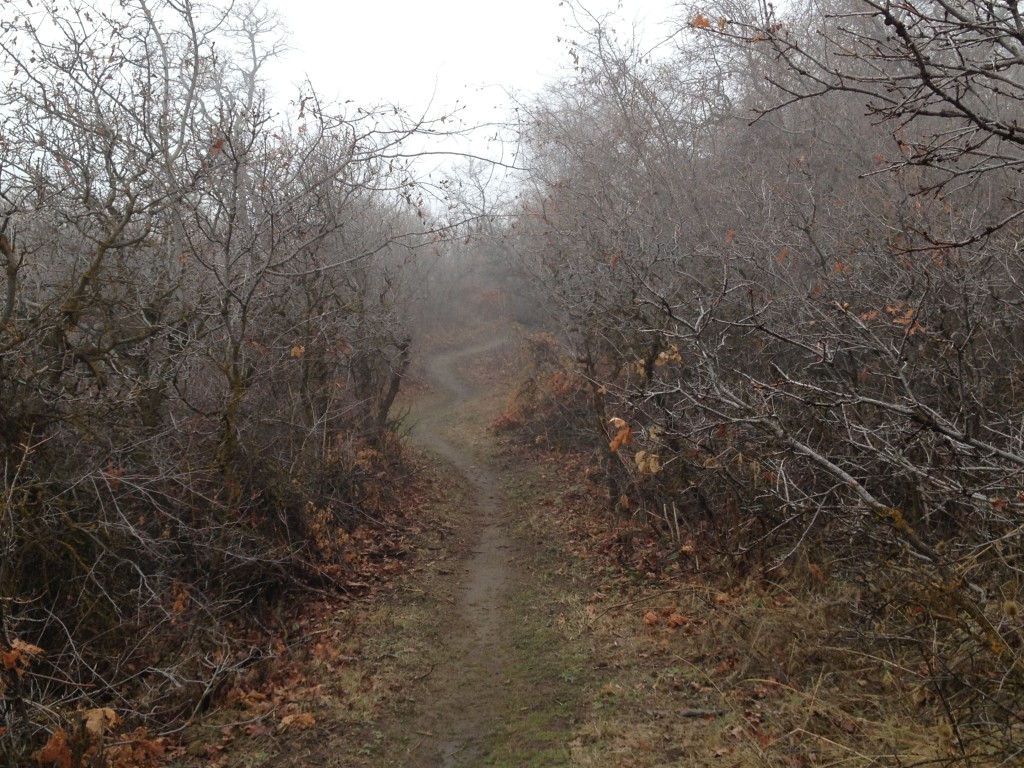 The gravel trail is easy to follow for about a half mile until an arrow signs points you to the left.   At this point you could take a quick look at the reservoir which is usually empty but a creek runs between it.
---
Keep travelling along until you go through the Tree Tunnel.  This is a fun place to ride your bike through.
The trail continues and winds around for another 1/2 mile or so until you end up right next to the asphalt road but not next to the parking lot.  You will now need to turn left up the road and up to the parking lot.
---
The Return:
If you turn to the left and follow the road you will return to the parking lot.  Download the Trail Map for optional short cuts back to the parking lot without having to walk along side the asphalt road.
---
Personal Thoughts:
I have been hiking around the East Mountain Wilderness Park ever since I was a little kid.  My family would always bring our dog up and run around the loop trail and it is still an excellent place to bring your pets.  The East Mountain Wilderness park was called the "Vita Course" back in the day because along the trail there were exercise stations set up where you could do pull-ups, push-ups, sit-ups, crossing bars and rings – all of which have been dismantled.  To this day many people still affectionately call this place the Vita Course.  If you have a little time and want to get away from the city for a little while, I highly suggest you bring your family (or come by yourself) and visit one of Kaysville's best kept secrets.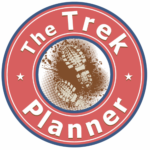 ---
OPTIONAL SIDE TREK
About .40 mile from the parking lot there is a small turn off with a sign that says "Bonneville Shoreline Trail".  Take this trail to your right and follow it up until you come to a small ridge about .35 mile away from the sign.  By this point you will hear the creek which usually has a ton of water flowing down it even during the winter.
Keep going on the trail down the side of the hill until you come to the bridge.
This side trek takes an additional 1/2 or longer.
Holmes Creek Bridge:  41° 3'21.31″N,  111°54'2.63″W
Continue hiking from the bridge and you will eventually meet up with Adam's Canyon.  The trail is sparse with hikers so you will have the trail to yourself.  The trees are amazing as the trail winds around underneath them.  You will pass by several streams and even a few houses.  This is a great trail if you have more time.
Adam's Canyon Overlook: 41° 3.917'N, 111° 54.121'W