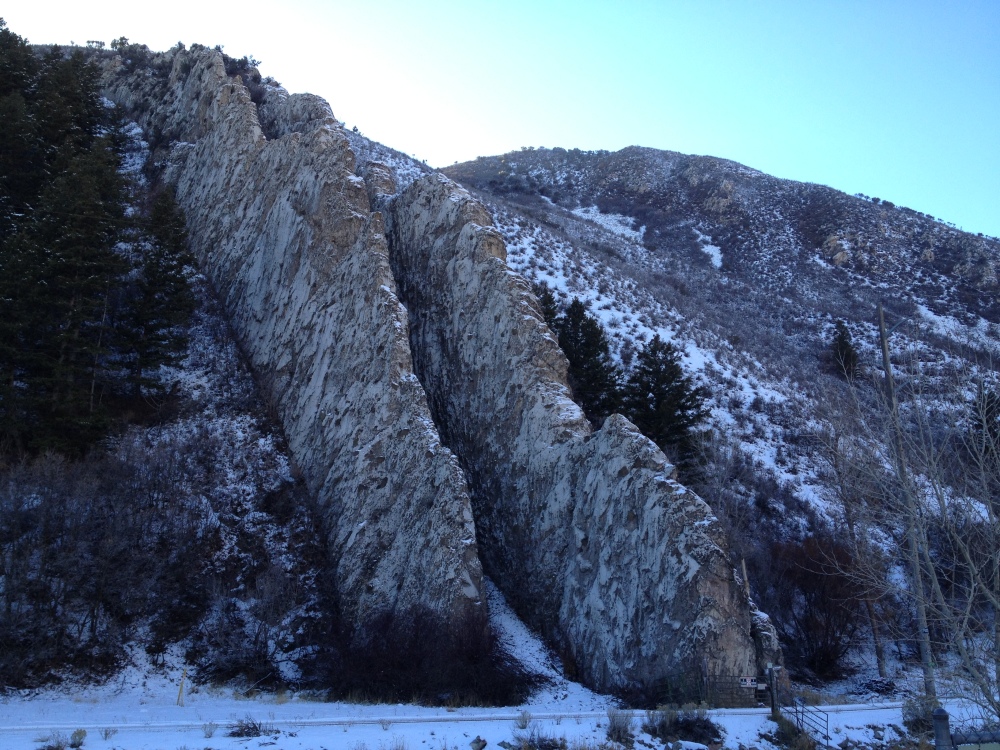 Overview
Near Croydon, Utah – Weber Canyon
The viewpoint is right in the parking lot.
Right next to Weber River
No Shade unless in later parts of day
Devil's Slide is an amazing rock formation right next to the interstate highway.
GPS Coordinates
Devil's Slide: 41° 3.803'N, 111° 32.869'W

Trail Map
Driving Directions:
Located on a little turn off on I-84 near Kroydon Utah.

The Trail:
There is a small turn off (located on both sides of the highway) and there is ample parking for you to get out and take a few pictures.  Most often, there are freight trucks parked here taking breaks so parking may be extremely limited.
Devil's Slide in Utah (yes, there are several other locations and landmarks named Devil's Slide in California and Montana) is located right off of I-84 and features a giant rock "slide" that extends several hundred feet down the side of the mountain.
There are about 40 foot tall slabs of limestone rock on each side of the "slide" running parallel with about a 25 foot gap in the center.
It is an incredible formation that you should stop and check out.
The Return:
Head back to your car.
Personal Thoughts:
Devil's Slide is an amazing formation that seems to randomly be placed in Weber Canyon.  It is worth a quick stop just to get a sense for how far the "slide" extends.  I have tried to hike to Devil's Slide but a fence and "no trespassing" sign are right at its base.