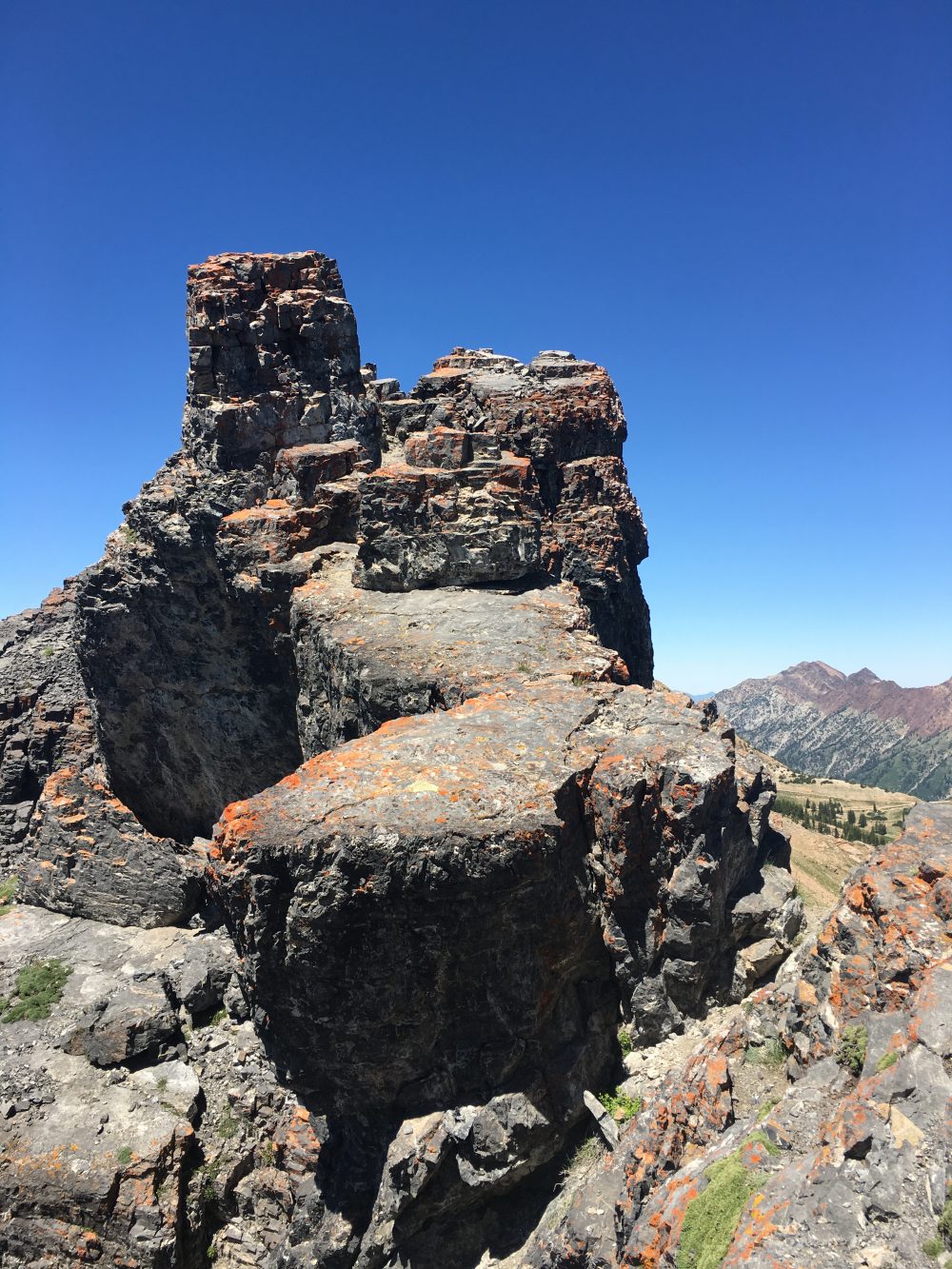 Overview
Quartzite Cliffs, Cecret Lake, and wildflowers!
3.5 to 4 miles from car to car
10850 feet, approximately.
None! This is a protected watershed area.
None, for now. (As of July 2016)
Open after the 2nd (or 3rd) week in July! Keep that in mind. Otherwise you will need to start from the Wildcat trailhead, which will add another 2.2 miles (one-way) to your journey.
At the Parking Lot. Pit-style (outhouse)
Yes. But only after mid-July. There is a fee for camping.
Bring a lunch, or equivalent worth of snacks.
Dine-in is near Alta, Utah about 3 miles from the Cecret Lake parking lot.
Gloves, Water, Lunch or snacks.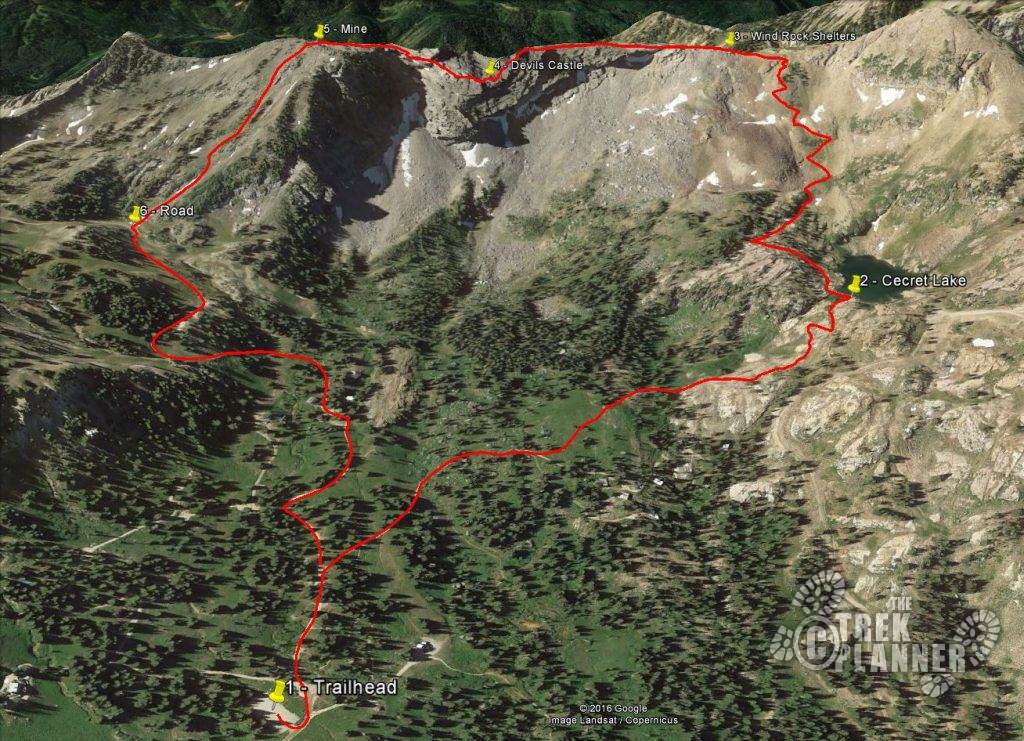 GPS Coordinates:
Trailhead: 40.5779, -111.6129
Cecret Lake: 40.5715, -111.6214
Wind Rock Shelters: 40.5652,-111.6202
Devils Castle: 40.5655, -111.6145
Mine & Exit Point: 40.5657, -111.6107
Road: 40.5694, -111.6078
Trail Map
Driving Directions
Introduction:
Warning! This is a VERY exposed route. A misstep on the exposed sections can quite easily end in your death.  This is a "traverse" and not an official trail.  You will be using 5.5 climbing skills (not technical, meaning you don't need ropes or gear) to overcome some of the obstacles. Every member needs to be confident in their climbing skills.  Bring a 50ft rope that can be used as a handline!
If you reach an area that you just can't overcome, there is no shame in turning back. This is NOT an easy route. There is no shame in turning around. Be Safe!!
**Here is my way to rate this route and see if you can do it**: Have you climbed Angel's Landing in Zion National Park? What did you think?
Here's my take on this comparison: If you have ANY difficulty doing Angel's Landing, you will hate me if you attempt this. In other words, don't do it.  But, if you feel comfortable and not at all afraid of sheer heights – you may like this.  Think of this like Angel's Landing, but on steroids.
Keep in mind, I need to keep this objective.  While my friend and I didn't have much difficulty climbing these obstacles, the exposure, however,  did affect us a few times as we were ascending and descending the route.
If you want to get a good glimpse of what the route consists of, please watch my video below (and yes, it contains epic music!)
The Trail:
Located at the end of the Little Cottonwood Road, the Albion Basin.
The trailhead for this route is the same one that you use for "Cecret Lake". There is no cost to park here, for now (Year 2016).
*REMEMBER* this route is IN a watershed of Salt Lake City. Protect it. That means – no dogs (or other domesticated animals).  No swimming. No Paddleboarding. No soaking. The "purer" the water is all the way down Salt Lake, the better for everyone.  Think of it this way, you are near the sources of many springs and creeks and you don't want to pollute it as it goes down stream. Thank you.
Once you park your car, use the restrooms (pit style/outhouse), and follow the signs up to Cecret Lake.  Some people call it "secret lake" but on the Topos, it is spelled "Cecret".  I have no idea why.  Anyway, the trail is wide and follows a few switchbacks to the top of a basin where Cecret Lake resides.  It's a small lake but a nice one as it is nearly at 10,000 feet in elevation.  If you are doing this on the weekends, it WILL be quite busy.  I would recommend starting before 9am if you can, otherwise you may need to park a few miles below the parking lot and add another mile and half of walking (one-way).
Below, are the signs that you will follow. Cecret Lake, 1 mile.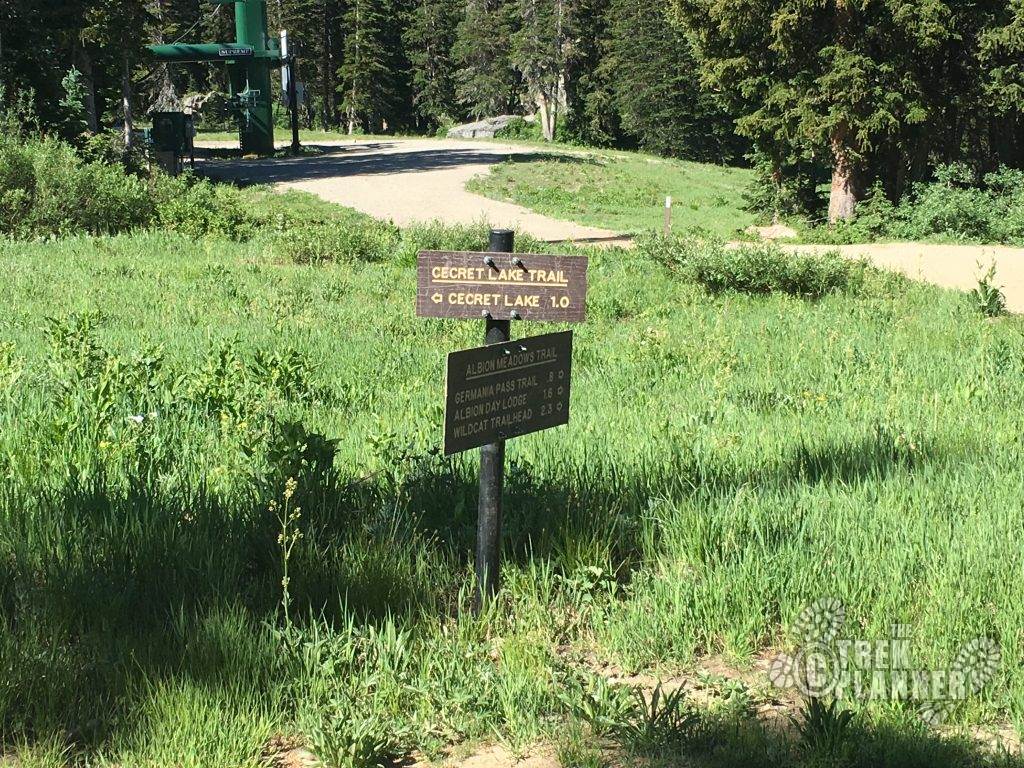 A pictures of bathrooms (outhouse style). Use these before you start this adventure, please.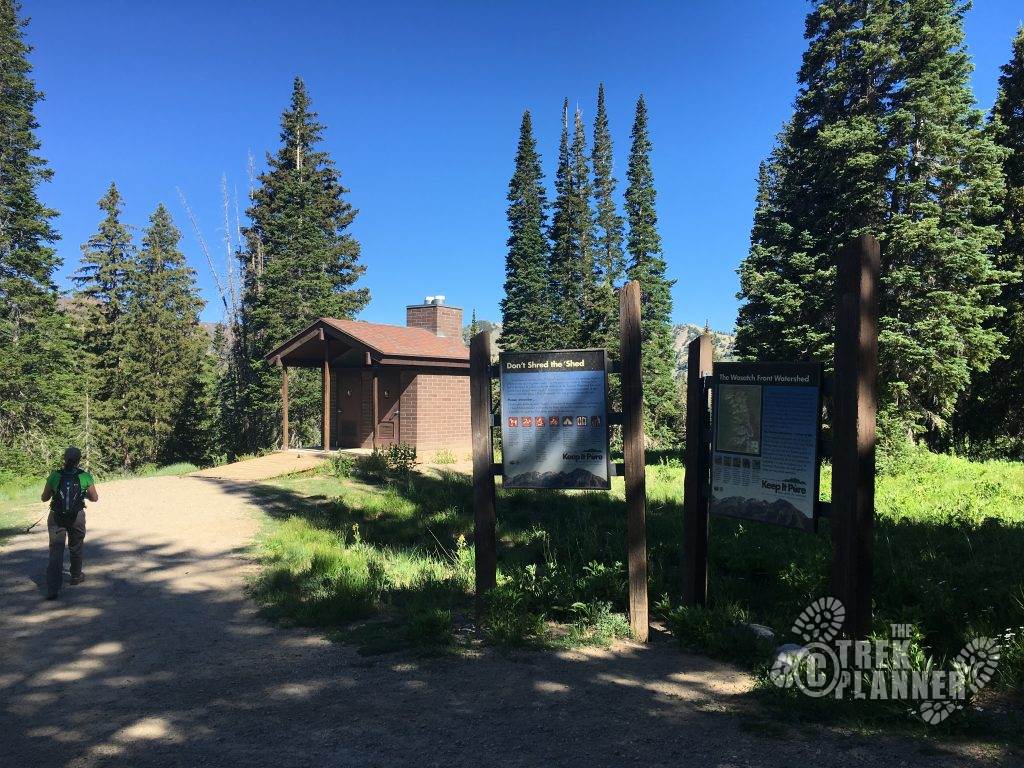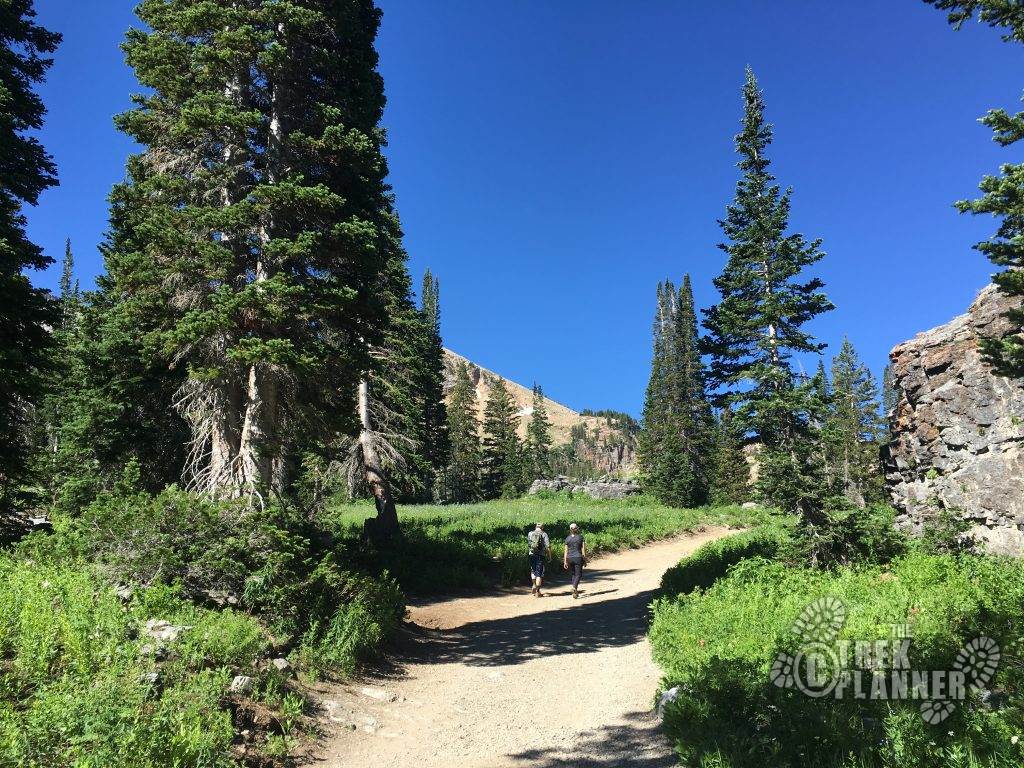 Below is Cecret Lake, and looking back on the trail.  On the left side, near the center, you can see the bathrooms. See, it isn't that far to the lake at all.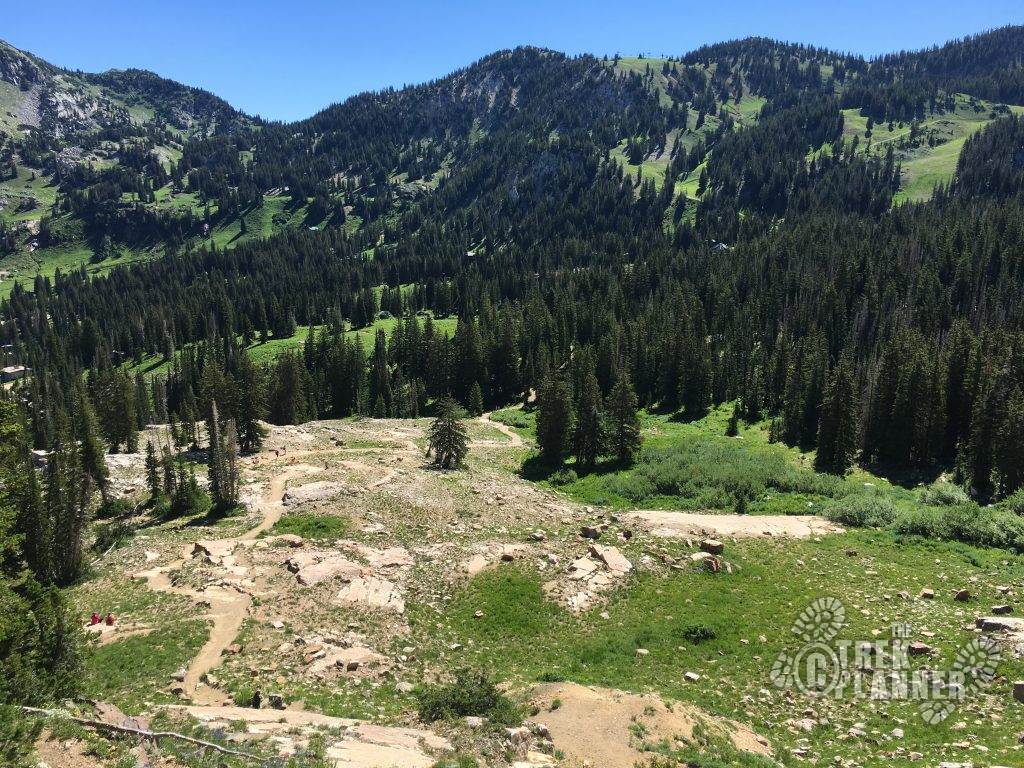 A beautiful, hidden in plain-sight, lake: Cecret Lake.
Remember – there is no swimming, wading, soaking, or dogs allowed in this area at all!  If caught (and you will), you will have a fine and the disgust and outrage of fellow hikers.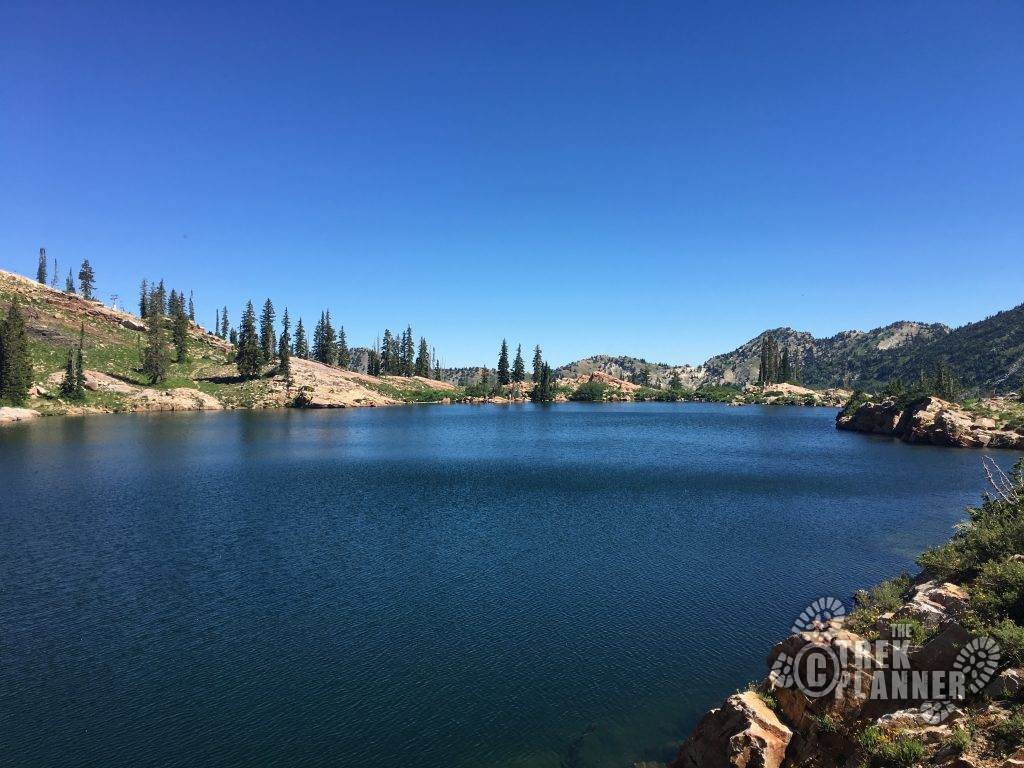 From here, you will hike kind of towards the center of this picture towards the top.  DON'T go around the lake. Follow the faint trail to your direct South, for a few hundred feet, once you cross over the spillway.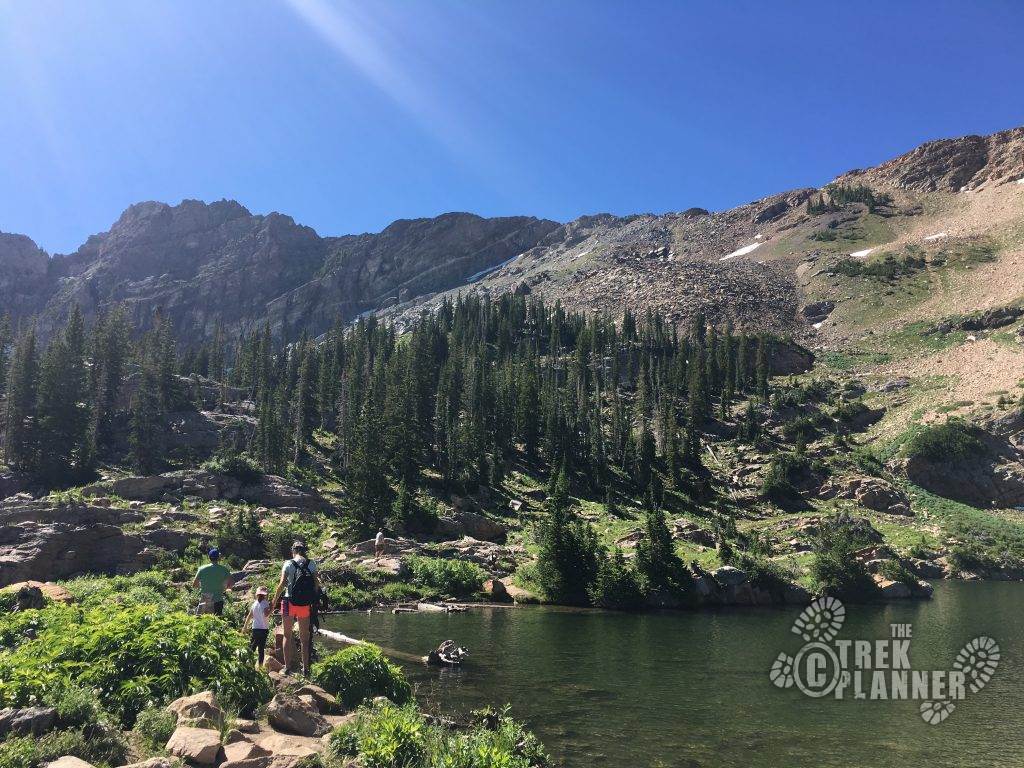 Up and Up you go!  The highest point to your left as you climb is called Devils Castle. And to your right is the Sugarloaf.  (If you have an extra 30 minutes, you could hike to the top of Sugarloaf and then backtrack to the start of the technical section of Devils Castle).
I'm a visual learner and so I roughly drew where the trail is in red.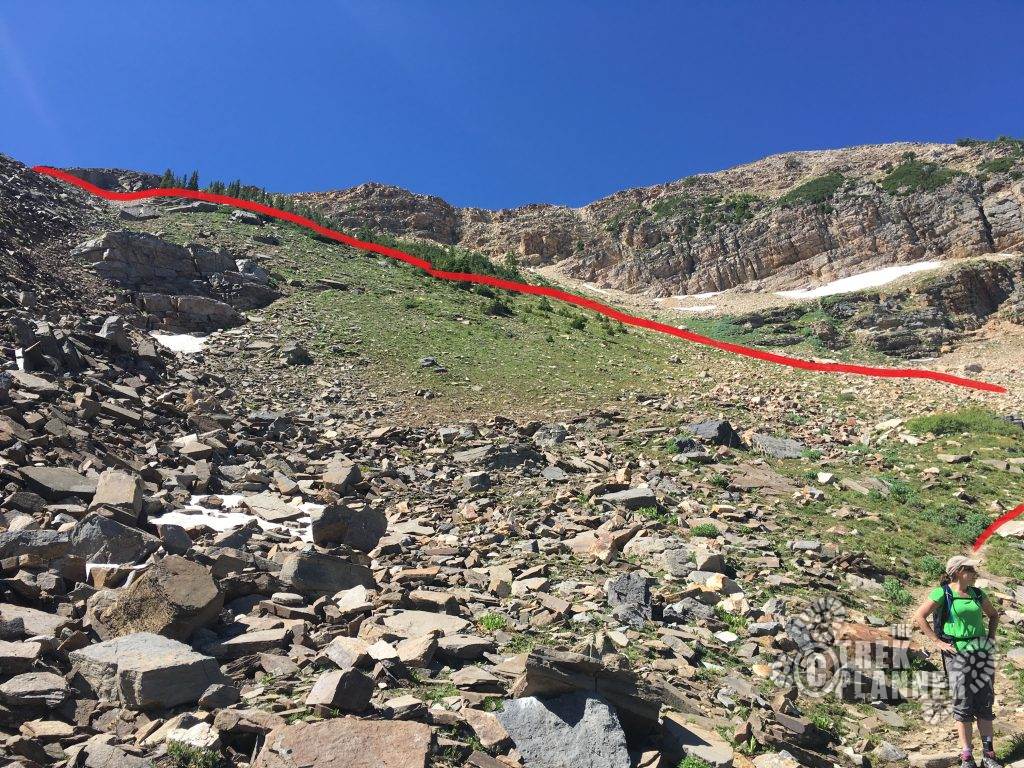 As you near the top, the Castle comes into view. It is intimidating. Especially with the word Devil in its name!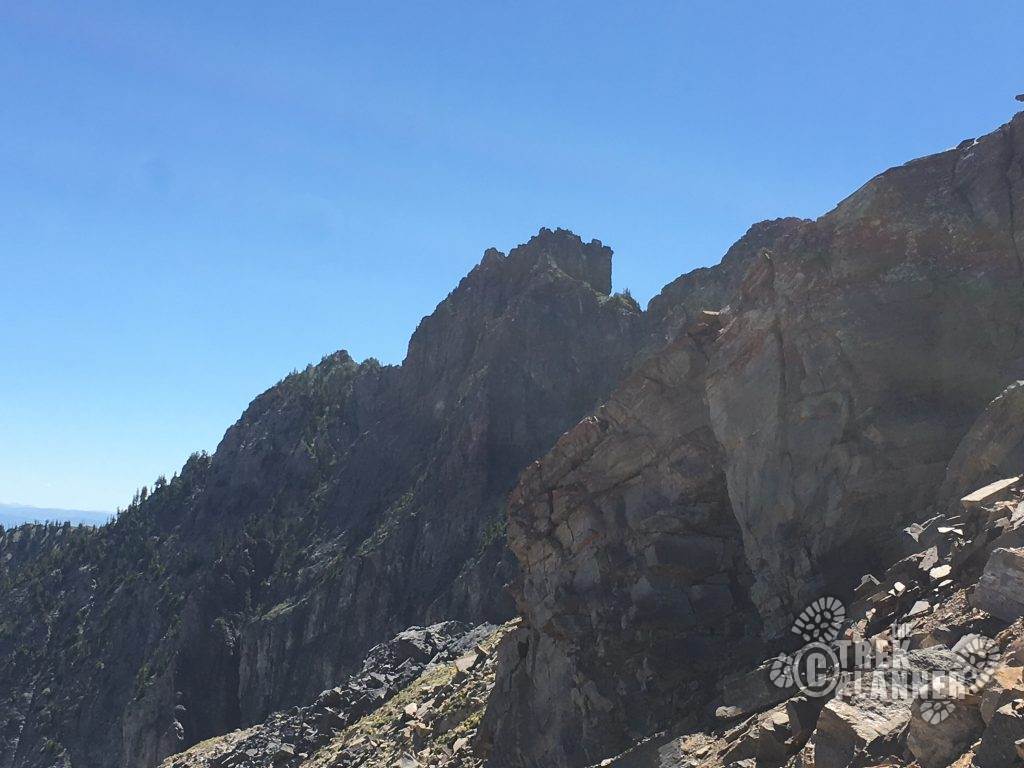 Once you reach the top, take a small rest and enjoy the flat section for a few minutes.  Even take a look at the rock shelters for a minute as you head towards the castle.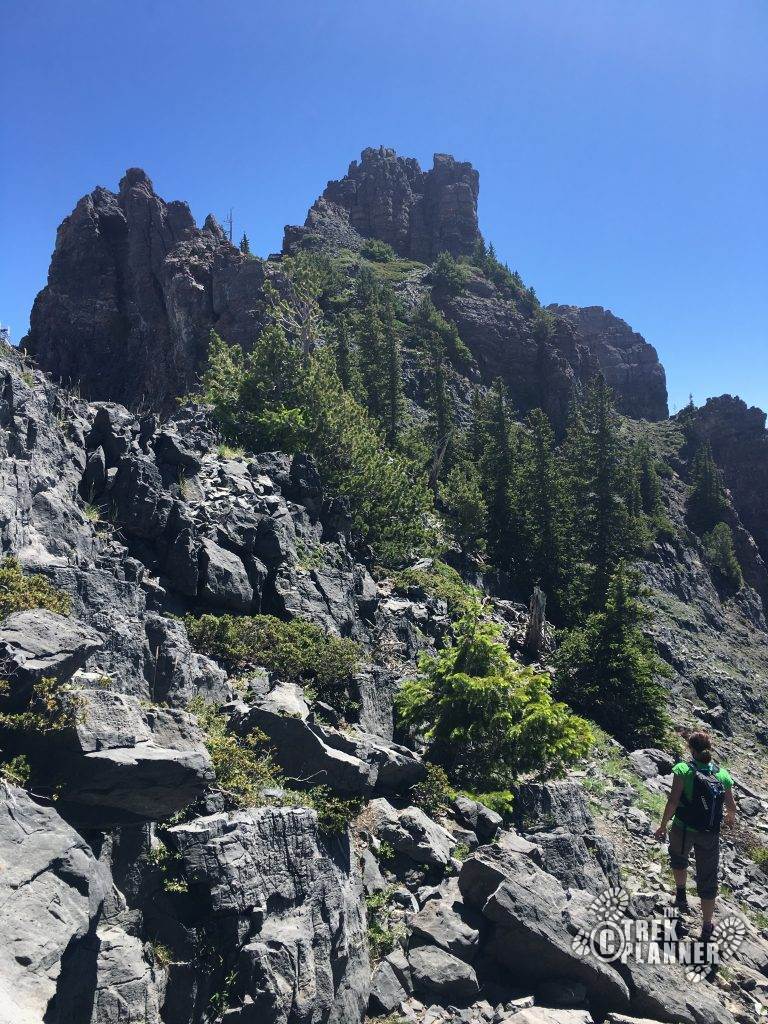 Scramble your way to the top of the tallest spire and work your way across all three spires.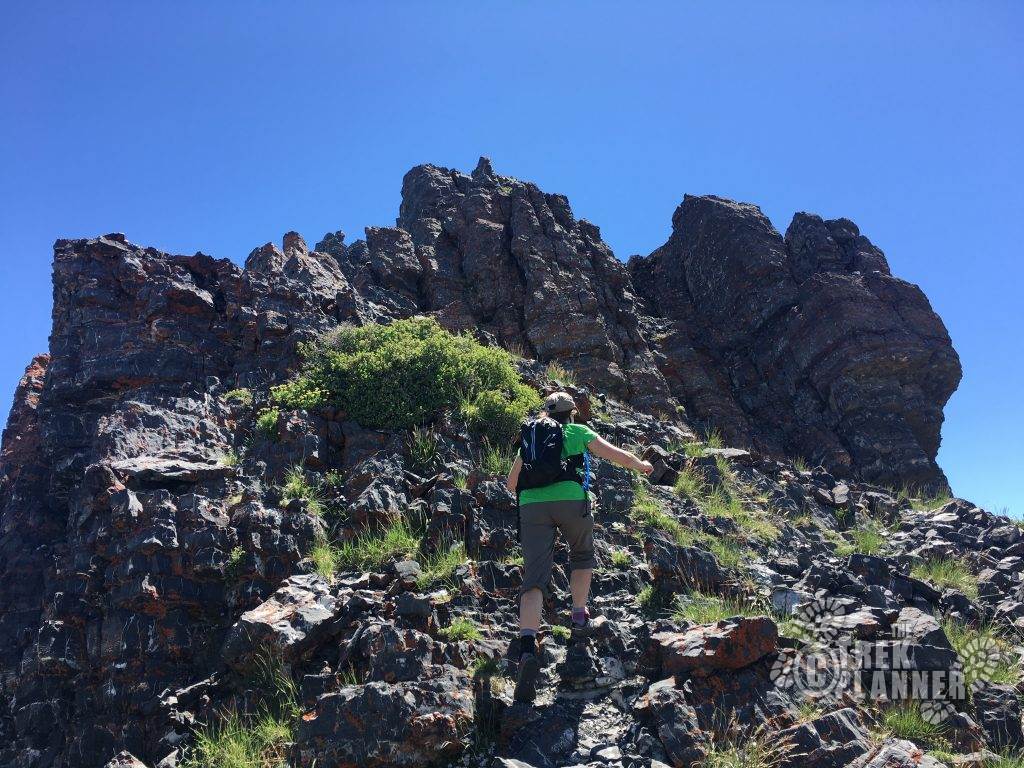 Typical of the surroundings as you summit the first spire. Gloves would be handy on this hike! The rocks are jagged.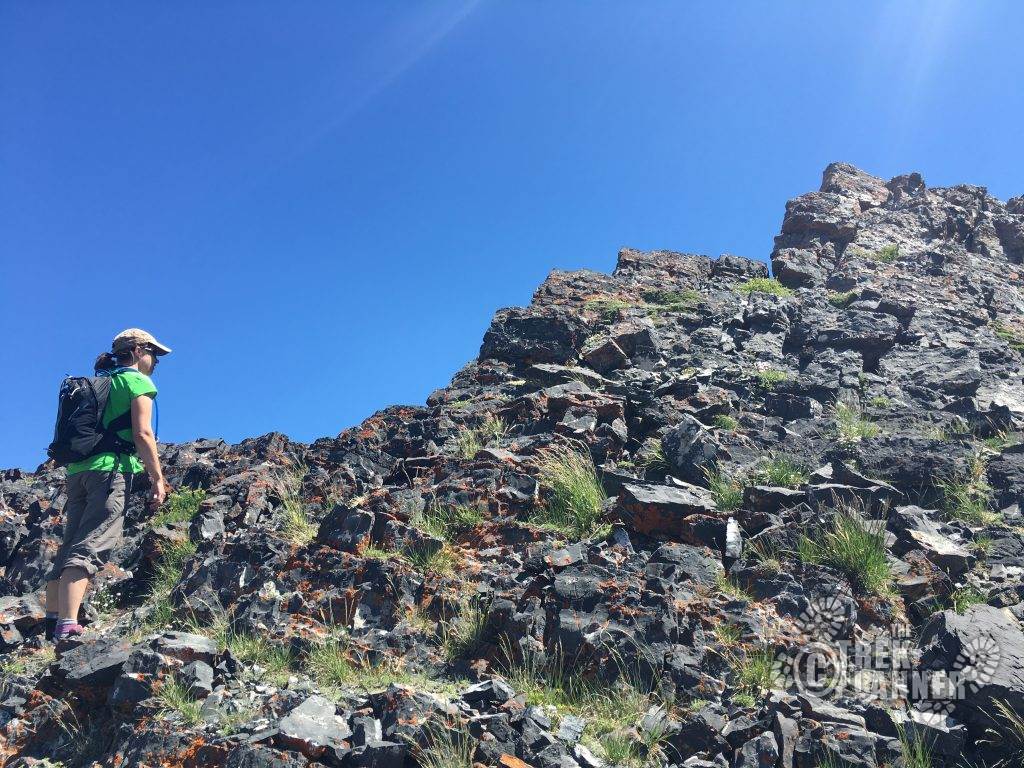 This is a great photo of the exposure! You can see my foot in the bottom-left hand corner and two feet ahead of me is probably a 300-ft drop followed by another 400-ft drop.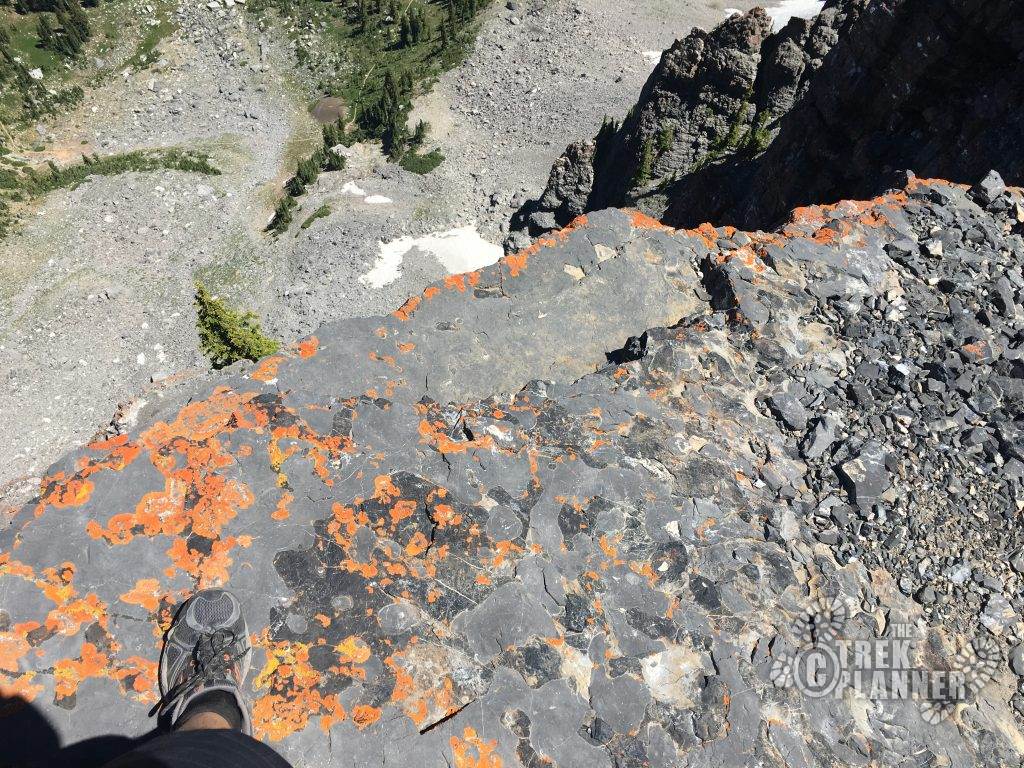 Coming up to the 2nd spire, this is the crux of the route.  Sorry for the washed out lighting but this shows how intimidating (which it is!) and exposed it is.  Work your way up, carefully.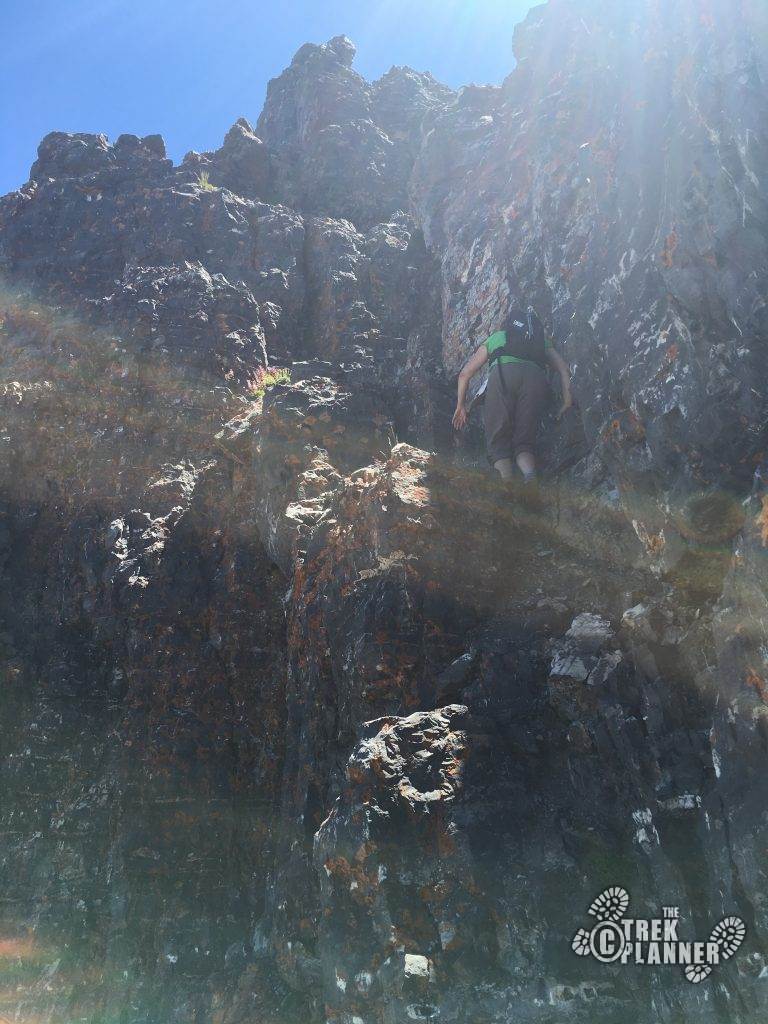 Continue to work your way up! This area makes for some great exposure photos, but don't fool around.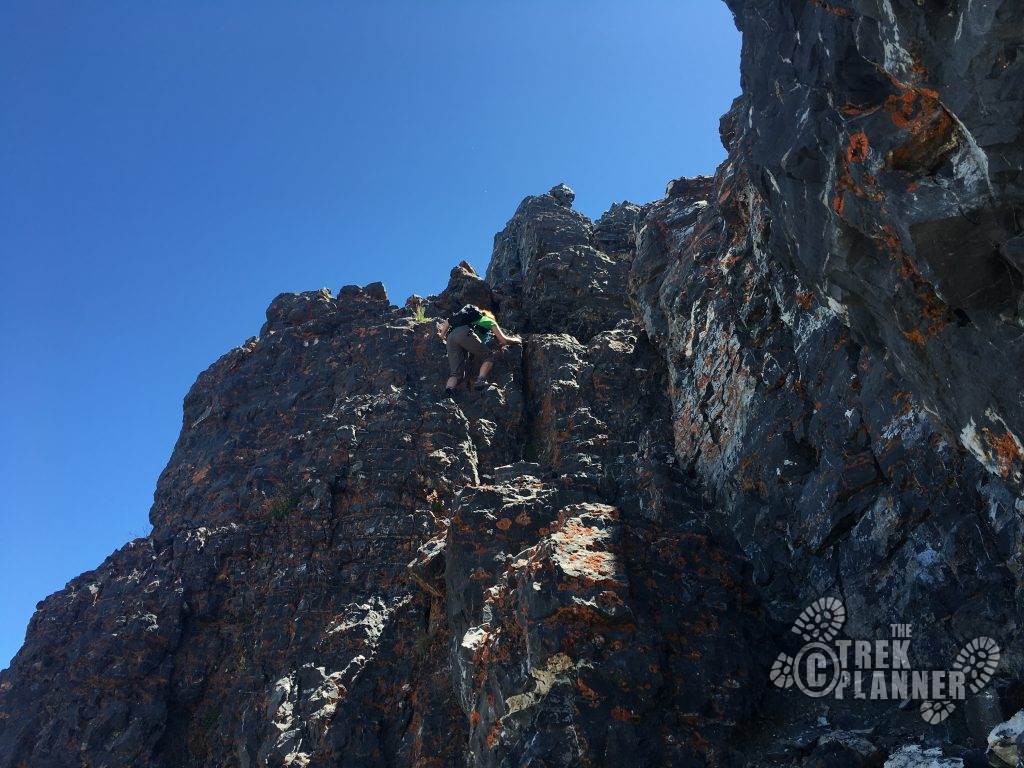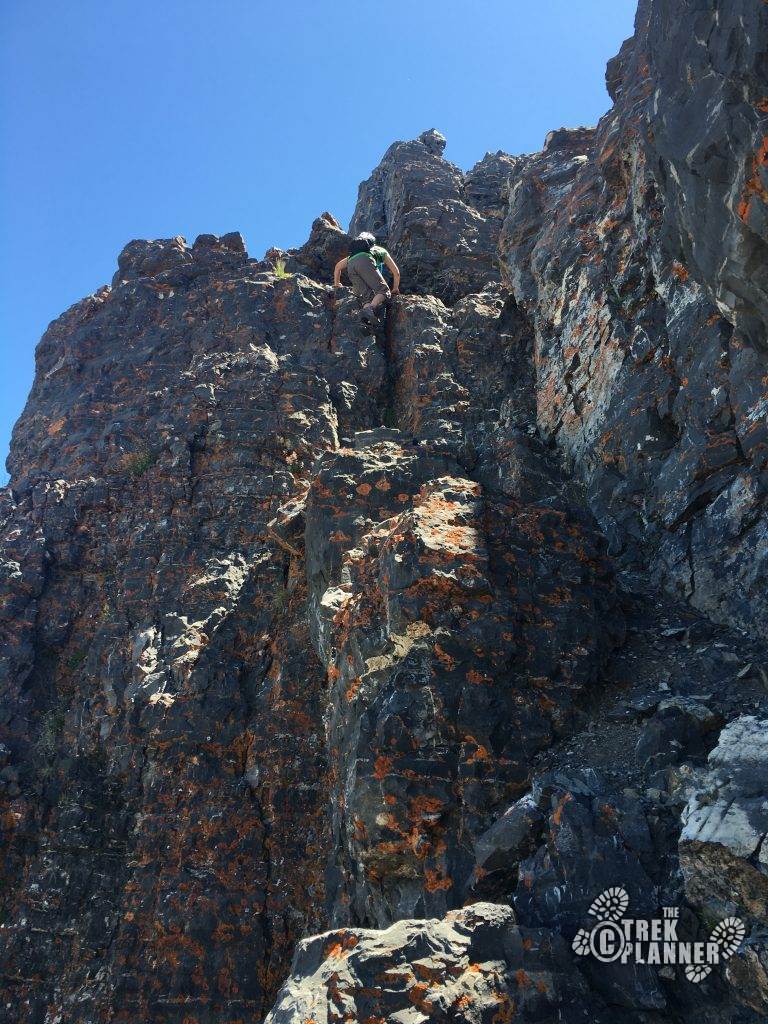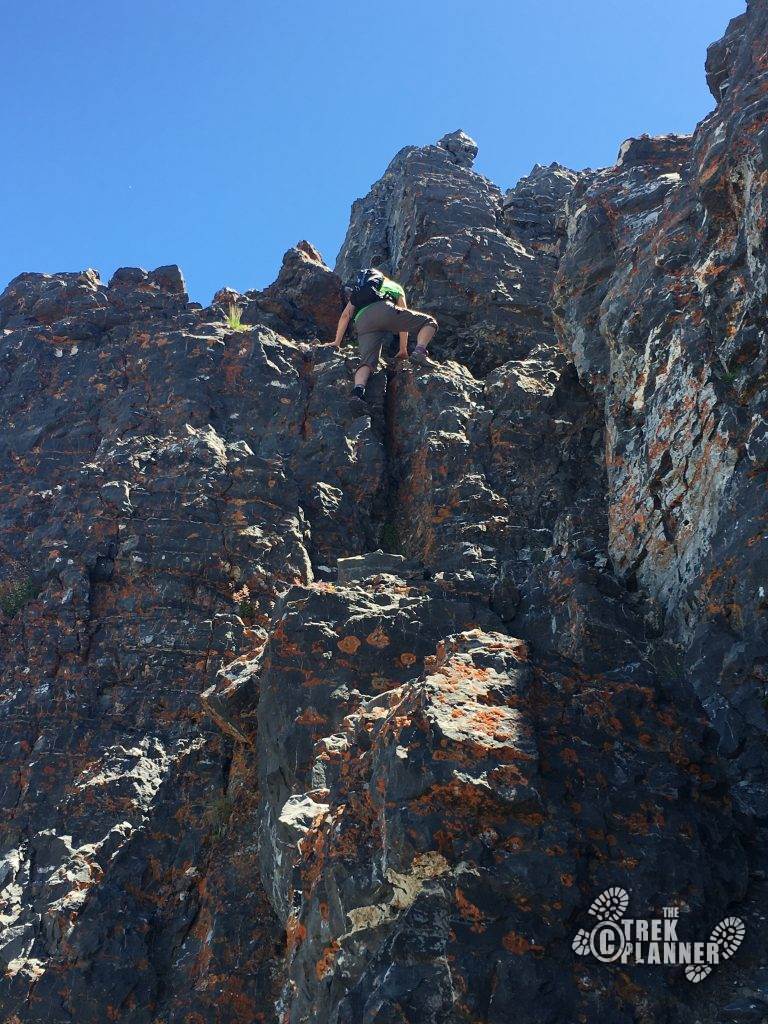 Below is a picture looking back down that cliff you just climbed.  The red line shows the correct path and gives you a visual of what to expect.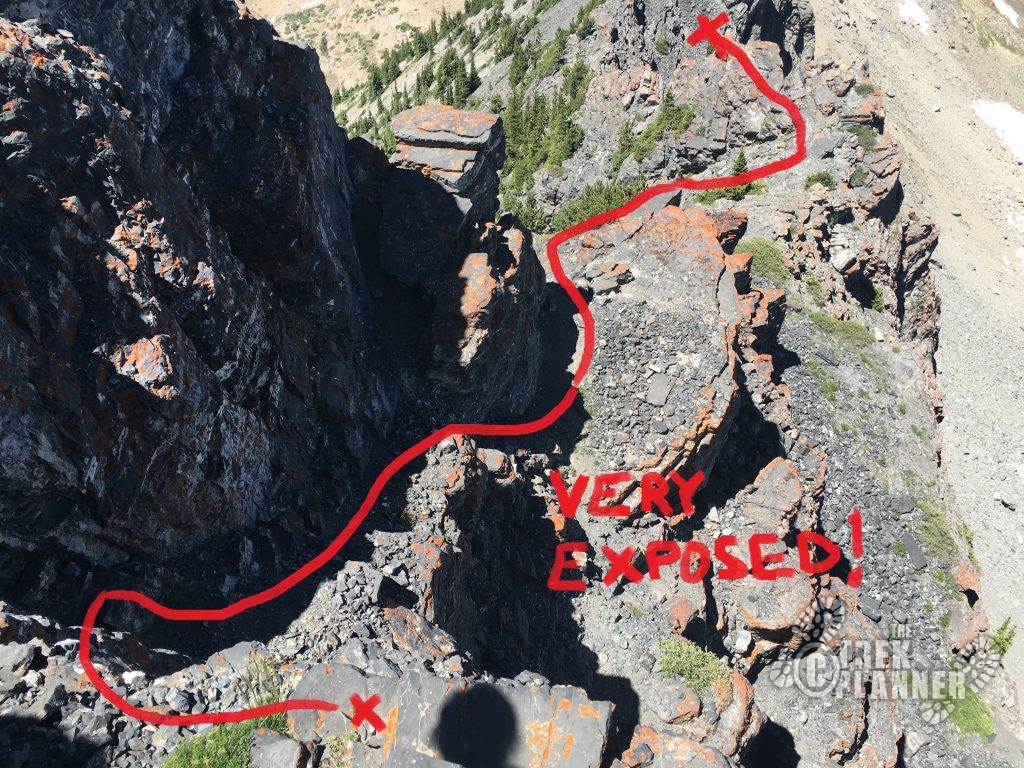 Below is the famous shot of Devil's Castle. This is just past the 1st spire.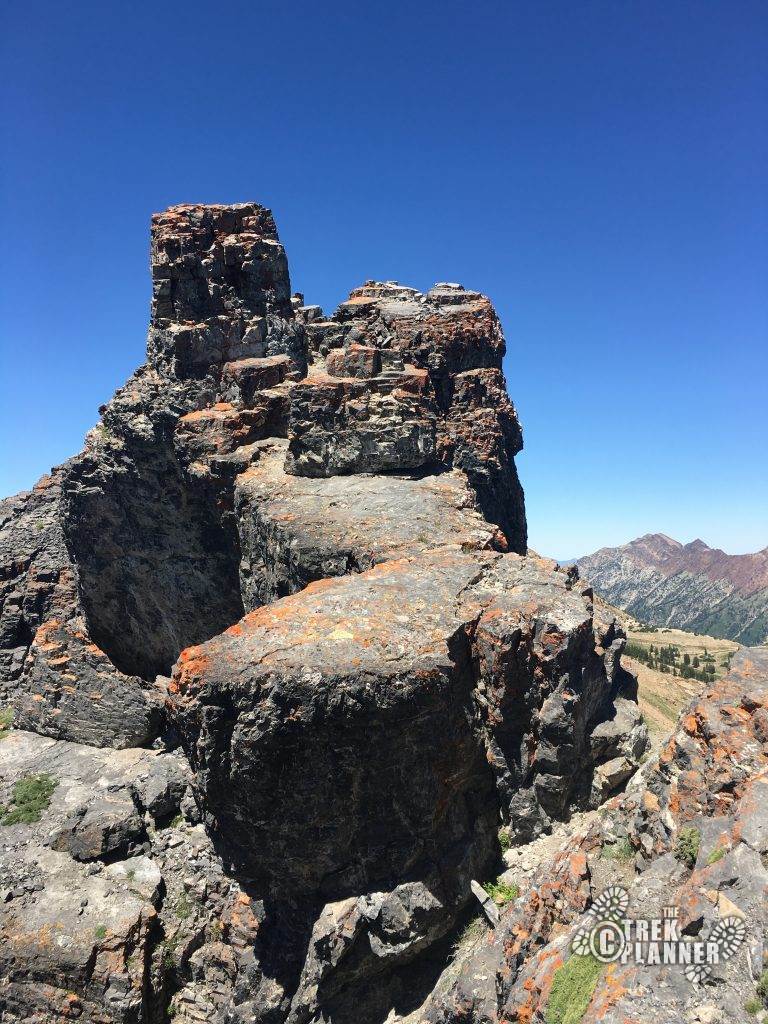 Cross the 2nd spire to the mailbox (see it dead center of the picture). This marks the highest point of the three spires. You can see how exposed it is here.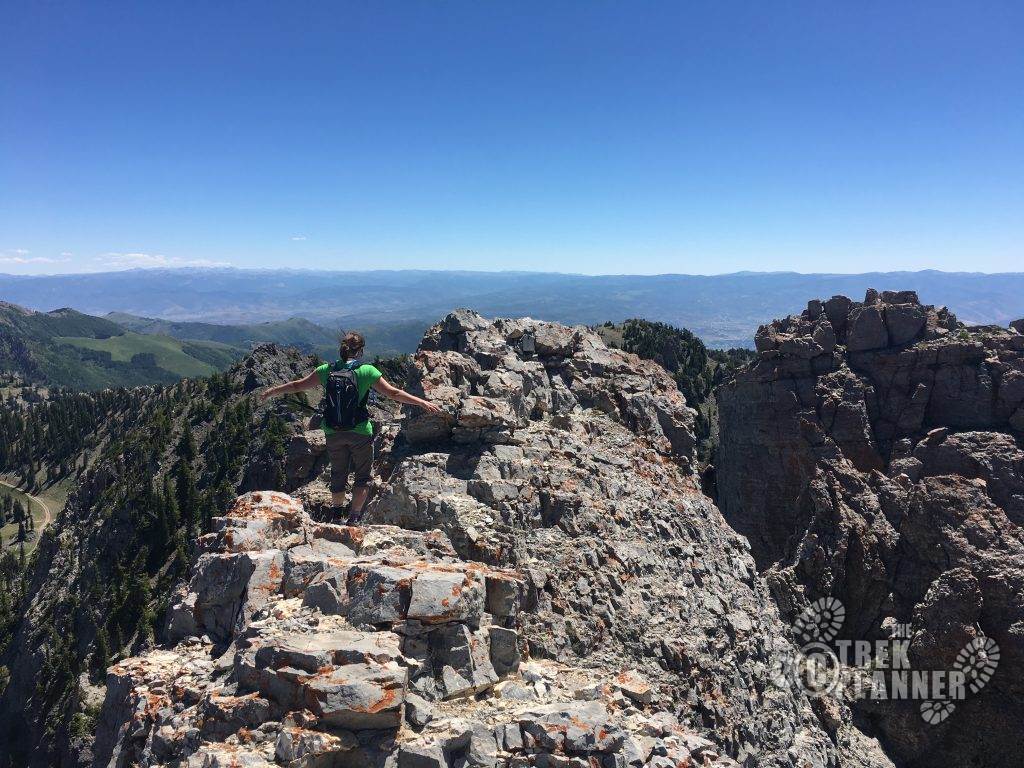 A pic of the mailbox.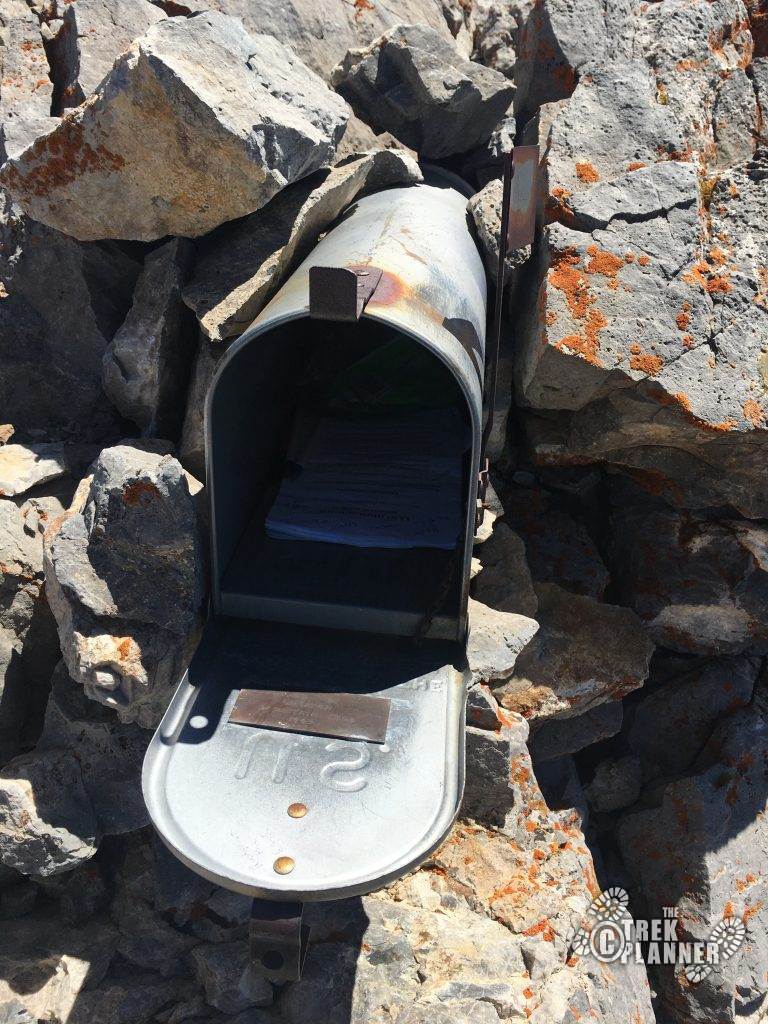 \
Climbing down from the 2nd spire and getting low to get higher (the 3rd and last spire).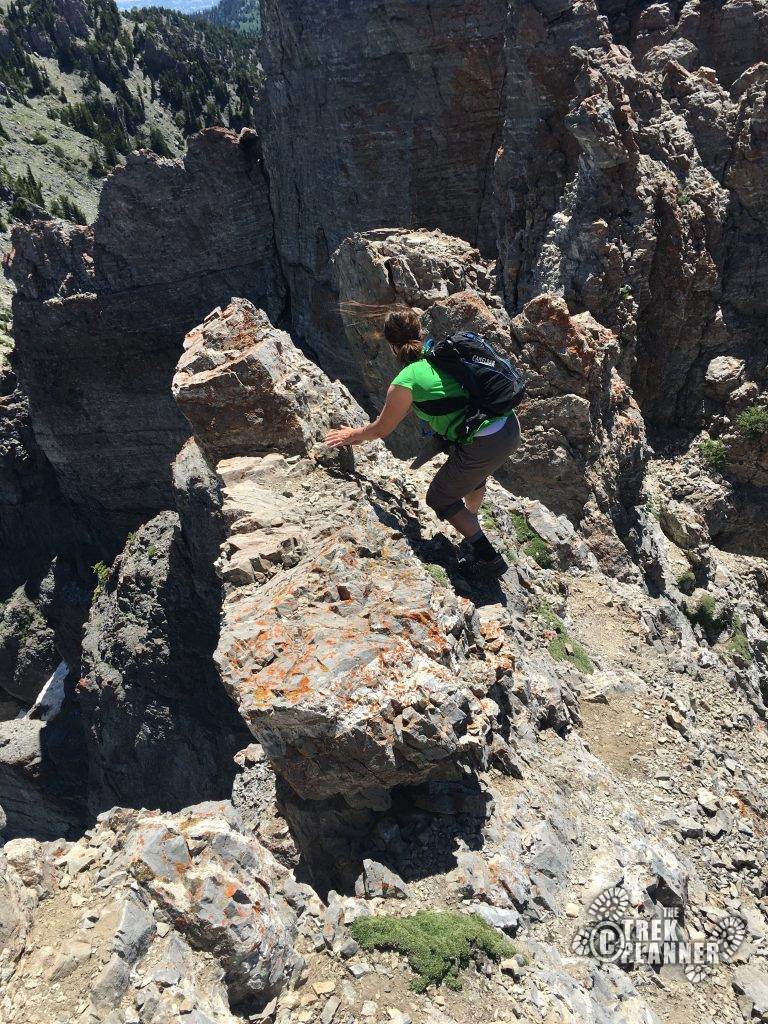 Below I drew out the best path to the top of the 3rd spire after just reaching the 2nd spire. There is some exposure here but not nearly as bad as the 1st spire climb.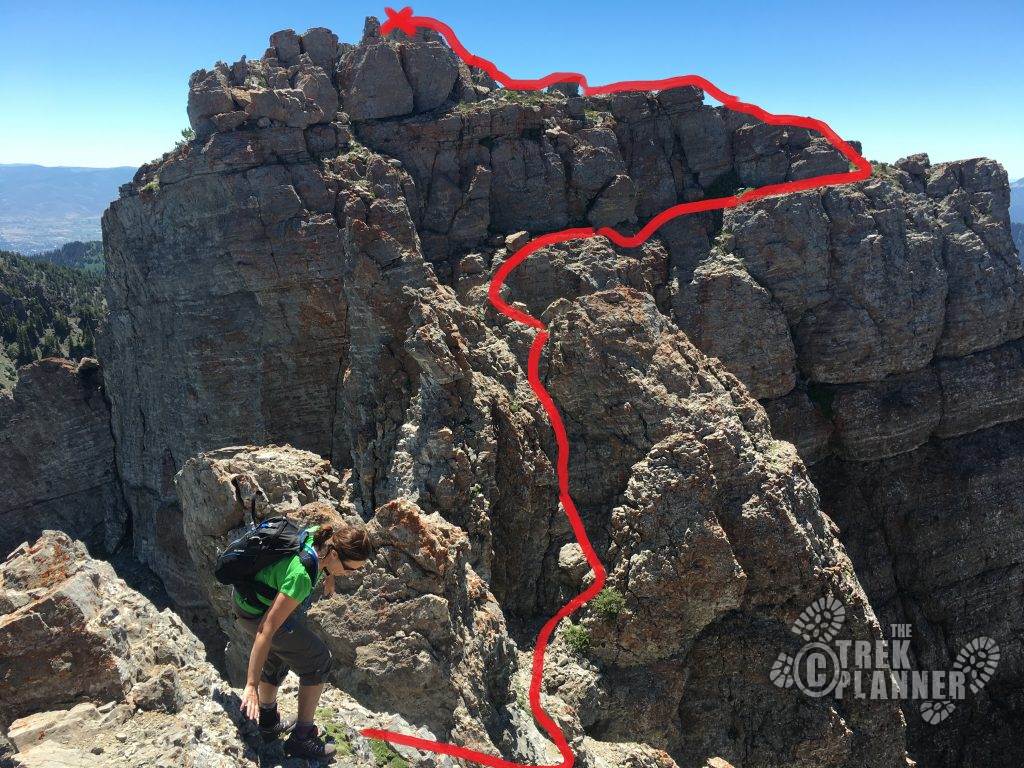 Once you reach the 3rd spire, the rest from here is fairly easy.  You just need to downclimb the cliff and reach solid ground again.  Again, here is the best path down.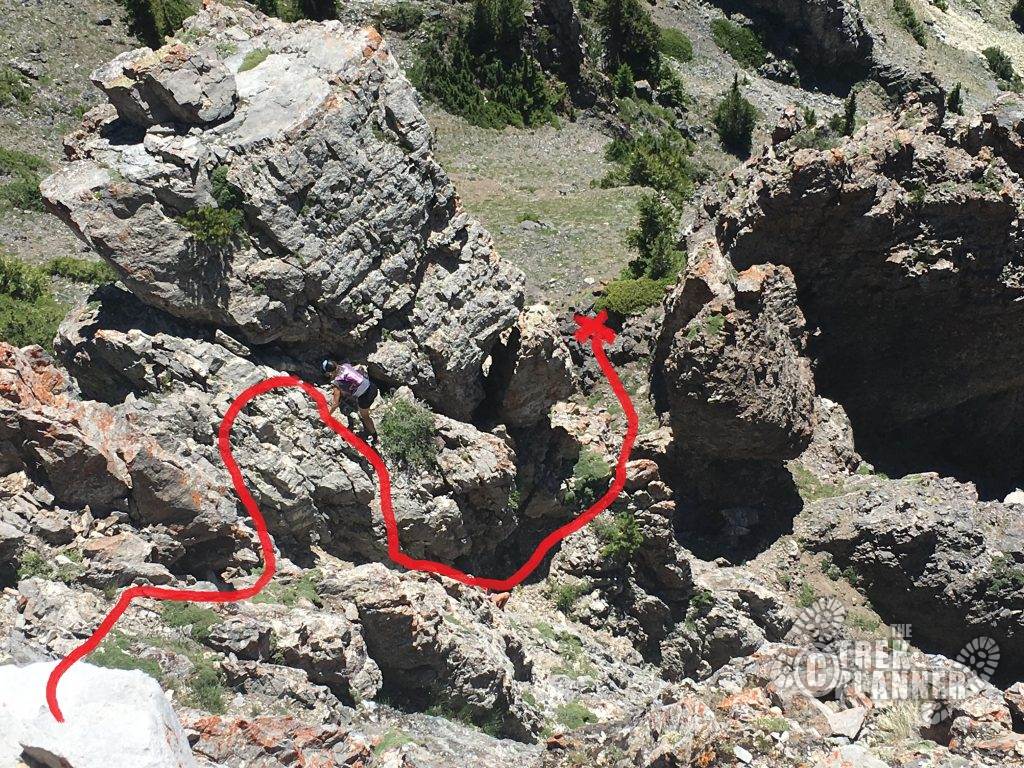 Once you reach solid ground, continue east on the small trail until you a mine tailing pile, which is about a 1/4 mile later.  You CAN go inside but it is tight and there is some rotten and burnt timbers at the entrance, which means carbon dixoxide (or monoxide = death). Exercise extreme caution if you enter.
On top of the mine is where the egress (exit) route is.  Follow the steep and loose trail back down to the road.  Below is a pic from the road, looking back UP of what you are going to go down.  This is where gloves will come in handy descending this.
Once you hit the road, it is about a mile back down to the parking lot.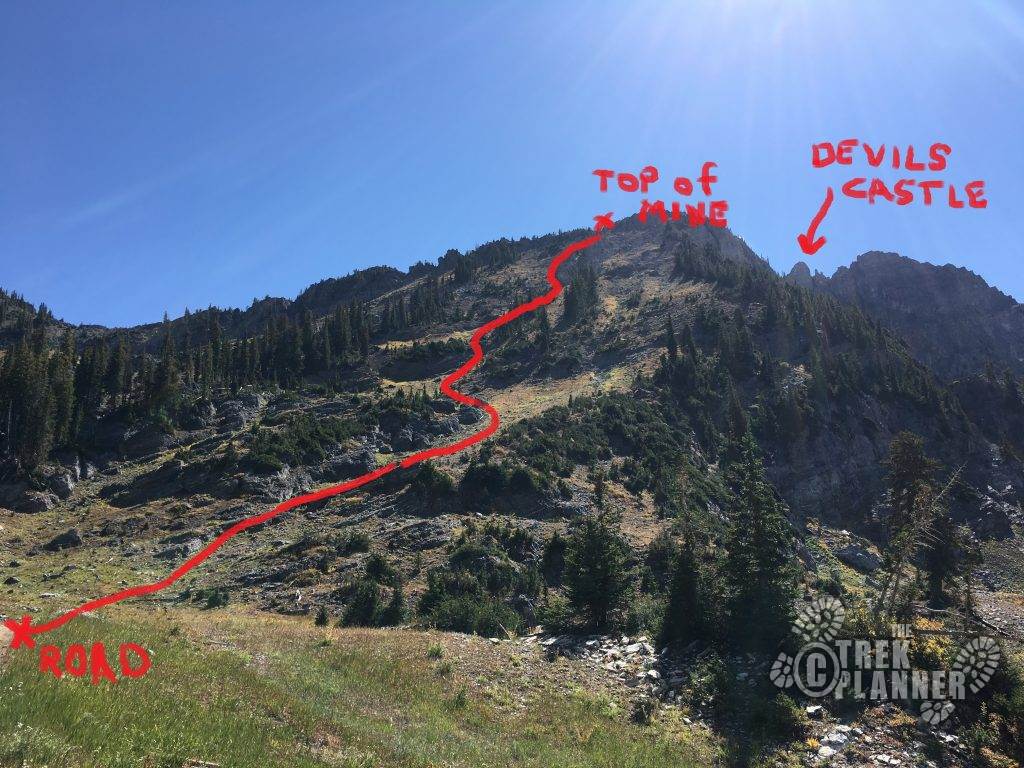 Congrats! You have accomplished an intense route that most hikers will never do.
So, what's next on your hit-list now that you feel invincible??
The Return:
Once you hit the road, follow the road easily back down to your vehicle to complete the loop adventure!
Personal Thoughts:
This is one of my favorite routes in Northern Utah. It's similar to Angels Landing but better (technical skill wise). But it is very intimidating and the exposure is very real. A misstep or if you are fooling around near the cliffs could easily end in your death or your friends.