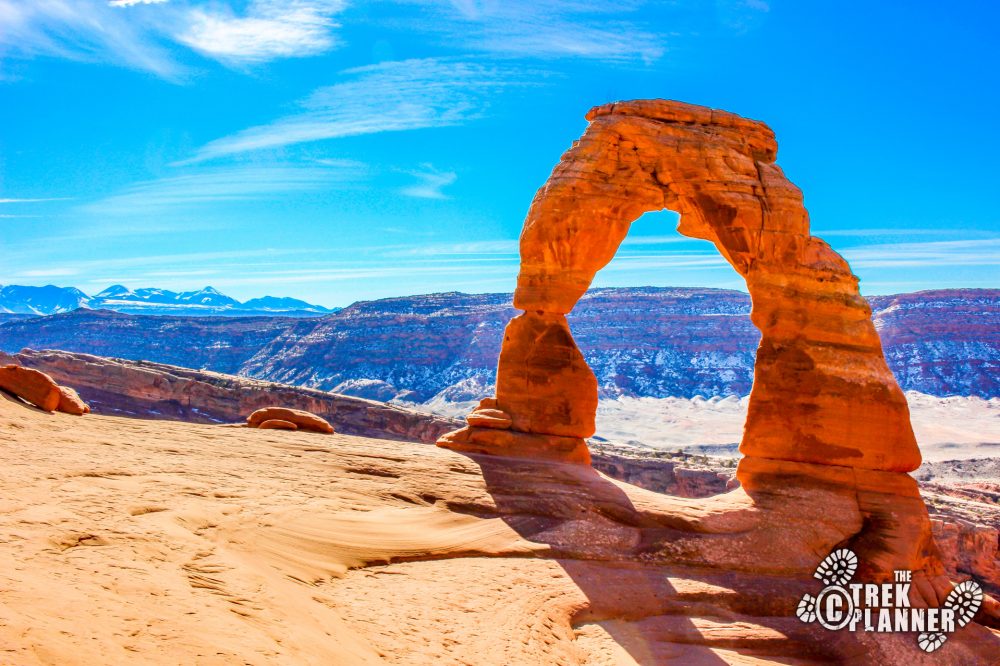 Overview
Arches National Park – Southern Utah
Delicate Arch, Wolfe Ranch, pictographs
Roughly 3 miles round trip
Yes. Entrance fees at front of Arches National Park
Bring 1-2 liters. No water at trailhead or along the way. Water available at visitor center.
Spring, fall. Summer is OK but way too hot
Very good trail. Very visible.
Yes. Only at approved camping locations.
Bring a meal and snacks as needed.
Bag for food and water, hat, sunglasses, good hiking shoes.
In the summer months, you will see people for just about the entire length of the hike.  If you are hiking in the Summer expect the weather to be very very hot!  Always remember to drink lots of water.
GPS Coordinates
Trailhead:  38° 44.136'N, 109° 31.238'W
Delicate Arch:  38° 44.612'N, 109° 29.957'W
Trail Map
---
Driving Directions:
Because Delicate Arch is one of the most popular attraction in Arches National Park and even in the state of Utah, you could share the trail with hundreds of other visitors.
The roads are paved all the way to the parking lots.
---
The Trail:
NOTE: You can either do the actual hike to Delicate Arch or if you are short on time you can just do the Viewpoint hike which is directly to the east of the Delicate Arch Parking Lot but if you do the Viewpoint hike you will not get close to Delicate Arch.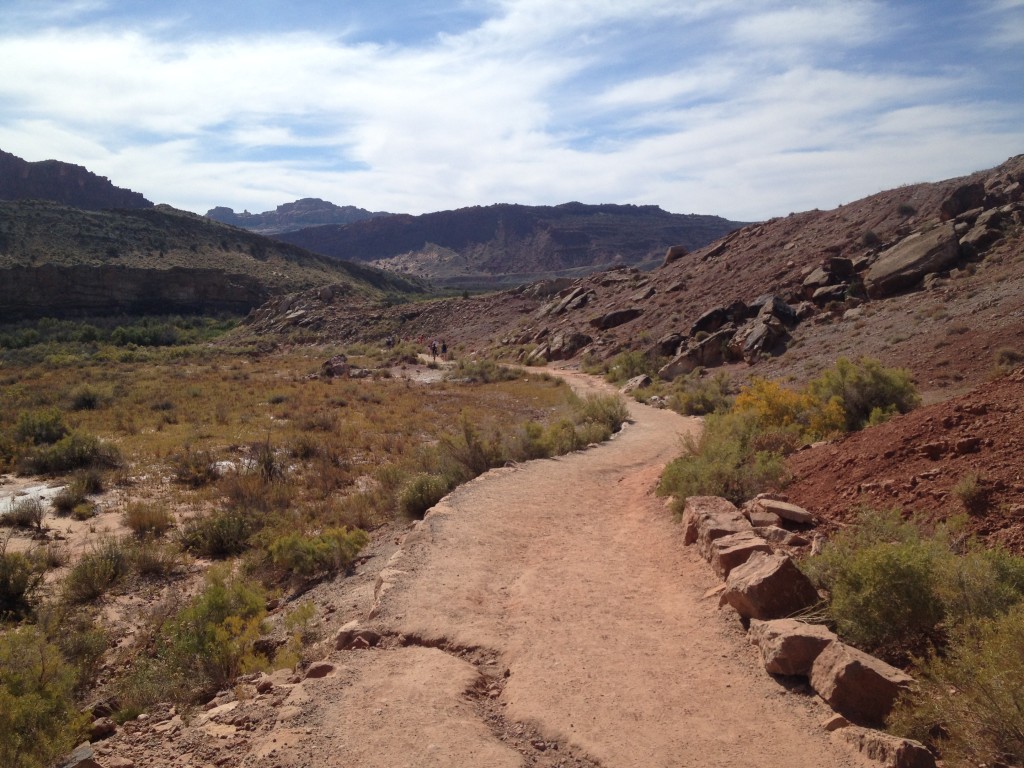 Here is the trail to Delicate Arch on a very busy weekend.
To get an "in your face" view of Delicate Arch, park at the Wolfe Ranch parking lot.  You will start the trek from this parking lot and be guided all the way to Delicate Arch by a clear path with cairns.  First you will pass through the Wolfe Ranch.
Wolfe Ranch was built by John Wesley Wolfe back in 1888 with one of his sons.   They raised a few cattle and stayed here until around 1908.  They sold the ranch then moved back to Ohio.
There are petroglyphs in the Wolfe Ranch vicinity and if you have time I suggest you check them out.  Check out Side Trek below for more information about the Petroglyphs.
---
Some parts you will be hiking on slickrock.  Slickrock is sandstone that can provide much traction but when wet is a little slippery.  Please wear good shoes that can grip the sandstone.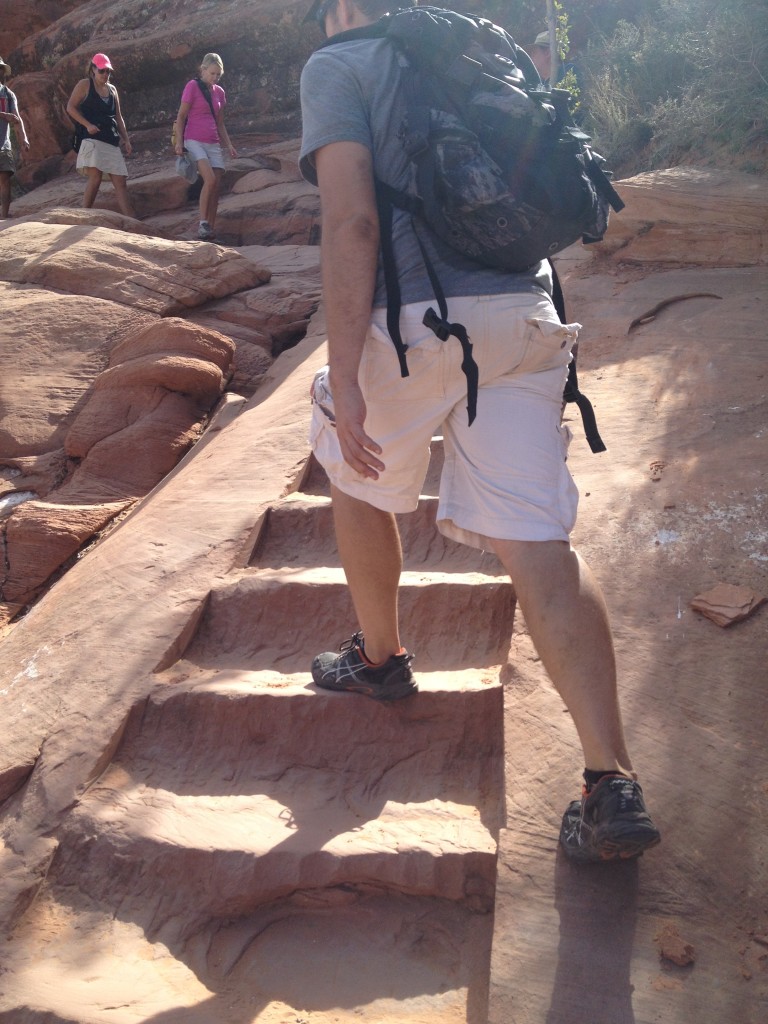 The National Park Service made these stairs for hikers
You will slowly make your way up to Delicate Arch and gain in elevation.  There are a few spots that can be tricky because some visitors like to create their own trail.  Just stay on the main dirt trail and follow the large cairns along the way and you will get there just fine.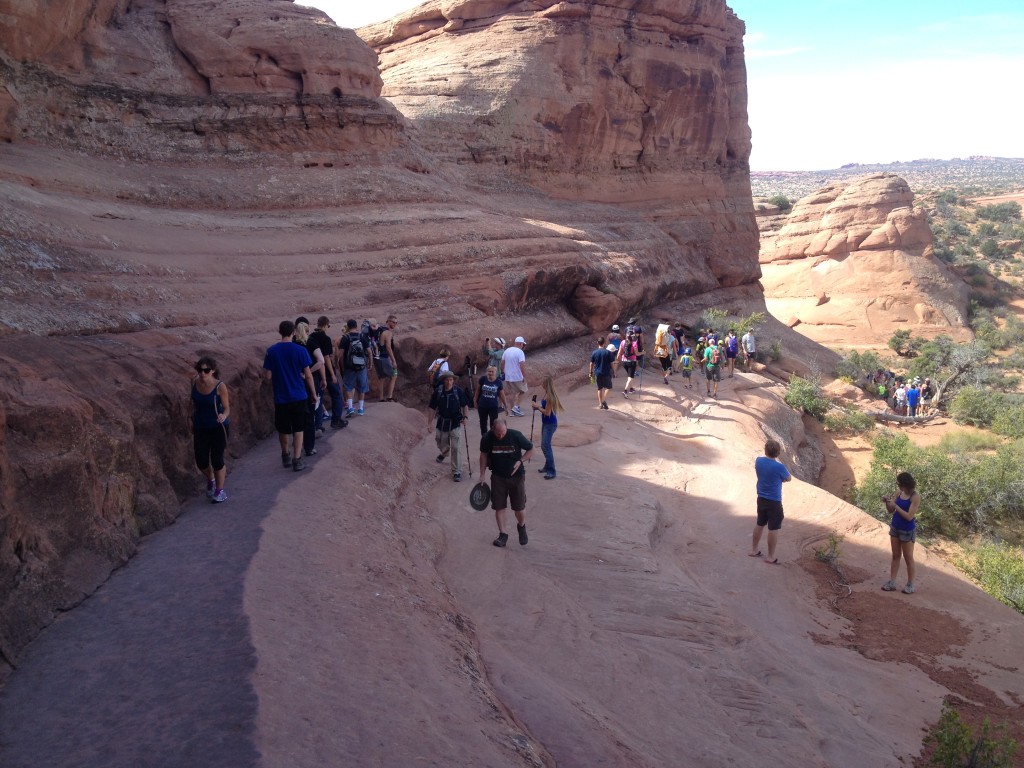 ---
I have seen many families hiking this trail with their small children.  Please be watchful of your children as there are plenty of areas for them to slip and fall down the steep sides.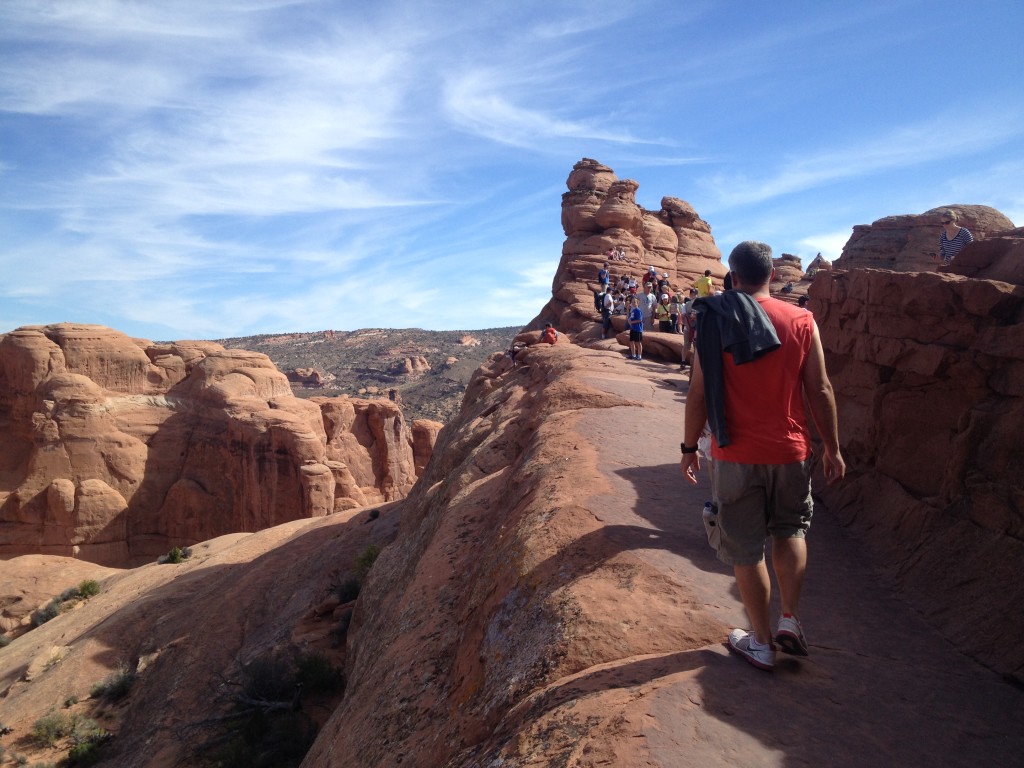 You will know when you are just about there when you come to the backside of Delicate Arch and it looks like someone paved a nice sandstone trail.
The edges are precarious but if you stay close to the sandstone wall you will be just fine.
---
Once you arrive at Delicate Arch you will see why this is one of the most popular sites in the park and Utah.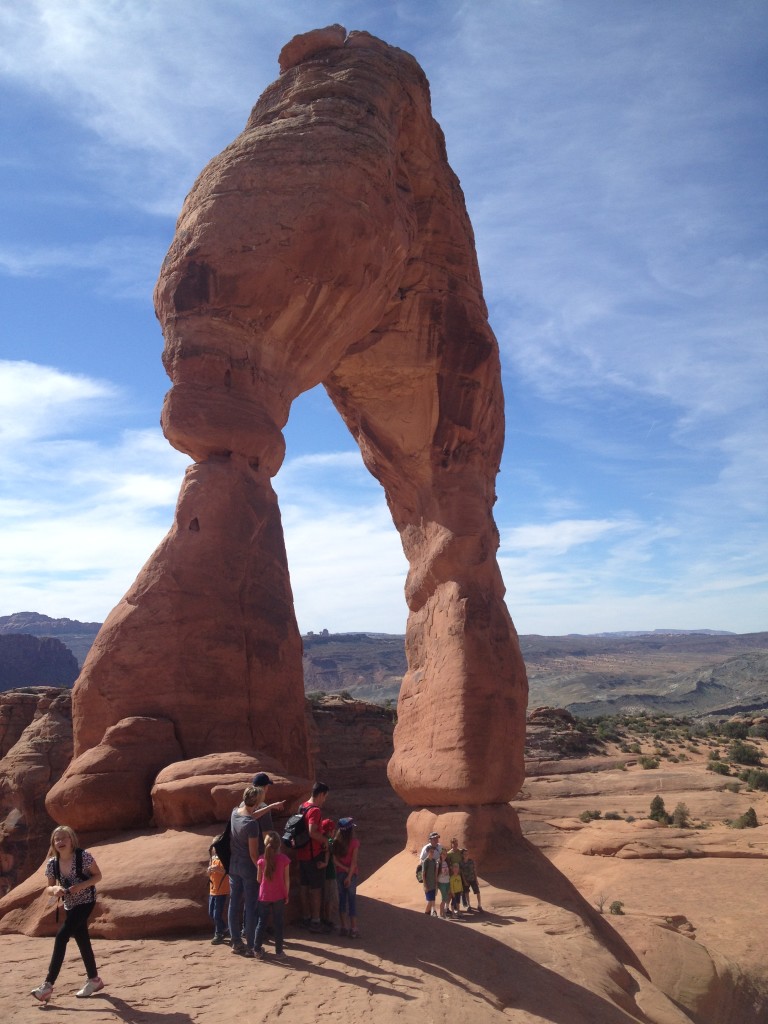 Delicate Arch stands a little taller than 65ft and is completely free standing.
Delicate Arch on a very busy weekend
Many people love to hang and lounge in the area which can make taking pictures of the arch very difficult.  However, most hikers seem to get the hint that you take turns taking pictures and you will soon get your chance to get a picture below the arch.  If you notice in the above picture that there is already a lined formed just to the left of Delicate Arch of people waiting for a picture.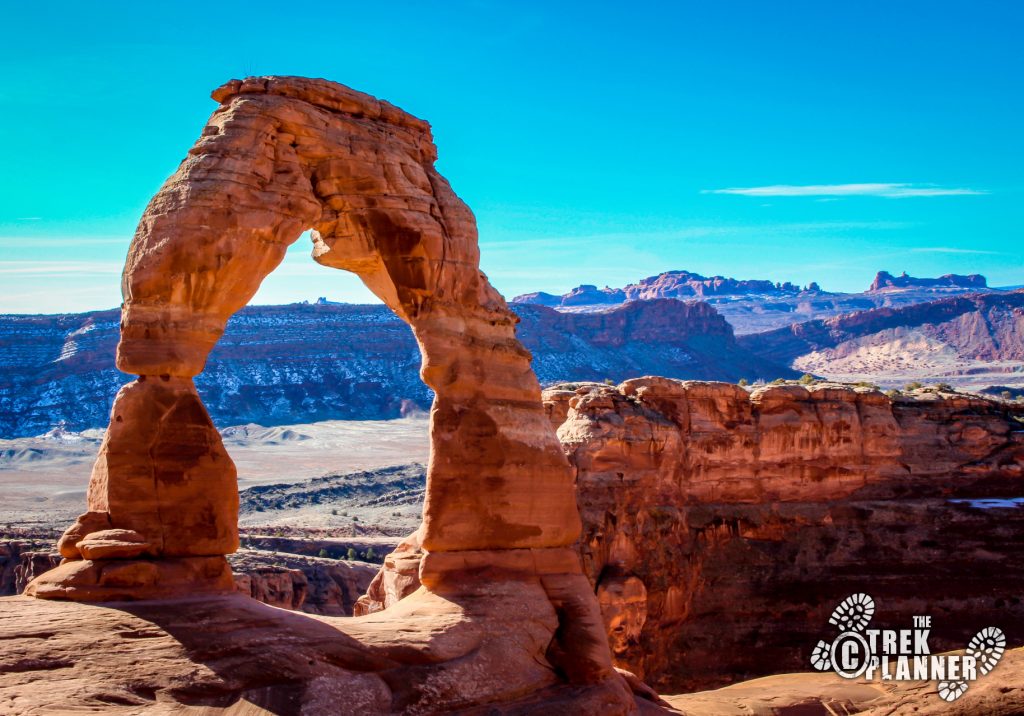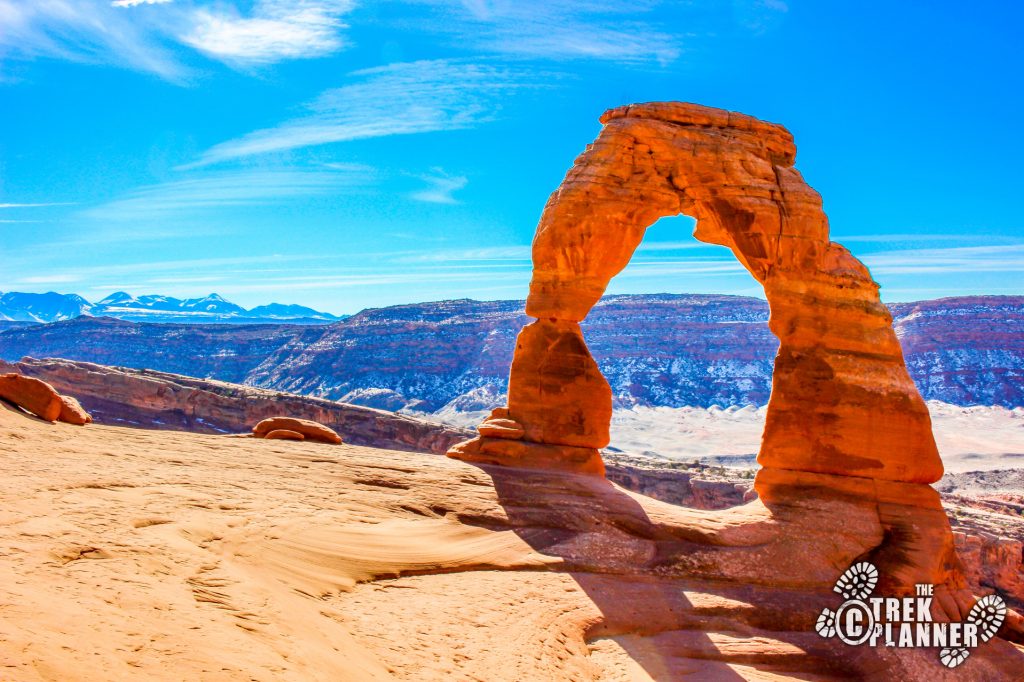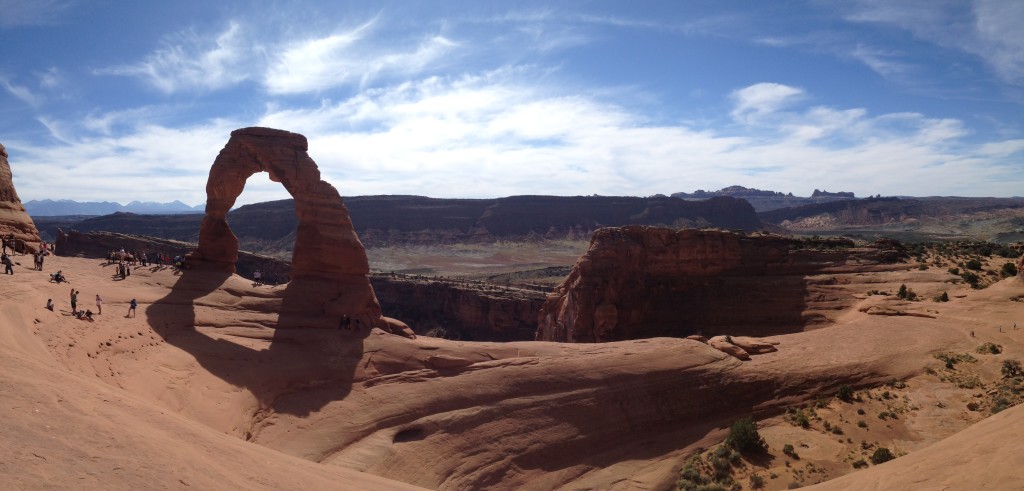 Delicate Arch on a busy weekend
Delicate Arch from the lower viewpoint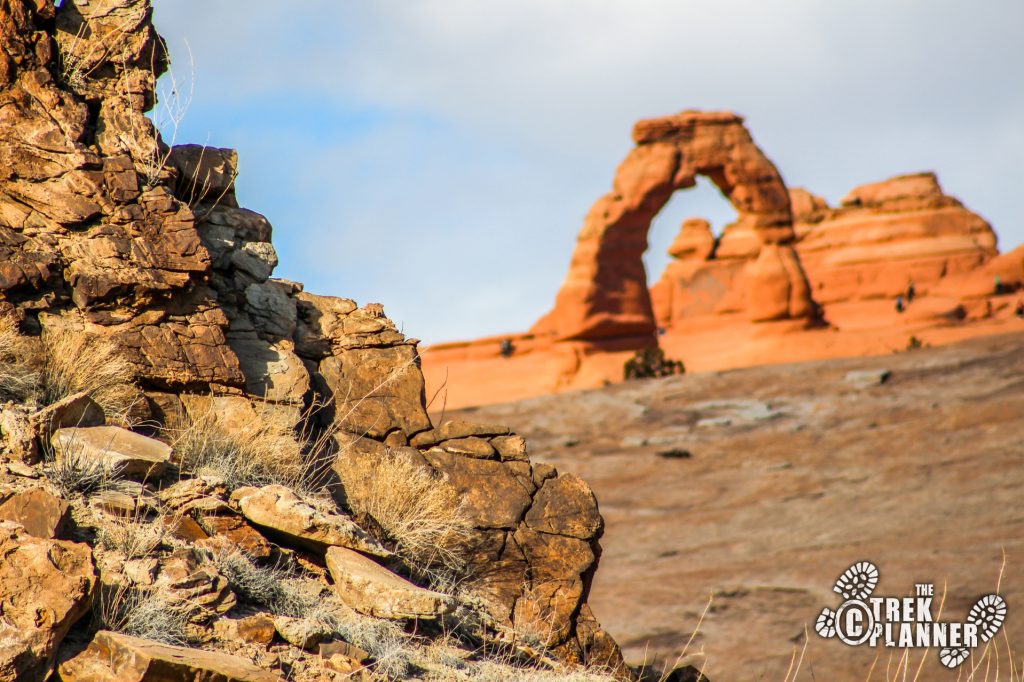 ---
The Return:
Return the same way you came up.
---
Personal Thoughts:
I have been to Delicate Arch countless times and every time I am still amazed by this creation.  It seems impossible that this arch is still standing after thousands of years of erosion.  If you plan to visit Moab and haven't been to Arches, you MUST make the trip to see Delicate Arch.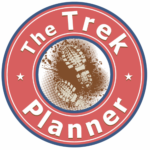 ---
Optional Side Trek:
Hiking to the Wolfe Ranch Rock Art (petroglyphs) site is very simple and straightforward.  Just after the parking lot, on the same trail to Delicate Arch, once you cross over the Salt Wash bridge turn left and hike up a little ways until you come to the pictographs.   There are signs that show you exactly where and how to get there.  To continue on to Delicate arch simple complete the half-loop and you will once again be on the trail to Delicate Arch.
Wolfe Ranch is interesting to check out and I suggest you make a quick stop on your way to or from Delicate Arch.  It is located right at the parking lot for Delicate Arch so it really won't take too much of your time.
Wolfe Ranch Pictorgraphs 38° 44.249'N, 109° 31.121'W