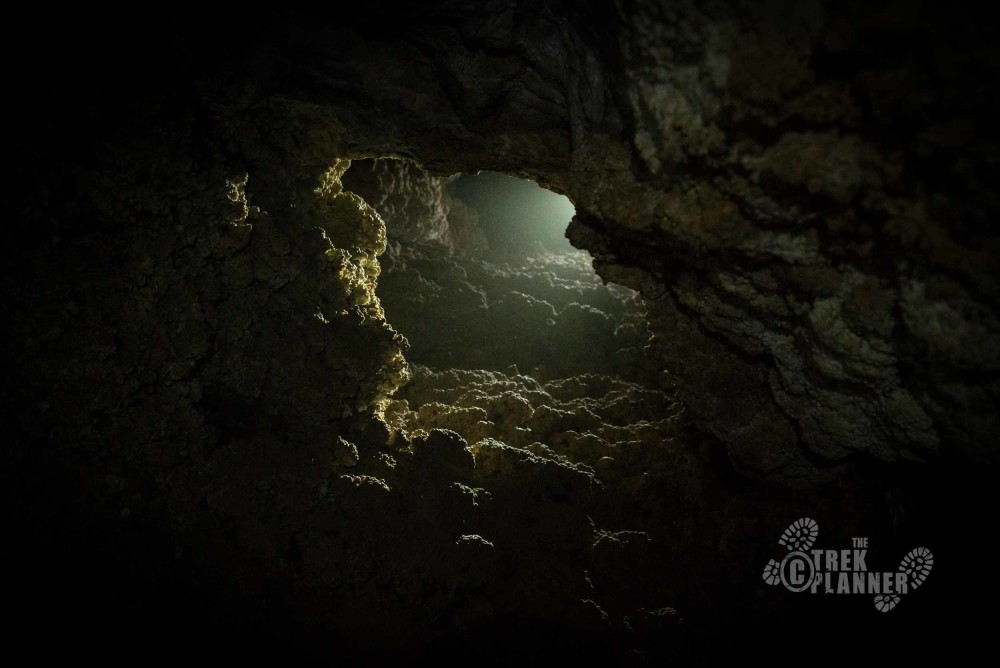 Overview
Cave formations, underground lake, bats
~1300ft of passages. 1/4-1/3 mile hike to entrance.
No fee, but permit is required from the BLM: (801) 977-4300
October 1st - March 31st only
Moderate on hike to cave.
Generally unmarked and meandering
In the BLM designated spots.
Sturdy shoes (5.10 Valor)
Water
Snacks
Helmet (Petzl Elios)
3 sources of light with extra batteries:
Spark SD6-500cw
Windfire Chinalight (Amazon.com)
Fenix PD35
Gloves (HomeDepot)
Kneepads (HomeDepot)
Coveralls (CAL Ranch)
This is a great cave we gained access to from the Wasatch Grotto and the BLM. It is limited to six people at a time, since it is a lot of narrow crawling, so plan accordingly. We had a blast and were all very impressed with this cave.
Driving Directions
These directions are not to the actual cave, just to the general area so you have an idea of how long and which direction you are headed. Full directions will be given if you contact the BLM, Salt Lake Office.
The Trail:
Getting around in the cave: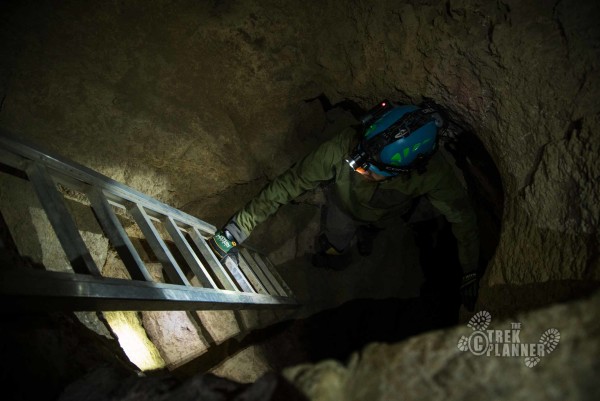 The cave is at the end of a short mine adit. When the tunnel ends, there is a small hole in the side you crawl into and climb down the ladder. It is an exciting way to kick off the exploration.
The cave is generally a series of winding small passages. There is a lot of crawling, but luckily for you claustrophobic, not too much squeezing. But as such there is no easy way for a large group to maneuver and get around. There are a lot of choke points.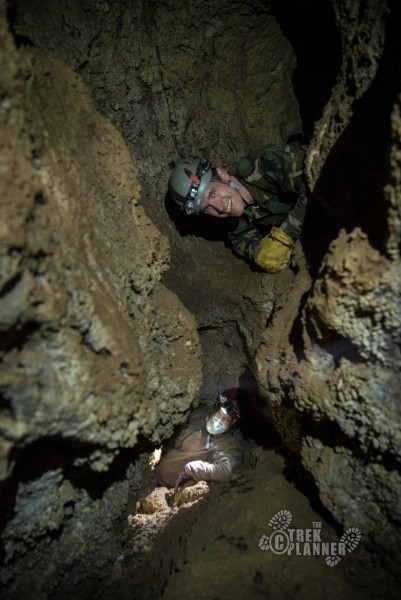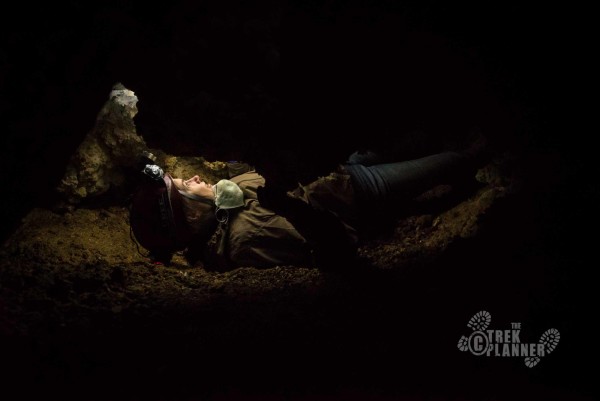 Quickly you come to what is called the junction room. This is a small space where a couple people can fit and maybe even stand up. You can go left or right. Left takes you to the majority of the cave, several rooms, some winding tunnels, and the exposed climb. Right takes you down some narrow but tall tunnels to the lake. Yep, you read that right. An underground lake!
Yes, we chose that way first too!
The Lake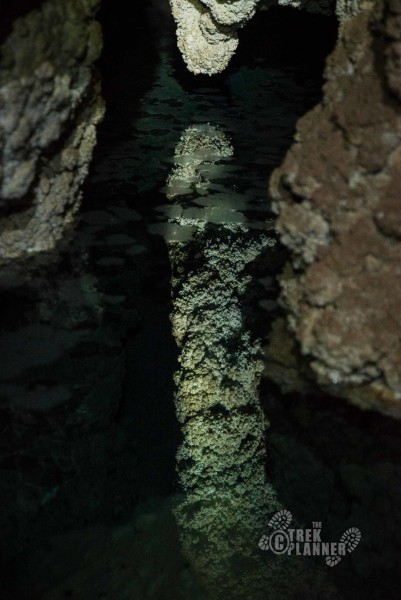 The tunnel to the lake pinches down to a very narrow crack right as you get to the water. There is enough room for two people to squeeze through the crack and stand together on the edge of the lake, possibly holding hands…possibly whispering promises of eternal love. Or whatever you choose to whisper about at the edge of a subterranean lake.
The lake is a continuation of the same tunnel you are in, but sloping downwards and filled with water. So it is not a large room; it does not open up at all. But it goes on a good ways to where it is too narrow and the roof too low for a person to stem across.
So while it is not a wide pool of water, it is still impressive. And it has calcite lilypads floating on it which have formed because the surface of the water has not been disturbed for years (this cave does not get much traffic). Also that is a hint. If you visit this cave, do not disturb the water!
The BLM says the lake is 20ft deep and very cold. Their comment was "It is very deep but it does not go anywhere. People have tried to swim it and dive to the bottom. We promise there is nothing down there to see. Please don't try. Do not disturb the lilypads."
Crystal Formations
The cave is impressively covered with crystal formations. They are everywhere, on every surface; many of which are still actively growing.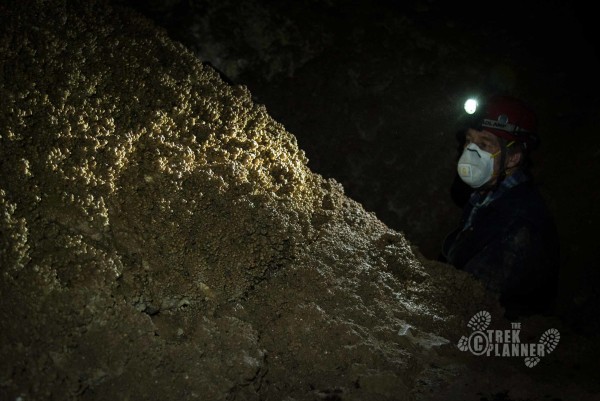 The most common growth are the  coralloids, or cave popcorn. Beautiful, but terrible to crawl over, and quite happy to snag loose clothing and rip it.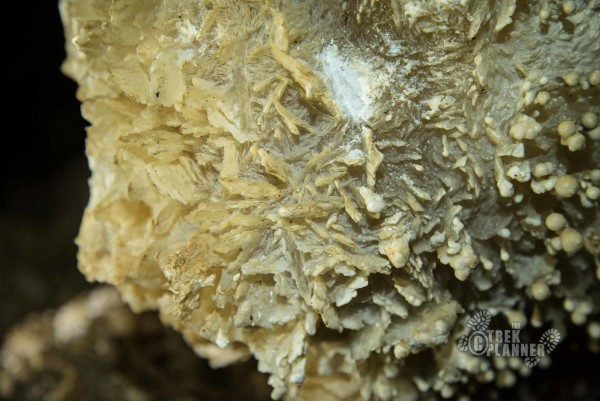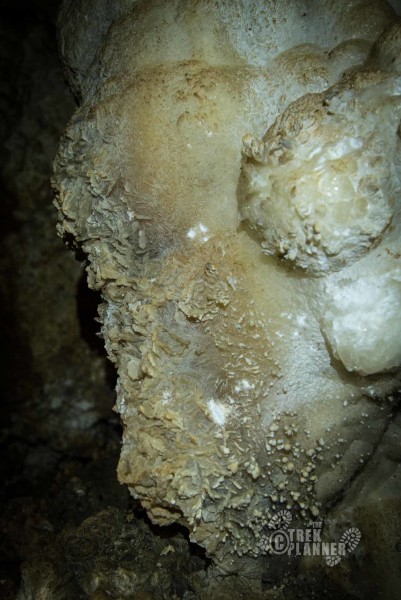 In the right hand passage, there was a section of what we called Cave Corn Flakes. Left is a wide shot of it, and above is a close up. Not sure the official name, but please message us if you know it. These look like they could be gypsum sheets.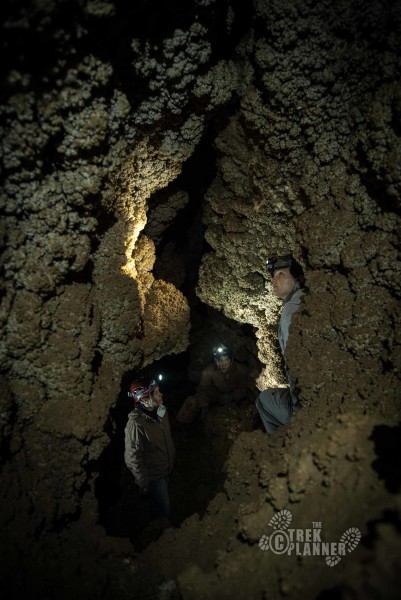 This is a section of the right passage showing the extensive popcorn.
In several places the rock has been broken, showing a cross section of the cave formation. Visible is the underlying rock scaffolding that the calcite flowed over and caked, forming the formations.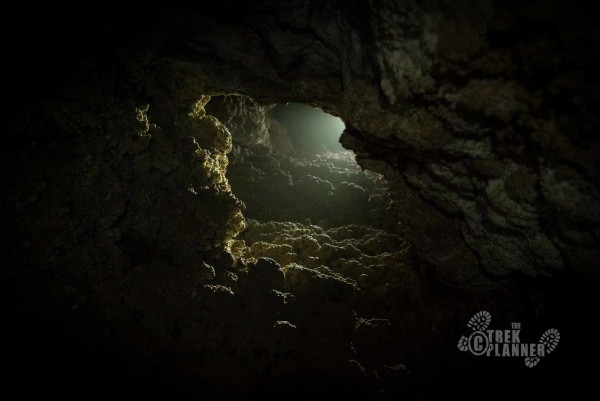 A Popcorn passage.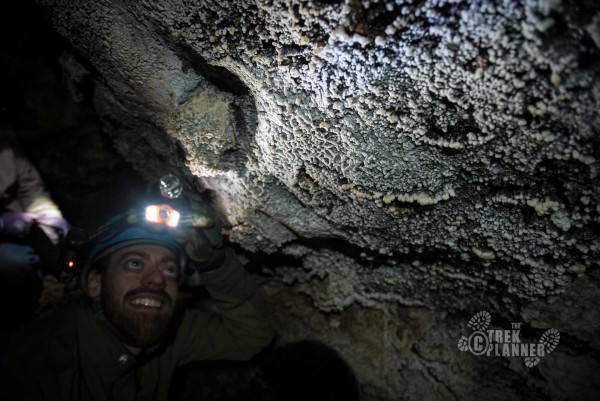 In a side room down the left passage there is young popcorn just starting to form along cracks in the hanging wall. It had the appearance of dew on a spiders web.
There are small clumps of baby helictites. And whole walls of box working, the criss-crossing like a web. 

This formation we called the cave scrambled egg. One formation had been damaged and showed that the calcite was forming on a huge block of crystal.

In the deeper parts of the left passage are big beds of crystals. Not sure if these are considered helictites or not.
And up the climb as the end of the large room in the left passage there are sections with hair like crystal growths. These are new as of the last few years, again due to the fact that very few people get up in that section of the cave. Not sure what these are, but they could be gypsum again. The walls and floor are rich orange clay in the is upper section. It crumbles easily when touched. Be very careful not to knock or drop anything on these delicate hairs.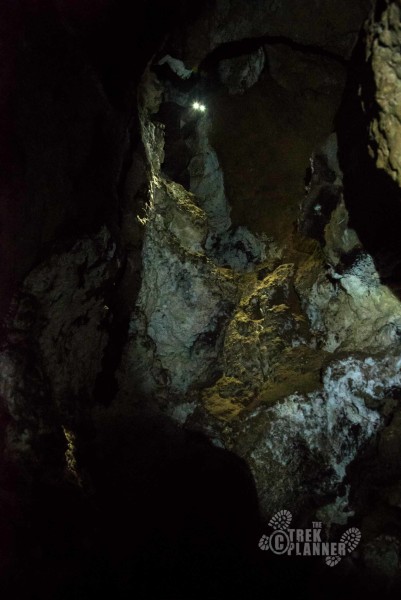 This is a photo of that last section of climb. I am on the landing at the top of the scramble up. Above me, Joe is coming out of the small clay passage you climb up to. It is about 15ft up. The most difficult part is just getting up off this landing. Once you get up and started, there are decent foot and hand holds. This climb definitely favors the tall.

Cave Ethics:
This is a gated cave controlled by the BLM. Access is not guaranteed even after submitting a permit request.
When in the cave, wear long-sleeved clothing that does not leave a lot of dander or lint. Old cotton or fleece is not great.
Wear gloves at all times, leather are best.
Refrain from touching living formations. Try to touch non living as little as possible.
Be aware of where your head, hands, and feet are at all times and try not to brush the ceiling, causing debris to fall on formations.
Keep your group together because it is surprisingly easy to get turned around and confused in this cave, even as small as it is.
Do not harass bats or rats. Or they may harass you back.
Do not eat the rat poo. Seriously, though, I have a friend who explored this cave a few years ago. He set his sandwich down on the dirt. He came back and finished it and ended up really sick for days! It seems like a no brainer: don't let your food touch the dirt. Also watch your camelback hydration valves. We often forget about them as we crawl, and I have seen many a friends' dragging through the rat poo-filled mud. Yum.
We really encourage conservation and respect. For more education visit the Wasatch Grotto. If this cave starts to get damaged, the BLM will permanently close the cave. So I take this seriously. I want everyone to be able to experience this. And that means people to experience it in pristine condition even after you have.
Personal Thoughts:
Crystal cave was far better than I had expected or hoped. This is a great cave and well worth the effort to visit. It is perfect for beginners, and the end climb section is fun for intermediate adventurers. You can bring children (probably older than 7yo). There are rat droppings everywhere, so that was a downside to this cave. But oh well, it is still awesome.