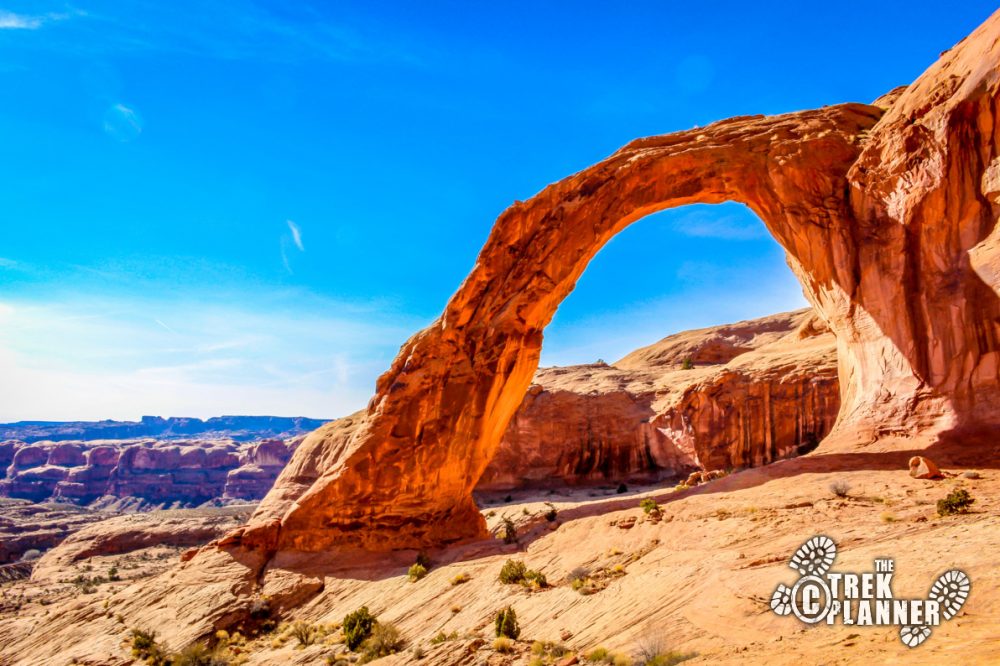 Overview
Outside of Moab, Utah – Southern Utah
Corona Arch, other arches
Allowed but keep on leash.
No fees. This trek is on BLM land.
Spring, fall. Summer is OK but very hot
Yes. In campground near parking lot
Yes, other side of parking lot across the street. And RV spots nearby too
Hat, sunglasses, bag for food and water, good hiking shoes
GPS Coordinates
Trailhead: 38°34'28.08″N, 109°37'56.32″W
Pinto Arch: 38°34'54.01″N, 109°37'38.67″W
Bowtie Arch: 38°34'50.33″N, 109°37'18.00″W
Corona Arch: 38°34'47.48″N, 109°37'12.30″W

Trail Map
Driving Directions:
The Trail:
This hike is very popular because Corona Arch is, in my opinion, almost as incredible as Delicate Arch.  It is a massive arch that juts out from the side of the mountain and the hike is short and sweet.
You will begin the trail close to a major campground area.  This area has the restrooms in it as well and is right next to the Colorado River.
The trail begins with a little climb up to the railroad tracks that seem to slice the sandstone rock in half.  You will have to cross these tracks – please look both ways and make sure there are no trains coming in either direction.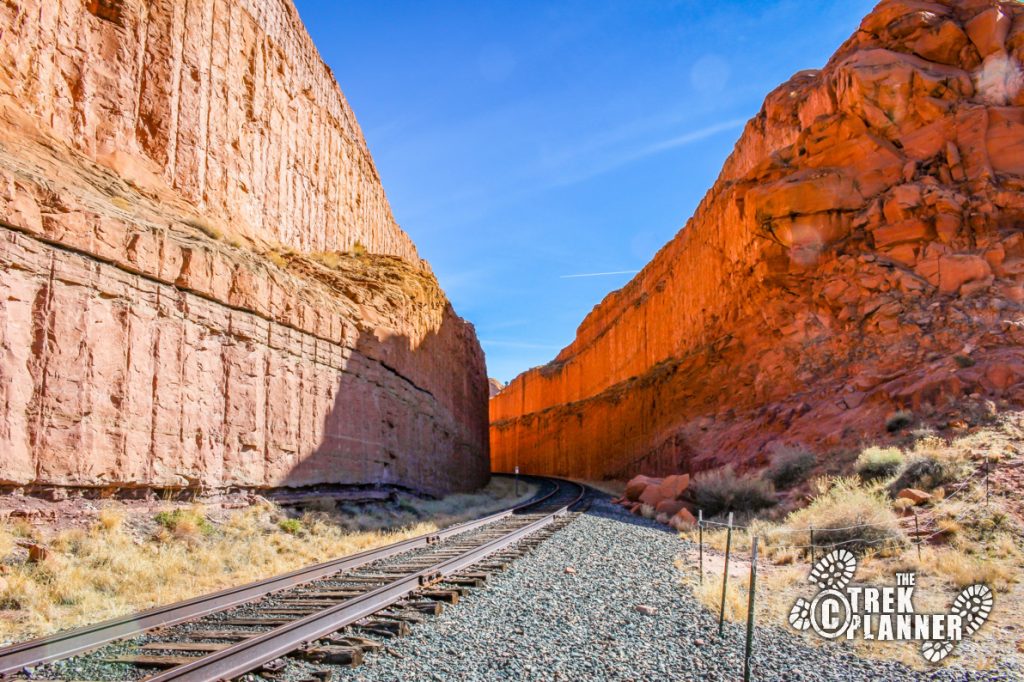 Once across, the trail is easy to follow and fairly easy to manage.
NOTE: The arch is located on BLM land above a railroad that carries potash through the canyon.
After about a 1/2 mile if you look to your left (or in the north western direction) you will see in the distance a small arch called Pinto Arch.
You can hike to Pinto Arch but the trail is rough and you can sort of get a good view from the Corona Arch trail anyways.
Keep going and you will wind around a small bend and now be travelling on sandstone.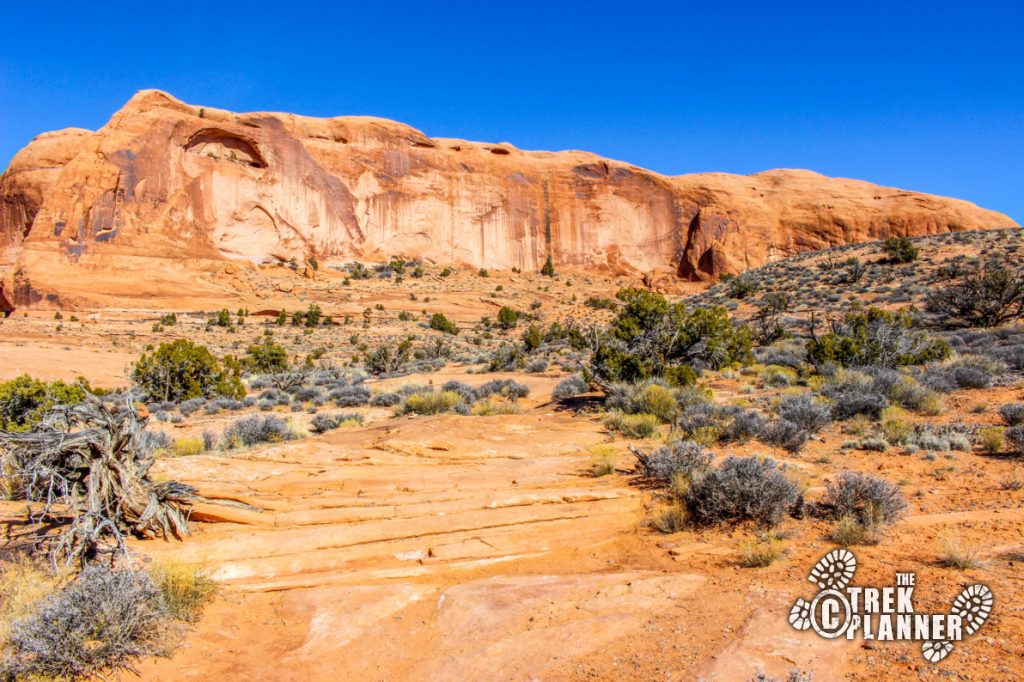 Once you pass the first major bend you can begin to see Corona and Bowtie Arch.  They are both next to each other and you will travel right underneath them.  You will also see ton of cairns spread out in this location.  Not sure what any of this means but it seems like the thing to do.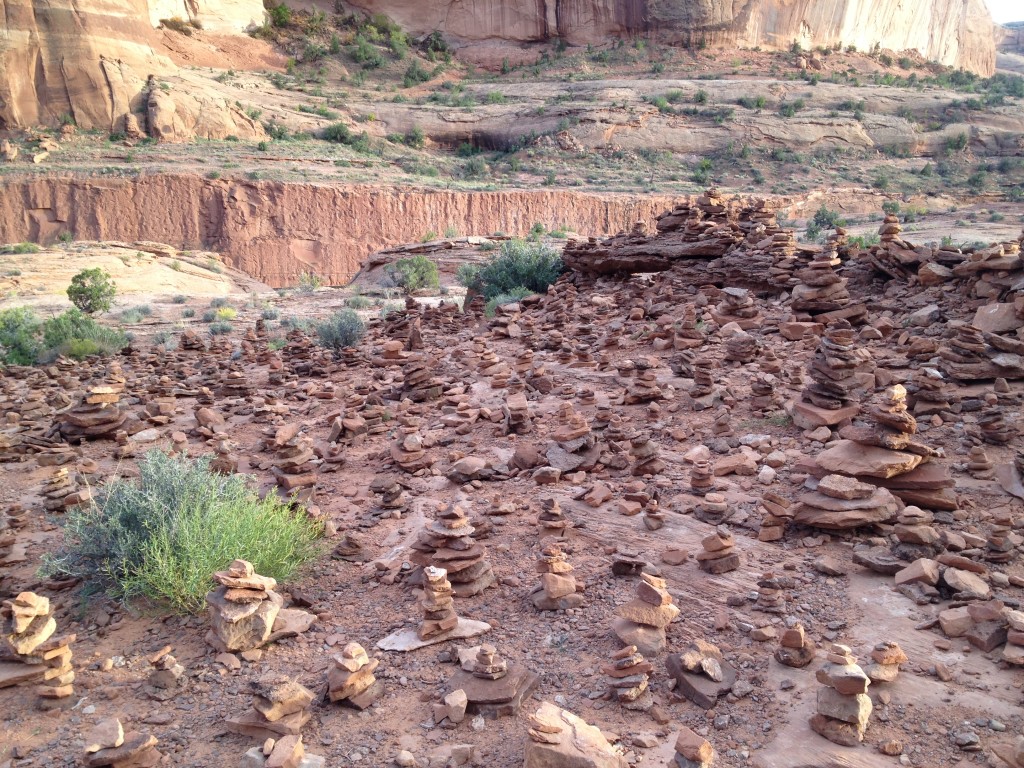 There are a few precarious parts after you come around from the first major bend.  But with slow and stable movements you can safely travel to the arch.
You will have to climb up a small ladder and there is even a cable wire handline for you and your travelling companions to hold on to.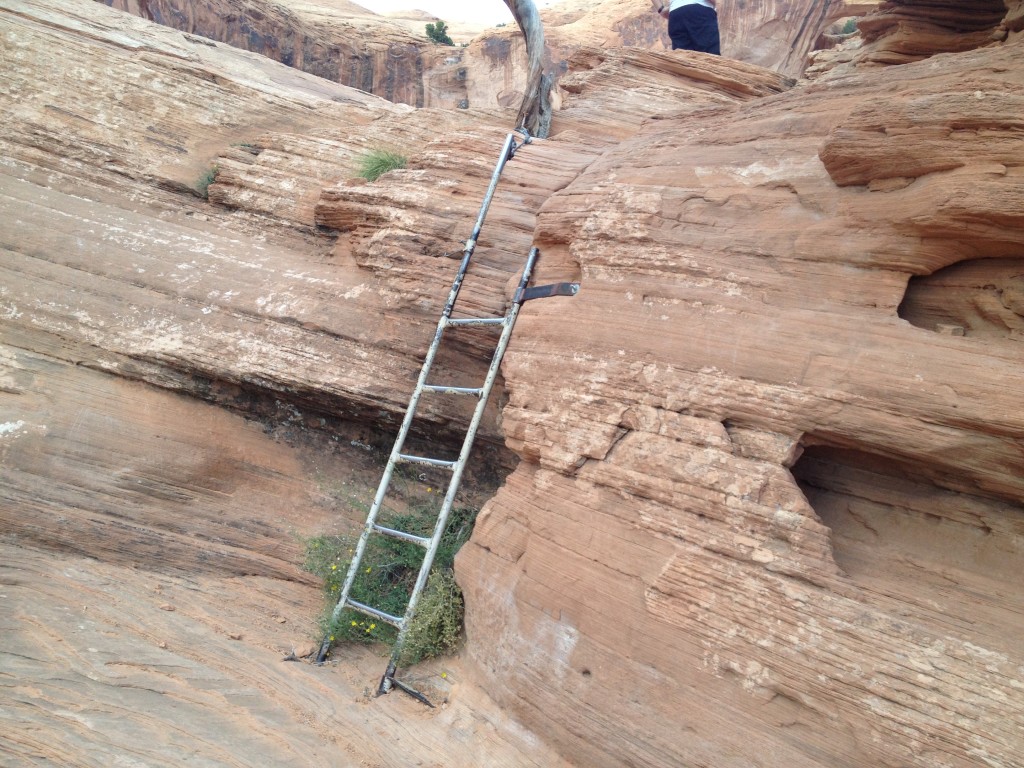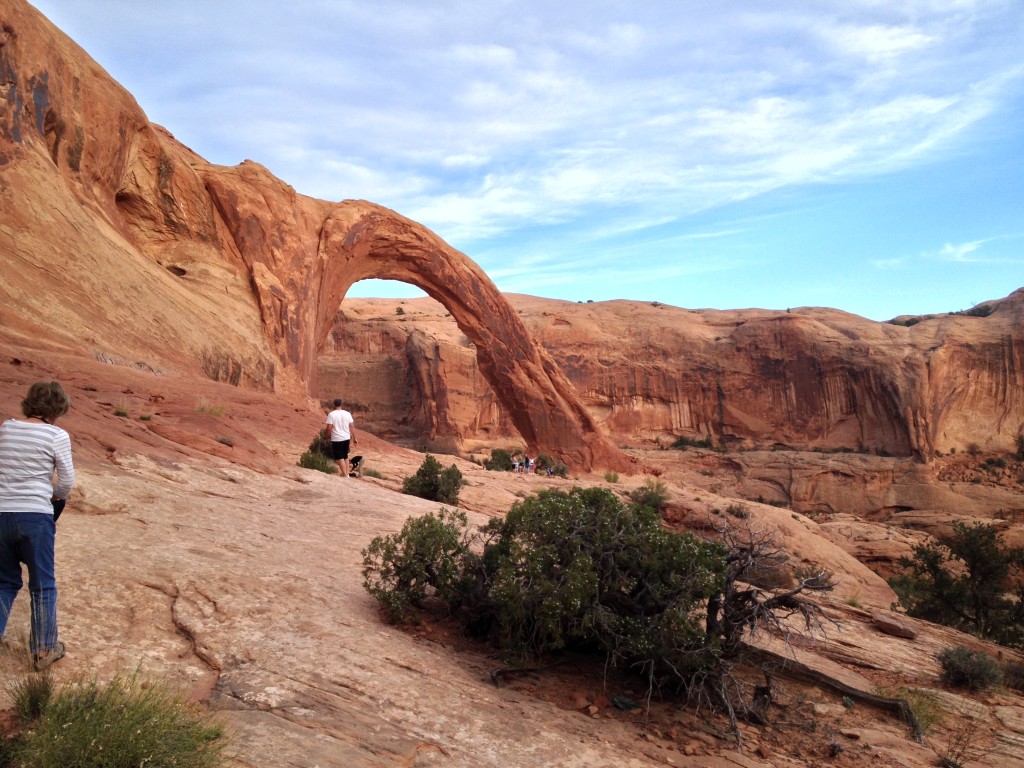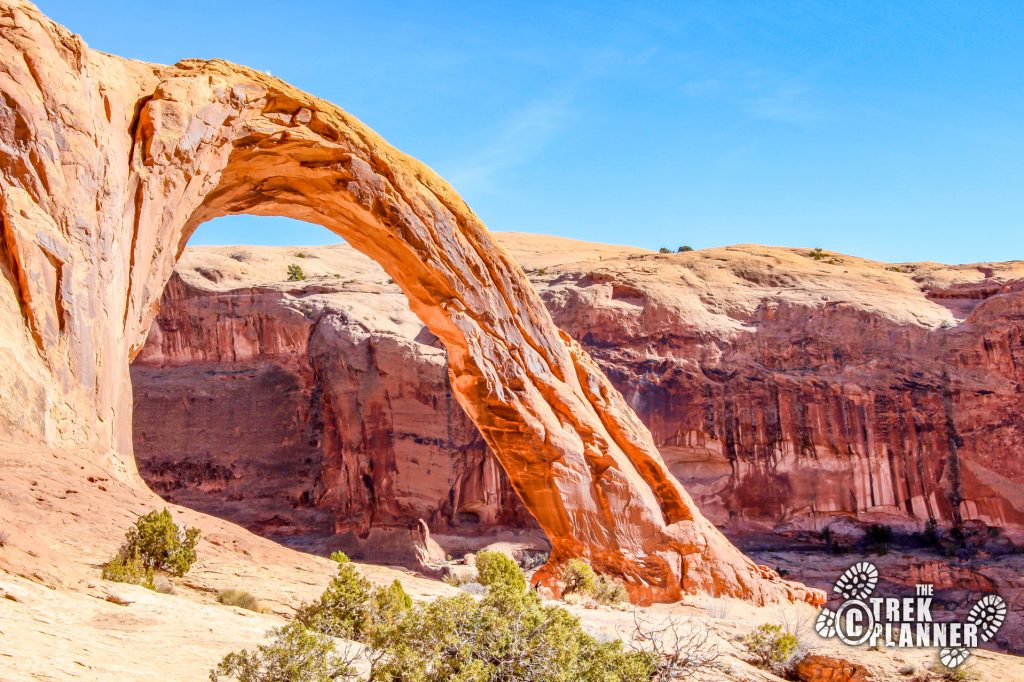 By this point it is difficult to lose the trail as the trail is basically forcing you to travel high on the sandstone which curves around until Corona Arch.
If you look down towards the railroad tracks you might be able to see a train passing through.  This doesn't happen all the time but it is still neat to see.
You will approach Bowtie Arch and after, you will of course come to the conclusion of the trail, Corona Arch.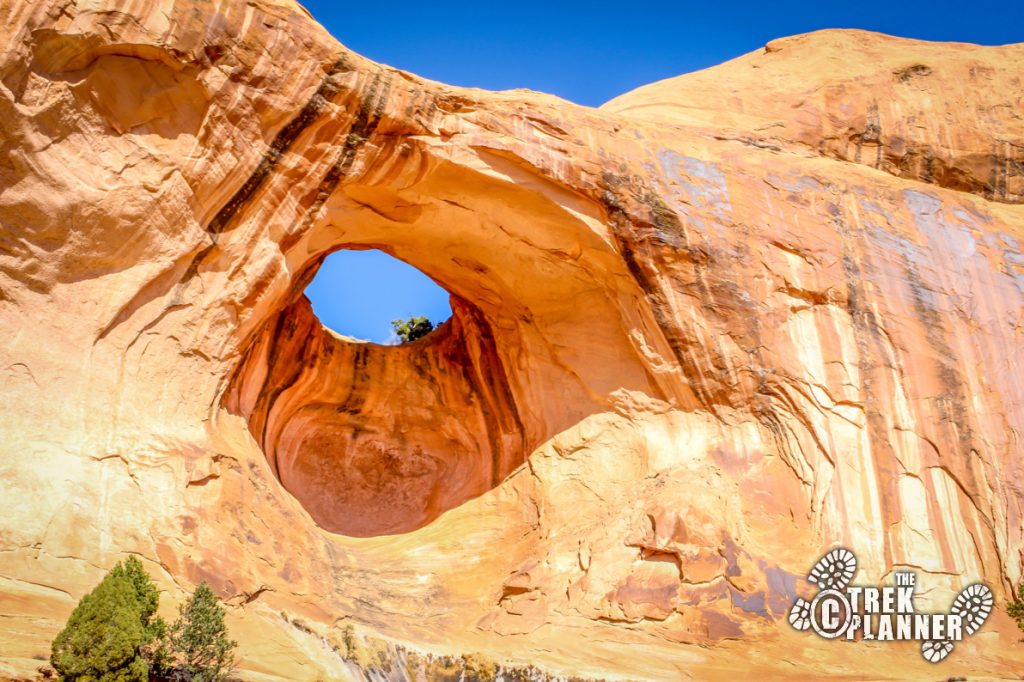 There is a side trail leading up to the top of Corona Arch where there are rappelling anchors for people to use.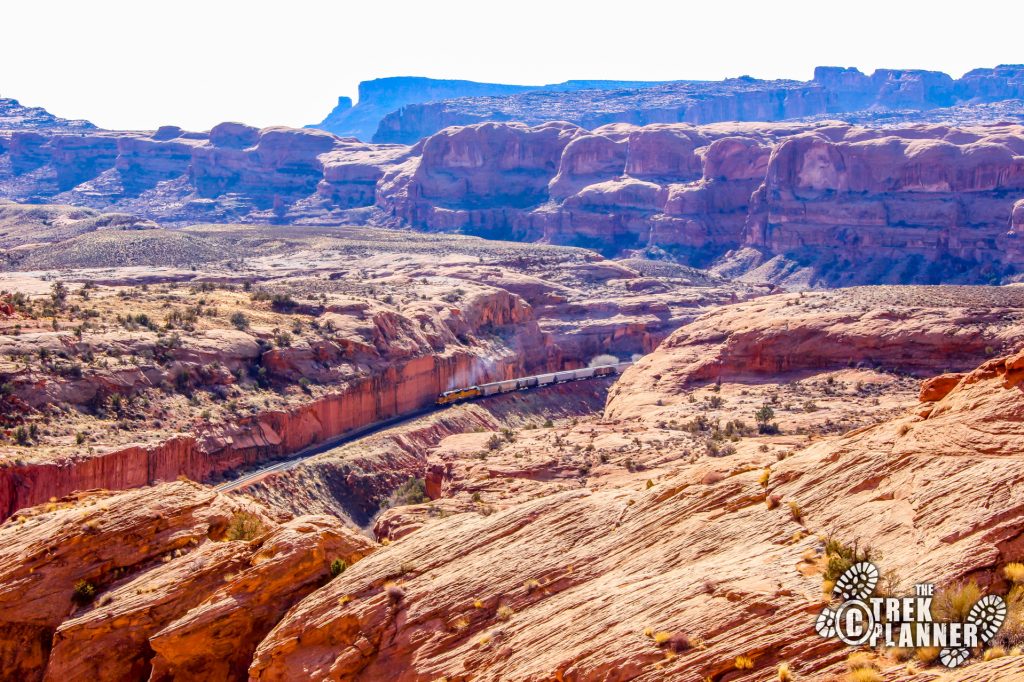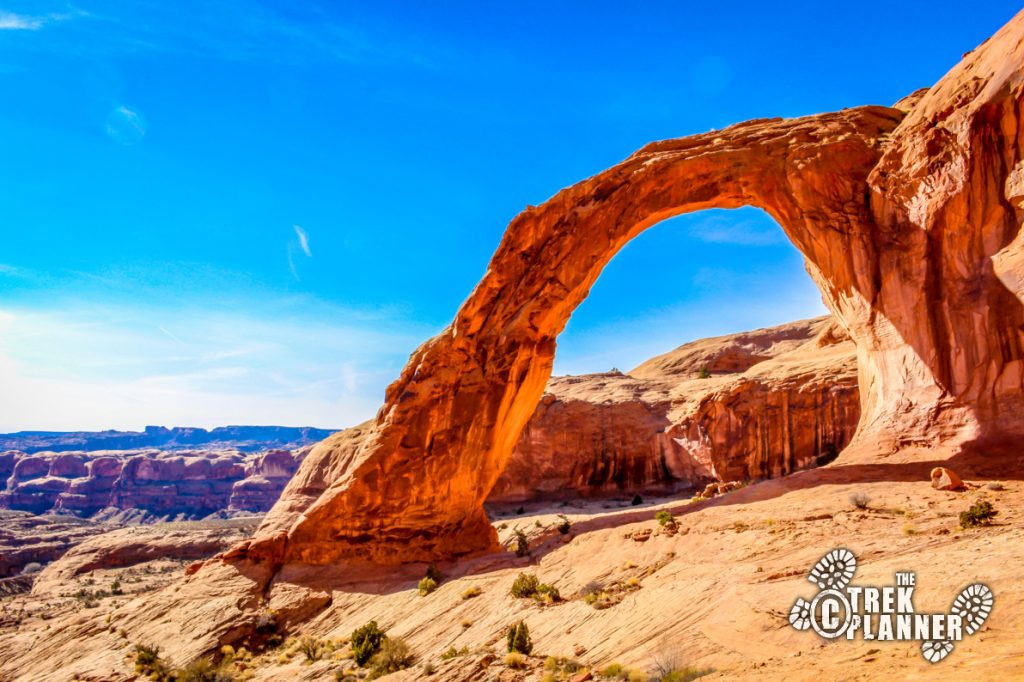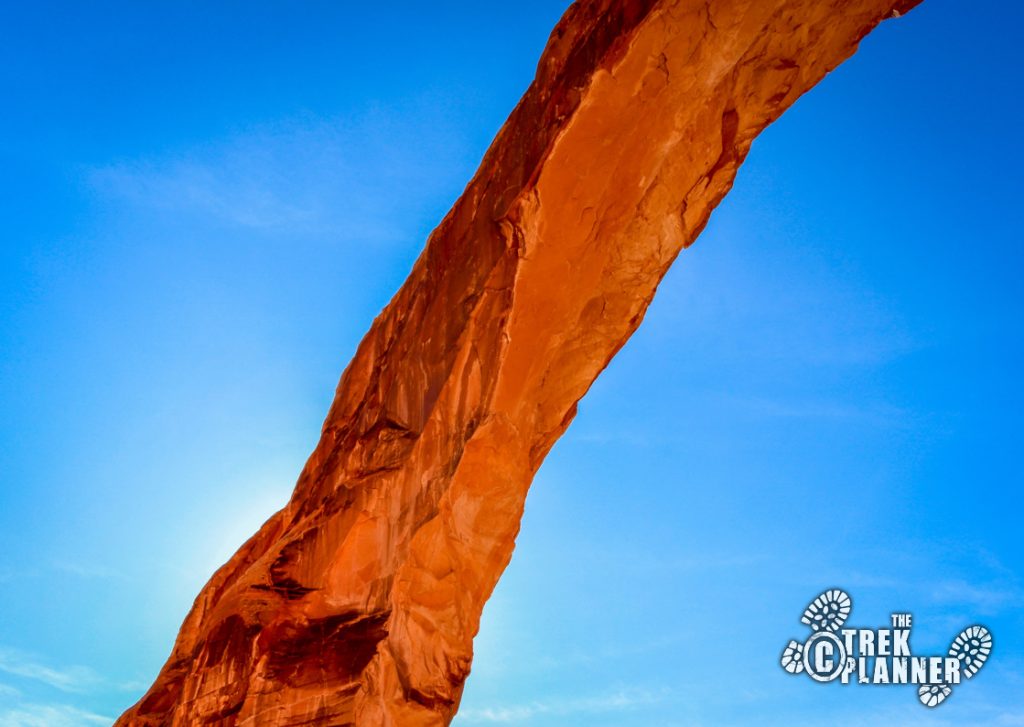 The Return:
Head back to the trail and back to the parking lot.  On our way back the sun was just setting and I took this photo of the Colorado river with the sunset.  The next photo down is from a different trip.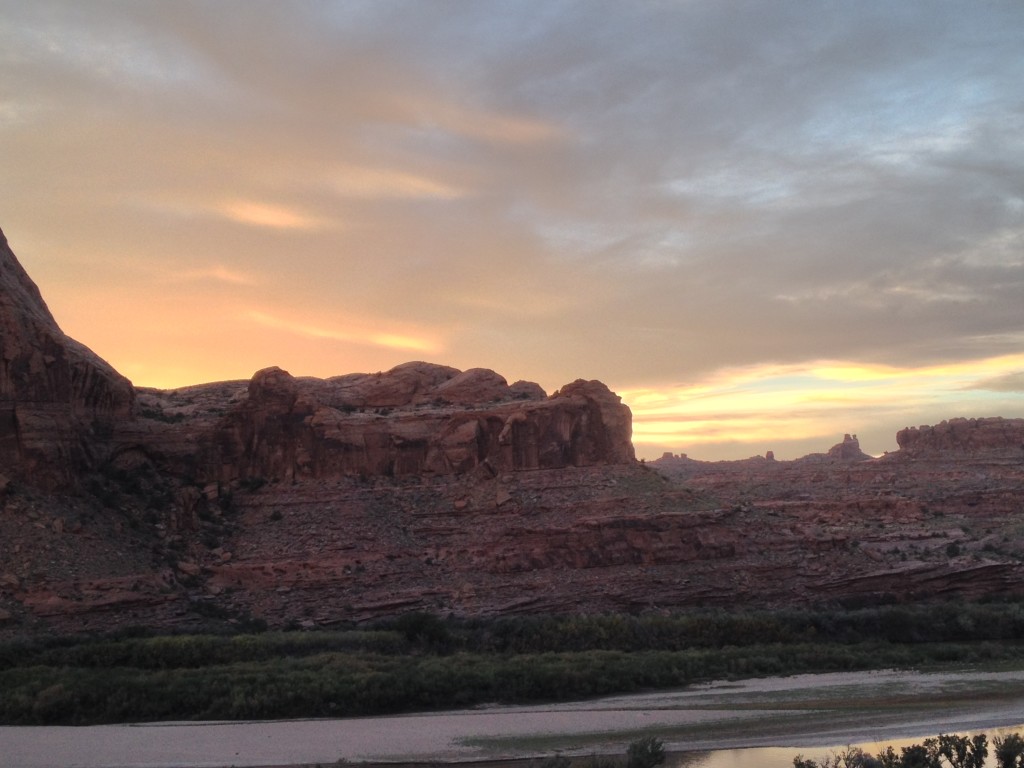 Personal Thoughts:
In my opinion, this is one of the best places to visit if you are in the Moab area.  The arch is giant and spectacular: one of the largest in the area.  I have heard it called "little rainbow bridge" because it resembles Rainbow Bridge in Lake Powell.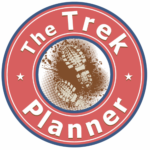 OPTIONAL SIDE TREK
Rappelling and using Corona Arch as a rope swing is now not allowed by the BLM.  I will leave this side trek here for reference purposes only.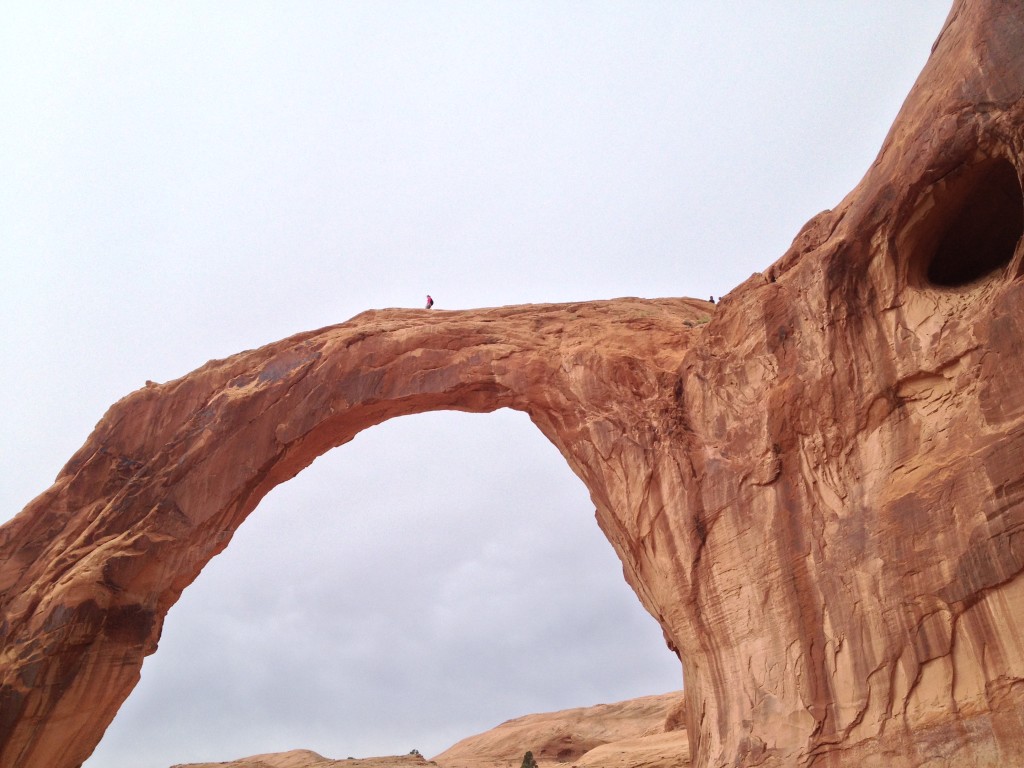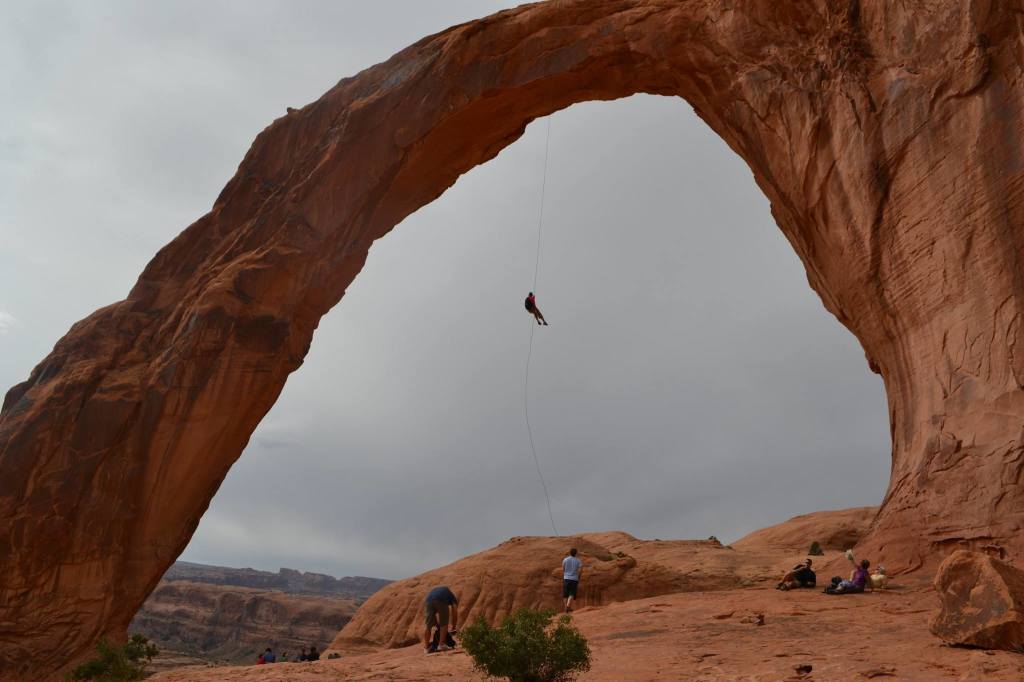 The rappel is about 140 ft in total length, 20 ft of which is rappelling down the side of the arch and the 120 ft are a free rappel.  I believe there are 5 bolts up top.
Trail:
About a half mile to the east of Corona Arch you will see a very steep incline with carved steps into the sandstone.  Climb these to the rope and come across to the top of the arch.
The Arch is bolted but you will obviously need to bring your own climbing gear (i.e. ropes, harnesses, etc)
CAUTION: If you do rappel down the Corona Arch please only do so with people who know what they are doing.  Do not attempt to rappel or climb down the arch if you or anyone in your party have no experience with climbing or rappelling.  Please make sure you have the proper equipment.  Trek Planner is not liable for any injuries that may happen to you.
Corona Arch Swing – Created by Jeff Guest