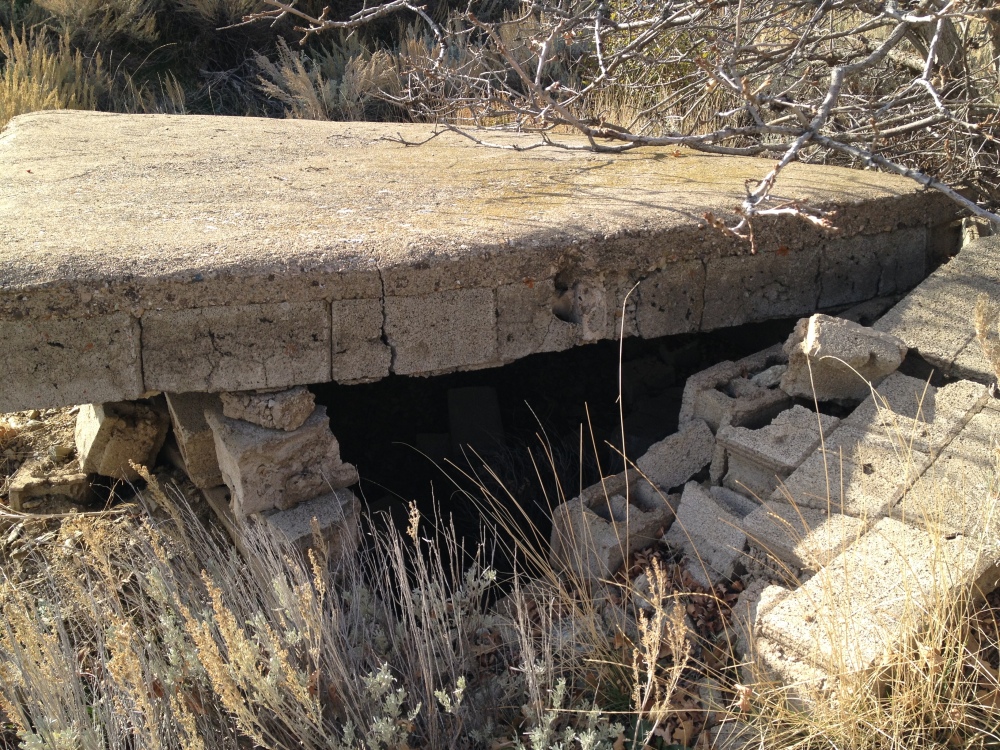 Overview
Fruit Heights, Utah – Northern Utah
Collapsed Structure, Bonneville Shoreline Trail
About 1.5 miles round trip
Bring a bottle of water. Baer Creek is nearby.
Not really sure what this structure was. I suspect it had something to do with the gravel or mining operations in the Fruit Heights area or maybe a pumping station for the aqueduct from Baer Creek to the Fruit Heights Mine.
GPS Coordinates
Trailhead: 41° 1.802'N, 111° 53.881'W
Collapsed Structure:  41° 2.037'N, 111° 53.715'W
Trail Map
---
Driving Directions:
Best way to get here is to park below the Baer Canyon trailhead and start from there.

---
 The Trail:
If you start from the Baer Canyon Trailhead but park BELOW the large white water tank.  There is a trail at the north end of the road.  Follow the trail down about 50 yards to Baer Creek.  Keep hiking up the path and you will wind around on the south side of a fruit orchard.
The orchard is private property so please do not trespass in this area.
You will eventually come to a fork in the road with the road going straight, right or left.  Go straight and when you come to another fork in the road choose the right trail that leads up to the Bonneville Shoreline Trail and hike up until you come to the BST.
Once you get to the BST turn right and walk for another 100 yards or so.
The picture to your left is where the collapsed structure is hidden.
---
There is a very faint road that is now covered in sage brush and weeds.  Take this path and travel another 40 yards or so and you will come to the odd structure.
I am not sure how this structure originally looked but I think it had something to do with the mining operations in the Fruit Heights area before.
What makes this structure even more interesting is that whoever built this also created a large dirt mound on the west side to shield it from the view of anyone who might be passing by?
---
Historical Photos:
This photo was taken from the Davis County aerial photographs from the 1958.  While visiting my father at work I noticed a bunch of file cabinets full of old aerial pictures.  I looked them over until I found this structure which does not appear to be collapsed back in 1958.
---
The Return:
Head back towards your car the same way you came up.
---
Personal Thoughts:
The Fruit Heights area has some interesting old buildings.  There are many mine shafts in the area including up Baer Canyon so my theory is that this had something to do with the mining operations on the mountainside.