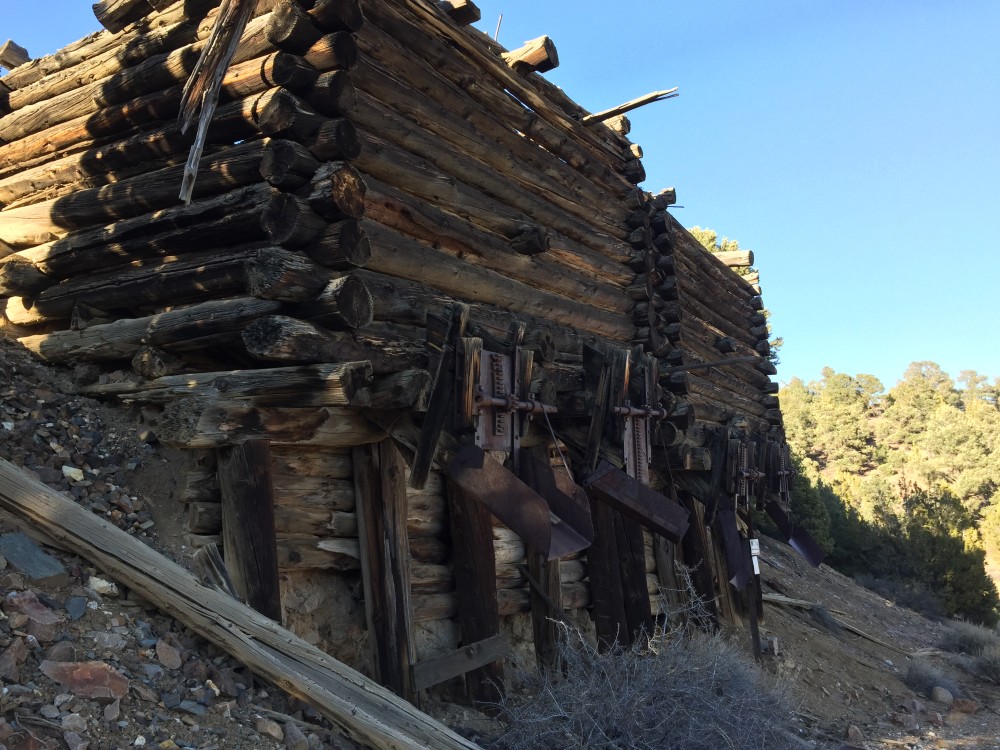 Overview
Lots of mines, prospects, artifacts and more laying around
Depends on how far you want to hike. We hiked about 3 miles and drove around the rest.
There was water coming out of the flooded adit. Bring 1-2 liters of your own
Good trails and roads. Wide enough for a 4x4 or truck
Bring meals and snacks as needed
Bring bag for food and water, hat, sunglasses, flashlight, gloves
GPS Coordinates:
The content you are trying to access is only for Trek Planner Insiders. Signup
Driving Directions
You definitely need a 4×4 or truck to get out here – or you could simply hike.  We didn't want to risk going too high on the roads because the shrubs were very thick and the truck we were in got scratched pretty good.  Also, the roads were narrow in some points.
The Trail:
Enter mines and mining areas at your own risk!
The minerals in Cherry Creek were discovered some time during the 1860s and have been mined on-and-off again since.  During the year of 1882, there was close to 8,000 people living in Cherry Creek complete with 28 saloons.  Now days, there are still a few residents who live here. More information about Cherry Creek click here.
Cherry Creek Mining Complex is located just a little bit north of Cherry Creek Nevada.  It is a sprawling area which features many short adits, vertical shafts, large tailings, foundations, buildings and more!  Many of the mines are still open but during our visit we found that a few are staked with "No Trespassing" signs.  Please be respectful and just explore the areas that are not marked.
On a planned Trek Planner Adventure to Goshute Cave (located a few miles north of Cherry Creek) we did a simple search and found out about all of these mines located in Cherry Creek.  We left Utah a little early so we could explore around the area before dinner that night at our camping spot and found the area to be very cool!
We started at the bottom and worked our way up to the top.  We first came to a large ore dump (which had "no trespassing" signs on it).  This was still cool to check out from a distance.
Just above this ore dump was a flooded adit with a good amount of water coming out of it.  This one was also "no trespassing".
We went up the road a little ways from here and found a few building foundations and remnants of cabins or dug outs.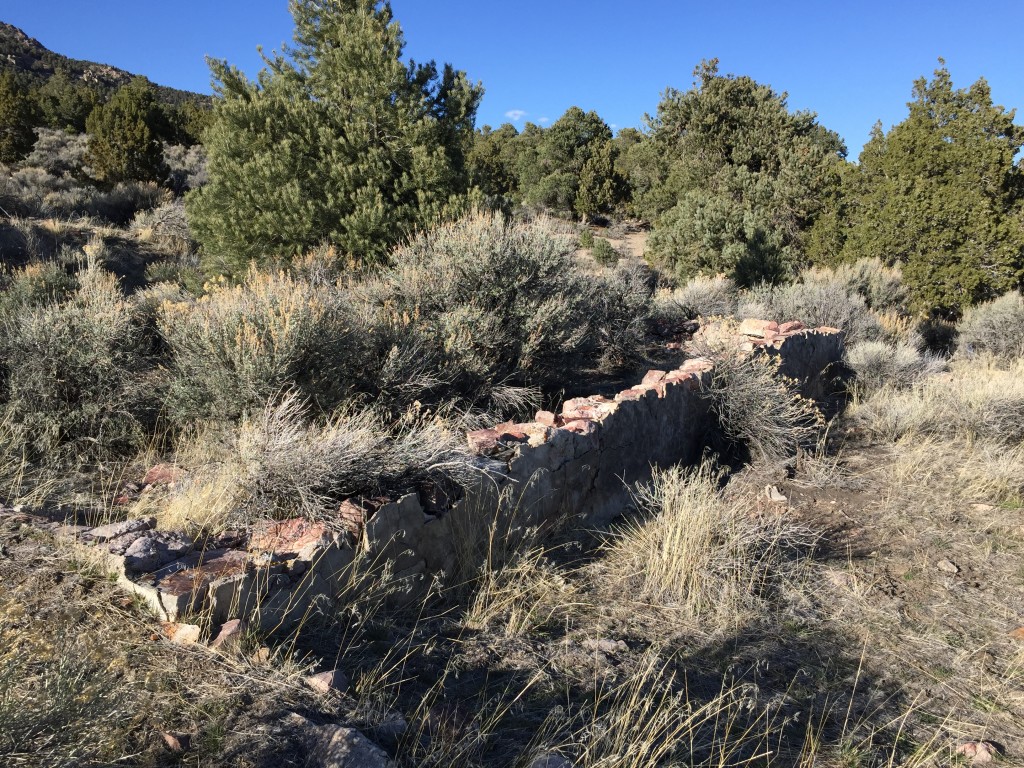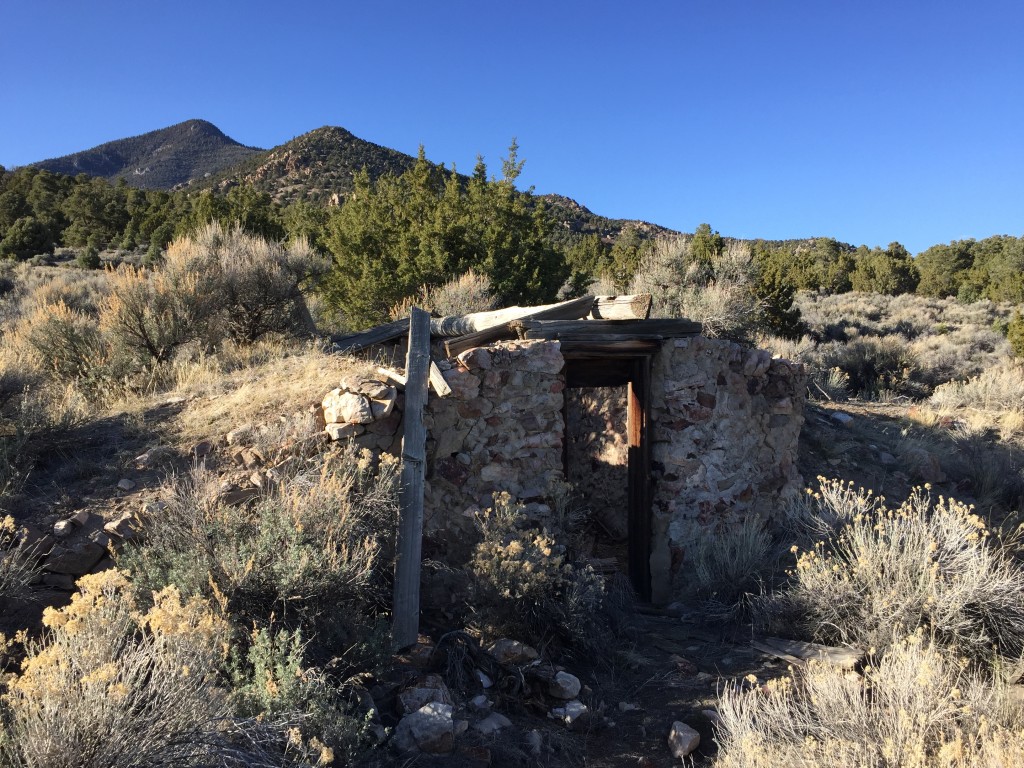 In the same area across the road were more foundations.  It would be really cool to see what this place looked like when it was in full operation.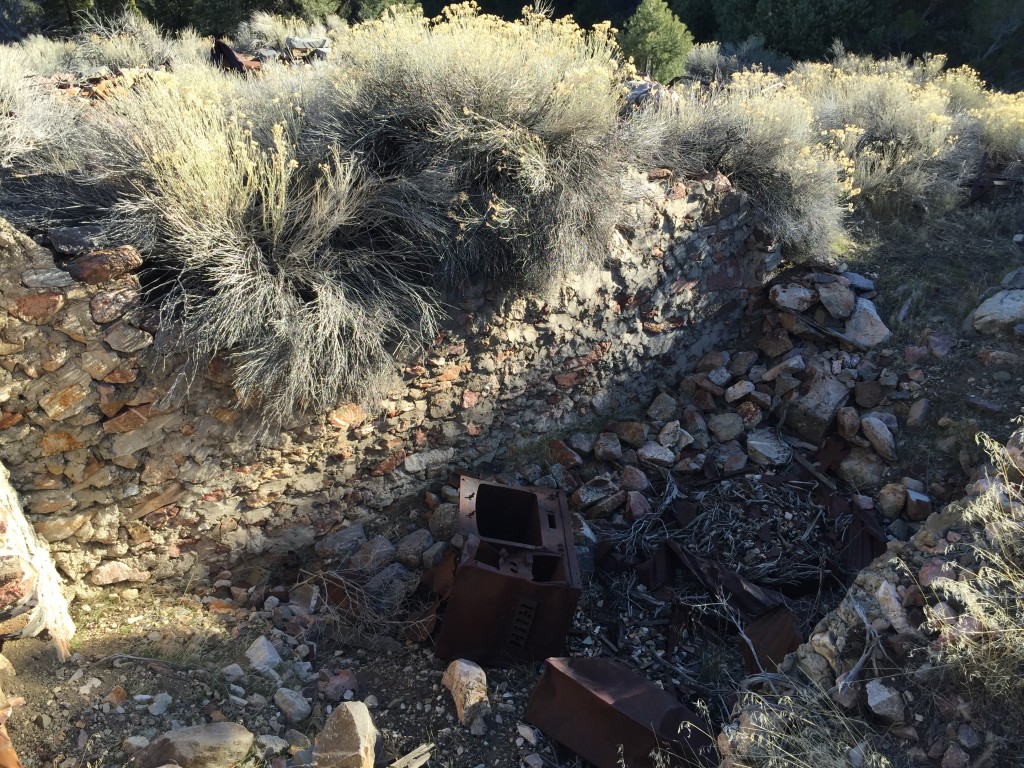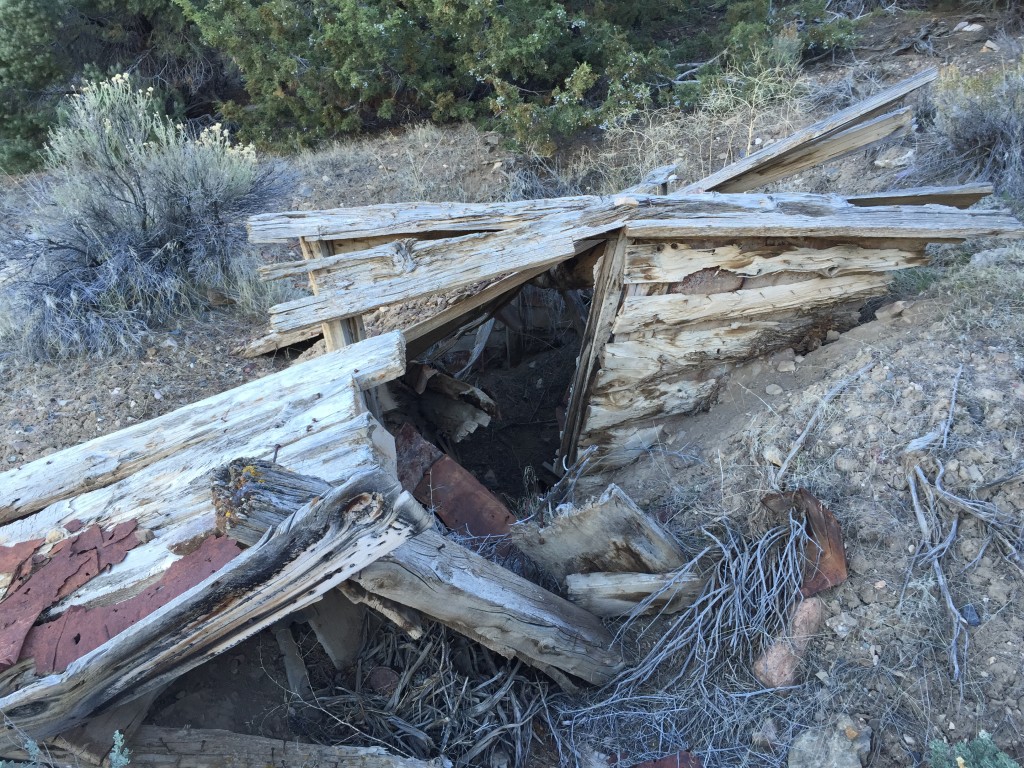 Above these broken structures you will see the large tailings and another ore dump.  This is where I think the main entrance to the mine is located.  Unfortunately for us it is also staked with "no trespassing" signs.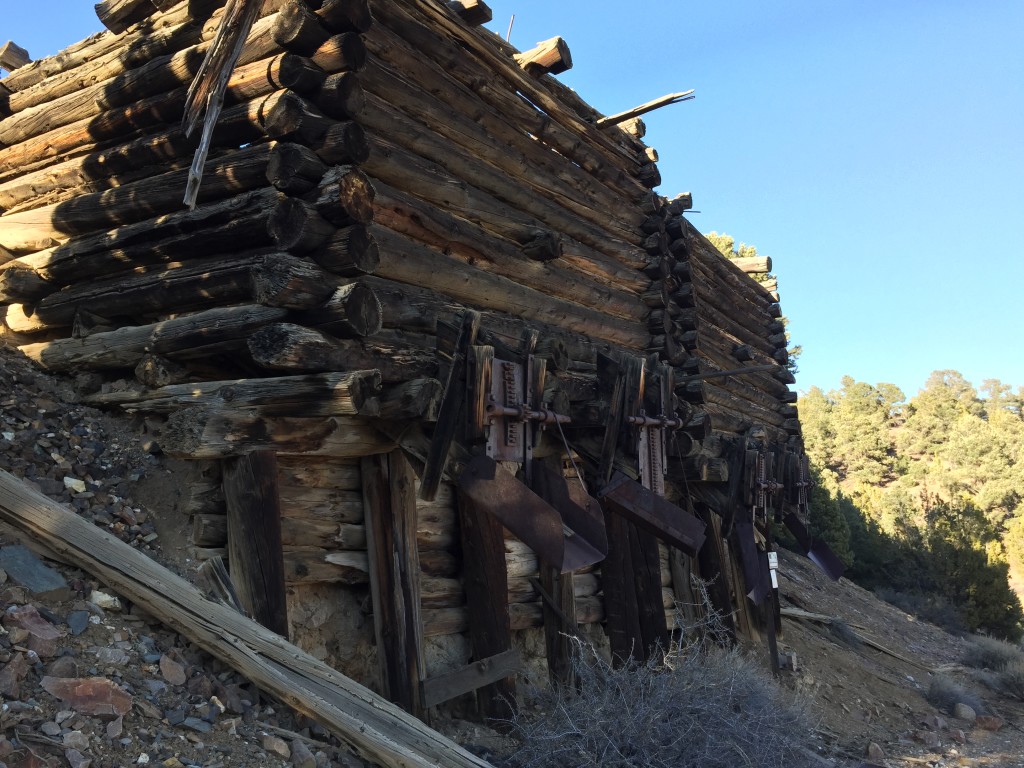 Just east of the main entrance and passed the tailings is where I think the mill is located.  Is is  very large multi-level concrete pad with pillars and other things here.
There was a small adit located just above the mill.
Below the adit was a torn apart vehicle.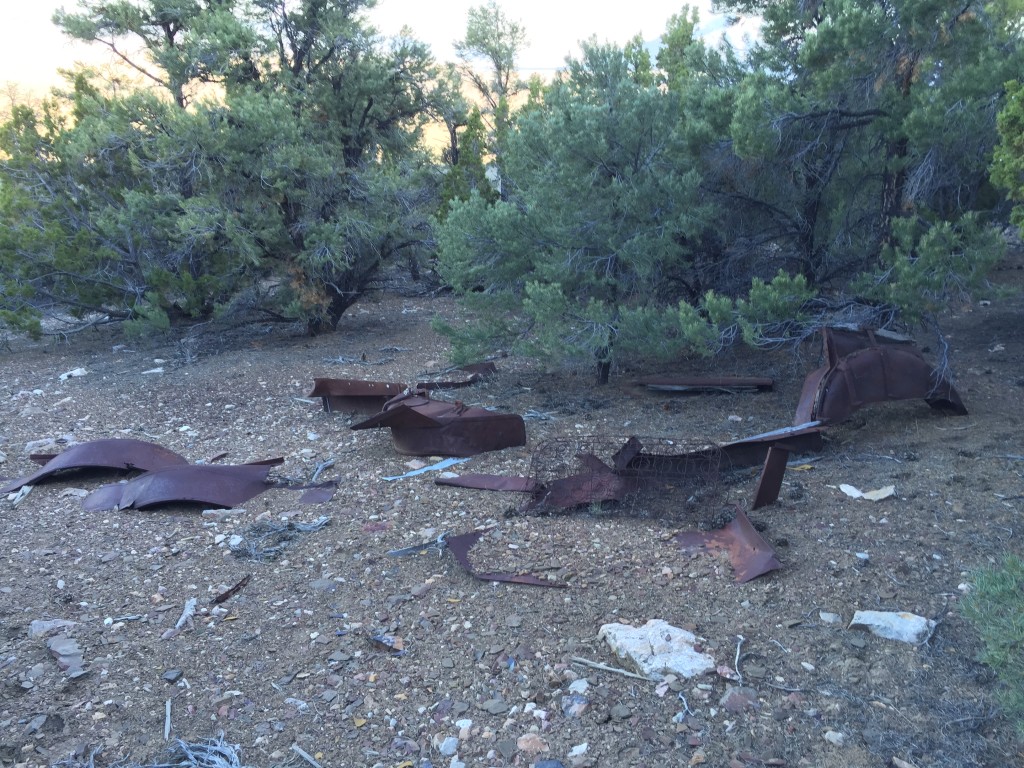 We continued our drive up the canyon to where you can see dozens of mines and prospects everywhere.  It was really cool to get out of the car and just crawl all over the mountain side checking out the many digs.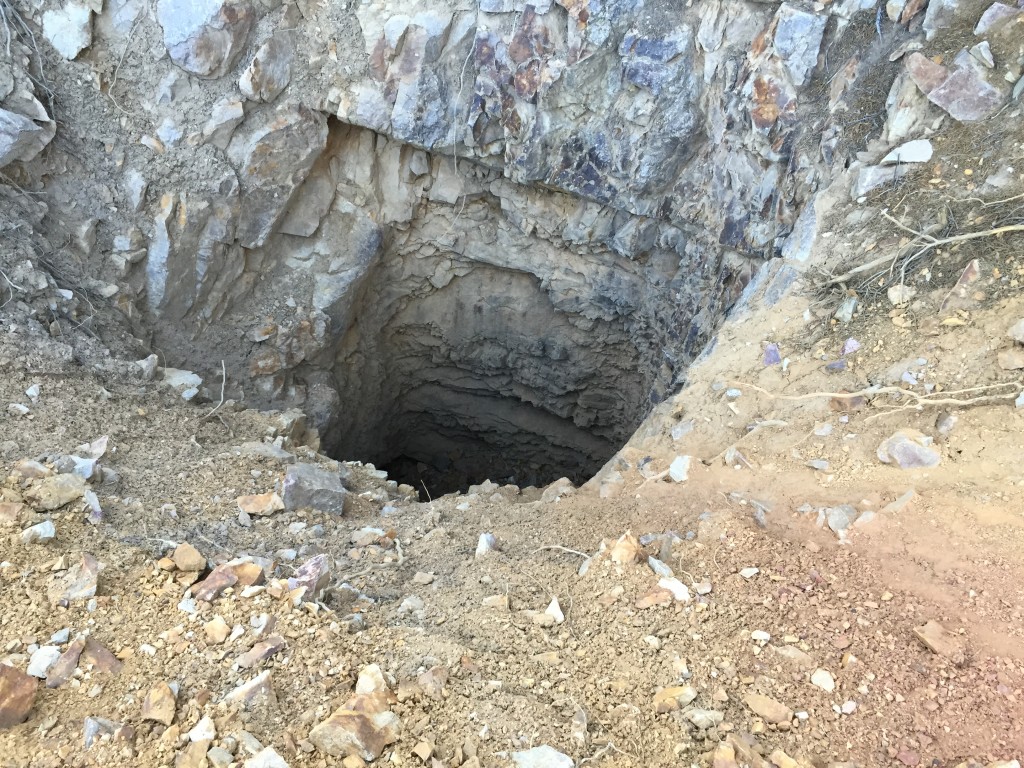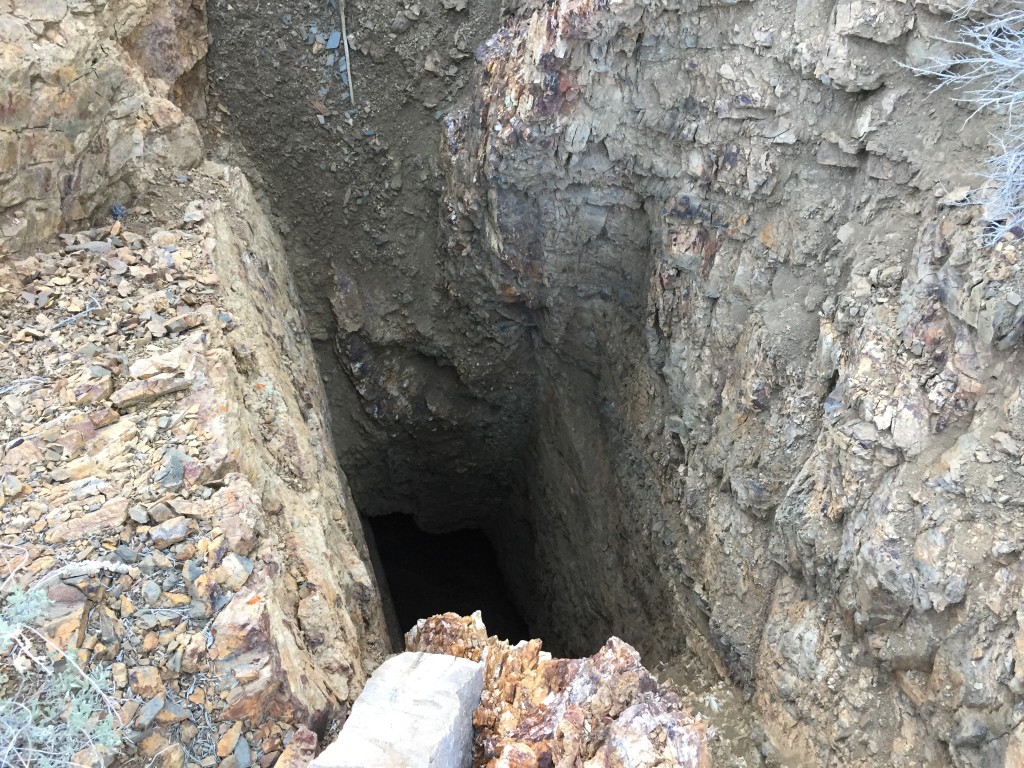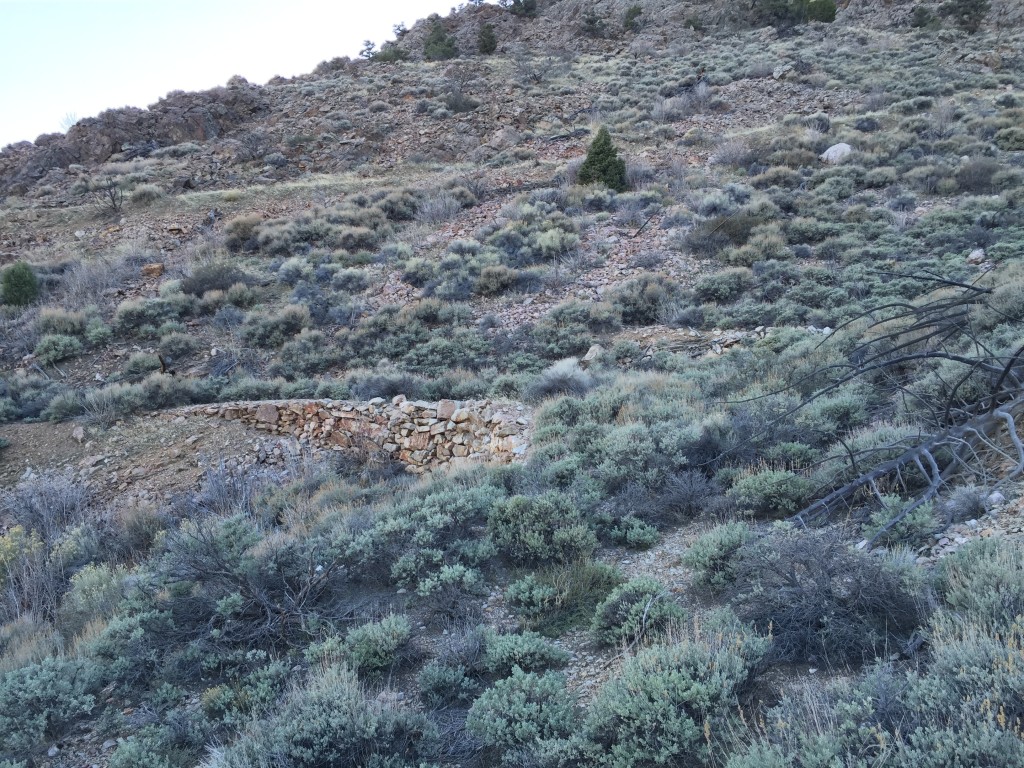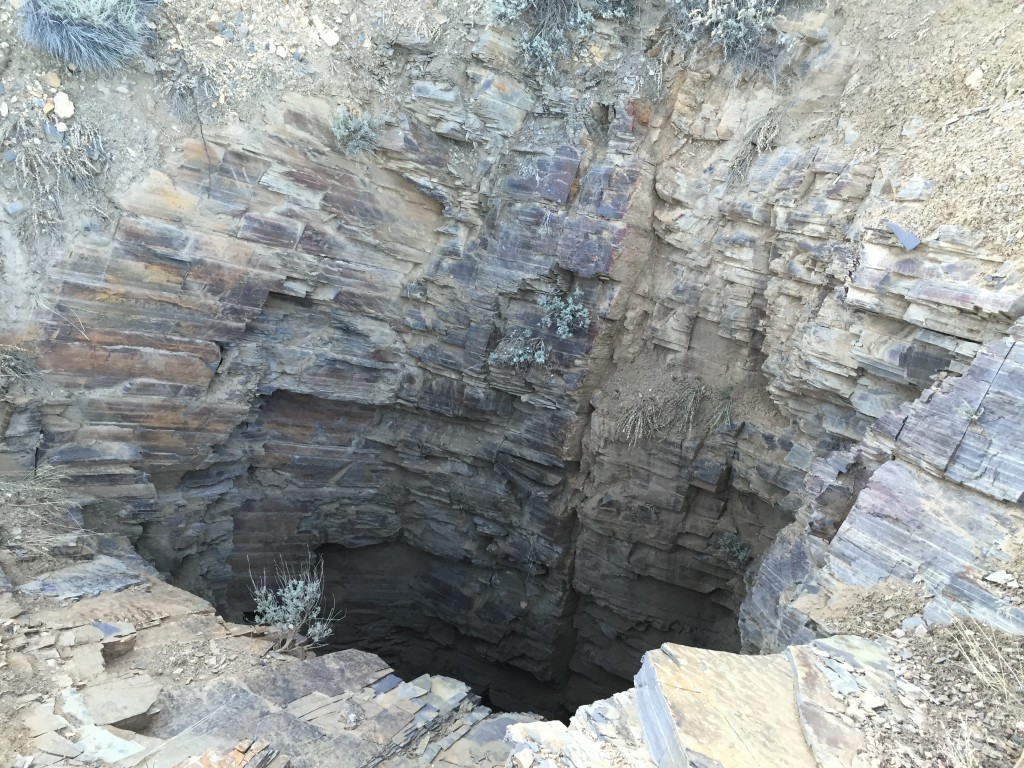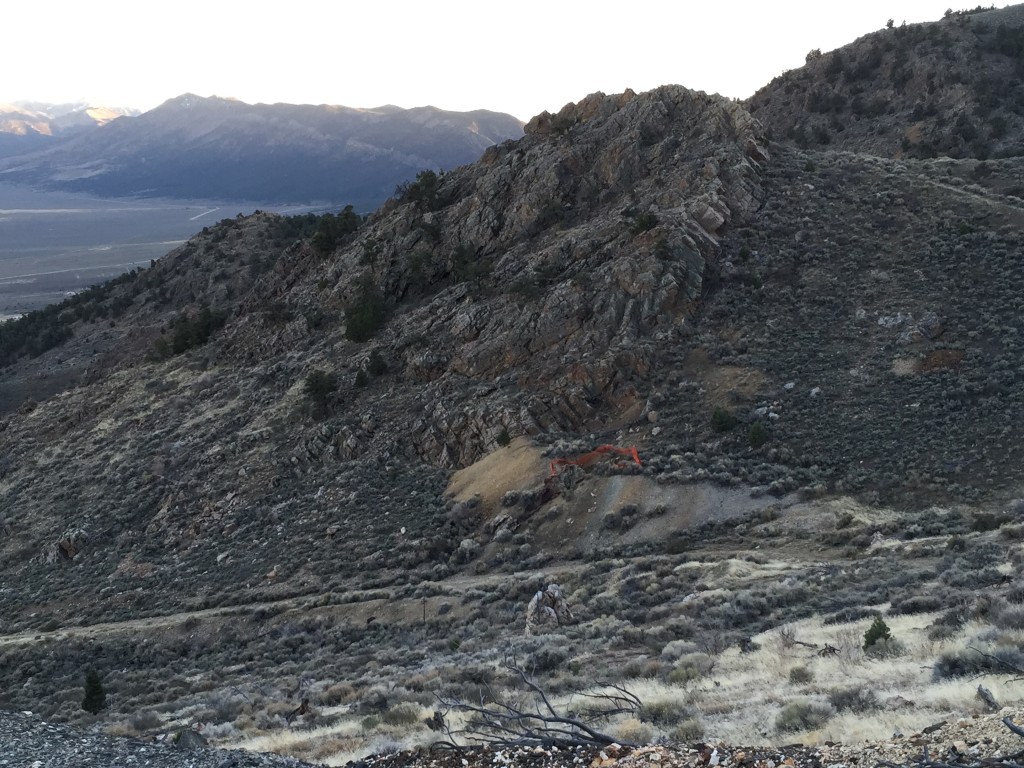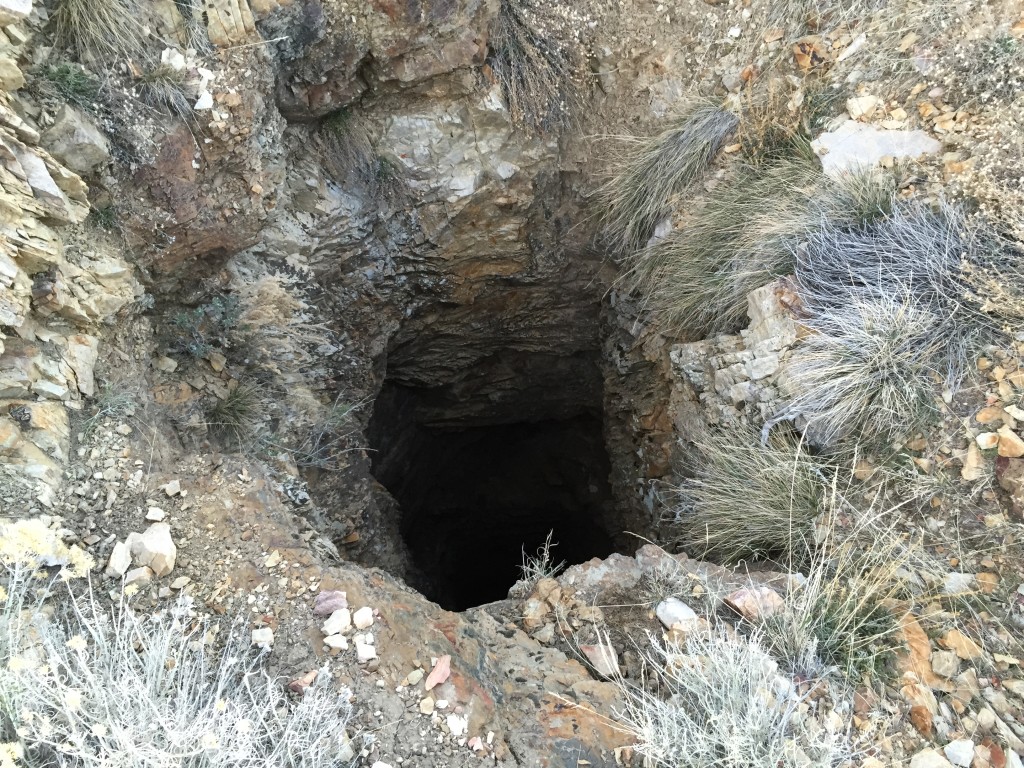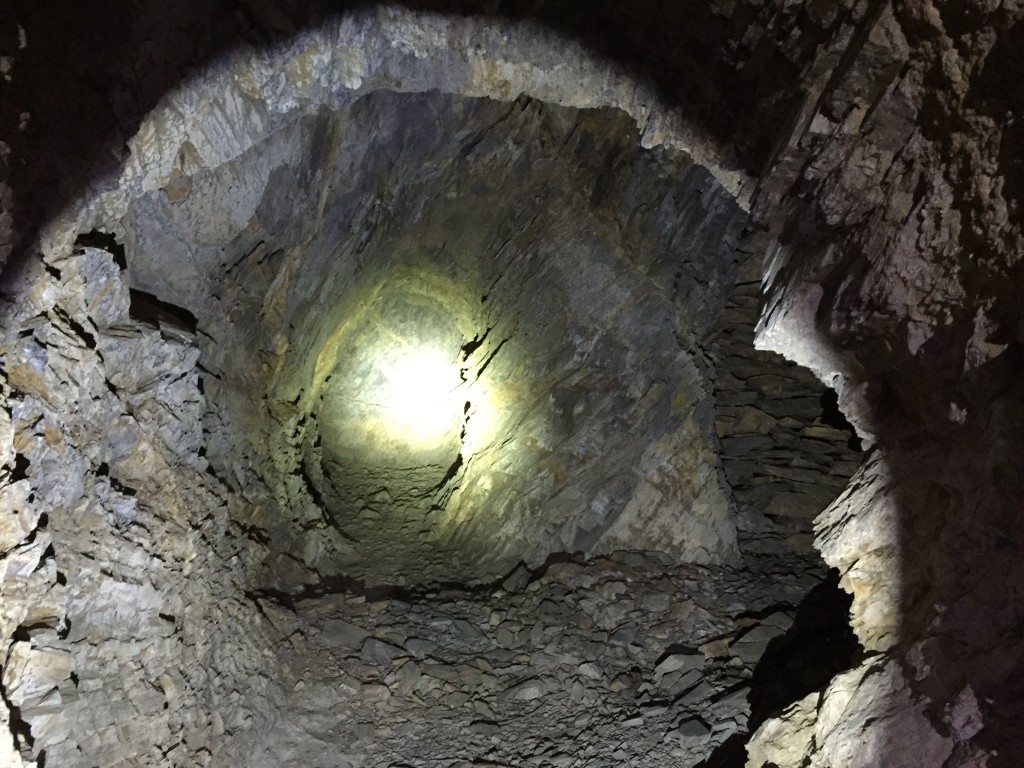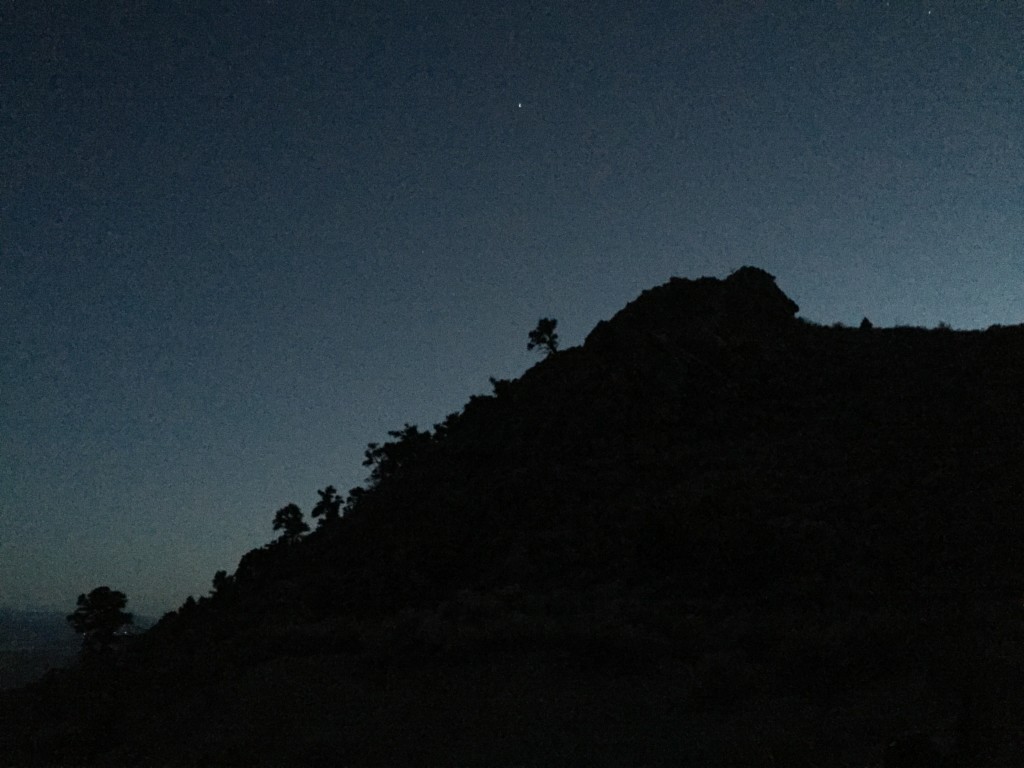 The Return:
Head back towards your vehicle.
Personal Thoughts:
The Cherry Creek Mining Complex was disappointing and also surprising at the same time.  Judging by the size of the tailings pile we imagine the largest mine would have several miles worth of tunnels.  It seemed to be recently claimed and there were "no trespassing" signs posted.  We tried to shine one of our bright lights into the main entrance from the outside but from what we could tell it just kept going and going – so it was disappointing in the way of how many of the mines we were able to explore. That being said, from a historical mining standpoint this area was fascinating! All the cool artifacts and things scattered around seemed endless.  You could walk around for hours and still see cans, timber, minerals and concrete slabs.  We will try and be back in the future to check out the higher elevations!