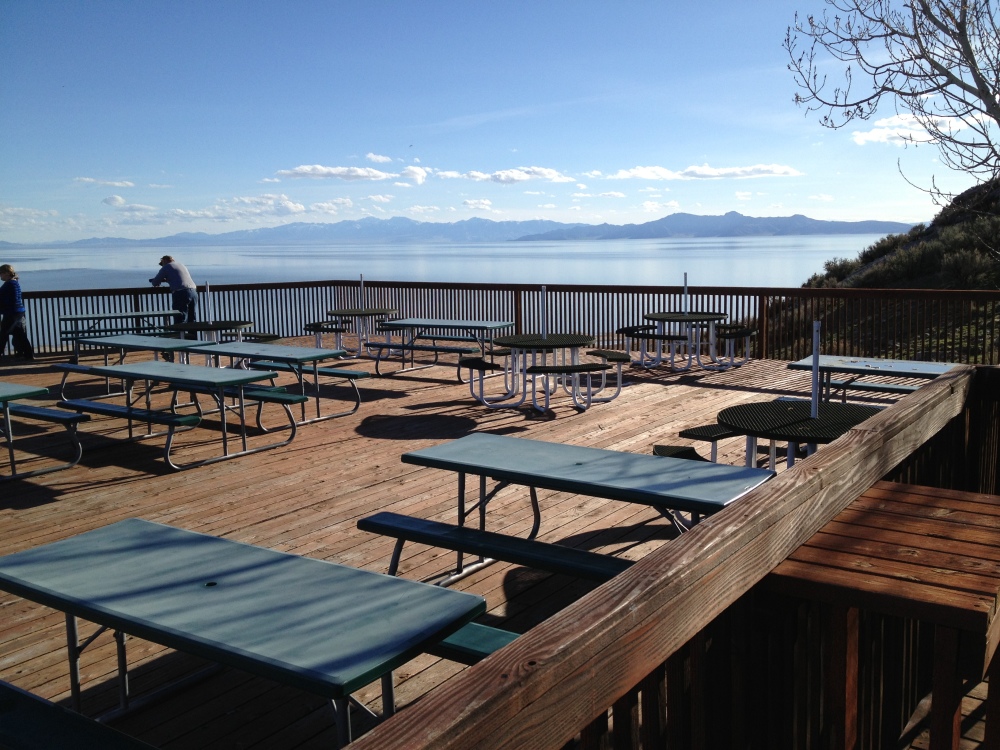 Overview
Antelope Island State Park – Northern Utah
Views of Antelope Island, Picnic Area, Great Salt Lake
Picnic area - not much hiking required unless you hike to Buffalo Point.
Yes. There are entrance fees into the state park.
No water at Buffalo Point. Bring a bottle of water.
Spring, fall – summer has many gnats and flies.
Very visible trail. Popular trail.
Only allowed in camping areas.
Bring meals (if planning to picnic) and snacks.
Hat, sunglasses, light jacket, picnic gear
GPS Coordinates
Buffalo Point Picnic Area:  41° 1.949'N, 112° 15.394'W
Trail Map
---
Driving Directions:
From I-15, take Exit 332 "Antelope Dr"
Travel for all the way west on Antelope Dr until you come to the entrance to the Antelope Island State Park.  You will see a guard station there.
Travel a additional 7 miles on the causeway (going west) until you come to Antelope Island.
Take the first left on the island and travel another 2.5 miles and follow the signs until you arrive at Buffalo Point
---
The Trail:
The picnic area is the perfect place to eat lunch or dinner.  The wooden deck is raised off the ground and offers amazing views of both Bridger Bay and the White Rock bay areas.
There are bathrooms located to the north side of the picnic area and there are viewing scopes to the south of the picnic area
---
There are usually a few cars parked and you will most likely see other hikers.  The area was once home to a small grill where they would serve up buffalo and beef burgers, but now the restaurant has since moved to the Bridger Bay Beach area and Buffalo point is now a self guided tour and picnic area.
---
The Return:
Head back towards your car.
---
Personal Thoughts:
The views of the island make the drive to Buffalo Point worth it.  It is a pleasant area to sit and enjoy a meal and relax in a peaceful place.
---
OPTIONAL SIDE TREK
Buffalo Point Hike:
On the north end of the picnic area you will see a trail to the west of the bathrooms that leads to Buffalo Point.
The trail leads west for about .40 miles and you will come to the Buffalo Point.  There are a few side trails but the main path is very clear and easy to follow.
This is a great hike to do after or before you eat lunch and will provide even more amazing views of both the bays.
This Side Trek takes an additional 1/2 to 1 hour to complete.
Buffalo Point Summit:   41° 1.974'N, 112° 15.807'W